Whether you close for a few days for renovations, or for weeks because of a natural disaster (pandemic included), a lot of planning goes into reopening a business.
Many people are dealing with this now as they plan their business reopening during the COVID-19 worldwide health crisis. Companies have to manage new health and safety concerns and adjust their marketing to suit new consumer behavior.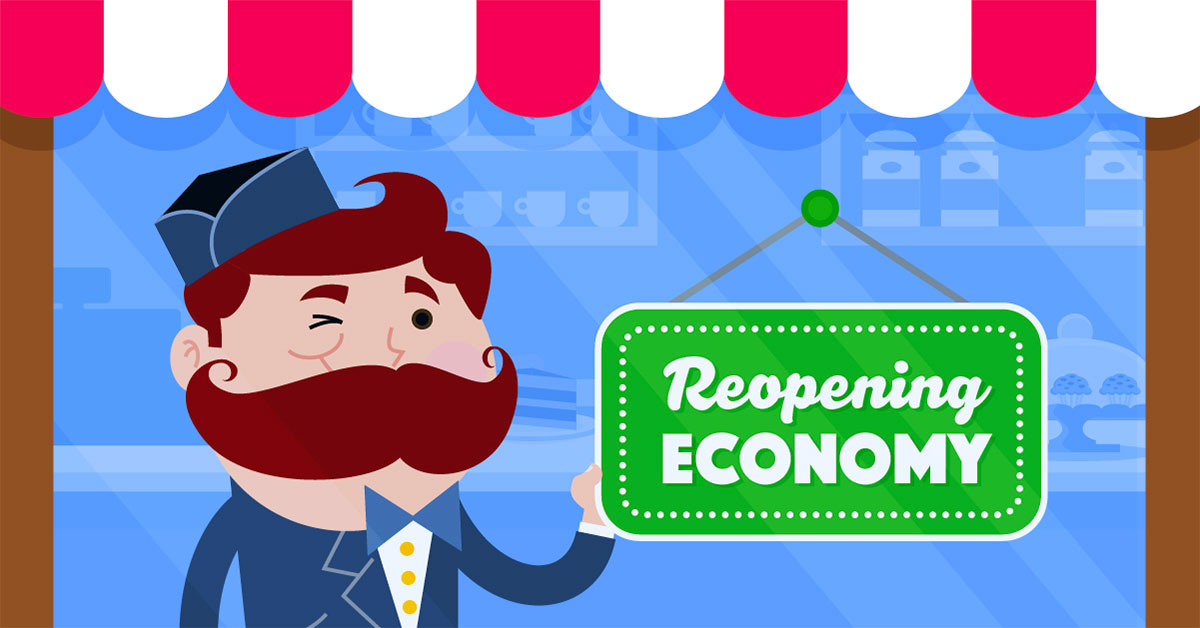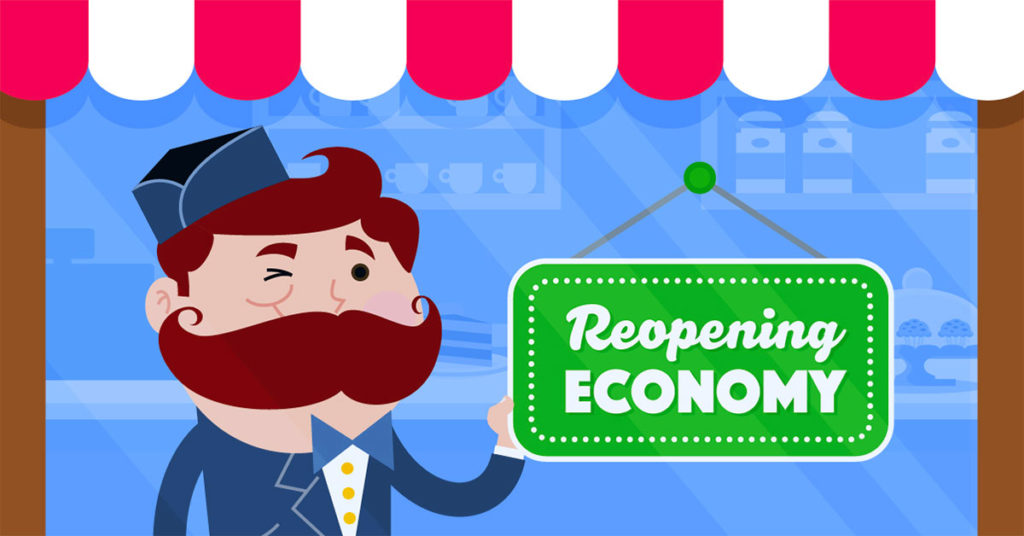 To help with this transition, we put together a complete Guide to Returning to Your Workplace.
We'll walk you through the primary considerations for planning your business reopening, from assessing your business needs to revamp your marketing strategy.
But don't think of this as a purely post-COVID-19 guide.
Anytime you reopen a business, it's essential to rethink your communications and marketing to suit the current climate and showcase the changes your company has made.
No matter the reason for your initial closing, the strategies in this article and in the guide will help you stay agile and keep your marketing strategy in line with current customer needs.
But it's not enough! We also created a template that you can use to plan your reopening and check that you business not only is going back to normal, but it is thriving too.
Step 1: Communicate Your Reopening Plan
When it comes to sharing your business reopening plan, over-communication is best—both for your customers and for your employees.
Spread the word through social media, post information on your website, send emails and put hours and information on your doors.
Meet with Employees First
Talk to staff about the changes you're making before posting them publicly.
Tell employees about new schedules, changes in business hours, and any new expectations for customer behavior. After all, they will be the ones expected to enforce company policies.
Encourage two-way communication.
Let employees know they can talk to management about issues with scheduling or any of the new rules.
If you're reopening a business after a health crisis, talk to your team about what you're doing to keep them safe.
This might include personal protective equipment (PPE), such as masks and gloves, and increased sanitation.
Keep Customer Communication Informative and Encouraging
The next step is to talk to your customers.
Use multiple communication channels, including email, social media, website posts, and signs in your store or office windows, to spread your message as widely as possible.
The information you include in your messaging sets the tone for your business's reopening and shows customers your priorities.
Here are a few tips for creating compelling and informative marketing messages:
Address policy changes directly.
If you have new requirements for customer behavior, address them directly in your messaging. If you closed for renovations, this might mean letting customers know if any parts of the store are unfinished or off-limits. For a post-COVID-19 reopening, policy changes would include mask requirements and capacity limits.
Encourage customer feedback.
Direct customers to your Facebook Messenger or marketing email, or ask them to respond in the comments of your post. Find out what they think of your new policies and procedures.
Update your information regularly.
Customers want the most up-to-date information so they know what to expect when visiting your business. Make a posting schedule (such as every Tuesday and Friday), and let customers know what the schedule is, so they know when to look for updates.
Thank your customers for continuing to patronize your business. Let them know how much you appreciate their support and patience as you develop and update your business reopening plan.
The Smithsonian Zoo made good use of these strategies when it announced its reopening:
The company clearly stated its new requirements for visitors, but it kept the message light with puns ("Bee prepared") and a welcoming message ("We look forward to welcoming you back!").
For more help crafting messages to customers, check out Chapter 2 of our Guide to Returning to Your Workplace.
Step 2: Adapt Your Marketing Strategy
If your business was closed for a long time, chances are your old marketing strategy is outdated. This is especially true if you're reopening after significant world events, like the pandemic.
It's essential to reassess your ads and marketing and adapt them to suit the current climate.
Revisit Customer Behavioral Data
You designed your existing ads and content based on how people interact with your brand, but customer behavior may have changed. Look at updated customer data to see what products and posts are currently resonating with your audience.
Start by looking at Google Trends to see what phrases and keywords people are currently searching for.
You can also lookup specific topics or keywords to see how search patterns have changed over time.
Next, check Google Analytics and Instagram and Facebook Analytics to see how your audience is currently interacting with your brand.
Look at the content you've posted recently to see what types of posts and content are getting the most engagement. This data will help you adjust your marketing content to match what customers want right now.
Rethink Your Ad Imagery and Copy
Revisit your current ad campaigns to make sure the images and ad copy fit with current customer attitudes.
For example, during the COVID-19 pandemic, people are traveling less and avoiding large gatherings. Check your ads for images of crowds, people touching, and plane travel.
REI changed its ad imagery from groups of people camping together to a tent set up in a backyard.
The company also changed its ad copy to focus on staying at home by promoting "deals on living room tents."
When Casa Bacardi reopened its doors after sustaining significant damage in Hurricane Maria, the company concentrated its ads and messaging on what it was doing to help Puerto Rico recover. The distillery promoted its opening of Stop and Go crisis relief centers and its participation in a relief concert.
In both of these examples, the company redid its advertising campaigns to suit new customer focuses and attitudes.
Embrace Livestreaming
Regardless of why you had to close your doors, the key to successfully reopening is connecting with customers and spreading the word that your business is open.
Livestreaming offers a way to connect large numbers of people at once and show off your products and business changes. This will be especially useful after the pandemic, when customers will want to minimize in-person contact, and you may have to limit how many people are in your building at a time.
Livestreaming platforms such as Facebook Live and Instagram Live allow you to show customers the inside of your store and highlight any changes you've made or new products you've acquired.
It's also an opportunity for customers to connect with employees or upper management "in-person" and ask questions about your business reopening.
For more help adjusting your marketing strategies, check out Chapter 3 of our Guide to Returning to Your Workplace.
Step 3: Rethink Corporate Social Responsibility
Recently, customers have been increasingly aware of whether brands are socially and environmentally responsible, and they want to buy from companies that reflect their values. The pandemic has accelerated this trend, bringing to light inequalities in access to health care and basic services for minority populations.
As you're planning your reopening and making changes to your business marketing and communications, take a closer look at how your company is giving back to the community. Showcase your social initiatives in your new communications with customers.
Here are a few ways you can show customers your company values:
Highlight small and local businesses.
If you are a third-party seller, buy from small businesses as much as possible. Showcase these products on your website and in your store, and tell customers where the products came from.
Take a stand on social justice issues.
Customers want to see where brands stand on the social-justice issues they care about. Share your company's perspective on current events, and explain how you are working to create a safe, inclusive workplace. Financial services brand Citi found a gender-based pay gap within the company, published its findings, and took action to eliminate the gap.
Share values and initiatives through your products.
Consider how your products and business model uphold your values and help society, and use your social media and advertising to highlight how your products benefit others.
For more ideas on how to showcase your social responsibility, check out Chapter 4 of our Guide to Returning to Your Workplace.
Start Your Recovery with Our Business Reopening Guide
Whenever a business has to close its doors, it means a loss in sales and potentially a loss of customer interest.
An important part of reopening a business is communicating with customers, letting them know you are open, telling them about changes and new products, and adjusting your marketing to suit new customer demand.
No matter why you initially closed, we have the resources you need to adjust your strategy, effectively communicate with customers, and get your business on the road to recovery.
For more details and helpful tips, check out our Guide to Returning to Your Workplace, and use the accompanying templates to help craft your reopening with a bang!