Facebook discontinued the Facebook Analytics tool on June 30, 2021.
The change, announced in April, shocked social media advertisers around the globe, as Facebook Analytics has been helping businesses improve their social media advertising for the past few years.
If you are an avid Facebook Analytics user, this change means two things for you. First, you'll need to prepare for Facebook Analytics shutting down by downloading your data as a CSV file. And second, you'll need to find another analytics platform, fast.
Monitoring your analytics is crucial no matter what type of advertising you invest in. Analytics help marketers and advertisers increase their Return on Investment (ROI) by providing detailed insights on how audiences interact with Facebook ads.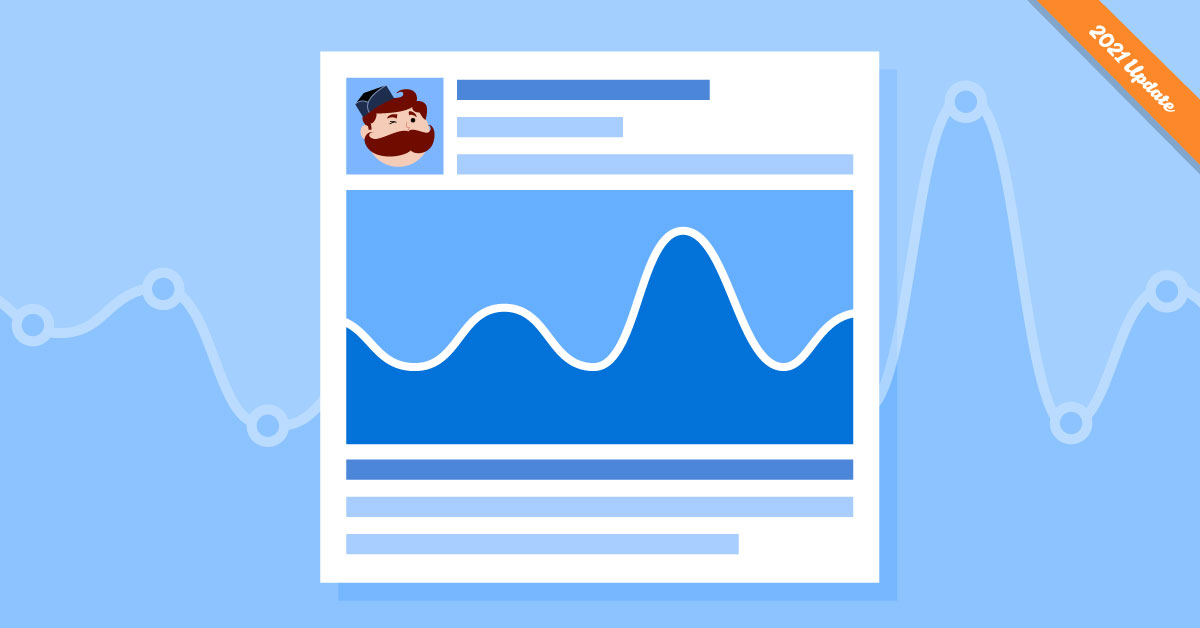 In this article, you'll learn about 4 Facebook Analytics alternatives as well as which Facebook advertising metrics you'll want to track moving forward (and why).
Facebook analytics tools (that will still be around)
While Facebook is closing Facebook Analytics, they won't be leaving advertisers without a way to monitor their ads.
The closure of Facebook Analytics is part of Facebook's strategy to consolidate its marketing tools. That means you can still use Facebook Business Suite, Facebook pixel and Facebook conversions API, and Creator Studio (plus, of course, social media analytics tools like Hootsuite).
Here are 4 Facebook analytics tools that you will be able to use even after Facebook Analytics is gone.
Facebook Business Suite
Facebook first launched Business Suite in late 2020.
Business Suite is a multi-tool platform that helps businesses manage their presence across Facebook from a central place. It includes messaging, advertising, scheduling and posting, and analytics tools.
Let's focus on Facebook Business Suite's analytics tools for a moment. Within Business Suite, you can use Insights – a dedicated space that shows you metrics relating to your audience, your posts and your Facebook Page(s).
Insights allow you to analyze your advertising through four key dashboards:
Overview, which gives you a one-page summary of all your Facebook marketing metrics
Trends, which shows you your Page's reach over the span of each week
Content, which shows you how your individual posts and ads performed
Audience, which gives you the age, gender and location breakdown of your current and potential audiences
This is what the dashboard looks like:

Facebook pixel and Facebook conversions API
Although Facebook pixel and conversions API are slightly different tools, they go hand-in-hand.
Both of these analytics tools track what people do on your website after they click on your ad. This allows you to analyze your advertising's success through your audience's:
Purchases
Browsing history
Shopping cart behavior
Email subscription choices
Check out process
The key difference between the pixel and the Facebook conversions API lies in their data collection practices.
Pixel collects data from your audience's browser (i.e., browser-side tracking), while conversions API collects data from your website's server (i.e., server-side tracking). Ideally, you should use the two tools together.
For more information, read this complete guide to the Facebook conversions API.
Creator Studio
Facebook Creator Studio is similar to Insights, except it gives advertisers more in-depth analytics metrics specific to their Facebook Pages, videos, and Stories. Creator Studio works with both Facebook and Instagram.
Using Creator Studio, you can measure:
Your overall marketing performance
Your audience retention (including who recently followed/ unfollowed you)
Your engagement
Earnings from select monetization tools (including Instant Articles, in-stream Live ads, fan subscriptions, and more)
Your videos' performance
This is what the Insights section in Creator Studio looks like: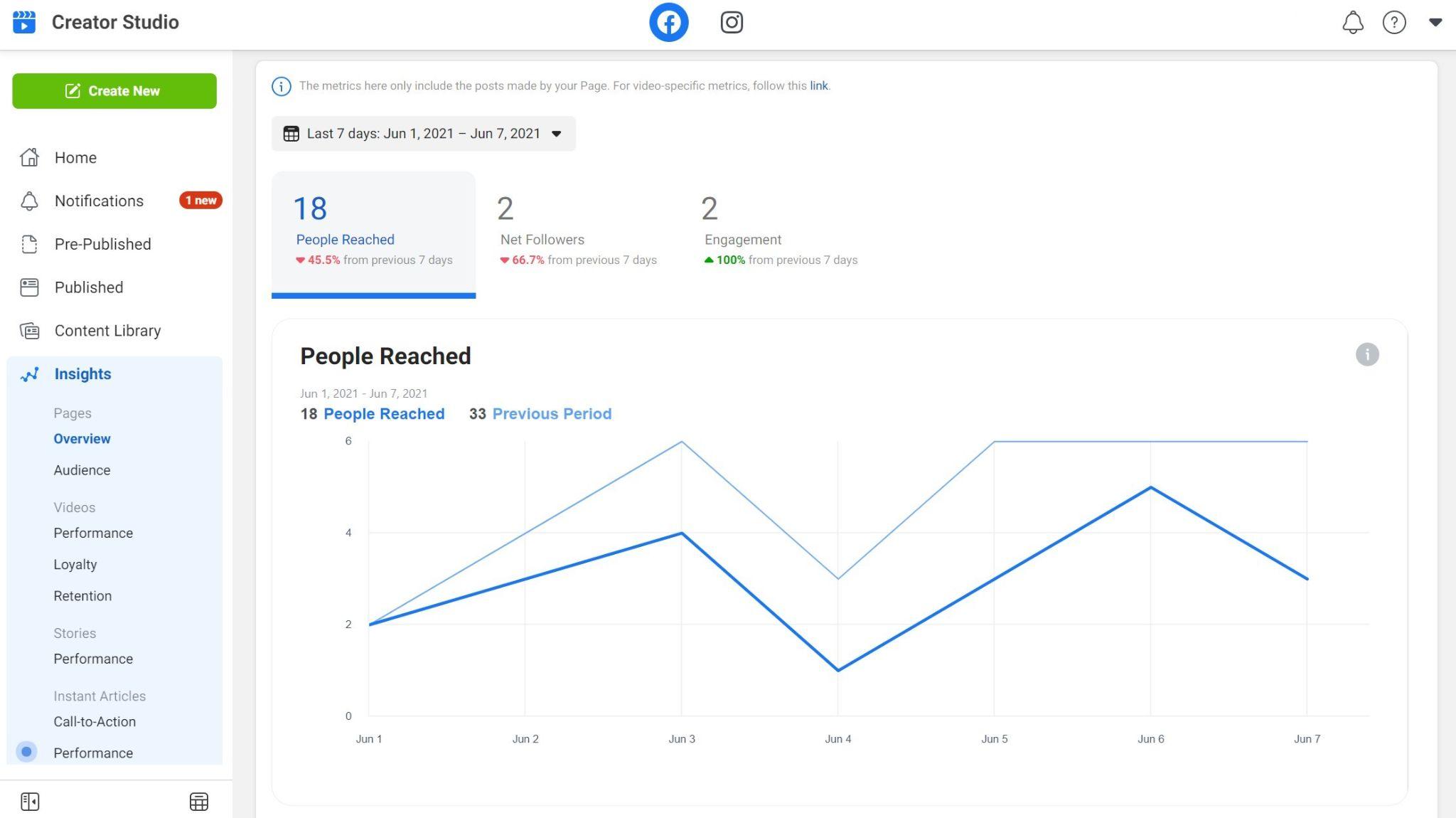 Hootsuite Analytics
If you're looking for a comprehensive social media dashboard that will include scheduling, community management and analytics features, go with a social media management tool like Hootsuite.
Hootsuite Analytics allows you to monitor your:
Reach
Clicks
Comments
Shares
Video reach
Video shares
Follower stats
Post performance
Hootsuite analyzes this information for you and compiles it into easily-to-read reports that make sharing your insights easy. You can customize your reports and download them as CVS, PDF, and PowerPoint files. The platform also measures your social media team's performance through response times, resolution times, and overall productivity.
Unlike the other Facebook/Instagram-specific options mentioned in this section, Hootsuite Analytics works with Facebook, Instagram, Pinterest, LinkedIn, Youtube and Twitter.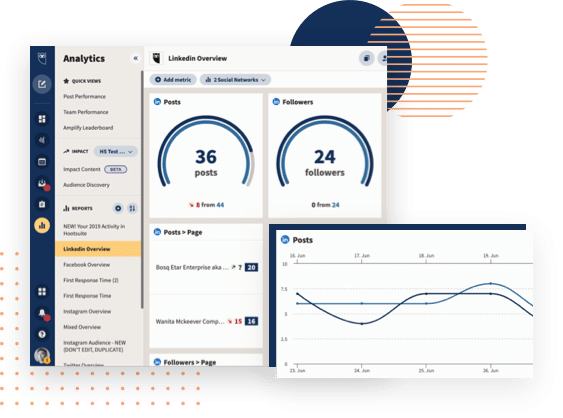 3 reasons to track Facebook analytics
Now that we've covered some potential alternatives to Facebook Analytics, let's dive into the why. As in, why should you track your analytics anyway?
It's all about long-term performance (a.k.a. the long-term success of your organic strategies and Facebook advertising).
It's easy to see the small picture when you monitor your campaigns on a day-by-day basis. But monitoring analytics is crucial for seeing the bigger picture, as it will help you understand, compare and report your performance long-term.
Let's talk about that in more detail.
Understand your advertising performance
Understanding how your audience reacts to your posts and ads is everything in social media marketing. As marketers, we have to know when customers like something, when they feel neutral about it and when they hate it.
The more you know what your audience wants, the better you will give it to them.
That's why analytics are important. Analytics (especially engagement and audience stats) tell you how your audience engages with your advertising without asking.
For example, you can use analytics to highlight your top-performing ads or the ads with the lowest engagement. This will help you understand which ads work on your audience, giving you the insights you need to make your marketing more effective and profitable in the long term.
Pin down the best campaigns
While you might believe that your summer sale advertising campaign was more profitable than your winter one, how do you know that for sure? That's where analytics comes in.
As analytics tools report metrics with a standardized definition, you can use them to compare your advertising campaigns to each other.
For example, you could look at your total profit for both your summer and winter advertising. This metric would tell you which campaign was more profitable in an objective and quantifiable way.
Note: This article will cover several critical metrics in more detail in the 'Important Facebook analytics metrics' section.
Create comprehensive reports
It can be difficult to explain the intricacies of social media management to people without a digital advertising background. But sometimes, you just have to make it work (e.g. when an important stakeholder comes from a different background). That's where metrics like ROI come in.
With analytics, you can report your performance to people who don't practice social media marketing themselves.
Important Facebook analytics metrics
Now that you've learned about four analytics platforms and why they're important, let's discuss some key analytics metrics. This section will outline six different categories and several specific metrics you should be tracking.
Facebook Page analytics
Facebook Page analytics tell you how well your Facebook Page is performing. These metrics are centered around your engagement. Your engagement includes all the comments, likes, reactions, and shares followers and other Facebook users give your Page.
Here are two Page metrics you should track.
Facebook Page Engagement Rate
First, you should keep an eye on your Facebook page engagement rate. This metric shows you the percentage of users who interacted with your Page, compared to your overall Reach. You can calculate your engagement rate with this equation:
Facebook Page Engagement Rate = (Total Engaged Users / Total Reach) x 100
Engagement Reach
Next, you should monitor your engagement reach. Your engagement reach is the number of non-follower Facebook users who have engaged with your content. You can calculate your engagement reach per Facebook Page with this equation:
Engagement Reach = Total Post Engagement – Engagement From Followers
Facebook audience insights
Facebook audience insights are a fantastic way to monitor who is engaging with your advertising, as they will help you compare your audience metrics to your target audience. Here are two audience metrics you should track.
Gender and age breakdown
Your gender and age breakdown is a straightforward metric to track. It tells you who sees your content, and helps you adjust your strategy accordingly.
You can see the gender and age breakdown of your audience in Insights or through an analytics tool like Hootsuite.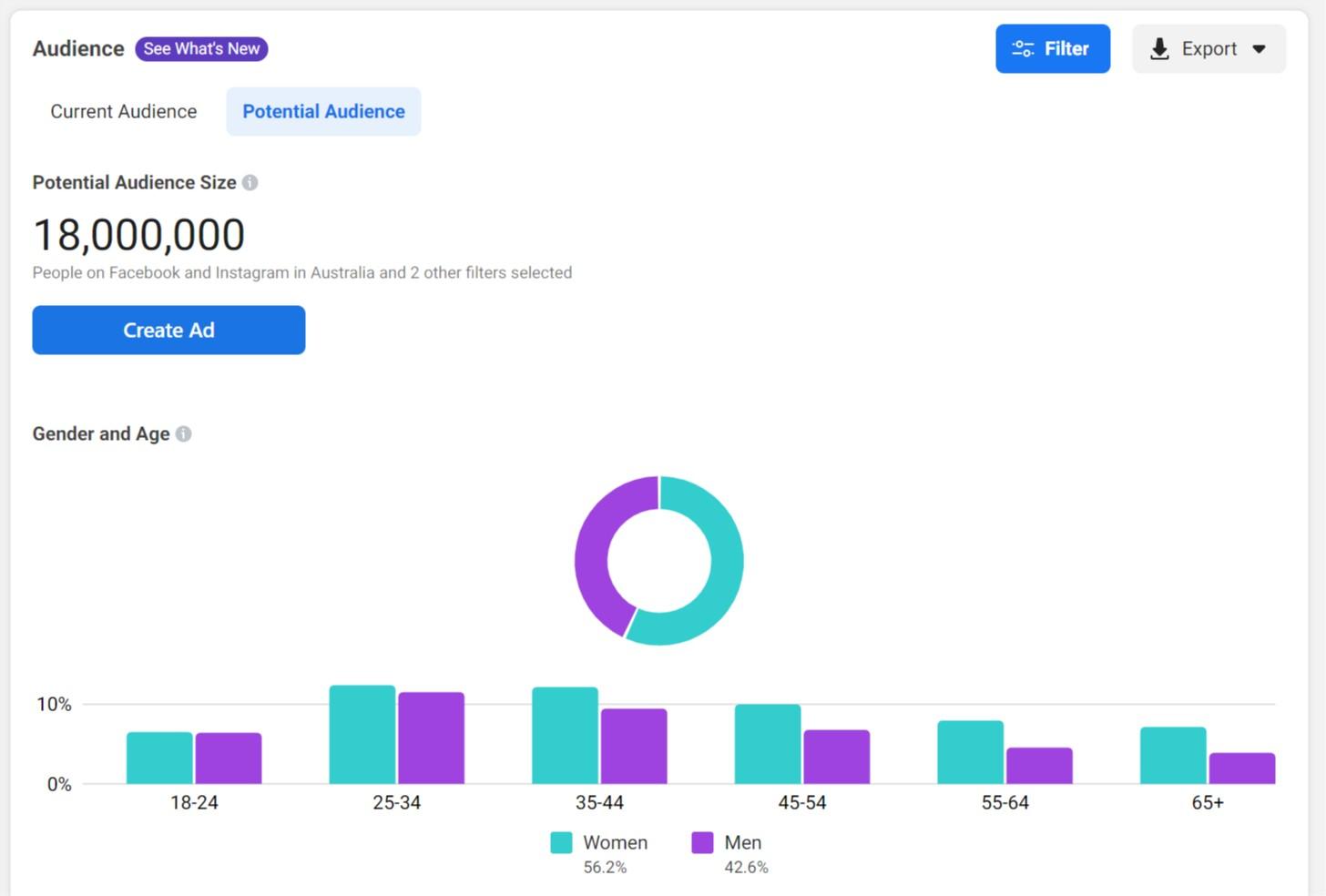 Top audience locations
This metric is fairly self-explanatory but still important to mention for businesses with physical locations or a local focus. If that's you, make sure you monitor whether it's locals who are seeing and interacting with your content (otherwise, you may have to rethink your strategy!).
You can see your audience location in Insights: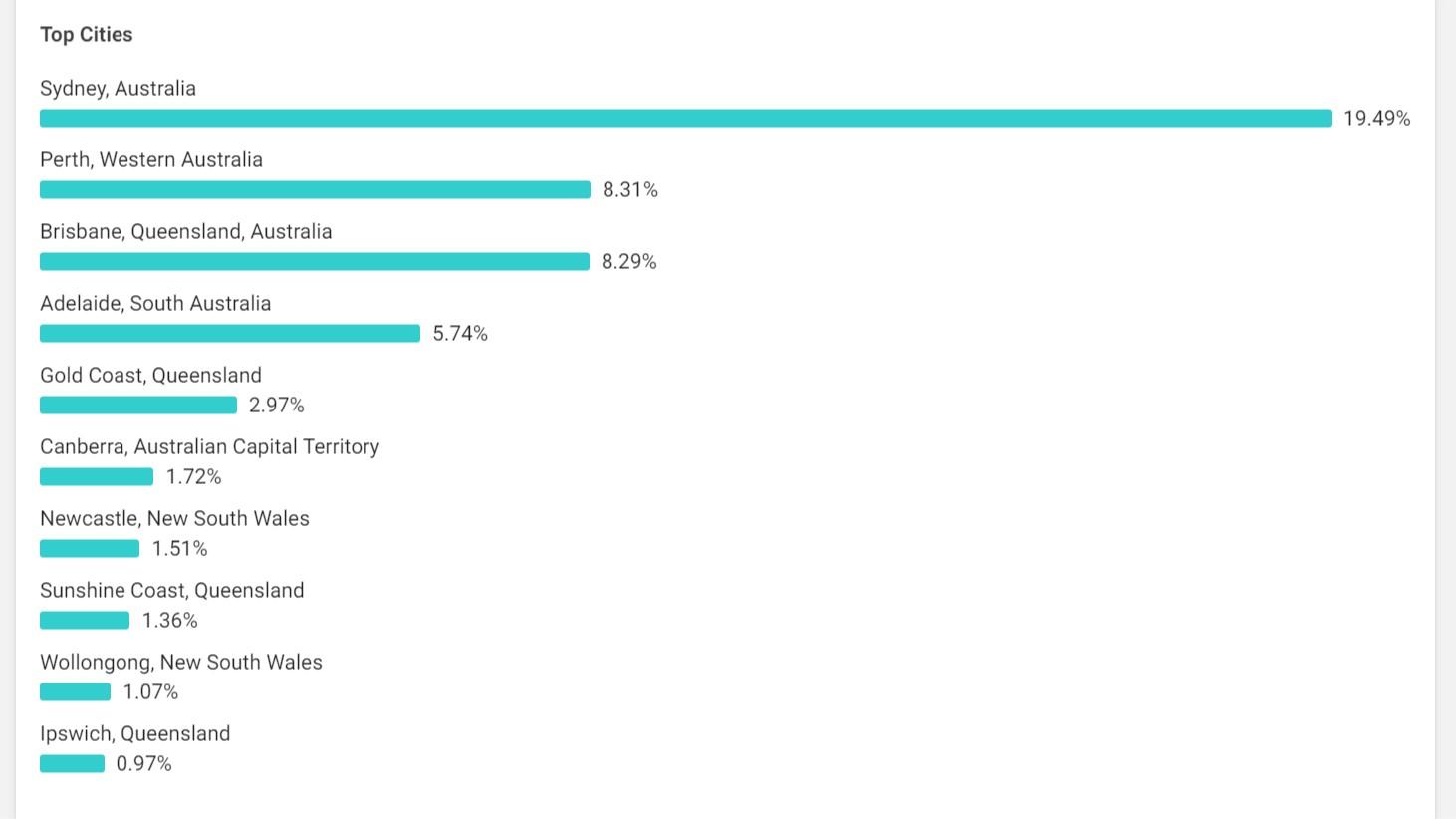 Facebook ads analytics
While it's important to keep your advertising spending within budget, looking at the total on your bill isn't going to tell you how much value for money you're getting. Here are three metrics to track instead.
Click-Through-Rate (CTR)
Your CTR tells you what percentage of the people who saw an ad clicked on it. You can calculate your CTR with this equation:
CTR = Clicks / Impressions
Cost-Per-Click (CPC)
Your CPC tells you how much money each click-through costs you. This metric will help you understand whether your over or under-investing in some of your advertising goals on Facebook. Here's how you calculate your CPC.
CPC = Total Cost of Clicks / Total Number of Clicks
Note: The average CPC in 2020 was $0.39.
Cost-Per-Thousand-Impressions (CPM)
Your CPM tells you how much it costs you to reach 1,000 people. This metric is perfect for comparing your value for money across months, quarters, and years. You can calculate your CPC with this equation:
CPM = Total Ad Spend / Total Impressions
Facebook Group analytics
Facebook Group analytics help you track engagement inside a Facebook group. Facebook Groups are becoming an increasingly popular marketing channel for brands. They provide an intimate customer service setting and a place to build a community.
Here are two metrics to measure your Facebook Group's success.
Number of new members monthly
Healthy Facebook groups should be gaining new members. To ensure your Group fits into this category, you'll want to keep track of how many people join your Group on a monthly basis. Thankfully, you don't have to do this manually. You can calculate your new member numbers in Insights > Group Insights > New Members.
Top contributors for the last 28 days
Your top contributors are likely your most loyal customers, so it's worth keeping an eye on them — and engaging with them. This information is also available in Group Insights.
Facebook Live analytics
Facebook first introduced the Live feature in 2016. Since then, brands have used it to share news and engage with customers or promote products with influencers. If you use Facebook Live in your marketing, try measuring its success with these metrics.
Peak Live Viewers
This is the number of viewers at the peak time of your Live stream. Facebook calculates this number for you and labels it as Peak Live Viewers, as you can see in the image below.
Source: Facebook
Average % Completion
This metric tells you what percentage of your viewers watched your entire Live. It will help you understand how engaging your stream was, and how you can improve in the future.
Facebook video analytics
Facebook has been promoting video more and more over the past few years, and brands have caught up. If you use Facebook video in your advertising, make sure you track your audience retention and video reach.
Audience Retention
Your audience retention rate measures how much of your video people are watching over time. This metric is perfect for assessing your video's quality, as you can pinpoint the part where most viewers click away. You can view this metric through Facebook Insights, as you can see below.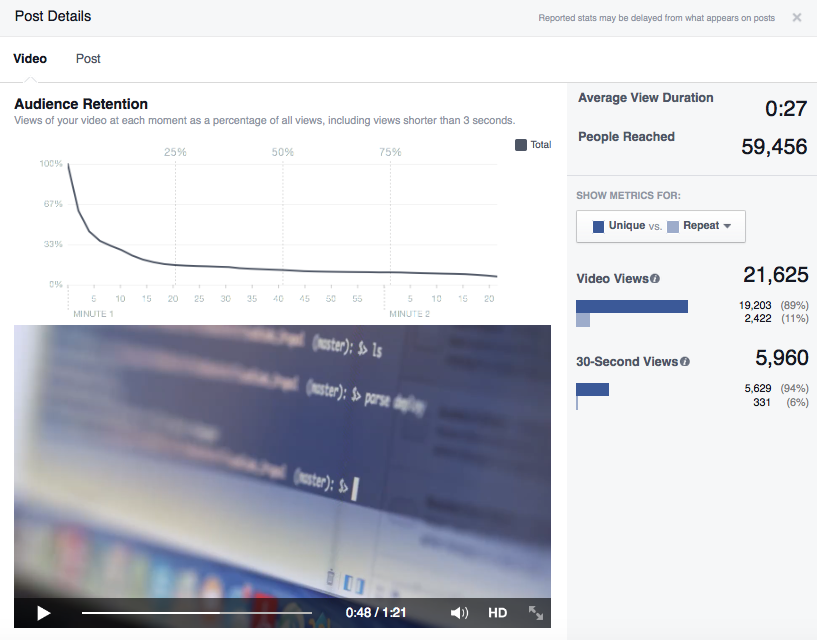 Source: Facebook
Video Reach over 28-Days
The video reach metric tells you how many people viewed your video over 28-days. While it may seem strange to track reach over a long period, the 28-day time span gives the video a chance to gain popularity. You can measure your Video Reach in Facebook Insights: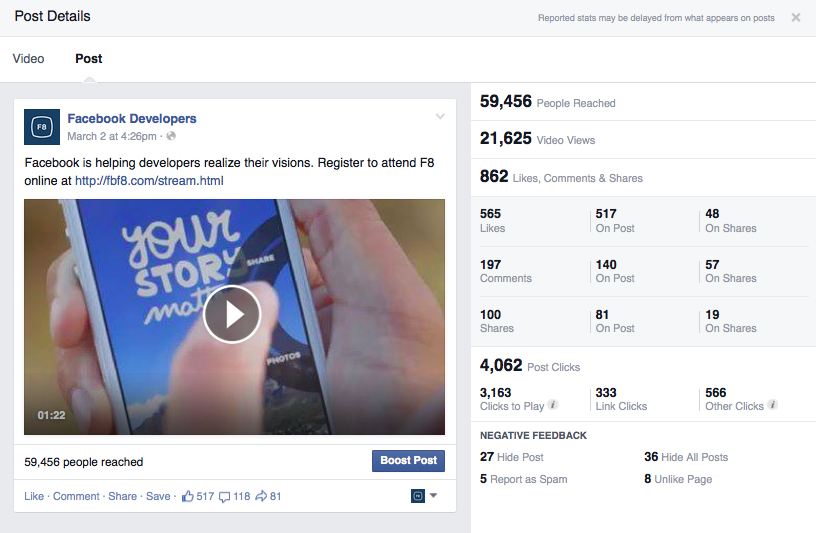 Source: Facebook
Conclusion
While Facebook Analytics will be missed by many, Facebook is not leaving marketers in the dark. You will still be able to track your social media marketing performance with other Facebook analytics tools or third-party social media management solutions like Hootsuite.
No matter what option you choose, you'll find the most success if you keep a sharp eye on your key metrics. Remember: the best strategies are data-driven.