The Beginner's Guide to Instagram Advertising

Chapter 2
Creating, Running, & Managing Instagram Ads: The Step by Step Tutorial
Creating Instagram Ads is exceptionally easy. You can create them through Power Editor, the Ads Manager, or third-party tools like AdEspresso. This tutorial will use Facebook's Ads Manager and include a section on boosting posts directly on Instagram.
How to Create Your Instagram Ads
Get started in
Facebook's Ads Manager
.
You'll be taken through the Campaign, Ad Set, and Ad levels.
You can create multiple ads that fit into a single ad set, and multiple ad sets that fit under a single campaign.
At the campaign level, you'll choose an objective.
During the ad set level, you'll choose your targeting, budget, schedule, placements, and bidding.
At the ad level, you'll decide on the creative.
Campaign Level: Choosing An Objective
The first thing that you'll do is choose your objective.
When creating Instagram newsfeed ads, you can use any objective listed.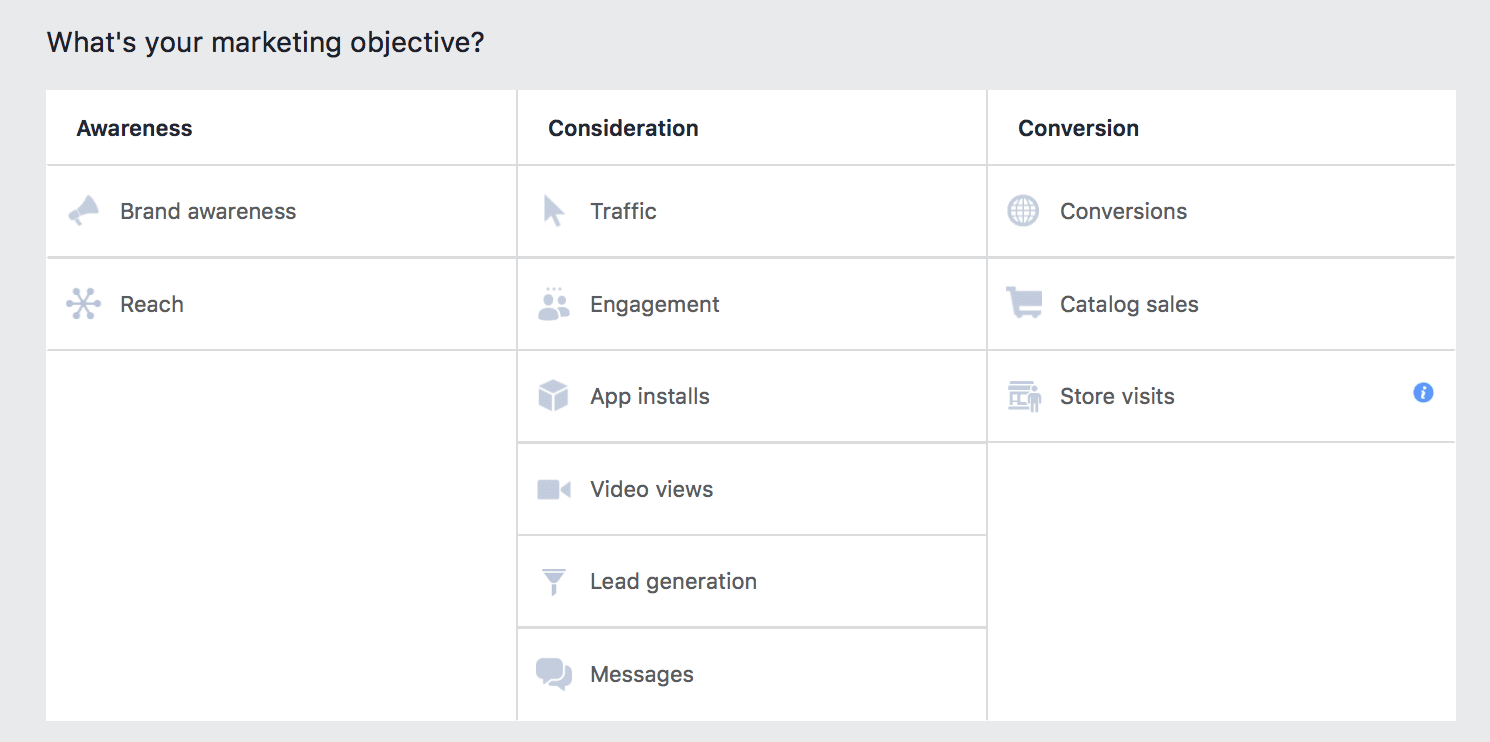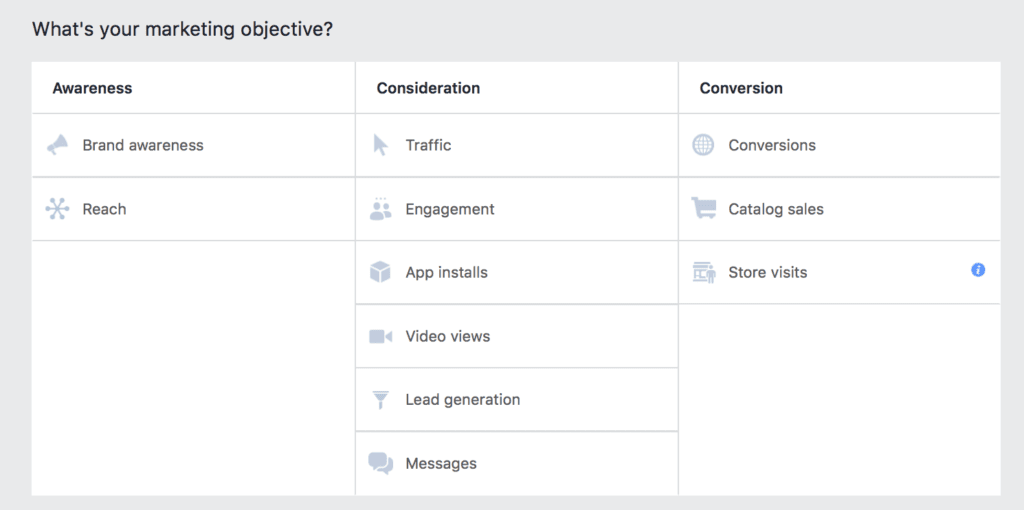 The objectives you can currently choose from include:
Brand awareness, with the goal of showing your ad to users who would be interested in your brand
Reach, which seeks to show your ad to as many people as possible
Traffic, which prioritizes sending traffic to your site
Engagement, which seeks to increase engagement like comments, shares, likes, event responses, and offer claims
App Installs, where customers are encouraged to download your app
Video Views, which prioritizes more video views
Lead Generation, where users who click on your ad will be shown a lead gen form that is mobile-friendly and automatically filled out as much as possible
Messages, in which the goal is to get users to message your brand, generating conversation
Conversions, where the goal is to get conversions like purchases, email sign-ups, and registrations
Catalog Sales, which automatically displays ads showing items from your Facebook product catalog to interested customers
Store visits, which is only available to businesses with multiple locations and seeks to send customers to your brick-and-mortar store.
Choose the objective that aligns with the direct goal of your ads. If you have a video ad, for example, but want to drive conversions, choose the conversions objective instead of video views. Facebook will use your objective to determine which audience members to show your ad too, optimizing for users most likely to take the desired action.
The Ad Set Level
Next, you'll start making decisions at the ad set level.
If you're sending traffic to a secondary location with your ad, you'll first choose where to send them. You can send them to your site, your app, or messenger to contact you.
Underneath this, you may see the option to create an offer to drive conversions.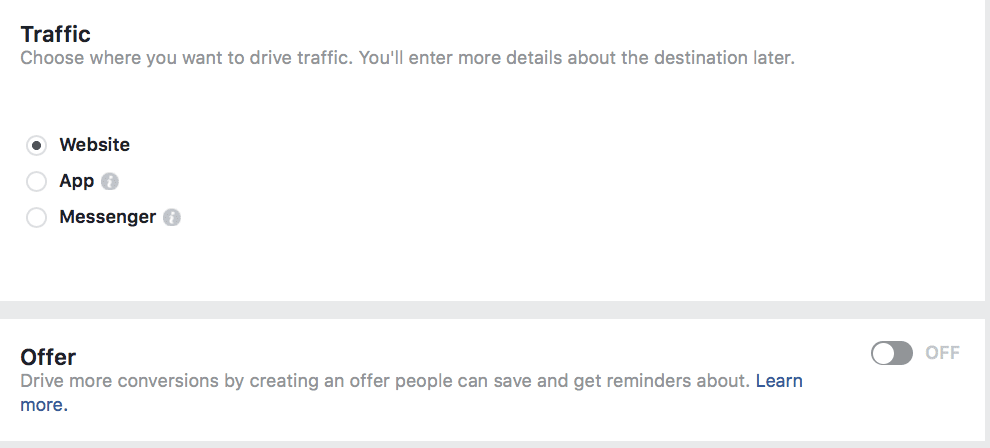 Below this, you'll set your targeting options.
Instagram Ads gives you full access to Facebook's incredible targeting options. You can target both cold and warm audiences.
You can target users based on location, or those of certain demographics. These include:
Gender
Age
Languages spoken
Job title
Education
Parental status
Relationship status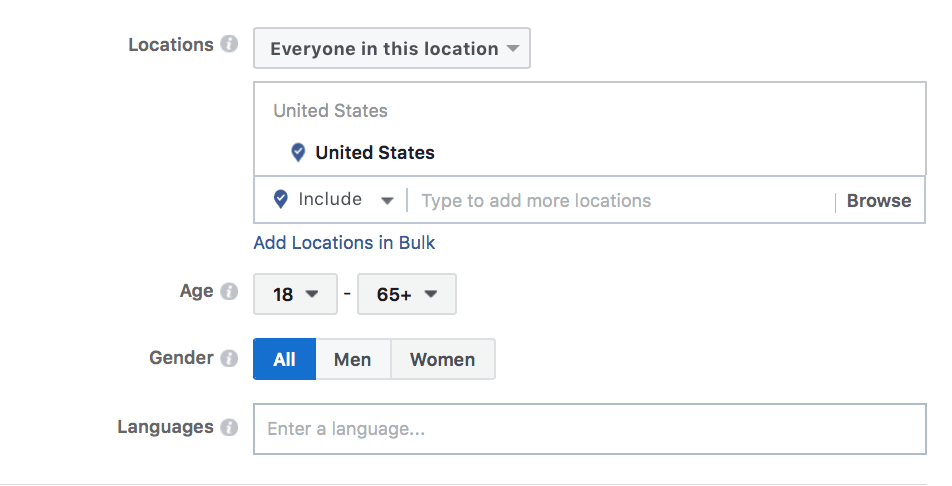 You can also target based on interests and behavior, such as:
Diet, like vegetarianism or veganism
Bodybuilding
Engaged online shoppers
Dog owners
People who shop at high-end retail stores, or low-end department stores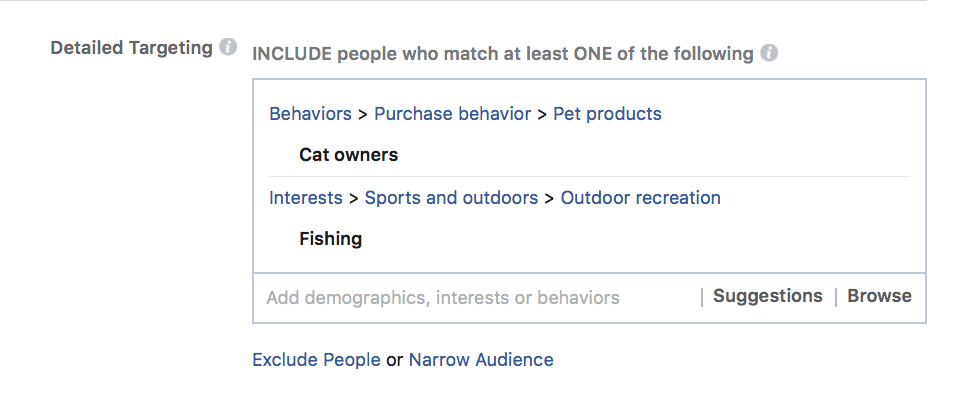 The connections targeting feature can work to your advantage when you aren't using custom audiences.
They allow you to choose to target people who exclusively are or are not connected to you through your Page, app, or events.

You can use custom audiences to connect with warm audiences.
Here are some examples of custom audiences you can create include (but are not limited to)
People who have visited your site (or a certain page on your site) within a set period of time
An uploaded list of email addresses of customers, including segmented lists of customers to create highly targeted ads
People who have interacted with your on-site content, including your Instagram profile, your event, or watched certain amounts of time on your videos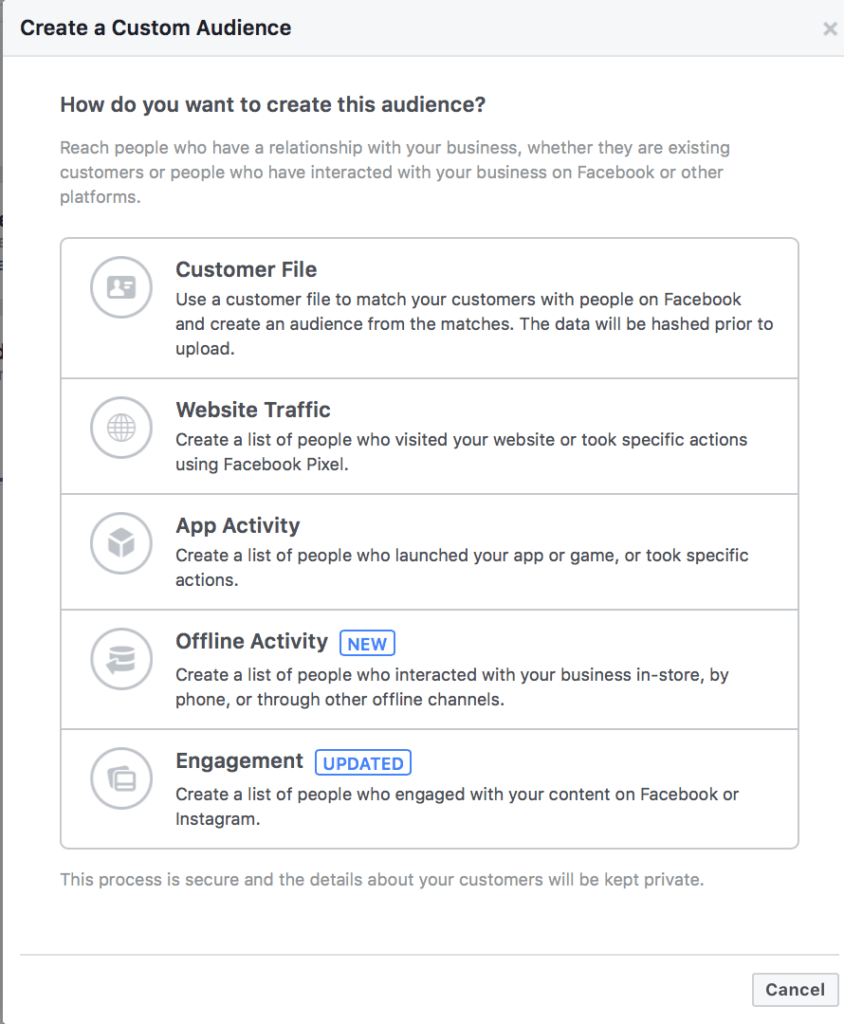 After creating a custom audience, you can create a lookalike audience off of it to try to reach similar customers to your segmented audience lists.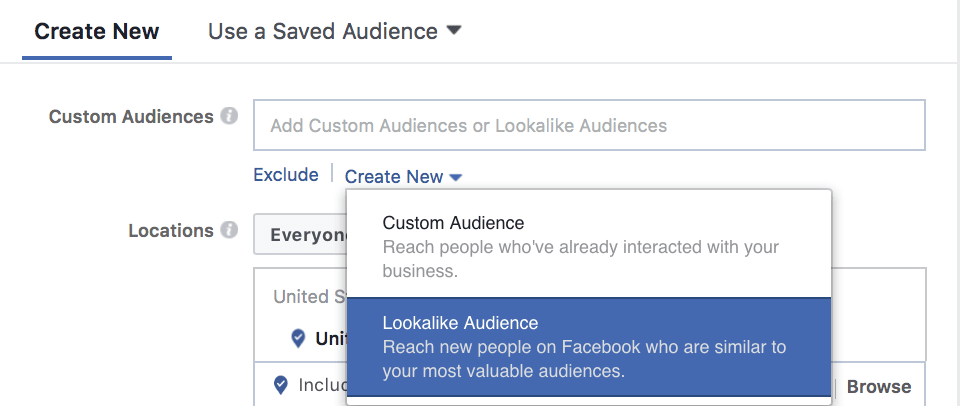 Instagram Ads Placements
Facebook will automatically have most placements selected. If you want to change them, you need to select "Edit Placements."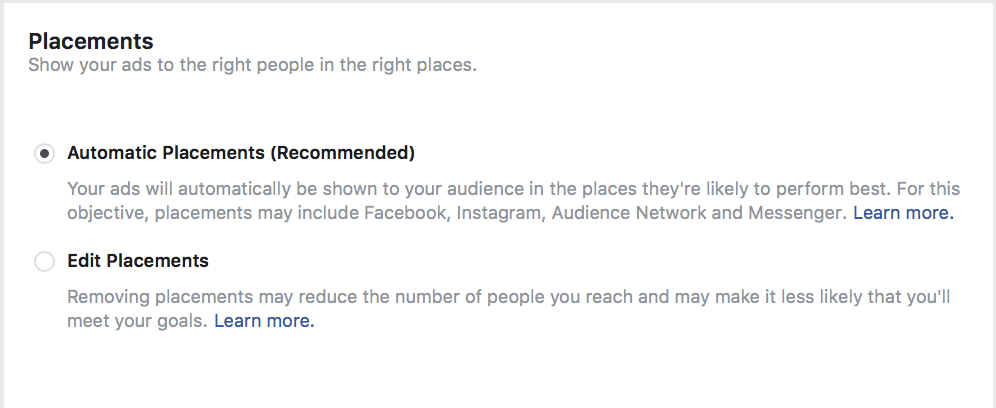 When you're running newsfeed Instagram Ads, you can also choose run other placement options at the same time.
If you're running Instagram Story Ads, however, you can't choose any other placements.
You can choose to run mobile-only ads, but you can't run Instagram Ads if you have desktop-only ads enabled.
For Instagram newsfeed ads, you can choose to enable other placements, including Facebook's newsfeed and side column ads, audience network ads, and messenger ads.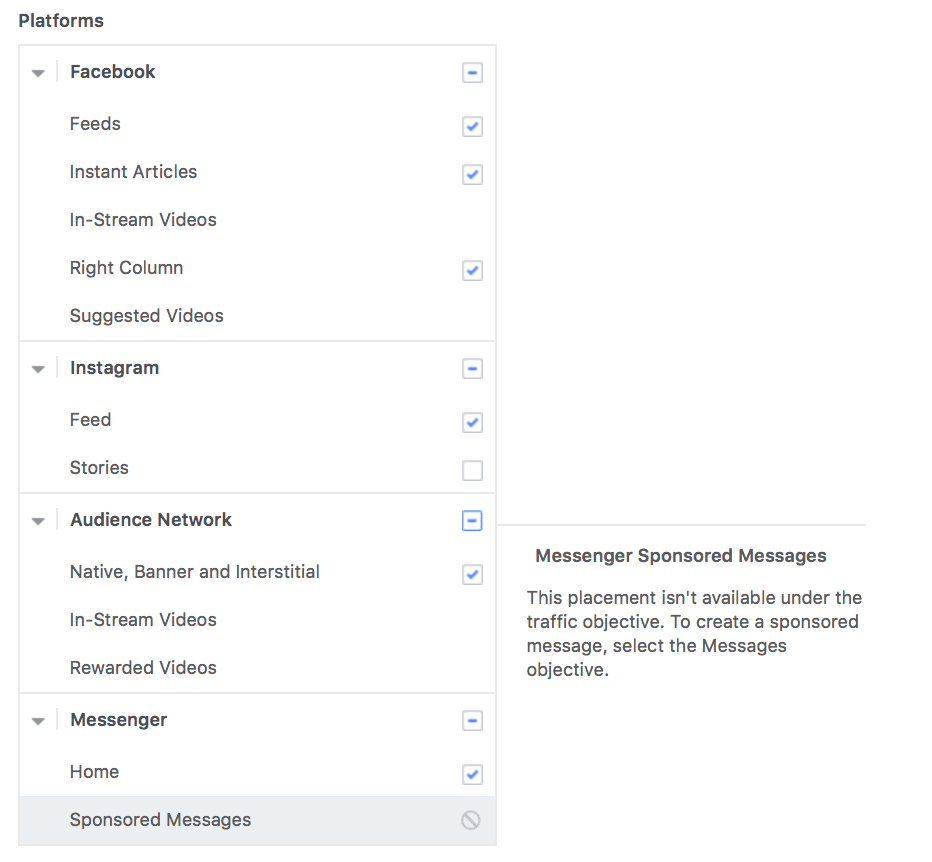 Some marketers make the mistake of running campaigns where only Instagram Ads are enabled, thinking that it will be easier to create due to formatting.
In reality, however, sometimes this can end up affecting cost in a negative way.
Instagram Ads, as we already know, can cost more than other placements on Facebook Ads.
Many advertisers find it beneficial to use a combination of placements to keep the average bid cost low (even if Instagram placements cost slightly more), staying on budget and getting more results.
Instagram Ads Budget & Scheduling
When it comes to your budget, you have two options. You can set a daily budget, or a lifetime budget. A lifetime budget can be ideal when you want Facebook to automatically distribute the ad spend for you over a set period of time, while guaranteeing you'll never go over budget if you schedule incorrectly.
Next, you can choose to run your ad set continuously, or schedule a start and end date. Setting an end date ensures that you'll never have a campaign that gets forgotten, and you can always extend the end date at a later time.
Instagram Ads Bidding
Instagram and Facebook Ads work on a bidding system. This means whoever is willing to bid more can win the ad placement in their target audience. What you bid on depends on what you optimize for. You can bid for clicks, 1,000 impressions, landing page views, and daily unique reach.
You can utilize manual bidding to control how much you're spending per results on your Instagram Ads. If you know, for example, that a lead is only worth a certain amount, you can put a cap at on your bid to ensure that you aren't spending more than you can afford or would be profitable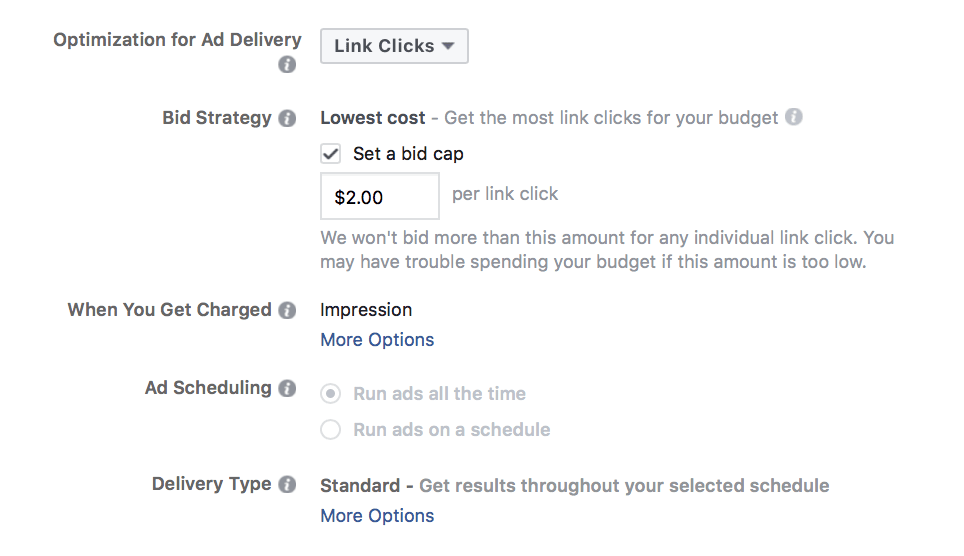 Be careful when utilizing manual bidding, however. If you switch your maximum CPA from "average bid" to "maximum bid," you could lose out on placements. Instagram Ads cost higher on average than other platforms, and having an "average bid" can work to your advantage; this allows the lower priced placements, like network ads, to balance out more expensive Instagram Ads and can boost your placements.
Note that you don't have to do anything with the manual bidding. Facebook will automatically bid on your behalf, and their bids are normally good.
The Ad Level: The Creatives
The last stage of Instagram Ad creation is the creative section. This shapes what your ad looks like and what it says, and it's unsurprisingly a crucial part of how successful your ad is.
Instagram Ad Formats
There are four different ad formats you can use on Instagram Ads. These are single image ads, carousel ads (also known as "multiple image ads"), video ads, and Instagram Stories. Since Stories are technically a different type of placement, we'll talk more about them in-depth later on.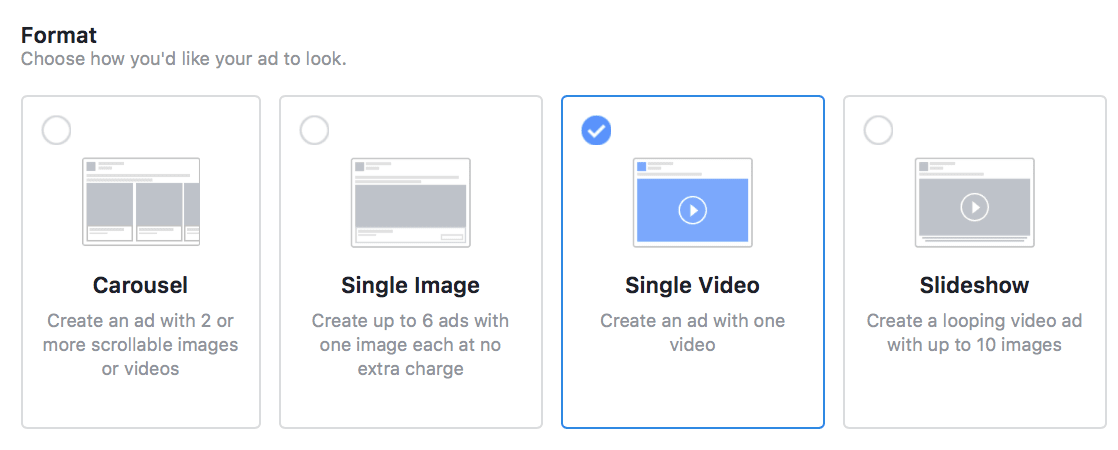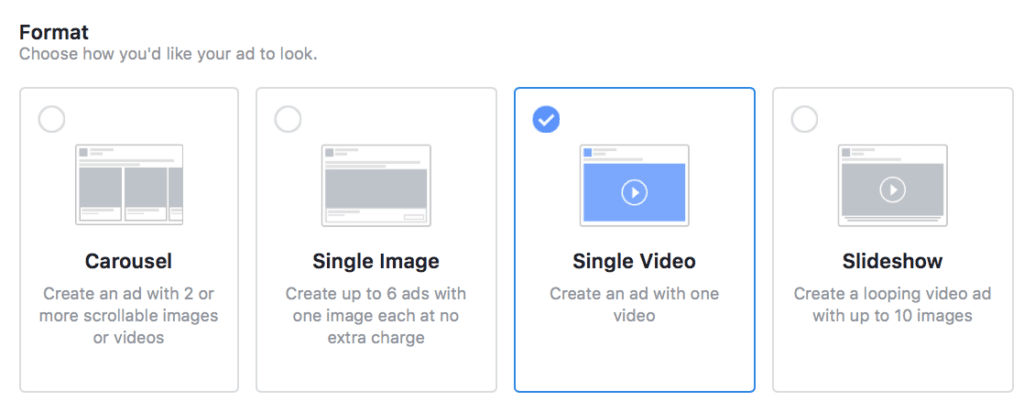 Single image formats can be clear and to the point. They work well for simple concepts and ads featuring a single product. If you are selling something with a high visual appeal, you can't go wrong with a single image ad.
These ads should:
Have an image ratio of 1.91:1
Come at the recommended image size of 1200 x 628 pixels
Have less than 20% of the image containing text
Multiple image formats can be a dynamic way to showcase several products (or a single product up close, like the example below, that had customers swipe to view the full iPhone X). It gives you more visual space to elaborate on the point you're trying to make. You can also add videos to one or more slides in your carousel to make them even more engaging. These images and videos should be square instead of rectangular. Encouraging users to Swipe is beneficial for these ads, as they aren't as obvious on Instagram as they are on Facebook.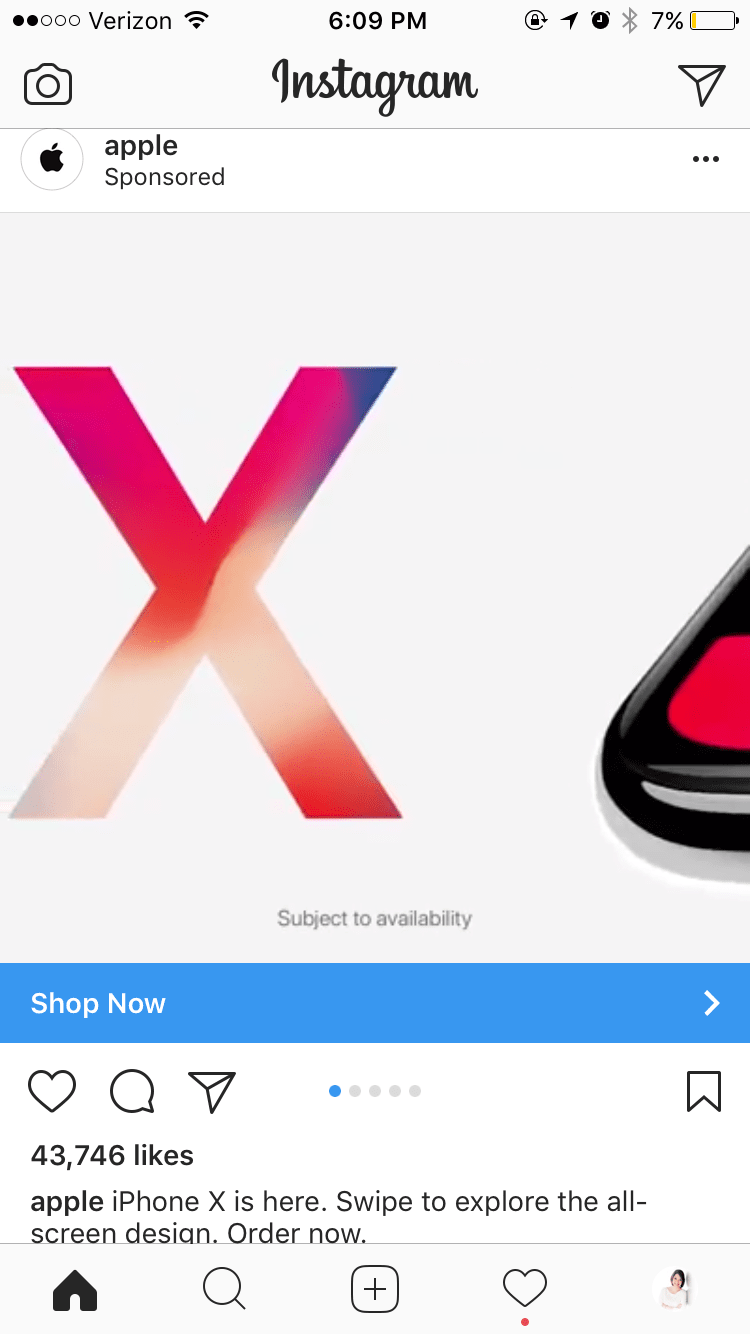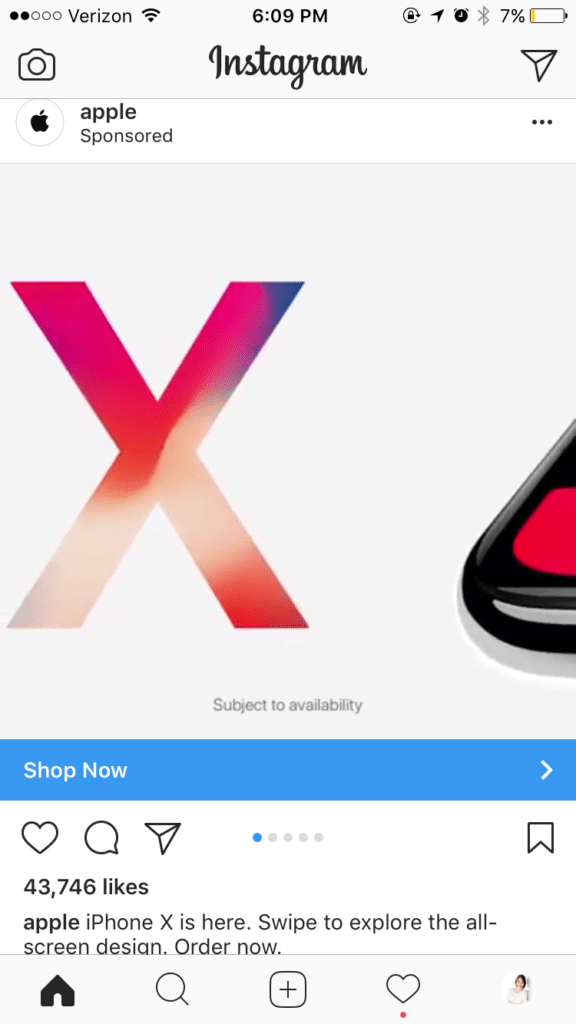 Instagram video ads run on auto-play, just like Facebook. Also like Facebook, they start playing without any sound. You should combat this by adding closed captions to your videos, especially since the biggest perk of video ads is the ability to more completely tell a story.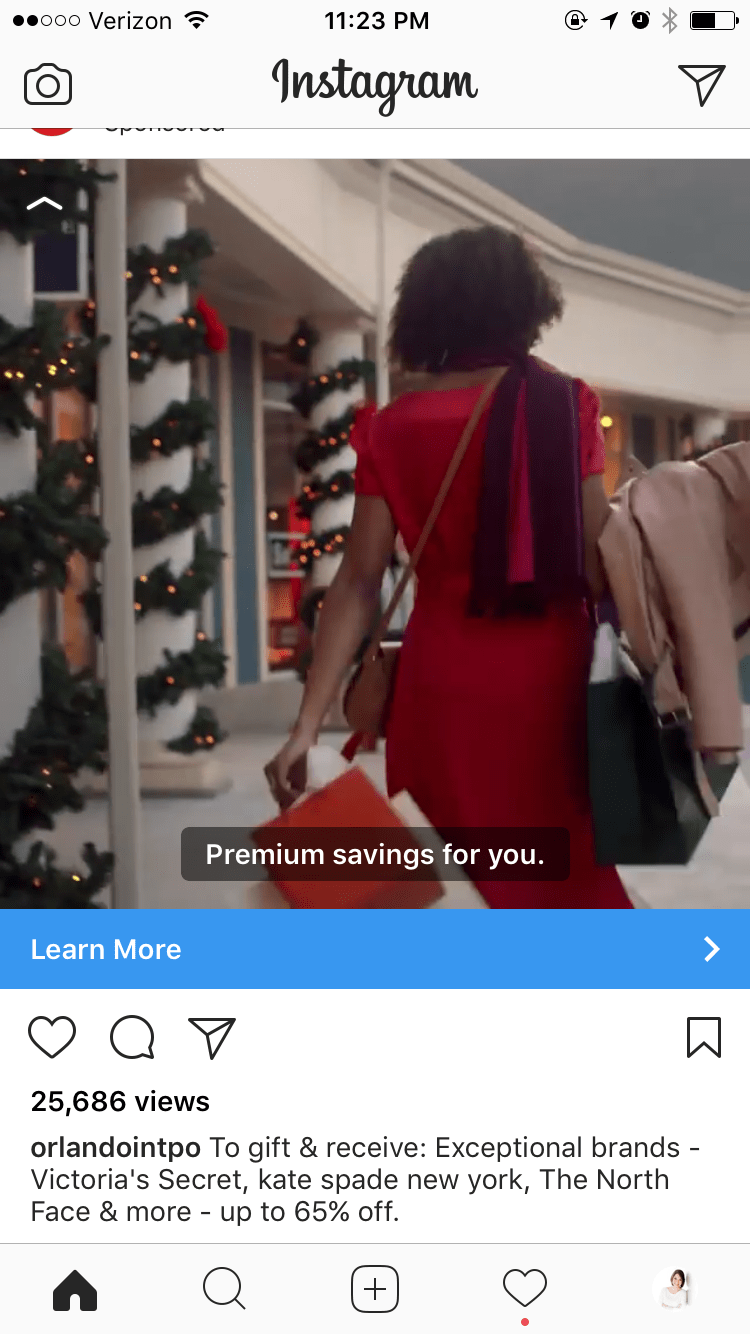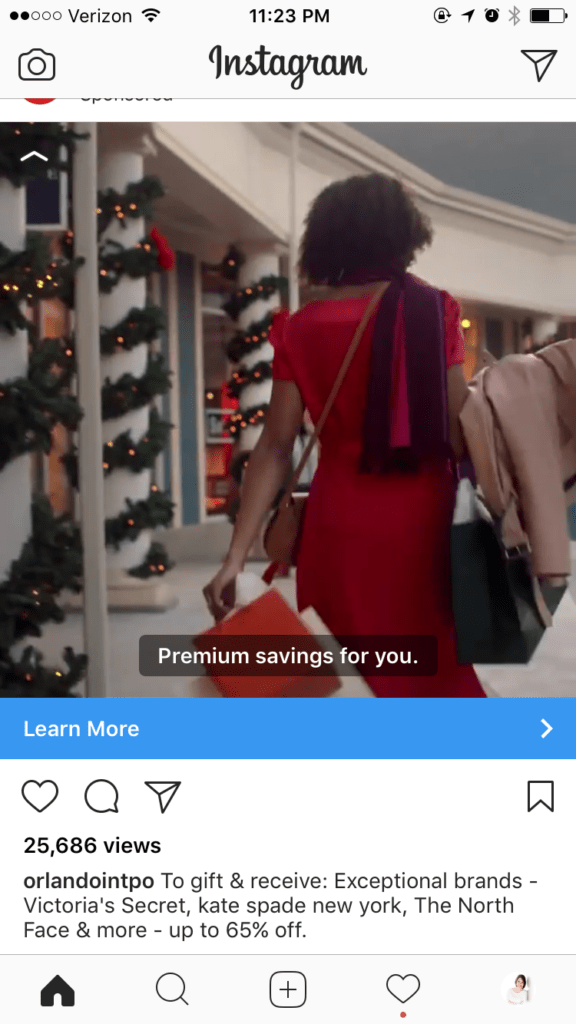 Your Instagram video ads can be sixty seconds or less, though it's recommended that they're at least 15 seconds long. Most video file types are accepted, but they need to be a minimum width of 600 pixels and under the maximum file size of 4G.
Image & Copy Creation
The very last part of the ad will require you to choose your visual components and your ad copy.
Choose the image or video first, and then base the copy around it. You'll notice almost immediately that there will be some text that doesn't apply to Instagram Ads.
The "headline" section is a great example; while this will still show up in Facebook Ads, requiring you to fill it in, it doesn't show up at all on Instagram Ads in their current formatting. Because of this, preview your ad in every placement before publishing it to make sure that the meaning is clear.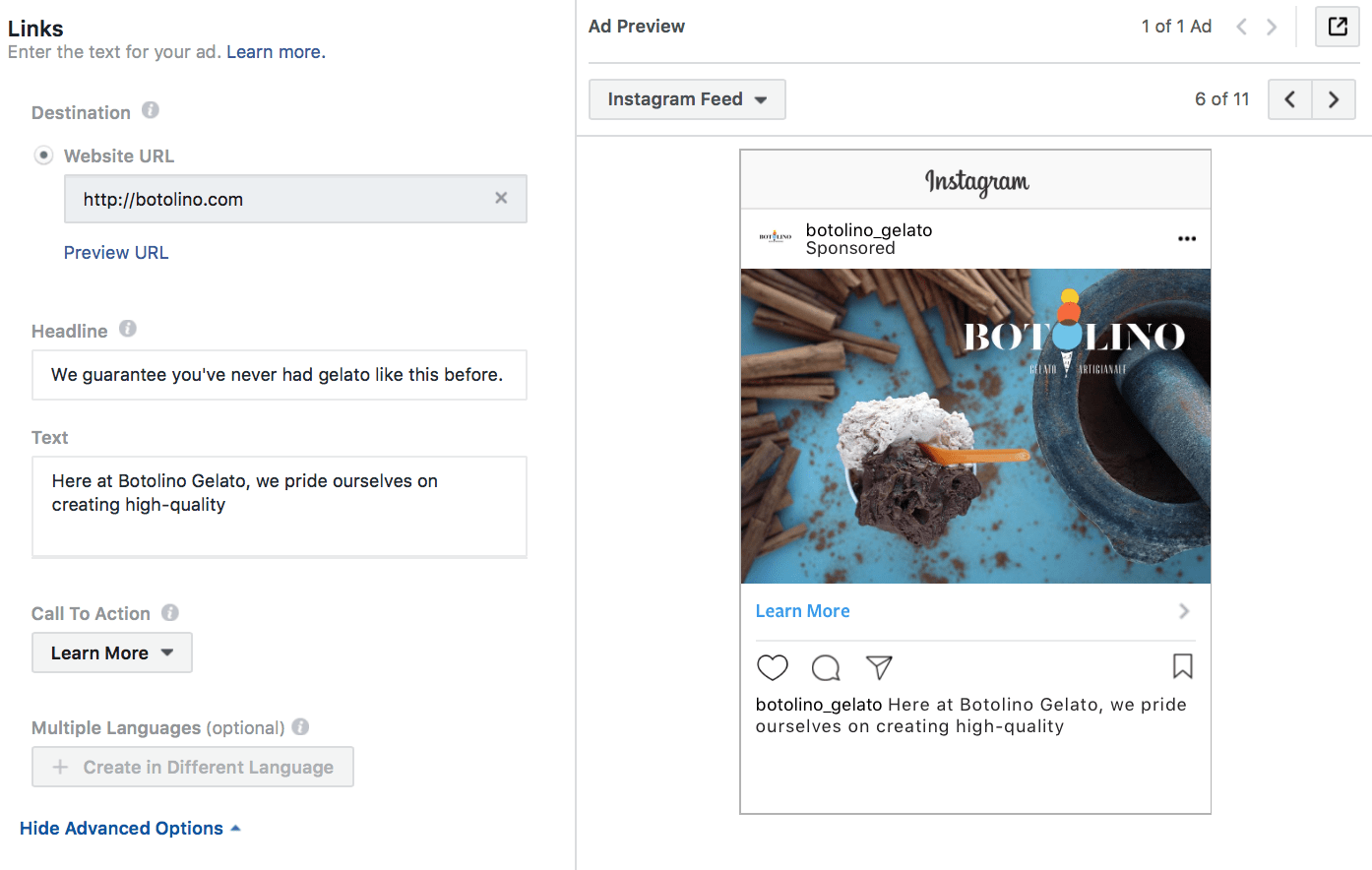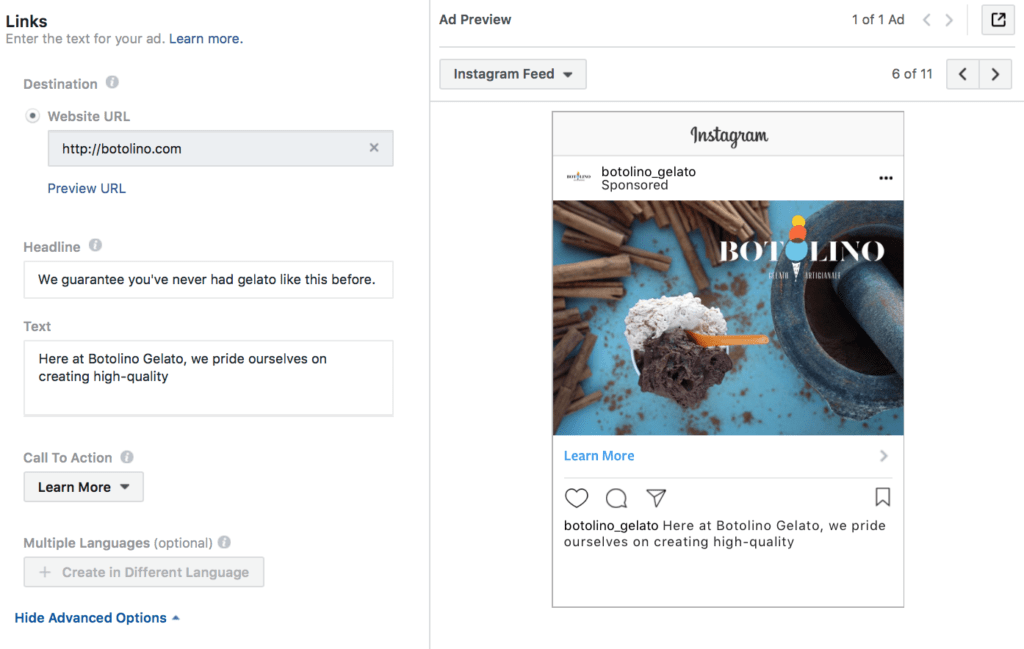 You'll also want to choose your Call to Action button. Options for this include everything from "Learn More" to "Get Showtimes" to "Send Message." Choose the one that best reflects the action you want your audience to take, and consider where they are in the digital sales funnel. "Learn More" feels less risky to first-time viewers than "Shop Now."
After you've previewed your ad, it's ready to submit.
How to Connect Your Instagram Ad Account to Facebook
Connecting your Instagram Ad account to Facebook is quick and easy. Once in the Ad creation, you'll be given the option to choose which Page and Instagram account you want to run the campaigns under. Your Facebook Page will likely be hooked up. If you haven't connected your Instagram account yet, it will look something like this:


You have two choices. You can either run Instagram Ads under your Facebook Page, or you can connect your Instagram account to the ads manager. Click on the "Add an Account" button to do the latter, and it will pull up a login screen for you to sign in to your company Instagram account.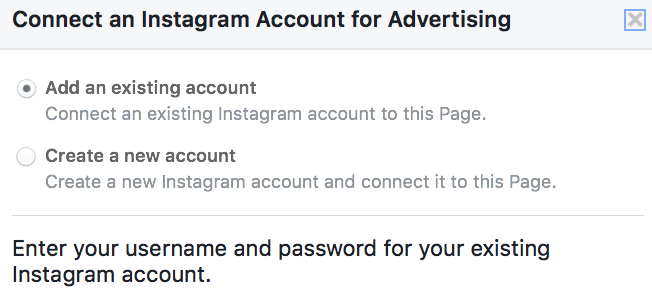 How to Boost Posts from Instagram
If you're feeling intimidated by the ad system or want to promote a single post on Instagram quickly, Boost Posts can be a good option. This allows you to pay to promote a specific post. If you do choose this option, the major boost in social proof (including likes and comments).
You can boost any post on your Instagram, as long as your profile is established as a business profile. When you click on your posts, you'll see the ability to "Promote" below the image.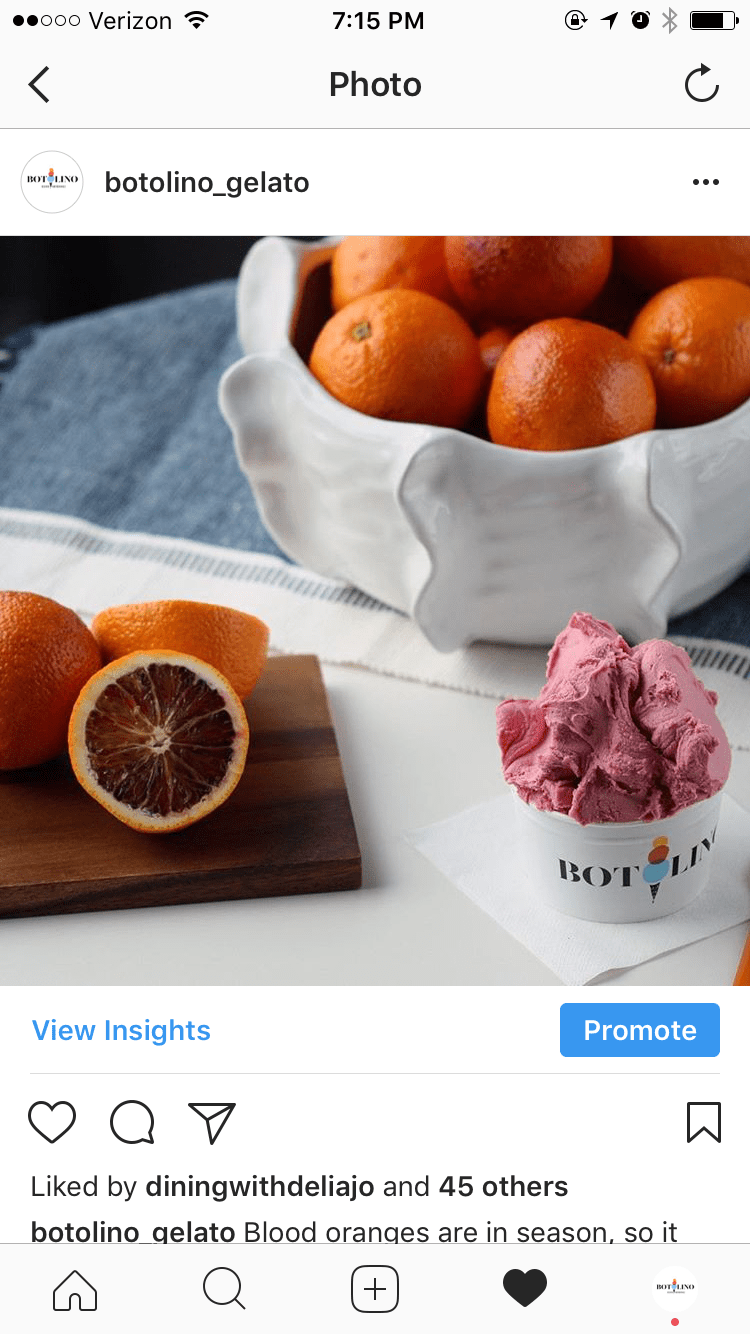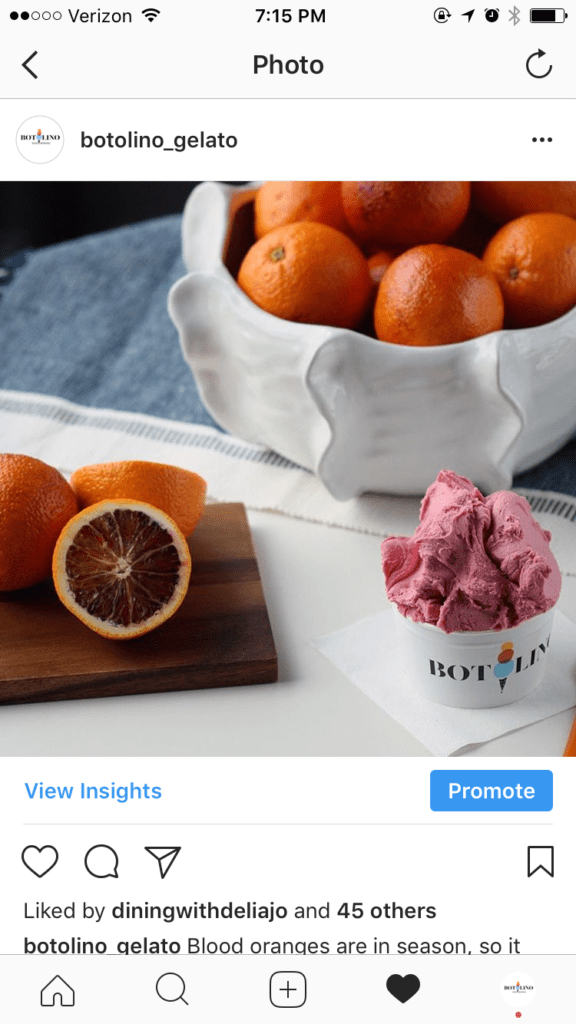 When you click this option, you'll choose what objective you want to focus on. With this option, you'll only get two choices.
They are:
Get more profile and website visits, where you'll decide whether you want to send customers to a specific site or your Instagram profile. This option allows you to choose from Shop Now, Learn More, Watch More, Book Now, Sign Up, and Contact Us CTA buttons.
Reach people near an address, which allows you to choose a location you want to target. This option gives you the choice between the Get Directions and Call Now CTA buttons.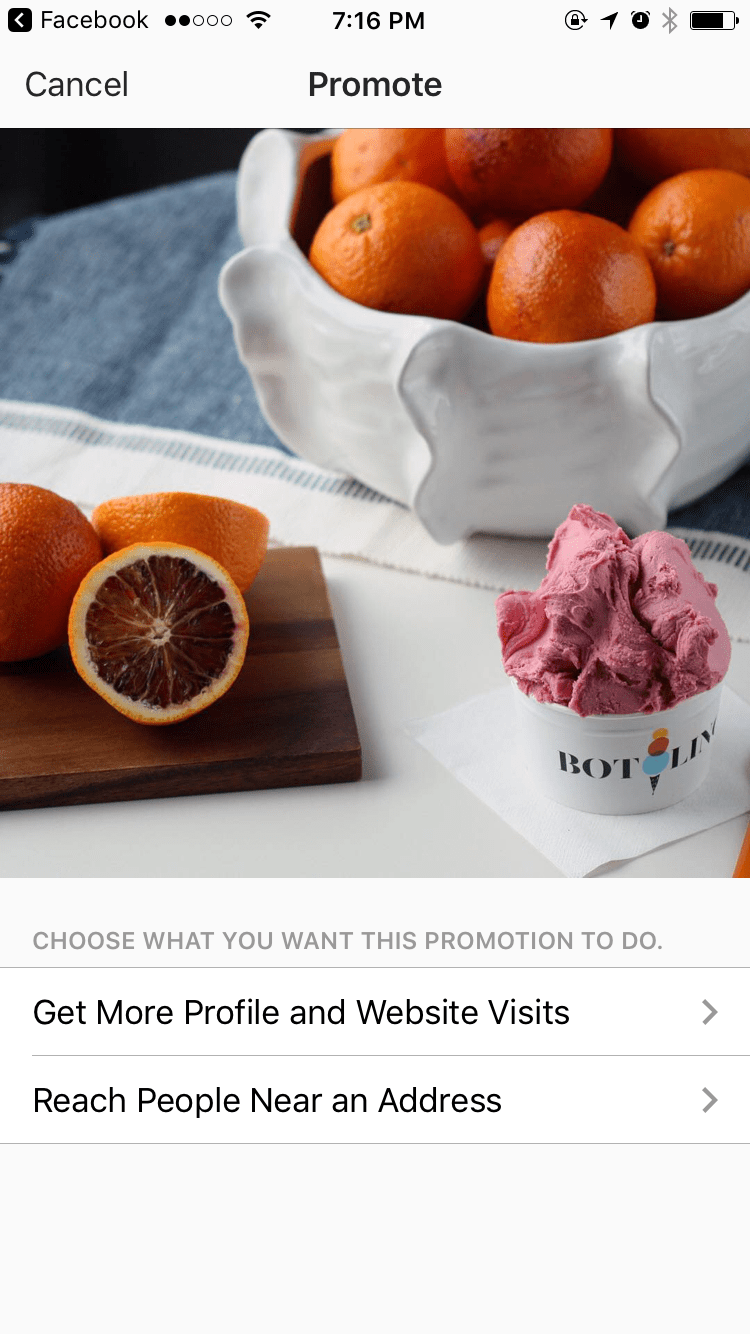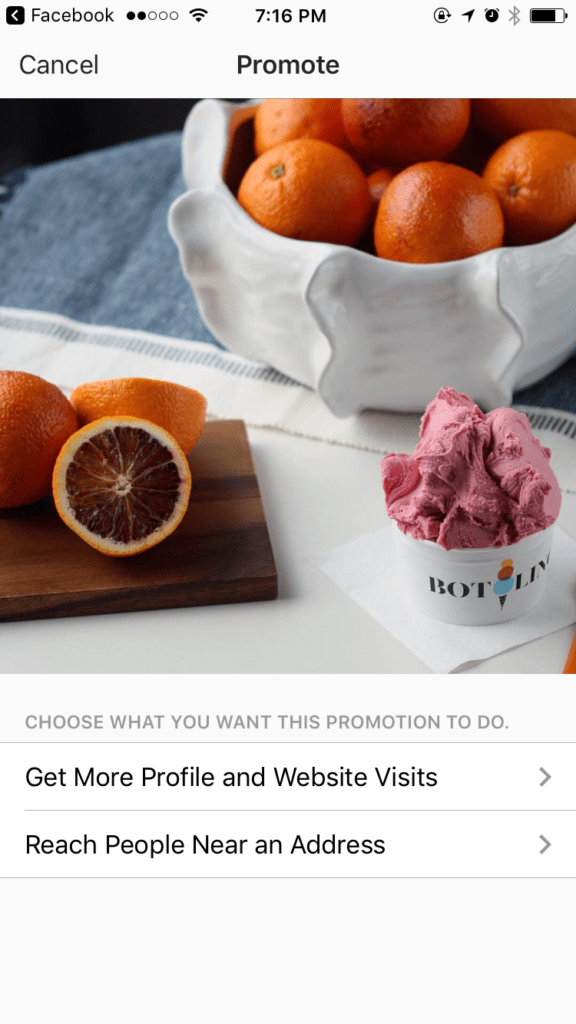 On the next screen, you'll choose your CTA, set your budget, and establish how long you want your campaign to run. Make sure you preview your ad before submitting it to run.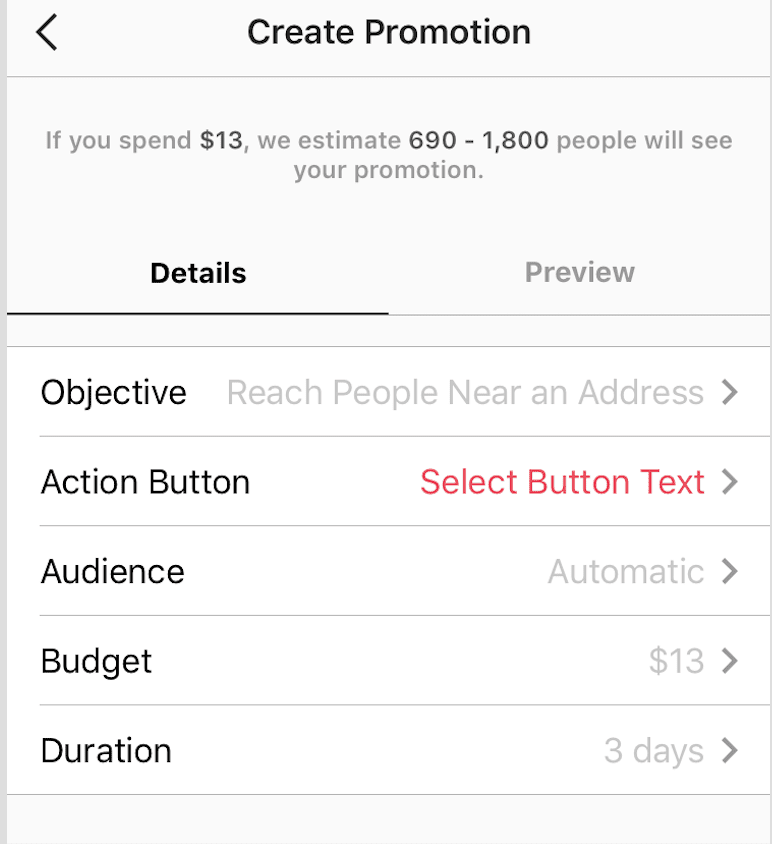 Monitoring Your Instagram Ads
You can monitor your Instagram Ads through your Ads Manager. The Ads Manager dashboard lays out everything that you need to see at a quick glance, including relevance score, cost per action (CPA), and number of results you're getting. While it's good to see how much reach you're getting, this is a number that you don't need to focus on quite as much; the results you're getting- and what you're paying for them- amount to a good bit more.



As your campaigns are running, watch them closely. As soon as frequency increases, your other metrics may start to sink, driving up your CPC. Close monitoring also allows you to see what's working and what isn't; you can pause ineffective campaigns and reallocate the adspend to the more successful ones.