Virtual reality marketing is not the future—it's the present. As early as 2018, 78% of people were familiar with virtual reality technology. That number has been climbing steadily since 2015.
More and more brands are incorporating virtual reality (VR) into their marketing strategy. Some use VR features in social apps, such as Instagram, while others create custom apps.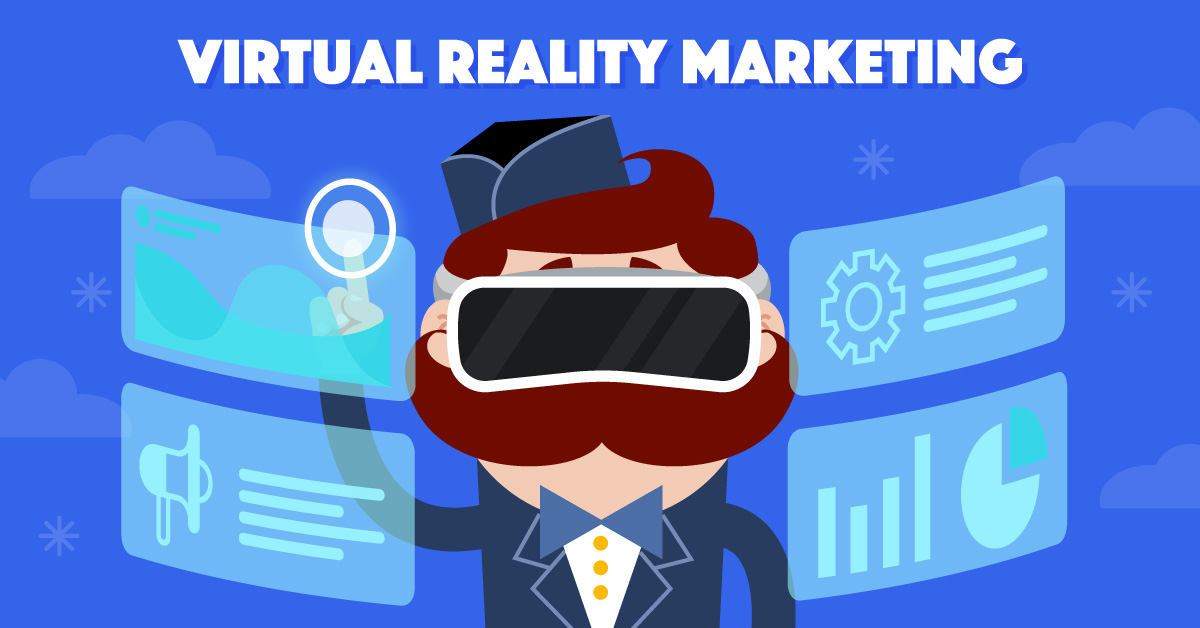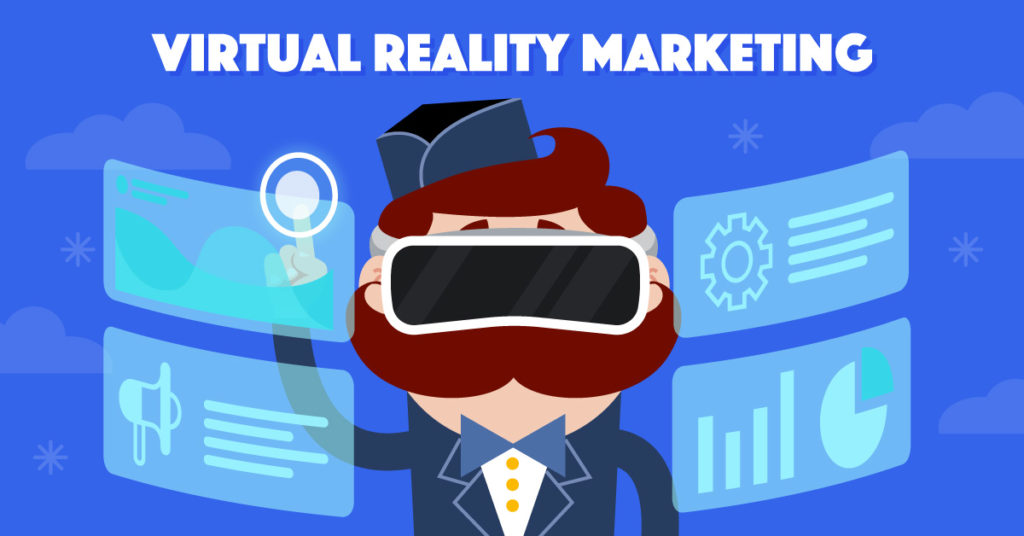 No matter what method you use, virtual reality marketing opens up new (and potentially less expensive) ways to interact with customers and increase brand awareness.
We'll look at virtual reality examples from top brands and break down how they're using the technology to strengthen customer relationships.
What Is Virtual Reality Marketing?
Virtual reality marketing involves brands promoting themselves and their products using virtual and augmented reality technology. The technology creates a fake but realistic environment. Sometimes VR marketing is visual, and sometimes it's multi-sensory, depending on the device. A full virtual reality headset offers a completely immersive experience, while a VR Instagram filter simply overlays objects or pictures onto the camera view.
These filters are a type of augmented reality (AR) marketing. AR is a type of virtual reality in which a virtual image is overlaid on the real world.
AR marketing is the most common type of virtual reality marketing. It is more feasible and less expensive for many companies to use than creating a headset experience. Since augmented reality only requires a phone or desktop app, it's also more accessible for consumers.
The rise of augmented reality started with games, like the extremely popular Pokemon Go. But brands quickly started using the technology in their marketing. Makeup company Sephora was among the first to popularize augmented reality marketing with its Virtual Artist app.
Customers can use the app to try out different makeup looks and get personalized recommendations for products.
Customers Can "Try Before They Buy"
Following on the heels of Sephora's success, brands are adopting augmented reality marketing to let customers try out products virtually before buying them. You can give customers a complete view of the product, so it's less likely that they'll want to return it. After all, 64% of ecommerce returns are because the product doesn't meet the customer's expectations.
Fewer returns mean lower costs and more revenue for your business. There will also be less waste from products that can't be resold.
Companies seem to be benefiting from this technology already. Deloitte finds that several industries—including furniture, makeup, and shoe companies—are seeing early successes and positive ROI from augmented reality marketing.
Let's take a look at a few virtual reality examples in action.
IKEA: Try Out New Furniture
Home furnishing brand IKEA's AR app lets you see how furniture will look in your space before you buy.
You can "try out" multiple pieces of furniture at once, including full room sets. Customers can see how pieces suit their rooms and how they look together.
Reception of IKEA's augmented reality marketing has been positive—the app has over 5,500 ratings on the Apple app store, with an average of 4.7 out of 5 stars. Customers reported the app improved user experience over the previous website.
L'Oreal: Get a Virtual Makeover
Makeup and hair-care brand L'Oreal released an app called Makeup Genius, much like Sephora's Virtual Artist. L'Oreal Makeup Genius lets you try out a variety of hair colors and makeup styles.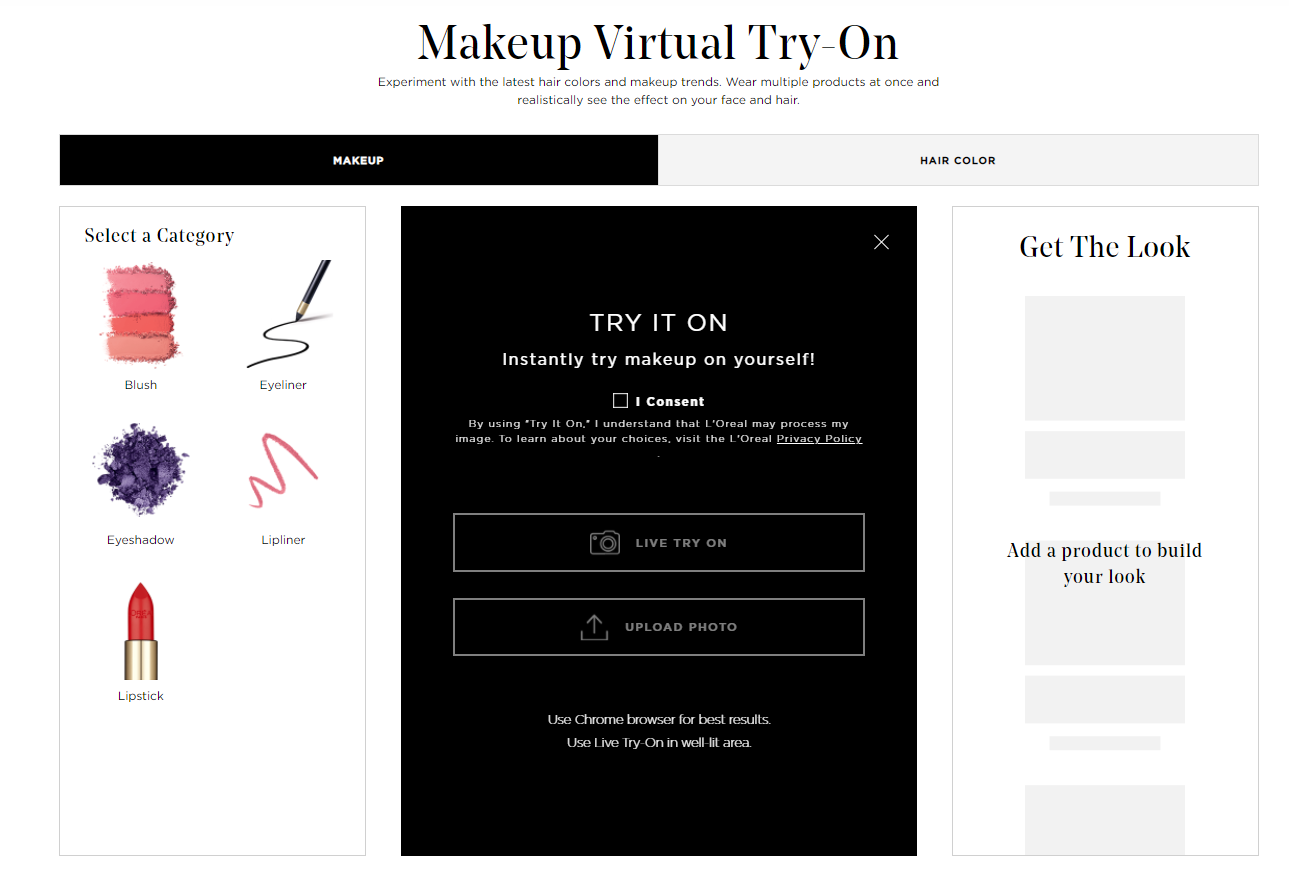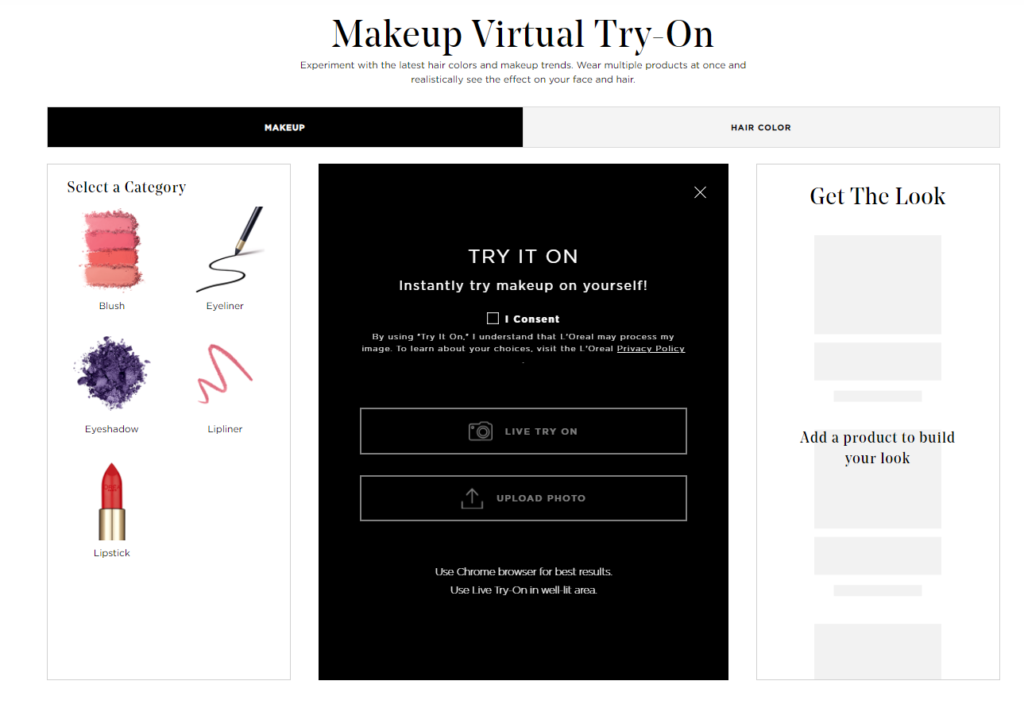 Virtual try-ons are also a way to address safety concerns brought on by the coronavirus pandemic. Customers can test makeup without using the shared samples that were often available in stores. In fact, they can try out and buy products without venturing to in-person stores at all!
Makeup Genius works on both mobile and desktop devices, making it widely accessible. As customers try out new looks, the app offers personalized recommendations and sends alerts when new products become available.
Companies should strongly consider following suit and using VR to create customized shopping experiences based on customer preferences. An Accenture survey found that 91% of consumers prefer brands that provide personal recommendations.
Customers have certainly found the value in L'Oreal's app: it has been downloaded over 20 million times.
Gucci: Try On Shoes
Virtual reality marketing is also a fun way to announce new products. Luxury apparel brand Gucci launched an AR feature in its app to promote the new line of Ace sneakers. Users can point the camera at their feet and see how different styles of the sneaker would look. The app tracks movement, so they can see the shoes from multiple angles.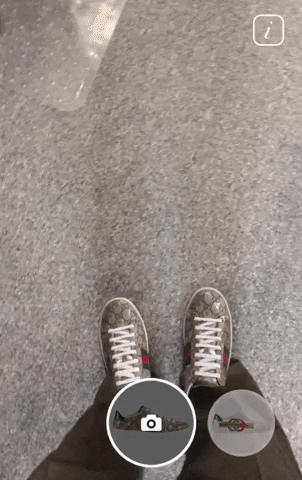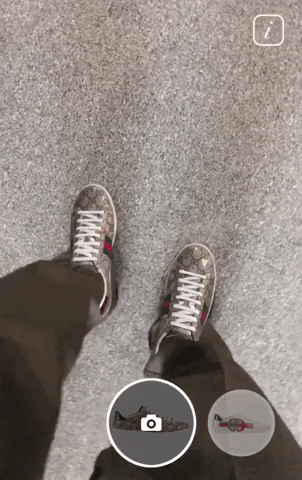 The company later added the technology to Snapchat, opening up a whole new venue for user-generated content (UGC). Putting the filter in Snapchat reduced friction for customers because they didn't have to download Gucci's app to try it out.
Using AR with Snapchat also offers a new venue for sales. About 50% of Gucci sales are from millennials. Since Snapchat is popular among millennials, Gucci's target audience can try out products by using a platform they already use every day.
When customers can use virtual reality to try out your products, you get all the benefits of sending out free samples, without the cost and hassle.
Customers Can Create Branded Content with Filters
Instagram recently partnered with Spark AR to create a new feature, with which users can make custom AR filters. The filters overlay words or images on top of the actual image in the camera view.
Brands are taking advantage of this to create filters that display the company's logo or other branded image. Coca-Cola Poland, for example, created one that puts their polar bear mascot in the room, virtually, with the viewer:
When a brand makes a custom filter, other Instagram users can add the filter to their camera and use it in their Stories. The name of the creator appears in the top left corner of the filtered image, so your brand name is there, even if the filter itself doesn't have your logo. This is a fun way to encourage UGC and spread brand awareness.
Instagram's filters offer an inexpensive, low-friction way to use augmented reality marketing. It's free to make the filters, and customers don't have to download a company-specific app.
Prada: Expand Your Advertising Campaign
Luxury clothing brand Prada created a Stories filter that turns the letters of PRADA into an acronym as part of a larger 2020 campaign.
When people use the filter, a white sign appears behind them, saying "Current Prada mood." The sign then rotates through a series of acronym sets before landing on one at random.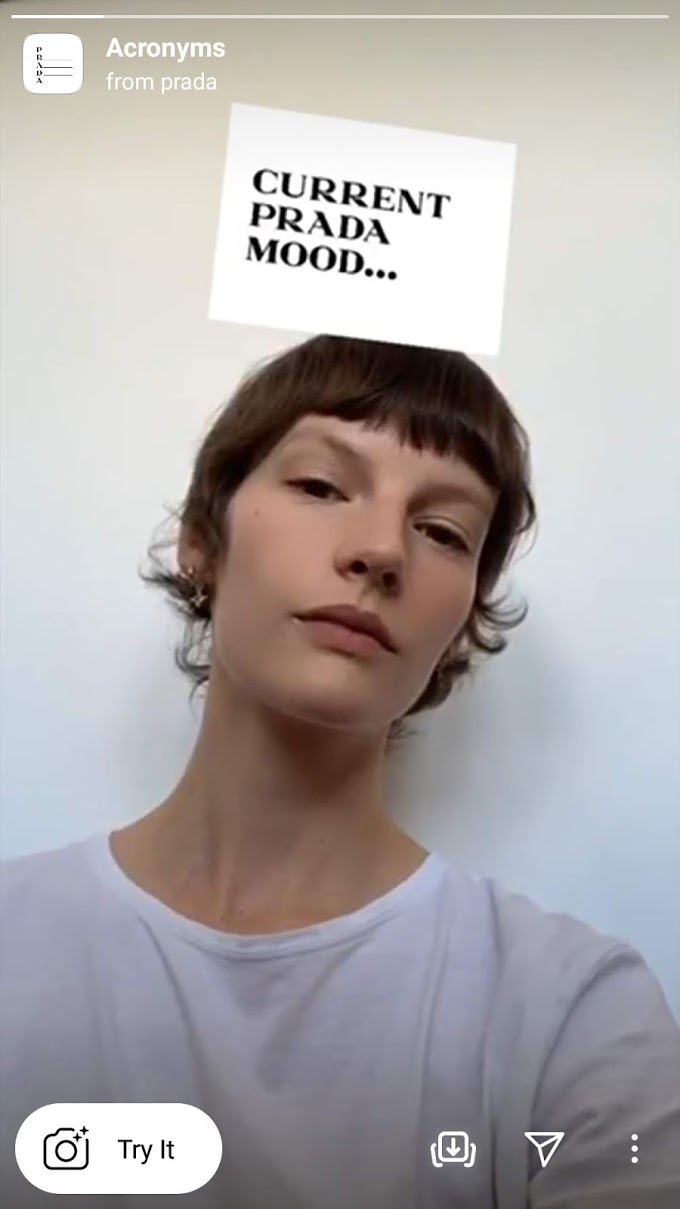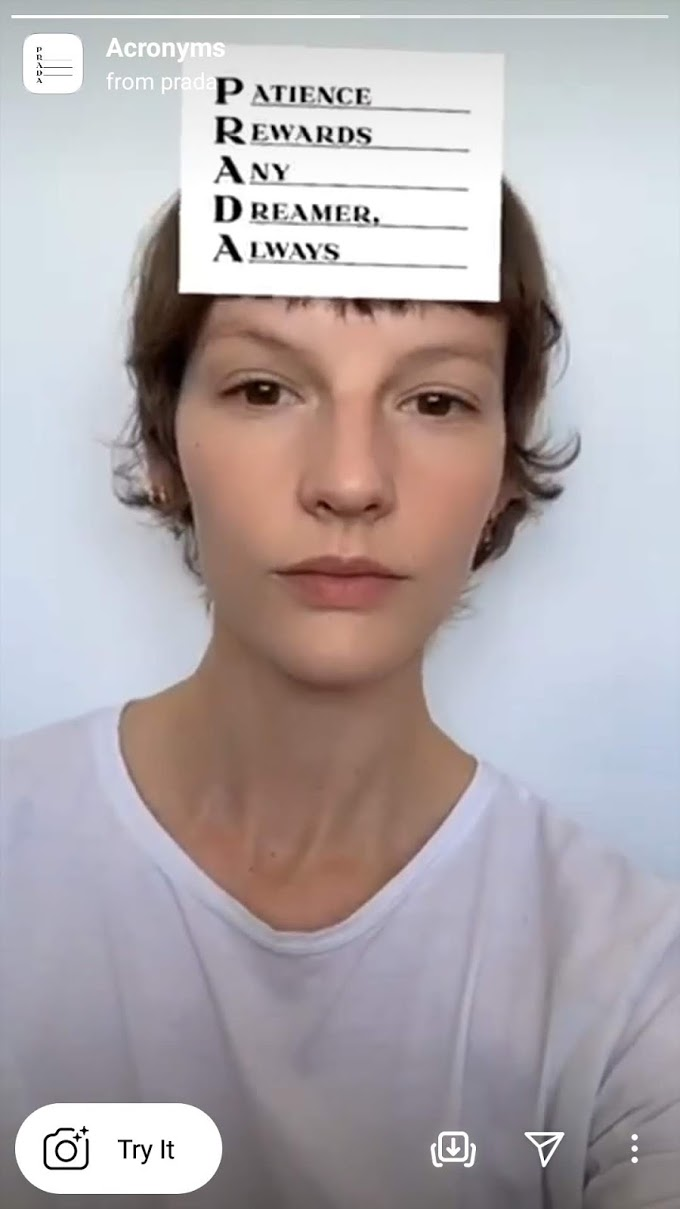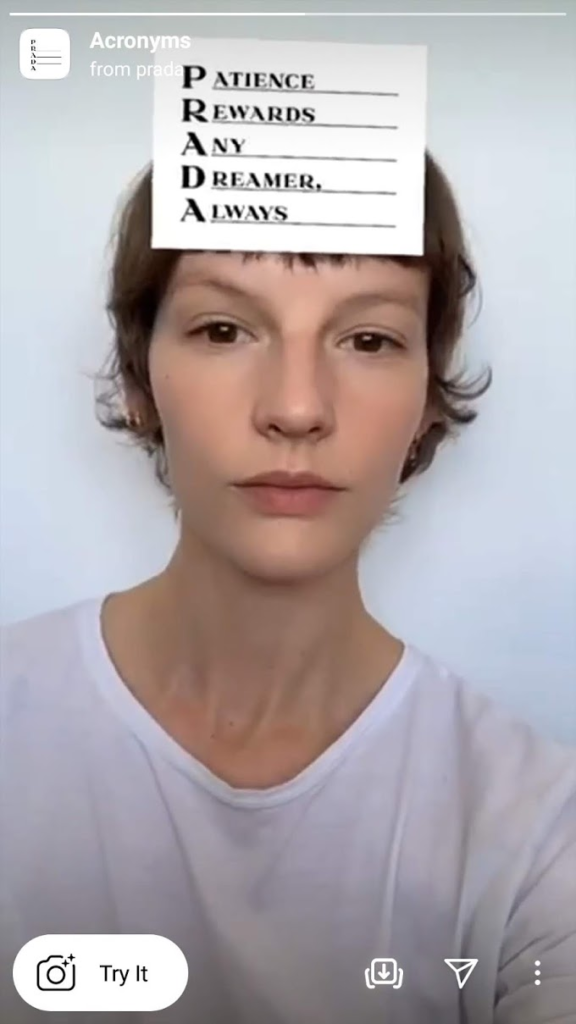 The filter adds a gamelike feeling to the user's Story video since they don't know what set of words they might get. It creates a sense of fun for users, so they're motivated to add the filter to their Stories.
Maddie Ziegler: Tag a Friend
You can design your custom filters to take advantage of Instagram's other built-in features, such as tagging. This is what model and actress Maddie Ziegler did when she partnered with Instagram for an anti-bullying campaign. Her filter adds an overlay of hearts and prompts users to tag a friend.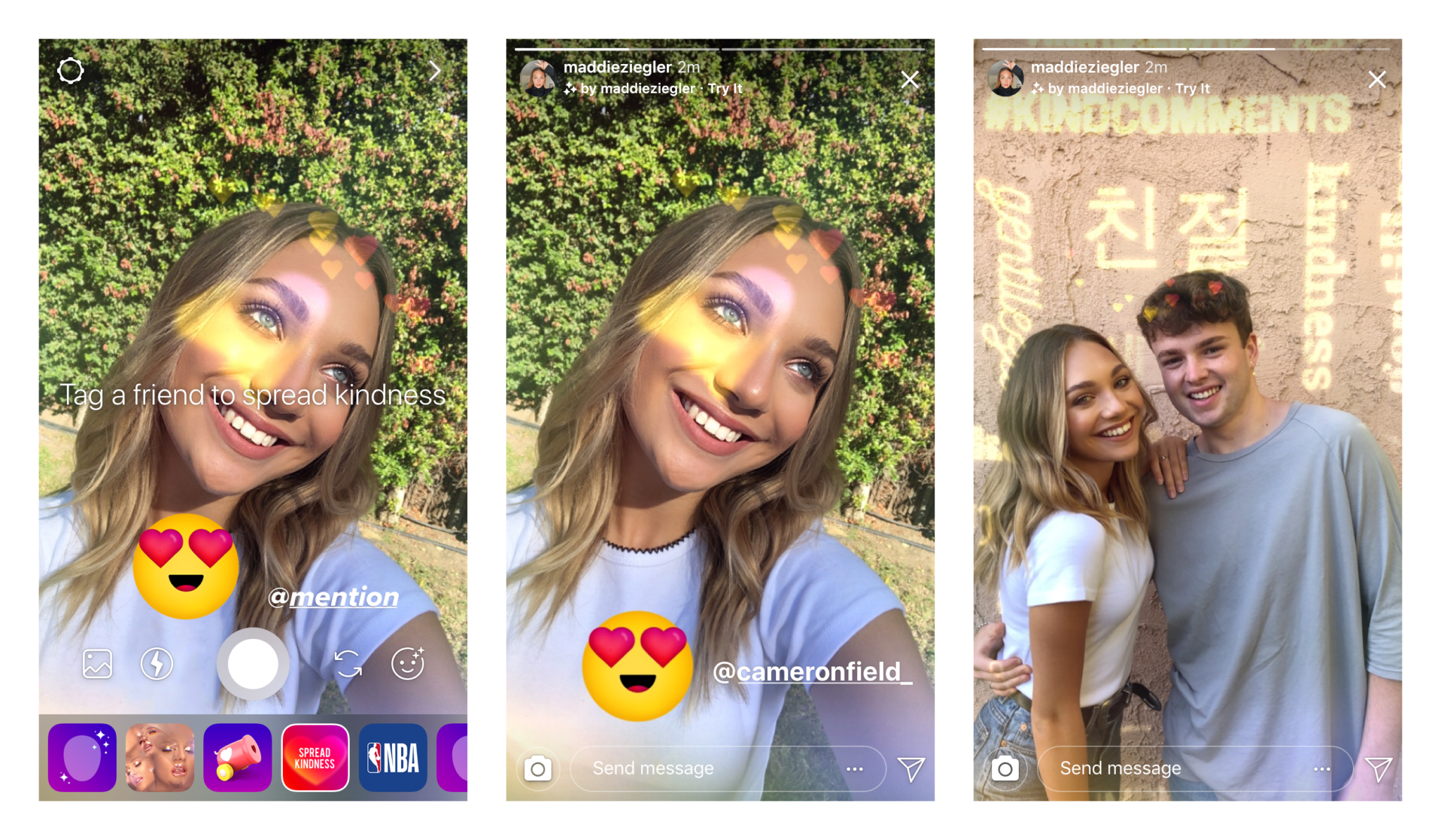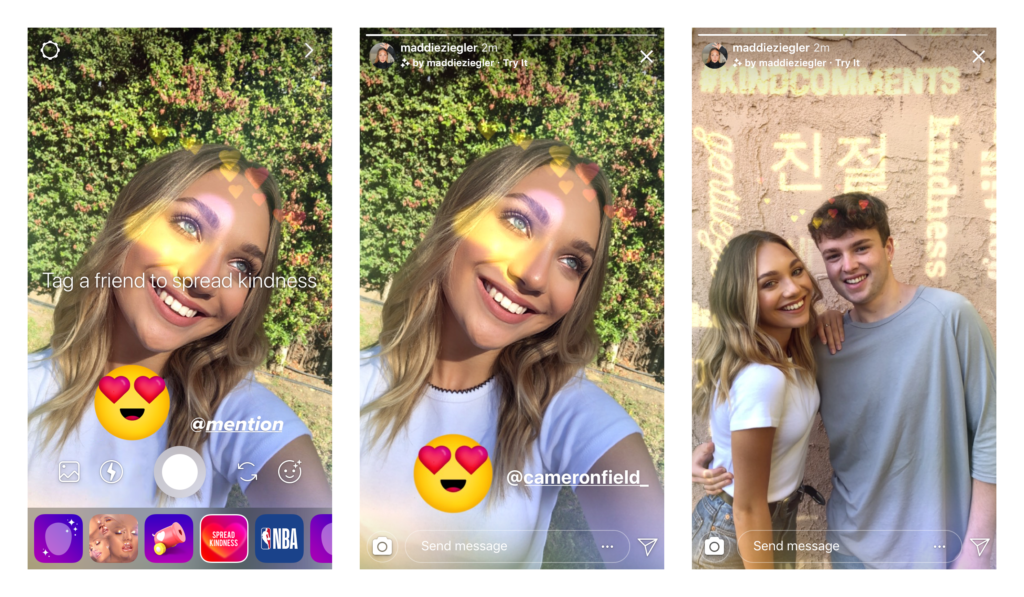 If you use the backward-facing camera, the filter overlays words of kindness and positivity on your image.
Anyone who follows Maddie Ziegler automatically has access to the filter. When they tag a friend, that person receives a notification and can add the filter to their own Story. They just need to click "add effect" when they see the filter on their friend's Story. This tagging helps spread brand awareness outside of your immediate circle of followers.
For information on setting up your own custom AR filters, check out this guide.
You Can Highlight the Real-Life Impact of Social Initiatives
A significant part of promoting social initiatives is showing people why the cause matters. Almost 75% of young adults will donate to or raise money for an issue they believe in, but you have to convince people that your cause is worth helping.
VR can directly connect people with a cause in a way that feels real and personal. The Virtual Human Interaction Lab at Stanford University found that using VR to educate people about social issues increased empathy and encouraged participants to change their behavior. Use this technology to boost awareness of your organization's social initiatives and fundraising for nonprofits and charities.
Let's look at two companies using virtual reality marketing to enhance the greater good.
Toms: Show Visitors Your Initiatives in Action
Shoe brand Toms is known for its humanitarian efforts. They started by giving away a set of shoes to someone in need for every pair a customer purchased. Recently, they pledged to dedicate a third of their net annual profits to charitable organizations that support causes ranging from education to mental health to freedom from violence.
To highlight their buy-one-give-one model, Toms partnered with Vrse to create an in-store VR experience. Using a VR headset, customers get to virtually go on one of the company's Giving Trips.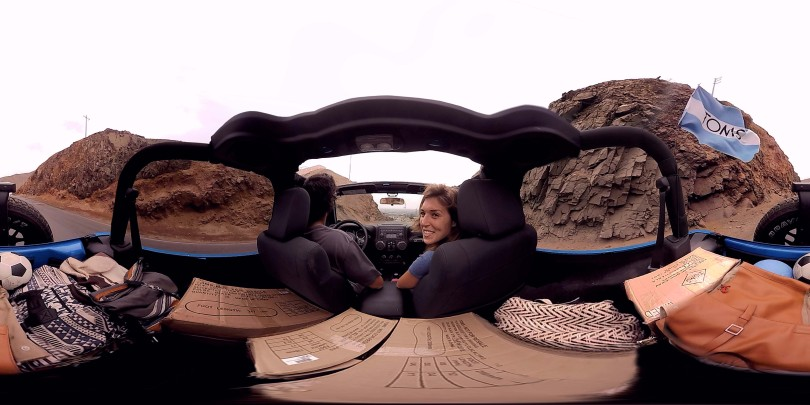 They watch as children are measured and given shoes. They even "meet" one of the recipients and see their living conditions.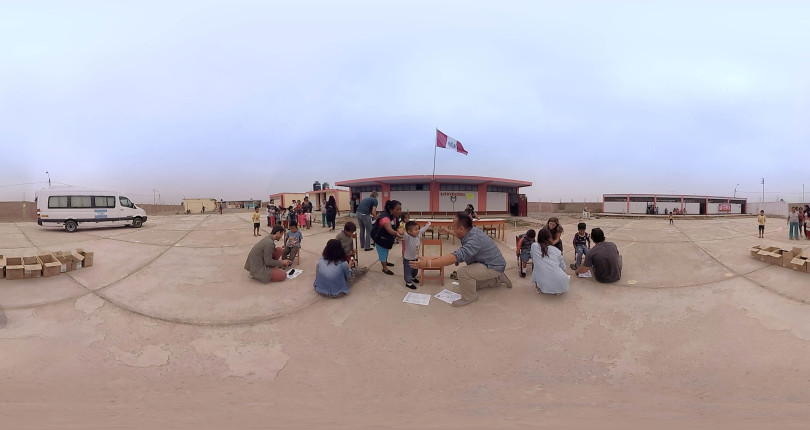 According to Toms retail director at the time, Keith Eshelman, reactions to the campaign were overwhelmingly positive and emotional. Thanks to VR, Tom's customers can see the real-life benefits of supporting the brand.
Alzheimer's Research UK: Offer a New Perspective
Another way VR can help social causes is to put users into someone else's shoes. This was the goal of Alzheimer's Research UK when they partnered with Google Cardboard to create their app, A Walk Through Dementia.
The app helps people experience what it's like to live with dementia. Users go through everyday tasks like going to the grocery store, walking on the sidewalk, and taking care of chores around the house. With sound and visual manipulation, the app shows you the difficulties people with dementia deal with, like having trouble reading lists and being overwhelmed by the noise outside.
Because it's a phone app, the project is widely available and can reach a broad audience. The Google Cardboard device makes it a full VR experience, but it works without the device.
By giving viewers a firsthand perspective into the disease, the brand makes the cause personal. People can see why they should donate to support Alzheimer's research after realizing how difficult it is to live with the condition.
Create a Memorable Brand Experience with Virtual Reality Marketing
With virtual and augmented reality, you can offer your customers a unique perspective. They can try out dozens of products in minutes to find the best possible fit, or they can see firsthand the social impact their purchases have.
But the best part is, virtual reality marketing is achievable even for small businesses. Custom Instagram AR filters are free. And thanks to widely available technology like Apple's ARKit, even creating your own augmented reality app is reasonable.
Now is the time to embrace VR and AR marketing. The technology is affordable and widely available, but it's still new enough to give you an edge over your competitors.
Have you tried virtual reality marketing? What results did you see from your VR campaign? Let us know in the comments!