Brands don't always consider to use Facebook Messenger as an essential part of Facebook marketing, but it should be a top priority.
Putting time and energy into Messenger is an opportunity to nurture relationships with your audience while doing everything from resolving customer concerns to proactively driving sales on an automated basis.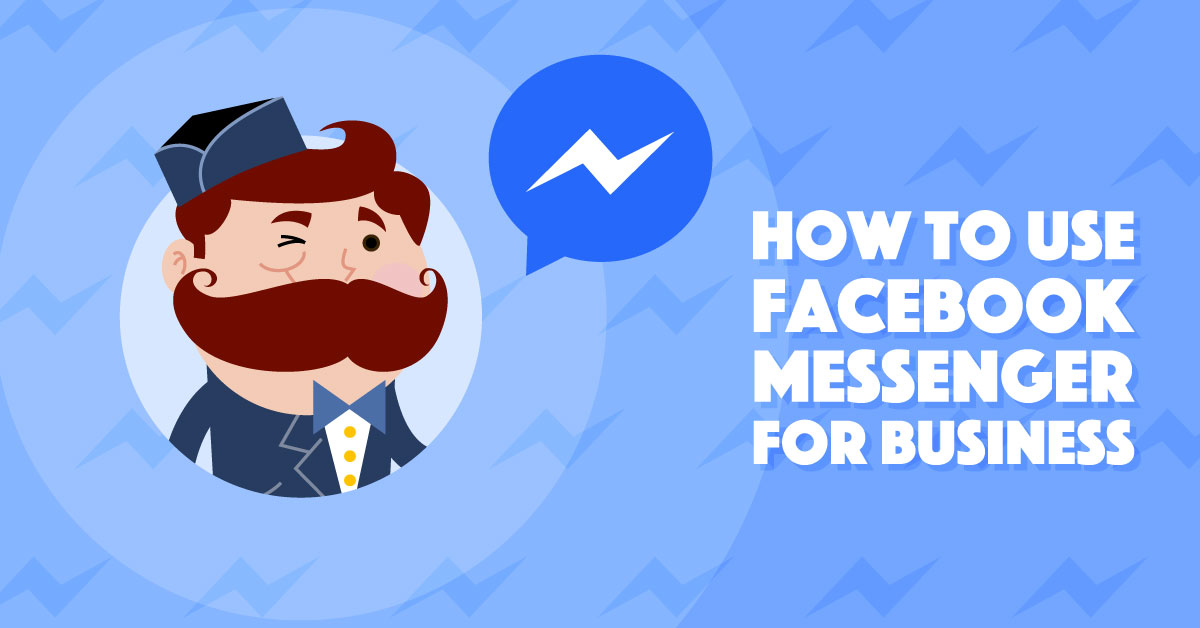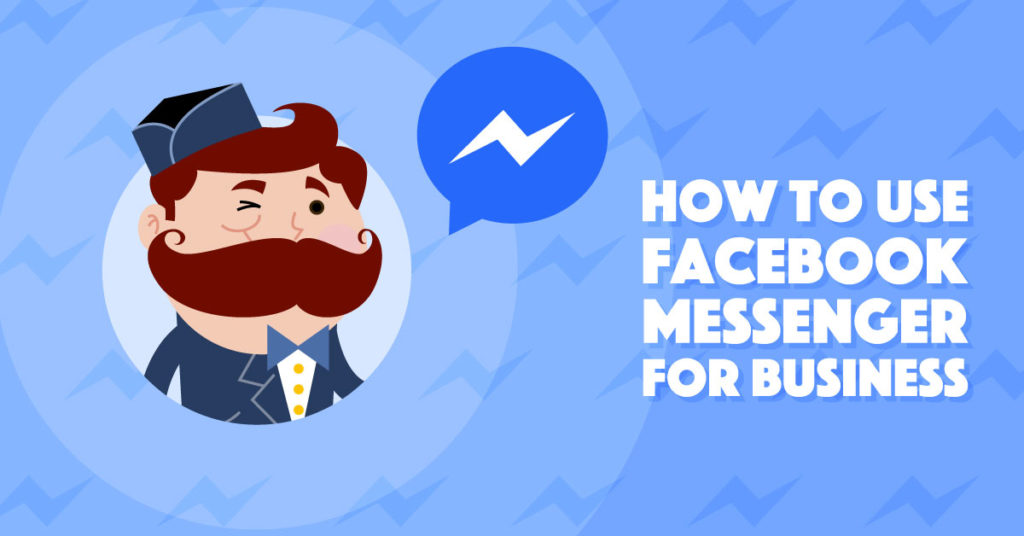 Facebook has expanded Messenger significantly over the past few years to the point where it's now a valuable tool and platform for businesses, brands, and organizations of all sizes.
In this post, we're going to take a look at exactly how you can use Facebook Messenger for your business, including how to set it up for success and how to drive users to get in touch.
There are so many different social media channels to keep up with, and each one has multiple facets to manage.
On Instagram, for example, you have private messages, Stories, hashtags, and your in-feed content.
On Facebook, you've got your Page, events, groups, Stories, and of course, Messenger.
Why it Matters that you Use Facebook Messenger
Facebook Messenger is incredibly important from a marketing and customer service perspective.
More customers than ever before are reaching out to brands through social media private messaging, with Facebook being the top choice.
This trend was already established before this year, with over half of all customers preferring to chat with someone online in real-time instead of calling for most matters and over 20 billion messages are exchanged on Messenger between users and businesses every month.
And now, during COVID, Messenger is even more important.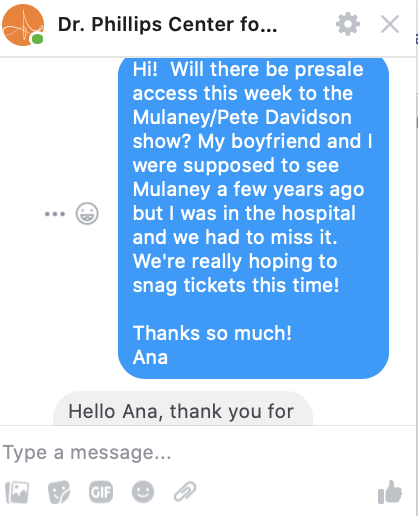 Users reaching out to businesses through phone or email are having longer wait times than ever before.
I spent two hours waiting on hold for a phone call at Home Depot about an order that was two months late to shipping, for example, and the call dropped before I could talk to someone. I wasn't about to wait again, especially knowing that companies were short-staffed due to COVID and more people were calling because they couldn't go into the store,  so I sent a message. I got a response within a few hours.
Messenger gives you a chance to connect with your audience members quickly, answering their questions, and even being proactive about potential sales.
And wherever your customers want to get in touch, you want to be ready to respond.


Facebook will also show your average response time in the About section of your Page.
You'll notice that this shows up above any other information, including your website, your hours, or pricing.
This is given enormous visibility, and if users see that you're responsive, they'll see you as valuing your customers.
This can build trust too.
If your profile says that you have a low response rate or that you take a significant amount of time to respond, they might not even bother.
Different Ways you Can Use Facebook Messenger
There are a few different key use cases to consider for Facebook Messenger:
Answer customer questions about your products, services, or business.
Someone may get in touch to ask about pricing, your operating hours, or whether you can make your famous chocolate cake gluten-free. Answering these questions quickly can make the difference between gaining or losing a sale.
Address customer service issues.
People often complain publicly -with Facebook posts- if they're unhappy, often trying to dissuade others from buying or trying to get the brand's attention. Ask users to reach out to you through Messenger to resolve the issue. Some users will also go straight to Messenger for everything from complaining to wanting help tracking a package.
Proactively drive conversions.
Facebook has some outstanding native features, which we'll look at a little further down, which can enable users to take actions like booking appointments with a business. You can use these features for lead generation, and to actively drive sales. Chatbots can also help here.
Messenger has a 10-80x higher engagement rates than email, with 70-80% open rates and 20% click-through rates (compared to emails 5-10% open rates and 1-% click-through rates).
This is a valuable opportunity to meaningfully connect with potential and existing customers, so you don't want to waste it.
How to Set Up and Use Facebook Messenger in 4 Steps
Messenger is capable of a lot, and how you want to use it will determine how exactly you set up your Messenger account and which features you want to use.
In this section of the post, we're going to go step by step through the process of setting up your Messenger for success, but if we look at features that you aren't interested in, go ahead and skip to the next section! Not every feature is necessary or even ideal for every business type.
That being said, let's get started!
Step#1: Set Up Your Greeting & Automated Responses
When you message a Page on Facebook, you might get an automated reply instantly. This message often thanks you for getting in touch with the company and might provide a time frame for when you can expect a response, or even a phone number to call if needed.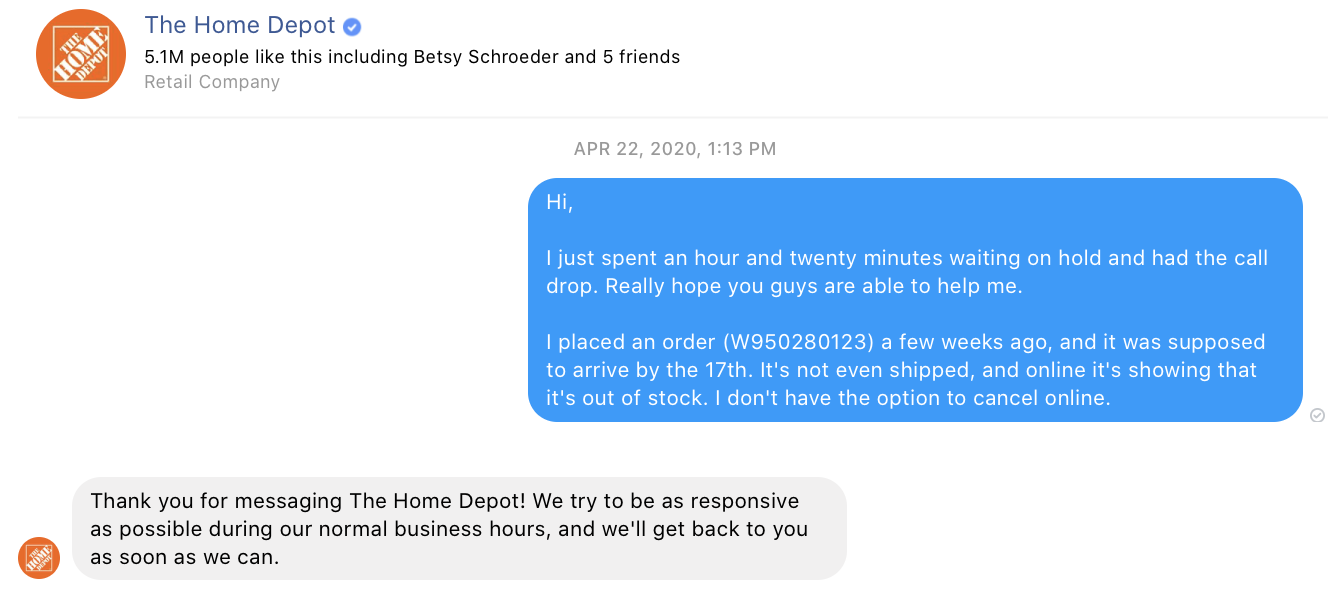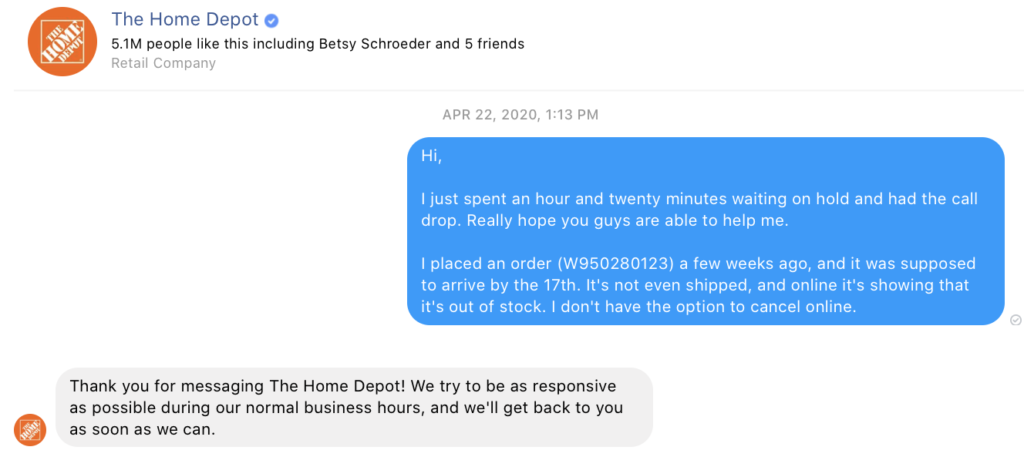 This is your greeting, which lets customers know that you've received your message and that you'll be back to them soon.
It's easy to set up.
Go to your Page's Settings, and then find Messaging. On this tab, you'll see the option to "Show a Greeting."

Turn this feature on, and then click "Change."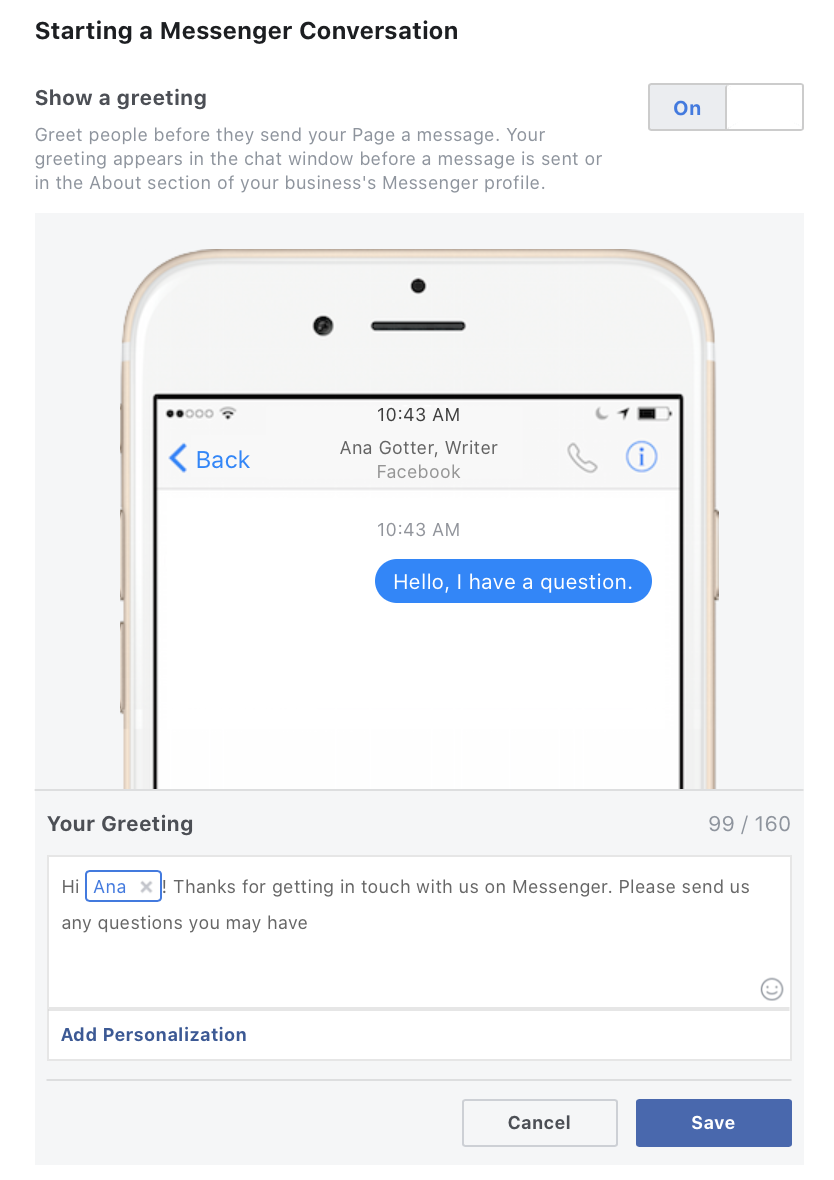 You can write your own greeting message (don't forget to save it).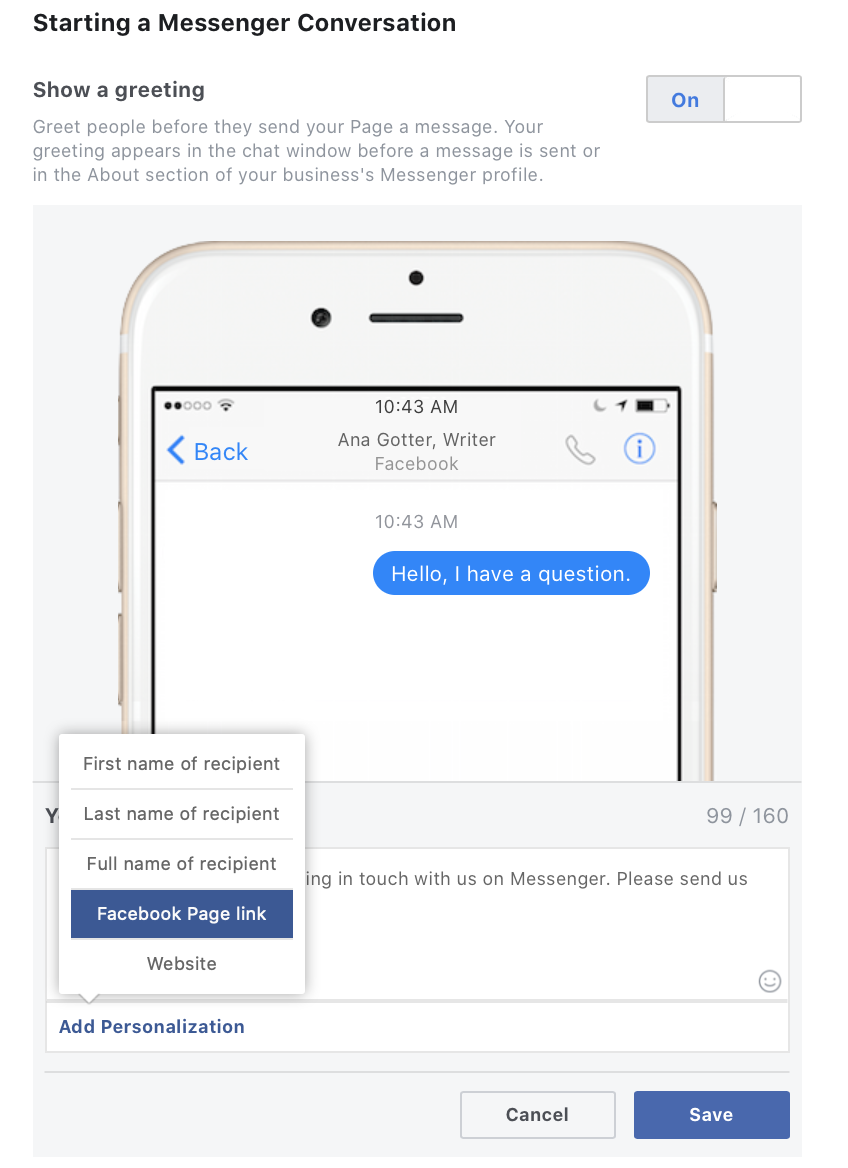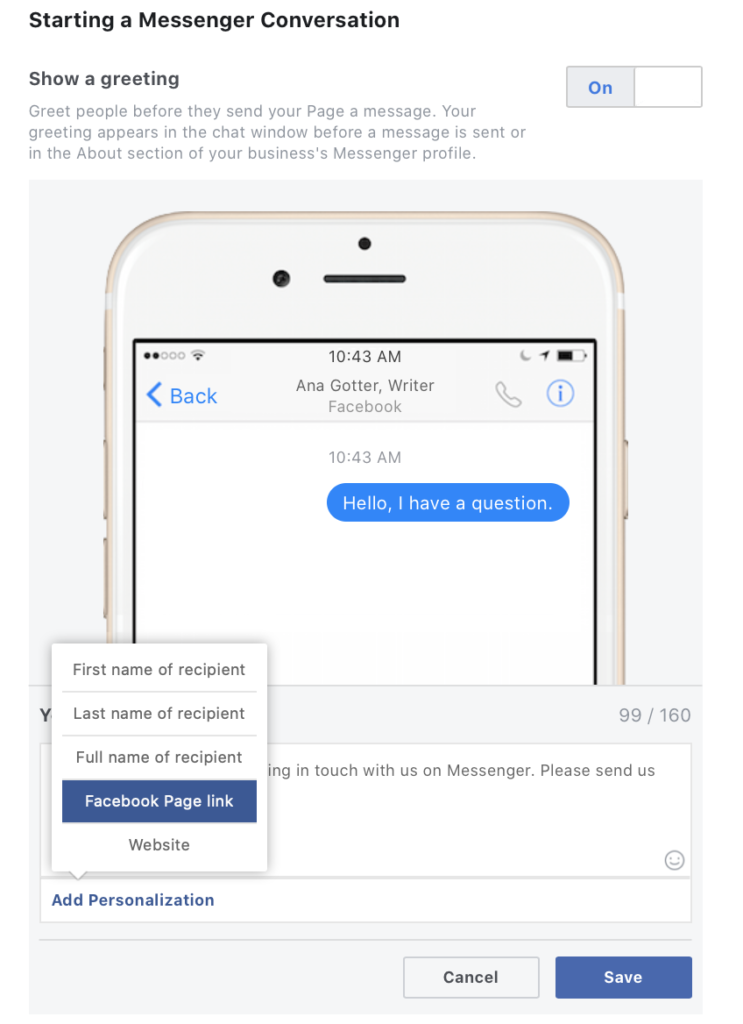 And personalize it with the recipient info (first and last name) and your website or Facebook page link.
Step #2: Add Automated Responses
Almost all businesses should use a greeting to welcome people to their Page (or, more accurately, their inbox). You can also add automated responses. We recommend setting up a few automated responses for commonly-asked questions.
This can help your customers get the answers they need quickly, and it won't bog down your customer support team.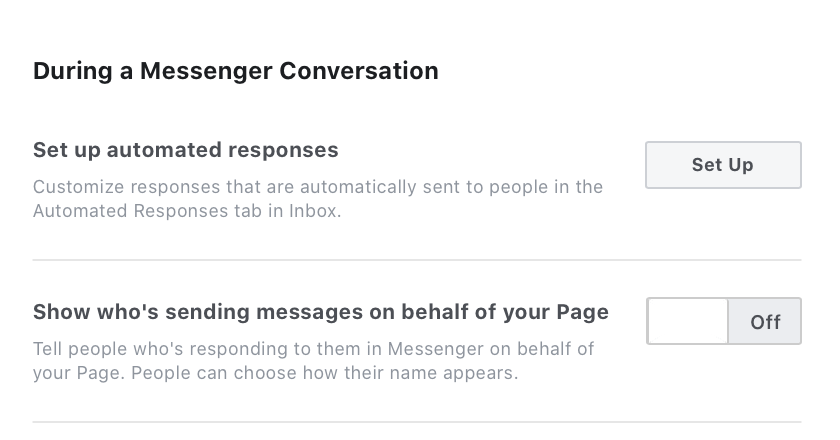 On your "Messaging" tab under your Settings, you'll see the option to set up automated responses. Click it.

There are plenty of different types of options that you can set up, including an away message ("we're off on weekends but we'll get back to you on Monday"), location information ("We're located at 42 Wallaby Way, Sydney. View your location on Google Maps here"), and commonly-asked questions ("Our return policy states that you can return all unused, undamaged items 30 days after purchase.")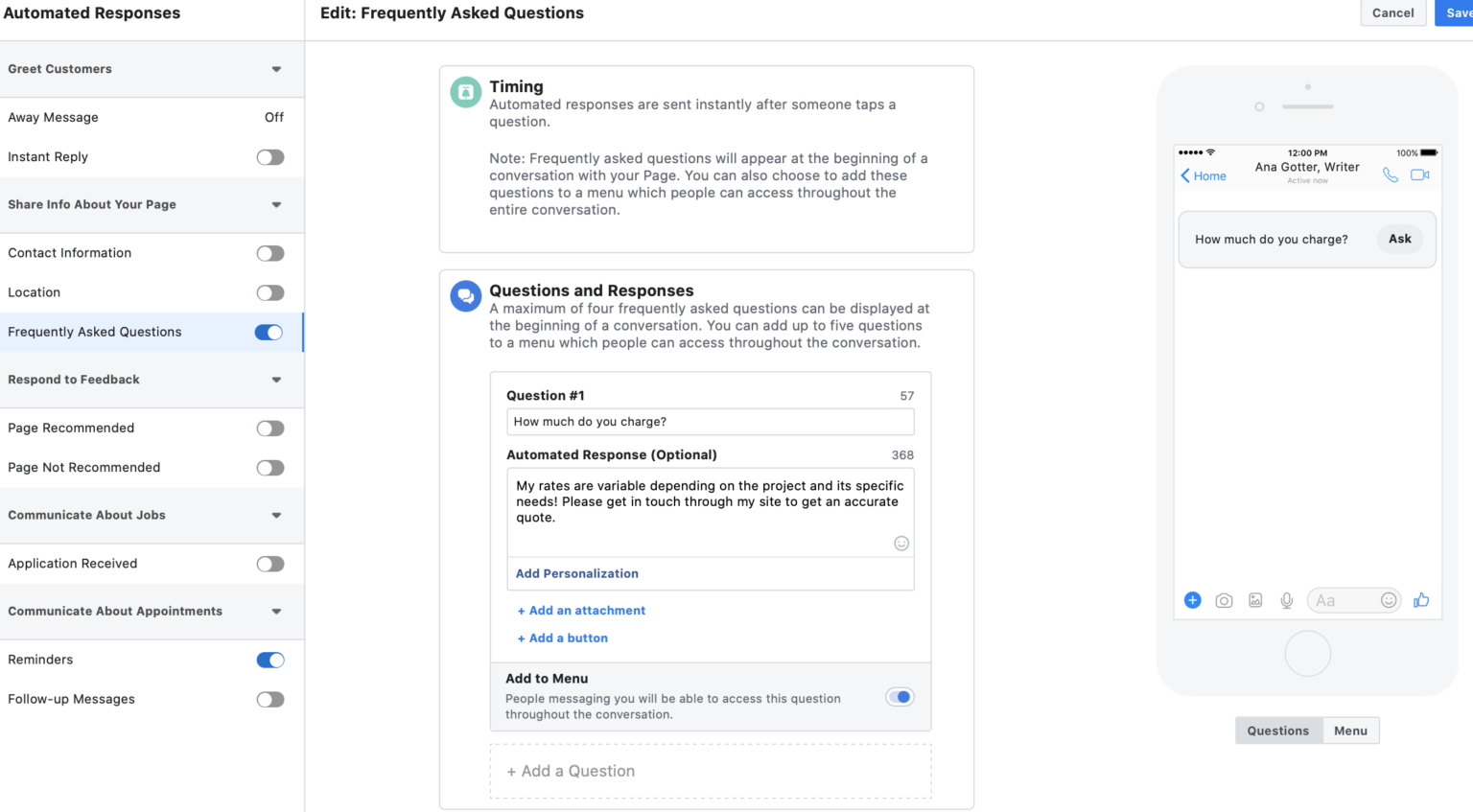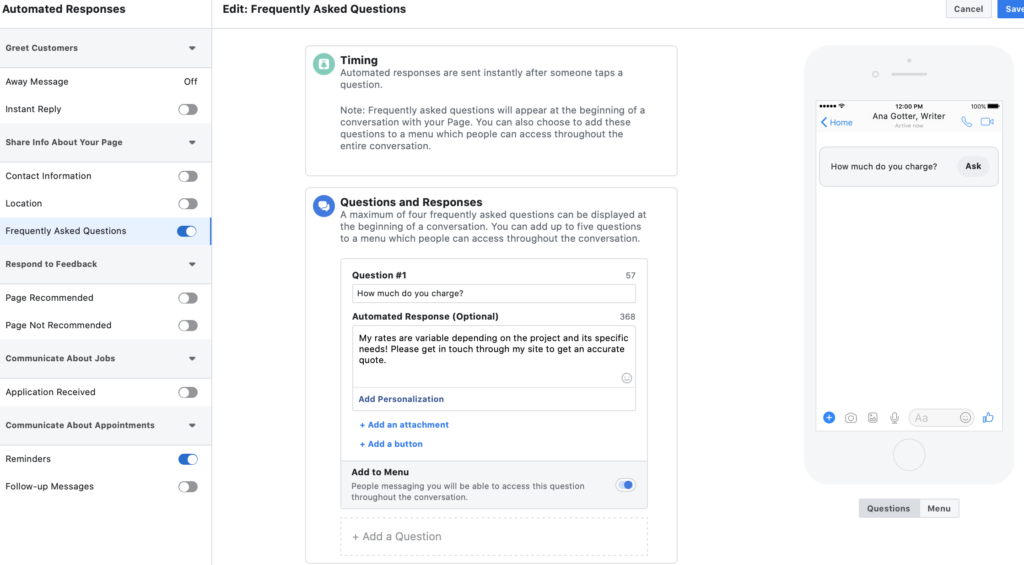 The FAQ option is particularly valuable, as you can set up custom questions and answers that are specific to your leads and customers.
A college might have students asking about application deadlines or when they'll hear about acceptance, and a bar might be asked if there are private areas for events like parties.
You can set up menus for automated responses, guiding users through interactions.
That way, if the phrasing they use isn't easily matched with your existing answers, they'll still be able to see it. You can see an example of what this looks like here: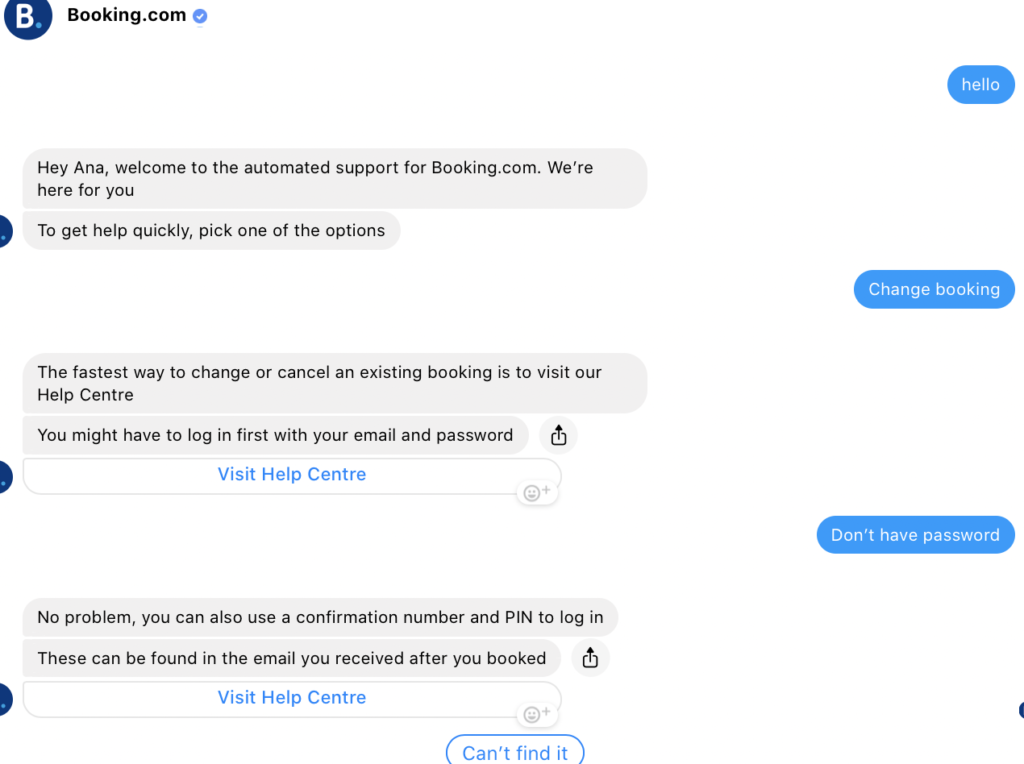 Step #3: Consider Using Chatbots
Chatbots have been around for a few years now, and they're more accessible than ever before.
Chatbots offer advanced features.
Customers can look up their orders through your Chatbot to get updated status information. They can also browse recipes, order pizzas or flowers, and shop your catalog of uploaded items.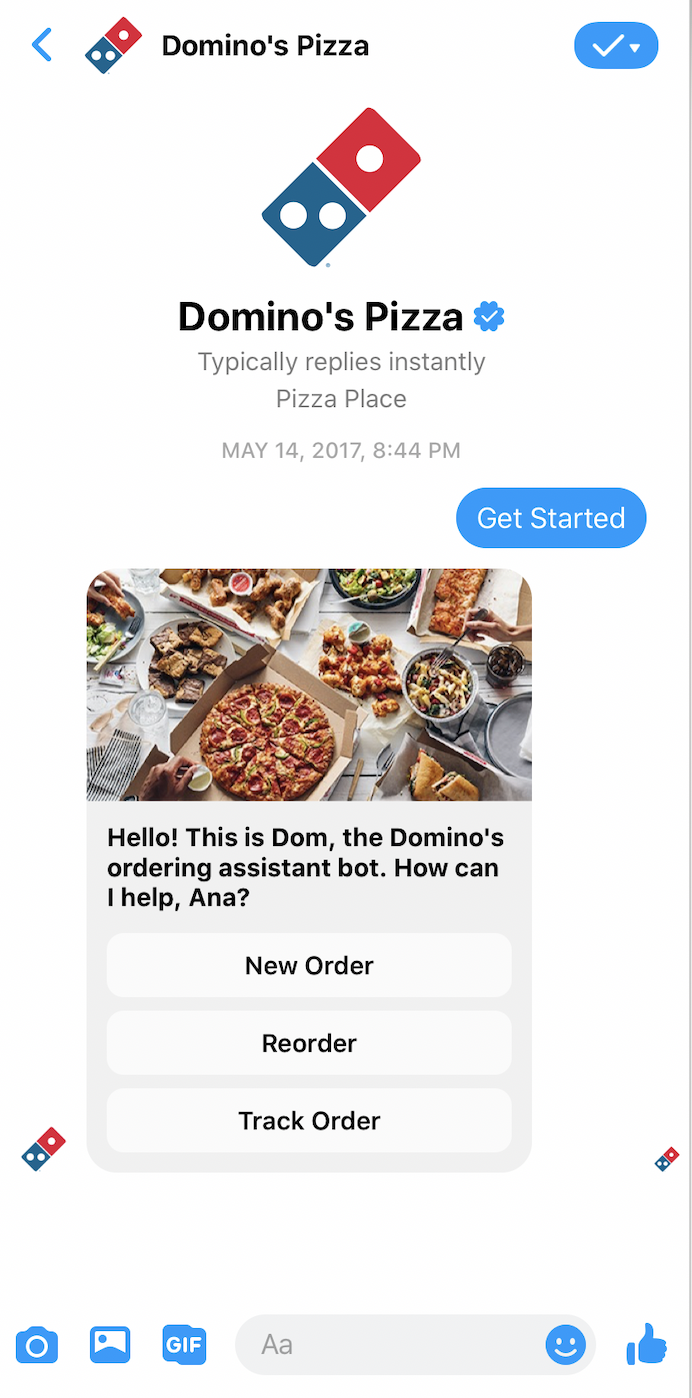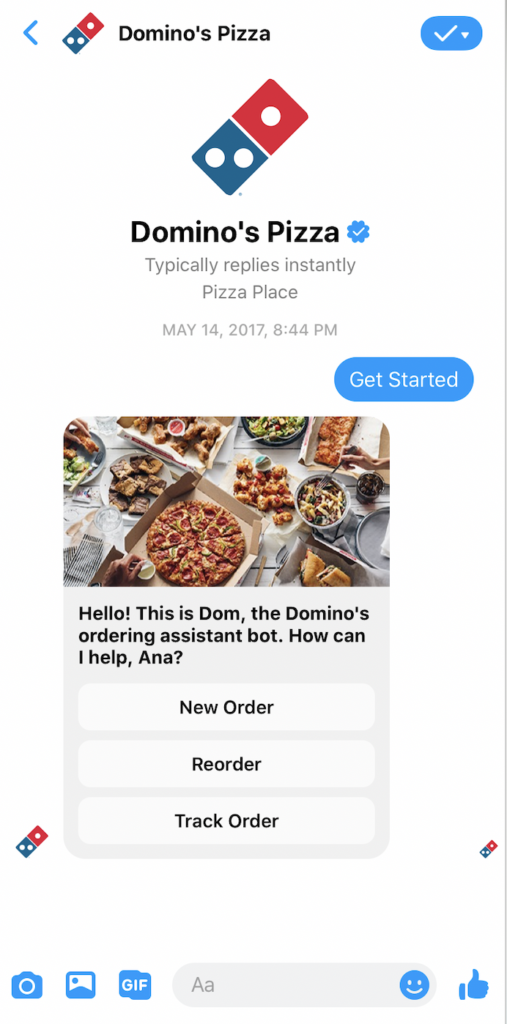 Chatbots can do a lot, and while they shouldn't be a substitute for human customer service entirely, they can be incredibly valuable in terms of offering more functionality to Messenger that can help you increase sales and help your customers faster than ever.
Chatbots are third-party tools that you need to program yourself. You can hire someone to do this for you, or you can use tools that make this particularly easy. If you only need quick question-and-answer automated responses, the auto-responses we looked at above will do the trick. If you want more advanced AI features, consider using a chatbot.
You can see more about how to set up Chatbots here and learn more about what they can do for you.
How to Use Facebook Messenger Chatbots Like a Pro
Do you want to learn how to use the power of Messenger Chatbots for your business?
All you have to do is click on the image below and sign up to receive a FREE recording of our webinar, The Top 10 Facebook Messenger Chatbot Marketing Hacks of 2019 with Larry Kim, Founder, and CEO of leading Facebook Messenger chatbot MobileMonkey.
What are you waiting for? It's as easy as One, Two… Click!
Step #4: Use Third-Party Social Management Software
A crucial part of managing Messenger well is responding quickly. We know as well as anyone that this can be a huge undertaking, especially when you've got comments and private messages coming in from multiple platforms, but it's still a near necessity. Customers everywhere are expecting near-immediate responses, especially on social.
Third-party tools can make a huge difference here, and there are several great options to choose from. Hootsuite, for example, allows you to view all of your incoming messages in one place. You can assign messages to specific teammates, and follow up to make sure that every conversation is seen all the way through.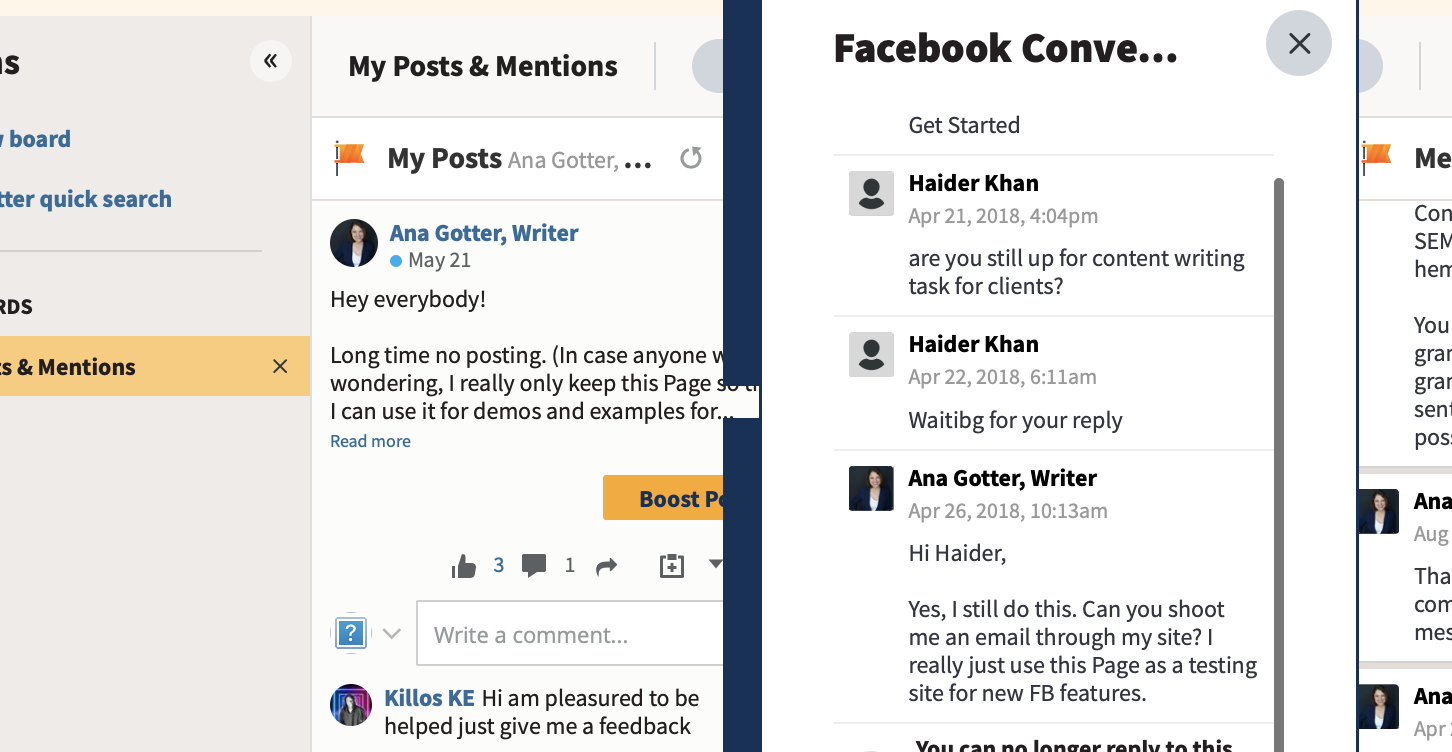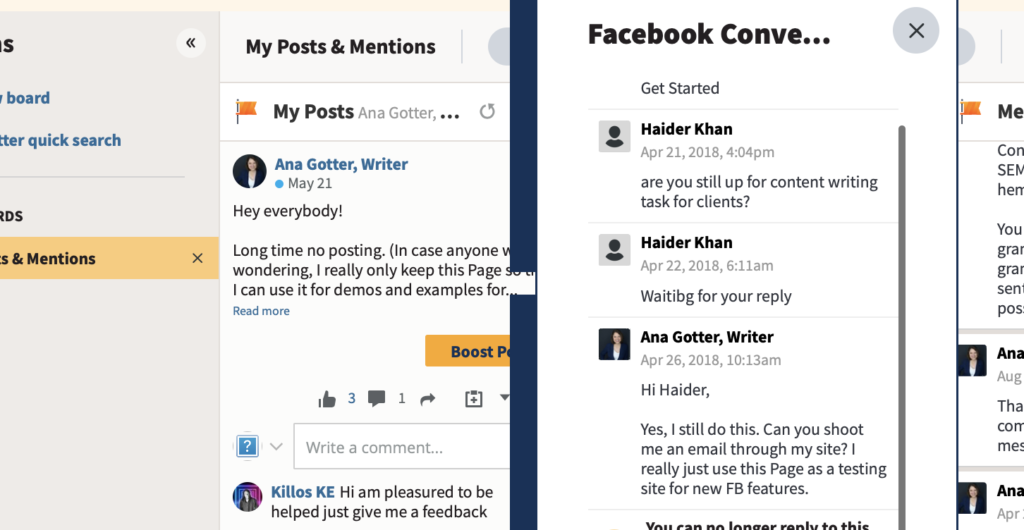 Once you start getting more than a few messages per week (or once your social and customer service team expands beyond one or two people), this is a gamechanger. You can learn more about how it works here.
How to Generate & Encourage Conversations Through Messenger
While some brands use Messenger to catch up with users who have reached out to them, there are ways you can be proactive about generating and encouraging one-on-one conversations through Messenger, even with Facebook's tight restrictions.
Facebook Messenger Ads is one option. You can create ads that have the sole purpose of driving users to message you directly. This is great when you want to share more information with your audience.
A university, for example, might encourage potential applicants to get in touch with any questions. (Note: don't confuse these with Messenger as a placement, which only shows an ad in the user's Messenger inbox and doesn't accomplish the same goal).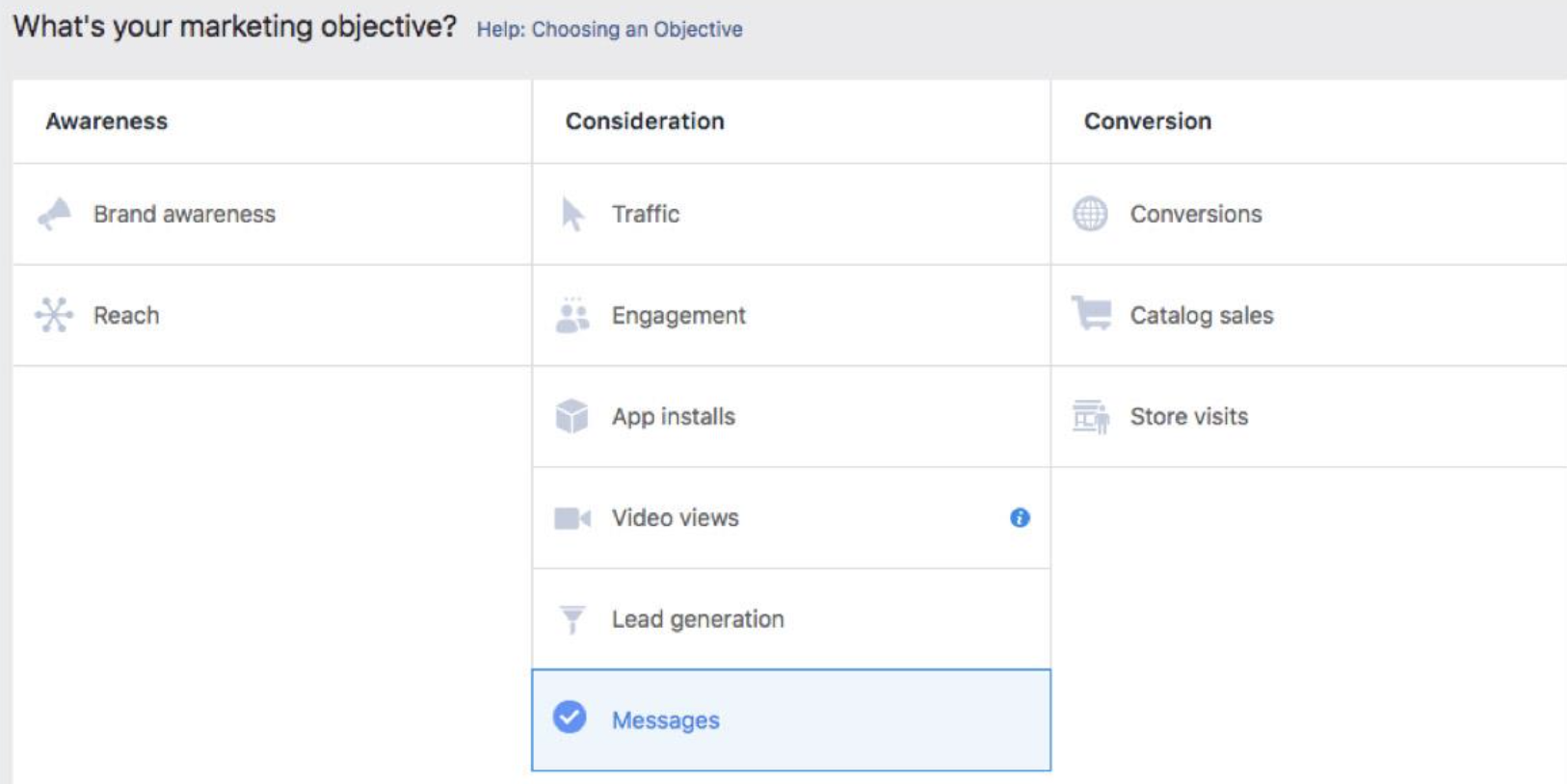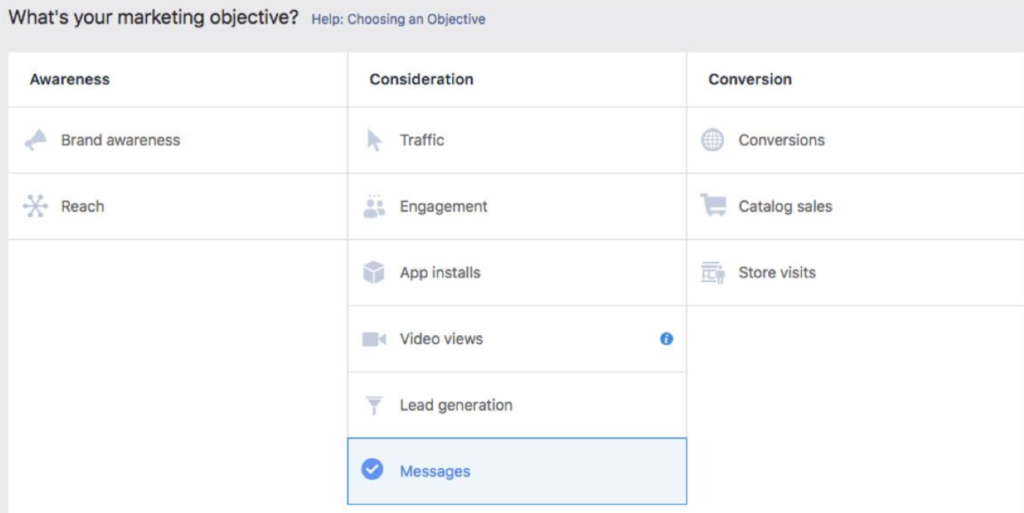 You can also follow up within a limited time frame.
Facebook only allows you to respond to people within 24-hours after they've last contacted you. This should motivate all businesses to respond quickly and to keep the conversation going.
If an existing conversation has dropped off, follow up within twelve hours to ask if they were happy with everything and if there's anything else they need. This is a continuation off of an existing message, but it can work. You can also offer them a discount or coupon code.
Note that under your Messaging tab in settings, you'll see the option to request a "one-time notification." This lets you send a single message to users outside that 24-hour window if they've opted in.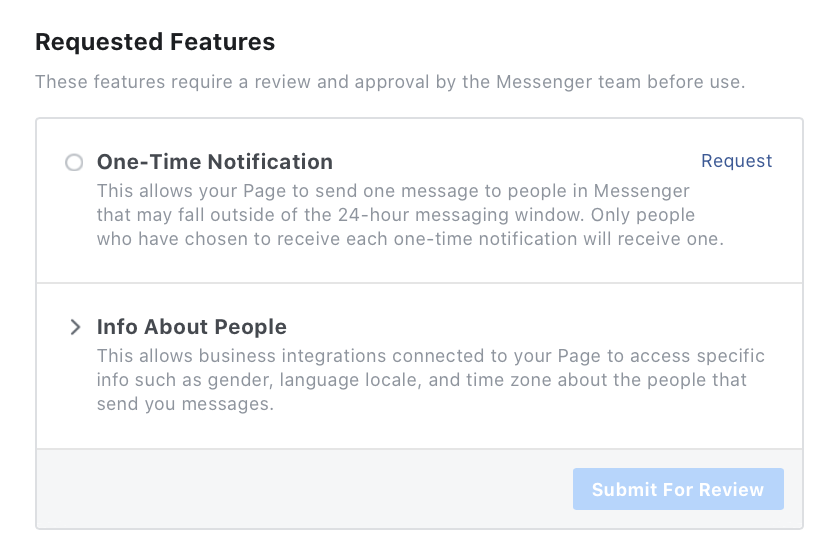 You can also add Messenger to your website. 
This works a little like your standard on-site live chat. You use a chat plugin on your site, and it allows people to live chat with you through Messenger.
All you need to do is add a snippet of code on the pages you want the chat to appear. This is a great way to capture potentially high-intent users and engage them with affordable, accessible live chat options.

Finally, you can encourage users to get in touch directly. 
If someone is complaining, has questions, or needs help with an order, sometimes encouraging them to get in touch through Messenger is the best option.
You can't message them, after all; they need to reach out to you. This way you can offer personalized service and ask for sensitive information like their email or phone number in a secure way.
It also helps that other users see that you're wanting to resolve concerns, too.
Final Thoughts
Facebook Messenger for businesses is a great opportunity to offer high-quality, fast, and reliable customer service and sales support to your customers.
Remember that it's essential to be where your target audience is, and an increasing number of them are turning to private messaging social platforms like Facebook for quick help.
Take full advantage of all the features and tools available to you to streamline the process and deliver the absolute best customer experience possible.
What do you think? How do you use Facebook Messenger for business? What features and third-party tools do you use? Share your thoughts and questions in the comments below!