Facebook Messenger chatbots are one of the fastest-growing and most effective ways to connect with customers.
Since their launch in 2016, bots have helped brands scale the way they interact with customers and have made it easier to provide one-on-one service.
By giving personalized recommendations, scheduling help, and so much more, Messenger chatbots can help you interact with customers for a fraction of the cost of a human counterpart.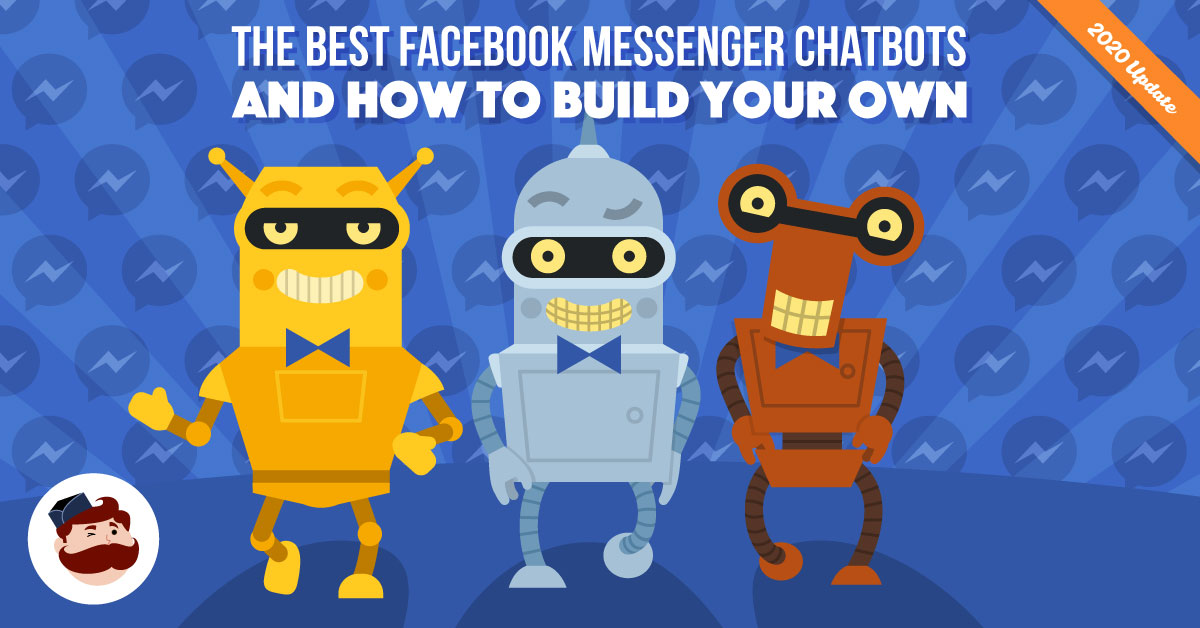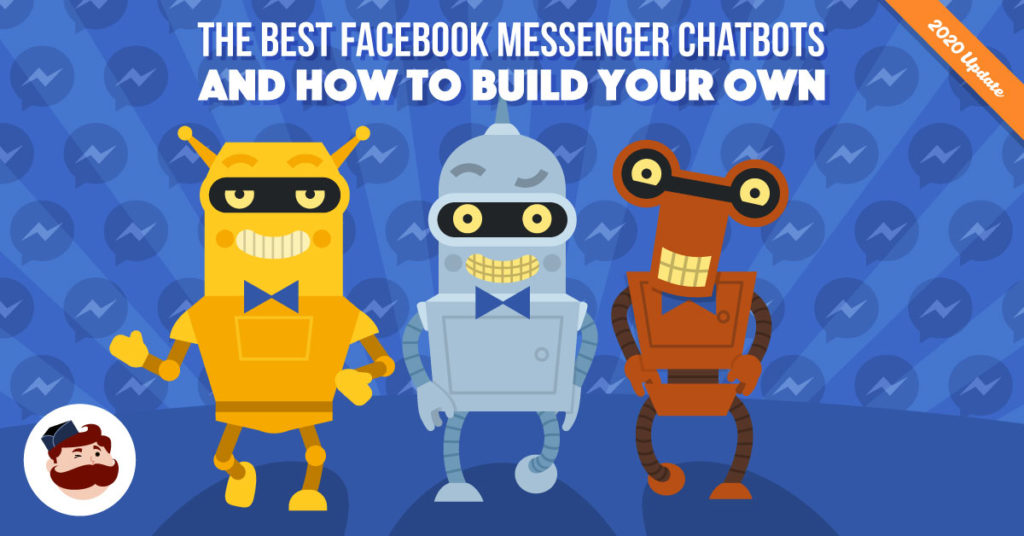 With the popularity of chatbots continuing to grow, and the options for creating them getting easier and easier, there's never been a better time to give them a shot.
That's why we created this incredible post!
It contains everything you need to get your Messenger Chatbot marketing up and running in a blink, including six chatbot examples and tips for building your own chatbot.
Let's start with the great Facebook Messenger Chatbot examples we selected for you.
1. prAna —Connect with Users Through Conversational AI
As with human interactions, people don't want to engage with Messenger chatbots unless the dialogue is enjoyable. Sustainable clothing company prAna keeps users interested by giving the prAna bot a casual, friendly tone. This type of language helps make shoppers feel welcome and establishes a connection with them. If they're more comfortable "talking" to the chatbot, they're more likely to stay engaged longer—and potentially make a purchase.
prAna's Messenger chatbot uses emojis and word choice to achieve its light tone. Instead of greeting the customer with "Welcome" or "Hello," the bot starts with an informal "Hi, friend!" It even replaces "shopping" with "shoppin'" to imitate how a person would speak in a relaxed conversation.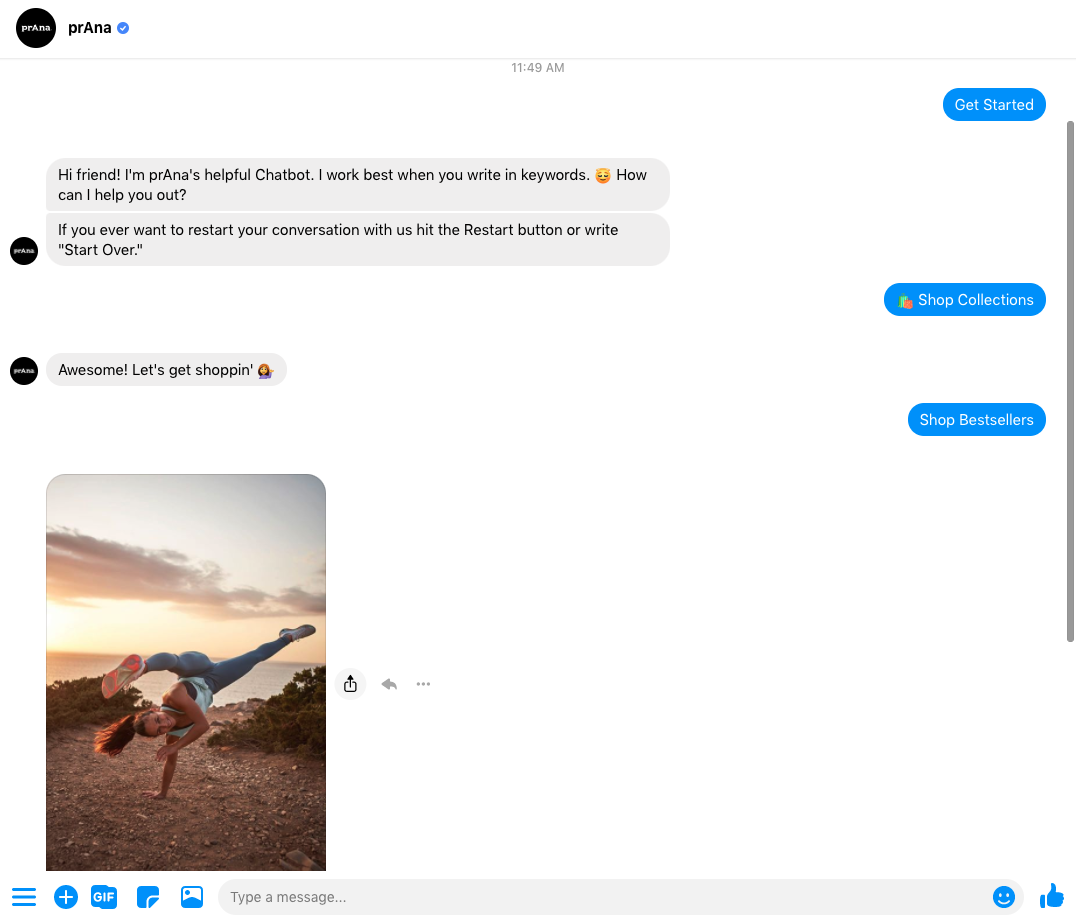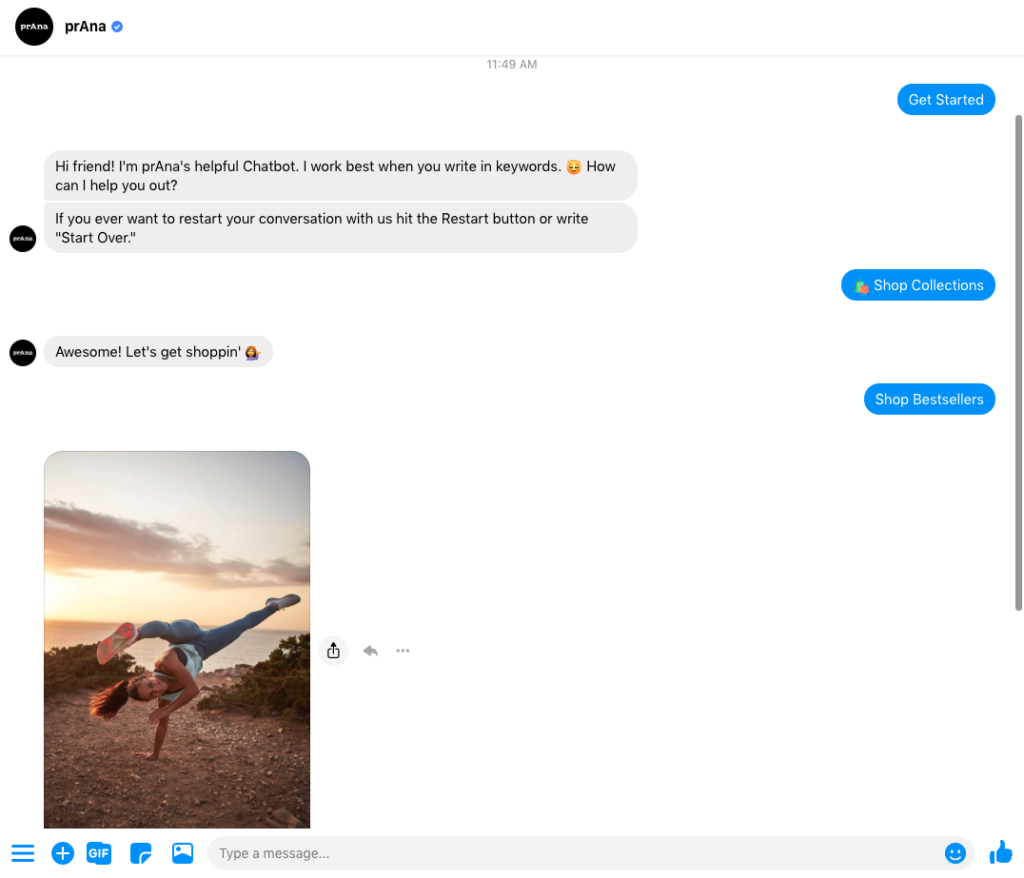 As the conversation goes on, prAna's chatbot shares details about the clothing shoppers are viewing, without ever losing that lighthearted tone.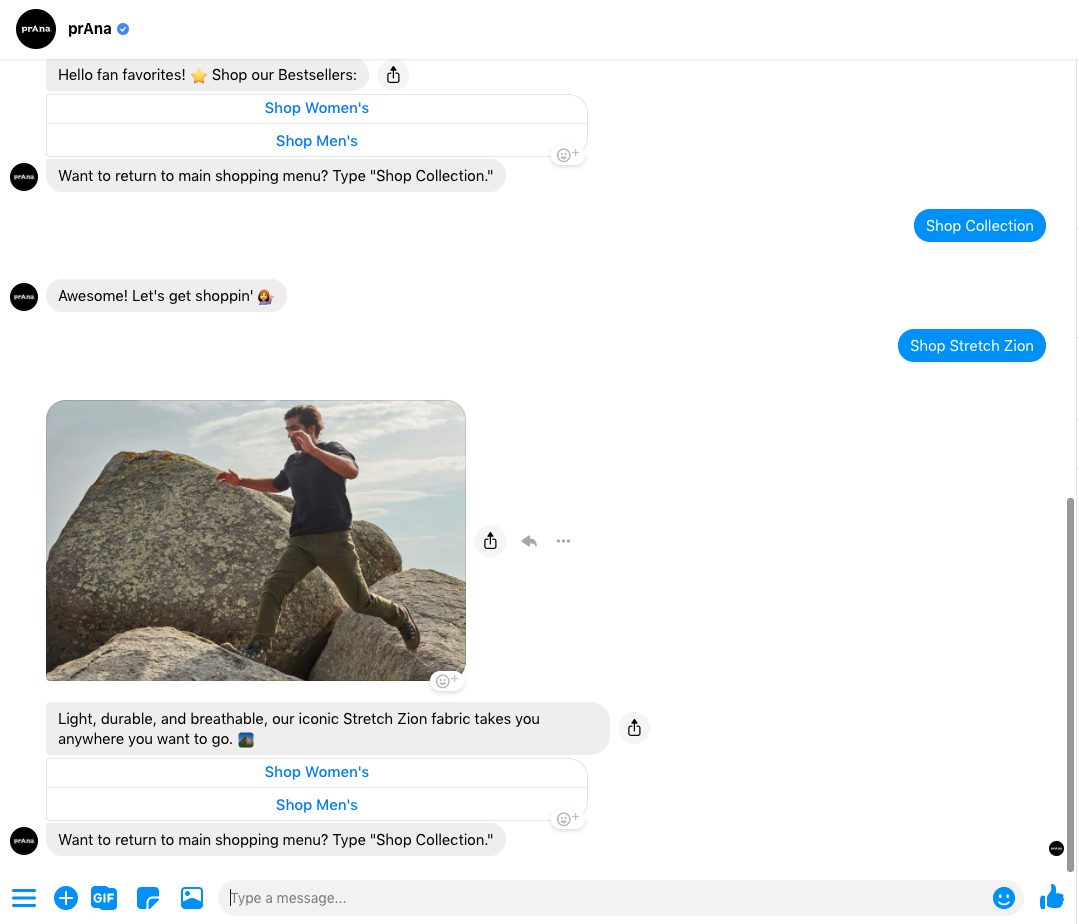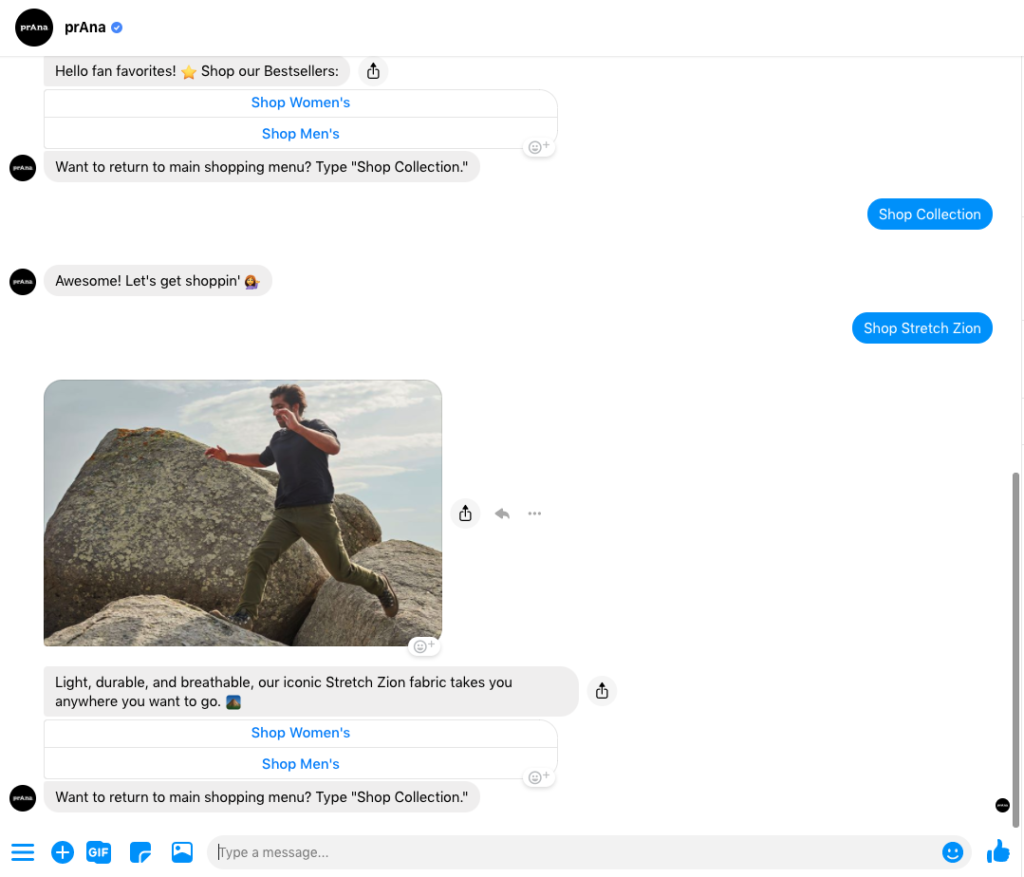 prAna's chatbot strikes the perfect balance between informing the customer and holding a relaxed conversation with them.
The user learns about clothing and receives guidance on what to do next (e.g., "Want to return to main shopping menu? Type 'Shop Collection'"), but in a way that feels like speaking with a human rather than a bot.
Messenger Chatbots Marketing Pro Tip:

Choose a Conversational Style for Your Brand
prAna is a casual clothing brand, and the laid-back conversational style of their chatbot reflects that. When designing your Messenger chatbot, choose a style that suits your brand. Engage customers in a way that matches your business's personality.
When designing your chatbot's tone, there are a few factors to consider:
Formality: A law firm, for example, would probably use a more formal, professional tone than a clothing brand.
Style of Humor: A grocery store or restaurant might throw in food-related puns to lighten the mood.
Opening Greeting: The greeting sets the tone for the whole conversation and gives your customer their first impression of your bot. Make it fun and memorable!
Check out this resource for more help designing a conversational style for your Messenger chatbots.
2. Surveybot—Collect Valuable Feedback Without Friction
Surveybot is a bot that, as its name suggests, allows you to send your customers surveys after the completion of a task—a purchase, a download, a registration, etc. The user is already in Messenger when they receive the request, and they can complete the survey without having to navigate to a new page or fill out a separate form.
It's hard to get your customers to fill out surveys. You're asking people to devote time to helping you after the sale or interaction has been completed. They're not getting anything out of the survey.
What Surveybot does is lessen the friction required for users to respond to your surveys by a dramatic degree. Instead of sending an easily archived, generic email or an easily shut pop-up window, you're reaching out through a personal and intimate medium.
What's even better about Surveybot is that it doesn't require any coding knowledge. It's 100% plug-and-play: Once you create a survey with this bot, Surveybot will provide a link to share through Messenger with your customers.
They can respond on their desktop or mobile device—wherever they are when they get the survey.
Customers want
companies to communicate through their (i.e., customers') preferred methods of contact, and Surveybot allows your company to easily accommodate that while collecting feedback immediately after the customer interacts with your company.
Messenger Chatbots Marketing Pro Tip:

Keep Your Survey Design Customer-Centric
Customers aren't likely to complete your chatbot surveys unless they're convenient and simple to fill out. Keep customers interested by designing surveys that are short and sweet. The conversational format won't work if you're dragging people through a long interrogation. Think three questions, max.
It also helps to ask closed-ended questions—like multiple choice—so it's easy for shoppers to choose a response. If you do want to ask an open-ended question, don't overdo it. Consider asking only one per survey.
Theoretically, you can use their responses to create a better product, but, at the moment, that's a tough sell. So show value, make it easy, and don't just send questions—make it a conversation.
3. Dominos—Make Frictionless Purchases at the Speed Of Light
Regardless of whether you are a delivery service or not, Messenger chatbots are useful for guiding users through the ordering process. Having a chatbot handle ordering frees up your employees for other tasks and enables the customer to make purchases without having to wait for someone to be available.
Pizza delivery service Domino's uses their chatbot to take customers through the entire ordering process. It gives them three choices to start off: Order, Track Order, or Customer Support.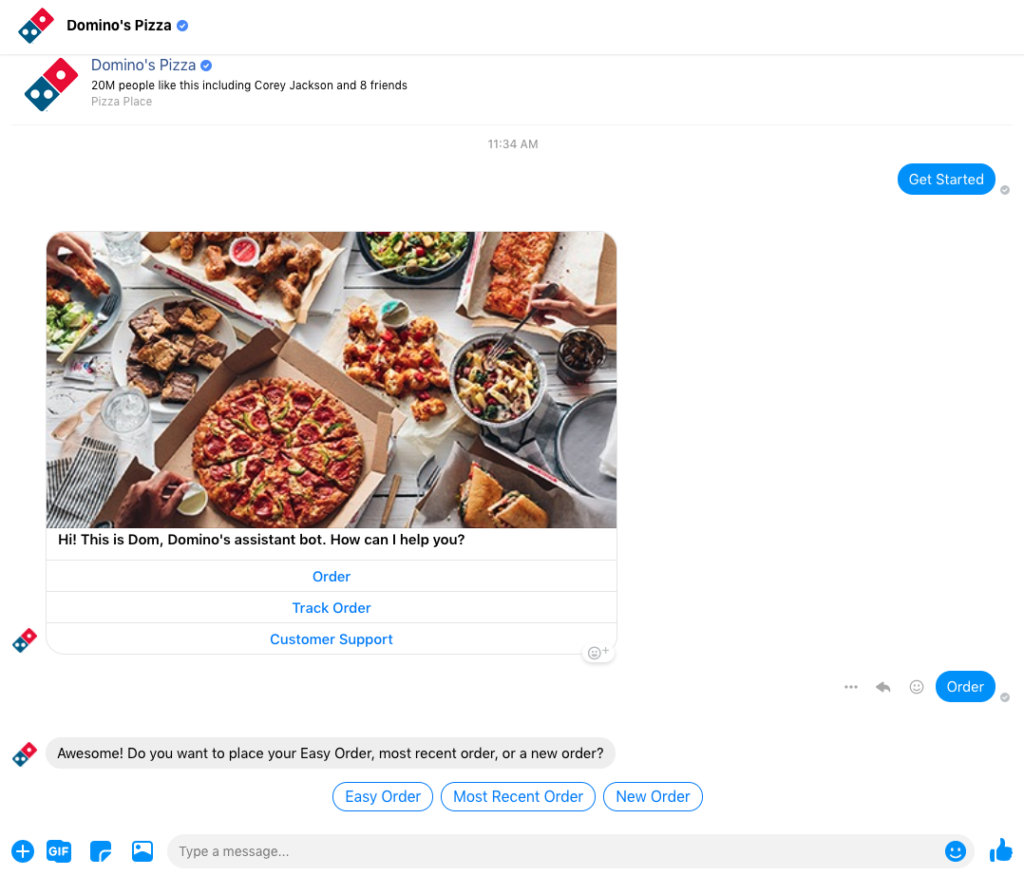 After starting an order, it shows the pizza options, with an "Add to Order" button underneath each choice.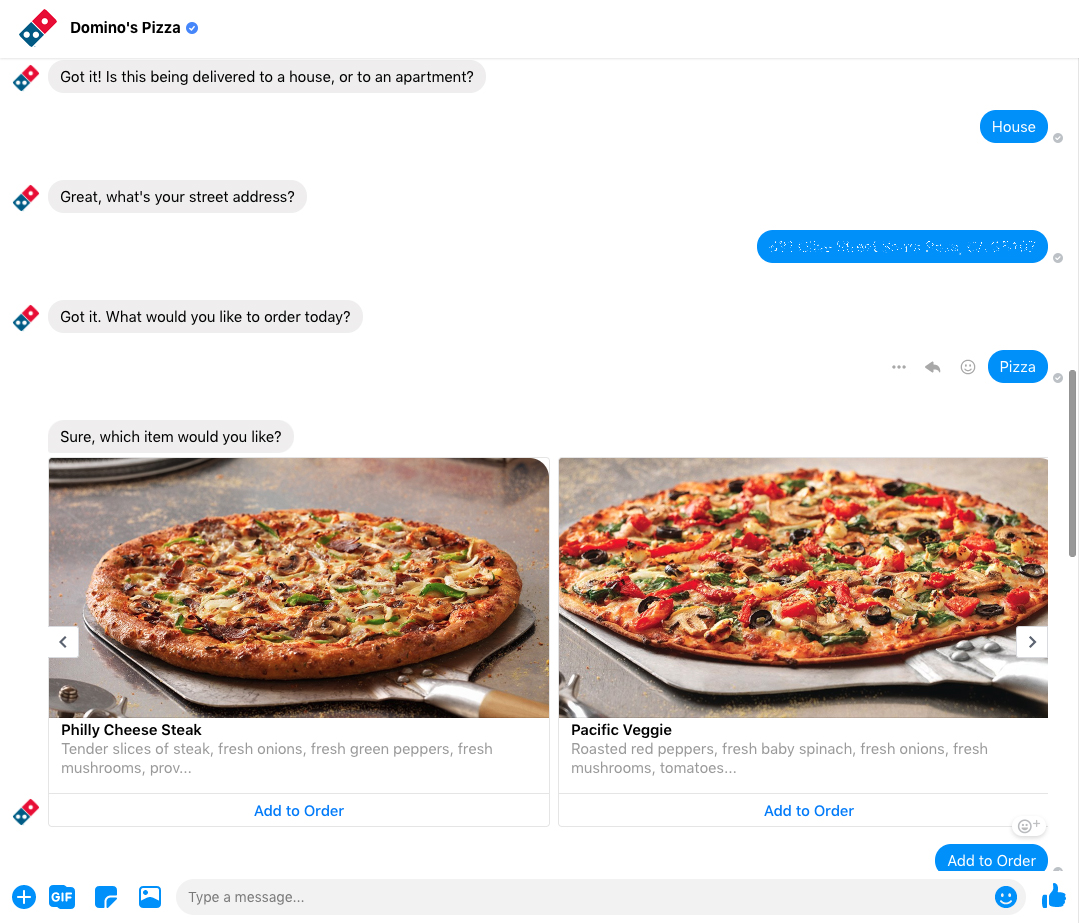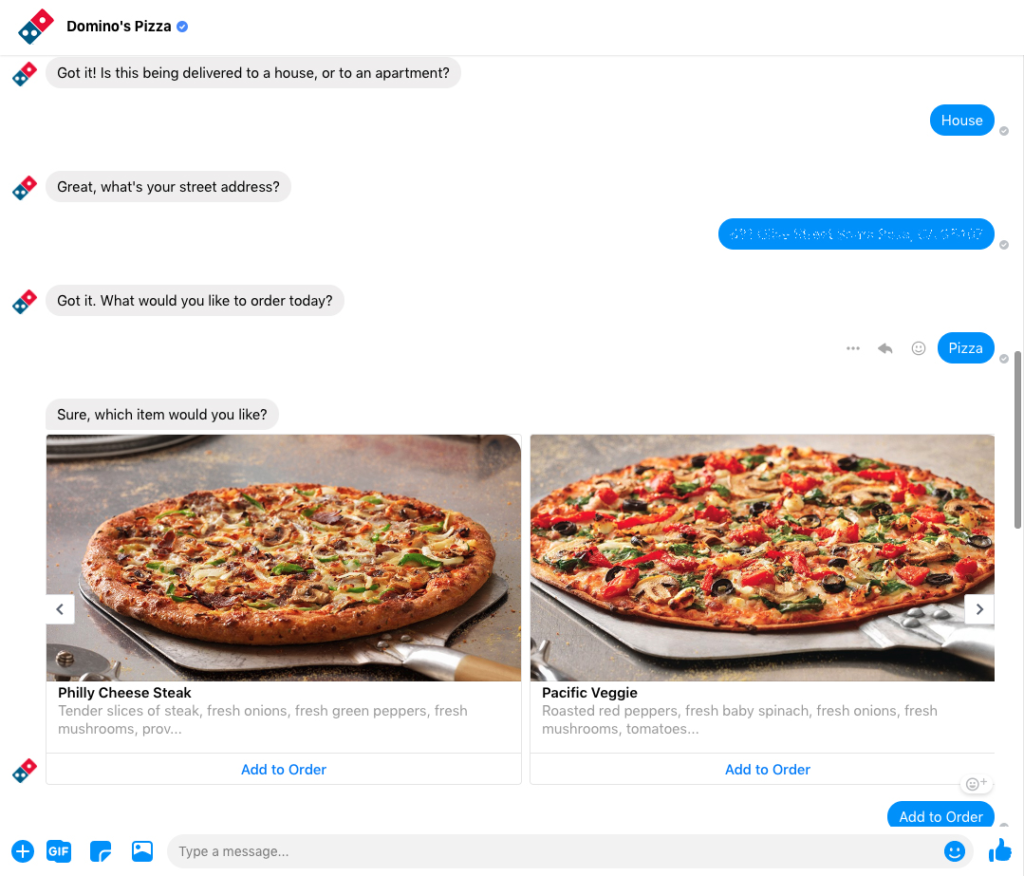 And if a customer has placed a Domino's chatbot order in the past, the bot will ask if they'd like to make that same order. With these features, this chatbot makes the ordering process easy, both for Domino's and for the customer.
Messenger Chatbots Marketing Pro Tip:
Keep It Snappy
Right when you open the Domino's bot, it jumps into the ordering process. The first interaction you have with the bot is to start your order, and the immediate next steps are to provide delivery information.
One of the benefits of shopping online is that customers can make their purchases quickly, without having to wait. A lengthy bot interaction could discourage impatient customers and lead to lost sales. The Domino's chatbot gets right down to the business of ordering, and it leads the customer through the purchasing process in a timely manner.
Keep your process snappy by rethinking how you handle orders via chatbots. Think about the points when most users exit the bot. What elements might be causing friction, and how can they be removed and replaced?
Every millisecond counts when dealing with user attention. That goes double for a site like Facebook, where another distraction is always just around the corner. So keep it snappy, and don't waste your customers' time with unnecessary work.
4. Kayak—Get Product Recommendations Quickly and Easily
Want to guide customers toward making purchases through Messenger? Set up your bot to learn about customers' preferences and deliver personalized recommendations.
The travel-fare aggregator Kayak, for example, gives flight and hotel recommendations based on user input.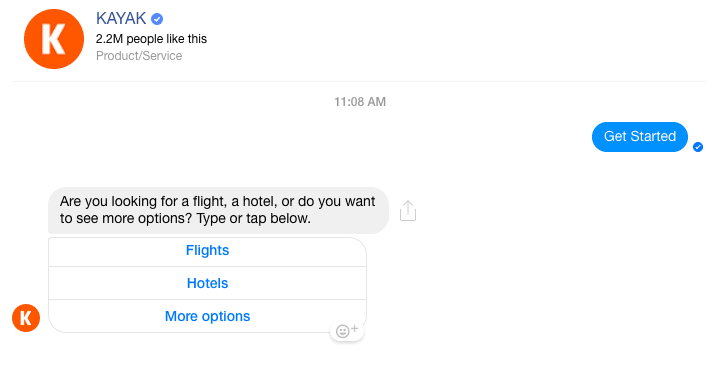 Once a user clicks "Get Started," Kayak will prompt them for more information about their travel needs to narrow down exactly what they're looking for.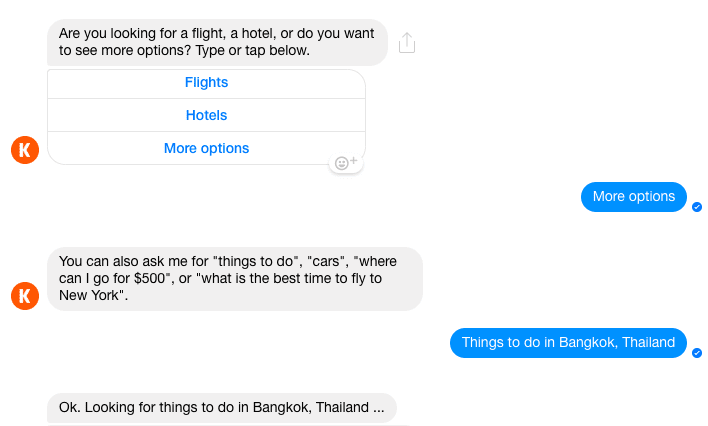 By clicking "More Options," the customer is able to ask the bot questions directly, and it will provide the most relevant answers it finds. Along with chatbot answers, Kayak also uses previous conversations and search history to provide targeted, personalized recommendations.
Leveraging previous conversations and search history makes interacting with Kayak's bot much more streamlined than searching across multiple sites, and it keeps the information all in one place. Planning a trip is hard enough without factoring in the need to keep track of every website visited during a search.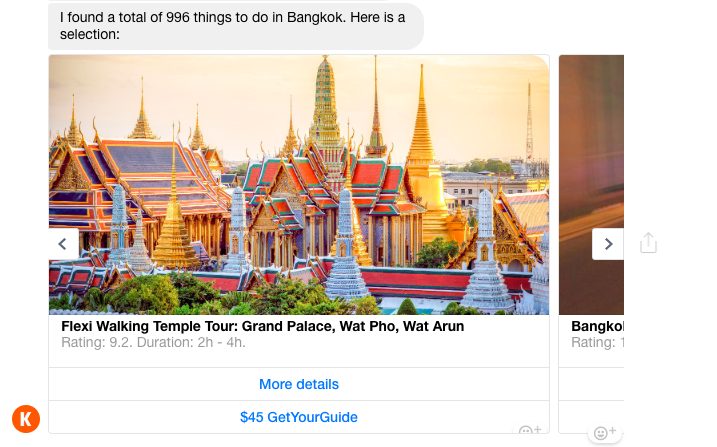 If customers are just at the beginning of planning a trip, the Kayak bot is a great way to search for popular attractions and experiences they might be interested in. A similar Messenger chatbot strategy would work for brands that want to provide product recommendations based on a user's personal taste, such as online clothing or food stores.
Messenger Chatbots Marketing Pro Tip:

Streamline the Product Search Process
Kayak's bot provides its customers with a one-stop-shop for their vacation planning experiences. Take a page from the company's book by creating a chatbot that
Makes it easy for customers to find and reference information;
Saves time by displaying results and relevant products directly in the chat; and
Gives recommendations based on past account history, not just chat responses.
When you make it simple and straightforward for customers to find the information they need, they'll thank you for it. That builds trust and credibility in your brand and fosters better overall relationships.
5. Sephora—Make Scheduling Easy
Does your business offer appointments or services that need to be scheduled? There are Messenger chatbots for that! Booking through a bot enables customers to schedule appointments whenever they are online, without needing a customer service representative to be available.
The beauty brand Sephora, for example, lets customers schedule in-store service appointments, such as makeovers or facials, using the Messenger chatbot.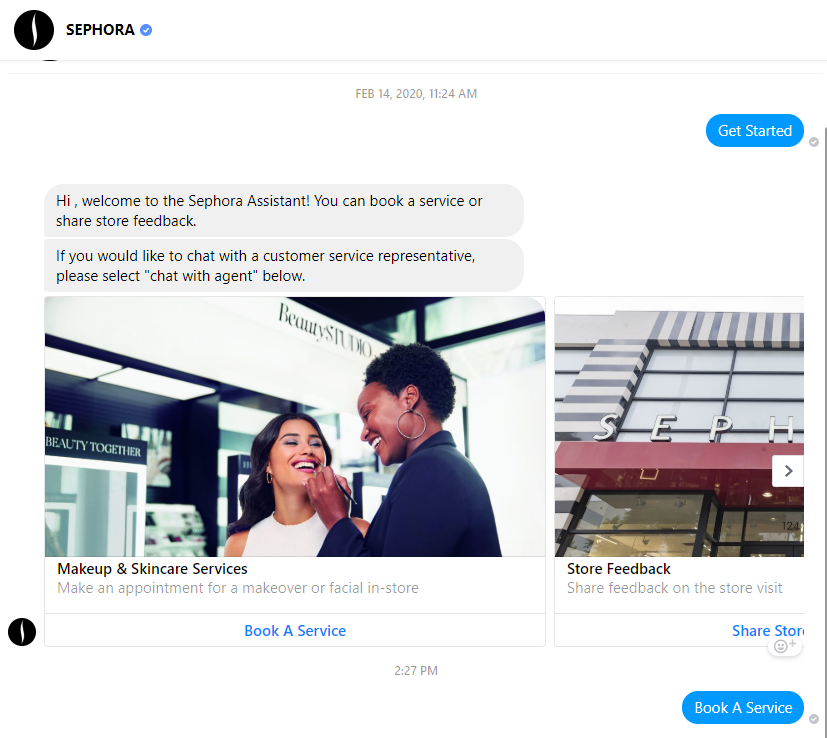 Selecting "Book A Service" triggers a series of questions from the bot to help customers select the location and services they wish to schedule.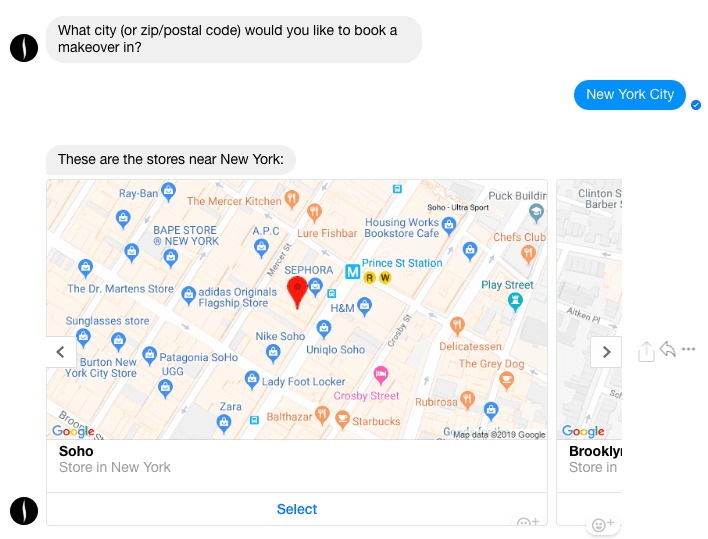 Then the interaction continues and gets more specific: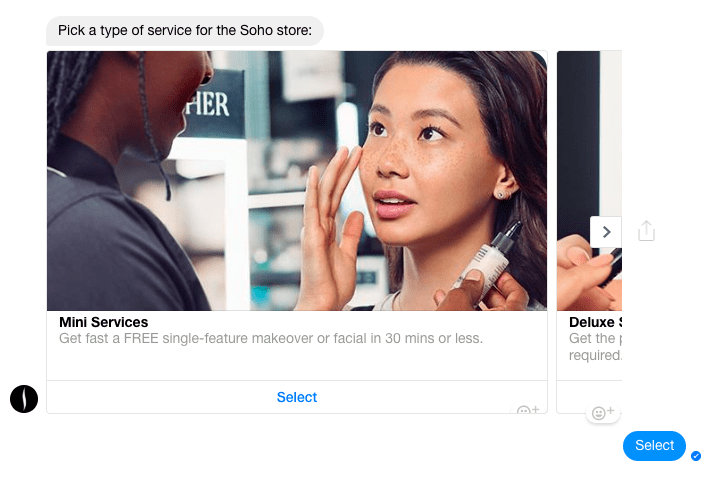 Finally, a scheduling pop-up lets customers select a time available at the desired store.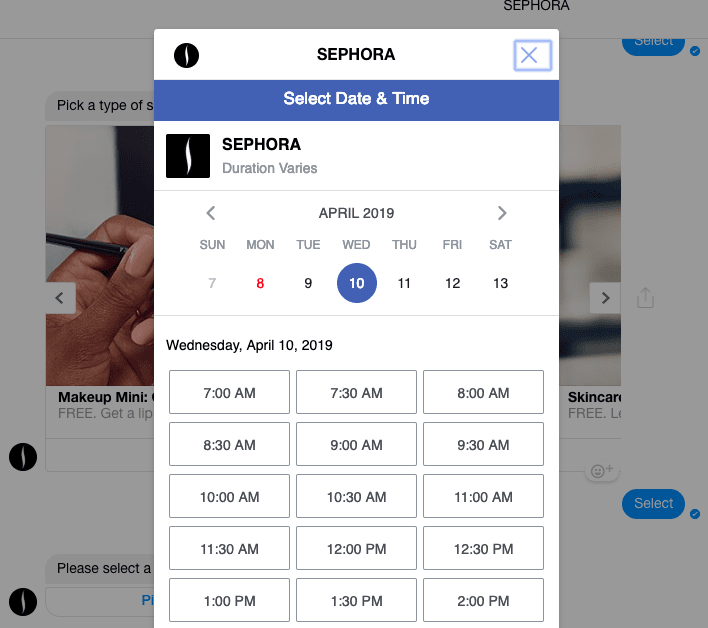 Once a time is set, Sephora pulls the name and email of the user from Facebook to finalize the appointment.
By using a chatbot, Sephora makes it easy for customers to book services. There's no need to call a store or hunt for a scheduling tool on the company's website. It can all be done in just a few steps through Facebook.
Messenger Chatbots Marketing Pro Tip:
Make sure you're meeting customers in the right channel
Sephora saw an 11% increase in in-store booking conversion rates over any other channel when they introduced the scheduling bot. They didn't have to change their booking process at all; simply by connecting with customers in a convenient channel, Sephora is building stronger relationships.
As one of the more fleshed-out chatbots we've looked at, it shows just how versatile this tool can really be. Sephora is not only off-loading the work of their in-store employees to the bot but also creating an experience that is more successful.
Follow Sephora's lead:
Meet customers in the channels that they want to use.
Build an experience that makes it easy to interact with the brand.
Streamline the scheduling process for your customers.
Giving customers a way to schedule appointments via Messenger also gives their in-store employees more time to focus on connecting with customers personally.
6. Evernote—Handle Support Queries via Chat
Chatbots should always make the customer feel heard and let them know you'll be in touch, even when you don't have an employee online to respond right away. Even a simple bot can collect basic information from the customer so a support rep is able to reach out when they're back online.
This is how note-taking application Evernote uses their Messenger chatbot. When a customer messages the company, a bot replies asking for their email address and their question and then tells them a customer service representative will respond soon.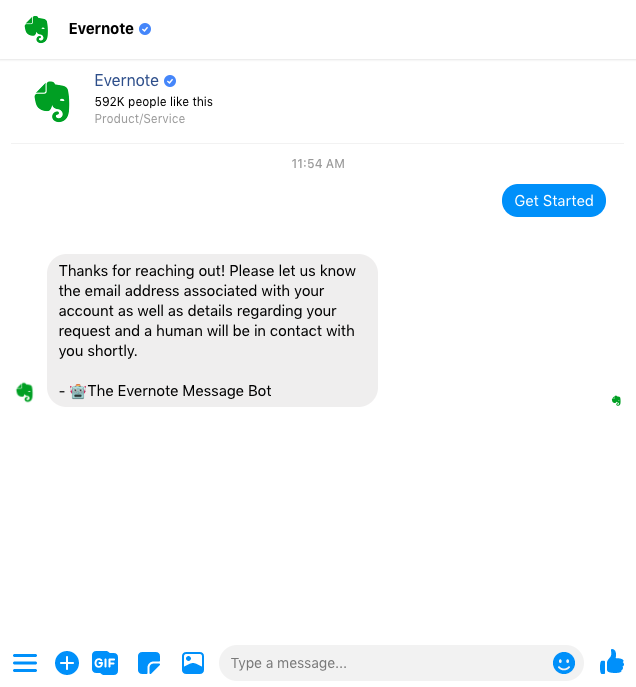 By sending a message right away, the bot creates an immediate connection with the customer, assuring them that their message will be viewed in a timely manner. It also lets the customer know what information the business needs in order to address their concerns as quickly as possible.
Messenger Chatbots Marketing Pro Tip:

Start with Simplicity
If you're just dipping your toe into the world of Messenger chatbots, start by setting up a simple bot, like the one used by Evernote, which displays only one message. That way, you don't have to build in multiple responses or answer options for customers, and you don't have to worry as much about conversational style.
Of course, you still want to put some thought into your welcome message. Here are a few things you might want to include:
A friendly greeting. This message is the only impression your customers will have until your customer service team follows up. Keep it friendly by thanking customers for reaching out.
The information you want from the customer. Tell the user exactly what to include in their message. For example, ask them what their preferred method of contact is for follow-up.
A timeline for follow-up. Give your customers an idea of when they will hear back from you. For example, put "A human will be in contact with you within 2-3 business days" instead of just saying "shortly."
Sometimes, just providing a place for users to send messages and connect with a person is all you need to get started.
Resources to Build Your Own Messenger Chatbots
Building a chatbot may seem complicated, but don't worry! We have resources you can use to create the best possible bot for your company, no coding required.
The Bot Platform
Social media management company Hootsuite has an integrated platform for building Facebook Messenger chatbots. The Bot Platform enables you to easily create a chatbot and customize it for your company. You can include it in an ad campaign, give readers the latest news, or connect with them in whatever way best suits your brand.
Hootsuite also helps with handling chatbot messages that need to be answered by a human. Hootsuite Inbox supports the Facebook Messenger handover protocol, allowing you to manage all conversations in one place, even those that were initiated with a chatbot.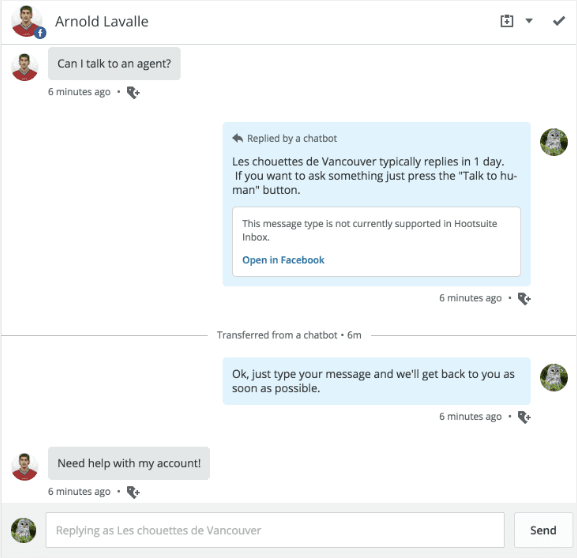 Initial conversations handled by the chatbot that require further assistance are seamlessly handed over to Inbox for further response by a human representative.
Want to learn more about managing chatbots with Hootsuite? This article covers how to enable the handover.
MobileMonkey's Chatbot Builder
Marketing automation company MobileMonkey has a chatbot builder specifically designed for Facebook Messenger, including multiple templates for different types of businesses.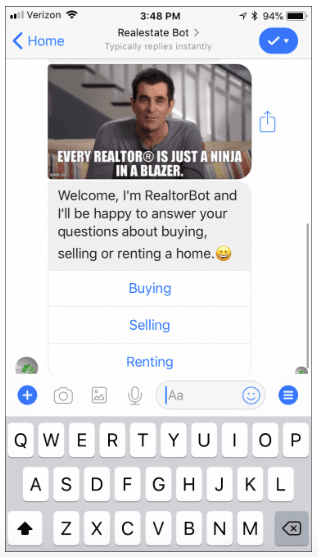 The template options from MobileMonkey include the following:
Ecommerce chatbot
Personal trainer chatbot
Marketing agency chatbot
Survey chatbot
Real estate chatbot
All of these templates are easy to set up and activate, so you can get started with your own chatbot in no time!
AdEspresso Marketing Bonus Tip:

Focus on Crafting a Narrative
Chatbots are highly narrative-driven, which makes them very different from other tech services or platforms. If you can't make your bot communicate in a way that's snappy, intriguing, or witty, then you're not going to connect with your customers on a personal level.
Whenever possible, you should do the following:
Use humor. No one wants talking to a robot to be like . . . well, talking to a robot.
Storyboard your chatbot. Look at every branch of your bot's conversational tree, and make sure it's a cohesive narrative with no dead ends.
Think about boring experiences you can use chatbots to turn into intriguing ones. The possibilities are endless: Pricing? Help documentation?
There are lots of situations where a real conversation beats navigating through a bunch of static information, so use your imagination!
Looking for more info about marketing with Messenger chatbots?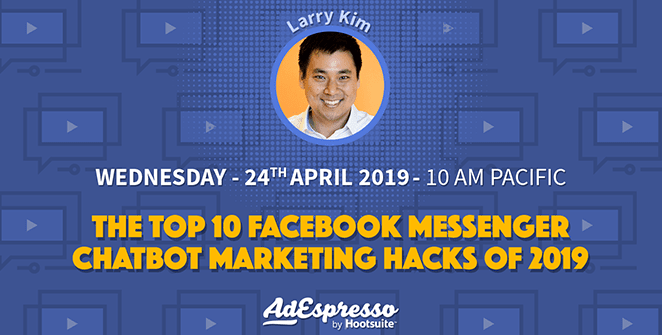 Sign up to receive a recording of our FREE webinar, The Top 10 Facebook Messenger Chatbot Marketing Hacks of 2019 with Larry Kim, Founder and CEO of leading Facebook Messenger chatbot MobileMonkey.
Create Immediate Connections with Facebook Messenger Chatbots
There's no limit to the ways you can use Messenger chatbots to engage with customers.
You could use them to promote surveys, collect customer orders, or guide customers through purchase options—just to name a few!
Use chatbots to create immediate connections with customers, even if no one from your company is online.
No matter which chatbot you choose, it will serve to make customers feel heard and will assure them that your company is not ignoring their Facebook messages.
Have you tried Facebook Messenger chatbots recently? Let us know about your results in the comments!