Affiliate marketing is one of the oldest ways people earned money online — online referral programs existed about 15 years before modern social media was even a thing. Affiliate marketing is also one of the most profitable ways to earn money as a content creator.
Want proof? Here's some:
Affiliate marketing allows brands to partner with relevant creators to increase their reach and make more sales. It also helps new creators earn money from their content.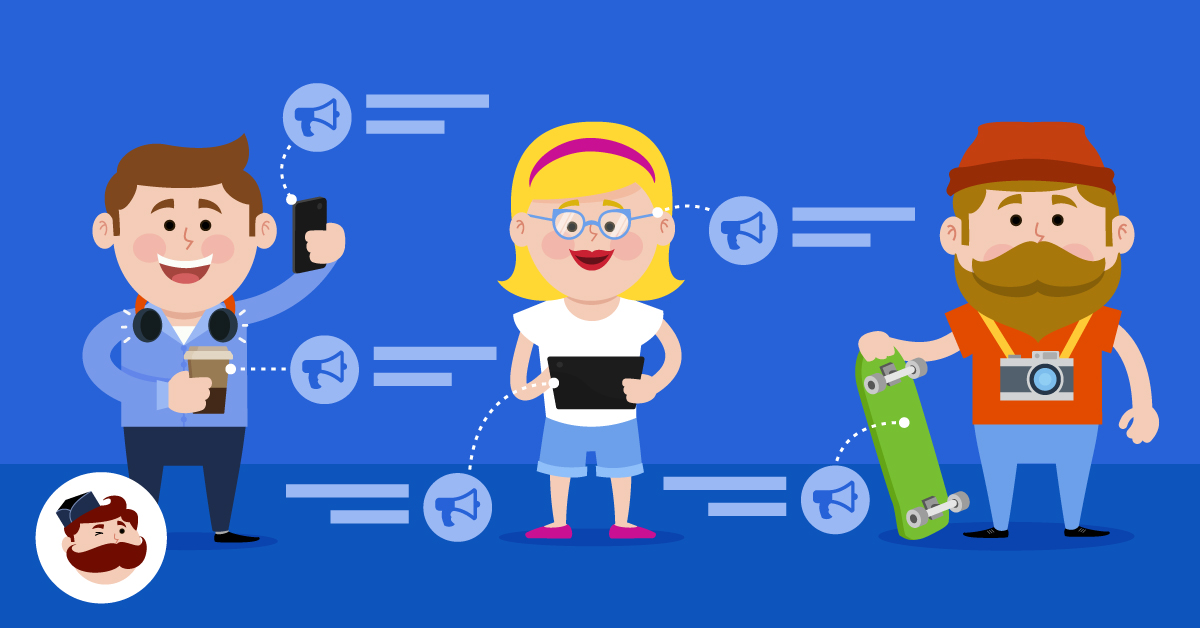 Here's all you need to know about affiliate marketing and how to set up and affiliate marketing program for your brand on social media.
What is affiliate marketing?
Affiliate marketing is a monetization model through which content creators (or affiliates) earn money or commissions by promoting another brand's products.
Normally, the brand pays the affiliate for trackable sales. But some brands also reward affiliates for leads, free trial users, and getting downloads for an eBook or app. Whatever the metric is, brands only pay affiliates for trackable results (not just increased visibility). In marketing, this is called a cost-per-action or pay-for-outcome model.
If you watch YouTube videos often, you've probably seen affiliate marketing in action. All those discount codes and special links that the YouTuber asks you to click on to purchase a product are used to track the YouTuber's affiliate sales.
Affiliate marketing programs are a great way for brands to work with popular content creators like social media influencers and mega YouTubers. It also gives these creators a chance to work with brands that they genuinely love.
Here's how affiliate marketing works:
A brand sets up an affiliate marketing program through which content creators can send traffic to a landing page or encourage sales to for a small commission. These sales are tracked through a unique link or code.
A content creator looks for affiliate programs that match their niche. They use affiliate links or promo codes when mentioning the products in their social media posts or online content.
The content creator (or affiliate) earns a commission when people purchase the products through their links or codes. This helps the brand to reach a targeted audience they wouldn't have had access to on their own. Both parties benefit from the relationship.
Who can benefit from affiliate marketing?
Affiliate marketing is a symbiotic relationship — it benefits both brands and content creators.
For brands, affiliate marketing allows them to work with content creators while only paying for trackable business results. For creators, it's a way to earn money from their content and work with reputable brands, no matter the size of their following.
E-commerce brands and merchants
When brands partner with content creators with an established audience, they're able to reach a wider audience without running paid ads. Affiliates only earn a commission on trackable business results (based on the business' conversion requirements).
Most times, brands and merchants pay commissions when a customer buys through an affiliate link. But if the item costs a lot, brands might pay for leads, sign-ups, app installs, book downloads, or even click-throughs. Whatever the conversion metric, the brand only pays for results that directly affect the sales funnel.
Apart from popular content creators, brands can also partner with nano-influencers through affiliate marketing programs. Although nano-influencers are not very popular, their follower base is usually specific and very dedicated. In fact, some brands see better results with nano-influencers than with mega-influencers.
Content creators (or influencers)
Affiliate marketing is a way by which content creators or influencers can earn money on products/services they already use. This way, they can recommend relevant products to their audience without reducing the quality of their content.
If there are products you've always wanted to partner with because they're beneficial to you, check if they have an affiliate program. If they do, you can apply for it and start earning money by recommending them to your audience.
The brand doesn't even have to notice you or agree to partner with you exclusively if you qualify for their affiliate program. But if you start driving a lot of sales their way, they might be interested in a brand partnership with you.
To make it easier for content creators to benefit from affiliate marketing campaigns, Instagram has launched a native affiliate tool.
View this post on Instagram
This tool is still in the testing phase so it's not available to all creators yet. But once it is, creators will be able to tag products and earn commissions directly from their Instagram posts, as opposed to using affiliate links or a link tree.
How to set up an affiliate marketing program
Determine your goals
Like all marketing strategies, you need to start your affiliate marketing program by setting clear, measurable goals. These goals will help you understand how affiliate marketing fits into your overall social media marketing strategy.
Start with the audience you want to reach. What kinds of customers do you want to get through your affiliate program? What kinds of content creators can help you bring these customers in?
Next, think about what you want to achieve with your affiliate program. Do you want to drive sales only? Build brand awareness? Or get leads for your sales funnel?
You can also set goals for:
The average order value (AOV) driven by affiliates.
The amount of revenue you'd like to get through your affiliate program per month/quarter/year.
How often you want people to make a purchase through affiliate links.
Sales are the most important conversion metric, but other metrics like impressions, clicks, and leads will help you gauge how successful your program is.
Determine your payment, attribution, and commission models
The next step is to decide how you're going to compensate your affiliates when they start sending customers your way.
Here are the factors that determine how much you'll pay affiliates and what business results you'll pay them for.
Payment model (what you'll pay your affiliates for). About 99% of brands use a cost-per-action (CPA) model. This means they pay a commission per sale, per lead, per click, or per install.
Attribution model. This is necessary if many affiliates help to send a customer to your brand. 86% of businesses use the last-click attribution. This means they pay a commission to the last affiliate who sends someone your way before they make a purchase. But the involvement of multiple affiliates might affect the sale because customers will visit your site multiple times. So you can also use first-click attribution or pay all the affiliates whose efforts impact your sales funnel.
Commission structure. How much will you pay an affiliate per sale? Will you pay a percentage commission or a flat rate? As a brand, you should know how much you spend on a new customer or a sale based on your budget for social media ads. Whatever amount you choose to pay, make sure you offer an enticing commission to motivate creators to sign up to your affiliate program and promote your brand.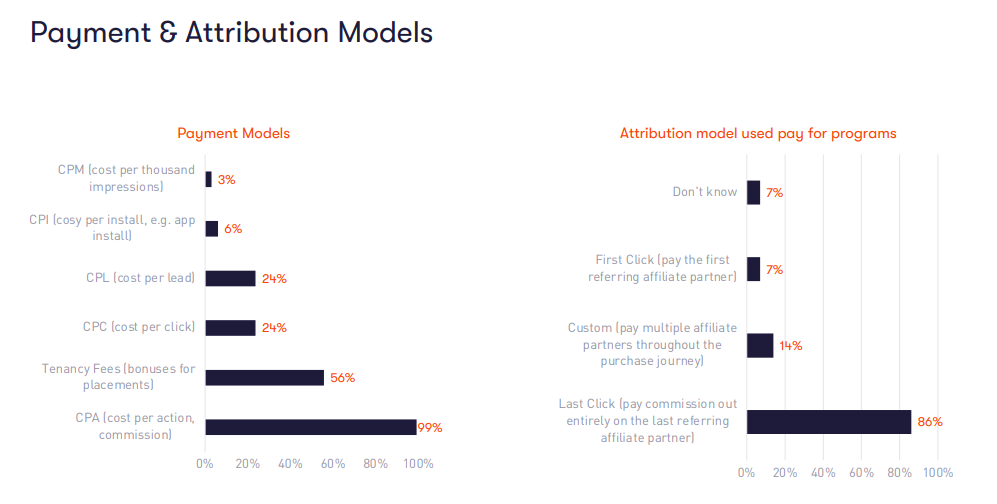 Source: IAB UK Affiliates & Partnerships Group Buyside Survey Results
To get an idea of what to offer, you can check what your competition is doing. Google your competitors' brand names + "affiliate program" to see what comes up.
You can also listen to social media conversations about your (and your competitors' brands). With a social media management tool like Hootsuite, you can set up a search stream with your affiliate's brand name plus "affiliate", "voucher" or "partner". Also find and monitor hashtags that look like this: [brand name]affiliate or [brand name] partner.
Track your affiliate sales
If you think setting up tracking for an affiliate program is a complicated process, you're not alone. Many marketers have no idea how their affiliate sales are tracked, and about 50% of UK marketers use third-party cookies.
But it doesn't have to be this way.
The easiest way to set up tracking for affiliate programs is to use an affiliate management tool. If your website is on an e-commerce platform, check the tools they recommend. For instance, the Shopify app store recommends top apps like Tapfiliate and UpPromote.
You can also track your program through affiliate networks, like Rakuten (formerly LinkShare) and CJ (formerly Commission Junction). The major benefits of using affiliate networks is that they can help you find more affiliates. Plus these networks are the simplest way to set up tracking, as they don't require that you know how to code.
Or you could run a basic affiliate program with coupon codes and/or UTM parameters. All you need to do is assign each affiliate their own unique coupon code and UTM code for tracking. Then get your results from Google Analytics.
Pretty neat, eh?
Whatever method you use to track affiliate sales, make it easy for your affiliates to embed their codes into their online and/or social media content.
Wanna kill two birds with one stone? Offer your affiliates a coupon code with a discount. This will motivate followers to visit your site while tracking affiliate sales.
Recruit your affiliates
An affiliate program is no good if it doesn't have… well, affiliates. But affiliates aren't just gonna start signing up for a new affiliate program. You have to reach out to them.
You can do this in three ways:
Use an affiliate network. As earlier mentioned, affiliate networks like CJ, Rakuten, and ShareASale can help you find the right affiliates for your business. You just need to input your criteria and the networks will source for affiliates that meet your requirements.
Cold outreach. You can reach out to potential affiliates via email as you would a brand for a partnership. For more tips on this, check out this Hootsuite post on how to find Instagram influencers.
Share on social channels. You can announce the launch of your affiliate program on your social media channels, too. Because who is more eager to be an affiliate of your brand than someone who's already a fan?
Affiliate marketing best practices for brands
Now that you know how to set up an affiliate marketing program for your brand, here are some best practices to entice creators to sign up for your program.
Make it easy for creators to promote your products
Content creators will be more inclined to promote your products when you make it easy for them to do that.
To ease the promotion process, create resources just for affiliates. It could be a Slack channel, a newsletter or even a Facebook group where you can inform affiliates about special offers, new promotions and other news that might interest their followers.
You can also give affiliates tools they can use to promote your products. This could be tips on your best-performing products, graphics they can use for marketing, and suggestions on how to maximize the value of each order.
Pay affiliates on a schedule that allows time to correct for returns
While you need to pay affiliates on time, you also need to allow time to correct any returns before payday.
30 to 60 days after the sale is a good amount of time, depending on your return window. But you need to make this timeframe clear in your affiliate agreement so that the creator knows what to expect.
If you're using an affiliate management tool, your affiliate marketers should be able to log in to directly track their own sales and monitor pending payments. If you run your program directly, you need to personally inform your affiliates of their sales and payment.
This can be tedious to do manually, so you can set up an autoresponder that should be triggered by a sale made through their link or code. This helps the affiliates know when they've made a commission.
Monitor the ROI of your affiliate marketing program
The best way to scale your social media affiliate marketing is to track your results and tweak your program based on your insights.
You can use analytics tools to track your progress and find the affiliate resources that work best. When you find your most successful affiliates, reach out to them and ask how you can support them better.
You also need to keep an eye on how much you make from your affiliate program in relation to how much you pay out. If you're earning more money than you envisaged from affiliate sales or your customer/order value is higher than anticipated, you can decide to increase your commission. Or not. The ball's in your court.
Affiliate marketing best practices for content creators
Now, let's balance the equation and discuss some affiliate marketing best practices for content creators.
Recommend products you use and trust
Affiliate marketing should feel natural. It shouldn't feel like you're forcing a product down your followers' throats. So when you're choosing products to be an affiliate for, choose high-quality products that you actually use and know the benefits of first-hand.
For example, check out beauty and makeup influencer Jackie Aina's YouTube videos. As she does her makeup, she highlights the products she uses, often stating which ones are her favorite to use. Then, she includes affiliate links in the video description through which her customers can purchase these products.
This is an organic and natural way for Jackie to earn money and help her followers. That's how to do affiliate marketing: create high-quality, helpful, and relevant content for your followers. Don't compromise your personal values and follower relationship by recommending a product you know nothing about just because you stand to make a huge commission if you drive sales to it.
Do your research
Sometimes, there are different options to promote the same product. So you need to do some research to find the option that offers the best payment model and commission structure for you.
Case in point: Amazon Associates Program is one of the most popular affiliate marketing programs. There's also the Amazon Influencer Program made specifically for social media influencers.
Products from mega-retailers like Amazon and Walmart give you access to a large number of products and can be an easy way to start affiliate marketing for beginners.
So if you want to create a whole Instagram account selling Harry Potter-themed merchandise, Amazon is where it's at.
But for some content creators, Amazon and Walmart aren't the best choice. If that's you, then you should approach the brand itself or a specific store that sells the products you want to promote. This way, you might get better conversions and commissions for your efforts. There's also a chance of developing a personal relationship with time.
Use a link shortener for long affiliate links
As explained earlier, UTM codes and user codes are the most common ways to track affiliate links. However, that can create some long and, let's be honest, ugly-looking links.
Using a link shortener can help you shorten the links without losing the tracking code. Hootsuite has a built-in link shortener called Ow.ly so you can shorten links with just one click.
Disclose affiliate links in your content
The Federal Trade Commission demands that content creators disclose affiliate links in their online content and on social media platforms.
Affiliate links should always be properly disclosed. If you'd like to tell the FTC more about lack of disclosures, please report it to https://t.co/gtPxXAxsek. For specific questions about how to properly disclose, email endorsements[at]ftc[dot]gov. Thanks!🙂

— FTC (@FTC) March 25, 2020
And honestly, this makes sense. It's reasonable to let your followers know that you'll earn a commission if they buy products through your affiliate link. If you're posting content on a blog or a social platform like Facebook or YouTube, you can include a disclosure statement like:
"I get commissions for purchases made through links in this post."
This sample disclosure statement was actually provided by the FTC.
On a platform like Twitter that has a very short character limit, you can just use a hashtag, like #affiliate, #affiliatelink, or just #ad to disclose that the links are affiliate links.
View this post on Instagram
Remember the Instagram native affiliate tool we mentioned earlier? Well, posts created with this tool will automatically have an "Eligible for commission" tag. Kinda like the equivalent of the "Paid partnership" tag on branded content posts.