The software-as-a-service (SaaS) business model has been snowballing since 2010. By 2023 -experts predict- the SaaS market will grow by more than $60 billion (yes, billion!). And, of course, SaaS Marketing will boost too.
If you have a SaaS company, this is excellent news, but it also means that you can expect more competition.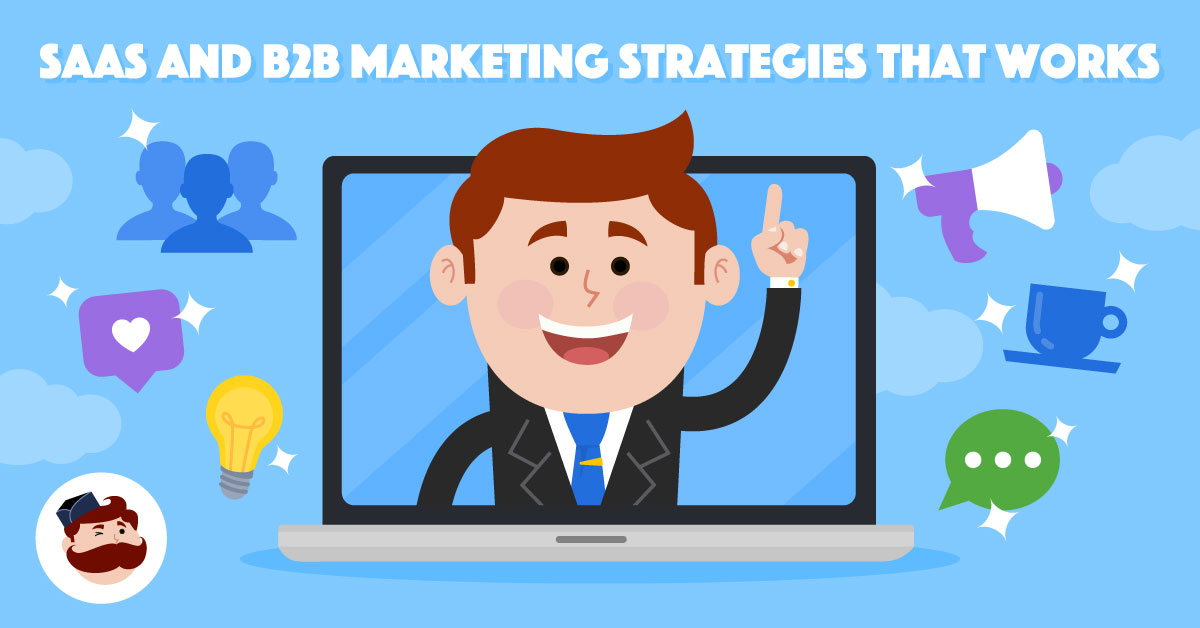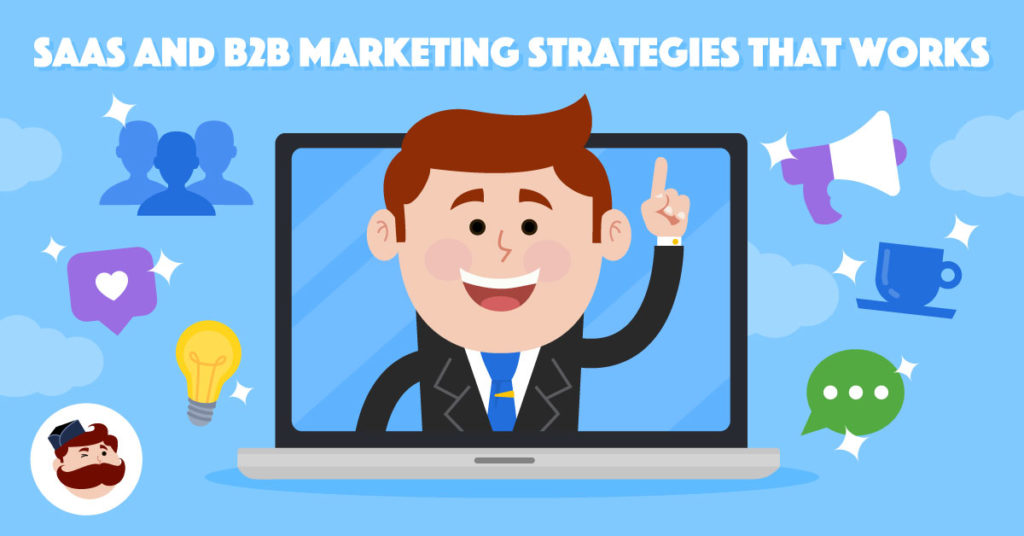 In this ever-growing market, you'll need marketing strategies that make your company stand out.
We're here to help! We've put together a list of seven B2B and SaaS marketing strategies (with examples) that will help you attract your core audience, increase engagement, and show potential customers why they should work with you.
Here are the SaaS Marketing tactics that we are going to analyze in this article:
1. Offer a Free Trial
There's a reason free trials are a long-standing SaaS marketing tactic: because they work. When companies test-drive your software, the product value speaks for itself. Even if they decide not to purchase it when the free trial ends, you have a solid lead for future ad and email targeting.
One of the best ways to promote your free trial is through Facebook advertising. The social platform allows you to optimize these ads for clicks and set your call-to-action as "Start My Free Trial," so you maximize the number of sign-ups. A Facebook ad can also increase your free trial's visibility since users can share the ad with friends and family who might be interested.
Here at AdEspresso, we know this strategy works because we've tried it! We recently ran a Facebook ad campaign featuring our free trial.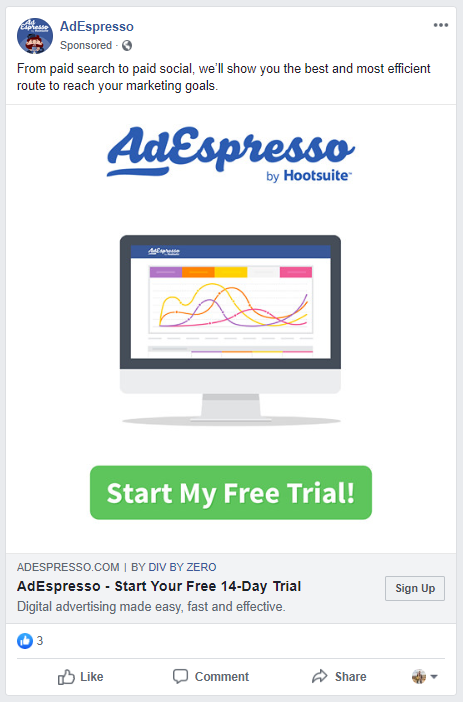 With this free trial ad, we're seeing clicks from people who are actively interested in using our product and move on to sign up.
New to Facebook ads? Check out this resource to get started.
2. Share Data-Driven Content
As a SaaS company, you have access to a lot of first-hand industry data that your customers and potential customers are interested in. If you have valuable internal data, share it through content marketing to attract new customers and build an appreciation for your brand. You might share a recent study your brand conducted or report on trends in your users' behavior. For example, Mailchimp, an email marketing company, shared email campaign statistics broken down by industry.
Once your data-driven content is published, post about them on social media and include them in your advertising campaigns. Show users that you have the information they're looking for.
Tableau, a business analytics platform, put its 2020 Business Intelligence Trends report in its Facebook ad campaign.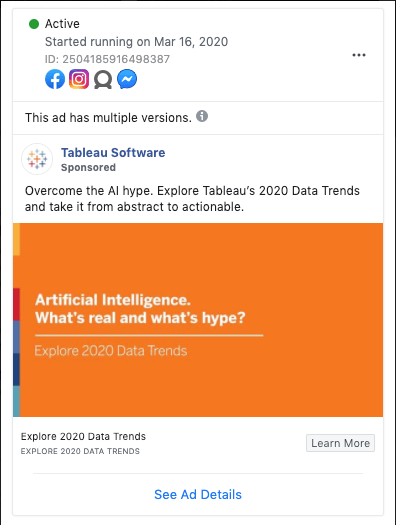 Tableau's post clearly lets customers know what value they can expect from the report—the latest AI trends—so they're likely to click and read about their data.
3. Show Off Good Reviews
Reviews and testimonials are effective forms of social proof. If people and businesses who work with you are saying good things about your product, it will make other companies more likely to consider working with your company.
Spread the good word about your business by sharing customers' positive reviews on your social media and Google pages. You can either share reviews customers post without prompting (after asking permission, of course!), or you can request reviews directly from customers. For example, if a user sends you an email saying how happy they are with your product, ask them to post a positive review and give them a link to your main review page.
Software development platform Clubhouse responds to and shares positive customer stories on its Twitter page.
Thanks for the shout-out, Ben! 💜 https://t.co/fqkpH7HGA8

— Clubhouse (@clubhouse) March 27, 2020
This retweet shows potential customers how happy current Clubhouse users are. It even describes the product and why it's perfect.
4. Earn the "Very Responsive" Badge on Facebook
Being responsive to online messages is a vital part of SaaS marketing, both for attracting new customers and preventing churn. All customer communication happens digitally, so customers rely on your brand to send prompt online replies when they have an issue. In fact, 42% of users expect a response time under 60 minutes.
Show customers that you communicate quickly by earning Facebook's badge for responsive businesses.
 This badge is prominently displayed and shows customers that their concerns will be addressed promptly.
Earning the badge is simple: You need to respond to 90% or more of private messages sent to your page via Facebook Messenger, and you need an average response time of less than 15 minutes. If you have a Messenger chatbot set up, the bot's responses count towards your response rate and time.
Make sure you have Facebook Messenger set up for your business page, and respond right away when someone sends you a message. If the answer requires time to address, respond by saying you are looking into the issue and will get back to them ASAP.
The e-commerce platform Shopify has a green badge indicating they are very responsive.
Customers (and potential customers) visiting Shopify's page know right away that if they have questions or concerns, the brand will respond quickly.
5. Share Behind-the-Scenes Content
SaaS clients are often fun, young, tech startups. These businesses make an effort to build flexible, supportive work environments, so they're going to like SaaS tools that also have a mindful culture.
Give these businesses a look into your work culture by sharing behind-the-scenes content. For example, you could share posts of employees enjoying themselves at a company team-building event. This SaaS marketing strategy shows potential customers that you're open and transparent about the company behind your product. It humanizes your company and shows you're upbeat and approachable.
The video marketing platform Wistia has an Instagram full of their employees having fun at work. It's very positive and inviting and gives the company an open, friendly air.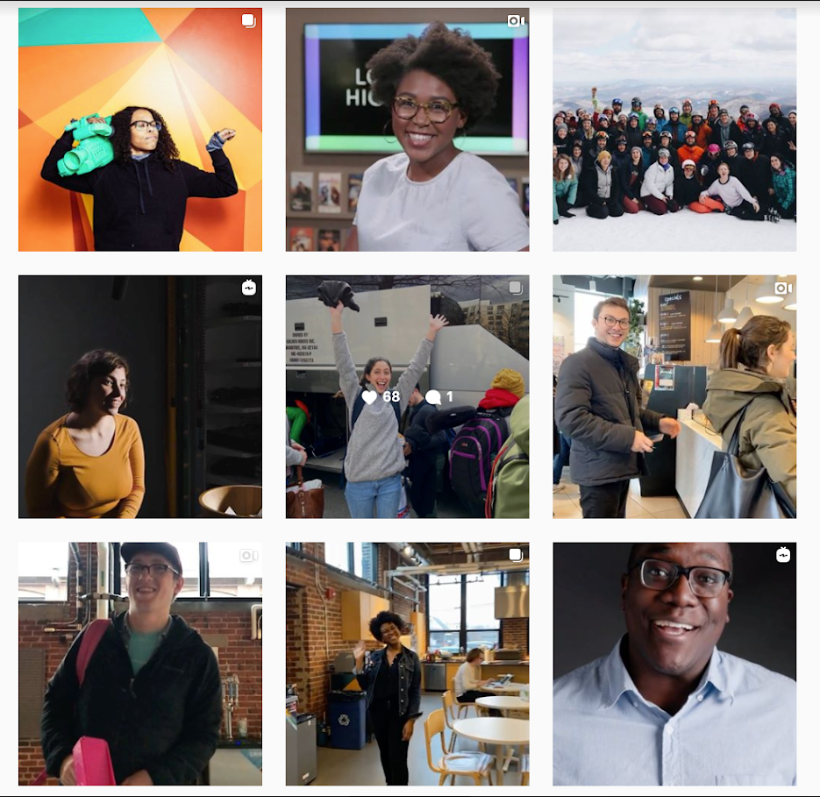 The behind-the-scenes strategy pays off in engagement and exposure. Wistia's 2019 recap video, for example, received over 960 views.
6. Host Q&As on Social Media
Directly connect with current and potential customers by hosting Q&As: meetings where your users can voice their concerns. SaaS tools are inherently technical, so people will inevitably have questions. Facing tough questions might not sound fun, but educating customers and addressing their concerns will help you build their trust in your brand.
Facebook Live and Instagram stories questions are two excellent platforms for answering questions live. You can either have users submit questions beforehand or answer questions as they come in during the Q&A.
Advertise your Q&A session well in advance to maximize attendance—post about it on all of your social media platforms, as well as your website. If you're collecting questions in advance, give users an email address they can send questions to, or ask them to send them to your business page via messenger. No matter how you collect questions, always record the Q&A session so you can post it afterward.
HubSpot, a customer relationship management (CRM) and marketing platform, hosts Instagram Story Q&As and adds them to their Story Highlights.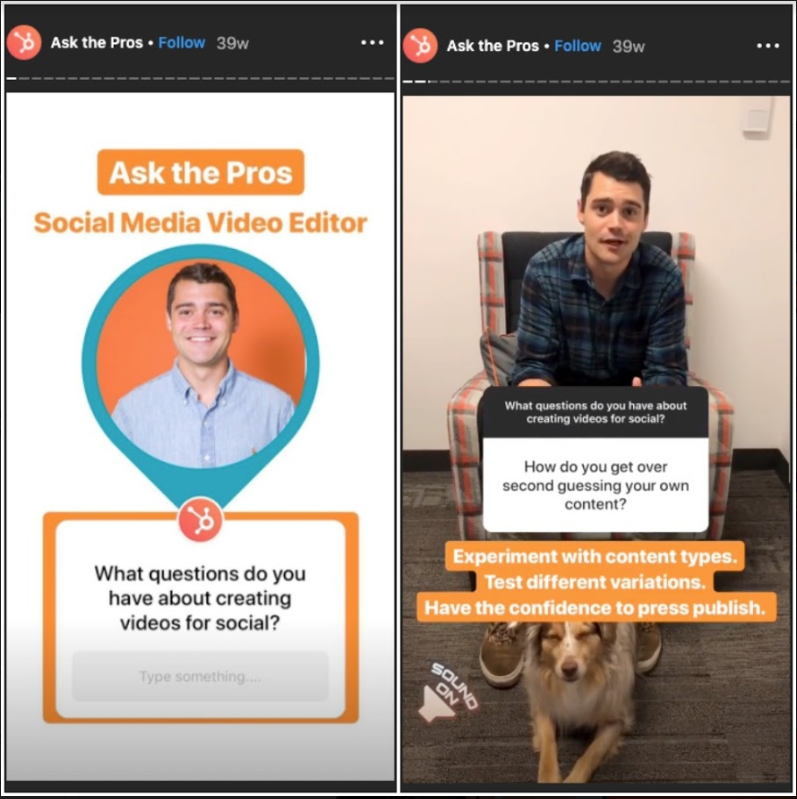 In their "Ask the Pros" story, HubSpot's social media editor received questions live from users watching. Users were able to get their questions answered immediately, and HubSpot was able to see engagement and interest on their Stories platform. After hosting a Q&A on Stories, use Instagram Stories analytics to see the reach of your session.
7. Share How You Give Back
Studies show that 63% of people buy from companies that share their beliefs. This extends to SaaS marketing as well—businesses want to work with and purchase software from companies that hold their values. Businesses have limited budgets, and they're more inclined to pay for software that not only gets the job done, but is also made by a company who gives back.
Spread the word about the causes your company supports on social media. Are your employees running a 5K to support cancer research? Post it on your social media platforms and share live updates during the event. Just remember that this SaaS marketing strategy is all about authenticity. Share the true values of your company—not just what you think your customers want to see.
Online inventory listing tool Sellbrite uses Instagram to show support for causes the company believes in. They celebrated National Day of Visibility for the LGBTQ community by wearing purple and spreading awareness about issues faced by LGBTQ youth.
The post received positive comments from other companies like GoDaddy and List Perfectly, both of which have more than 4,000 followers. By sharing their values, Sellbrite built stronger connections with the community of customers who care about this cause.
Stand Out with YOUR Unique & Creative SaaS Marketing
As a SaaS company, you may think fun, creative online marketing tactics are just for B2C companies.
Not true! Your audience is itching for creative campaigns, too.
Making innovative campaigns will set you apart from SaaS companies sticking to more traditional advertising tactics.
Use the SaaS marketing strategies discussed in this post, and monitor your social media accounts to see what resonates most with your followers.
Every company is different, so be prepared to tailor each of these strategies to best suit your audience.