Every now and then, a high-quality property flies off the housing market as soon as it's listed. The sellers are happy that they can move on, the buyer has their dream home, and you generated some revenue. However, selling homes at breakneck speed is anything but typical.
In fact, the average length of time it takes for homes to sell in the U.S. is 68 days. As a result, agents almost always have to apply some kind of real estate marketing to build interest and sell their listings.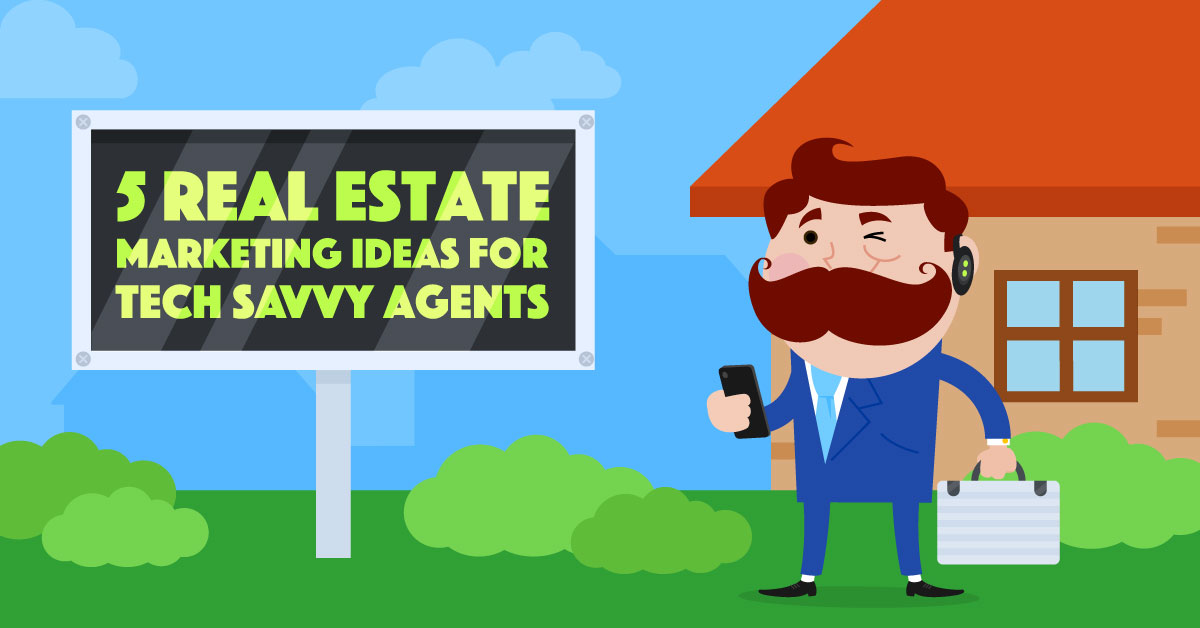 You're a marketer as well as a real estate agent and have to think strategically about what your target buyers want, the best way to reach them, and how to connect as efficiently as possible to maximize sales.
To boost your business, here are five strategies to build a real estate marketing campaign that motivates buyers to explore and engage with your listings.
Real Estate Marketing Strategy #1 – Know Your Audience
To get the most value out of your marketing campaigns, you need a clear idea of who it is you're trying to reach.
As a real estate agent, your target audience most likely varies by property. For each of your listings, determine the key information on your target buyers, such as:
There are a number of ways to gather this type of information. You can:
Another way to learn about your customers — and generate leads at the same time — is to use a tool like Spacio to track basic information about visitors to your open house.
The app is customizable, so in addition to asking for name, email address, and phone number, you can also find out what concerns people have with their home search, when they're hoping to close on a property, and what amenities and features are important to them.
From the information you gather from all of these sources, you can start to curate campaigns that reach interested buyers quickly and powerfully.
For example, you can post an ad on target buyers' most-used social platforms and mention the amenities of the property that relate to their hobbies:
Knowing your audience for each property you list allows you to target your marketing campaigns effectively and see more engagement — clicks, likes, shares, and comments.
Real Estate Marketing Strategy #2 – Sell Experiences, not Just Properties
Most people don't care about real estate — they care about what a new house can bring them and their family.
To encourage leads to call you, book a property to view, or put an offer in on a property, you have to sell properties by selling the experience surrounding the listings.
Instead of just talking about the property specs — yes, lots of bedrooms and a big backyard are great, but they aren't the only factors that sell a house — promote how different aspects could be integrated into buyers' lives.
For example, you might highlight a nearby community park in an ad for a family home listing. For condos in the city, you might highlight the proximity to entertainment and restaurants for first-time millennial buyers.
Why is the experience so important to master?
A study by PwC found that customers are willing to pay up to 16% more if they can enjoy a better experience.
So if one of your listings is on the market for $280,000 — the average list price of a single-family home in the U.S. — you're potentially looking at multiple offers above asking price if the experience is beyond what customers expect.
On the flip side, the same survey found that bad customer experience can cost you more.
Leads will go elsewhere to have their housing needs met. Suddenly that $280,000 house sits on the market for well over the national average of 68 days.
The PwC study explains customer experience this way,
A good customer experience leaves people feeling heard and appreciated; it minimizes friction, maximizes efficiency and maintains a human element."
To create a memorable experience, your real estate marketing should offer buyers a full picture of how great their lives will be with your property. This will, in turn, motivate them to reach out and learn more about the listing.
Real Estate Marketing Strategy #3 – Blend Traditional with Digital
With the majority of real estate buyers online, your marketing strategy needs to include digital components to encourage engagement.
At the same time, you don't want to drop older tactics that previously worked. Listing upcoming open houses in the weekend paper or putting up open house signs in neighborhoods are great, but they only target a small segment of your total audience.
Digital marketing allows you to reach more people with less effort.
For example, reaching people interested in family homes in a particular city is as simple as tailoring your target audience when you create your Facebook ad. These people don't have to physically be in the same location as the properties you advertise in order to hear about them.
There are many more advantages to incorporating digital into your real estate marketing — you increase ROI, get more exposure, save time, and do more with your available time — but don't feel you have to completely abandon older methods that still work for you.
Instead, combine the old with the new to create custom marketing.
For example:
What's also great about combining different kinds of real estate marketing is you cater to most of your audience's needs.
For families that enjoy driving through neighborhoods on Saturdays looking for open houses, they don't miss out. Buyers who like to spend time scrolling through listings online and looking at property images and video get the benefit of online advertising.
Real Estate Marketing Strategy #4 – Use Live Video to Connect and Engage
Research shows that live video is one of the most powerful ways to capture buyers' attention. Facebook reports that users spend more than three times longer watching live videos than non-live videos.
As a real estate agent, you can use Facebook Live to engage audiences in a number of ways, such as giving a live tour of a home you have listed or answering home-buying FAQs.
Using this captivating medium will distinguish you from other agents as an innovative value-provider.
To build a following around your videos, get into the routine of filming regularly.
For example, if you like to share open houses and you host one most weekend, spend 10-15 minutes before they start to walk viewers through the properties. If you work with a lot of first-time buyers, start a regular event where you talk about financing, budgeting, the home-buying process, and more. This segment of your audience will keep coming back to hear what new information you have to share and grow to trust your insights.
Video allows for versatility, so don't be afraid to experiment and get creative with the type of content you share.
Real Estate Marketing Strategy #5 – Automate Whenever Possible
Between creating ad campaigns and working on lead generation tactics, real estate marketing can take up a huge chunk of your time.
Since you're busy juggling client needs, submitting paperwork, and more, this doesn't bode well for your already busy schedule. While some activities need your monitoring, many of these tasks can be automated to help save you time.
For example:
Free up your schedule with these automation tools so that you can spend more time on value-added tasks like message follow-up, creating new client events, and writing engaging and informative blog content.
Automation also gives you more time to iterate and improve your entire marketing strategy for greater engagement.
You can create detailed buyer personas, so your marketing is more targeted, or you can spend more time in the community learning about your audience and helping them to get to know you.
Measure Engagement for Real Estate Marketing Success
Once you start implementing these tactics, you'll need to measure the results of your marketing efforts to see which are most successful.
The more you test and monitor engagement, the more insights you'll have on how to improve your real estate marketing strategy.
The goal of any business is always to increase leads, convert, and grow.
These marketing ideas will help you do that, so you eventually stand out compared to other real estate agents also working in your chosen neighborhood.
What do you think? Do you use any of these tactics already? Which of the ones we proposed do you plan to try? Let us know in the comments