Lead ads are an awesome way to generate or nurture leads at any stage of the funnel. And we all need leads, don't we?
So, let's say that you are ready to start a lead generation campaign and need to find the best placement for your objective, so you wonder: Instagram or Facebook mobile?
You already know from a previous experiment that lead ads on mobile outperform landing pages on mobile devices, but it's not enough.
What we want to know is: will Instagram perform better, worse or about the same as Facebook ads on a mobile device?
We tried to find some data on this, but alas Google results remained irrelevant. So an experiment was born!
Hypothesis and Setup of the Campaign
Let's first consider this: Instagram has over 7 million monthly active users now, and Facebook has 2 billion monthly active users.
So we hypothesized that mobile lead ads on Facebook would perform better than lead ads on Instagram. To find out, we set up a new campaign!
Our goal for the campaign is to get as many opt-ins as possible on our lead ads to get AdEspresso's bundle of Social Marketing Ebooks.
To see which placement works better for lead ads, we set up a brand new lead generation campaign promoting our bundle of Social Marketing ebooks to audiences of website traffic that have not opened up an AdEspresso account or downloaded an ebook before. We ran this campaign for 2 weeks at $75 per day with a split test running only on placements mobile Facebook and Instagram.
The targeting was worldwide with exclusions of India, Nepal, Bangladesh, Myanmar, Malaysia and Indonesia.  We optimized for the offsite conversion of "leads."
Here's what our ad looked like on mobile and on Instagram: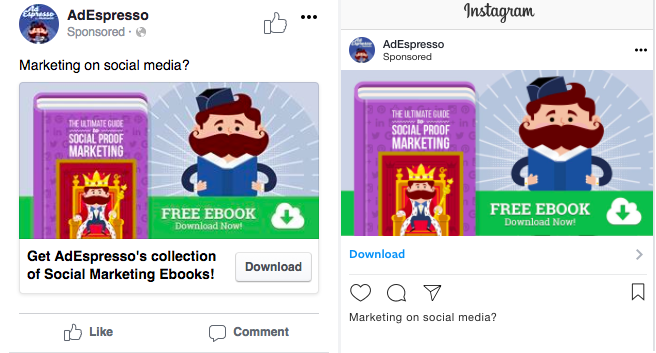 For this campaign, we targeted our website traffic excluding anyone that signed up for an account or that downloaded an ebook previously.  Our target is worldwide excluding:
Anyone that completed an eBook Workflow (a Data Sync'ed audience, so we can track over 180 days)
Anyone that downloaded an eBook Already (a 180 day Facebook Lead Pixel audience)
AdEspresso Customers
AdEspresso Subscribers Only (Current)
Anyone that visited app.adespresso.com – all visitors and Free Trials – All Time
The rest of the audience parameters were kept broad at anyone age 23-55.
The budget for the campaign was set at $75 daily budget running from September 15th- September 30th 2017- for two weeks. Bidding was kept at automatic throughout the duration of the campaign.
After our campaign ran for 2 weeks, we headed back to the campaign dashboard in AdEspresso to check our results.
Taking a look at the data
Our campaign spent $1,042 and generated 2,427 leads with a cost per lead of $0.43. When we dive into the results of our experiment on our AdEspresso dashboard, we can see that we have a clear winner with the Facebook mobile placement.

Aligned perfectly with our hypothesis, the ads targeted to Facebook mobile users brought in 2x as many leads as the Instagram lead ads. Facebook mobile placement blew Instagram out of the water with better KPI's across the board! Mobile brought in more clicks, more leads, a higher CTR, CPA and higher lead generation rate than the ads targeted to Instagram in our campaign.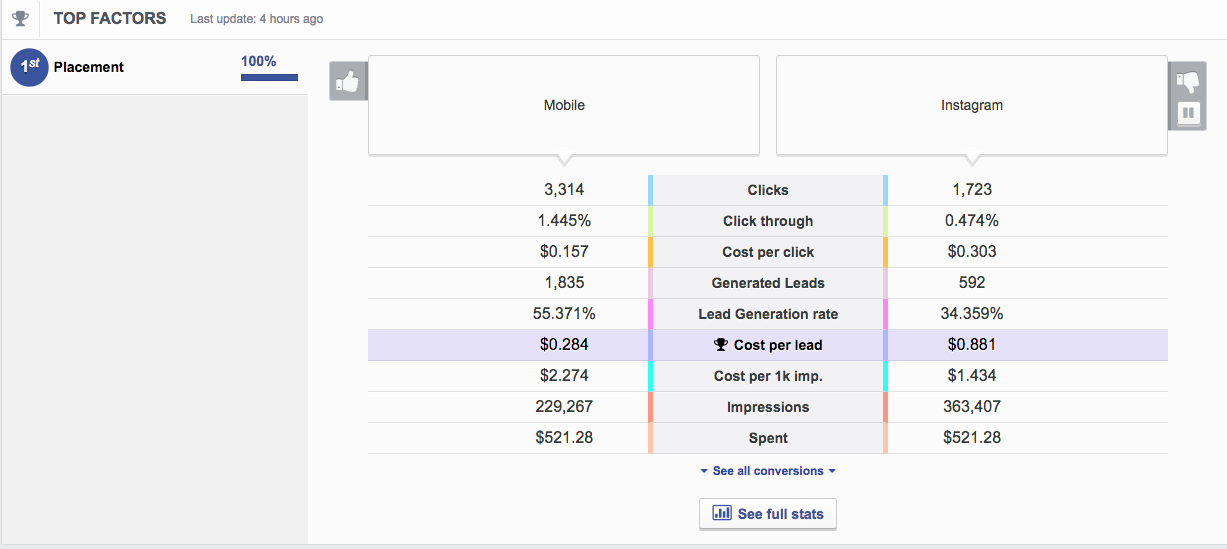 We can analyze some more trends looking at our campaigns data:
Instagram placement received more impressions than mobile, yet less clicks and leads
The lead generation rate for mobile was 22% higher than Instagram
The CPM ( cost-per-thousand impressions) on Instagram was nearly 2x higher on mobile
Facebook Mobile generated 1,243 more leads than Instagram
And the winner is…?
Facebook Lead Ads on mobile, of course!
Facebook on mobile had a cost-per-click of $0.157 and a cost-per-lead of $0.284 with a total of 1,835 leads throughout the duration of the campaign.
Instagram lagged behind with a cost-per-click of $0.303 and a cost-per-lead of $0.881.  While we can see that impressions are cheaper on Instagram, that traffic is simply not clicking as often or submitting the lead form as the users seeing our ad on Facebook mobile.
How you can use this experiment
Based on this experiment, we believe for B2B marketing that Instagram Lead Ads should be avoided.
Of course, your business is unique so we do encourage (perhaps with a smaller budget than we used) to test this out yourself and see if your results mirror ours!