Everyone loves free stuff. There's something in our psychology that triggers an emotional response when we get something for nothing—it actually makes us value the product more.
Economists call it the zero price effect.
And that's what makes an Instagram giveaway such a powerful tool.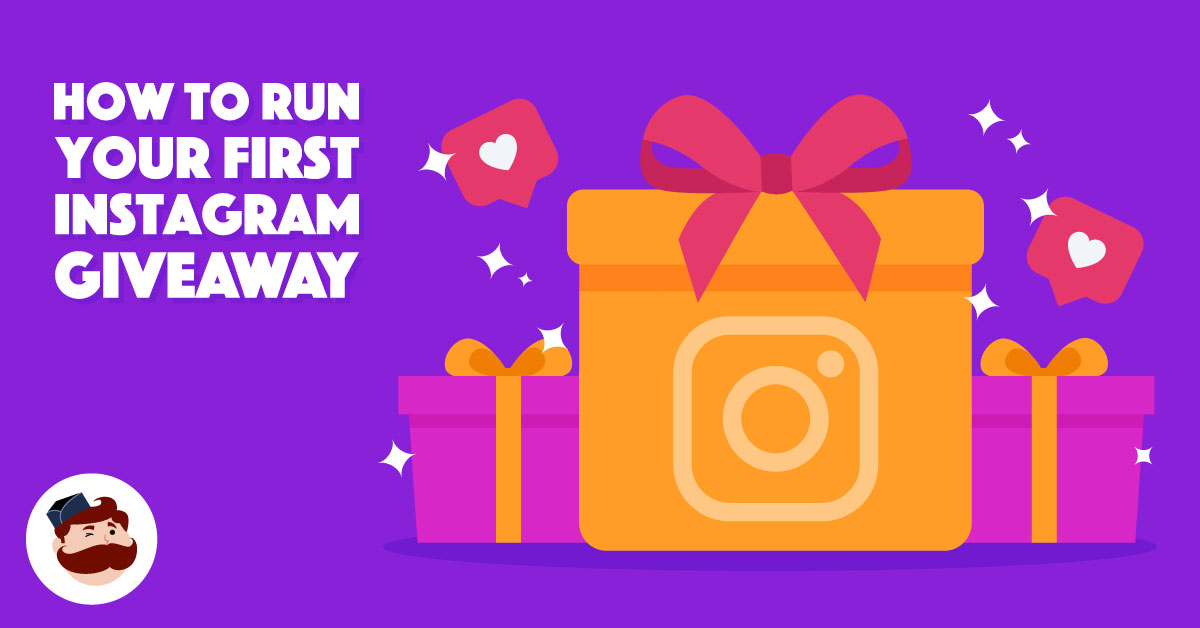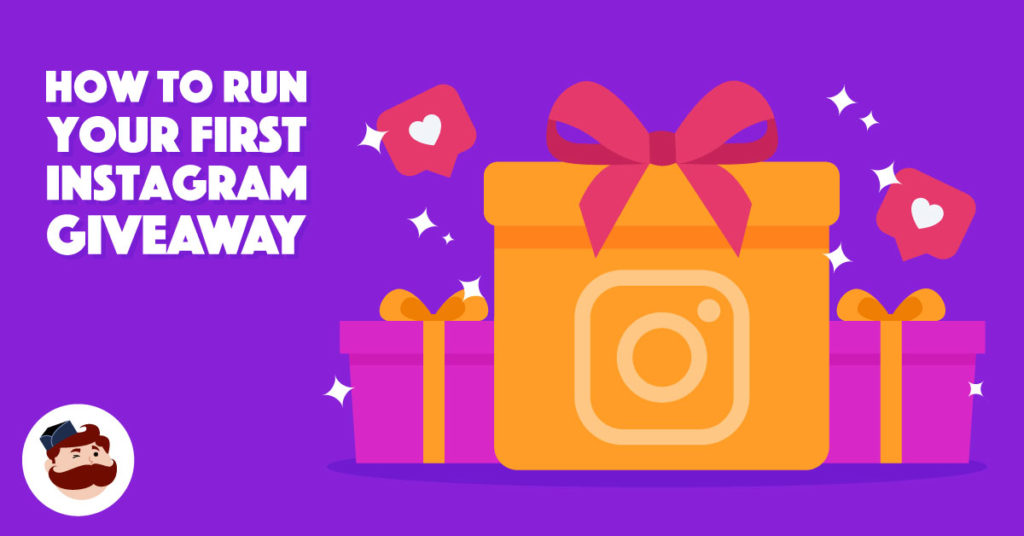 A successful Instagram giveaway can have a direct impact on the perception of your brand—boosting awareness in your company and engagement with your content.
So how do you make sure you're doing it right?
We've put together a six-step checklist to help you make your first-ever Instagram giveaway the best it can be.
But first, let's talk through the top three reasons why you need to run your giveaway in the first place.
3 Reasons to Run an Instagram Giveaway
A well-planned Instagram giveaway helps you grow your audience, boost engagement with your posts, and increase loyalty in your customers.
Whether you're new to the platform or looking to drum up some excitement with your current audience, giveaways are a great way to jump-start the relationship with your fans.
Running your own giveaway will:
Attract followers faster.
Instagram accounts that hold a contest or giveaway

grow 70% faster

than those that don't.

Entice both current followers and prospects to engage.
Increased engagement signals to Instagram that they should feature your content more regularly in the feed and acts as

social proof

for your brand.

Build stronger relationships with your existing audience.
When you give something away, it helps foster an emotional connection between you and your followers.
But that's not all.
Outside of the relationship- and audience-building advantages we've just discussed, there are practical benefits as well.
Contests and giveaways can be used to

tease an upcoming product or feature release

and

encourage followers to share and submit user-generated content (UGC)

.
Now that you understand the benefits a bit better, are you excited to get started on your own Instagram giveaway? Let's dive in.
Creating Your Instagram Giveaway in 6 Easy Steps
Running a successful Instagram giveaway requires planning and a clear understanding of what you want to accomplish as a result.
As you're working through the process of creating your first giveaway, make sure to tie each decision back to your business goals.
1. Determine What You Want Out of Your Giveaway
If you don't set a specific goal for your Instagram giveaway, you're basically just giving something away for free. While that's a nice thing to do for your followers, it doesn't serve your business.
The first step to running your giveaway should be to nail down exactly what you want to achieve once the giveaway is complete.
The goal you choose will impact every other decision you make, including your prize, the content you create, and how you promote your giveaway to fans.
Take this example from insulated beverage container company Corkcicle.
The image Corkcicle uses for the post showcases all the products a person can win by participating in the giveaway.
Based on the caption, the goal of their Instagram giveaway is to increase their audience.
To accomplish that goal, they've broken it down into three elements:
Get more likes on their giveaway post.

Have followers tag friends they think would be interested.

Remind people that they need to follow Corkcicle's Instagram account to be eligible.
By creating a giveaway with a defined and actionable objective, Corkcicle maximizes their potential to fulfill their goal.
It also makes it easy for users to understand what they need to do to participate—and it ensures that they won't run into any issues with Instagram's content regulations.
2. Familiarize Yourself With Instagram's Rules
Once you've figured out what you want to get out of your giveaway, it's time to take a look at what Instagram requires from you to actually get it done.
There are a number of specific guidelines for creating a giveaway on their platform and you need to follow them to make sure that your giveaway runs smoothly and avoids the risk of it being shut down.
To be certain you're not running awry of any of Instagram giveaway terms, don't forget to incorporate the following information:
Your rules for the giveaway.

The terms of eligibility for participants.

Any relevant regulations related to your prize (age restrictions, etc.).

Acknowledgment of the fact that Instagram is not responsible for the giveaway.
All of this needs to be entered in the comment section of your giveaway post. If you're unclear in any way, Instagram reserves the right to remove your content.
Don't worry though; including that information won't take away from the impact of your giveaway. It's a standard way to keep all parties involved on the same page.
Now that you understand these rules, it's time to move on to the fun part.
3. Choose a Prize That Your Audience Will Love
If your prize isn't enticing to your target audience then you won't see any engagement.
As you're planning your giveaway, take a look at what your followers are interested in and think about how you can offer something that's valuable and on-brand.
This is easy for consumer products and e-commerce sellers who sell specific products. A software or SaaS company will need to do some additional research if they want to offer more than a discount or trial.
One way to do this is with interest targeting—digging through your Instagram Insights will give you an overview of what's relevant to your audience.
Your Instagram giveaway can be an opportunity to partner with other brands as well.
That's a great way to tap into an already engaged audience and boost brand awareness for everyone involved. Here's an example from value-based e-commerce store Me to We.
In their giveaway, MeToWe partners with The Giving Keys and Jackson Rowe, two more value-based e-commerce brands, to provide a giveaway package that includes products from all three.
Through this partnership, each brand is able to increase awareness in their products, as well as their cause.
It's this kind of symbiotic relationship that makes the giveaway relevant to all three respective audiences. Followers of MeToWe appreciate products with a strong social message and are, therefore, more inclined to support another brand with the same mission or values.
This makes the whole giveaway more valuable and enticing to Instagram users, and therefore, more powerful for the brand.
4. Write the Right Giveaway Caption
Now that you've chosen your prize, it's time to create your Instagram post for the giveaway.
This is going to be the place you direct users to so they can learn more about what they'll win. Think about how you want followers to engage with the content (through shares or comments?) and tailor the content to those needs.
A great caption will not only promote the items you're giving away; it will provide all the requisite information people need to find, learn about, and enter the contest.
This is where hashtags can be helpful.
On top of a specific hashtag for your giveaway, include relevant others like #contest and #giveaway. It's also a good idea to include additional information and hashtags about your industry.
Here's an example from natural skincare and haircare products retailer Palmer's.
Here's a breakdown of their caption:
🧡Palmer's ThanksGiveaway 🧡Keep your skin hydrated and radiant all holiday season when you win a Coconut Oil prize pack in our Thanksgiveaway! It's easy to enter:
1 – follow @palmers
2 – in the comments, tag 2 friends and tell us what you are thankful for this year
Winners will be chosen at 12:00 PM EST Tuesday 11/26 *Open to US residents only. One entry per person.
#LovePalmersCoconut #CoconutOilFormula #coconutoil #skincare #bodycare #contest #giveaway #win #prize
Not only do they provide the information required by Instagram to clarify how the giveaway works, they include the specific actions their followers need to take, and relevant hashtags to make the post easy to find.
As this giveaway is tailored to Thanksgiving in the US, Palmer also has participants comment on what they're thankful for this year. It's a fun way to increase the emotional impact of their giveaway by tapping into existing relationships between their fans.
As you're writing your own caption, think about ways you can inject a little bit of your brand's personality as well.
Your giveaway might be the first impression you make for new followers, or it might reinforce the relationship you have with your current audience. Either way, it's your time to increase your chances for participation, so make it engaging.
5. Promote Your Instagram Giveaway with Ads
Once you have your giveaway up and running, use Facebook and Instagram ads to promote it. Doing so can boost awareness of the giveaway for a larger audience and potentially increase overall engagement with the post as well.
When you're running your ads, just make sure you're using the same kind of interest targeting discussed above in the 'Choose A Prize…' section.
It's important to make sure you're attracting an audience that's not only interested in your product or service, but one that has the potential to sign up and signal to boost your post.
These ads are an opportunity to double down on the value of your prize as well.
Play up the fact that you're giving something away for free; all the user needs to do is give your account a follow or tag one of their friends in the post. It's important to make it clear how low-lift the effort is for potential participants.
6. Track the Results
Once you've chosen a winner for the giveaway, look at how the process impacted your original goal. This helps you see the ROI and create better-performing giveaways in the future.
Within Instagram Insights, look for both the Interactions and Discovery reports. Both will provide valuable context on how successful your campaign actually was.
If you originally created your giveaway to boost engagement, the Interactions report will tell you what you need to know about who clicked on your post. Of those, you can track who went back to your website, or who became followers as a result.
The Discovery report is more useful if your goal was to increase brand awareness. It provides insight into how many potential new followers saw your post in their feeds.
Use this information to nail down how much of an impact your giveaway actually made towards your goal.
Once you figure this out, it's easy to refine the process and look for opportunities to make it better on your next giveaway.
Start Using Instagram Giveaways to Grow Your Brand
Whether you're looking for more followers, more engagement, or more awareness, Instagram giveaways are an amazing tool for growing your brand.
When you follow our 6-step checklist, it ensures you're just not giving something away for nothing.
You'll be creating an opportunity to connect emotionally with your audience and provide them something of value in return for their participation.
Do you run Instagram giveaways? Let us know in the comments about what success looks like for your Instagram giveaways. We'd love to hear about how you use them in your marketing strategy!