Are you using Instagram to attract qualified real estate leads?
Or are you merely relying on Facebook and your agency website to do all the heavy lifting for you?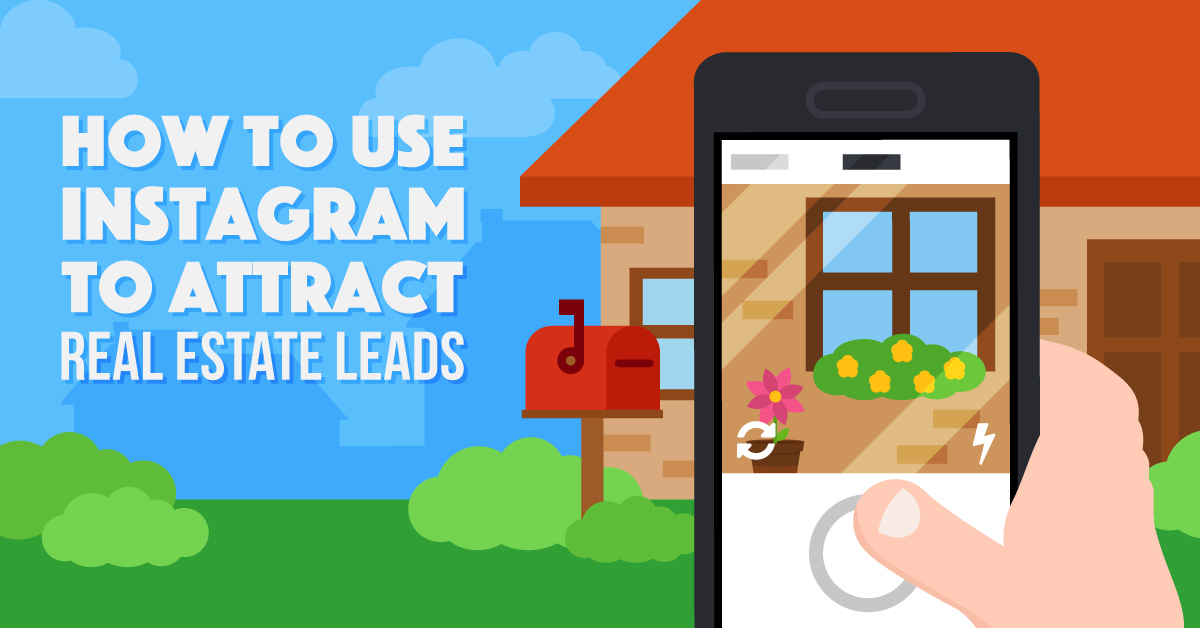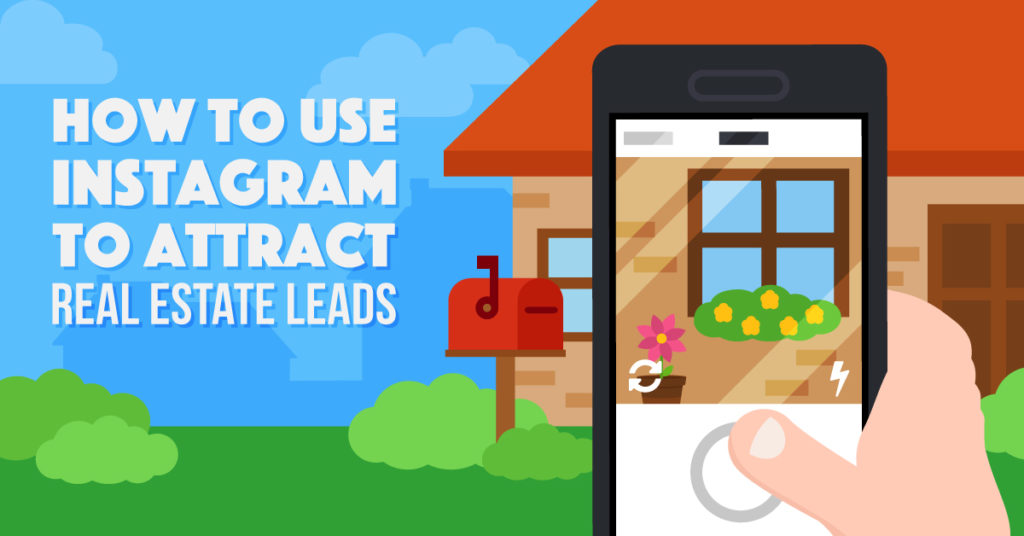 Think of your real estate Instagram account like a portfolio and a lead generator all in one.
Now, do you see why it's such a big deal?
This guide is all about how to use Instagram for your real estate business like a pro.
Instagram can be a powerful way to increase your engagement numbers thanks to the highly visual nature of the platform and its user-friendliness.
Home buyers, sellers, and other real estate agents can view the types of listings you represent, learn what areas you specialize in, and stay on top of your upcoming events all from their social feed.
In this guide you'll learn:
Let's start by answering why all this is even worth your time.
10 Reasons Why Every Realtor Needs An Awesome Instagram Account
Did you know Instagram boasts over one billion active monthly users and over 500 million daily users?
And that as of February 2017, over 120 million Instagrammers took some sort of action with a business – either visiting a website, getting directions, or calling, emailing, or direct messaging a company."(Note: This statistic is from when Instagram had under 700 million active monthly users).
Besides the insane reach your posts may achieve, Instagram makes for a great social media platform for realtors because:
It's a free form of advertising everyone is already familiar with

You and everyone from your niece to your retired neighbor are on Instagram because it's a fun, beautiful, easy way to stay in touch.

It's highly visual and shows off your listings

Instagram is a natural fit for realtors to post amazing images of their properties, video walkthroughs, and other tidbits buyers want to know.

You don't have to compete with Zillow, Realtor.com, or Trulia

Enough said.

You'll see precisely who likes your posts so you can reach out directly to potential leads and your existing customer base

On average, realtors see 10x more engagement from their Instagram posts than from Facebook.

The Instagram crowd has more money

According to Statista, Instagram users earn higher salaries than those on Facebook and Twitter so they may be more qualified buyers

Hashtags are the new SEO

You can rank higher in an Instagram search with the right hashtags than you may be ranking with your traditional SEO approach to search results pages.

The more you post, the more engagement and traffic you'll score

Thanks to the Instagram algorithms, your recent posts with the most likes will jump to the top of your users' feeds, so your posts are likely to be viewed and interacted with more often.

It's free event marketing

Use it for all your happy hour parties, open houses, and other meetups where awareness is crucial for attendance.

It's a goldmine for referrals

Clients will want to keep up with you and refer your services to their network of friends, family, and coworkers. Your clients can tag their Instagram friends on your listings to spread the work to those who don't follow your account.

You can look like a pro without any experience

Add high-quality photos of your listings, edit them in-app on-the-go from your phone or tablet, or log in and work from your desktop. Post your pictures to your audience anywhere you have an internet connection.
Now that you see why you need an active Instagram for Real Estates account let's talk about how to make it happen.
How To Get Started On Instagram for Real Estates
Follow these 6 steps and your real estate business will be on the path to Instagram greatness by this afternoon:
#1. Set a Few Goals
What do you want to accomplish with your Instagram account? Are you looking to attract more leads or use your account mainly as a portfolio piece for other agents to check out?
Determining exactly what you want to do, will help you create a roadmap of steps to accomplish your goals.
So think about the types of leads you want to reach, such as:
Local homeowners looking to sell or rent their properties
Potential clients who want to buy or rent listings in your area
Former clients looking to refer your services to their contacts
Realtors from different locations who want a referral agent in your area
Buyers from other states seeking to relocate or buy a second home
When you have an idea of who you want to work with, you'll want to think about your perfect lead next.
#2. Find Your #DreamLead With Instagram for Real Estates
When you know the type of lead you want to target, it will be easier to post content you think they'll be interested in.
For example, you wouldn't focus on creating content about beach homes if your ideal lead is someone interested in living in a high rise downtown.
So think about general and specific traits of your ideal Instagram lead, such as their:
Age
Gender
Income range
Marital status
Family dynamic (Do they have children? Pets?)
To refine this further, try to see if your target demographic overlays Instagram's.
For instance, did you know that even though over 30% of the total US population uses Instagram, over 80% of Instagram users are under the age of 34? Or that more than half of millennials check their Instagram daily?
Ok, now maybe you think that millennials aren't a great demographic to target since more than 32% live with their parents. However, a study by the National Association of Homebuilders found that over 90% of millennials want to own a home – they're just more willing to wait until they find a home that fits their lifestyle.
Once you figure out who your ideal lead is, you'll have a better ability to connect with the right prospect at the right time (more on that below).
At this point, you're probably wondering how to start generating real estate leads on Instagram.
It all starts by optimizing your Real Estate Instagram page.
#3. Optimize Your Instagram Page for Business
If you don't already have an account, you'll need to set one up on the Instagram website or download the app on your phone or mobile device via the Apple App Store, Google Play, or the Windows Store. Remember that you can also sign up for Instagram using the same Facebook page you use for your real estate business.
If you have a personal Instagram account, keep it that way. We mean you should keep it personal!
Your Real Estate Instagram account should not be used for anything you'd share on your personal one, such as pictures of you out with your friends, on vacation with your significant other, etc. Your business Instagram will be total professionalism.
Another benefit to using a business profile is that you get access to Instagram Insights, a valuable set of data to hone in on your specific audiences, such as visitor traffic, clicks, and user demographics.
You can use Instagram Insights to make sure that the audience you're attracting with your content fits with the target profile you created for your ideal lead.
Additionally, you can use the data to discover which days and times your followers are more likely to be online which can help you determine when to schedule future posts so that you can connect with leads at the right time.
Furthermore, you can get relevant data to help you determine which posts perform the best (in terms of engagement statistics and actions) helping you figure out the types of posts you should create in the future.
Pro Tip: Pick a memorable username with keywords associated with your business, but keep it short. You don't want an overly long or complicated username people have trouble finding.
Stick with your realtor or business name and think about adding keywords that represent your specialty for the Instagram search engine to find you.
Your bio will also help you to be found.
#4. Create a Compelling Bio
Your Instagram bio is where you'll make your first impression so it should be compelling, engaging, and encourage people to want to connect with you and follow your posts.
Here's a text example to get your inspirational juices flowing:
I'm Jane and I help buyers find the best single-family homes in the Shady Tree development (and homeowners sell theirs!).
When you're ready to see why life's better in a home in Shady Tree, call or text me at: 555-555-5555!"
Write up a short yet killer bio about your professional life, including:
How you love helping [insert target audience]
Your niche (i.e., mountain cabins, specific school district zones, etc.)
Your location or neighborhood
Your business contact information
Link to your real estate website or blog
Look at the example below:
And remember that nothing connects your message to your business quite like your photo.
#5. Add a Professional Photo
To display trustworthiness to followers who have not had the pleasure of meeting you yet, add a photo you'd use on your website or business cards.
This also helps when meeting clients in-person as it connects a face to your emails/direct messages.
Now you may think you're ready to start posting pics, but there's one more step you'll need to take first.
#6. Determine Your Branding
Similar to your website, business cards, and company logo, you'll want to spend time on the branding of your Real estate Instagram page.
You want to come across as friendly, knowledgeable, professional, connected, and memorable.
So choose a particular filter, stick to one color palette, or marry a specific style to cement your branding and make it authentic to what your name represents.
Real estate agent Jade Mills, for example, specializes in the luxury home market. When you scroll through her feed, you'll see Jade showcasing stunning properties to help imprint her image as a luxury real estate agent.
 However, it's not just her listings that help with her image of luxury.
You'll see in her personal photos & videos that Jade exudes elegance, helping to further cement her brand's image of high-living
Let's recap: by now you should have:
Set your Goal(s)
Found your #PerfectLead
Optimized your Instagram Page for Business
Created a kickass Bio
Uploaded your best picture (possibly head included)
Determined a clear branding.
All cleared? Ok, it's time to populate your amazing Real Estate Instagram account to skyrocket your business.
How to Grow Your Instagram for Real Estate Account
You'll be using Instagram to encourage visitors and followers to head over to your website or fill out a contact form.
The trick to getting your posts seen and engaged with all depends on how well your photos and text appeal to your target user's interests.
You can always make sure you're doing that by following these tips:
1- Create a Content Calendar
Similar to your real estate blog, come up with a list of at least five different categories you think your audience would like seeing posts about (as they relate to your business, of course).
You'll then use these categories to create regular posts falling into those buckets.
So, for example, if your niche is finding the perfect Florida vacation home for a New Jersey family of four, you'll want to create posts about family-friendly activities to do on the beach during the winter months and show them the dream home they'll be doing it from.
And if your niche happens to be luxury apartments for investment bankers, CEOs, and executives, you'll probably want to focus on posts that discuss property amenities as well as lifestyle posts about living downtown, restaurants, and bars popping up in the area, and other new developments.
No matter what you share, it should always look appealing.
2 – Always Upload the Highest Quality Images and Videos
Think about what you'd like a million-dollar buyer to see when they click on your Instagram account for the very first time.
The best visuals for Instagram tend to:
Be perfectly suited for the square layout
Harmonize with your brand's color scheme
Align with your brand's image
Represent listings you're proud to show off
Look at the photos in this feed, they all have a similar style – well lit, clean, and modern
When you have your photo and text worked out, you'll need to add a few hashtags before posting.
3 – Get Comfortable Using Hashtags
Hashtags are not only used to get more likes on Instagram, but they're also a powerful way to connect with people searching for content you're already sharing.
Realtors who use hashtags effectively see over 12% more engagement than those who skip them.
Consider these popular real estate hashtags:
#[YourNeighborhood/City]: to connect to users searching for where you help homeowners and potential buyers.
#RealEstate, #Realtor, and #[YourRealEstateName]: to help people find you or your real estate agency.
#NewListing, #JustListed, #JustSold, and #ForSale: for the fastest way to browse hot listings and increase the feeling of exclusivity for your followers.
#[HomeStyle], #Bungalow, #Beachfront, #Victorian, #Modern, etc. to attract buyers with a specific style of house in mind that you're listing.
#OpenHouse, #HouseHunting, #DreamHome, #StarterHome, #Flip, #Investment, #LuxuryLiving, #MillionDollarListing: these hashtags also connect specific buyers to specific properties and events.
#DIY, #CurbAppeal, and #UpdatedCharm: for before-and-afters of properties you've been a part of.
You can also create your very own hashtags. But, remember, Instagram only allows a maximum of 30 hashtags per caption or comment.
4 – Have a Plan In Place for Every Stage of Your Sales Funnel
You have a sales funnel for all your other leads so your Instagram campaigns should be no different.
Top of the funnel content should attract a broad audience in your target demographic and focus on increasing your brand awareness.
You want as many people from your target demographics to connect with this content and start following you.
Content here typically includes contests and giveaways. Kudos to Tiffany Alexy, the CEO of Alexy Realty Group, for this perfect post:
And everyone connects with a good inspirational quote or saying — bonus points if these words also encourage business!
Check out the top comments on this realtor's Instagram quote post:
You can design professional posts and place your text over images of your active listings using tools like Canva, Venngage, or Pagemodo. (For additional tools, check out this post that discusses  over 45 tools that can be used to create stunning visuals).
Middle of the funnel content should reel in new followers and get them closer to give you their contact details.
Instagram stories are great for giving your followers a behind-the-scenes look at open houses and properties that haven't hit the MLS yet.
This inside scoop will engage your audience and keep them interested for more.
In addition to showing off listings in your area, you should also consider featuring local gems from the neighborhood too. Feature posts about small businesses, places to hang out for couples and families, and highlight events and activities around town.
Bottom funnel content should show why you're the best choice.
When your followers reach the bottom of your funnel, they're looking for reasons to go with you versus reaching out to another agent in your area.
Instagram is an ideal way to show visitors you're the local expert; you know all the hottest listings, and you're the best person to help someone reach their real estate goals.
Real estate agent Tim Miller does an excellent job of mixing his Instagram feed with local spots, showcasing previous clients he has helped, featuring new listings, and letting people know that they can feel free to reach out to him for any real estate assistance.
Buying or selling a home is one of the scariest endeavors anyone will have to do in their life. So think about the qualities you'd be looking for when entrusting someone with this job.
Here's where you'll want to include stats about your success, such as:
Photos from houses just sold
Success stories and testimonials from clients
Before-and-after images to praise your clients for their hard work as well
Instagram advertising is also a great way to capture targeted leads to fill the bottom of your funnel.
Your ads will be the best way to drive traffic from your Instagram page to your website.
Here you'll be able to capture email addresses, and contact information from potential clients you know are interested.
3 Tips To Boost Your Instagram Ads for Real Estate Results
As you can see, Instagram is the best free advertising a real estate agent will find.
But realtors can also optimize their Instagram accounts by using paid ads.
#1 Use the Instagram Carousel Ad
When you choose an Instagram Carousel Ad, that one ad can have anywhere from two to ten images or videos your users can swipe through.
Carousel ads let you explore multiple rooms of a listing, walk the grounds, and dive deeper into the story of that property for potential buyers.
Each card can have its unique image, headline, description, call-to-action, and URL.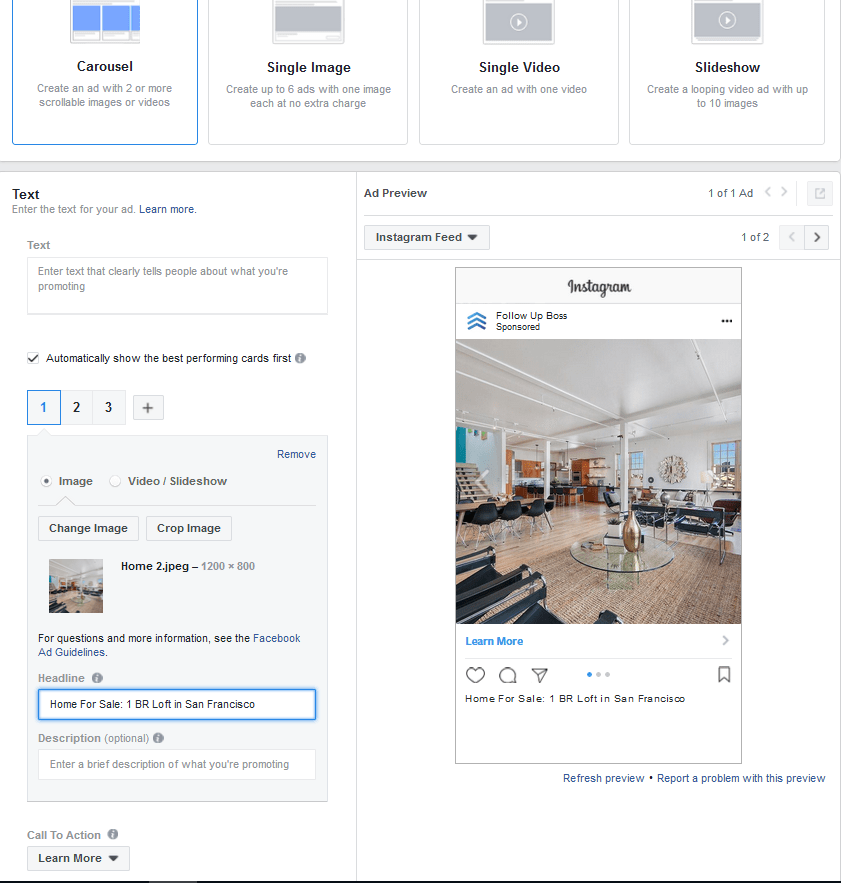 Above and below, two examples of setting up a carousel ad. You can check out our guide that provides a step-by-step on how to create your first carousel Instagram ad.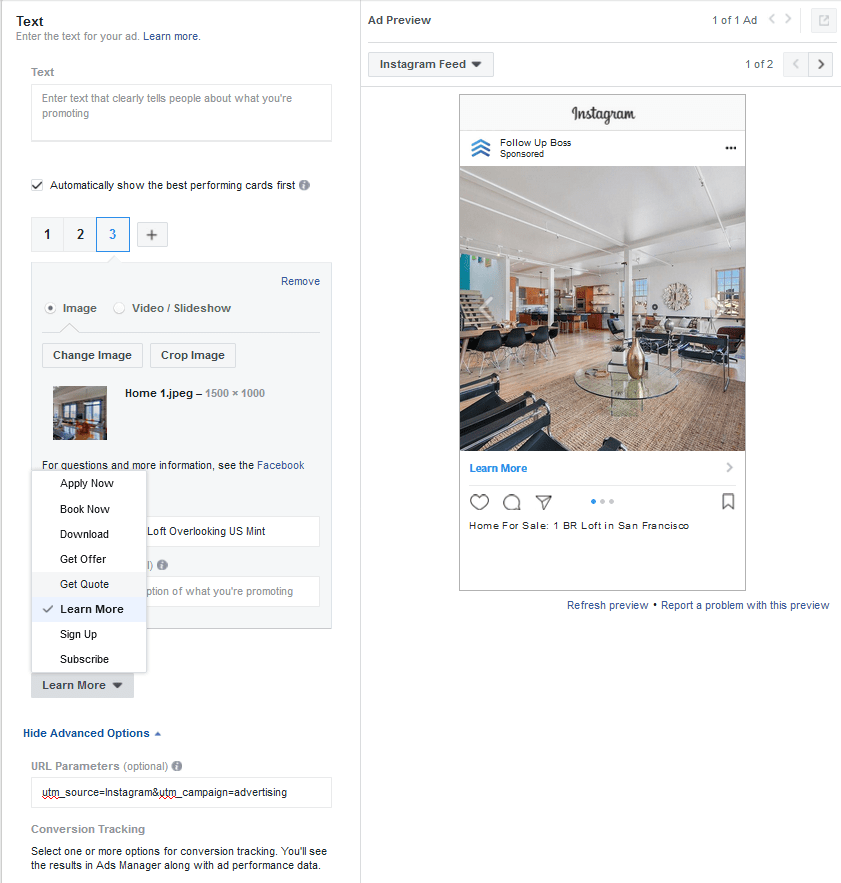 If you know how to create Facebook ads, you'll have no trouble creating them in Instagram.
Directly link your Instagram account to your Facebook page and create an Instagram ad campaign. Then you'll choose an objective for your ad, such as lead generation, and name it. Lastly, you'll want to set parameters for your target audience, when/where to place your ads, and your budget.
You can also experiment with the new Collection format.

Use an existing post as your ad or create a new one and you'll be one step closer to collecting contact details from any user who clicks it.
You can also check out this full step-by-step tutorial by facebook or watch this video if you need more help as well as check out our comprehensive guide to Instagram Ads.
#2 – Geo Target Your Campaigns
Since Instagram utilizes Facebook's advertising system, you can specify your ideal lead by location (i.e., city, postal code, state, etc.), age, gender, demographics (like education and employment), online browsing behavior, interests, and more.
You can even target users who have connected or interacted with you and other realtors like you online.
Though it may be more expensive, the results of targeting your ads by location are far-reaching for local businesses.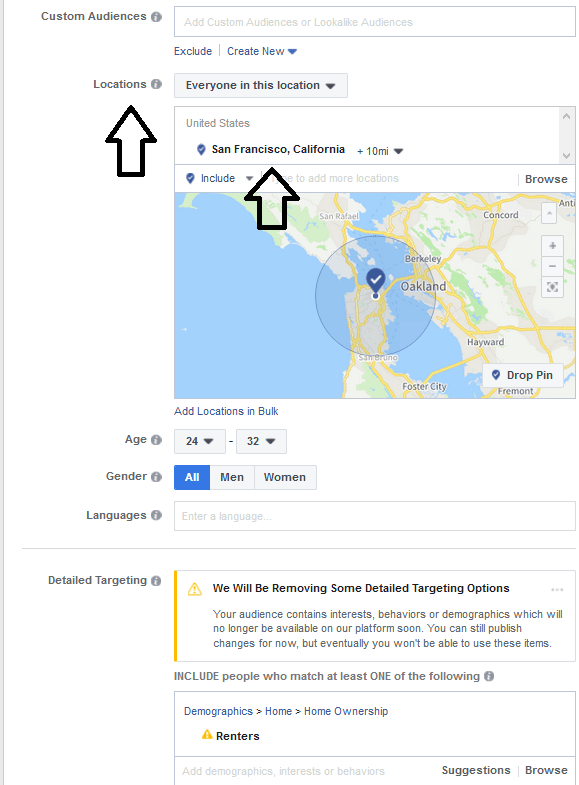 You can location target your ads based on:
Users in a specific location
Followers living in your area
Visitors who have recently pinged in your location
People traveling through your neighborhood
You may even want to exclude specific places from your ad targeting if you're willing to focus on selling in a very particular area (such as a school district zone or military base).
Speaking of details…
#3 – Try Detailed Targeting
To further refine your ad's reach, you can click on Detailed Targeting to place your ad in front of visitors who are most likely to be moving, first-time homebuyers, or house hunting, for instance.
These tweaks will take your Instagram game to the next level.
Wrapping It Up
Now You're Ready to Begin Attracting Real Estate Leads on Instagram!
While there may be a bit of a learning curve to compete with the best realtors on Instagram in your area, it only takes a bit of practice to become one of the most followed and liked.
Begin today by creating an Instagram business account for your real estate company.
Then spend time determining your ideal lead and the branding you want to be known for.
Come up with a set of goals and a content calendar of posts for the next month to get the ball rolling.
When you have an idea of what your followers are looking to you for, you should waste no more time.
Create your lead generating carousel ads and…
Run your best Instagram ads campaign ever.
Follow all these tips and your Real Estate agency will be booked with showings till next year!
Dave Lawrence is the head of sales and marketing at Follow Up Boss, a simple real estate CRM software. He is responsible for helping real estate teams to achieve growth within their business. Dave regularly connects with leaders in the industry to bring their experience and learnings to the doorstep of ambitious realtors worldwide. Click here if you want to know more about him, or here to connect on Twitter.