Instagram's latest internal figures show 25 million businesses have a profile on the network, and over 200 million users visit at least one business profile every day.
With over 500 million daily active users it's safe to say that your target audience is more than likely already using Instagram.
Instagram users aren't just merely existing on the platform; they are highly engaged.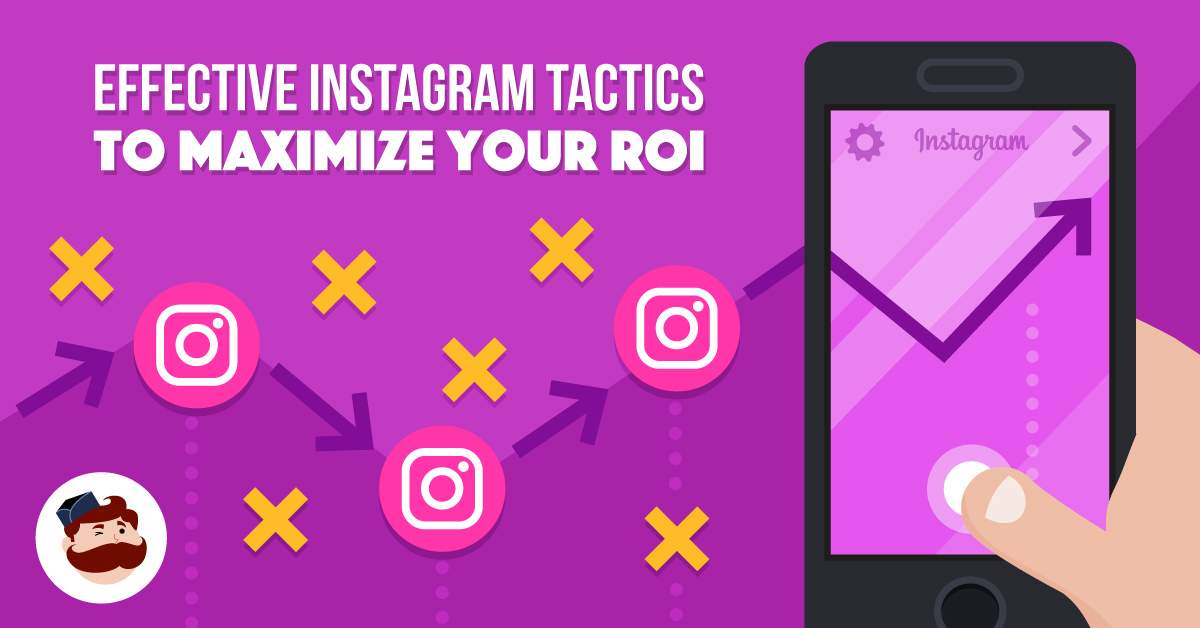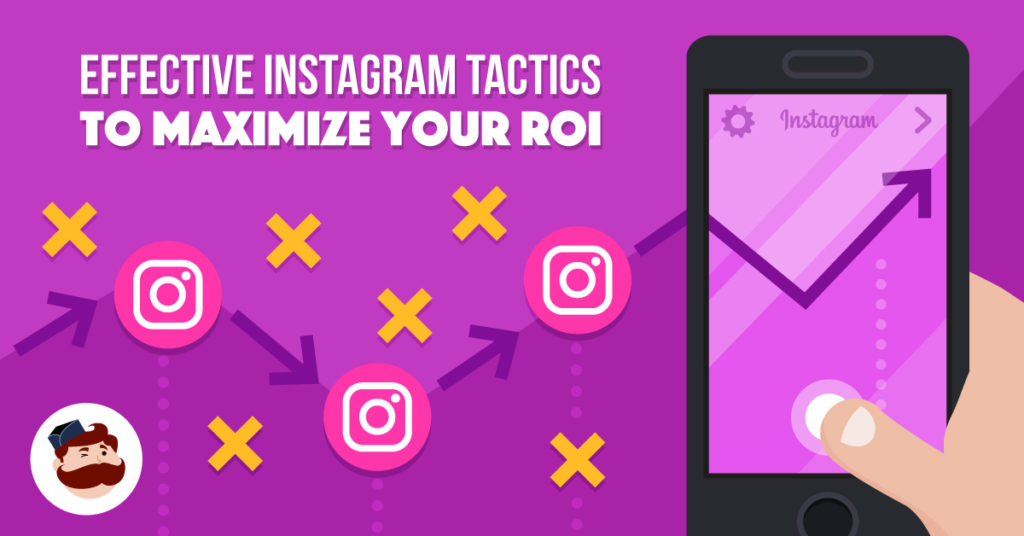 75% of Instagram users take action, such as visiting a website, after looking at a brand's post. That's a massive opportunity for your brand.
As a business that wants to build a community of loyal customers, you can't afford to ignore Instagram marketing.
While the lack of traceable links makes analyzing your ROI a difficult task, you can start by following these proven tactics to get your Instagram strategy off the ground.
Instagram has improved its feed with a focus on making quality content more visible, so in order to gain visibility with your followers, it's essential that your content delivers value to them.
The best place to start is to tap into your followers in a way that resonates with their likes, dislikes, goals, and ambitions.
And now it's time to show you the most effective tactics you can use to connect with your audience and maximize the ROI of your Instagram ads!
Instagram Ads Strategy #1 – Maximize on Your Customers' Interests
To do so, create and share content that shows you have the same interests and care about the same things as your users.
For example, if your business provides green energy solutions, it's probably safe to say your users are passionate about environmental issues.
Research your customer interests to deliver content that will resonate.
Canva, a graphic design tool for businesses, has captured the essence of its brand while tapping into the interests of its users with design-driven, creative, stylish and professional content. Their customers care about striking design that represents their brands, and the content Canva publishes on Instagram reinforces that user's voice.
Instagram Ads Strategy #2 – Leverage User-Generated Content
It's all well and good sharing content that you know your users will love, but likes and follows are surface-level engagements that don't always build real relationships.
When your employees, customers or followers post about your brand directly or indirectly, it can be viewed as a third-party endorsement of your business and social-proof of your brand's value.
By sharing User-Generated Content you're not only building real connections online, but you're also delivering extra value to your brand with minimal expenditure in time or money.
The Adobe Instagram account leverages this strategy in the majority of their content, giving shout-outs to the artists that use Adobe's tools, which gives their users increased exposure while also highlighting the capabilities of the software.
Instagram Ads Strategy #3 – Showcase Your Customers
In the same vein as user-generated content, highlighting your customers is a great way to build authentic relationships while promoting the value of your brand.
Here's a great example from Equinox:
Especially in the B2B world, we know that your products might not be the most stimulating for such a visually driven platform, but many of your customers may be able to fill that void.
If you have a way to capture customer stories and deliver them in a relatable, visual style, this strategy can drastically improve your Instagram engagement.
Tapping into the power of your audience can be extremely valuable to your brand's social media presence, particularly for Instagram, but there is no value if you don't understand the essential features available to you on the social platform itself.
Be aware of the limitations of Instagram while also making the most of the available features in order to maximize your social ROI.
Instagram Ads Strategy #4 – Unlock the Power of Instagram Carousel
Many times, a single image may be insufficient to tell the whole story, which is why you can now attach up to 10 pictures or videos to a single post with Instagram Carousels.
Leverage this feature to deliver a series of related images and videos – this is an especially great way to share product photos.
Instagram carousel allows you to share all the photos relevant to your brand without oversaturating your feed with too much promotional content.
Here's a great example from Boeing, click on the image link to see how the company tells the story of one of its products being used in action.
Instagram Ads Strategy #5 Use the Right Hashtags
One of the most important reasons you should be using hashtags is that it enables you to reach out to people who are not following your account. With the use of hashtags, users on Instagram can search for a keyword and quickly engage with your posts.
According to Simply Measured, Instagram posts with at least one hashtag average 12.6% more engagement than those with no hashtags.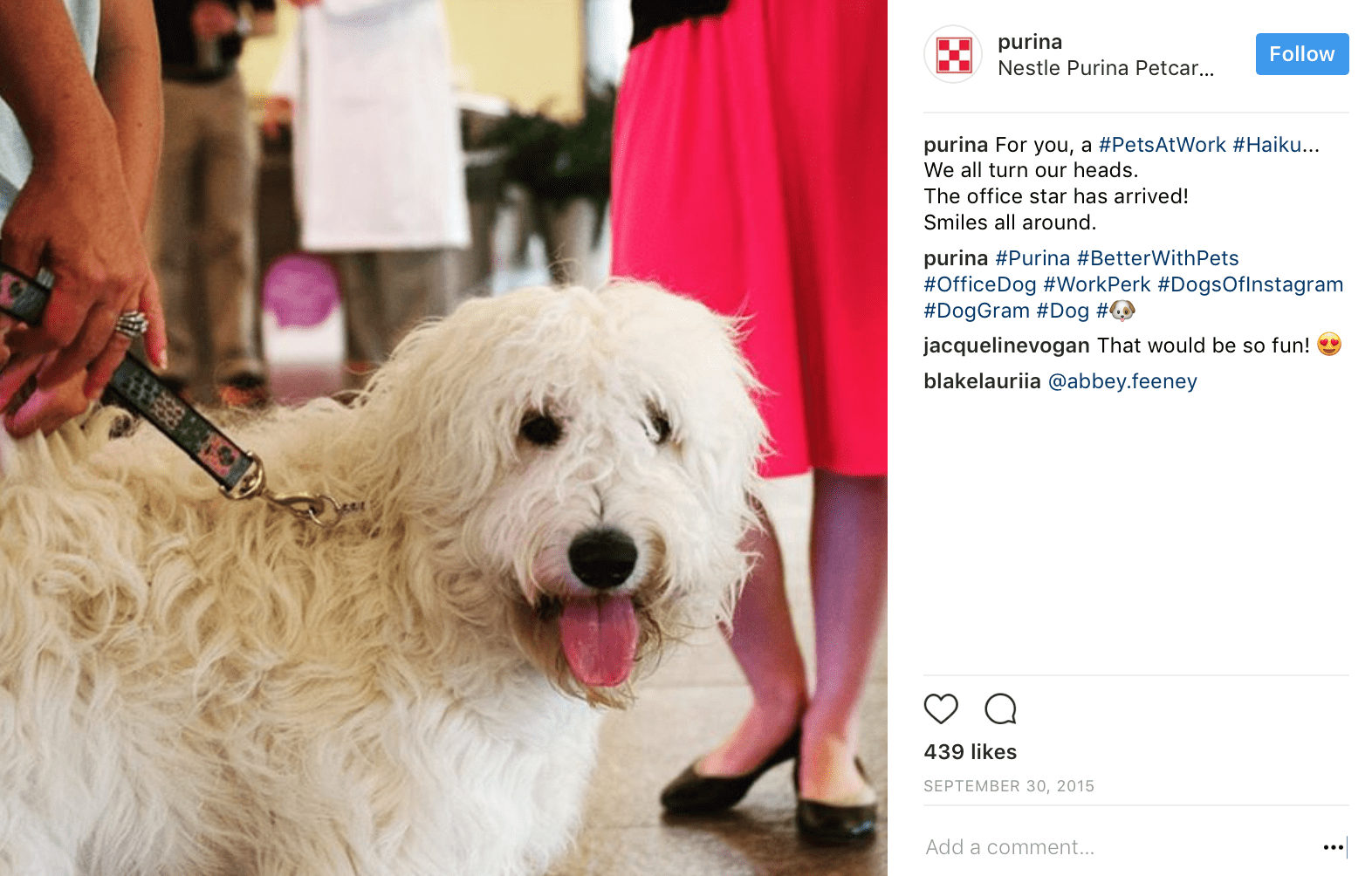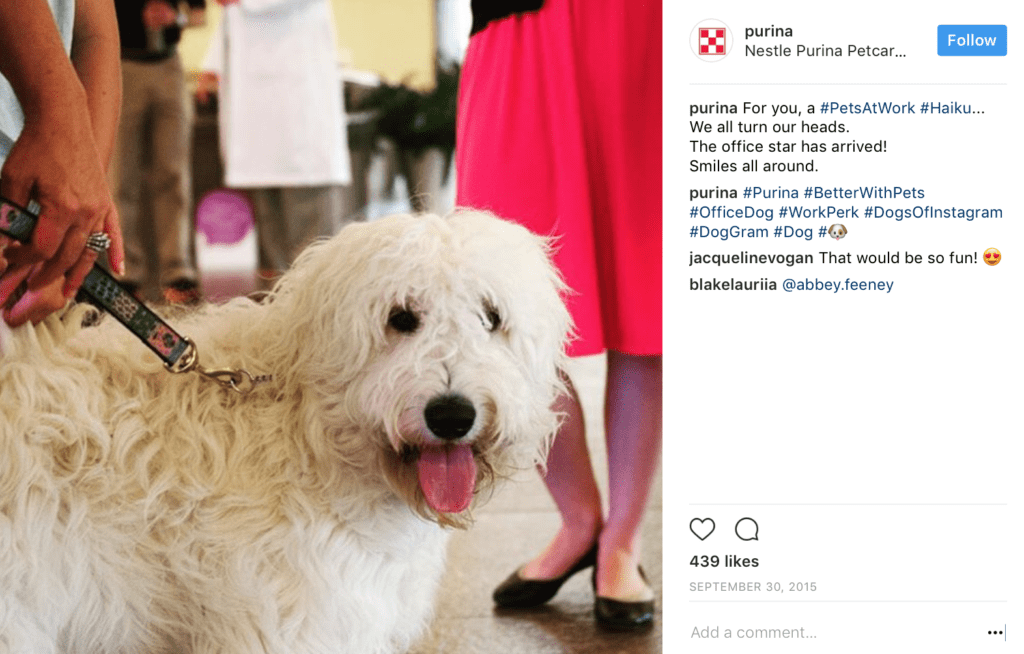 Using adorable dog pictures seems too easy?
Ok, what about Make-A-Wish's #SFBatKid? It has been included in The 15 Best Hashtag Campaigns of All Time as a great example of a hashtag campaign nonprofits can follow.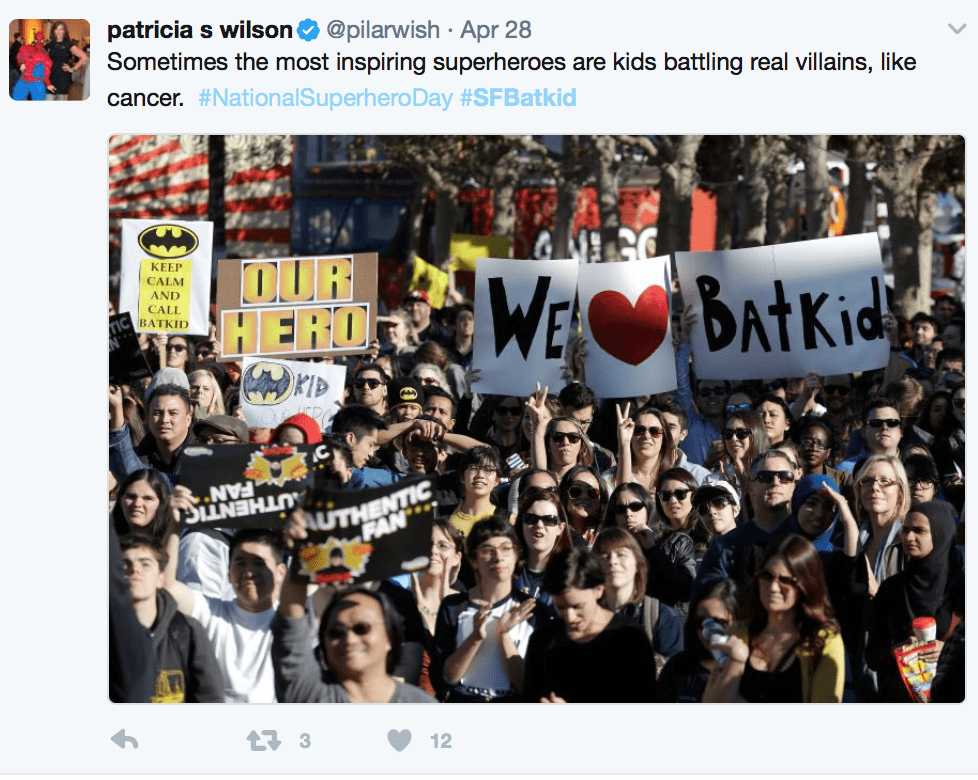 Make-A-Wish planned for this to go viral, and it did. They ended up with 1.7 billion impressions on the hashtag, along with engagement from former Batmans Christian Bale and Ben Affleck.
However, it's important to be careful how frequently you're using the same tags, or you might face the elusive Instagram Shadowban. Shadowban intentionally blocks an account's post from being featured in hashtag searches when users deliberately use the same hashtags repeatedly. Ensure you're only using the hashtags that are most relevant to your post and make sure to mix up your tags regularly.
Instagram Ads Strategy #6 – Understand Your CTA
On Instagram, the only place you can provide a clickable link is in your profile bio, which means you can't drive traffic to your website through an individual post.
Make the most of this link by updating it regularly and updating followers through your posts that they can get more information on your new product or service through the link in your bio.
As a result of limitations from not being able to use traceable links, make sure that the CTAs you use include directing followers to a bio link, or encouraging tags, likes, follows, or comments on an image.
Here is an excellent example from Intel encouraging their readers to continue interacting with the image they posted: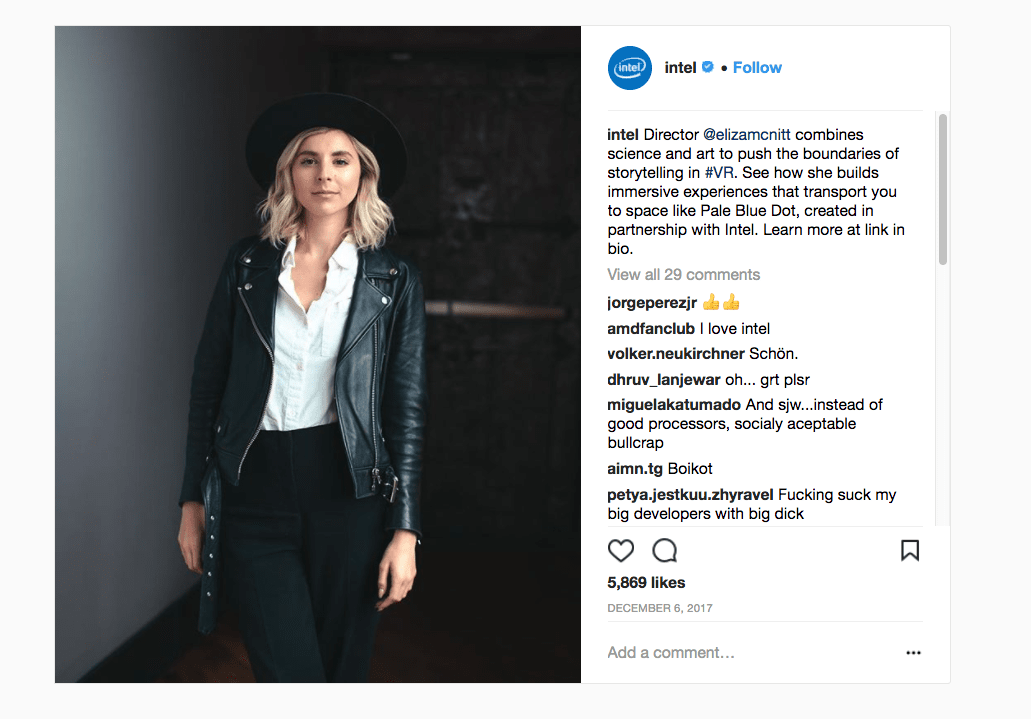 Instagram Ads Strategy #7 – Measure What's Important
So now you have a good idea of what content you should be sharing and how to make the most of Instagram's features, so how do you go about measuring the success of your Instagram strategy?
–

Don't just measure vanity metrics –
An increase in likes and followers is a good indication that your Instagram strategy is working, but these metrics don't tell the whole story, especially as it relates to the ROI for your business.
Instead, pay attention to indicators of genuine engagement – these include the number of new followers in your particular industry, niche or segment, especially influential followers, as well as comments that show authentic interest in your content.
An example of a comment that shows authentic interest can be seen in this post from Southwest— they did a great job of getting their audience to engage with this post of two of their flight attendants: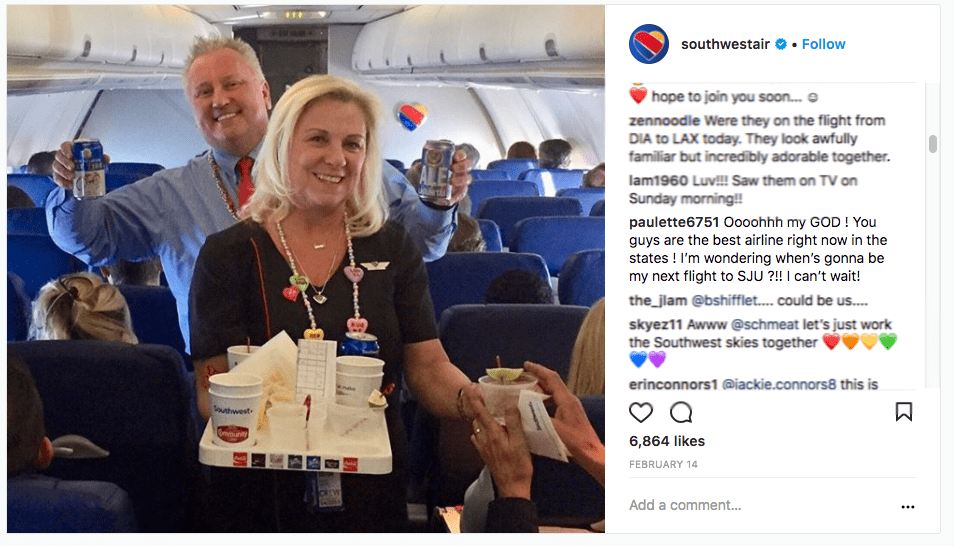 So now you have a good idea of what content you should be sharing and how to make the most of Instagram's features, so how do you go about measuring the success of your Instagram strategy?
By analyzing the right metrics, you'll get a better idea of how your content is performing and the value it's delivering to your business.
Wrapping it Up: Don't Be Intimidated by Instagram
To maximize your Instagram ROI, you don't need to have millions of followers.
In fact, Digiday published a study that shows that the influencers with the most engaged audiences have between 10,000 and 100,000 followers, these accounts are often referred to as micro influencers.
What you do need is a solid Instagram marketing strategy that helps you connect with your followers and meet their needs.
The most important thing is to connect with your audience on a meaningful level.
Get started with one or two of these Instagram tactics and your brand's strategy will be well on its way to delivering brand value.
Ryan Gould is Vice President of Strategy and Marketing Services at Elevation Marketing. An expert search, social and content marketer, Ryan helps brands achieve their business goals, such as improving sales and market share, by developing integrated marketing strategies distinguished by research, storytelling, engagement, and conversion. Ryan is a respected expert in achieving consistent results through creative design, thought-provoking narratives and innovative problem-solving. You can connect with him on LinkedIn, Twitter and Facebook.