Promoting your brand on Instagram requires building an engaged following — and that's no easy task.
If you're just starting out and you're wondering how to get more followers on Instagram, make sure you know who you're trying to reach. Put together a strategy that will describe your target audience and outline how you are going to attract them to your account.
Remember that buying followers is not the way to go when growing your Instagram presence. Neither is creating clickbaity content. Good audience research and high-quality content will help you build a real audience of people — not bots.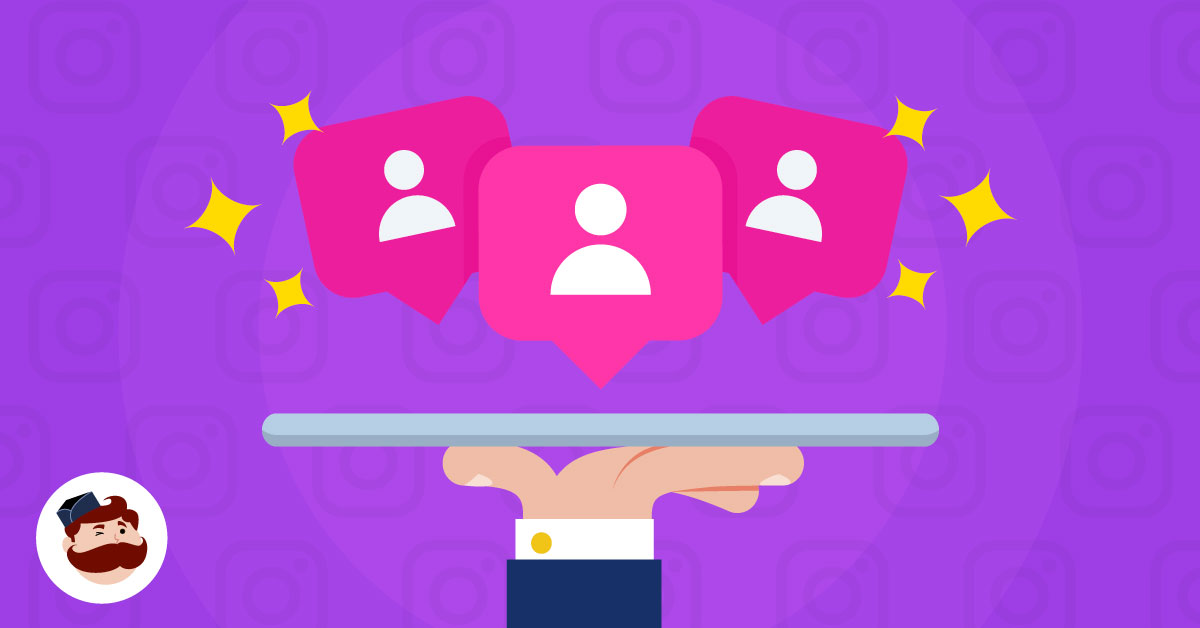 Keep reading to find out how to get more followers on Instagram (the right way).
Or, for a TL;DR list of tactics, watch this video from our friends at Hootsuite:
How to get more followers on Instagram for free
1. Define your brand's tone of voice and personality
This might sound obvious, but your brand should have a tone of voice and an attitude that leaves a consistent impression. You want to make sure your online personality feels approachable and personable.
Creating content where an employee, or better yet, a customer explains your product or service can make your brand more relatable. If your brand is in the lifestyle arena, you could create an aesthetic that communicates the lifestyle of your customers.
Despite your end goal, all your posts should have a consistent brand personality and visual language, so they are easily identified as, well, yours.
2. Put together a social media marketing strategy
A good social media strategy should tie in with your overarching business goals and include your social media marketing objectives.
Do you want to build brand awareness? Boost sales? Or drive traffic to your website?
Knowing where you want to go is the first step in getting there. The team at Hootsuite prepared a helpful template to guide you in creating your social media strategy — you can download it for free here.
3. Understand your perfect audience
Without a good understanding of who you are targeting, you are throwing feathers into the wind.
Your target audience can be defined by their age, location, occupation and how they use Instagram. They most likely have common issues and concerns, or lifestyle aspirations, and your content should answer these concerns, inspire and engage them. How you acknowledge them, will make your target audience more likely to follow you, and keep following you for the long term.
If you're not sure where to start, follow our guide to building audience and buyer personas.
4. Develop a consistent look and feel for your brand
Think of your Instagram grid as an important first impression.
Instagram is a visually driven social network so a consistent visual approach will help to build your brand personality and make your posts recognizable at first scroll.
Every post on your Instagram grid should be engaging, showing viewers that your impressive visual standards are worth following. Together, your posts should appear in an esthetically pleasing way as one unit. And if you don't have products with a consistent look, you can style them in an Instagram grid so the posts complement each other in their positioning, like an ad in a glossy magazine.
Look at this example from @margotmacaron: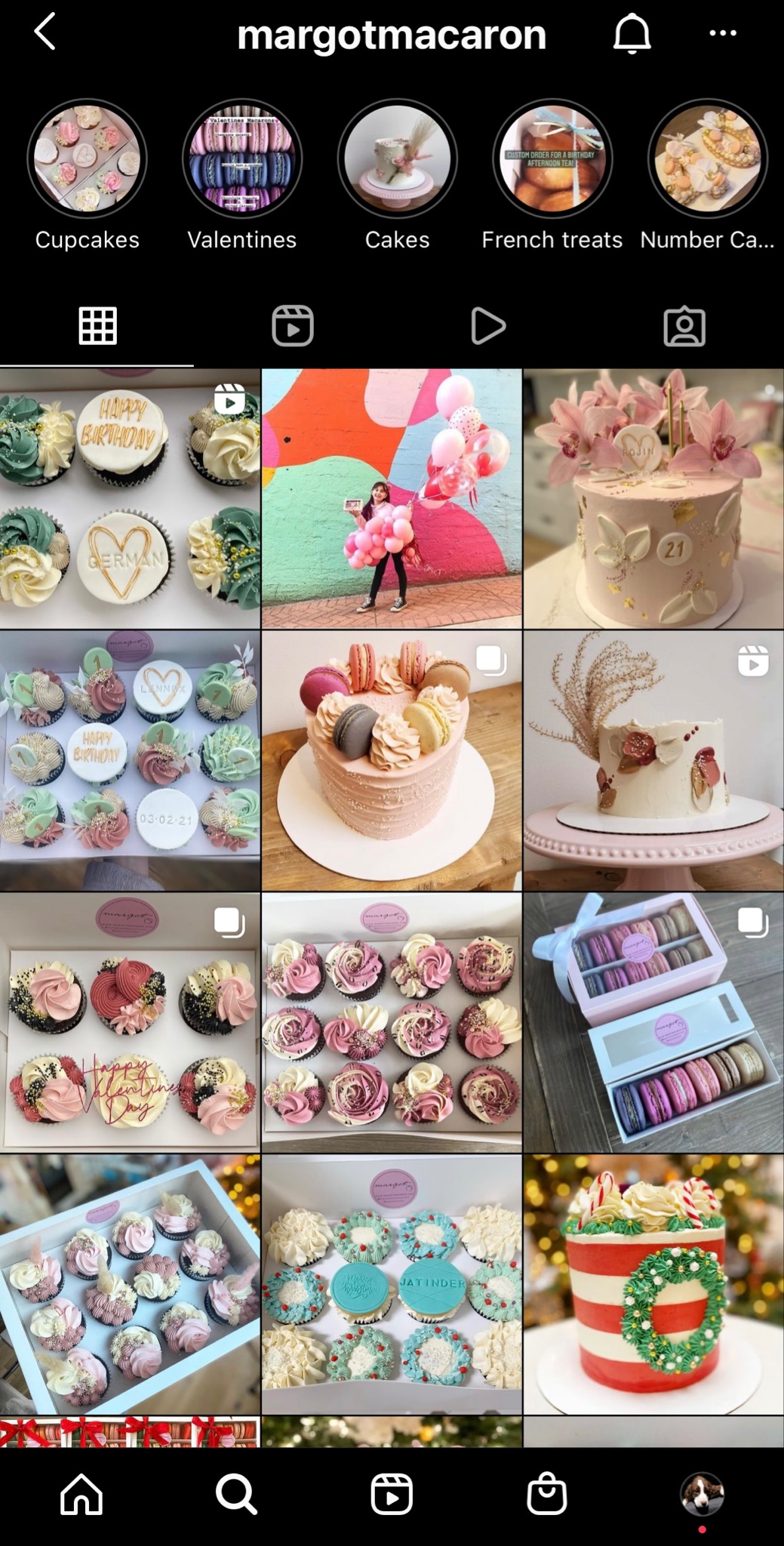 5. Use the right keywords
In order to attract followers, you have to be findable. Your name and username contribute to how you show up in search results and should be consistent with the handle you use on other social networks.
Using a relevant keyword as part of your name will result in more successful searches. You have 30 characters, so don't be shy about weaving that keyword into your name field.
For example, personal stylist Michelle Addison @michelleaddisonstyle includes the keyword "style" in her Instagram name, increasing the chance she will be found by those looking for style and fashion advice.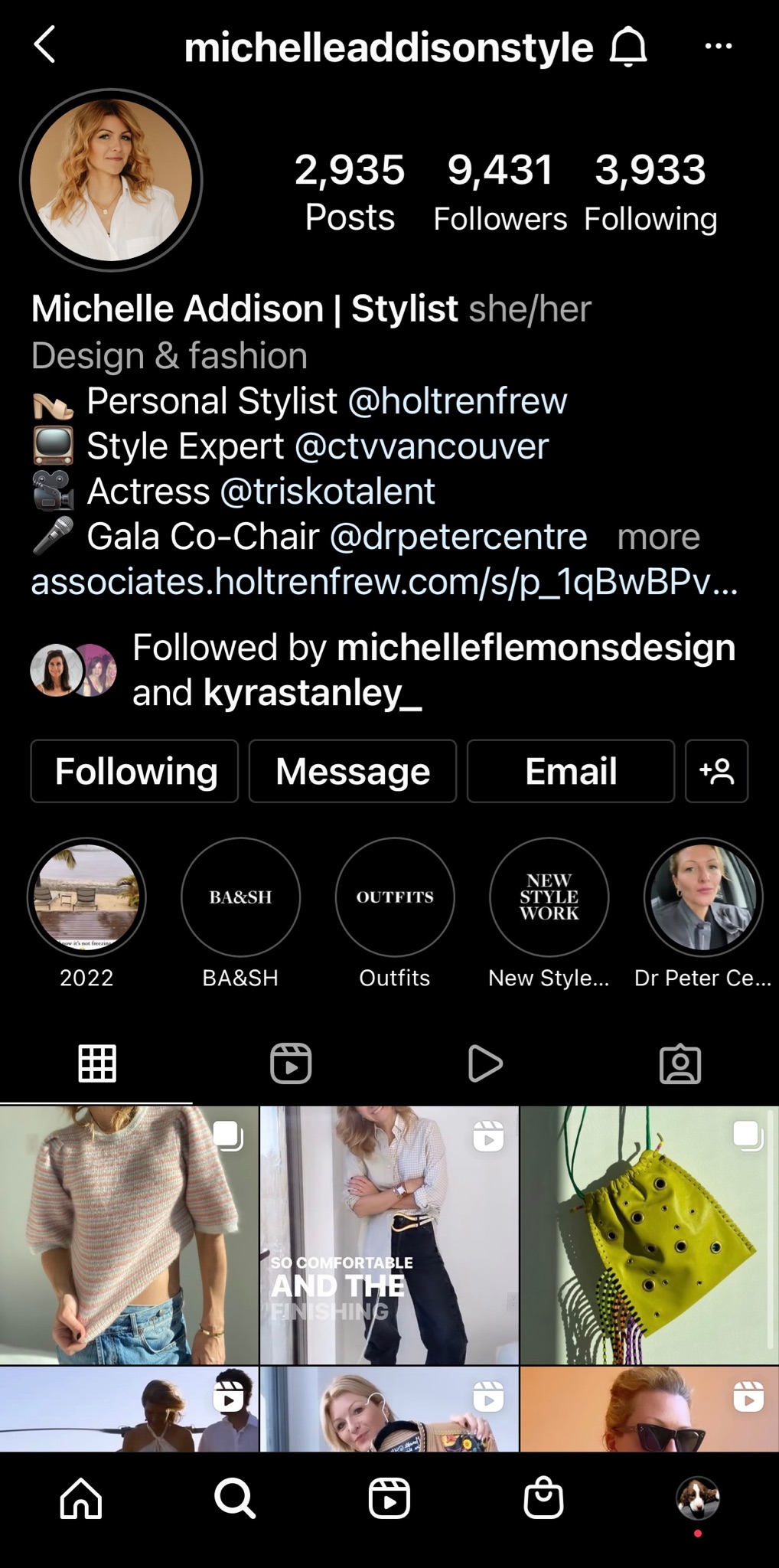 6. Use relevant hashtags
Instagram users can follow hashtags the way they follow users. So, to get more followers on Instagram, you should consider identifying the hashtags your target audience is likely to follow and adding them to your posts.
You can include up to 30 hashtags in your post, but make sure they're relevant to your photo, product or business. Targeted hashtags will attract a more involved audience. Avoid gimmicks such as #followme, #likeforlike etc. as these will only attract the bots or people who are only following you so they will be followed back.
Photographer @vas_photographs included hashtags like #sculpture and #publicart in a post showing off a piece of art he came across.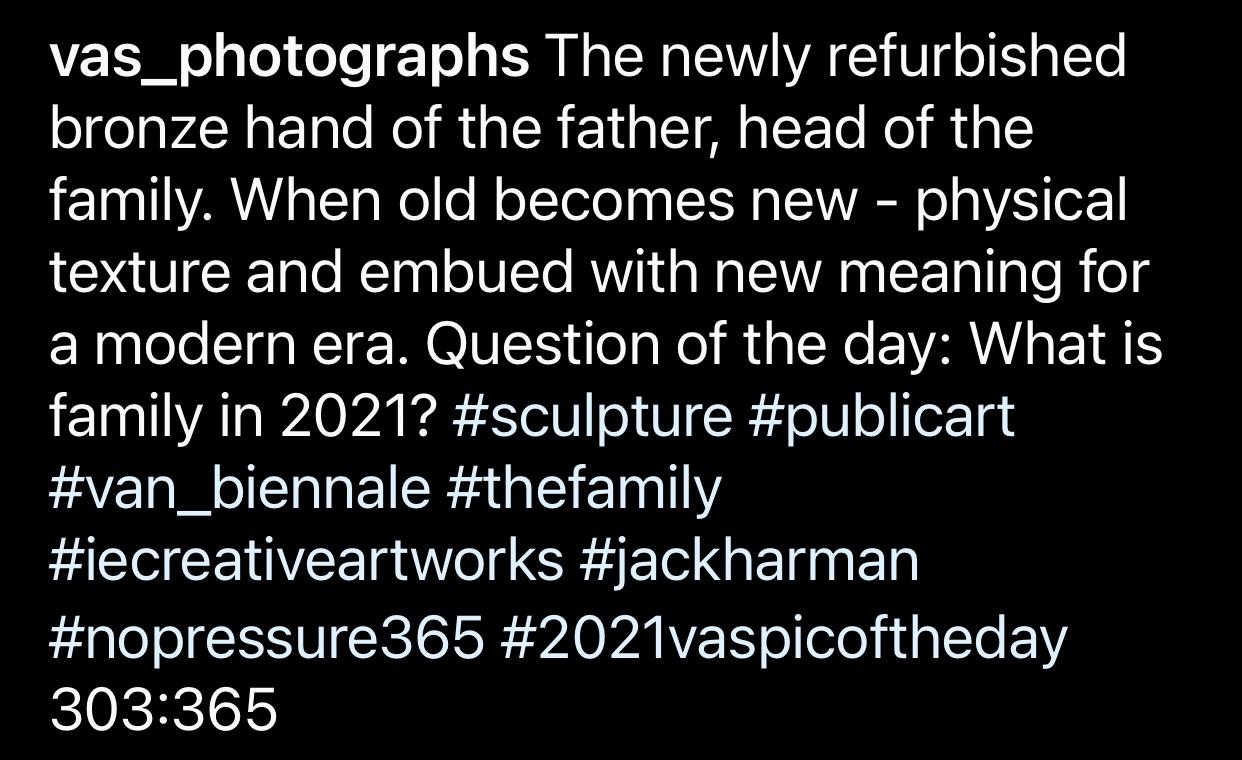 7. Make the most of your Instagram bio
Two out of every three visits to Instagram business profiles come from non-followers. Sounds like an opportunity, doesn't it?
But you need a clear, concise and engaging profile (and website, if you're linking to one) to get a click on the follow button. Use the 150 characters allowed in your bio to introduce new visitors to your brand. Give them an idea of what they can expect from your content, and reasons why they should follow you.
If you have a business or Creator account on Instagram, you can include additional details in your profile, like your contact information, business type and location. Make use of all the fields that apply, because the more information your profile's visitors have at hand, the more likely they will be to follow you.
Learn more about how to optimize your Instagram bio:
8. Leverage your other social media profiles
Your followers from Facebook, Twitter and other social platforms are a group you can pretty easily convert to Instagram followers.
Share a link to your Instagram account on your other profiles, and give your existing followers a reason to check it out. You might want to offer an Instagram exclusive coupon code, or plan a giveaway to draw more people in. You could also share some of your best Instagram posts as a preview of what new followers can expect.
But don't stop at social channels. Include a link to your Instagram profile on your website, in your email signature, and in your online newsletters.
9. Embed Instagram posts in your blog posts
If you have a blog or website where you feature visual content like photos, charts or infographics (like we do here), try embedding Instagram content in some of your articles. A clickable embed — like the one below — makes for an interactive experience, and it can generate traffic to your account.
View this post on Instagram
10. Create Instagram Reels
For the last while, Reels (TikTok's rival format) have been Instagram's favorite child.
The Instagram algorithm prioritizes Reels on the Explore page. These short videos also have their dedicated tab in the app. There, users can scroll through an endless feed of Reels selected by the algorithm to match their individual tastes and interests.
Thanks to Instagram's efforts to surface Reels to as many users as possible, using this content format gives you the unique chance to reach people who don't already follow your account.
If you're new to this type of content, check out Hootsuite's beginner-friendly guide to using Reels for business.
11. Post content that's worth re-sharing
When planning your Instagram content, keep in mind that people will often re-share what they like, for example, an inspiring quote or an informative infographic.
And, once a user shares your feed post to their Instagram Story, their audience can tap to click through to your account. It's a great way to get introduced to a new audience, and another opportunity to find new followers.
12. Try to get on the Explore page
Instagram promotes the Explore page as the place "to find photos and videos that you might like from accounts you don"t follow." And people do use it to explore — half of all Instagram accounts visit the Explore tab. Every month.
The Explore tab features Instagram posts, Stories, and Reels. Users first see a grid of content chosen by the Instagram algorithm. They then have the option to choose to dive deeper into specific content subjects using the topic channels at the top of the screen.
You can find the Explore page when you click on the magnifying glass icon at the bottom of your screen in the Instagram app.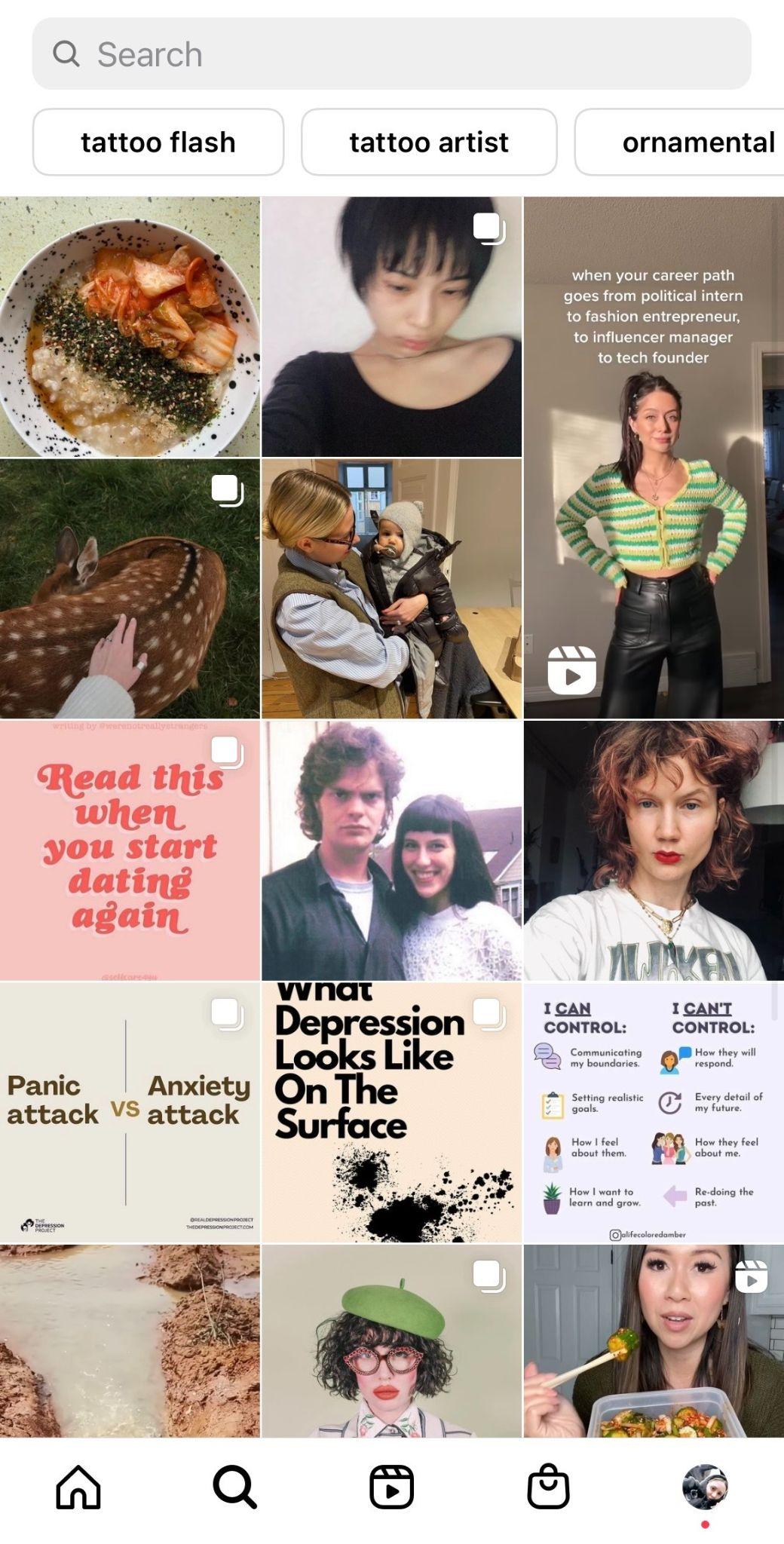 Learn more about how to get on the Instagram Explore page.
13. Follow relevant accounts
When you follow an Instagram user who posts content similar to yours, they're likely to take a look at your feed in return. And if they're impressed, they'll follow you.
Instagram will give you recommendations on who to follow in the "Suggested for you" section. You'll find it in your feed between posts in the app, or on the right side of your computer screen if you're using Instagram on desktop.
Another way to identify accounts worth following is by clicking the three bars on the top right, then choosing Discover People. There, you'll find a selection of relevant Instagram accounts compiled by the Instagram algorithm just for you. (Keep in mind that one of the factors that affect your credibility on Instagram is the ratio of how many accounts you follow to how many accounts follow you back.)
If you want to laser-target relevant accounts you should follow and identify creators your audience will love, give social listening a try:
14. Find influencers relevant to your brand
60% of consumers will follow a brand that a trusted influencer promotes. This means that you should identify the influencers your audience trusts, and try to work with them.
For example, digital creator @camilla_akerberg is an influencer that would be ideal to connect with if you are in the fitness industry or looking to promote your luxury travel brand or accommodation.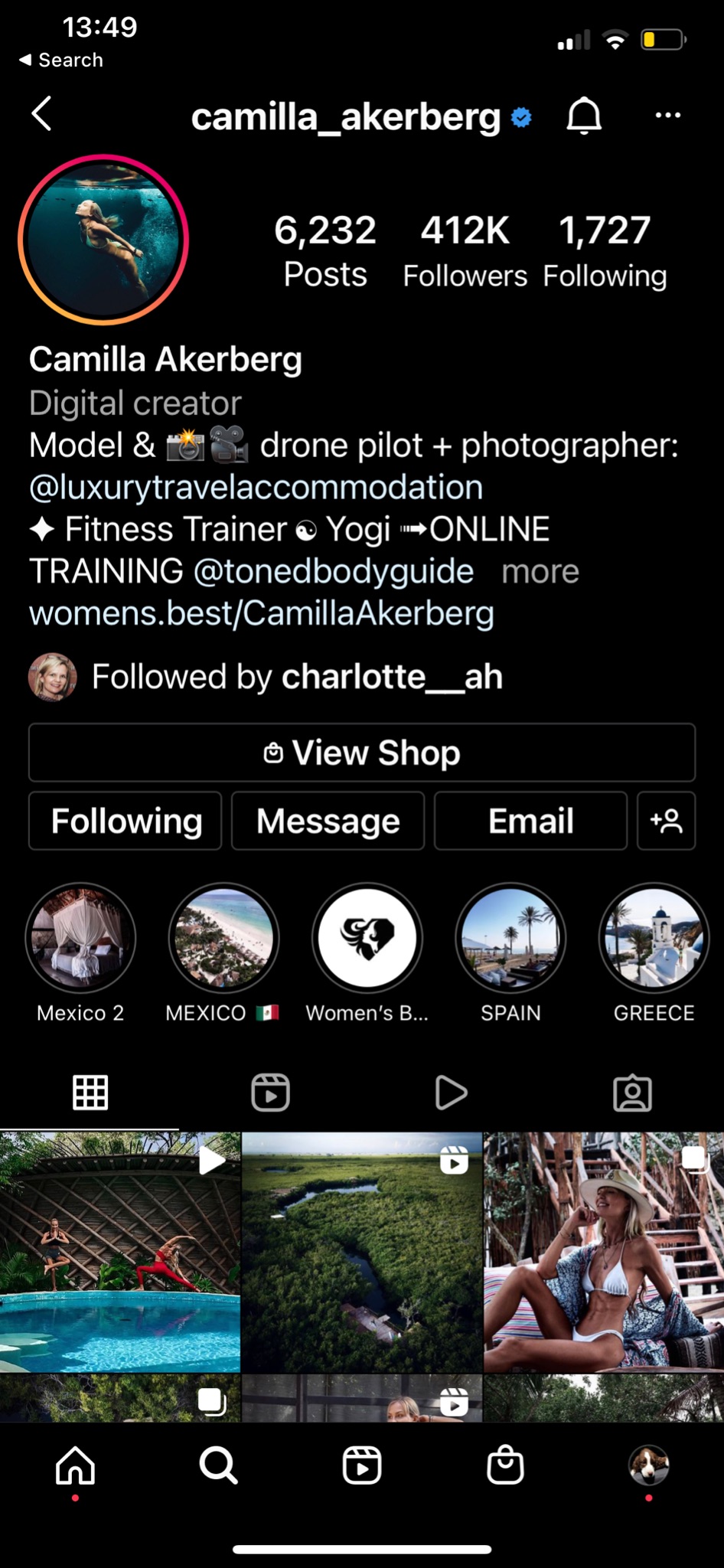 Check out Hootsuite's complete guide to influencer marketing.
15. Collaborate with other brands
Outside of your influencer marketing efforts, you should also consider partnering with brands that also cater to your target audience (but are not competitors).
You could, for example, throw a giveaway for your combined audiences and offer products and services from both businesses as the prize. Cross-promote the giveaway on all participating brands' accounts, and make sure to ask participants to follow all of the brands involved in the giveaway. This will allow you to tap into the other brands' Instagram audiences in an exciting and organic way.
16. Post at the best times
And when is that, you might ask?
Your audience might be the most active online outside of your work hours. Use a tool like Hootsuite Analytics to identify the best time to post, a.k.a. find out when you're most likely to reach a lot of people and generate engagement. Then, schedule your posts in advance, so your content is always perfectly timed, even on weekends and holidays.
17. Run a contest or giveaway
Just asking someone to follow you may seem a little pushy. But not if you're willing to offer them something in return.
Contests and giveaways are a great way to attract a new, engaged audience to your profile. A simple "follow to enter" formula can be effective on it's own, but consider asking participants to tag a friend in a comment as well. That way, your existing followers will get a chance to introduce their network to your brand.
View this post on Instagram
For ideas and best practices, check this complete guide to Instagram contests from Hootsuite.