The buyer persona concept has become incredibly important for businesses and social media marketers in recent years. Segmenting customer databases with user personas can help businesses meet lead generation and revenue goals faster.
But what is a buyer persona? If you're new to marketing and you're wondering why businesses spend so much on researching buyer personas, then you've come to the right place!
First, let's get to the definition.
What is a buyer persona?
A buyer persona is a semi-fictional character, based on research, who represents an ideal customer.
A buyer persona will describe your target audience, their professional qualifications, the challenges they face, and their decision-making process in solving those challenges.
Buyer personas are sometimes referred to as customer or audience personas, but the objective for their existence remains the same.
Why do you need a buyer persona?
It is very important to know your target audience. Knowing who you're addressing helps you create relatable marketing strategies that will make your audience feel heard and understood — and can encourage them to pick you over a competitor.
A business should ideally have multiple buyer personas. For example, if the end-user of your product seeks approval from others (e.g. their boss) before making a purchase, then each person involved in deciding for the purchase is a separate buyer persona.
For that reason, businesses should create different strategies to win over every persona, because it's likely that each persona will have other criteria for rating a product or a service.
Buyer personas are essential in the world of marketing and every part of the inbound process. This includes social media marketing — both organic and paid efforts. If you cannot relate to your audience and empathize with them, then you lose out on building trust and credibility with your customers.
How to use buyer personas
Most businesses use buyer personas to guide their content decisions. Knowing your target audience can help you personalize your social media marketing for the different personas within it.
For example, targeting all of your audiences with the same ads on Facebook might not be the best idea. With defined buyer personas, you can segment your audience and tailor your messaging to address their specific interests.
Here are 3 ways you can use buyer personas for marketing.
1. Understand your customers
Marketers often use a lot of cold statistics and buzzwords to define the buyer persona.
Basing personas on actual audience research will help you avoid falling into this trap. Remember, your personas should reflect the real people who read your social media posts and interact with your content.
Understanding your potential customers' mindset is essential for learning more about their beliefs, attitudes, and perceptions that drive their actions. In addition, knowing what your customers are thinking will help you build compelling brand stories.
For example. eyewear brand Ollie Quinn did their research and found out that a lot of their customers are professionals working from home. This Instagram ad clearly addresses their needs and challenges: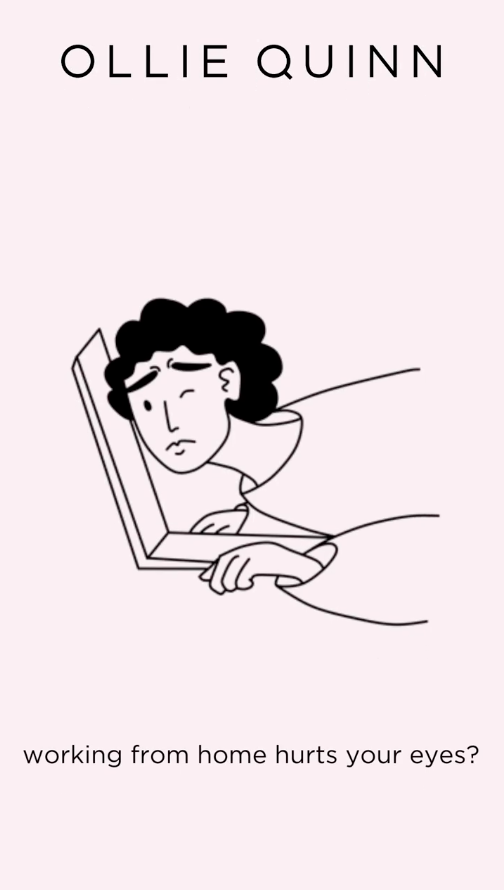 Source: Ollie Quinn
Does your marketing strategy address the challenges and at least one of your buyer personas, and offer solutions to those challenges? If the answer is no, it's time to draw up a new strategy.
Use your personas to craft thoughtful brand stories focused on providing value and helping your audience meet their goals. Sales will automatically increase once you build brand loyalty and trust.
2. Refine your ad targeting
Advertising on social media comes with lots of targeting options. Once you define your buyer personas, you can create ads that will target specific members of your audience
With social media ad targeting, you can get super granular about who sees your ads.
Do you want your ads only to be seen by college-educated millennial women who live in Massachusetts, are interested in beauty influencers and follow Sephora's Facebook page? You can get this specific with social media ads!
Once you create custom audiences based on your buyer personas, you can create different ad creatives for each of them. Persona-inspired targeting can improve the performance of your social media campaigns and increase conversion rates.
3. Improve your ROI with the buyer persona spring
The buyer persona spring is a concept put together by professors and authors Aleksej Heinze, Gordon Fletcher, Tahir Rashid, and Ana Cruz.
It is a model for connecting your business goals to your consumer personas on social media. It's called a spring because of its three unique loops:
Content: What types of content will your audience persona respond to?
Social media channels: Which social media platforms does your buyer persona use the most?
Data: Good research and data will allow you to track your progress, report on your accomplishments, and adjust your plan as needed.
You plan, act, observe and reflect at each of the four points in each loop.
It's all about the data! @AleksejHeinze @richdron #Passion4Digital pic.twitter.com/OQRqIuUF5q

— Dr. Alex Fenton (@alexfenton) November 16, 2018
How to create a buyer persona
Follow these steps and gather information along the way to create your ideal buyer persona.
1. Do thorough audience research
The buyer persona you create for your company should be based on real-world research and not educated guesswork. Here's a basic demographic study that will help you learn more about your buyer or audience persona(s).
You can collect demographic information over the phone, in person, through online surveys, or using social media analytics tools.
Compile information on your existing customers and social media followers
Consider details like:
Age
Location
Language
Purchasing power and buying habits
Hobbies
Challenges
Stage of life
For B2B models, also consider the size of the business and who makes purchasing decisions.
Gather data from places like:
Find out which social media platforms your target audience uses
You need to use the appropriate social media channels to communicate with your customers — otherwise, yous strategy simply won't work.
You can gather this data by figuring out where your ideal customers spend their internet time. The following are some useful resources:
Track your competitors
It's more than likely that you and your direct competitors are addressing the same online audiences.
Keeping an eye on their social media accounts and taking note of well and poorly performing posts and campaigns can help you better understand your shared target audience and avoid making the same mistakes.
To learn more, check out our full guide to social media competitive analysis.
2. Identify your customers' needs and challenges
The next step is to figure out the specific challenges and pain points of your customers. What challenges are stopping them from reaching their goals?
One of the best ways to find out this information is to engage in social listening and social media sentiment analysis.
When it comes to research focused on paid social strategies, Facebook Audience Insights is an excellent (and free) tool that allows businesses to better understand their target audiences boost their Facebook ad campaign results.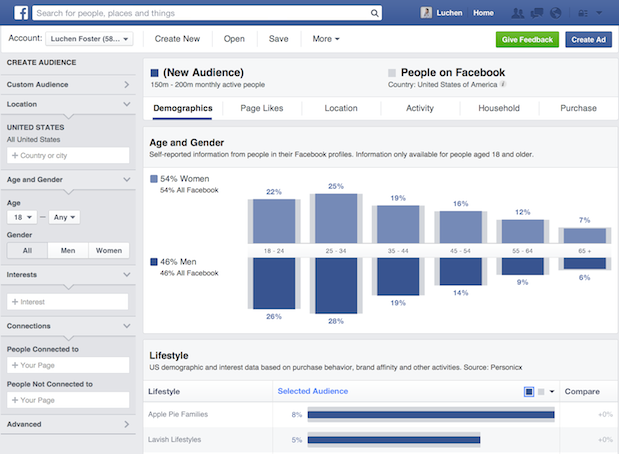 Source: Facebook
You can easily use Audience Insights to create customer profiles with a great level of depth. This will enable you to better tailor your creatives to your audience.
You can also use Hootsuite to set up Streams tracking specific hashtags or mentions of your brand on social media. This will provide real-time information on what people are saying about your company online. Use this data to better understand what your customers enjoy about your brand or products, and what needs improvement.
Learn more about Hootsuite Streams:
3. Identify your customers' goals
Your customers' goals are just as important as their pain points. For best results, your social media strategy should be well aligned with your audience's aspirations.
You can base your assumptions on your business model. Here are some examples:
If you run a restaurant, your customers' goals will likely include having a good meal in a nice space, with good service.
If you operate in the healthcare industry, your customers' goals will likely be focused on fast, accessible and trustworthy service.
If you run an ecommerce business, your customers' goals will likely be focused around quality and price.
Remember that these are the general categories of goals, and you have to center your specific campaigns and ad creatives around one (or a few) of these goals.
This ad from footwear brand Native Shoes promotes quality by featuring a customer review in the ad copy — and it mentions free shipping!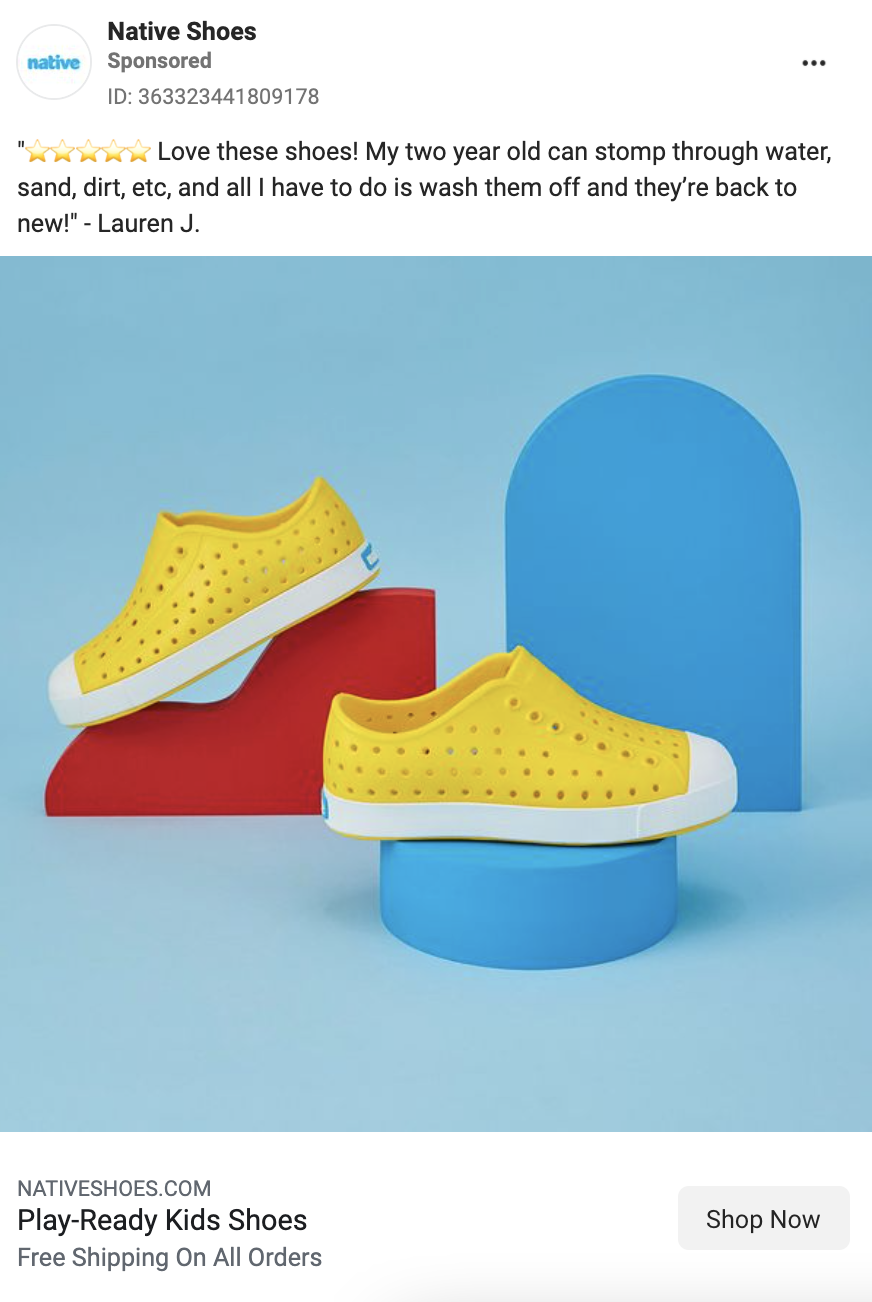 Source: Native Shoes
When figuring out your potential customers' goals, you might want to bring your sales and customer service teams into the conversation. They are the ones who speak with the real people who are considering using your products, so they might be able to provide you with some unique and very valuable insights straight from the source.
4. Understand how you can help the customer
After you have made detailed notes of the challenges and goals of your buyer persona, you will have a clearer image of how your products and services can help. This is when you must really list out all the benefits you can offer to the customer rather than the features of the products.
A benefit is how your product or service will make your customer's life easier or better, whereas a feature is what the product is or does. Buyer personas are useful because they force marketers to examine the buyer's perspective rather than just the characteristics of the product or service in question.
For each of the pain areas and goals you've identified, ask yourself three key questions:
1. What can you do to assist your prospects? Fill in the blanks in the persona template with a single sentence that answers the question.
2. What are the major blockers stopping your prospects from becoming customers? What can you do to help?
3. What stage of the buying process is your persona in? Are they looking for information or are they ready to make a purchase?
Your research and insights from other teams will help you accurately answer these questions for each of your personas.
5. Build your buyer persona
The final step of the entire process is to put all of your findings together.
Give your personas names and professions, and try to define other relevant characteristics. These may include
age
gender
income
marital status
level of education
whether they live in the city or the countryside
travel habits
pets
Remember to include pain points and goals in each profile.
This will help your team imagine the audience segment the persona represents and accurately address them through your marketing strategies.
For example, a software professional urban dad camper could be represented by a persona named Tech Sam. Some of Tech Sam's characteristics could include:
He is 38 years old
He has one child aged 1
He lives in Chicago
He works for a large tech company
He makes $150,000 per year
He owns a Subaru
He likes to camp and hike
He does not have enough time to himself
He likes brands like The North Face, Patagonia, Arcteryx
And so on.
The purpose of the buyer persona is to make it easier to speak to Sam than to a general category of "men in their thirties" or "software professionals."
Buyer persona examples
1. Single Grain
As a digital marketing firm, Single Grain understand the significance of well-targeted marketing. But not all of their prospects are as marketing-savvy.
Here's one of their buyer personas — Frank, a business founder and decision maker.
Frank, Founder
Demographics
Male
Age 62
Married for 40 years with three children aged 28, 26 and 22
Annual HH income $256,000
Lives in a suburban, single-family home
President of Founder Accounting
Goals
Keep customers happy and turnover low
Keep business up to date in a changing world
Challenges
Keeping existing customers from switching to cloud accounting providers
Staying up to date with new technology
Recruiting new talent to keep the business growing
Common concerns
I paid for a website five years ago. Why should I pay for another one now?
I don't see how a new website is going to make my business grow?
Single Grain's persona gives their sales and marketing staff an idea of who they should be marketing to and what pain points their efforts should be addressing.
2. Flight Media
Although Flight Media's sample persona isn't quite as detailed, it's still very relevant. After all, there's a good chance you know a Jane:
Jane
Demographics
Age: 34
Gender: female
Roles: Gym Owner / Marketing Manager / Head of Sales
Market
B2C
Memberships mostly to stay at home moms and newbie gym owners
Marketing solutions
Offline campaigns
Google Adwords
Blogging on website
Internal drivers
Wants to connect with customers on a persona basis
Values respect and a safe atmosphere
She fears losing customers, coming on too strong in her relationships, and not making an impact with her business.
Conclusion
Every time you make a decision regarding your social media content or overall marketing plan, keep your buyer personas in mind. If you target these personas effectively, you'll develop a bond with the real customers they represent, increasing your reach, sales, and brand loyalty.