As a busy marketer, how do you find time to keep on top of your Facebook ad campaigns and ensure that only the best ads are running?
With a hundred other business tasks demanding your attention, it's easy to neglect your ads and their results will soon start to decline.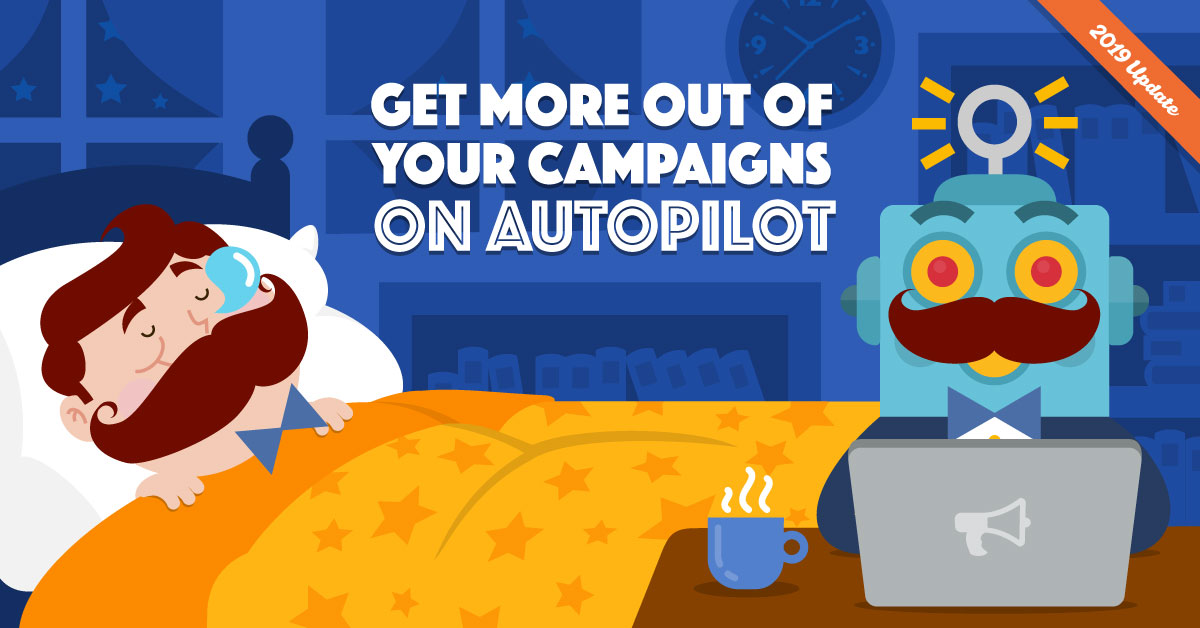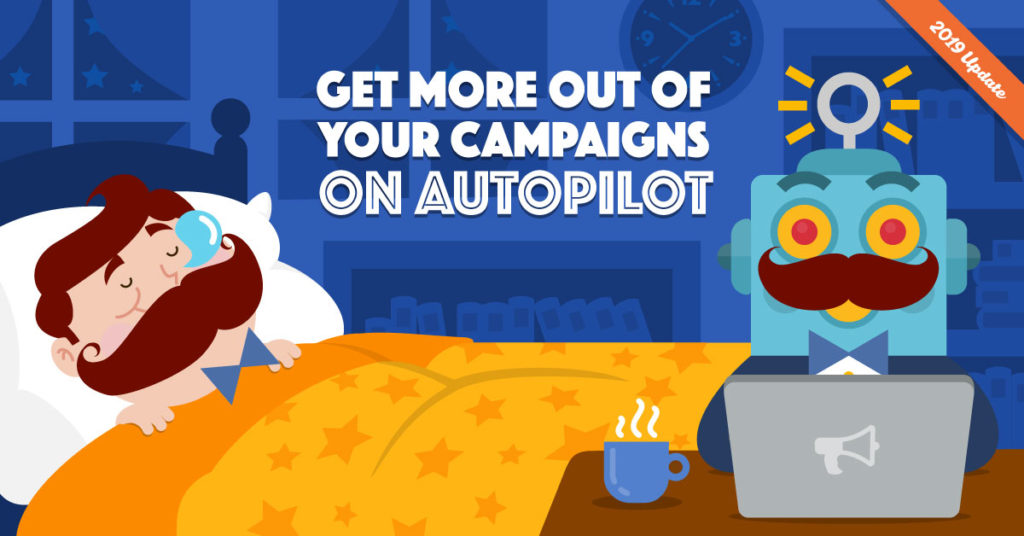 Luckily there are some proven ways to increase the outcome of your Facebook ad campaigns with minimal effort. And they're just one click away.
Are you ready to create your very own Facebook Automated Rules and take your Facebook ads strategy to new heights?
What Are Facebook Automated Rules?
Facebook rules can automatically check your campaigns, adset and ads on a set schedule and then either send you a notification or make changes to the campaigns as specified by the rules that you create. When you create an automated rule, you choose:
The criteria that triggers the rule
The action your rule takes on the ad
The active campaign, ad set or ad that you want the rule to affect
When To Use Them
There's lots of scenarios where rules can come in useful, so here's some real life examples that we've seen implemented in the past:
Busy agencies with dozens of clients don't have time to check each campaign every day so they use rules to turn off selected ads if their CPA is too high
To ensure things don't go off the rails during weekends or holidays, "safety net" rules can be used, for instance ensuring the frequency doesn't go too high.
Scaling rules: if an adset has the budget scaled too fast, it could reset the learning phase. When scaling manually, it's hard to resist the temptation of making too many changes too fast. By using automation it removes the temptation ensuring scaling happens smoothly.
Daily notifications: one agency owner we work with uses the notification only rules, to be sent at 4pm every day. This means that if any campaign is outside of the required metrics there is time to take action before going home for the day.
How to Create Facebook Automated Rules
To access the automated rules portal either select the option under the Create & Manage menu in Business Manager: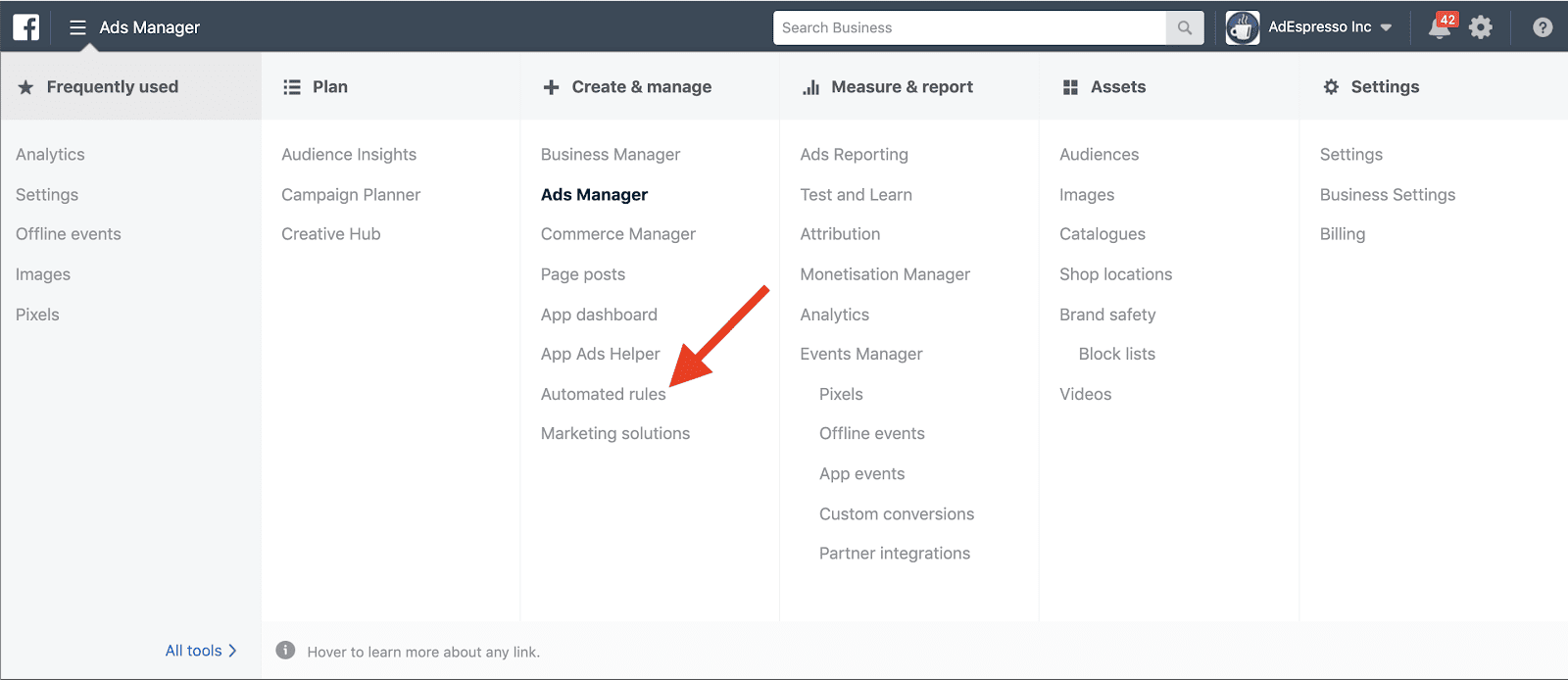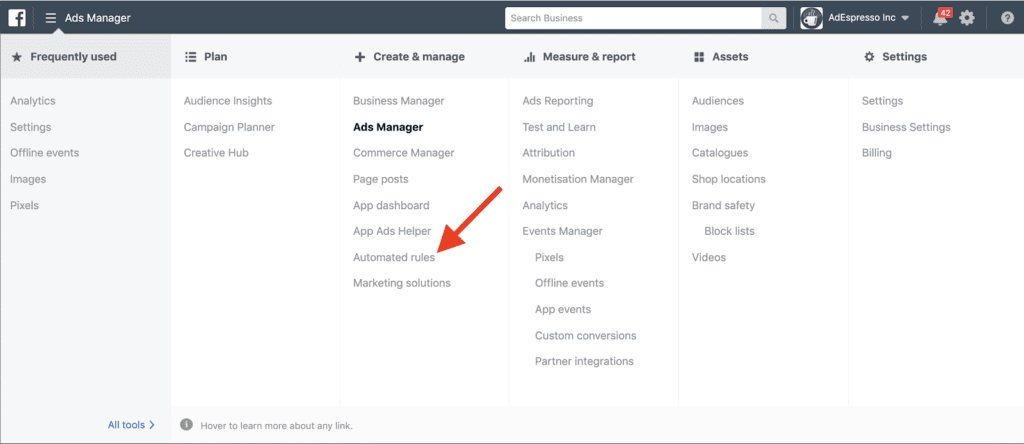 Or access rules directly from Ads Manager:

You can then use the green Create Rule button to create a rule.
As Facebook explains there are 41 conditions that can be used when building a rule. Common ones include cost per lead, cost per purchase, CPM and frequency.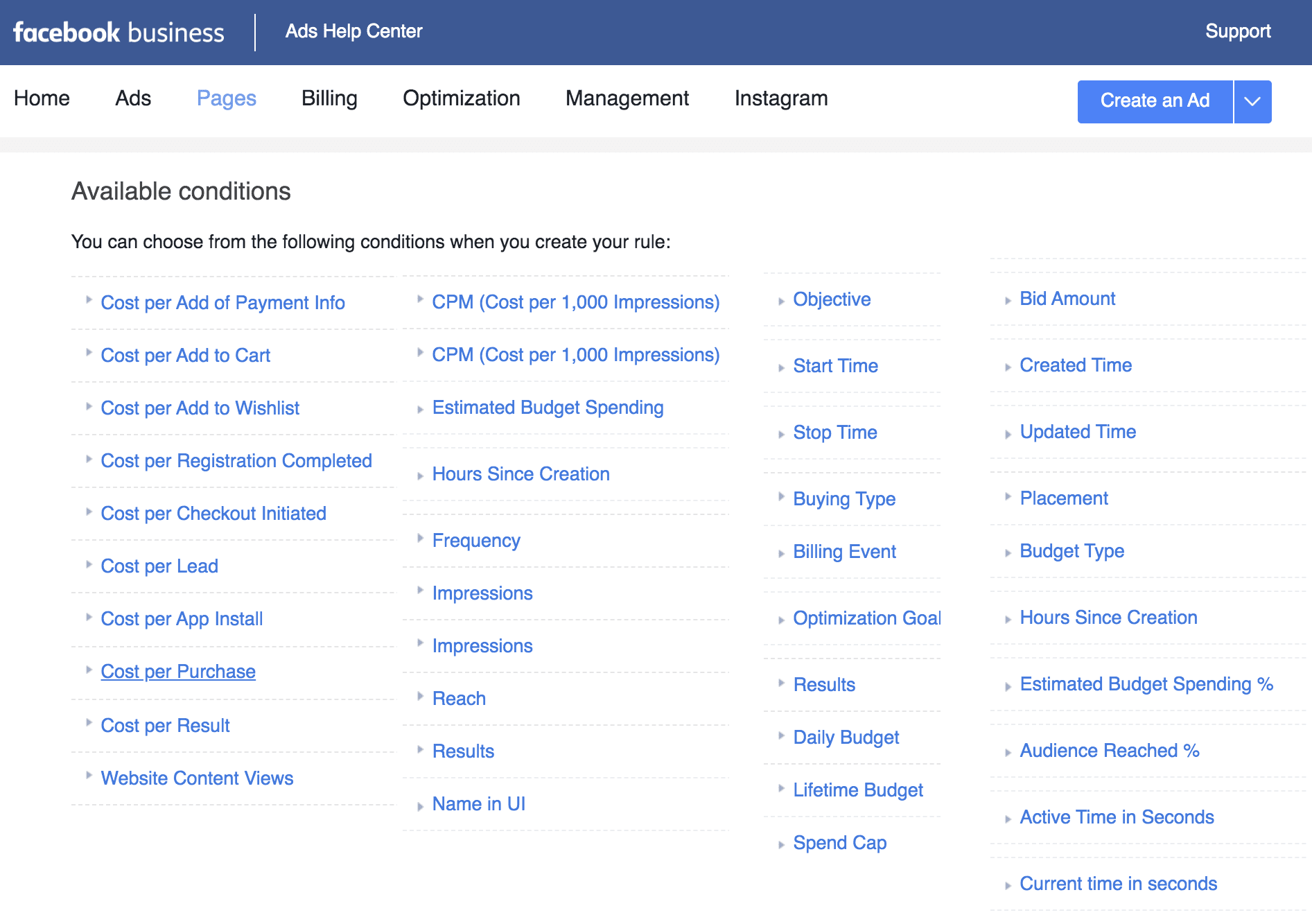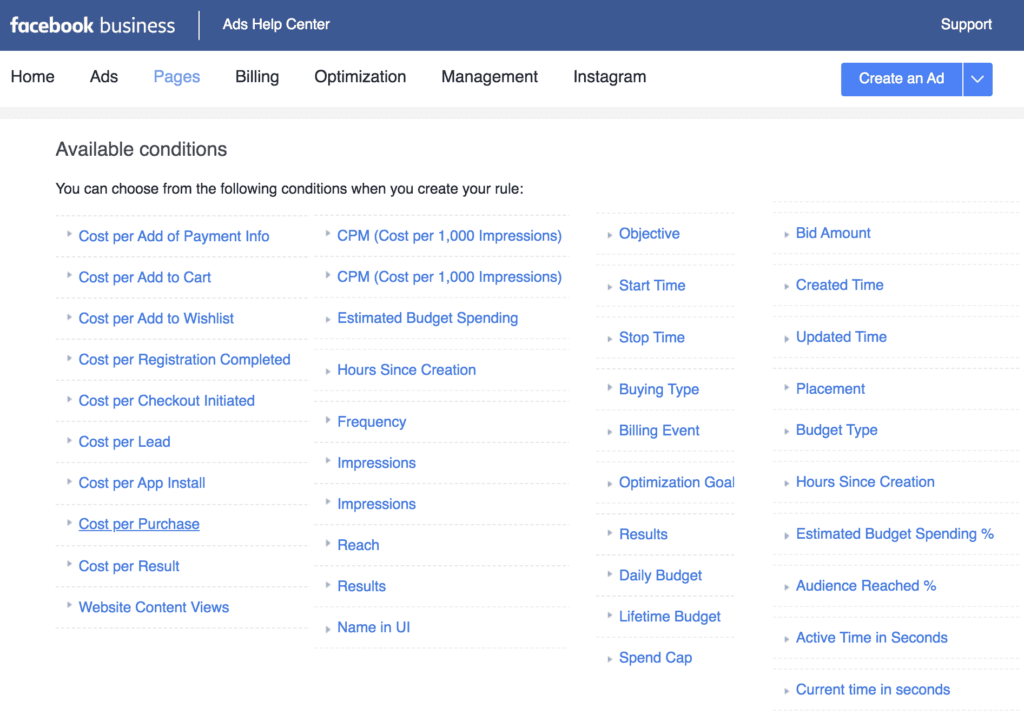 Facebook Rules allow you to:
Turn off adverts, adsets or campaigns
Send a notification (but not take any action)
Adjust the budget up or down
Adjust the manual bid up or down
To build a rule, simply start at the top and choose the action, the conditions, the schedule and who to notify and finally the name for the rule.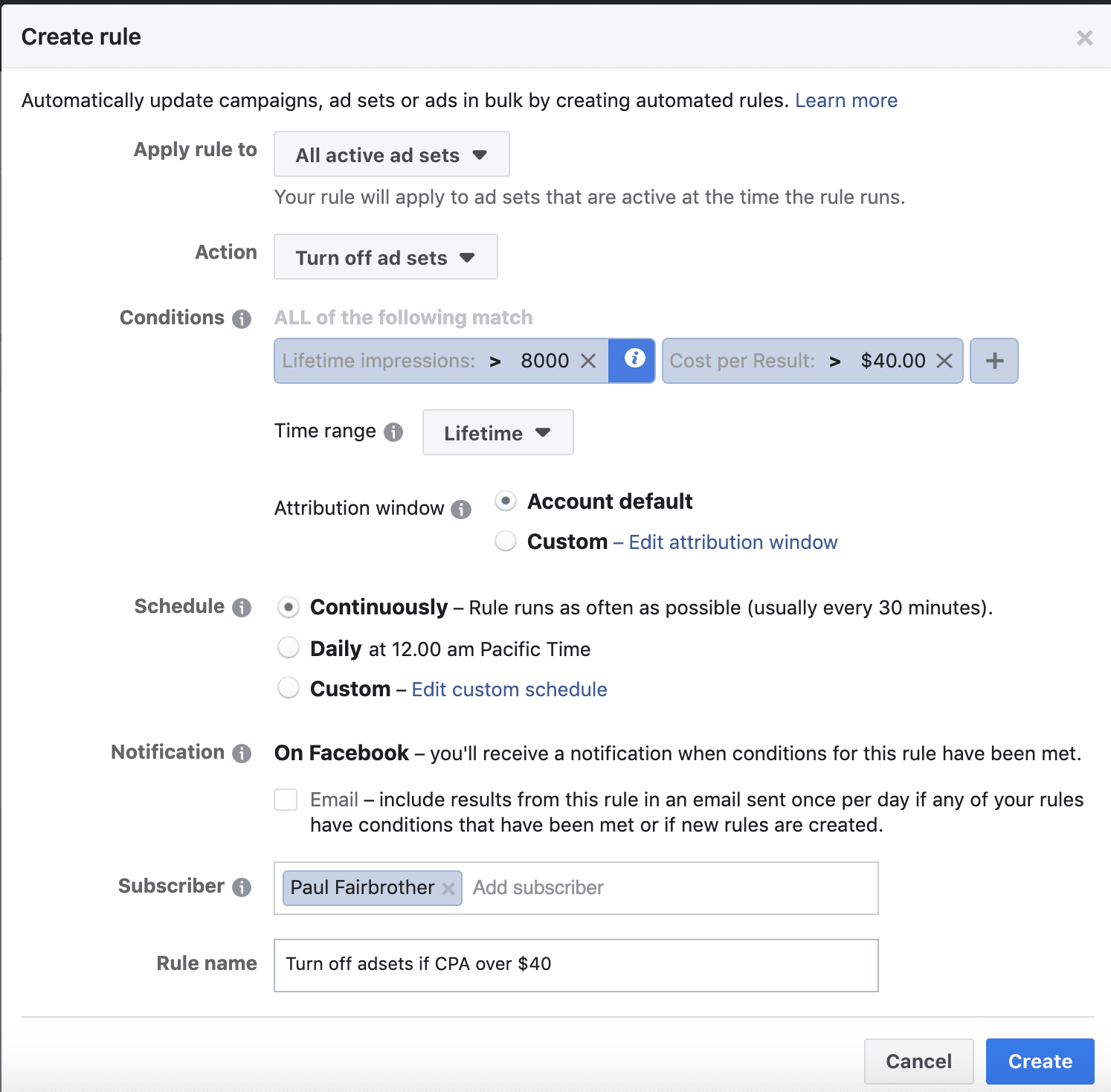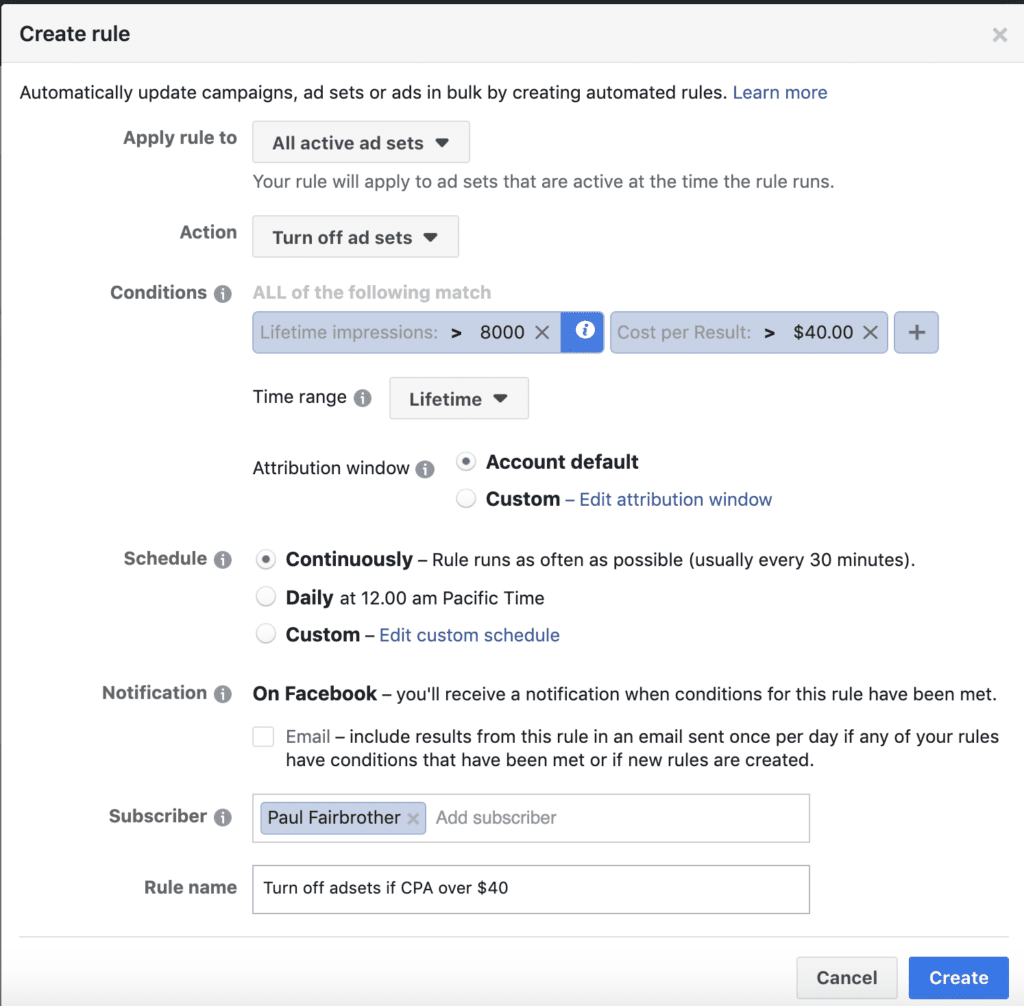 Warning: Be Careful When Learning To Use Rules
If you use the Automated Rules portal in Business Manager, the only option is to create a rule that applies to ALL active campaigns, adsets or ads. When learning to use rules, set the action to Send Notification Only. Otherwise, if you create an incorrect rule you could cause all your campaigns to be turned off.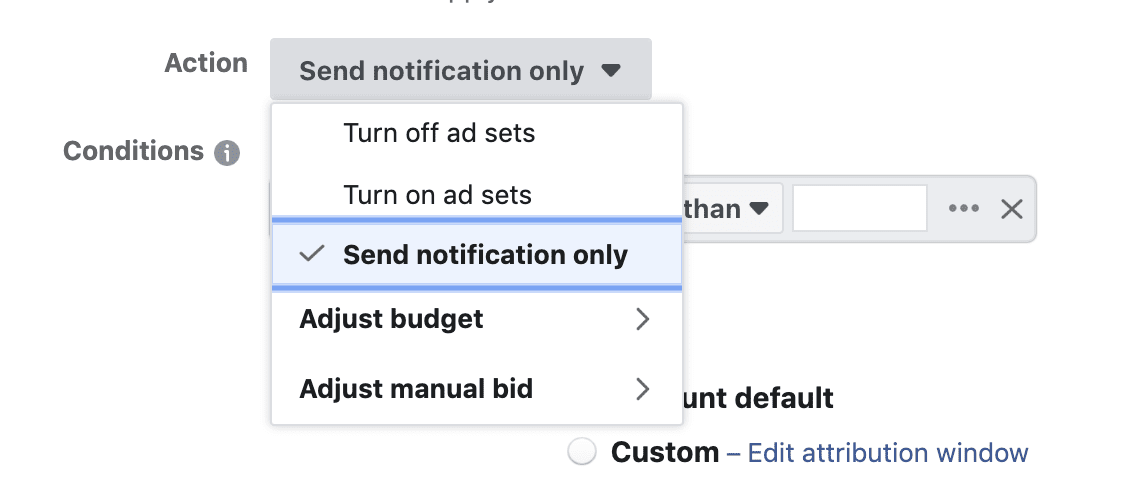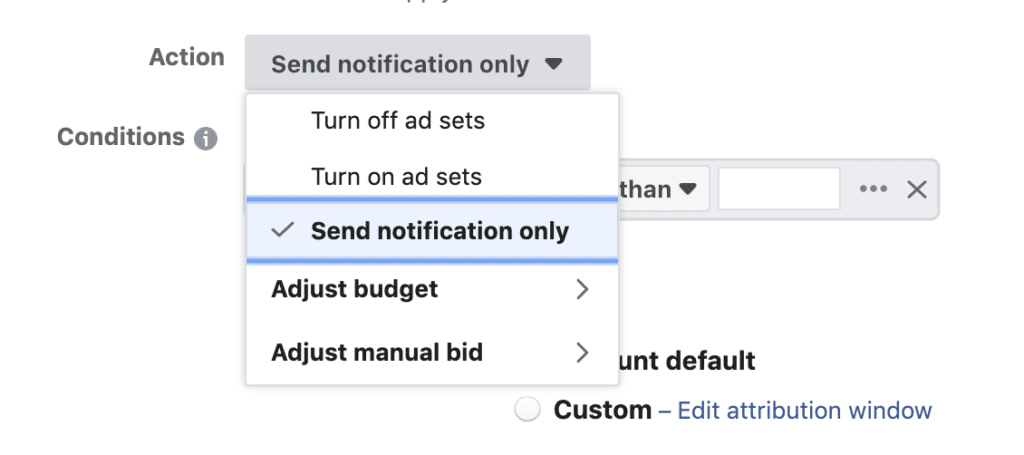 A safer option is to create a rule directly from Ads Manager and just select one campaign, preferably a campaign you've set up just for testing. Then, if you mess up the rule criteria it'll only affect your test campaign, not all of your ads.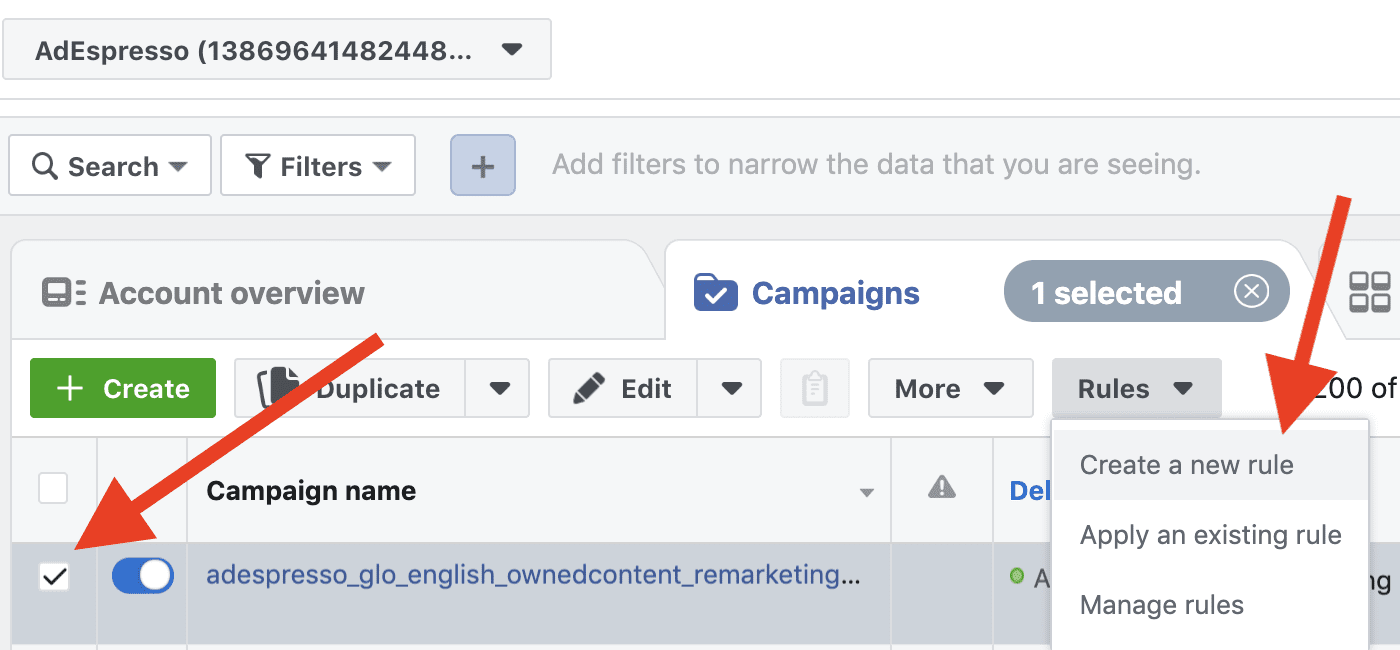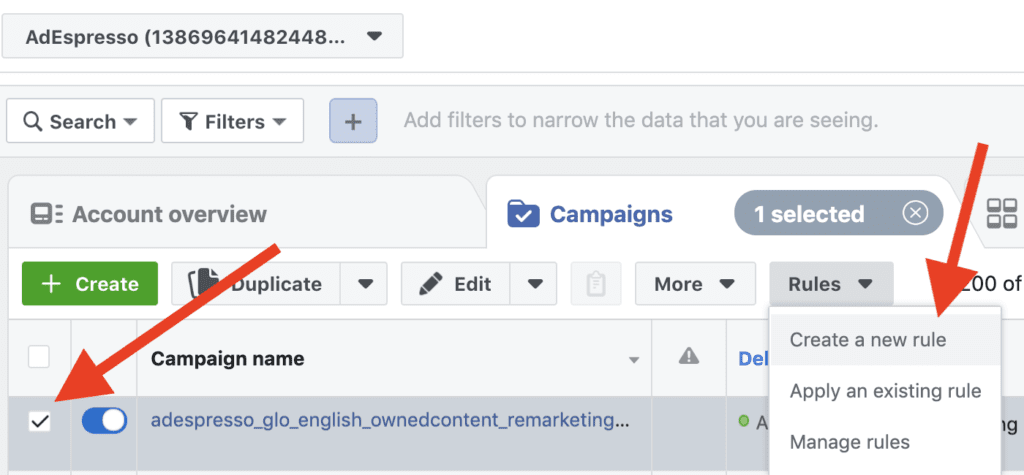 Limitations To Facebook Automated Rules
It's worth being aware of the limitations that Facebook place on rules:
A maximum of 250 rules can be created for each ad account
Political ads can't use rules at all, only verified individuals can make changes
There can only be one condition per rule
A rule can work at ad, adset or campaign level but not a mix of different levels. Just create a second rule for a different level if required.
Introducing AdEspresso Automatic Optimization
Facebook Automatic Rules can give you a high degree of control but what if you want to get the benefits without the complication of setting it all up?
Thankfully our built-in algorithm called AdEspresso Automatic Optimization can be set up with one click!
If you aren't using Campaign Budget Optimization (CBO), then Automatic Optimization will look at your campaign objectives and slowly start moving budget away from the underperforming adsets and move it into adsets where you are getting the best value for money. The total campaign budget won't be changed, and the optimization is gradual, taking at least a couple of days before it starts working and then moving budgets around slowly so as not to cause any radical changes to adset budgets.
If you are using CBO, then that will take care of the adset budgets and Automatic Optimization will monitor the ads and pause any underperforming ones, ensuring just the best ads are left running.


For most advertisers, this is the perfect balance between ease of use and getting the best value for money out of their campaign budget.
AdEspresso Custom Facebook Automated Rules
In most cases, Automatic Optimization is a great place to start but if you have more specific objectives it's time to set up some custom rules and doing so in AdEspresso will be quick and easy to do.
We'll cover some of the most popular custom rules below and show you how to create your own.
We also created a 10-minute video to show you every single step of the process.
If you are impatient, you can click here and jump straight to the video, or you can invest a few more minutes and watch it after reading!
How To Create New Rules
Building a new set of rules couldn't be easier. Just go to the Tools tab in AdEspresso and select Optimization Rules…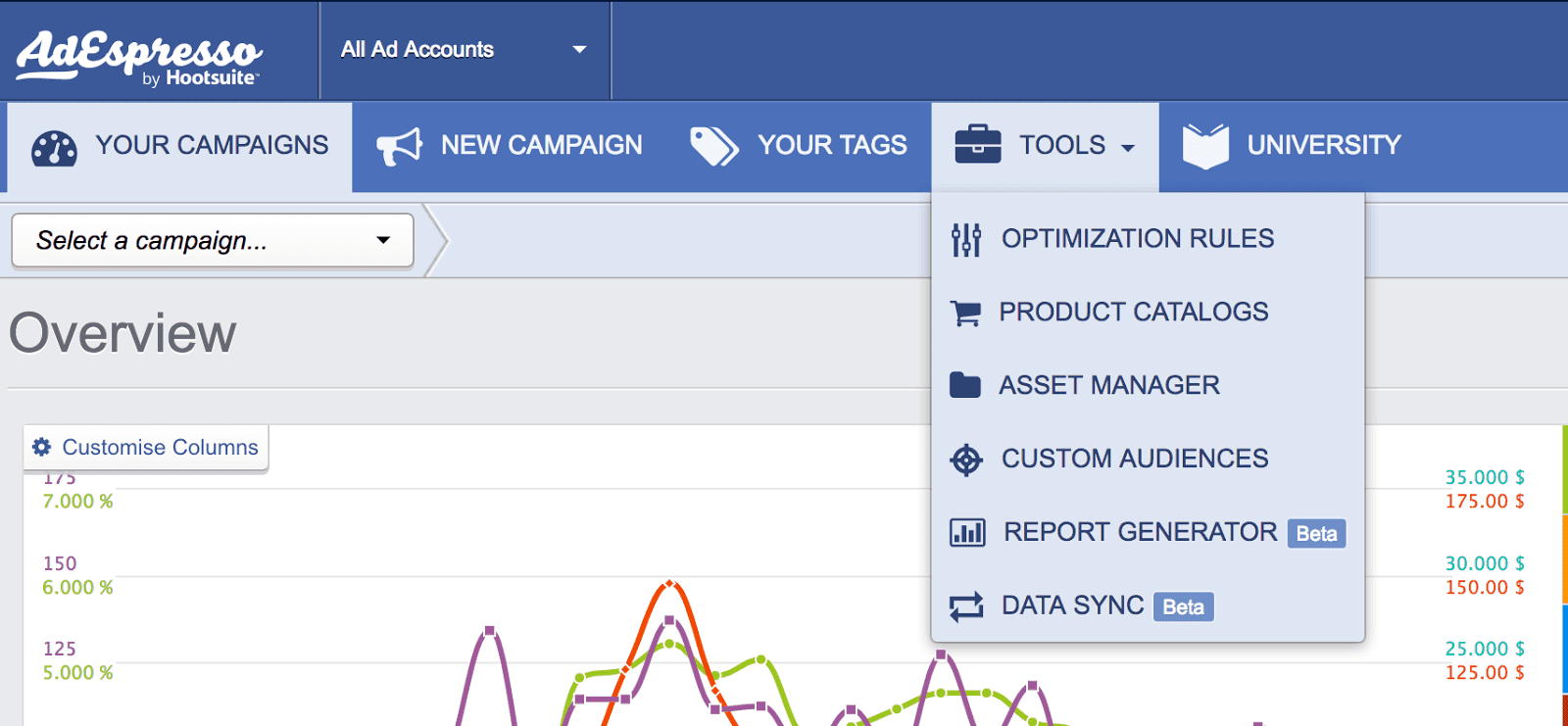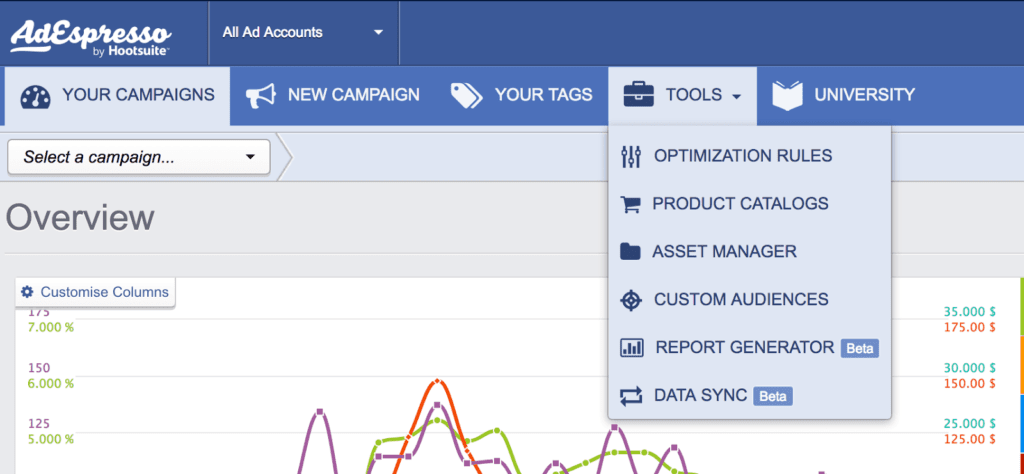 …and from there select Create New Set and start building.
Any changes can be edited or deleted if required and the rules won't be live until you apply them to a campaign so get clicking and discover all the options available for yourself.


Using Rules As A Safety Net
If you're traveling with limited internet access, or on vacation, it can be useful to pause campaigns if the frequency or cost per conversion goes too high.
For example, if you want to pause a campaign when users have seen the ad on average six times a simple rule can be applied:

The same can be done for the cost per conversion (CPA):


Fine Tuning Campaigns Using Rules
As well as applying rules at campaign level we can fine-tune things and set up rules to only pause underperforming ads. For example, if we want just to turn off ads that have a CPA over $30 but keep the rest of the campaign running we can apply this rule:


Scaling Rules
One of the most common uses of custom rules is to scale a successful campaign so that it is given more budget if it is achieving a good cost per conversion.
Warning: these rules increase the overall campaign budget.
Always set a maximum budget increase on the rule and monitor the results carefully when using a new rule.
If, for example, a campaign is profitable when it is achieving a $30 CPA we might want to increase the budget by 10% every two days if any adsets have a CPA below $20:
On the other hand, we might want to reduce the budget for an adset if the CPA is too high:
Perhaps we don't want to change the overall budget though? In that case, we can get the best value from the campaign using a redistribution rule:

Caution: The Facebook algorithm adjusts slowly so aim to scale gradually at around 10% per day, try not to increase budgets too fast.
Applying Multiple Rules
What if you wanted one rule to scale the best adsets, another to decrease the budget of underperforming adsets and another to pause ads that are converting poorly? Just add more rules into the ruleset:
How To Apply Your New Facebook Rules To A Campaign
There are three ways to apply custom rules or Automatic Optimization:
1) Add a rule set when creating a campaign:
Turn rules on and off from the dashboard of a campaign which is running:
Use the Start Optimization button to bulk apply rules to multiple campaigns at once from your campaign list:
Tracking Changes
To check on the changes made by Automatic Optimization or your own custom rules just go to the Timeline tab on any campaign in AdEspresso.
Once there, select the Automatic Changes filter and all the changes are all laid out there.
Rule of Thumb: Keep It Simple for the Best Results
To help you stay on top of your Facebook ad maintenance, the best rules are the ones that are kept simple and use a timeframe of several days.
Remember that an algorithm will rigidly apply the rule regardless of external circumstances, it won't take into account how public holidays or the weather affect performance.
So, in conclusion, custom rules are best used to achieve one simple task such as capping the frequency or scaling the budget and best mixed with regular human monitoring.
Do you still have doubts? Do you think it is too complicated?
Watch this video then, our top expert Paul Fairbrother – author of this article, shows you everything you need to do, step-by-step, in just 10 minutes! And his British accent is an added bonus! 😉
.
Are you ready to use the enormous potential of Facebook Automated Rules and start applying them to your campaigns now? If you want some more examples, you can check 5 out 5 Facebook ad Optimization Rules to Steal (And 5 Reasons Why You Need Them) it will give you some smart ideas to start with!
It's your turn now! Which Facebook rule is your preferred and why? Is there something that we didn't cover? We want to know what you think, leave us a message in the comments below (compliments included)!