Di you know that it's up to five times more expensive to get new customers as it is to retain current ones? If that's not enough reason to aim for brand loyalty, you also have a 60-70% chance of selling to existing customers, compared to a 5-20% chance for new customers.
But how do you get loyal customers?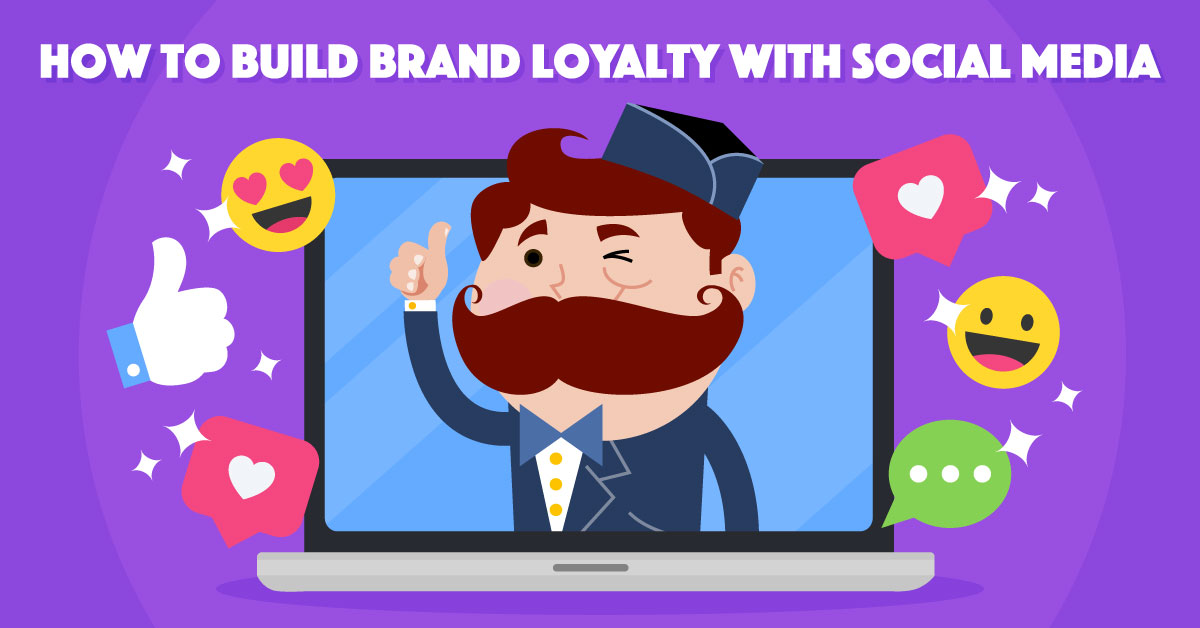 If you want customers to keep coming back to your brand, you have to connect with them in meaningful ways. Social media is the perfect place to build these relationships.
You can have one-on-one conversations with customers so they feel connected to your brand, and you can showcase your unique brand personality through humor, images, and videos.
To help you get started, we're providing eight strategies to build brand loyalty through social media.
We'll show you how your business can implement each strategy, and we'll provide examples of how other companies are using similar methods.
1. Be Responsive
Shoppers often ask questions or leave comments for businesses on social platforms, whether that's chatting through Facebook Messenger or tweeting at a brand. While you might not be able to respond to every customer, it's important to engage with as many as possible.
Why? Because responsiveness shows customers that you care about their needs, which builds their brand loyalty. In fact, 72% of millennials said they would be more loyal to a brand that responded to them. On the flip side, being unresponsive can decrease brand loyalty: 15% of Twitter users will unfollow a brand if the brand isn't engaging with them enough.
Starbucks engages directly with customers by promptly replying to comments.


They are quick to respond to just about every comment or question, painting themselves as a responsive and communicative brand that cares about their customers.
2. Share Positive Customer Feedback
When a customer leaves a glowing review, don't keep the great feedback to yourself. Share the input publicly on your social media accounts (with the customer's permission, of course).
By posting positive reviews, you're likely to attract new customers and reinforce current customers' trust in your business. This is because of social proof, the psychological phenomenon of people's tendency to follow the crowd. In the case of shopping, that means people place a high value on the opinions of other customers.
It's OK to ask for positive reviews directly. When a customer leaves a positive comment about your business on your social media page, reply back or send a direct message thanking them for their comment and asking them to share their opinion in a review. You can then share the review on your social media page.
Classic Photographers regularly shares positive reviews from customers with the caption "feeling thankful."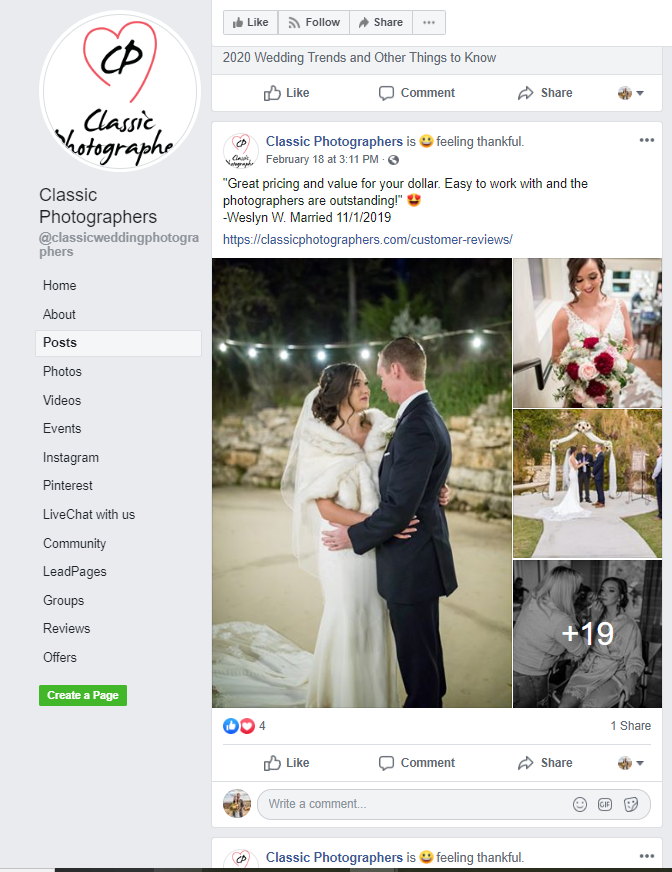 Not only does Classic Photographers enable potential customers to see how happy current customers are, but the company also shows their appreciation for existing customers at the same time.
3. Share User-Generated Content
Another way to build brand loyalty through social proof is by sharing user-generated content (UGC). UGC refers to photos, videos, and other content that shoppers create about using a brand's products. This content builds trust in shoppers because it is created by customers, not the brand.
Invite users to tag your brand and use branded hashtags so you can find UGC more easily and share it on your page (with the creator's permission, of course!). If you share UGC frequently, you'll encourage participation from shoppers who want their content to be seen by all of your brand's followers.
A great example of a UGC-driven social media campaign is GoPro and their Photo of the Day campaign.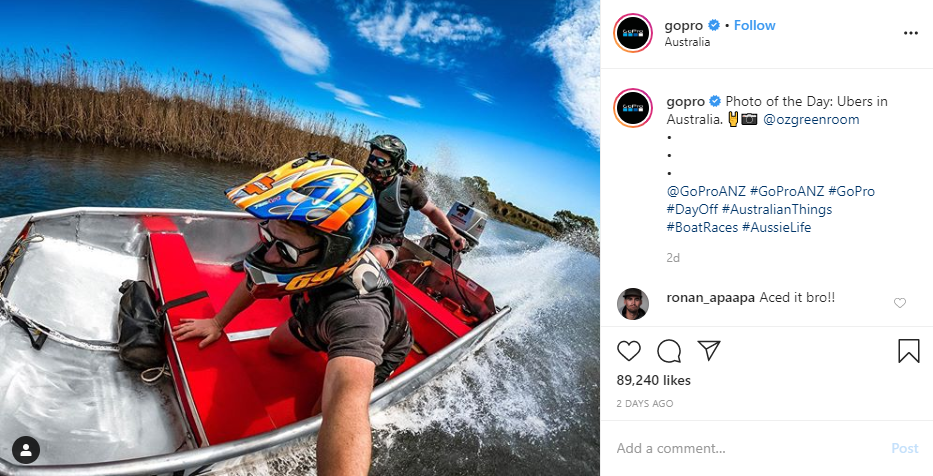 The campaign encourages GoPro users to post their GoPro images and tag the company for a chance to have their picture featured. In one fell swoop, the company attracts new customers by showcasing happy current customers and builds brand loyalty with existing customers by featuring their content regularly.
4. Keep Customers in the Loop
Make your followers feel like they're a part of the business by keeping them updated about what's going on at your company and taking them "behind the scenes." Since 63% of customers prefer brands that are honest and transparent, being open about your business's practices is a great way to encourage a positive customer-brand relationship.
Your social media channels are the perfect platform for taking your followers behind the scenes. You can post walk-throughs of your products, interview employees, show pictures or videos of your office space, or share company events.
Glossier did this with their Milky Jelly cleanser.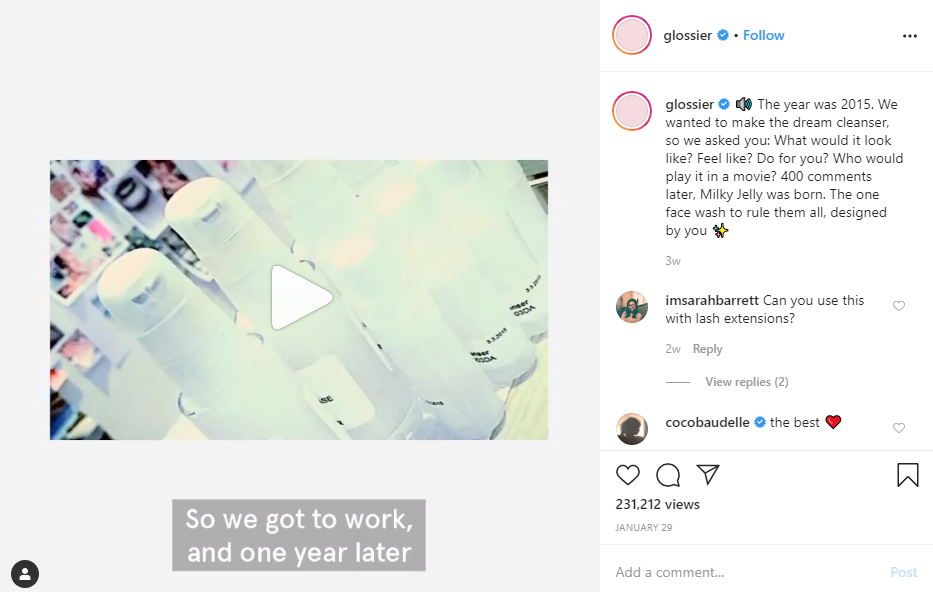 In the video, Glossier details why they created this cleanser and what makes it different from other cleansers. Seeing the behind-the-scenes details of Glossier's production, shoppers have reason to believe their skin-care products are well made and have reason to buy from Glossier rather than other brands.
5. Be Open about Your Values
Customers want to support companies that share their values. Share your company's fundamental principles and you'll encourage brand loyalty from customers with similar beliefs.
Create posts about causes and charities that are close to the heart of your business to show shoppers what your brand stands for. Patagonia, for example, has made environmentalism an integral part of their brand identity.



The company regularly posts about environmental advocacy, informing followers about current events and clearly illustrating that their brand cares about the environment. This attracts their target customer: people who love the natural world and are serious about protecting it.
Whatever your brand's issue is, always be authentic with your advocacy. Don't just say what you think your target audience wants to hear. Today's consumers are discerning, so they'll be able to tell if your value-driven posts are genuine.
6. Partner with an Influencer
More than half of social media users prefer to get product information from influencers rather than directly from brands. Users trust influencers and look to them for product and brand advice. So if an influencer your target customer loves raves about your brand, there's a good chance their followers will start loving your products, too.
The first step is to find influencers who are relevant to your brand and image, such as someone who is popular with your target audience or specializes in your industry. A makeup company, for example, would likely want to partner with a beauty influencer.
You can use tools like Facebook's Brand Collabs Manager to find influencers and then reach out to see if they will do product reviews or other collaborations with your brand.
Covergirl, for example, partnered with the beauty influencer @valerialipovetsky to promote their Clean Fresh Skin Milk product.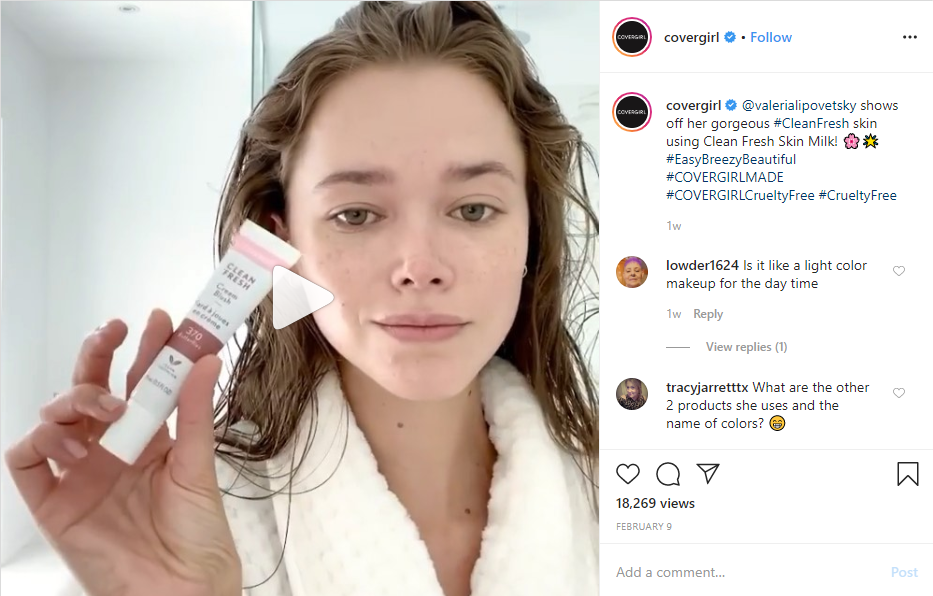 The influencer is showing that she trusts the product enough to use it herself and saying that it has done wonders for her skin. This encourages her followers to try the product as well.
7. Use Dynamic Ads to Promote Brand Loyalty
Brand loyalty is built over time. The more customers use your products and get value out of your brand, the more loyal they will become. Dynamic ads encourage users to return and make a purchase by showing them products they have viewed before or that are similar to products they viewed.
You can set up dynamic ads on Facebook and Instagram by connecting your product catalog to Facebook. Once the ad template is set up, Facebook's algorithm will choose relevant products to show to customers, based on their previous site behavior.
eBay uses dynamic carousel ads to show users products that are similar to ones they viewed on eBay's site.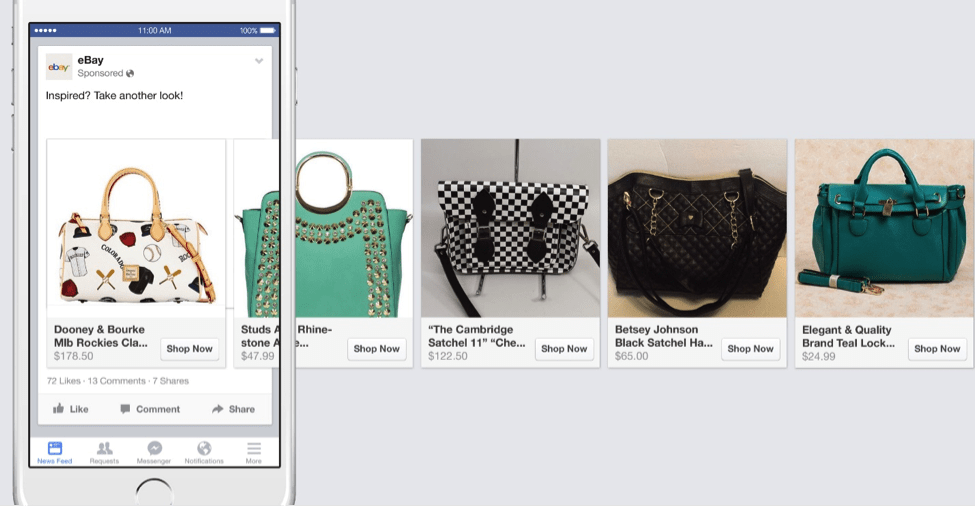 Facebook can tell, based on recent product views, that the user is interested in handbags, so the dynamic ads grab the customer's interest by showing them other handbag options on eBay. These promotions reignite shoppers' interest in the brand by showing them products they love.
8. Retarget Users with Custom Audiences
Once users are aware of your brand, keep your business at the top of their mind with retargeting. Retargeting is when you show ads only to people who have expressed interest in your business.
With retargeting, you can give people who know your brand the incentive they need to come back to your store. For example, you might use a retargeting ad to offer an exclusive deal on a previously viewed product. Or you might use retargeting to promote a price drop for items that are currently in the shopper's cart.
You can choose exactly who to show these ads to by building a custom audience for your ad campaign. For example, you might edit your custom audience to target users who have interacted with your ads before.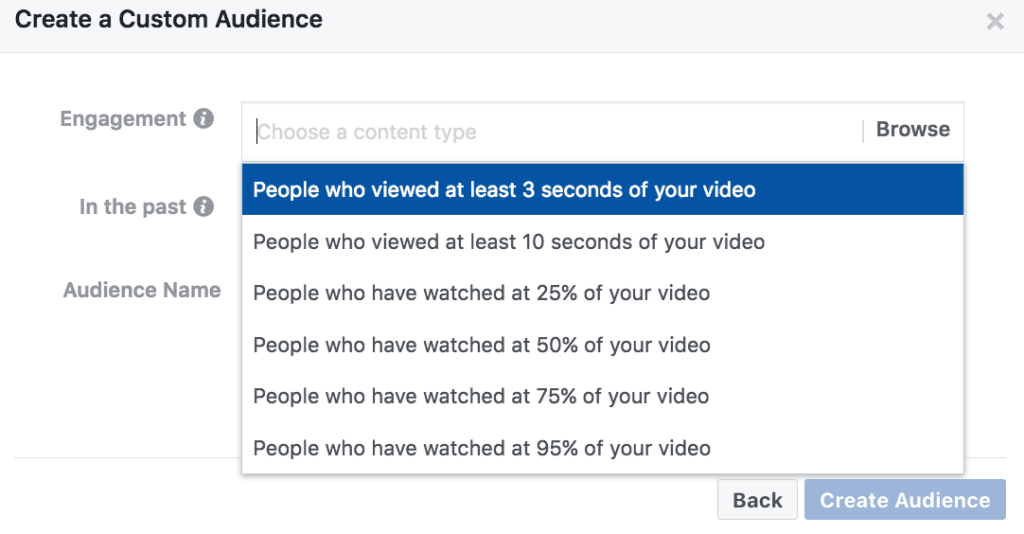 By giving customers a reason to choose you (repeatedly) over other brands, you are working to build brand loyalty.
Build Brand Loyalty with Social Media
Social media is a tool for connecting with customers, whether that's through replying in comment threads or promoting a discount to repeat customers. Use the eight strategies in this guide to foster brand loyalty on all of your company's social accounts.
Remember, though, that building brand loyalty is an ongoing process. Try different combinations of these strategies to see what your customers respond to, and refine your approach to focus on the tactics that work best. Over time, you'll increase engagement across your social media platforms through constant experimentation.