In advertising, 2018 could have been called the Year of Instagram.
The platform hit 1 billion monthly active users last year, raking in ad sales of $8 billion -based on eMarketer estimates- cementing its position as one of the most powerful marketing channels in the digital space.
Furthermore, 2018 saw brands and marketers leverage more ad formats on the photo- and video-sharing network.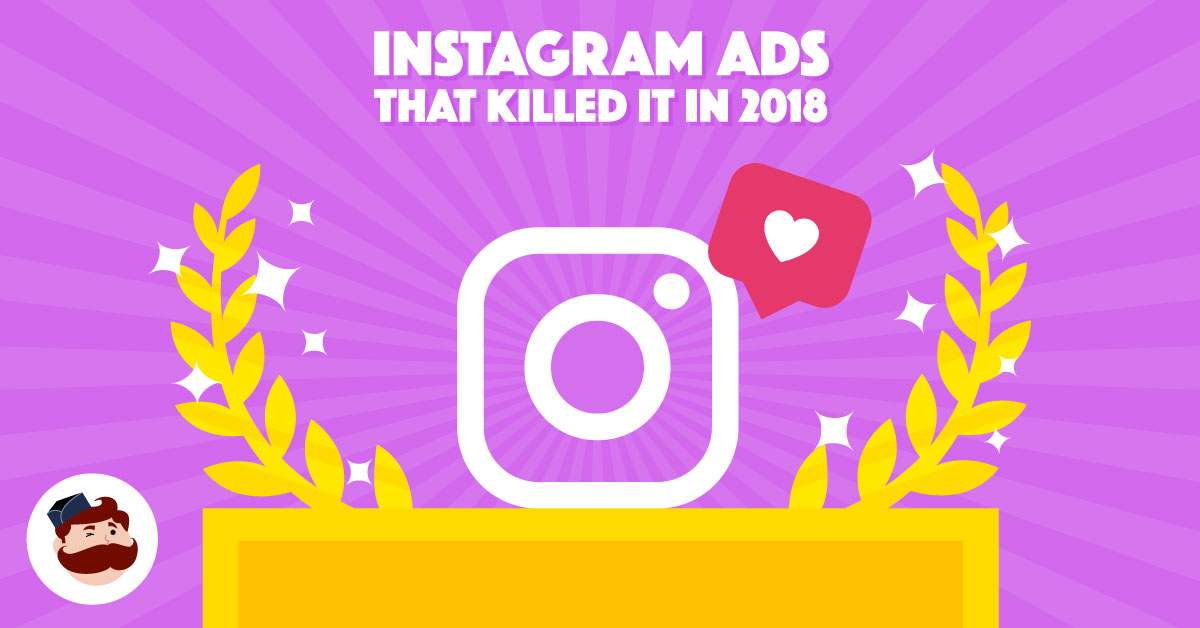 Leading the way was Instagram Stories—the Snapchat-style section featuring a series of vertical videos that stream seamlessly into one another, then vanish after 24 hours.
To inspire and inform your next Instagram advertising campaign, here's a lineup of the best Instagram ads of 2018, including their results and key takeaways of why they worked—
Are you ready to learn from their success and do better?
With the ability to generate brand awareness, drive click-throughs and deliver above-average ROI, Instagram averages 23% more engagement than parent company Facebook's namesake platform.
And online advertisers took advantage of it, with data from ad agency Merkle showing that Ad spend on Instagram grew at four times the rate of Facebook.
The roundup includes the following brands:
So, here goes!
Gap – Using Pop-Culture Appeal
The iconic American retailer, known for its casual apparel and accessories, has long been a favorite of millennial shoppers. Gap hoped to nail it with its campaign by creating a moment of pop culture for a young audience in their native mobile world.
Goal
To create buzz around its "Logo Remix" collection of T-shirts, sweatshirts and rugby shirts, which showcased a decades-long archive of one of the world's most recognized company logos.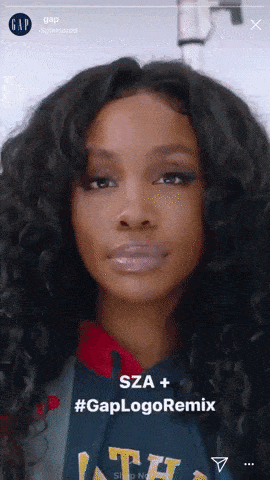 Implementation
Gap created visually-striking, full-screen carousel ads in Instagram Stories with short-form, vertical videos using clear branding and straightforward messaging to instantly get their point across.
The engaging nature and full-screen format of Instagram Stories, which is more popular than the news feed, turned out to be the ideal platform to showcase its new collection and allow viewers to feel like they were part of the brand's Logo Remix launch.
To connect with millennials, who are highly influenced by pop culture and listen to more music than any other generation, the brand fully used Stories' ample space to spotlight its campaign with rising stars in entertainment who frame fashion and drive social media conversation. They also incorporated native elements—like drawing and pinning tools—to move consumers' attention to its time capsule of product logos.
Results
Did the pop-fueled, dance-filled creative pay off? You bet.
Its attention-grabbing campaign stood out from the pack, encouraging clicks and creating the sought-after buzz. After its 19-day campaign, Gap saw a 73% higher click-through rate than in its past Instagram ad runs, along with an ad recall of 17 points and 4-point rise in message association.
Takeaways & Tips
To connect with its target audience, Gap seamlessly blended music, pop culture, and fashion. By showcasing popular entertainers who were "remixing culture" through musical contributions, Gap hammered home how millennials are crossing boundaries, how they're tearing down the status quo and, most importantly, how they support that mission and believe they're a part of it.
By speaking in the language of its target audience—providing them with content that they were interested in and wanted to engage with—Gap got its message across, seeing a positive lift in clicks and ad recall as a result.
Framebridge – It's All in the Framing
These Kentucky-based online custom framing specialists let people tell their personal stories by building affordable frames for photos and art they love.
Goal
To drive sales through the tradition of Father's Day gift giving.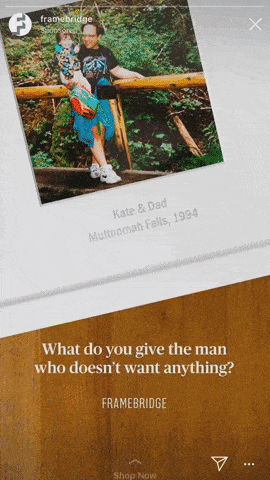 Implementation
Framebridge synched its campaign to line up with the upcoming holiday, settling on Instagram Stories, a medium the company had never used before.
The full-screen vertical placements showed stylishly framed photos of dads with their kids and featured a text overlay with the message: "What do you give the man who doesn't want anything? True custom framing to make Father's Day truly special."
The ads also had a "Shop Now" CTA button clicking-through to their online store.
Results
The e-tailer framed the moment by capitalizing on popular consumer shopping behavior trends. And in only a month, Framebridge realized 2.4X more purchases than through other ad placements, including 29% higher sales than its Instagram feed ads at a 71% lower cost per acquisition (CPA).
Takeaways & Tips
Framebridge followed in the footsteps of marketers who shift their gaze toward men for Father's Day. But instead of focusing on the American father's traditional wants and needs, it targeted modern dads who are redefining fatherhood by spending more time with their children and celebrating parenting and home life.
Just as Framebridge successfully sold the idea that framed personal photos and art make great gifts for family and friends, think about how to take new or different approaches to reach consumers, especially in a time of cultural transformation.
Another lesson is to find ways to create holiday-related marketing campaigns for the many shopping holidays on the national calendar.
2K Games – Having a Game Plan for the Right Audience
The U.S. interactive video game publisher has for two decades created a series of basketball simulation video games.
It wanted to step up its game by understanding what motivates sports-obsessed fans and reach not only its core console gamers but new gaming customers as well.
As you can see, the campaign hit all the shots.
Goal
To reach audiences who would be excited about the release of its NBA 2K19 20th Anniversary Edition to promote pre-orders.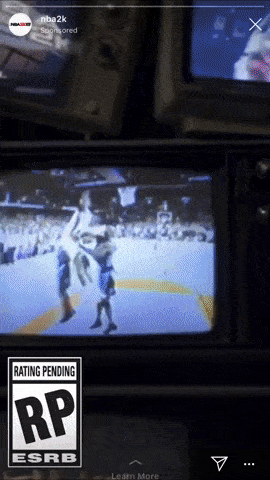 Implementation
The ad creative featured grainy TV footage showing highlights of LeBron James throughout the years and the inspirational theme "They Will Know Your Name"—in the case of LeBron, "King James" and "GOAT" (Greatest Of All Time).
Viewers could swipe up on a "Learn More" CTA button to pre-order the game on the NBA 2K website.
Results
For the gaming company, it was a slam dunk. It reached a total of 10.7 million people, resulting in a 24-point lift in ad recall, an 11-point increase in message association and a 7-point rise in purchase intent.
Takeaways & Tips
With an eye toward reaching the 2 billion gamers in the world and the 385 million interested in eSports, 2K Games used NBA superstar LeBron James as its marketing face with a 'They Will Know Your Name' tagline, using immediate recognition and game highlights to convey the emotional power that basketball provides.
Take cues from 2K Games and the best marketers, who always work to form and leverage connections with consumers by creating stories and imagery that pack an emotional punch, and offer content and experiences that stand out from the crowd while being social by design.
Above all, they understand the importance of knowing and zeroing in on your target audience.
Opel – Harnessing the Power of Free
German car manufacturer Opel, one of Europe's largest automakers, was an early adopter of Instagram carousel ads, and one of the first to successfully craft an efficient, innovative campaign using that format.
Goal
To build on its official sponsorship of the tv show Germany's Next Top Model with Heidi Klum, Opel wanted to promote its Opel ADAM luxury supermini.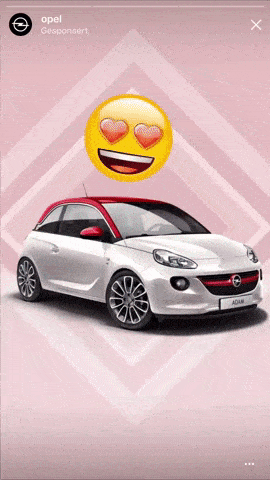 Implementation
Each carousel card showed one of the carmaker's Opel ADAM models with a colorful paint job and an animated emoji hovering over it.
At the end of the ad, viewers were asked to take a test to find out which model suited their personality to help tie into the brand's "Say What You Want" influencer campaign.
After finishing the test, people could enter a contest to win a new Opel ADAM and register to receive a newsletter about the new line of automobiles.
Results
Opel's gamble on the new ad format was money well-spent. In only two weeks, they realized a significant conversion uplift with a 2.5X increase in registrations, while lowering their cost per registration.
Takeaways & Tips
Opel partnered with popular influencers, creating ads in Instagram Stories to get people to enter a contest. Giveaways may be a dime a dozen across social media, but effective, on-brand efforts like Opel's that deliver high ROI are rare.
Executed properly, contests and giveaways are a powerful way to build brand engagement and capture new leads.
Whether your prize is a just-released new product or a big ticket item sure to draw numerous entries and promote social sharing, the power of free can't be overstated. People jump at the chance to win something tangible.
Think about it: wouldn't you love to get something for nothing too?  😉
Swiggy – Engaging with Relevant Imagery 
India's largest food ordering and delivery platform—what GrubHub is to the U.S.—Swiggy, which had already used Facebook for past campaigns, thought Instagram Stories could be its ticket to attracting more users to its popular app.
Goal
To extend its reach, increase its mobile app installations and expand its customer base in the face of fierce competition.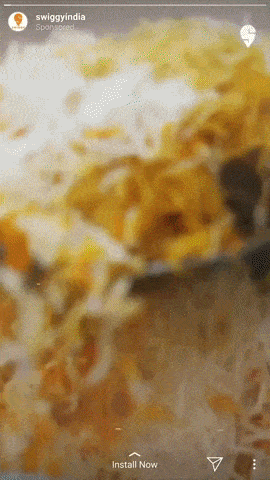 Implementation
Swiggy saw potential in Instagram Stories to find more users and scale up the business. So it ran tests to measure IG's potential.
Encouraged by the positive results, the app developer put together an ad with appealing food imagery, plus a 33% off incentive and an "Install Now" CTA.
Swiggy then ran the Instagram Stories campaign over three months, effectively reaching new users in the 15 cities where the app operates.
Results
After positive results experimenting with Instagram Stories, Swiggy ran a series of Instagram Story ads telling viewers about its service's main values while attractive slo-mo videos of food played in the background.
The three-month campaign increased app installs by 17% while lowering the cost per install by 30% compared to other online ad campaigns, ultimately increasing website traffic by 30% in 90 days.
Takeaways & Tips
Swiggy took advantage not just of the growing global appeal of food delivery services around the world (and specifically in India), but of the fact that they can reach potential customers directly with Instagram, a highly visual medium where people regularly consume and share pictures of food.
And there's more to be learned: Successful marketers always pay close attention to ever-shifting consumer needs, wants and habits to fine-tune their campaign strategy to adapt to changes.
Lacoste – Go Bold or Go Home 
The storied French sportswear company-turned-lifestyle brand is best known for its iconic Classic Fit Polo shirt with the immediately recognizable green crocodile logo. But it used an eye-catching Instagram ad creative to show the world that it also produces equally bold, fashion-forward items for the home.
Goal
To shine a spotlight on its lesser-known high-quality modern home goods.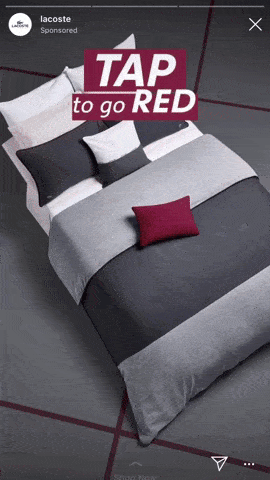 Implementation
Taking full advantage of Stories' interactivity, the brand's ads encouraged users to tap and swipe through cards to view its brightly colored bath and bedding collections, showcasing its product lines and taking its ad campaigns to another level with a deeper product storytelling experience.
Results
Lacoste hit the mark with its ads.
The two-week-long campaign netted a 2X higher return on ad spend, a 61% increase in click-through rate (CTR) and a 32% lower cost-per-click (CPC) compared to other digital ad formats.
Takeaways & Tips
In the spirit of its always-bold branding, Lacoste promoted bath towel and bedding collections by emphasizing the variety of vibrant colors they offer, to appeal to a broad range of personal tastes and lure in viewers.
Remember, nine out of 10 consumers make purchase decisions based on visuals.
Its ad campaign shows how marketers, especially those in the e-commerce space, can convey an on-brand experience while showcasing the most attractive features of products through eye-catching imagery that pops.
Ashley HomeStore – Inspiring Shoppers to Explore the Store 
Ashley HomeStore, the leading U.S. furniture retailer and one of the world's best-selling furniture store brands, believed Instagram Stories could be a great way to showcase its products, which are available both in retail stores and on its website.
Goal
Drive more traffic to its e-commerce website and promote in-store retail purchases.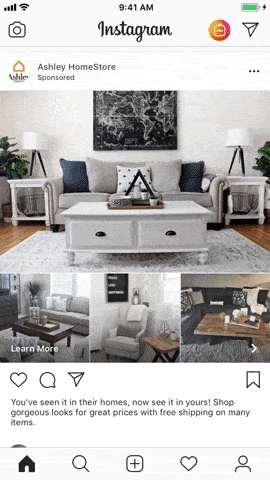 Implementation
After testing various ad formats, Ashley HomeStore focused its efforts on collection ads, which can be an effective way to showcase lifestyle products.
Its ad creative featured an inspirational image with three cards underneath displaying furniture pieces with "Learn More" CTAs that clicked-through to a full-screen Canvas featuring more furniture and home décor in a grid-based in-app mini catalog.
There, the option to "Shop More Styles" allowed for deeper browsing and shoppers could tap to learn more about items or purchase them directly on the store website.
Results
When all was said and done, the month-long campaign reached 2.2 million people, resulting in a 30% increase in on-site product views at a 46% lower cost-per-view and 9.7% lift in shopping cart additions.
Takeaways & Tips
The retailer used Instagram's capabilities to the fullest, inspiring its audience and allowing them to explore by showcasing numerous home goods.
For those that have a catalog of products, consider following Ashley's lead by using the collection ad format to make it easier for mobile-loving consumers to discover, browse and purchase a range of items.
As a bonus, it also helps move prospects down the funnel to increase website visits, which can lead to more product views, shopping cart additions, and conversions.
Michael Kors – Smart Tech Can be Fashionable Too 
The global luxury fashion and accessories brand has always appealed to fashion-conscious, trend-loving consumers. But now, it wanted to play to their tech- and social-savvy sides.
Goal
To boost awareness and reach more shoppers to increase sales of its stylish, trendy Michael Kors Access smartwatches.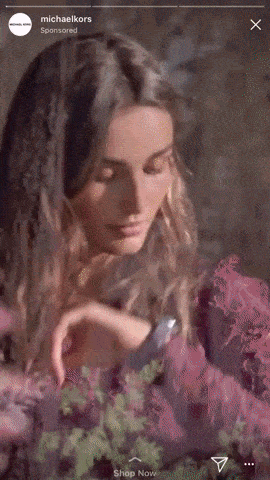 Implementation
The brand designed and launched an innovative campaign with a video carousel ad in Instagram Stories that followed Romanian model Andreea Diaconu as she used a Michael Kors Access smartwatch to keep her busy day organized.
Results
So, did the creative resonate with its target audience? Definitely.
After two weeks, the campaign saw a 3X higher click-through rate with 60% lower cost-per-click (CPC), a 20% higher online return on ad spend (8% higher offline) and an 8-point lift in ad recall.
Takeaways & Tips
The campaign provides marketers of everything from discount services to luxury goods with a teachable moment: No matter what you sell, always encourage positive brand perception by balancing targeting, tone, and design that align with your brand, while authentically speaking to your target audience's wants, needs, interests, and aspirations.
KFC Italy – Making Everything Old New Again
KFC may be a household name, but it only recently dipped a toe in Italy's boot. To launch its new KFC Dipping Bucket, a new menu option in Italy, the global fast-food giant wanted to show its appeal to a broader demographic.
Goal
The fast-food chain sought to raise awareness of its bucket menu item with dipping sauces and expand beyond its popular base of teenagers and millennials in Italy, where the brand has only been around since 2014.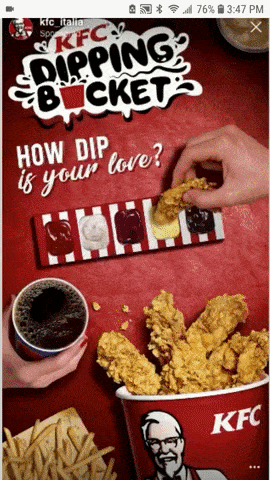 Implementation
To reach a broad Italian market, KFC Italy created a video ad with a 360-degree interactive view showing couples and friends from various age groups dancing to upbeat music while enjoying the new product.
The ad included a relevant branded hashtag—#DipLoveChallenge—at the bottom to encourage social sharing.
Results
KFC's Italian spin on its marketing message increased Italy's appetite for the chicken brand.
Within 10 days of the campaign start, the video was viewed over 4 million times, resulting in a 29-point lift in brand awareness, a 31-point rise in ad recall and a 9-point increase in favorability among Italian women aged 25–34.
Takeaways & Tips
For businesses seeking to take their brand position and marketing messages global, there's always the threat of losing important points in translation.
But KFC Italy successfully used subtitles and multicultural savvy in its Instagram Ad creative to make more headway into the Italian market.
While KFC used their ad to bridge geographical, cultural and age differences, always think about ways to repurpose, retool and rethink ads to reach other targets.
Take something you've created in the past, put a new twist on it and give it new life. This will help you to deliver a consistent message to a new audience.
Bottega Veneta – Using a Digital-Physical Tag Team
The Italian luxury goods and high-end fashion brand with a global presence has always used multi-channel marketing.
But could it mount a digital-only campaign to increase brand awareness and online and offline sales, reaching luxury consumers who shop on the web but still prefer to see quality up close and personal—in real-world stores?
Goal
To boost brand awareness, attract new potential customers and, ultimately, increase sales conversions.
Implementation
With the aim of driving results along the entire customer journey, the luxury brand created a campaign focused on the entire sales funnel using a series of four sequential ads in feeds and Stories targeting both men and women, with each carousel photo ad having a "Shop Now" CTA button clicking-through to the brand's e-commerce site.
Results
The highly targeted, gender-specific ads worked like a charm.
After a two-week-long campaign, the luxury brand realized 2.7X more online product views, a 68% incremental increase in online and brick-and-mortar sales and a 2.1X return on ad spend.
Takeaways & Tips
Using a variety of ad formats and delivery methods to initially drive brand awareness, while leading its target audience down the funnel by engaging would-be customers throughout their sales journey, the brand created an ad experience to drive sales, both online and offline.
For marketers promoting businesses with both web and brick-and-mortar presences, it's especially important to combine both physical and digital marketing approaches to reach consumers, who now want to engage with brands and companies on their own terms.
Wrapping It Up
There you have it: 10 examples of the best Instagram ads with tactics that you can apply to your 2019 advertising strategy.
These Instagram campaigns prove that with proper planning, businesses and marketers can successfully use the platform to spread brand awareness, drive web traffic, generate leads, promote conversions, encourage app installs and increase sales.
If you're a beginner at Instagram advertising, dig into AdEspresso's Instagram Ads Guide, and if you have more experience, see why it makes sense to capitalize on the growing influence of Instagram Stories.
Finally, check out Instagram's latest updates to stay on top of the new features at the ever-changing social marketing platform.
Now, it's time to stop reading and start planning your 2019 campaign, so you can make next year's list of the top Instagram ads.
Which of these Instagram ads has inspired you? Is there anything we left out? How will you implement these tips in your next Instagram ads campaigns? Let us know in the comments below!