What would you answer if we ask you which are the top types of images that perform well on Instagram?
Visual content is being prioritized all across the major social media platforms, and its importance on Instagram (which is almost entirely a purely visual platform) is obvious.
And the question becomes how do we make our visual content stand out from the rest?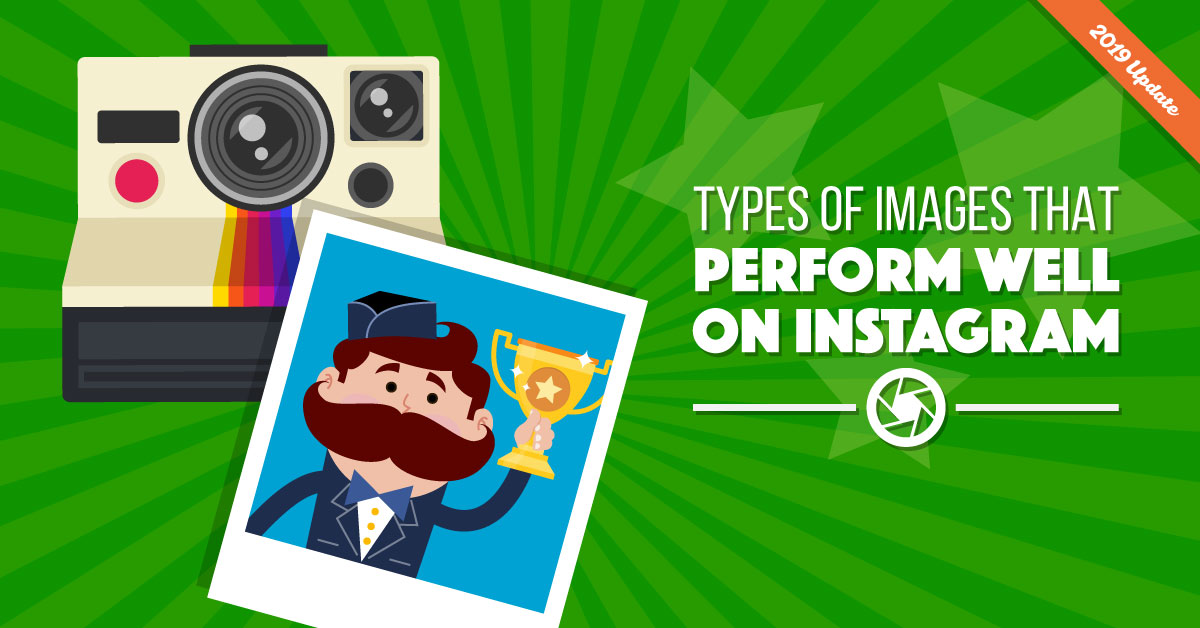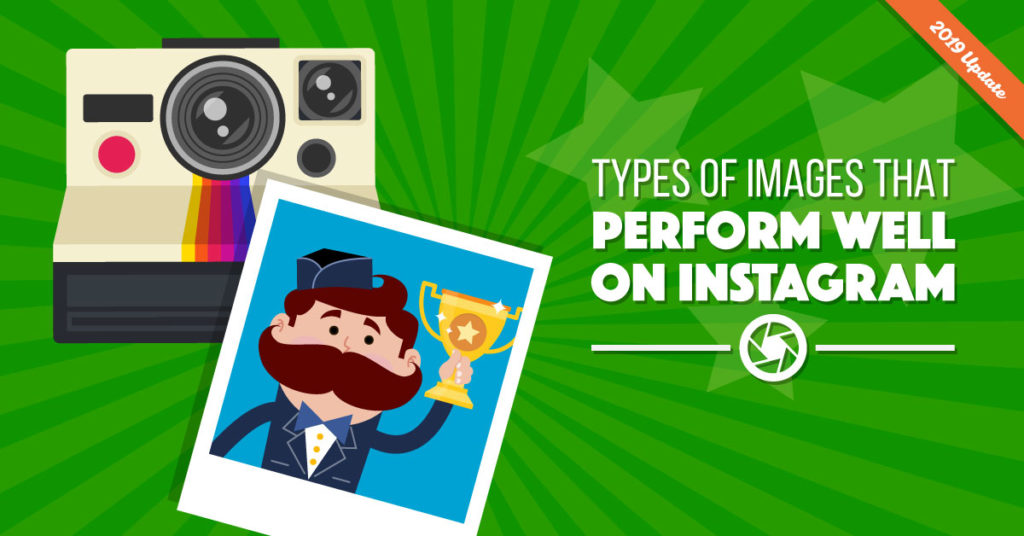 Making your Instagram images to stand out from the crowd is difficult, to say the least, but it's extremely valuable for your brand.
Fortunately, there are certain types of images that perform well on Instagram. (Spoiler alert: Selfies don't make this list. Just in case you were wondering.) 
In this post, we're going to take a look at 9 specific types of Instagram images that bring in a lot of engagement and how you can tailor them for your business and your followers.
Since  2016, when our writer Ana Gotter first wrote this post, there have been a lot of really interesting updates to Instagram's platform and algorithms.
The advent of shoppable tags and multi-image posts has made it easier than ever to advertise and sell products through Instagram, and better GIF support with tools like Boomerang makes the platform more dynamic for the user.
We will talk through the Instagram updates you now have at your disposal and show you examples of brands that are nailing their execution.
But if you want to skip directly to the Top 9 types of images that perform well on Instagram, click here.
Instagram Images with Product tags
Product tags, or shoppable tags, are a game changer. They give you the ability to tag any image of your products with a specific label that includes both the product's name and its price.
This effectively turns that post into a mini sales page and is hands down one of the best tools for boosting sales directly through your Instagram feed.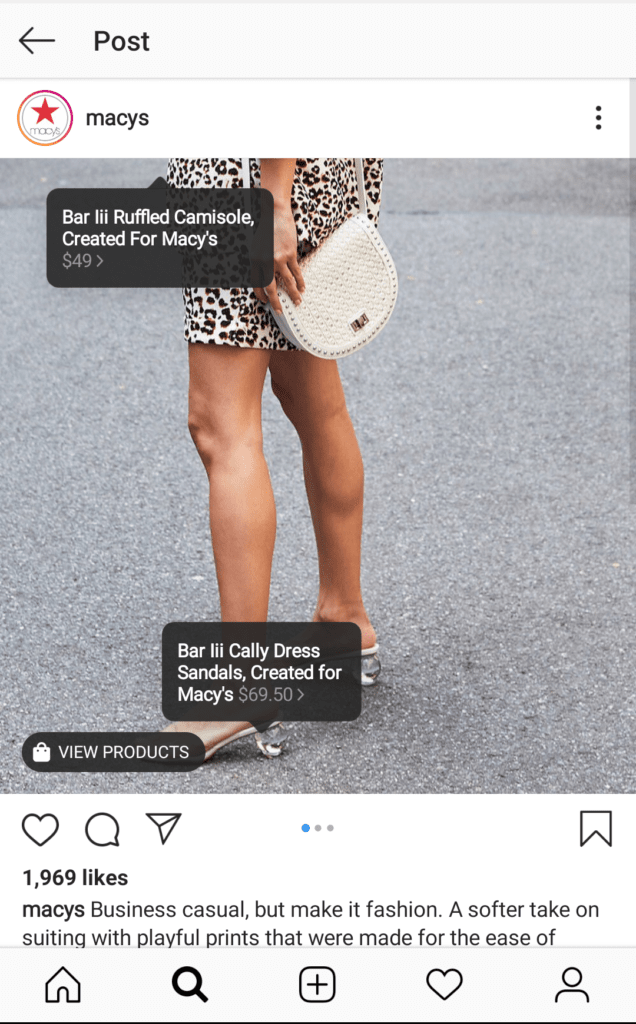 Macy's Instagram post with shoppable tags.
Macy's tags the shoes and the top in this image. If a follower taps on one of the products, they are linked to a product page within Instagram and have the option to view each item directly on your website.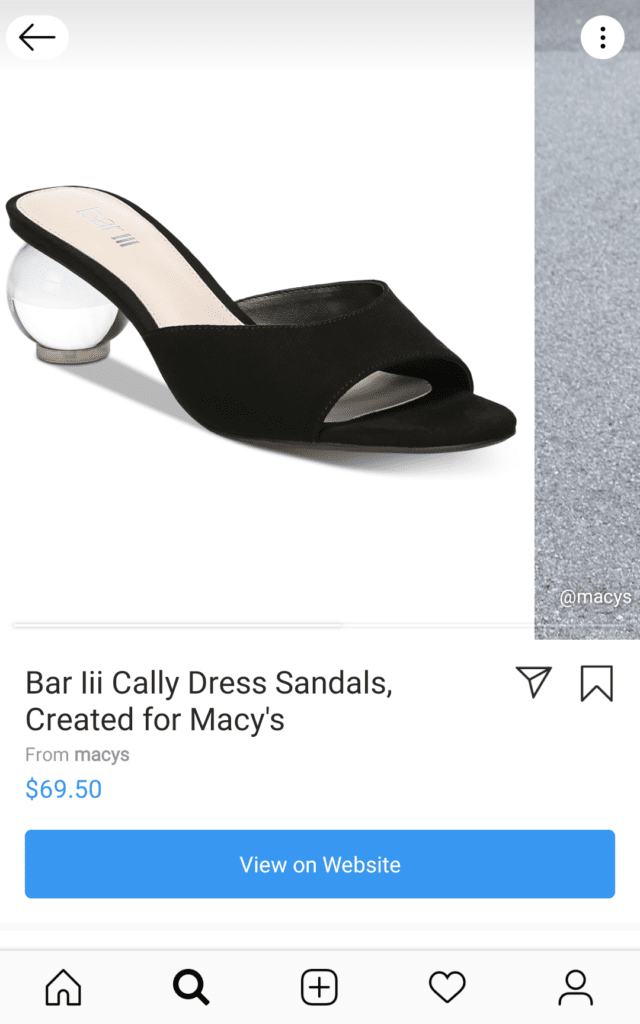 Product page after clicking on the shoppable tag in Macy's Instagram post.
Using this feature, Macy's is able to not only showcase their product on an actual model but also streamline the potential customer's buying decision. It considerably shortens the time it takes to get from Instagram to a specific product page, making it much easier to complete the purchase.
Just make sure your image is enticing as well. Tagged images need to inspire potential customers to tap for more information.
Here's an example from sustainable shoemaker Allbirds.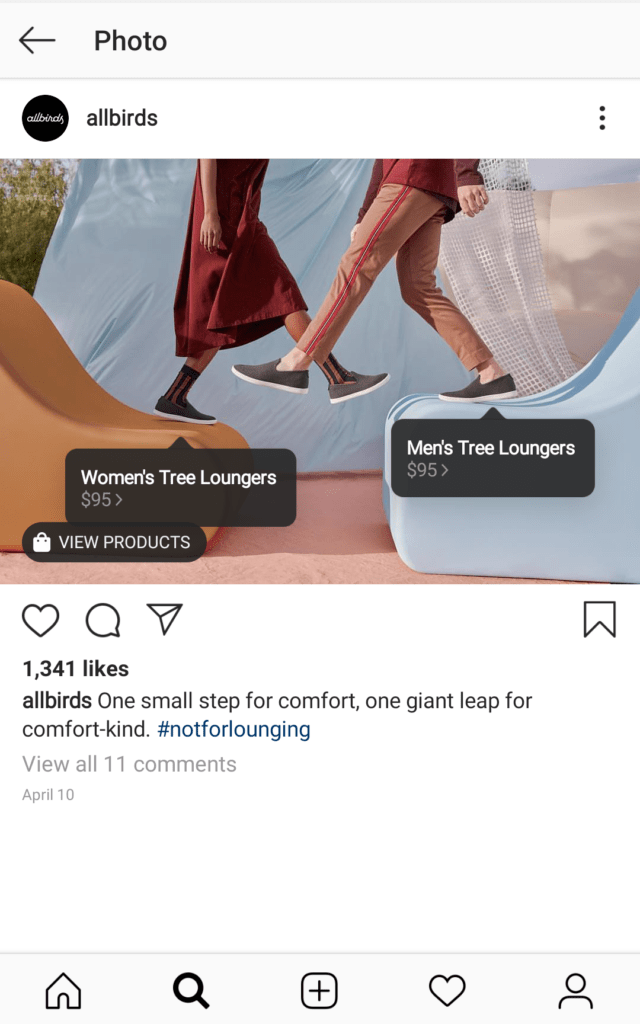 Allbirds Instagram post with product tags.
They've built this image with a strong focus on the product and use color-blocking to make it stand out. It's a great example of how image composition can highlight not only a product's value, but it's style as well.
Instagram Multi-Image Posts
Multi-image Instagram posts are great for telling stories.
Use them to create a narrative about your product or tell an interesting story about your team. These images give you the opportunity to stretch out and be more creative with how you showcase different aspects of your brand.
Airbnb uses these types of images in their Instagram feed to tell stories about both their users and their listings. Take this post about a potato house in Idaho, by one of their Superhosts: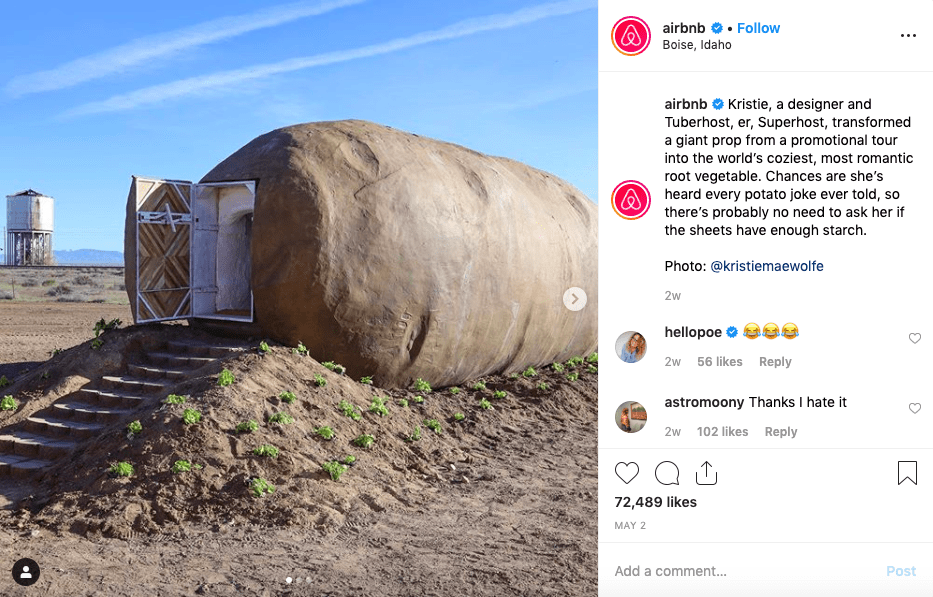 The first image in Airbnb's multi-image post.
They start off by showing their follower the exterior of the house, looking at the entrance to their potato-themed abode. The image introduces not only the property itself but also the surrounding views a customer can expect when they arrive.
Then, Airbnb moves through the entrance with a shot of the interior: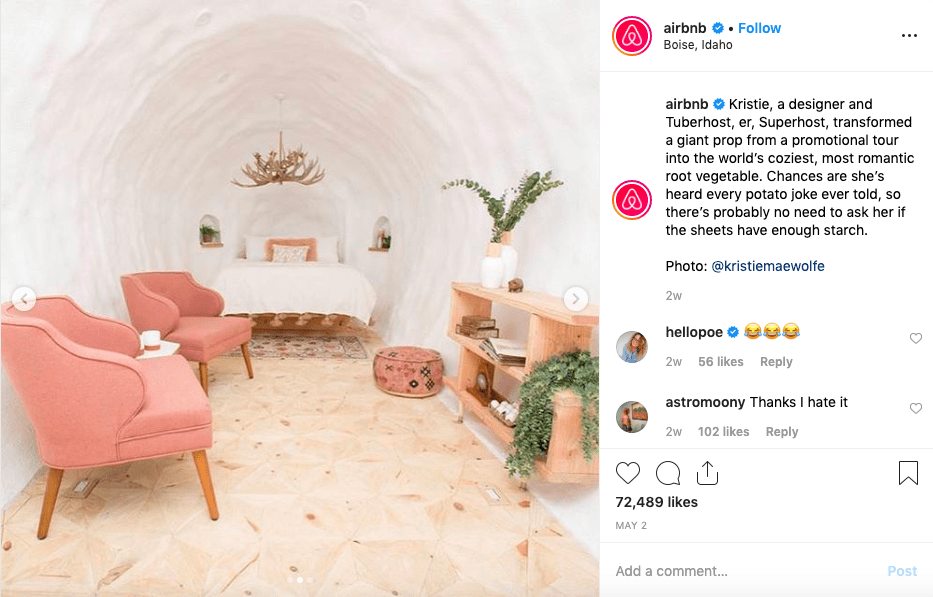 The second image in Airbnb's multi-image post.
This not only shows the stark contrast from the first image, for both color and composition, but also leads the follower into the property itself.
The last image takes them even further inside: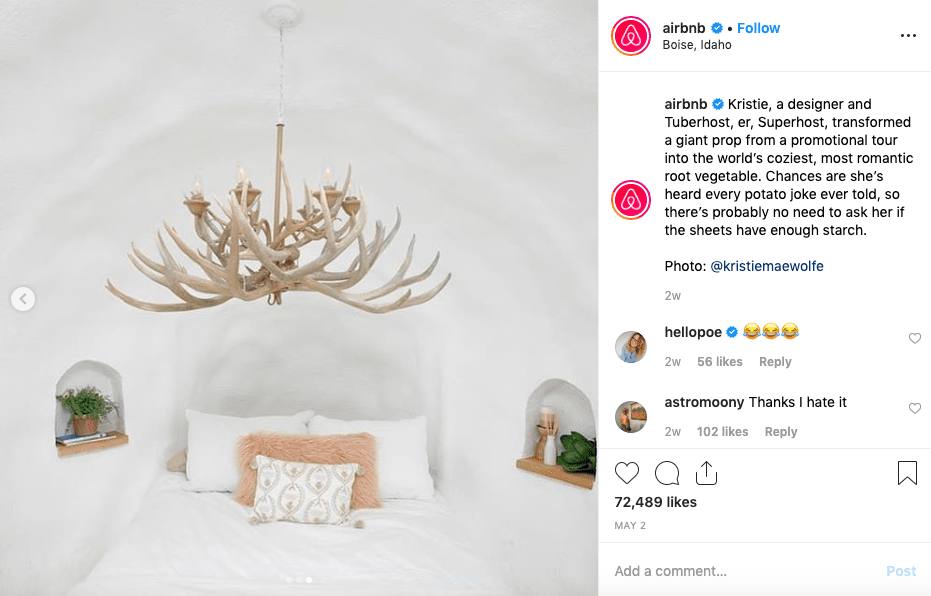 The third image in Airbnb's multi-image post.
See how the image's color palette changes again, showing the bed and rustic antler chandelier at the very back of the potato. 
Each image in this series works together to help Airbnb's followers experience the property as if they were actually there.
Using Multi-Images Instagram posts is a great tactic for the company's platform, which is built on creating real-life experiences for their users.
Instagram Moving Images
Moving images, like GIFs or Boomerangs, can boost engagement with your Instagram posts. They're also a good way to showcase different aspects of your product that otherwise wouldn't work in a static image.
Outside of video ads, moving images are probably the best tools you have for highlighting your brand's personality.
Take this GIF from accessories brand Bellroy: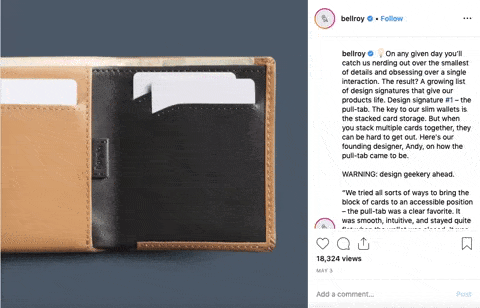 Bellroy Instagram post showcasing their wallet design.
Without the movement in this post, Bellroy's followers would never be able to see the functionality of the wallet tab. The GIF also does a great job of breaking up Bellroy's feed, which is predominantly made up of static images.
Combining these moving images with videos, Bellroy is able to make the feed more interesting as a whole.
Instagram moving images don't have to be completely focused on features to be effective, either.
Take this Boomerang from Weyerbacher Brewing: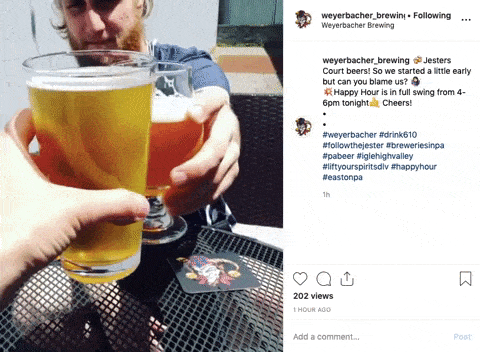 Weyerbacher Brewing happy hour Boomerang.
Showcasing some of the workers having a beer is more engaging than a post that's just a picture of their product, or a flyer about the happy hour itself.
And there you have it! Those are the newest types of images that perform well on Instagram for 2019.
Keep on reading to discover the whole list of Top types of images worth trying out with our brand.
9 Types of Images that Perform Well on Instagram
1. UGC Images
User-generated content, or UGC, is the biggest thing in marketing right now. It's authentic, and it connects and resonates with users, working as social proof and showing visitors that other users are raving about your brand. It's no surprise that UGC images get a ton of attention and engagement on Instagram.
UGC images also come with the added benefit of being created by someone else, saving you time and potentially money. Always look for public posts and ask the user if you can share their content on your profile. When you do, tag them and show your appreciation.
For more information on how to inspire, find, and use UGC, you can check out this post.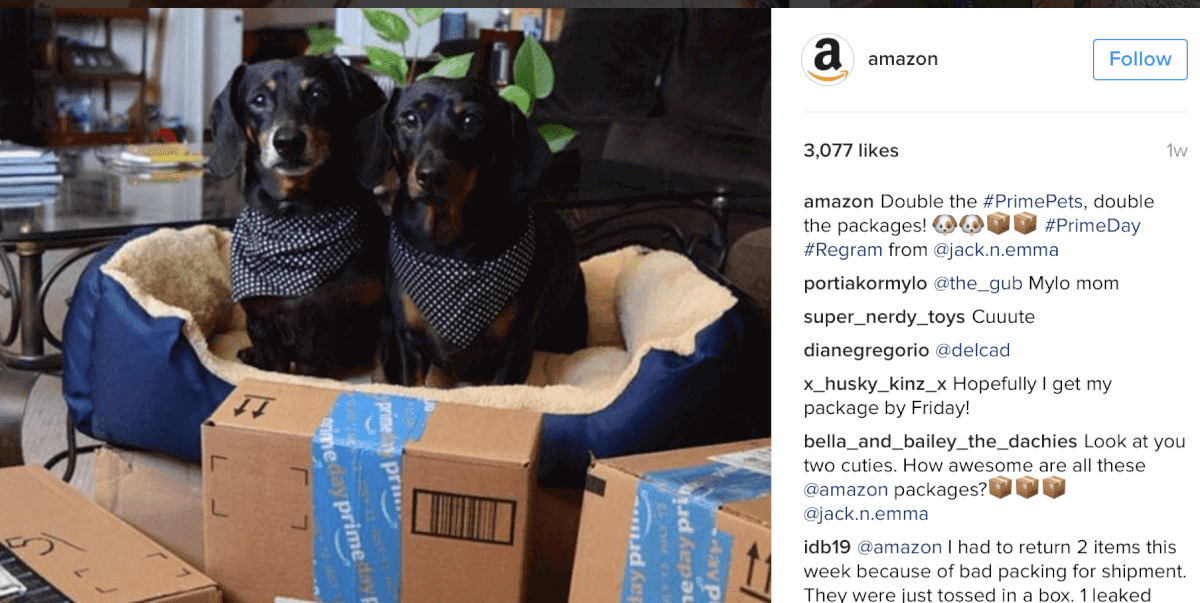 2. Behind the Scenes Images
Behind the scenes images, particularly pictures that are taken of or by employees, are almost as powerful as UGC images when it comes to driving results. Users and customers love to get that inside look into your business, including images that show how your products or services or made and images that show happy workers. If your employees post images about your business on Instagram, share them.

It's important that behind the scenes images feel "real" and not staged; the people in them shouldn't look awkwardly posed, and it's not necessary to feature insanely-high-quality and heavily-edited images for this type of image; authenticity is key here.

3. DIY Images
We all know that DIY and educational how-to content is dominating in Pinterest, but this content has a tendency to perform well on Instagram, too. A large percentage of users love seeing new ways to use a product, especially when it looks easy, fun, and accessible. I'm about 99% sure that if Starbucks posted a DIY image or video showing how to make one of their drinks, for example, Instagram would implode from all of the engagement.
Even if you can only post a picture of video that features a portion of the DIY project (like the final result or the tools that you need), this single picture and its description can be used to prompt users to see all the step-by-step instructions on your site, effectively driving traffic off-platform.
4. Images with the Ideal Visual Composition
There are certain images that are just more visually and aesthetically pleasing than others. We can't always put our finger on why we like an image so much, but case studies and a ton of research can.
According to an amazing study from Curalate, we have some fantastic information about what visual elements matter in an Instagram image (you can see the full infographic here). These include:
Images that have a background are favored over those with no background or an extremely limited background
Images that have more visual texture perform better than those that are perceived to be more smooth
Images with a single dominant color will have higher engagement than those with multiple dominant colors
Bluish images are preferred over reddish images, and light images are favored over dark images.
High-quality pictures of your products, in general, will perform better than images that look like they were hastily taken on an old iPhone and are a little blurry, out of focus,  and off-centered.
5. Influencer Images
Social media influencers can carry a great deal of weight when it comes to social media marketing, and that holds true on Instagram, too. Sharing an image featuring an influencer in your niche (with their permission) can drive engagement and peak user interest.
Influencers for your niche don't need to be famous or have celebrity status (though it certainly wouldn't hurt). If you can connect with leading authorities within your industry, they can make incredible influencers; think Jon Loomer and Joel Comm, both of whom are celebrities in the online marketing community.

Influencers will ideally be important in your industry and have a significant number of followers that they can send to you if you tag them, and/or they share the image.
6. Motivational Images
An uplifting, motivational post can resonate with your audience. Nike is the king of brands that share motivational images on Instagram, and they have a ton of followers and engagement to back their strategy up. There are even entire Instagram accounts that are devoted to only posting motivational quotes.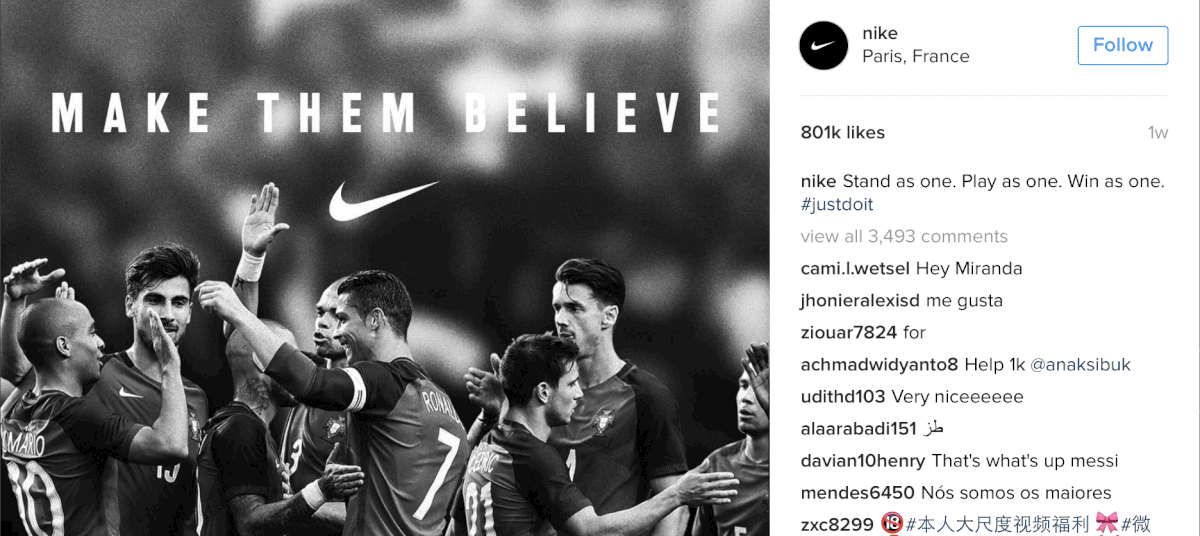 Motivational quotes can be shared on a blank background or can be featured as text overlay on a picture that has something to do with your product or brand. The latter is preferable when possible; if users decide to share it, that makes it traceable and leads back to you while still showing off your product. My favorite text overlay app is Quick.
Motivational images can go beyond quotes, and can also feature content where someone has risen above, with a brief description elaborating on their success. Think underdogs and people that have overcome the odds, or a success story from a charity your brand was involved with.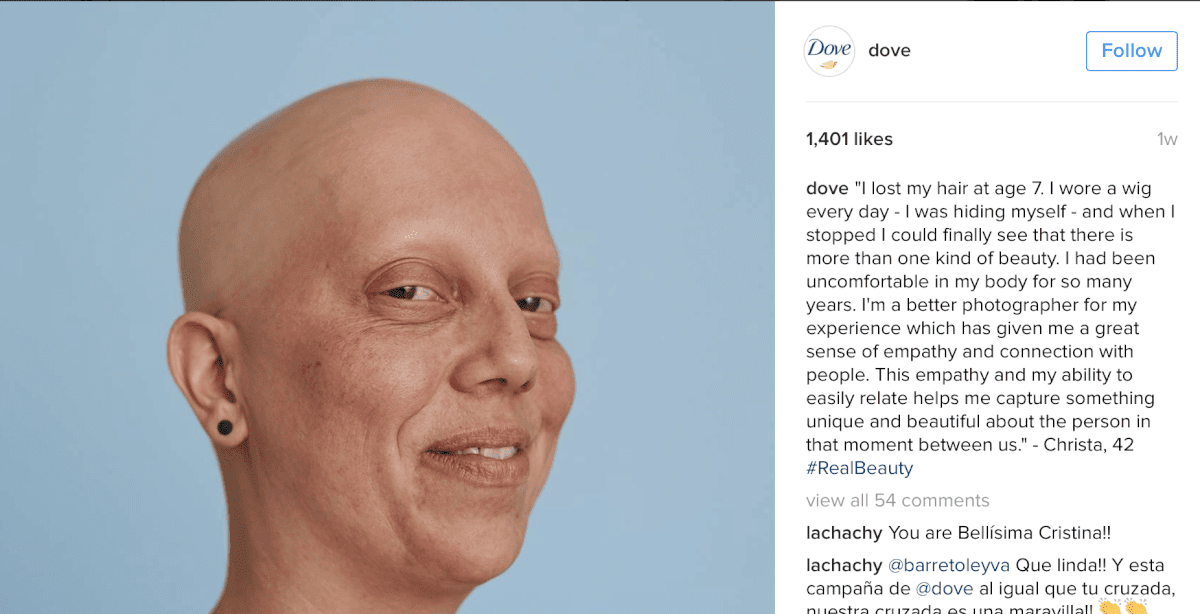 Stories resonate most with users of all types, and adding emotional appeal to the mix can make for a powerful Instagram image.
7. Contests and Giveaways
It makes sense that images on Instagram that advertise contests and giveaways can get a ton of engagement; who doesn't love winning things?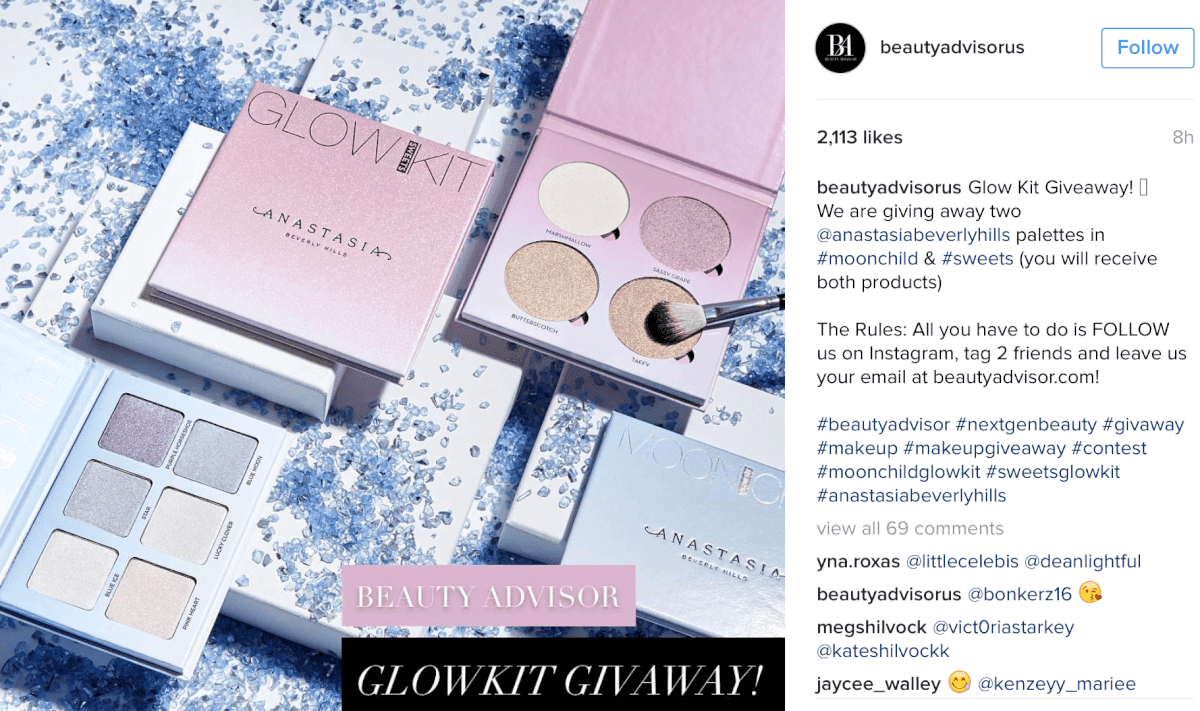 Instagram contests are an excellent way to drive more engagement and even get more followers and off-platform leads (this is made easier with social contest software like Wishpond or Shortstack, both of which I recommend).
Posting an image of the prize you're raffling off, with text layover announcing a contest, is an effective way to grab moting it early with the reminder for users to keep an eye on your account for more info, as shown in the example above.
8. Seasonal/Trendy Images
Inserting your brand into pop culture and current events is a great way to get some additional exposure for your Instagram posts. A seasonal post is a great time to launch a sale or thank your followers for their continued support, and trendy/pop-culture images give you a way to show off your personality.
While you can't do this for every trend, season, or holiday, all offer the opportunity to make an emotional connection with your followers.
Take this Fourth of July post from Wendy's: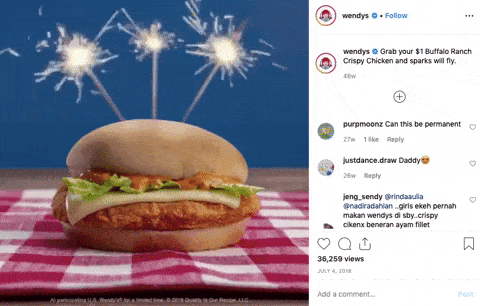 Wendy's Instagram post for the Fourth of July.
They tie their product into the idea of the holiday with a red, white, and blue picnic theme and offer sale prices on their Buffalo Ranch Crispy Chicken Sandwich. It's a great way to turn a holiday into an opportunity to connect with customers. They also make it a GIF to show off the sparklers.
Pop culture posts can be even better suited to making these personal connections, like this post from Totino's Instagram alter ego, Pete Zaroll: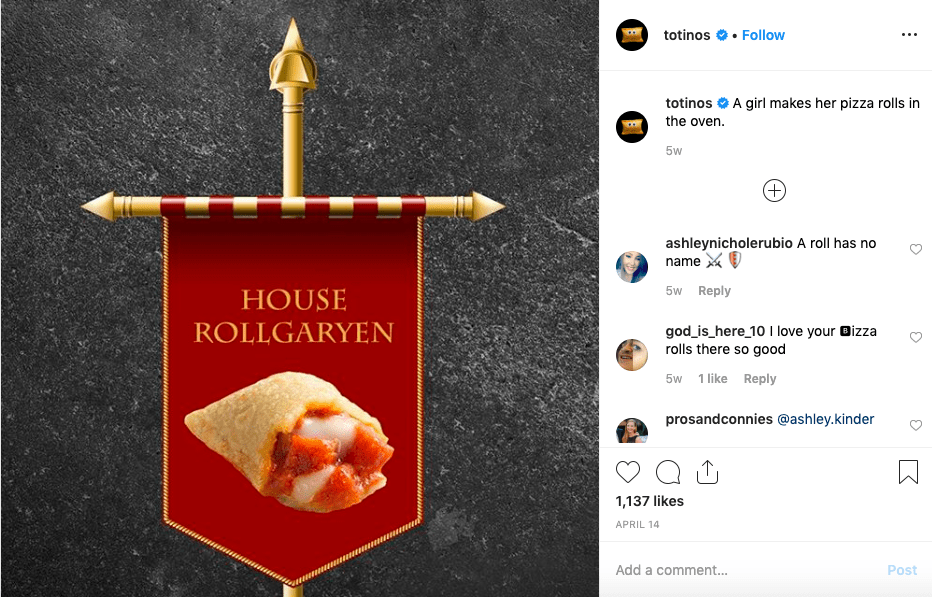 Totino's Instagram post about Game of Thrones.
A simple photoshopped image of their product on a house banner is all Totino's needed to tap into the cultural phenomenon of Game of Thrones, but their comment, "A girl makes her pizza rolls in the oven," is a clever nod to one of the show's most popular characters. They're showing their followers that Totino's shares the same cultural space.
While these types of images might not work for every brand, playing off pop-culture trends gives you a way to insert your product into a larger conversation, which boosts the awareness and reach of your posts.
9. Inspirational Quotes
Inspirational and aspirational quotes can help boost engagement for lifestyle brands. These boldly colored, essentially text-based images do a great job of connecting with customers and prospects based on the sentiment or values expressed in the quote.
Take this example from Goop: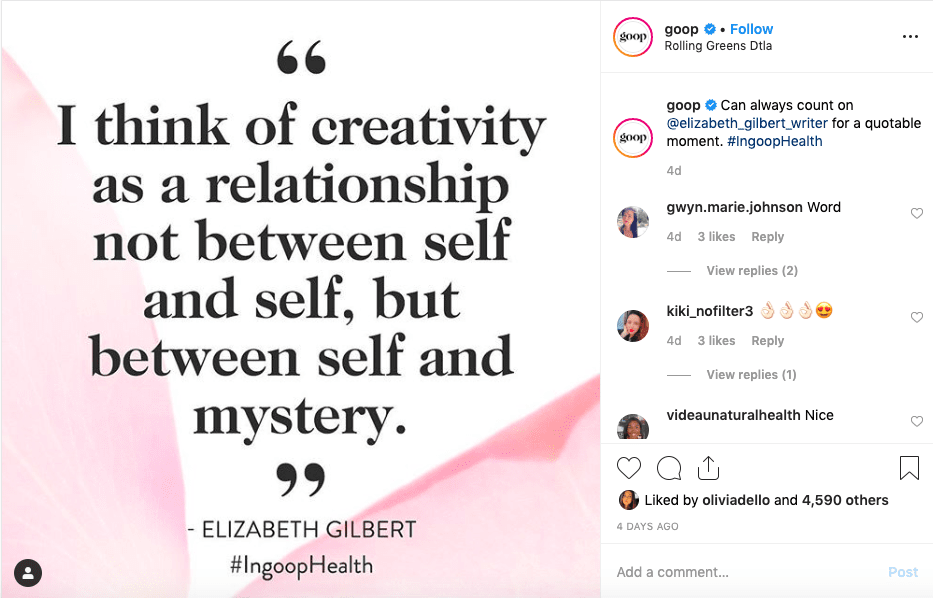 Goop's Instagram post with an inspirational message.
The image is composed of black text, which stands out on the pink and white background and feels authentic for Goop's brand. It makes the connection with a certain set of values, an ethos, or an idea that their followers share.
Also, it's an opportunity to tag another high-follower account, like @elizabeth_gilbert_writer, with 744K followers, which increases the reach of Goop's post even further.
These type of images also take the least work to produce. Goop's image uses their standard font and a simple background image, both of which are easy and quick to produce.
Final Thoughts
With Instagram's new algorithm affecting how the platform prioritizes content and dictates what content users see first, it's now crucial for brands to create strong visual content.
These 9 types of images all perform well on Instagram, and can be easily adapted to fit the specific needs of your brand and its campaigns.
What do you think? Which types of Instagram images have performed well for you? What do you like to see as a user? Leave us a comment and let us know what you think!