Events can increase profits and sales, build your brand, spread awareness about your company and what you do, and establish connections between you and your customers or community.
Whether the event is a concert featuring Maroon 5 or is an educational conference about marketing software, it's important to your business and (even if they don't know it yet) to your customers.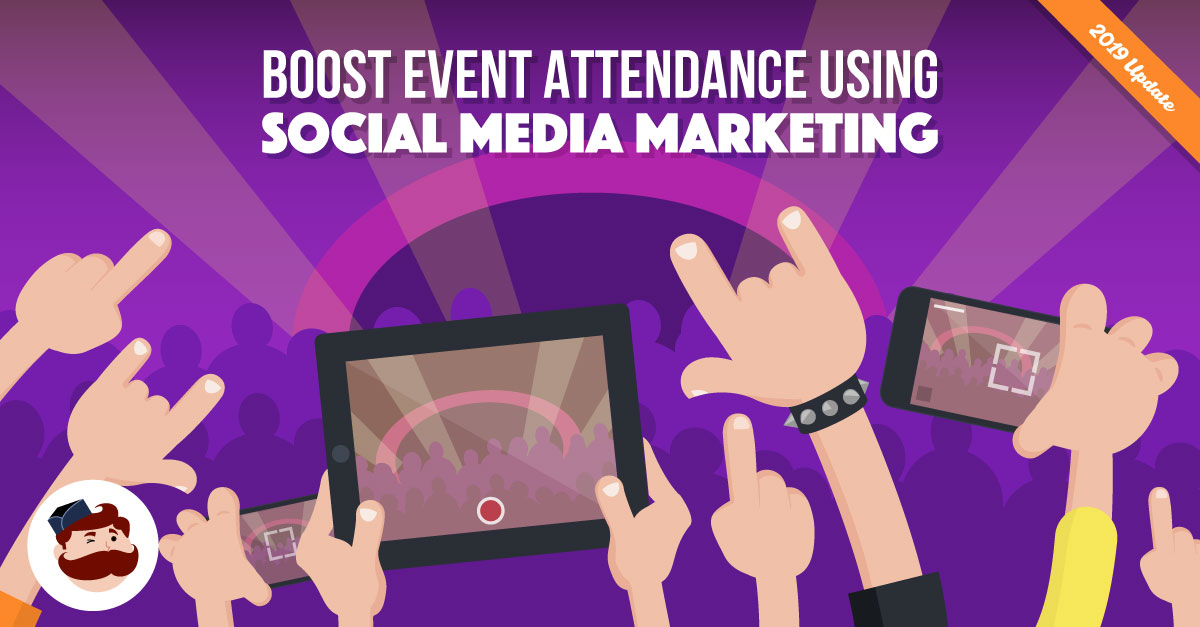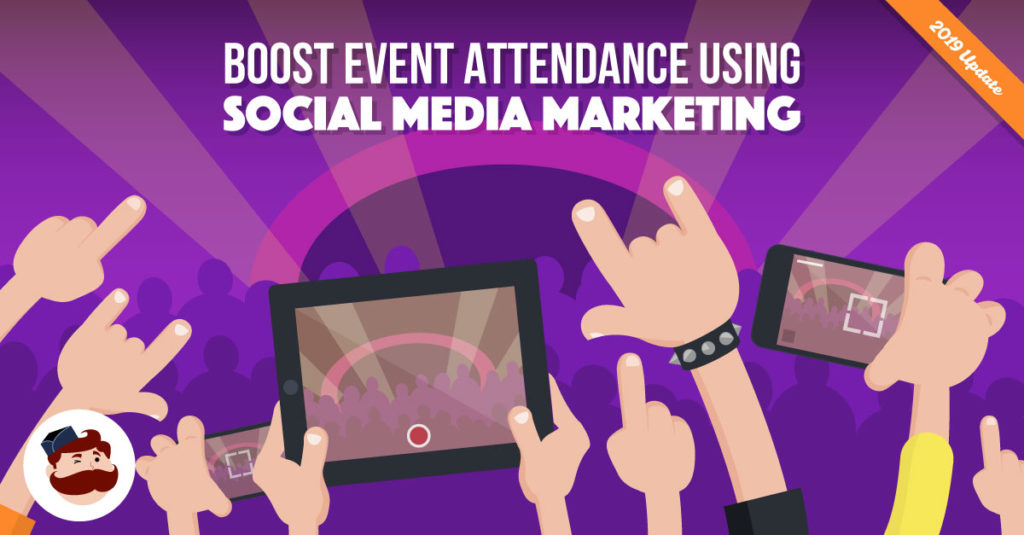 While there are age-old methods of promoting your events, social media has shown itself to be an incredibly powerful tool to boost event attendance.
The results are particularly impressive considering that the majority of the promotions done on social media cost either nothing or relatively little, especially when compared with more traditional forms of advertising.
Whatever you've got coming up, remember these 7 tips to boost attendance at your event with social media marketing.
1. Create Facebook Events… And Then Share Them Everywhere
When you have an event coming up, the first step you should always take is to create a Facebook event for it.
Facebook events are one of the best tools out there, as they'll not only help you spread the word of what's coming up, provide users with valuable information they need, interact and respond directly to comments and questions from potential attendees, but they'll also allow you to accumulate social proof on the platform.
This means more visibility, and when everyone sees that their friends are interested or attending, they'll want to check it out, too.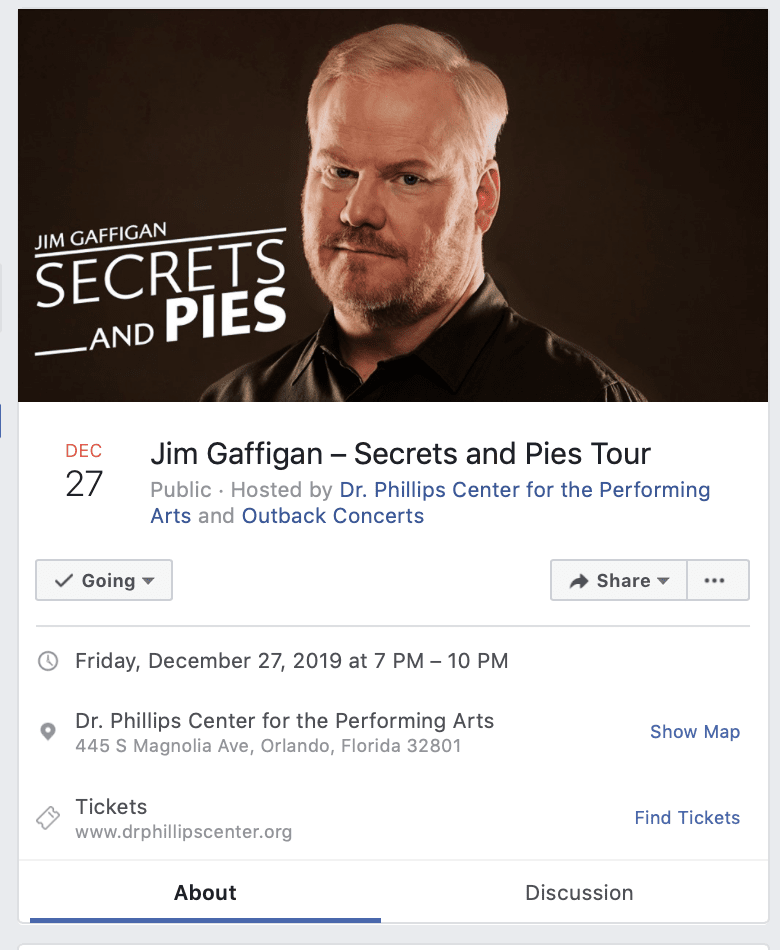 The amount of information that you can provide potential attendees with is fantastic.
Users can click on the address and have the event venue (if there is one) pop up on a map that can give them directions, and if you're selling tickets or require registration, you can have a CTA and a link encouraging people to check them out.
As a social media manager, I've always been a fan of using the Facebook event sort of like an event "hub," where you send people to even from other social channels to check out what's going on.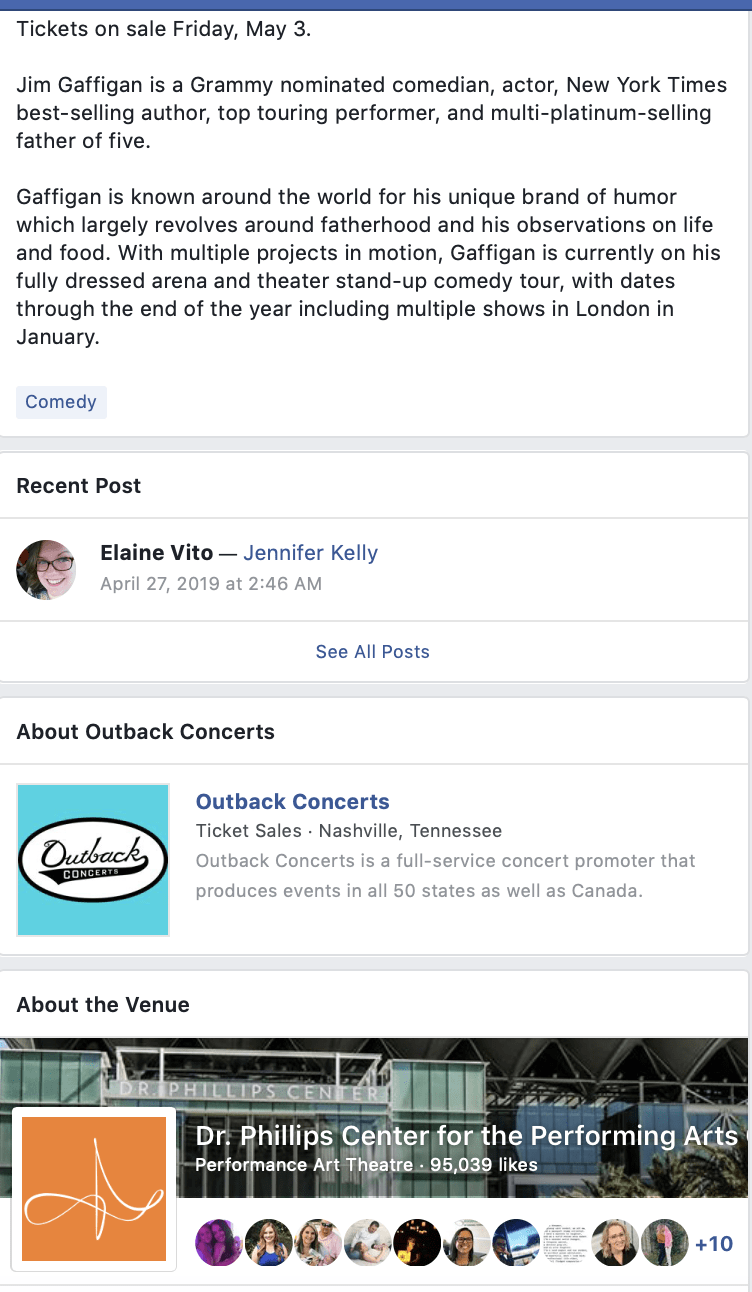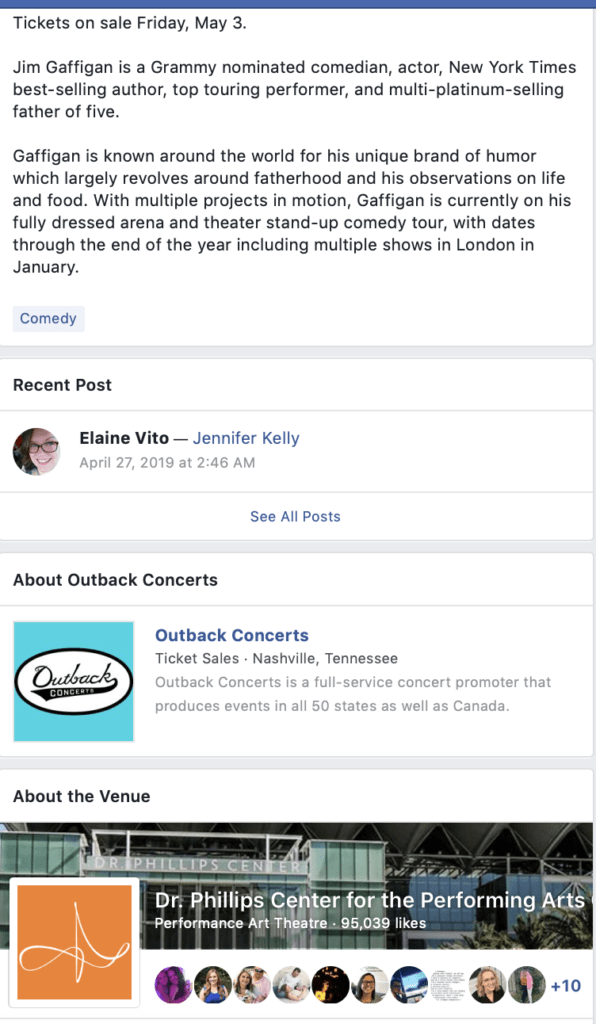 Create an event from your Page, not your personal account; this will allow it to be associated with your Page and brand.
You can create the event from the same place you can go to write a new post, and just select "Event."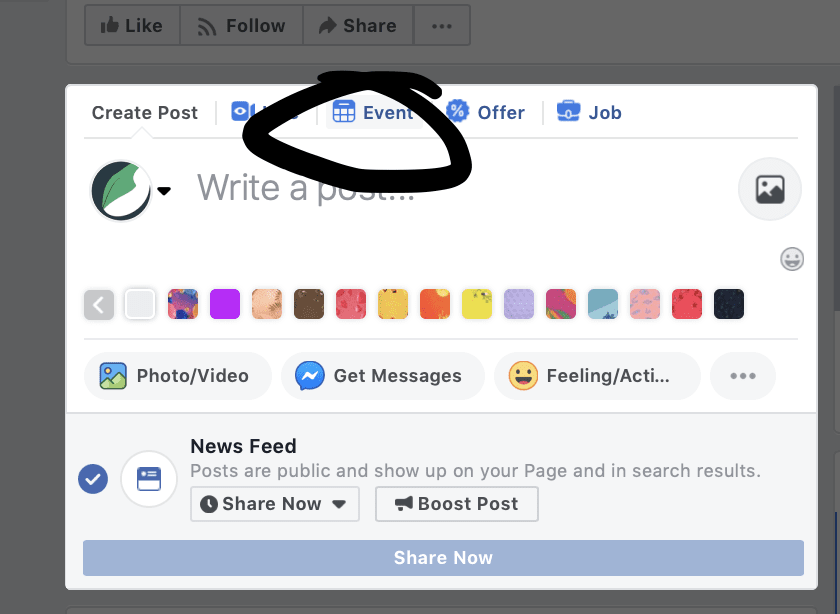 When you're creating your event, it's important to fill out all the information fields completely. Make sure the name is descriptive and a little clickbait-y. "Vendor day" doesn't sound as great as "October Craft Fest," for example.
Choose a great event video or photo, and always choose a category. Categories will help your event pop up in relevant searches.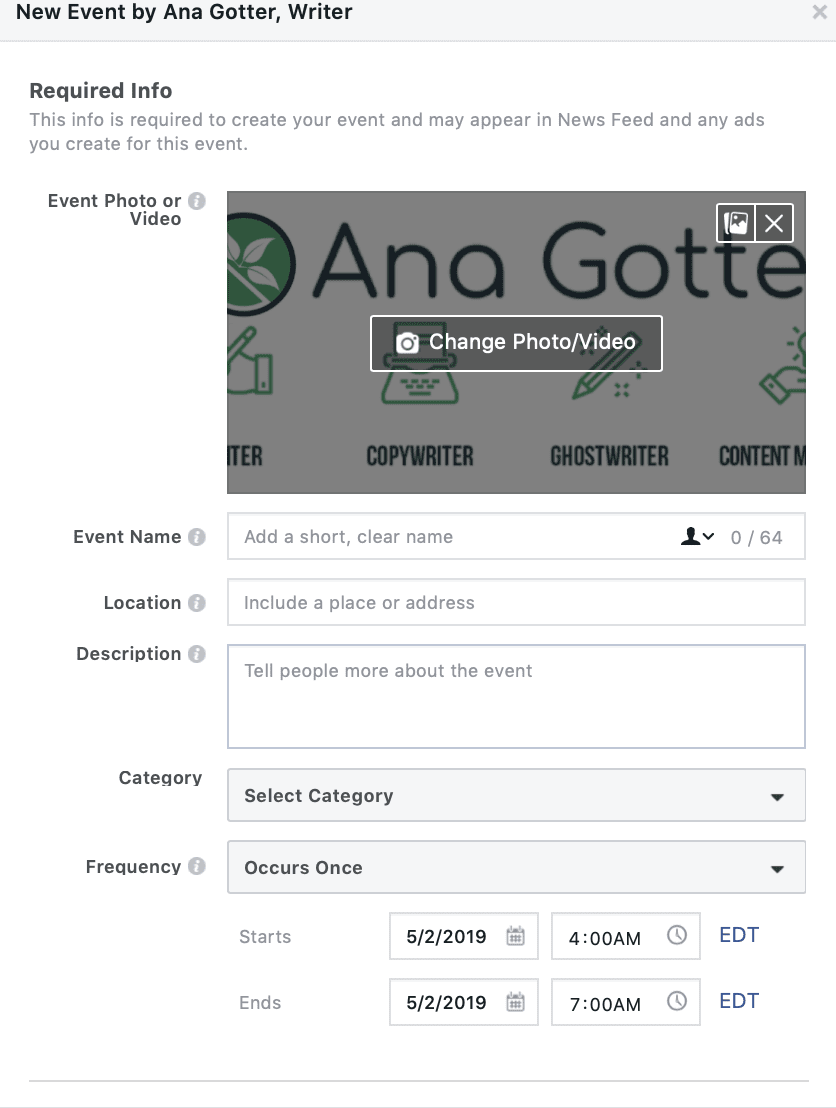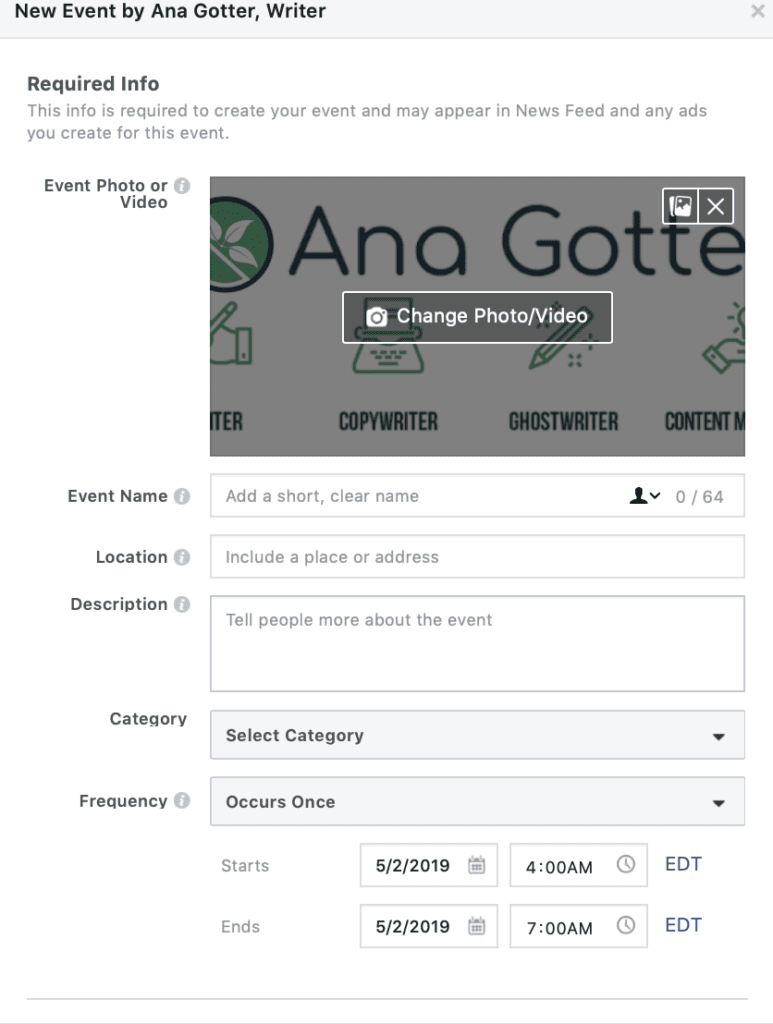 As far as relevant searches go, keywords will also be something you should make sure that you add to your event, even though they're not required. This will help your event show up in those searches you want, helping you find your target audience.
Another great way to increase visibility is to add co-hosts to the event if it's a joint effort, adding the event to their Page and increasing the likelihood that they share it with their audience.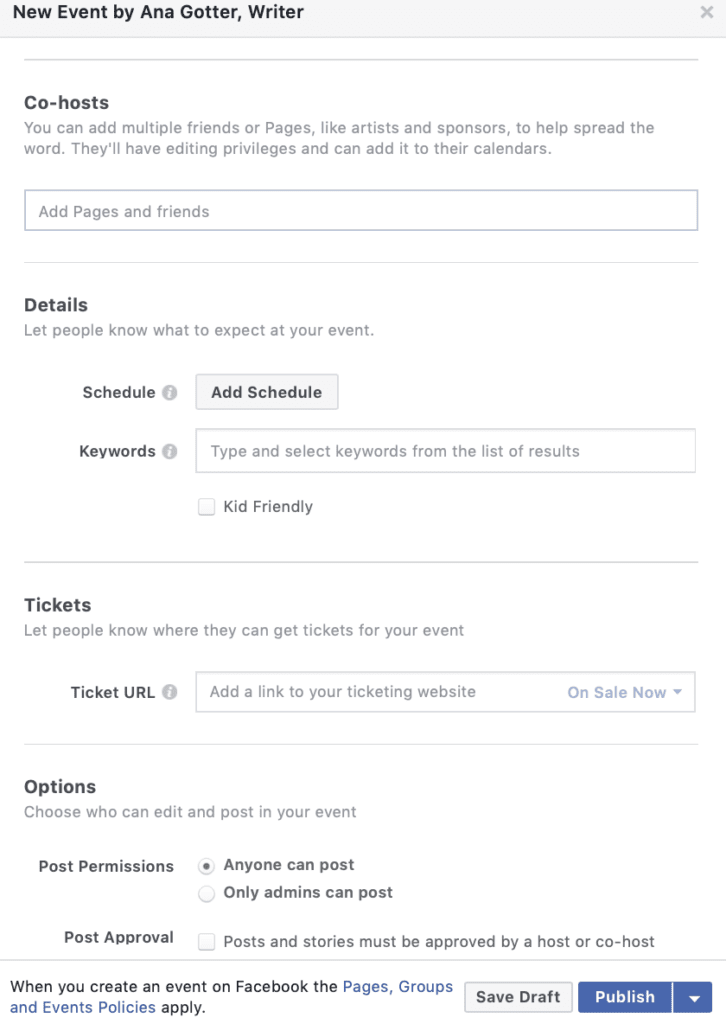 Once your Facebook event is up and running, start linking to it from other social media platforms, driving as much traffic to it as you possibly can. Twitter, Instagram, LinkedIn, even Snapchat and Pinterest.
If you have a profile, link to it, and make sure there's a page on your site and an email campaign designed to attract traffic to your landing pages.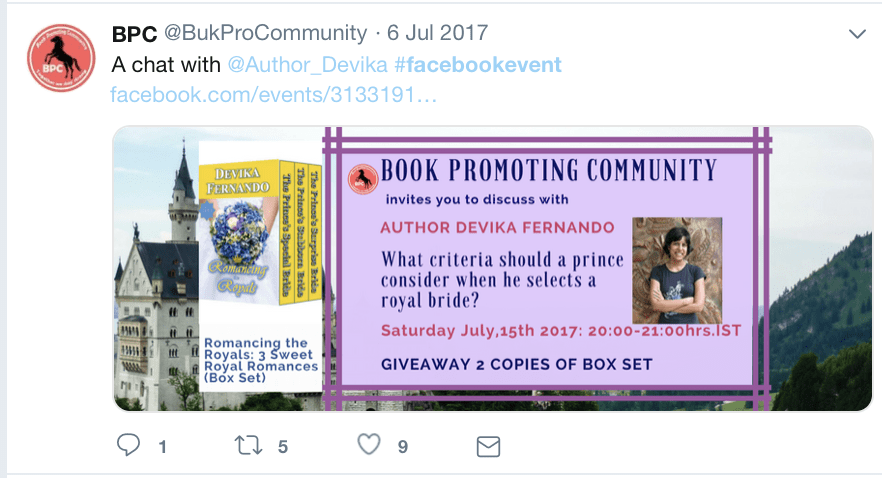 2. Post Frequent (but Limited) Posts
You've got your event posted on social media, and it's important to make sure that you're actively promoting it. Ideally, you should have the event created a minimum of a month in advance to give your marketing some time to work.
You should be posting about the event and sharing it on multiple platforms, but you want to be smart about how you do it. It's all about quality over quantity (though a solid combination of the two isn't a terrible thing).
When you post about your event, don't just say "Have you RSVPed?" and leave it at that. Instead, focus on creating content that actually makes people want to come.
Show them a look behind the scenes at how you're setting everything up or getting vendors in order; give them tantalizing glimpses of the food, or talk to people who attended the last event. Explain what you'll be offering and why it's the place you need to be, and always put a CTA in the post to check out the event on Facebook.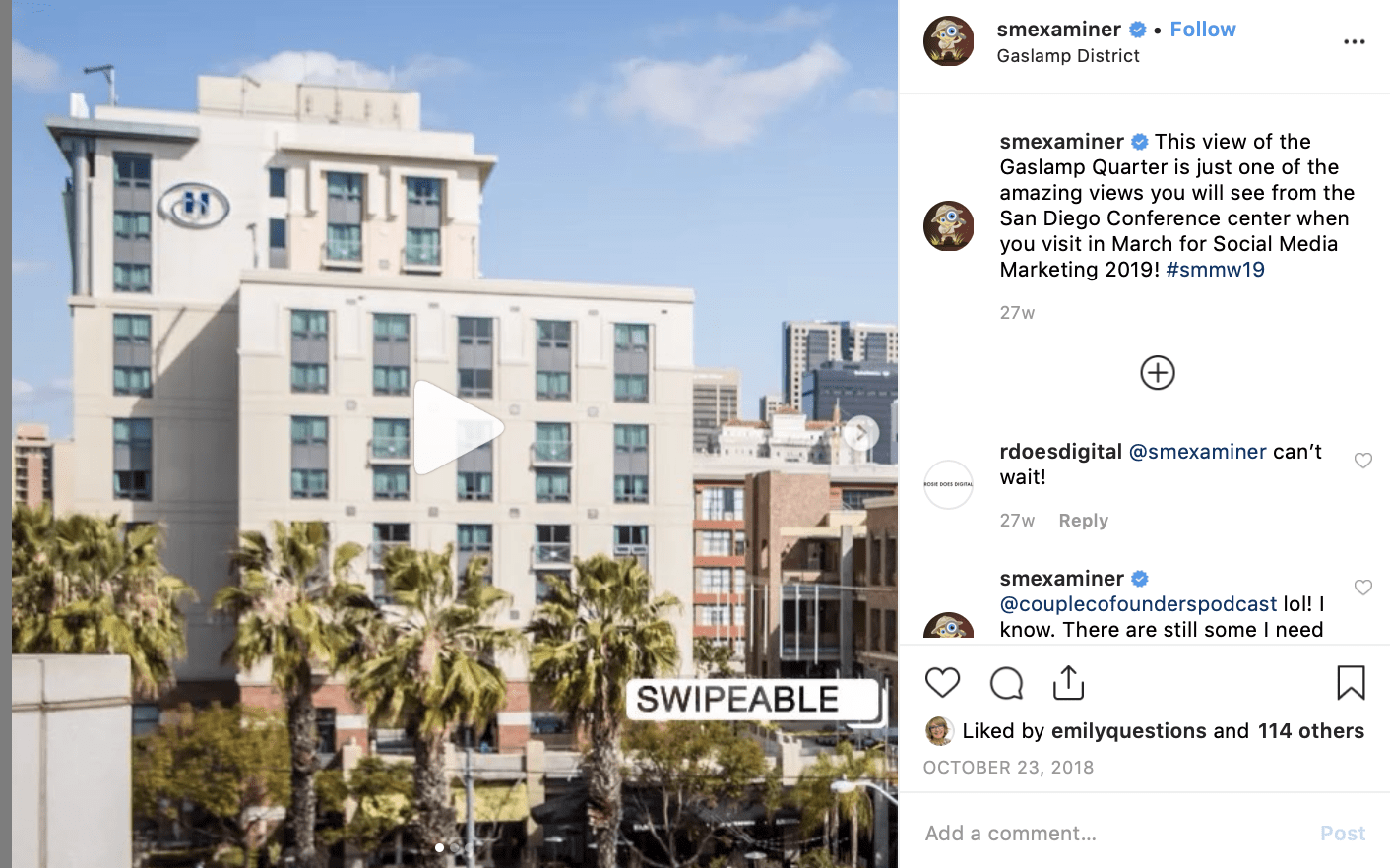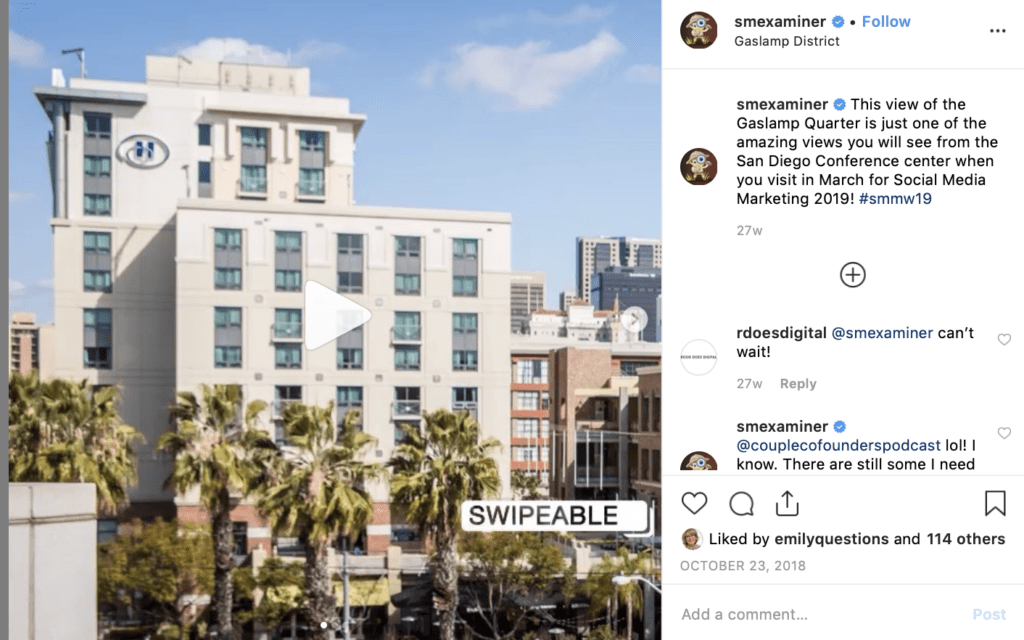 For best results, mix this in with your other regularly-scheduled content (which can be legitimately scheduled with Hootsuite). You want to create interest, not post so much that you end up making your audience apathetic.
Keep an eye on your posts and make sure they're maintaining relatively steady engagement rates to see if you should adjust your posting frequency.
3. Promote it with a Hashtag
While hashtags haven't taken off on Facebook, they're huge on Twitter and Instagram. Having a branded hashtag to promote your event will make it easier to do so. Once people start picking it up and using it themselves, it can be used to generate conversation and excitement around your event, as well as giving you free advertising that has the potential to go viral. The more the hashtag—and content about your event—spreads, the more hype it creates as more people find out about it, resulting in increased attendance at your upcoming event.
Even better—if your hashtag picks up, it becomes an engagement metric that you'll be able to track on multiple platforms. You'll be able to get an idea of how users are receiving your event, and what they're saying.
You should also be using reach-oriented and interest-based hashtags to appeal to your target audience. Have a local event at your Denver ice creamery? Use #denverfoodtasting. Looking for a niche audience to market your networking conference too? Try #conferenceforwomen or #networkfornetworth. Want to make sure people know about where they can find more info? You can even go for #facebookevent. This will give your posts on Twitter and Instagram a boost by putting them in front of more members of your target audience.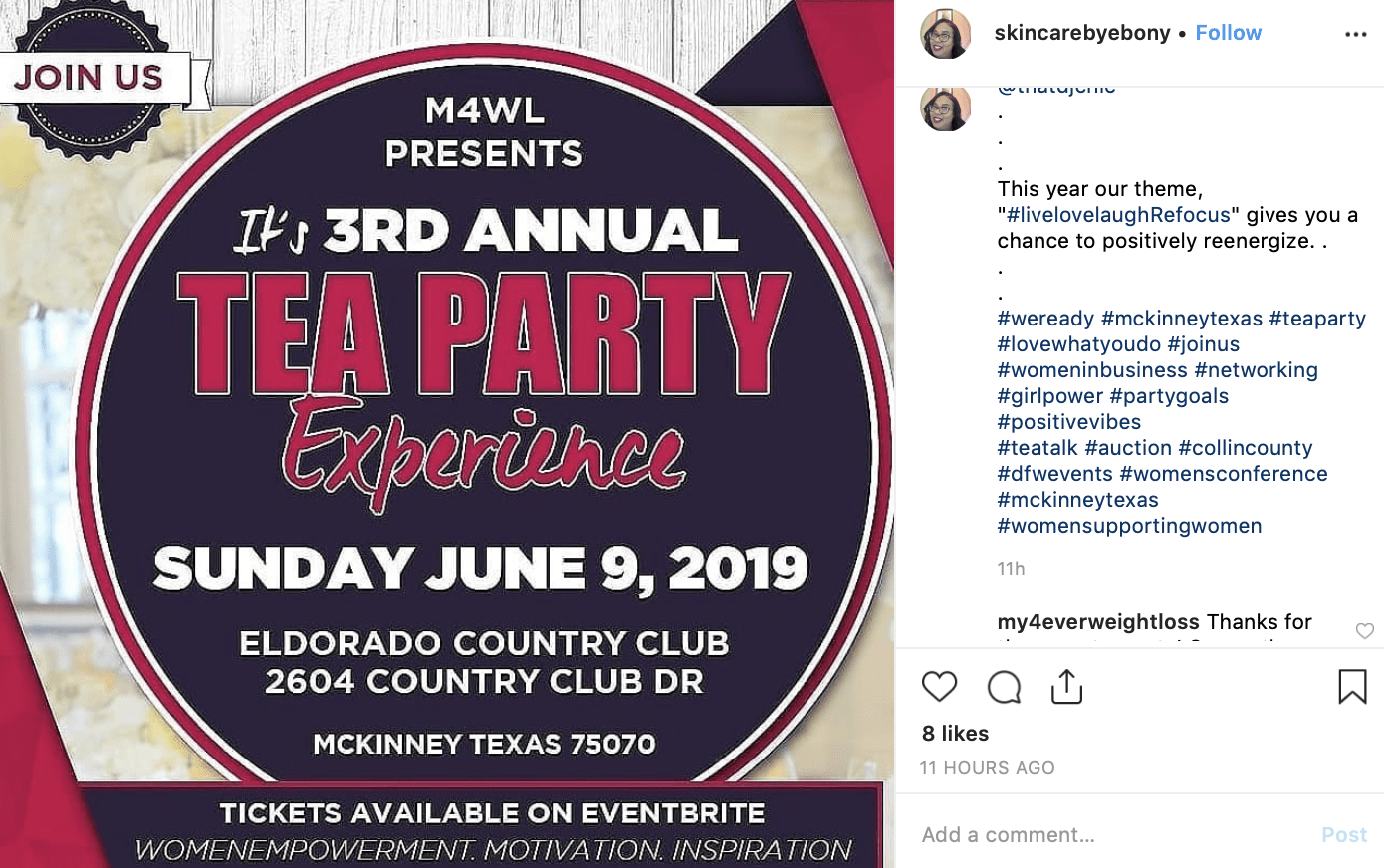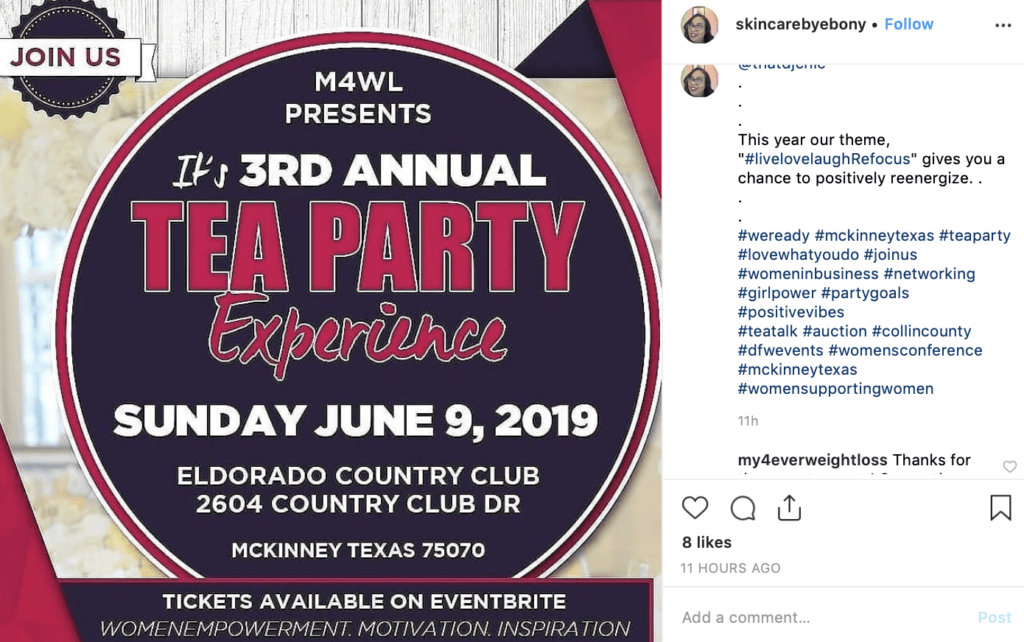 4. Start Early
Think about how much work goes into advertising almost every single movie that comes on out to theatres; you start getting small snippets of teasers a year out for some of the biggest films.
When you get started creating an event, posting a teaser on social media sites can peak users' interest, even if it's just something small like "We've got something great planned for October… Can you guess what it is?" can generate a lot of discussion and curiosity.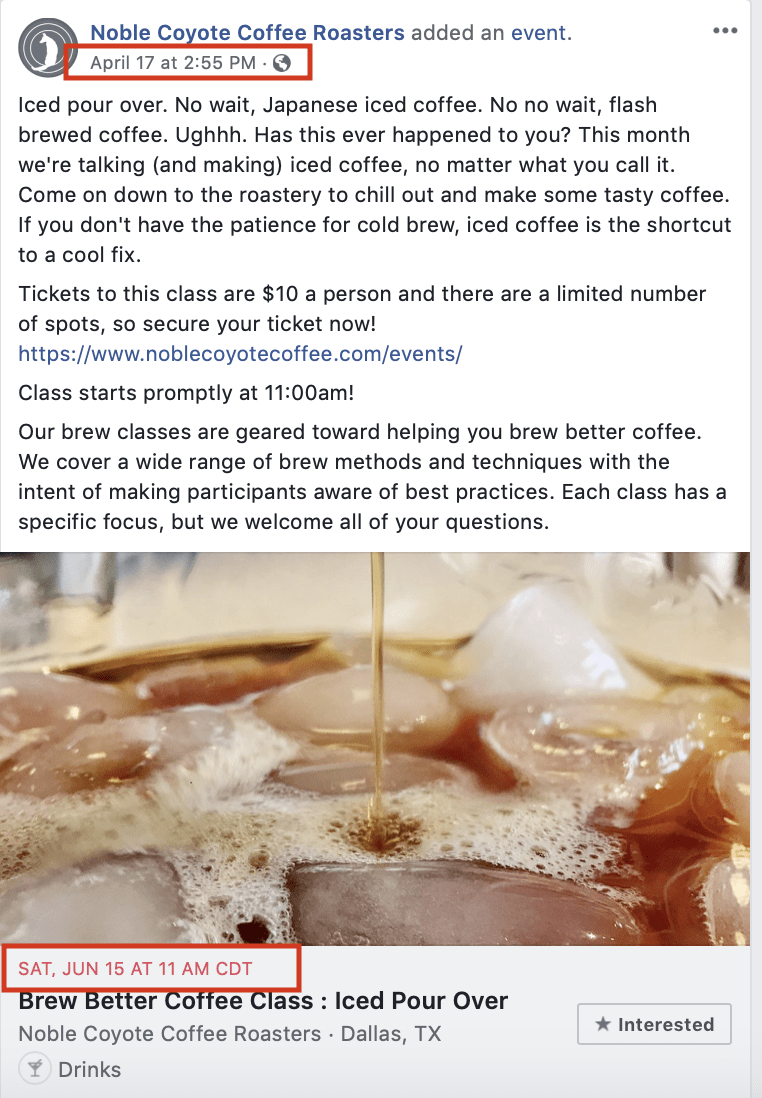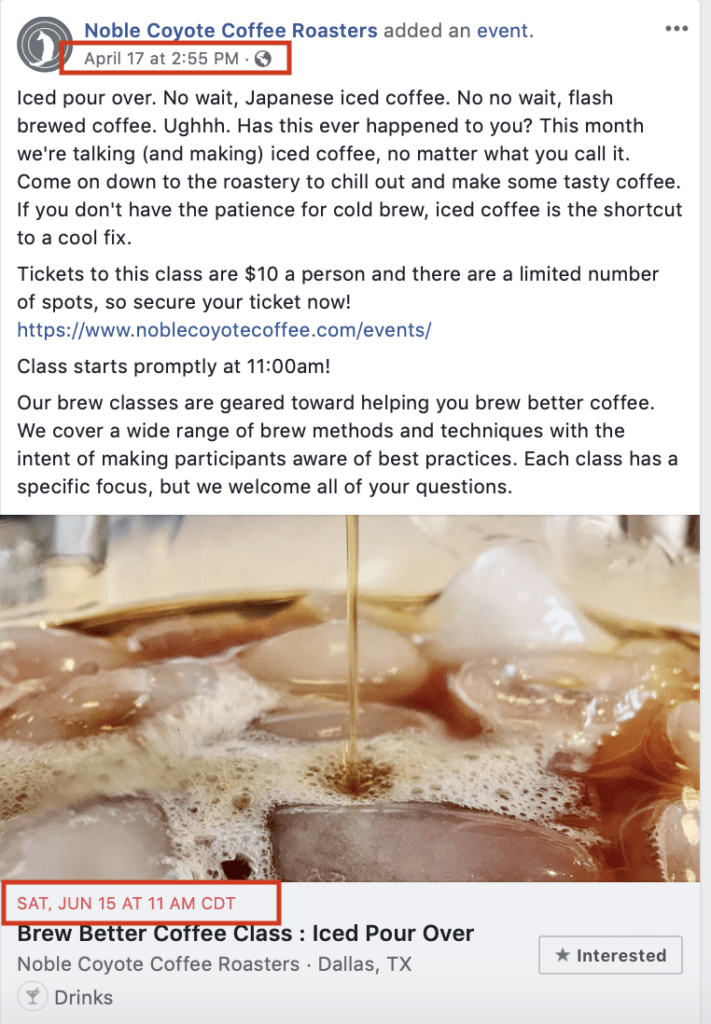 Posting relevant information and updates as it becomes available can help build interest and engagement, and the longer the information is out there, the sooner people can book you into their schedules.
To keep things interesting, and with plenty of time to promote your event, you can distribute posts and information across multiple platforms in unique ways. You can use Twitter and Instagram to develop a hashtag, Linkedin and Facebook to create pages and sections dedicated to the event, and YouTube to distribute videos of what's coming soon.
5. Schedule Relevant Posts Ahead of Time
Event planning is stressful, and it's easy for a few things to slip between the cracks. Trust me when I say that you definitely don't want one of those things to be any of your social media posts.
If they do, you could see a marked decrease in event attendance and social proof online, neither of which is what you want.
Use a social media scheduling tool like Hootsuite.
You can quickly create posts with images and videos, toss in a few hashtags, and schedule them to multiple platforms at once. I also really recommend creating the majority of your event promotional content ahead of time, so you can map most of it out evenly between now and the event, giving your followers a steady stream of information at a strong pace.
6. Run Ad Campaigns for Heightened Visibility
When you want as many people to see your posts as possible, it never hurts to run some paid ad campaigns to increase visibility, boost engagement, and even boost attendance.
Facebook Ads and Instagram Ads are among the top contenders for great choices when it comes to social media ads, but they're not the only option. Twitter Ads have recently improved their platform to give you more flexibility in targeting, and LinkedIn Ads are a phenomenal choice for B2B and professional-oriented conferences.
When it comes to boosting event attendance with Facebook ads, you can choose the "Engagement" objective, and then choose to optimize for "Event Responses."
This prioritizes showing your ad to users who are most likely to interact with your event, which is outstanding– when people interact with your event, their followers often see it, which can get people talking and excited.
I learned this first hand by liking a Parenting Tips for Work From Home Moms conference my friend was organizing, and immediately caused a lot of chatter when people wondered if I had something I wasn't sharing yet; those "interested in" buttons are powerful.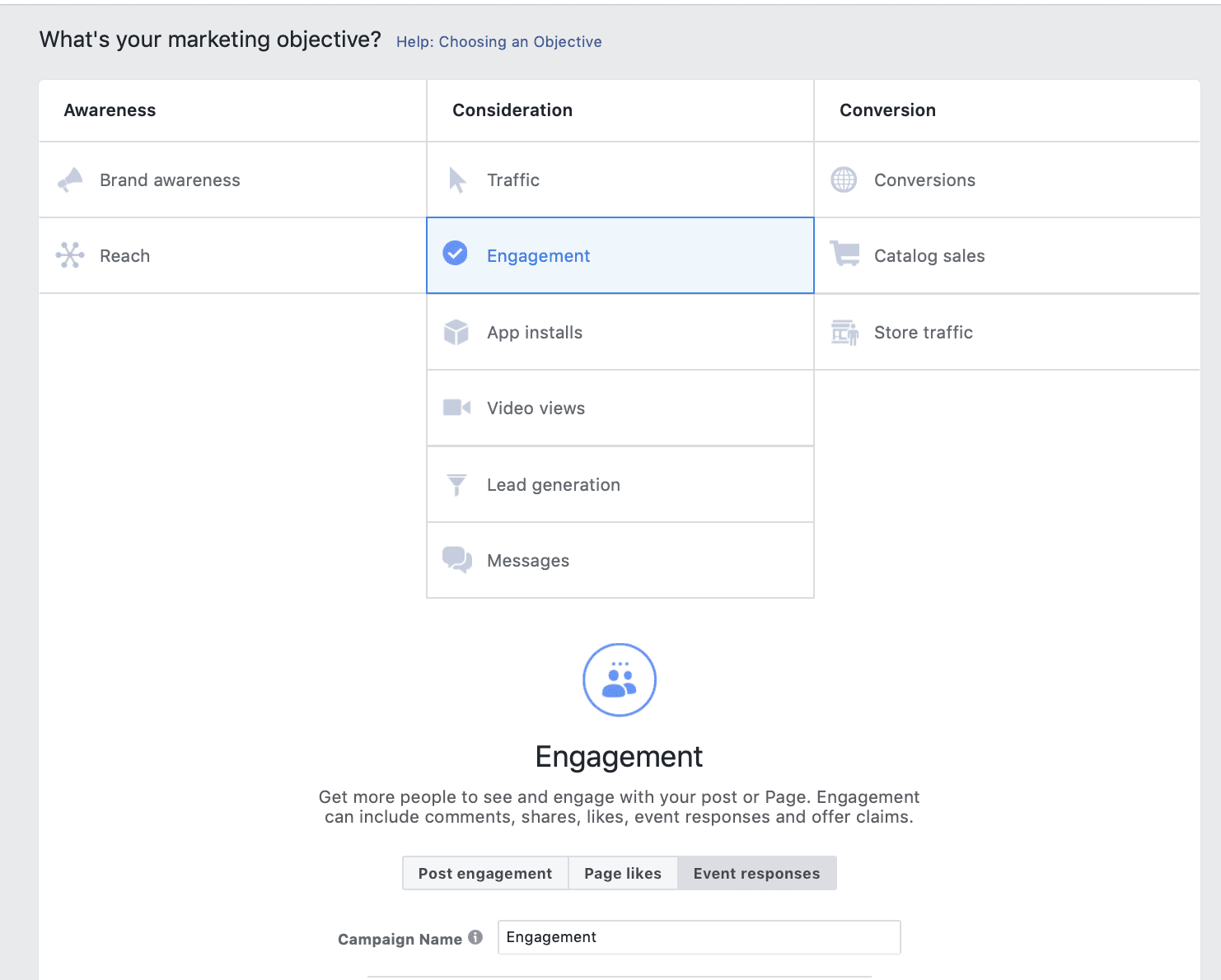 Another option is to Boost the event directly from the event page, which works a lot like a Sponsored Post.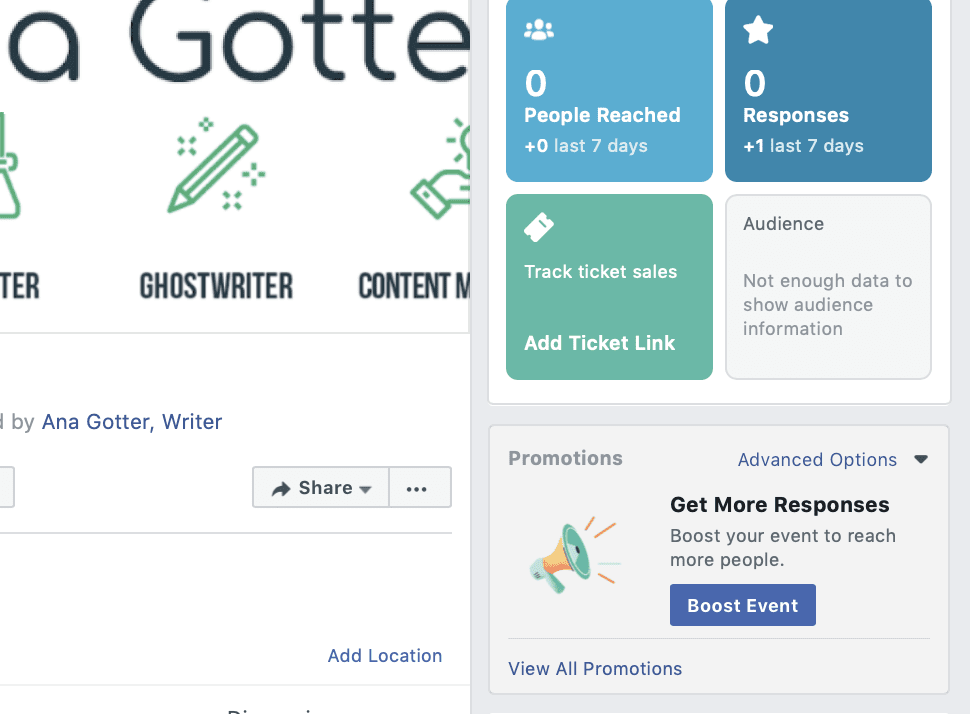 You can target people who you're connected to, by interest, by demographic, location, custom audience, and more, but there are some limits to this option when compared to the full ad manager, including manual bidding options and advanced options like departing.
That being said, it's fast, easy, and effective.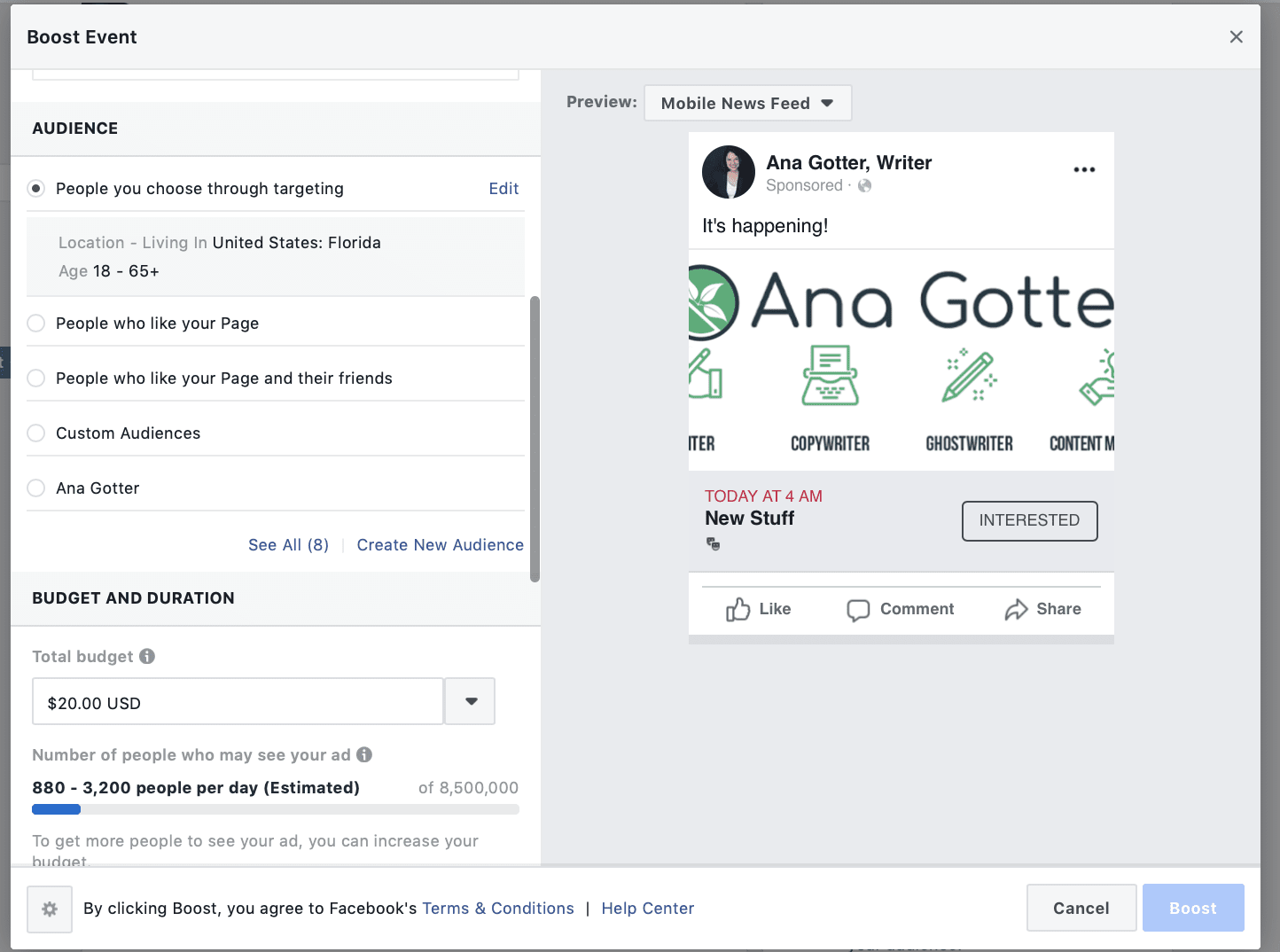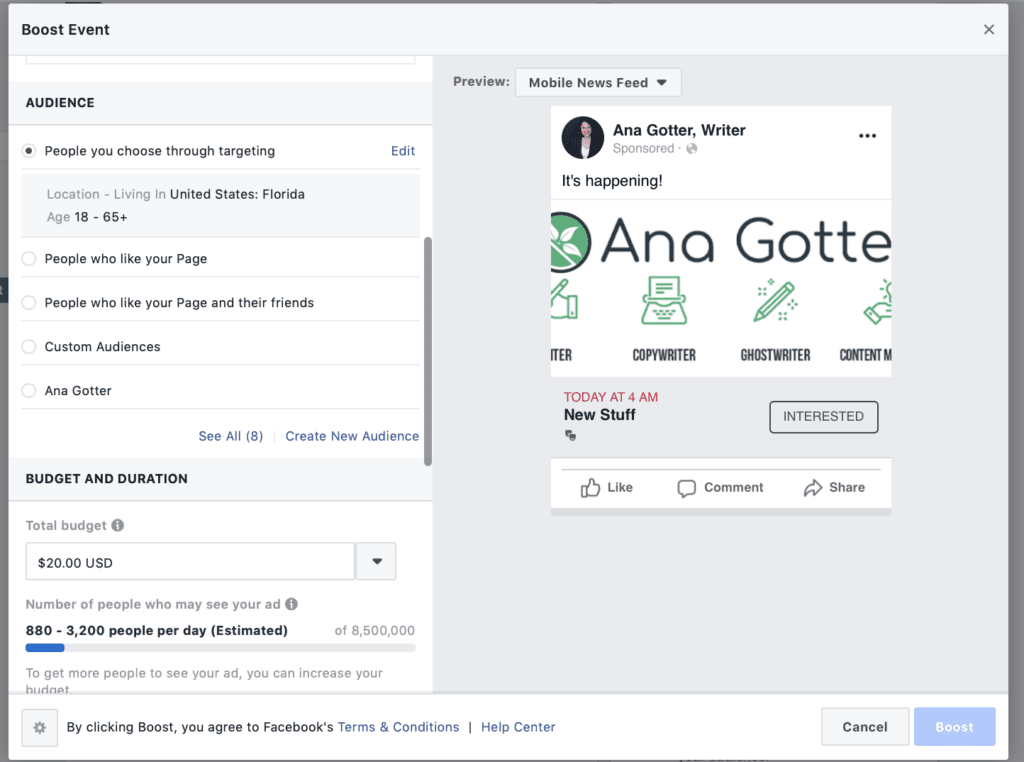 If you choose to promote the event on LinkedIn, opt for the websites visit objective to drive people to your event's landing page.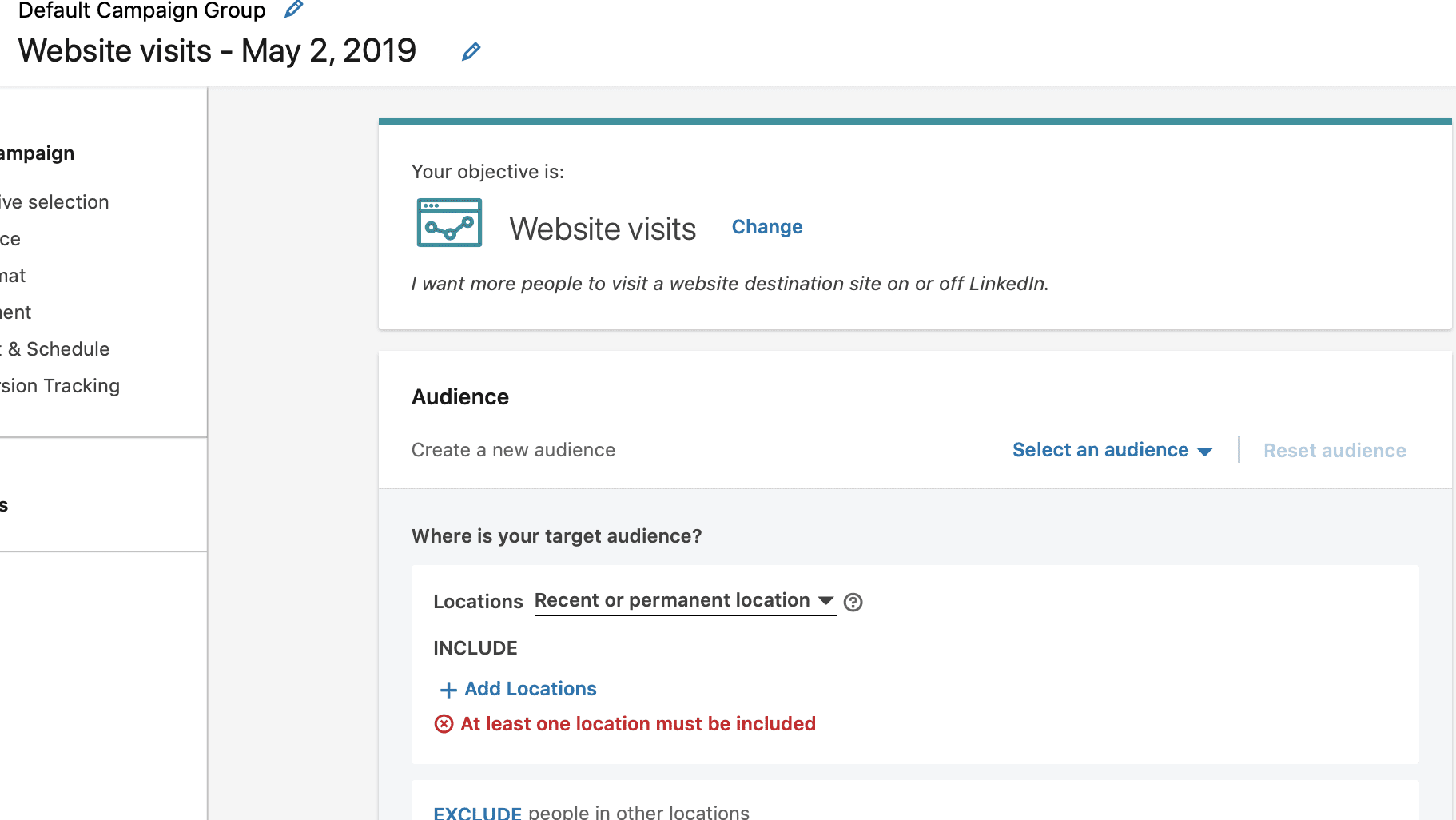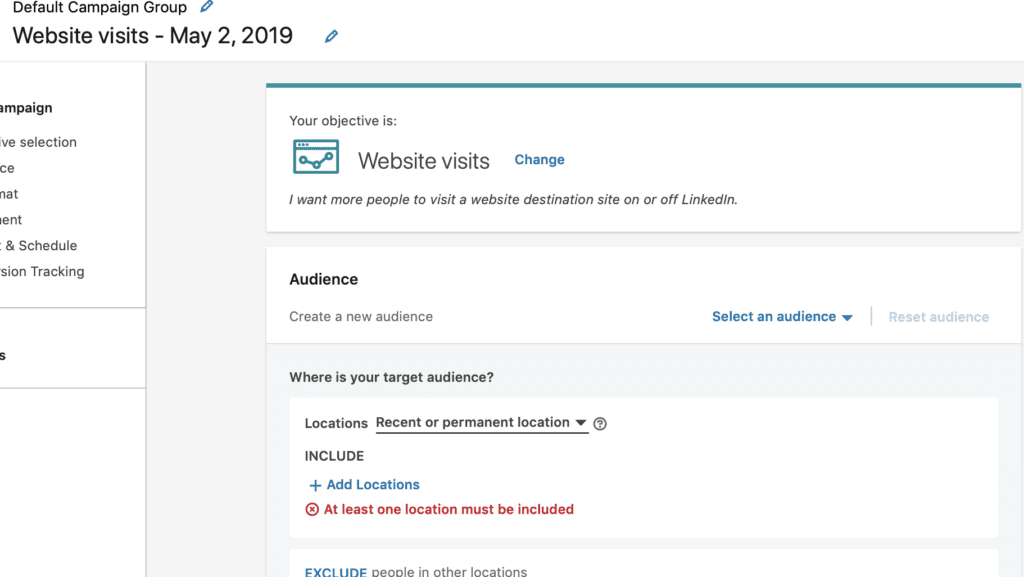 It's a good call to opt for the same on Twitter, unless you're running video campaigns to promote the event and want to prioritize video views instead of outright clicks.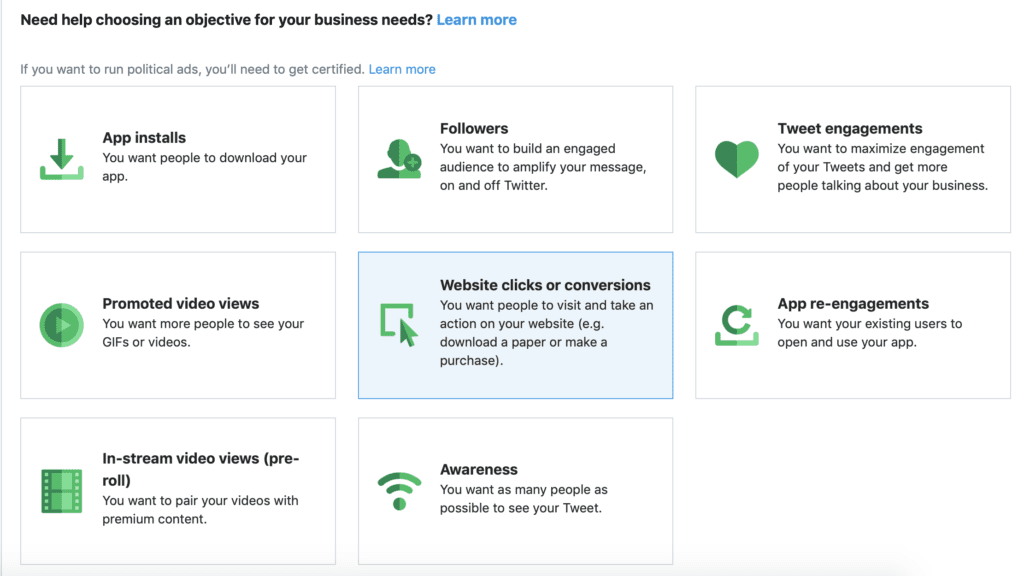 7. Use Contests to Increase Word of Mouth
You can't use contests for like-gating anymore, but you can still use them to boost your event attendance.
Contests on social media are a great way to get new followers, increase engagement, and—in this case—increase event attendance. They're pretty much the masters of hype when it comes to social media.
Contest prizes that are relevant to your event can grab a lot of attention and generate a ton of conversation, as well as boost attendance.
Whether you offer free tickets, free meals, backstage passes, or a free shirt from your event, everyone loves something free and the adrenaline that comes with the chance to win something.
Host the contest on one platform, but promote it across all your other platforms and to your e-mail list, using ads to help when appropriate.
Final Thoughts
Using social media marketing tactics makes it easier than ever to boost attendance at your next event, no matter what type of event it is.
While some methods require a small financial investment, such as the cost it takes to run Facebook Ads or host prizes for contest winners, most of these tips to boost engagement cost very little, if anything at all.
They're all a smart investment, as they can be used to not only attract your target audience, but hit them with organic and PPC campaigns alike that are full of social proof and engagement to increase the likelihood of higher attendance overall.
How do you use social media to boost event attendance? Have any of these tips worked for you? Leave us a comment and let us know!