The Ultimate Google Ads Guide

Chapter 8
How To Create Custom Audiences
From remarketing to lookalikes and custom intent, Google Ads packs some amazing custom audience features that rival platforms like Facebook and Twitter.
You can bring back lost conversions, create audiences based on your best customers, and find new ones just before the moment of purchase.
In this section, you'll learn how to create multiple custom audiences
that you can use to generate better, cheaper sales on Google Ads
Password: Never Give Up (on a customer)!
How To Create Remarketing Audiences on Google Ads
Remarketing is one of the best ways to drive sales to an audience that is warmed up to your brand.
Even on Google Ads and even using the highest intent keywords won't convert everyone.
More often than not, people require multiple touches to convert. But that doesn't mean you should have to stop there or move on. You shouldn't give up on any potential sale, ever.
If you haven't collected their emails yet or gotten their contact information, your best bet is remarketing.
Paying a fraction of the cost you paid to get their attention the first time, you'll be able to send another marketing ad their way to hopefully seal the deal.
To get started with custom remarketing audiences, head to the Audience Manager in your Google Ads dashboard:

For remarketing on Google Ads, you have a few different options: 
Website visitors
App users
Customer lists
YouTube users
Adding your own list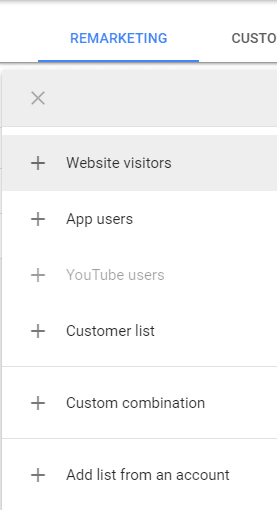 The most common remarketing tactic is to create a new audience based on website visitors.
For instance, if you just ran a campaign, you could create a new remarketing list based on website visitors from that campaign and the behavior that occurred.
Using specific selections, you can customize which users get funneled into your audience:
Visitors of a page:
this remarketing list will add any and every user into your list who landed on a specific page that you mark.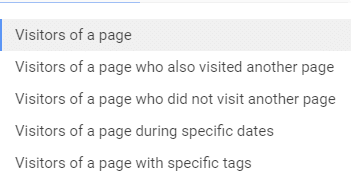 Visitors of a page who also visited another page:
this remarketing list will add users who visit both of the specified pages you list.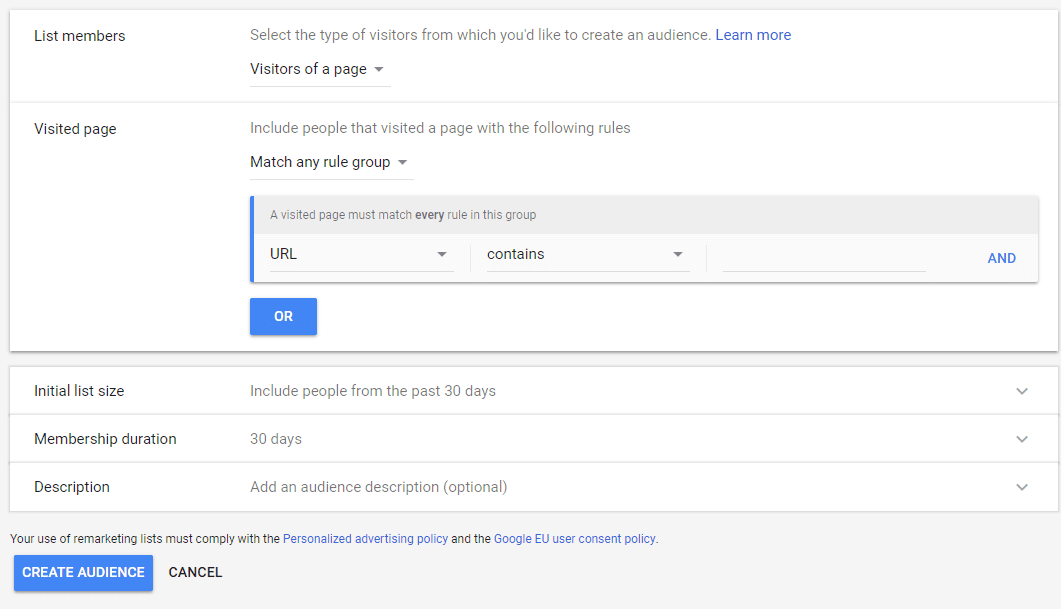 Visitors of a page who did not visit another page:
this list is great to target people who clicked on your page but didn't convert or get directed to a thank you page.

Visitors of a page during specific dates:
only add users who visited your page during specific dates. This list is fantastic for seasonal remarketing or time-limited campaigns.

Visitors of a page with specific tags:
users who visit a page where you have a conversion tracking tag installed. This can be great for re-selling to customers who recently purchased to keep them coming back for more.
Remarketing using the Customer List option
The customer list option works by matching the data you provide Google on your existing customers to Google accounts.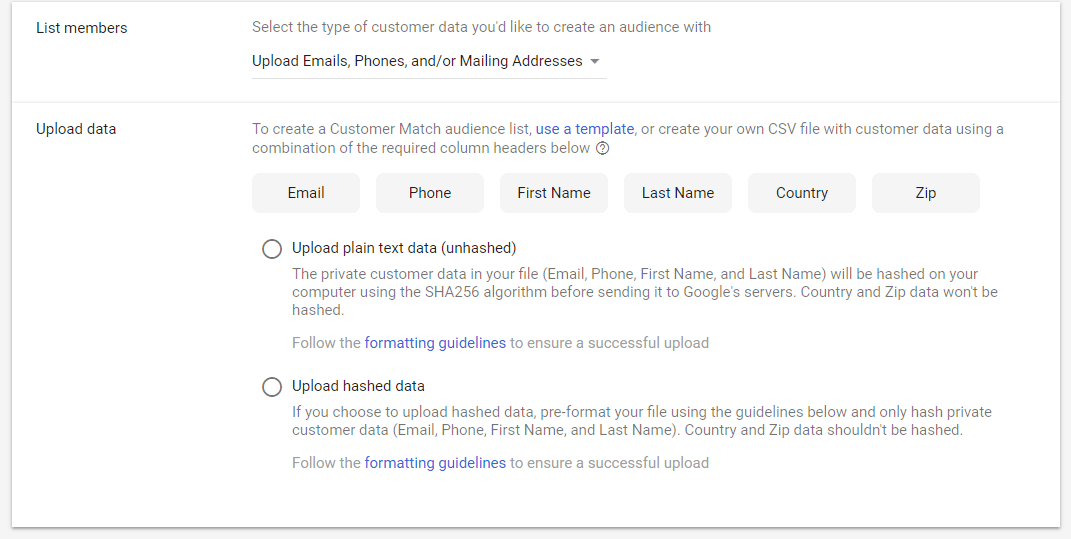 It's one of the best remarketing list options if you already have leads or customer data.
If you currently don't have enough customers or data on them, this audience won't be your best bet.
This audience is best used to bring back users who haven't bought from you in a while.
For example, if you have a list of customers who bought once but didn't return, this list is perfect. You can input their information and send ads to them instantly to bring them back with discounts and coupons.
If you decide to create this audience, use the template Google gives to speed up the process: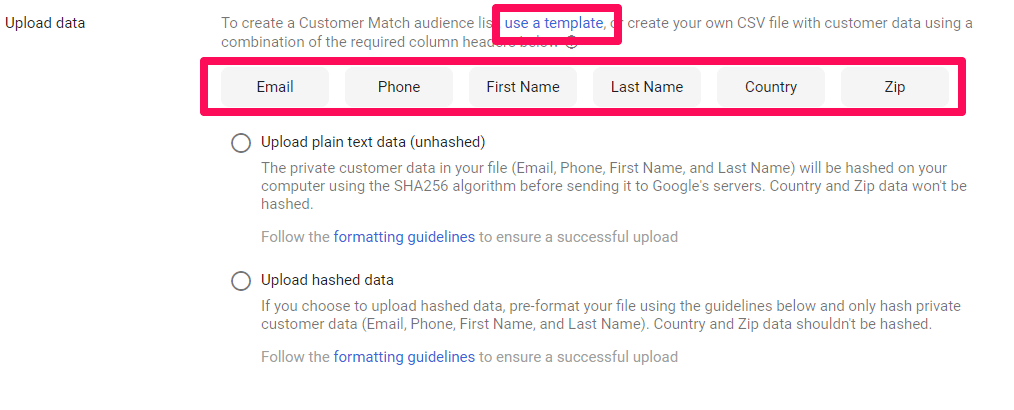 All you have to do is fill out the data for customers based on email, phone, name, country and zip codes along with any additional information you might have.
You can also automate this process entirely with AdEspresso's Data Sync tool. You can connect your favorite CRM and sync it to a Retargeting list automatically.
To set this up, head over to AdEspresso and select Tools> Data Sync. After this, you can pick your CRM and list to connect, and then on step 3 choose Google Ads as your target choice.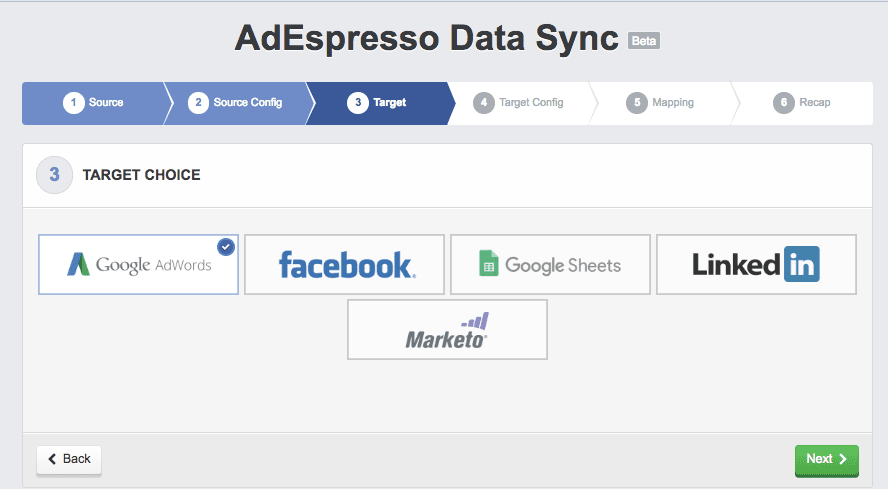 Now, once a subscriber enters your list, they'll automatically be moved to your Google Ads Retargeting List. Easy peasy!
How To Use Custom Intent And Affinity Audiences on Google Ads
For
non-remarketing custom audiences, Google Ads provides two great options
:
Custom Intent
Custom Affinity
Custom intent audiences help you to reach new customer segments that are actively searching for your products and services.
For instance, by entering keywords and URLs, Google will create an audience of users who are browsing alike sites and searching with similar keywords.
It's a great way to find new potential sales without doing much legwork. You just type in a few keywords and Google runs your ads to active buyers.
Custom affinity audiences allow advertisers to "create audiences that are more tailored to their brands."
Google describes this with a great example:

Custom affinity helps advertisers go more in-depth than standard industries or generalized segments. Instead of targeting sports fans, you can target some as specific as 5k marathon runners.
These audiences are only available currently on YouTube campaigns at the moment.
If your business is great with video marketing, you can easily utilize this custom audience type to drive amazing sales.
Great Job! You're almost done! Now take a break and check your phone line. Why?
Because in next chapter we'll talk about how to track how to track phone calls in Google Ads.
PS: Put that fake FBI badge away, we are only talking about your customers' calls!  😉