Your Facebook Page is often the central hub for your entire social media marketing presence as a small business.
It's a crucial method of discovery, with users both enthusiastically recommending businesses to their friends, engaging with your content (which their friends can see!), and people finding you through the search bar. Here, potential and existing clients alike can find out key information about your business, including a link to your site, hours of operation, and even a mission statement.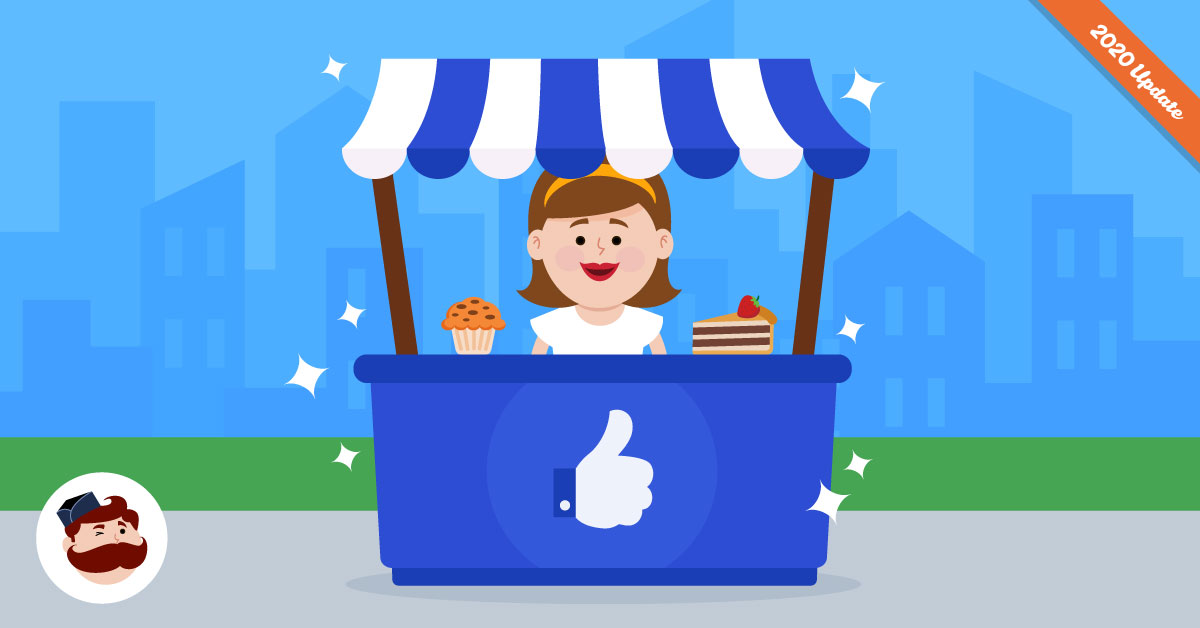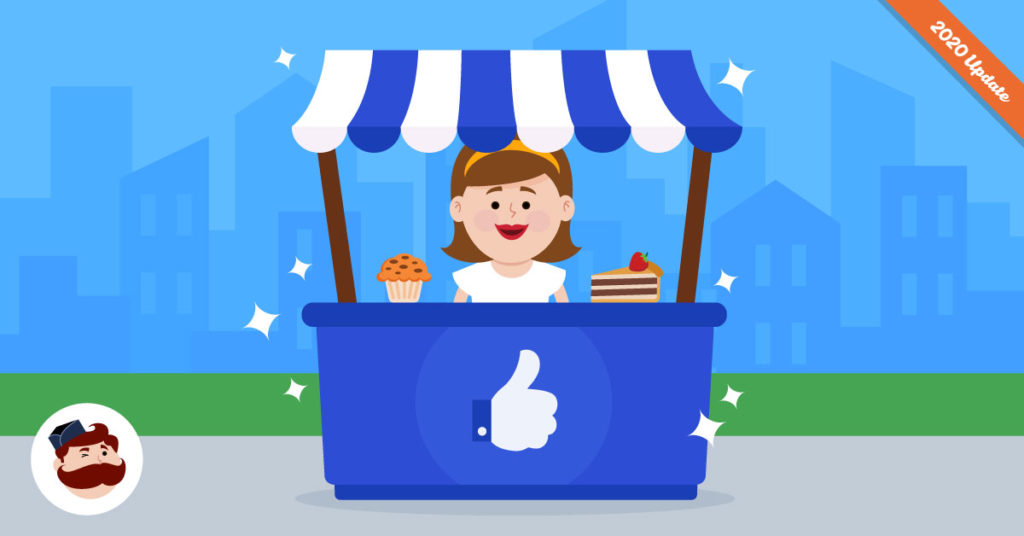 Your Facebook Page, therefore, can be incredibly useful in both reaching new audiences and establishing relationships with current followers. In order to take advantage of these benefits, however, people need to actually be able to find your page.
Knowing how to set up and promote your Facebook Page for your small business is essential, and knowing what NOT to do is just as crucial.  In this post we're going to go over the 7 most common mistakes that you want to avoid when promoting your Facebook business page, and we'll look at a few things that you will want to do, too.
7 Mistakes to Avoid When Promoting Your Facebook Business Page
1. Using an inconsistent brand voice or displaying inconsistent brand values
Many small businesses neglect the importance of making sure that the appearance of their Facebook Page is in line with their business visions and goals. The Page is a part of their company, and therefore should display the same personality as the business itself.
It's important to reflect your identity while interacting with your customers on Facebook. Any page can be a little casual but you should always strive to maintain a balance. You don't want customers to feel you are not taking the business seriously.
The Facebook business page for Under the Canopy is a perfect example. The brand stresses sustainable, organic, eco-friendly living and an affordable price, and all of their posts reflect that. They have a strong ethical position, and they constantly center that in their posts.

2. Staying in your comfort zone
With so many small businesses competing for a space in the News Feed of Facebook users, you might feel like playing it safe is your best option. This, for most businesses, means sticking to one type of content and putting rest of the content strategy on autopilot.
But beyond the danger of making your Facebook page a ghost town, you will find it difficult to capture the attention of your audience if you don't experiment with different kinds of posts. A successful content strategy should involve a mix of infographics, videos, photos, and other visuals.
Some types of content may go viral, which would greatly boost your organic reach, while others will enable you to ensure that you get consistent engagement, including shares, likes and comments.
Dollar Shave Club is a great example of a business that's fine-tuned its social presence to be funnier and wittier, and it's worked in their favor. Their brand voice is distinct, and they're well-known for their incredible social media campaigns. Instead of a simple "It's Cyber Monday!" post, for example, they do the following:

The business tries to keep things fresh by mixing it up. As a result they delight their audience and stand out from the crowd.
3. Writing off Facebook ads
When it comes to paying for promotion, many small business owners shy away. Most of them create a Facebook Page to reap benefits free of charge. However, their reach is limited by the number of customers who already searched for the company on Facebook.
You don't want to limit yourself like this, especially when you can get results with as little as a few dollars per day. Brand awareness is easy to build with the right strategies.
You'll extend your reach if you consider Facebook Ads. The company has built a powerful platform to assist businesses to extend their customer base and target prospects. You can define audiences based on interest, location, and even their purchasing behavior.
This ad from Prose is a great example. I don't use Prose. I'm not familiar with the product. But it explains that this made-for-you hair product is so widely loved and that you can get shiny, beautiful hair at 15% off. This is going to attract a large number of customers and drive sales from people who may have never heard of the brand otherwise.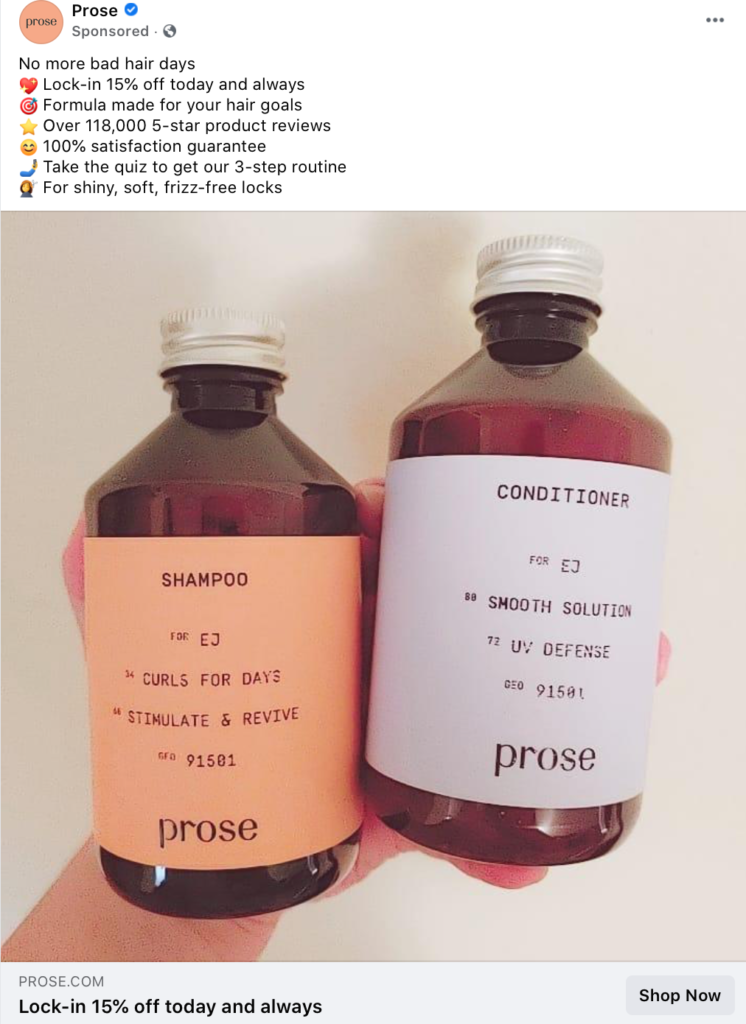 You can target your ads even more strategically by using AdEspresso. We can help you optimize your ad campaigns automatically, including by helping you identify winning creative, so that you get more out of every penny you put into your advertising budget.
4. Being afraid to spend money on tests
Speaking of Facebook Ads, an important part of any paid platform is testing.
The most important step in creating Facebook ads is the testing stage. But as a small business, you may think you don't have the funds to spend on ad testing.
This is a huge mistake — testing ads actually saves you money by ensuring that you're not blowing money on ads that don't work.
Rather than running several different versions of an ad and hoping that one works, you'll know through testing which version is best. Then you can focus your effort and resources on that successful version. When each ad is more effective, you'll spend less per ad. It pays to be informed.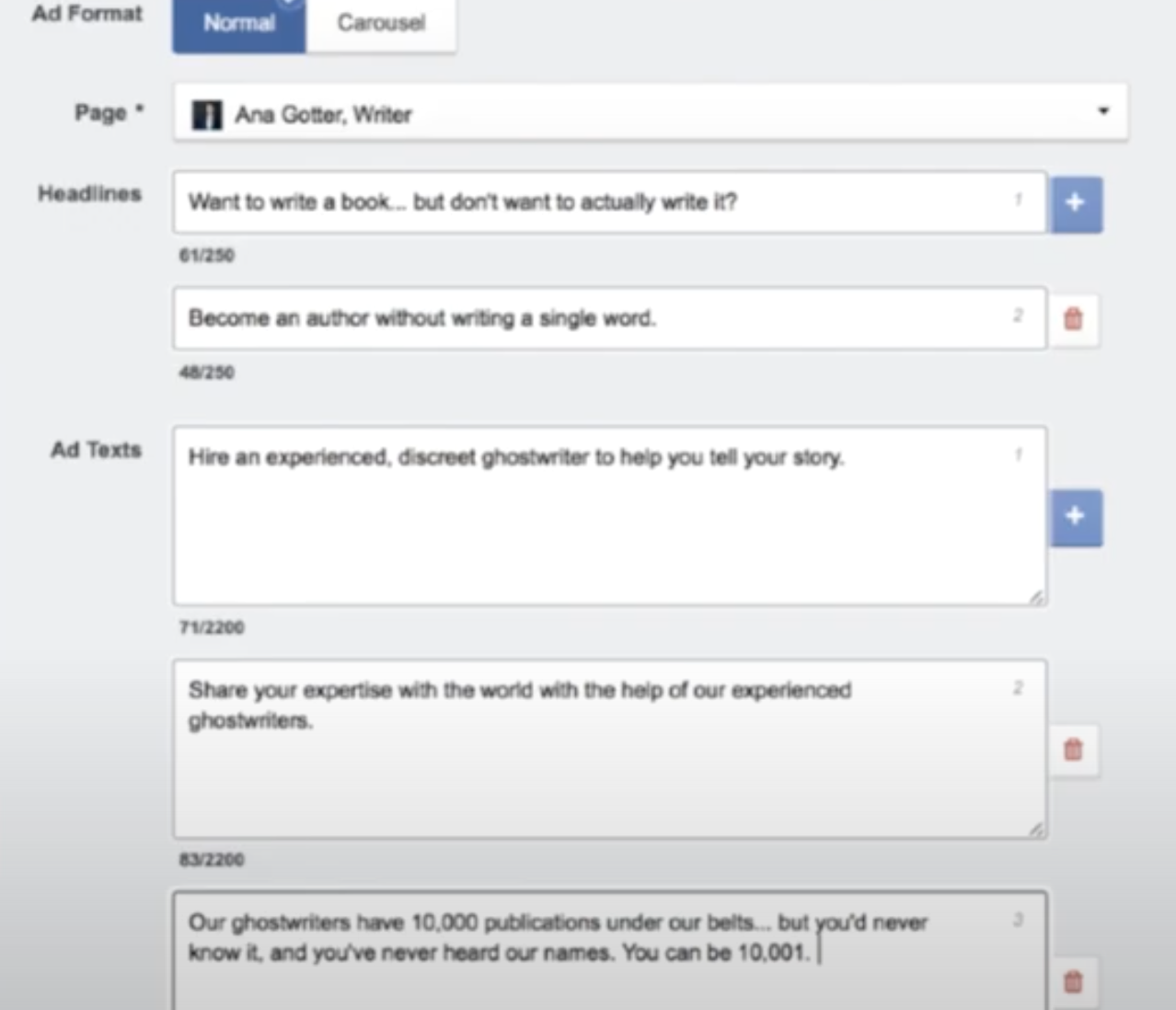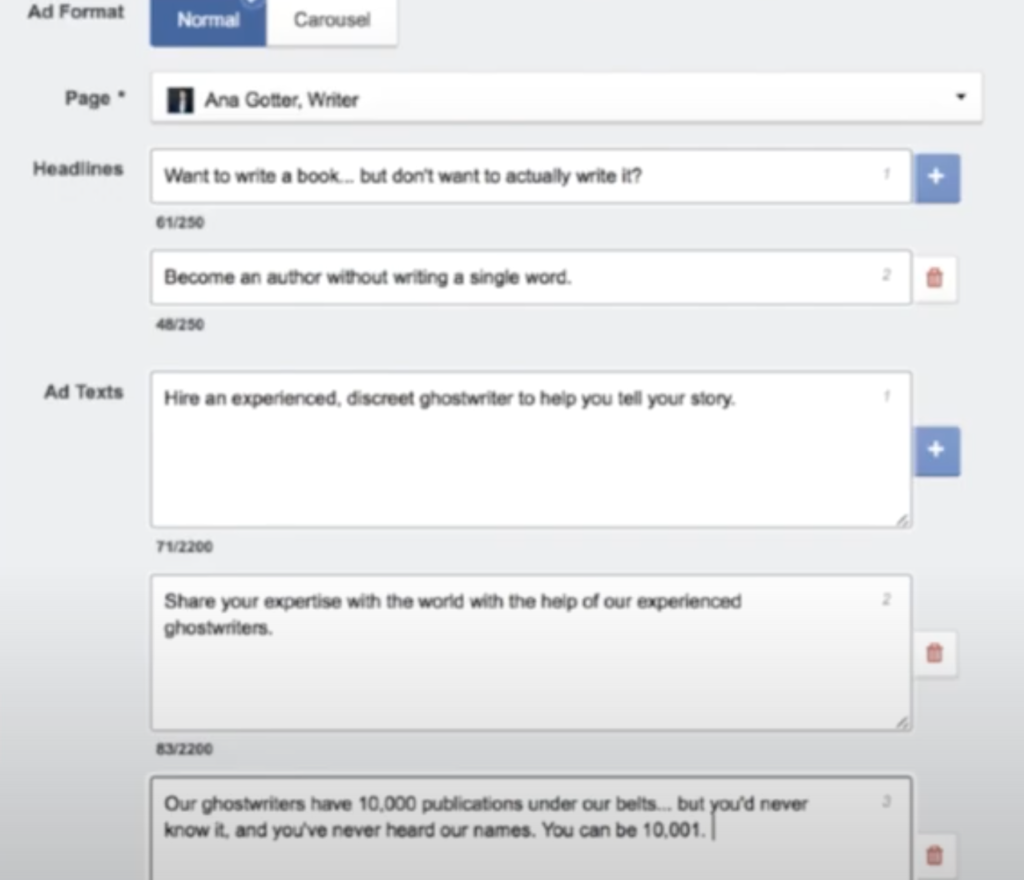 Create different versions of ads to test them. You'll want to test the following factors, but you only want to test one variable at a time or you won't know what's driving performance in each campaign.
Image – Choose images and videos that project different messages or appeal to human psychology in different ways. This includes testing different ad formats, including single image or carousel ads.
Audience – Popular audiences may be more costly to target but will bring in more conversions, while less popular audiences are cheaper to target but each ad will cost more per impression. Testing will let you know which is the lesser of two evils.
Relevance Score – These Facebook evaluations of ads are based on several factors including conversions and click-through rates. Ads with higher relevance scores typically cost less per click.
Copy Text – Try different phrasing, varying the length of the copy, and adding a call to action to see what message really resonates.
Take heed and get to testing to make sure you're getting the most bang for your buck on your ads.
5. Skimping on external tools
Small businesses mostly rely on 'what is available on Facebook,' which limits the features they can use to optimize their campaigns. There are several tools from third-party companies that integrate with Facebook to offer out-of-the-box features that make managing and promoting your page a breeze, or that can help you create higher-quality content that will better engage your target audience.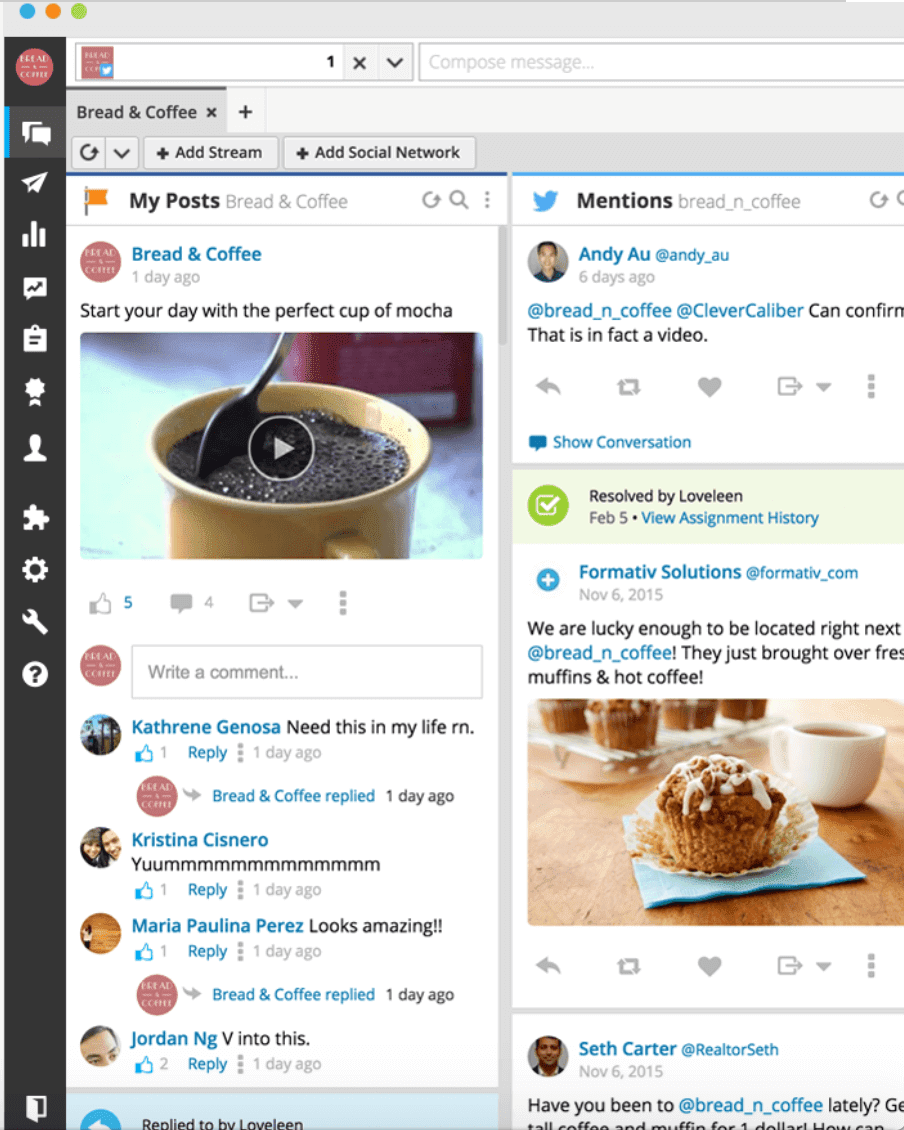 Consider which tools will work best for you:
Hootsuite: Helps you to manage different social media pages alongside your Facebook business page and schedule posts when the social media department is on a retreat.
AdEspresso: Allows you to run a large number of campaigns and automatically split test and optimize them for increased performance
ShortStack: Allows you to convert standard social media contests into powerful lead generation and promotion opportunities with contest "landing pages"
Snappa: Comes with a large library of free-for-commercial-use stock photos, along with drag-and-drop design tools to improve the quality of your on-platform graphics
6. Acting unapproachable
People like to interact with what others post on Facebook because they can show their approval, express their opinions, and reaffirm things about themselves.
Create opportunities for your Facebook followers to interact with your page by opening contests, calling for submissions, featuring photos of customers, and replying to Facebook users' questions. Personal interactions with customers fosters trust in your brand and rewards Facebook users for paying attention to your page.
Fenty is a great example of an accessible, approachable, relatable brand. It sounds like one of their customers writes most of their posts, which feature great memes and the building up of other women with some makeup tips tossed in. The brand doesn't seem to take itself too seriously, making it more relatable.
Another way to connect with your customers is by having a conversation. The psychological need for validation can be satisfied on Facebook simply by showing your customers that you will respond to their comments. The below example from Tieks is fantastic; a user comments with information about their daughter's birthday, and the company made sure to respond to wish her a happy upcoming birthday, even mentioning the specific day. This a small moment that can lead to significant relationship- and rapport-building.

8. Lacking consistency in posting
No matter how much work you've put into creating the perfect page, if you don't post frequently enough people will lose interest and move on. Avoid this by creating a posting schedule specific to your product and audience.
When creating a posting schedule, consider both frequency and time of day. The ideal posting frequency will vary from business to business, but we recommend posting 3-5 times per week for most businesses.  Post too infrequently and you'll lose Facebook users' attention. Post too much and you'll risk annoying them away.
It can be trickier to optimize the time of day for your posts, but there are tools that can take the pain out of the process. Hootsuite allows you to set up an entire content calendar all at once for your social media channels, setting posts for the exact moment that you want them to go live. This can help you avoid forgetting to post just when things get busy, which is particularly helpful during busy holiday seasons.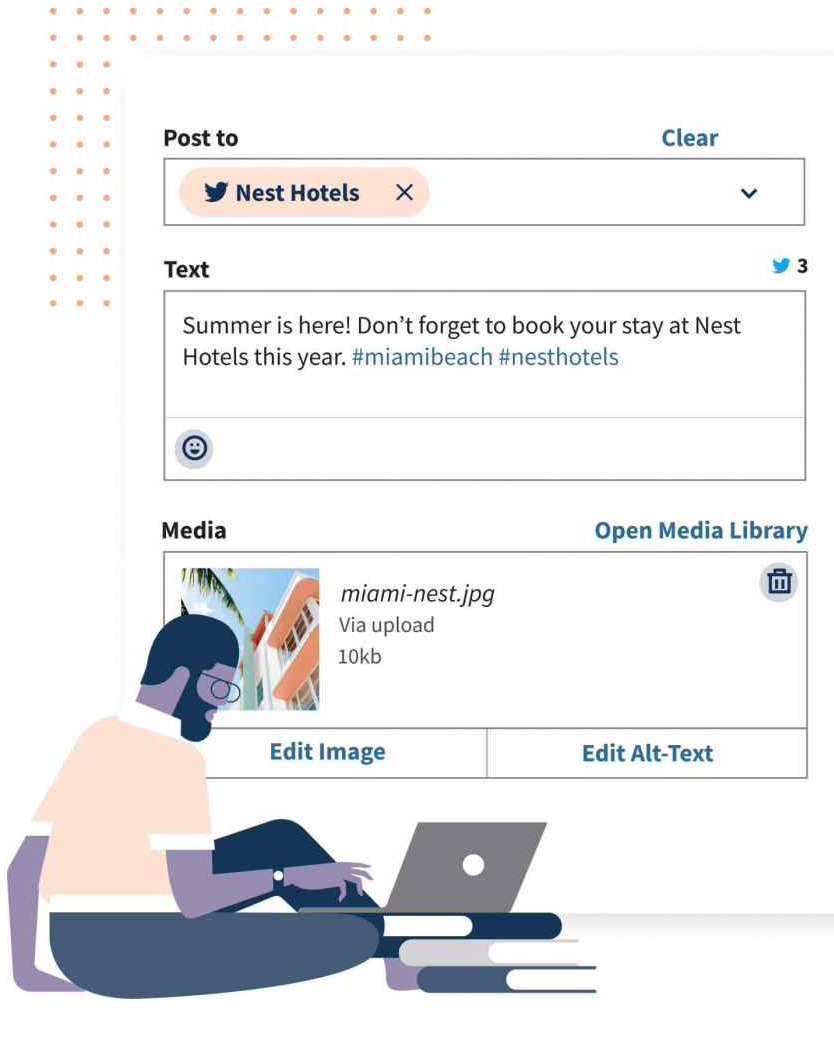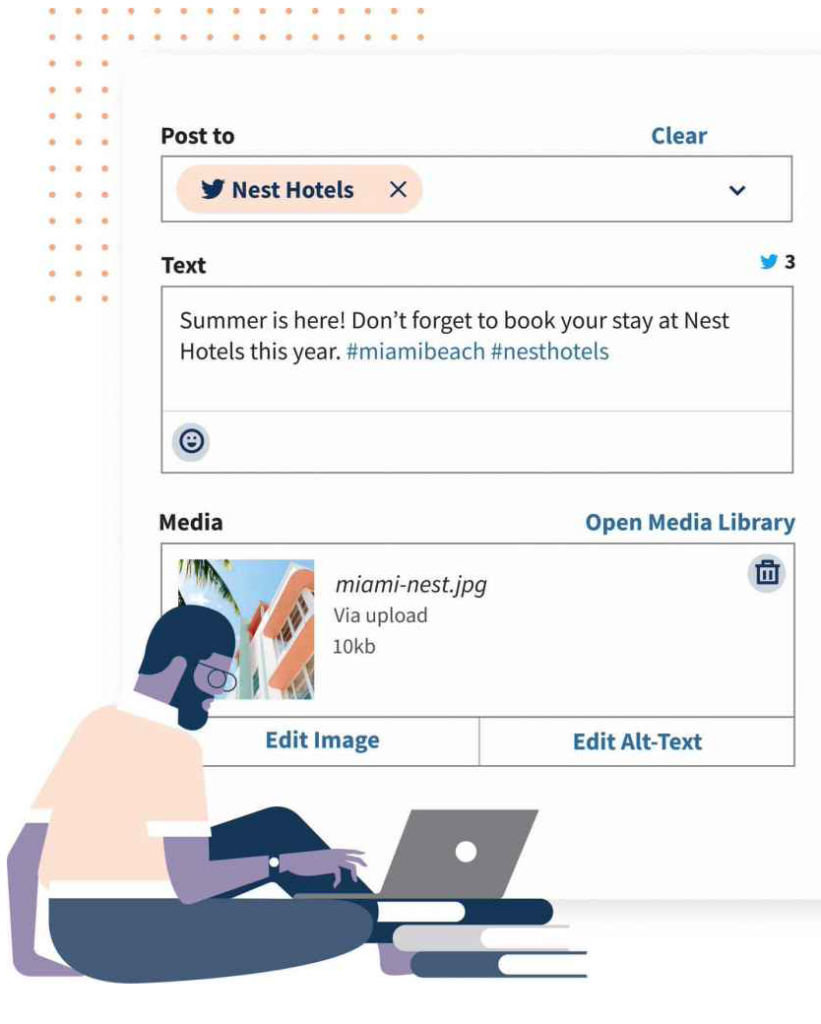 This foresight will ensure that your work gets seen and has every opportunity to make the impact you want without the burden of thinking about posting every day. You can set aside time each week to queue posts for the next several days — and if you want to add in something specific or topical for one day, it's easy to add it into the queue wherever you want.
Your posts can stay on a schedule while being flexible to reflect your company's day-to-day evolutions.
3 Must-Do Tips for Creating a Business Facebook Page
Looking for a few more proactive ways you can go about creating a business Facebook Page that can promote your brand well? These three essential tips will be crucial.
Fill out your profile completely
When you're looking into how to create a Facebook Page for business, this is the most important thing that you can do: Fill out your profile in its entirety.
This sounds like a small or obvious note, but so many brands don't take advantage of every field available to them.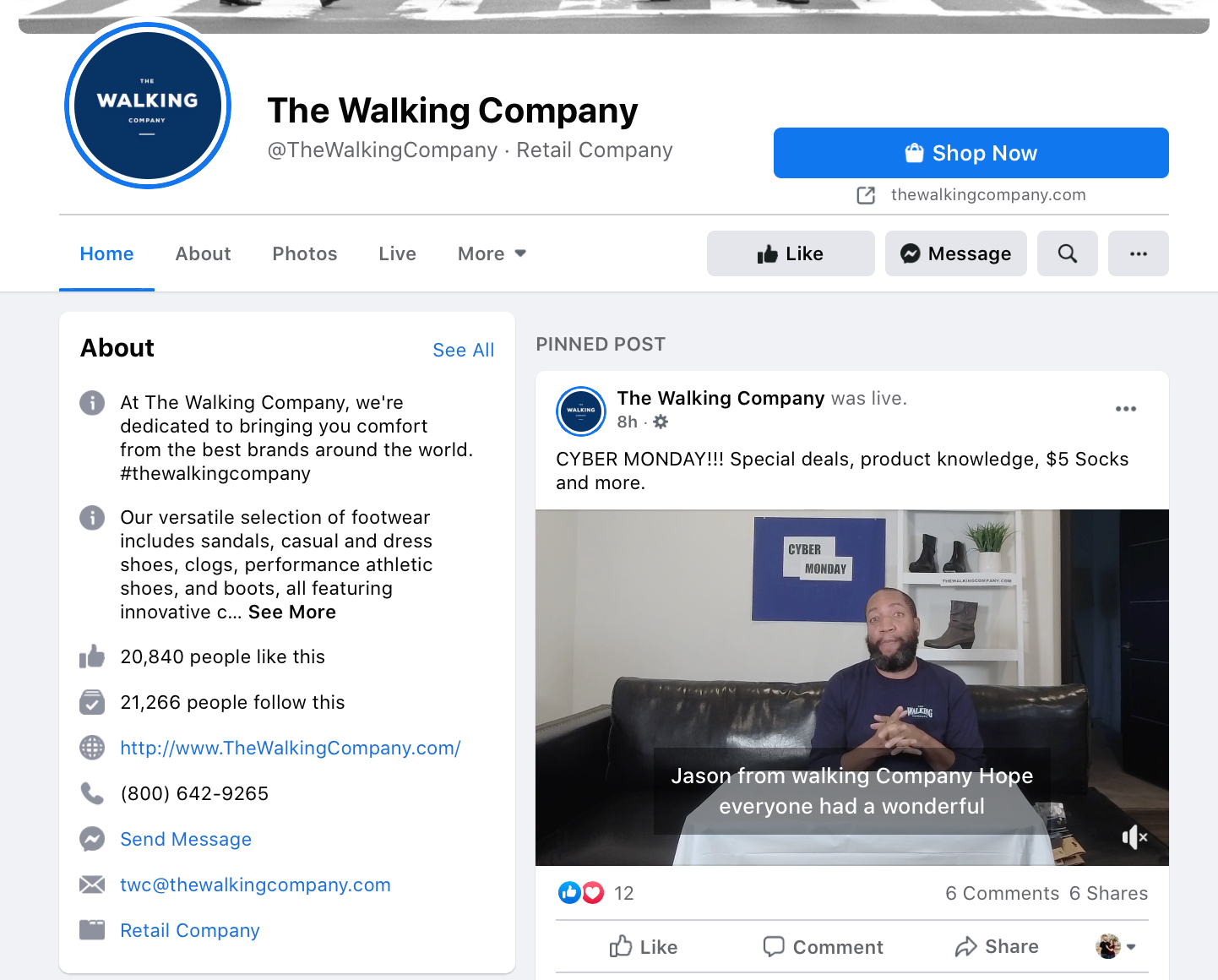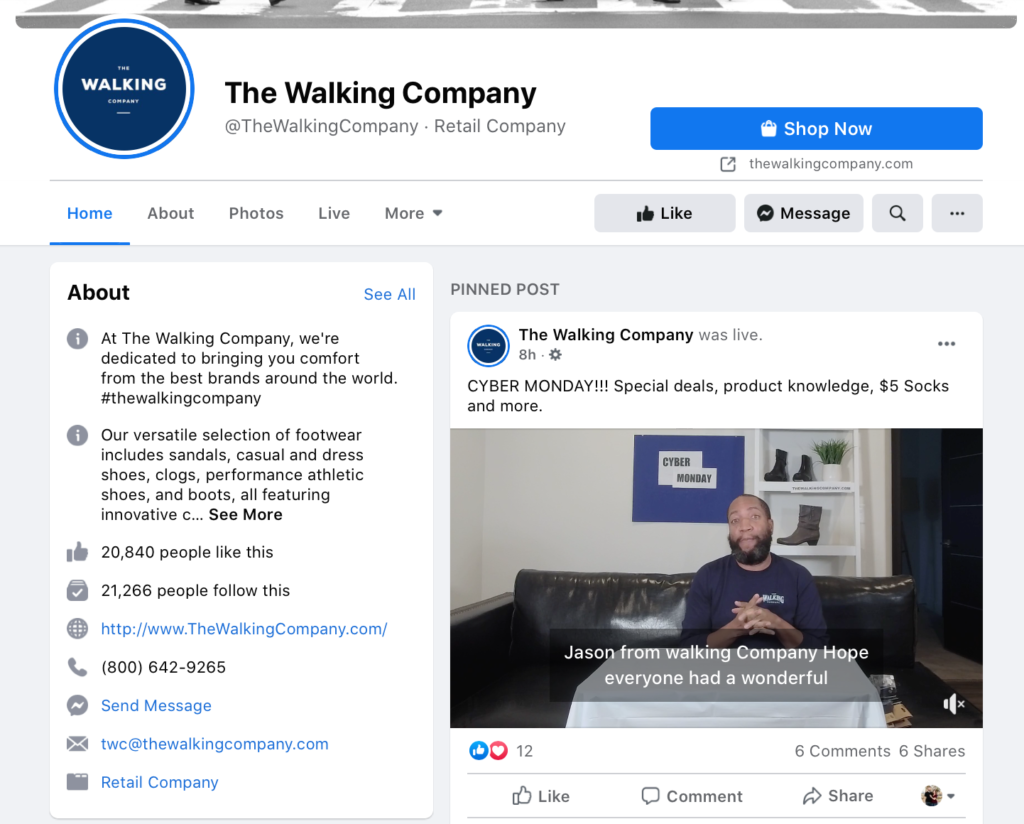 Filling out your profile completely includes the following:
Adding in all relevant contact and location information, including a website address
Enabling features that allow users to leave reviews or send messages
Adding a company description, a mission statement, and both a profile picture and a cover photo
Watch your analytics
You want to watch your Page's analytics, especially once the Page is created and you're working on how to promote your business on the platform.
Facebook has native analytics called "Insights" for all business Pages, which can be accessed from the Page itself for admins. You can see what actions like clicks and messages have been taken within a set period, along with how many times your Page was viewed, how many likes it received, your post engagements, your recommendations, and your post reach. You can also keep an eye on your responsiveness score (which should be as high as it possibly can be).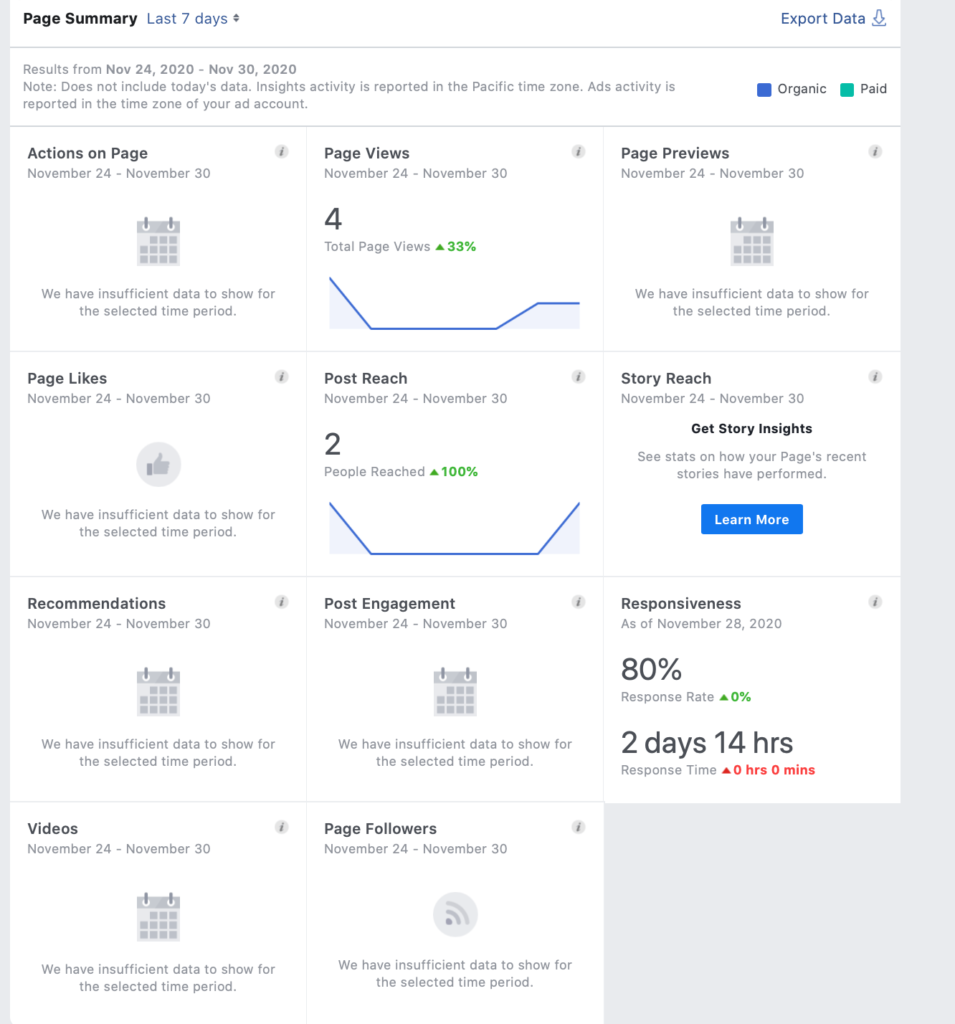 Third-party analytics tools like Hootsuite often offer more comprehensive data than the native insights, as well as and enhanced reports.
Consider what search terms people will use to find your page
An increasing number of users are taking advantage of Facebook's native search engine. People like being able to see brands that their friends or peers have vouched for, and they'll look for those highly-recommended brands.
In order to show up in search, you want to collect as many on-platform positive reviews as you possibly can. We talk about this here. You'll also want to take search terms into consideration.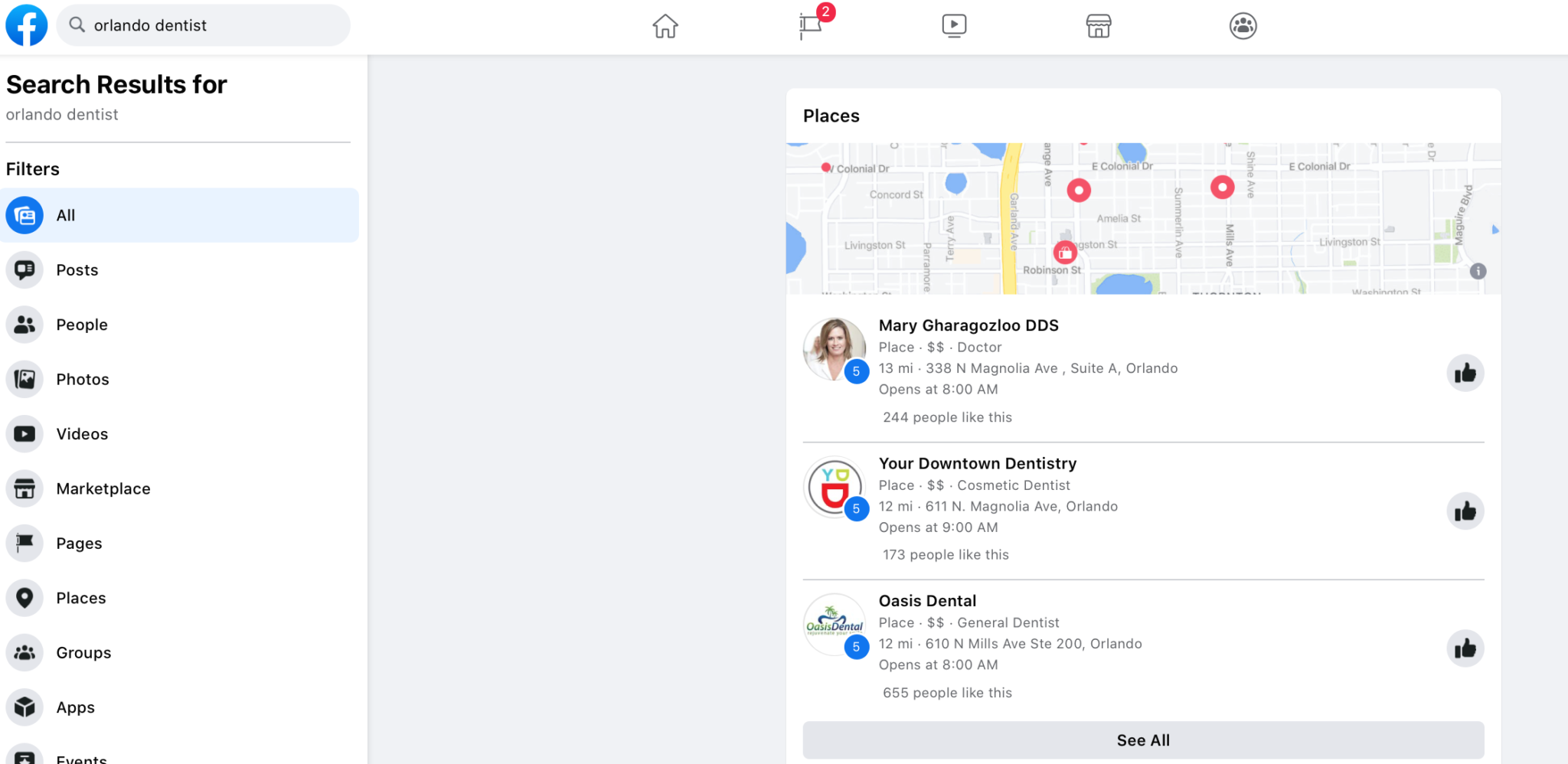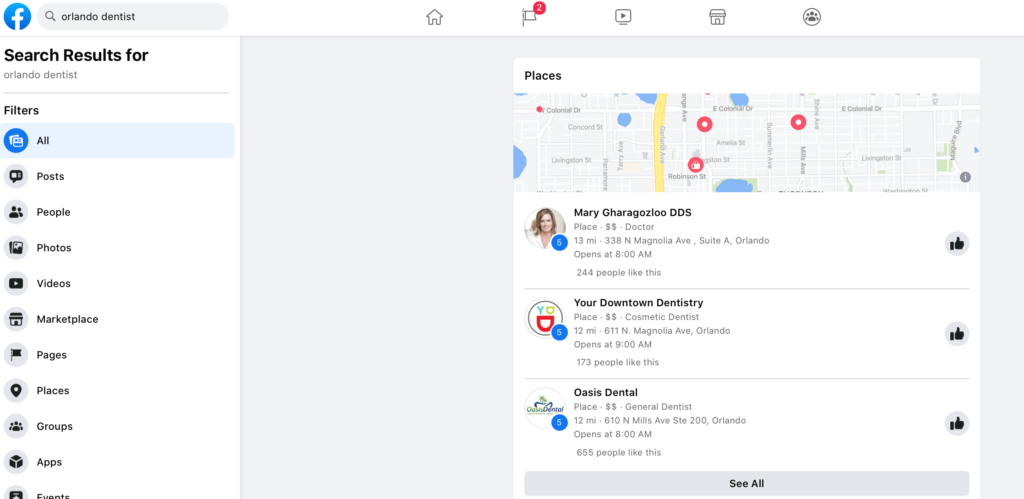 Think about what keywords users are going to be typing into that search bar, and include them in your brand description if at all possible. You can learn more about this here.
Final thoughts on Facebook business pages
Knowing how to promote your Facebook Page comes down to knowing how to set it up for success and knowing which strategies you should and shouldn't use. Watch out for these 7 common mistakes that can sabotage your best efforts when it comes to promoting your Facebook Business Page, and be proactive about the steps you take to promote it more effectively. The effort is always worth it, especially as users consistently stay engaged with brands they love on the platform.
What do you think? Have you ever made any of these 7 common mistakes that can impact how you promote your small business's Facebook Page? Which of our best practices do you use? Share your thoughts and questions in the comments below!