If you're new to Facebook Ads, setting up the first campaigns might seem overwhelming. There are so many different ad elements that you need to get right.
You need to make tens of decisions about the ad type, target audience, bidding, ad placements, and much more. Together, all these ad elements contribute to the success of your PPC campaign.
But which best practices and hacks should you follow?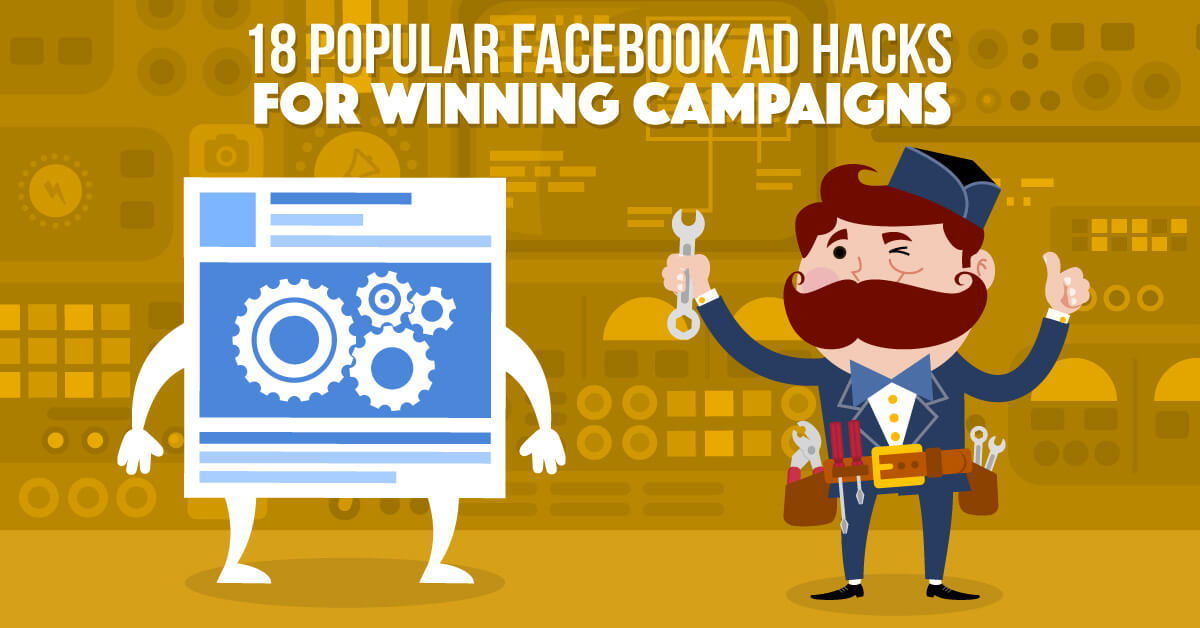 When I started managing Facebook ads for our startup, I was completely confused about all the various options. Now, after reading tens of articles on the subject and having created over 300 different Facebook ads… it still feels like there's a lot to learn.
However, there are some Facebook advertising tactics that work like magic every time. Up next, you'll find 18 Facebook ad hacks used by many beloved brands (and for promoting my personal Facebook ads blog). Apply these hacks to your ad campaigns and see your conversions go up!
1. Write a magnetic ad headline
The headline is the most important part of your Facebook ad. That's what people read first when looking at the advertisement. And it's incredibly important that you lock your audience's attention from the first moment on.
A study showed that 70% of people only read the headline of a Facebook share before sharing it.
Did you click on it and discovered the trick? The headline is so important that nearly 46,000 people shared the post without reading the text (a latin filler used by designers to calculate the ratio text/image in a page) and noticing that it was just a fake news.
It's no joke, tho, that the headline text can make a huge difference in the click-through rate and the cost-per-click of your Facebook ads.
To write ad headlines that people can't help but click, follow these three best practices:
Be clear and precise
Use action verbs such as "Get" and "Try"
Emphasize the benefits of your product or service
Here's a great example by Shopify: the ad headline is clear and concise, explaining what people can do by using the product ("Sell Your Photos on FB").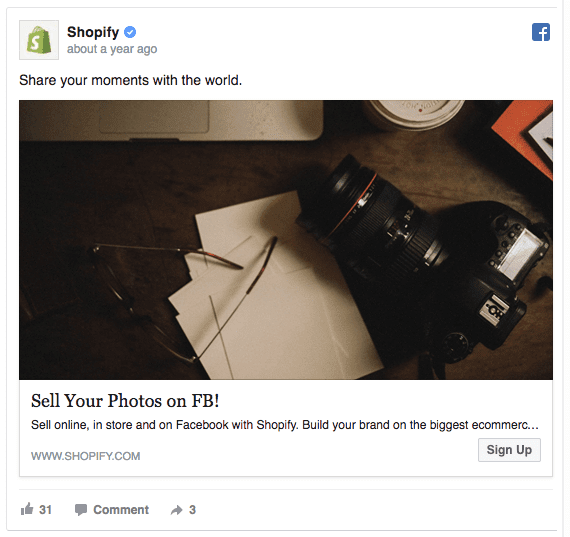 Read more: 8 Startling Discoveries to Write Powerful Facebook Ad Headlines
2. Create an irresistible value offer
The best way to make someone sign up for a free trial product or buy your product is to create an exciting value offer. Promote something that people actually want.
For example, you could offer an extended trial period or create a limited-time discount offer. That's similar to a Facebook ad by The New York Times: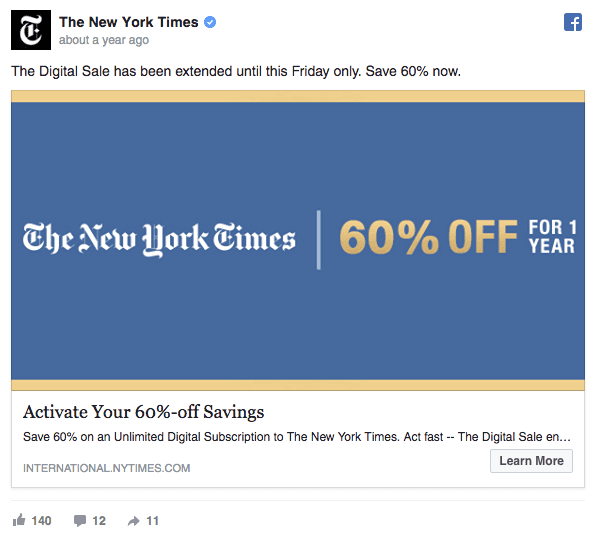 In addition to a limited-time offer, also explain why this offer is good – what's the main benefit of signing up?
Your Facebook ad messages should clearly answer three important questions:
Why should anybody click on your ad and claim your offer?
What benefits will people get as they buy your product or sign up as a subscriber?
Why is your product better than the ones of your competitors?
3. Present social proof
You wouldn't trust a stranger coming to speak with you on the street. That's how people who have never heard about your brand will feel about your Facebook ads.
When targeting an entirely cold audience that hasn't been to your website before, use various types of social proof to spark more trust:
Include numbers describing your product's user number/benefits
Include testimonials from high-profile clients
Add client logos to your ad images
For example, LinkedIn's ad announces proudly that over 433 professionals have accounts on their platform.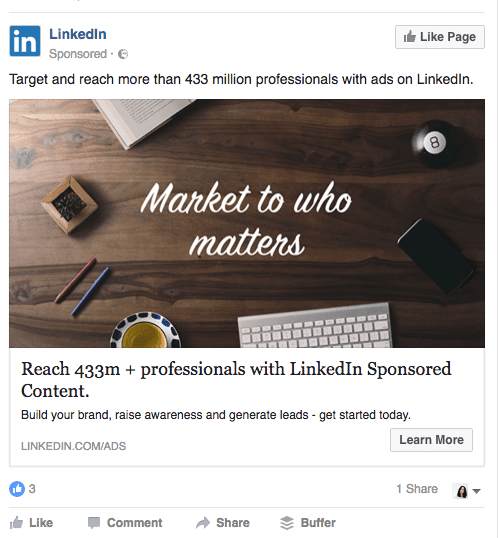 Whenever we're unable to make a decision, we consider what others do, assuming that their actions are correct for the given situation. Use social proof to your advantage by including it in your Facebook ad copy.
Read more: The Ultimate Guide to Social Proof Marketing
4. Master the art of FOMO and urgency
If you've ever missed a flight or been the next person in the queue right when the store runs out of the thing you wanted, you know how bad this feels.
FOMO – the fear of missing out – haunts us every single day.
To put FOMO to good use, you can write Facebook ad copy that makes readers think that everyone else is already using your product and they're the last ones out.
Scoro's Facebook ad asks "Still using multiple tools for project management, … ?"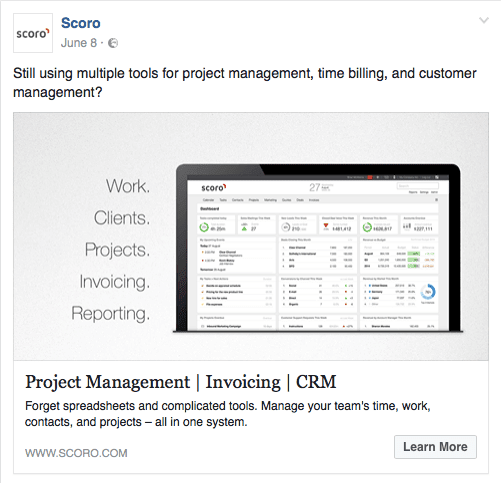 By framing the question to make you think you're the only one left out, this ad will get significantly more clicks than a similar one without the FOMO.
Tip: Another way to catch people's attention and create a sense of urgency is to promote a limited-time offer. Nobody likes to miss out on a great offer.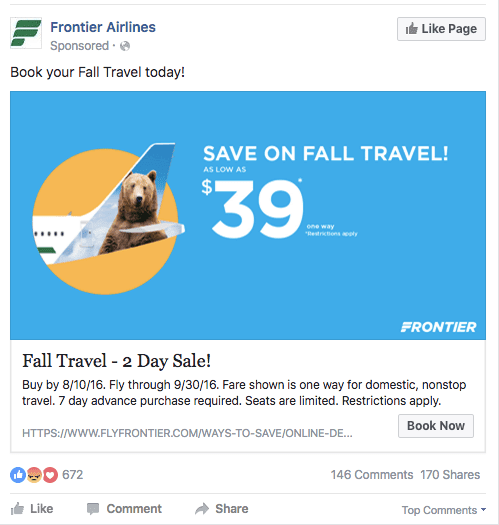 5. Use high-quality ad design
You've probably heard the quote "Keep your heels, head, and standards high."
In the world of Facebook advertising, the adoption would read: "Keep your ad quality, copywriting, and standards high."
No matter how good your ad copy a bidding methods, a low-quality ad image can ruin all the other efforts. Without a high-quality ad design, your campaign's almost certainly going to fail.
Creating a Facebook ad design that looks trustworthy and outstanding isn't too difficult. You don't need the black belt in Photoshop to put together a simple well-designed Facebook ad. For example, Asana's ads are simple, yet they look stunning: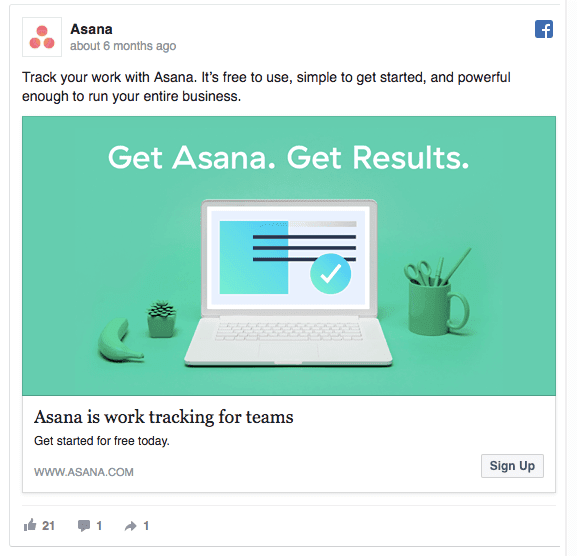 Tip: Make sure that your Facebook ad design is at least 1200 x 628 pixels wide, and that the colors look good on every screen.
6. Create colorful ads
There are hundreds of posts in our Facebook News Feeds, demanding for attention. To get your ad noticed among others, you need it to be different from the rest.
There are two "extreme" ad image designs that tend to work best:
Very light ad images with nearly white background
High-contrast images with strong colors
Anything in between tends to disappear among other similar Facebook ads and posts.
For example, take a look at Nike's ad. Not only does the ad instantly catch your attention, but it also sparks positive feelings.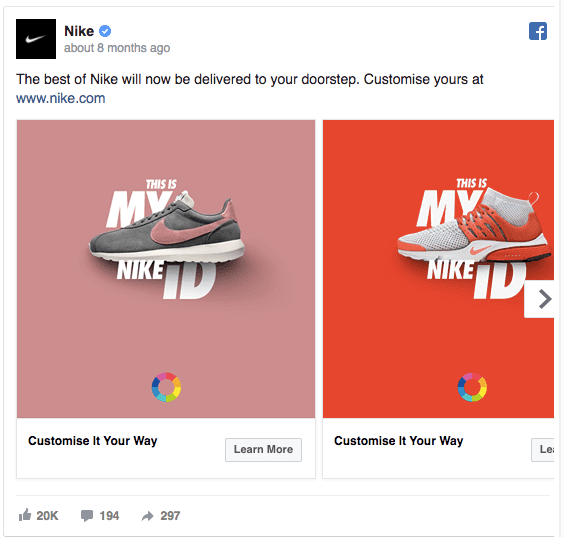 Tip: In addition to creating colorful ads, use color psychology to choose the right colors. (Yellow stands for optimism, red for excitement, blue for trust, etc.)
7. A/B test your ad images
What if you have no idea which colors or design elements your target audience likes? No worries, there's a simple solution to that: A/B testing.
You can test tens of different ad variations by creating a quick Facebook Ads split test. Here's an example of the A/B test image variations we ran with a SaaS startup Scoro: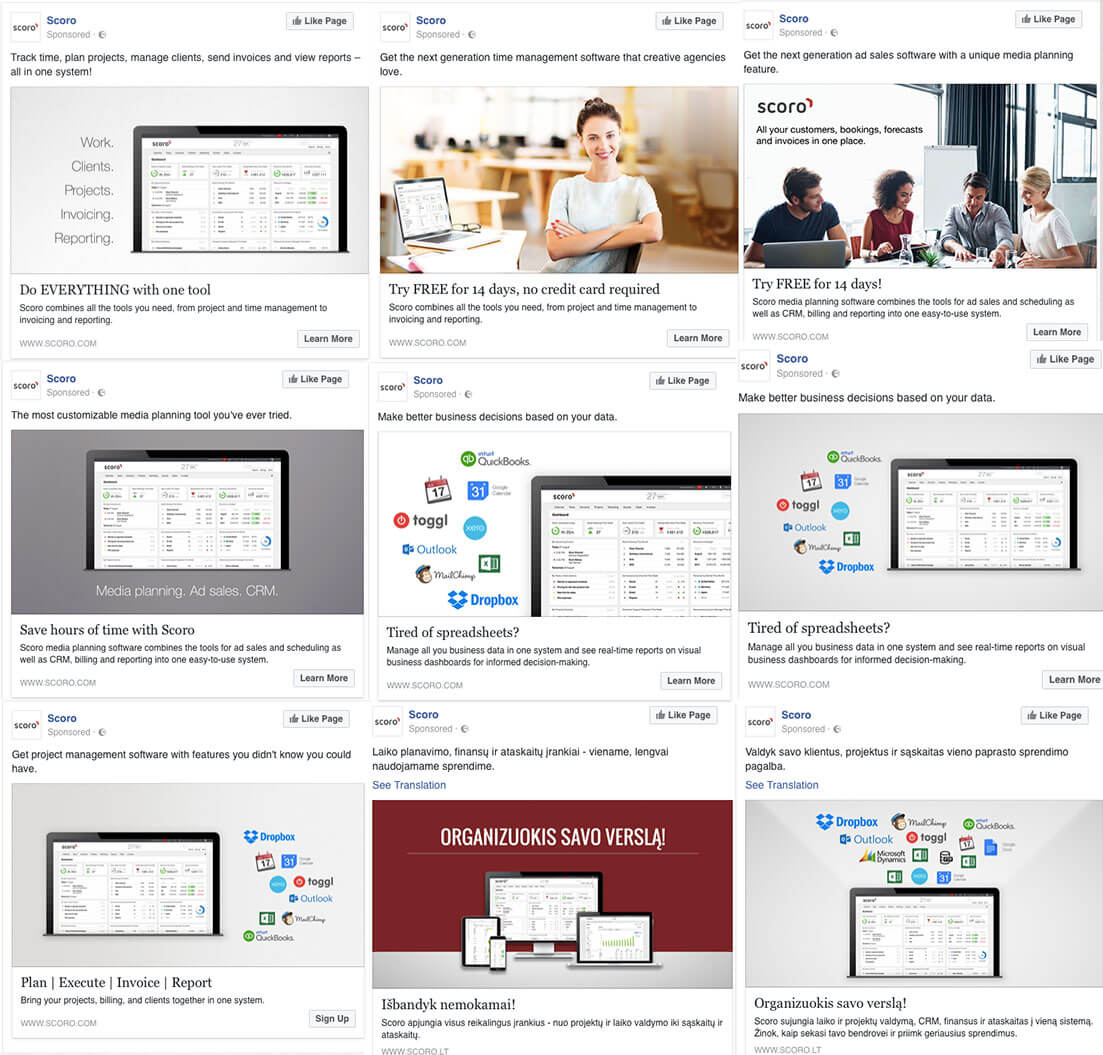 Tip: Don't limit yourself to testing different ad images. You can test anything from ad copy to the best ad placement.
Read more: 10 Burning Questions That You Can Answer by A/B Testing Your Facebook Ads
8. Create carousel ad campaigns
A report by Kinetic Social revealed that carousel ads get 10 times more clicks compared to static sponsored posts on Facebook.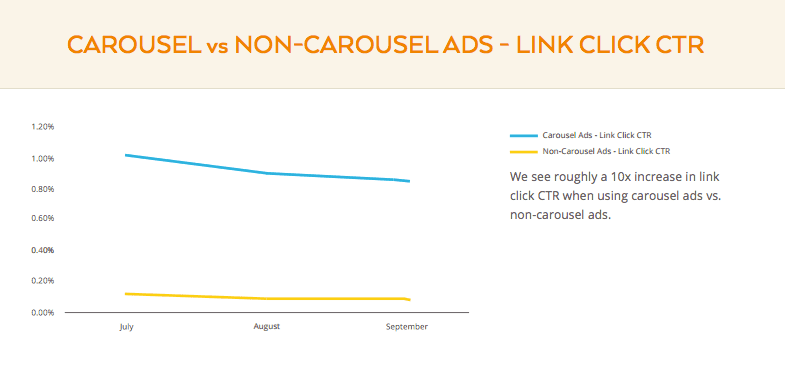 Carousel ads let you include up to 10 images and headlines in a single post. That's an excellent method for telling a story, introducing your product's benefits or sharing the latest blog articles.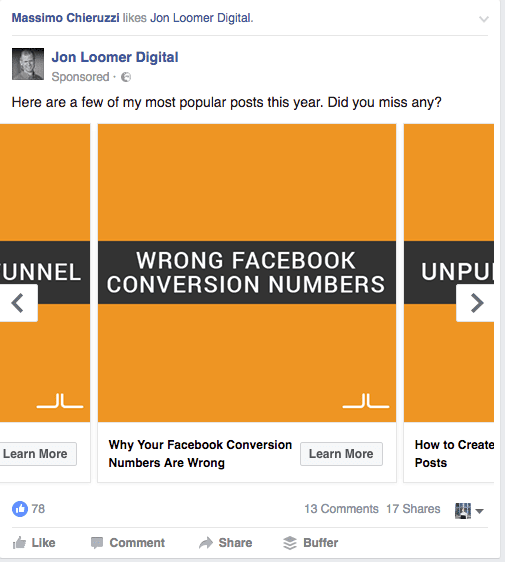 How to create an irresistible carousel ad:
Make the first slide, so good people want to see the rest
Tell a consistent story throughout the slides
Include a clear call to action in the headlines (Get, Try, Learn, etc.)
9. Use videos instead of images
Video ads are one of the most overlooked opportunities in Facebook advertising.
A report by Kinetic Social showed that video ads have the lowest cost-per-click, with an average CPC of $0.18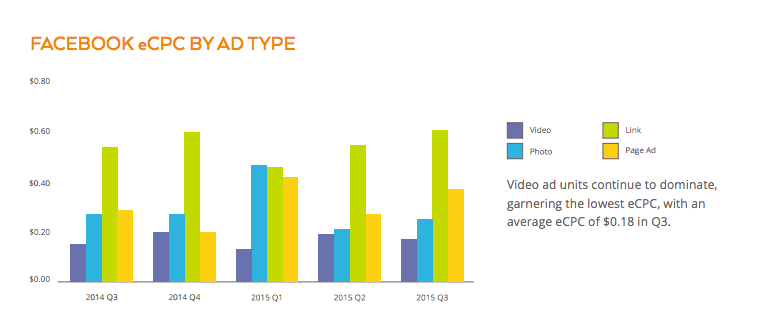 Creating a video ad in the Facebook Ads Manager is just as easy as setting up a regular ad. Only instead of an image, you'll be using a video.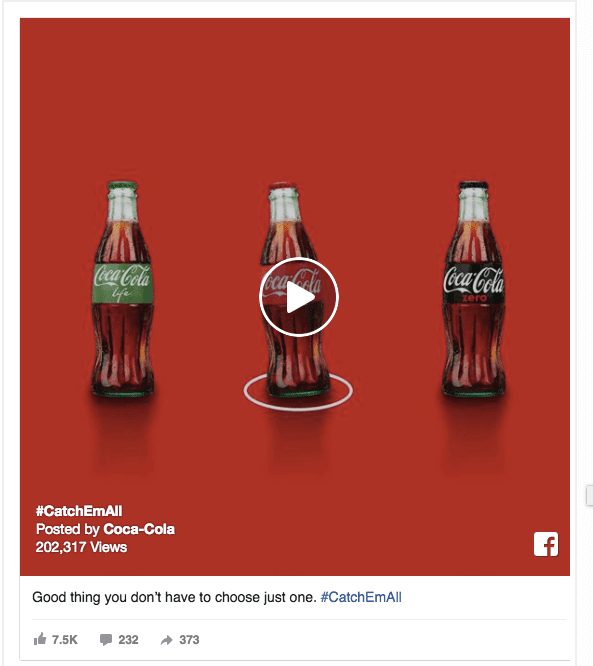 Tip: Another great use case for video ads are the videos explaining how to use your product (this works especially well with more complex processes).
10. Always add subtitles to video ads
According to Facebook, captioned video ads have a 12% higher average view time than videos with no caption.
Imagine you were at a meeting and suddenly, a loud video gets started on your phone. To avoid these kinds of situations, all the video ads on Facebook start playing without a sound:
Facebook has said:
"In mobile-feed environments, people prefer having the choice to opt in to sound. When feed-based mobile video ads play loudly when people aren't expecting it, 80% react negatively, both toward the platform and the advertiser."
If you don't use video captions, people will never click on your ads as they don't understand what the video is about.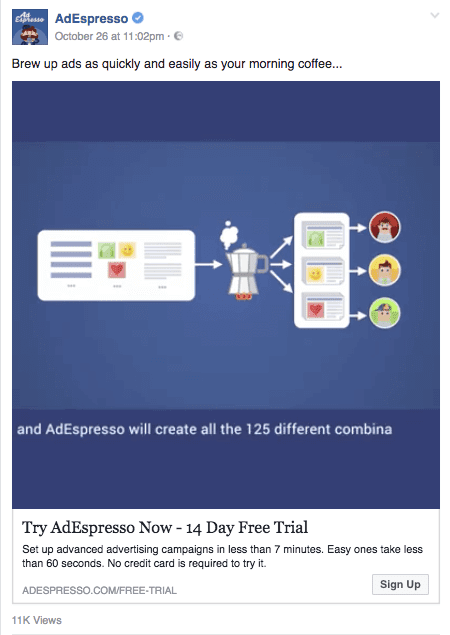 11. Create attractive landing pages
It happens all the time. Marketers spend hours on creating and setting up their Facebook Ads campaigns. What they forget to do is put as much effort into building the perfect landing page.
Getting people to click on your ads is only 20% of the success. After they've clicked on the "Learn More" or "Sign Up" button, you have about 10 seconds to convince them to stay on your landing page and read more about your product.
During the first 10 seconds, the visitor evaluates whether your website is trustworthy, interesting, and worth staying for longer.
A good Facebook Ads landing page should:
Be aligned with the Facebook ad, and deliver the same message
Include a clear value offer and call-to-action
Contain no unnecessary text or images (only the ones that contribute to the conversion)
Use high-quality images and design
When visiting Drift's website, you'll instantly notice a huge sign-up box. That's a must-have on any landing page you create.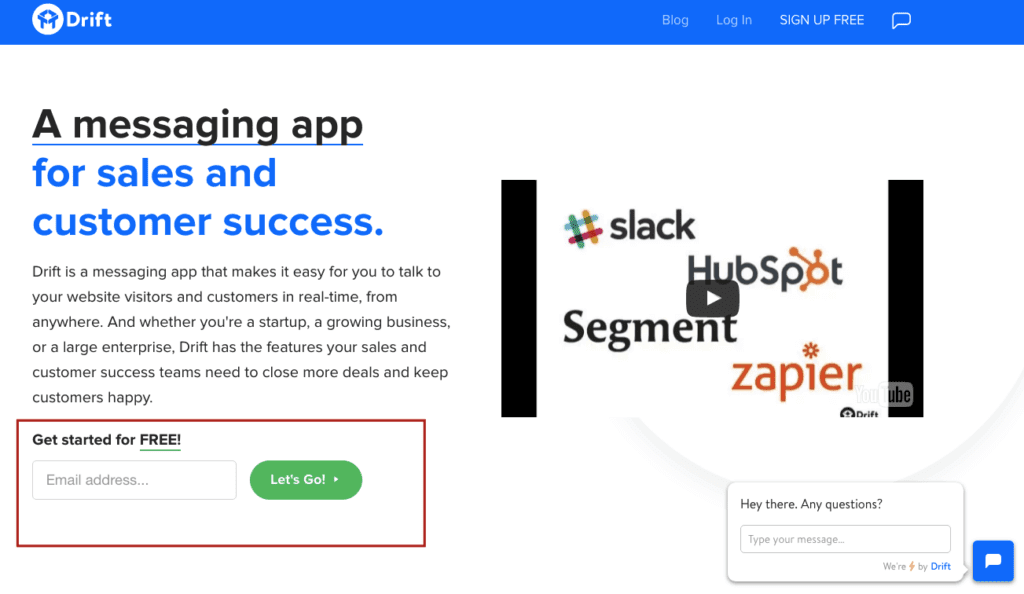 Read more: 12 Expensive Landing Page Mistakes That Are Stealing Your Conversions
12. Create a separate landing page for each campaign
You can't please everyone at once, or you end up pleasing no one.
Smart Facebook marketers rarely advertise the same offer to everyone. Because it almost never works.
Every Facebook advertiser has several different audience groups with various industry, lifestyle, and social backgrounds. Your job as a marketer is to segment your audience and deliver highly relevant offers to each one of them.
According to HubSpot, companies see a 55% increase in leads when increasing their number of landing pages from 10 to 15. The more landing pages you create, the more leads you're able to capture.

13. Keep the ad frequency under control
After you've run a Facebook ad campaign for a couple of weeks, you'll likely notice the click-through rate going down, and ad costs increase.
That's because people are tired of seeing your ads in their News Feeds over and over again.
Unless you're targeting an audience of several million people, Facebook will start re-showing your ads to your audience pretty quickly.
AdEspresso ran an analysis of how ad frequency affects the click-through rate, cost-per-click, and cost-per-conversion of Facebook campaigns.
The more times people see your ads, the less likely they are to click on your offer.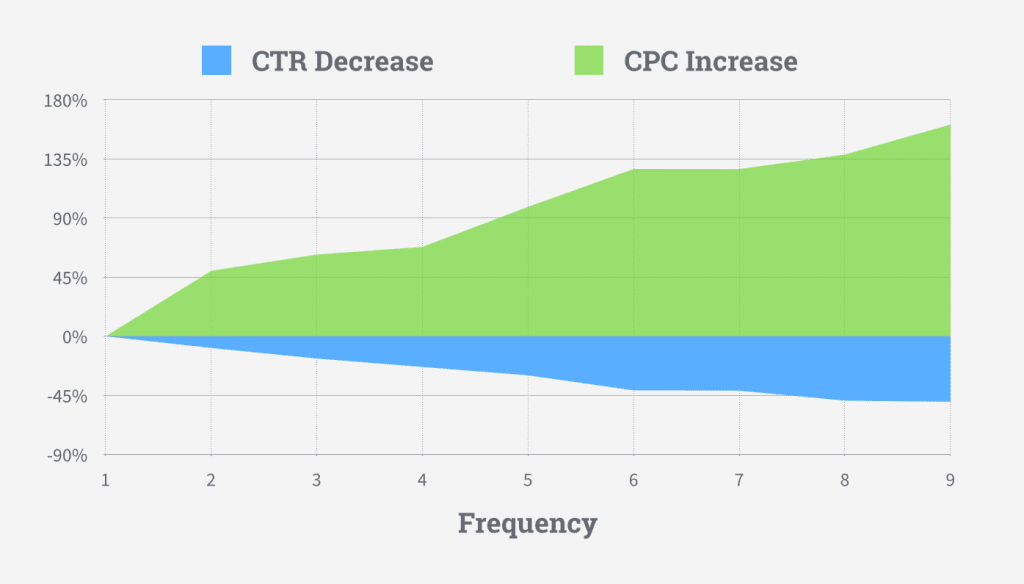 A good way to avoid the ad fatigue is to schedule your ads to show only on four weekdays out of seven.
You'll be giving your target audience a small vacation of your ads and will save hundreds of dollars to spend on other PPC campaigns.

14. Rotate your ads
If you're not happy about missing some potentially awesome advertising days with custom ad schedule, try this: create multiple ad images and show the ads on different weekdays.
For example, LinkedIn's created two completely different ads to promote a single guide.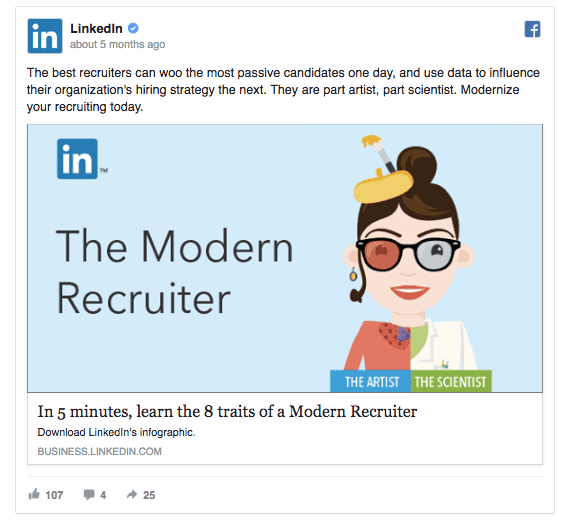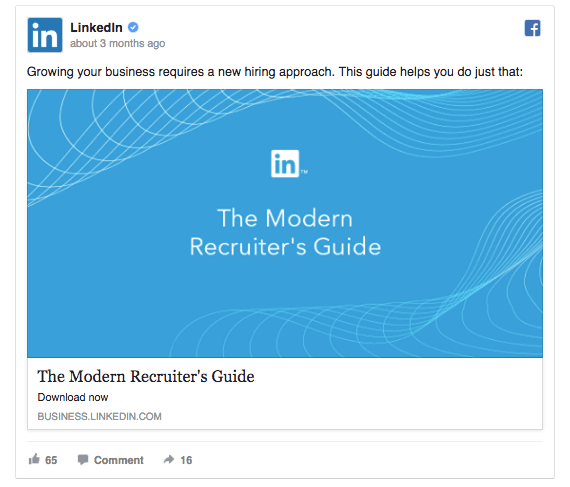 By doing so, they'll be able to avoid the ad fatigue by showing the first ad on Mondays-Wednesdays, and Fridays; and the second ad on the rest of the weekdays,
Tip: How to rotate your ads:
The easiest way to rotate multiple ads is to create a Facebook campaign with a single ad. Next, copy the ad group and create two separate ad groups with different ad images under the same campaign. Now, you can set up a custom schedule to deliver each ad on different days.
15. Emphasize the emotions
Neuroscientist Antonio Damasio studied people with damage on the part of the brain where emotions are generated. He made a fascinating discovery: people who can't feel emotions can't make decisions.
Emotions are a crucial part of our decision-making process. People who feel strong emotions when looking at your ads are more likely to act upon them.
You can use both your ad image or the messaging to spark strong emotions in the viewer:
Use illustrative images of people feeling a positive emotion
Use emotional words such as "amazing" or "joyful."
Use exclamation marks to give a happier tone to your ad copy
Eventbrite's ad combines a cheerful image with their logo, so that people will associate the brand with happy feelings.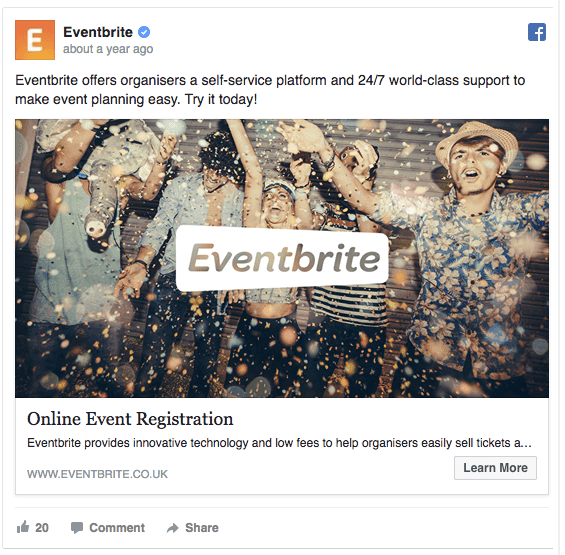 16. Keep it simple
Writing a long ad copy to present all your product's features and benefits isn't always the best you can do.
People won't read your ad copy if it's too long and full of irrelevant information. What they're looking for is a quick answer whether they should click on the ad or not.
While Facebook allows up to 500 characters in the ad text, there's no need to use all of it. Short and clear ad messages require less effort to be read, so people tend to like them more.
For example, all the texts in this ad by NIKEiD are kept minimal. Instead of bragging about the greatness of their products, they let people look at the image and decide for themselves.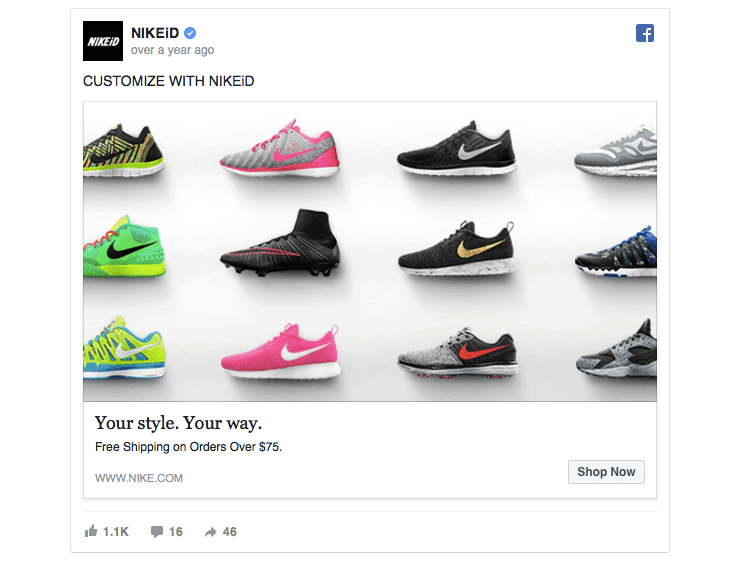 Shorter texts are also a nice contrast to other ads in the News Feed, helping your ads to shine out.
17. Align your ad design with your branding
If someone saw your Facebook ad but your company's name was hidden, could they associate it with your brand in 5 seconds?
When people fail to associate your Facebook ads with your company, you'll lose out on a great opportunity to increase brand awareness.
By using branded colors and keeping your messages aligned across all marketing channels, you'll get better results on every channel.
For example, Asana's brand colors are a mix of neon pink, green, and blue. That's what their home page looks like: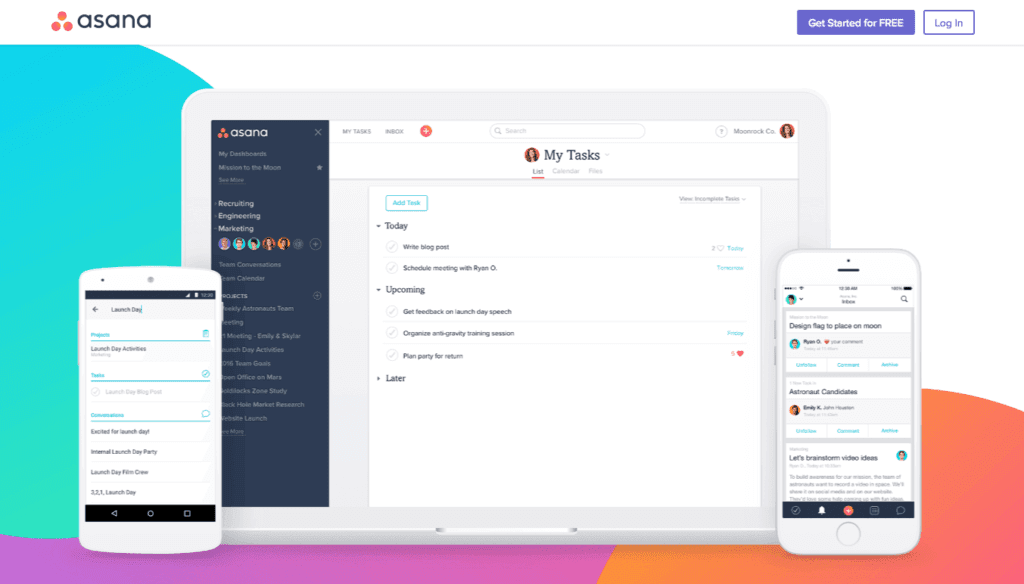 Asana has also followed similar design guidelines in the Facebook ad campaign, making it easily memorable to potential customers.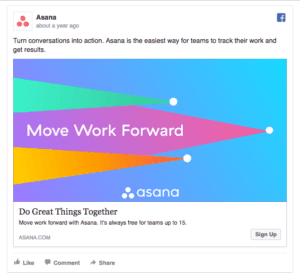 Read more: 8 Authentic Ways to Align Your Facebook Ads With Your Brand Design
18. Spice up your ads with emojis
SaaS brand Scoro ran a small A/B test to test whether emojis have any effect on the click-through and engagement rates. They did.
The ad with emoji in the headline had a 241% higher click-through rate than the ad with no emoji.
Adding emojis to your Facebook ads is super easy:
Find an emoji in Emojipedia
Copy it to your clipboard
In the editing phase, paste the emoji into your ad copy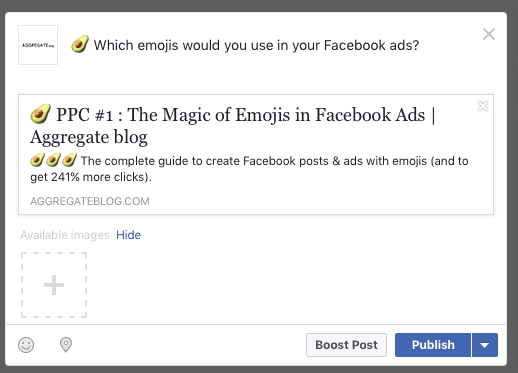 Emojis can be used both in Facebook posts and ads, so you can also use this hack when sharing a link to your blog article.
There's no limit to how many emojis you should use. This example by KlientBoost has made use of plenty of fun emojis.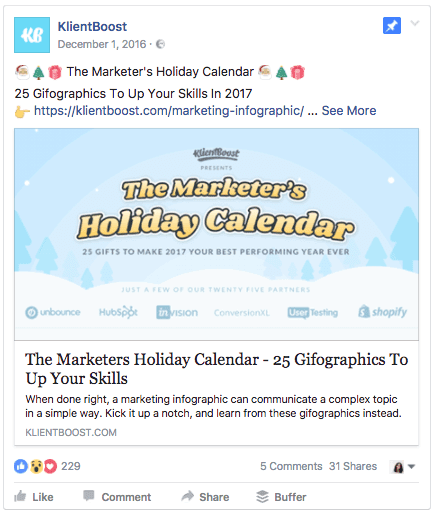 Quick overview:
Here's a quick recap of all the 18 Facebook ad hacks mentioned in this post:
Write a magnetic ad headline
Create an irresistible value offer
Present social proof
Master the art of FOMO and urgency
Use high-quality ad design
Create colorful and contrasting ads
A/B test lots of different ad images
Create carousel ad campaigns
Use videos instead of images
Always add subtitles to video ads
Create attractive landing pages
Create a separate landing page for each campaign
Keep the ad frequency under control
Rotate your ads
Emphasize the emotions
Keep your ads simple
Align your ad design with your branding
Spice up your ads with emojis