The Virtual Summit is one of today's most effective digital lead generation tools.
A virtual summit is a type of collaborative online event in which speakers are interviewed by a host. It's like an online conference with a collection of online presentations from 6 to 30+ experts on a topic.
This type of event is a powerful marketing tool for both experienced business owners and newcomers alike.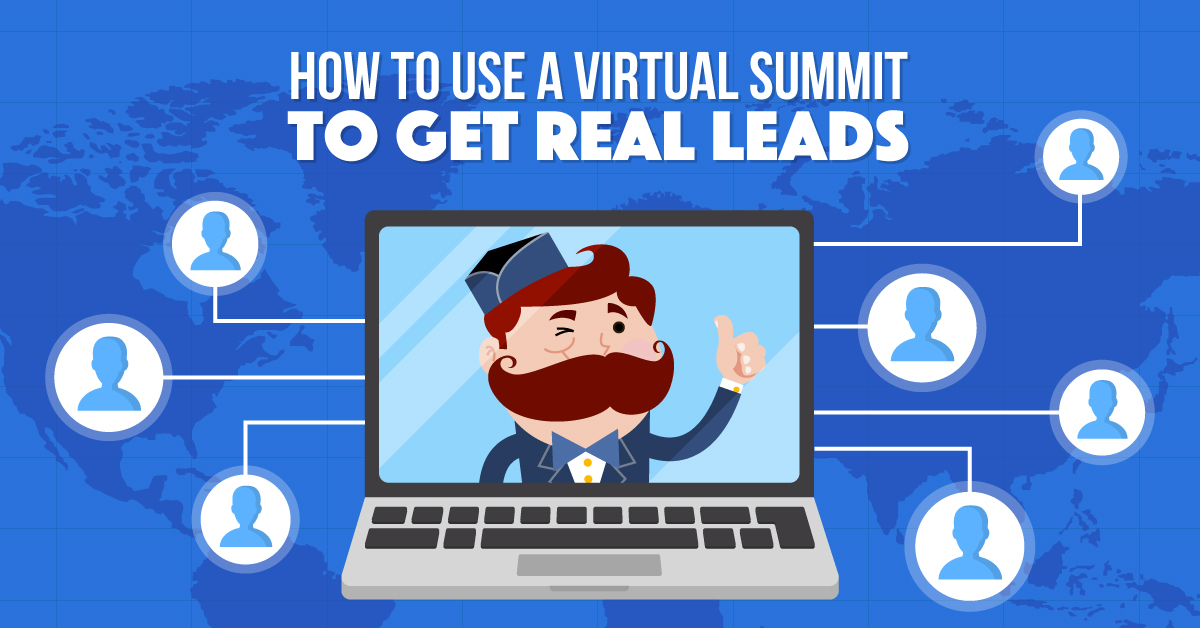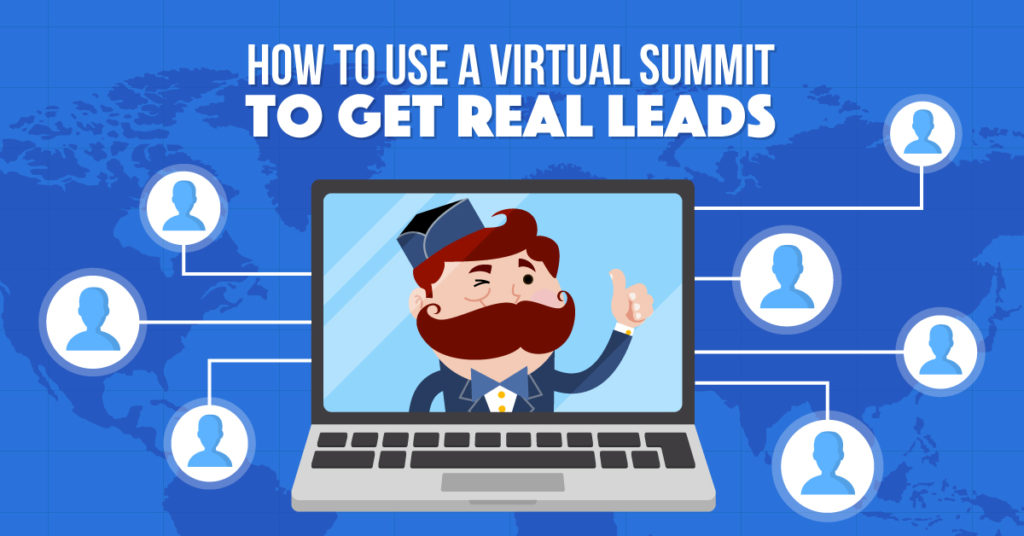 A good virtual summit can attract hundreds of "attendees" who are able to learn from all of these speakers–in many cases for free–without having to travel or book a hotel.
This means you can capture the attention of potentially thousands of prospective customers without the cost and risk involved in hosting a traditional physical event.
In this post, we're going to break down everything that goes into a successful virtual summit.
Virtual summits are one of the most effective strategies to generate a surge of traffic, opt-ins and sales over a short period of time." –

Tom Morkes
Companies and individuals host virtual summits for a wide variety of reasons. The summit itself can be used simply as a lead generation tool, or as a product in and of itself.
The Be
nefits of a Virtual Summit
Lead generation: Virtual summits are extremely effective at generating traffic, opt-ins, and sales. The potential to view talks from dozens of experts on an interesting topic can attract more people than a typical webinar. Plus, with good incentives, you can crowdsource your marketing, because each speaker you have can become a promoter for your event.
Product development: Though summits usually are free for the few days that they are live, they can become a product after they close. All of the content you've created is highly valuable, and it's unlikely that your audience could take in all the information and speakers they wanted to during the live sessions. For this reason, summit hosts will often sell an "all-access pass" that gives lifetime access to the talks.
A virtual summit can be an early income stream for companies that are just starting out, because they cost very little to produce yet have the potential to generate some good revenue if marketed well. You are simply sharing the knowledge of other speakers, who in turn attract their own followers to the event.
The benefits of a speaker bringing in their own audience cannot be understated. That is free advertising and exposure to an entirely new audience.
In this post, we're going to examine the Bestseller Summit Online an event hosted by Jesse Kreiger an American entrepreneur and author who helps people create lifestyle businesses and bestselling books. He put together Bestseller Summit Online as a means of getting a big spike in leads for his publishing business.
In the end, Bestseller Summit Online brought in over 10,000 leads and over 400 sales for Jesse.
To facilitate this launch, Jesse collaborated with Tom Morkes, a product launch expert. Aside from developing the strategy behind Bestseller Summit Online, Tom developed and ran the marketing campaigns behind many notable launches, including John Lee Dumas' "The Freedom Journal" crowdfunding campaign which generated $453,803.00 in 33 days with, Neil Patel's New York Times bestseller "Hustle," Teachable's annual Course Creation Summit, and Dan Norris into the limelight with the launch of "The 7 Day Startup," among others.
Who Should Run A Virtual Summit?
Right now, virtual summits are particularly great for entrepreneurs who are starting their business from scratch and need to quickly build an audience and a reputation for expertise within their industry.
It can, of course, also be an effective tool for people who are already established in their fields and who are considered "thought leaders."
Krieger is known for his Lifestyle Entrepreneurs Press and is considered a thought leader in his field. The summit was a perfect way for him to drive more leads for his publishing company. What Krieger discovered was that by selling the all-access pass, people are often able to break even or make a profit on the event while bringing in a lot of leads. He was also able to develop powerful relationships with event attendees.
A summit done well is a win for all parties: the host, the speakers, and the attendees." – Tom Morkes
The benefits to be gleaned from a well-executed virtual summit are threefold. It's beneficial for the host, who gets leads out of it. It's a win for partners and speakers, who are able to share their expertise and develop a larger following. And it's a win for the audience, who is able to get access to some high-quality information and education from trusted sources.
Here's an interview with Jesse Krieger and Tom Morkes discussing their key takeaways from the summit. It's a long one, but if you want a deeper dive than this post it could be useful (skip to minute 2:30 to get into the good stuff).
How to Plan a Virtual Summit
Once you have made the decision that you will hold a virtual summit, you can get started with your planning.
Let's take a look at a general schedule of planning and organizing your virtual summit.
Live or Recorded?
The first choice you'll need to make is whether to run your event live or recorded. Running your summit live means you'll conduct every interview or presentation live on the summit. Taking the recorded approach means you record your speakers in advance of the event and just release the recordings.
There are more upsides to running an event live, but also more risks. You need good internet to be able to run it live, so make sure your bandwidth is capable of handling the event.
Live events also offer more opportunities for engagement, with users being able to ask questions and have them answered in real time. This is important, because there is a strong correlation between engagement and sales.
There are some extra challenges with running a live event, specifically when it comes to coordinating all the moving parts of the event and the partners you are working with, but the extra engagement is more than worth it.
Keep an eye on the costs
Anyone who is going to run such an event needs to be able to plan ahead for the expenses associated with it. You don't necessarily have to pay for all of the following–you can bootstrap many of these elements yourself–but these expenses include:
Copywriting: Anyone who wishes to run a virtual summit needs good sales and landing page copy to attract potentially interested attendees. Some entrepreneurs also put together workbooks that go along with the summit.
Having additional content, such as your workbook, to share allows your partners and speakers to email their contacts and leads more than once without repeating the exact same message, which makes for a greater chance of getting people to sign up for the event.
The cost of hiring a copywriter varies widely, but assume $5,000 to $10,000.
Design: The design for the pages and the lead magnets is important, both so that it is consistent with your brand and so that it provides a professional and appealing first impression to users who land on those pages.
Professional design will likely cost $5,000 to $10,000.
Partnerships: The partnerships you establish for the event are not free. You should not have to pay for speakers unless you are hiring a recruiter to seek them. However, it's common to pay speakers on the back end of the event, which you can pay via affiliate commissions—the partners you bring in make a percentage of the sales they generate.
Working with a recruiter could cost $10,000 to $20,000, but finding speakers on your own should cost you nothing before affiliate commission.
What tech and admin tools do you need?
What do you need to do logistically to put all of these pieces together? There will be some technology and administrative costs you will need to cover. You need software for landing pages, email marketing, and a checkout cart.
Some examples of these tools include:
(For more on this tool check out The Ultimate Guide To Video Email.)
Setting Up And Running A Virtual Summit in 5 Phases
Many people make the mistake of underestimating how much time a summit will take them. Here's the 5-step strategy that will give you best results.
Phase 1: Strategy and Planning (4-6 months out)
The first step is determining some of the most basic logistical elements of the event.
Laura Sprinkle cautions those with summit ambitions to plan out double the time they think it would take in her article 10 Lessons I Learned From Hosting An Online Summit.
Give yourself double the amount of time you think you need to pull this off. Seriously.

I spent about three months in total on the Soul Fire Summit. However, the first month I spent dilly-dallying and thinking that I had more time." – Laura Sprinkle
For example, what are the dates of the event going to be? Will it be a live summit or a pre-recorded one? What topic or niche will you be focused on, including specific marketing verticals and topics? What tech will you want to use, and what is going to be your main offer?
Your answers to all of these questions will dictate who you want to bring on as speakers, and who you want to bring on as promotional partners and/or affiliates.
At this point, you will also have to figure out the assets you need to create to help promote the event. This could include interesting content, landing pages, e-books, promotional products, email marketing campaigns and any additional copy that could be used by speakers and promotional partners.
You should have all of this mapped out at least 4 months before you actually launch the summit.
Phase 2: Research and Recruitment (3 months out)
The next step to planning your summit is a time-intensive one: researching and recruiting your speakers for the event, all while you are producing all your necessary materials and setting up your tech, pages, and assets.
The critical item at this point is getting your speakers and partners on board, and it's important to start as early as possible so your speakers are not already booked. This process can take as long as 2 months.
Getting your speakers on board is generally a 4-step process:
List building: Who are the people you want to get involved with this event, and why? Start with a list of a good 50 to 100 names. Build out this list with basic information on each person in an Excel spreadsheet.
List scrubbing: Go back through your entire list and ask yourself if that person is a good fit for your summit. Check websites, social media and other outlets where your potential speakers publish and learn about what they do.
This background research will help you determine which people you will reach out to. You want someone with a personal blog or podcast, who can have a recognizable face you can bring to your event. This individual should be a skillful person behind a brand, such as a marketing director.
Avoid working with anyone who is not in full control over the information they want to share. As your summit develops and you get people signed on, you'll have a clearer idea of who will be good speakers. This means you can also eliminate speakers who aren't as good of a fit.
Try to connect with the high-priority speakers in another capacity before you ask them to be a part of your event, such as by engaging with them on social media or signing up for their newsletter.
Outreach: Conduct personalized outreach to all the people remaining on your list after the list scrubbing process. Any emails you send should be customized, even if the main content is templated. In your initial email, have the basic details of the event included, and ask them to reach out for more information if they are interested.
Here's an example email Tom used to recruit speakers for The Bestseller Summit.
Notice how he opens with a conversation starter and shows interest in their work. Then he mentions the summit, but also simultaneously flatters the reader. He touches on the fact that the summit would be valuable for his audience as well, so it makes it an easier "yes". Finally, he includes all the necessary information about the summit so they can learn more before committing.
Communication and management: Once you have a yes, your job isn't done. Maintain contact with your speakers periodically leading up to the event.
One of the biggest mistakes you can make is to sign people up and then not message them until a day or so before the event, only to find the trail has gone cold. Most entrepreneurs have dozens of projects they're balancing at the same time, and it's easy for them to lose track of all their commitments without good communication. Regular contact will make sure you're at the top of the minds of all your speakers.
Here's an example thread with Tom communicating with speakers leading up to the summit.
There's frequent communication in the early phases to make get all the speakers in order and prepared, there's almost never more than a week that passes without an update or reminder. Over-communicating with speakers in this way ensures that everyone will be ready on the big day.


Phase 3: Pre-Event Planning and Promotion (2 to 3 weeks out)
This is when the promotion of your event really kicks into high gear. You should have a landing page for the event ready with a list of all your confirmed speakers. Promote this page through your speakers, paid traffic, social media and your own list. When people arrive at your landing page, make sure you give them a lead magnet that you designed specifically to get them to sign up for the summit.
Here's an example of an event page with the speaker lineup. The page is simple with a clear promise for the summit and a preview of a few of the speakers.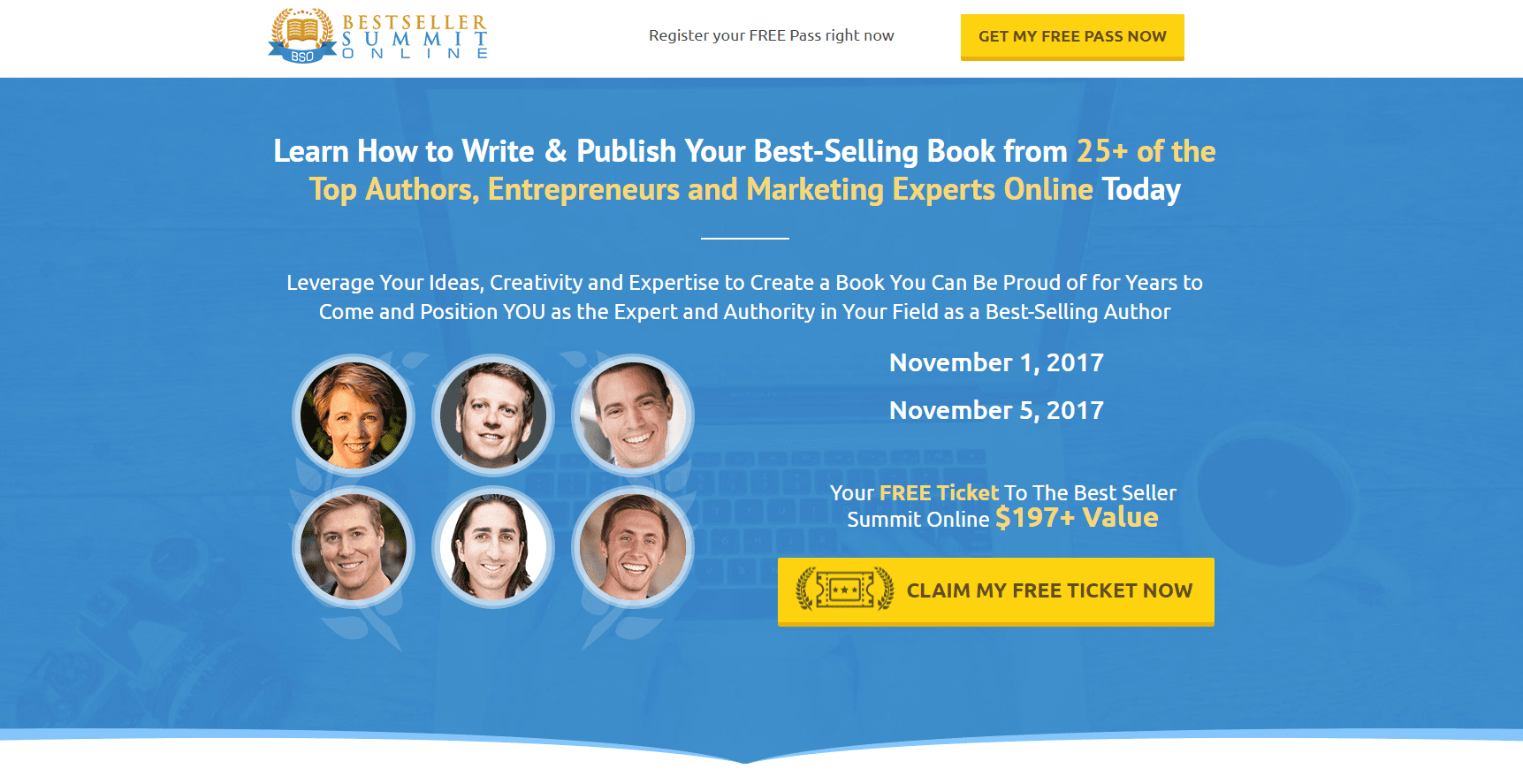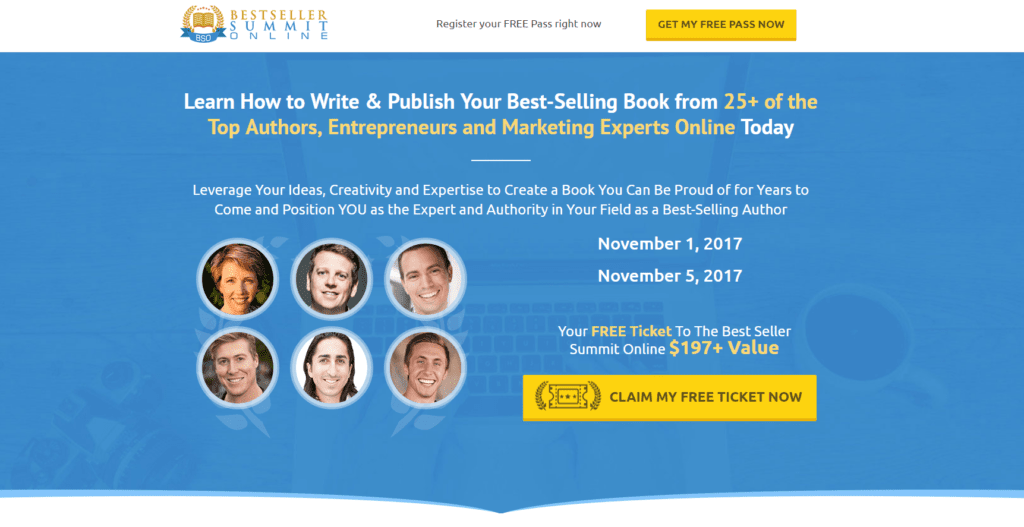 Here are two examples of landing pages for lead magnets used to attract attention to the summit: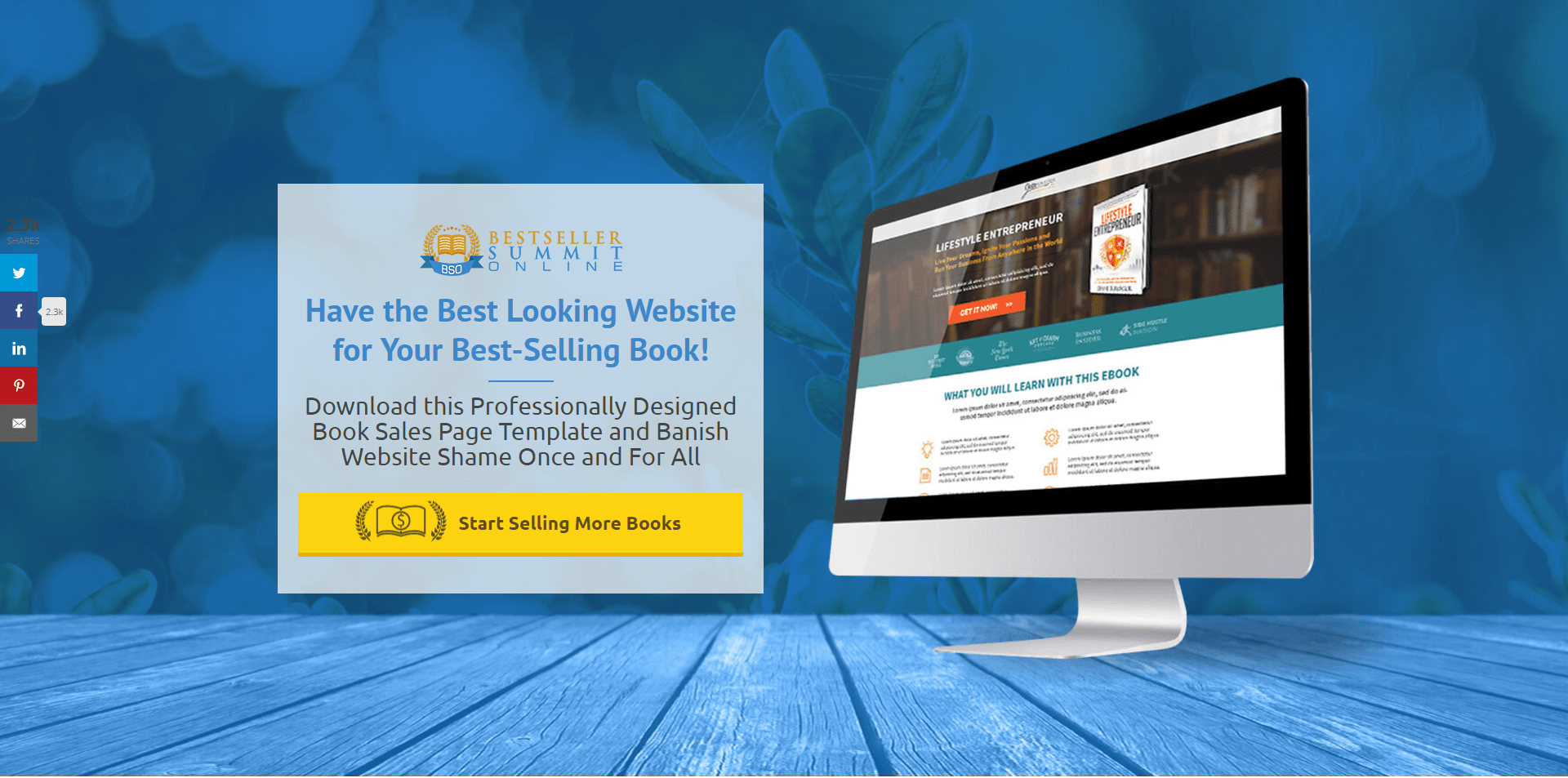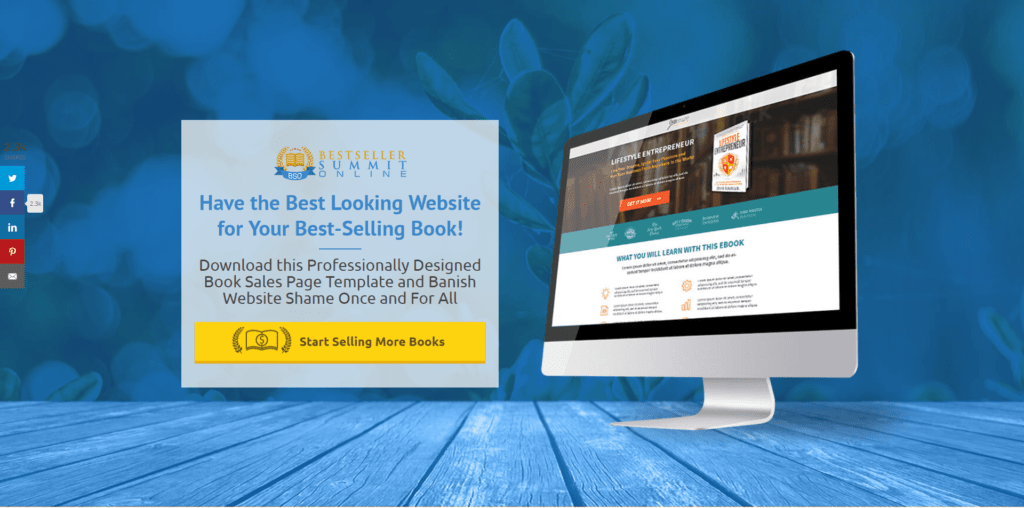 Notice how the promise of the lead magnet is very closely aligned with the theme of the summit. This way you ensure you're attracting the right people to the summit. Better yet, you give your audience a chance to consume some of your content and ideas before the summit. This gets them to anticipate the summit and gets them excited to write a book.
A beneficial strategy is to have multiple points of entry through which people can get into your summit. This means multiple landing pages, email outreach campaigns, lead magnets and other deliverables.
Do what you can to run traffic to every point of entry you have created, such as registration pages, e-book/ticket combos, template/ticket combos, etc.
It may be worth testing several different lead magnets. Notice how there are two distinct lead magnets (a book launch strategy and a book sales page) that still both point to the core theme of the summit.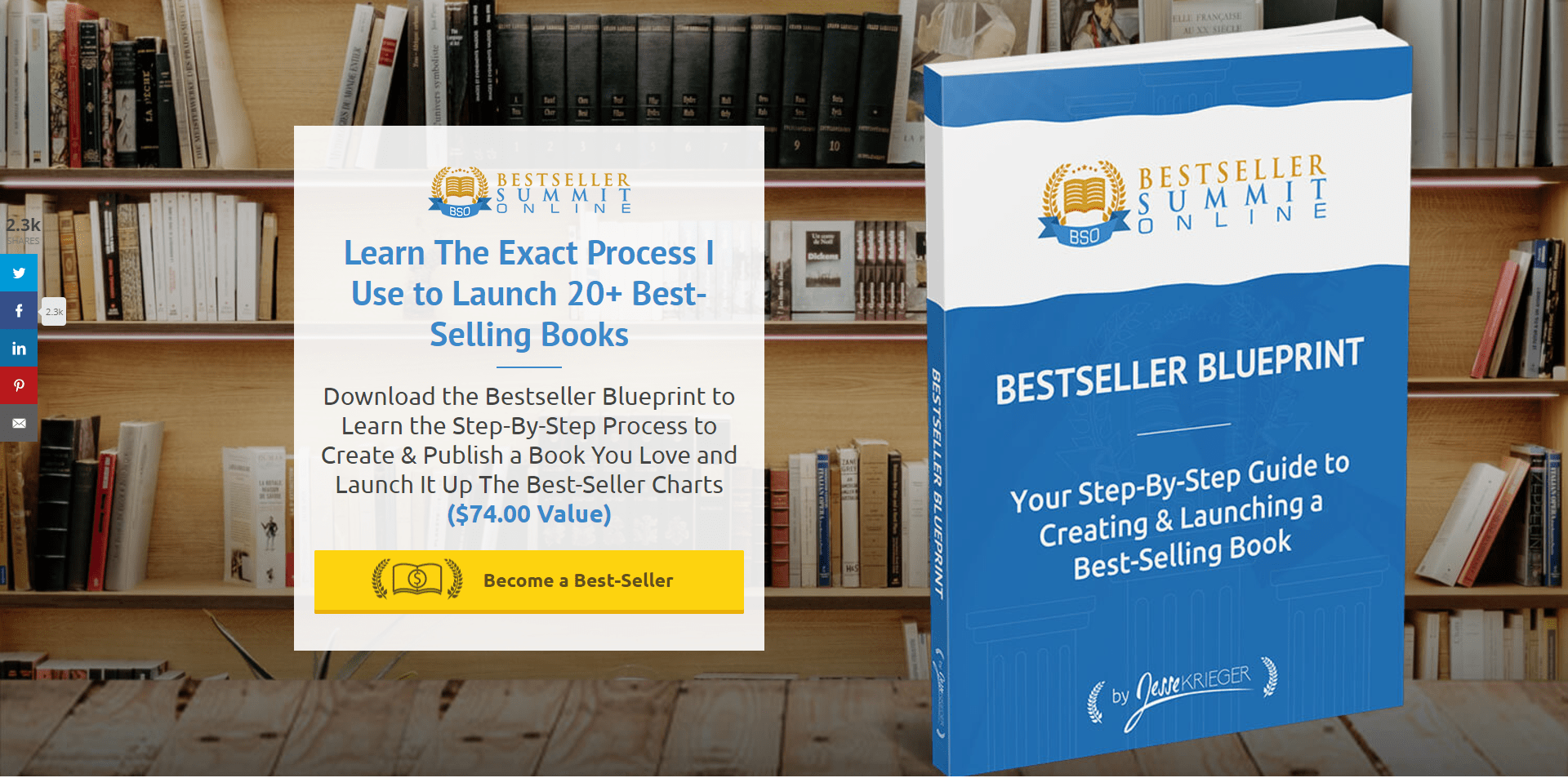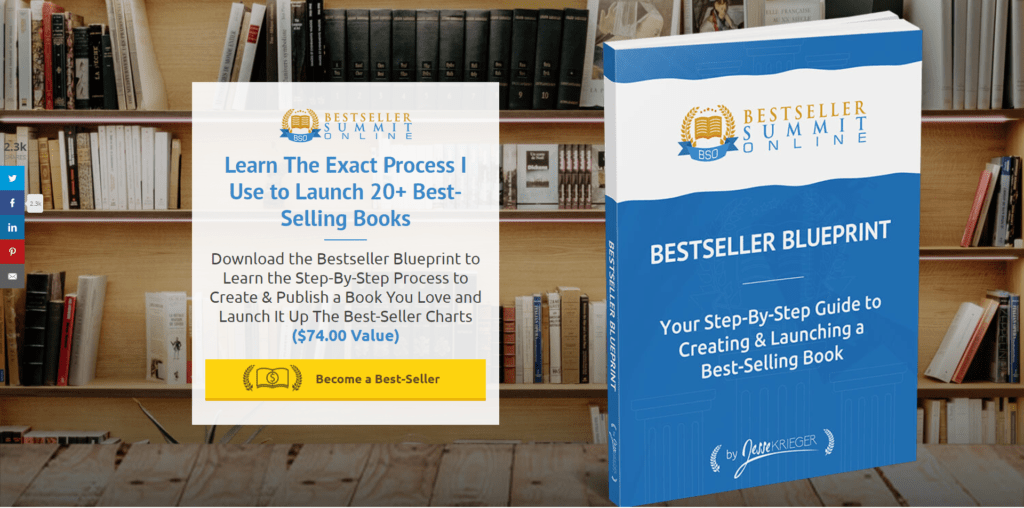 Your different entry points can vary in the amount of leads and revenue generated. The lead magnets both offered the "All Access Pass".
Here are some of the conversion stats on these different pages:
Virtual Summit registration page:
39.07% optin conversion rate
6.01% sales conversion rate
Template lead magnet:
28.15% optin conversion rate
3.30% sales conversion rate
Ebook ("Bestseller Blueprint") lead magnet:
34.39% optin conversion rate
3.68% sales conversion rate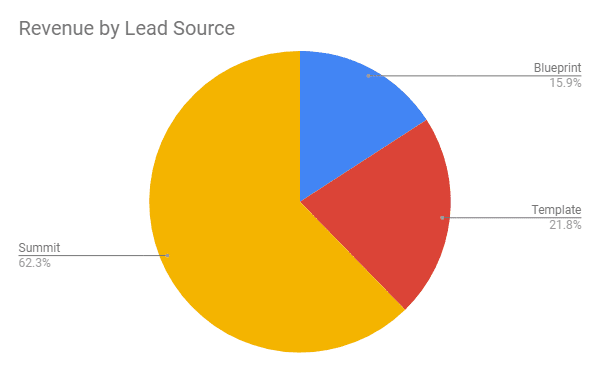 Along with the different landing pages, Jesse and Tom used several tactics to increase their conversions on their sales pages.
One tool they used is called Fomo, this tool causes a little notification box to appear on the page that mentions someone else bought a product recently. This provides social proof and shows that others are purchasing. This can be particularly powerful when selling something with a limited supply.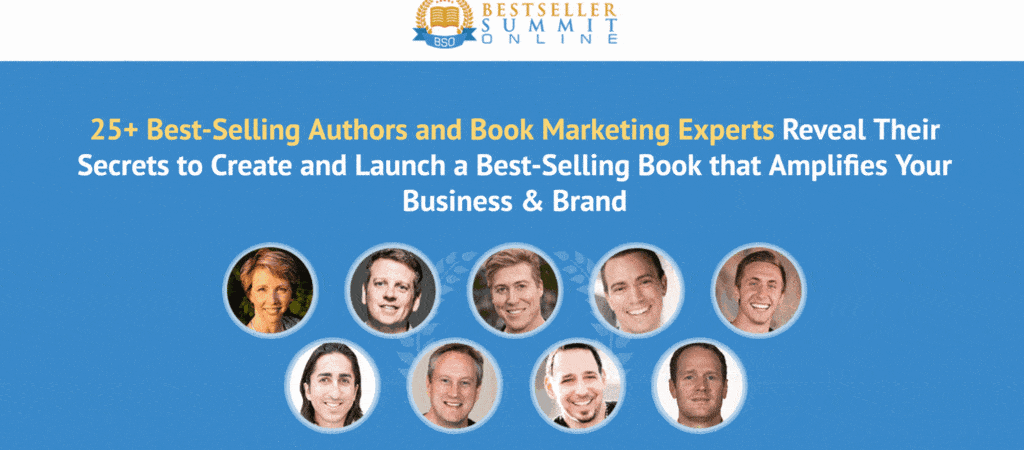 A second tool they used is called Deadline Funnel. It creates a countdown for your funnel that will automatically close the offer at a deadline you set. This is powerful for creating a sense of urgency that gets people to take action on your offers. You can also create these countdowns in your emails to create that urgency in your follow-ups.
Phase 4: Event Launch
The event is finally here!
In the week leading up to the event and during the event itself, email people every day with previews and reminders, and a clear schedule of all the speakers so it is extremely easy to attend the sessions of the speakers they want to listen to.
You should also focus on keeping your speakers happy and well-informed throughout the process.
One of the best ways to do this is to be clear and simple in your directions. They can become frustrated if they feel confused or unsure of what to do or when to do it.
Try to be as organized as possible in your communication before the event.
If you are running a live event, you won't have much time or capacity to simultaneously host the speakers live and coordinate with others behind the scenes.
You should open and close your event with a keynote address to your audience.
If you have something to pitch other than your "all access pass," do this in your opening keynote, while your audience is engaged and excited.
Even if you've chosen to do a recorded summit, your opening and closing keynotes should be live to increase engagement with your audience.
Phase 5: Post-Event (1 to 2 weeks after event)
The day after the summit ends, you can close it down.
At this point, run a series of emails telling your attendees that this is their final chance to purchase the all-access pass.
Those people who purchase the pass will have access to the sessions forever. Otherwise, once you shut down the summit, they will disappear to those without the pass.
This creates a sense of urgency and scarcity, which will in turn increase conversions.
If people do not want the pass, have a downsell ready for those people in the post-event.
Here's an example from the Bestseller Summit from "welcome" to your "one time offer".

Notice how there's a price increase for the summit built in to create additional urgency in your audience.
The offer series closes with an offer for the Bestseller Summit Live event as a final disappearing bonus to get anyone else off the fence about buying.
Conclusion
Whether you're just breaking into a new industry or you're an experienced veteran just looking for some fresh leads for your business, an online virtual summit is a powerful tool.
As you can tell from reading this post, a summit is not easy–it takes a lot of time and resources to pull off. But the stream of leads and revenue a successful summit can generate is well worth the investment.
Kyle Gray is an entrepreneur and bestselling author who helps startups and small businesses grow with storytelling and content marketing. He has helped hundreds of startups and small businesses create scalable content marketing strategies. His book The Story Engine outlines his process for making content marketing and brand storytelling easy and effective.