Want to up your Facebook game? Facebook Canvas is a great way to do it.
Competition for user attention is stiff on Facebook, so brands need to be using every tool in their arsenal to be standing out.
Facebook Canvas is a type of interactive post (or ad) that stands out in a user's mobile newsfeed.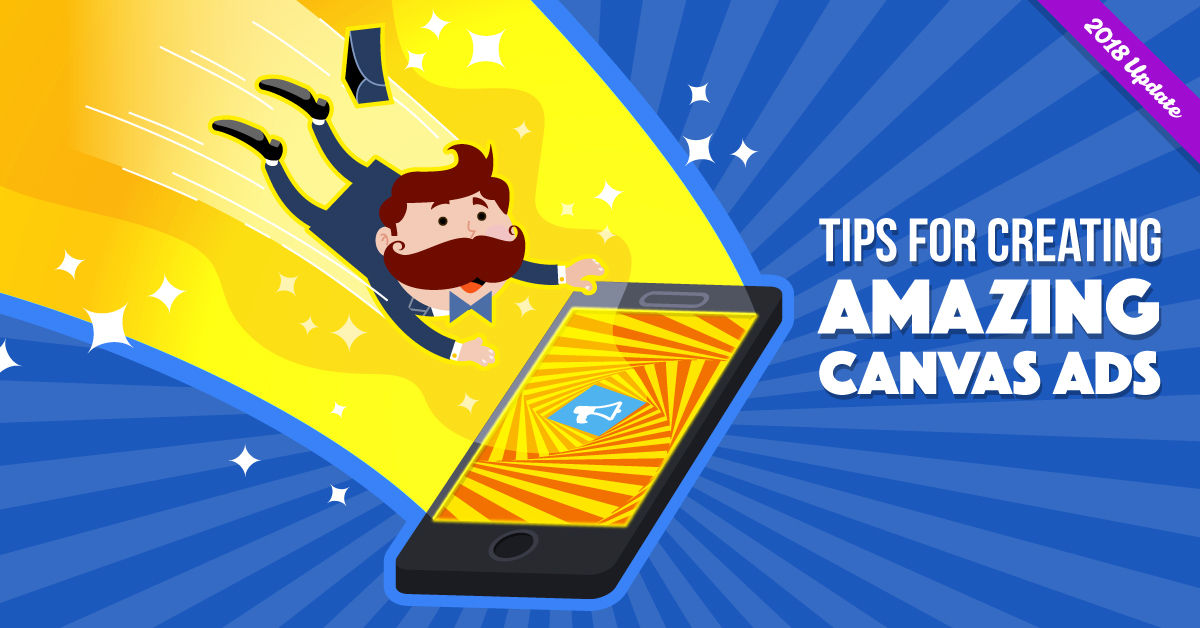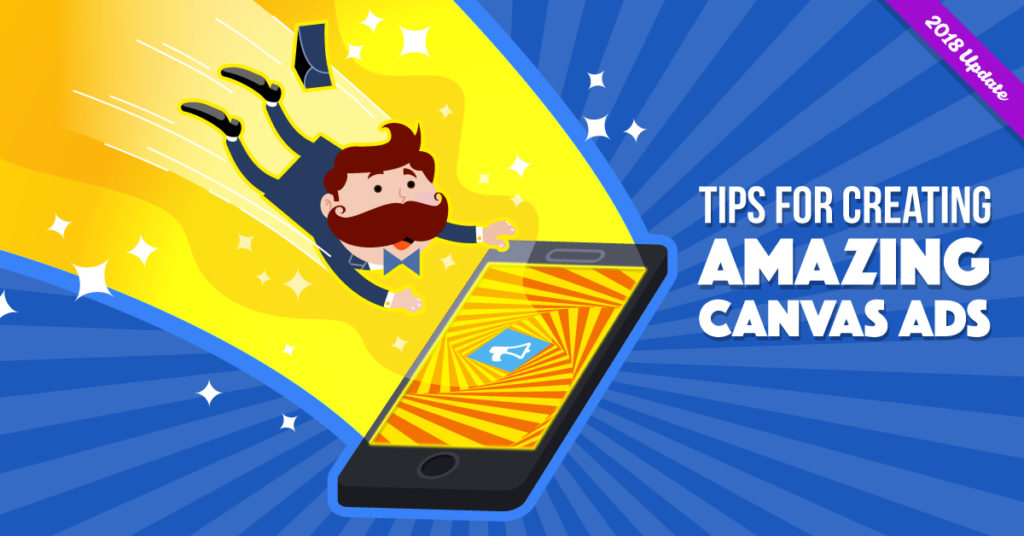 These posts can pack a lot of punch, allowing brands to go all in with content and information into just one canvas.
Because you build them from scratch and you have a ton of different options, however, many brands aren't sure where to start when creating them.
In this post, you're going to learn 8 tips to create an excellent Facebook Canvas, and several different strategies you can use to optimize for specific goals, getting you more results from your Canvas Ads every time.
What is Facebook Canvas?
Facebook Canvas is a type of dynamic, interactive mobile experience that is best used as an ad. Here's how Facebook describes it:
Canvas helps you shorten the distance between your message and the customer. It loads instantly, it's mobile-optimized and it's designed to capture the complete attention of your audience. With Facebook Canvas, people can watch engaging videos and photos, swipe through carousels, tilt to pan, and explore lifestyle images with tagged products. They won't just see your story, they'll become part of it".
Canvases have different formats you can choose from, like the tap to expand format.
They are also incredibly customizable and let you add combinations of different components, which include headers, clickable buttons, text, videos, and images.
The first time I saw a Facebook Canvas as a user, I had no idea what it was, but I remember thinking how interesting it was, and I scrolled all the way through it. (It didn't hurt that it had something to do with Harry Potter, which will always be my fandom of choice!).
This is kind of the point– they're immediately engaging, and the fact that you can scroll up and down and left to right- if carousel components are added- are almost guaranteed to keep customer interest.
Users will be able to scroll through multiple components, making them an excellent vessel for storytelling and brand building.
When a user sees one, it'll look something like this:
Canvas is available through Power Editor, though some businesses can access it through their Pages.
Wanna refresh the basics? Here's our guide on How to Get Started with Facebook Canvas.
How Should I Use Facebook Canvas Ads?
Canvas Ads can theoretically be used to accomplish almost any number of goals you come up with for your Facebook Ads.
That being said, it's really best suited for three different things:
Brand Building, which focuses on just telling users about your brand and sending them to your page or site for more information
Driving conversions, which is designed to heavily promote your product and get purchases
Lead generation, which will show users a mobile lead gen form if they click on one of the CTAs
This makes sense.
Canvases, remember, are already interactive, so users may not want to engage with the ad after they've scrolled all the way through the Canvas like they might with other content.
They're incredible vessels that give you more time and space to get your point across to customers, whether that means telling more of your brand's story or showing them the value of your products (or both).
Facebook really does want to make it easy for us, so in addition to letting you build Canvases from scratch, they also have pre-made Canvas templates for each of the objectives discussed above.
These templates are all fully customizable, but they can give you a good starting place when you're feeling stuck early on.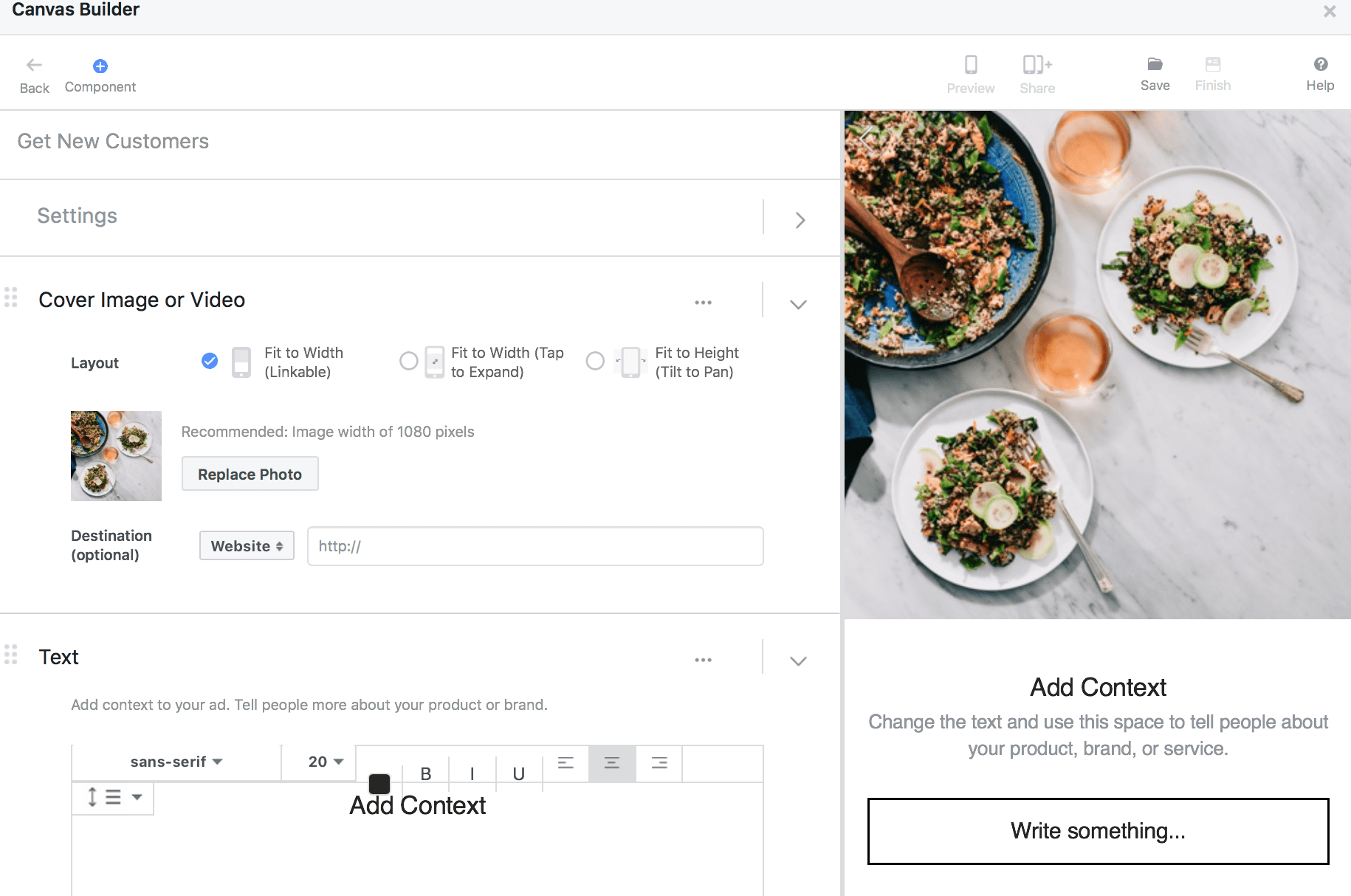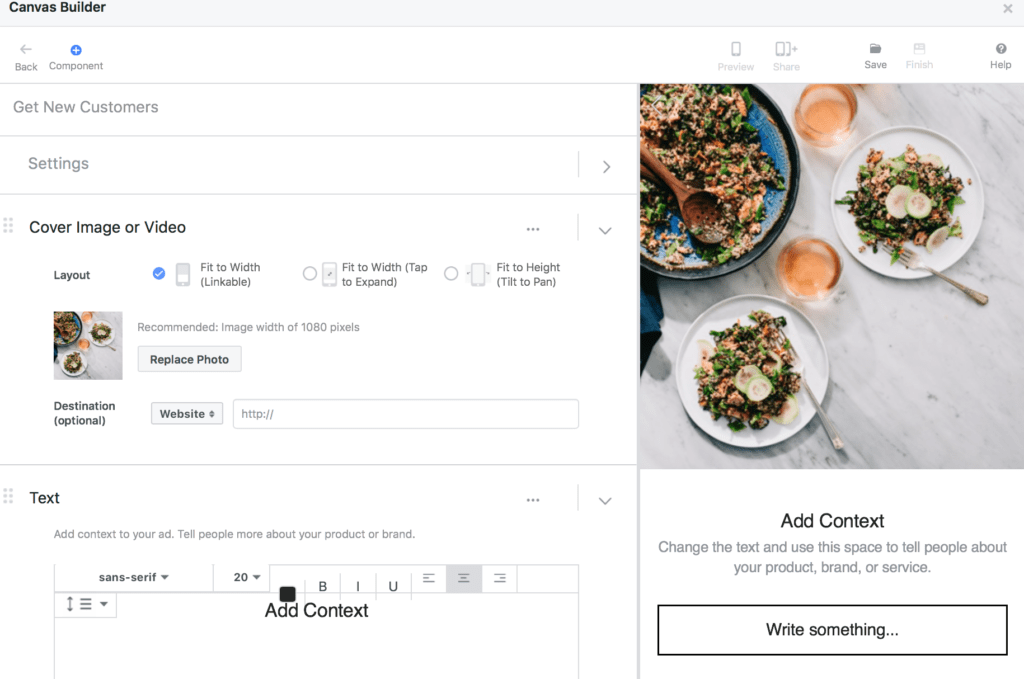 Facebook Canvas Best Practices
After you've determined the strategy you want to use and what you want to optimize for with your canvas ads, it's time to create them.
Unsurprisingly, many people feel a little overwhelmed when they go to make Canvases because they're so complex and there's so many combinations of components you can use  (here's a tutorial on how to create your first Facebook Canvas ).
If you're not sure where to start, I almost always recommend starting with one of the three pre-made (but fully customizable) templates we discussed in the last section to get things going.
Aside from that, there are eight best practices you should keep in mind to get the most out of your Facebook Canvas ads.
1. Change it Up
Facebook Canvas lets you add in a ton of different components, including:
Headers
Clickable buttons
Text
Videos
Images
You can add these components in a nearly endless number of combinations, and you can use each multiple times.
Despite this potential and all these options, one of the biggest mistakes I've seen brands make is to keep all of their "slides" in a similar format, with the components exactly the same.
This video (Mr Porter Sport) showcases how keeping the format as dynamic as the Canvas itself, can keep a user interested and engaged.
The dynamic nature of Canvas is what makes it so valuable, so changing the components up keeps the user interested and wondering what they'll see when they scroll to the next page. Page after page of text only won't quite cut it.
This doesn't mean there can't be some form of symmetry; you can begin and end with a CTA and a video, for example.
Utilize as many components as you can while keeping your Canvas relevant to the message and marketing goal at hand.
2. Choose your First Component Wisely
Users won't see a preview of your entire Canvas at once; unlike Carousel ads, where users can see multiple images at once, your Canvas shows up one slide at a time.
Because of this, the first page of your Canvas is hugely important, and will determine whether or not a user will continue to scroll through to see the rest of your informations.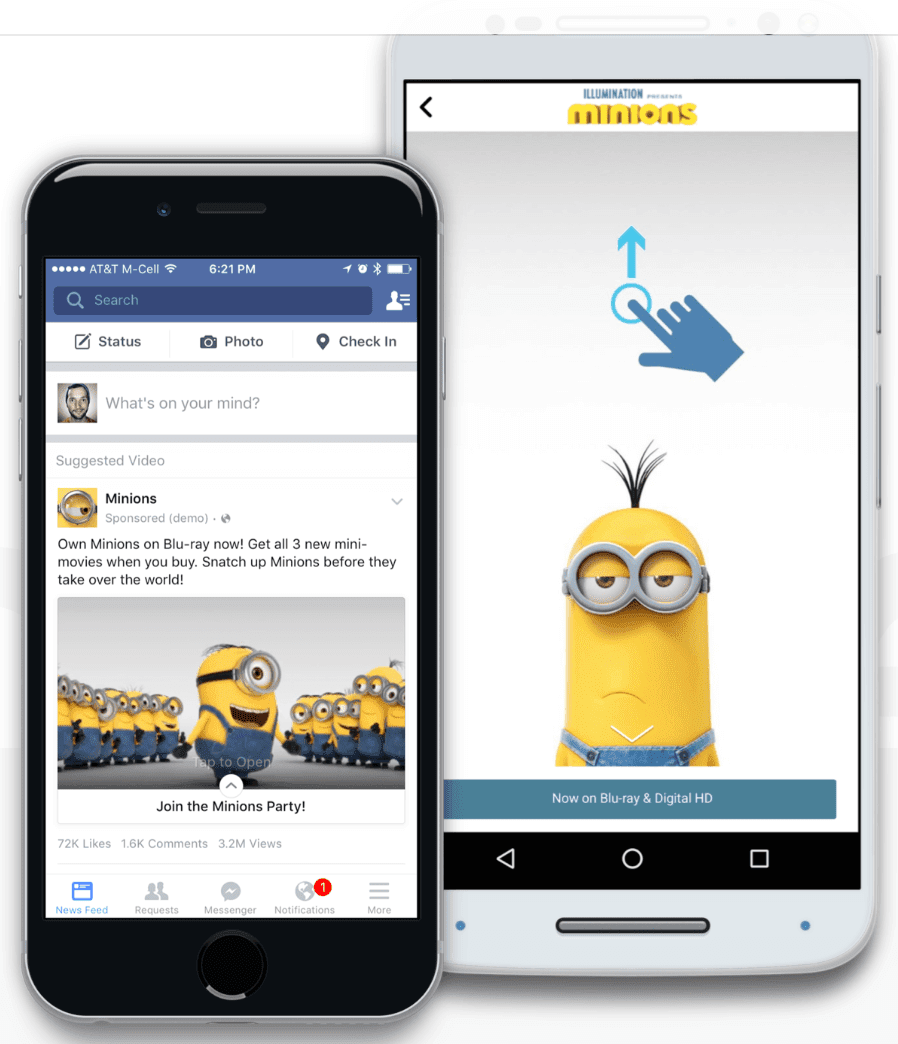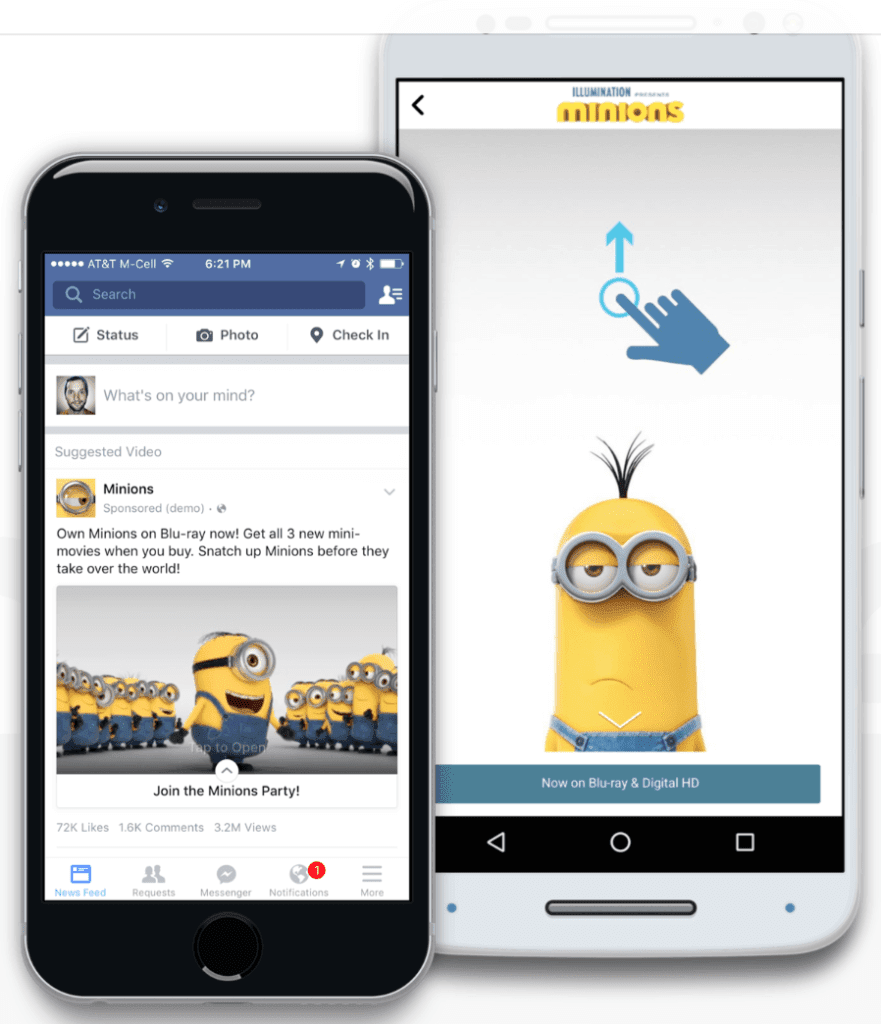 Whether you're a fan of the minions or not, you have to admit the one above is a great first page. It even encourages users to scroll in case they're unsure of what to do.
Tell your users why they should care or be interested on the first page.
Traditional tactics to capture a users' interest apply here; you can present a problem that you tell them you can solve, feature a unique image, or use hooks that grab them quickly.
What you don't want: the stereotypical power point title slide, which states the title of the presentation and maybe a subtitle. While this works great for business meetings, it's not enough to interest a user and make them want to see what's next.
Split test different first pages or slides for your canvas to see what gets the best response from your target audience, including which results in the most clicks to your site.
3. Prioritize the Visual
Visual appeal is huge.
Using a combination of high-quality images and brief, descriptive text can get your point across quickly.
Because Canvas has an emphasis on animated and visual storytelling, your images should take priority, and your text needs to be quick, clear, and concise while still being creative.
Videos can be highly effective and shouldn't be ignored; they'll play on autoplay as long as this feature is enabled in your region, and can deliver a ton of information in just a few seconds.
Strong videos can convey emotions and excitement more effectively than almost any copy ever could.
With social videos' success booming right now for marketers, this is a visual aspect that increases the dynamic and interactive feel of the media being used.
Canvas's 360 degree format is highly interactive, and is a fantastic format to get engagement while simultaneously focusing on the visual.
4. Never Forget the CTA button
You have the option of adding clickable buttons to your Canvas.
These buttons are highly customizable; you can change their color, the text on them, and choose the site you're sending users to. Of course, they can be used as clickable CTAs.
You can place your clickable CTA component on as many slides as you'd like. At the very least, it should always be placed on your last slide.
There's no more to scroll through, and after you've given users all the incentive you have to click, giving them an easy way to complete the desired action is sometimes all that's left that's needed to get them to actually convert.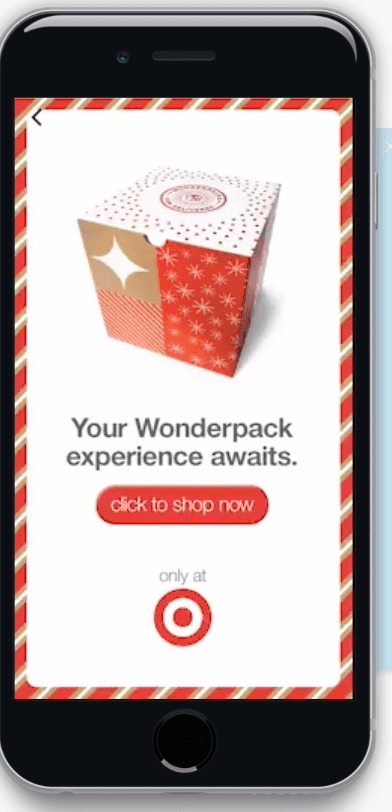 Split testing other placements or formats for your CTA button can be beneficial.
Some users may be willing to convert halfway but don't want to keep scrolling through the Canvas, for example.
Just as you A/B test the first page of your canvas, run a few campaigns for CTA placement to see what works best.
5. Focus on a Single Message
While you can throw a lot of information into your Canvas, you want to make sure all those slides and components are relevant to a single message or theme.
Popular uses of canvas include:
Featuring multiple products
Highlighting multiple use cases
How-to tutorials for users
Telling a story, which progresses from slide to slide
Regardless of which format you want to deliver the information in, one factor remains the same whether you're promoting use cases for a product or telling a story about your brand: you need to focus on the singular message or theme that you've chosen.
If you're creating a canvas to appeal to a certain group of your target audience, keep all of your content and slides within your canvas niche specific.
Let's say Williams and Sonoma was creating a Canvas to promote their line of baking tools; it wouldn't make sense to add a slide devoted to grilling pans, which have nothing to do with most baking.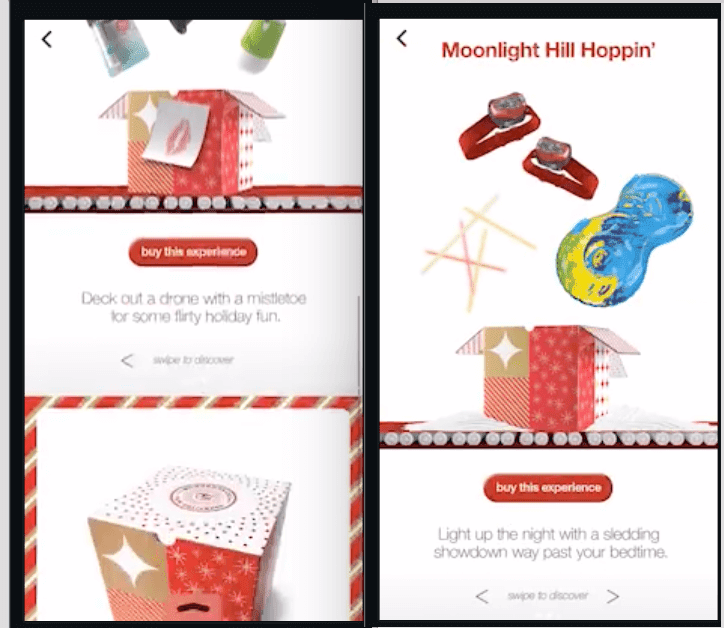 Target's Canvas (above) advertised a holiday package and featured products directly relevant to the theme.
Whatever message you choose, make sure that you keep all the content in your Canvas relevant, and that it all works towards encouraging users to click on your CTA.
6. Use More Video
Images are great. Videos are even better.
Videos allow you tell fit a heck of a lot of information in just a few seconds, even if all the information you're portraying is more emotional, or a mood or tone you're going for.
Videos work exceptionally well with the visually interesting nature of Canvas Ads, and I actually recommend that most businesses use videos as the first component in Canvases in order to quickly introduce users to what they'll be seeing and really grab their attention up front.
A great example of this strategy being used can be seen here:
7. Use Textual Cues to Guide Users Through your Facebook Canvas
Even though Canvas Ads have been around for awhile, they're still not ads that users typically see too often. Because of this, it's not uncommon even now for users to be a little unsure of what they're seeing when they actually come across one.
Even if they are, there's so much to Canvases– including swiping up, down, and left to right– that it's always a good idea to use textual and visual cues to show users where they should be clicking or swiping next.
Starbucks does this in the  video example below.
Use arrows or text-based CTAs to tell users to "swipe right for more" or "Keep scrolling down!" The interactive quality of Canvases make this fit right into the platform.
Not only does it work on an aesthetic level, it also just plain works, and increases the retention rate by getting users all the way through your canvas. Since this makes them more likely to convert, it's a worthwhile strategy to try.
8. Tell a Story
Storytelling is a powerful, powerful thing. I try to include elements of storytelling in all of my blog posts (even if they're minor), and Facebook Ad experts like Sarah Sal swear by long-form, story-based ad content.
The canvas's extended length is an excellent medium for storytelling, especially when you combine it with video (which we already know is a big recommendation for this format).
Not only does the long-form ad space give you more of an opportunity to utilize storytelling, storytelling will actually increase the likelihood that users stick with the canvas all the way through.
Even more importantly, it will help users remember the ad long after they've clicked away if they don't convert, because stories truly are the way to a customer's heart (and memory).
Wondering how you can tell a story with Canvas ads? The example below from  Carnival Cruises actually does a pretty great job by taking users on what a cruise would look like, making it feel like a natural story.
Final Thoughts
There's no denying that Facebook Canvas ads are dynamic, making them a great way to grab user attention.
Their interactive qualities will automatically appeal to a large number of users because you just have to see what's next.
While they might take more time to create than typical posts or even carousel ads, the payoff can easily be worth it.
Remember to make your Facebook Canvas as interactive as possible for best outcomes and to keep our best practices in mind to get the results you're looking for.
What do you think?  Have you used Facebook Canvas? What tips have you found help create higher performing Canvas campaigns? Leave us a comment and let us know what you think!
SaveSave
SaveSave
SaveSave