TikTok is one of the most popular and most-downloaded apps in recent history, which makes it valuable as an advertising platform — especially if you want to reach younger Millennial and Gen Z audiences.
While TikTok ads are still a relatively new advertising medium, the TikTok self-serve platform makes it easy for brands to give them a try.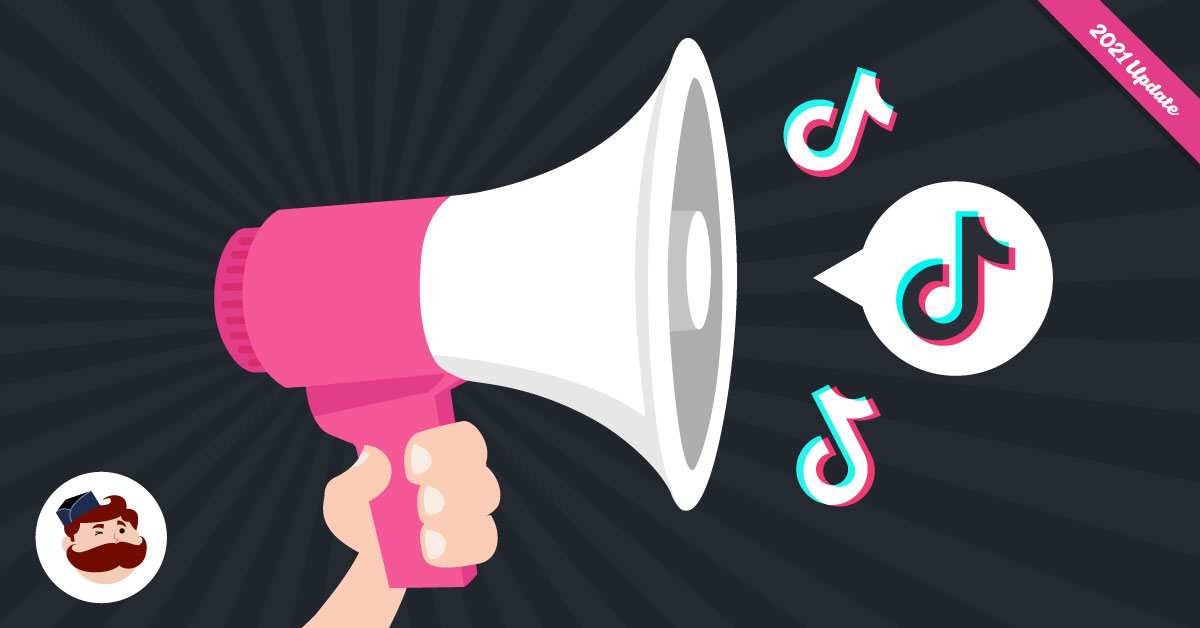 In this guide, you'll learn how to create a TikTok ad, how big of a budget you'll need, and which companies should use them. Plus, you'll get a list of best practices and see some inspiring examples of TikTok advertising in action, so that you can start creating strong campaigns for 2022 and beyond.
Who should advertise on TikTok in 2022?
Anyone targeting a younger audience can and should advertise on TikTok.
But TikTok isn't just for teens anymore. Here is TikTok's core demographic information:
TikTok has been downloaded over 2 billion times as of this year, and it doesn't seem like the platform's expansion is going to slow down anytime soon.
As a result, the list of brands spending money on TikTok ads is growing, both in terms of numbers and the breadth of the products they advertise.
If you want to create international campaigns for a predominantly young audience, TikTok is an excellent choice.
Types of TikTok Ads
There are several different types of TikTok Ad formats that advertisers can use. Let's take a close look at each of them. 
Top View Ads 
Top View ads will appear at the very top of a user's feed. It's the first video they see when they open the app.
This format offers massive visibility, and it's great for attention-grabbing brand awareness campaigns. 
According to TikTok, this ad format ranks first in engagement and has a 67% higher sales effectiveness than other ad types. 
In-Feed Ads
These ads play as users scroll through their For You feeds. They're full-screen, sound-on ads that blend in with native content. Your audience is already engaged and watching videos, so this is just one more on the list — if you make your ad fun and engaging, you can get as much attention as successful organic content.
This is one of the most common types of TikTok advertising formats.
Branded Hashtag Ads
Branded Hashtag Ads are also a popular choice. They're designed to spark on-platform engagement, offering up a "TikTok challenge" centered around your branded hashtag.
These ads can be exceptional for generating both brand name recognition and user-generated content on-platform. 
Branded Effect Ads
The Branded Effect Ads work a little like filter ads on other platforms. Brands create a branded AR "effect" that users can apply to their own videos.
This is another campaign that can generate engagement, brand awareness, and user-generated content. Awareness is typically the objective of these campaigns (rather than traffic or conversions). 
Spark ads
Spark Ads are a relatively new ad format that allows advertisers to leverage organic content and UGC in their advertising. They function similarly to boosted posts on other platforms. You can put an advertising budget behind your own organic content, or use user-generated content (with the creator's approval). 
These ads direct users to your account page and/or an off-platform landing page. 
How to set up TikTok ads and campaigns 
In order to create your first TikTok ad campaign, you'll first need to create a business account here.
Create your TikTok ad account 
Before you launch your first ad, you'll need an ad account.
Go to the

TikTok for Business

landing page, click Get Started, and enter your region and business type. Then, click Next.

Fill out your details and click Sign Up

You'll be asked a few more details about your business, including contact information, the business's legal name, and your business's description. Then, you'll have to enter your information, and you're good to go! 
Create your campaign
In TikTok's advertising system, you follow a hierarchy by first creating a campaign, then an ad group, then, finally, an ad. You can find out more about the TikTok ad structure here.
1. Go to the Campaign tab in the top menu of the Ads Manager dashboard and click Create.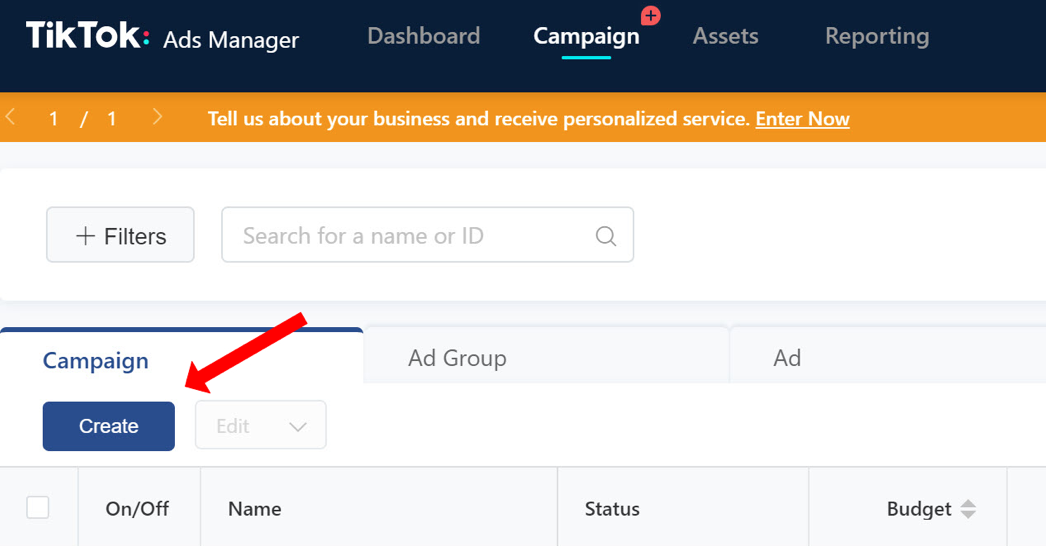 2. Pick your objective. Depending on what your marketing goal is, you'll choose  an objective from one of three categories: awareness, consideration, or conversions.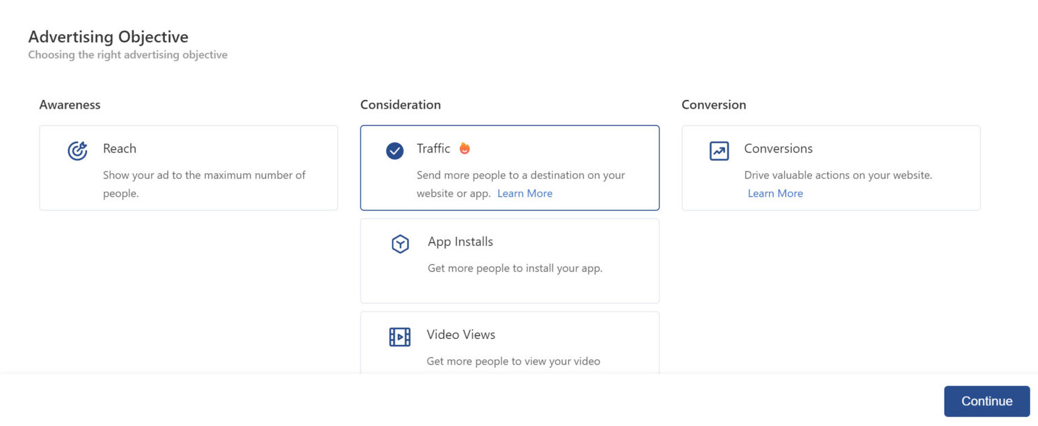 Each category includes goal-specific advertising objectives:
The Awareness category includes Reach. Choose this objective to prioritize showing your ad to as many people as possible.

The Consideration category includes three objectives: Traffic (sending traffic to your site), App Installs, and on-platform Video Views. 

The Conversion category only includes one objective: Conversions. It allows you to optimize for specific types of conversions like sales or email sign-ups. 
That's all you do to create a campaign. TikTok will automatically keep you moving to the ad group section.
Create your ad group 
Choose your promotion type (app install or website) and input your URL. Then, enter your display name, add a profile image, and specify how you want users to engage with your ads.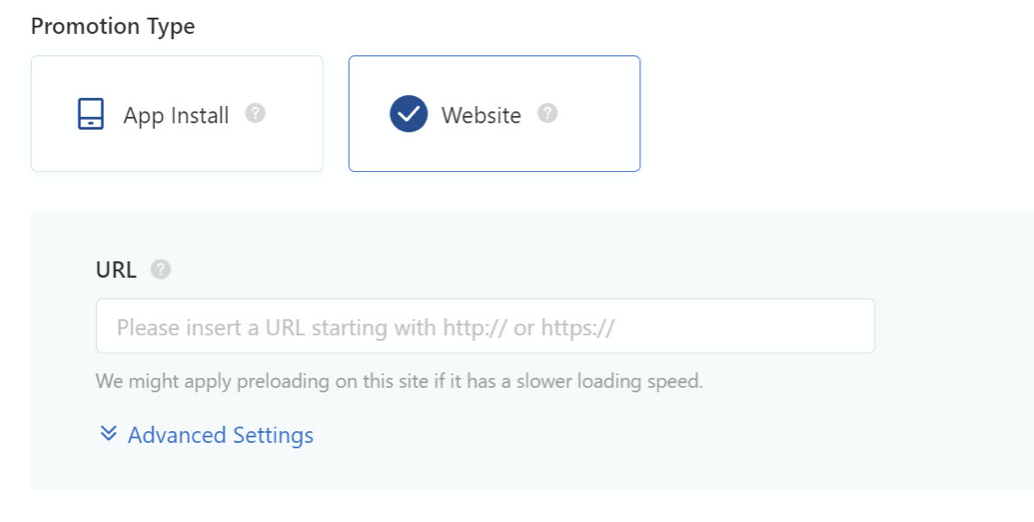 Choose your

ad placement

. A

uto-placement is easiest for your first ad, as TikTok will test different options and see what works for your audience at the best prices. 
Manual placement options include placements within TikTok, in the NewsFeed app series (including on sites like BuzzVideo), and the global network Pangle. You can enable or disable any of the options.

You then set up different ad options. You can use brand safety features to block your ad from appearing on certain websites. You can also allow users to comment (or not) and determine whether or not you want users to be able to download your video ad on TikTok.



Decide if you want to use TikTok's

automated creative optimization

. This is one of the tools TikTok created for small businesses. It builds ad variations using your images, videos, and copy, and then continually tests them for you. It's worth testing, though some brands benefit more from manual control and split testing creatives.



Define your target audience. You can target audiences based on demographics, location, interests, device type, and in-app behavior.
If you want to target women ages 19 to 25 in Denver who love Chipotle, so you can promote your new Mexican restaurant, that's an option.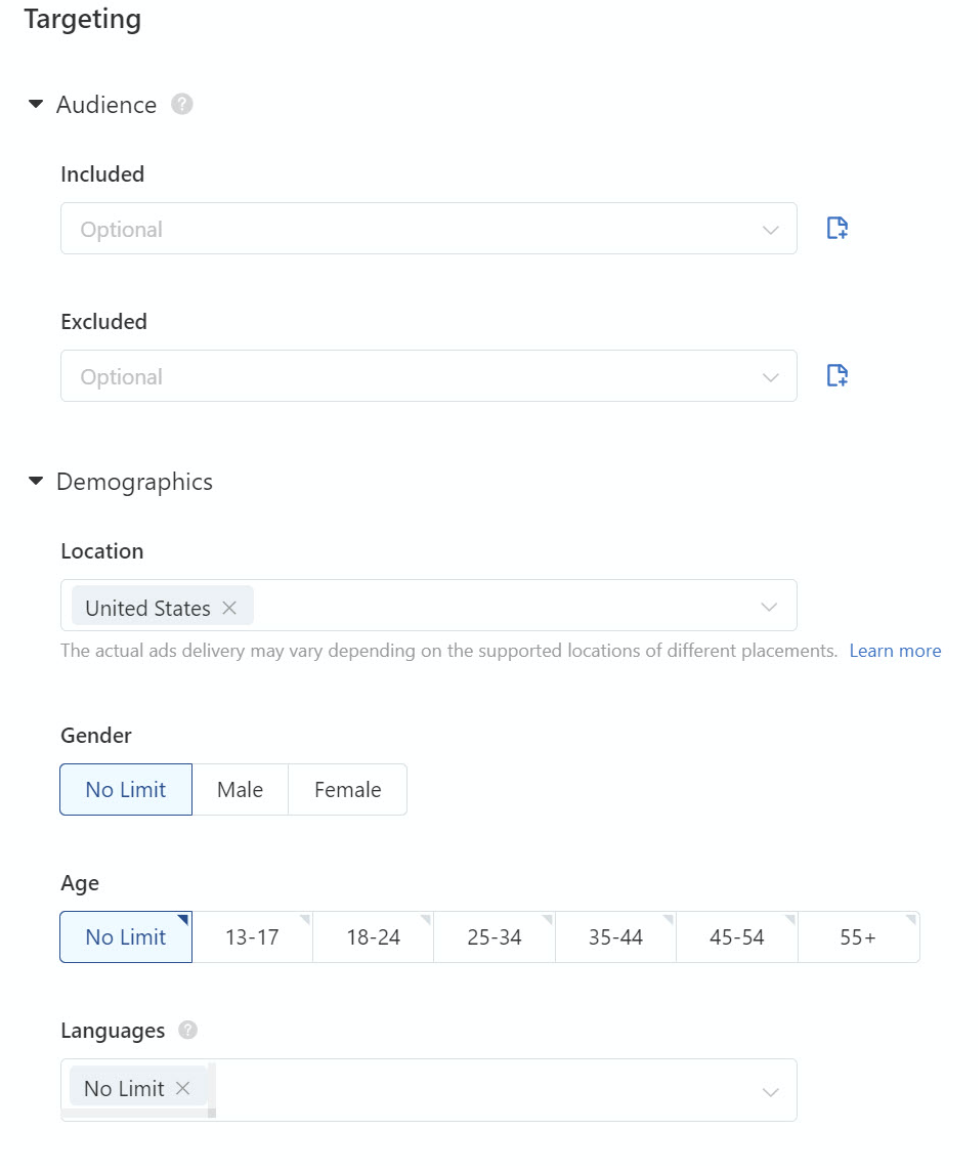 You can both include and exclude audiences with different characteristics. If you only want to reach cold audiences, for example, you could target users who fit within your ideal demographics but exclude users who have purchased from you before.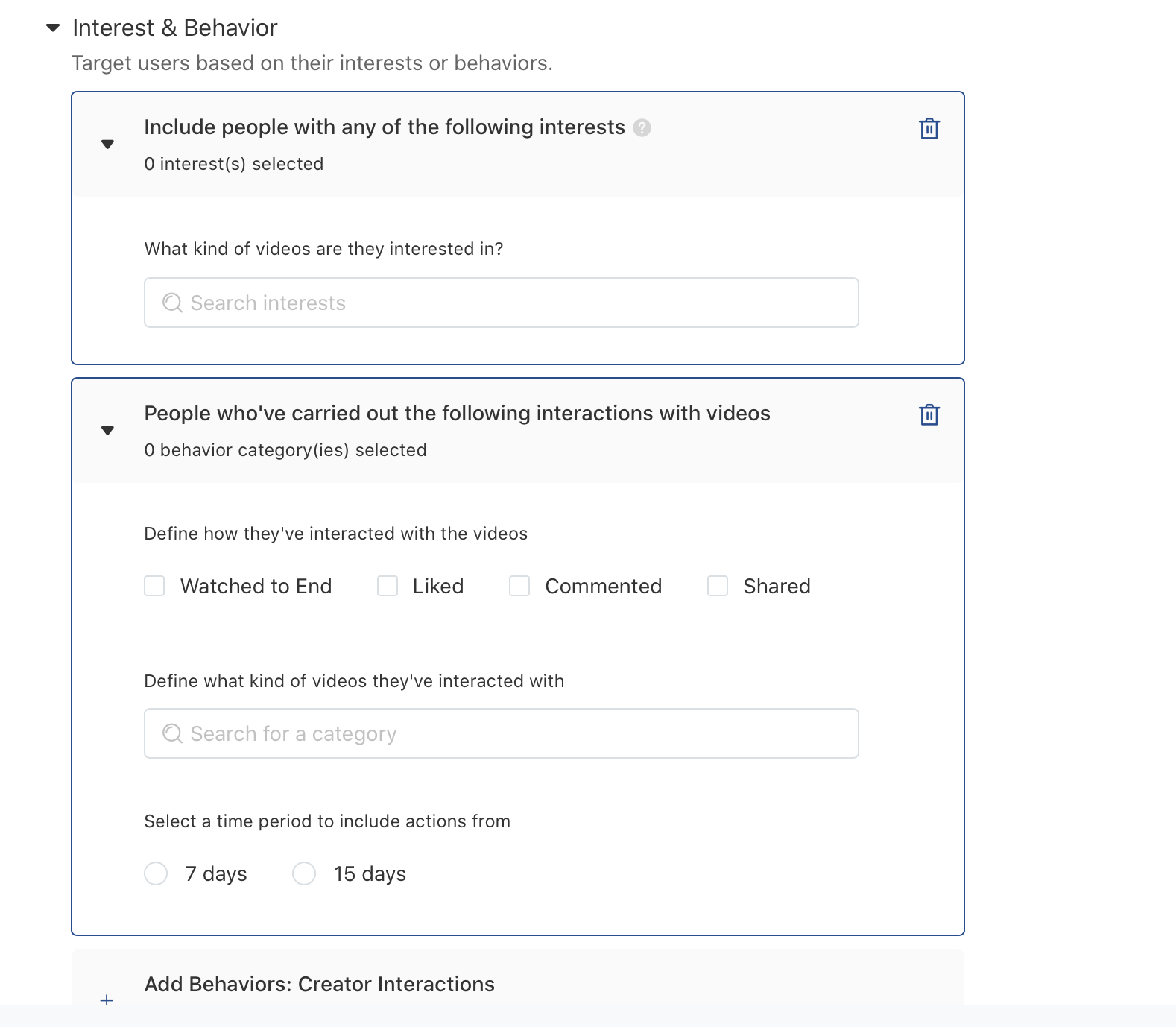 You can also create a custom audience from your customer files, website traffic, app activity, or previous ad engagement.
To build a custom audience from website traffic, you'll need to install the TikTok pixel on your website. The pixel also helps you optimize ads and tie the success of your ads to customer behaviors on your website. 
Choose between a daily or lifetime budget (find out more about TikTok ad budget settings

 here

).



Set up your

bidding plan

(h

ere are some

bidding strategies

from TikTok). You can choose to cap your bid in the auction, which means you'll never spend more for a specific action (like a click or video views) than the cap that you set.


Click Next  — you're ready to create a new ad!
Create Your TikTok Ads 
Upload your ad creatives. This can include either video or image files. TikTok will turn still images into a video for you. B

e sure to follow TikTok's

ad creative guidelines.



Fill in your ad text and call to action.


Click Submit to send your campaign off for review.
TikTok will check each ad against their guidelines. Here's a checklist to help make sure your ads are approved on the first review.
How much do TikTok ads cost? 
There is no one simple answer to the question of how much TikTok Ads cost, because the reality is that costs vary depending on the ad type that you choose, your bid, and the market itself.
Like most paid advertising platforms, TikTok advertising runs on a bidding system. This means that the market is competitive, and you're betting against other advertisers for specific placements and audiences. In simple terms, if someone is willing to pay $1.50 and the next person is willing to pay $1.51, the second person gets the placement.
TikTok helps advertisers optimize bidding, meaning that they can handle bidding settings for you to increase ad deliverability. The only downside to this is that ads may end up costing you more than you would want. To prevent this, you can set a bid cap or optimize for "lowest cost" results. However, the latter may result in lower-quality clicks or placements that are less likely to drive the results you want.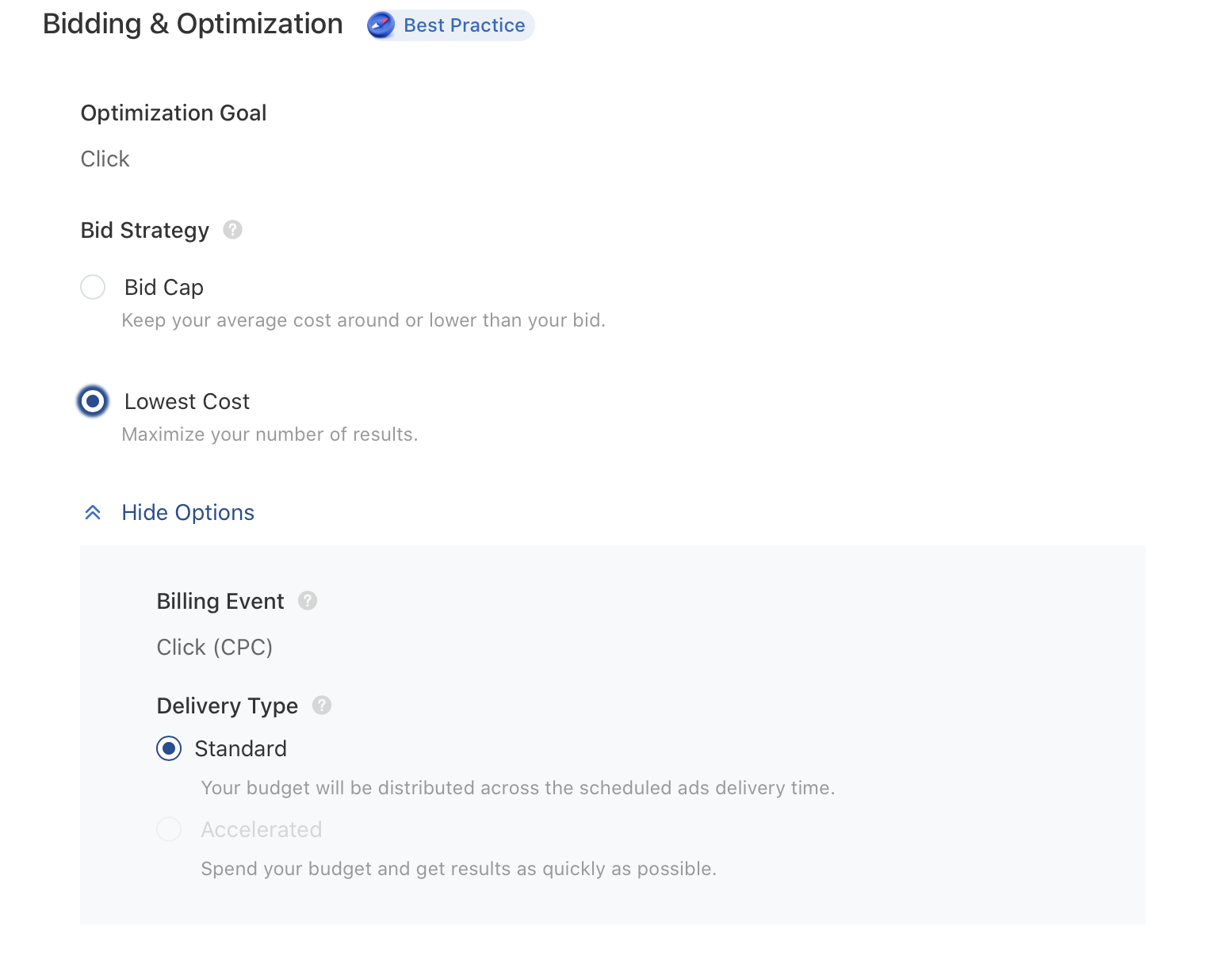 You can also set a daily or lifetime budget. If you never want to spend more than $300 on an ad campaign, defining that as a lifetime budget will prevent you from going over.
That said, we do have some TikTok ad cost benchmarks.
AdAge reported that high-cost ad formats like Branded Hashtag Ads and Branded Effect Ads can be exceptionally pricey, costing brands up to 50k-150k. 
The cost of self-serve ad options like Top View or In-Feed Ads is more in line with what you'd expect from traditional social advertising. You must spend a minimum of $20 USD a day per ad group, and we've seen costs range from $0.20 to $2 per action.
TikTok ad specs
These are the TikTok ad specs you need to know for standard In-Feed and Top-View TikTok ads:
The video must be between 5 and 60 seconds long.

The max file size is 500MB (except for Spark Ads, where no max file size applies).

The horizontal aspect ratio is 16:9 (the recommended file size is 960 x 540 pixels).

The square aspect ratio is 1:1 (the recommended file size is 640 x 640 pixels).

The vertical aspect ratio is 9:16 (the recommended file size is 540 x 960 pixels).

It's recommended to stick to .mp4, .mov, .mpeg, .avi, or .gif file types .
​Make sure that you're leaving margins in the top (at least 130 pixels), the bottom (up to 484 pixels), and the left (44 pixels) of your creatives to account for profile pictures, CTA buttons, and more that will appear over the ad.
TikTok advertising best practices and examples 
Creating an in-feed ad is easy on TikTok. Creating an ad that efficiently attracts new fans and customers is a little more challenging. Here are a few things to keep in mind as you launch your first TikTok ad campaign.
Be authentic
On a platform that says sharing creativity is its mission, your ads will need to have some flare. But you can't be creative at the expense of your brand identity.
In their Business Help Center, TikTok says it wants you to be authentic. "Creative should be consistent with your brand image and resonate with your target audience. Serious brands should have serious ads, trendy brands should have trendy ads, you get the picture."
If your brand has a fun side at the core, embrace that. Chipotle ran influencer ads as part of thei their #guacdance campaign that took off because it was fun, lighthearted, and true to their brand.
Redbull is another great example. The energy drink manufacturer is known for bringing high-octane sports to the world. Their TikToks stay true to that mission.
Work with influencers (wisely)
Influencers are creators who will partner with you to share your message with their audience. Pick the right ones, and you'll see big returns on your TikTok ad spend.
When you're searching for the right influencer, look for the following:
Relevance. An influencer known for makeup tutorials might not be the best option to promote your energy drink.

Influence. Both their follower count and their engagement metrics (likes, shares) matter.

Location. Whether your brand is local or national, you want an influencer's core audience to have access to your products.
You can find influencers in the Users tab of the Discovery page. Just enter a topic in the search bar. You'll see their follower count right away. Click on their profile to look up other engagement numbers such as how many people have liked their videos.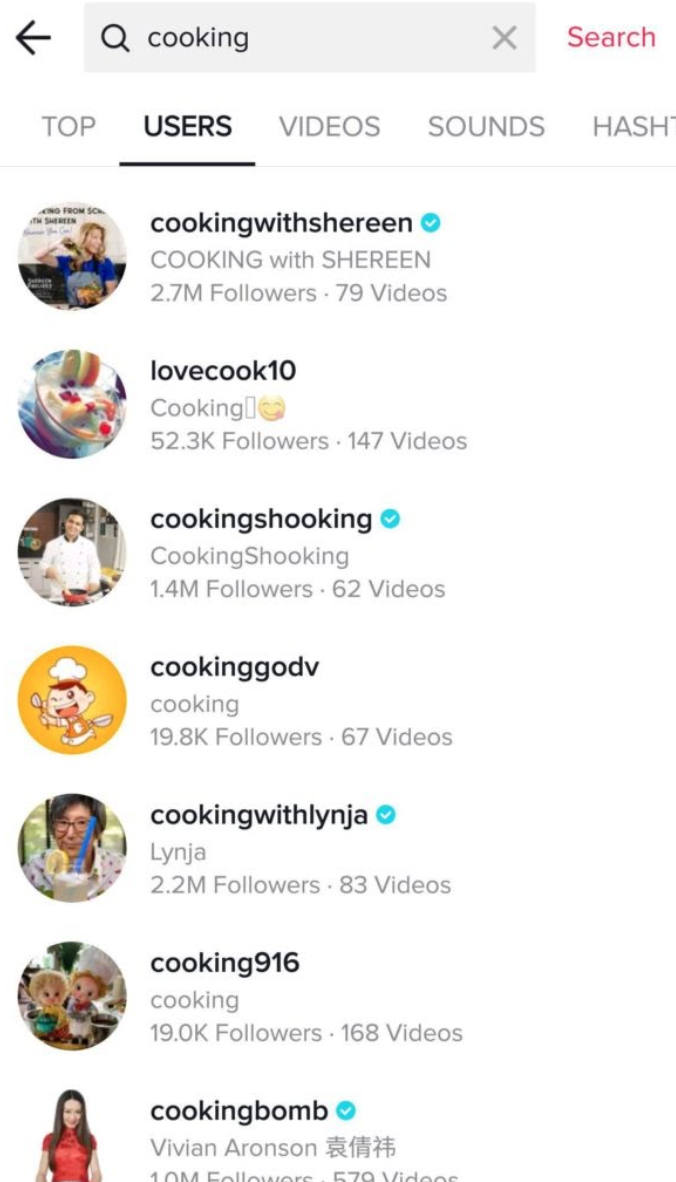 TikTok also offers a one-stop shop for brand/influencer collaborations called Creator Marketplace. There, you can search for the perfect influencer match filtering by metrics that matter to you.
Use Smart Video Soundtrack
Smart Video Soundtrack is a free creative tool offered by TikTok. It automatically pairs appropriate music with your video.
Not only does music make your ad more fun for the viewer — it can also make it more discoverable. That's because users can browse all videos that use a specific sound. On TikTok, audio tracks can be compared to hashtags.
Smart Video Soundtrack takes the guesswork and the copyright worry out of adding music to your ads. Just upload your video to your ad, and Smart Video Soundtrack will find a track from its 900+ song library to match it.
You can even test multiple tracks to see which performs best in your ads.
Use upbeat music to stand out
Fast-paced visuals and music can be an easy way to stand out in users' feeds as they're scrolling. It's a simple trick that can make your ads more fun and exciting, so test it with some of your self-serve ad campaigns and see how it works for you.
Need an example of what this looks like? Check out this TikTok ad from Apple:
Let users express their creativity 
If you're running a campaign that you want to go viral, or your goal is to build up engagement, make sure you offer an experience that your audience will actually get excited about.
Inspire your audience. How can they make the challenge or effect their own?
Beauty brand Essie created a branded hashtag contest, for which followers were asked to show their nail-art creativity.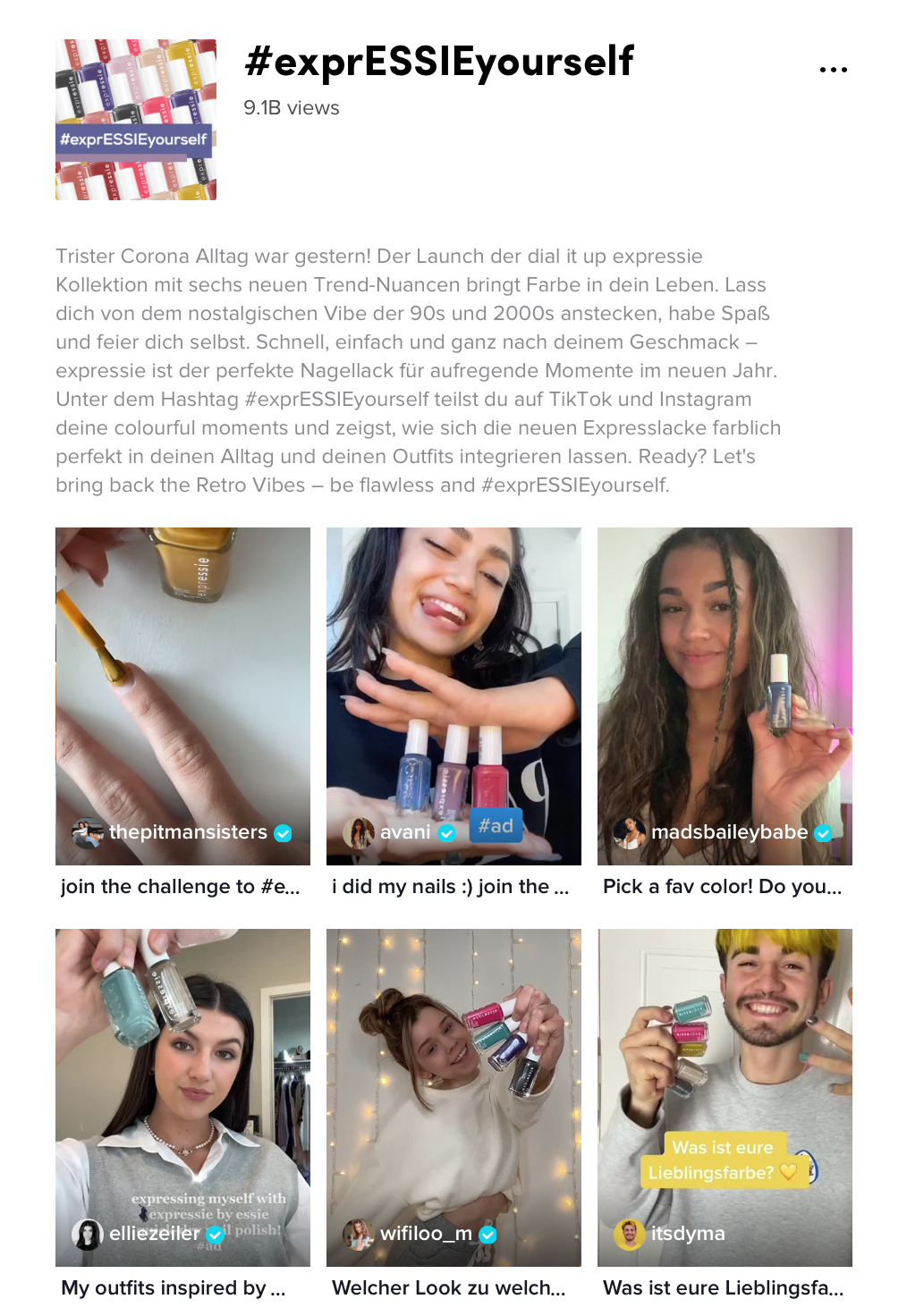 Essie's branded hashtag has now acquired over 9 billion views. 
Carefully consider delivery options 
When you're setting up your ad group, there are different options you can select for deliverability.
One is dayparting, which allows you to only run your ads during certain hours of the day or specific days of the week.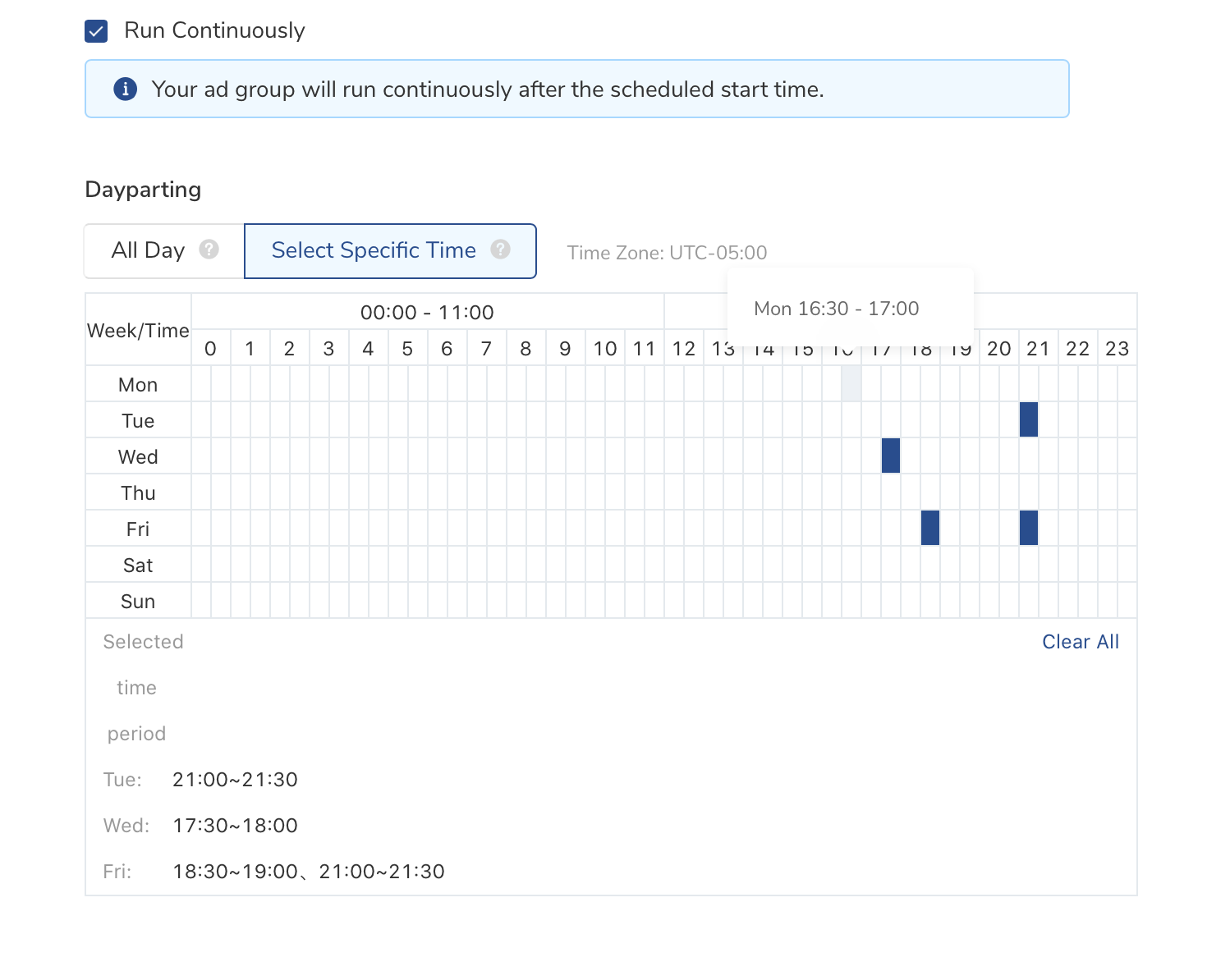 While you can test anything that you think could benefit your campaigns, this option is typically going to be most effective if customers can only convert on an ad during certain hours. For example, an after-hours taxi service in a college town could run ads exclusively Thursday through Sunday while people are preparing to go out, or a restaurant offering delivery when they're actually open. 
Another option you can select is accelerated ad delivery ("standard" ad delivery is the default option). This can sound appealing, but you should treat it with caution; accelerated delivery pushes out as much of your ad spend out as quickly as possible, sometimes lowering the quality of placements in order to drive results quickly.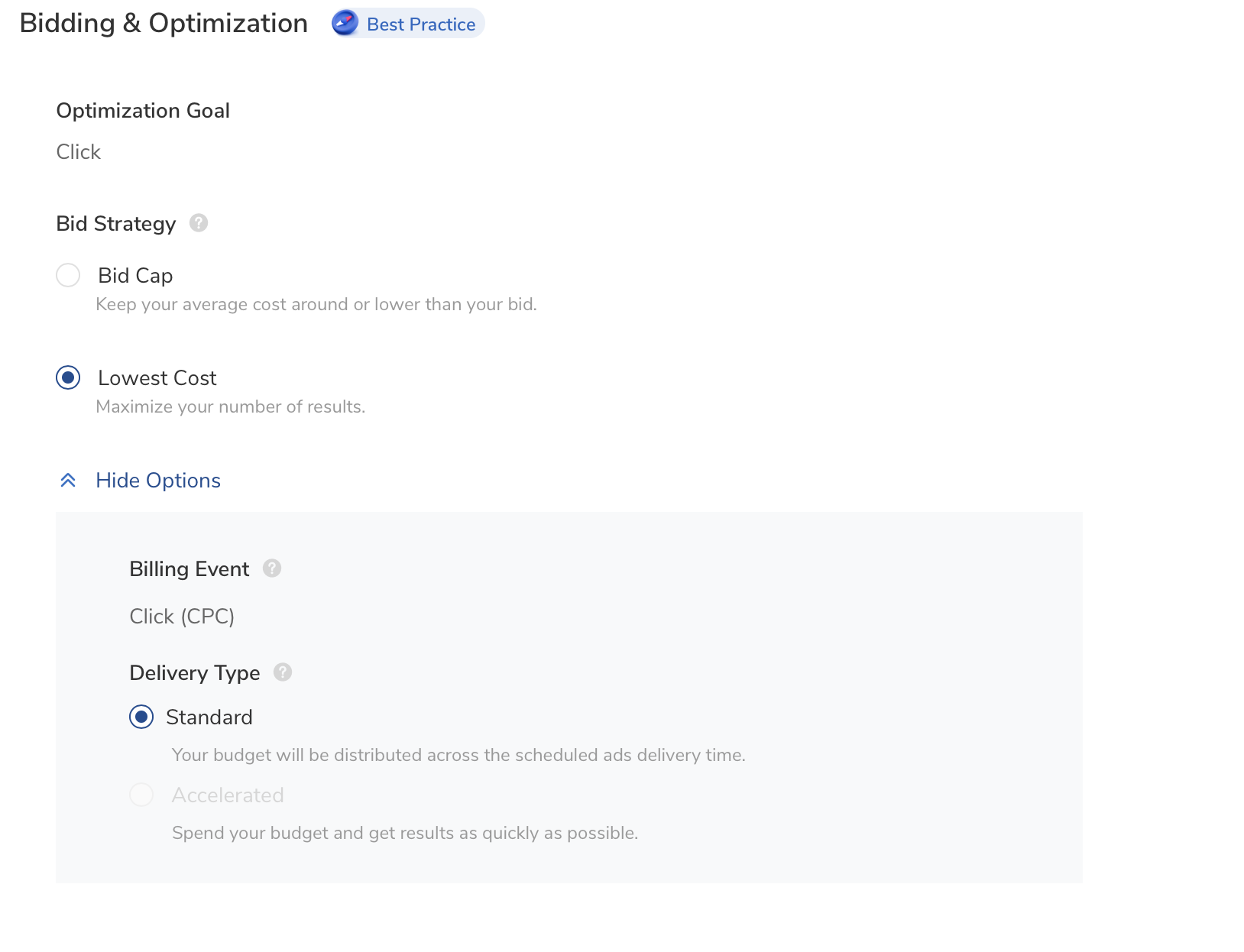 As a result, accelerated delivery may only be worth it when you're on a tight deadline, e.g. if you have an event coming up and want to reach as many people as possible immediately. 
See what works and optimize accordingly 
It's important to keep an eye on your campaigns to see which ones perform well, so you can recreate your success in the future.
When you sign in to TikTok's Ad Manager, you'll see a dashboard that summarizes the status and performance of your ads.
Here, you'll find:
The current status of ads and campaigns

Your overall CPM, CPC, CPA, CTR, Conversions, and more metrics

Your current ad spend
You can even export the results with a single click for further review.
In the Campaign tab, you can see more detailed results, all the way down to the single ad level.
TikTok ads: final thoughts 
Some unlikely brands are connecting with TikTok's young, creative audience in unexpected ways. And they're doing so by blending their paid  TikTok ads with a steady stream of organic content.
The lesson for other brands is to join in the fun that made TikTok so popular. Fill your channel with the type of content TikTok users come to the app to see. That way, when your paid ad generates a ton of interest in your brand, that new audience will have a reason to stick around for a long time.
What do you think? Have you used TikTok Ads? What are you most excited about when it comes to TikTok advertising, and what kind of results have you seen? Share your thoughts in the comments below!