Social sharing pop quiz time: If you Google search the word "donut," find a great image, can you then download it, upload it to your site, and use it for your own commercial site?
And another question: Are you able to add any music to the background of your video, even if it's only meant to entertain your small audience of 200 Facebook followers?
And one more: You find an amazing quote online from an expert interview. Can you share the quote and not credit the publication itself?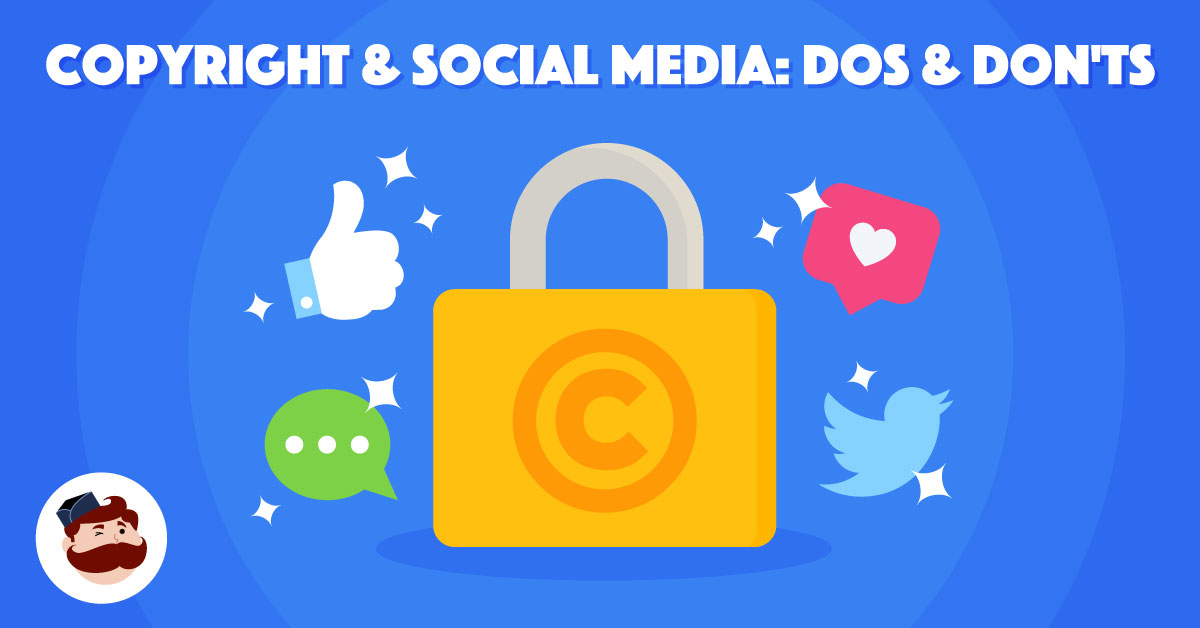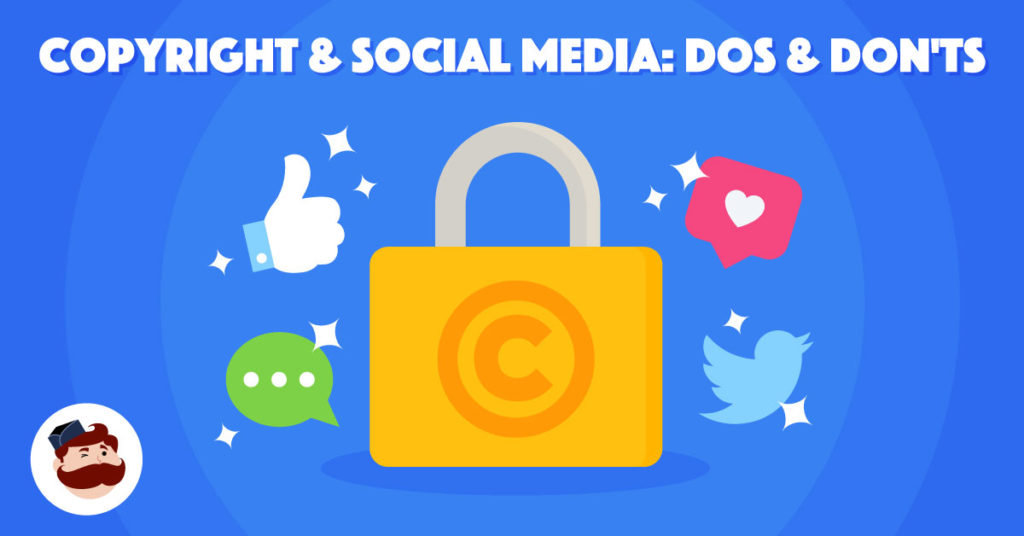 Copyright laws used to feel a lot more straightforward. Social media, however, has blurred the lines. Online blogging has too.
Unfortunately, it's not uncommon for small businesses to accidentally end up violating copyright law without ever even realizing it or intending to do so.
That's why,  in this post, we're going to take a close look at what's protected by copyright law and what you can and can't use as a brand on social media.
Everyone knows (and most people respect) the fact that you can't look up an article online, rearrange a few titles, and then submit it to pass it off as your own. That's plagiarism and a copyright violation all at once, and both are heavily frowned upon no matter what stage of life or industry you're in.
Plenty of brands are no longer sure exactly what they can or can't use, when they can use it, and how they can use it.
This is particularly true for small- and medium-sized businesses with limited budgets, and who may not have experienced marketers or lawyer on staff to guide them here.
Luckily, AdEspresso experts are here to help!
Social Sharing: What Is Protected by Copyright
Fortunately, copyright law itself is pretty straight forward.
Thanks to the Digital Millennium Copyright Act (DMCA), everything that's published online is automatically copyrighted by the original creator. This includes music, written text (including blog posts, ebooks, and more), images, and videos.
If something is protected by copyright, it means that you can't claim it as your own and use it without permission.
Someone can't just copy this blog post, insert their own images, upload it to their site, and call it a day.
I can't use pictures from another site, for example, as supporting evidence in my blog post unless it's 1) a photo that I've paid to use or 2) comes from a copyright-free stock photo site (we'll talk more about these in a minute).
I also can't just share a copyright-protected image on my brand's social media account without acknowledging where it came from or (if appropriate) paying for the rights to use it.
Simply put, everything published online is protected by copyright. You must keep this in mind when you're choosing what content to share and how you do so.
If you don't, you could quickly be on the receiving end of a cease and desist order, a lawsuit, and some hefty legal fees. And yes, you can be sued here if you're violating copyright law because it is a law, and there can be major financial ramifications.
What You Can Share on Social Media & How to Do It
If you're feeling a little nervous about wondering what you can and can't share, don't worry- we're going to go over this next.
Most brands, after all, know that sharing video and images leads to higher engagement and action rates than text alone, but many are short on time and don't have the resources to create an endless library of photos they can use to keep their social calendar full.
Let's take a look at different types of content that you can share on social media as a brand and in what circumstances you can share it.
Social Sharing of: Copyright-Free Stock Photos
Copyright-free stock photos are a great, safe bet– and there are plenty out there if you know where to look.
These photos are essentially free-for-however-you-want-use, which is important; some places allow you to use images free for personal use, but not commercial use, or they'll have specific regulations around how it's used commercially.
These stock-photos are shared online at sites like Unsplash and Pixabay. Third-party tools like Snappa's graphic design tool also comes with a library of stock photos that are copyright-free to their subscribers.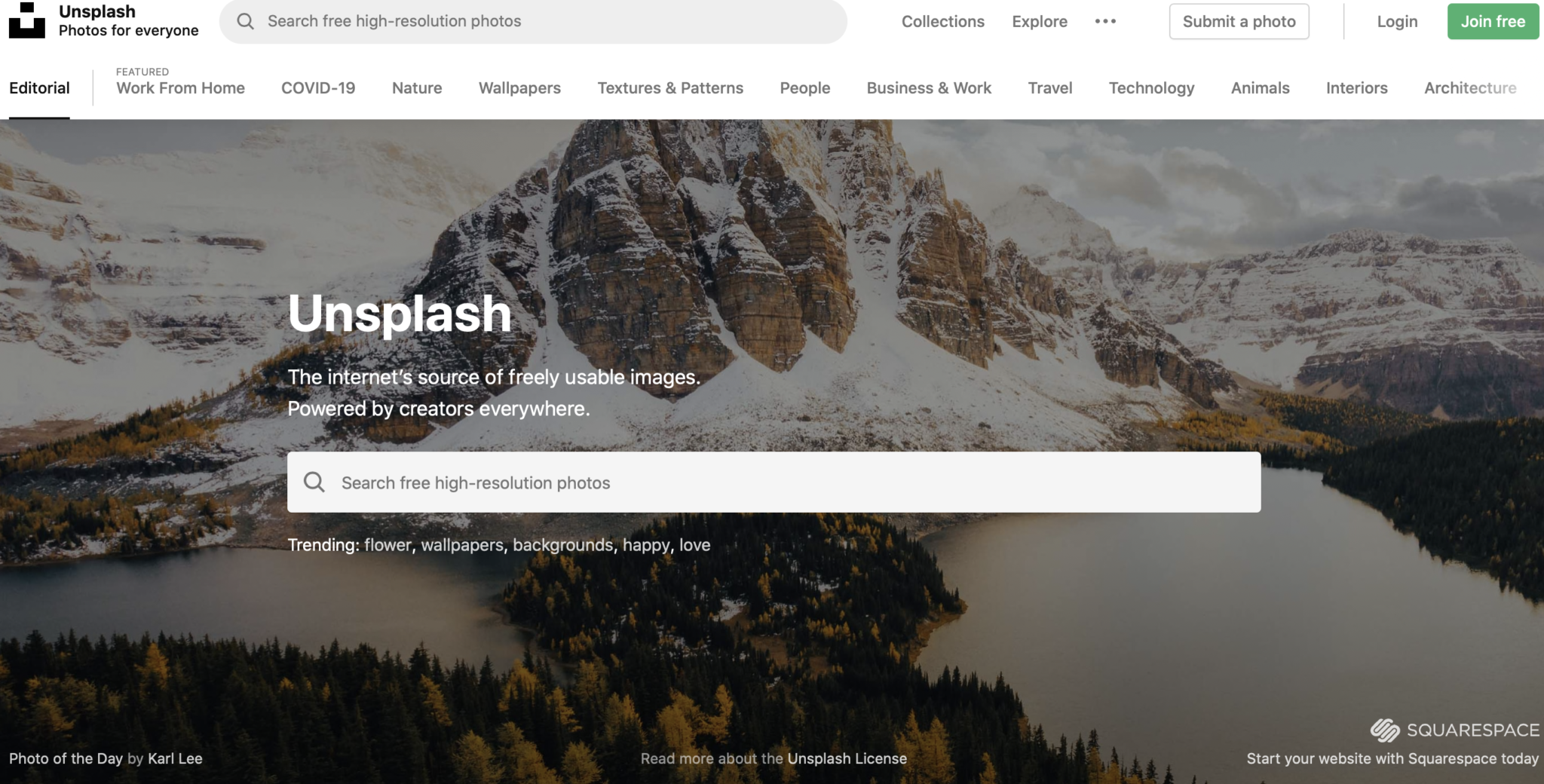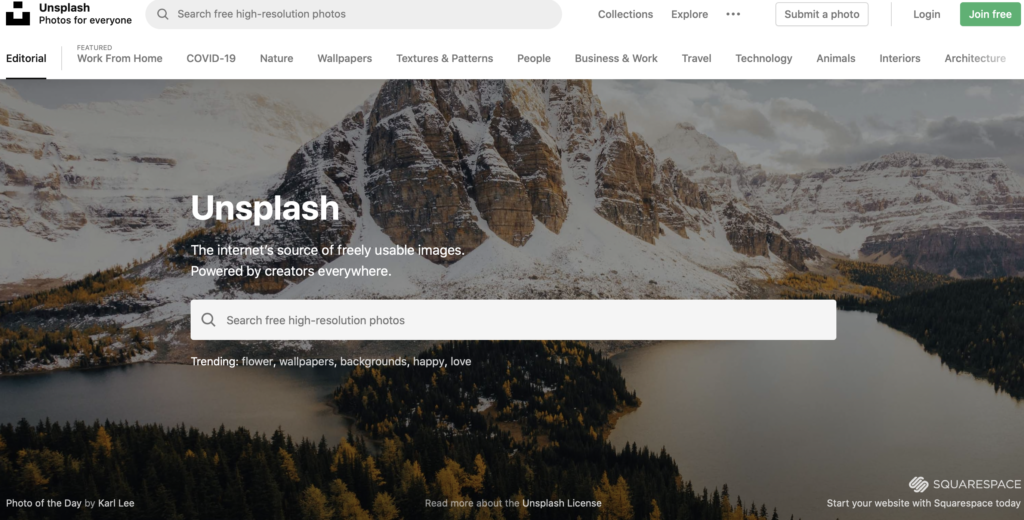 Free stock photo sites have come a long way, too, especially with high-quality sites like Unsplash changing the industry a few years ago. You're getting more clear, high-quality, versatile images instead of some of the more cartooney-looking free images that used to dominate these sites.
Check here, and use these sites to find pictures that can support your content and help you fill your social calendars with interesting photographs and featured blog post images as needed!
There are two things to keep in mind if you're using copyright-free stock photos:
 Do reverse-image checks (when in doubt)
I once ran into a situation where I pulled an image of Pixabay that was supposedly copyright-free, but then later found out that some random person had taken a copyrighted image and uploaded it to Pixabay. Fortunately, this was straightened out, but it could have been a disaster. Doing reverse-image checks on anything you find suspect (especially photographs of live or historical events), just to be safe.
Make sure to mention the source correctly
Some sites will have copyright-free images, but they require you to share attribution.
This can be as simple as saying "source: photographer" and linking to their site or social profiles somewhere in the social post's description or under a caption on a blog post's image. Make sure to look for any details about this on the stock photo's page before you download it. Again, it's better safe than sorry.
Social Sharing of: Paid Stock Photos
You can use paid stock photos as a brand on social media!
With one caveat, of course: You DO need to pay for them.
Still, if there's extra room in your advertising budget and you want to find specific images that the free stock photo sites don't have, we can just about guarantee that major sites like Shutterstock will have plenty of options to choose from.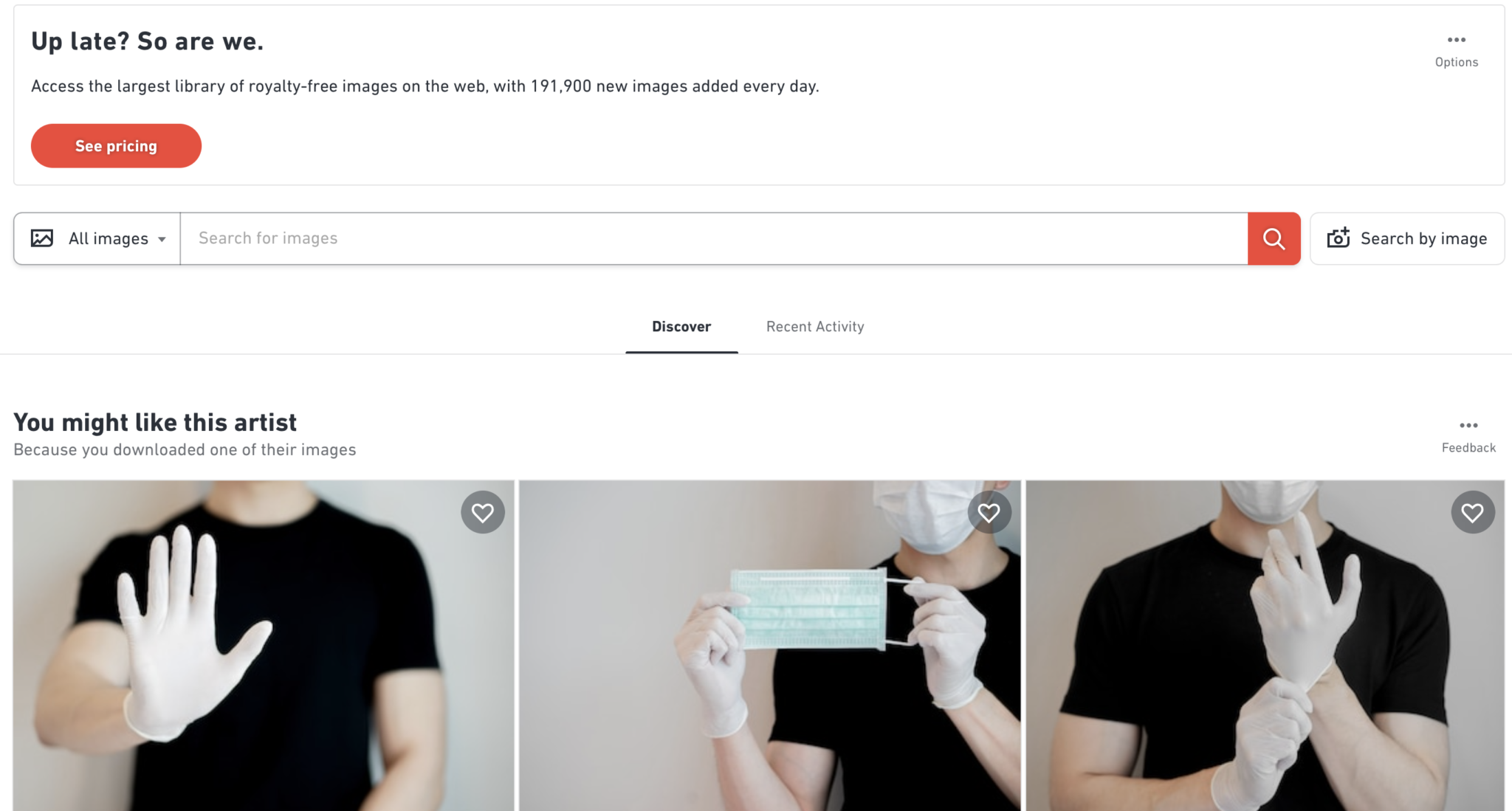 With paid stock photos, double-check the actual licensing agreement. On Shutterstock, for example, they have a standard license option, which would let me use it in, say, a blog post or on my social media. If I wanted to use it in print advertising or even on a billboard that would have a wide viewership, however, I'd need to upgrade to an enhanced license; this costs more. Look at your specific needs and make a choice about what license you need.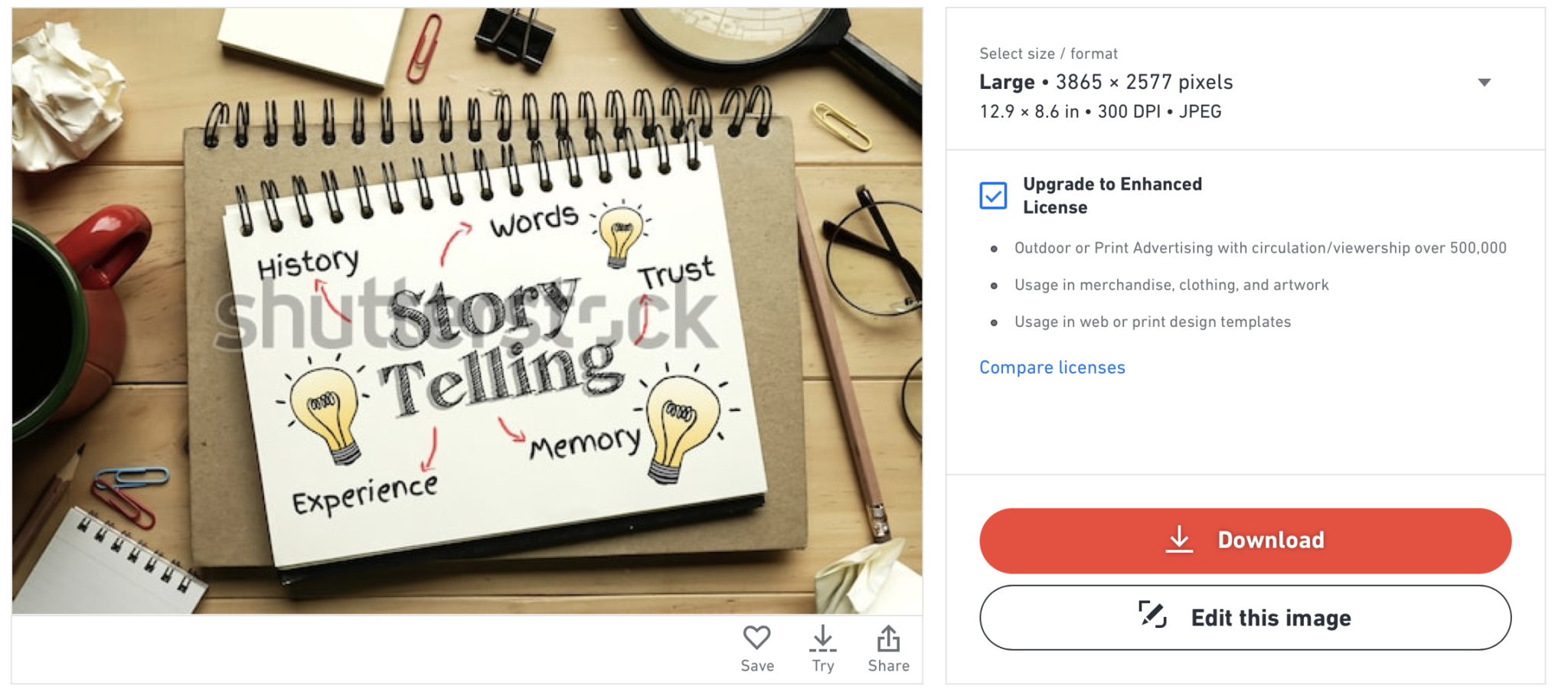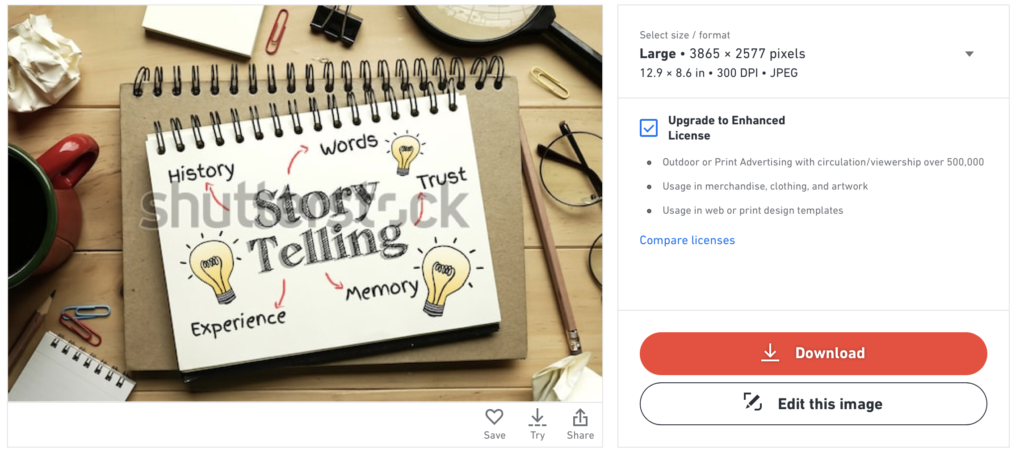 And, while we're talking about third-party stock photos here, keep in mind that any photographer you hire will likely have strict contracts in place for use of their images, too.
My photographer, for example, allows me to use my headshots on my social media and on my website, but if I wanted to use it as an author picture on a book, I'd need to get permission and pay extra.
Get this straightened out upfront with any photographers you're working with, so you know exactly what the contract allows.
Social Sharing of: Licensed Music
This is a mistake I kept seeing so many brands making over and over again for years. They were adding licensed music in the background to their videos, which they were uploading on social.
Here's the thing, though: You can't use licensed music in branded content, especially if you're using it for advertising purposes. Ad platforms that catch you will reject the ad and may even suspend your account. And again, you can get hit with fees for using the music itself. So many videos are being removed from social platforms because of this, and trust me, it's just not worth it.
There is a way you can add licensed music clips to your content, however, and that's Instagram's Stories music sticker. This allows you to add a song from their enormous library of popular music to your content– brands, too.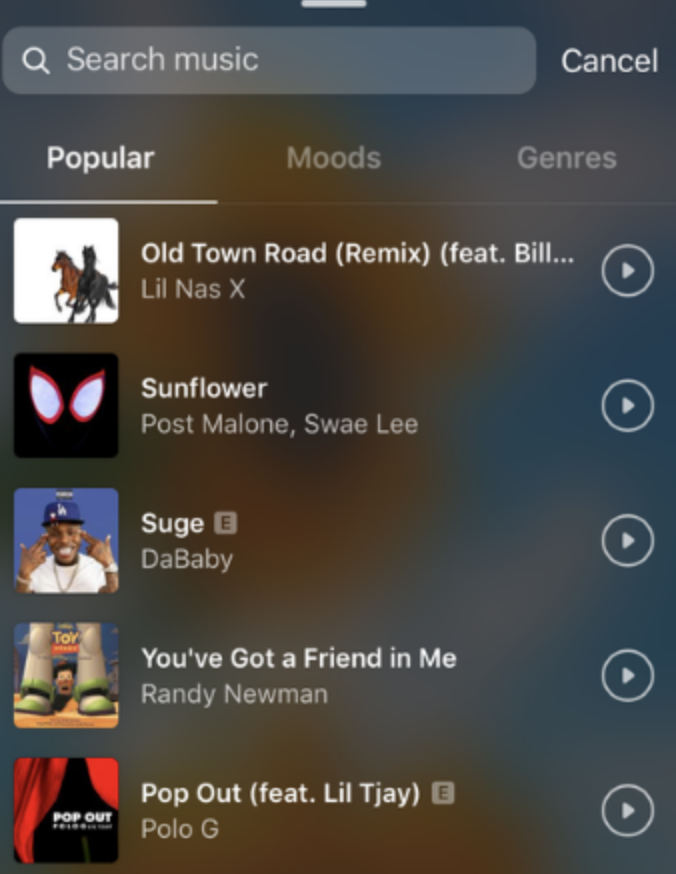 Social Sharing of: Excerpts from Other Authors
Did you just see a post on social media you wish you had written? And what about AdEspresso's blog posts? They're so well-written that you just have to share them!
That's okay! Share it. But make sure you're doing it properly.
Your first option is to share the entire social post, and then elaborate with your own thoughts in your own status update section. This is quick and easy, and none of your followers will knock curated content; many love it.
Another good option is to share your favorite snippet of the content, place it in quotes, tag the brand and any participating parties, and then provide a link to where users can access the original content.
The key here is that you're always providing proper attribution and a link to where the original content can be found.
Social Sharing of: Images from Other Brands
Love content that other brands are sharing on social?
In many cases, you can use the images as long as you're doing so correctly.
Note that it's best to always reach out if you have absolutely any doubts at all. Celebrities, for example, are often sued by paparazzi for sharing pictures of themselves that they didn't have rights to.
That being said, if you get permission to share the image itself and not just the post, always, always give photo credit in a highly visible way. You can tag the brand in the actual image, or opt for Stella York's approach here, showing a camera emoji and then tagging the account.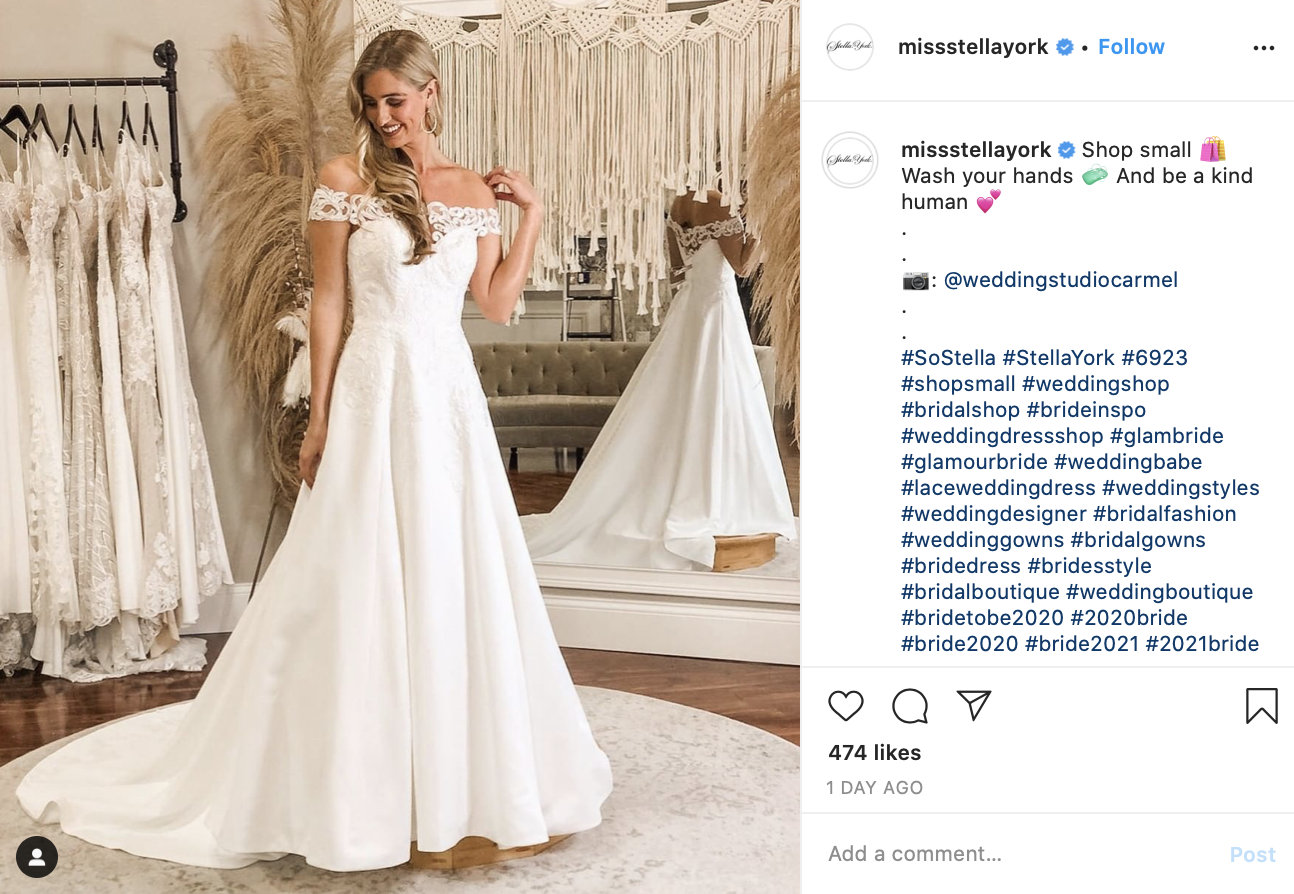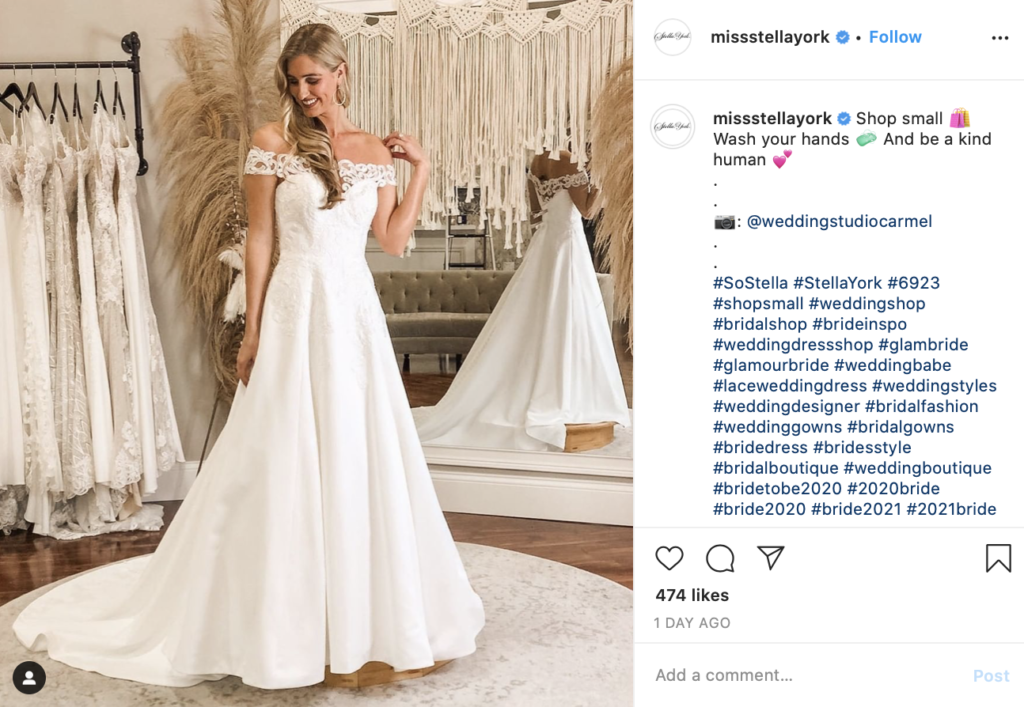 Sharing the posts directly is always a solid choice here, too.
How to Protect Your Own Content from Copyright Violation
Interested in protecting your own content from copyright violation?
At the end of the day, the sad reality is that if you're producing high-quality content online of any kind, someone (and likely multiple someones) will try to steal it, even if they don't realize that's what they're doing.
There are a few simple steps you can take to protect your content from being used by other brands or individuals.
First, for off-platform content, look at a tool like Copyscape. Their premium plan is exceptional, and they'll let you know if anyone plagiarises your work at any point, and how much the two texts line up.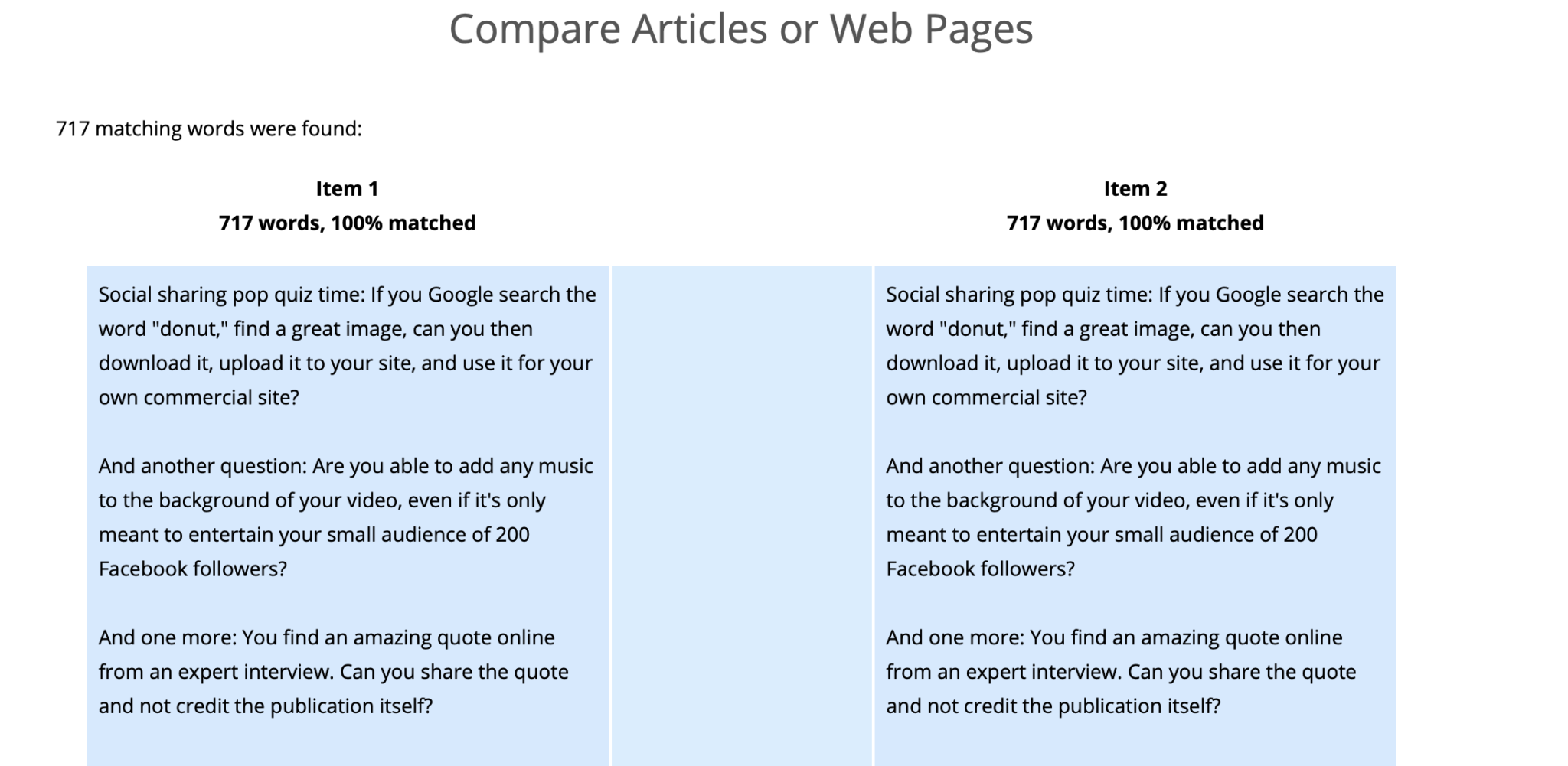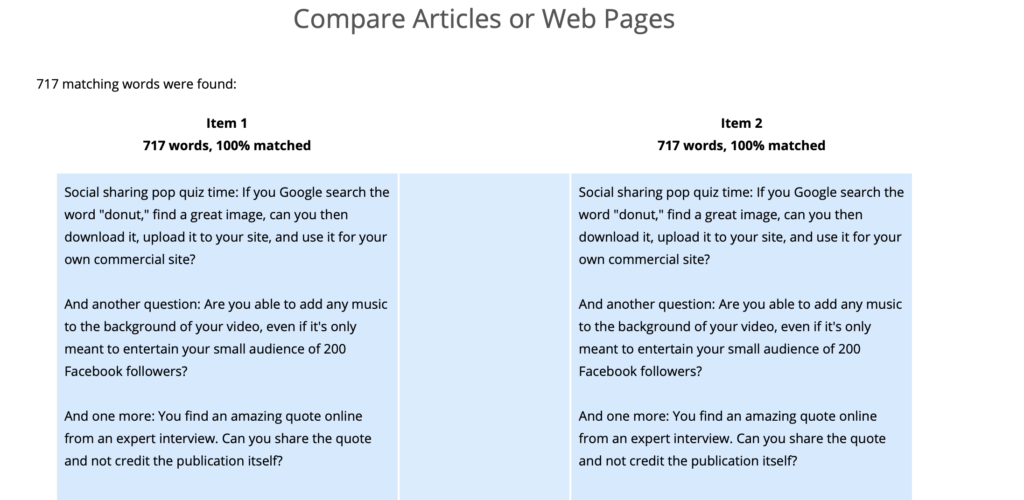 For visual images like photographs, charts, and infographics, however, there's another simple trick you can use to assure you're guaranteed attribution.
Place your brand name and/or logo somewhere on the image.
Find a way to not make it unobtrusive, but don't forget that you want it to be noticeable if someone goes looking for it.
You can see a great example in the example below, with a nice "Created by Happify" popping right in the front and taking center stage of this infographic. And which can be downloaded as "happify-worry.png."
Wrapping it Up: Social Sharing Dos & Don'ts
You don't want to get in trouble by sharing content that you have no right to on social media.
It's not great when users do it on their personal accounts, but it's particularly risky when brands are jumping in without realizing the consequences, or even that they're doing something that could potentially get them hit with insane fees.
Take some time to double-check what you're sharing on social media, and make sure that what you're sharing is done right.
And if you have any specific concerns for your business, keep in mind that you can reach out to a business lawyer, who can help you keep everything straight, negotiate reasonable licensing fees for great content, and review any contracts that you've signed.
In the meantime, remember to leverage free tools at your disposal to get create social content that fills up your social calendar.
What do you think? Have you ever accidentally violated copyright law? Has someone ever used your content without permission? Share your thoughts and questions in the comments below!