When most resources talk about increasing visibility on social media, they're focused on driving more followers in their target audience in general, foregoing concerns about geographic location entirely.
This works for eCommerce businesses that benefit from social clout and followers from all (or at least many) corners of the globe; they can ship anywhere, so the more customers they reach (regardless of the customer's location), the better.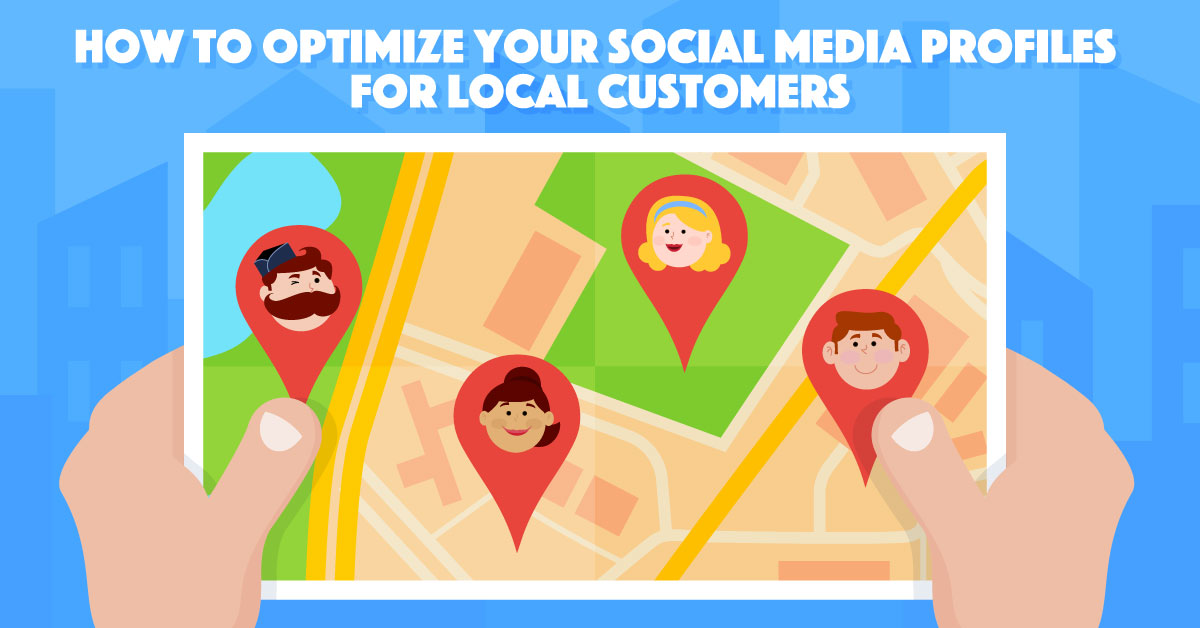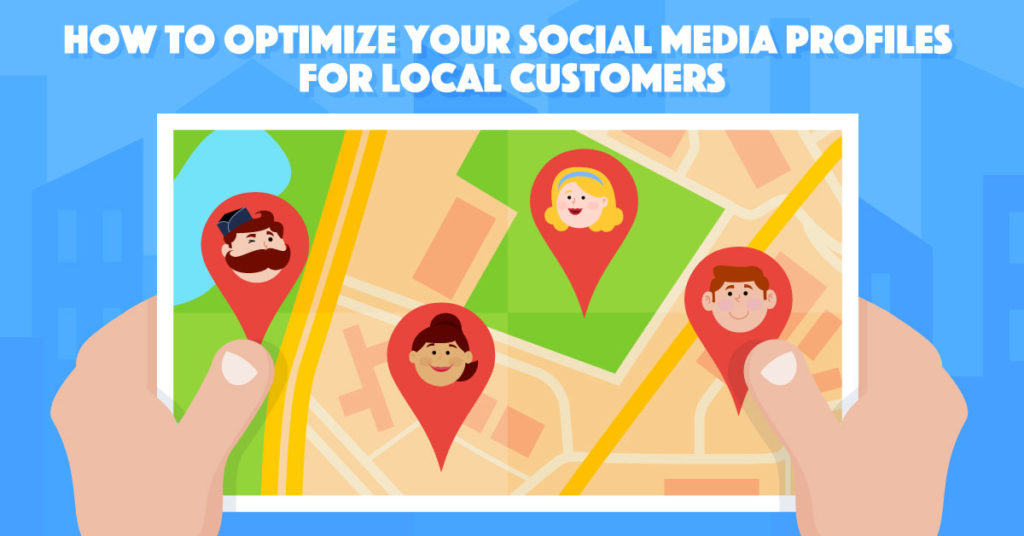 But what about businesses that are bound by geography in their customer acquisition efforts?
In this post, we're going to discuss everything you need to know about social media and local search so you can see how to optimize all of your profiles and on-platform content for local customers.
There are plenty of reasons why some businesses only want to connect with local customers.
Restaurants, for example, aren't necessarily able to ship their dishes across the country; they're likely limited to a 15 mile Uber Eats radius at best. A lawn care company can only offer services to those that they can physically reach, and even brands selling restricted products like alcohol may choose to limit sales to zip codes nearby.
So for these brands, the question of the hour becomes finding not only relevant users who align with their target audience's demographics, behaviors, and interests, but also their location.
Fortunately, it's more than possible to optimize your social media platforms for local search, increasing your visibility amongst those who actually have the potential to become real, converting customers.
Social Media & Local Search: Why It's Essential
It's a common misconception that it doesn't matter who is following you on social media as long as they're actually following you.
People think that the sheer follower count alone is what matters, and that the impressive nature of social proof will be all that your brand needs. The theory goes that a customer sees your profile when researching your brand, sees tens, or even hundreds of thousands of likes, and they'll immediately trust you more.
Social proof can absolutely benefit your brand by building trust and capturing interest.
We are essentially pack animals, so we're naturally wired to think "wow, this company has two billion likes, it must be great. I wonder what I'm missing out on." No one wants to feel like they're one of the only ones missing out on something great, and a well-established brand with an impressive follower count could indicate that it's safe to do business with them.
Social proof only helps local businesses so much, however, if you're actually looking to convert followers into customers.
It doesn't do an Orlando restaurant much good to have followers in Denver, for example, if those followers never plan on coming to Florida. These users will likely disengage eventually because they themselves likely won't want to follow a restaurant they'll never eat at.
This can lower your engagement rate, which can actually hurt you.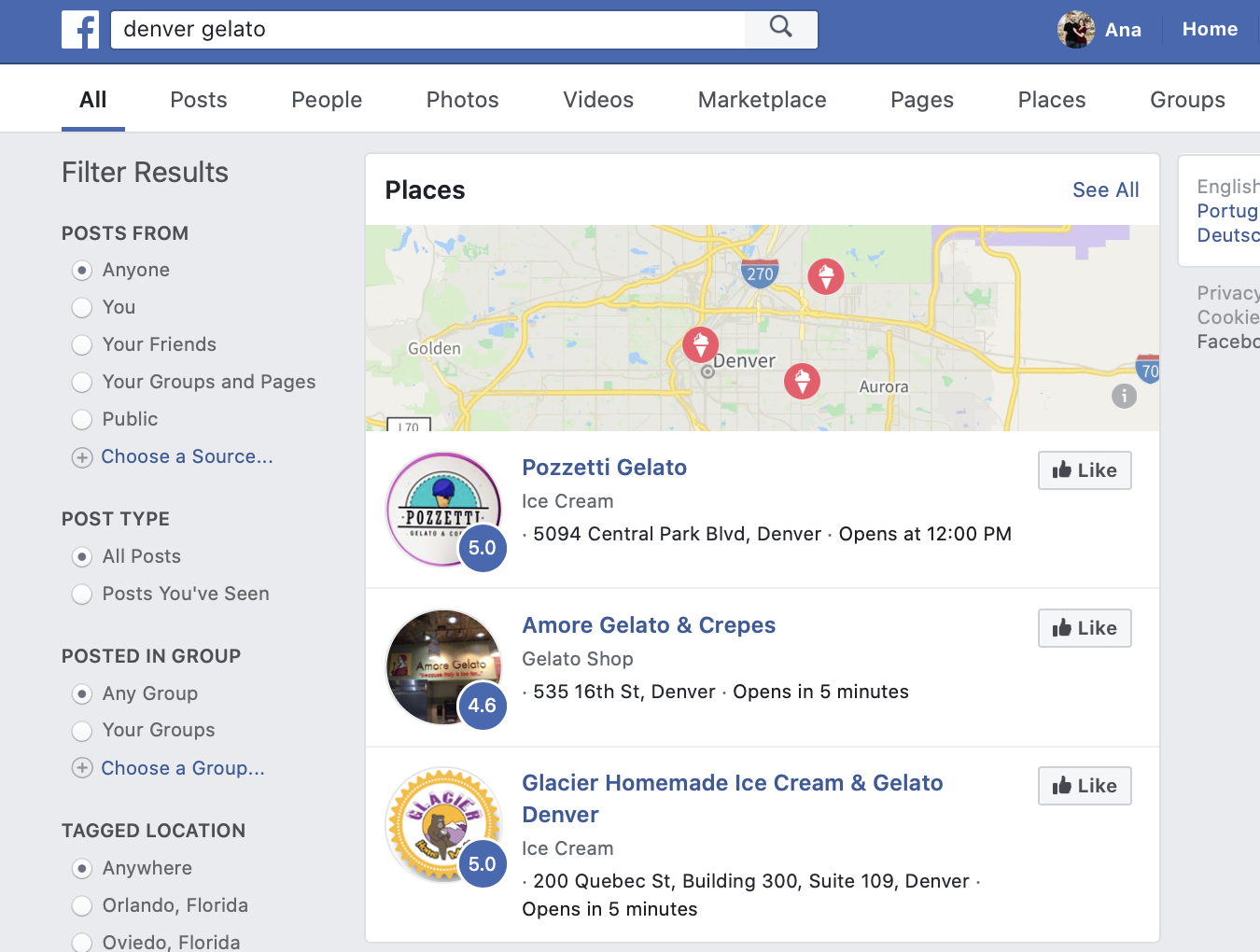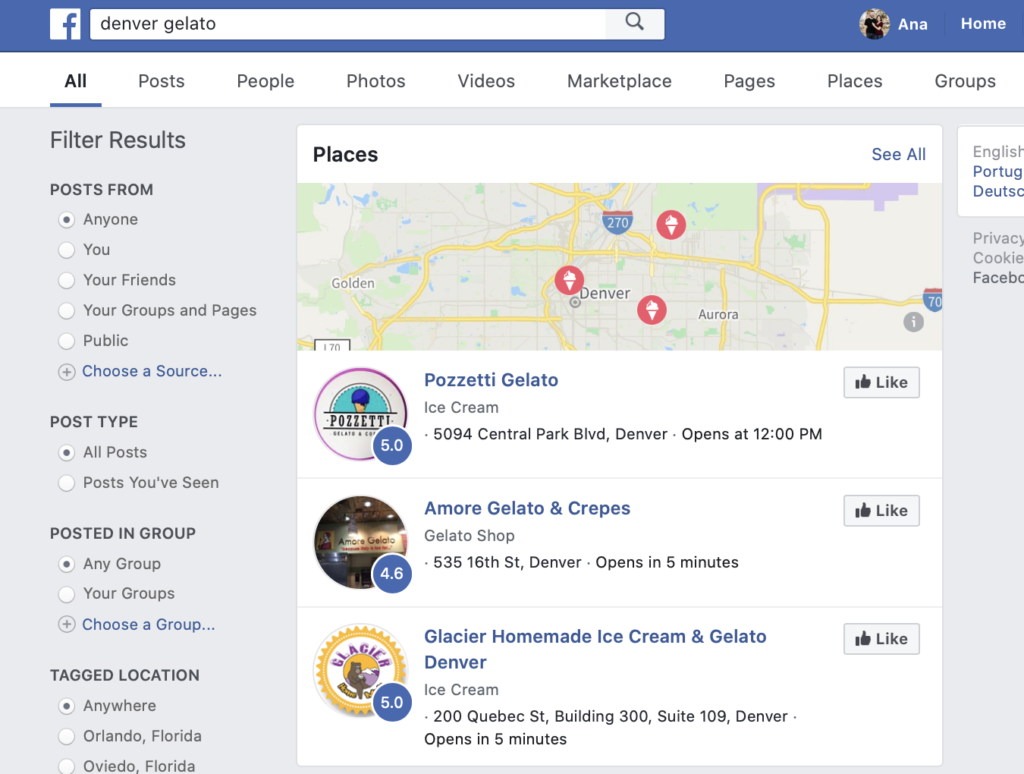 You also want local search so that you're not just casting a wide net to capture any followers, because this may actually prevent you from finding or appealing to your target audience.
In most cases, local businesses should focus a significant part of their strategy on increasing local search and discovery visibility for local customers. It's better to reach 100 users who could actually become customers than 1000 who never will.
Now, let's take a look at exactly how you can do this.
Always Include Location Data in Your Profiles
Every social media profile allows you to address where your business is located, even if that's simply adding "family jeweler located in Orlando, Florida." Most profiles let you do much more than this, and having that location listed is key for visibility.
You want users who are searching on platforms to be able to find you when they're using those keywords, and you want them to immediately recognize you as being geographically close to them as soon as they discover you.
Let's take a quick look at how you can fully optimize your profiles for location on each platform.
Facebook
Facebook has extraordinary location features that local businesses should always be using to increase their search visibility with local customers.
In your About section, you can enter your business's exact location.
This automatically generates a Google map that shows your location to users viewing it, showing them exactly where your business is located immediately above where your address is spelled out.
Underneath your address, users will see a clickable "Get Directions." This opens Maps, which users can take advantage of to get directions from their current location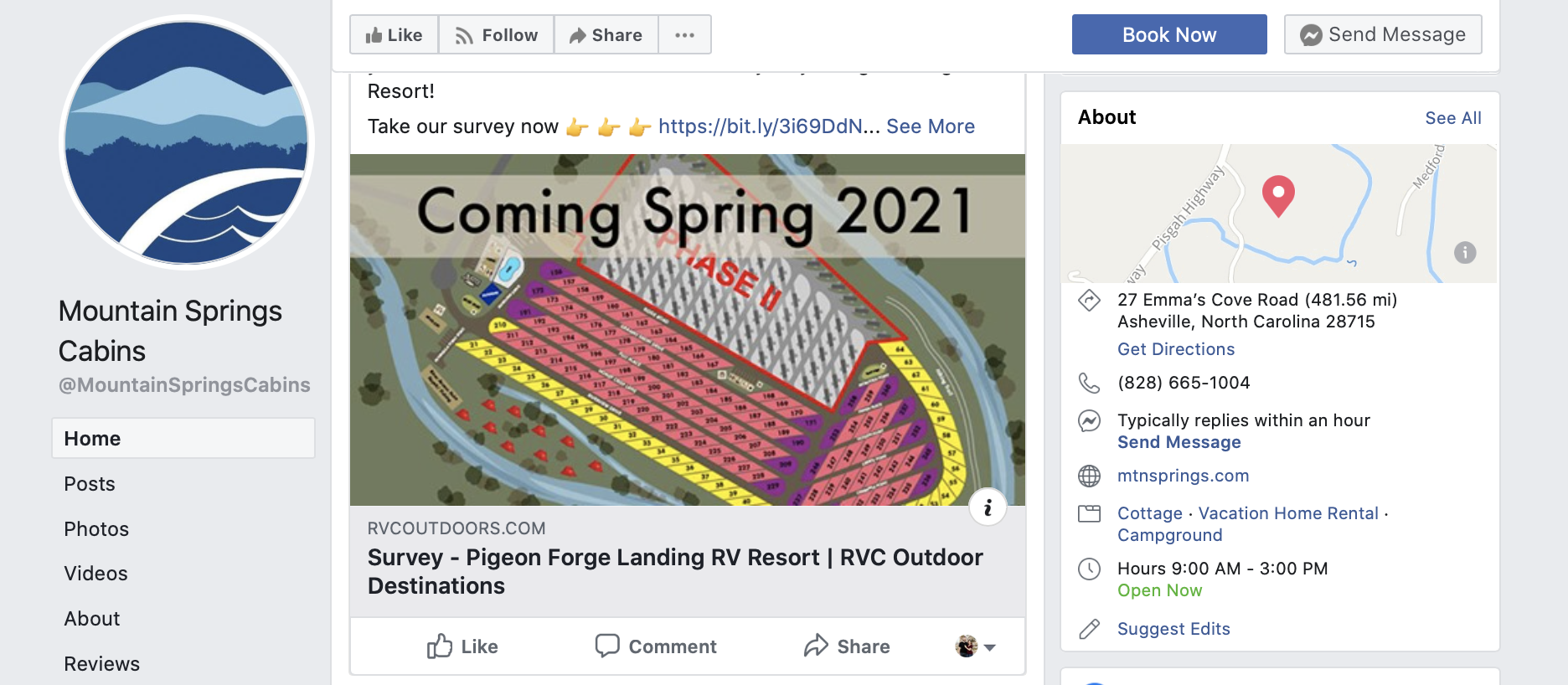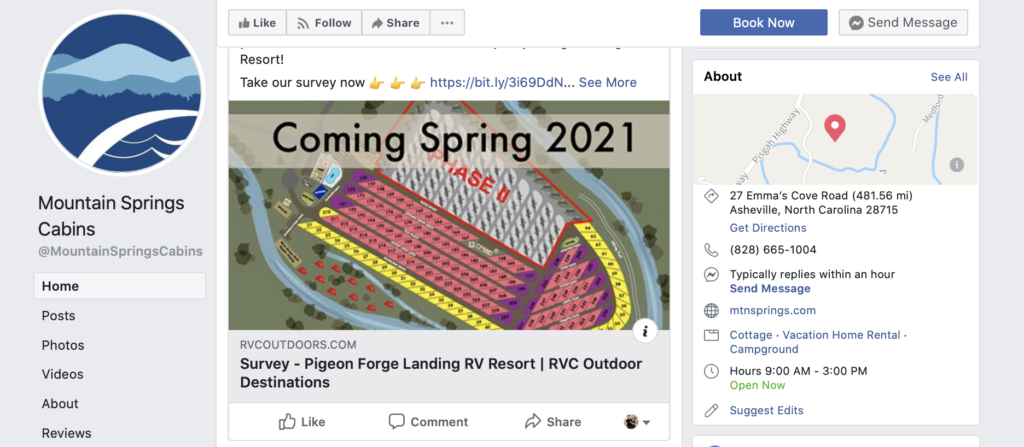 Instagram
Instagram is owned by Facebook, so won't surprise anyone that their location features are extremely similar.
When you're setting up your business profile, you should enter in your business location along with any other contact information.
Like Facebook, when you upload your specific address, users can click on said address on mobile, and they'll be given the option to copy it or open it in their default navigation app.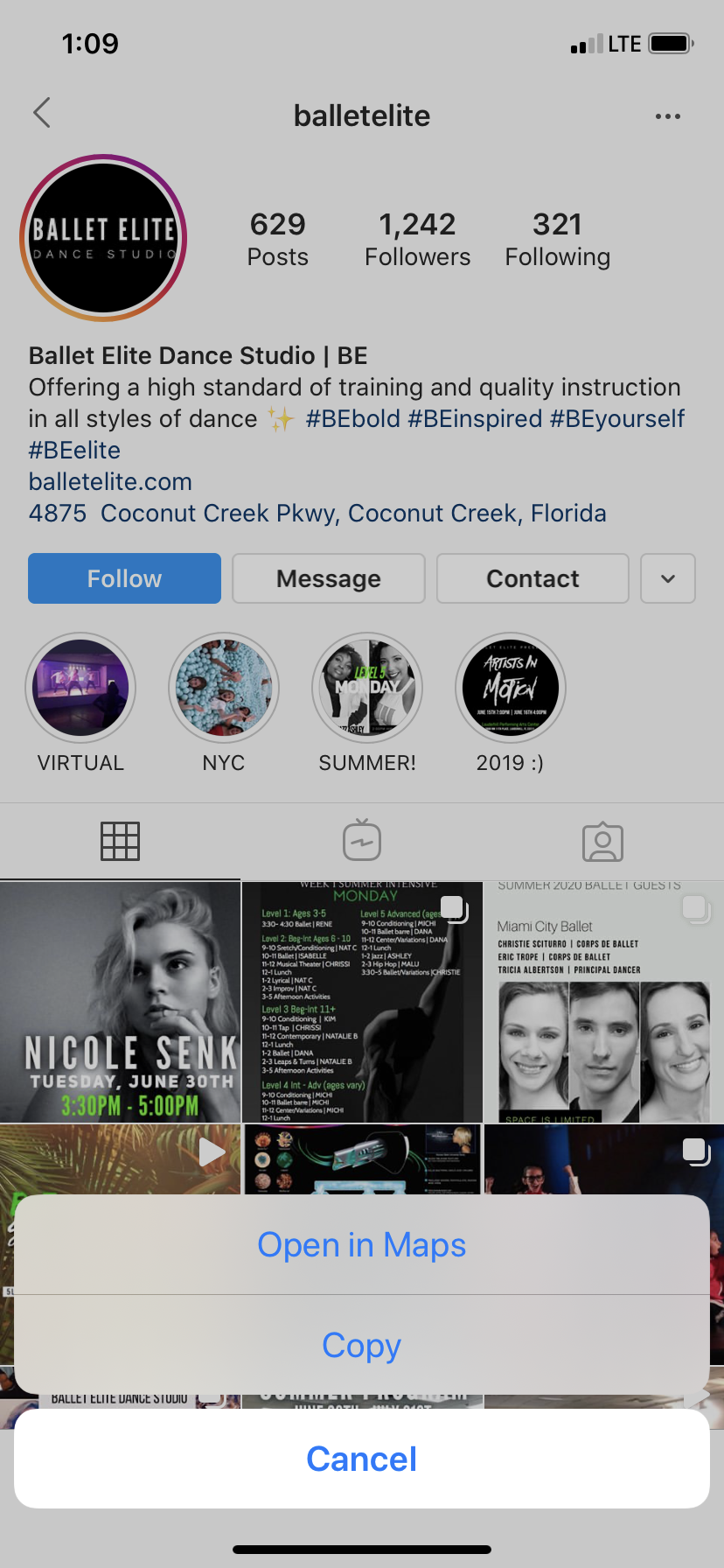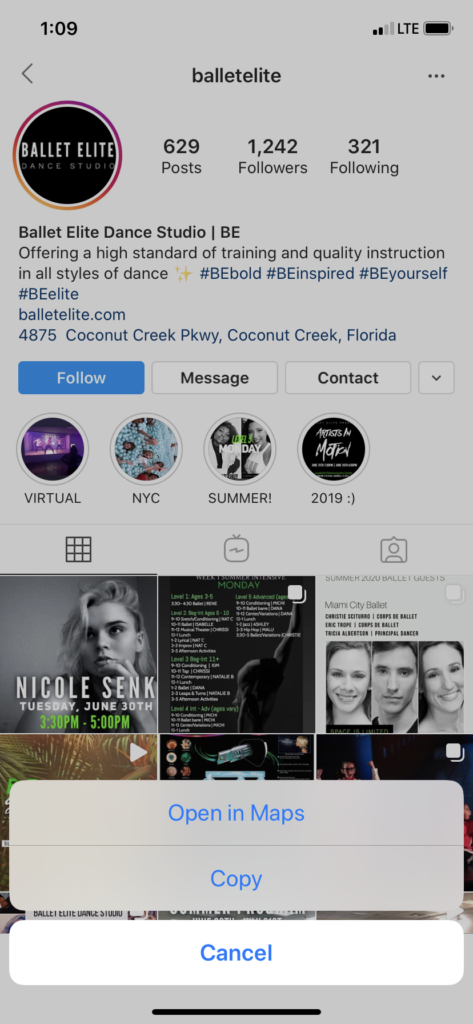 Since Instagram is heavily focused on mobile-usage, this could help drive foot traffic to your store quickly.
It can also benefit you to potentially include your location name in your official Instagram name, like "Ballet Elite I Florida" to help with local search on social media.
Twitter
Twitter lets all profiles enter in a location where the user or business is based.
Even though people typically don't use Twitter to look up businesses the same way that they do on Instagram, Facebook, or even Pinterest, it's still always a good idea to have this here.
If someone happens to stumble across your business and they're potential customers, you want them to know that you're local if that's at all relevant.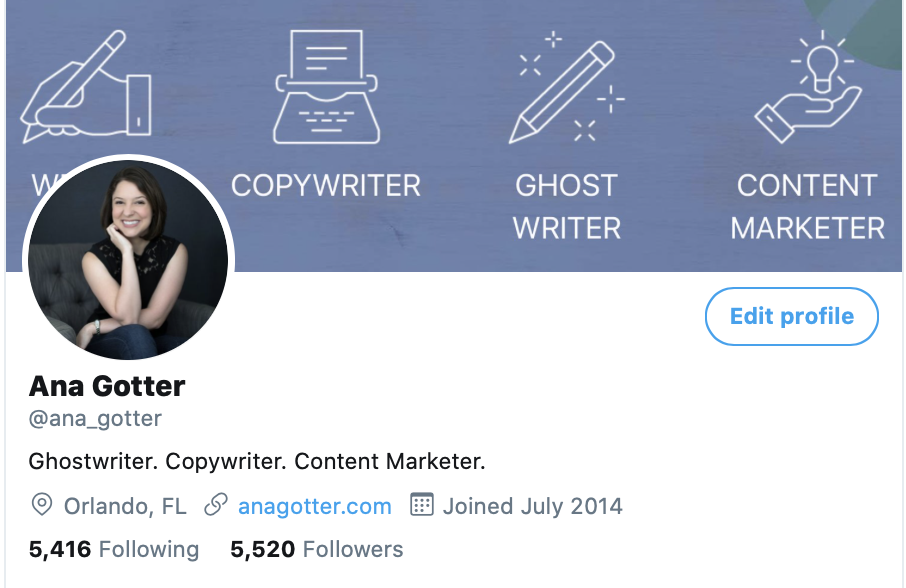 Your location will include your city and state/province/territory/country, whichever is applicable to you. This will be featured underneath your profile's name and tagline, so it gets strong visibility.
Pinterest
Pinterest used to have a feature more like Twitter's, where you could add your location underneath or near your description and site URL (depending on the specific format being used at the time).
This isn't currently the case, however, so it all comes down to adding your location into your profile name, which allows you to come up in "people" searches for terms like "Orlando wedding planner" and in your profile description.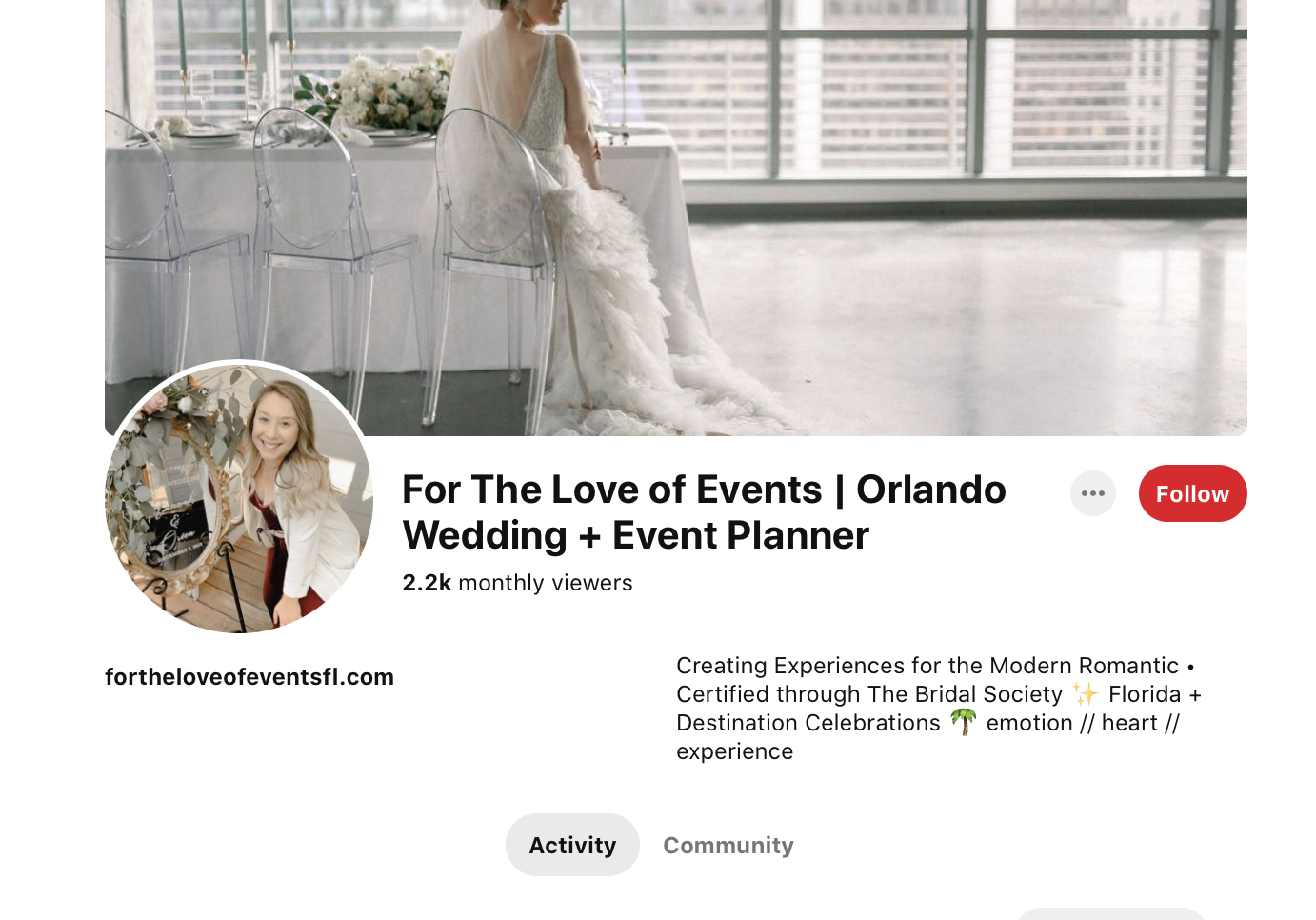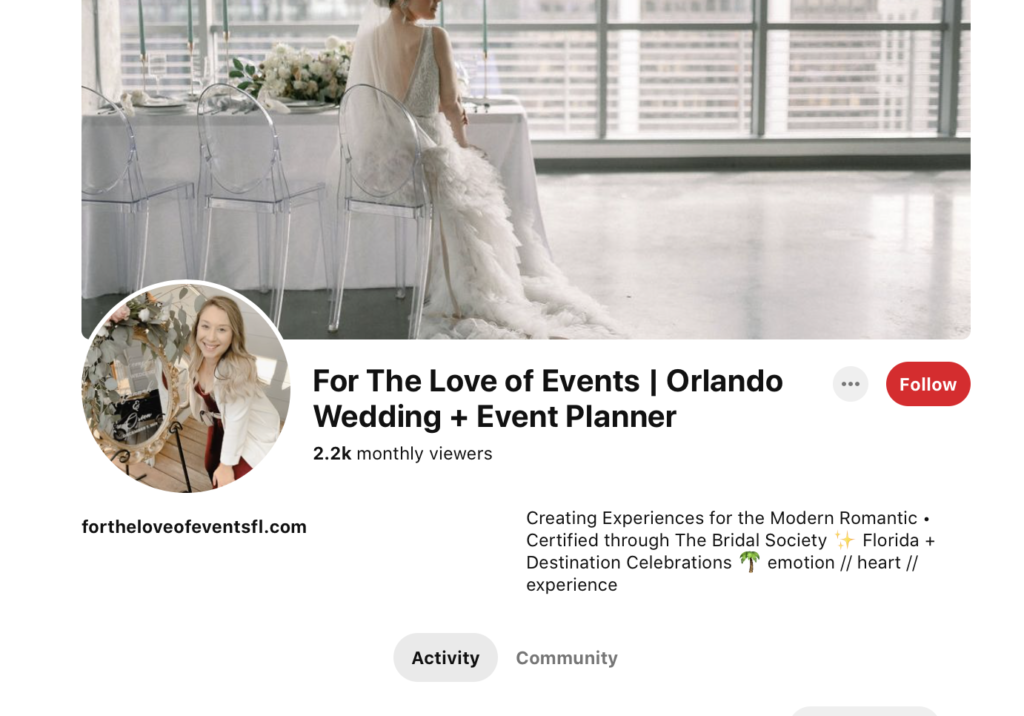 Consider adding multiple locations to your description if necessary.
Here, the above planner might use "Orlando," "Florida," and "Central Florida" as locations interchangeably.
LinkedIn
On your business's LinkedIn Company Page, always take the time to include your location. This can be done when you're editing your Page, and the location will appear immediately under your Page name.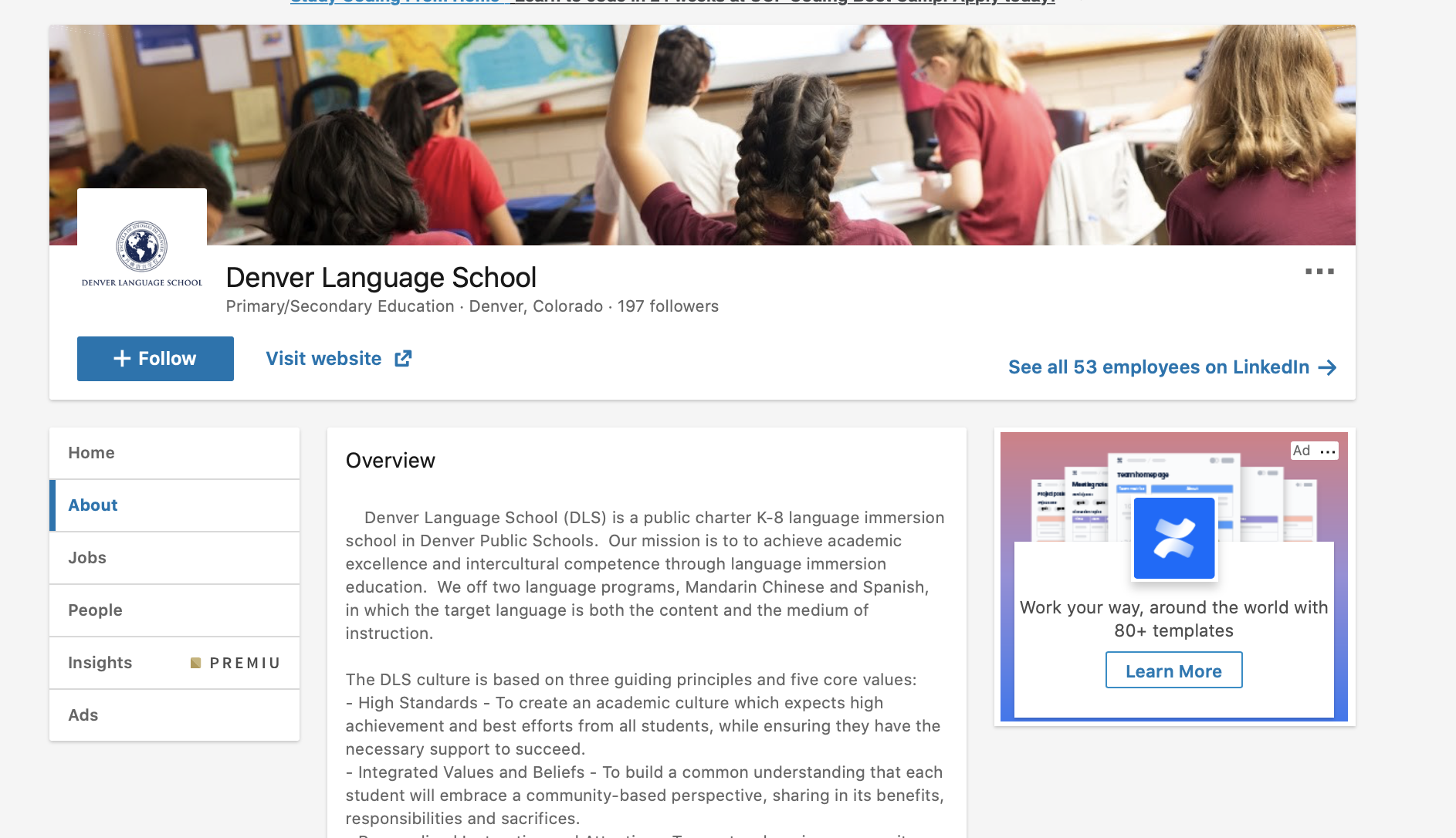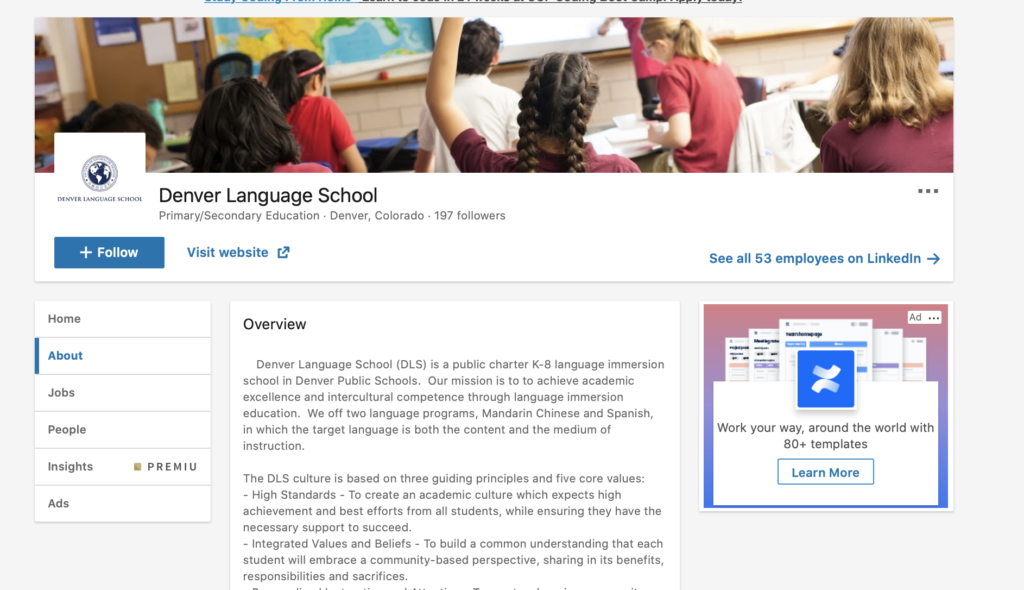 LinkedIn is a major B2B powerhouse, so it's essential to be optimized for local search here.
People are using LinkedIn to look up relevant businesses and organizations, particularly when they're looking for local educational opportunities, vendors, or those in services industries that require on-site work.
YouTube
YouTube does let you add a location to your channel, but only your country. You can do this by editing your profile.


If you're trying to attract local search traffic, however, make sure to include your location in your profile's description and in plenty of video titles.
If relevant, also include it in your YouTube profile name.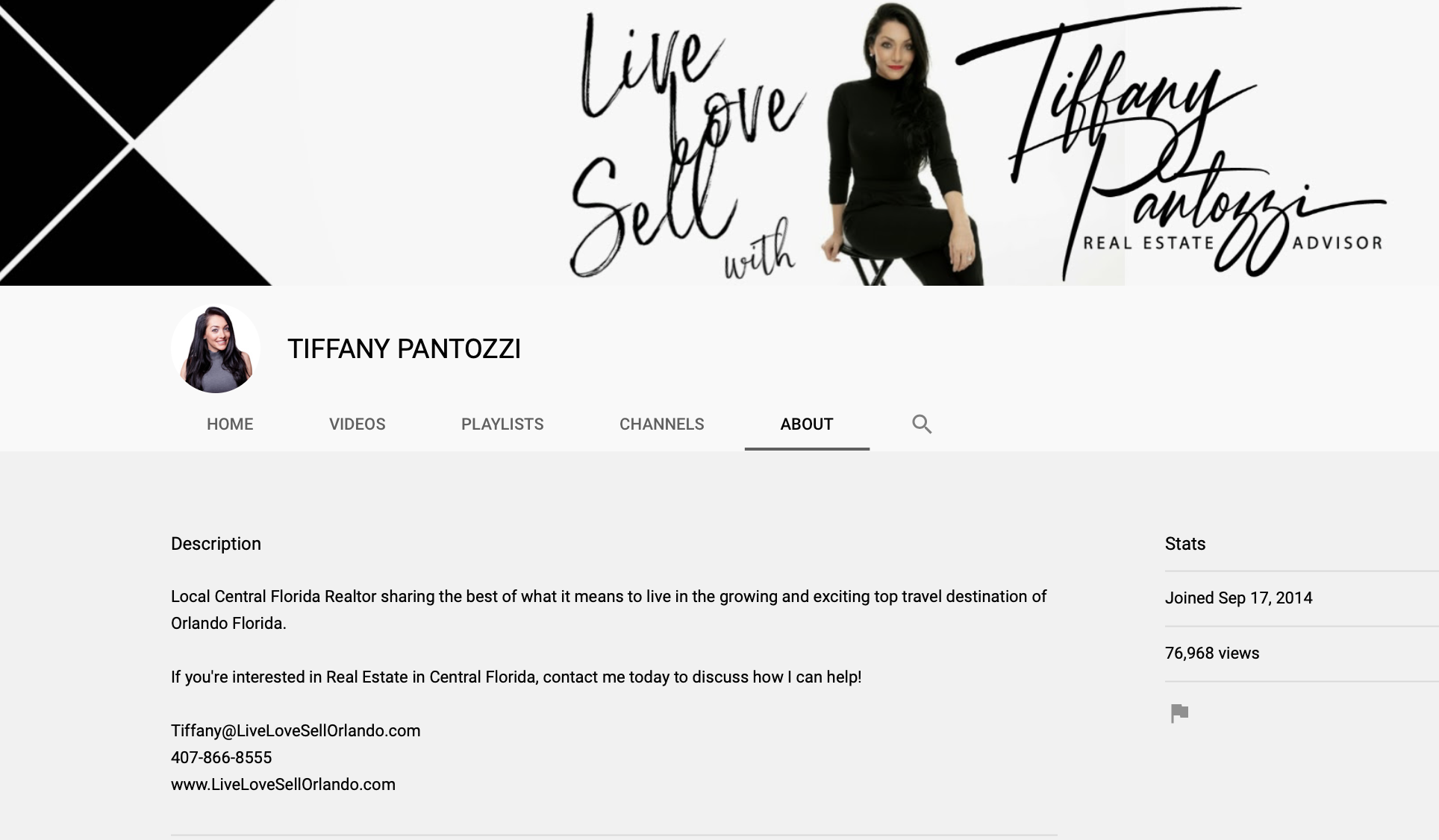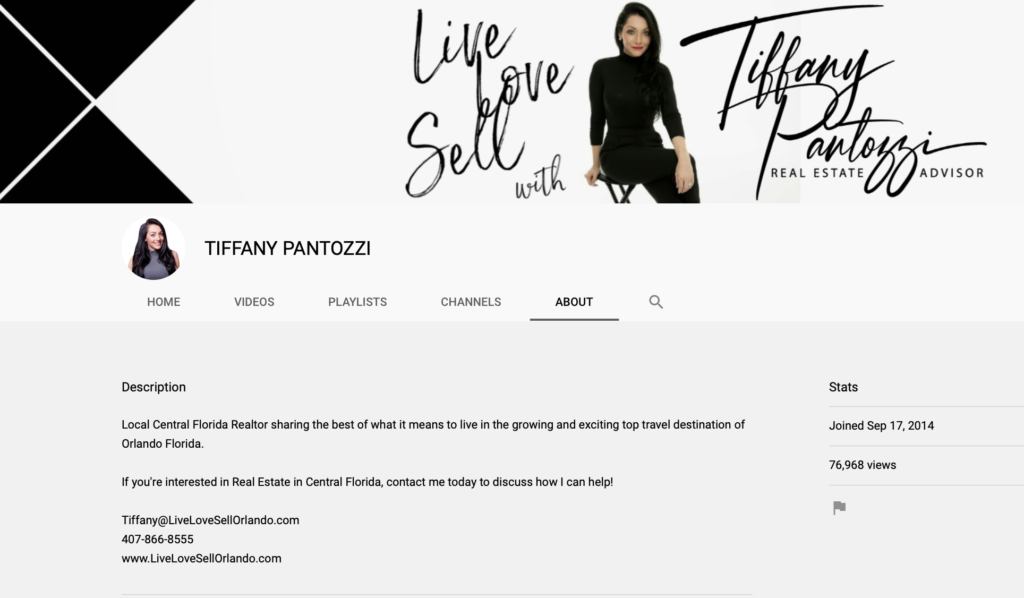 Add Location-Oriented Keywords in Your Content
You should always include location-oriented keywords in your about section on social media as we discussed, but you also want to include it regularly in your social posts and content, too.
This is particularly crucial on Facebook, Instagram, and YouTube, which are some of the most frequently-used search engines out there. YouTube, after all, is the second-most popular search engine following Google, and an increasing number of users are searching for content on Facebook, too.

This is easy to do, and it can be subtle while switching up the terms for the best possible reach every so often. Y
ou can do keyword research using tools like SEMrush, Moz, or Ahrefs to get an idea of what terms customers might be searching for.
Think about how you could show up in a term like "Denver culinary school" or "Pittsburg back to school sale."


Think about high-intent content that people will be looking for locally and that indicates that they're further along in the buying cycle.
Not only can you find relevant new followers, but you can also capture users who may be close to purchasing and drive sales quickly.
Use Location-Based Hashtags
Location-based hashtags are a must-have for Twitter and Instagram, which still heavily rely on hashtags as a core part of their usage. This is particularly true of Instagram.
Location-based hashtags can be as simple as the name of the city or region itself, like #orlando or #centralflorida. It can also include more fun or industry-specific hashtags, like #thecitybeautiful, #orlandoliving, #orlandofoodies.
Keep in mind that hashtags act as clickable portals for topics that users are interested in, and if they're looking for local things to them to attend, purchase, or subscribe to, you absolutely want to show up on that list.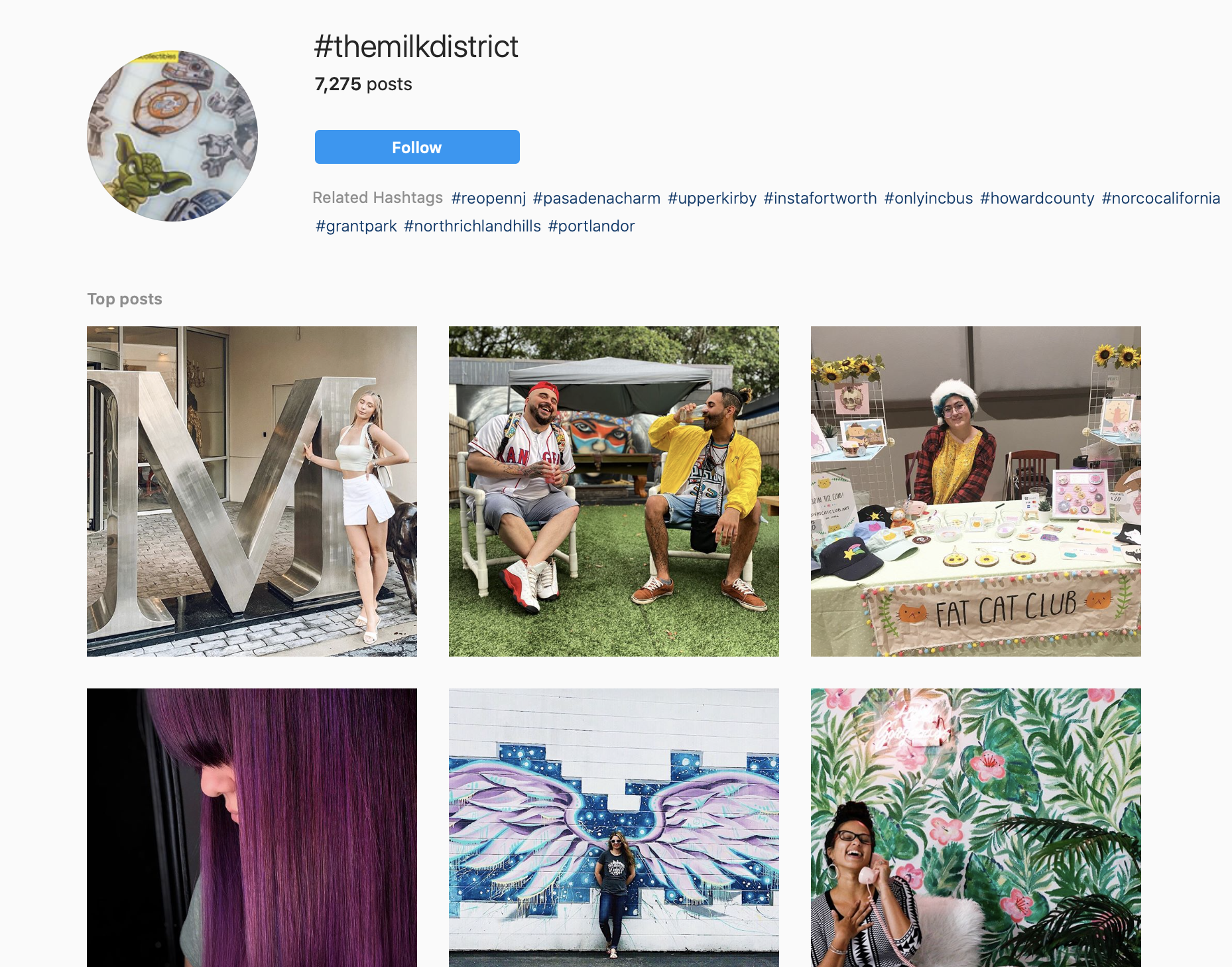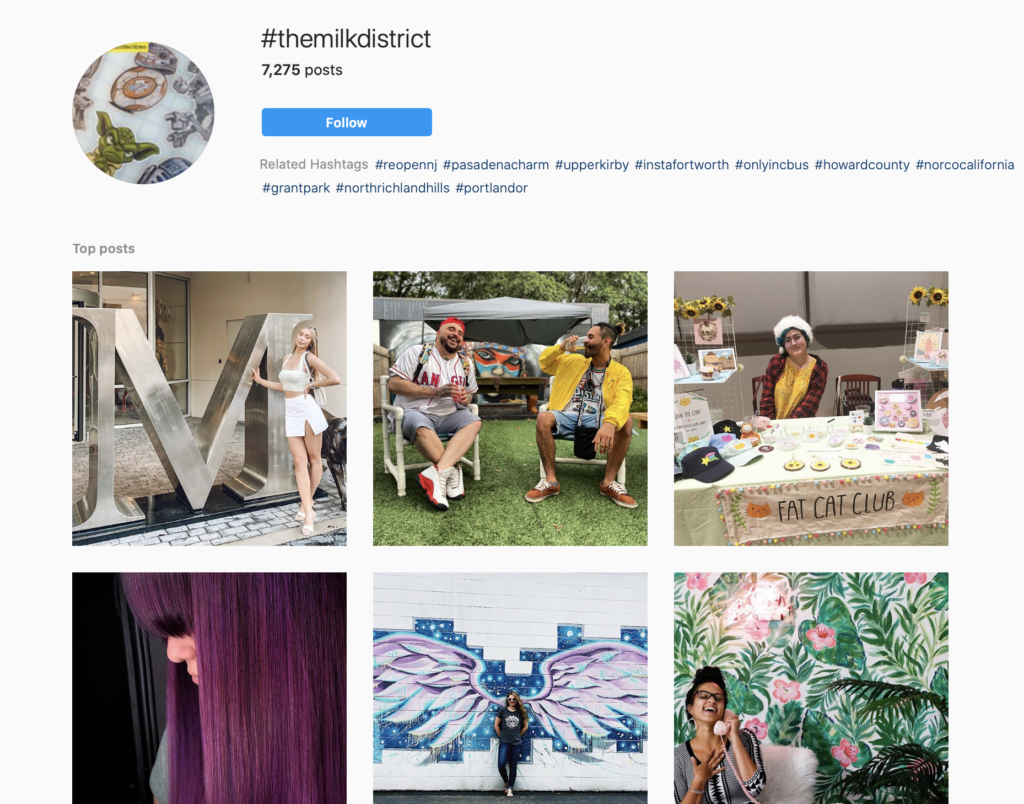 You can add up to 30 hashtags on your Instagram posts, and including at least 10 location-oriented hashtags is the way to go.
You can see a great example of this from the post below, which uses a large number of location-focused hashtags, which we've got underlined for easy visibility. They also mention delivery options like Doordash and Bitesquad with the goal of increasing fast conversions, potentially capitalizing on high-intent customers who are actively searching for these hashtags.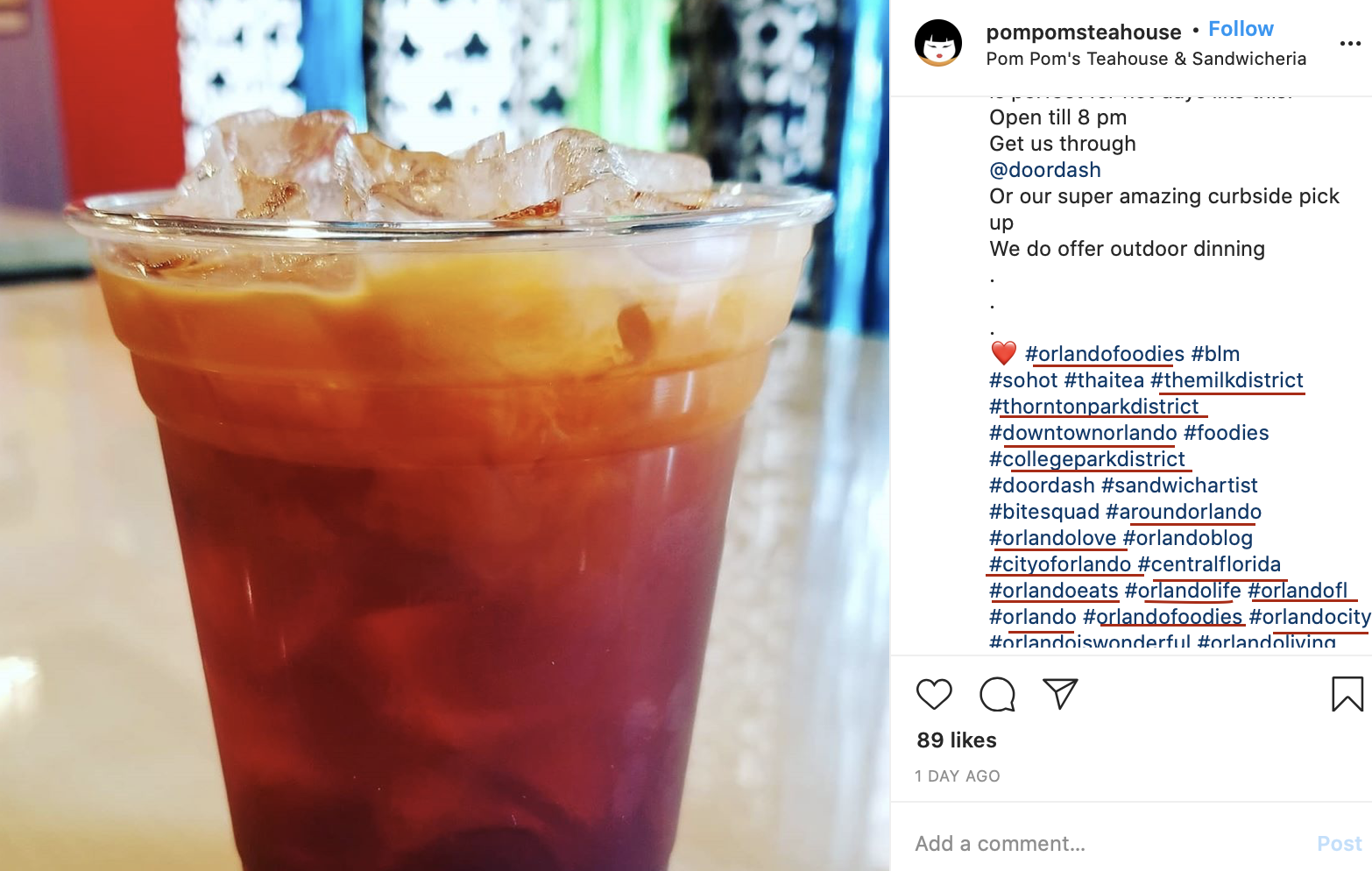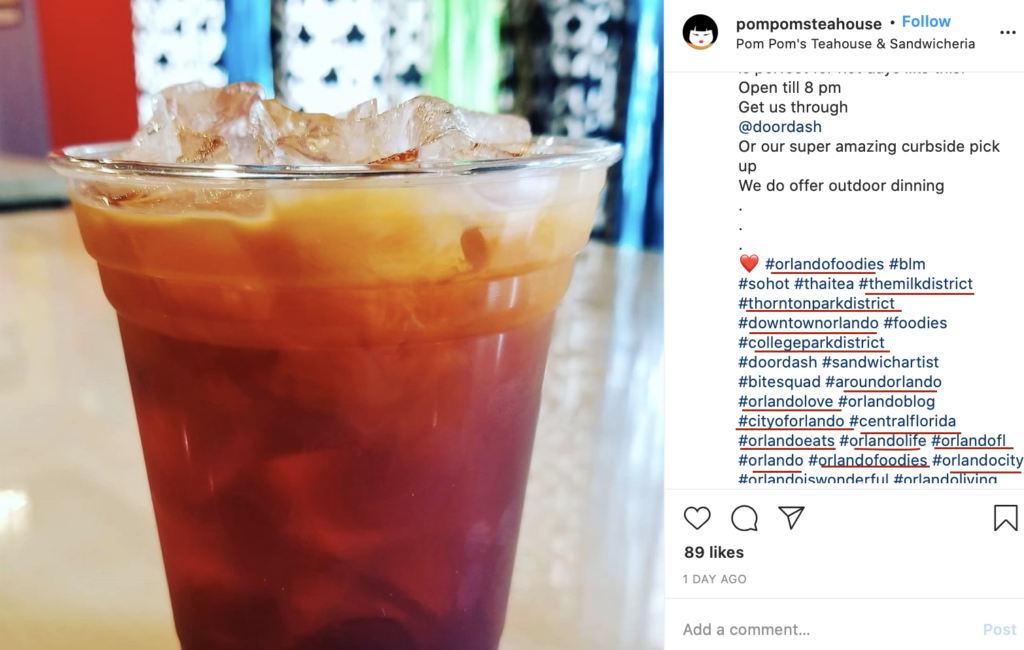 Consider Creating Sister Accounts for Different Branches
Some local businesses have a single location, and that's it. You can easily set up a single account under these circumstances and be just fine, and your social media and local search visibility will be well on its way.
If, however, you have different branches and especially if they're far away or under different management, it may be a good idea to set up additional accounts.
You can always link to the sister page to keep traffic going back and forth and even mention other branches on each profile, but this can help you ensure that you're showing up to the right audience and able to connect with them meaningfully.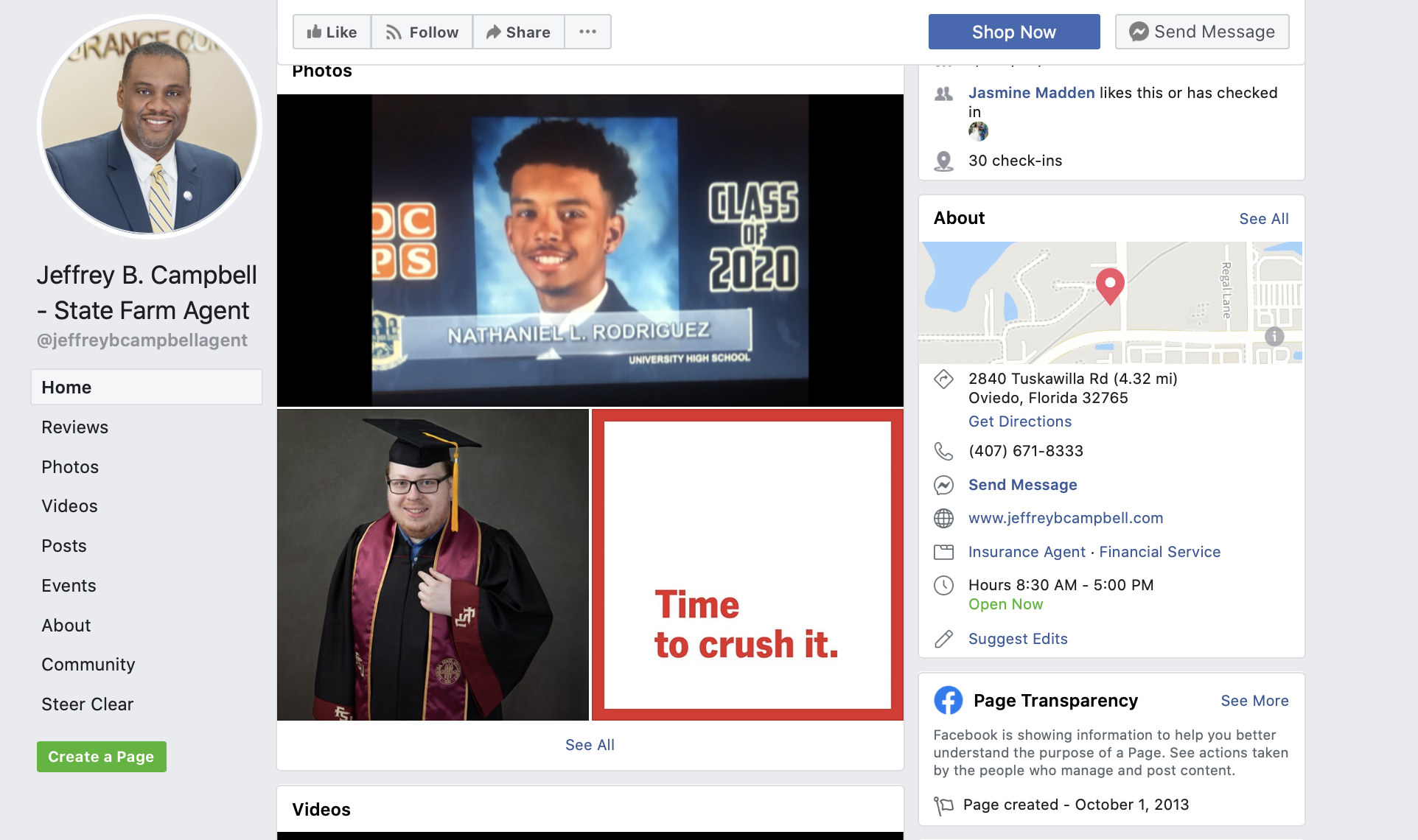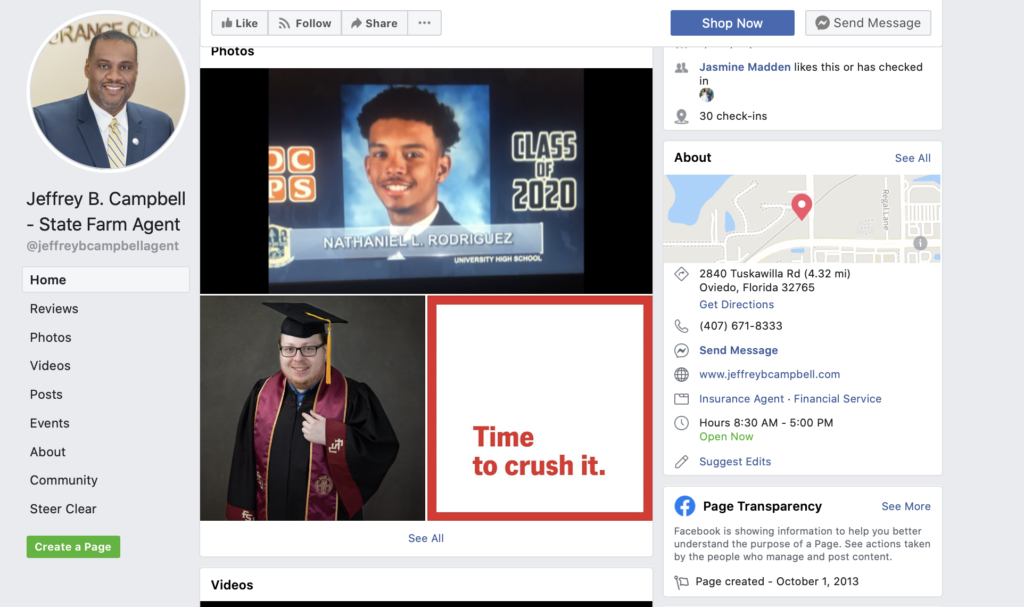 A great example is Woo Kickboxing, an old studio I used to go to.
The owners left Londonberry up North and moved to Florida, so they have two different accounts; one for their old school, which was taken over by some of their students, and one for their new Orlando studio. This way, when students come across them on social media, they'll know exactly whether or not they can attend in-person instead of writing something off for appearing like ti's halfway across the country.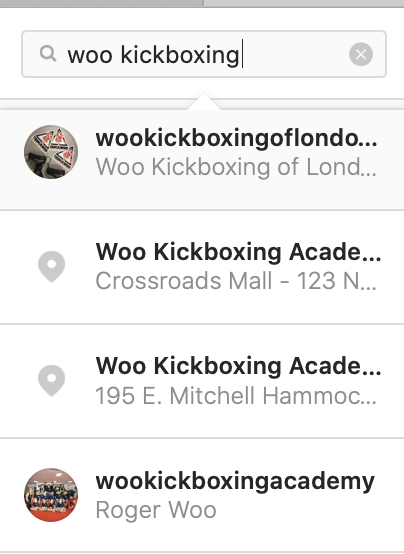 When in doubt, you can always set up accounts with handles like @MyAccountLondon and @MyAccountManchester, using the same profile picture for each.
You can also share most of the same content between the two pages.
Conclusion
Reaching local, high-intent users on social media is a crucial part of growing your followers with relevant people who could actually convert later on.
This will lead to higher engagement both short- and long-term in addition to bringing in more sales and customers, making your social media more profitable and impactful for your brand.
This is essential since social media isn't a vanity project; you want to be reaching the right users at the right time so you can build relationships and help scale your business.
What do you think? How do you combine social media and local search for heightened success? Which strategies have you used, and which have worked best for you? Share your thoughts and questions in the comments below!