Let's be honest: Audits are not the most exciting part of social media marketing. Not by a long shot. I mean, there are spreadsheets and data and analytics tools involved. And it can all be a headache to work through.
But audits are one of the most important parts of social media marketing. A thoughtfully executed social media audit helps you understand how your accounts are performing, including:
What's working and what isn't
Which dormant profiles need revival or a shut-down
If impostor accounts are stealing your followers
New opportunities to grow your business
Though a social media audit might sound daunting, it's not as difficult to complete as you may think. In this guide, we explain all you need to know to run an effective audit. We've even provided a free social media audit template to help you organize your findings.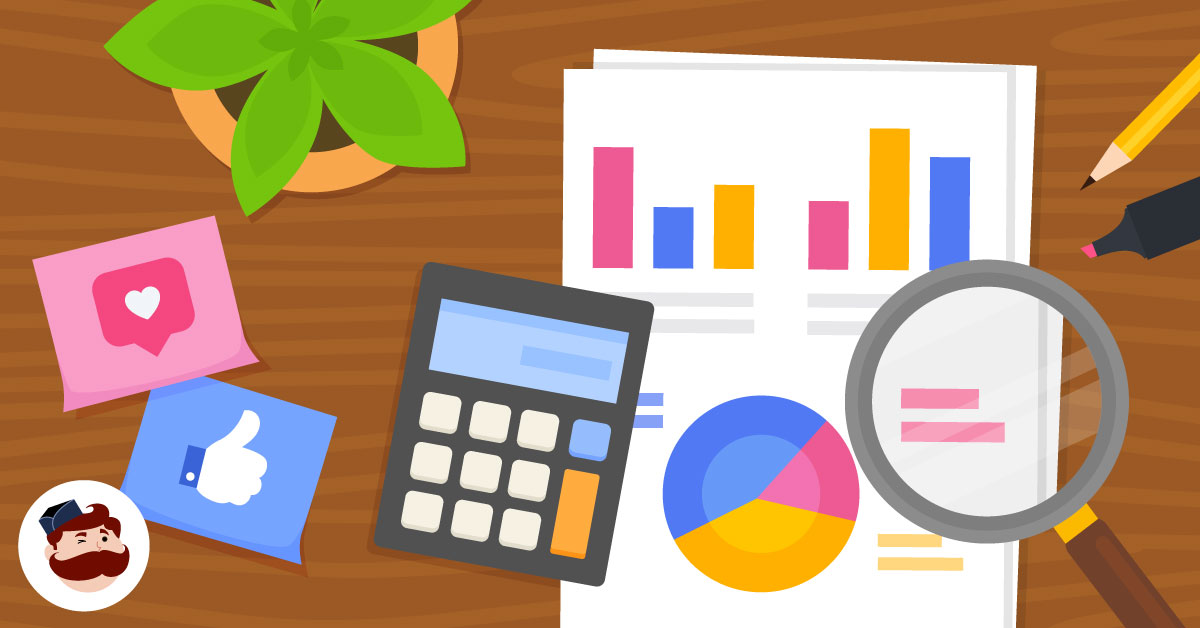 What is a social media audit?
A social media audit is the process of evaluating your business' key metrics to measure the health of your accounts and identify more ways to improve your social media performance.
During an audit, you have to compile important information about all your social media accounts in one place. This helps you see a clear picture of your current efforts and shows you what to change or tweak to get better results.
Don't let the term "audit" scare you. It has nothing to do with tax. It's also not as tedious as it seems (if you have the right resources and a solid process, that is).
How to perform a social media audit
If you want to work on your social media audit as you read this article, download this free social media audit template that the team over at Hootsuite made. It will do most of the heavy lifting for you, helping you organize your data and draw conclusions. All you need to do is plug in the figures.
1. List all your social media accounts
The first thing you should do is take inventory of all your social media accounts.
Now, you might think you know all your social profiles off-hand. But you also need to track accounts beyond major social media platforms like Facebook and Twitter. Like that Pinterest account you haven't touched in two years or that LinkedIn account that has three followers.
To do this, start by recording all the accounts that your team uses regularly. Then try to find old profiles your company created when there was no social media strategy in place.
Even if you're not active on those social media channels, you still need to audit them. Who knows, you might uncover opportunities that match the features of the platforms you ignored.
How to find this info:
Search the internet. Google your business name and the name of your products to see if any social profiles pop up. If you see any accounts you don't recognize, try to find out if they're actually connected to your brand or if they're fan accounts or impostor accounts.
Search social platforms. After surfing the web, go to each of the major social networks and search directly for your company and product names to see if there are any dormant accounts.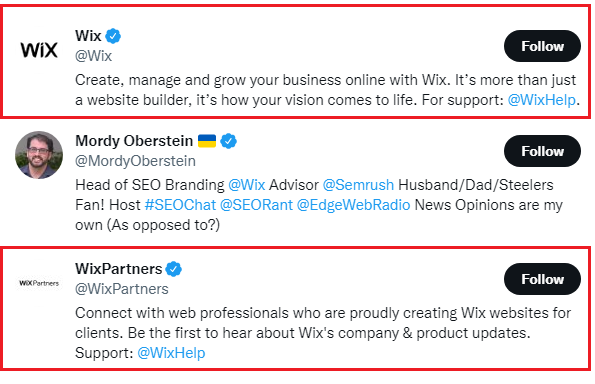 Write down all the relevant social accounts you find. Mark any accounts that require more research. For example, if you can't tell if an account was created by someone in your company, a fan of your brand, or an impostor.
In your audit doc, write down all unowned accounts and the steps you need to take to shut them down. Contact each account holder directly to ensure that it's not a simple misunderstanding. If you cannot resolve the situation amicably with the account holder, you can report the account to the social networks themselves.
After you've recorded all the relevant profiles, set up a social media monitoring program to watch out for any new impostor accounts that might be created in the future.
You can also use this opportunity to identify platforms that you don't have an account on. Then, try to figure out if you should add these networks to your social media marketing strategy.
You don't need to use all the social networks you can find, of course. But you might want to reserve your company username on platforms where you don't already have an account.
2. Ensure that each account is complete and on-brand
After you've recorded all your accounts, check your brand style guide to make sure that each social media profile has up-to-date images, brand voice, keywords, and hashtags.
For instance, AdEspresso has consistent profiles from Twitter…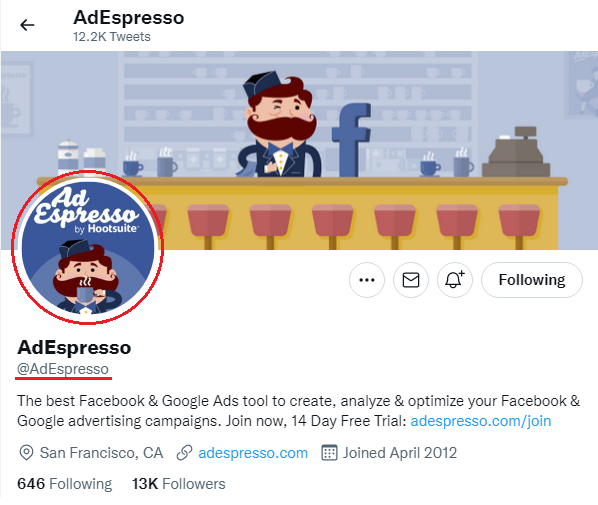 ..to Facebook: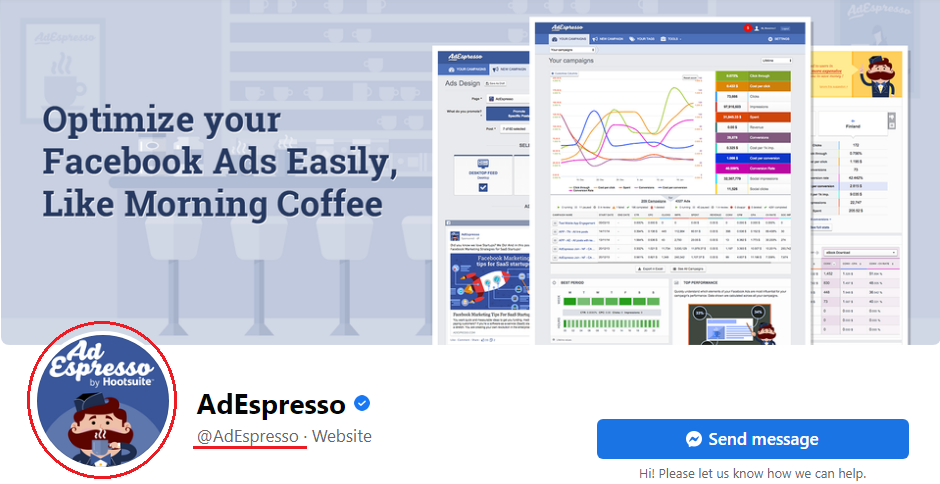 Here are the elements to check for each social profile:
(Image)
Profile/bio text. With your social media bio, you have limited characters to work with, so you have to make the most of it. Ensure that all the fields are populated with current brand messaging.
Handle. Your business handle should be the same across all social networks. However, you can use different handles if your accounts serve different purposes. For instance, Wix has Twitter accounts @Wix and @WixPartners.
Links. Make sure you add a link to your website homepage, a landing page or blog post, or an existing campaign. You don't have to link to the same page on all your social profiles, but you should have a record of the pages you linked to.
Pinned posts. Assess your pinned posts to see if they're relevant and up-to-date.
Verification. Is your account verified with a checkmark? If you want to get verified, check out these guides on how to get verified on Facebook, Twitter, and Instagram.
3. Identify your top-performing posts
The next step is to record your best-performing social media posts. Include the links to these posts in your audit template. You can find these posts in the built-in analytics tool for each platform. These analytics show you how all your posts are performing in terms of reach, impressions (or views), and engagement (likes, comments, shares, etc.)
For a deep dive on analyzing platform-specific stats, follow these guides:
You can also use Hootsuite Analytics to find the best-performing posts on all your social accounts in one place.
https://www.youtube.com/watch?v=cJtdnbIKhuU
When you've found your best posts, look for patterns. Do you get the most reach and engagement when you post images? Or videos? Do users react to the same sort of posts on your Facebook page as they do on your Instagram page?
The social media audit template has a "Notes" column where you can write down the patterns you notice. So you can run some tests and note your results when next you perform a social media audit.
Pro-tip: When evaluating your top-performing posts, we suggest that you use engagement as the metric of choice. This, however, might not be the best metric for every brand. In this case, you can also use conversions or website referrals to measure to top posts.
4. Evaluate channel performance
In addition to analyzing the performance of individual posts, you also need to evaluate the overall performance of the social channel.
To do this, you need a mission statement and some key goals for each social network. If you don't have a mission statement and goals yet, now's the time to create them. After all, it's not possible to evaluate your performance if you have no idea what you want to achieve.
For instance, you can't use the same criteria to assess the performance of an Instagram account used to gain follower engagement and a Pinterest used to drive web traffic and conversions.
Your mission statement will help you identify the key metrics to measure for each social channel. Most brands track website traffic and conversions. Engagement is great, but you only get ROI when your followers become your customers.
If you use Facebook, you can see how it's working for you using Facebook Analytics, so long as you have Facebook Pixel set up. But to get your overall performance across social channels, Google Analytics is the way to go.
To get started, check out Hootsuite's guide to setting up and using Google Analytics.
5. Track your results over time
The best way to improve your social media strategy and achieve your goals is to track your results over time. Compare your current results with the results you got last quarter or last year. This will help you spot seasonal changes, and know what's working and what isn't.
You can track your performance with the same analytics tools you used to identify your best social posts and overall channel performance.
6. Calculate your ROI
If you're running an organic or paid campaign on any social platform, it's important that you calculate your return on investment (ROI) for each period of time. Your ROI is essentially a measure of how much money you spent on the campaign versus how much value your efforts contributed to business growth.
You can use specialized analytics tools like Hootsuite Impact to get an in-depth analysis of your social media ROI. The team at Hootsuite also created a free social media ROI calculator you can use.
Pro-tip: As you calculate your ROI, don't focus only on the money you got back. ROI can take different forms, so think about it in terms of the goals you set for your social accounts.
7. Understand the audience for each network
While you think about how each social platform can help grow your business, you should also understand the kinds of people you can read through each network.
It's always a good idea to start with audience demographics. For instance, Pinterest users are mostly women and Instagram users tend to be younger than Facebook users. Instead of running experiments yourself, check out these top statistics on audience demographics:
To be sure, you should also evaluate the demographics of your own following on each platform, as your follower base might not be the same as the overall demographic that uses said platform.
Analytics tools like Facebook Audience Insights can help you learn about the demographics of your followers. You can also use Hootsuite Insights to understand audience demographics across all social channels.
8. Decide which channels are right for you
At this point, you have: (a) set goals for each social account (b) measured your performance (c) figured out your target audience (and follower) demographic.
Now, think about how to tie all this information back to your social media presence. Does all of it fit in seamlessly? If it doesn't, you may want to cut out some channels so that you can focus your efforts on the platforms that give you the best ROI.
This doesn't have to be a permanent thing, though. You might decide to focus on Instagram for a few months, and then try Pinterest when next you conduct a social media audit.
You can also consider adding some new social platforms to replace or complement the ones that are not performing as well as they used to. The most important thing is that you make these decisions based on deep research into which networks best serve your business.
9. Assign ownership of each channel to team members
Each social account should be handled by one person (or team) in your company.
That person is responsible for keeping the account up-to-date, on-brand, and performing well. They'll also be responsible for guiding the direction of the account, making necessary approvals, and deciding who should have access to the account and what level of access each person would have.
Instead of giving different people the password to the social accounts, put the passwords in one place. This method protects the security of your social accounts and ensures that you won't have to change the password every time someone moves to a new role or leaves your team.
You can use a social media management tool (like Hootsuite) to make sure that only the right people have access to your accounts.
On your audit doc, record the channel owners and note if you've used a tool to control the password of each account.
10. Repeat the process
A social media audit is not supposed to be a one-off thing. You should do audits regularly to make sure that everything is going smoothly and see if there are any changes in account performance.
Ideally, you should conduct a social media audit every quarter. This will help you compare your daily work with the social media goals you've set and ensure that you're getting the best ROI.
Free social media audit template
At this point, you must've noticed that a social media audit requires yourk dig deep. To avoid missing some information, you need to organize your findings someplace.
The best way to organize all that info is to use a spreadsheet. The team at Hootsuite created a free social media audit template to make the work easier.
If you'd rather make your own spreadsheet, you can use Google Sheets or Microsoft Excel. Here are some columns you'll need to have in your spreadsheet:
Account details
Your social media handle (e.g. @adespresso)
The link to your social profile (e.g. twitter.com/AdEspresso)
Your social media bio
The URL you link to from your bio
Hashtags that you added in your bio and/or posts
The person or team (aka "owner") that manages the account
Whether the account is verified or not
The mission statement you set for the account (for instance, to promote my products using user-generated content, e.g. customer images, reviews, videos, etc.)
Details of pinned post (if you have any)
The types of content you publish (a.k.a. your content mix)
Date of publication for the most recent post (so that you can identify dormant accounts)
Performance details
Total number of published posts
Engagement numbers (engagement rate, click-through rate, etc.)
Three best-performing posts (in terms of engagement)
Change in engagement
Campaign ROI (if applicable)
Audience details
Total number of followers
Change in followers
Audience and follower demographic information
Goals
2-4 SMART goals you want to achieve before your next social media audit
Whether you achieved the goals you set for this present audit
A column to make relevant notes about each social account