Facebook recently hit the two billion monthly active users mark, and is now one of the largest online advertising platforms with over six million advertisers spending $10 billion every quarter between them.
To support this large ad spend, the Facebook Ads manager platform has evolved into an incredibly powerful tool. Along with this, however, comes ever greater complexity.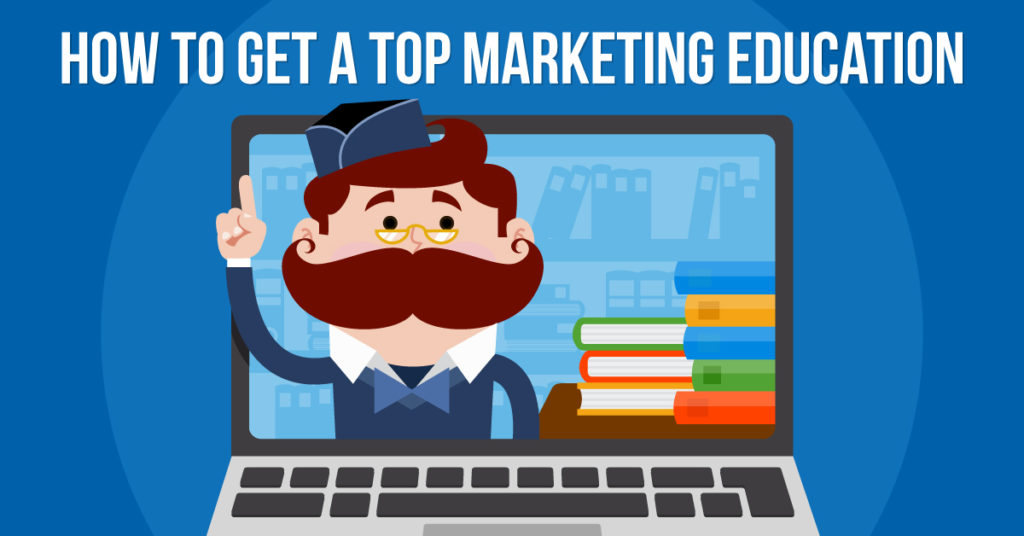 It has become increasingly difficult for beginners to break into the Facebook Ads world, and it's becoming more expensive to learn how to do so, too. 
 In this blog post, we'll outline seven high-quality sources of Facebook and online marketing training that cost little or no money.
Are you ready to become a Facebook Ads expert on a shoestring budget? Now you can. 
There are a number of companies selling comprehensive Facebook marketing courses. Many of these Facebook ads courses clock in at around $3K, with some even as high as $5K.
While these courses can provide in-depth support and get you off and running, there is a downside; Facebook is adding new advertising features at such a rapid rate that courses can soon become dated.
For many advertisers, it's also preferable to start with a small outlay and then reinvest profits in further training, rather than rack up large training costs before running a single ad.
Fortunately, these classes that cost several thousand dollars (and without no quality control) aren't the only options. Here's how to get a top-level education without breaking the bank!
1. Facebook Blueprint
Who better to teach you about Facebook advertising than Facebook themselves?
The Blueprint training portal offers a diverse range of courses that are packed with information provided directly from Facebook.
All the lesson modules are kept up to date, and each contains specific skills you can learn. You can pick a guided learning path to help you develop these skills based on your job role, or brush up on knowledge you aren't yet familiar with.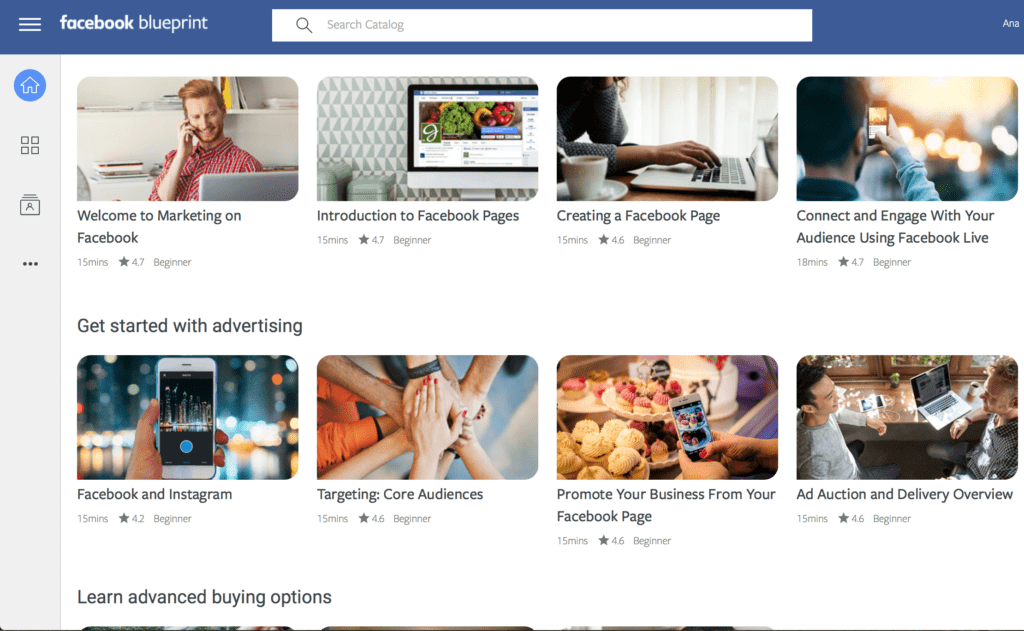 All of Blueprint's courses are completely free, though there is certification available at $150 per module and two modules are required to pass.
That being said, there's no need to get certified unless you're looking to add it to your resume.  Whether you're going for that certification or not, the Blueprint training portal is without a doubt the best place to start to get a broad understanding of facebook marketing.
2. Jon Loomer
Jon has been writing about Facebook advertising for over six years, and at least one blog post is added to his website each week.
All of these posts are available for free. Each blog post is generally a deep-dive into a new feature or advanced strategy.
This is easily one of the best places to keep up to date with the latest developments in the Facebook Ad world. Although not intended as a course, the archives can be used to learn about all the main elements of this ad platform.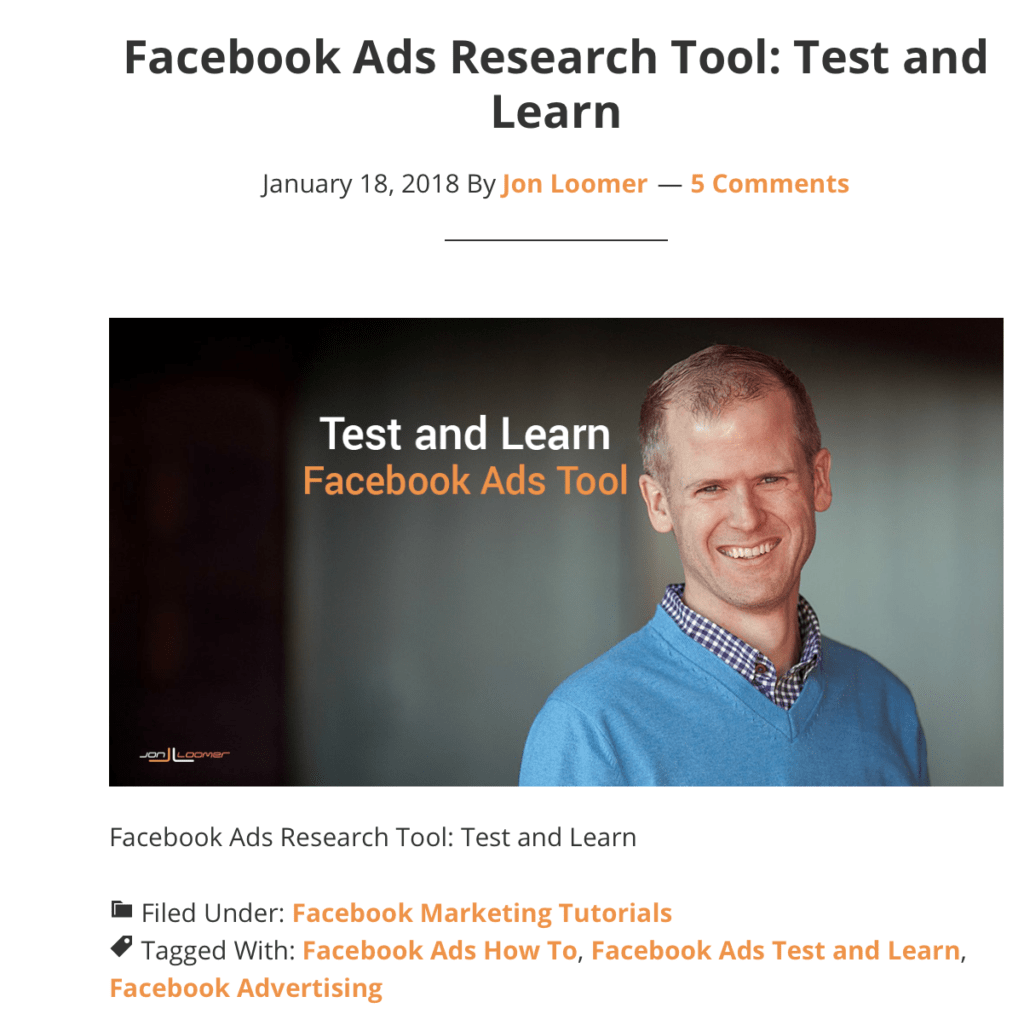 In addition to the resource of the free blog, Jon also offers some great products for subscribers, too.
This includes membership to the Power Hitter's Club (PHC). The basic membership is available for just $29 a month and includes access to weekly webinars, video tutorials, and a members-only Facebook group.
3. Podcasts
Believe it or not, many social media experts give away free content on their podcasts.
This is an exceptional way to stay on top of any Facebook news. The best part? You can do so while commuting to work or doing laundry around the house.
In addition to being free, many podcasts also have great guest interviews. These may cover case studies that break down what's working at the moment and what isn't.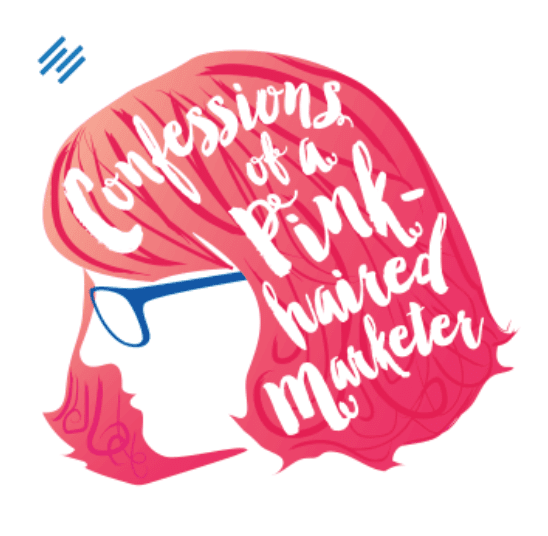 There are dozens of great marketing podcasts to choose from, and we've compiled a list of our favorites here. 
4. Digital Marketer
As the name suggests, Digital Marketer comes pretty much everything related to digital marketing. A large number of their resources are available for free on their site. This includes one of my favorite beginner guides to sales funnels, which can be found here.
Digital Marketer has two main learning portals: their HQ course and their Lab.
HQ is basically the Netflix of online marketing, consisting of eleven video-based courses that each comes with checklists, workbooks, and exams. There's a certification at the end. Each course is worth up to $1,000 alone, but you can access each for free for 14 days with their free trial.


Lab is designed for ongoing training that will help you stay up to date.
It includes a weekly call during office hours, access to resources like monthly webinars, more than 30 execution plans, and a members-only Facebook group that contains more than 10,000 fellow marketers.
This subscription costs a monthly fee of $38, but it's possible to access all the resources for a month for just $1 with their trial. 
5. Dominate Web Media
Dominate Web Media has created another university-style portal that's similar to the Digital Marketer Lab and AdEspresso University.
Like the other two, this resource provides users with the key ongoing updates that enable marketers to stay up-to-date with best practices and the changing face of advertising. This is often significantly more useful than a one-off course that wouldn't have taught you anything you couldn't find online elsewhere (likely for free).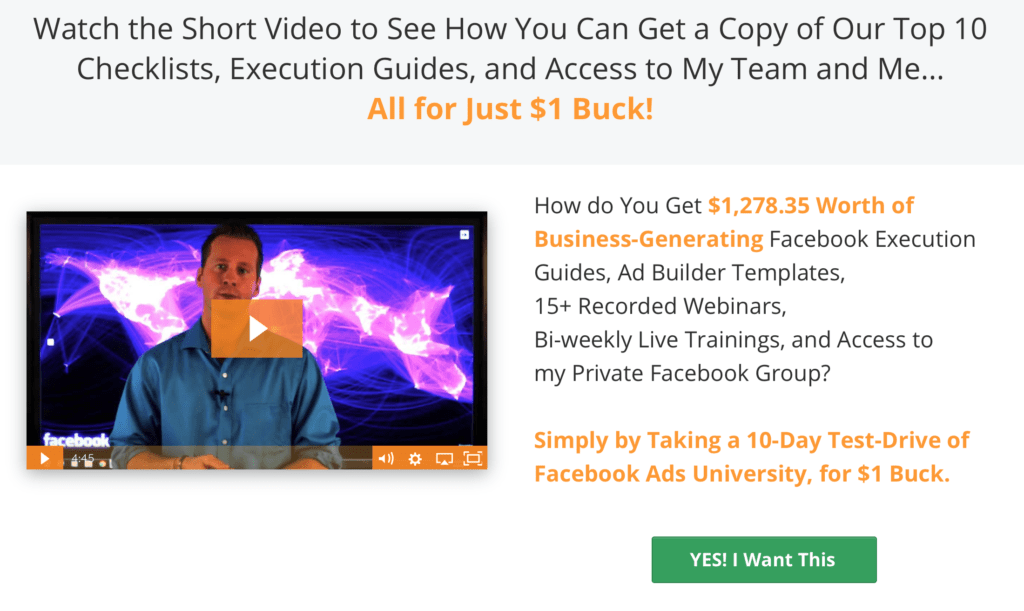 The DMW community is a little more expensive at $77, but a month everything is available for just $1 for the first 10 days.
As with the Digital Marketer Lab, remember to cancel if you don't wish to be charged moving forward, but if you find value in the resource stick around for a few months to see what you learn. 
6. $1 Day Facebook Strategy
All of the six courses we've discussed above are excellent ways to learn about Facebook Ads. You are, however, only learning about them in theory. In reality, the best way to truly learn the system is to dive in and start creating campaigns.
This allows you to get a real understanding of how the ad system works through trial-and-error, but you can also start generating a little revenue while you practice. Fortunately, even small test budgets on Facebook give you a lot of room to learn.
Dennis Yu– the CTO of Blitzmetrics and an incredible expert on all things Facebook Ads– highly recommends his dollar-a-day Facebook Ads strategy. It's an incredible strategy I've used several times myself; it's low-cost, so it's low risk, but it still gives you the information you need to start creating stronger ad campaigns.
You can learn more about it in a post that Dennis wrote for Blitzmetrics here.
If you have a little more budget to spend, even $10 a day can allow you to test a wide range of different strategies and ad copy. If you're curious, some great ideas on how to spend your ad budget and what to test can be found in this article on DigitalMarketer.
At AdEspresso, we even set up a t-shirt business from scratch and ran the campaigns for about six weeks using just $300 of ad spend. Although the profit wasn't huge, the learning experience was invaluable.
7. Hootsuite Advanced Social Advertising Certification
Do you want to show the world that you have the in-demand skills and expertise to set campaign goals, use remarketing and lookalike audiences, build and test social ads, and measure the ROI of your social ad campaigns? Do you need a permanent online certificate to showcase your expertise and credentials on LinkedIn and other professional networks for your next employer to see? And do you want to be listed in the Hootsuite Certified Professionals Directory (AKA the secret pond where recruiters, big brands, and employers go fishing for talented social media professionals—like you!)?
Then you should consider taking Hootsuite Advanced Social Advertising Certification.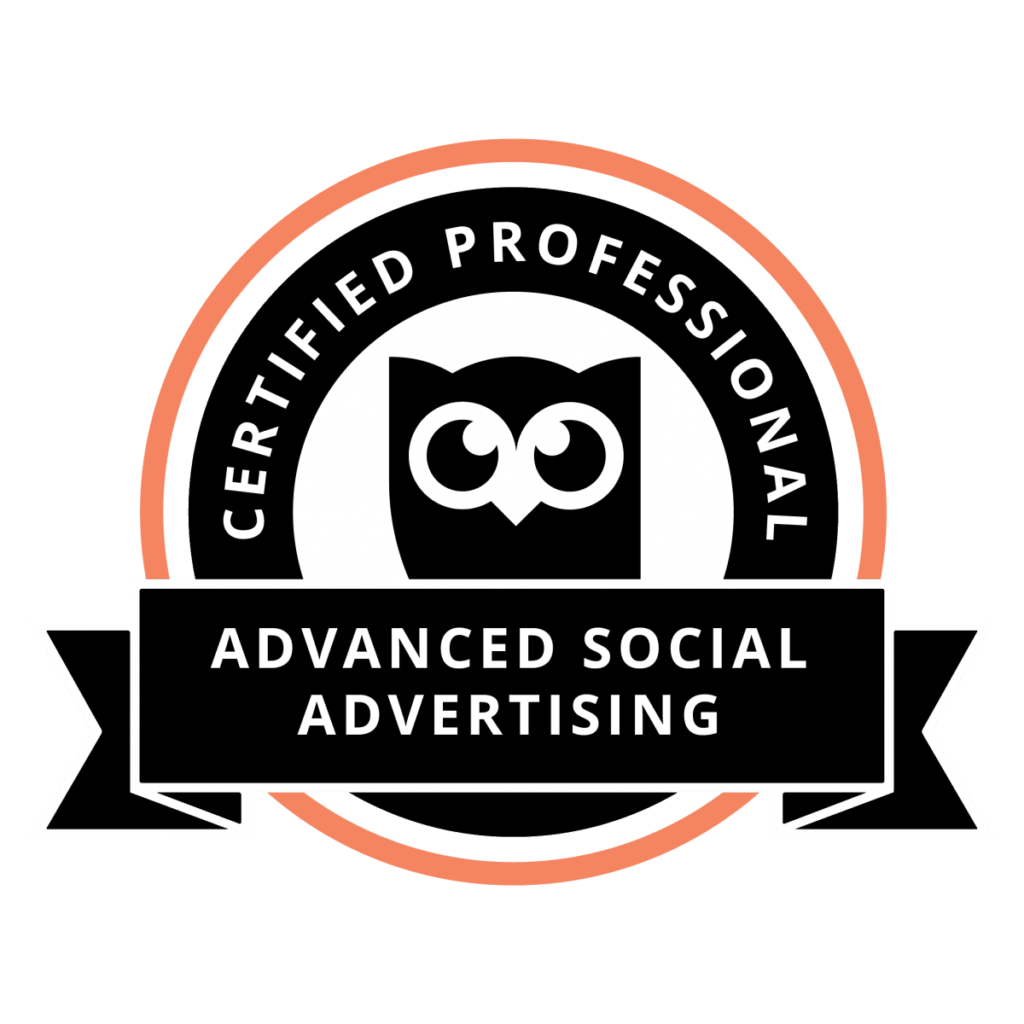 Hootsuite's Advanced Social Advertising Certification helps marketers and advertisers take their social media advertising skills to the next level. By learning pro tactics and best practices, you will be able to optimize your social ad campaigns from start to finish, enabling you to work smart, optimize ad reception, and ultimately, save time and money while improving results.
You'll dig deep into four main areas:
How to set up your campaign goals
How to use remarketing and lookalike audiences
How to build and test social ads
How to measure the impact of ad campaigns
Once you've mastered these topics, you'll be ready to take the certification exam and prove your skills. The timed exam has 50 multiple choice questions designed to test that you know how to effectively advertise on Facebook, Instagram, LinkedIn, and Twitter. You have one hour to complete it. To pass the exam and be certified you need to obtain a minimum grade of 75 percent. Don't worry if you don't nail it the first time! You don't have to pay for any subsequent attempts at the exam.
Hootsuite Advanced Social Advertising Certification includes video lessons, readings, and the certification exam. You can start learning for free, but if you want to take the full course and certification it'll cost you $249 USD.
Bonus 😉 AdEspresso University
Here at AdEspresso, we know that providing a software tool is only useful if everyone actually knows how to get the most out of it.
That's why we founded the AdEspresso University, which is packed full of resources designed to help our customers master Facebook and Instagram advertising.
Some of these resources include a gallery of more than one million actual Facebook Ads, access to our experiments where we spend more than $1000 in tests every month and let you know the data, video courses, webinars, and a private Facebook group that contains more than 4,000 top Facebook marketers (including yours truly).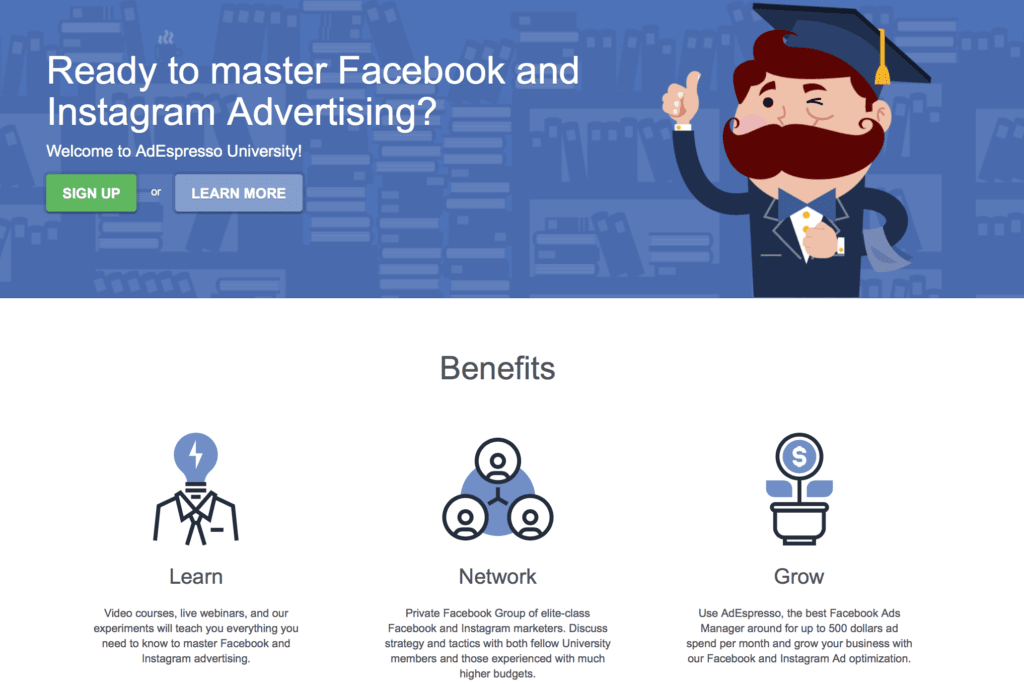 I know we're a little biased, but so many members have told us that the AdEspresso University has been invaluable to them. Imagine being able to ask our top ad experts questions about Facebook Ads and have a quick reply; with our Facebook Group alone, you can.
All of these benefits and resources are available for just $19 per month. 
Conclusion
If you're looking to get into online marketing, you no longer have to rack up 50k in university debt or drop 3k on a course here and 5k on another there, especially since all these courses may be out of date before you even finish paying for it.
Instead, there are so many Netflix-style communities that are dedicated to Facebook Ads, allowing you to stay up to date with the platform for just a small monthly fee. Many of these sites and resources even offer free trials or trials that are just $1, so you can find the perfect one for you.
I want to add a caveat here.
Please remember to be ethical when taking advantage of free resources.
These often cost the businesses that provide them time and money to produce. While many businesses are happy to do so to help new businesses succeed, it's still often an expensive endeavor for them.
If the free and low-cost materials help you to grow your business and succeed, please give back to the content creators by taking out membership of their sites, buying a coaching session, or buying a training plan so that you can pay it forward for the next new marketer that needs some free resources to get their business off the ground.
What do you think? Have you used any of these free or inexpensive resources designed to help you become a Facebook Ads expert? Did we miss any of your favorites? Share your thoughts, knowledge, and questions in the comments below! 
SaveSave