Let's talk restaurants. Or, more specifically, let's talk about social media restaurant marketing and Instagram Ads for restaurants.
We talk a lot about business-to-consumer marketing (B2C), and while restaurants do technically fit that bill, they also are in a league of their own.
They aren't selling products that can be used several times, or even a service that will offer continual value the same way that other industries do.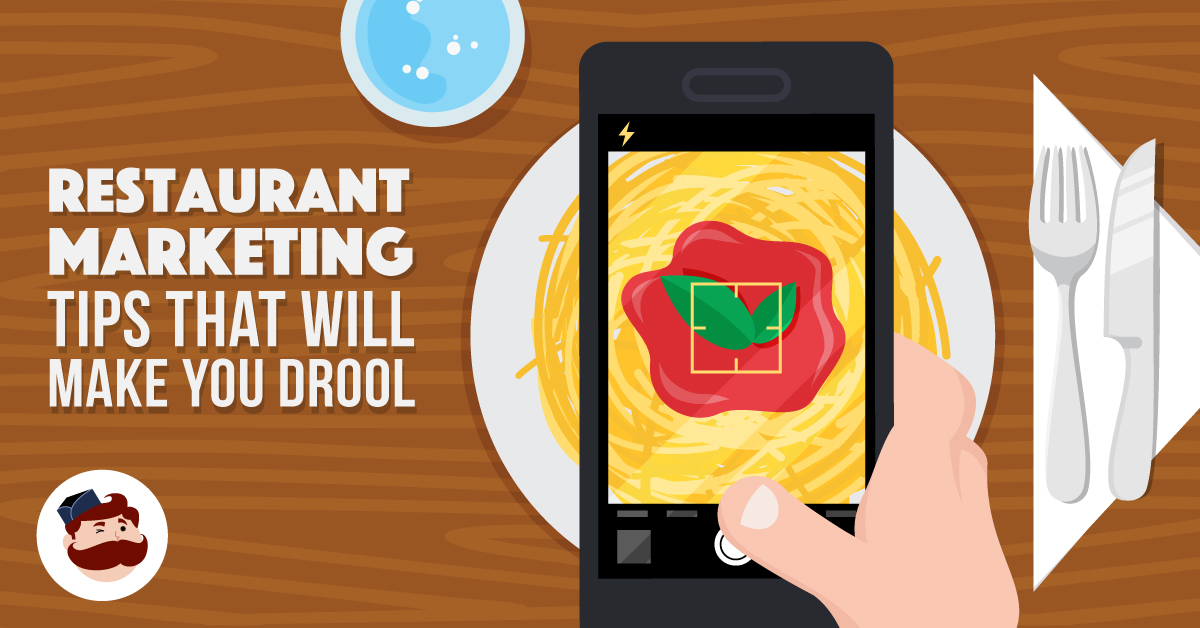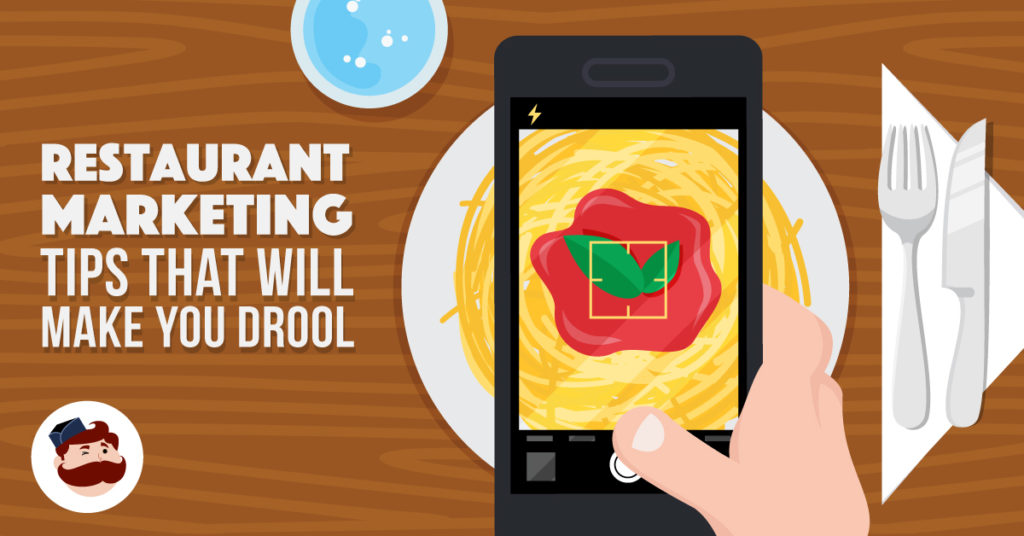 Instead, it's about selling an experience and a product that might be fleeting, but oh-so-delicious.
Restaurant marketing looks different than marketing for most other businesses, and not just because food pictures make a tantalizing and appealing argument.
In this post, we're going to go over all the restaurant marketing tips you need to know to rock your social media game, including an in-depth look at Instagram Ads for restaurants.
Are you hungry for more?
Restaurant Marketing: Why It's Different
As we touched on above, selling meals is slightly different than selling most tangible products, and even most services. It's something that you can only use once (leftovers aside), and it doesn't necessarily provide lasting value aside from the positive memories. Fortunately, we live in a FOMO-driven society, where experiences are sometimes valued at a higher cost than almost any tangible good you could imagine. This makes it easier to sell a delicious dinner or breakfast at your restaurant as an experience instead of a one-off product.
Restaurants are also strictly restricted to local customers only. They can't ship their merchandise all over the country (or even, in some cases, all over the city), so the goal has to be appealing to customers who are local at that exact moment and building a relationship with them. Sure, food delivery is technically an option, but they can't go far. Ever had a hamburger after a thirty-minute drive to where you're going? Not ideal, with a soggy bun and lukewarm fries, plus a car that now smells like fried food.
Restaurants also have ridiculously high competition, not only from similar restaurants but from all restaurants. Last night, I drove past between twenty and thirty-five different restaurants (including three in similar categories) to get to the restaurant I was meeting a friend at. Being close isn't enough, and even being good isn't enough- sometimes it's about jumpstarting that craving that people can't resist.
Online & Social Media Marketing Tips for Restaurants
Social media marketing can make a huge difference in how quickly your restaurant grows, and in some cases, it can even directly impact whether it manages to stick around and stay profitable. It's important to stay dedicated and committed to keeping your social media and online presence up to date, but if you do so (and you do a good job), it will help your restaurant boom in no time.
I know this because I've seen it first hand. I've worked with several small restaurants as long-term social media clients and found that local customers in each area (all of which were very diverse) were excited to learn more about the restaurant, stay engaged, and drool over the gorgeous photos. With one of my clients, two months into the social media changes we'd implemented we saw a 214% increase in foot traffic to the store.
Here's some of the best online and social media marketing tips for restaurants you should start implementing right away.
1. Encourage Online Reviews
Reviews are a big deal for all industries, but they matter perhaps even more for restaurants. After all, if you're Googling a new taco place and three pop up, are you going to go with the one that has fifteen reviews and five stars, or the two that have no reviews? In almost all cases, you'll head over to the restaurant that has the enthusiastic reviews left by customers. In some cases, having more reviews can also lead to higher SERPs from Google, getting you higher up in the search engines while simultaneously making you look good.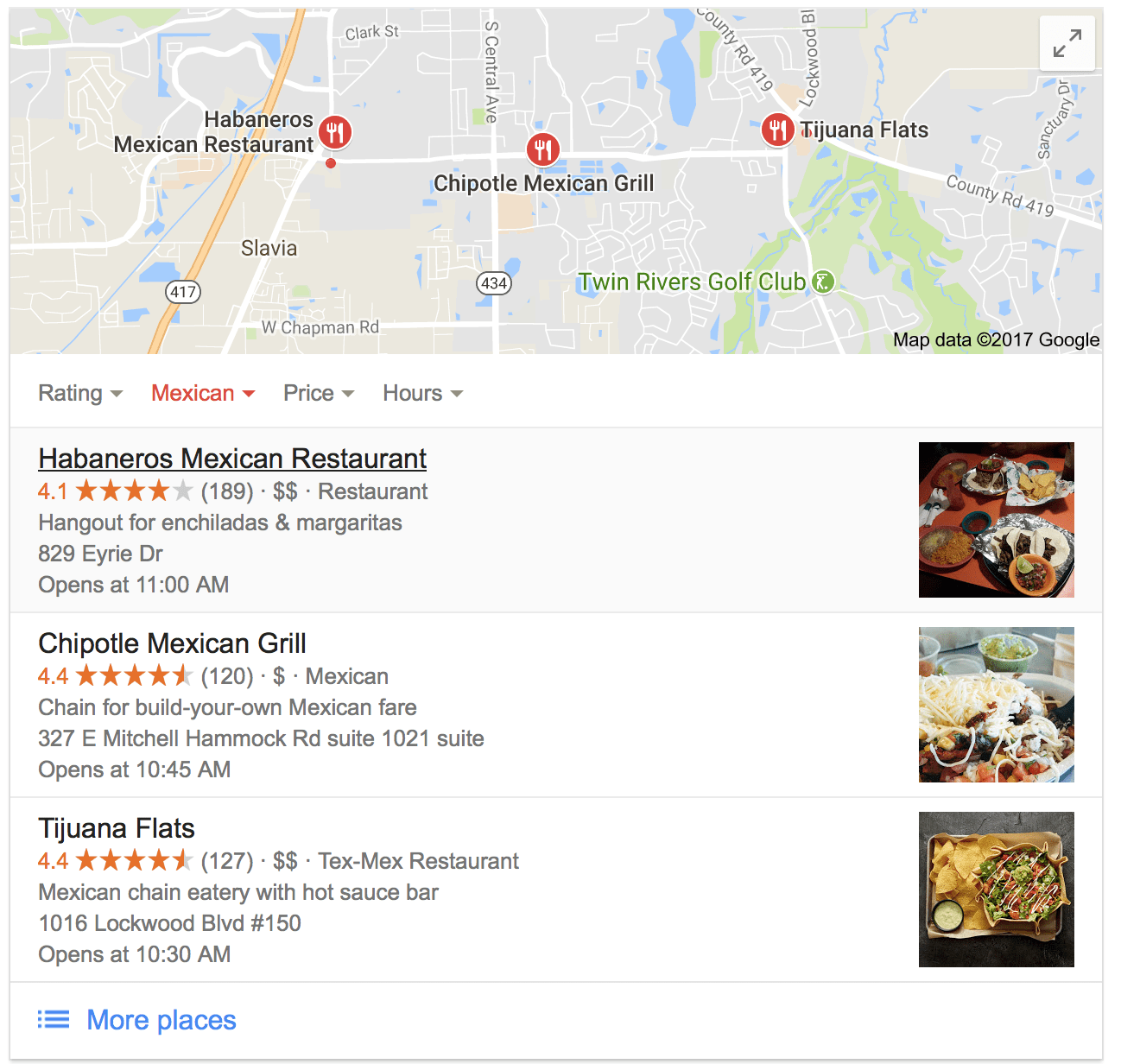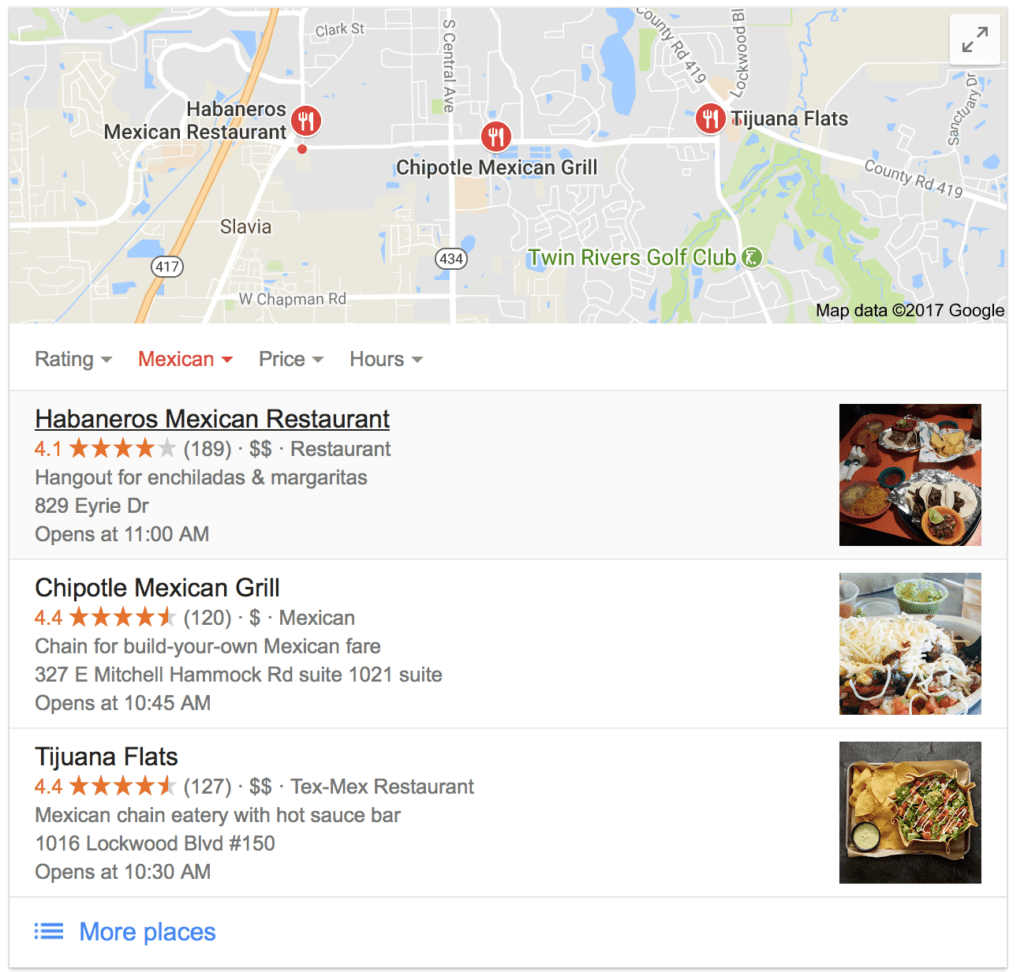 This is true on Facebook and Yelp, too. Both the ratings and numbers of reviews left for a business pop up in Facebook's search results, increasing the likelihood that the searcher will click to to your Page instead of a competitors.
You can't technically incentivize reviews with promotions, but you can ask some of your loyal customers (or those who had a really great experience with you) to leave one for you. Explain that they really help your business, and that you'd really appreciate it.
2. Make It Really Easy to Order
You want all of your pages and profiles online to be connected, making it really easy for customers to get to your main site and order. Add hyperlinks to to your site all of your profiles, including Instagram, Yelp, Facebook, and Google.
Just as importantly, add your phone number or links to third-party delivery services that you use, too. You want to make it easy for users to contact you and order in as few steps as possible. Some of your regulars may know that they get the stir fried noodles with dumplings on the side, and all they need is your contact information.


For growing businesses with simple menu items and multiple locations, you can even take a look at chatbots. Domino's is just one business that has a Facebook chatbot that lets you order- and pay!)-right from Facebook Messenger. This could work for places that have food most customers in your area are familiar with, but might not work for cuisines that may have higher levels of questions being asked.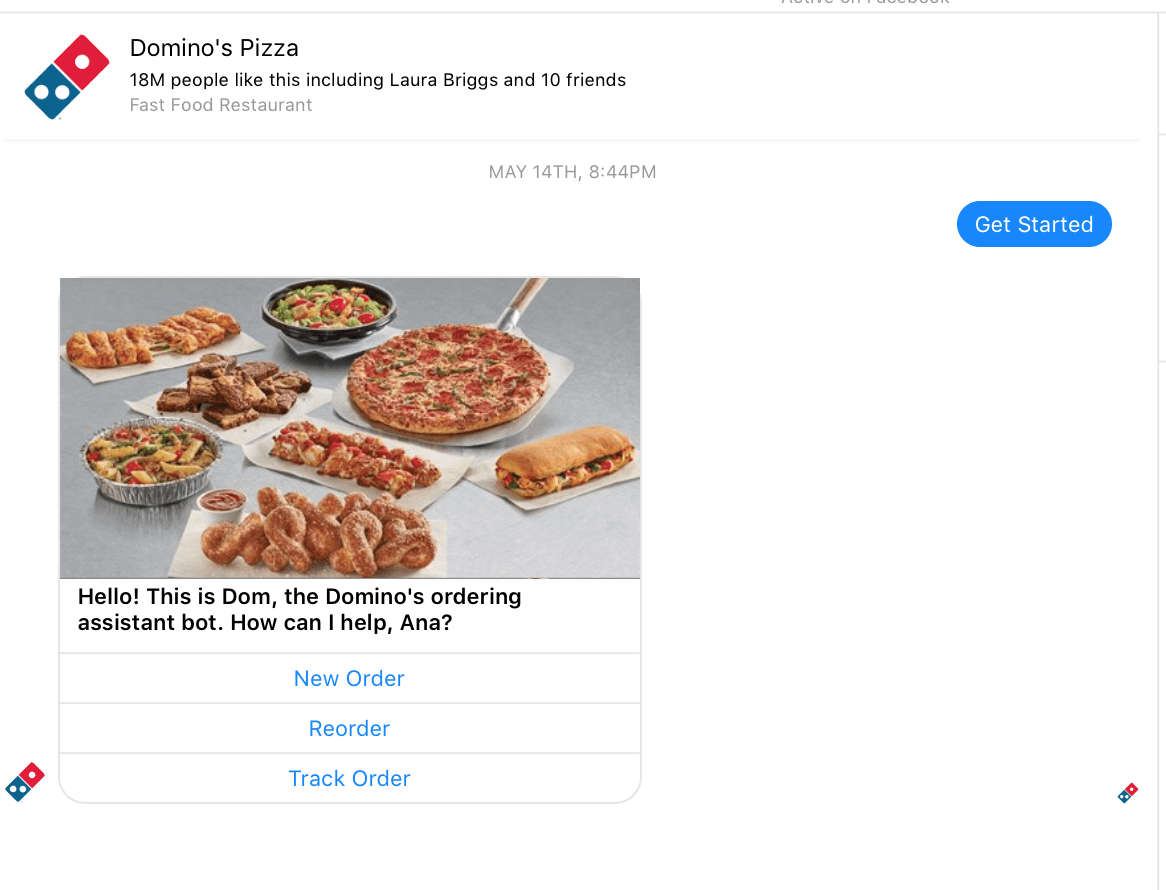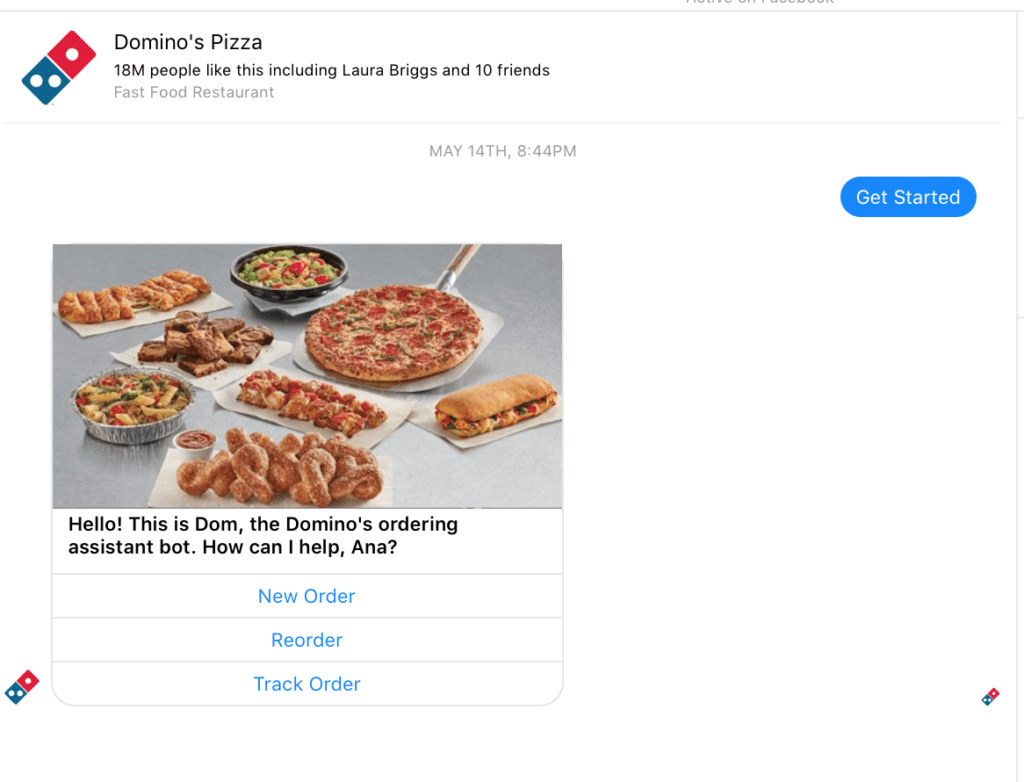 3. Use Feature-Benefit Selling
You can still use feature-benefit selling to help promote your restaurant, even though this isn't a conventional product or service. You can advertise your food as being "low calorie, so you can have dessert guilt-free!" or "made without any dairy, so even those who are vegan and lactose-intolerant will love it, too!" Whether this is true of just one particular dish, a section of the menu, or everything prepared by your restaurant, highlight certain features of your food and how they can benefit your customer.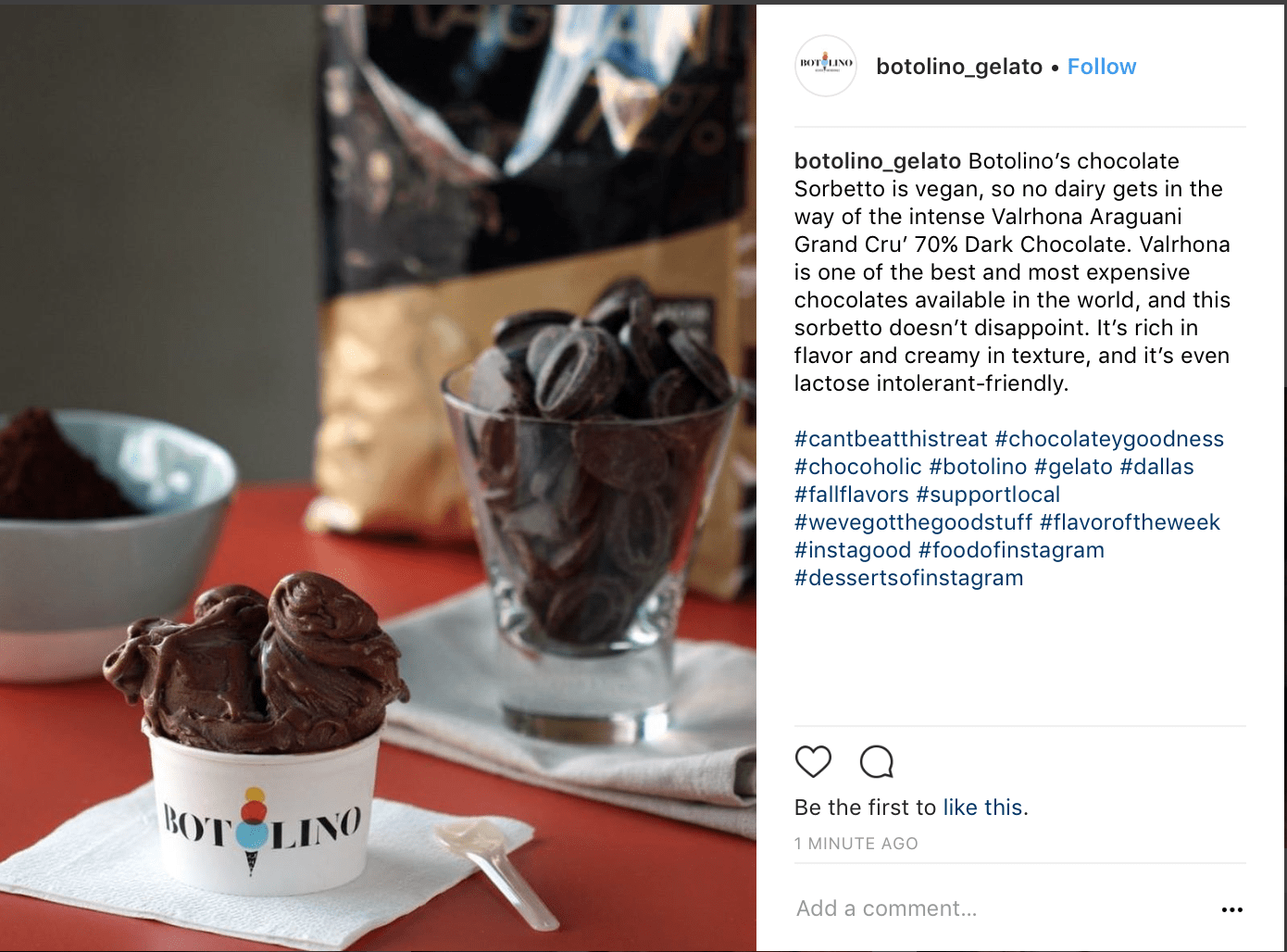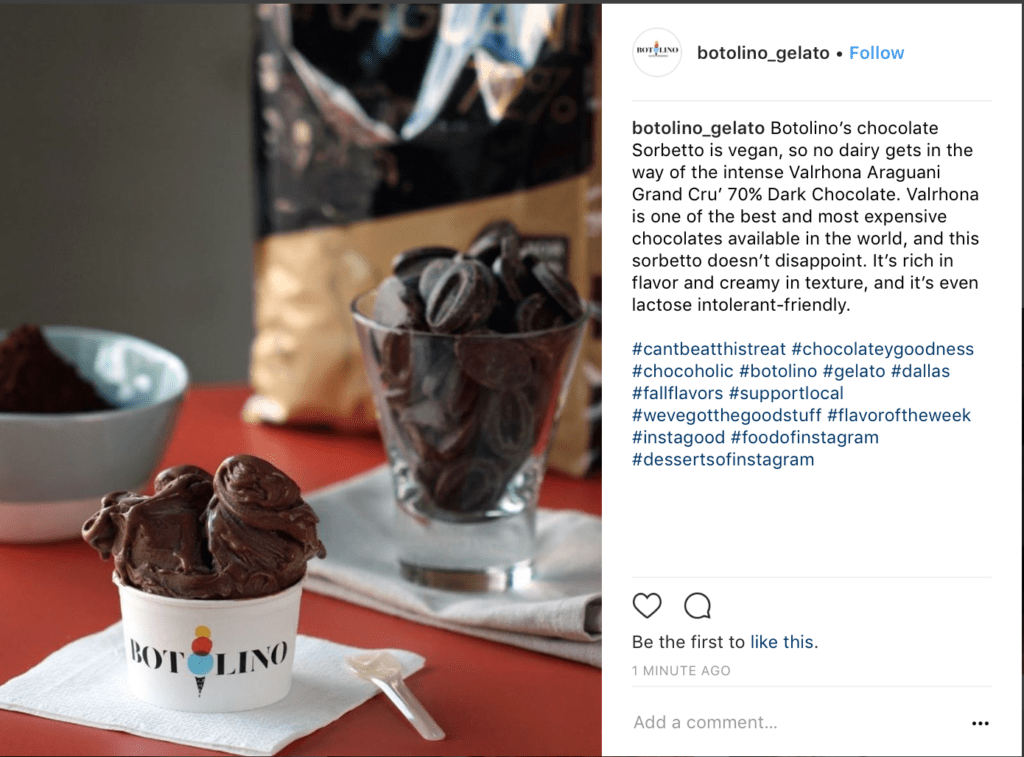 Some of the things you can focus on with this would be:
Allergy sensitivity/awareness
Vegetarian or vegan options
Organic foods (it'll taste better and you'll feel better!)
Local foods (support your local community and have food fresh out of the garden)
Seasonal foods (it's guaranteed freshness)
4. Get Extremely Descriptive
Every fancy yourself to have a way with the pen? Now's your chance to prove it and indulge in that fancy. Really live it up, and pretend you're on Top Chef with your descriptions. "Buttery, flaky, homemade crust" sounds better than "homemade crust," even if the picture is showing the exact same thing. We eat with our eyes, sure, but you're missing a huge opportunity if you aren't using text to really drive home the point and get mouths watering.
Not so confident in your writing abilities, and don't have a budget to hire a copywriter up front? Here's some of the best food descriptor words to hold on to:
Crunchy
Savory
Creamy
Velvety
Rich
Tangy
Buttery
Flaky
Crispy
Light
Fresh
Salty

When in doubt, bust out the thesaurus and see what you can come up with. A few descriptor words and an explanation of what's in your dish or how you make it will have everyone dying to book a reservation ASAP.
5. Sell the Experience
Spending $50 at your restaurant isn't going to create long-lasting value the same way purchasing a $50 pair of shoes would. It's not necessarily about the product; it's about the experience. Sell that.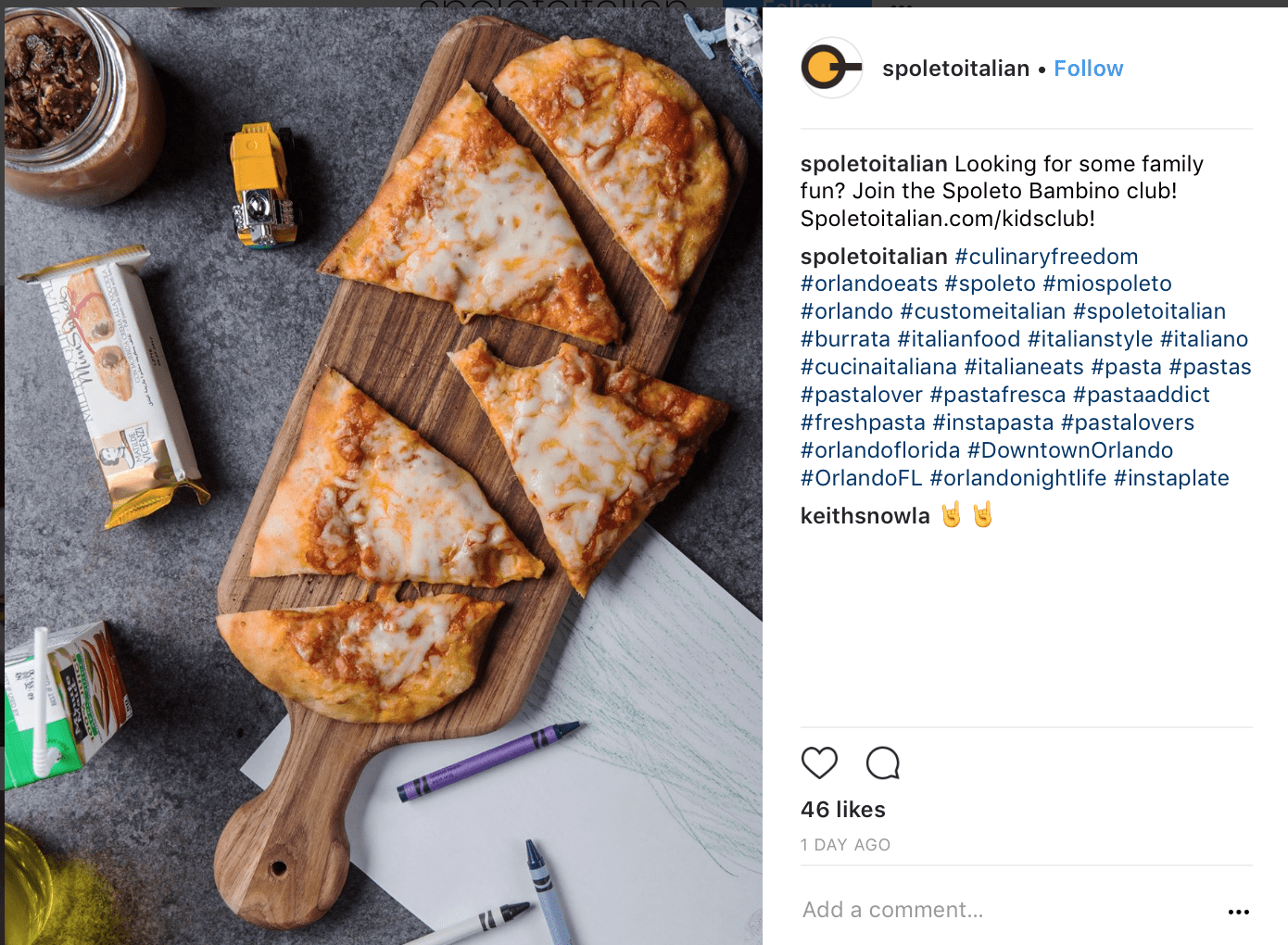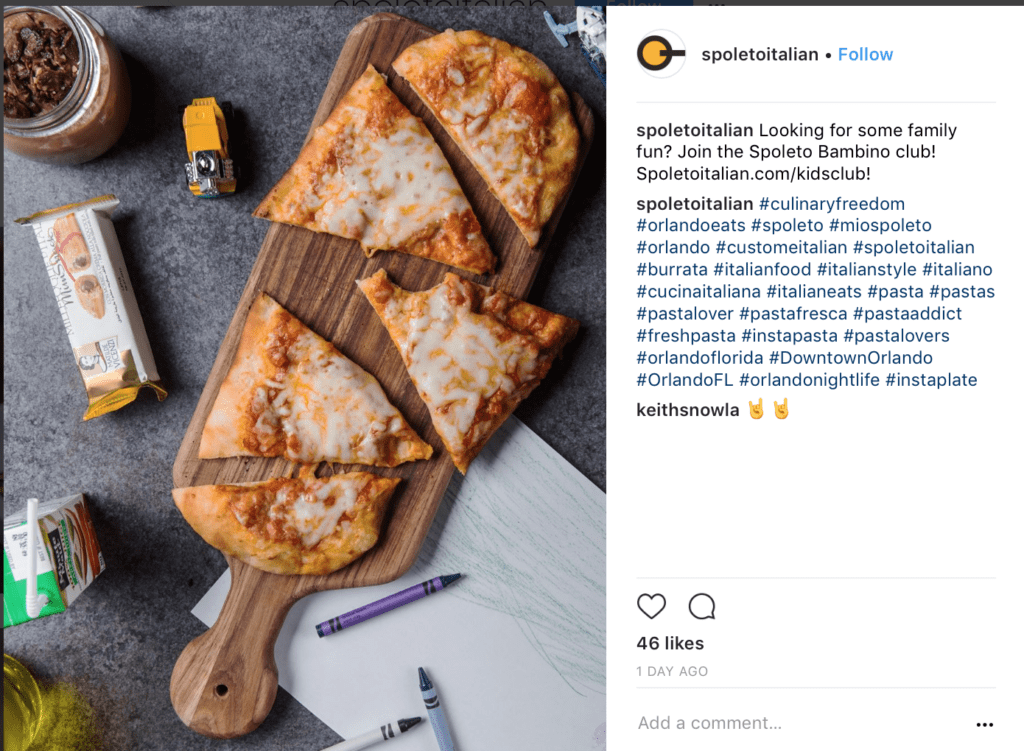 People are valuing experiences over products; this is especially true for Millennials. Restaurants should absolutely keep this in mind when marketing their businesses, especially if they specialize in a foreign cuisine. The concept of trying something new, of having an incredible dinner with your family, or having an incredible spot for happy hour with custom cocktails can win over customers shockingly quickly.
6. Share Specials to Leverage Scarcity
This is another way you can use FOMO to your advantage. A lot of businesses make the mistake of not featuring their specials. This is a huge shame, because the specials are often delicious, and the fact that you can only get them on certain days (or for so long) encourages customers to come in and get them.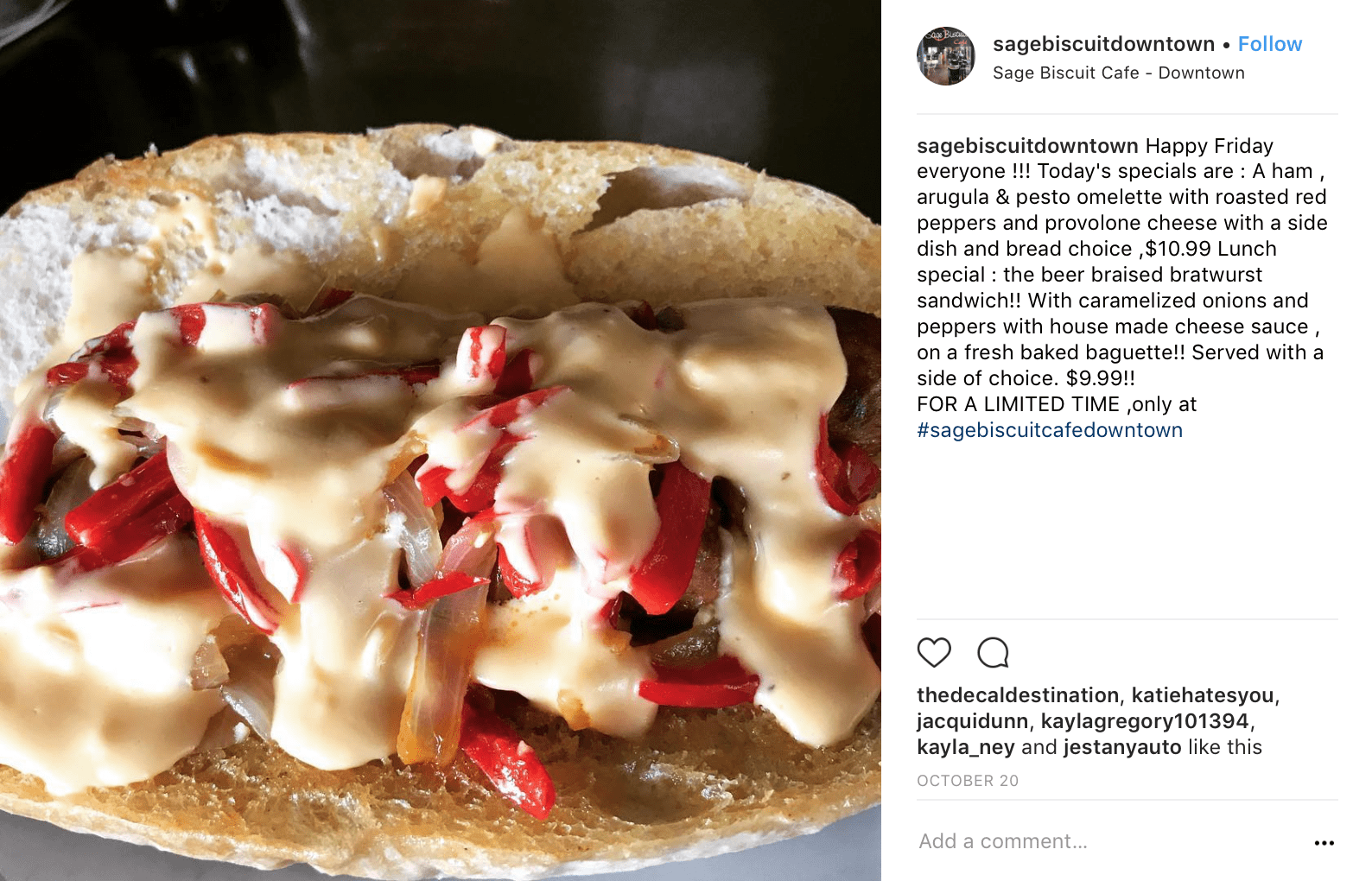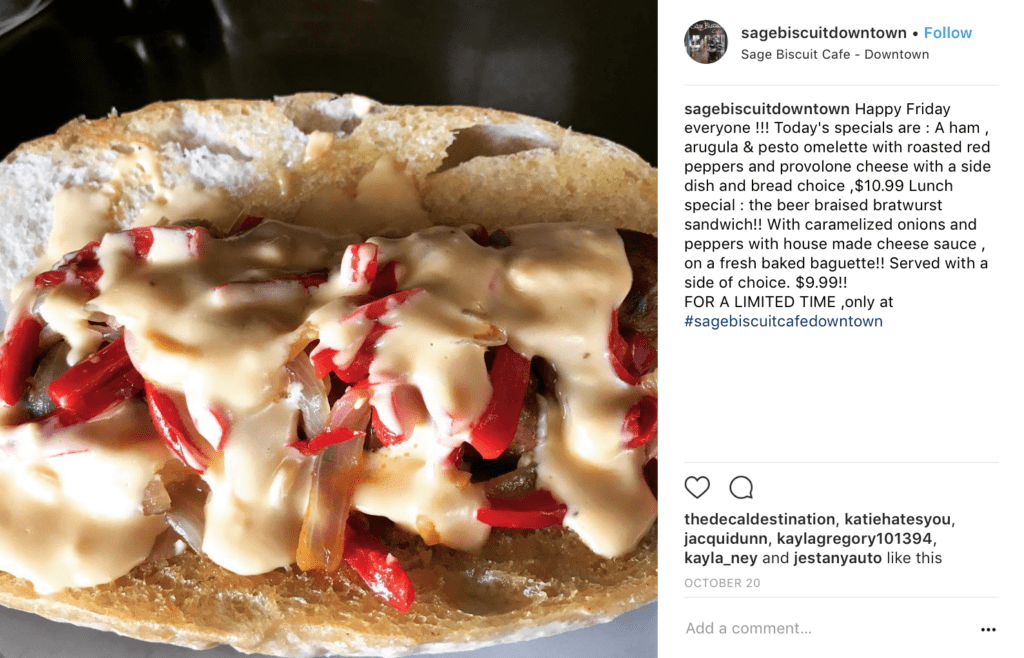 Specials give you the opportunity to leverage scarcity, reminding users they can only get them sometimes, and maybe only while they're in season or while supplies last.
7. Capitalize on FOMO with Special Events
New Year's. Valentine's Day. St. Patrick's Day. 4th of July. Thanksgiving. There's a lot of big holidays that center around food, and if you're holding a special event, promote it like crazy on social media.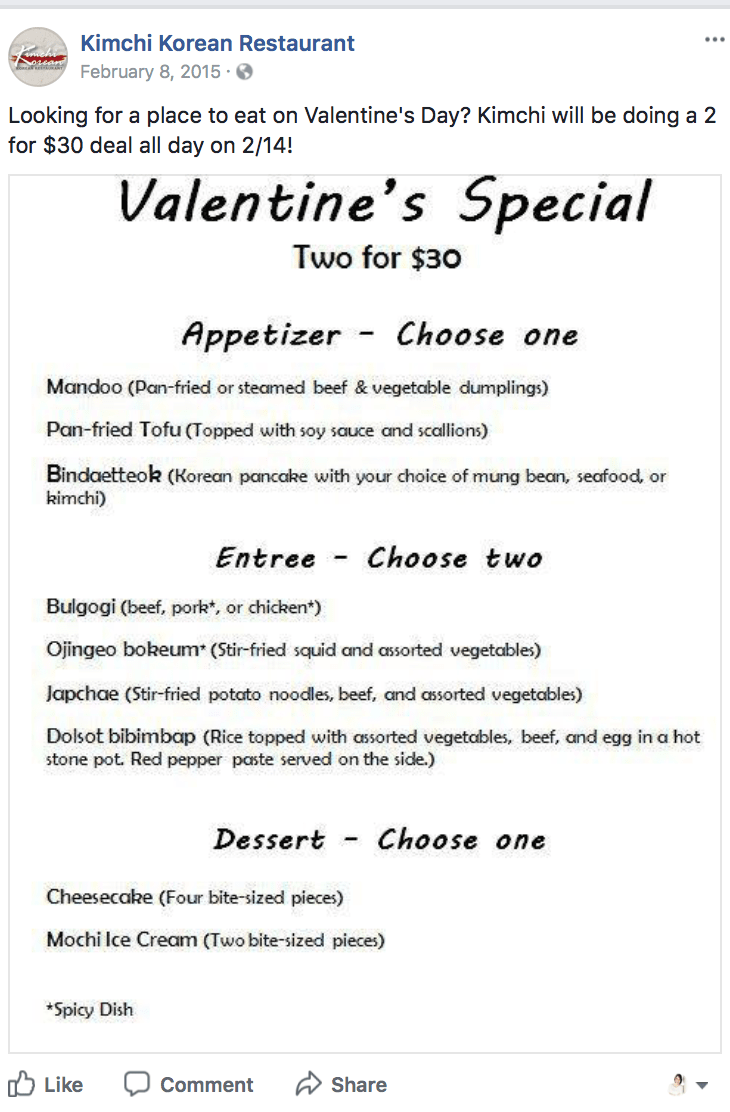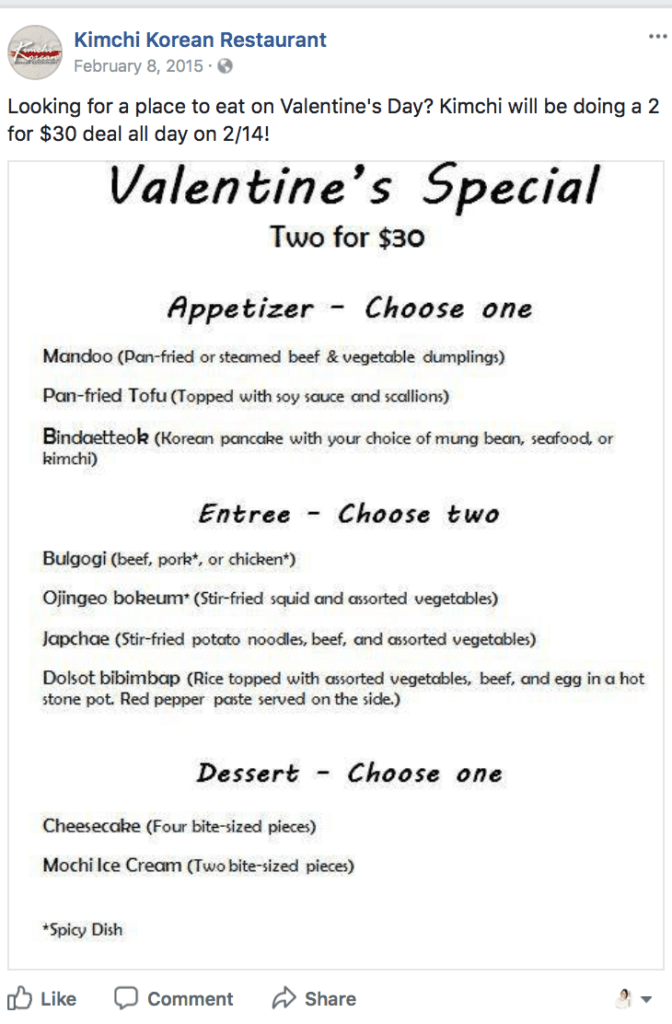 If possible, get really specific about what your event has to offer. Green beer, or Guiness beer at your bar for St. Pattys? Excellent! Post pictures. Do you have a full romantic dinner for two for Valentine's day? List all the courses. Make sure that you mention that reservations will be required, and that space is limited, and that this is one event you just can't miss! 
8. Place Your Menu on Facebook & Yelp
Did you know that both Facebook and Yelp have designed spots for you to upload your menu online, or link specifically to it?
While this won't be an ideal option for businesses that frequently update their menu on a weekly basis, businesses with relatively stable menus should use this feature whenever possible. After all, you want the first point of contact for a new potential customer to give them as much information as possible to entice them to come check out your restaurant, and having your restaurant highly accessible can help with that.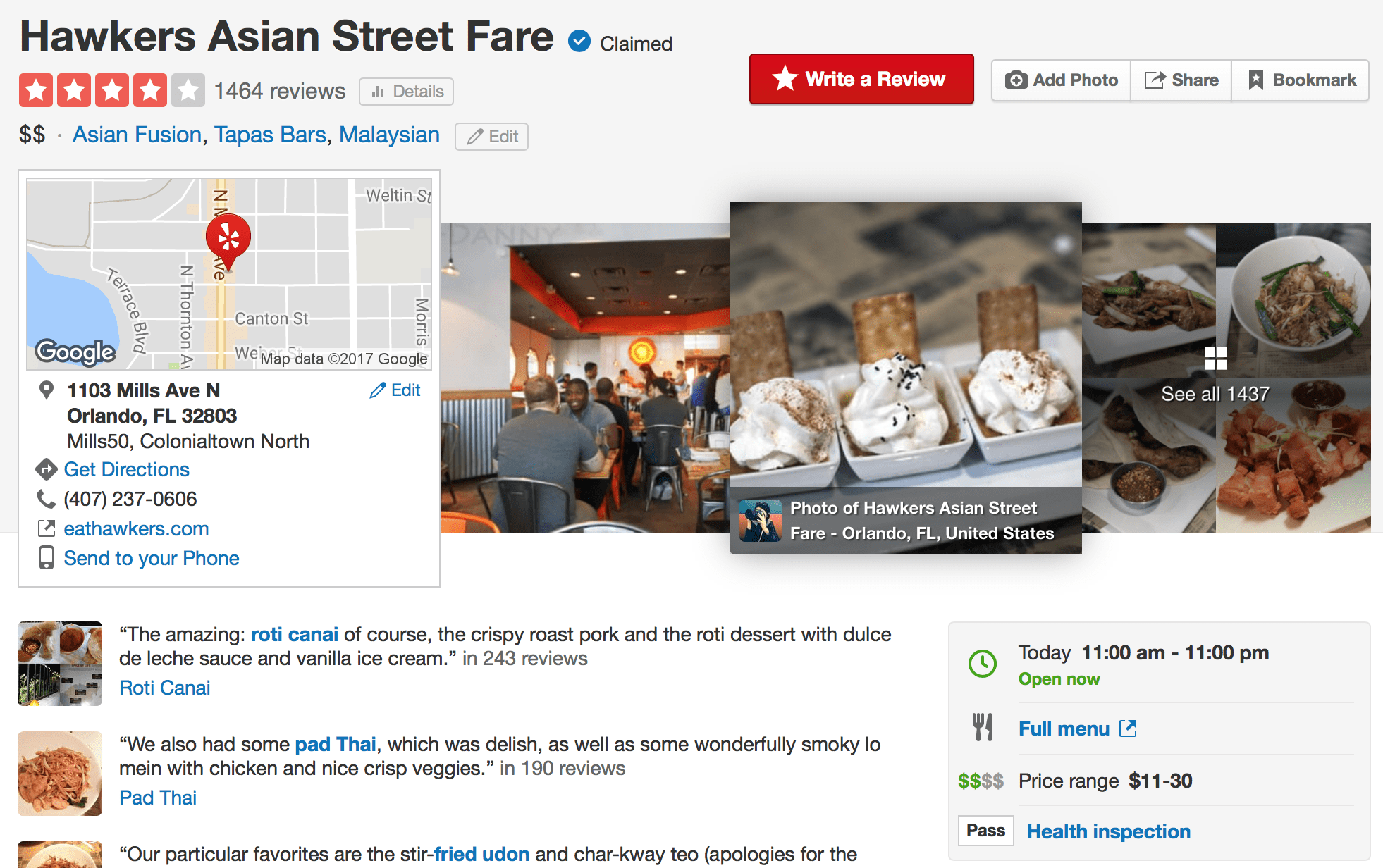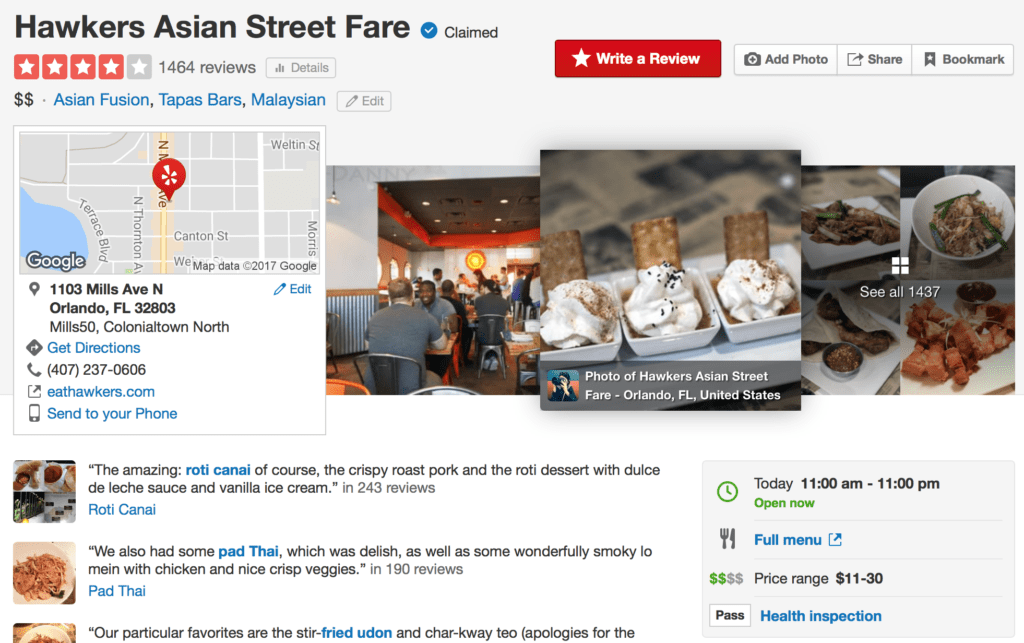 You can find the "Add Menu" option on Facebook  in the "About" section on Facebook.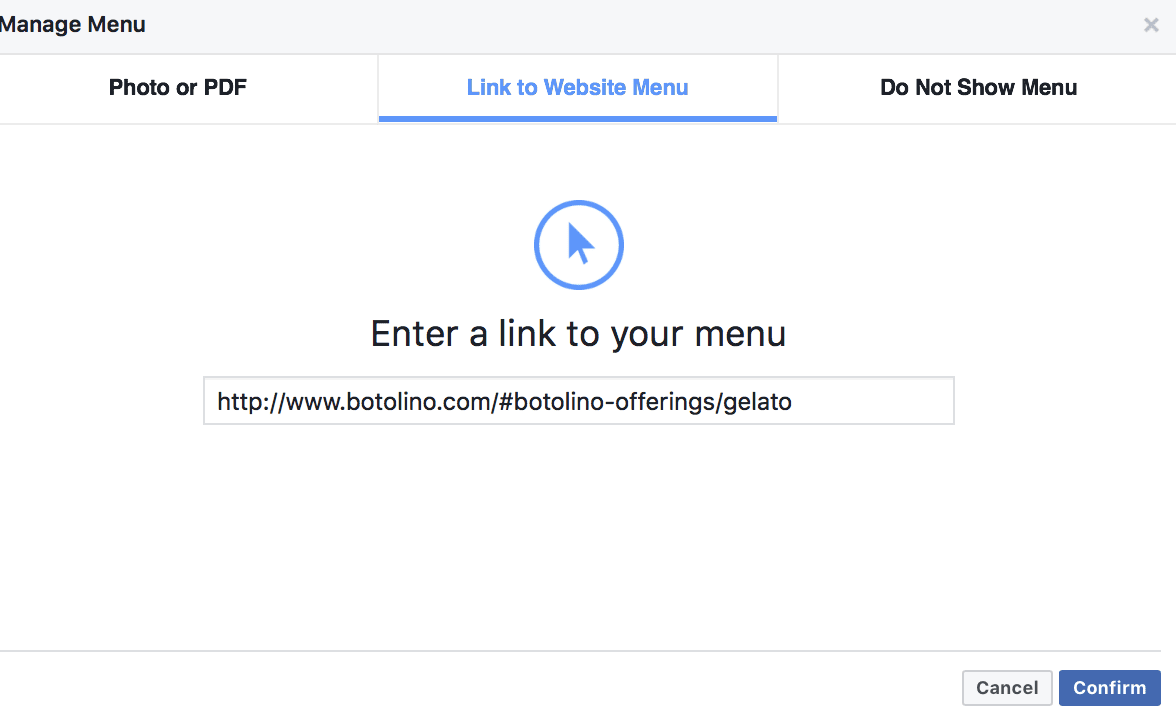 9. Encourage User-Generated Content
User-generated content can do wonders for all businesses, but it can be so, so powerful for restaurants. Every restaurant, after all, will claim to have the best volcano roll, cheeseburger, or steak and mashed potatoes. It doesn't really matter what we say to potential customers; it matters a heck of a lot, however, what other customers have to say.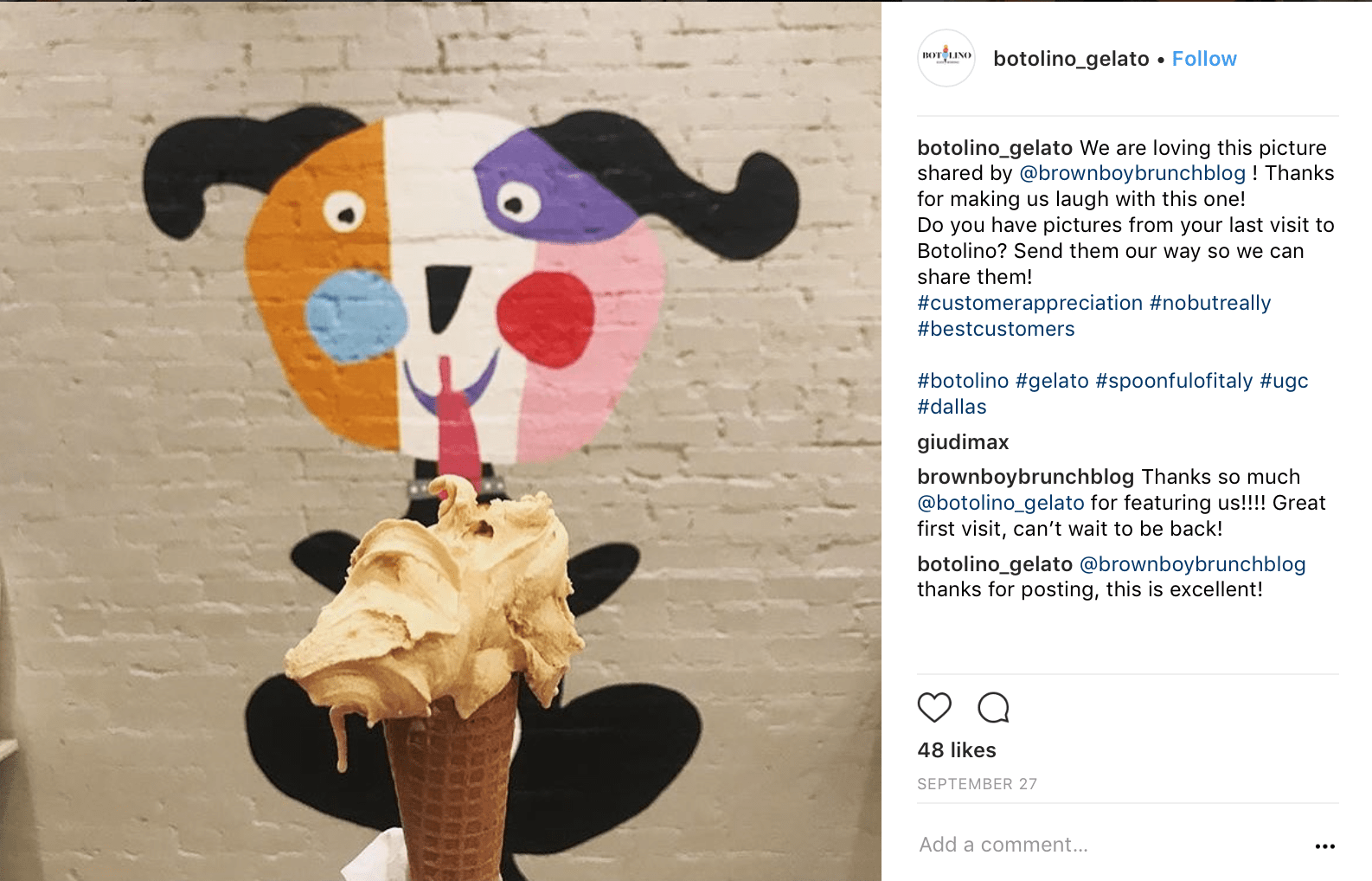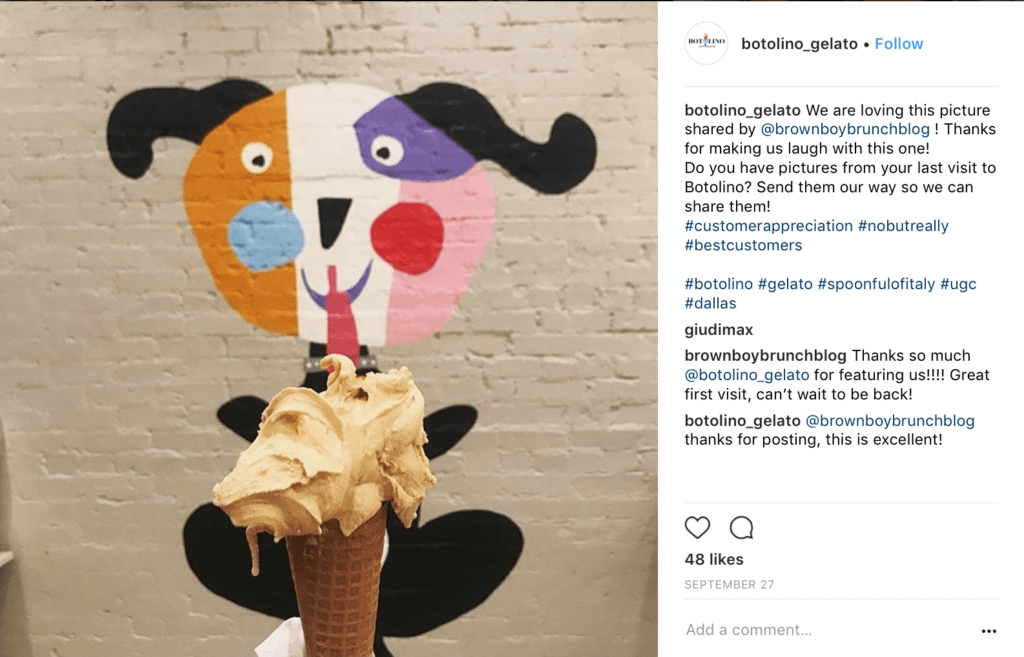 Do what you can to encourage user-generated content. Fortunately, this isn't always too difficult since plenty of people stage full-on photoshoots of their food before they even take a bite. All they need is a prod to share it. Have signage in-store that encourages users to share the pictures with your branded hashtag, and put regular calls for UGC on your different profiles. And, as always, when someone posts great content, ask if you can share it on the official pages and profiles.
10. Use the Right Hashtags
On Twitter and Instagram, you need to be using the right hashtags. This will increase your visibility substantially, helping you attract new customers without paying a dime for it. While you should create your own branded hashtag to encourage and track UGC, you should also do some hashtag research to see how to maximize your visibility on the platform.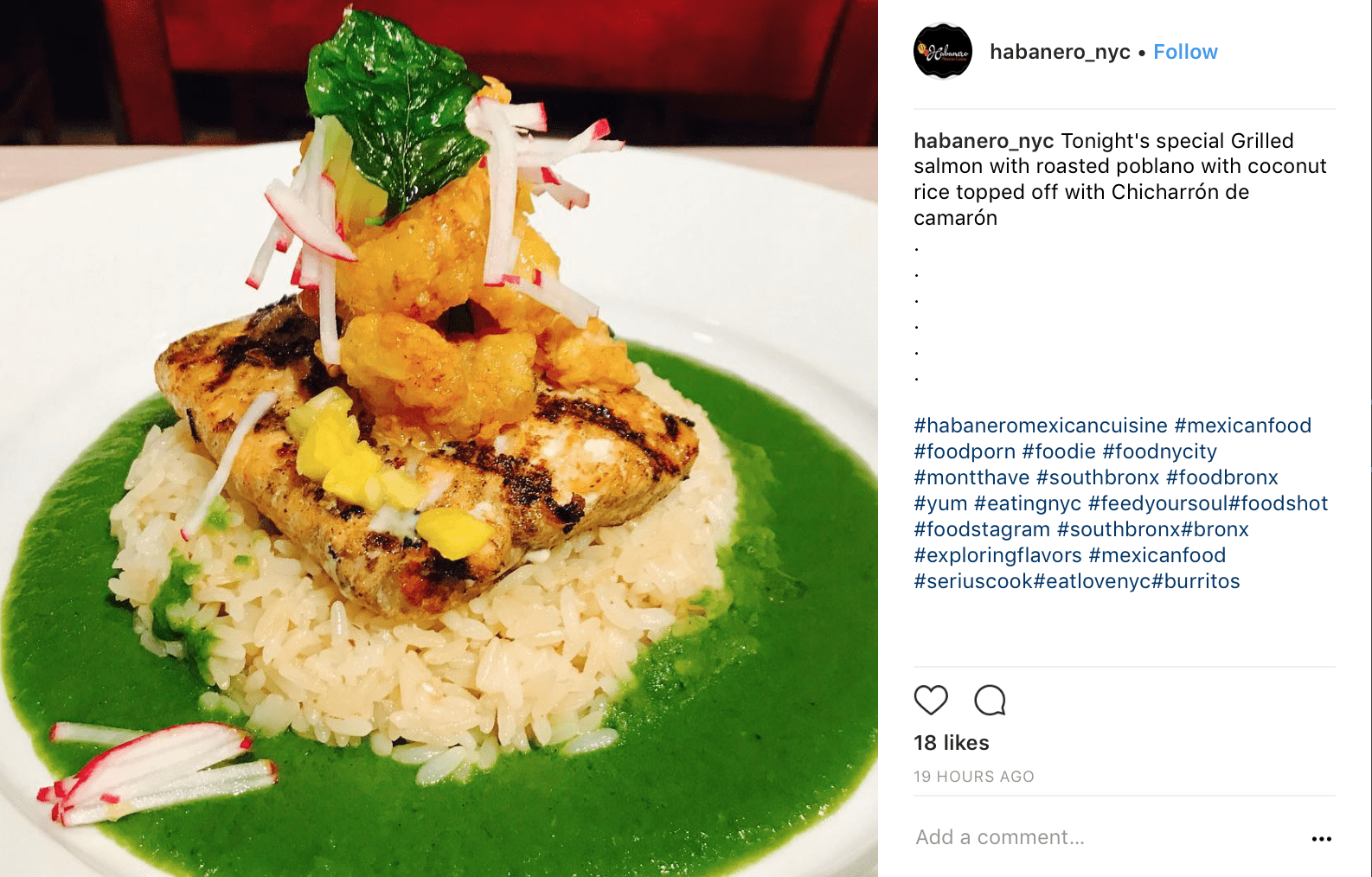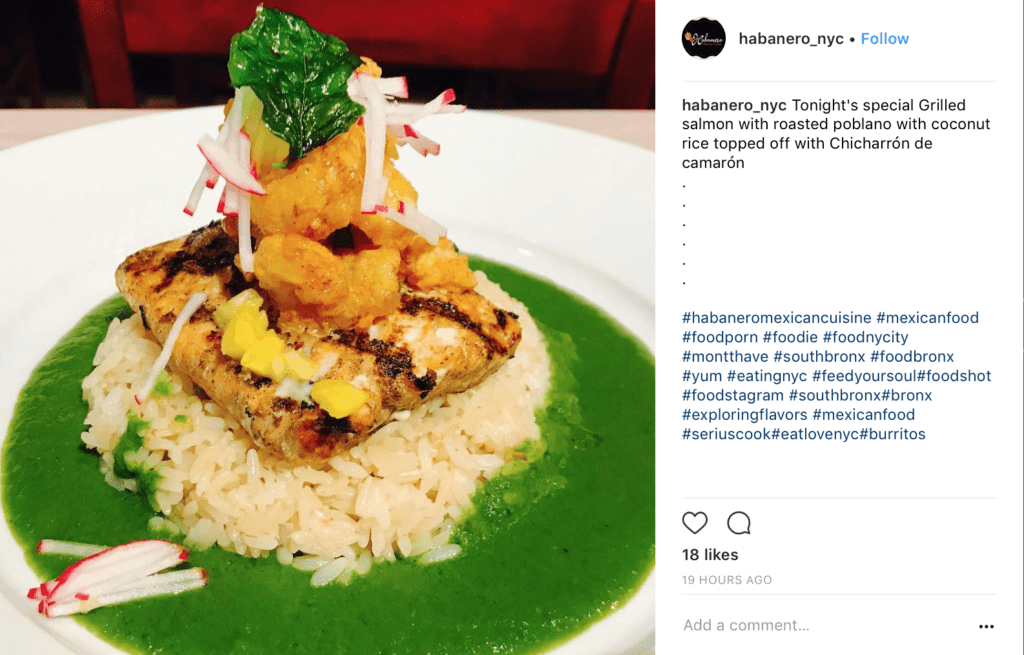 You should add different types of hashtags on very post for best results, including:
Location hashtags, like #NewYorkRestaurants, #organicAtlanta, and #localOrlandofood
Hashtags specific to your restaurant, like #iscreamforicecream, #soupfordays, or #veganforlife
Timely hashtags, like #fallflavors or #SuperBowldinner
Generic food hashtags, like #omnomnom, #instafood, and #foodporn
11. Embrace Influencer Marketing
The influencers local restaurants should be going after are the food bloggers, and fortunately, these writers are often more than happy to come try your restaurant (for free, of course) and share some pictures on their social accounts and blogs. These bloggers may have hundreds or thousands of followers who read their content and trust their opinion, so this can be a powerful recommendation.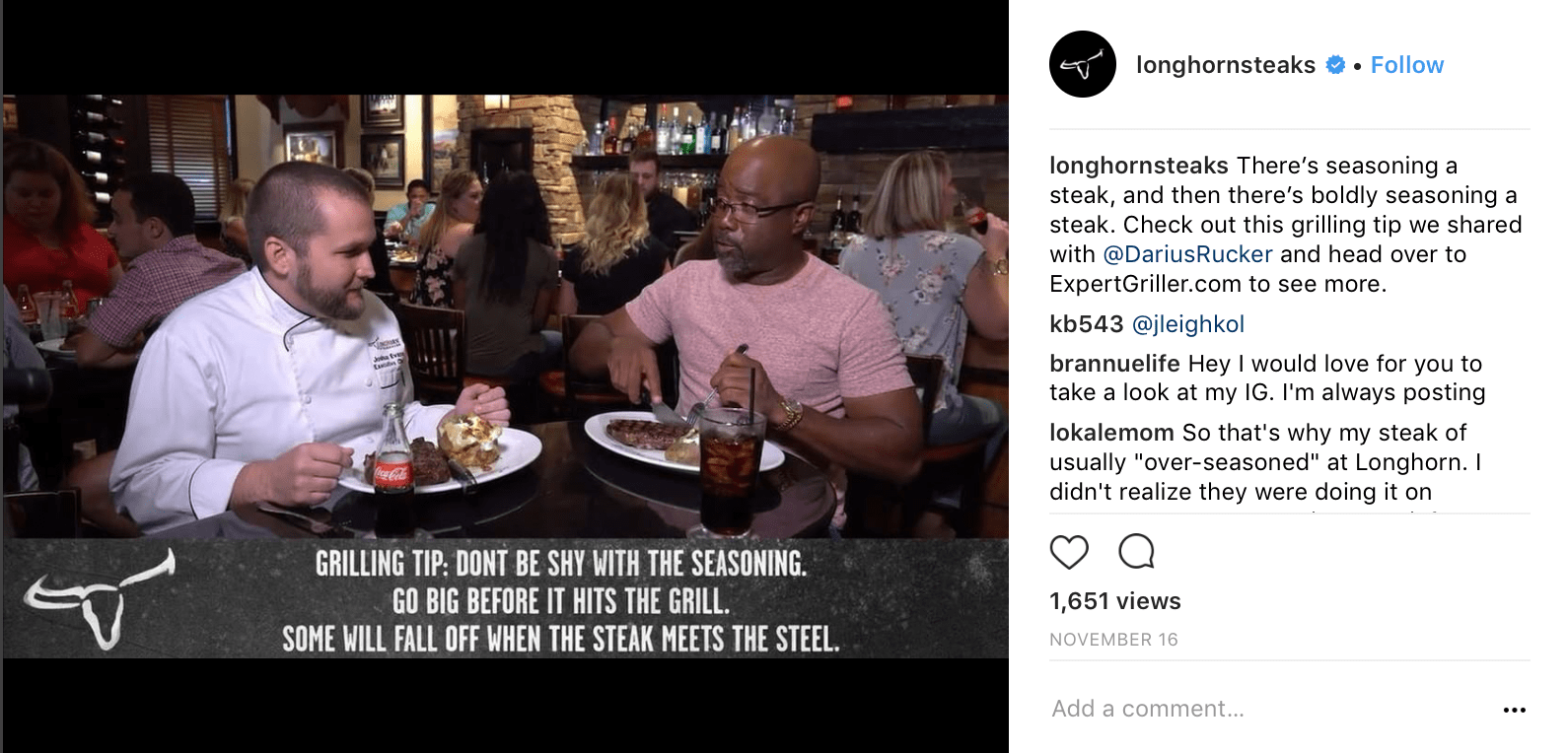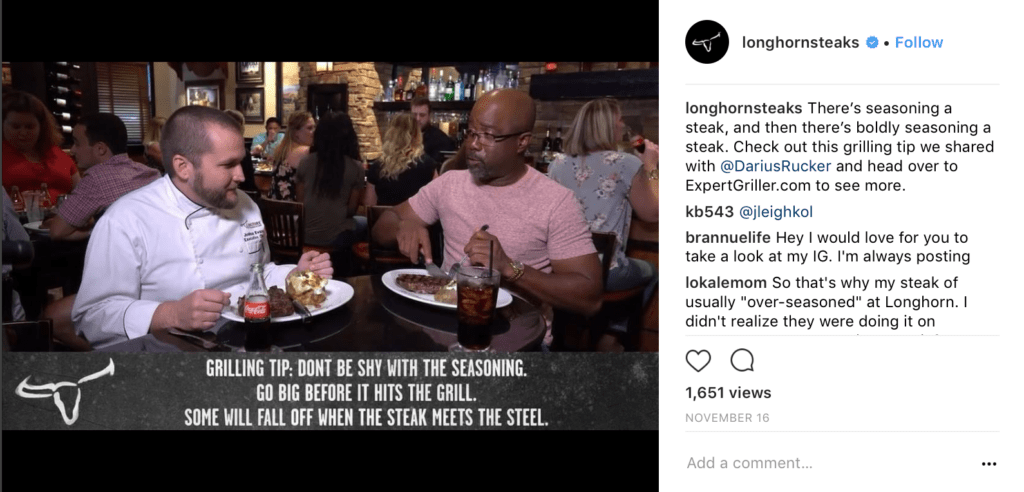 Some food bloggers may reach out to you, but don't want around for them; go ahead and contact some of the well-known bloggers in your area to come in and have a meal on you.
12. Show Behind-the-Scenes Content
Everyone loves behind-the-scenes content, and getting an inside look into how your food is made and where it comes from is exceptionally appealing to customers. Show pictures or videos of the chef talking about their culinary inspiration, talking about the local farms they get the ingredients from, or showing how they prepare certain dishes for a dinner service. Not only is this interesting, it appears transparent, and customers will trust you more.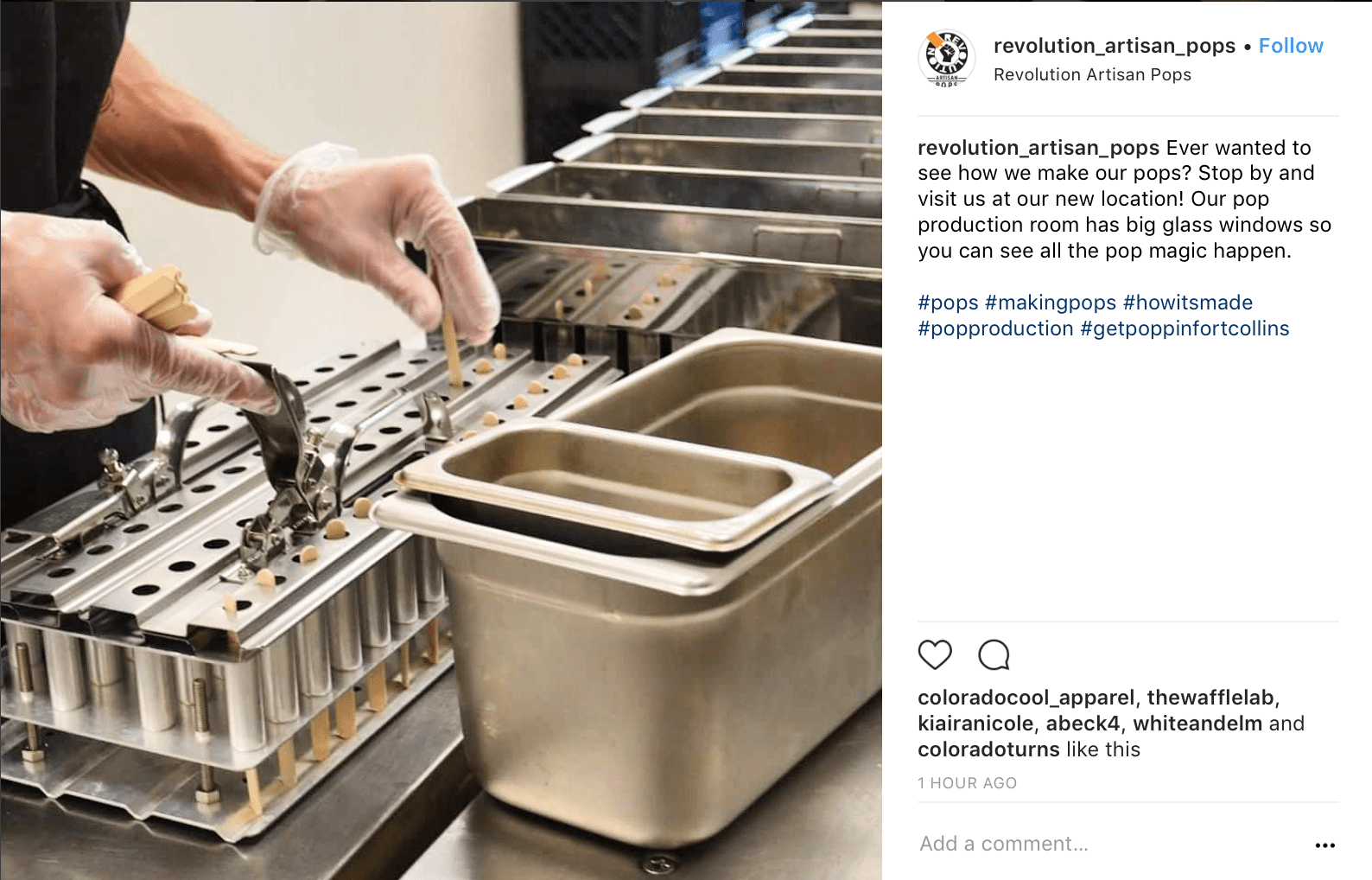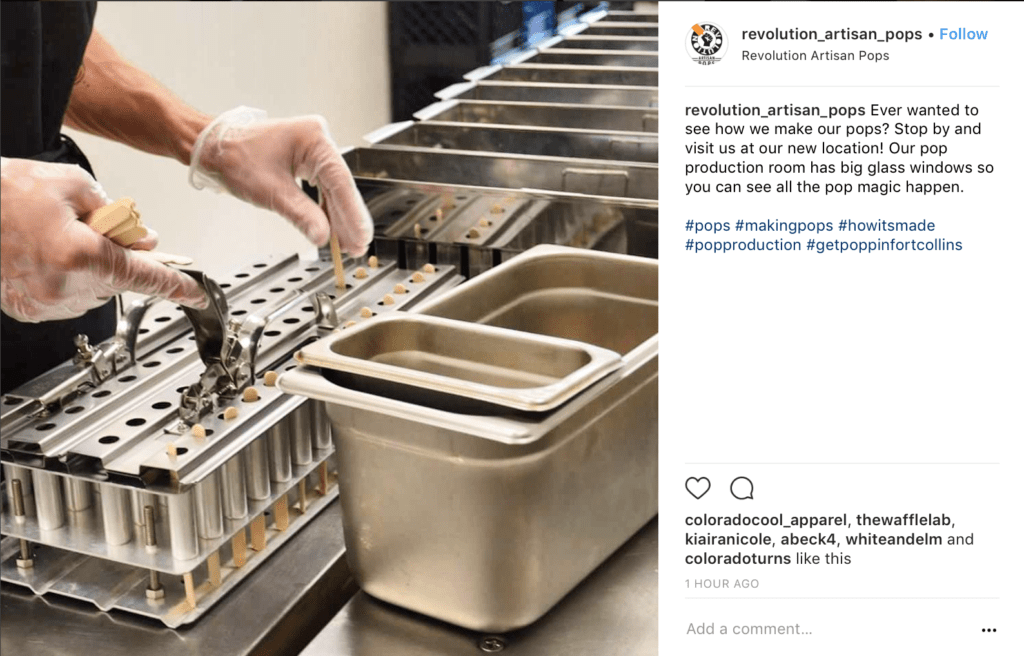 13. Be Involved With the Community
This is a big one for local businesses. If you're involved with the community, they'll flock to support you. Attend farmer's markets or community holiday events. Offer to host Spirit Nights or charity fundraisers for local schools or organizations, and promote it on your site, through email, and your social media. People will take notice quickly.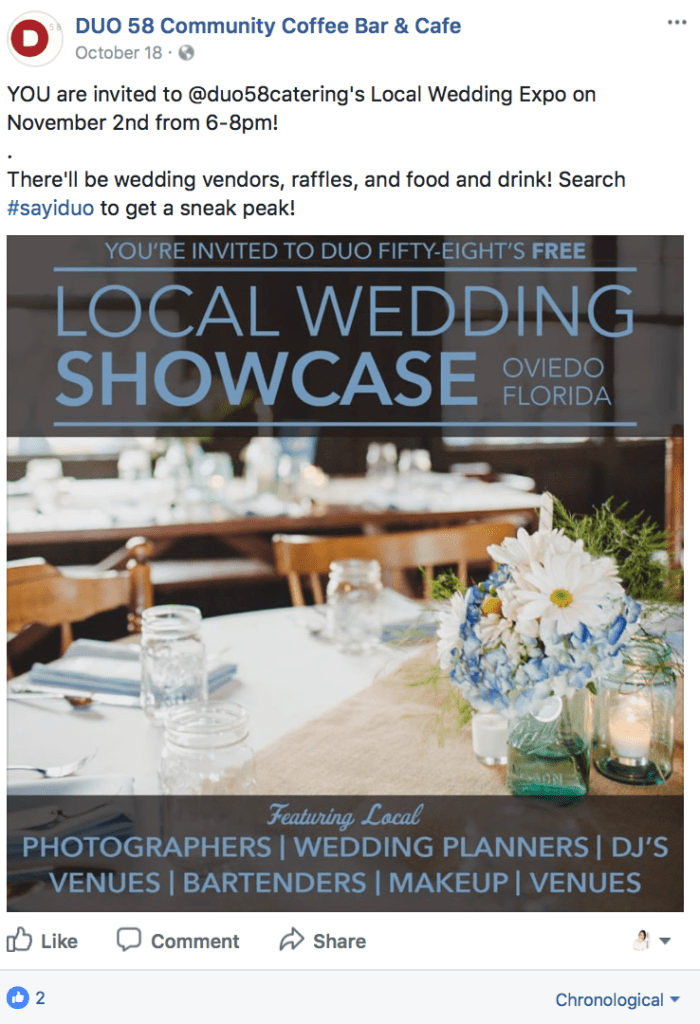 14. Partner Up with Local Businesses
This is an excellent opportunity to get involved with the local community and build valuable peer relationships at the same time. Purchase ingredients from local vendors, or buy paintings or book live music from a local artist. Post about it on social media, and tag the other businesses. In many cases, they'll share the post or reciprocate, putting you in front of a local and enthusiastic audience.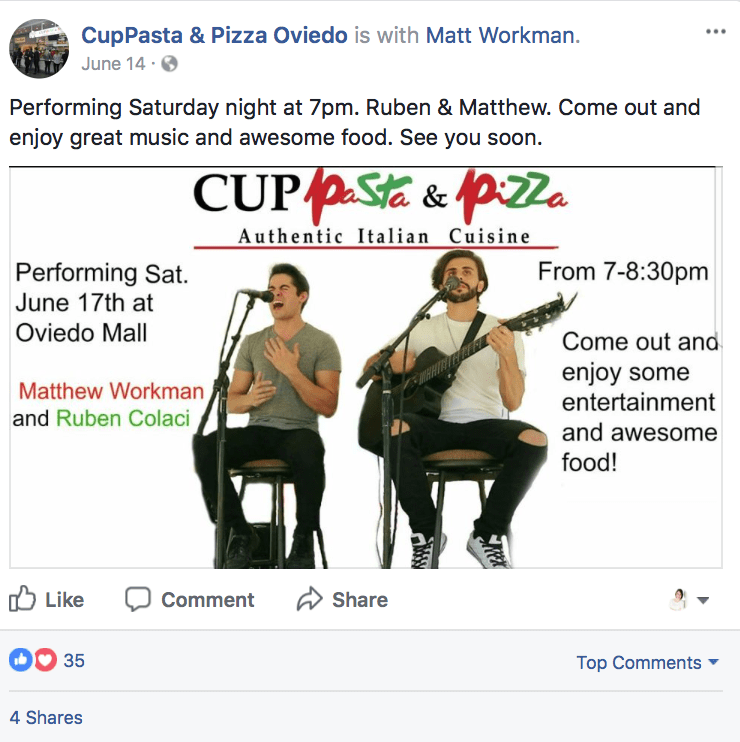 15. Incentivize Check-Ins
Check-ins are a valuable form of social proof on Facebook, and you want to have as many of them as possible. Incentivize check-ins with offers like loyalty reward programs, discounts, or a free drink with the meal. Since everyone loves to show where they are and what they're doing, this shouldn't be too difficult to do. Place this on a sign near the checkout, and have your cashiers or waiters mention that if you check-in on Facebook, you can get a discount. That's normally enough to get people clicking to your Facebook Page pretty quickly.

16. Respond to All Interactions As Promptly as Possible
This shows that your restaurant is engaged with the community and cares about its customers. It also gives you the chance to answer questions that your customers may have about your food. Clarifying details about whether or not something is vegan, diabetes-friendly, or gluten-free can make the difference between someone making a reservation or heading to your competitor.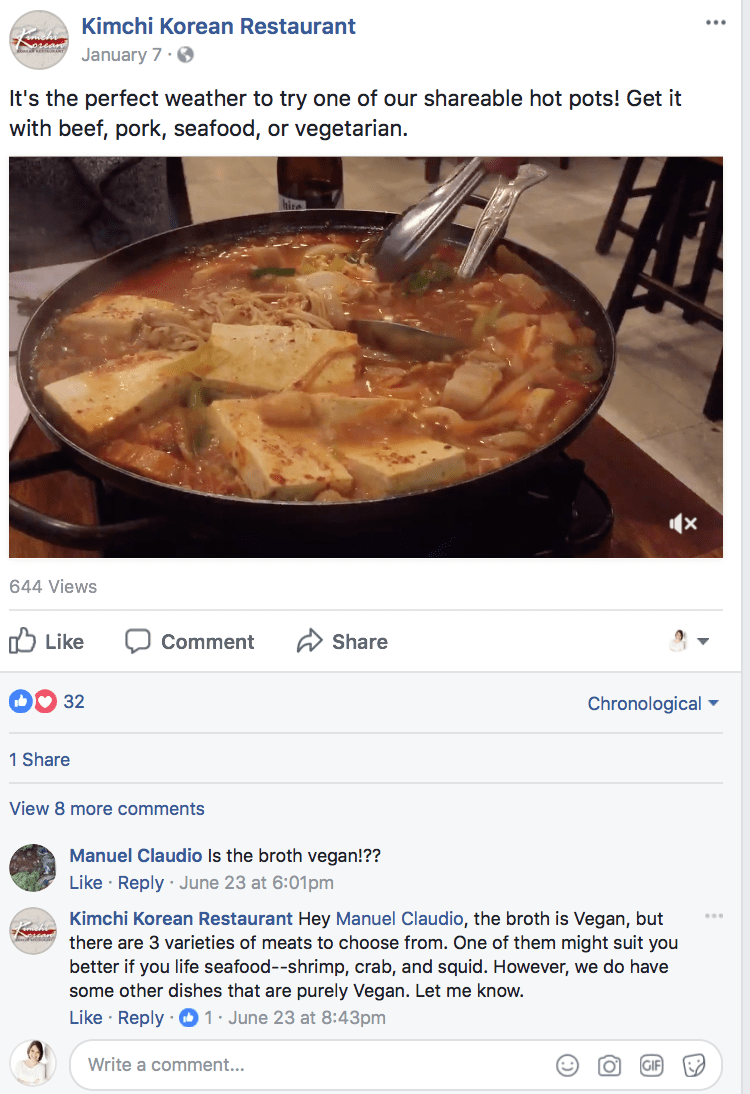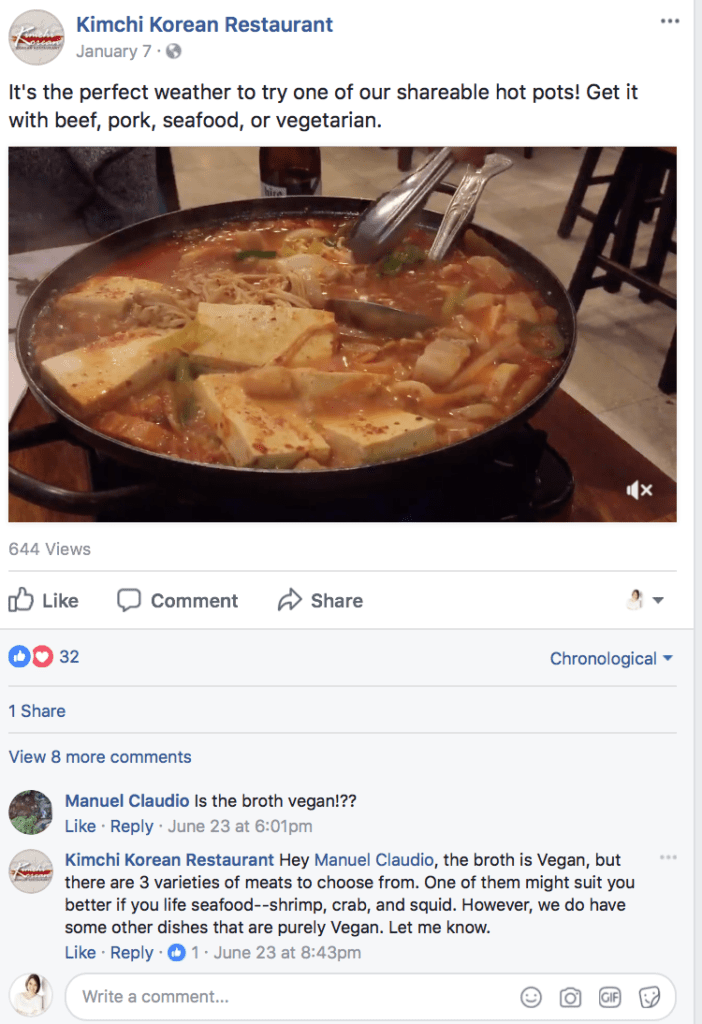 17. Make Sure You're Fully Optimized for Search
Search engine optimization is important. You want people to find you, and you want to show up before your competitors. Make sure that your website and every single social media profile (and its posts) are all optimized for customer searches. When in doubt, go ahead and hire a copywriter or SEO specialist to help you with this initial set up; it will pay for itself multiple times over.
18. Use In-Store Signage to Encourage Social Engagement
Sometimes it can be difficult to remember to ask users to post user-generated content or leave reviews online. Posting signage in store for users to follow you and share their thoughts, however, can make this a little easier. I recommend that all restaurants create a sign with your brand's profiles and hashtags, and put it either on their sign outside, or on a small sign near the registers where customers check out.
19. Utilize Offers on Facebook & Instagram Ads
Facebook and Instagram Ads lets you create offers that can be redeemed in-store. Not only can this help you determine how effective your ad campaigns are at actually driving people in to your restaurant, you can actually encourage more people to come in. The chance for a free appetizer or free drinks, after all, can be exceptionally effective at getting new people to come see you for the first time and try a few more dishes, too.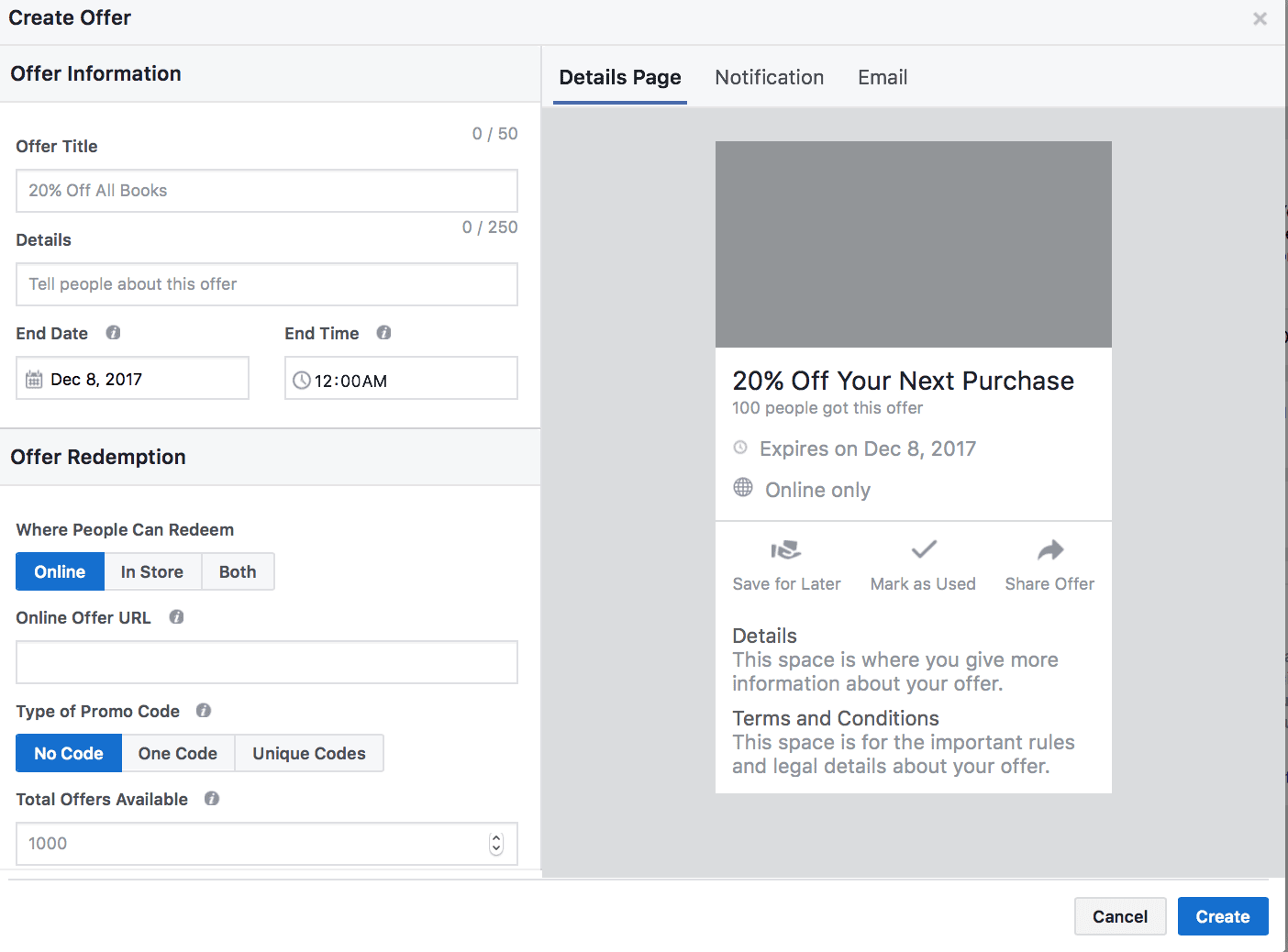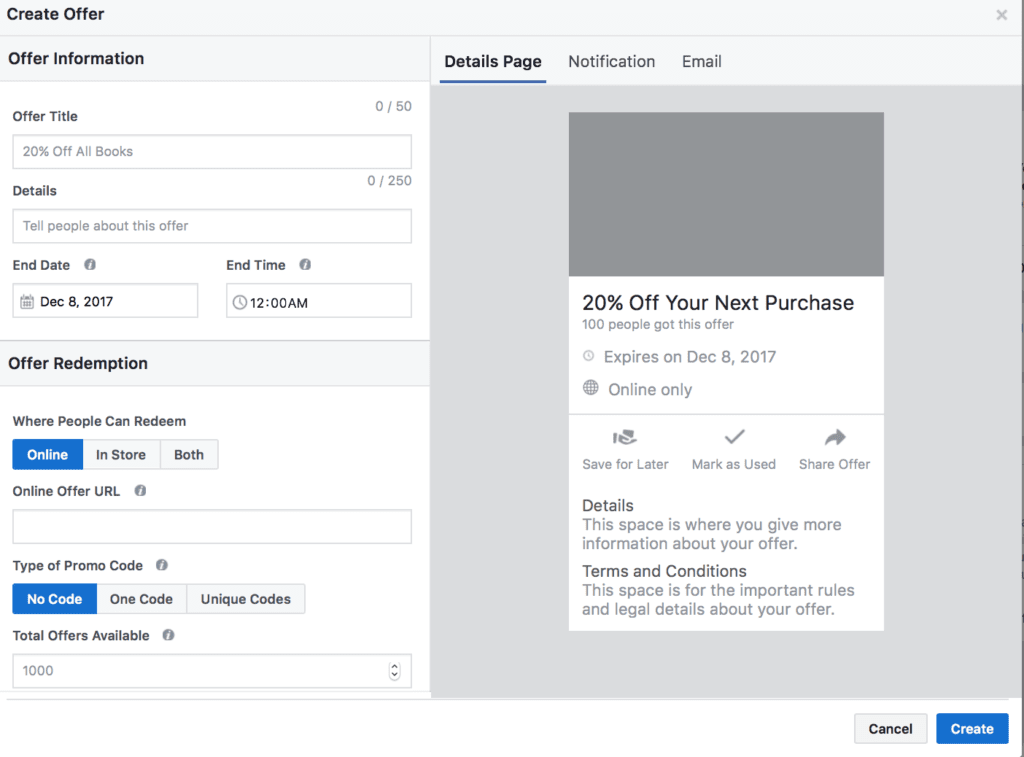 20. Cycle Through Menu Items
Your biggest selling point is the food, and pictures that are drool-worthy are going to be your most effective marketing tactic. Feature all your menu items at some point on social media, preferably with high quality pictures of dishes and some brief information on how it's made.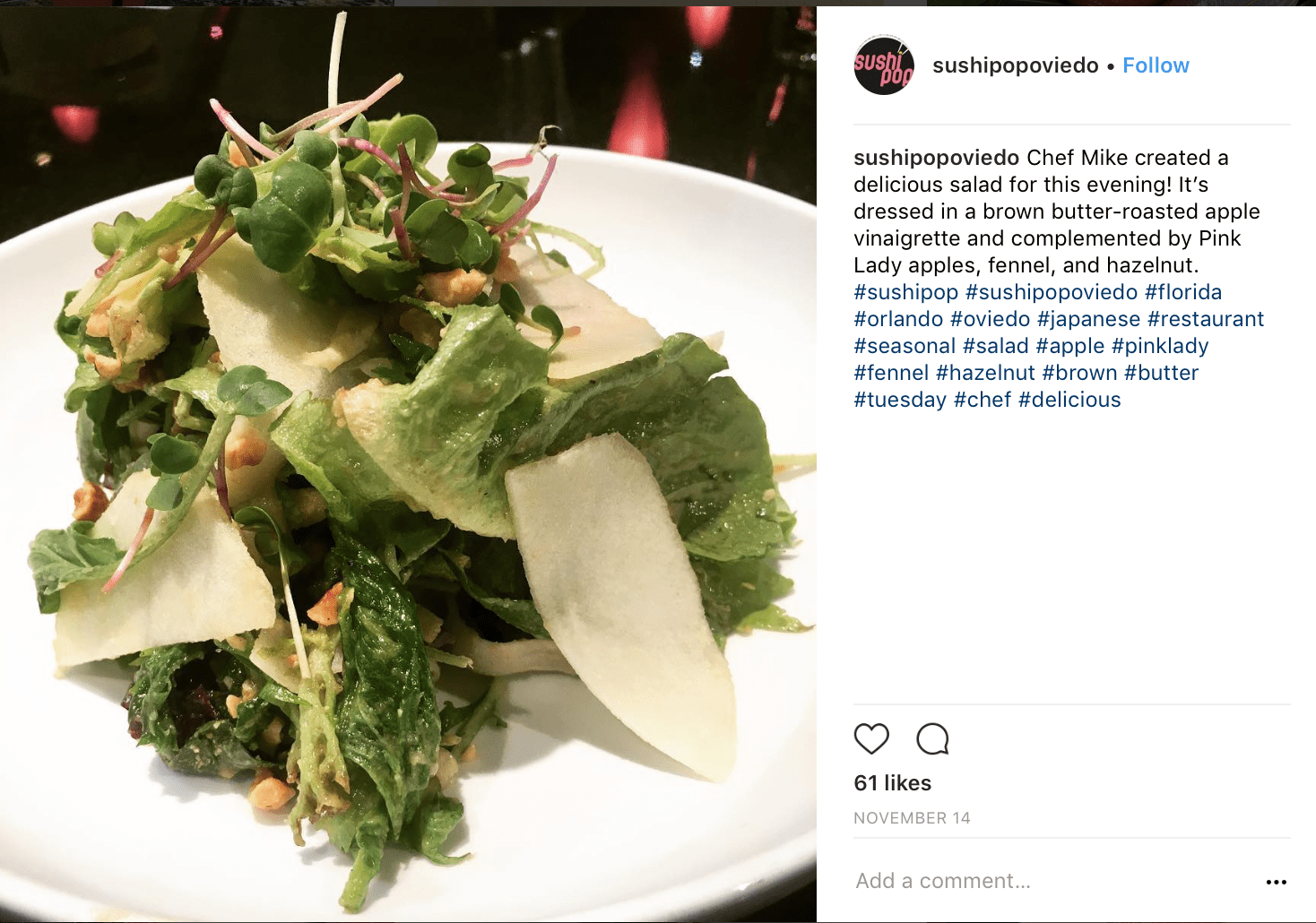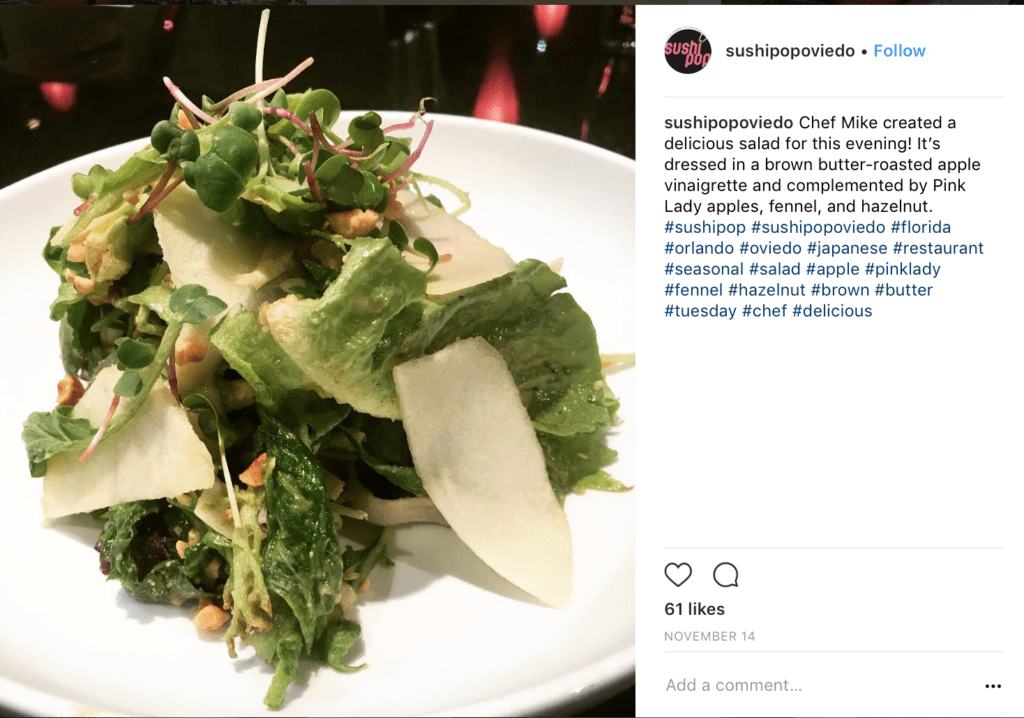 Feature as many different types of dishes as possible. Even if a salad seems relatively tame compared to everything else on your menu, it looks your restaurant look like it has more diverse options, appealing to more people and increasing the likelihood of people coming in. Everyone loves more options, after all.
21. Don't Forget the Video
If pictures are worth a thousand words, videos must be worth a million. Videos perform exceptionally well on all social platforms, especially when they're native. They also give you the chance to show your food in motion. Whether that means showcasing its preparation from scratch, or pouring on glazes or sauces for the final touch, try to incorporate more videos into your online marketing for best results.
Deck the bowls #TunaPoke #ExtraSauce
You can't really go wrong with seasonal foods. I never really want stuffing or cranberry anything, but when Thanksgiving rolls around, the craving sets in. Seasonal foods sell great, because who doesn't love hot chocolate in the winter and mojitos in the summer?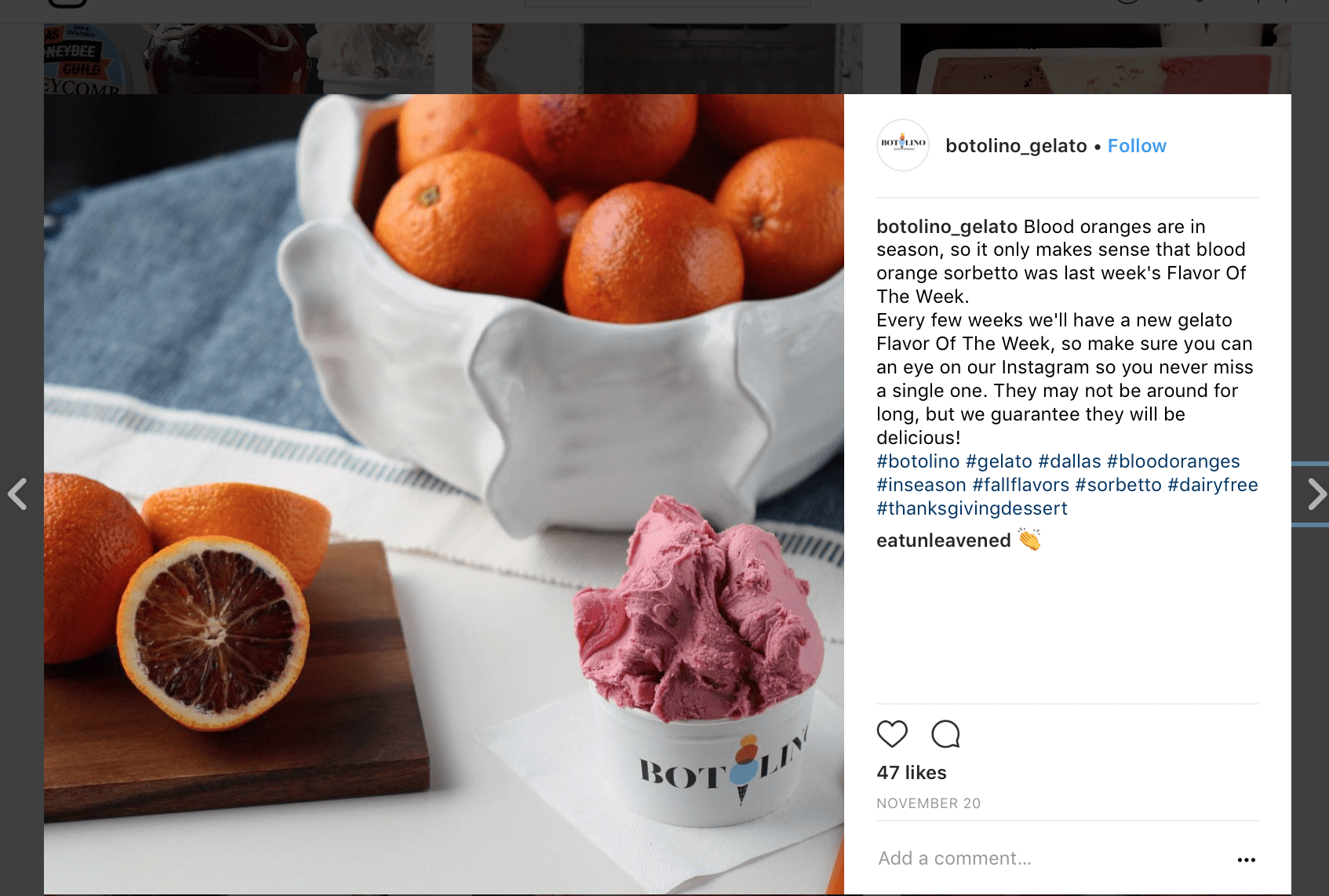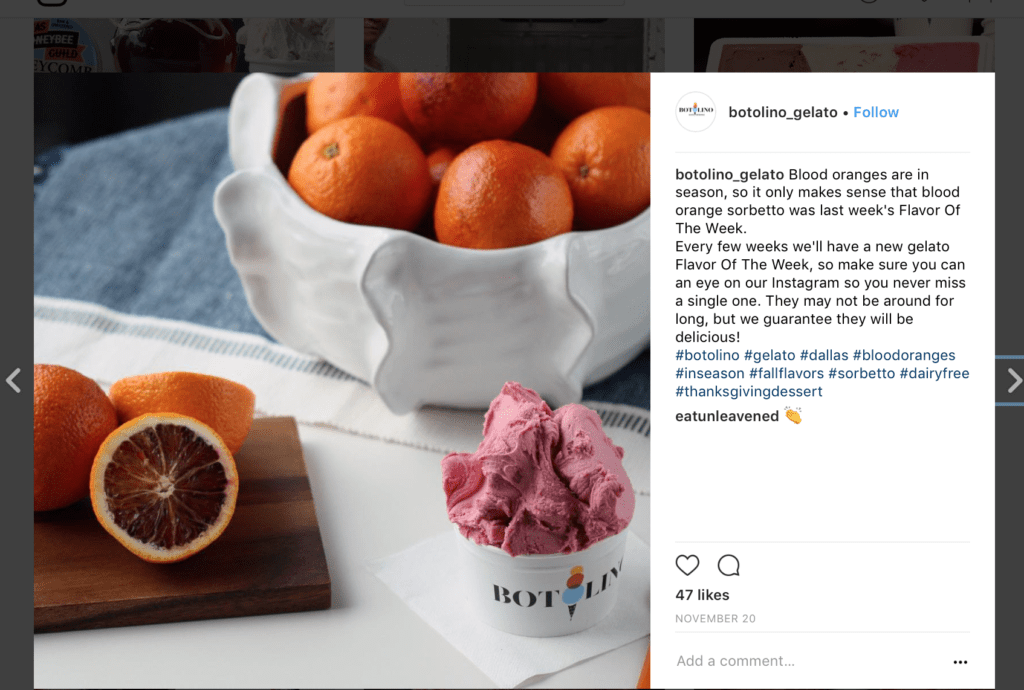 Featuring any foods that are using fresh, seasonal ingredients is also a good way to go- even if you shipped them from the other side of the country.
23. Choose Facebook's CTA Wisely
You can use your Facebook Page's CTA to your advantage. One simple option is to go with "Call Now," encouraging potential customers to get in touch with you to place an order or book a reservation.
You can also use specialized CTAs like "Order Now," which utilize third-party ordering and/or delivery services like DoorDash and EatStreet. If your menu doesn't change a lot and is available online, some of these options let customers  order directly from Facebook, while others will take customers to the third party's website to order. Either way, it's a simplified path to ordering, which is always a good thing.
Best Practices For Instagram Food Photos
Want to get the most out of your pictures on Instagram, and all other platforms, for that matter? Just follow these four image best practices.
Choose Images with Texture 
Texture will not only make your image more appealing (and get you 79% more likes), it will also really help your food come to life. You'll see how crispy those wontons look, or the caramel gliding down an apple. The whipped cream in the picture below looksfeather-light, and the dusting of cinnamon on top makes it look irresistibly delicate. These are the small details that really make people get that we need to order takeout craving. When it comes to food pictures, texture will be your best friend.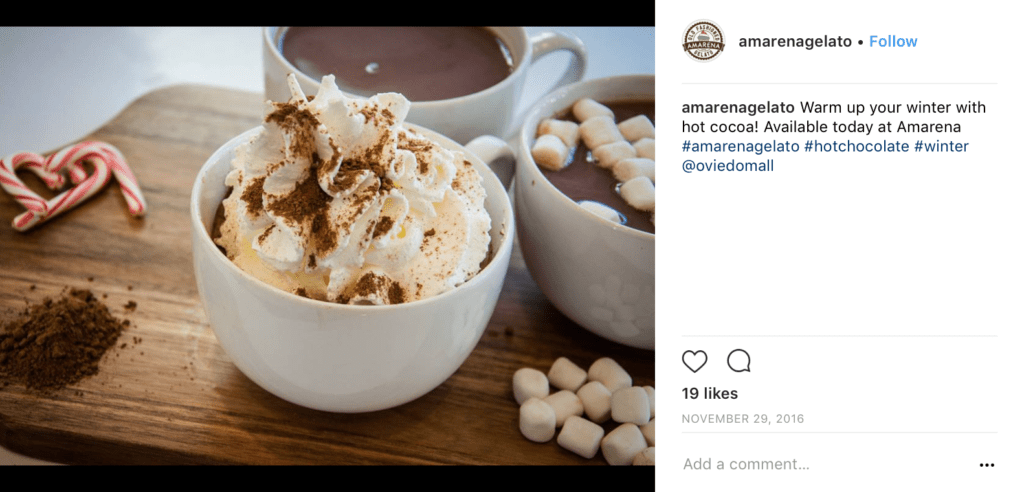 Choose Images with a Decent Amount of Background
You want the focus to be on your food, 100%. But you don't want to literally be so focused and zoomed-in on the food that it looks a little overwhelming. In many cases, having images with more background can look cleaner and actually make it easier for customers to focus on how great your food looks.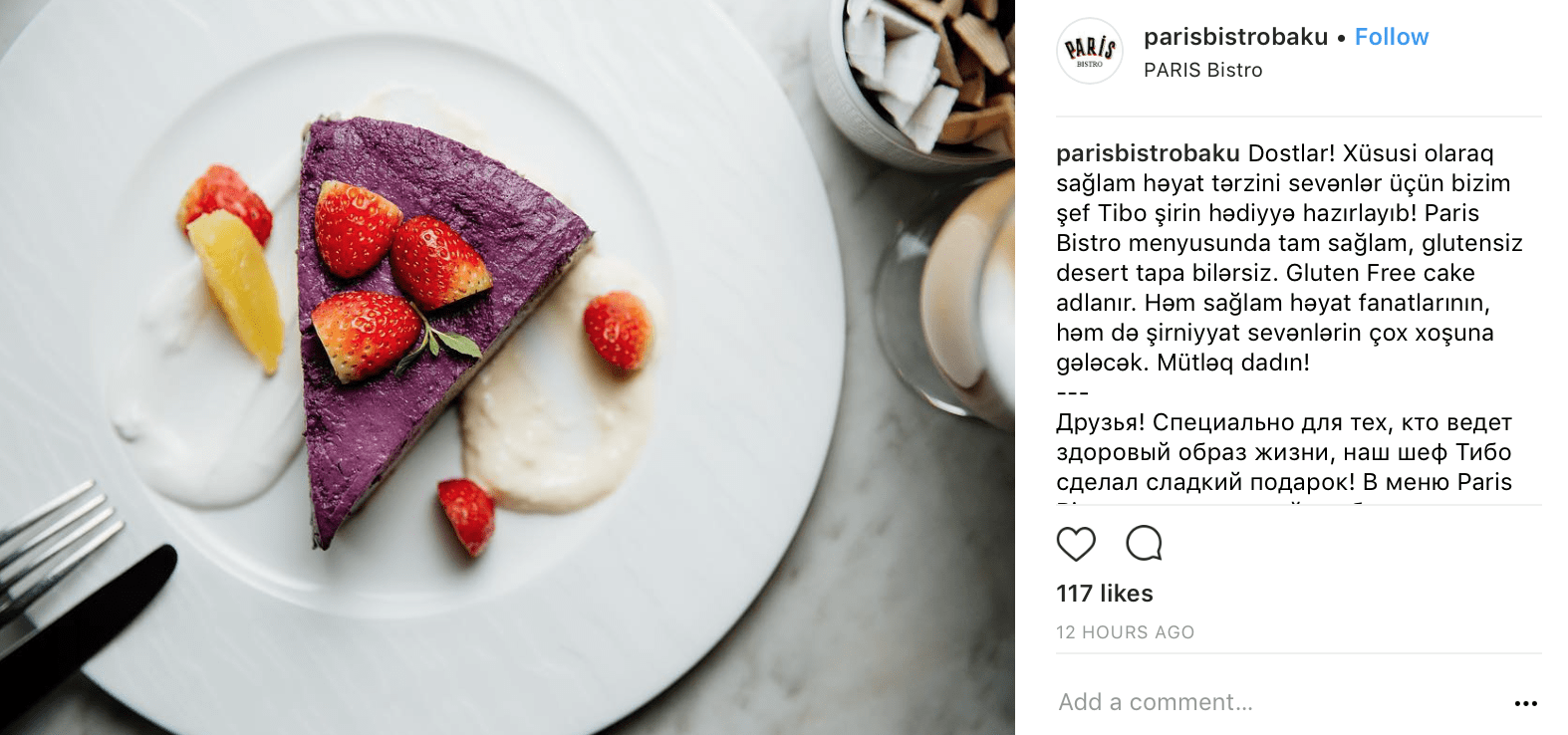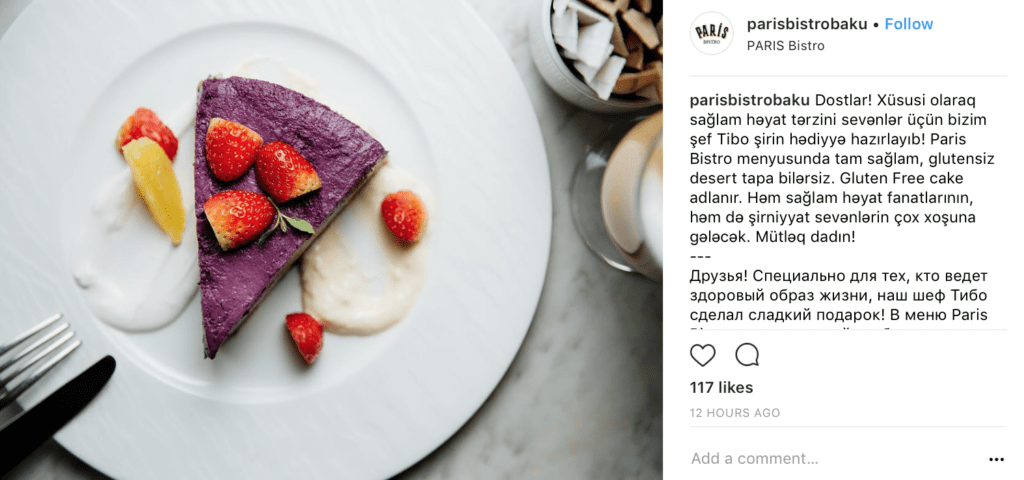 We eat with our eyes first. Sometimes, nothing looks better than a juicy burger, no frills needed, but some of the images that will do best on Instagram are those that look artistic. Let's look at the Instagram post below.
Go for the Visually Stunning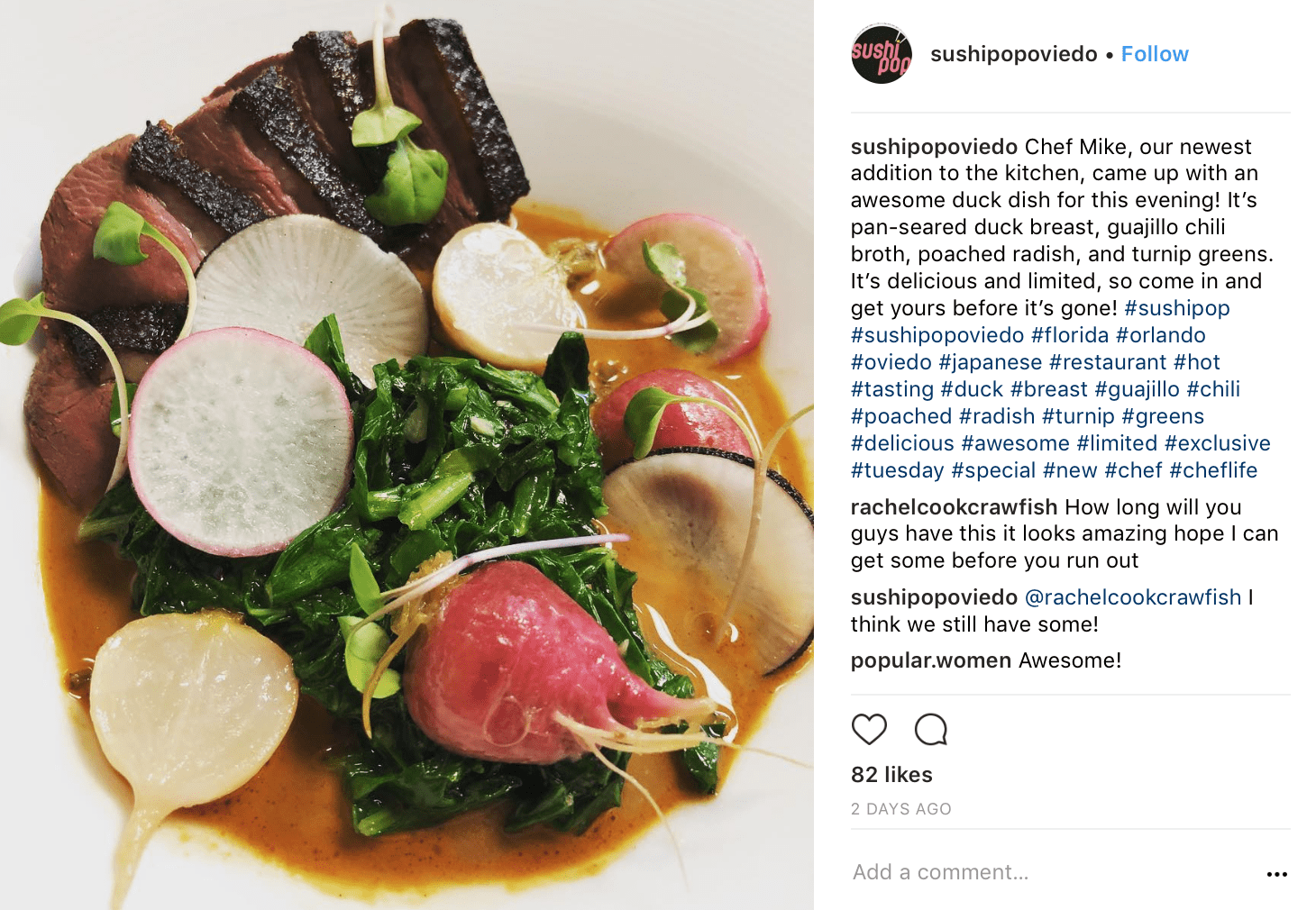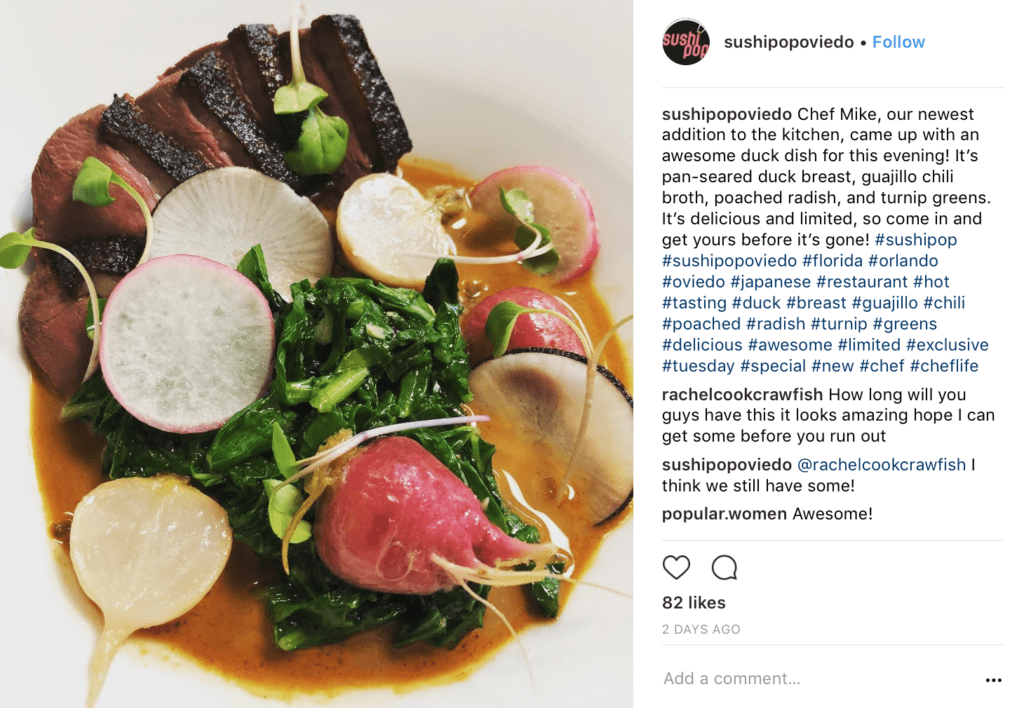 No question about it, this picture is gorgeous and interesting. There are different textures, bright colors, and even the natural fanning on the radishes are just stunning to look at. Plating isn't just important for the customer, it's also important when you're posting images online.
Only Use High Quality Images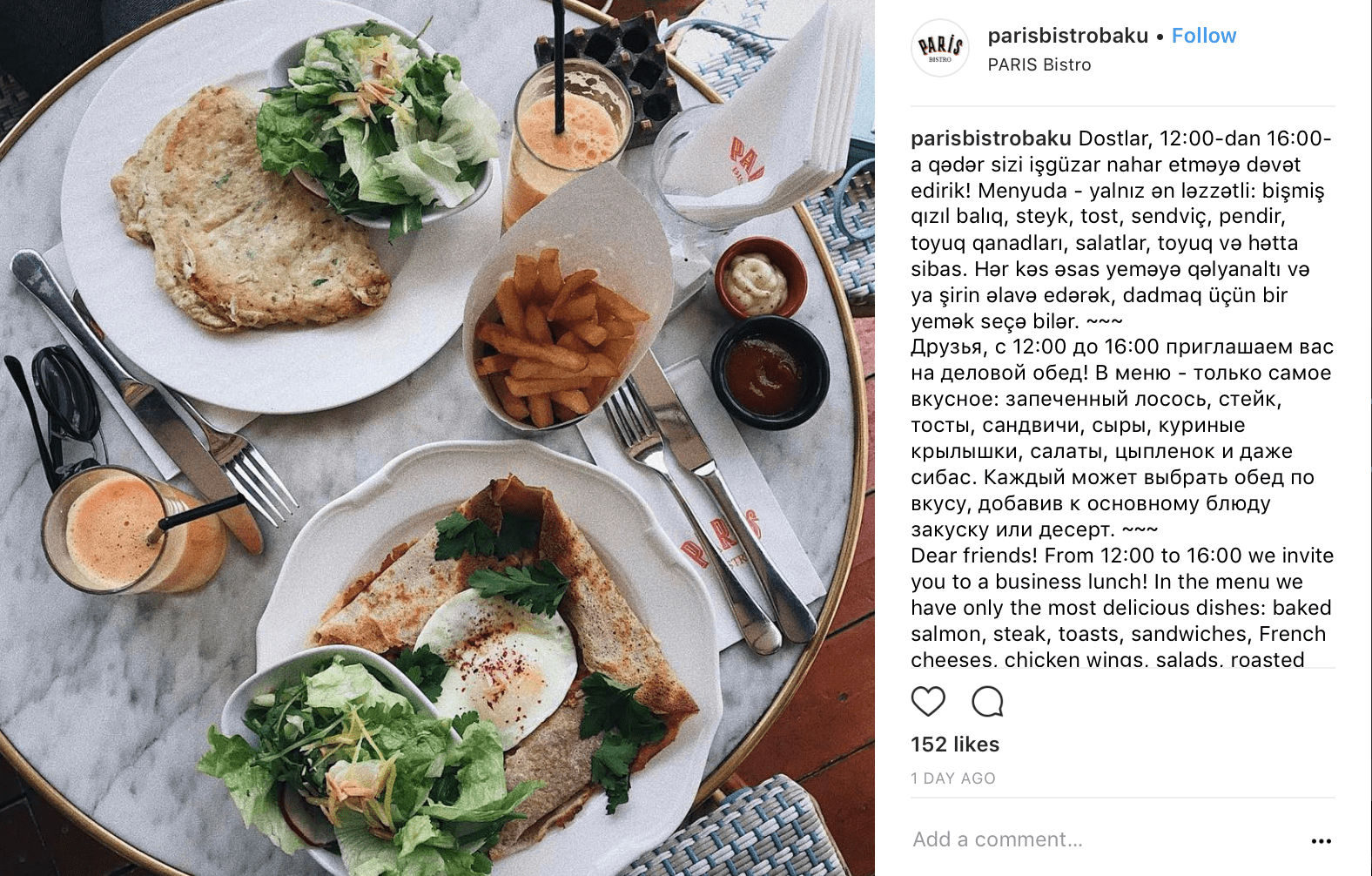 This isn't Snapchat, where if it's funny, it passes; there's a certain expectation for near-professional-quality photos on Instagram. If you struggle to take them, see if someone on your team has a knack for it, and have them built up a store of photos to use in your marketing campaigns.
7 Restaurant Instagram Ad Examples to Inspire You
Drooling yet? (Just imagine being me, and writing this post). If you're wondering how to translate these marketing tips into Instagram Ads, don't worry- we're about to look at a few examples up close. One thing that's clear, too, is that most of the restaurants popping up in the newsfeeds of both me and most of my friends (who helped me collect these) is full of ads from fast food restaurants; if you have something different, you're already at an advantage.
1. Chik-
fil

-La

Chik-fil-La in Lake Mary recently ran an ad campaign promoting not only their food, but a special event. They used the image to show off their mini chicken biscuits and detail both the event information and restrictions (that it's only available at that particular restaurant). They also use a bright red bow to stay in theme of the holiday season, knowing this would capture attention during this time of the year.

Chik-fil-La in Lake Mary recently ran an ad campaign promoting not only their food, but a special event. They used the image to show off their mini chicken biscuits and detail both the event information and restrictions (that it's only available at that particular restaurant). They also use a bright red bow to stay in theme of the holiday season, knowing this would capture attention during this time of the year.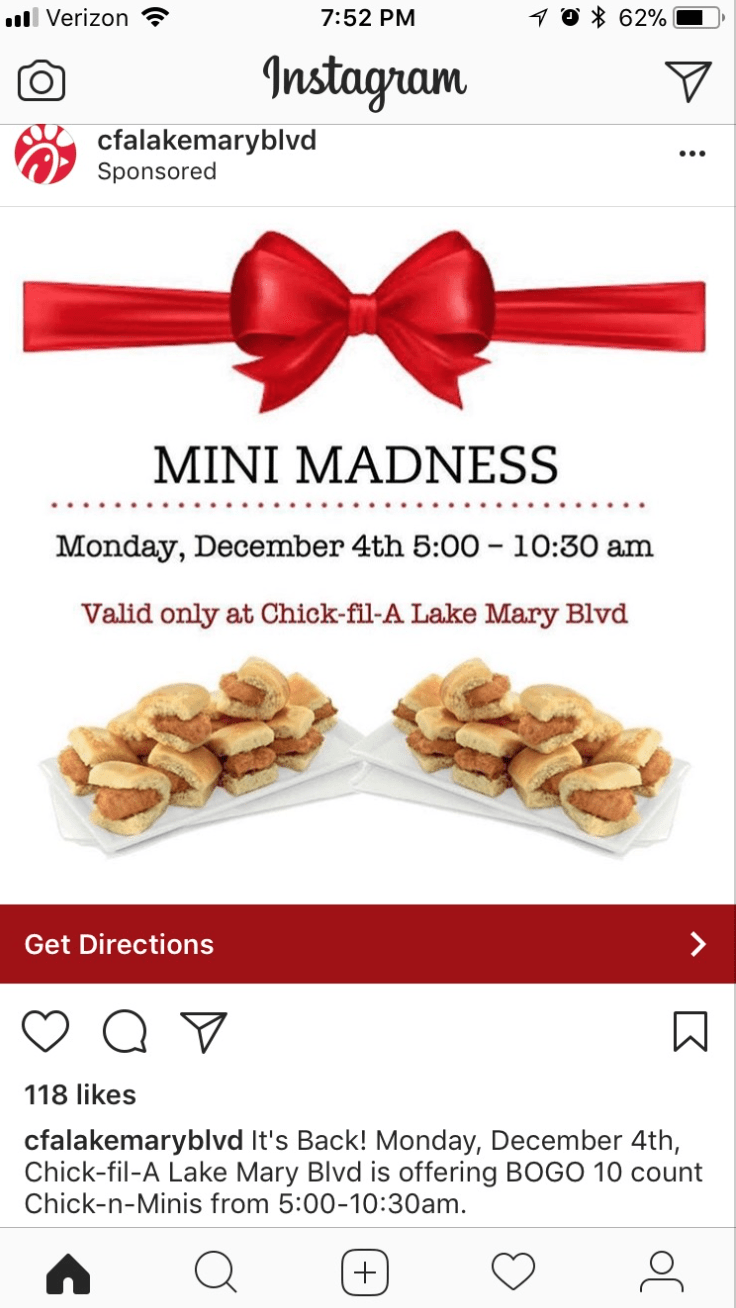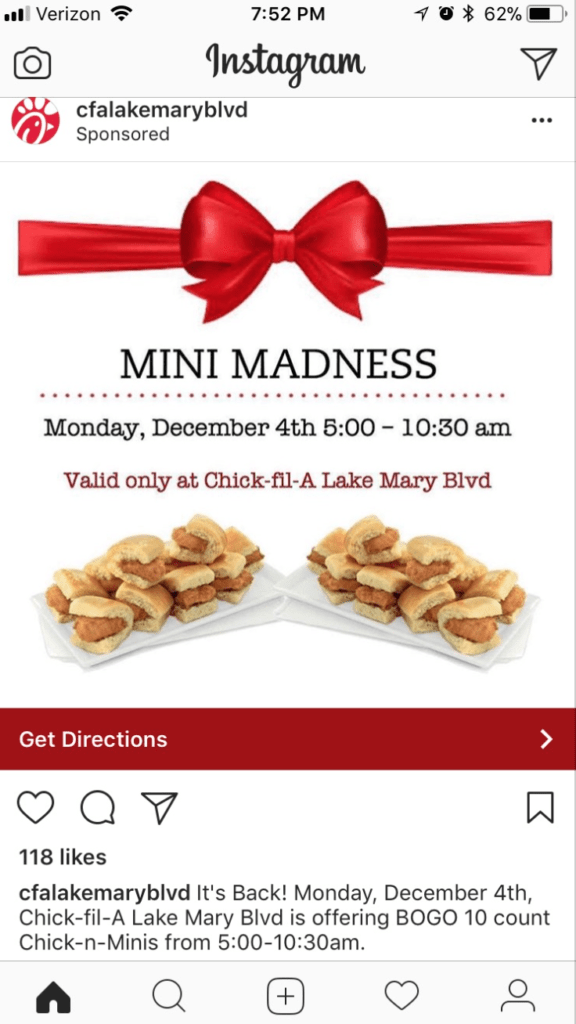 They then use their description to detail exactly what the event will be. Since image text has to be limited in order to increase distribution through the ads system, using the description to fill in the details is a god move on their part.
2. McDonalds
The use of video is also smart. It captures users attention, and no audio was needed to get the gist of what was happening in the video thanks to the textual cues and description.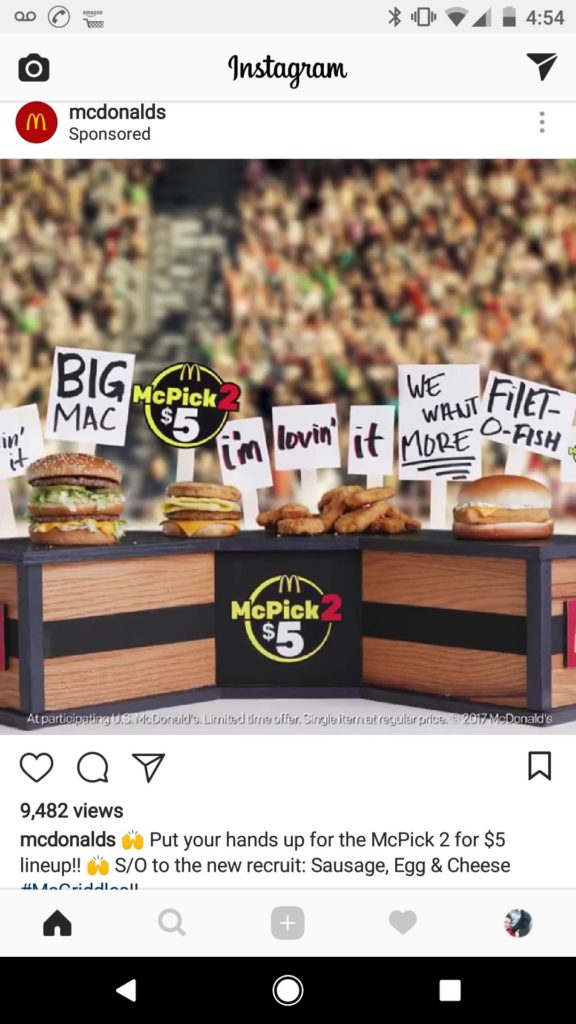 3. Simiciti
This ad features a variety of beautiful, brightly colored food, and the ad copy is quick and sufficient. They explain that they're a Turkish restaurant, and that they're open for all meals. It's simple, but it works, and sometimes that's all you need.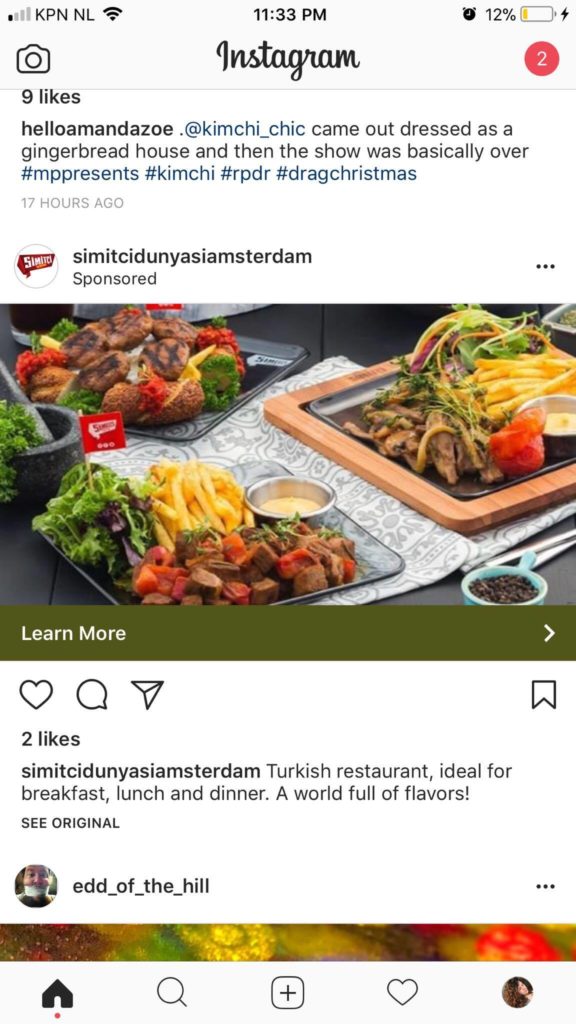 4. HelloFresh
So bear with me on this one. HelloFresh isn't a restaurant, it's a food delivery service, but it does several things that restaurants can copy, so I'm adding it to our list. It features truly diverse dishes in a single ad, increasing the likelihood that the ad would appeal to as many audience members as possible.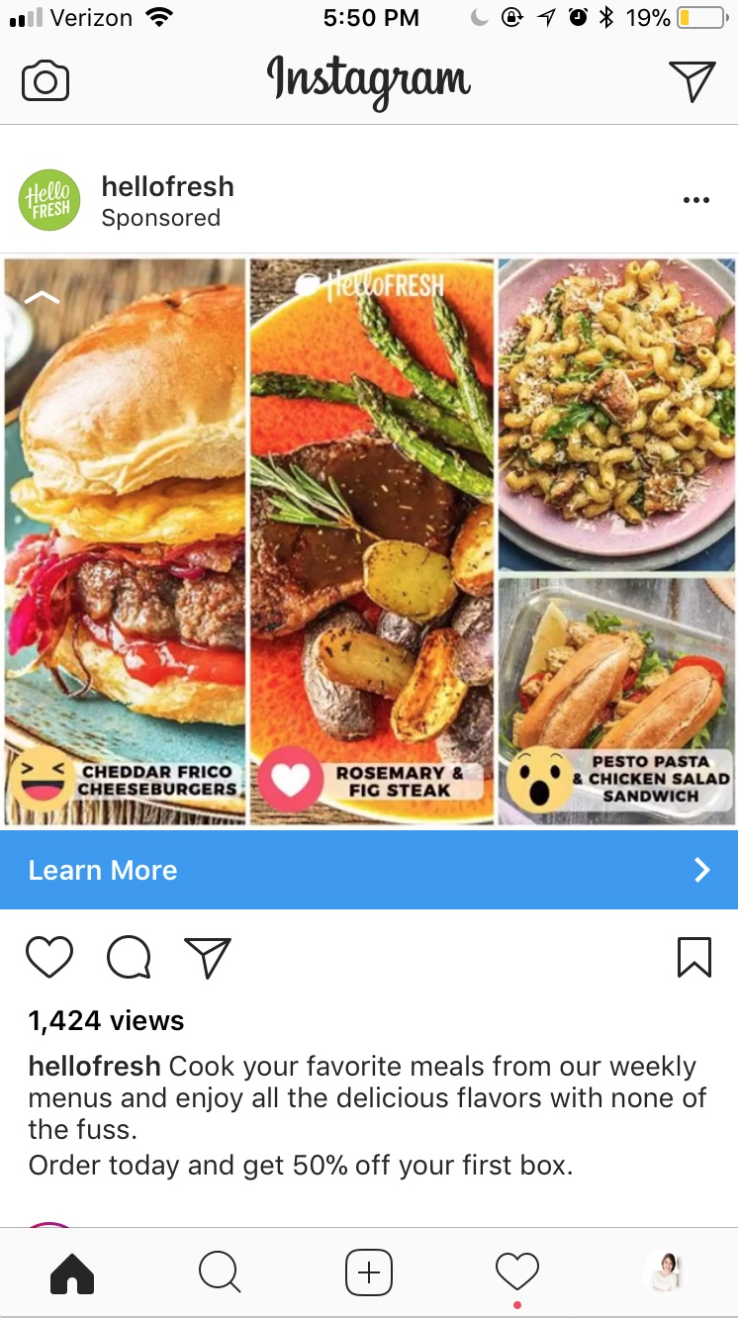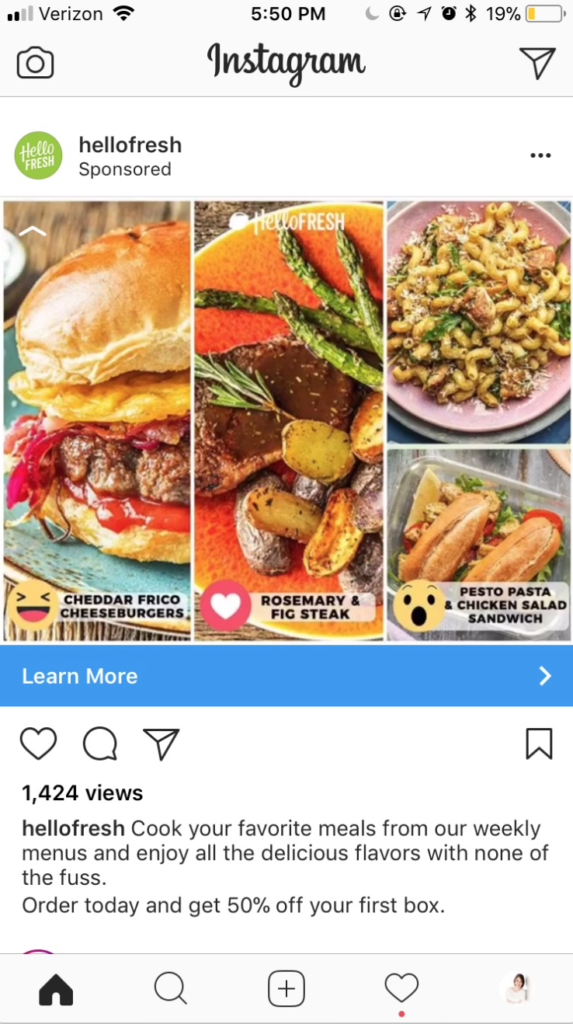 5. Wendy's
They also use bright colors, and their images have a ton of texture to them. You can see how juicy that burger is, and that crunchy layer on the top of the potatoes. It's easier for restaurants to create tantalizing, stunning pictures of their products than it is for many other industries to sell their product, so use that to your advantage.
Unfortunately you can't see from the still image, but this ad used boomerang-like animation to show the burger being unwrapped. That one flicker of movement can do a lot to draw the eye in, and it's visually captivating. That's good. All you need is to grab their attention to make them want that burger.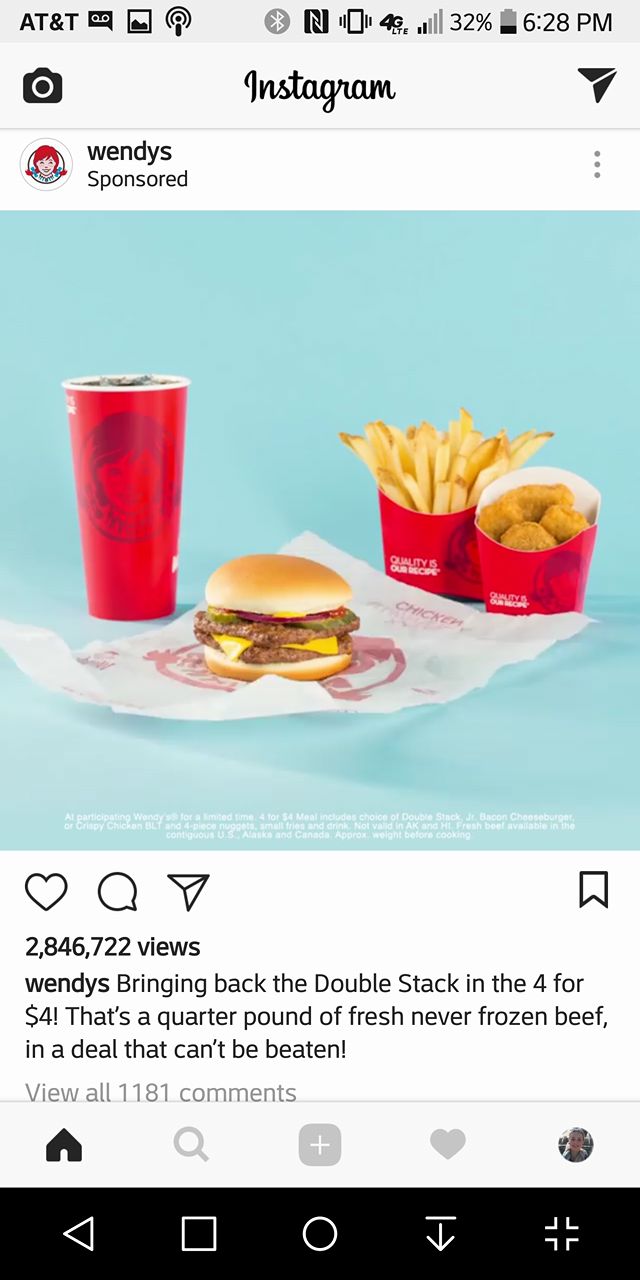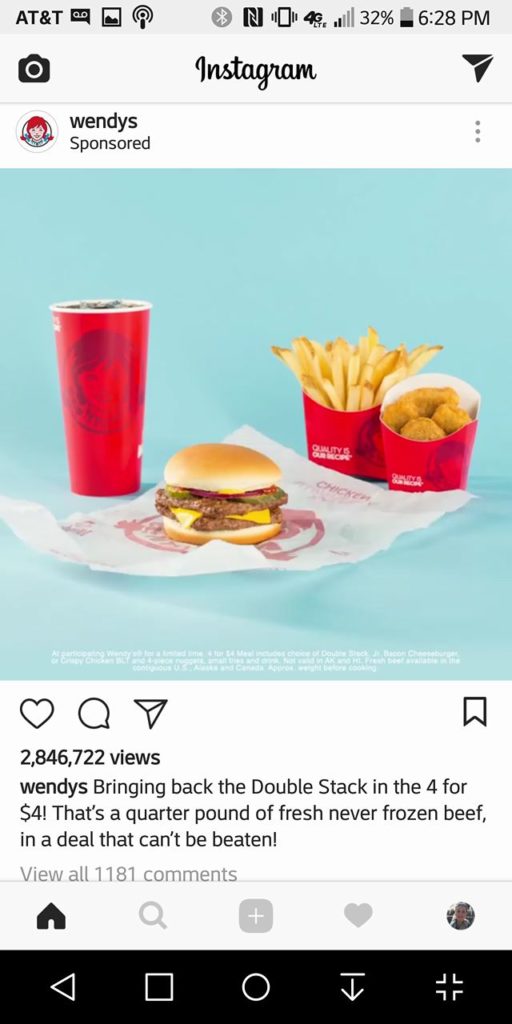 Visually, this ad image is spot-on, too. The bright red Wendy's packaging and yellow in the cheese and fries stands out beautifully against the soft light blue background. Having the background here works to the image's advantage; it looks clean, and it's easy to focus on what you need to.
6. Cafe Restaurant Bureau
This gorgeous ad- sent to me by a friend in the Netherlands- used carousel ads and their CTA in conjunction in a way that I haven't seen before but thought was really smart. The first picture showed the gorgeous restaurant, with the sun rising through the window. Since the text roughly translates to inviting people to come in for breakfast, lunch, and dinner, this really sets the scene. You can picture yourself having breakfast there while the sun rises.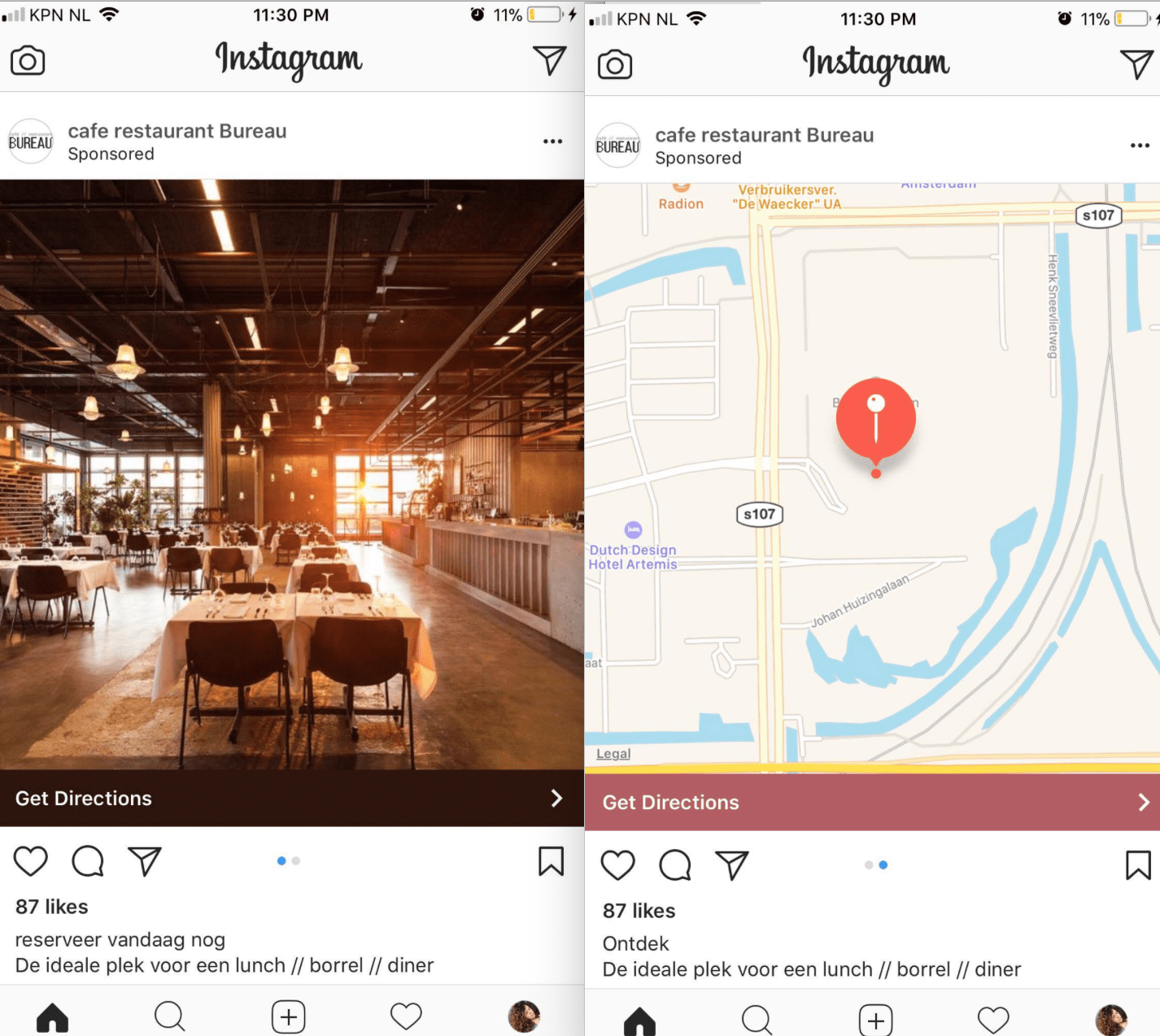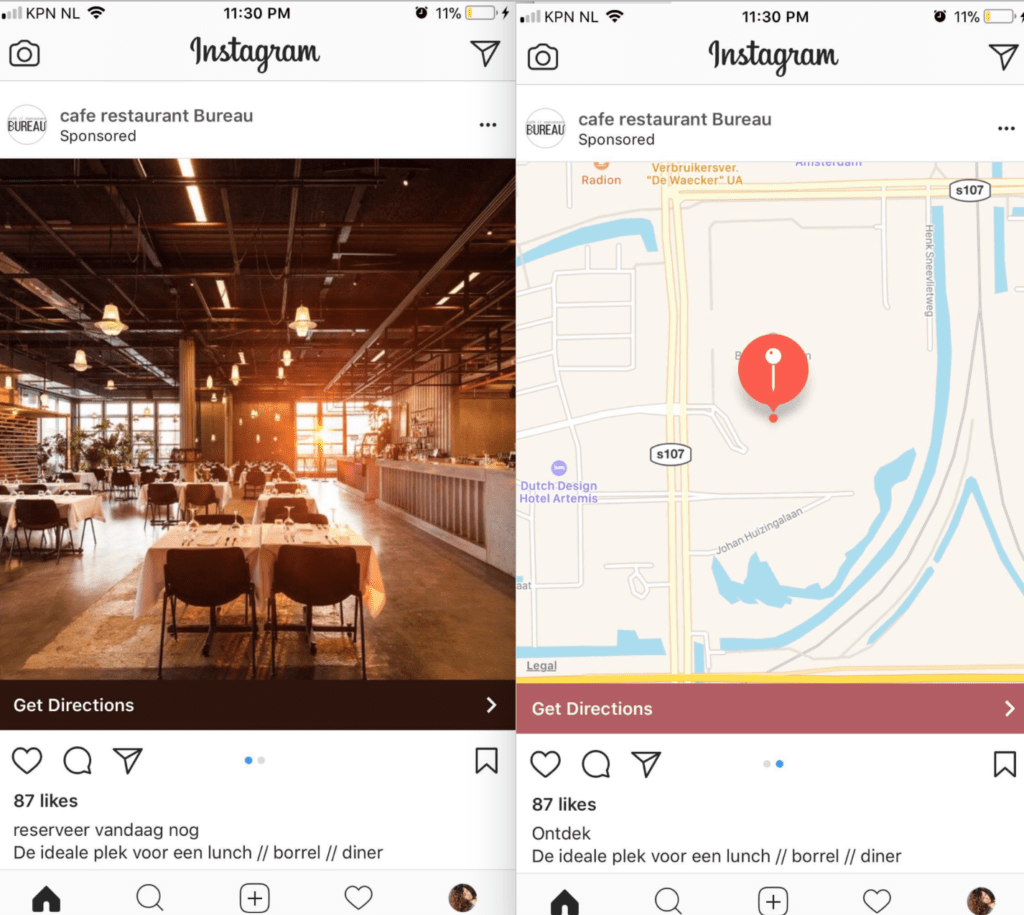 On the next slide of the carousel, they show their location a still image of a map. Sometimes, one of the best things that you can do to entice customers to come in is show them how close you actually are to them. This works well with their "Get Directions" CTA- which I believe is a good choice for most local restaurants to use-, which if clicked will then pull up a dynamic map that takes users right to them.
7. Dairy
Q

ueen

One of Dairy Queen's biggest selling points for their blizzards is how thick they are, and they use this image to prove their point. They flip the blizzard upside down, holding it above the ingredients used to make it, all of which look gorgeous.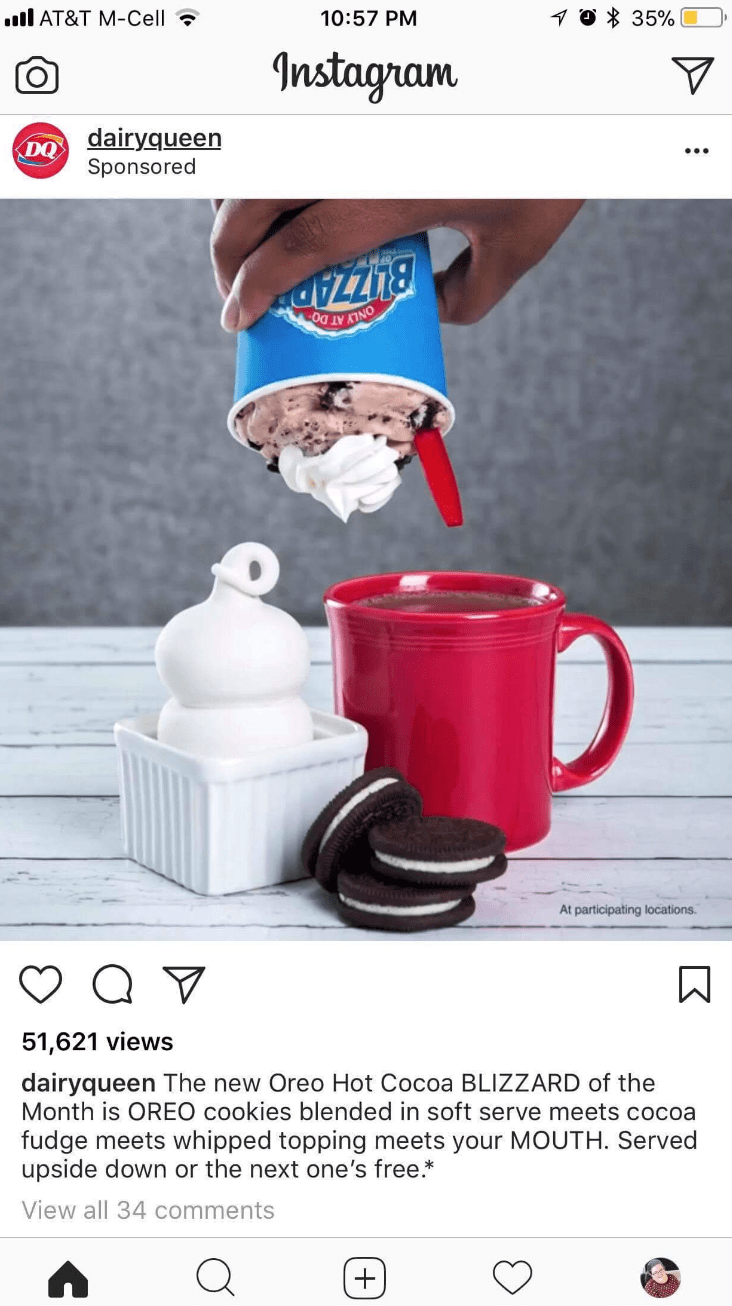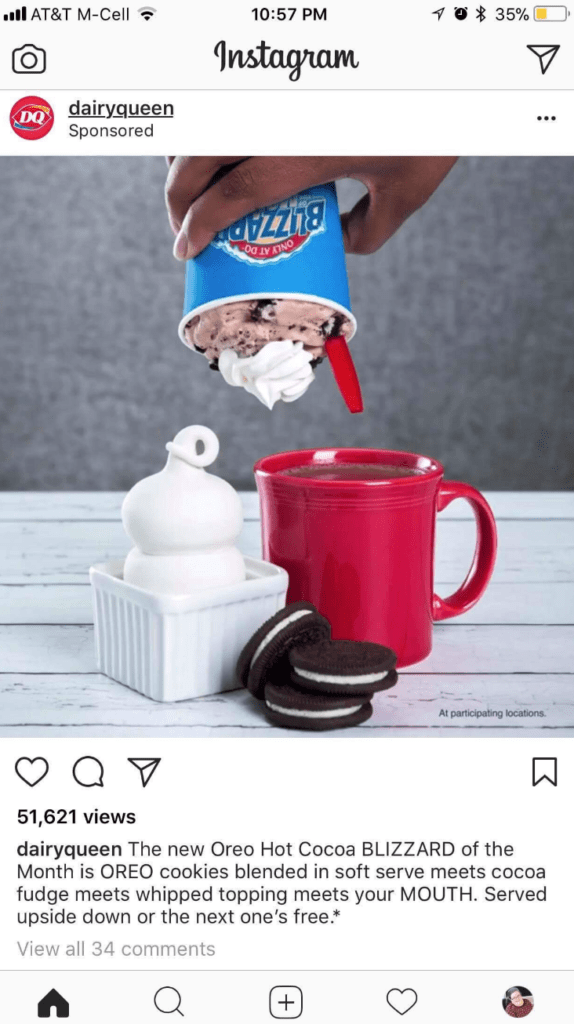 This image also does a good job of choosing a color scheme that pops and draws your eye right where you want it. The red spoon (which admittedly looks photoshopped in) and the red cup capture your eye first, and finally take you up to the red on the blizzard's cup. It helps your brain take in the full picture, moving from one thing to the next quickly.
The copy is also great. "Served upside down or the next one's free" is enticing, and it makes you want to go in store just to see it for yourself.
Conclusions
In a lot of ways, restaurants have a huge advantage over many other industries, and I've seen this first hand with the restaurants that I've had as clients.
The images and videos are gorgeous, and our culture's (very justifiable) obsession with beautiful, delectable food definitely works to the restaurants' advantage.
The key is to use your marketing efforts strategically to attract new customers, keep past customers returning regularly, and using your existing network to help you build your reputation and start the cycle of winning over new customers all over again.
Historically, restaurants have often risen to popularity thanks to word-of-mouth marketing. Social media and online marketing is a simple extension of that, but its reach can go further and touch more people.
It's an important aspect of building your business, so make sure to use it to its fullest potential.
What do you think of our restaurant marketing tips? How do you market your restaurant online? Do any of these strategies work for you? Leave us a comment and let us know what you think! 
SaveSaveSaveSaveSaveSave
SaveSave
SaveSave