With seven million advertisers on Facebook alone, it's easy to think of it as the go-to advertising platform. But with all the competition to contend with, there needs to be another option to consider. Pinterest ads are the answer.
They're underutilized — compared to a behemoth platform like Facebook, Pinterest only has 1.5 million brands connecting with users every month — but offer tremendous opportunity to get in front of more people.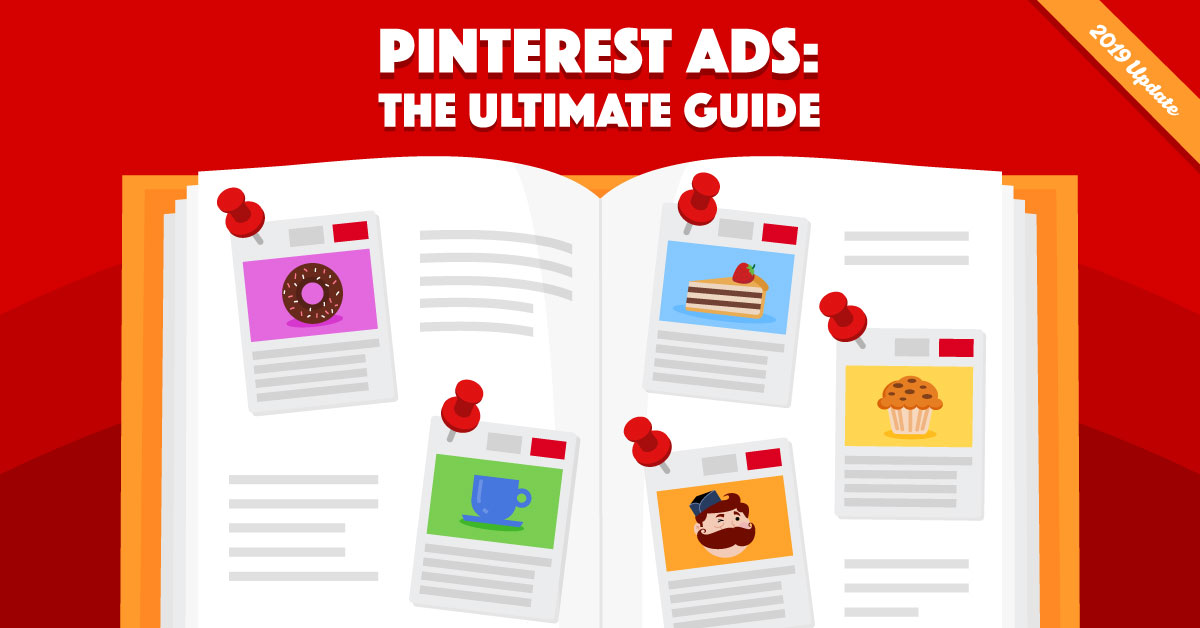 Since its launch, Pinterest has seen steady growth in its user base and continues to release product updates that improve the user experience.
This is a guide to help you navigate the ins and outs of Pinterest and create ads that are visible to your audience and get them to buy your product.
What You'll Learn From This Guide:
Why you should use Pinterest ads

How to set up a business account

How to improve Pinterest ad performance with Buyable Pins

Changes that will improve your Pinterest ad performance

How B2B businesses use Pinterest ads

How small businesses use Pinterest ads
Let's get started!
Why You Should Use Pinterest Ads
Contrary to popular belief, Pinterest is more than a social media platform — it's more like a search engine, like Google. With social media, users primarily connect with each other and share content. With Pinterest, users search for inspiration and create boards they can revisit later with pinned content that interests them.
Since Pinterest ads appear as Promoted Pins — Pins that are sponsored by a company — it's easier for users to discover and buy the products they aspire to have.
Here's a regular pin: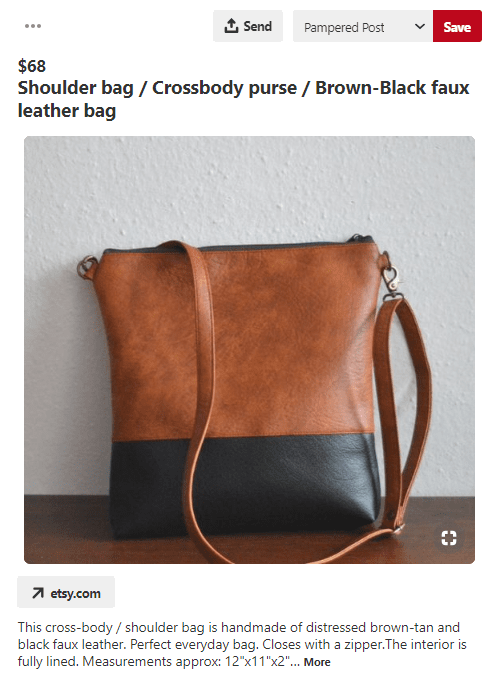 Here's a Promoted Pin: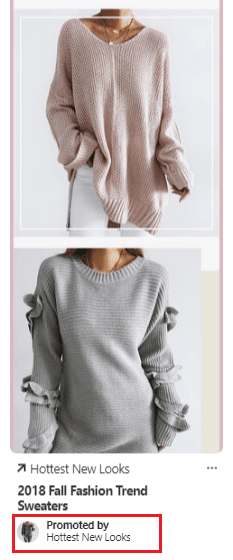 The difference is Promoted Pins mention the brand sponsoring the product and links to a sales page while regular Pins don't.
But before you can unlock the power of Pinterest ads, it's important to understand why these ads need to be part of your advertising strategy.
Since launching in 2010, Pinterest has steadily grown to become the third most popular social platform in the U.S. amongst adults.
The original concept was simple: replace physical scrapbooks and corkboards with digital boards to make it easier for users to save content from across the web. Since its humble beginnings, Pinterest has evolved into a place for users to create elaborate wishlists and for brands to showcase their products and make buying products simple and easy.
With over 291 million active monthly users on the platform, there's no denying that Pinterest has become a hub for businesses to connect directly with their audience.
Here are seven reasons why you need to include Pinterest in your advertising strategy or risk missing out on skyrocketing your customer acquisition:
Now that the benefits of Pinterest ads are clear, let's look at how to get started.
How to Set Up a Pinterest Business Account
In order to share Pinterest ads with users and track analytics, you need a business account.
If you have a personal account that you'd like to convert:
To convert your personal account, go to the business conversion site and enter the email address of the account you'd like to convert: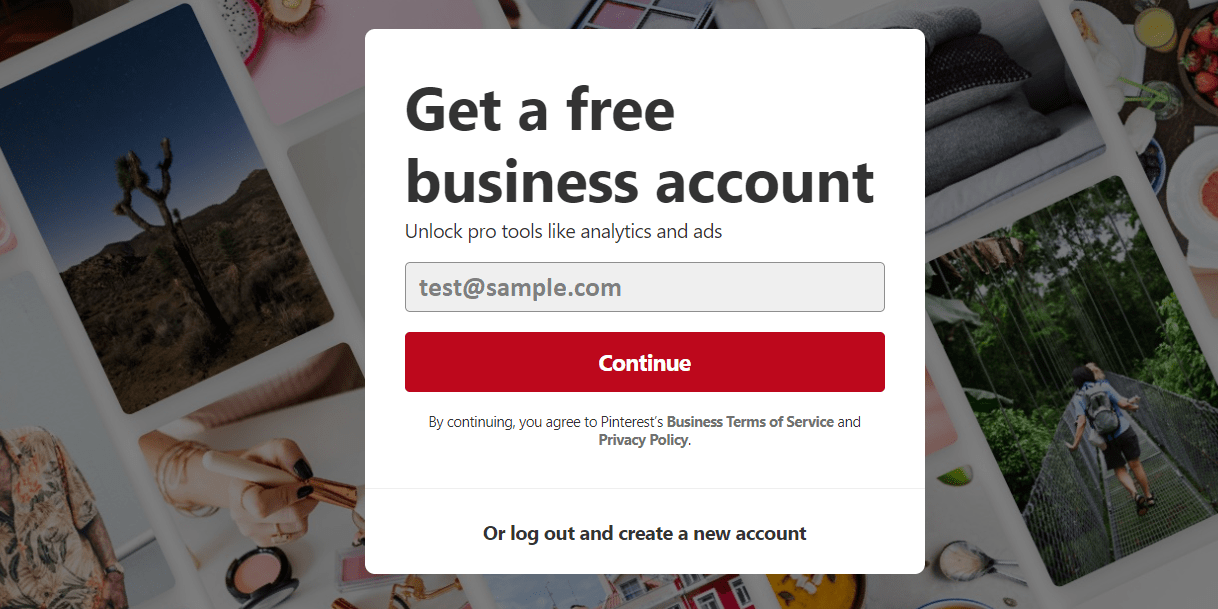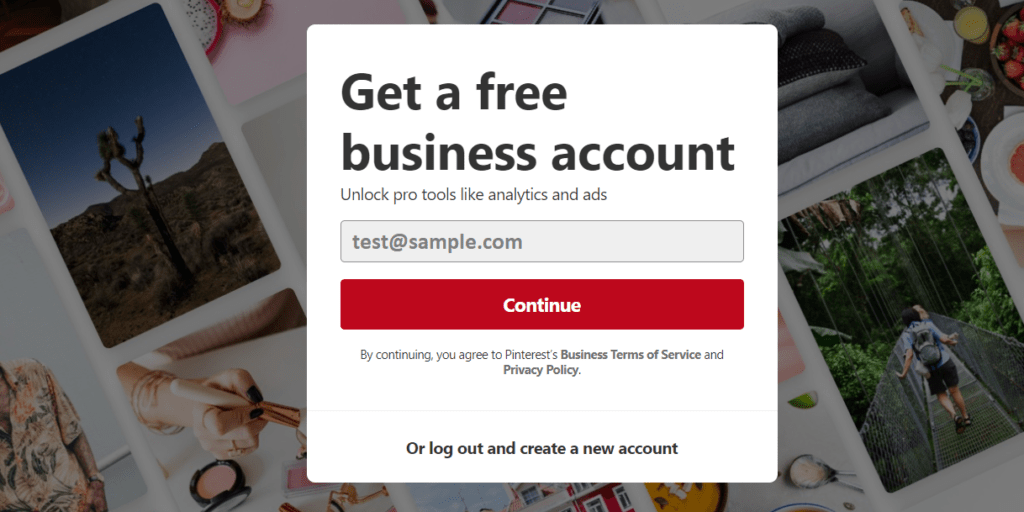 Next, fill out your business profile. Include your company logo, business type, and a description about who you are and what your business does.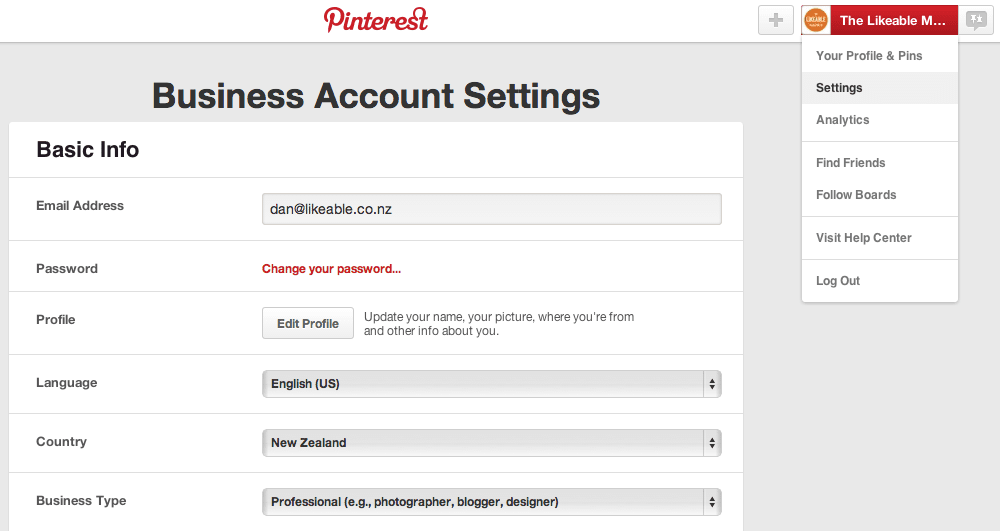 [Source]
If you're new to Pinterest and want to set up a brand new account:
Head to Pinterest's home page and select "create a business account" at the bottom of the page: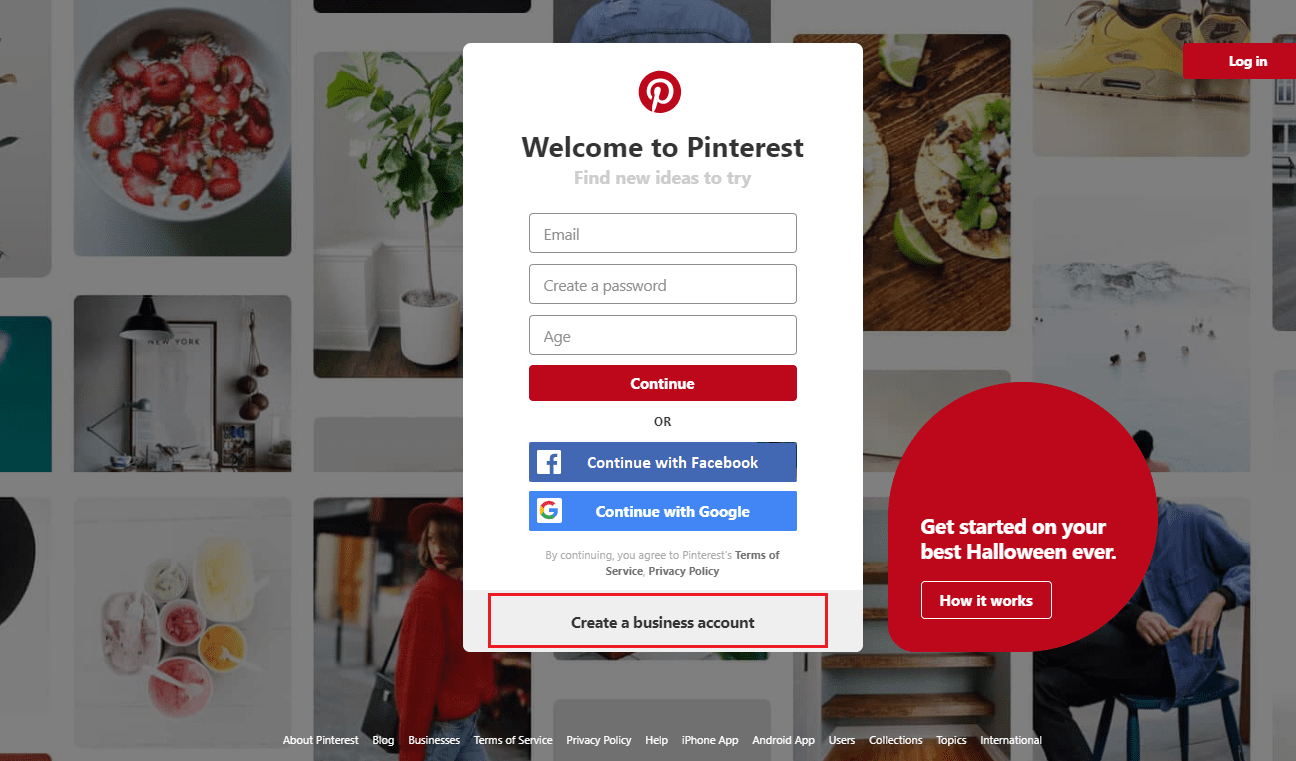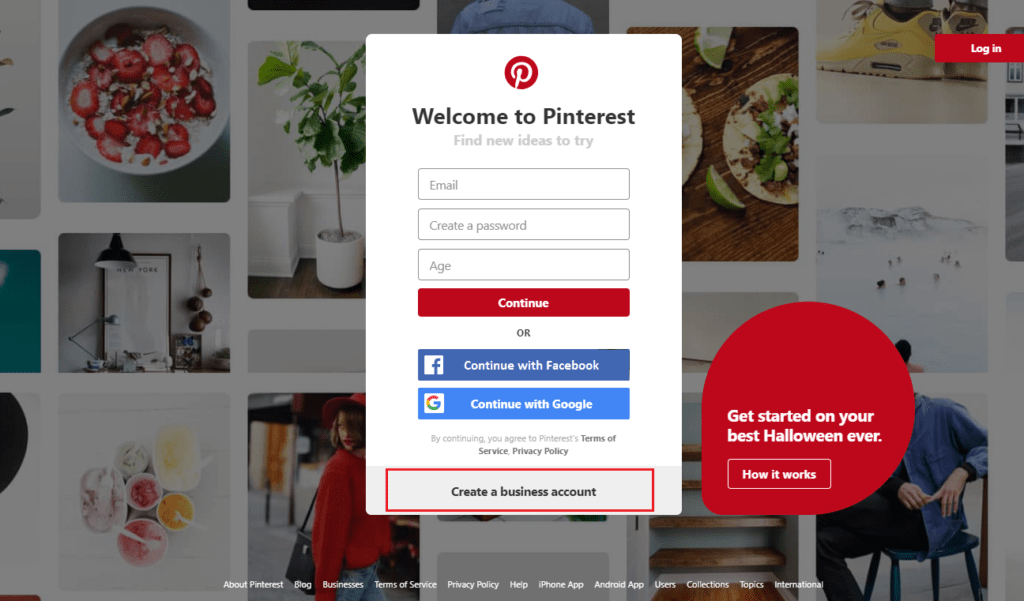 Enter your email address, a new password, business name, and business type to create a new account: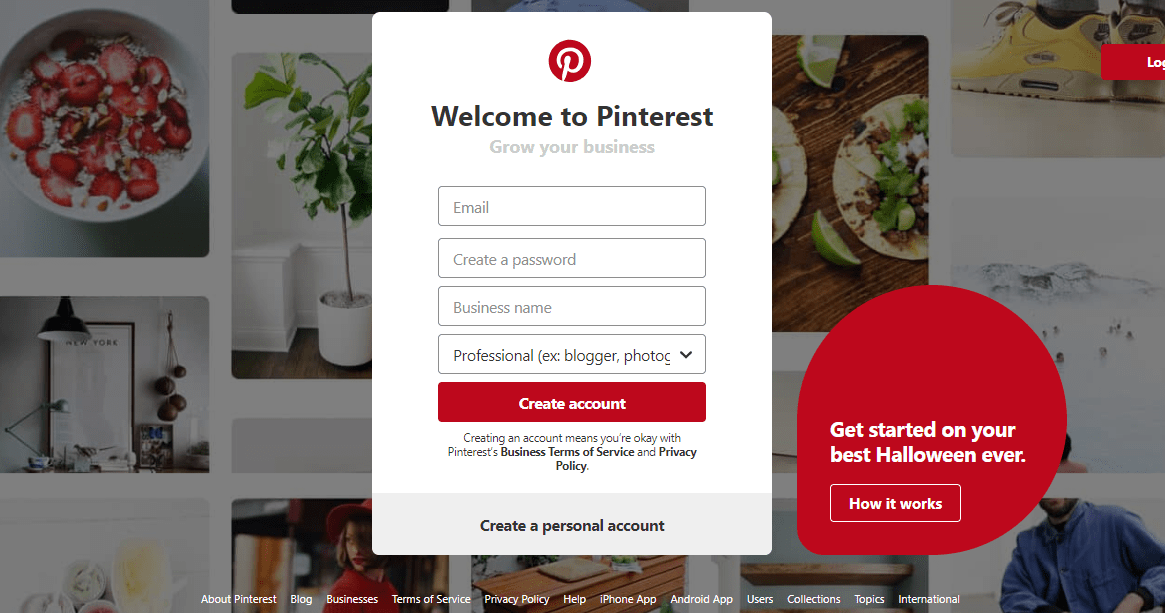 Complete your business profile then agree to the terms of service.
The last step is to create your first board. To make it easier for users to find your content, such as blogs, special offers, new products, and more — create a business board first and then add relevant Pins. For example, for blog content you've posted on your first board, you can then create featured images for each blog post and include a summary of the post in the description to pique user interest.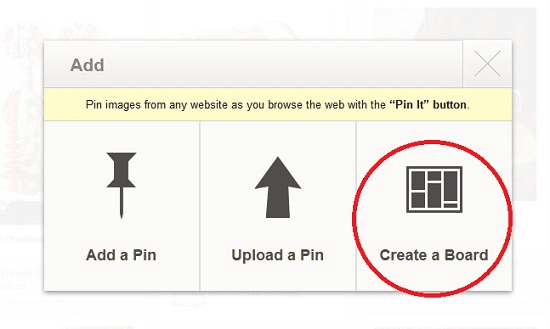 [
Source
]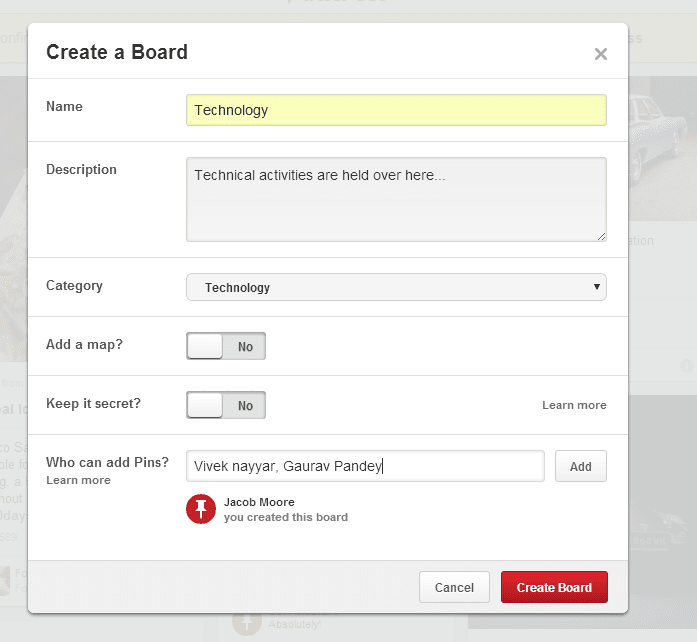 [
Source
]
How to create Pinterest ads and campaigns
Now you're ready to create ads using your business account. Pinterest's advertising process is similar to Facebook's and Instagram's in that you can create campaigns, ad groups, set your bid amount, and track the results.
Before we get into the details of creating your first ad, let's look at how campaigns are structured.
There are three levels:
Campaign. This is where you set the objective of your campaign.
Ad group. This is where you decide on your budget, where to display your ads, your target audience, and how long the ads will run. Also, depending on the objective, you can have more than one ad group in each campaign. For example, if you're a clothing retailer, your campaign can focus on driving traffic to your website while each ad group is dedicated to specific products — one group for women's dresses and another for men's suits.
Promoted Pins. This is the end result of your campaign and what users see.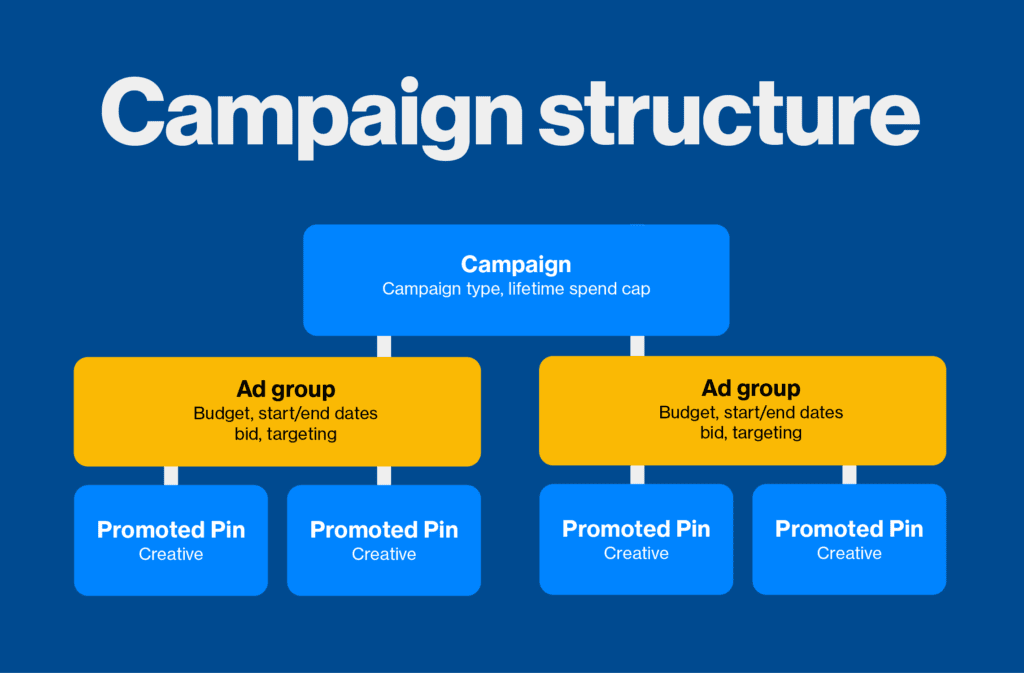 [
Source
]
Getting Started
To create your first ad, head over to your Ads Manager dashboard to get started — Under "Ads" click "Overview."
You'll be able to track all of your campaigns from here. Click "Create ad" to get started.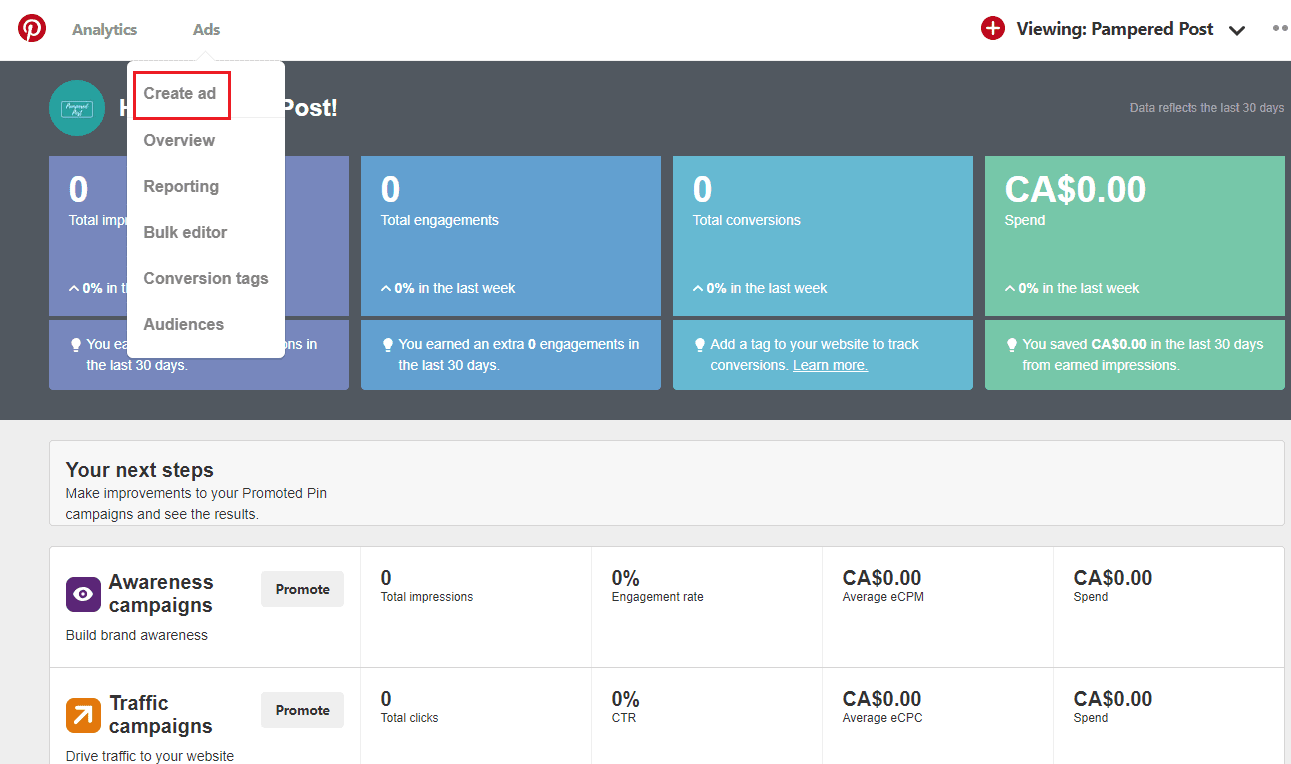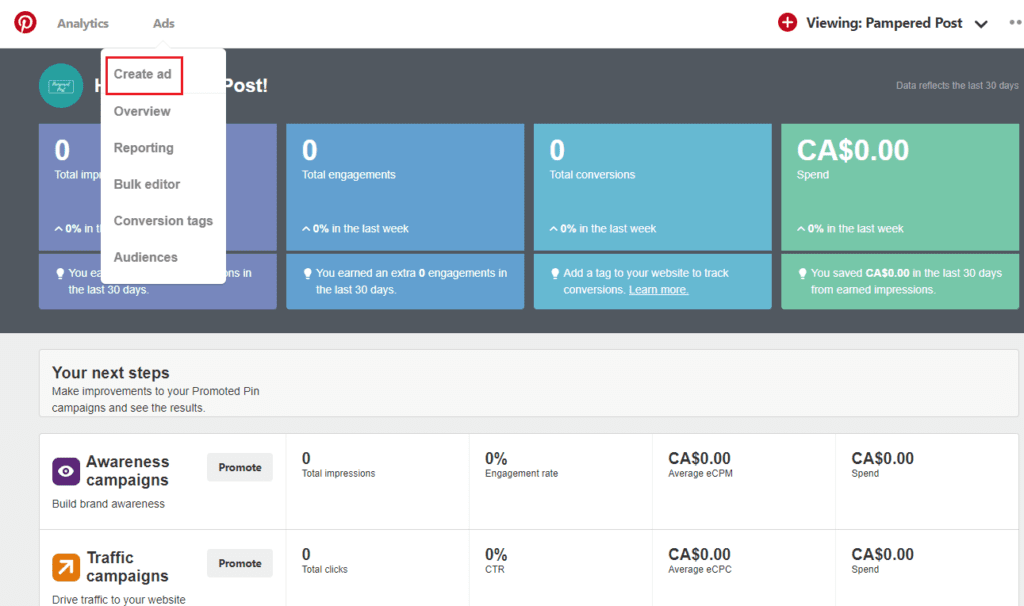 Next, choose your campaign objective based on the outcome you want your ads to have:


There are six objectives to choose from depending on whether you want to build awareness for your brand and products or drive consideration so that people take specific action — like visit your site or download your app:
Brand awareness
Video views
Traffic
App install
Conversions
Shopping catalogs
How to Decide Which Objective to Choose
When you're planning out your campaigns, it's important to start them off on the right foot by choosing the right objective.
The objectives aren't just you simply deciding what you want to happen in your campaigns and treating it like a vision board that will suddenly manifest these results. It's a strategic decision that allows you to optimize your campaigns for specific actions, increasing the likelihood that the users who see it will take action. It also determines how you're participating in the auction, what ad formats are available to you, and what specific results you're paying for.
Here are all of the campaign objectives you can currently choose from and what they entail:
Brand awareness. The goal is to help people discover your brand, products, and services. You want to introduce people to what you have to offer, and reach is going to be a priority. You pay for every 1,000 impressions of your pin, so you can bid on a maximum CPM.
Video Views. You try to get as many high-quality views on your video ad as possible, boosting watch times and viewer completion rates. Your ad will be shown to users most likely to watch the video all the way through. You bid on the number of people who view your video for two seconds or more (CPV).
Traffic. Here, you're trying to optimize the number of clicks to your site. You'll pay per click, so you can bid on a maximum CPC.
App Installs. The focus is on driving visits to your app's download page or to drive installs of your mobile app. You'll pay per impressions (CPM). This objective is a little different, though, because your CPM bid will "dynamically adjust" in order to show your ad to people most likely to download it, getting you to a target cost per install.
Conversions. Here, you're optimizing for specific on-site actions like checkouts, sign ads, or add to carts on your site. You pay per action, or CPA, when people click through the pin and see your site. Note that to use this objective, you must have already earned 50 conversions from one of your traffic or brand awareness campaigns in the past 7 days. This can be frustrating, but it's a good option once you scale your campaigns.
Shopping catalogs. The goal here is to help people discover your products while they're searching Pinterest for information. You connect an online product catalog to Pinterest and promote product groups to relevant users, a little like Facebook's Dynamic Ads. For the bidding, you can either set a maximum CPC or chose to use the CPM bid structure based on a target CPA.
There's a slight caveat to this one tho; you must have already claimed your site's domain to be able to use this objective, and you need to set up a data source to do this.
When you're choosing an objective, it can be useful to run split tests.
Even if you know that you want traffic to your site or conversions, for example, some brands may find that they end up getting similar clicks but for lower overall costs on a brand awareness campaign than a traffic campaign. This can vary based on industry and audience.
Then, choose whether you're creating a new campaign or updating an existing one.
Setting Your Budget & Ad Group
Once you've done that, set your budget limits, and decide whether this campaign is paused or ready to launch live: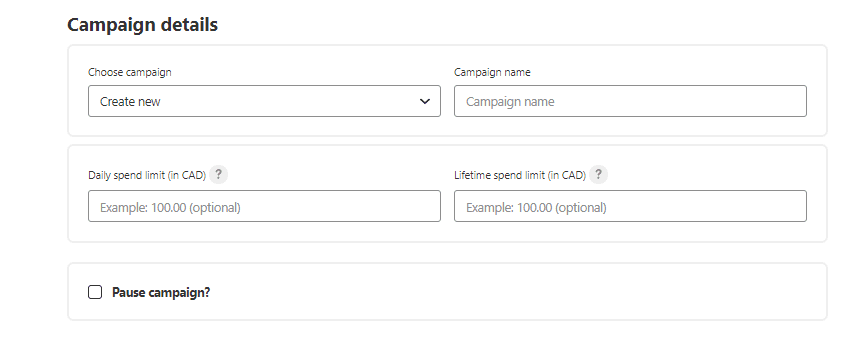 The next step is to specify the ad group details.
Start by choosing an existing ad group or create a new one:

Next, select your audience.
Depending on what you're advertising, this is where you can get specific to ensure only the most relevant leads see your ads:

For your first ad, you'll need to create an audience first: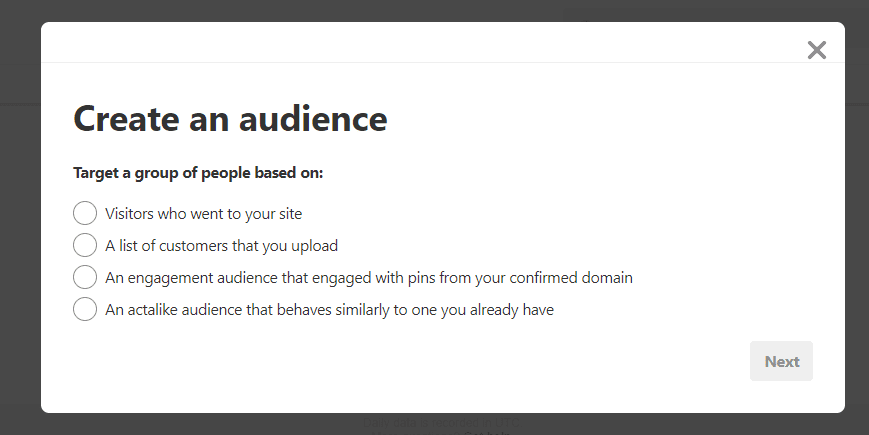 Once you've created and chosen an audience, specify who you want the ads to target.
Setting Up Additional Targeting
Remember, you can set up multiple ad groups, so be as specific as possible to ensure the right people see your ads. Segmented ad campaigns will almost always yield higher results, even if it means more campaign management overall.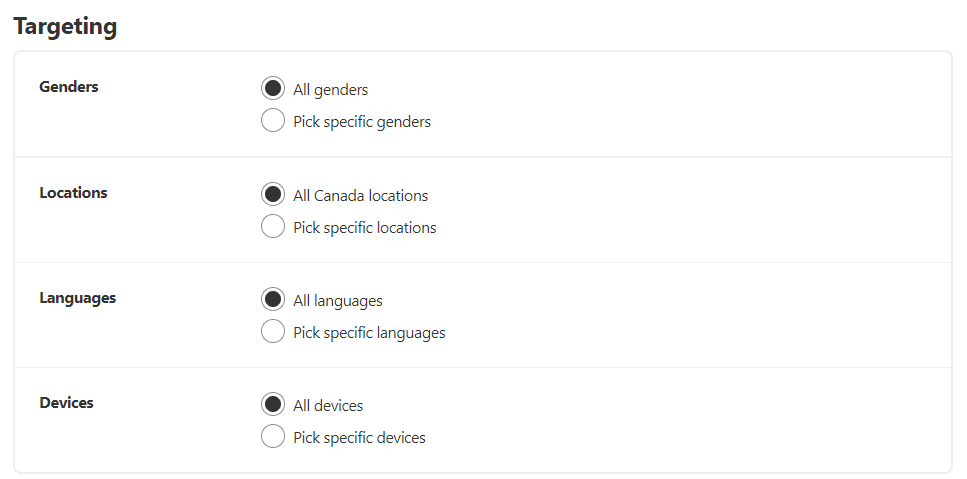 Then decide on ad placement.
You can set your ad to appear when users browse their feed or explore similar Pins.
You can show your ad in search results when users search for specific terms (it's almost always a good choice to enable this considering how pinners use the platform to make buying decisions).
Or you can show your ads in both places to ensure as much exposure as possible for your brand and products.

To make your ads even more targeted, input the interests and keywords associated with your brand and product: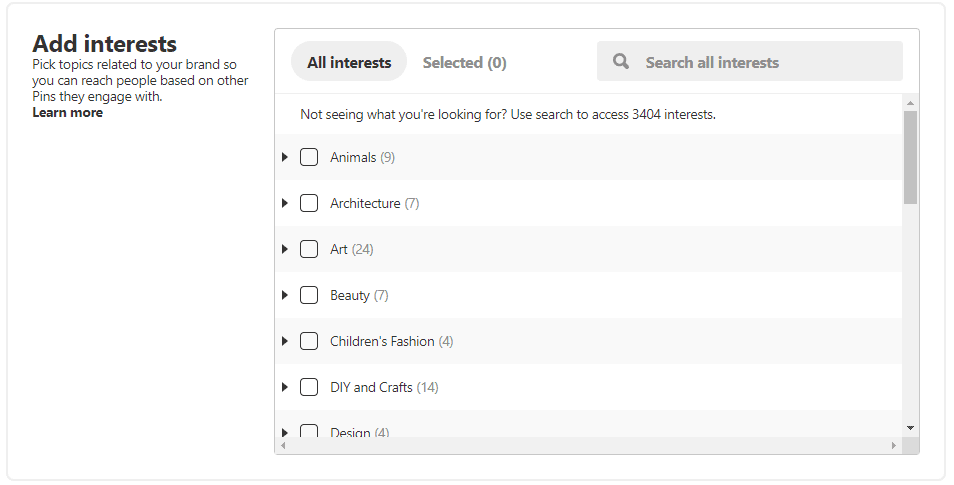 Keywords are going to be incredibly important, and Pinterest isn't quite like Google where it's recommended that you keep super tight keyword groups.
Instead, you'll want to come up with creative keywords guided by Pinterest's suggestions that could help you appear in even mostly relevant searches.
If you're selling formal dresses, make sure that you're targeting "prom dress" and "evening gown" and "formal dress" and everything else you can think of. Even if the plan is to sell them as bridesmaid dresses, covering your basis can lead to more visibility, more relevant placements, and more sales.
Set Your Budget
Now, set your bid amount depending on your budget.
The "Ad group budget" field is a drop-down menu that lets you choose between setting a daily budget or a lifetime budget.
A daily budget is the maximum amount you'd like to spend for the ad group and a lifetime budget indicates the total budget you want to spend for as long as the ad runs.

You can also add in a maximum bid, regardless of whether you're paying for impressions or installs or clicks or actions.
This tells Pinterest that you're willing to pay up to this amount, and while they won't charge you the full bid every time, this will ensure that you're not spending more than you can afford to, keeping your campaigns from leaving the land of profitability.
You can learn more about how you should calculate your maximum bids here.
Pro Tip:
As you enter more details, the "Potential audience size" field at the side of the screen will auto-adjust to show you how many monthly users your ad will potentially reach.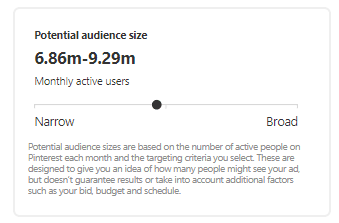 You want your audience to be large enough that there won't be too much overlap in frequency and there's plenty of potential to reach large portions of your target audience.
Choose Your Pins to Add to Your Campaign
The final step in creating your campaign and ad groups is to select the Pins that you want to appear to your ad group.
These saved Pins become the Promoted Pins your audience sees.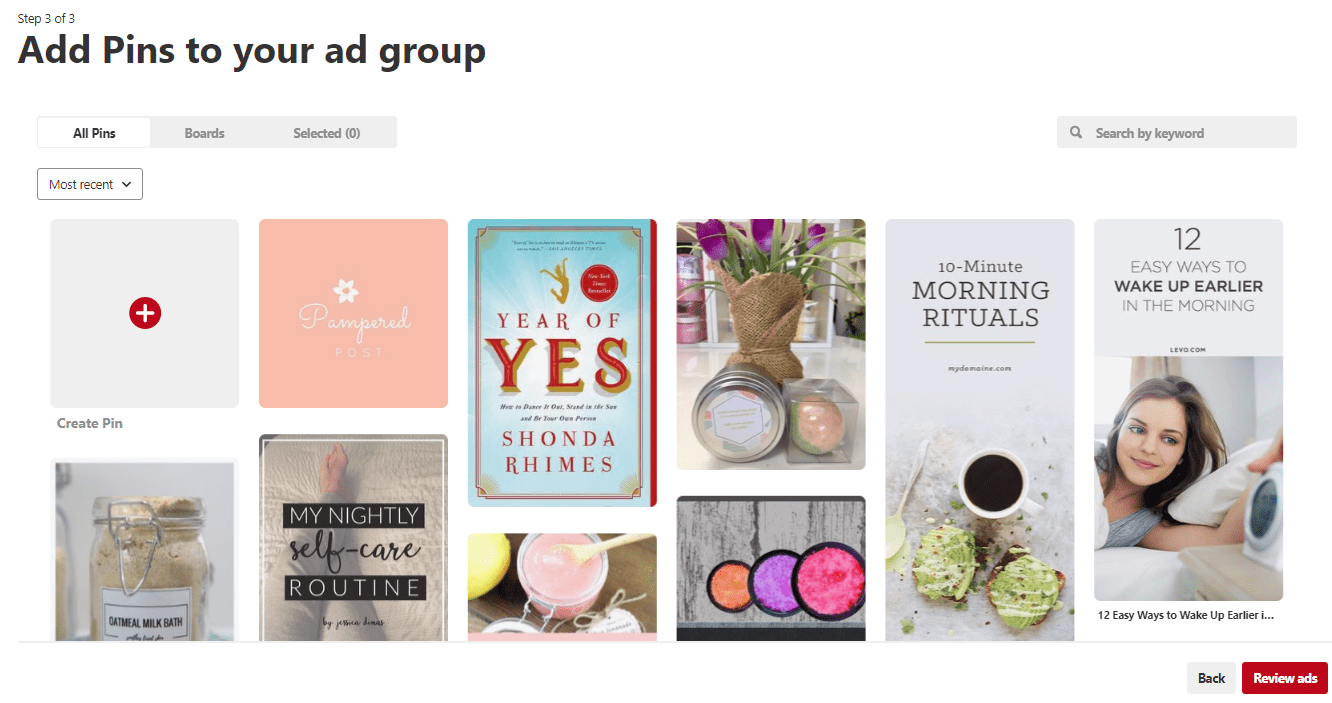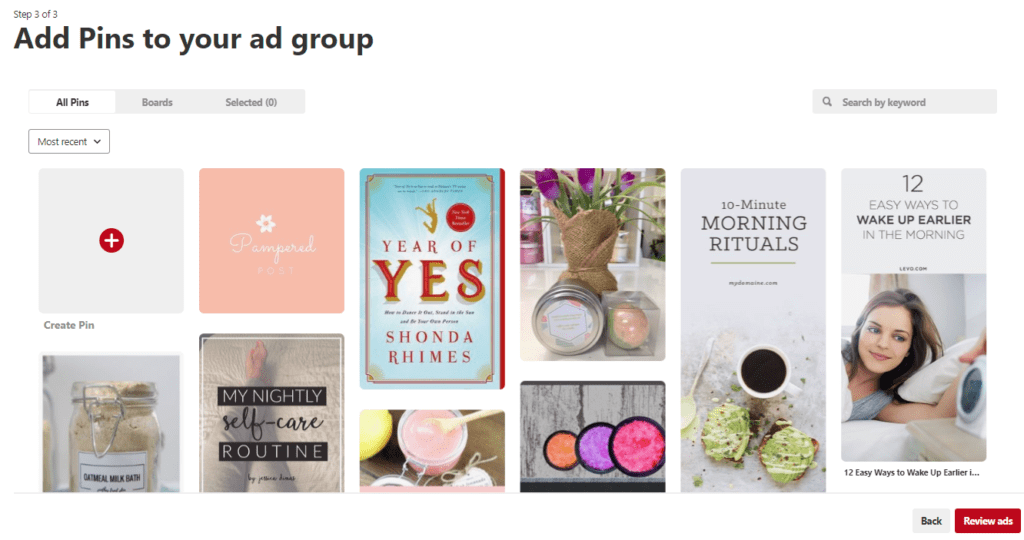 Pinterest outlines criteria that your Promoted Pins must follow in order to guarantee that they're seen:
Save Pins to your own profile
Don't use Pins that are saved to secret boards
Include destination URLs within each Pin
Don't use link shorteners in the destination URL or description
Don't include third-party videos or GIFs
Follow Pinterest's Ad Standards
The last step of Pinterest ad creation is to get your ad reviewed.
The review takes no more than 24 hours, so plan your campaign accordingly so that you're not waiting for review during the time your ad should be running.
A Guide to Pinterest Ad Types and Formats
Promoted Pins are just one example of the types of ads you can run on Pinterest.
There are also:
Let's give them a look.
Promoted App Pins
These look like standard Promoted Pins, but the difference is users can download apps directly from Google Play and the App Store.

These Pinterest ads include a download button that links users directly to Google Play or the App Store for users to learn more about the product before downloading it.
When you create a campaign for a Promoted App Pin, select, "App Install" as your campaign objective.

The benefit of Promoted App Pins is the added exposure your app gets with a different audience. Eighty percent of Pinterest traffic is from mobile devices, which improves the chances of users downloading apps they encounter while browsing.Promoted videos
These Pins come in the form of short videos — 30 to 90 seconds — that users can watch, that showcase your brand and products.
[
Source
]
You can use either standard width videos that are the same size as Pins or use max width Pins that are the size of two Pins. Both video types play automatically when at least half of the ad is visible.
This ad type is also a great way to introduce a new product. Video gets people to stop scrolling and watch, which improves your chances of someone buying something.
A Guide to Using Images on Pinterest
Pinterest is a visual search tool, which means when users search for content, the results appear as images vs. text. This is helpful because users can find exactly what they're looking for with less effort.
Search works in two ways on Pinterest. First, users can type in what they're looking for in the Pinterest search bar:
Or use Google:

When the resulting Pins appear, users can scroll through and click on Pins until they find exactly what they're looking for.
The other way to search is with the "Shop the Look Pins" feature — we'll explore this more in a minute. When users click on a Pin, there's a search icon on the bottom right corner of the Pin: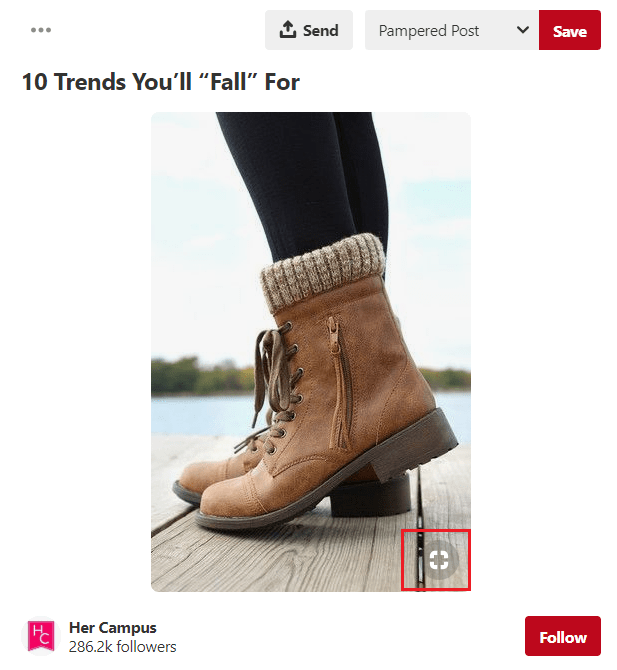 When users click on this, a section of the Pin lights up for users to reposition anywhere on the Pin to find more similar images.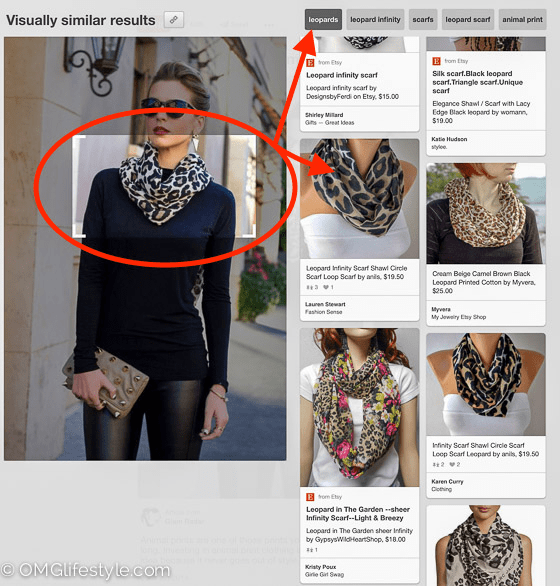 [
Source
]
Strong, high-quality images are a vital part of Pinterest, so here are a few tips to keep in mind as you choose which ones to use. There's an increasing amount of visual content on Pinterest and the only way users will engage with yours is if your images stand out.
Here's what you need to know:
Use bright, warm colors like red, orange, and brown to increase the number of clicks your Pins get. Also, images with 50% color saturation — the color intensity of the image — get 10X more repins compared to images with more saturation.
Use images that are light and airy. Images with medium-light get 20X more repins than darker images.
Shoot close-ups of your product. It's easier for users to see zoomed-in images because too much whitespace makes images blend in with other images around them.
Use the Rule of Thirds. When you divide your images into thirds across the vertical and horizontal axis, make sure that most of the image is either in the top or bottom third of the frame or to the right or the left. Images with this composition are more appealing to the eye than images that sit squarely in the middle.
Leave some room for text. Your Pin will stand out more and get more repins if there's some text included. Instead of layering text over your image, crop and shift the image so there's room for the text and the image is visible.
Now you have your ad and images that stand out and make it clear to users what you offer and what they have to do next.
How to Use Text to Get More Clicks 
We know that the images are the big focus of promoted pins. You need the image (or the video!) to capture users' attention because this is a visual platform.
Don't make the mistake of thinking that text doesn't matter.
When it comes to Promoted Pins, the text needs to support the pin itself and explain why users should click, just like the text on your video ads on Facebook. Sure, the video should ideally stand for itself, but the text gives you a chance to convince users to take action.
Here are a few ways you can incorporate text into your Promoted Pin campaigns to increase clicks and conversions:
Use text overlay to add context.
There's no 20% rule here like on Facebook, so while you still want the image or video to stand out on its own, using supplemental on-image text is a good choice. Any text overlay tools can help you do this, and it gives you a chance to explain exactly what you can offer in a branded, visually appealing way. Speaking from experience, people are more likely to notice text on an image than the text in the caption at a first glance.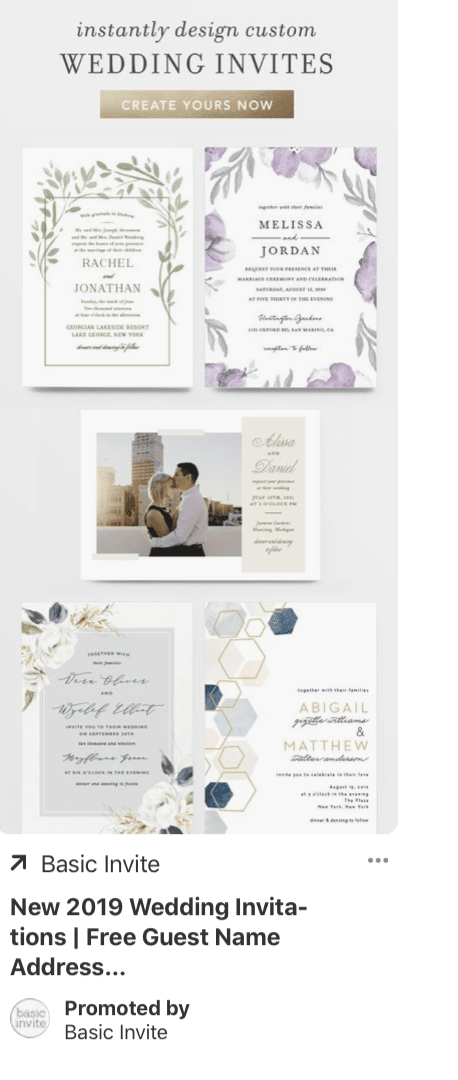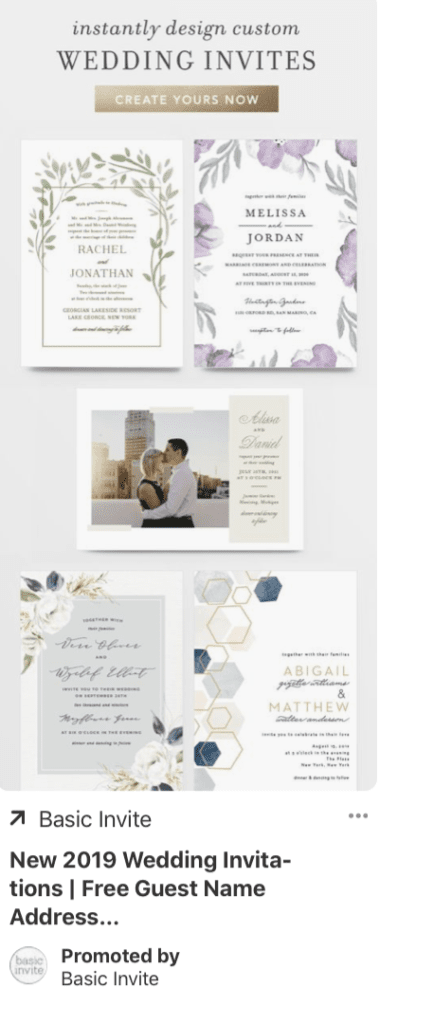 Consider using text overlay to add a CTA button to the image. 
It goes without saying that if users click anywhere on the image, the pin will take them to your desired destination.
That being said, we know that CTA buttons are powerful tools and just having them readily visible can encourage users to take action.
You can see this in the example below, where that simple "Buy Now" CTA tells users what they can get when they click on the pin and why they should.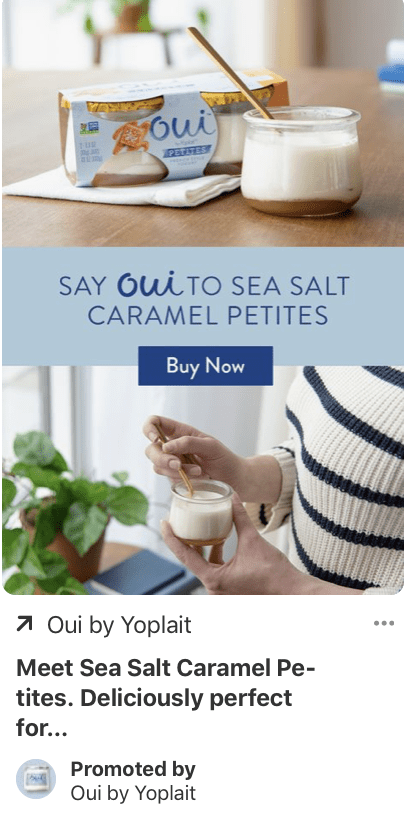 Incorporate keywords into your pin's caption.
This is a good best practice for organic Pinterest marketing because it can help you show up in more searches, but it's also good for PPC campaigns, too.
When users see the keyword that they searched for in your pin's caption, it signals that their search intent aligns with what you have to offer.
This can help you stand out and get the clicks quickly.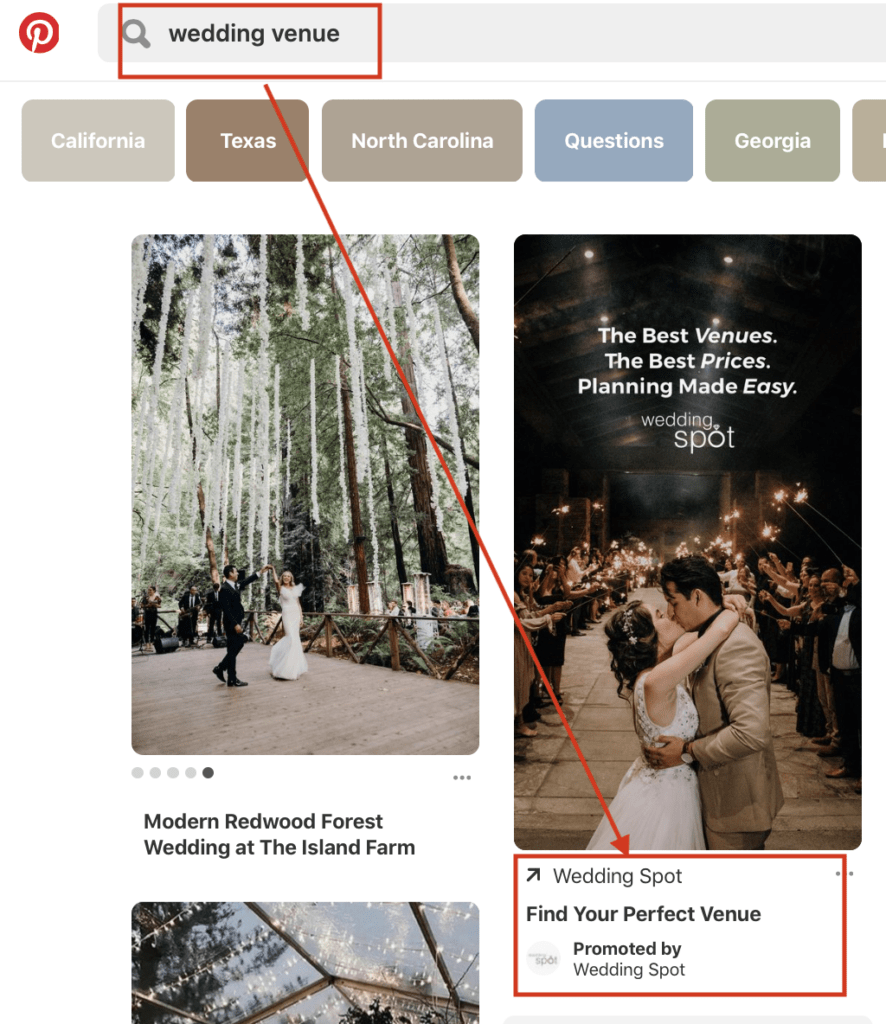 Pinterest analytics: learning the basics
Now it's time to track how your ads perform.
To do this, head over to your Ads Manager dashboard and click on the Analytics link: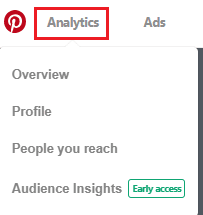 From the dashboard, you can see all of the campaigns you've run, how many times the ads were seen, saved, clicked on, and liked.
[
Source
]
And if you want to see even more details about how your Pins performed, click "More >" on each of the graphs at the top of the dashboard. For example, if you click on the "People you reach" table, you'll see how many people saw your ads and how many people clicked on them over the past 7, 14, and 30 days.
You can even track engagement over time to find out where your audience is coming from and what types of content they're most likely to engage with. Use this data to improve your ads so you get better engagement and conversion rates.
How to Improve Pinterest Ad Performance with Buyable Pins
In the not-too-distant past, users were enjoying the fact that visual search made it easy for them to find the products they were looking for. However, the customer experience was disjointed because once a user found a product they liked, they had to leave the platform to buy it.
Pinterest responded by introducing Buyable Pins — also known as Shop the Look Pins. These are Pins that let users buy directly from a pin, without ever leaving Pinterest.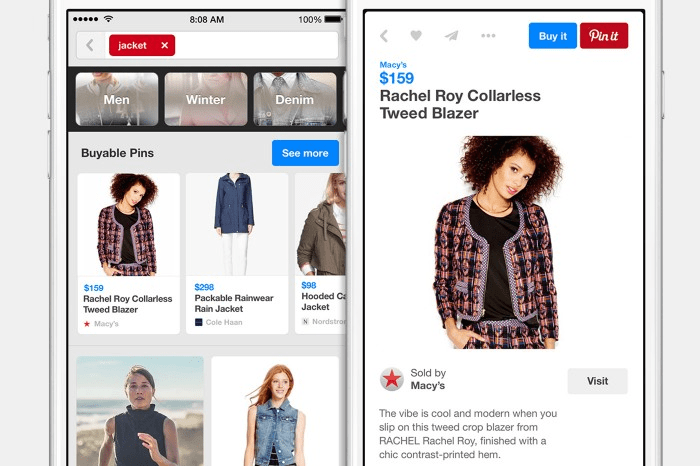 [
Source
]
Let's take a closer look at exactly what Buyable Pins are, how to use them and how they impact your Pinterest ads.
What Are Pinterest's Buyable Pins?
Pinterest's Buyable Pins are a simple, fast, and secure way for users to make purchases without ever leaving Pinterest.
Buyable Pins have a blue "Buy It" tag that shows up right next to the red "Save" button on Pins. Users can see the price of the item and proceed to checkout when they decide to buy — all while in Pinterest.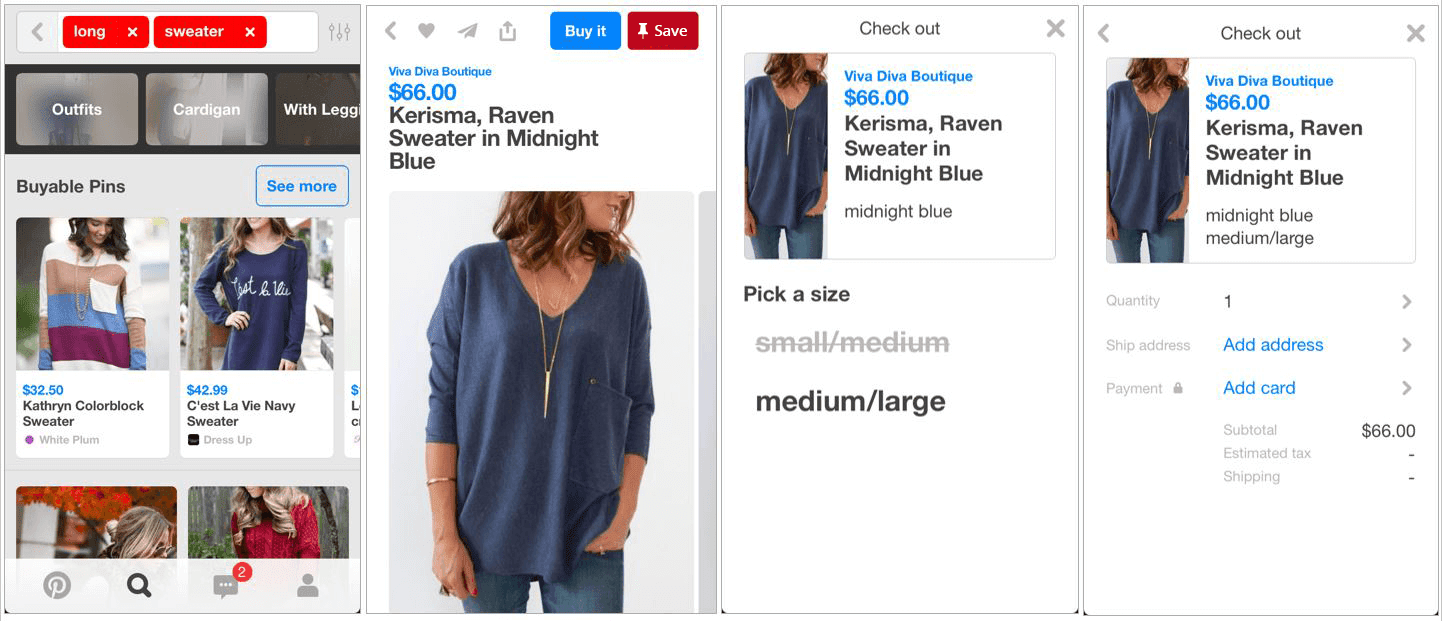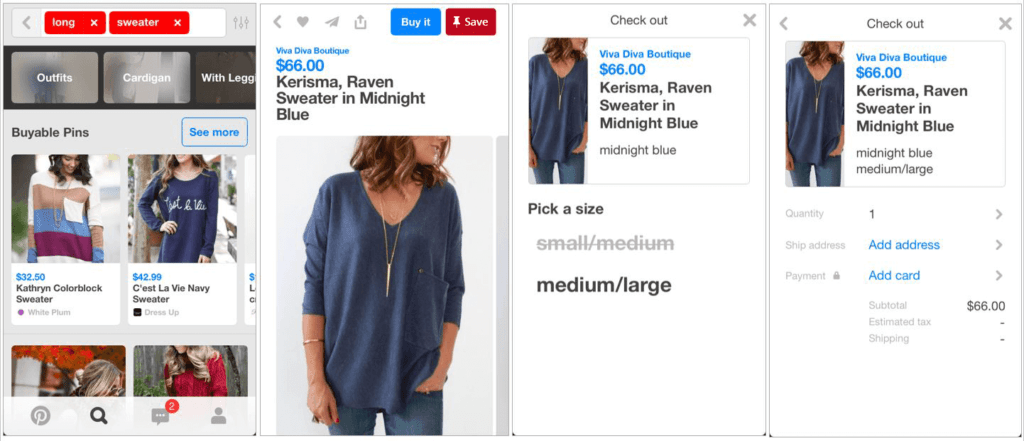 [Source]
If you've ever wanted a way to boost impulse buys, Buyable Pins are the answer. As users browse through Pinterest, creating boards and getting ideas, they'll be able to see your product, the price, and purchase it all with a few quick taps or clicks on their mobile device. They don't even have to re-enter their payment information each time they buy, making the process go quickly—before they get the chance to talk themselves out of it.
With the assistance of Shopify, BigCommerce, and Salesforce Commerce Cloud, Buyable Pins on Pinterest have become commonplace. Of the 175 billion Pins on the platform, more retailers are choosing to offer Buyable Pins.
How Pinterest is keeping buyers' information secure
Pinterest offers users a simple, fast, and secure checkout designed specifically for mobile users.
Normally, checkouts and purchases on mobile can be cumbersome and exhausting tasks, so Pinterest has changed the experience.
Pinterest doesn't store buyers' financial information — a secure checkout sends the payment information directly to the vendor.
Apple Pay is one option for users to make purchases securely on Buyable Pins, and Braintree is working behind the scenes to help with other methods of secure payment.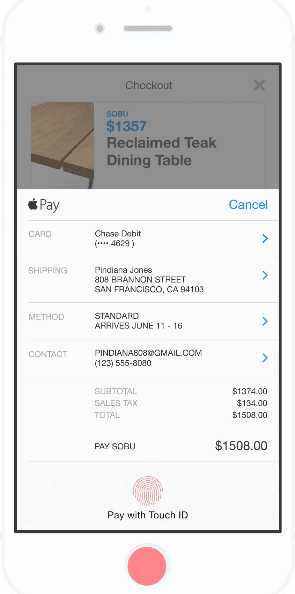 Why Pinterest's Buyable Pins are a game-changer
Pinterest, at its very core, is a fascinating — and addictive — blend of wishlist creation, window shopping, and recipe hunting. When it comes to creating boards with the goal to sell products, Buyable Pin acts as a powerful tool. Just imagine the revenue this could bring in at Christmastime alone, when people are desperately hunting for that last-minute gift.
Flyaway Bluejay, an e-commerce store specializing in artisan products, used Buyable Pins to target Pinterest users who weren't familiar with the brand.
The results of this approach showed that Buyable Pins had a direct impact on the increase in sales and leads. Specifically: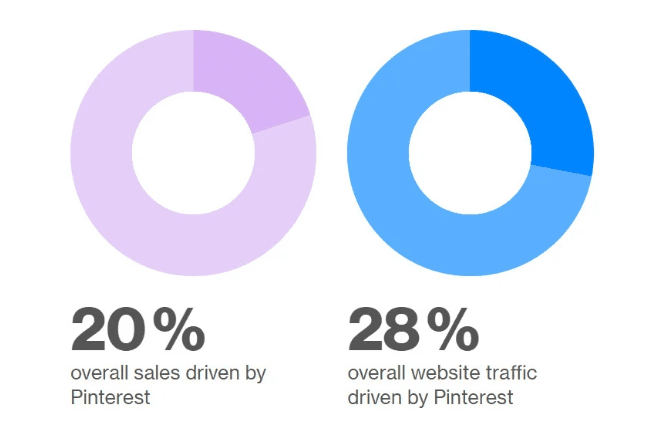 [
Source
]
What's great about this experiment — other than allowing users to buy directly on Pinterest — is users can continue to shop on Pinterest after they buy something. There's less risk of them leaving the platform and never coming back vs. redirecting them to an external site to complete their purchase.
The benefits for marketers are huge. And here's one of the biggest and best parts of Buyable Pins: Pinterest doesn't take a cut of your sales. There's no commission. You keep every dollar you make on the sales you get from Buyable Pins. Though that has the potential to change down the line if Buyable Pins see a lot of success, for now marketers are using them with no drawbacks.
Changes That Will Improve Your Pinterest Ad Performance
As Pinterest continues to grow, the features it offers grows as well. Let's look at some of the recent updates that make advertising on Pinterest easier for you. When used right, the following updates help you improve your ad performance (i.e., more clicks, Pins, purchases, etc.):
Product Pins
Shoppable Pins now have up-to-date pricing and stock information. So when users click on the red search tag on one of your Pins, they can see the cost and how many items are in stock.
Showing the most information in Pins creates a sense of urgency so users are more likely to buy now vs. saying they'll come back later only to forget to.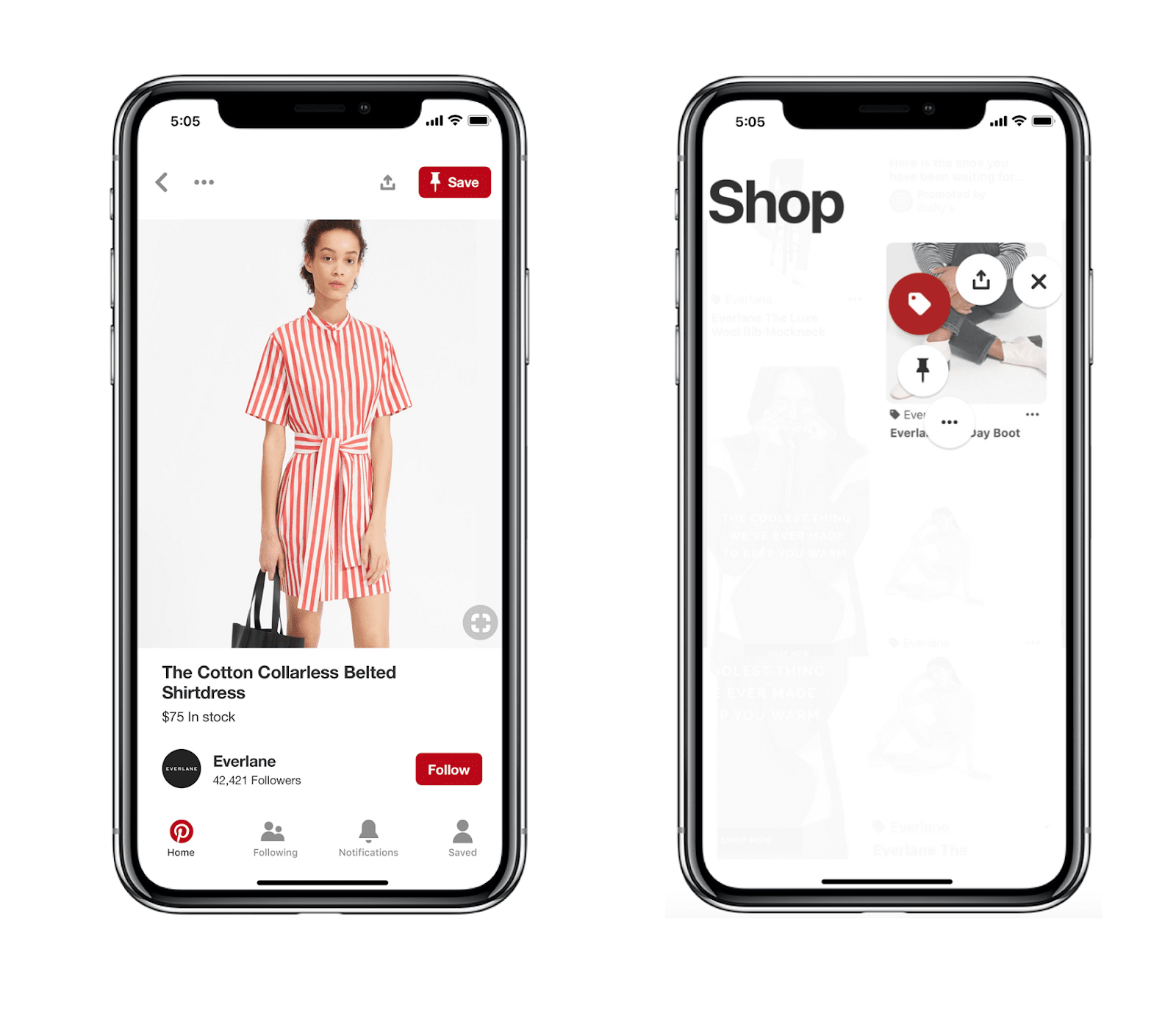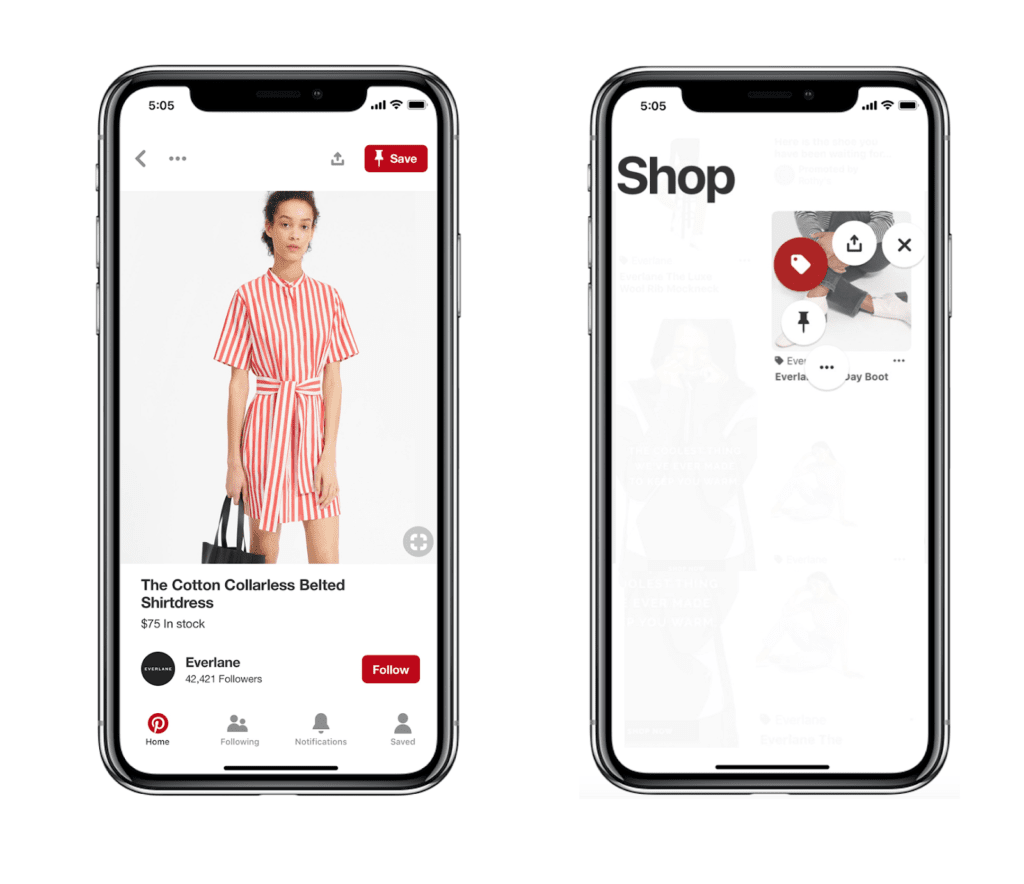 [Source]
Product Pins are slowly replacing Buyable Pins so users can make their purchases on retailer sites. Pinterest has been running experiments on this new feature and has found that "clicks on products to retail sites have increased by 40%."
Shopping Recommendations
Style and Home Pins now also include a product recommendations section underneath each Pin users find: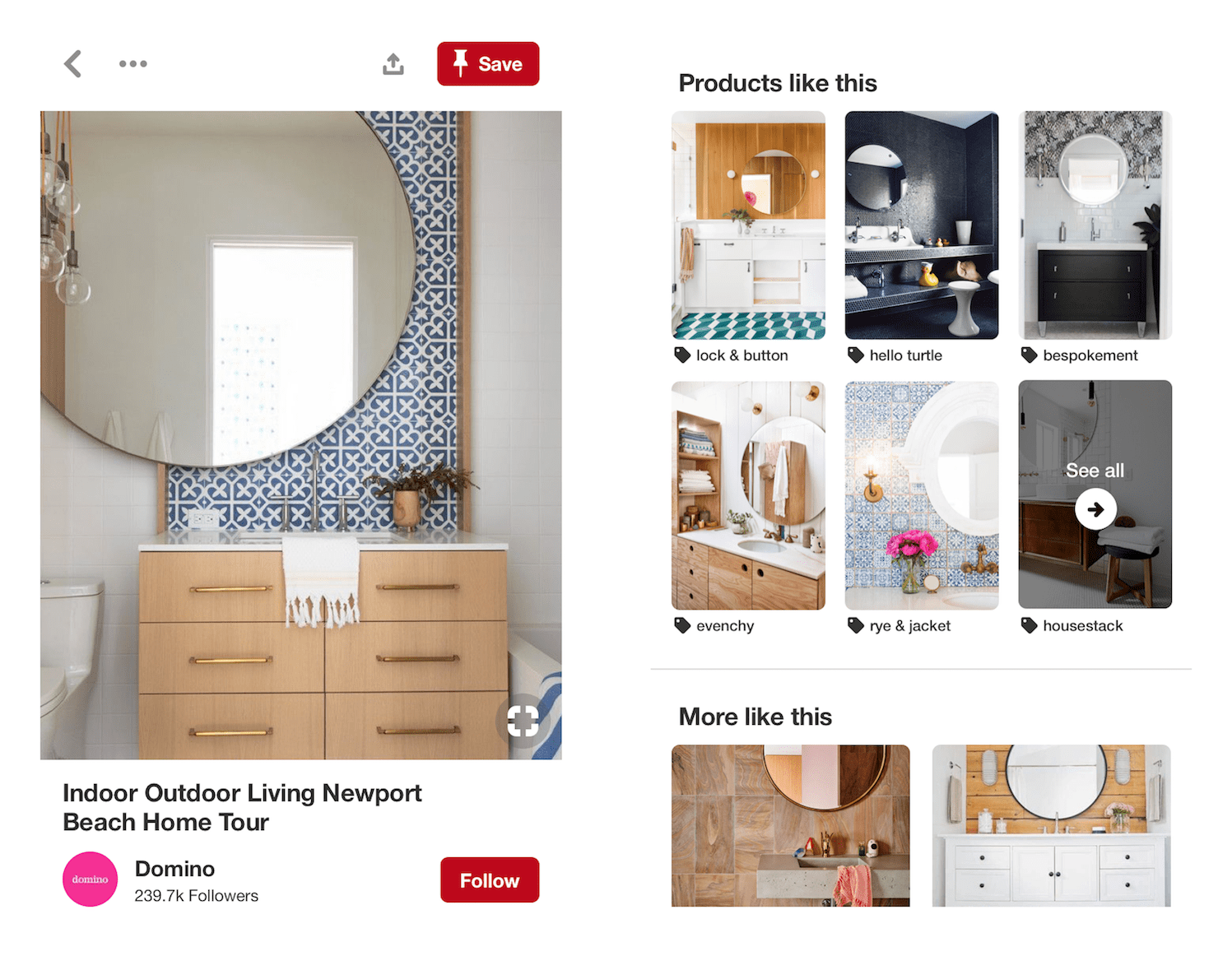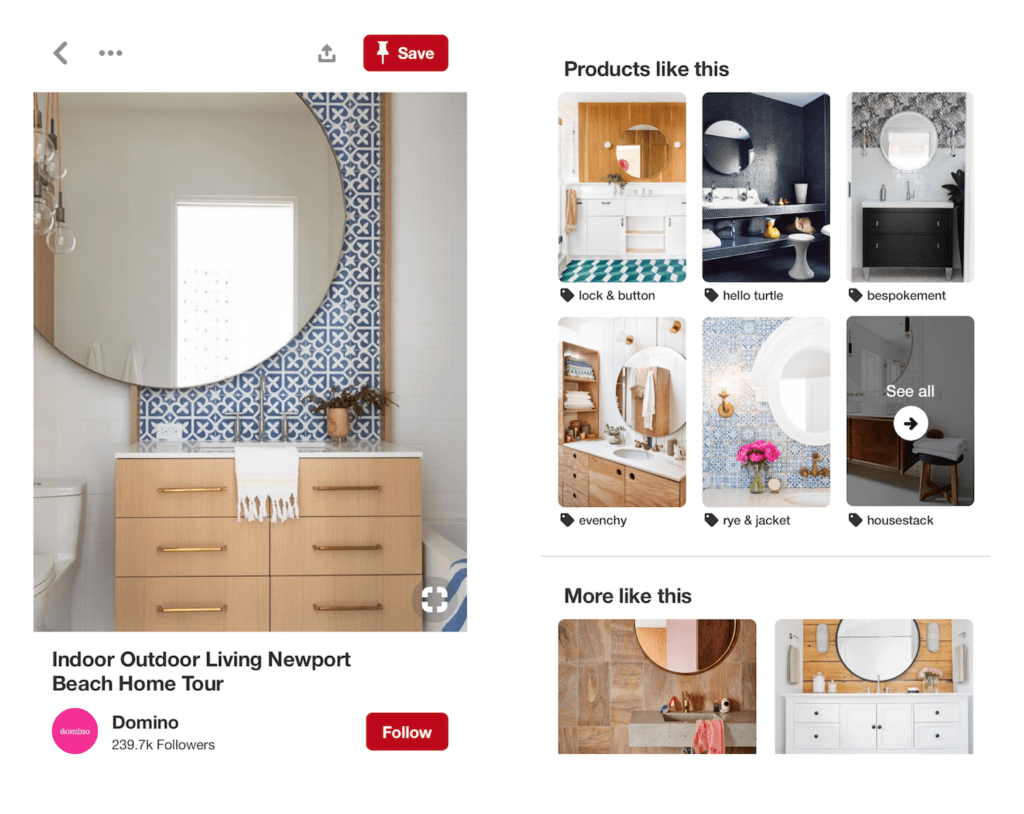 [
Source
]
When users click within this feed they'll find more shoppable Pins related to their original search. Make sure your ads show up here by using high-quality images that appeal to your audience — first, understand what product features they're searching for and use images that showcase these details — and incorporate keywords your audience searches for.
Pause Campaign feature
Now you're able to create ads without having to launch them immediately. This helps you plan and prepare for campaigns in advance so that you're not always scrambling to create ads on the go.
You can create campaigns and ad groups in advance and submit them for review once you're ready.
Placement options
Now you have the flexibility to choose where to promote your ads. You know your audience best, where they spend their time in Pinterest and how they search within it.
Choose whether you show your Pinterest ads while users browse the site and while they search. Based on the type of audience you choose, your placement gives you a better chance of reaching the right people.
Analytics
Upgrades to the analytics dashboard mean you can:
Monitor how well your ads perform and make adjustments to future ads
Identify and bring awareness to your best-performing pins
Use your number of monthly views to see how much influence you have
Let's look at examples of how businesses use Pinterest ads to grow their business.
How B2B Businesses Use Pinterest Ads
Even though it's not technically social media, Pinterest is quickly becoming the go-to place for users to shop compared to platforms like Facebook, Instagram, and Twitter.
In a survey done by Cowen and Company, the second most popular activity on Pinterest is shopping — with browsing Pins topping it as the most popular Pinterest activity. No other platforms come close to the dominance Pinterest has in the retail space.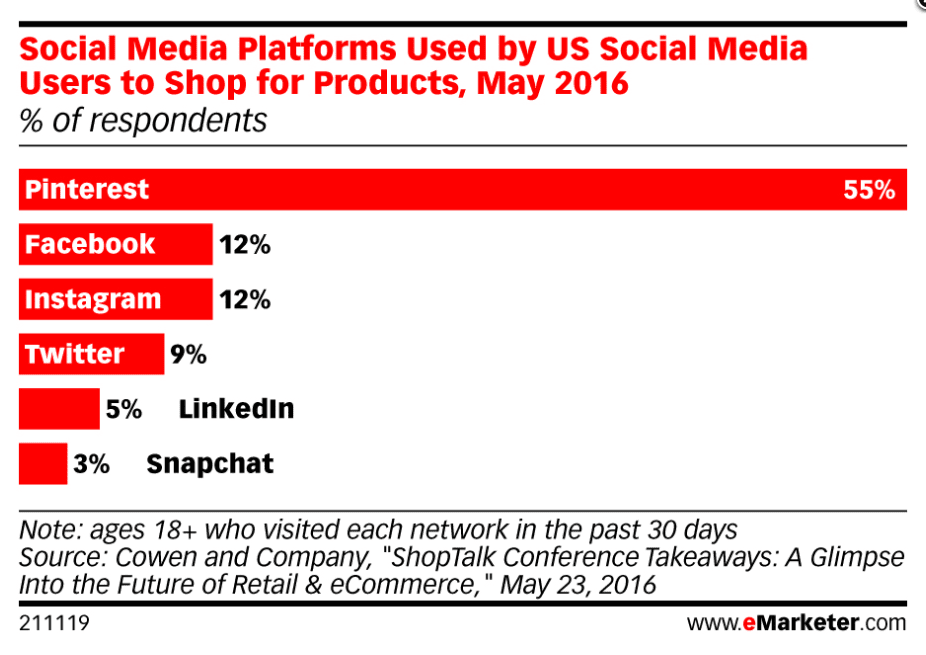 [Source]
Although Pinterest doesn't have the same reach as other platforms, 93% of users use Pinterest to plan what they buy. Plus, 63% of millennial users use Pinterest to discover new brands and products to try.
But what if you're a B2B firm? The benefits to end-use customers is clear but what about using Pinterest ads for enterprise customers? The good news is there are lots of ways for large B2B brands to use Pinterest to connect with their audiences.
Case Study: VISA – Promoted Video ads
Currently, only 1 in 4 B2B brands use Pinterest. This offers large brands a tremendous opportunity to grow their reach because there isn't much competition.
VISA is an example of a B2B company using Pinterest ads. In this particular ad, users can see how easy it is to book flights with VISA:
[
Source
]
Companies looking for easy ways to book trips for their employees will find the ad by scrolling through travel content on Pinterest. This particular ad is only 12 seconds long, but it's enough to show viewers how VISA solves a pain point and does so quickly.
Before you create your ad campaign, use your analytics dashboard to see which of your Pins have the most repins and shares. How your Pins perform on their own, without any kind of boost, tells you how well they'll do in front of a large audience.
Turn these Pins into Promoted Video Pinterest ads by creating short video explainers.
Advertising tips for B2B companies
Create boards your audience will love.
Pinterest boards group together content with the same theme. For example, DAVIDsTEA — which has corporate partnerships — categorizes its boards based on seasonal teas, cooking with tea, tea-infused cocktails, and more. DAVIDsTEA's boards are carefully pieced together to include the types of information their audience will enjoy. In addition to creating awesome boards, be sure to link all the content in your boards to your website or a landing page — within reason, of course — so you're reiterating your messaging, as well as your organization.


Pinterest is all about the visuals. From infographics, to charts, to advice guides, your brand should increase your visual content in order to reach your audience. General Electric (GE) is a great example of a company that uses Pinterest to show off their products. GE has a board called "Badass Machines," which illustrates different technologies that are produced by the company. Examples include wind machines, aviation engines, and locomotives. While any company can post pictures of their products, GE does things a little differently: They post visually stunning images that are either filtered through an editing program or taken at an interesting angle. The combination of the two amps up their Pinterest page, while promoting their brand in a cool new way. This is something any B2B organization can do, no matter the product or service.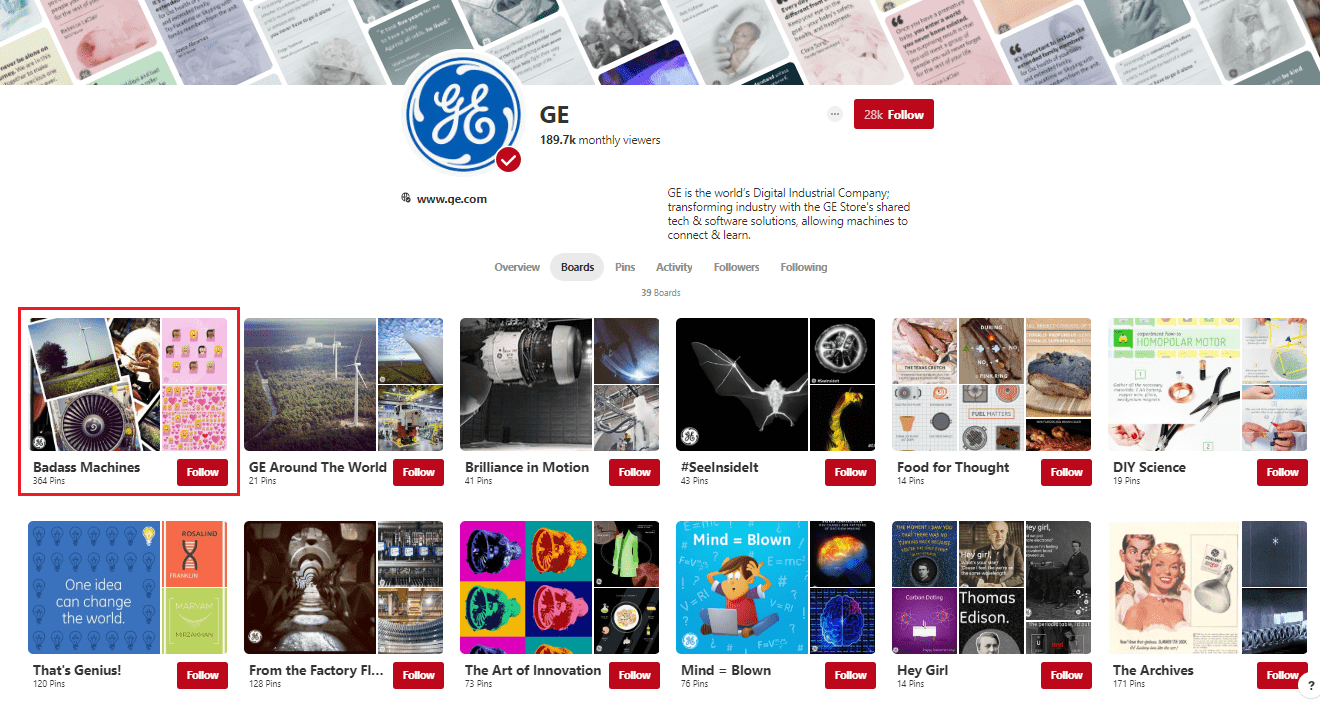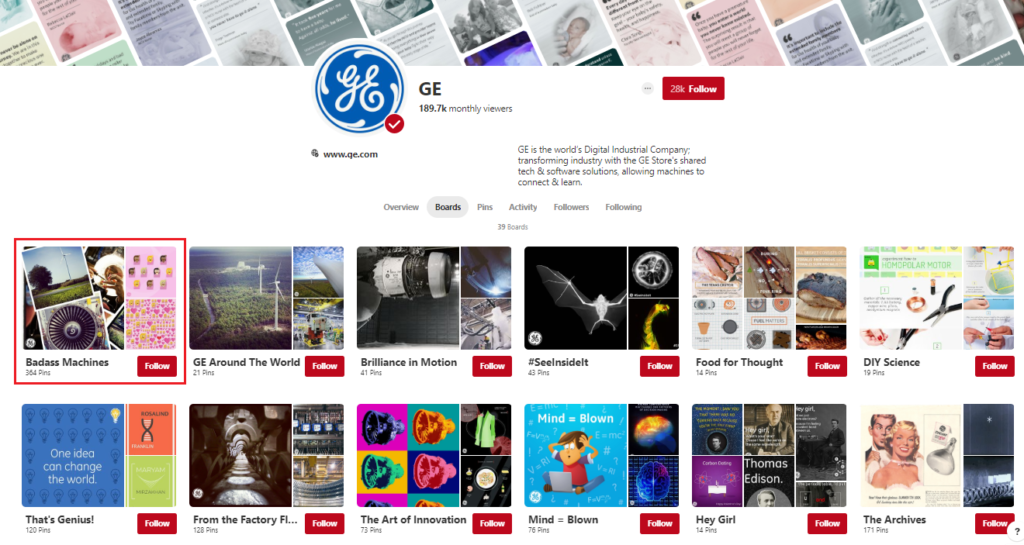 Put a face to your organization.
Sometimes your audience wants to know more about you, your processes, and your accomplishments before they sign on or commit. While you can show what you're all about on platforms like Facebook, studies show Pinterest users spend slightly more time on the platform compared to Facebook — 34 minutes vs. 33 minutes. When you have a more supportive fan base, you should tailor your content in such a way, which makes you relatable. For example, let's say you wanted to promote your company culture or a new face in your organization. Use Pinterest to share this information. Wistia, a video hosting tool, shares content like the pets of company employees and behind the scenes images of their annual event WistiaFest.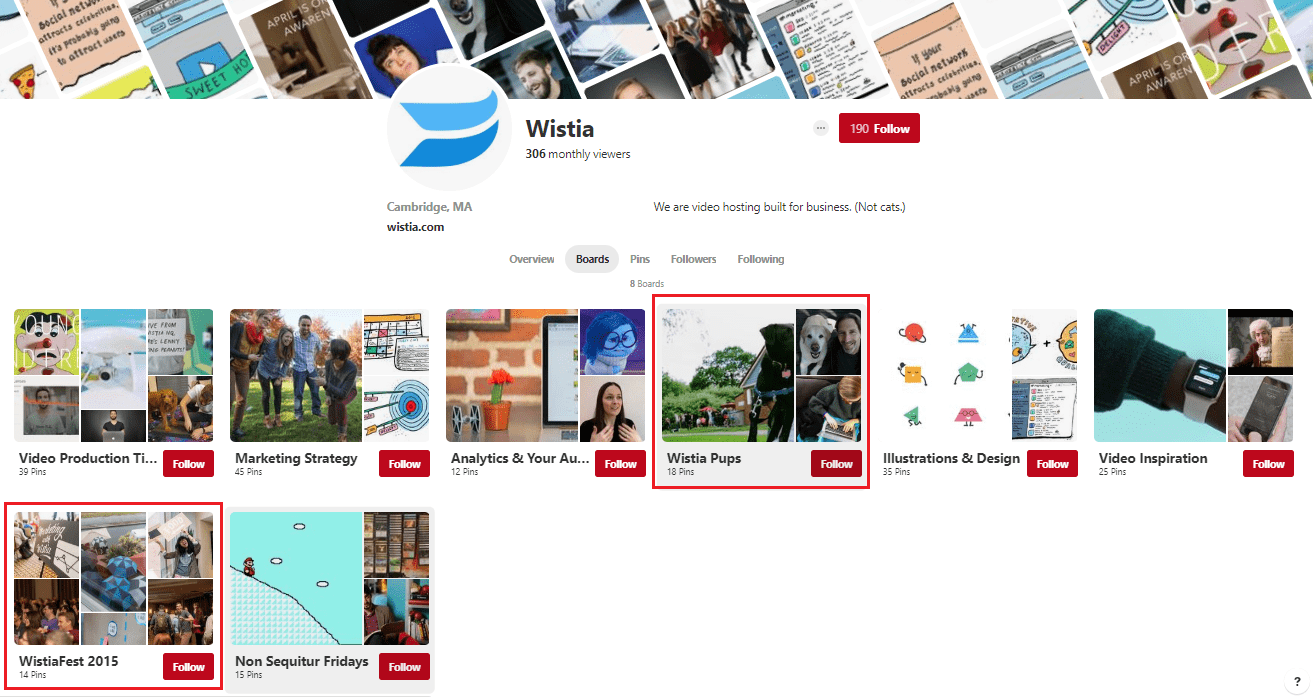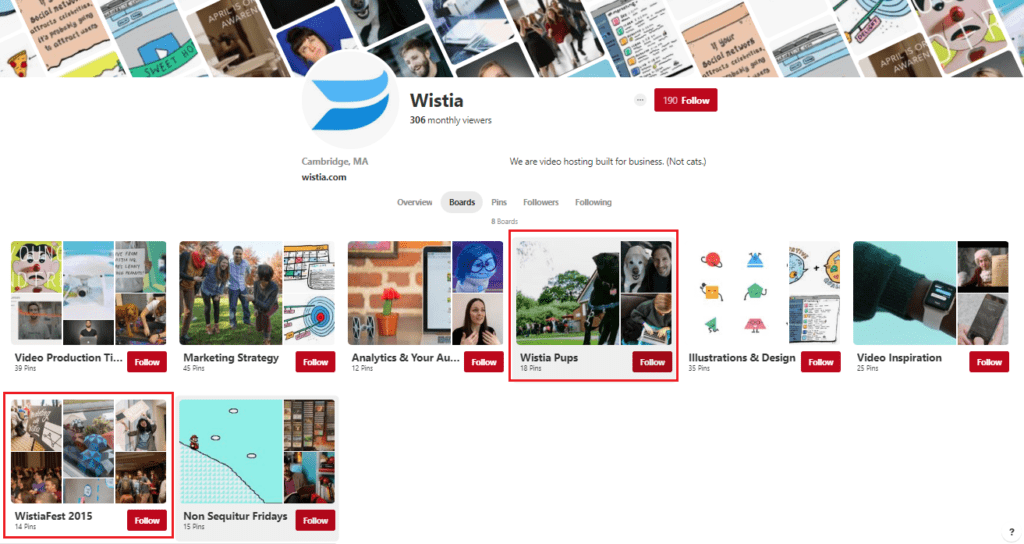 Use Pinterest to show the trends or patterns happening within your industry and what you're doing to make strides based on these trends. Promoting industry trends in Pinterest gives your audience different perspectives into their current strategies and what you can do to help them. For example, IBM has a board called "Tech in Healthcare" that shows how different types of data helps them to make better decisions.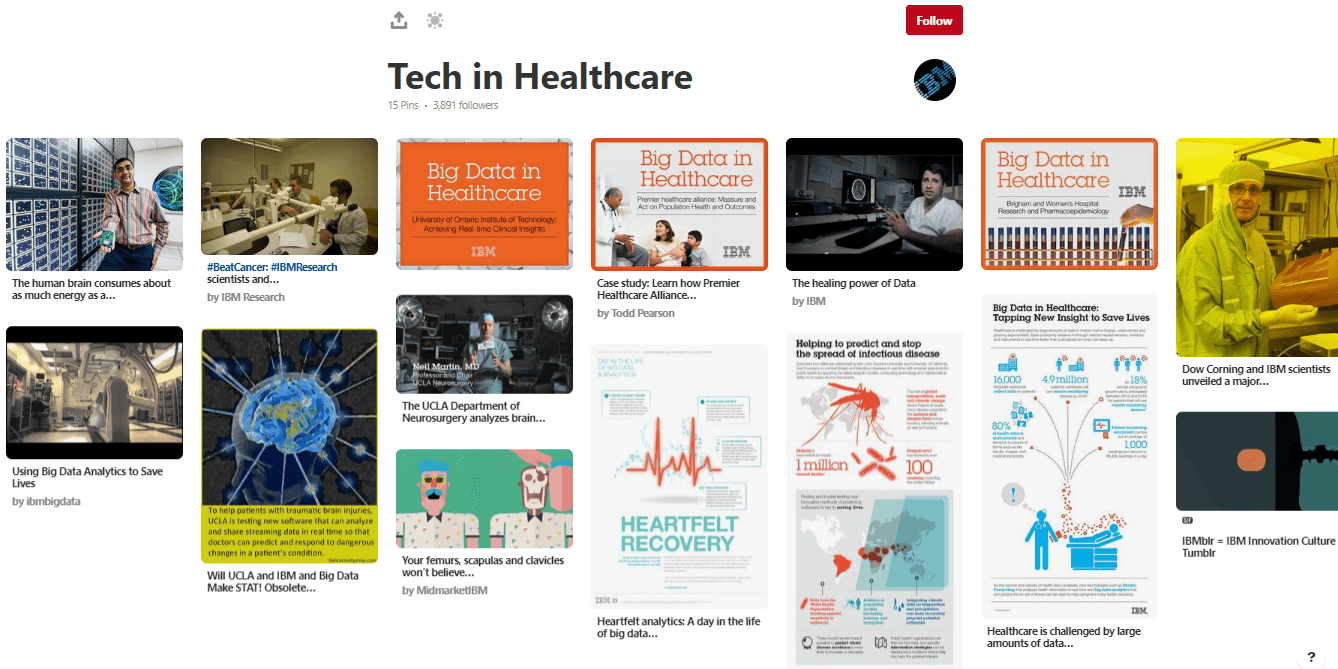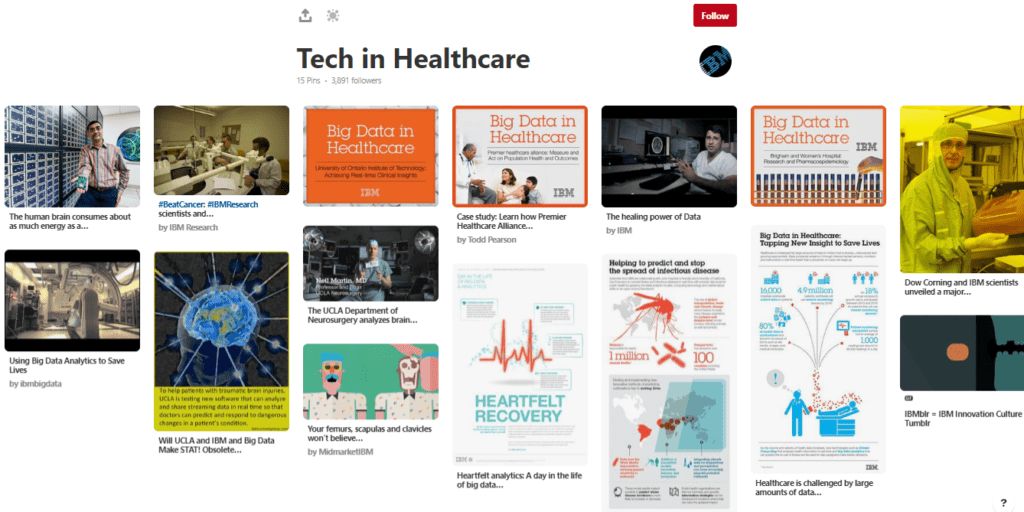 How Small Businesses Use Pinterest Ads
Pinterest ads aren't only for big-name corporations with huge followings and a massive ad budget. Smaller companies can benefit as well.
Small businesses can create strong, engaged followings on the platform just like big corporations.
Many can benefit from advertising on Pinterest, even if they don't fit into an obvious Pinterest niche of interest. Since Pinterest has a ton of influence in what its users purchase, you don't want to neglect it.
Let's look at how small businesses have mastered the art of Pinterest ads to create strong, engaged followings and sell products.
NewChic – Promoted Pins
Newchic is an online fashion retailer. They use Pinterest ads to promote their accessories like purses and scarves: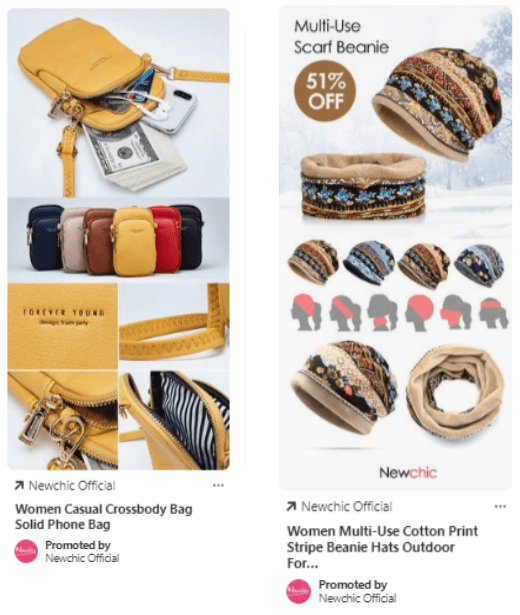 These ads both use the Shop the Look Pin feature and link users to the checkout page for the product: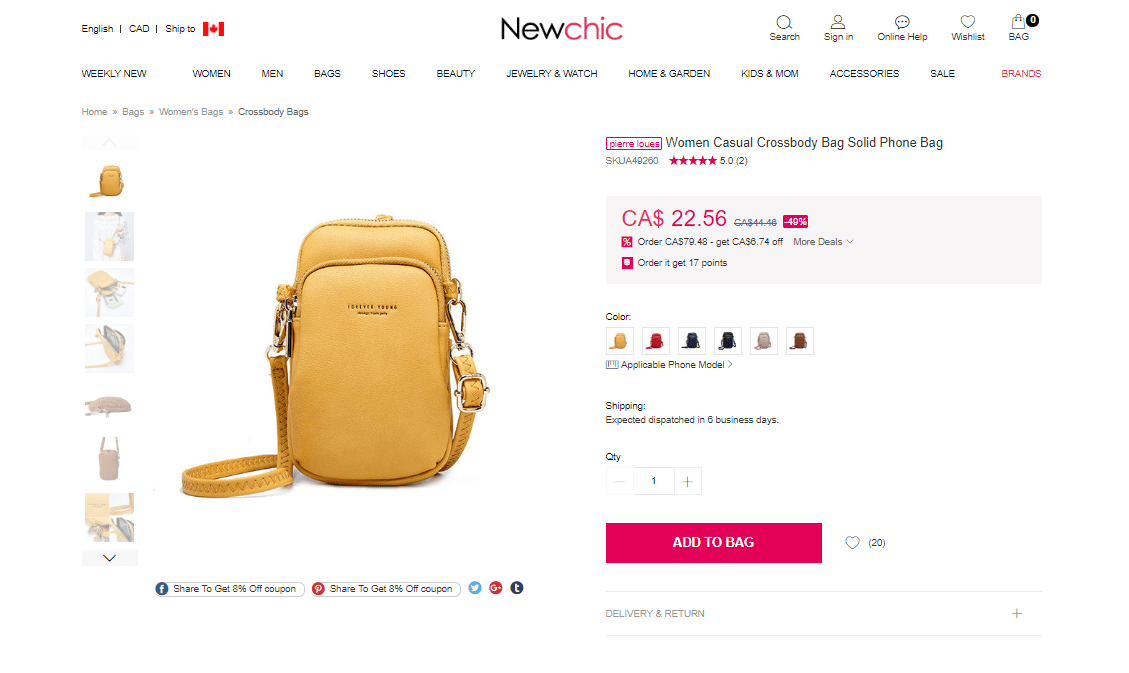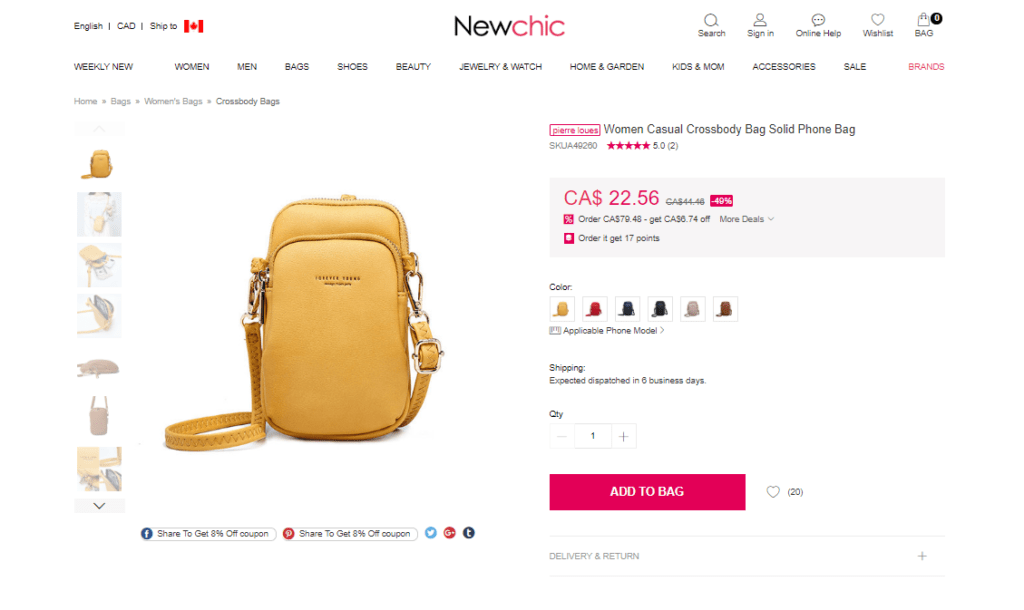 From here, users can complete their purchase in a few steps. The benefit to smaller businesses using this option is the opportunity to upsell customers. You'll notice in this example, customers have the option to share the product on Pinterest and get 8% off of their next purchase.
This helps get Newchic in front of Pinterest customers similar to the ones who've already purchased from them and gives current customers an incentive to come back.
In addition to this, customers on the Newchic site can browse for more products to buy in future.
Advertising tips for small businesses
Optimize your business bio.
The Mojo Spa in Illinois has a very unique, distinctive brand. They create good-for-you cosmetics in an affordable price range, and the creator of the company calls herself the "Willy Wonka of beauty." Their Pinterest does a remarkable job of capturing the whimsical and wonderfully quirky nature of their brand while promoting their products simultaneously. Just in case users aren't familiar with their brand, they give you a summary of who they are in their profile bio: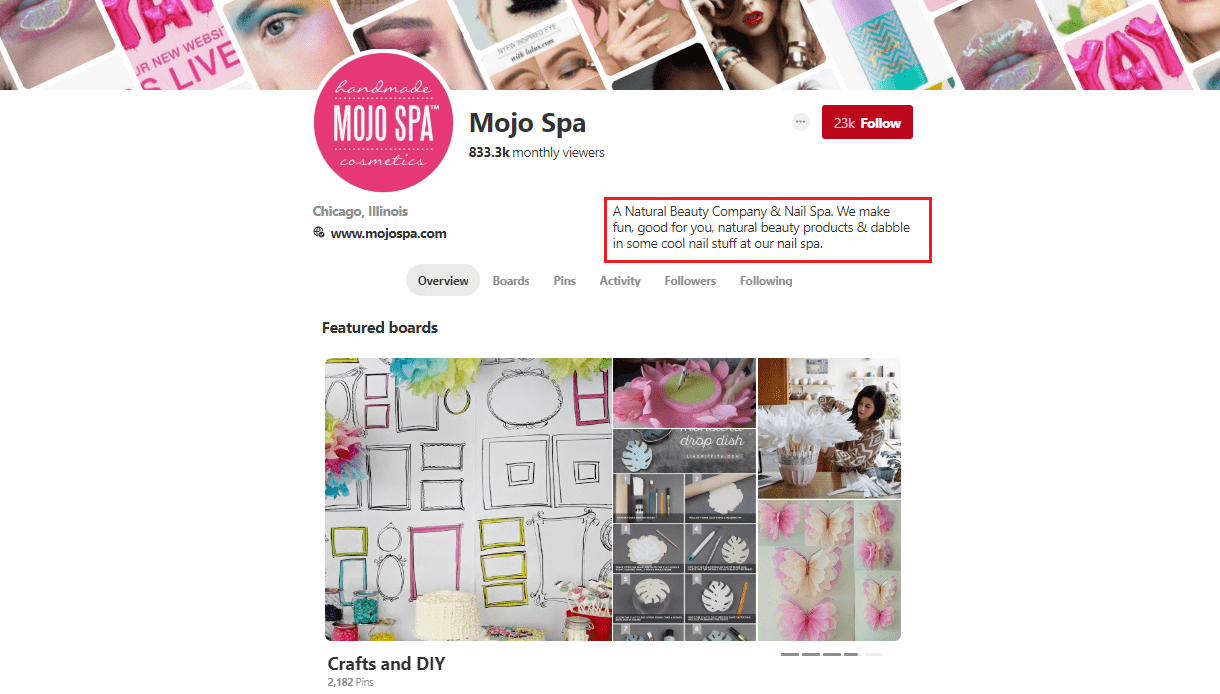 Many of Mojo Spa's boards are distinctly feminine, matching their site. Their unique interest boards (like their Alice in Wonderland board) are captivating and unlike what you'll see from most other businesses. These boards aren't about selling products; they're about establishing their brand. Since they know this content will be interesting to their target audience, this was a genius move. This also sets them apart, and it is almost certainly part of the reason they have over 833,000 followers.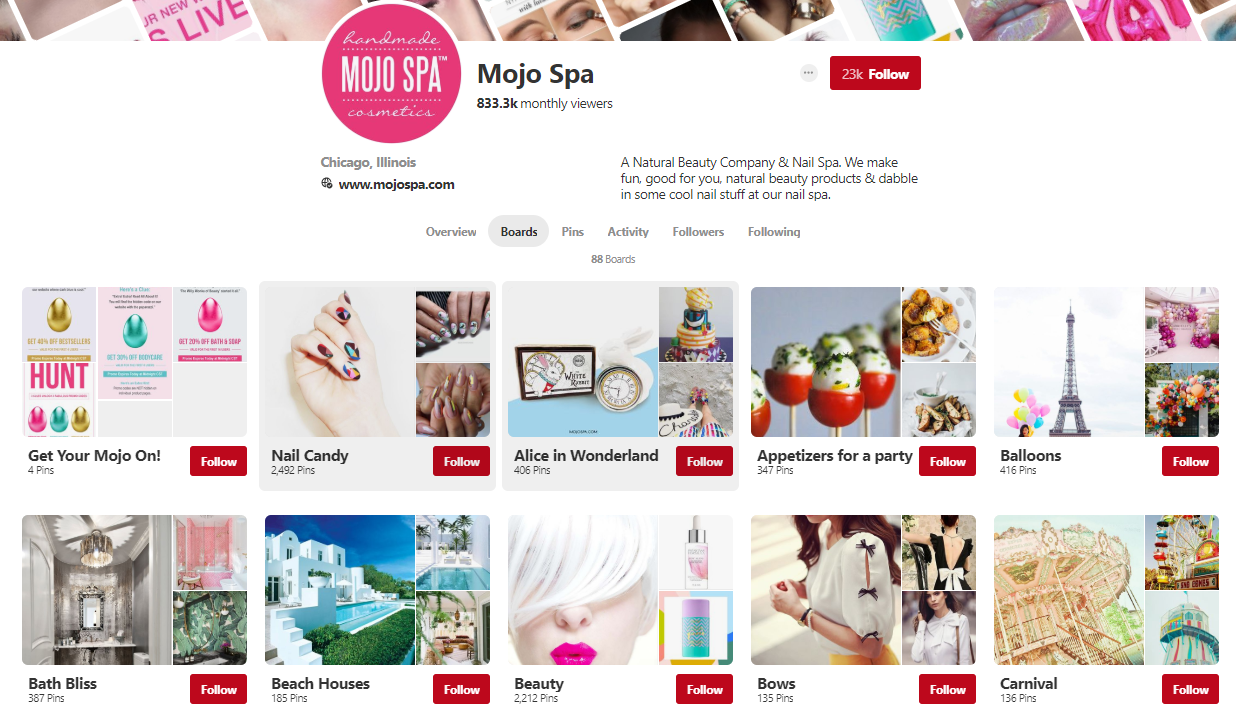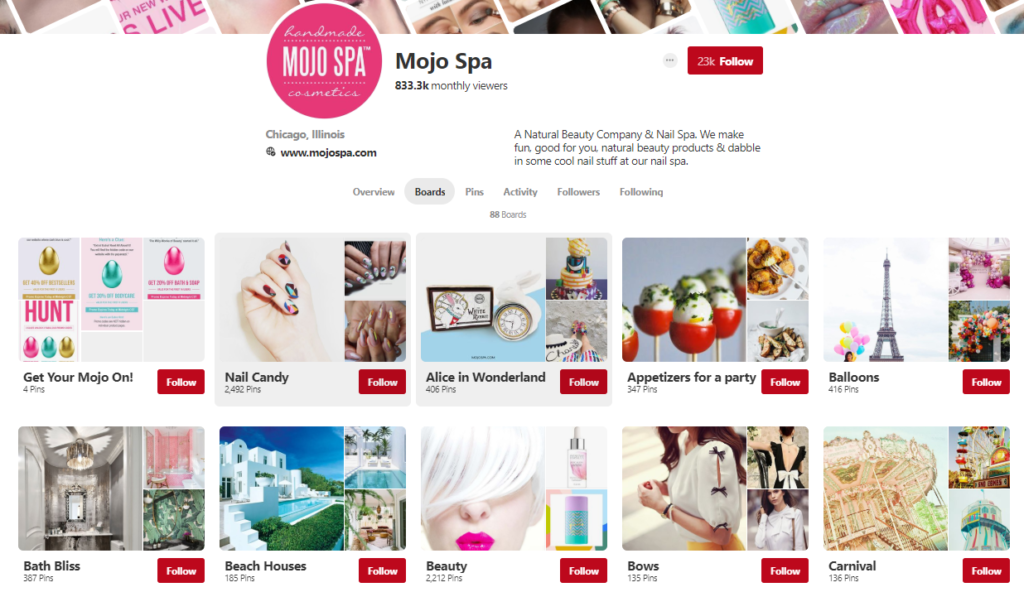 Health & fitness are one of the most popular content categories on Pinterest. New York studio Kettlebell Kickboxing has built a strong profile on Pinterest because they do a fantastic job describing why potential customers should come in and join them in their profile. They explain their program and why it benefits users in just a few words. Their boards also reinforce this. For example, their Kettlebell Boxing board features articles and resources about why the program works so well.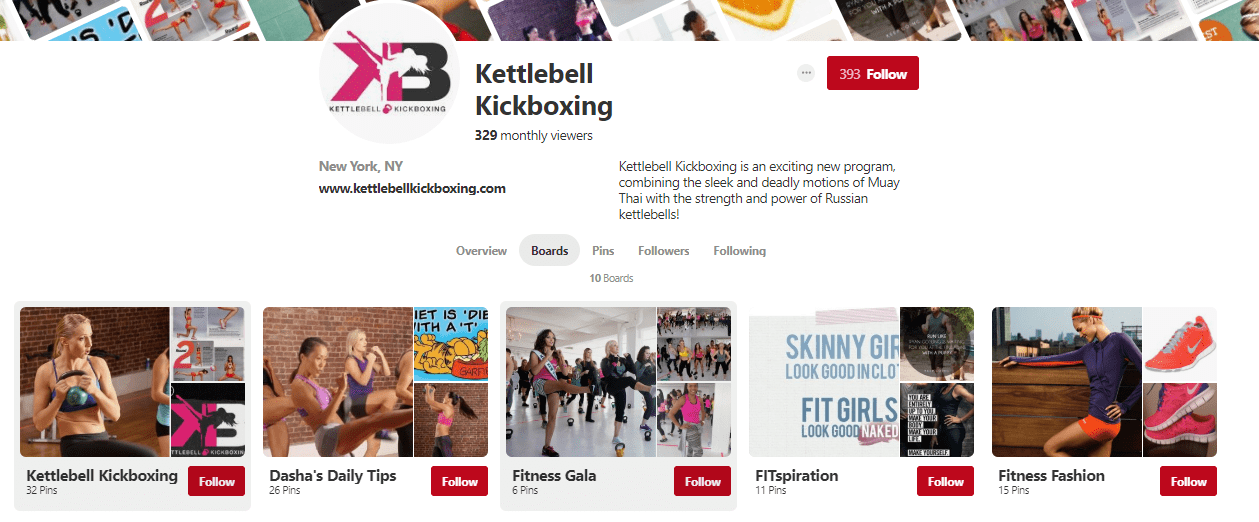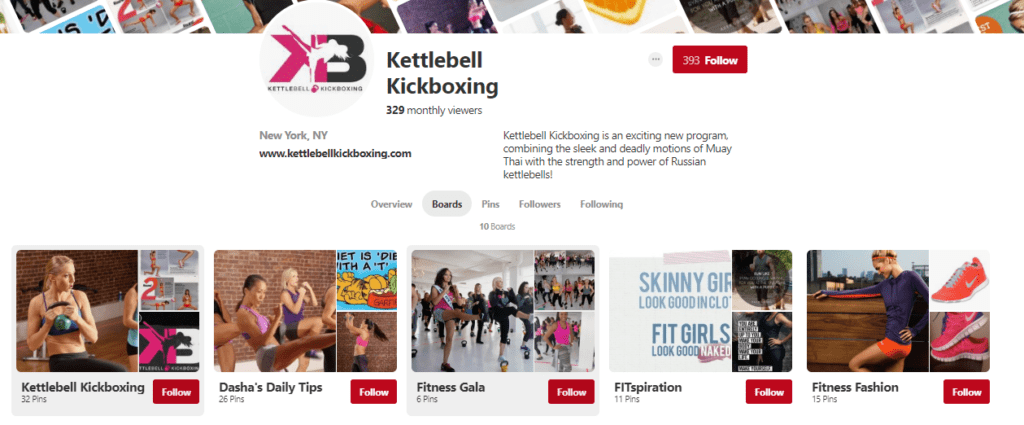 Final Thoughts
Now you're ready to take Pinterest by storm. Start by figuring out who your audience is and what types of content resonates with them. Use this information to create targeted campaigns and test different types of ads.
Remember, you don't have to be a big brand or a have a massive marketing budget to make Pinterest ads work for you. Use your creativity and your brand's uniqueness to showcase your products and engage with your target audience.
If you have a larger brand and a sizeable budget, then pay more attention to the trends and patterns users respond to within your industry. When you promote industry trends with Pinterest ads, you give your audience another platform to discover you and your products.