Instagram is used by over 1 billion people and has a vast advertising audience for brands looking to expand their reach, and get more leads and conversions.
Instagram's data shows that 90% of Instagram users follow at least one business profile. But this is not limited to just consumer products. Over 36% of B2B decision-makers use Instagram to research new products or services.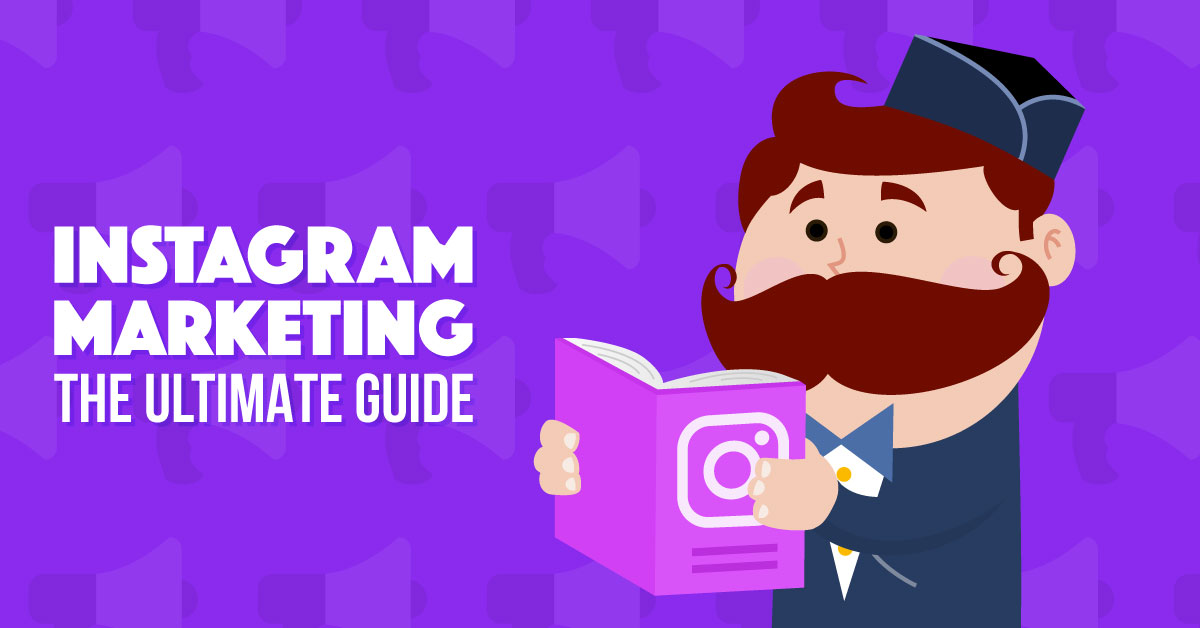 In this article, we'll cover 19 Instagram marketing tips that will boost your Instagram strategy, whether you just started on the platform or you have tons of experience.
Setting up an Instagram Business account
Before we get into the Instagram marketing tips, you need to have an Instagram Business account or an Instagram Creator account.
If you have one of these, you can skip to the tips in the next section. If you have a personal account already, you can skip to Step 3 of this section.
If you're brand new to Instagram and you want to create a new account, here are the steps you need to follow:
Step 1: Download the Instagram app
Step 2: Sign up to the platform
Open the app.
Tap Create New Account (on iOS) or Sign Up With Email or Phone Number (on Android).
Enter your email or phone number and tap Next.
Create your username and password.
Fill out your profile information (see Tip 4) and tap Next.
Step 3: Switch to a Business account
To switch from a personal account to a business account, go to your profile and tap the hamburger icon at the top right.
Tap Settings, then Account.
Tap Switch to professional account.
Tap Business and follow the prompts.
And voila, you have an Instagram Business account!
19 Instagram marketing tips for business that you should try in 2022
Now that you have a business account, let's get right to the Instagram marketing tips, shall we?
1. Use a Business account
If you're a business, you should… well, have a Business account. If you're not a business and you're serious about building an audience, you should still use a Business IG account.
Here's why.
A Business account unlocks features you can't use with a personal account, including:
Instagram ads (see tip #18)
Instagram Insights (see tip #19)
Instagram shopping (see tip #14)
Contact information and a call-to-action (CTA) button on your profile
Primary and secondary messaging inboxes
If you're a content creator or influencer, a Creator account has its own benefits for you. But if you're a marketer, having a business account is your best bet to succeed at Instagram marketing.
So if you haven't yet started a Business account, scroll back to the top of this article and convert your personal account to a business profile.
2. Clearly define your goals
If you're marketing on Instagram, there's a good chance that you want to achieve something.
To be successful on the platform, you need to define your goals clearly. Do you want to:
Increase brand awareness?
Communicate with customers?
Create an online presence for your brand?
Get more sales and leads?
Drive traffic to your website?
Establish online authority?
Sell products directly from the app?
You don't have to have just one goal; you can have several. But if you don't know what you want to get out of Instagram marketing, there's a good chance you won't get anything at all.
The team over at Hootsuite wrote a whole article on how to set social media goals to help you determine what matters most to your brand.
3. Know your audience
Before marketing on Instagram, you need to do some research into the demographic of people you can reach via the platform.
The team at Hootsuite did some research into Instagram demographics and they found that:
The most active Instagram users are between 18 and 29.
Urban residents use Instagram more than their suburban peers
The United States is the largest Instagram market
While this information helps put things into perspective, it doesn't mean you should only target urban Americans in their 20s. Instead, define your target audience so that you can deliver content that is relevant and helpful to them.
Knowing your target audience will also come in handy when you need to choose targeting options for your Instagram ads.
4. Optimize your profile
People who don't know much about your business will judge you based on your profile, so you need to make a great first impression.
Instagram gives you only 150 characters to tell people what you do and why they should follow your Instagram account. So your bio needs to be short, but informative.
Fortunately, you still have other fields on your profile to elaborate on what your business is all about and make it easier for people to learn more about your offer(s). These include:
Your name: 30 characters, included in search.
Your username (or handle): 30 characters, included in search.
Your category: A business feature that gives people an overview of what your brand is about without taking up your bio characters.
Your website: A clickable web address (URL) you change any time you want to.
Contact info: A way to tell people how to reach you.
CTA buttons: A way for users to interact with you directly from your IG profile.
Hello Perfect Skin does a great job of providing enough information about their business in the fields offered on their business profile.

Source: @hello.perfect_ on Instagram
To get more profile strategies, check out this blog post by Hootsuite on how to optimize for your Instagram Business profile.
5. Use the right profile photo
As a business, your Instagram profile image should be your logo. A logo provides credibility and helps people see who you are at a glance.
Although your Instagram profile photo displays at 110 by 110 pixels, it's actually stored at 320 by 320 pixels. So when you're setting your profile photo, upload a file that's 320 by 320 pixels to make sure it displays at optimum quality if Instagram changes how profile images are displayed.
However, if your logo is a square, you'll need to zoom out to ensure that the whole logo is visible within the circle.
Just like Microsoft did here:

Source: @microsoft on Instagram
6. Create visually compelling content
Instagram is a visual platform, so your Instagram feed has to look great. And no, you don't have to have professional photography equipment, but your images and videos need to be clear, well-lit, and well-composed.
If you're using other visual elements, like infographics or animations, make sure they're clear, eye-catching, and easy to read.
Apart from being aesthetically pleasing, your visual content should also be compelling. Stunning photos are good, but if they don't tell a story, your audience would not be bothered to engage with them.
If you're not sure what to post, here are a few ideas:
Quotes and text-based images
Behind-the-scenes posts: Show your followers your office, store or manufacturing process.
Instructional posts: Teach your followers how to achieve their goals.
Videos: Instagram only allows a maximum of 60 seconds for video posts, but you can go much longer with IGTV.
Reposts and UGC: User-generated content shows prospective customers that your brand is authentic.
Reels: See tip #15 for more information about this video format.
Below is a screenshot of Apple's Instagram feed. Their feed is, at its core, a compilation of bold, vibrant images and videos shot on their products by their customers (user-generated content).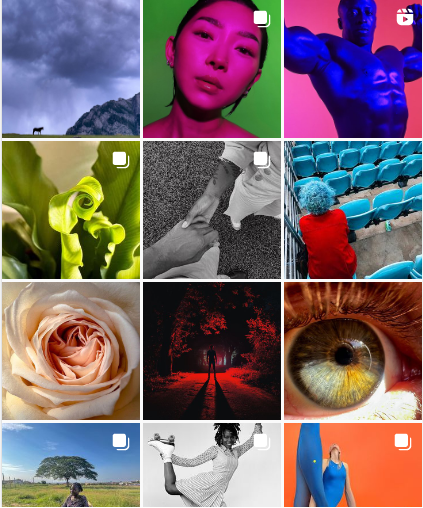 Source: @apple on Instagram
Posting compelling content can boost your reach if people share your news feed posts to their Stories. So, when setting up for Instagram marketing strategy, focus on creating content that people would want to share.
If you want some content inspiration, here's a post by Hootsuite loaded with content ideas for Instagram.
7. Establish your brand's Instagram aesthetic
As you decide on the types of content to post on Instagram, you also need to consider how it's all going to look on your feed. You should always have your Instagram aesthetic (presets, fonts, and color palette) at the back of your mind as you create content.
Your aesthetic increases brand recognition and influences buying decisions so it should be consistent across all your posts.
A great example of this is the skincare company, Supergoop. Their photos have a consistent color scheme, feel and look.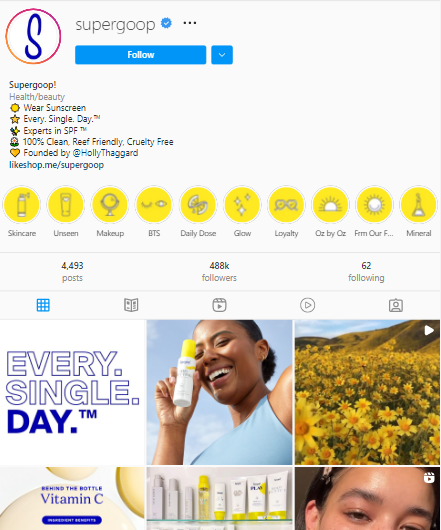 Source: @supergoop on Instagram
An easy way to get this kind of consistency is to use Lightroom presets. Our friends over at Hootsuite made a set of five free Instagram presets you can download.
Some content creators on Instagram also sell their own presets. So if you find a creator you like, check if they sell presets.
8. Write great captions
Yeah, I know we just said that Instagram is a visual platform. But that doesn't mean you shouldn't care about your captions. Your brand voice is just as important as your brand aesthetic, and it should be consistent across your Instagram posts.
Instagram captions can be as long as 2,200 characters, but you don't always have to exhaust the limit. Short captions can be just as effective as long ones, provided that they're relevant, engaging and easy to read.
If you want to use long captions, keep in mind that only the first two lines of text appear in the feed before the "Tap more" button. People tend to scan captions rather than read them word-for-word, so you should try to get all the important info into those first two lines.
The team at Hootsuite wrote a post on the best caption length for every major social platform. They recommend the following Instagram caption lengths:
Instagram ads: 125 characters
Organic posts: 138 – 150 characters
If you want to go beyond this, you can, but make sure the extra text is absolutely necessary.
The social media team at NASA are great at writing long-form Instagram captions.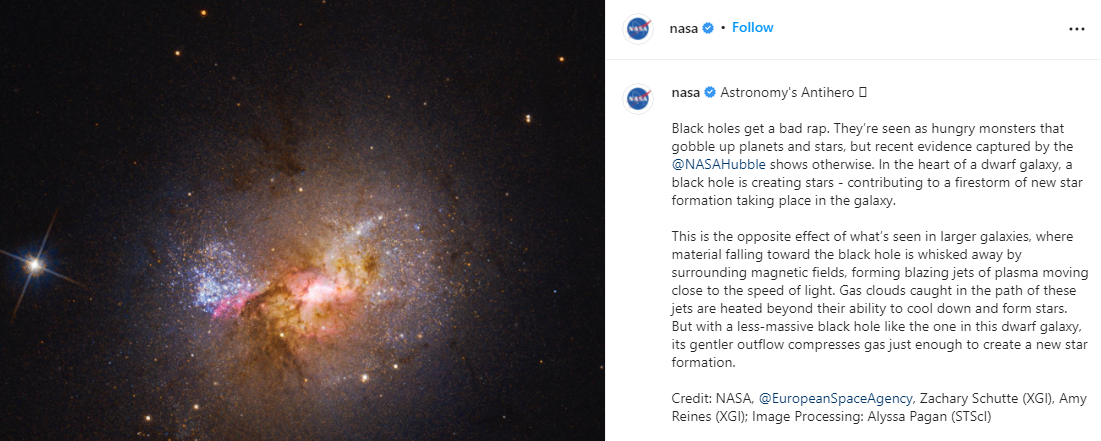 Source: @nasa on Instagram
If you can match this level of storytelling, don't be afraid of using all 2,200 characters.
If you're struggling to write great captions, check out our post on how to write exceptional Instagram captions.
9. Use hashtags wisely
The easiest way to increase your visibility and discoverability on Instagram is to use hashtags.
Instagram allows people to use up to 30 hashtags in a post, but you probably shouldn't use all of them.
We recommend using between five and nine hashtags for each post. Using more than that can result in hashtag stuffing, which is a turn-off for your audience. It's even worse when you use repetitive hashtags or hashtags that have nothing to do with your actual post.
To get the best results from hashtags, do the following:
Use relevant hashtags. Make sure that your hashtags are related to the post.
Use hashtags that are specific to your brand. Generic hashtags like #fashion and #watches can cause your content to get lost in the ocean of similar posts.
Don't use like- or follow- swapping hashtags, such as #followme or #like4like.
If you want to delve deep into the art of using hashtags, Hootsuite has prepared a full guide with the best hashtag strategies for Instagram.
10. Engage with your audience
Engaging with your audience is critical.
Posting high-quality content is great, but if you ignore DMs and comments on your posts, you won't reach your full potential on the platform.
Apart from responding to comments and DMs, here are a few other ways to engage with your audience:
Actively seek out popular accounts in your niche and interact with them in a non-promotional way, e.g. like, comment and share their posts.
If someone creates an Instagram post and tags you in it, check it out. Like, comment and re-share the post in your feed or Story.
Pin comments from active followers, or just comments that can spark meaningful conversations.
Repost images or videos uploaded by followers who used your brand's hashtag.
Give picture and video credits to the original creators.
Support a cause that is relevant to your brand and important to your target audience.
Now, if your posts get hundreds or thousands of comments, it might not be possible for you to reply to them all.
But if you're a small business and you want to grow your following and get more buyers, responding to the comments on your posts is an awesome way to forge personal relationships with both existing and potential customers.
11. Use Instagram Stories
Over 500 million users use Instagram Stories every day. In fact, about one-third of the most viewed Stories are posted by businesses.
Stories are one of the most effective channels of an Instagram marketing strategy. They usually disappear after 24 hours (ads and highlighted Stories are the exceptions). You can use that opportunity to show followers the real aspects of your business, as opposed to the curated content you post on your feed.
You can make Stories interesting and informative by including interactive elements like filters, polls, etc. You can also include hashtags in your Stories to reach a wider audience.
Some of the best strategies for using Stories include:
Tell a story: Don't ramble about random things in your Stories. Instead, use that medium to share a message.
Provide value: Give your audience valuable information or links to helpful resources
Use a call-to-action: Don't just tell your viewers to "swipe up". Instead, use text to show them why they should actually swipe up.
Be consistent with your brand identity: Just like your Instagram feed, your Stories should align with your brand voice and aesthetic.
If your followers tag you in their Stories, you can reshare their content on your own Story. This is a great way to share user-generated content and build personal relationships with your fans.
Pro-tip: Save time and energy by scheduling your Instagram Stories ahead of time with Hootsuite.
12. Use Stories highlights and covers
In tip #4, we explained the anatomy of an Instagram profile page. But there's one thing we didn't touch on yet: Stories highlight covers.
With Story highlight covers, you can preserve your best Stories content, so that it won't disappear after 24 hours. Your highlight albums stay right under your Instagram bio, and you can make custom covers for each of them.
You can use Story highlight covers to display different products and services. You can also highlight your team, courses you created, or any other thing that will add more value to your page.
When used effectively, highlight covers add an extra "oomph" to your bio and give potential customers more information about your brand and why they should follow you on Instagram.
For instance, Walmart uses highlight albums to differentiate their product categories (recipes, wellness, home, pets, etc.)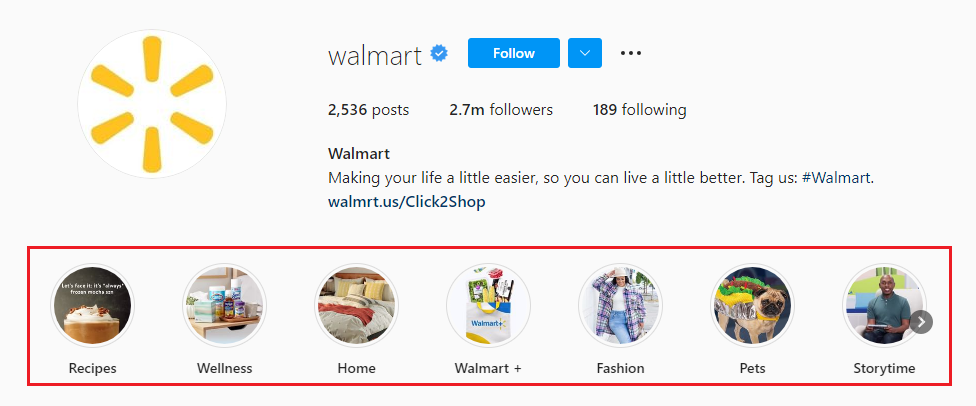 Source: @walmart on Instagram
Here's 40 free Story highlight covers you can use to get started.
13. Go live
Instagram Live is an awesome feature to explore if you have the follower base for it. It's a great way to connect with your audience in real-time and on a more personal level.
Here are some ideas on how to use Instagram Live effectively:
Use the "Add a Guest" option to go live with a thought leader or influencer.
Host a Q&A session
Have a one-on-one conversation with a customer or client
Interview a team member
Offer a live behind-the-scenes look at your product launches, physical location, etc.
Stream live events and product unveilings
Whatever you decide to use Instagram Live for, just make sure you announce it in advance. It could be in a post, on your Story, and even on other social platforms. This gives your Live session the best shot at performing well.
You should also have a specific goal for your broadcast, e.g. get people to enter your contest, visit your website, buy a product, etc.
14. Set up an Instagram Shop
Not too long ago, you could only get sales from Instagram when followers clicked the website link in your bio. And if you've tried Instagram marketing at all, you'll know that getting people to click that link can be hard.
But now, there's a way to get sales directly from Instagram.
It's called Instagram Shop. And spoiler alert: it's not available for personal accounts (so here's another reason to get a Business account).
Instagram Shop allows you to connect your eCommerce store to Instagram and sell directly through the network. This makes it easier for your audience to find your products and purchase them, without you worrying about how to redirect them to your store.
When you open an Instagram Shop, you'll get a View Shop button on your profile page, so that potential customers can tap through to your shop without seeing a specific post.
What's more, there's also a Shop tab on the Explore page, where Instagrammers can search for new products or view products from brands they already engage with on Instagram.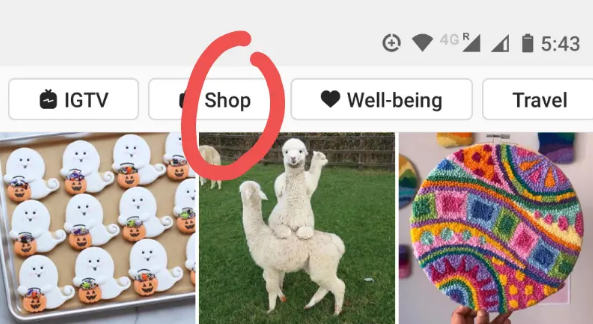 This is a great strategy to implement because 130 million Instagram users click on shopping posts every month, so there's a large audience of people who are eager to buy from brands they interact with.
You can tag shopping products in posts and Stories.
Pro-tip: When you tag products in Instagram Stories, turn on Auto-highlighting. This will save all your posts with product tags to Stories highlights so that potential customers can view them for more than 24 hours.
15. Experiment with Instagram Reels
Apart from the Shop tab, there's another new tab on the Explore page: Instagram Reels.
This short-form, multi-cut video format is the equivalent of TikTok. But on Instagram, you can do more with Reels than dance challenges, lip syncing and comedy skits.
You can use Reels to differentiate your business and stand out from the crowd.
Reels also give your brand a better chance at going viral. With Reels and great content, you might be lucky enough to defeat Instagram's algorithm and blow up. Big time.
16. Post at the right times
Posting content at the right time is super important when executing your Instagram marketing strategy. If you post at the wrong time, your followers might not see and engage with your content. If you post too much, you risk annoying your audience.
So you need to find the sweet spot (or time) to post content for maximum visibility. But did you know that the best time to post content on Instagram varies based on your industry?
That's right!
The team at Hootsuite analyzed 258,956 posts from 11 different industries and their findings showed that there really is a best time to post content, even though Instagram feeds are not chronological anymore.
Here are their findings:
Professional services: Tuesday, Wednesday, and Friday, 9 or 10 a.m.
Food and beverage: Friday, 12 p.m.
Retail: Tuesday, Thursday, and Friday, 12 p.m.
Non-retail e-commerce: Thursday, 4 or 9 p.m.
Technology: Monday and Tuesday, 2 p.m.
Pharma and healthcare: Wednesday and Sunday, 9 a.m.
Travel and tourism: Friday, 9 a.m. to 1 p.m.
Media and entertainment: Tuesday and Thursday, 12 to 3 p.m.
Education: Thursday, 4 or 5 p.m.
Personal care: Thursday and Friday, 1, 2, or 3 p.m.
Non-profit: Tuesday, 10 a.m. or 4 p.m.
Learn more about finding the best time to post on Instagram:
17. Try an influencer partnership
Instagram influencers are usually thought leaders or public figures in your industry who can showcase your products/services to their audience. Partnering with an influencer can help expose your brand to a new audience and build your credibility.
An easy way to get started with influencer marketing on Instagram is to host an Instagram takeover. All you have to do is invite an influencer to take over your Instagram account for some time, maybe a weekend or during a special event.
The skincare and wellness company, goop (the one by Gwyneth Paltrow) invites influencers and even their own staff to take over their accounts and make skincare posts in the newsfeed and Stories.
View this post on Instagram
When done right, influencer marketing can provide great ROI.
18. Run Instagram ads
The best way to get your content in front of new eyes is to run Instagram ads. Paying for ads will help you expand your audience, and increase followers, leads and conversions.
Facebook Ads Manager, through which you can set up Instagram ads, gives you a wide range of targeting options based on interests, interactions, buying habits, etc. It also provides a whole range of options to choose from, such as image ads, video ads, collection ads, and more.
In tip #3, you defined your target audience, right? Now, use that information to target your ads based on:
Location: state, city, province, country, etc.
Demographics: age, gender, and language
Interests: accounts that people follow, ads they click on, and apps they use
Behaviors: both on and off Instagram
You can also upload custom audiences of people you have relationships with and use that to create similar (or lookalike) audiences.
You can run ads in the Instagram feed, Stories or Explore page.
You can plan, create, schedule and analyze Instagram (and Facebook, and LinkedIn) ads and all your organic content from one dashboard using Hootsuite Social Advertising. Learn more about it here:
19. Refine your strategy with analytics
No matter how much success you're already experiencing with Instagram marketing, you can always be more successful.
The best way to improve your results is to critically analyze what you've already done, and figure out what's working (and what isn't).
That's why you need to study all the information collected in Instagram Insights. The statistics you focus on should directly relate to your goals.
For instance, if your goal is to grow your audience, focus on metrics like: Likes, Followers, Reach, Impressions, Top Posts, Active hours, etc. But if you want to increase audience engagement, focus on metrics like: Comments, Website clicks, Engagement rate, Saves, Shares, etc.
Use the information you get from Instagram Insights to refine your Instagram marketing strategy.
Here's a video that explains all you need to know about refining your strategy with Instagram analytics: