Jeopardy Time! Is the link between the regular content that your potential customer is interested in, and a page with a more high-value offer on it that is relevant and interesting enough to persuade your visitor to complete a short form. If you answered "What is a call to action"? compliments, you'rr ready to go on Tv!
In marketing, a call to action (CTA) is an instruction to the audience designed to provoke an immediate response, usually using an imperative verb such as "call now," "learn more" or "sign up."
Your Facebook ad call-to-actions are dependent on your advertising goals and the expected outcome. Unfortunately, Facebook ad call-to-actions get a lot less attention than they deserve.
Choosing the right call-to-action for your Facebook ad campaign could make a huge difference in your ad ROI. In one case study, we discovered that the click-through rate of "Learn More" CTA outperformed "Sign Up" by 22.5%!
But which is "the right" one? We ran another experiment to give you the "scientific" answer.
When analyzing 37,259 Facebook ads, the team at AdEspresso found that the most popular CTAs are "Learn More," "Sign Up," "Shop Now," and "Download."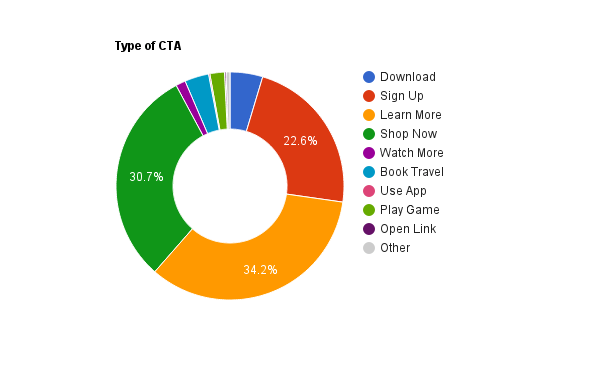 To help you getting more new leads via Facebook ads, we set out to find which call-to-action works best in lead generation ads. We tested our three top performing CTAs: "Learn More," "Sign Up," and "Download."
Guess which one performed the best?
Hypothesis and Experiment Set Up
We hypothesized that the popular CTAs "Learn More," "Sign Up," and "Download" would perform differently regarding the click-through rate, cost per click, and cost per lead.
Knowing which CTA returns the most leads at the lowest price point would help us optimize our future campaigns.
We decided to run the test with our own lead generation ad campaign featuring the Facebook Ads Bundle – a collection of our all-time top eBooks.
The goal of our ad campaign was to get warm leads to download our eBook bundle and in exchange share their email addresses with us. All the new leads would enter our lead nurturing email cycle and, hopefully, become AdEspresso's users in the future.
Campaign Set Up
We conducted a 14-day A/B testing campaign using AdEspresso to see which call-to-action works best in Facebook lead ads: "Learn More," "Sign Up" or "Download."
To get bulletproof results, we only tested three CTA variations and kept all the other ad elements (copy and images) the same for each ad.
Here's what our ads looked like: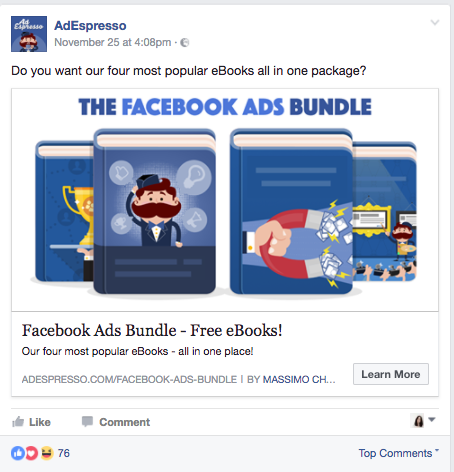 All our ads were Facebook lead ads, meaning that people could submit their information and download the eBooks without leaving Facebook.
As someone clicked on the ad, they were presented with a pop-up box where they needed to enter their email and name. For most Facebook users, these forms are pre-filled, and all that needs to be done is to hit the "Submit" button.
After someone had clicked on "Submit," the download of our Facebook Ads eBook bundle began.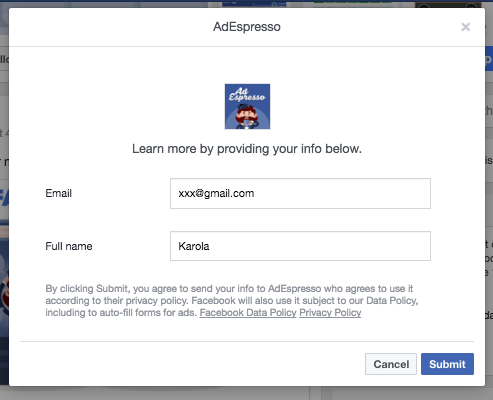 To set up the ads for our case study, we used – you guessed it! – AdEspresso. It took about 30 minutes to create all the Custom Audiences, formulate our A/B test, and publish it on Facebook.
We created a Lead Generation Form and added three different call-to-action variations for testing. Here's what the setup process looked like: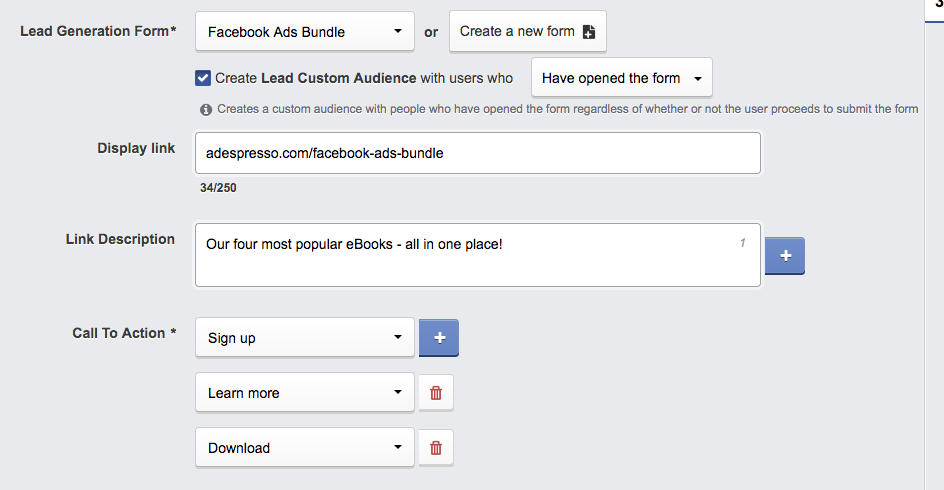 Placement
We only used the Mobile ad placement for this test.
Budget
The daily budget for our ad campaigns was $35, distributed evenly across three ad sets. The total budget was around $500.
Bidding
We used automatic bidding and optimized our ads for lead generation, which means we paid per impressions. We decided against custom bidding as we wanted to avoid the possibility or our bids affecting the A/B test's results.
Audience
Not all audiences are receptive to all promotional offers. People unfamiliar with your product and brand are less likely to click on your ads. The same rule applies to Facebook lead ads.
We decided to target a warm audience, i.e. people who had already visited our website. We created a Facebook Custom Audience of individuals who had visited our website in the past 7 days. This way, we were able to deliver our ads to people who had shown interest in our blog or product but hadn't yet opted in for our newsletters.
As we wanted to ensure that our current customers, trial users, and people who already had downloaded the eBook won't see our ads, we excluded them as Custom Audiences. We didn't add any other specific targeting options to avoid narrowing the audience down too much.
As a result, our campaigns had the potential to reach 29,000 people.

After all the ad details had been correctly set up and reviewed once more, we hit the "Publish" button and sat back in anticipation of the test results.
The results:
Finally, the part where we reveal our test results!
If you didn't yet make a guess which call-to-action performed the best, now's your last opportunity to do it. Was it "Learn More," "Sign Up" or "Download"?
Note: While some call-to-actions have higher click-through rates, it was the cost per lead that truly interested us. After all, we weren't promoting our eBooks for people to just click on the offer. We also wanted them to submit their contact details and download our Facebook Ads eBook bundle.
"Learn More" vs. "Sign Up" vs. "Download"
Here's a graph of our A/B test results:

As you can see, the lowest cost per lead was for the ad with "Download" CTA. Other tested CTAs performed on a similar level.
If we look at the average cost per lead throughout the testing period, the cost per lead for the "Download" CTA was $0.802 compared to $1.208 for "Learn More" and $1.126 for "Sign Up."
The "Download" CTA outperformed the "Learn More" CTA by 50.6% and the "Sign Up" CTA by 40.4% regarding the cost per lead.
Out of curiosity, we also checked the click-through rate of each ad variation. Here's what we found:

The average click-through rate of call-to-actions was 0.906% for "Learn More," 1.005% for "Sign Up" and 1.001% for "Download."
These numbers are close to identical, meaning that people were just as likely to click on a particular CTA button as on any other variation. There was no big difference in terms of click-through rate.
We bet you're wondering why did the "Download" call-to-action outperform all others regarding the lead conversion?
Three main reasons why the "Download" CTA outperformed all others are:
While the "Learn More" and "Sign Up" CTAs indicate that you can read more or sign up for an offer, the "Download" CTA described exactly what a user would get when clicking on our lead ad.
As people clicked on the ad with "Download" call-to-action, the download pop-up was what they expected to see.
When people clicked on ads with "Learn More" CTA, they might have been expecting to find out more about our eBooks before sharing their contact information in exchange for a download.
Bonus: What about the ad frequency?
When creating Facebook ad campaigns targeting a specific custom audience, it might happen that your ad frequency exceeds 3 points. This means that on average, an audience member has seen your ad for at least three times.
When looking at the A/B test results, we noticed that the ad frequency was 4.04 points.


Naturally, you're curious to find out whether the CTR decreased and the cost per click increased towards the end of the campaign when many people had seen our ads multiple times.
When looking at our ad campaign's timeline, you'll notice that the cost per click and click-through rates remained on the same level throughout the campaign.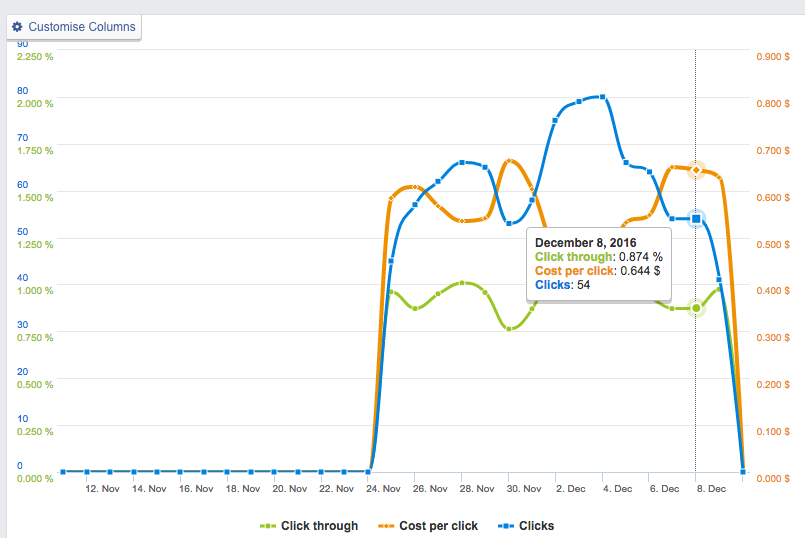 Even though some people had seen our ad four times or more, they were still interested in getting the eBook. Even more so, it might be worth noting that maybe the fact that people saw our ads multiple times was the reason why they downloaded the eBook in the end.
Key takeaway: When targeting small Custom Audiences, a higher ad frequency isn't usually damaging your ad results immediately.
Don't be afraid to deliver your offer to people for five times or more. (But keep track of daily ad performance to notice when it's time to pause your campaign!)
The final verdict:
When it comes to Facebook lead ads where the ultimate goal is to get people download an eBook in exchange for their email address, the best call-to-action is "Download."
The "Download" CTA outperformed the "Learn More" CTA by 50.6% and the "Sign Up" CTA by 40.4% regarding the cost per lead.
The general rule is that your CTA should match the ad's goal. If you want someone to sign up, use the "Sign Up" call-to-action; if you want people to buy your product, use the "Shop Now" CTA, etc.
Also, keep in mind that targeting a warm audience makes lead ad campaigns more likely to succeed. We'll add a note to self about testing warm vs. cold audiences in the future.
Tip: When targeting a small Custom Audience with a high potential of being interested in your offer, keep your ads running at a higher ad frequency than you normally would. But keep a close lookout for signs of campaign slowdown to know when to pause.
Alright, it's time to review all your current Facebook ad call-to-actions and conduct your own A/B tests to find the best-performing CTA for each campaign type.
Which call-to-actions (if any) are you using for different Facebook ad campaigns? Leave a comment to share your thoughts!