Despite slow adoption to start, Instagram video ads today make up more than half of all advertisements on Instagram.
Videos tend to drive more engagement on Instagram than photos, receiving on average twice as many comments as photos. And with Instagram video watch time growing, Instagram video ads give brands the time they need to connect with their audiences.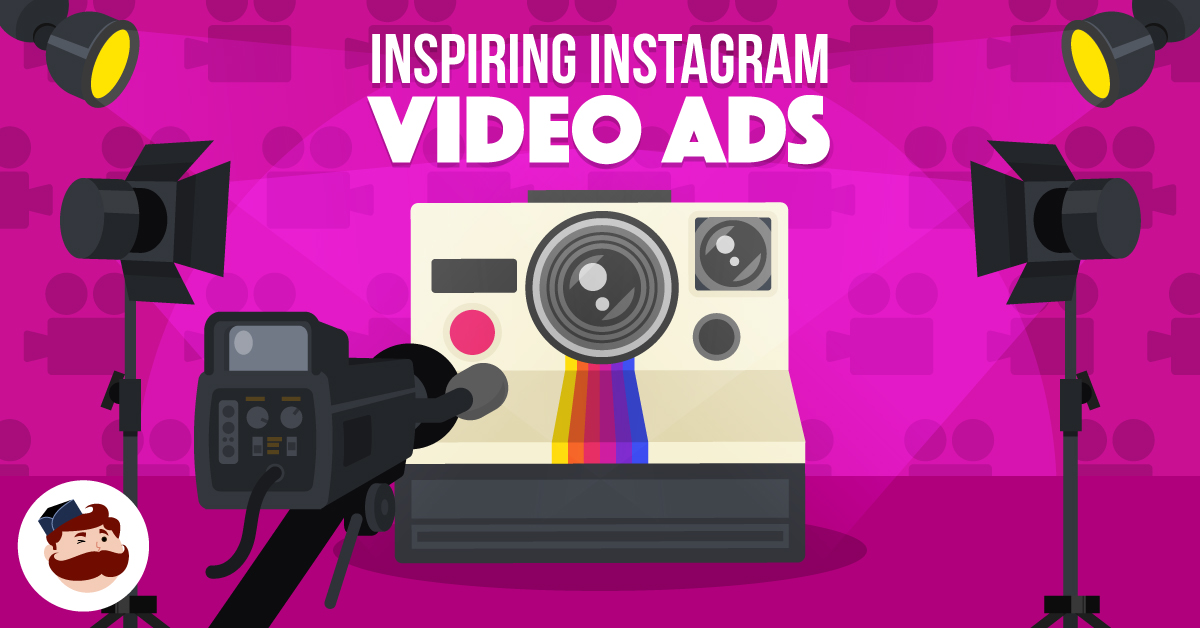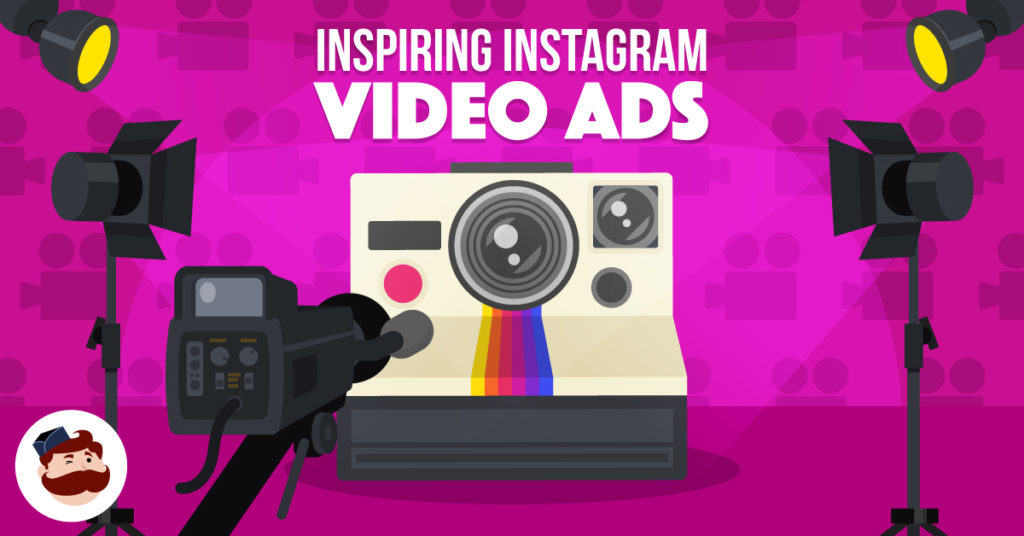 But showcasing your product or service on an Instagram video ad is easier said than done.
The video has to quickly engage the viewer's attention, otherwise, they'll just keep scrolling down their Instagram feed.
If you're feeling stuck in your Instagram ad campaign, we're here to help with our list of 24 amazing Instagram video ads.
Seeing these Instagram video examples will help you figure out how you can boost your own Instagram video ad campaign, or even inspire you to create a new video campaign for Instagram.
Are you ready? Let's go!
1. Apple Watch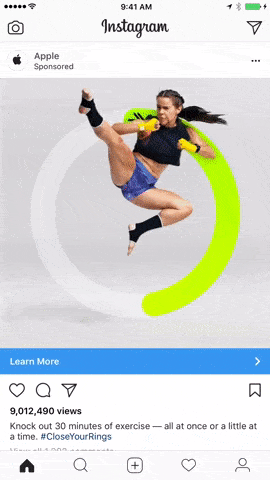 Caption: "Knock out 30 minutes of exercise — all at once or a little at a time."

Why it works:

This Apple Watch ad is eye-catching, featuring bright neon colors and a cool intro slow-motion sequence. Executing a change of speed like that is a great way to catch the viewer's attention because it introduces variation into a clip that users expect to be relatively static (due to expectations created by other ads). Apple also does a great job of making the product information easy to grasp by using the Apple Watch rings as the background of the video. Once the video zooms out to show the rings on the watch, the viewer knows that they're used to measure exercise because they framed exercise as the video's background.
2. Bai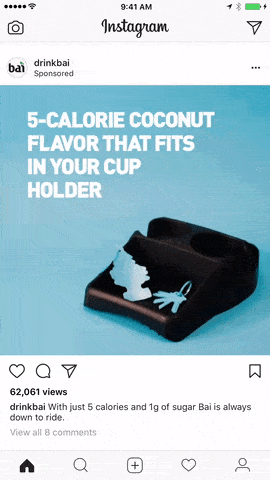 Caption: "With just 5 calories and 1g of sugar Bai is always down to ride."

Why it works:

Bai's video ad keeps viewers engaged by clearly showing why the product is useful to them—the drink is only 5 calories. Bai's audience is health-conscious, so viewers who see this nutritional fact will recognize how the drink could benefit their health, giving them an incentive to buy the product. Defying customer expectations is also often what makes an ad captivating, which is why we why we love the motion of the Bai bottle coming down in this ad. The viewer isn't expecting the bottle to be so forceful, (making the camera shake and have a coconut pop out) so the viewer has to pause on the ad for a moment.
3. Interior Define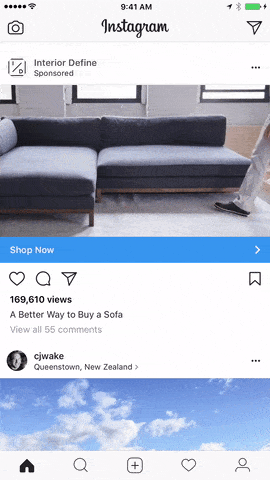 Caption: "A Better Way to Buy a Sofa"

Why it works:

Selling a leisure product, and really most products, boils down to how the product makes the customer feel. Interior Define understands this as a seller of customizable sofas, so their Instagram video ad uses high-quality filming without text to highlight sensory product details, like how the sofa looks plush but still keeps its shape when the man sits on it. The blue-gray sofa color stands out against the neutral white wall and cream-colored rug, so the viewers' eyes are drawn to the product. Even as the boldest ad color, the blue-gray shade of the sofa, according to psychologists, has a soothing effect, which no doubt makes viewers want to relax on that comfy couch even more.
4. Rothy's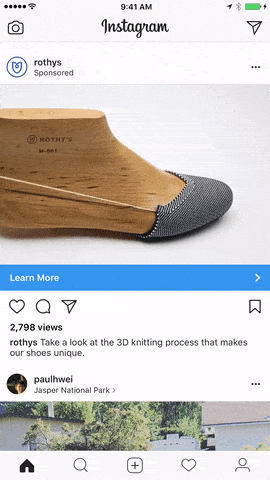 Caption: "Take a look at the 3D knitting process that makes our shoes unique."

Why it works:

Sometimes the thing that makes your product special is a tad foreign — and that's okay! Using a video ad can bridge the understanding gap since visuals are so easy to grasp. Most people don't know what 3D knitting is, so Rothy's made a video ad to highlight the advantages of their process, like how you can 3D knit shoe shapes to exact sizes without any seams. The high quality of the video captures fine product details, like the neat blending of the black and white threads, so the viewer gains a clear sense of the shoe's craftsmanship.
5. Haagen Dazs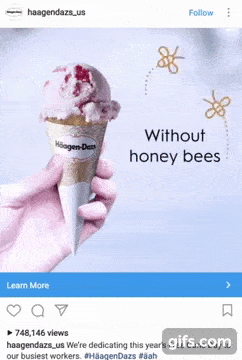 Caption: "We're dedicating this year's Free Cone Day to our busiest workers."

Why it works:

Haagen Dazs shows us the power of using a hook in this video ad for their Free Cone Day. The ad starts with two simple attention-grabbing features — a delicious-looking image of their strawberry ice cream cone and an incomplete statement, "without honey bees." The viewer wants to know the remaining information, so they keep watching to find out that Free Cone Day is in support of honey bees this year. Studies show that 94% of consumers would switch to a brand in support of a good cause, so tying Free Cone Day to honey bees is an effective way to attract viewers to Haagen Dazs (plus who doesn't want free ice cream?).
6. Brooklinen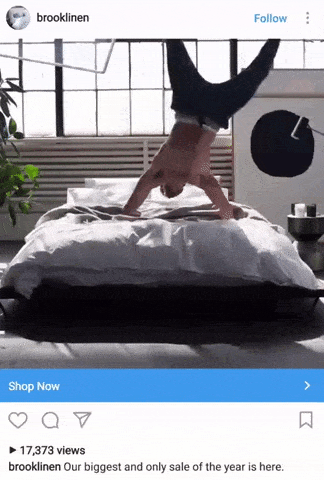 Caption: "Our biggest and only sale of the year is here."

Why it works:

Showing something flashy in a video ad is a great way to catch the viewer's attention, which is why we love the boomerang effect in Brooklinen's Instagram ad. The concept is simple, quickly drawing in the viewer who's quickly scrolling down their feed. The ad doesn't last long, but luckily the viewer will only need a few seconds to realize how comfy that Brooklinen bed looks.
7. Tophatter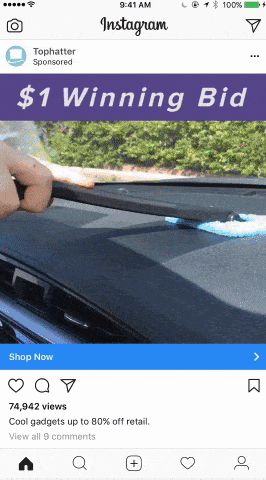 Caption: "Cool gadgets up to 80% off retail."

Why it works:

Video ads are a great way to not only indicate product information, but also actually show how these products can benefit people's lives. In this Instagram video ad, Top Hatter names the low winning bid prices for these products, but even more effectively features clips of how they can improve someone's car ride. A viewer is going to be more inclined to buy that car duster if they can see how much dust it actually wipes off.
8. Blinkist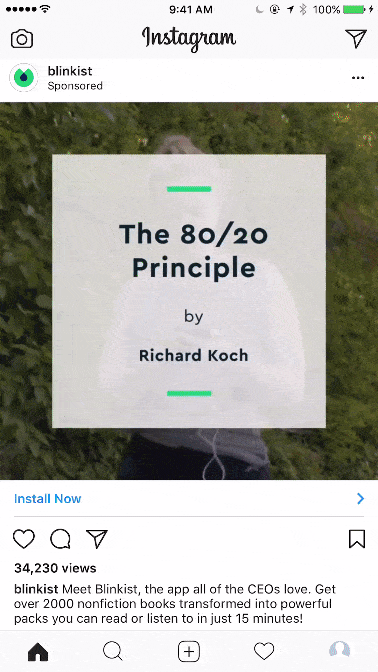 Caption: "Meet Blinkist, the app all of the CEOs love. Get over 2000 nonfiction books transformed into powerful packs you can read or listen to in just 15 minutes!"

Why it works:

In this ad, Blinkist shows us how you can convey the most attractive aspects of your product through simultaneous video visuals. The ad prominently displays very popular book titles that Blinkist offers its users. At the same time, a faded video in the background shows how users are able to use Blinkist — with their smartphone on the go. In less than ten seconds, Blinkist is able to clearly communicate why their product is great — it lets you read great books in a way that fits your lifestyle.
9. CS Racing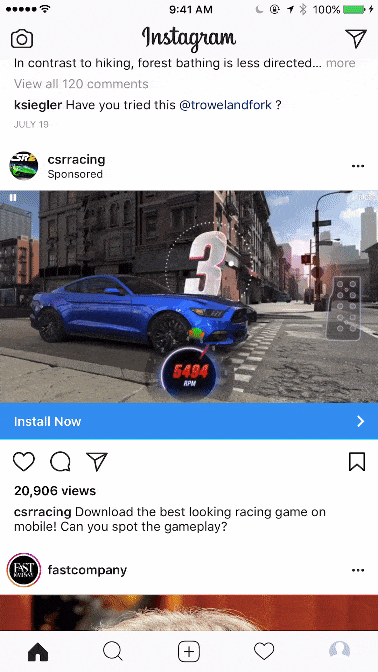 Caption: "Download the best-looking racing game on mobile! Can you spot the gameplay?"

Why it works:

CS Racing knows that their audience wants games that look stunning, so they use their video ad to show off their impressive game visuals. In the ad, viewers can clearly see that the graphics are high-quality, almost resembling live-action filming. CS Racing reminds viewers in the caption that this clip is gameplay, not a cutscene or an edited video, so that viewers know the game actually looks this awesome when you play it. The ad keeps viewers engaged by building in excitement. The ad starts with the car stopped and after a 3-2-1 countdown, accelerates to 70 mph — a quick jump in action that's fun for Instagram gamers to watch.
10. Great Simple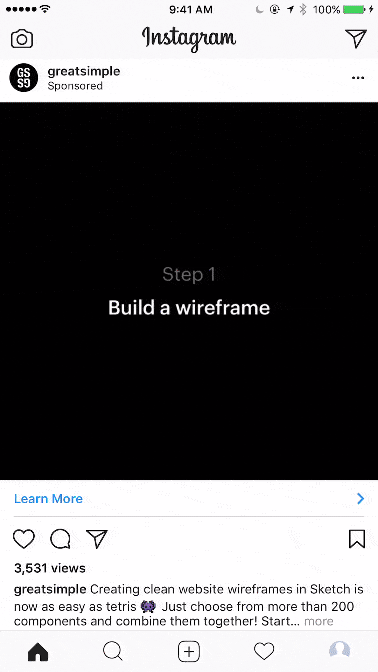 Caption: "Creating clean website wireframes in Sketch is now as easy as Tetris. Just choose from more than 200 components and combine them together!"

Why it works:

Flashy visuals are fun, but aren't necessary for every Instagram video ad. To showcase their product, Great Simple uses a straightforward tutorial about building website wireframes on their Sketch software. The tutorial is easy for viewers to follow because each step is neatly stacked on top of each other (explaining the caption's Tetris comparison). This vertical alignment matches the vertical alignment of Instagram feeds, so viewers can stop scrolling to watch without the switch feeling too abrupt.
11. Idle Heroes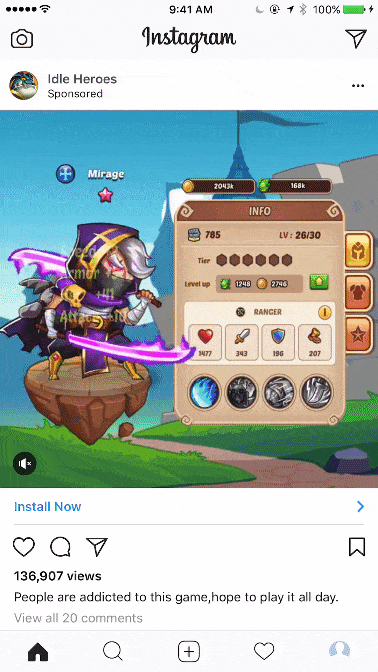 Caption: "People are addicted to this game, hope to play it all day."

Why it works:

Idle Heroes is an adventure game, so the game's ad features colors that inspire excitement. The video ad is full of saturated colors — the magenta sword, the green grass, the purple stats box — which psychologists have found to have an energizing effect. Seeing these colors, the ad's viewers will feel motivated to play such an action-packed game. Besides featuring these colors, the ad attracts viewers by clearly showing what the Idle Heroes audience is interested in — the rewards, like badges and hero rankings, that motivate users to continue playing video games.
12. Lemonade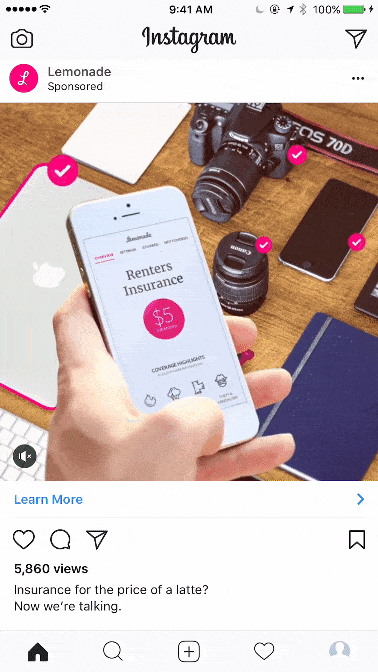 Caption: "Insurance for the price of a latte? Now we're talking."

Why it works:

Color coding

is an easy way to point the viewer's eyes exactly where you want them to go in a video ad. In their Instagram ad, Lemonade frames the most important details of their video in hot pink — the $5 cost of their service, plus all of the valuable items a renter would insure. With this consistency, Lemonade does a great job of communicating the ad's message in simple, easy-to-understand terms. The hot pink also makes mundane renters insurance seem a bit more fun since the color evokes feelings of playfulness, making viewers more inclined to try the product.
13. Marvel Champions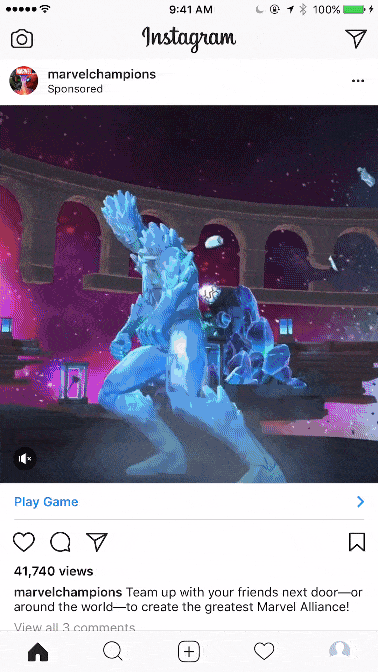 Caption: "Team up with your friends next door — or around the world — to create the greatest Marvel Alliance!"

Why it works:

Marvel Champions uses their video ad to prominently feature what their audience wants from the product — visually awesome fighting sequences with multiple characters. The video includes an intense match that shows how well the game visuals capture motion and vibrant colors, as well as the wide variety of characters viewers and their friends can play with online. By not including extra information that users might find less appealing, like text about the game, the video ad easily draws the attention of viewers to the action-packed fighting that will motivate them to buy the game.
14. Quip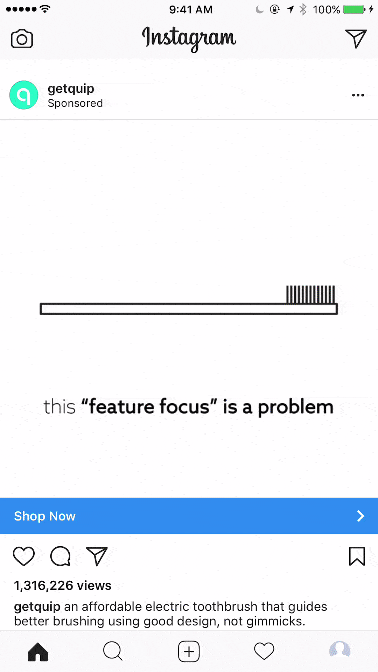 Caption: "An affordable electric toothbrush that guides better brushing using good design, not gimmicks."

Why it works:

In this video ad, Quip effectively uses the classic advertising tactic of identifying a problem and how your product solves that problem. Taking advantage of the video medium, the ad conveys their message in slideshow steps, breaking down the logic of why Quip is the solution to bad toothbrushing into easily understandable chunks. The sketch drawing of the toothbrush transforms into a sleek photo of the product at the end of the ad, so viewers are left remembering the cool design features of their product.
15. Robinhood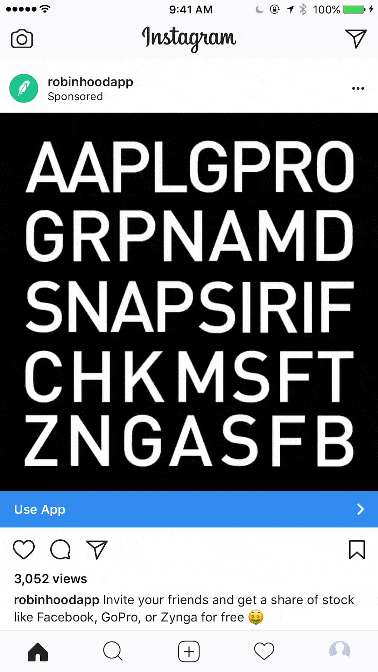 Caption: "Invite your friends and get a share of stock like Facebook, GoPro, or Zynga for free."

Why it works:

Sometimes simplicity is all you need to communicate the point of your product. That's certainly true in Robinhood's video ad, which features a basic black background with stock names in white lettering appearing around the screen. This stark simplicity is attention-grabbing because it's so different from the busy, colorful content that takes up most Instagram feeds. The sporadic movement of the stock names is somewhat unexpected, so it also grabs the viewer's attention without overwhelming them visually.
16. Runtastic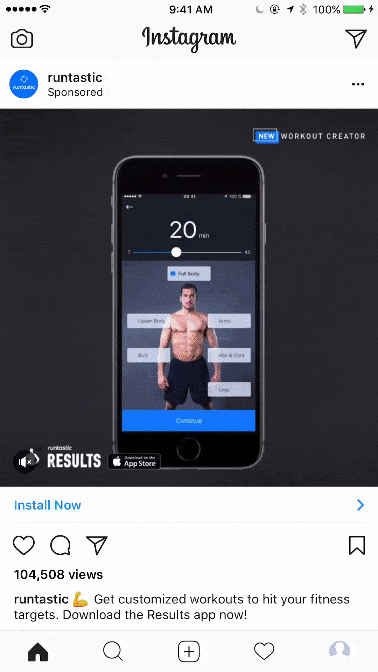 Caption: "Get customized workouts to hit your fitness targets. Download the Results app now!"

Why it works:

Runtastic in this video ad skillfully uses the advertising tactic of showing the viewer who they want to be and how your product will help them get there. To motivate viewers, the video ad features a toned guy whose level of fitness is exactly what Runtastic's audience idealizes. To show the purpose of their product, the ad shows how this man uses Runtastic to target certain areas of his body for training, making it clear that their product will help viewers achieve the physique that they're striving towards.
17. Talkspace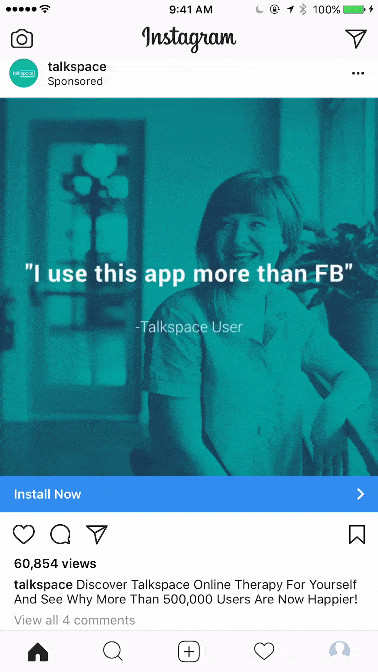 Caption: "Discover Talkspace online therapy for yourself and see why more than 500,000 users are now happier!"

Why it works:

In this video ad, Talkspace shows how using social proof to attract viewers is more than just showing customer testimonials — it's about pairing those testimonials with images of the happy customers to make the stories more believable. On top of putting customer faces to words, Talkspace effectively communicates their branding to viewers by using an aqua green photo filter that matches their logo's color.
18. BuzzFeed Tasty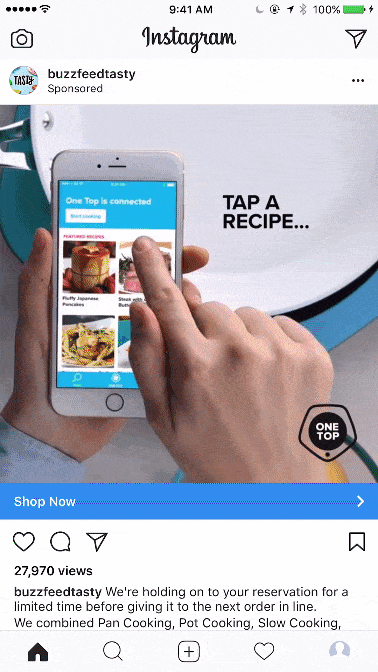 Caption: "We're holding on to your reservation for a limited time before giving it to the next order in line."

Why it works:

Highlighting its new One Top stove product, Buzz Feed uses its video ad to clearly show viewers how their new product is going to work and make their cooking easier. In the video, viewers can easily see how users select the details of their ingredients and other settings before starting the One Top stove. To make their product even more attractive, Buzz Feed Tasty skillfully draws attention to the juicy red steak by contrasting it against the video's light blue color scheme.
19. Velocity Black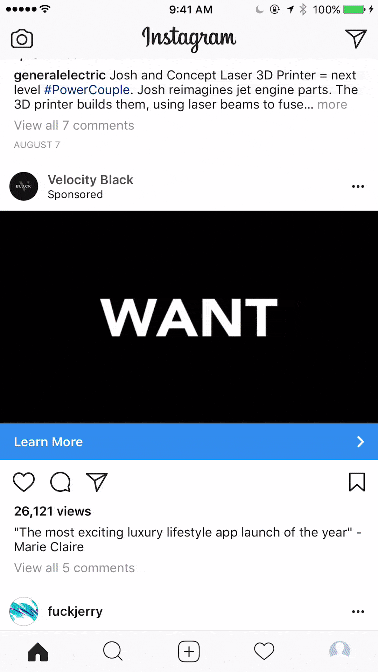 Caption: "The most exciting luxury lifestyle app launch of the year" – Marie Claire

Why it works:

Almost resembling a movie trailer, Velocity Black's Instagram ad catches the viewer's attention with flashy alterations between multiple images within only a few seconds. The advertising concept driving the visual displays in this ad is teasing — viewers see just enough of the images to know that they are glamorous and exciting, but have not seen enough to feel satisfied. Knowing how cool these images look, the viewer is hooked and wants to see more of the product.
20. Wag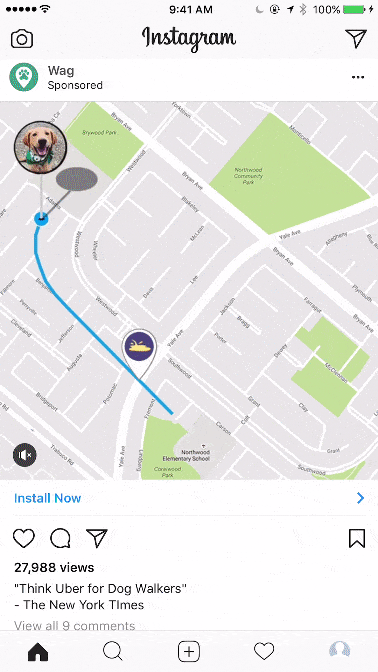 Caption: "Think Uber for Dog Walkers" – The New York Times

Why it works:

Wag shows us how video ads can simultaneously convey key product information while also inspiring positive emotions in the viewer. The video effectively familiarizes the viewer with the app's design, showing them how it is pretty similar to driver apps like Uber. At the same time, the cute icon of the puppy and the outline of the path forming into a heart will make most, if not all, of Wag's dog-loving audience feel warm and happy about their product.
21. War Commander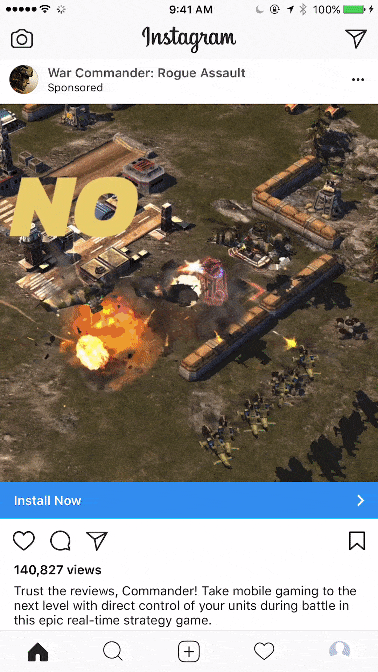 Caption: "Trust the reviews, Commander! Take mobile gaming to the next level with direct control of your units during battles in this epic real-time strategy game."

Why it works:

With some Instagram video ads, the successful strategy is to be straightforward, not subtle. This certainly holds true for War Commander's Instagram video ad, which clearly shows this game's audience exactly what they want from the product — action-packed visuals of war fighting, plus the promise of "no build times" in big yellow letters. Many online games profit with these "builds," which are set periods of time that stop a user from continuing a game for hours, even days, that can only be reduced by paying actual money. It's an annoying feature, so the fact that War Commander has no build times is a huge plus for online gamers.
22. Yousician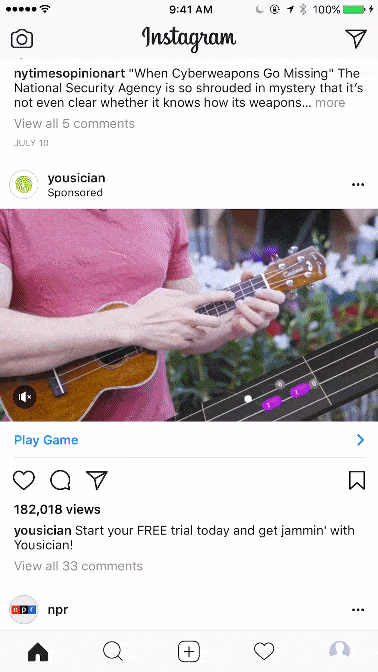 Caption: "Start your FREE trial today and get jammin' with Yousician!"

Why it works:

Yousician shows us how a video ad can be a great way to showcase multiple ways a viewer can use a product. The ad seamlessly switches from showing how users can learn different ukulele playing techniques with different Yousician games. On top of clearly showing the product's features, the ad also lures in the viewer with bright visuals, namely scenic backgrounds, like a beach and a garden, to match the happy uke playing.
23. Goldbely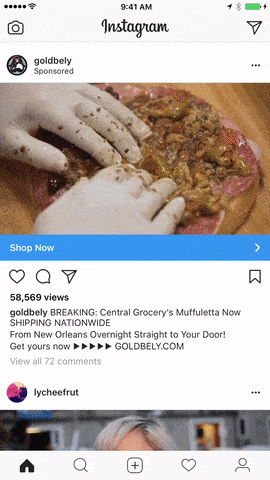 Caption: "BREAKING: Central Grocery's Muffuletta Now SHIPPING NATIONWIDE. From New Orleans overnight straight to your door!"

Why it works:

Goldbely's ad reminds us why the food industry is so suited for Instagram videos. With high-quality filming, the company's ad is able to capture all of the sandwich's tasty details — the layer of green olives, the thick white bread. Being presented with more sensory details than a photo ad could capture, viewers are going to feel pretty motivated to place an order.
24. TechCrunch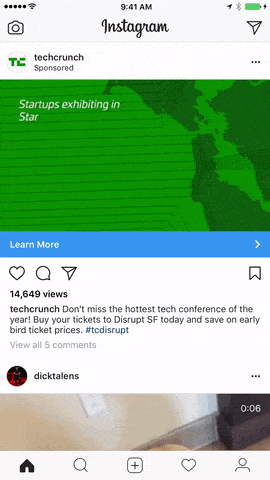 Caption: "Don't miss the hottest tech conference of the year! Buy your tickets to Disrupt SF today and save on early bird ticket prices."

Why it works:

Who says slideshows have to be boring? Tech Crunch shows how organizing a video ad like a slideshow can be an effective way to clearly communicate your message. Advertising Tech Crunch's Disrupt SF conference, the Instagram ad's slides show in a logical order all of the essential knowledge for signing up — how signing up has benefitted past attendees, how the conference networking works, and where to sign up online. To keep this information engaging, Tech Crunch uses bright colors and fun animations throughout the video.
Increase Instagram Engagement with Video Ads
Instagram video marketing can be tricky to get just right.
To create the best Instagram ads, marketers have to balance trying to grab the viewer's attention so that they don't scroll past while also trying to avoid overwhelming the viewer with catchy visuals.
The examples in this list will help you find that balance so you can enjoy the high engagement rates that come with Instagram video ads.
What do you think? Did your favorite Instagram video ad make this list, or is there another you'd like to share? Let us know in the comments!