Who needs a physical store when Instagram continues to build out more features for shopping directly on its platform?
First, it was quick links to click-through to a brand's website for browsing.
Then, Instagram added shoppable tags directly into posts!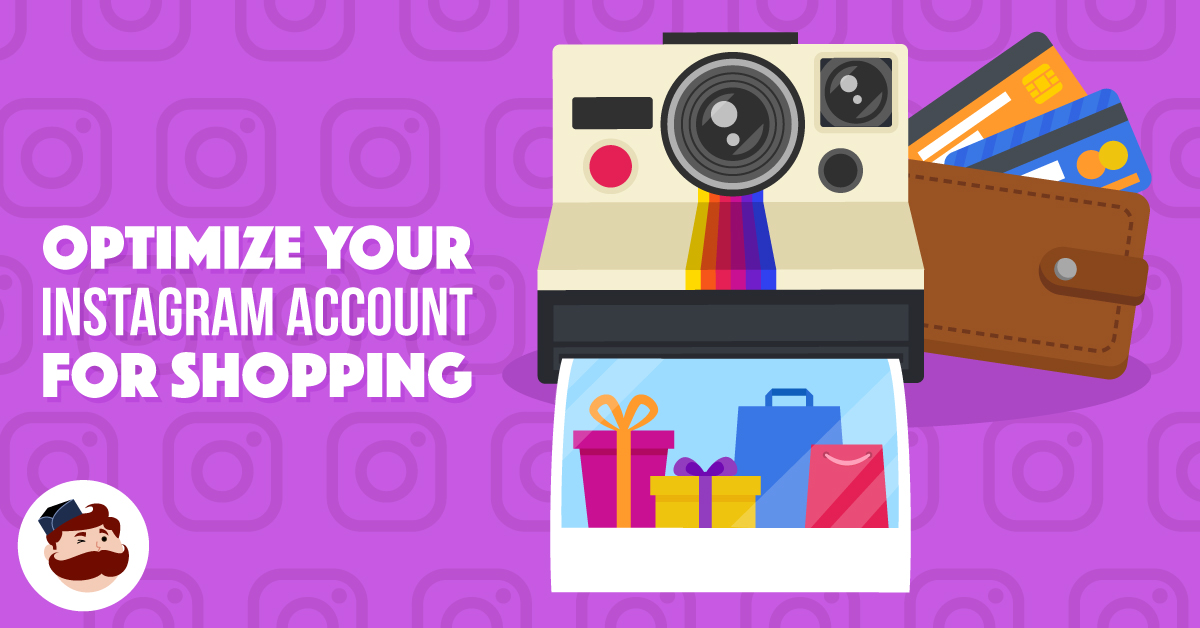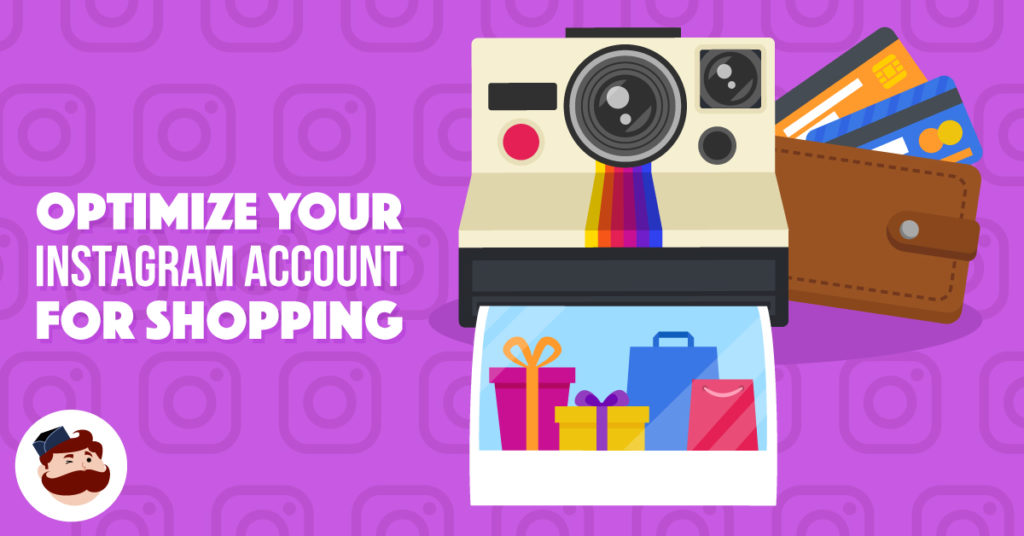 In May, the company secretly followed up with a native payments option.
Instead of having users navigate to a third-party site for checkout, for a few select accounts Instagram now makes it possible for transactions to occur directly on its platform.
In this post, we detail the latest Instagram shopping capabilities for brands, and show you how to go about taking advantage of them!
Instagram growth doesn't seem to cease.
Shopping abilities are some of the hottest new trends on the fastest-growing social media platform in 2018.
Instagram is now the third largest social media player in the game (behind Facebook and YouTube).
More than 30% of all internet users globally between the ages of 30-49 use Instagram.
First: If You Have a Website, Link It.
Although nearly 50% of businesses with Instagram accounts don't have standalone websites, if you're part of the other half — it's still a good time to drive traffic to your online store the "old-fashioned" way.
Add a "Shop Now" CTA by first choosing an objective for your ad — such as brand awareness, reach, or traffic. 
Effective CTAs have been proven to increase conversions. Just because Instagram is rolling out new and shiny features like shoppable tags, it doesn't mean you need to completely do away with this tried-and-true tactic.
A "Shop Now" CTA would closely line up with "conversions." It will show up in your Sponsored post as a banner below your original image: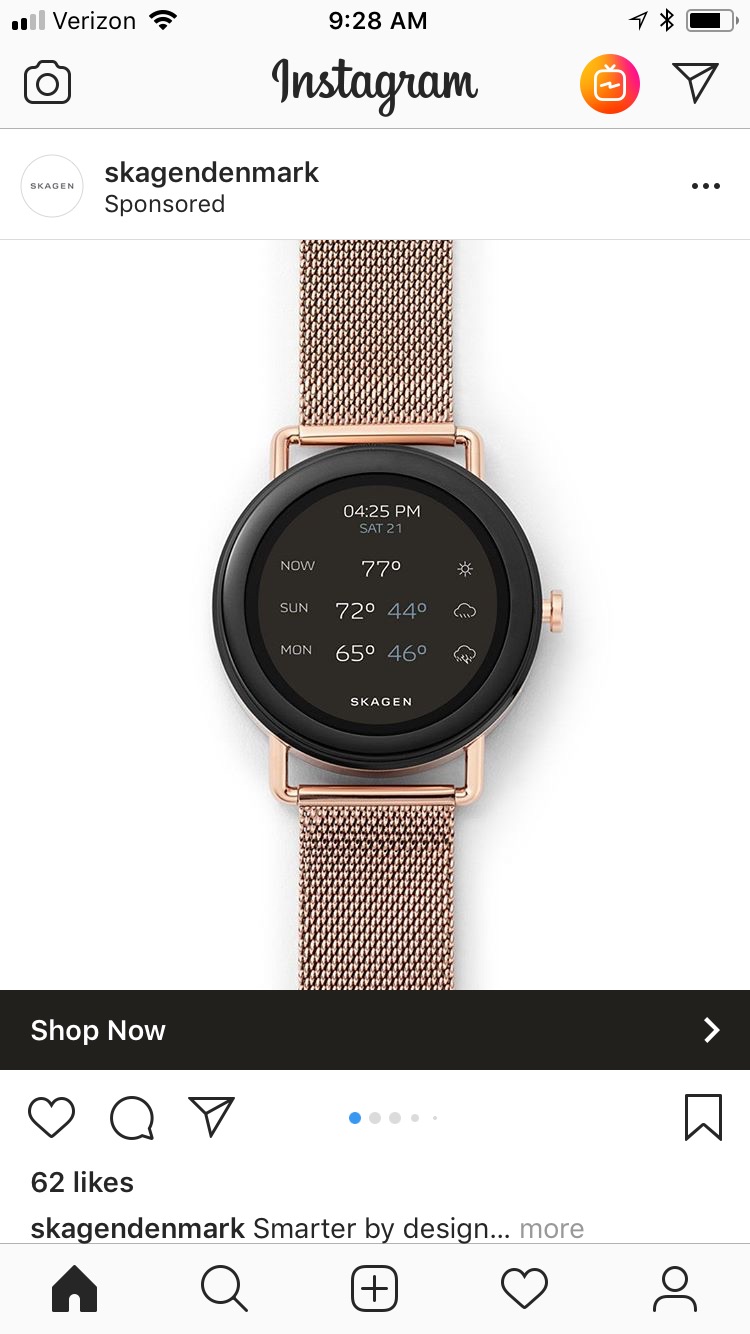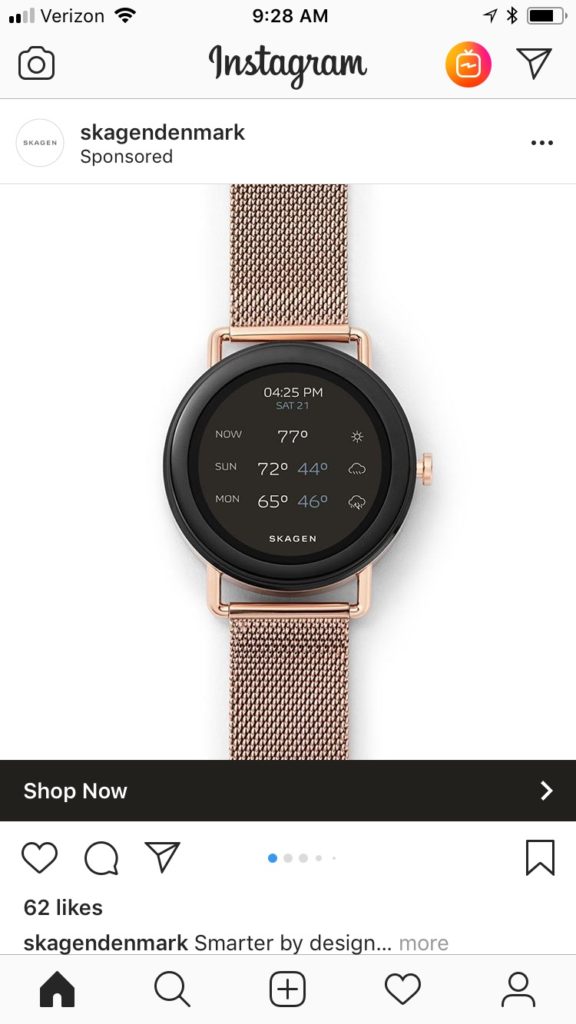 You can also drive viewers and followers to your website to start their shopping experience with a variety of other CTAs like "Learn More" or "Subscribe."
But, it's always fun to experiment with the latest IG features. And speaking of which …
What Exactly Are Instagram Shoppable Tags?
Shoppable tags might seem like just one more thing to learn on Instagram. And they are — but they're also enormously valuable if you learn to use them correctly!
Instagram rolled out this feature to a few select accounts in 2016 and has been rapidly expanding the service ever since.
Shoppable tags (or product tags) are like tagging a person in a post, according to Facebook. Once you're set up for product tagging, it's a one-click solution to highlight new items for viewers to purchase.
When someone hovers over a post with a shoppable tag, small white dots will appear on the products that are for sale: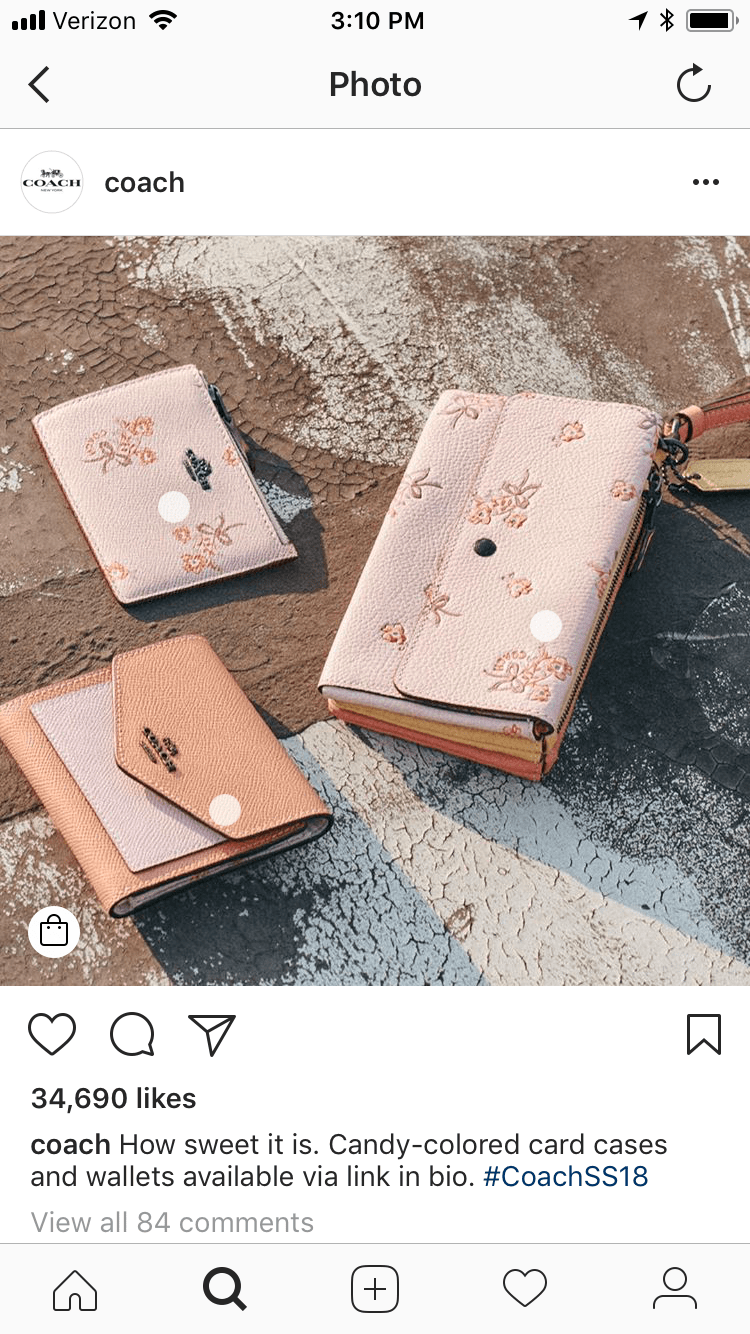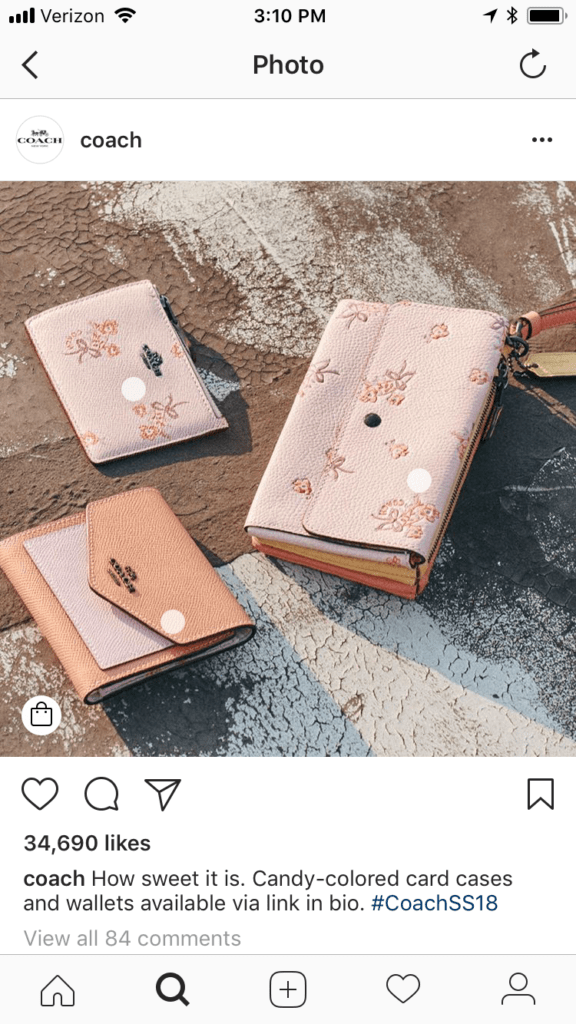 If you tap the image, you see a brief description of the product(s) and cost(s).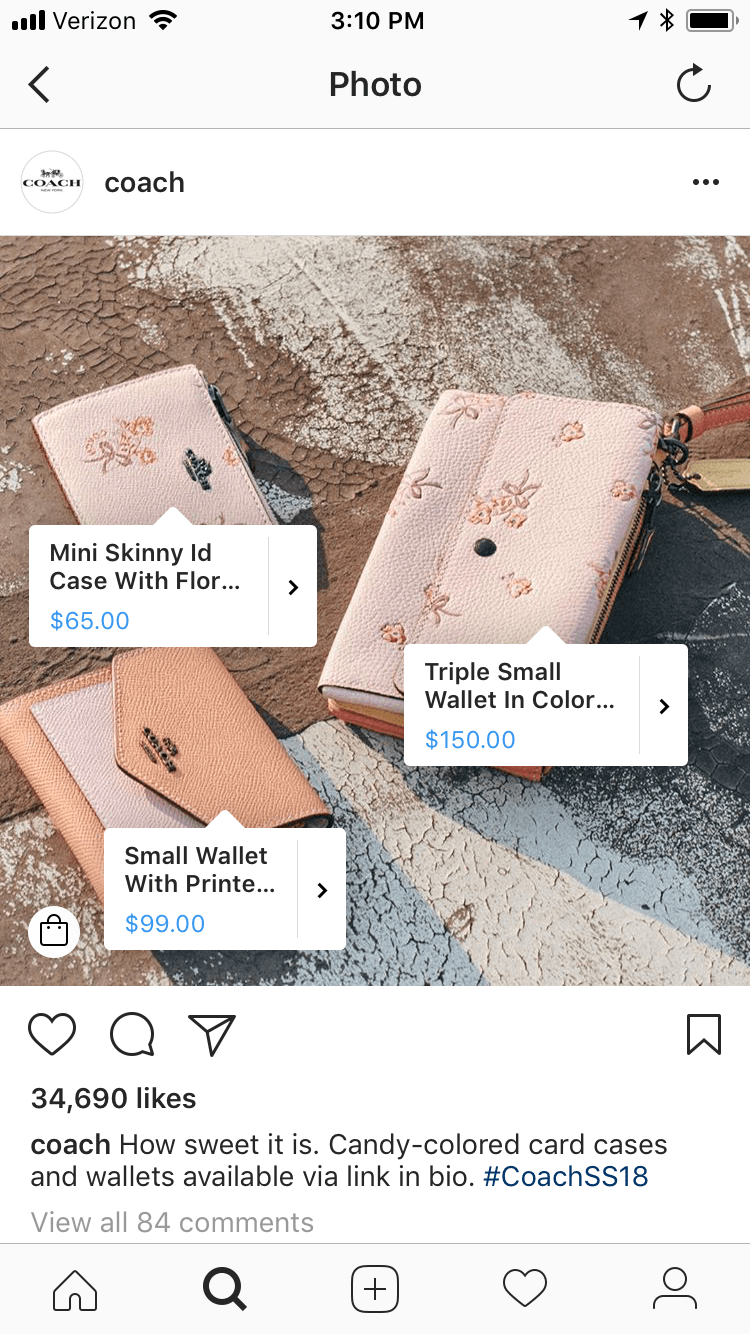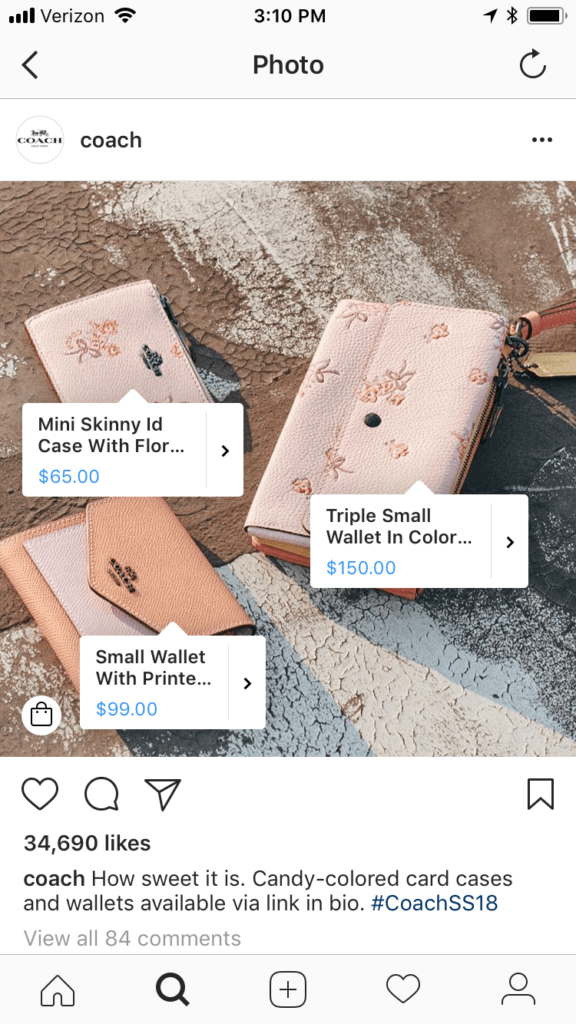 Finally, you'll see a black arrow that takes users directly to the company's website, where they can learn more and complete the purchase.
The advantages of shoppable tags are:
Customers have a simple and efficient in-app experience (from discovery to checkout).
Marketers can begin to consolidate (or move away from) other shopping features (like CTAs).
For early adopters, this quick method offers a competitive advantage.
Consider this: 80% of brands and retailers say that great visual content helps them discover new products.
What's more — 88% say it makes them trust a brand more.
Combined with the new one-click shopping option, creative and well-executed visuals can delight your viewers and turn them into customers.
How Do I Add Instagram Shoppable Tags?
You can add shoppable tags in a few simple steps.
First, make sure you have the latest version of the Instagram app and that your account is approved for shopping (i.e., a business account).
To convert a regular profile into a business profile:
Go to your Settings.
Tap Sign up for a Business Profile.
Tap Convert Existing Account (or Create New Account).
Make sure your account is Private.
Navigate to Set Up Your Business Profile page, review your contact information, and you're done.
After you set up your business account and agree to Facebook's merchant agreement, you'll be prompted to add a payment method.
"Check Out on Facebook," "Check Out on Another Website," or "Message to Buy" are three standard options — or you can build it out by connecting with an existing Shopify or BigCommerce account.
Consider matching your Instagram account to the look and feel of your landing page to make payments as smooth as possible for customers.
Then, it's time to connect it to your Facebook catalog.
In your business manager settings, click on Data Sources, then Catalogs in your account:


(Source)
Next, in your Catalog Manager, navigate to the Products tab, where you'll be able to create product sets, add filters, and gain insights on how your inventory has performed over time.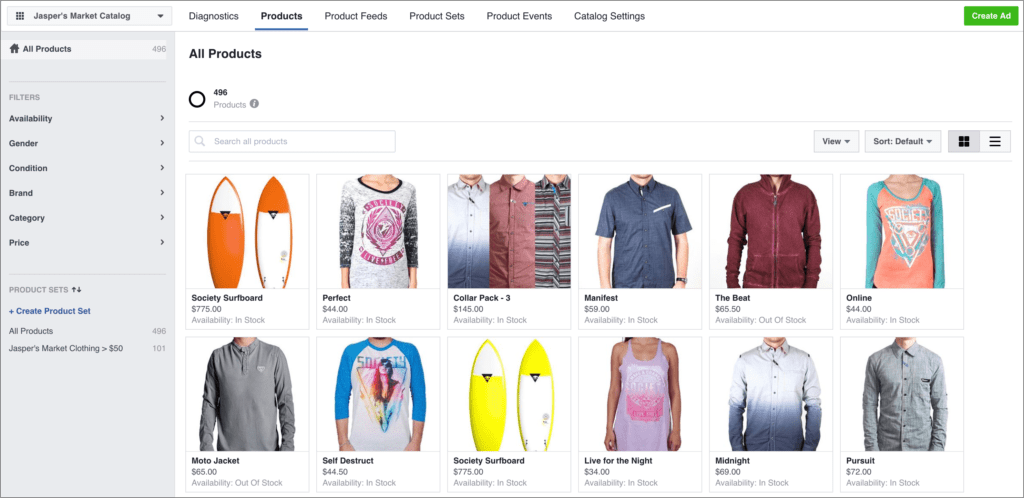 (Source)
Finally, Facebook will review your account (which usually takes a few days).
When you've been approved, you'll receive a notification to turn on product tagging in your Instagram Settings.
How Successful Brands Are Using Shoppable Tags
Top brands have been taking advantage of shoppable tags in a variety of ways.
While there aren't a lot of innovations yet to the icons (i.e., different colors, placements, fonts, etc.), several companies have paved the way by making their shoppable posts unique in other ways.
For example, while many brands opt to place their products front-and-center, Madewell's approach is more subtle.
Here, the focus of the post is the model's action — not the earrings for sale.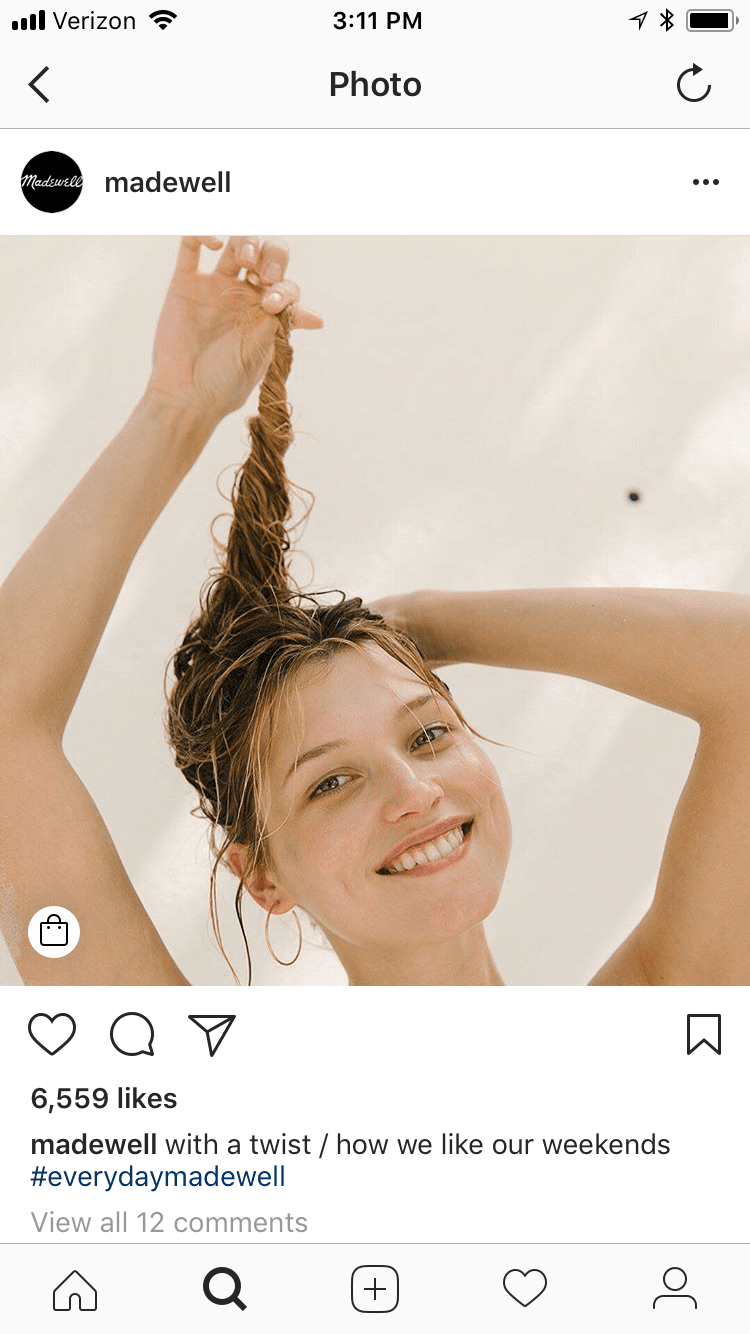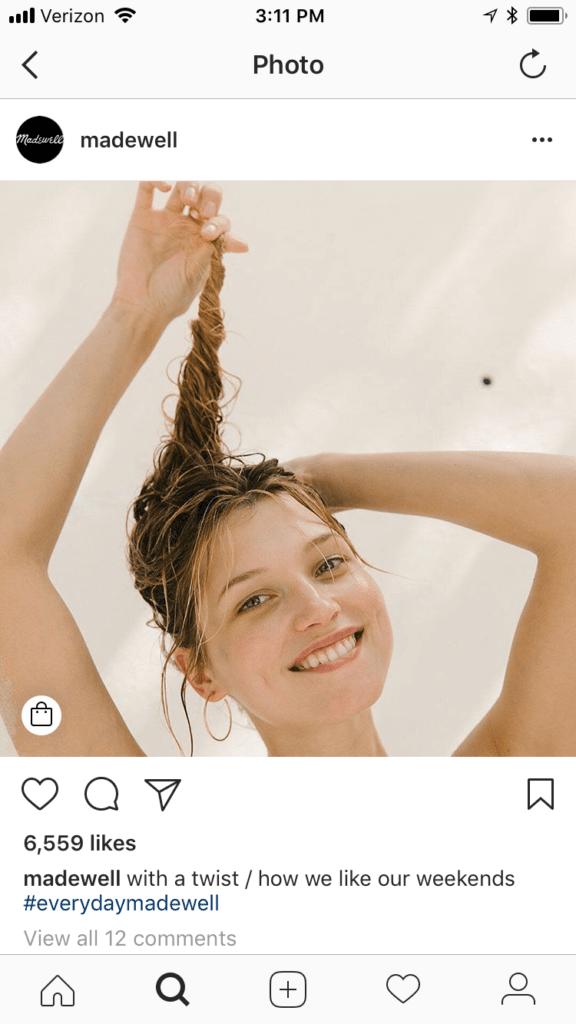 This tactic is a "twist" (in Madewell's own words).
Pro Tip: If you can't switch up the icon, get creative with the visual content surrounding it.
Use photo editing tools like Google's Nik Collection and GIMP to add that extra edge to your image and impress your followers. Get creative in how you communicate the way your product fits into your prospective customers' lives in a delightful and seamless way.
You can afford to be subtle. All shopping posts will have a little tote bag in the lower-left corner that confirms for the viewer that at least one thing in the post is for sale.
Since its introduction in the U.S. in 2016, Instagram shoppable tags were rolled out to online stores in 44 countries.
The Brazilian streetwear brand Storvo quickly hopped on board: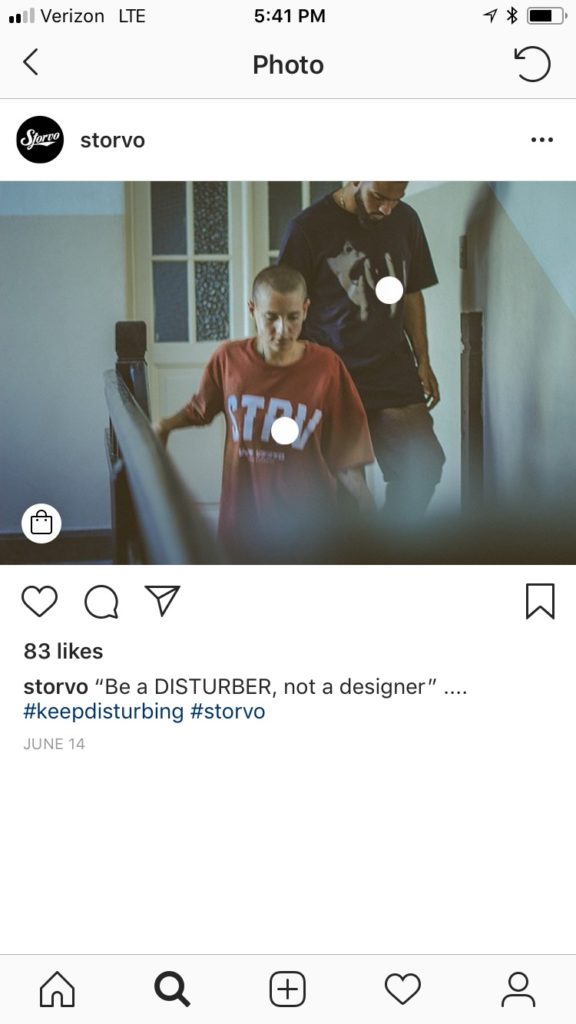 Brazilian companies have an enormous advantage by being early adopters of shopping features as Brazil is Instagram's second-biggest market globally.
While many stunning Brazilian fashion accounts already stand out, there's still room for brands in other industries to gain recognition and increase their sales on Instagram. Side note: if you're considering optimizing your campaign budget, Brazil's average CPC has historically been lower than that of the U.S.
Instagram is an immersive platform, which helps account for its rise to the top of social media charts; re: engagement.
If you're a marketer, play to Instagram's visual and mobile strengths. This is a perfect venue for ads that incorporate sweeping and dynamic scenes of nature.
Pro Tip: In a shopping post, use dramatic landscapes to sweep viewers off their feet.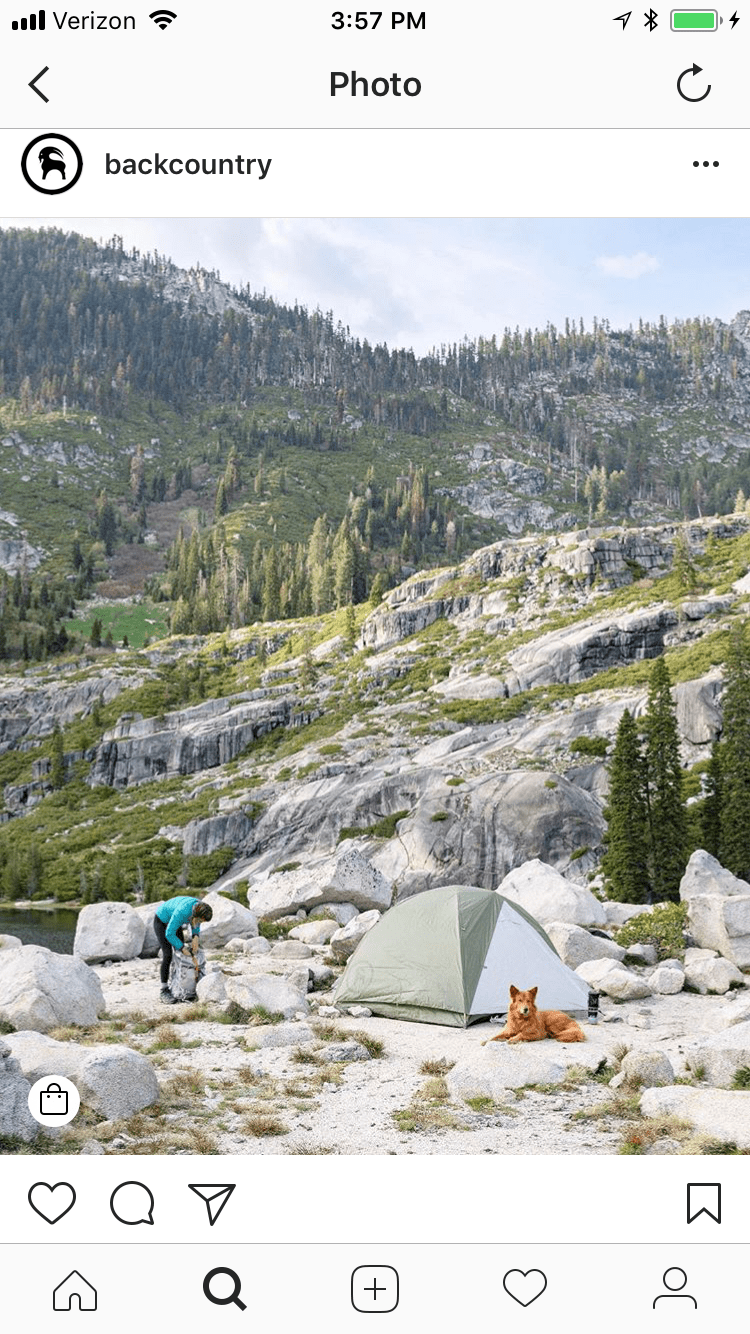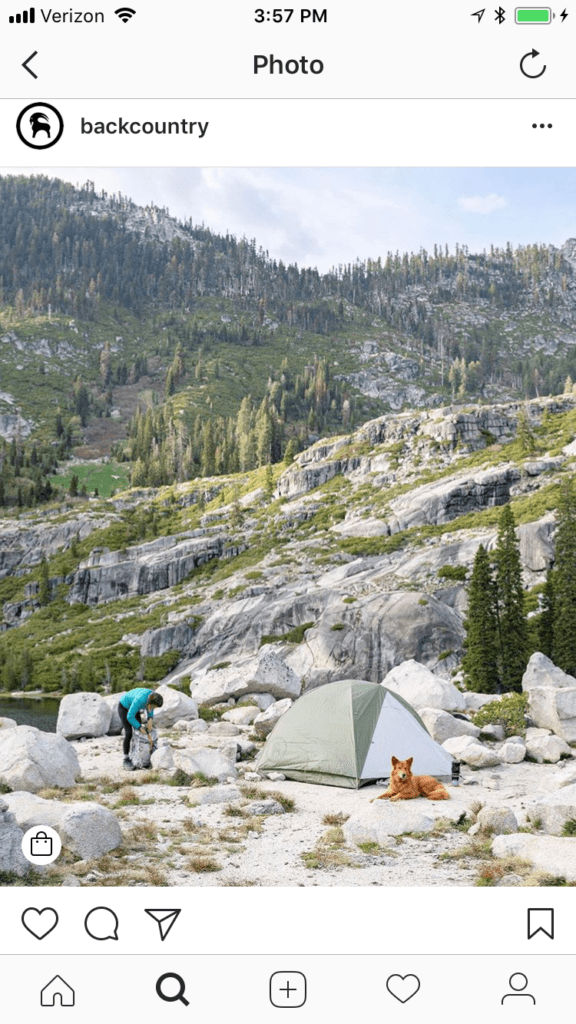 As with Madewell, the focus of Backcountry's ad (above) isn't the camping gear. It's the background, which lures you in and prompts you to explore.
In May, Instagram released a new feature that allows marketers to repurpose organic posts into Ads with the Power Editor or Ads Manager.
For outdoor brands, this is a great chance to sift back through your followers' incredible travel pics and consider requesting them as user-generated content.
How To Use Instagram Shoppable Tags in Stories
As we mentioned before, shopping capabilities only continue to expand.
In mid-June, Instagram allowed users to add shoppable tags directly into Stories. This has the potential to be a huge coup for marketers.
In Gap's Stories, they showcase their current inventory to bring followers to checkout.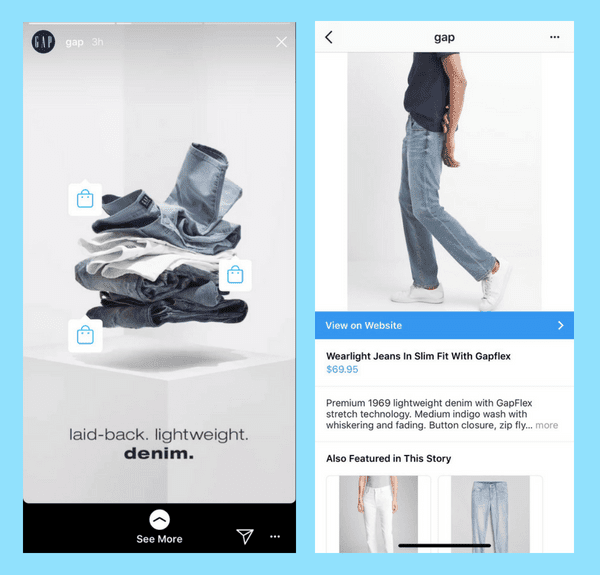 The addition of shopping tags makes it easier for customers to take advantage of a scene that they identify with or want to be part of.
Instead of simply watching and becoming inspired, they can actually participate by purchasing what's for sale and re-creating the scene for themselves. If you have multiple products in a single frame like Gap does with its all-denim look, be sure to arrange your tags so that they don't overlap and viewers can see the full set.
Adding shopping tags to Stories doesn't mean you need to cut down on other valuable features.
Teva, for example, still drives home its point with smart hashtags below each frame.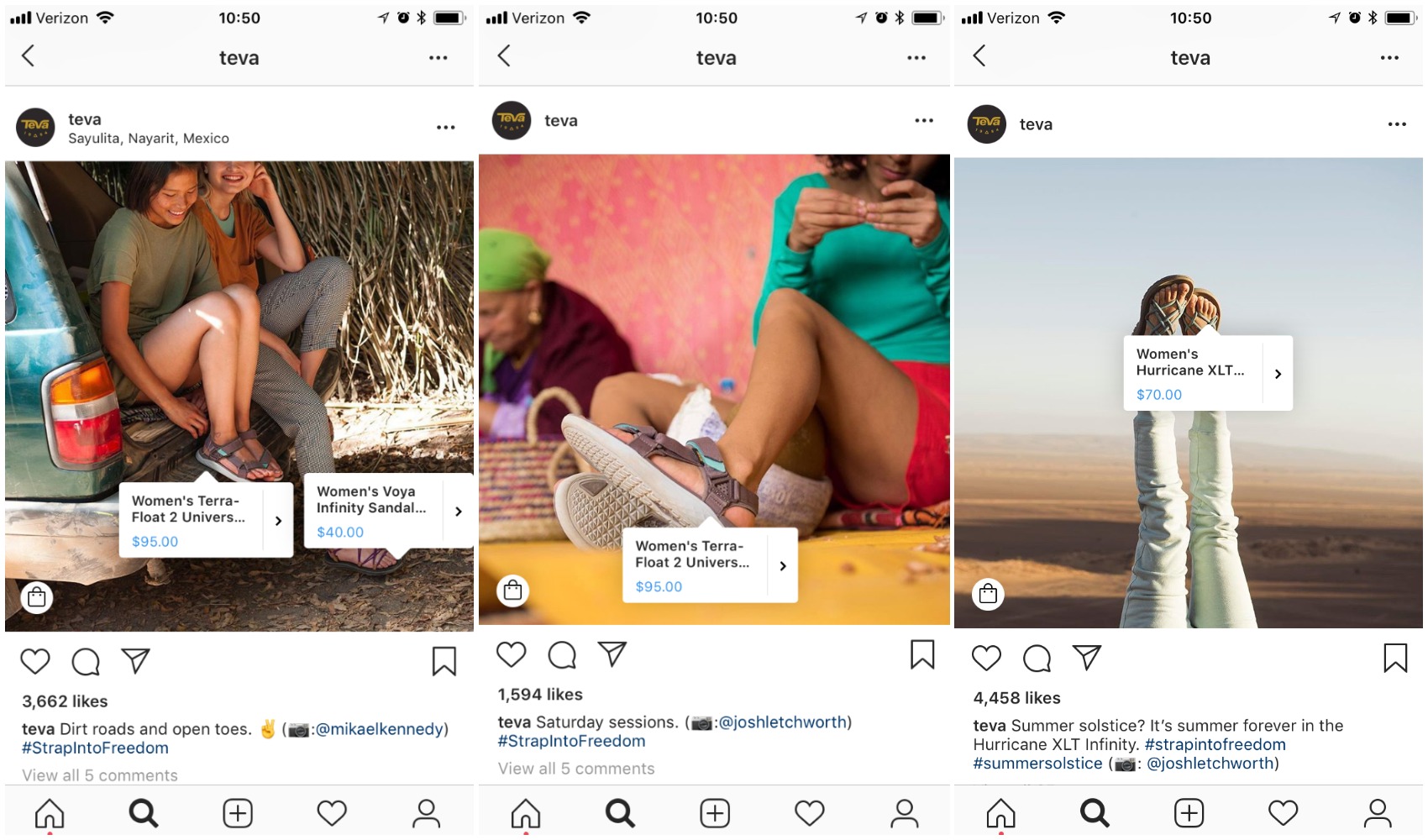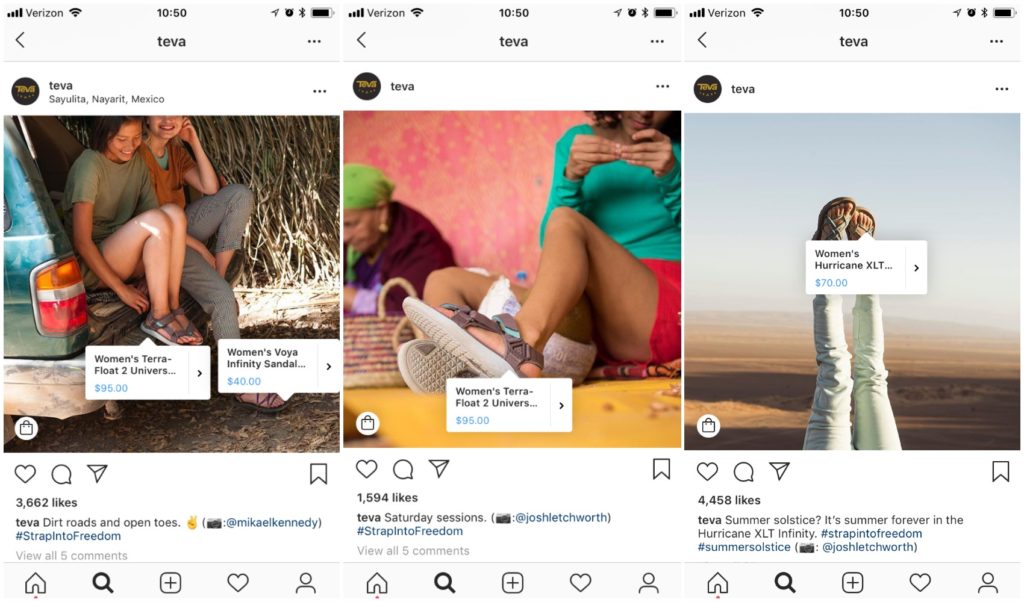 Instead of detracting from the tags, adding 📷 credits and ✌️emojis enhance the feelings of adventure and wanderlust in the post and hook the viewer even more.
Other ideas for hashtags that have been proven to generate more engagement include days of the week and event hashtags.
Remember to always keep them brief and don't overlook any hidden meanings (like #NowThatChersDead).
Key Stats
With almost 450 million posts, #TBT (Throwback Thursday) is one of the most used hashtags on Instagram, it's a great idea for "nostalgia marketing."
Instagram posts with 9 hashtags receive the most engagement.
If you're trying to describe your product in the tiny amount of space that the tags provide, make sure to get the most important information up front.
Since you usually get about 4-5 words' worth of space, determine what's critical: size? designer? who is the product best for?
Below, Bonobos pares it down to the bare essentials.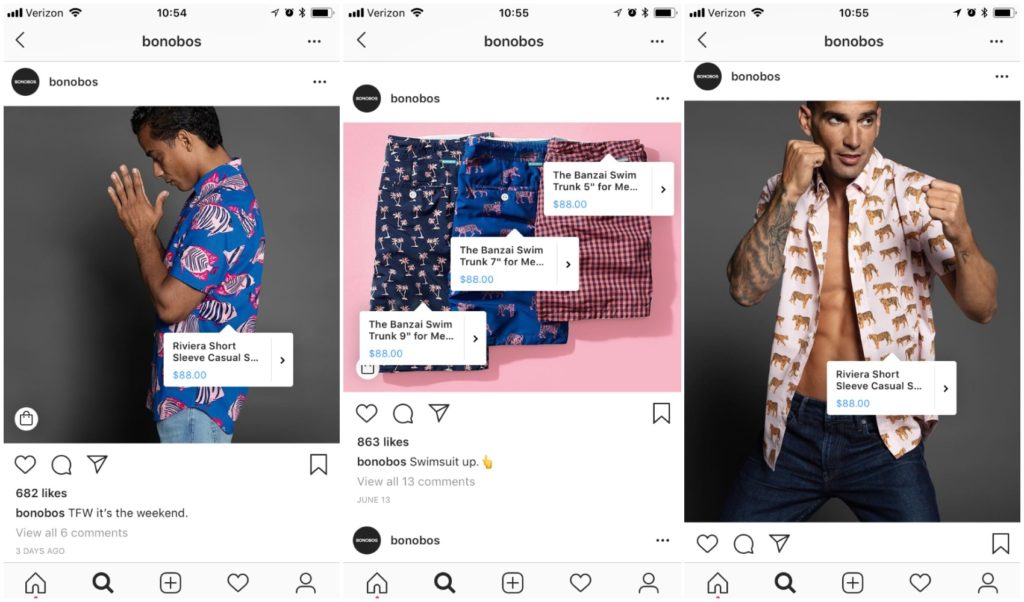 The brand includes a quick description, including a qualifier that gives it a distinct edge ("Riviera" or "Banzai") and the size. From there, all other text can trail off, prompting curious viewers to click to learn more.
Make sure your listed prices below the description are reasonable for your target audience — so as not to turn them off from the ad completely.
To get a handle on this, do some industry research with tools like BuzzSumo.
What's That About Native Payments?
While Instagram shoppable tags still require a third party to complete payments, Instagram is slowly and secretly releasing a native payments option for some users.
It's being tested by a group of accounts, largely restaurants and salons that rely on bookings. If successful, this could mean that the entire transaction would take place directly within the Instagram platform — no toggling back and forth between PayPal or another website.
So far, native payments use the same system as Facebook Payments, including uploading credit cards and adhering to their strict terms of service and directions for customer complaints and disputes.
Easier payment processes have been proven to increase transaction volume, so early adopters of native payments on Instagram could see big results! Stay tuned for the latest updates on this.
Shop Til You Drop!
Instagram recently hit one billion users.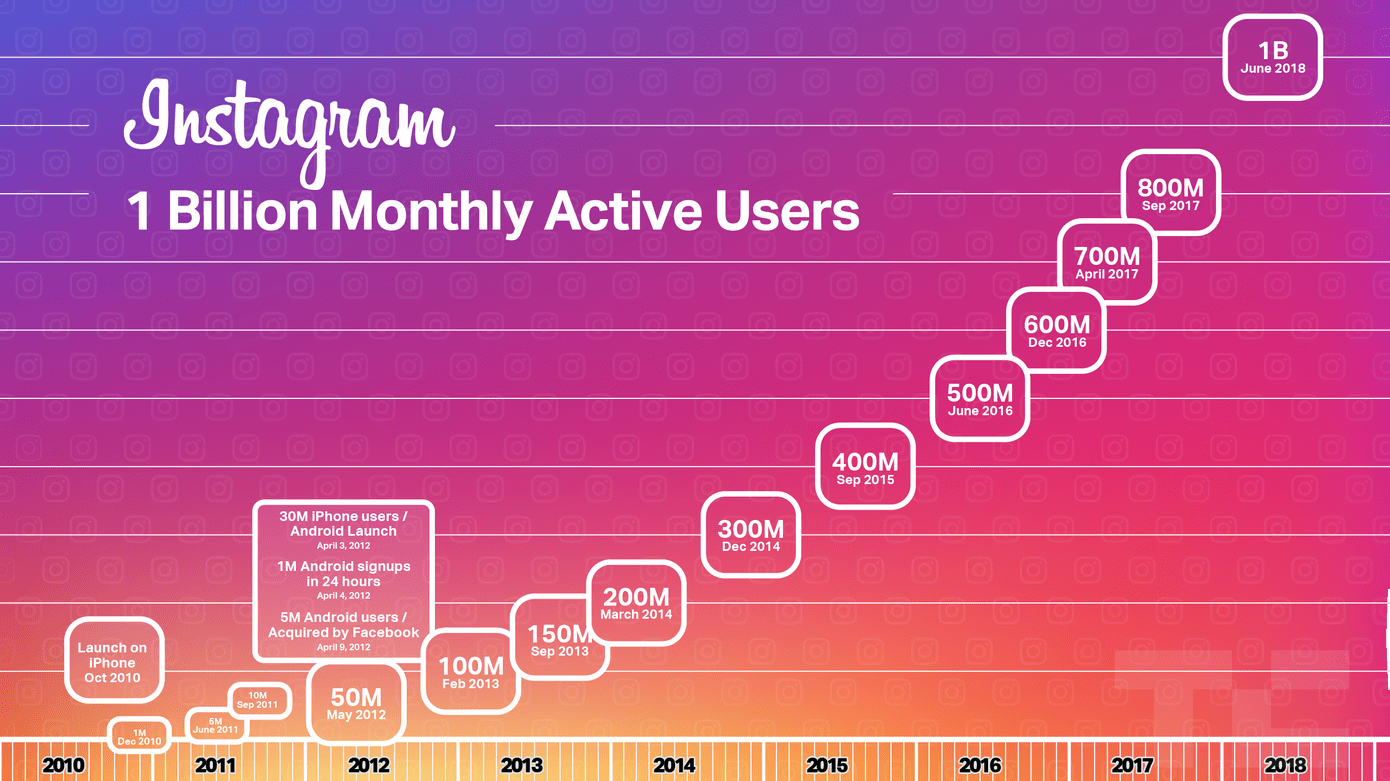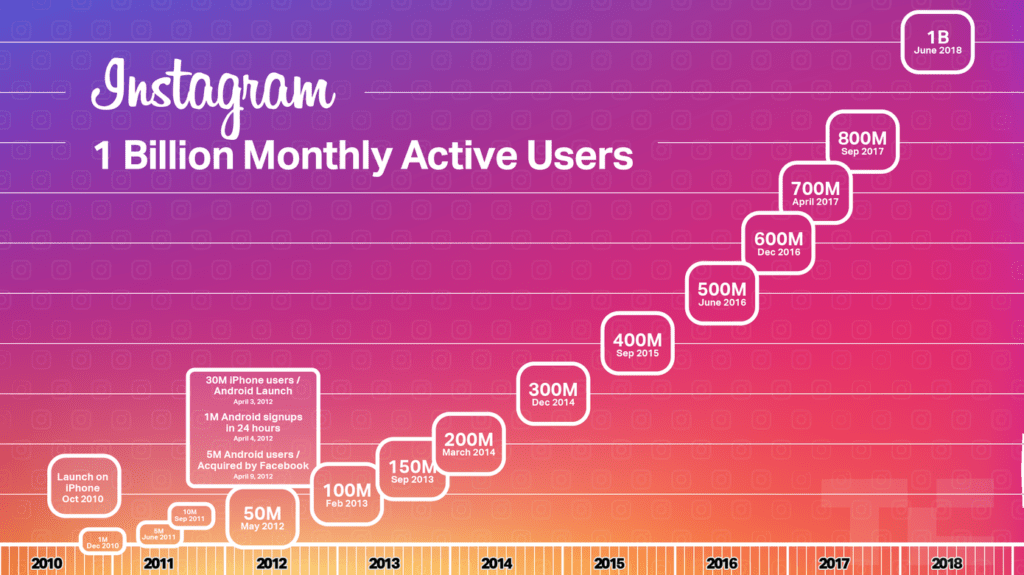 If you flip on the switch for shoppable products, you'll make it easier for this rapidly growing universe to not only like, comment, and share your posts — but also directly deliver financial value to your brand.
Experiment with the new features and style tips (especially for video content) above to not only increase post engagement but also directly increase revenue.
What do you think? Do you use Instagram shoppable tags already? Are you planning to use some of these features soon? Let's discuss your Instagram shopping strategy in the comments below!