Reaching Instagram's super-engaged 1 billion active users can pay dividends for many advertisers, but it can also cost a bundle, so finding ways to lower your Instagram advertising cost is vital.
AdEspresso research shows that Instagram ads cost can vary greatly depending on a number of factors.  And keeping your ad spend in check will help to improve your ROI whether you're seeking to expand brand awareness, web traffic, e-commerce sales or downloads.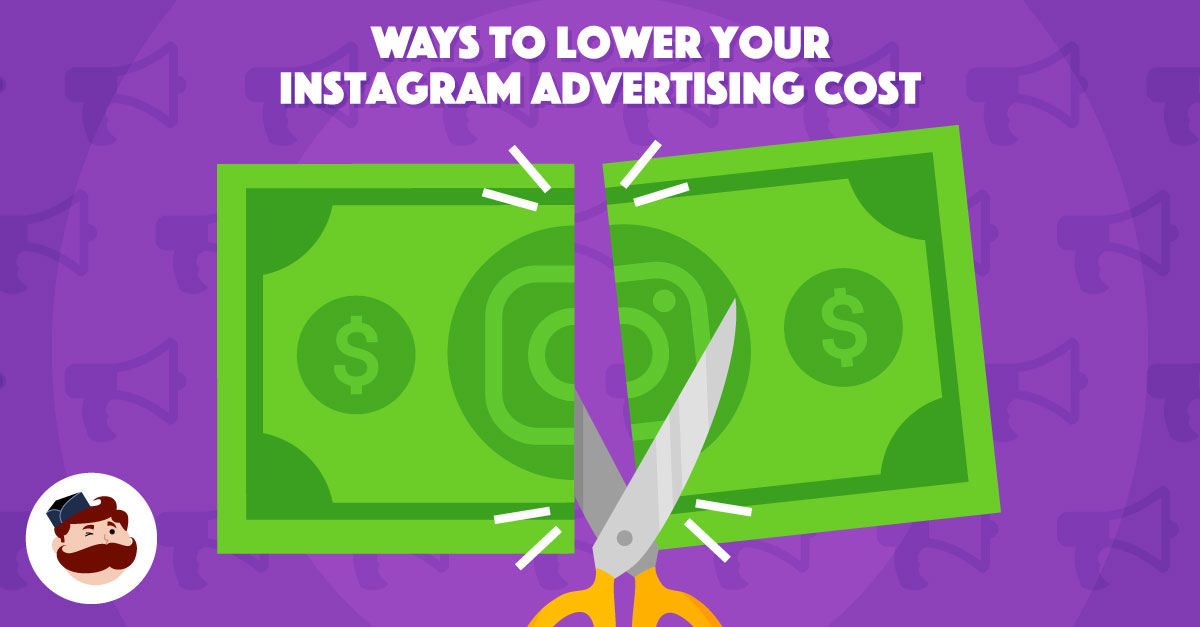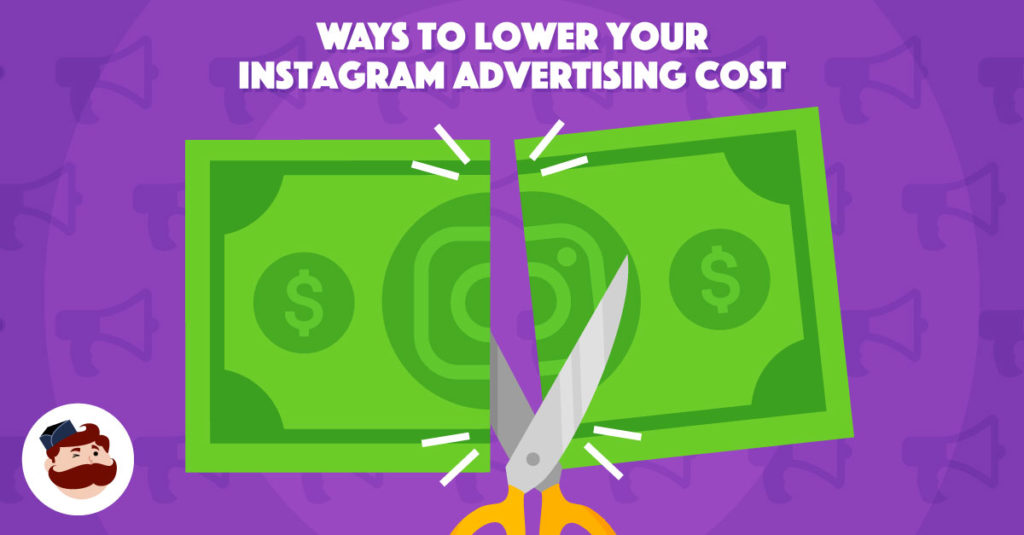 We found three small businesses that effectively reduced their Instagram advertising cost using strategies learned through trial-and-error.
Here are their Instagram advertising experiences, including practical tips and advice to help you cut your ad costs on the social network.
Instagram Advertising Cost Case Study #1: Garda Dibble
GOAL
The garden tool maker wanted to increase brand awareness and boost e-commerce sales of its namesake product.
BACKGROUND
Garda Dibble had previously used other digital channels to promote its product shortly after bringing it to market. For this campaign, it focused on a new strategy: tapping the power of Instagram.
APPROACH
To drive more traffic to its e-commerce site and Amazon product page, the company wanted to try Instagram—a platform where it had no presence and hadn't yet explored advertising.
The brand was attracted to the platform because its visual nature made it the ideal place to showcase lifestyle products, allowing people to discover and purchase their tool from their mobile devices.
They also wanted to test different ad formats, including image and Stories ads.
Over the course of four weeks, Garda Dibble ran five split tests that compared images, video, copy, and CTAs.
They spent $20 per ad set per day ($100 daily), and the campaign ran for 30 days and cost $3,000 total.
The original video used in feed ad, which was edited down to 60 seconds for the campaign.
KEY RESULTS
8.2X increase in website traffic in one month
11X increase in direct sales (through its website and Amazon.com)
42% lower cost-per-click
4X return on ad spend by end of the campaign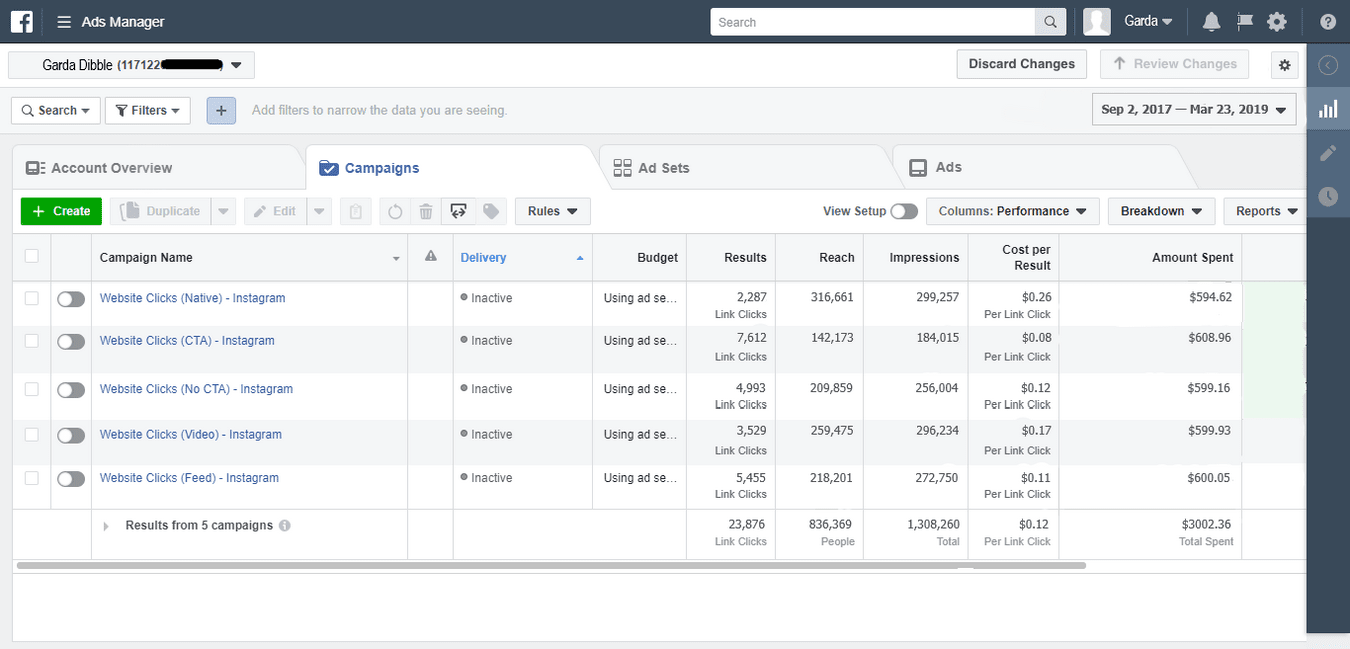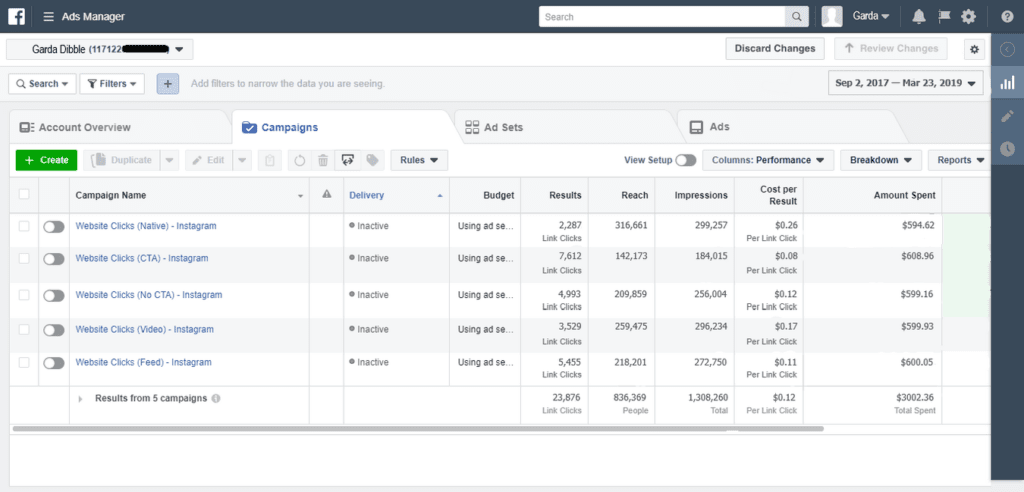 THE NUMBERS
Product image ads that had a clear call to action were 47% cheaper than photo ads without a CTA. Furthermore, they had more than double the click-through rate (CTR).
Video ads' cost-per-click (CPC) was 51% higher than static image ads with a 40% lower CTR.
Copy that had a clear CTA had a click-through rate that was 22% higher than copy without one, with a 14% lower CPC.
How Garda Dibble Lowered their Instagram Advertising Cost (and How You Can Do It Too)
Recognized that feed ads performed better for their product.
For certain lifestyle products and audiences, static image ads surprisingly outperform videos at a much lower cost.
Focused on ads that incorporated a CTA.
These ads had the lowest cost-per-click and highest click-through-rate, which suggests this type of ad was most relevant to the garden-loving audience because Instagram users understood the ads' intent and knew what to expect after clicking. Lesson: Be very clear in the value your product or service offers and always provide a CTA.
Noticed that, in their case, native-looking images and videos had the second-highest cost per click, and second-lowest click-through rate.
Although native-like images are believed to perform better on Instagram, they didn't for this advertiser. The likely reason is that native Instagram images are not clickable, so users aren't used to clicking them and didn't do so on ads that looked native to their feeds. Lesson: To avoid a low CTR, be sure your ads clearly show what you offer and a CTA that lets people know your ad is clickable.
Quickly saw that stock photo image ads had the highest cost and lowest click-through rate.
Lesson: Since they've likely been used numerous times and seen everywhere, Instagram users are not very likely to click on most ads that feature stock images, so avoid them.
Instagram Advertising Cost Case Study #2: Film Fan Dojo
GOAL
The blog and podcast producer specializing in kung fu and other martial arts film reviews aimed to grow its blog traffic and promote downloads of shows.
BACKGROUND
Film Fan Dojo (FFD) only had a modest following on Instagram, but decided to try its hand at advertising on the social platform on a strict budget.
APPROACH
To funnel traffic to both its blog and download landing page, the company created photo and video ad campaigns with a call-to-action button to promote more blog visits and downloads.
After testing several ads, the FFD team primarily used two creative formats (feed photo ads and Stories) to deliver its chosen ads, which ran over a two-week period.
They spent their $100-per-day budget (nearly $1,400 total) on two campaigns focused on "Landing Page Views" because that metric most accurately reflected the number of visits to their site.
KEY RESULTS
3.7X increase in new visitors to its website and landing page
412% increase in podcast episode downloads
72% lower cost-per-click, compared to the previous campaign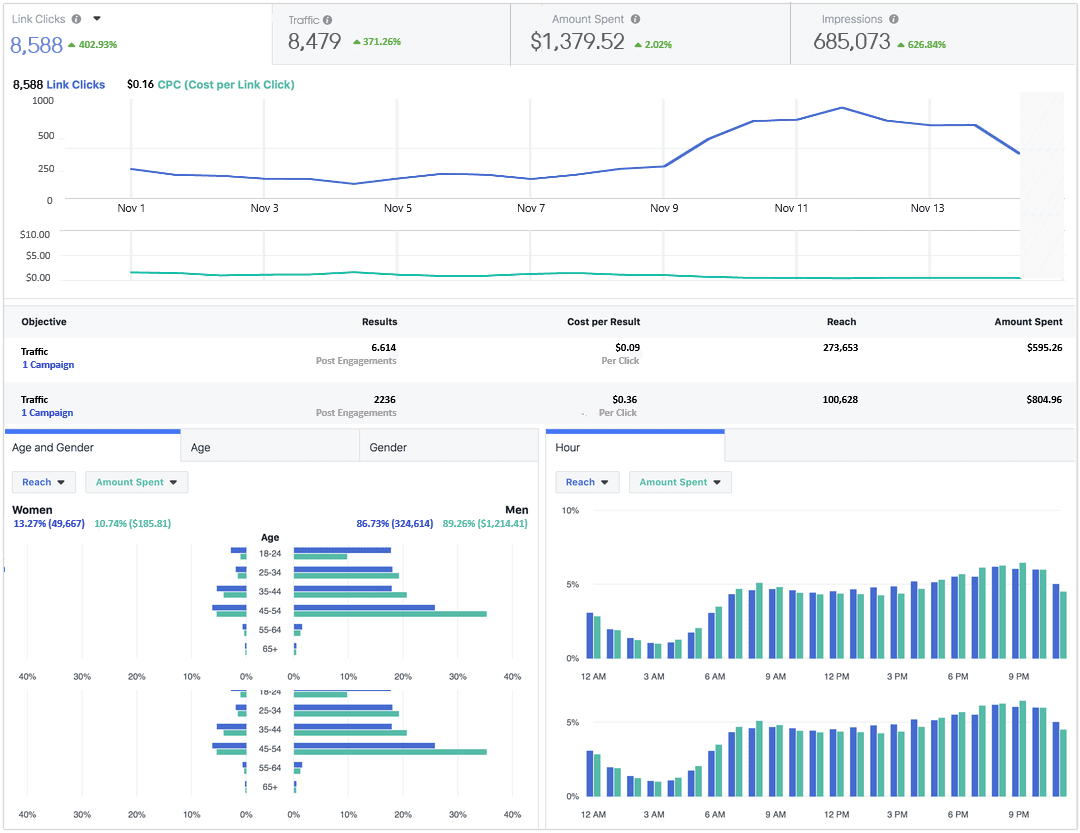 THE NUMBERS
A total of $805 was spent on photo ads, which generated 2,236 unique link clicks at a cost of $0.36.
$575 was spent on Instagram Stories video ads, generating a total of 6,614 clicks at a cost per click of only $0.09.
Landing page views were only 1.3% lower than the total number of link clicks, which showed the traffic was interested in the offering and was actually making it to the page (not leaving beforehand).
How Film Fan Dojo Lowered Their Instagram Advertising Cost (and How You Can Do It Too)
 They used the lowest-cost bidding option.
Film Fan Dojo kept its bidding strategy simple and to the point
Then they discovered that Instagram Stories did a better job than feed ads in driving web traffic affordably. 

Since it was not tracking conversions, Film Fan Dojo optimized its campaigns for website click-throughs and landing page visits.
The result was a lower CPC when targeting landing page views instead of site clicks.
Integrating a call-to-action to ads significantly increased performance,
They were able to lower cost-per-click by 60% over using Instagram's native CTA.
They discovered that ads with text overlay outperformed those without any text on top.
With this trick, they managed to get a 44% lower cost-per-click.
GOAL
The home decor and interior design visual blog hoped to drive more traffic to its Facebook page.
BACKGROUND
Classic Home & Garden had a strong, highly-engaged Facebook presence and wanted to beef up its following to prepare for the future rollout of an e-commerce website. Given Instagram's predominantly visual focus, the brand felt the photo- and video-sharing platform would be ideal for reaching its style-conscious target audience.
APPROACH
To promote brand awareness and encourage people to visit its Facebook page, Classic ran an effective split testing campaign to find an ad format that would boost traffic and brand lift.
Using traffic optimization as the campaign objective, the brand compared feed and Stories ads, highlighting beautiful home interior images using a "See More" call to action to prompt people to click through or swipe up.
They ran the campaign and made adjustments at different stages.
The brand spent their $2,500 total budget by running ads over the course of two months to grow its base of followers and fans.
KEY RESULTS
68% lower cost with Instagram Stories combined with the website clicks objective.
A 79% lower cost-per-click using Stories ads instead of feed ads.
40% increase in new Facebook followers in only two months.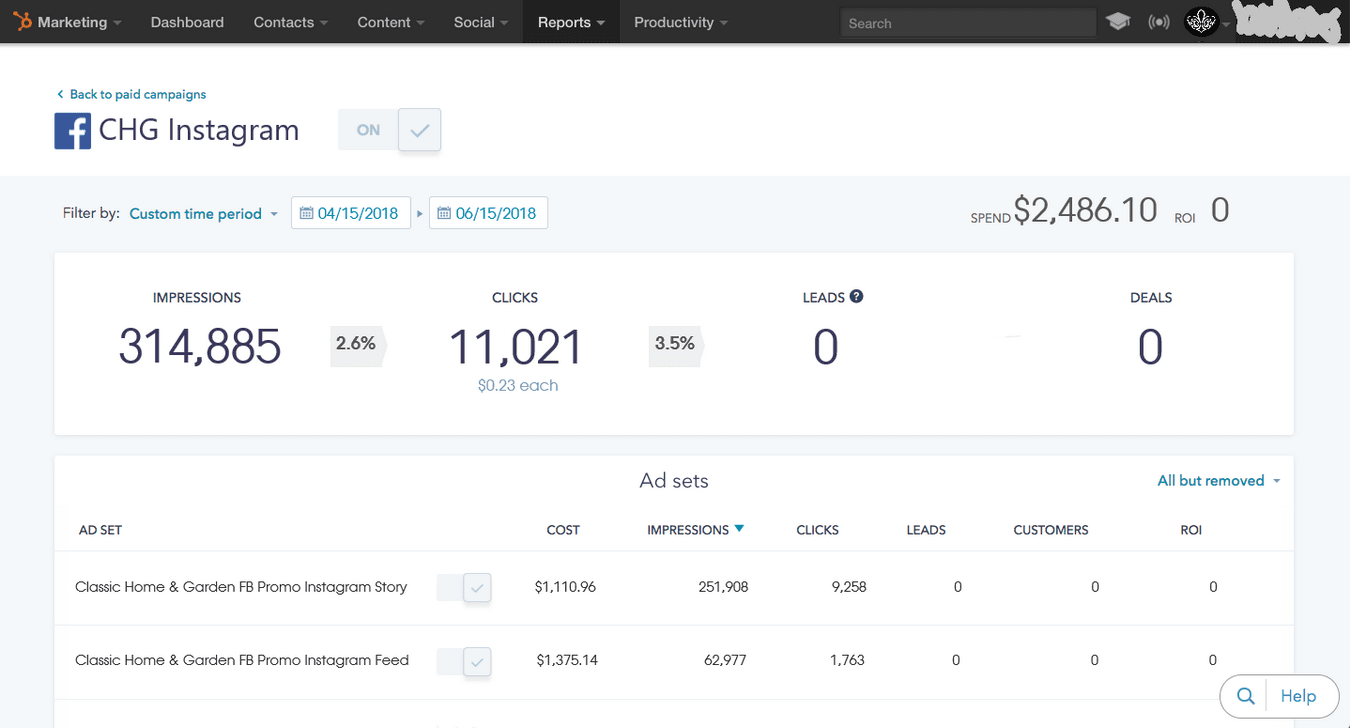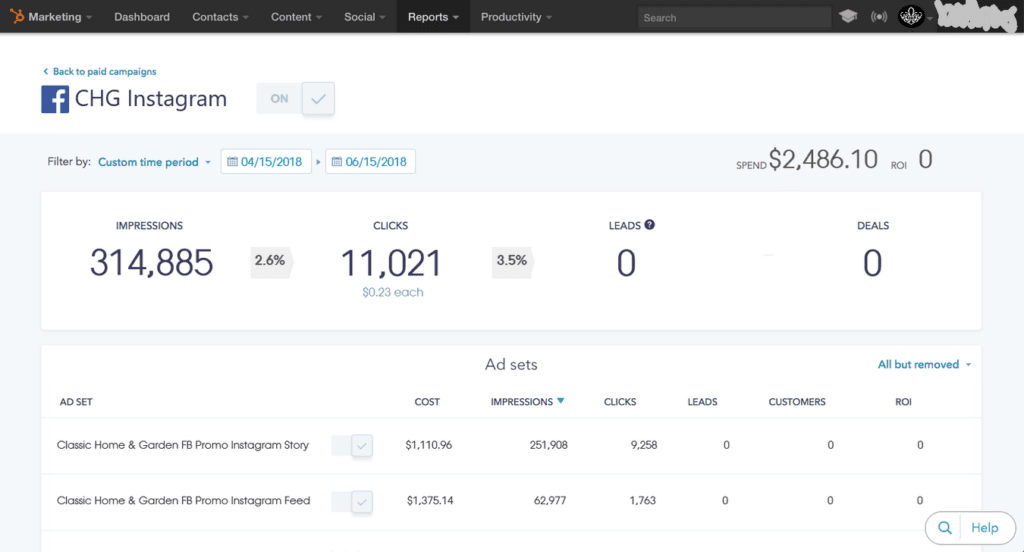 THE NUMBERS
The Instagram Stories ad campaign had a cost-per-click of $0.12 with a click-through rate of 3.68%.
Its Instagram feed ads' cost-per-click was $0.78 with a click-through rate of 2.8%.
The brand grew its Facebook following from just over 9,000 followers to more than 15,000 followers.
How Classic H&G Lowered their Instagram Advertising Cost (and How You Can Do It Too)
If you lack enough Instagram advertising experience to confidently bid manually, start with automatic Facebook ads bidding to reduce the chances of overbidding or underbidding, resulting in poor campaign performance. If you do opt for a manual bid, use Facebook's suggested bid as a point of reference.
Put their campaign on auto-pilot.
To get better results at a lower cost, set your ad campaigns for conversions and let Facebook auto-optimize ad campaigns. The social network's smart algorithm will do everything to ensure it delivers your ads to Instagram users most likely to convert.
When you optimize your Instagram campaigns Reach — an available option when your objective is set for "Reach" or "Brand Awareness" — you can set a frequency cap, which lets you set a time interval for viewing your ad. Set your campaign Frequency Cap from 3 to 5 days to avoid "ad fatigue" (in other words, Instagram users getting bored with seeing your creative too often).
Put their money where it did best. 
Closely monitor campaigns and shift financial resources based on ad performance. (After seeing the trend of their Stories ads routinely beating out feeds, Classic shifted its budget to Stories placements to optimize ROI.)
Additional Tips for Lowering Instagram Advertising Cost
These smart advertisers shared the following extra nuggets on ways to cut costs based on their Instagram experiences:
Zero-in with pinpoint targeting
For the best ad campaign results, precisely target your ideal audience using the following criteria: location, demographics, interests, behaviors, custom audiences, and lookalike audiences (which will let you target Instagram users who haven't yet discovered your offerings but will be very likely to be interested in them).
When you target your audience with pinpoint precision, you'll reach more people genuinely interested in your products and services. As a result, your ad content will appeal to their likes and wants, giving you a high ad rank and lower cost-per-click. And that ultimately leads to increased conversions.
Create more relevant destinations
Building landing pages, websites and other destinations that have direct relevance to your ad content and targets' interests will automatically reduce your Instagram advertising cost. So, when creating Instagram campaigns, think long and hard about making sure that your destination fits user expectations by being custom-designed to your ad content.
For example, if you're advertising diamond jewelry, your ad should click through to a page filled with exactly what people expect: diamond jewelry (not other gemstones, pearls or precious metals). Never send people to your homepage if it's not directly relevant to your ad creative; think specific, not general). Visitors who are sent right to the types of product they see in an ad, will be more likely to convert, keeping your Instagram advertising cost down.
Test, test, and test again
To lower your Instagram advertising cost, you have to make A/B testing a priority. It's that simple. No matter how good you are, the first ad copy you create will never be the most effective one. Testing your ads will help you to create the most relevant ad copy possible, resulting in a higher ad position and lower cost-per-click.
When planning A/B testing ideas, consider up to a dozen factors with different levels of importance and give priority to those with the highest potential.
Always start with one variable at a time. For instance, say you'd like to test two ad images, two ad copies and two CTAs, it's always best to test one ad element at a time (like two different images or videos). Using fewer variables not only makes it easier to track results, it means getting faster, more relevant test results.
Move on to testing a manageable number of variables (no more than five so you're not overwhelmed). As you test highly differentiated variations, you gain insight into what types of ads or copy your audience likes, then expand on the most effective variation to develop potentially winning designs that warrant more testing.
Factors That Impact Instagram Advertising Cost
It goes without saying that bids directly impact ad spend. So, always keep the numbers in mind. If you only have a budget of $1,000 and your bid cost is $2.00 a click, that means your ad can only get 500 clicks before your budget its burned. If you set a bid amount of $0.50, that means you stretch your number of potential clicks to 2,000.
Similar to a quality score, this internal metric determines how relevant Instagram considers your campaign is to your target audience based on how people react towards your ads. If users react positively to your ads (with clicks, likes and comments), your score will increase. Users taking actions like hiding your ad (or inaction with no engagement) results in a lower score, hurting your ad performance. Ads with a higher score receive better placement, which translates to more clicks and lower costs.
Instagram bases this metric on the likelihood that its users will act on your ad (through clicks or conversions). Since the platform prioritizes ads it believes people will engage with, having ads with a higher estimated action rate will give you the opportunity to obtain a lower bid amount.
Your market matters. B2C industries like apparel are much more expensive per click due to high interest and competition. Legal services and B2B software are also high-cost ad targets.
Your competitors shooting for the same audience can result in a bidding war, driving up costs-per-click (CPC) as brands jockey for higher placement.
Because females are more likely to interact and engage on Instagram, the cost of reaching them is higher than targeting males.
Cost-per-click (CPC) varies with the age of your audience. Targeting 25 to 34-year-olds or the 65+ crowd means paying a premium. But reaching users in the 13-to-17 age bracket is cheap.
Timing matters on Instagram. Since the network sees much more engagement on weekdays than weekends, you can expect to pay considerably more to run ads on a Tuesday over a Sunday (the platform's slowest day).
Holidays and shopping events
Stepped-up competition around popular shopping holidays like Black Friday and Christmas also drives up CPC, so carefully consider these events, then plan your ad campaigns and budget accordingly.
Wrapping It Up
With the cost of advertising on Instagram continually rising, these quick-thinking small players found ways to cut their ad spend while getting some impressive results.
Although you can learn from their experiences, the only way to determine exactly what works for your company or brand on Instagram is to combine incorporating some of their tactics with doing your homework (that's right…by testing, testing, testing).
With proper testing, planning, and execution, you can supercharge your Instagram ad campaigns, lowering overall costs and maximizing your return on investment.
Learn more about advertising on Instagram by checking out the latest updates on what's happening on the social platform,  arming yourself with ways you can avoid making some big blunders with Instagram advertising and taking a look at some examples of great Instagram ads that killed it last year.