Writing the perfect Google advert takes time, creativity, and countless hours for testing.
But you don't have those hours, and you wish there was a way to test multiple ads per ad group without spending too much of your valuable and limited time.
Well, there is! It's called Google Optimization Score and can be found in the Google Ads recommendations section.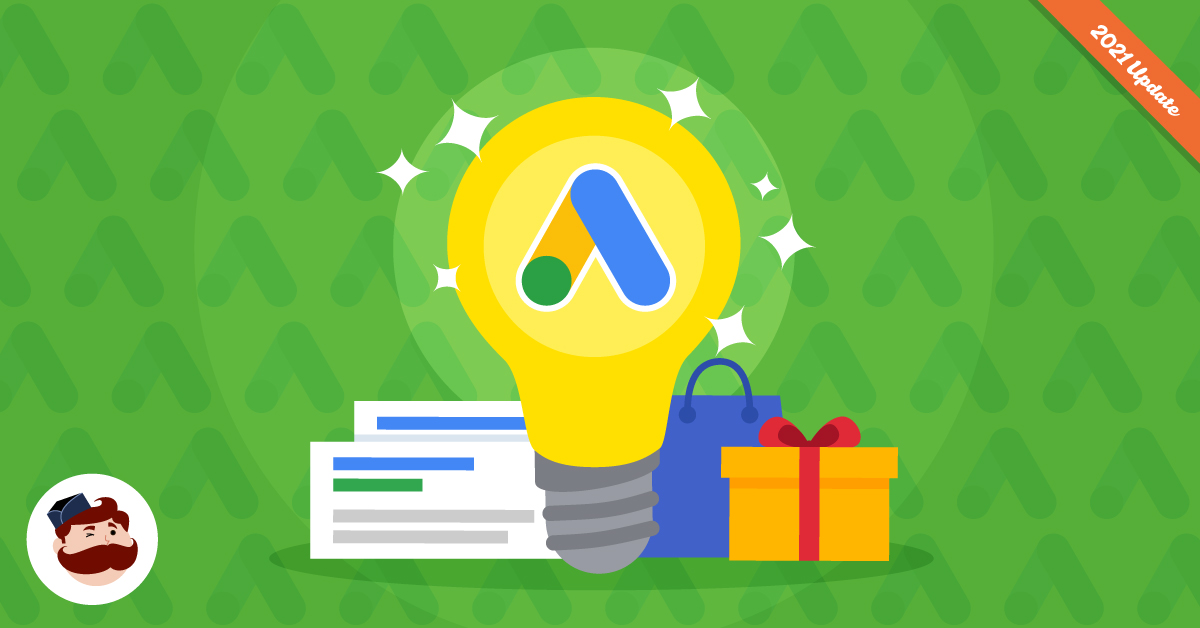 The optimization score is an estimation of how well your Google ads are set to perform. Along with the score, which runs from 0 to 100%, you'll see personalized recommendations that can help you optimize your campaigns.
Google Ads recommendations help you create better ads based on the campaign goals you've specified in your account. You can choose to apply or dismiss the recommendations with one click, and your optimization score will reflect the changes to help you keep track of your progress.
In this article, we'll break down the essentials for using Google Ads Optimization score to improve your advertising strategy and drive better results for your business.
Learn:
What the Google Ads Optimization Score is.

The differences between types of Google Ads recommendations.

How to improve your ads with Optimization Score and other recommendations.
Google Ads can be a tricky subject for even the most advanced marketers. This is why we want to invite you to our live webinar, hosted by Casey Lynn and Sebastian Nordström from Google, where we'll cover the best Google tools designed to support you at each phase of the marketing journey.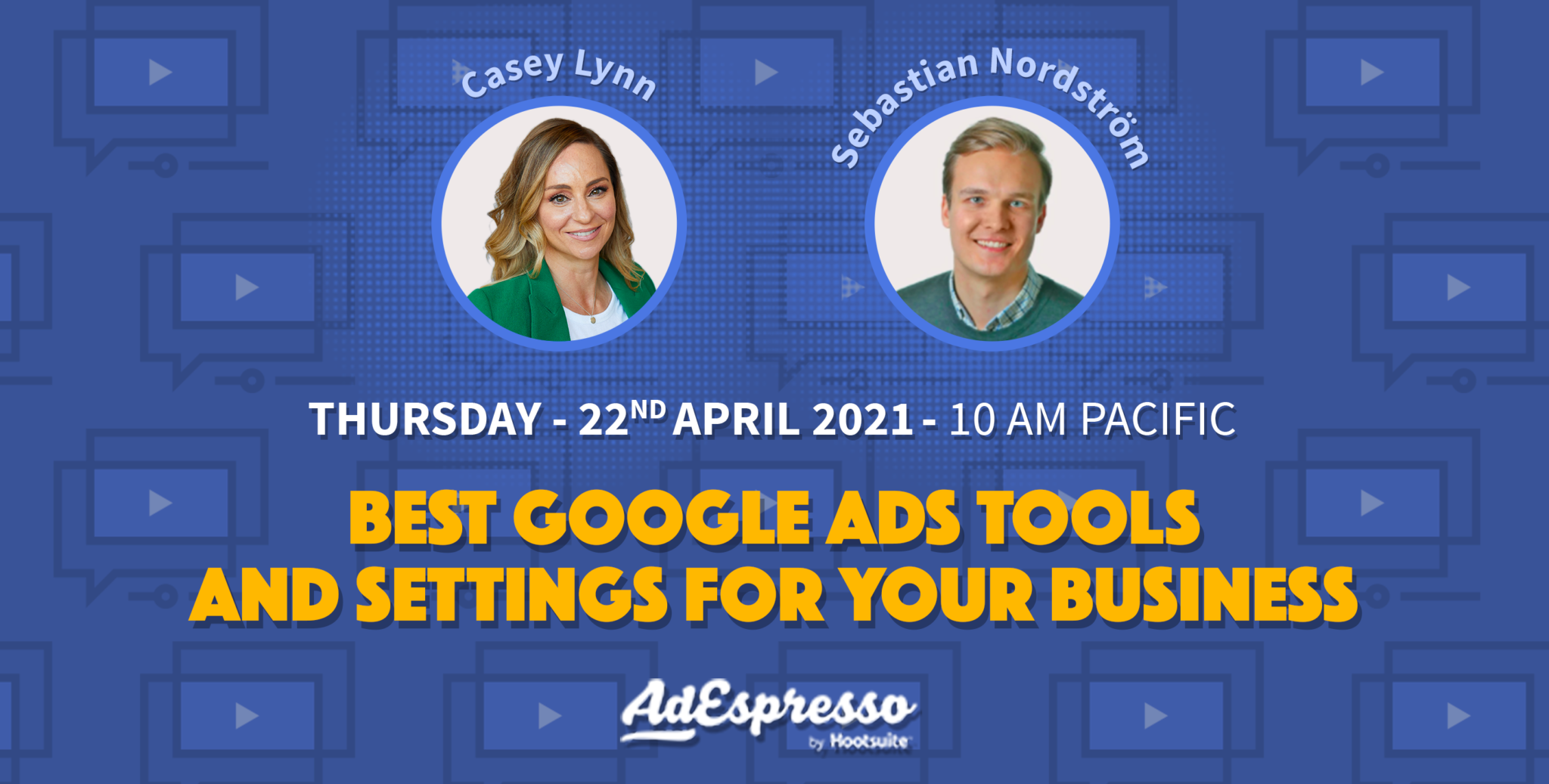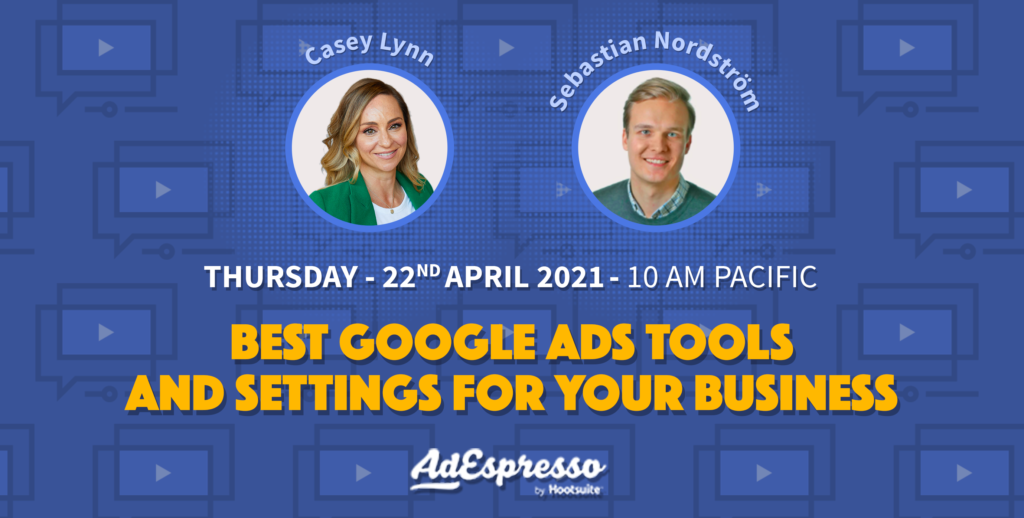 Planning your objectives with Google's Keyword Planner
Implementing your strategy with AdEspresso and Google Ads
Optimizing performance with Optimization Score
Monitoring success with Google Insights
Sign up today to learn which Google tools can set your business up for success in 2021!
What are Google Ads recommendations?
Google Ads is an invaluable advertising channel; Google Ads get 65% of clicks following a keyword search (versus just 35% for your standard organic keyword searches).
Recommendations on Google Ads are automatic, tailored suggestions that help advertisers get more out of their Google Ads campaigns. In many cases, recommendations identify opportunities to improve click-through-rate (CTR) or increase conversions. In other cases, they can help you reach more of the right people or increase return on ad spend (ROAS).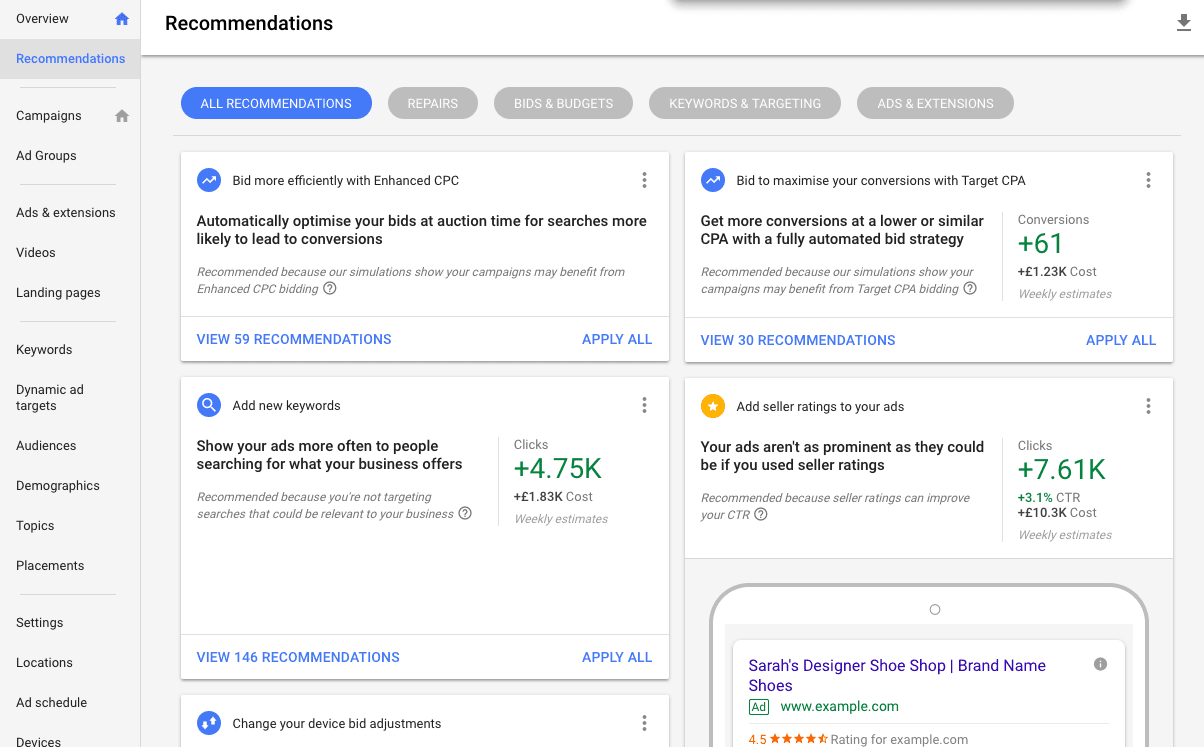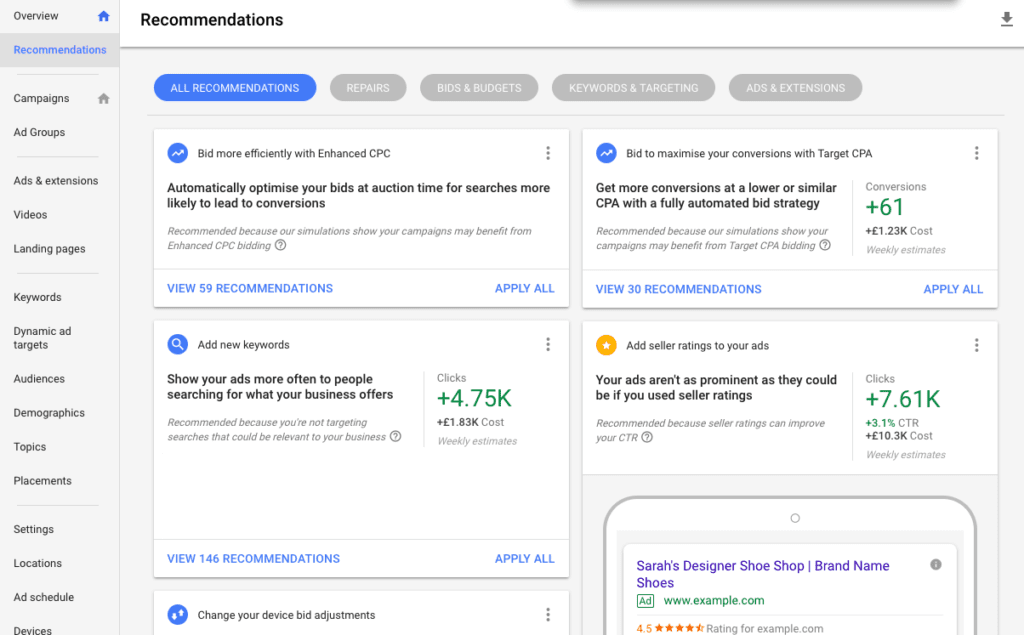 Machine learning is what powers the optimization score and facilitates the personalized recommendations. Google analyzes your ads and your conversion data to identify what's performing best. From there, it creates variations and suggests improvements for you to try out.
This process happens continuously: variations are tested, the results are processed to determine best performers, and new variations are recommended based on what's working.
As a result, your ads are ever-evolving.
Next, we will explore how to use these recommendations to drive conversion.
How to drive conversion with Google Ads recommendations
Advertisers care A LOT about conversion, as they should! After all, that's why most ads exist in the first place! For that reason, many Google Ads recommendations are geared toward improving CTR.
That's because Google knows that the critical step between digital advertisements and conversion is actually CLICKING on the ad. Higher CTR typically translates to a higher conversion rate.
Google Ads recommendations fall into four main categories:
Ads & extensions

Bids & budgets

Keywords & targeting

Repairs
(Here is the full list of Google Ad recommendations you could get.)
We'll break down how each of these four types of recommendations can be leveraged to boost conversion.
1. Create and test ad versions for better performance
To know which ads are performing best, you need to test out different variations.
That's why Google created "Ads & Extensions" recommendations . Within that feature, you can tweak existing ads or create new ones. As part of this, Google will also analyze ad performance to actually recommend copy variations.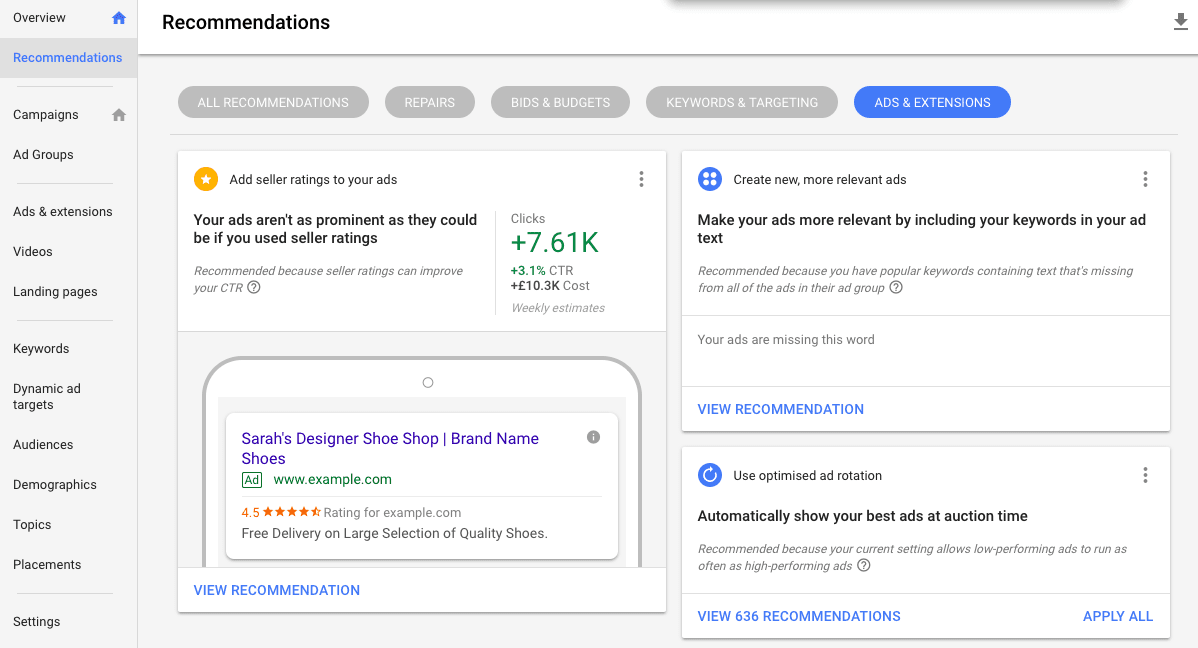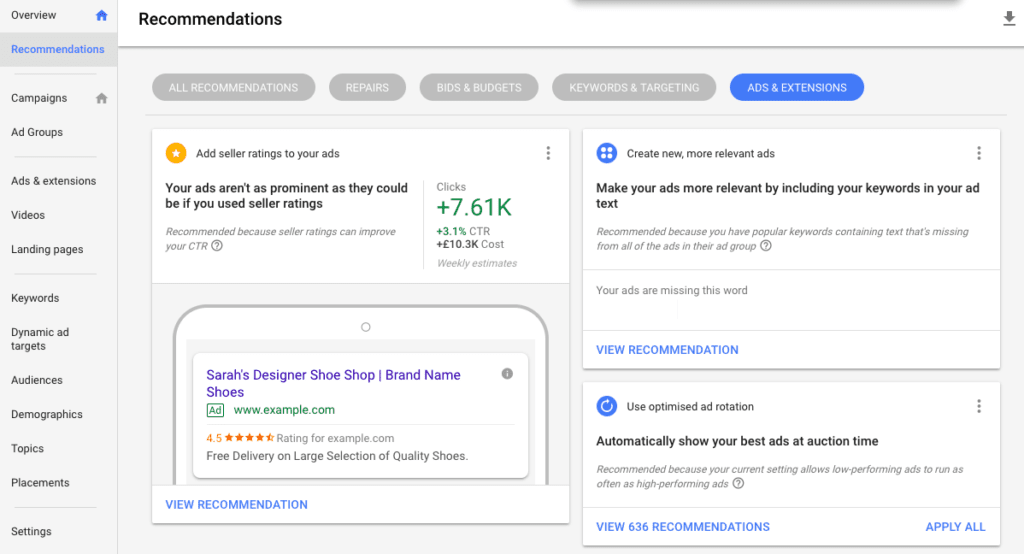 The second half of the feature includes suggesting extensions to feature your ad.
Ad extensions help you go and above and beyond the basics of Google Ads.
Without extensions, your ads are simply made up of three components:
Your basic headline

A URL

Whatever copy you choose to feature
A bare-minimum ad might look like something like this:


Pretty basic, right?
Extensions allow you to add more substance to your ad to bring in more traffic by adding site links that feature specific pages, phone numbers, or even location.
For example, Bombas in the example above could use extensions to add links to feature promo deals, technical details about their products, and the company's mission statement:

Of the two ads, the second variation (the one with extensions) is more compelling.
That's because it catches your eye and makes you wonder: What is the tech of these socks? What is the company's social mission? How can I get free socks?! The only way to satiate your curiosity is to click.
Google will look at your current extensions and produce recommendations that will help your ad's performance.
Recommendations might include adding:
Call extensions.

Give people a way to reach you by adding your phone number on your ad.

Price extensions.

Display your price menu for people to easily see what you're selling and for how much.

Site link extensions.

You can add site links to feature specific webpages in your ad, as illustrated above.

Structured snippets extensions.

Here, you can make a short list of important details to feature, such as specific services, brands, or styles you offer.

App Extensions.

Use this to highlight your mobile application and give people a change to download it quickly.

Above, Tires Plus uses the structured snippets extension to easily share the services and brands available before you even click on the ad.
What this means for conversion:
The messaging and extensions included on your ad are important to get right because they're the first thing people will see, and therefore are the make or break as to whether someone clicks. It's important that your ads are engaging.
You can use Ads & Extensions recommendations to boost conversion by:
Lowering friction.

For example, adding a phone number allows people to get in easily contact with you as soon as they see your ad.

Increasing CTR.

You make your ad more informative and engaging by adding links that are of interest, and also working with specific ad variations proven to perform better.

Highlighting the services provided.

You can use the interface shown below to add prices and menu items to your ad. That lets people make sure that your company is what they're looking for. If they proceed to click on your ad, they're probably more likely to convert.
2. Extend the reach of your ad
To help you optimize your reach, Google Ads recommendations include a category for "Keywords & targeting."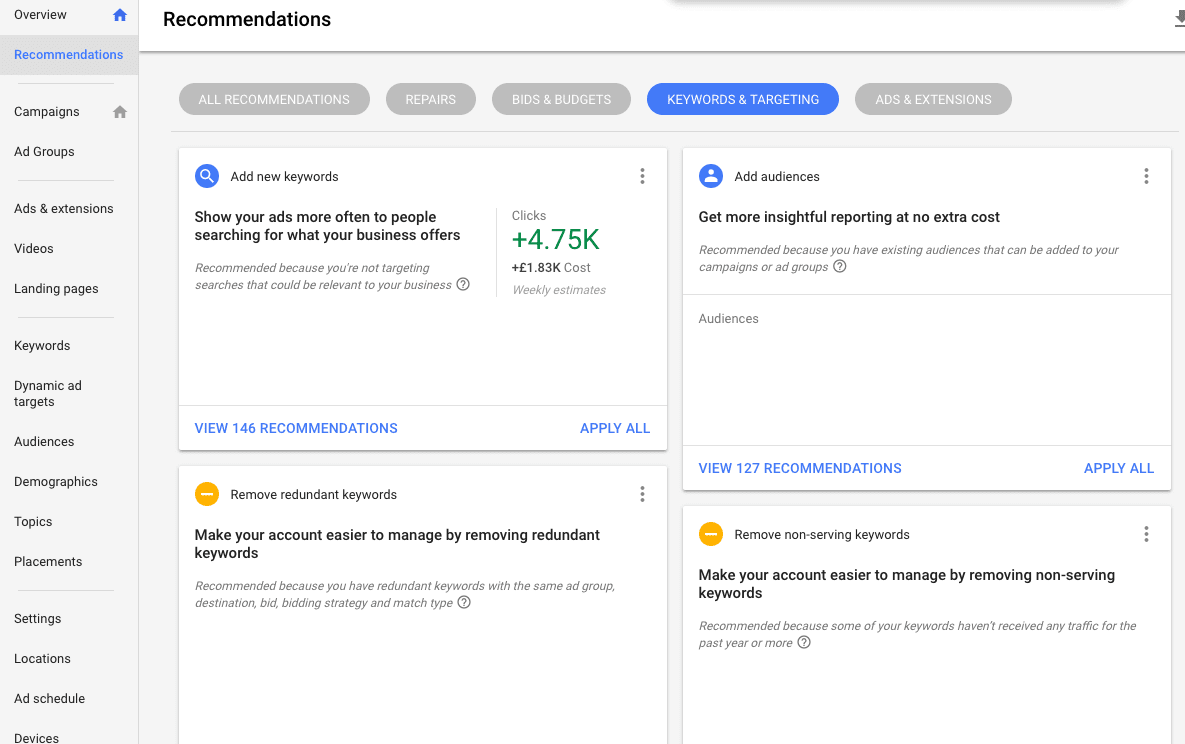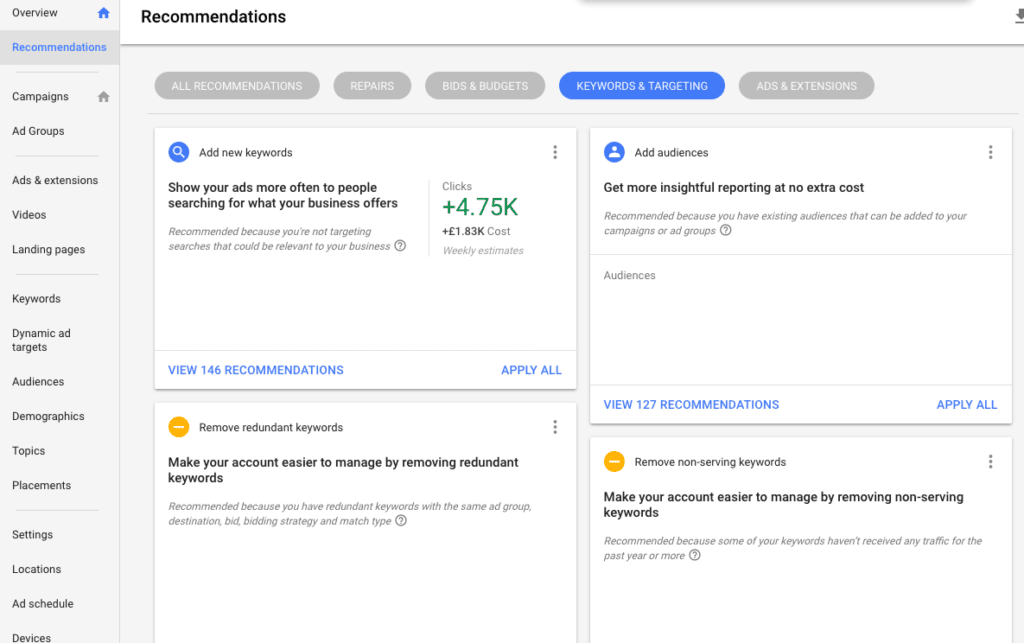 Keywords are the search terms that bring people to your ad. You can:
Specify keywords.

These are terms that will make your ad show up on a Google search. The better you get at linking relevant keywords to your ad, the better your ads will perform.

Select "negative keywords."

These fulfill the exact opposite purpose: your ad will NOT pop up as a result of these search terms.

Negative keywords are a great way

to make sure your ad does not appear on irrelevant searches.

Get rid of keywords that are redundant.

Keywords are considered redundant if they are within the same ad group (ad groups are multiple ads that share a similar theme of keywords), bidding strategy, or match type. To widen reach, your keywords should be relevant

yet diverse.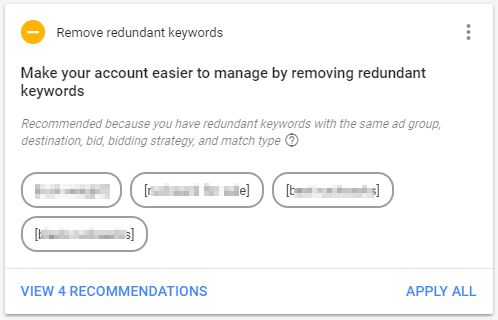 Remove keywords that aren't performing well.

There is no value in keeping keywords that are not performing well. If a year has passed since a keyword has generated impressions, Google will flag these keywords and suggest you remove them.
Targeting is the other component of this category of Google Ads recommendations.
Audience recommendations might include:
Specifying target audiences. To get your ads in front of the

right

people, you should specify your audiences. Google allows you to select audiences based on

buying habits

, search activity (such as if they search for a similar product or service), or people who have already viewed your website (this is

re-marketing

).

Adding dynamic text for more

personalized ads

. This feature automatically updates the text of your ads based on certain parameters such as time of day, specific keywords, or even the device someone is viewing the ad from.
What this means for conversion:
Reach is important for driving conversion. More reach indirectly means more conversion. But, you can't just increase the total reach and call it a day. You need to build a targeting strategy that gets your ad in front of people who will actually be interested in what you're selling.
To improve conversion, you can:
Get more specific about your target audience.

The better you get at putting your ad in front of the right eyes, the better chance you have for conversion. Do this by creating audiences that match the interests and habits of your audience and/or with a re-targeting strategy.

Focus on the keywords that match what your target audience will be searching for.

Your ad should pop up for as many relevant keywords as possible. Do this with ad groups and keywords with proven performance.

Build a Smart Display campaign.

Smart Display

campaigns make your ad modular. You'll plug in all the individual components of your ad (your headline, logos or other images, extensions), and Google will determine the optimal way to display your ad. Smart Displays are found to

boost conversion by 20%

(without requiring you to spend more money!)
3. Bid smarter
You get to decide on keywords to bid on. When a user runs a search query for a keyword you're set up to bid on, Google runs some calculations. First, it rounds up all the ads that are the most relevant for that keyword. Then, it determines which of those ads has the highest bid.
The ad with the most relevance and highest bid wins the "ad auction."
You can optimize your bidding strategy with the third Google Ads recommendations  category, "Bids & Budgets." This can make the difference as to whether your ads surfaces for relevant keyword searches.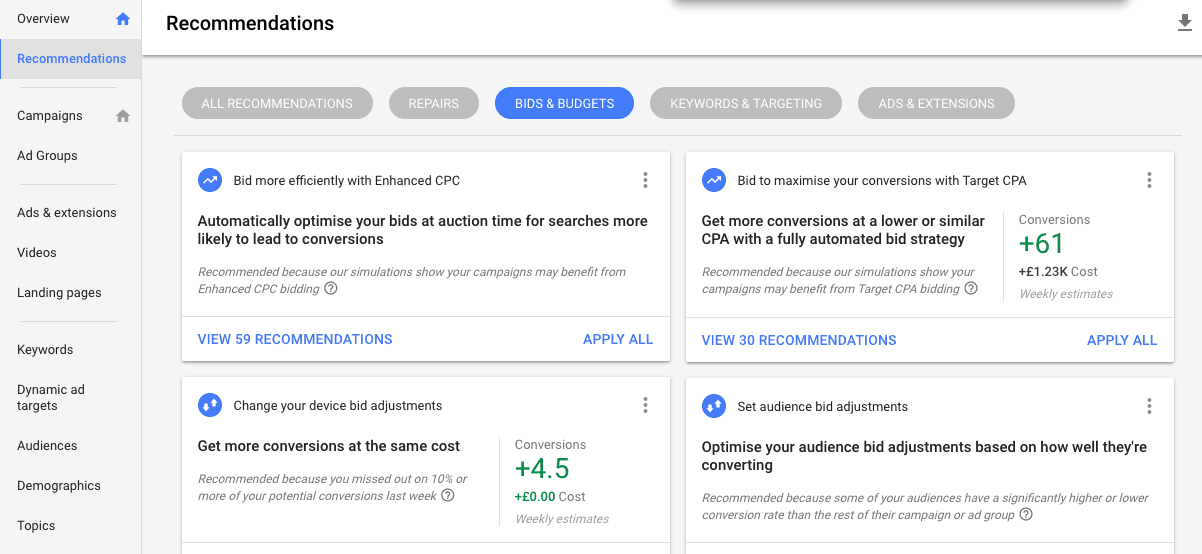 Bidding recommendations can include:
Updating your ad spend budget.

You can make your ad spend higher or lower (while

still running a successful campaign!

). Google will account for changes to budget while simultaneously finding ways to meet your campaign goals (e.g. conversion, CTR, or cost-per-acquisition).

Re-allocating campaign budgets.

If one of your ads is not using all of its budget while another constantly needs more spend allowance, you can automatically re-allocate budgets to make sure each ad gets what it needs to perform.

Adjusting bids based on user device.

Maybe you find that ads seen on desktop

perform better than ads seen on mobile

. You can prioritize budget accordingly to make your max bids higher for ads viewed by desktop users.
What this means for conversion:
Bidding is the second core component of getting your ad seen (the other component being relevance). You need to get this part of the equation right, or your chances of conversion will dramatically plummet.
Luckily, Google Ads recommendations  can help you boost performance  by allowing you to bid towards the right business goals based on your priorities:
Maximize conversions.

Drive as many conversions as possible within your set budget. This is a good option for budget constrained campaigns.

Maximize conversion value.

Drive as much conversion value as possible within your set budget. Use this if your campaigns are budget constrained and you're tracking the unique value for each conversion.  

Target CPA.

Drive as many conversions as possible, while maintaining your target cost per acquisition (CPA). This is a good bidding strategy for campaigns that are not budget constrained, and where every conversion is valued equally for your business. .

Target ROAS.

Drive the highest conversion value possible while maintaining your target return on ad spend (ROAS). This is the recommended strategy if your campaigns are not budget-constrained and you are passing over conversion values to Google Ads.
4. Stay on top of account health
"Repairs" is the fourth and final category of Google Ads recommendations. They keep your account in good health by flagging issues such as broken links or letting you know whether your ad was rejected.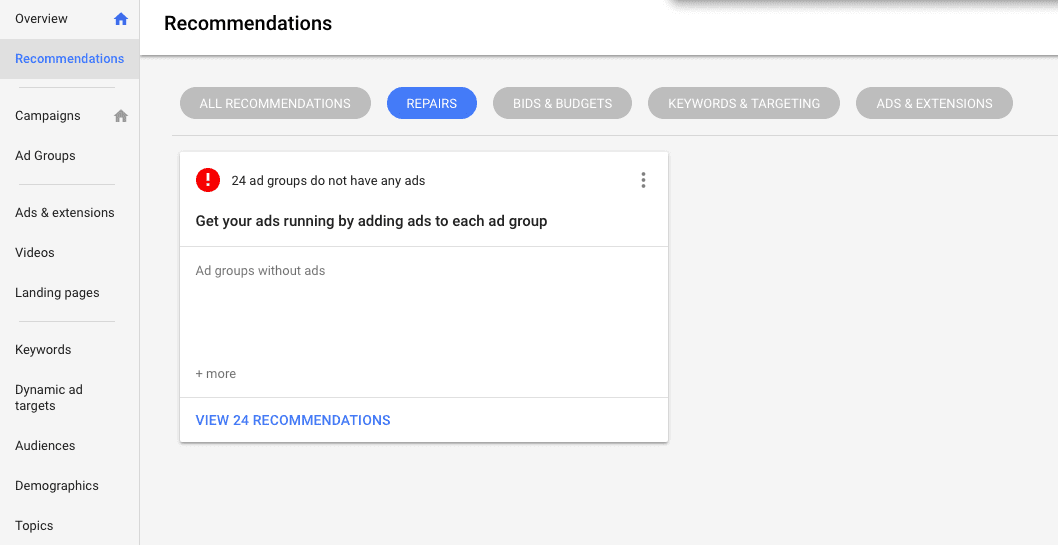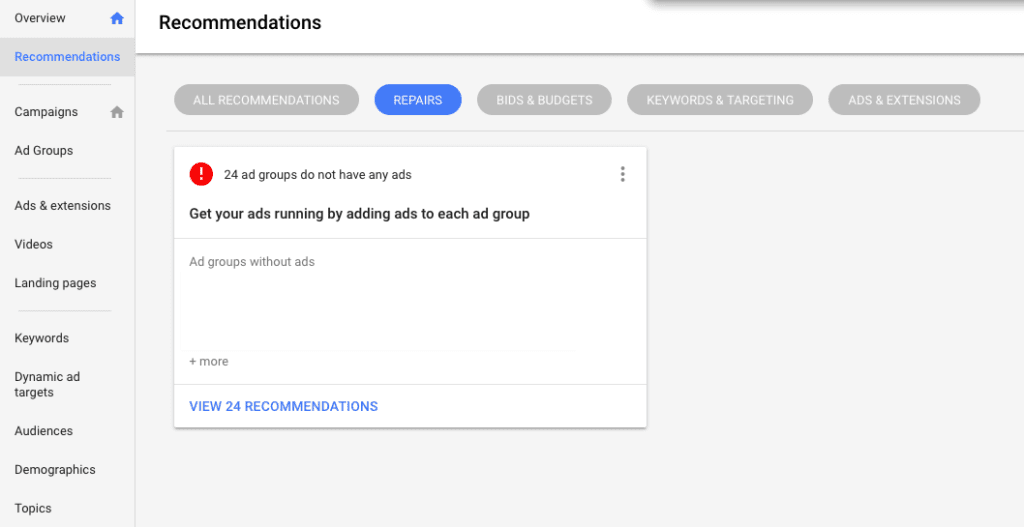 Ad disapproval can happen if an ad includes inappropriate content or plagiarism, or if makes unfounded sweeping statements like "we are the #1 croissant company in the entire world!"
Google does this to keep the quality of posted ads high. If you're concerned about getting your posts approved, here's how to get through Google's approval process.
What this means for conversion:
It's good practice to monitor your ads for broken links and approvals. However, if you're working with a larger multi-channel advertising campaign, this can be easier said than done.
The Repair category of Google Ads recommendations  is helpful for internally auditing your Ads account to make sure it's well-managed and running smoothly.
Stay informed about issues with your account.

If your ads get rejected, you need to know this. One, to make a new one, and two, to make sure you know what's not working to help you make better ads in the future.

Keep friction low.

If links within your ad are broken, you'll create friction in the path to conversion. Knowing if links are not working can help create a more seamless experience.
Should I use Google Ads optimization score?
Yes!
Google Ads optimization score is a reminder that ad performance isn't necessarily about spending more money; the key to conversion is building a smarter advertising strategy and better ads.
The fact of the matter is that there is no single winning ad. Nor is there one budget strategy to stick to for all time. 
Your approach to advertising needs to be fluid yet calculated. Doing that manually would be both time-consuming and unnecessary when there is a way to automatically identify and implement improvements using Google Ads recommendations, and track your overall progress with your optimization score.
With Google Ads Optimization score, advertise smarter, not harder.