Using emojis in marketing campaigns is like a secret spell  only known to few selected marketers.
Even though the strategy's been talked about frequently and people use emojis daily, only a few brands have yet successfully included emojis in their Facebook campaigns.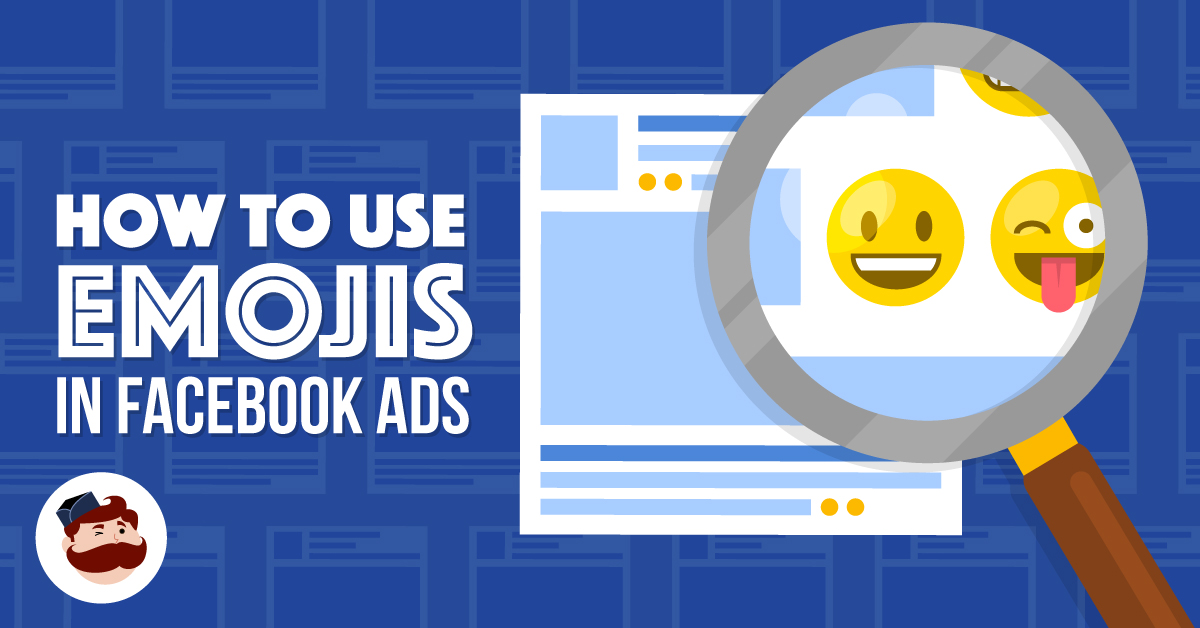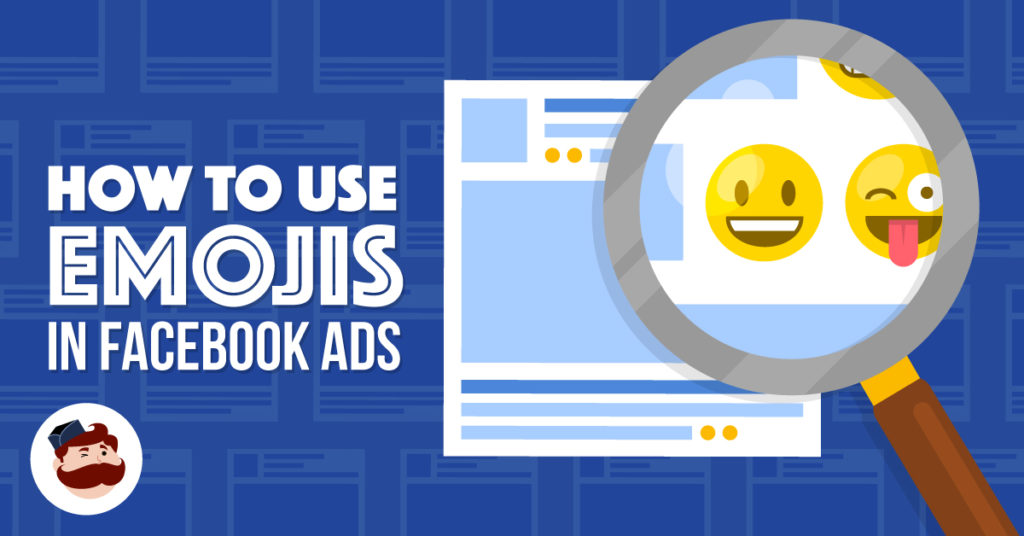 If you think about the amount of emojis used by consumers every single day, brands are failing to catch up with this trend.
Which leads us to the question: Could you benefit from using emojis in your Facebook campaigns?
Let's find out!
Do emojis as a marketing strategy work?
Emojis appeared in marketing campaigns already in 2015 when Chevrolet released its famous all-emoji press release.
The campaign was a huge success, leading to lots of free media coverage and positive feedback from the audience.
Around the same time, Domino's made it possible to order pizza by tweeting an emoji.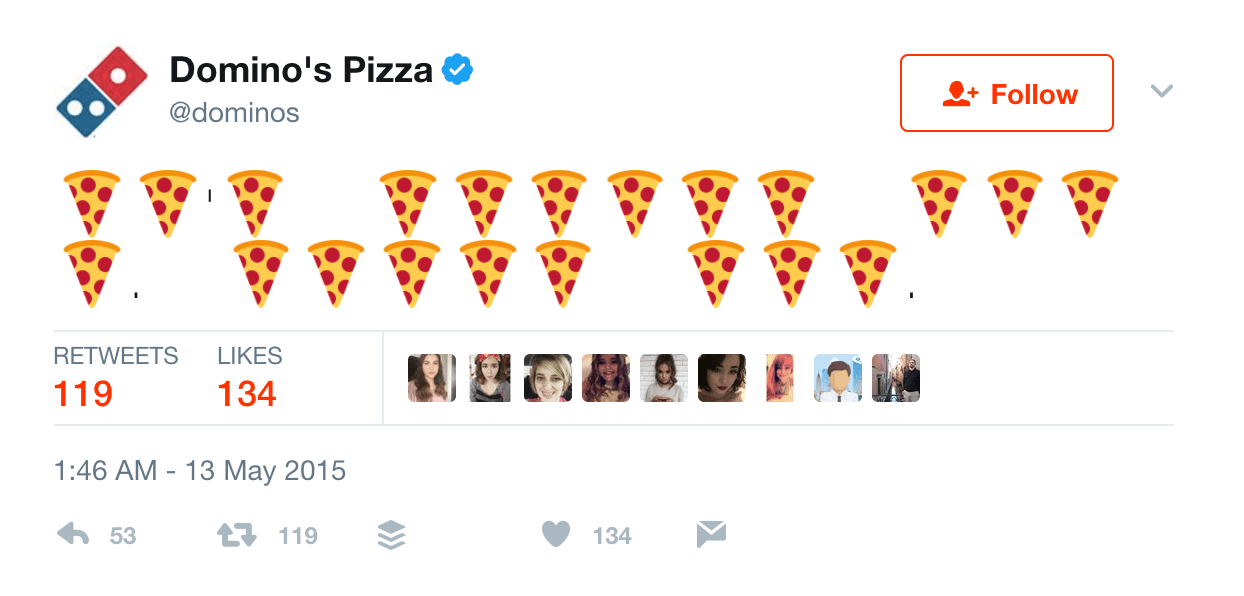 But these are only some old examples of large companies with huge marketing budgets enjoying the glory.
What about smaller brands?
The real question is: "What about you?" – can you increase your Facebook marketing success by using emojis?
To find out the answer, let me first ask you a question:
Have you heard of the Facebook ads case study where the ad with emoji had a 241% higher click-through rate than the ad with no emoji?
No?
Let me tell you more.
At Scoro, a startup I'm working with, we were curious to find out whether using an emoji in our Facebook ad headline would help to increase the CTRs and reduce the cost-per-click.
So, naturally, we ran a Facebook A/B test…
(Full disclosure: We didn't have 10 000+ impressions and a sufficient amount of click-throughs to say this test was 100% statistically significant. So look at it as a fun test to replicate.)
Here's what our Facebook ads looked like: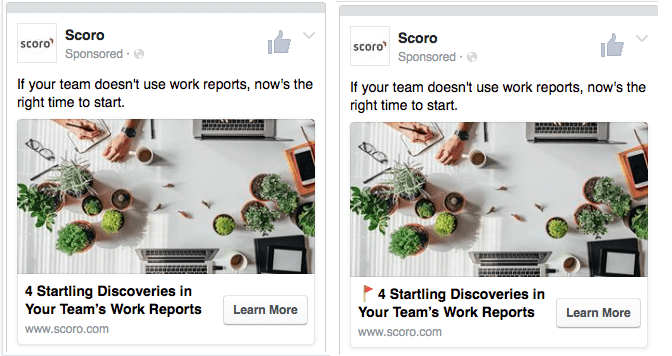 All the ad elements except the emoji in the headline were identical. (That's an important rule for beginner A/B testers!)
The results were surprising: The headline with emoji resulted in 241% higher click-through rate.
After we'd seen success with one of our ads, we slowly started to include emojis in the rest of our blog posts. And we also kept noticing other brands doing it.
So clearly, with all the marketing masterminds doing it, this must be working.
And it did. On average, our Facebook page posts including emojis usually showed a 30%-40% higher click-through rates and 20% lower CPC than regular posts.
While the results could also be affected by other aspects such as Facebook's algorithm change or a good choice of images, the emojis also help to keep our branded messages more fun and engaging.
Experiment: Emojis + Facebook ads
In 2016, AdEspresso's team decided to find out whether emojis in Facebook ads really work. Naturally, the set up a Facebook A/B test.
Both Facebook ad variations promoted an eBook on Twitter advertising. However, one ad included emojis in the main ad copy.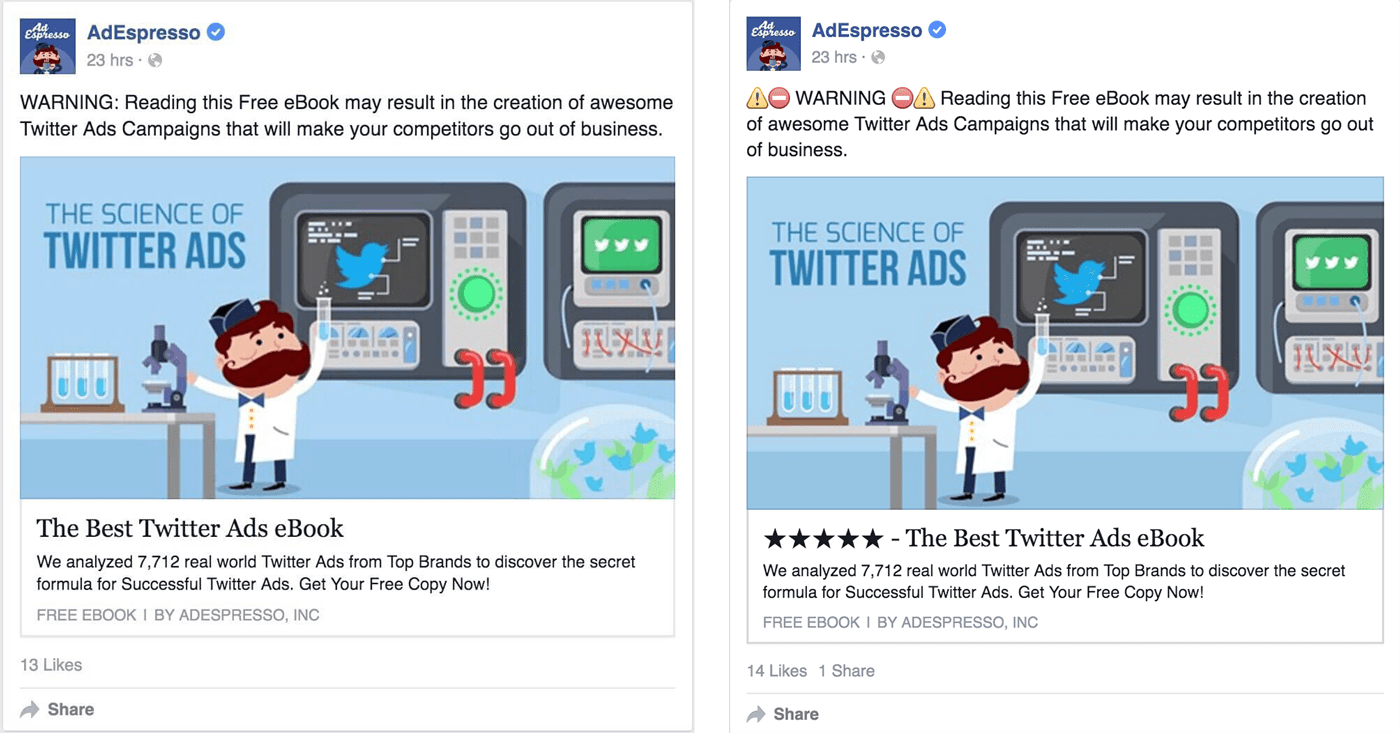 In the end, the experiment proved that there is no real difference between the two ads.
While the ad with emojis had a 12% higher click-through rate, the regular ad had a lower cost-per-click ($0.639 vs. $0.720).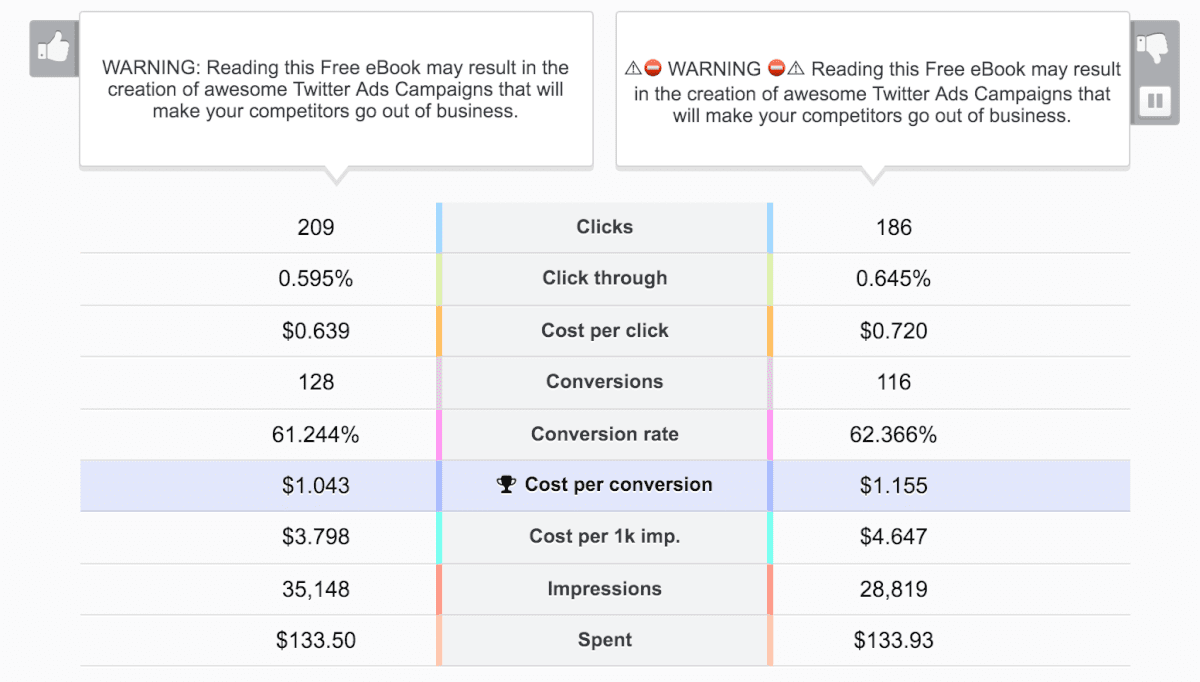 In light of this Facebook ad experiment, it can be said that emojis in Facebook ads do not work 100% of the time.
However, there's also lots of proof that emoji marketing does work. It's completely up to you to decide whether it's the right strategy for your brand. You could also set up a Facebook A/B test to find out what works best!
Why and how emoji marketing works
If you're not using emojis yourself, it might seem like a distant world of millennials.
However, you'd be surprised to learn about all the psychological studies examining the effect emojis have on us.
A study by the University of Missouri-St. Louis explored the effects of using emojis in a socio-economic vs. task-oriented setting. They discovered that looking at an emoji is far more gratifying that reading a word from the Oxford Dictionary.
The Florida Institute of Technology also researched the use of emoticons in business-related emails.
Here are the two email variations they tested:
The study found that when paired with emojis negative messages have a less negative effect on readers.
People perceive emojis as a positive way to communicate.
Maybe that's part of the reason why emojis have grown so wildly popular.  Now, 1,620 emojis are supported in iOS 9.1.
Emojis and Facebook marketing
If you're an avid user of Facebook or you've read our monthly overview of Facebook news, you're familiar with the Reactions.
Before the launch of six Reactions in 2016, Facebook tested tens of different variations.
They ended up by selecting six most popular ones.
Since their launch one year ago, Facebook Reactions have been used more than 300 billion times.
If you're curious, the love Reaction has been by far the most popular, accounting for more than one-half of total Reactions.
Here's an example how Facebook Reactions look like under a page post.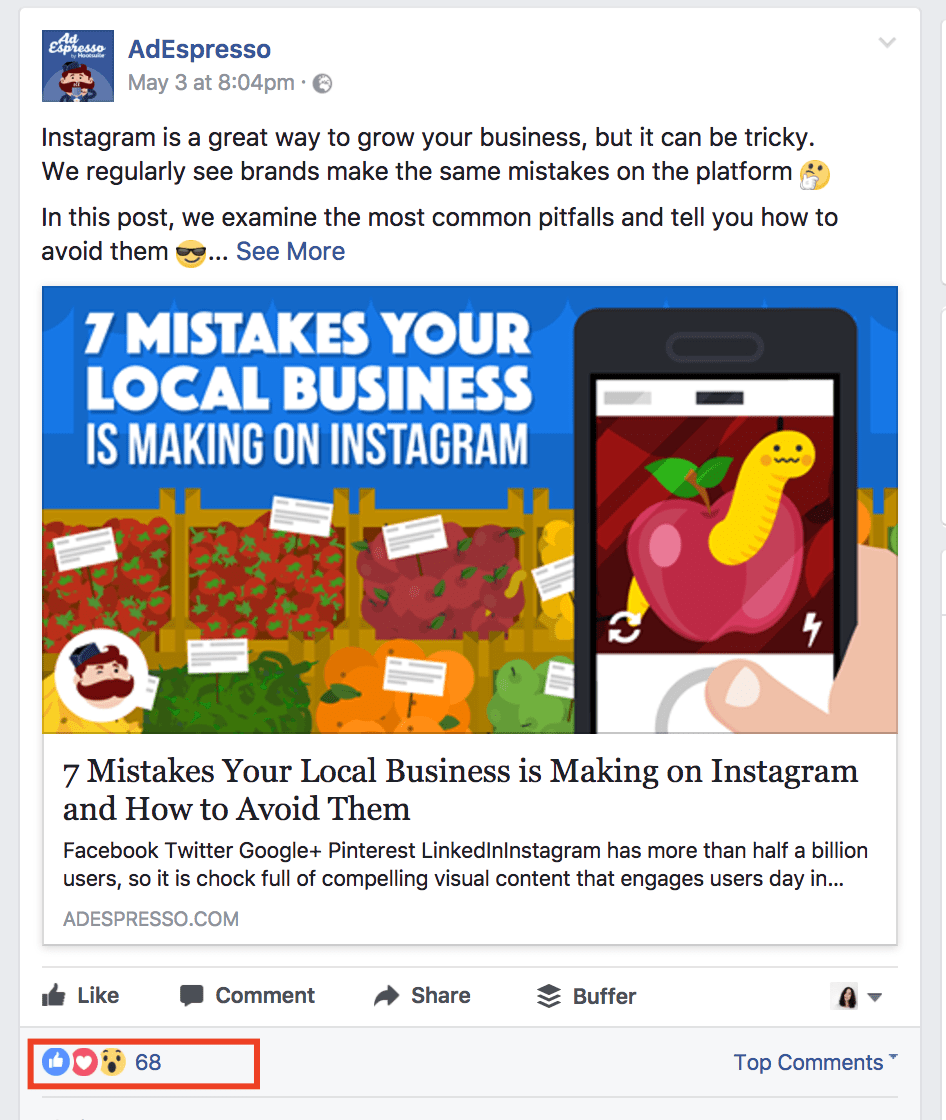 In March 2017, Facebook also released Reactions in Messenger, allowing people react to individual messages with specific emotions – love, smile, wow, sad, angry, yes, and no.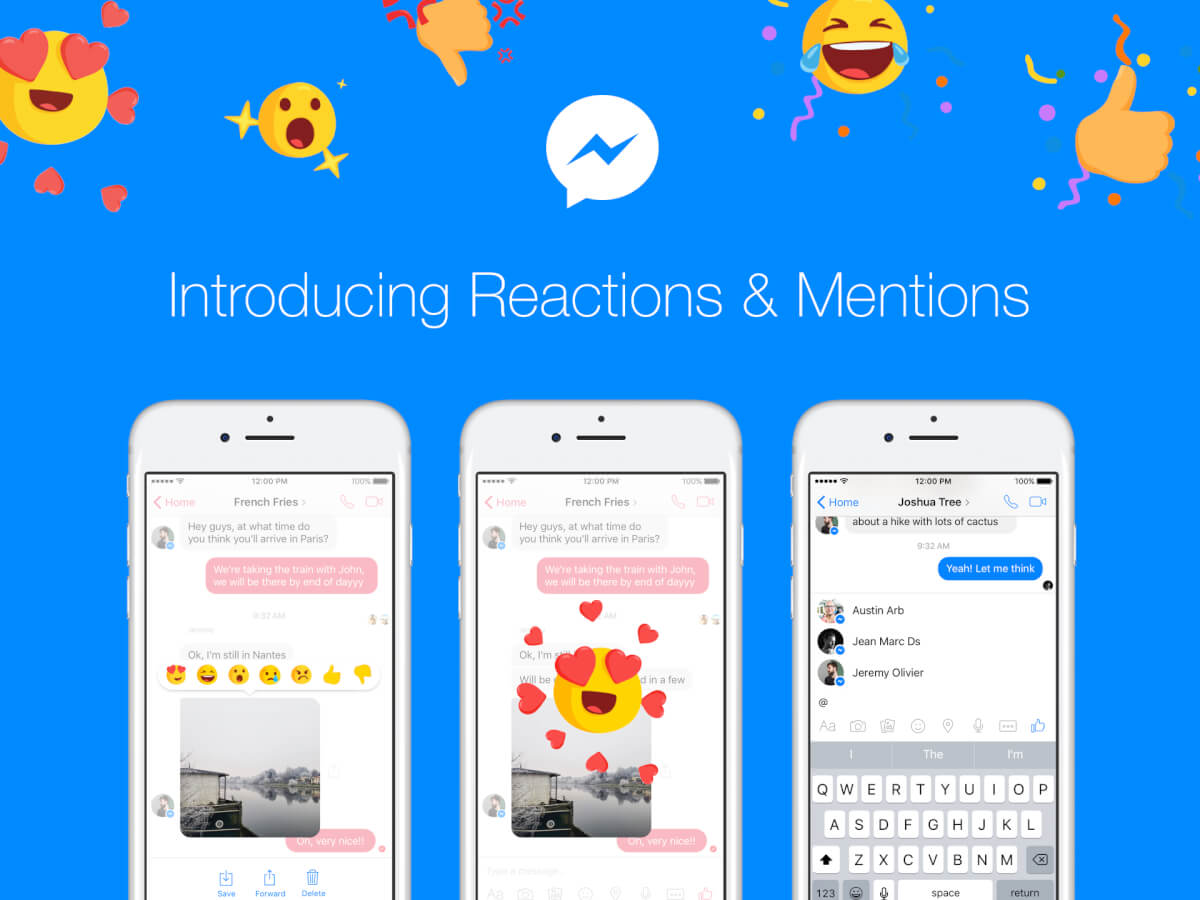 According to Vyvyan Evans, a professor of linguistics at Bangor University who studies the use of emoji in communication:
Nearly 70 percent of meaning derived from spoken language comes from nonverbal cues like body language and facial expression. The stratospheric rise of emoji, in text messaging, on Facebook, and elsewhere is essential, is fulfilling the function of nonverbal cues in spoken communication."
But Reactions aren't the only place in the Facebook newsfeed where you can find emojis.
You can also place an emoji in your Facebook posts and ads:
In the body copy
In the headline
In the link description
How brands are using emojis on Facebook
According to Zazzle Media, using emojis in Facebook posts can increase your number of Likes by 57 percent, and comments and shares by 33 percent.
And that's why it may be a good idea to use emojis in your Facebook page posts and also in the Facebook ads.
Many popular brands have already adopted this strategy.
Facebook marketing example #1: AdEspresso
Let's have a look at AdEspresso's usage of emojis in the main copy of their Facebook post: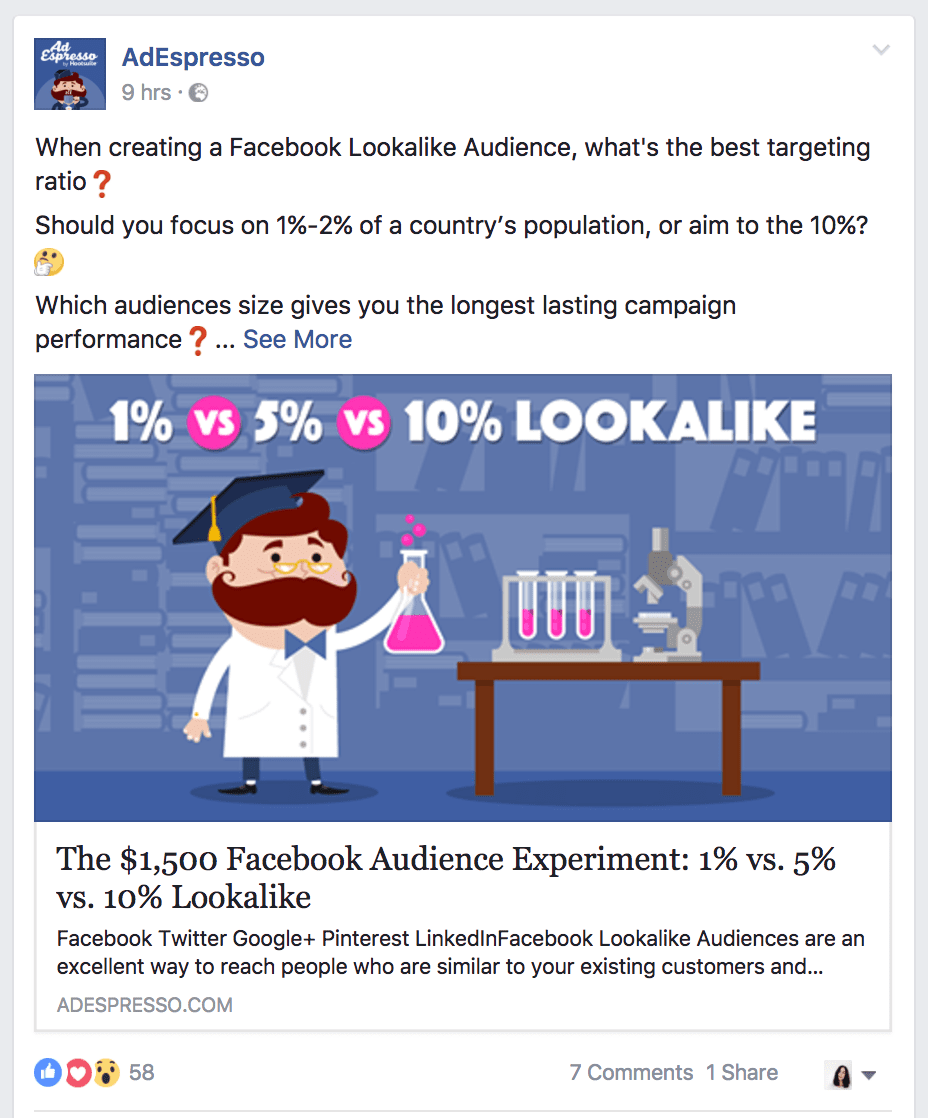 That's beneficial in a couple of ways:
Emojis help to bring life to the otherwise lengthy ad copy
Colorful icons help to catch people's attention
The red question marks specifically arise curiosity
Emojis help brands to showcase more personality with little effort
Facebook marketing example #2: Buffer
Here's another example by Buffer. This time also, the emojis have been placed in the main ad copy.
However, the emojis have been used as a replacement for bullet points, helping to better deliver the message and value.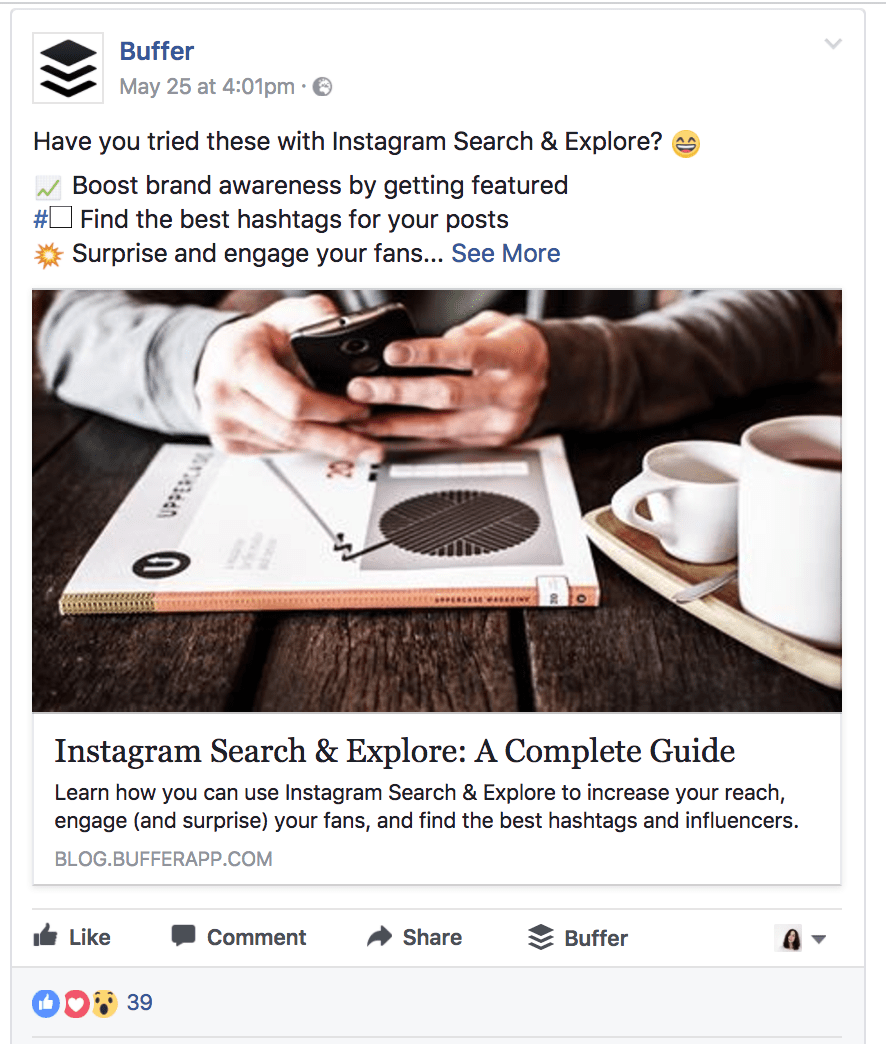 Buffer is also using emojis when writing replies to their fans' comments.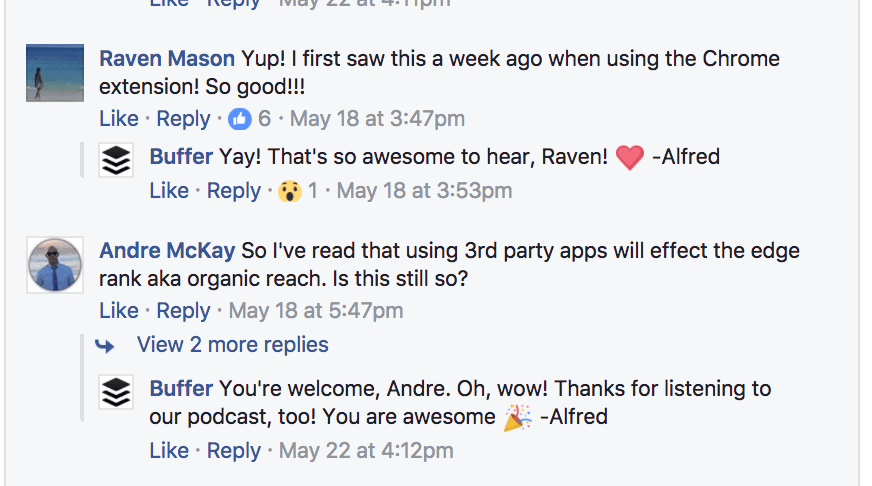 That's an easy way to give the message more depth and personality (and build an even larger social media fan base!)
Facebook marketing example #3: Clanbeat
What do you think – would you rather click on Clanbeat's post with the know-no-evil monkeys or a plain Facebook post with no emojis?
My vote definitely goes to the version with emojis – the post is a lot more fun and engaging than it would be without the emojis.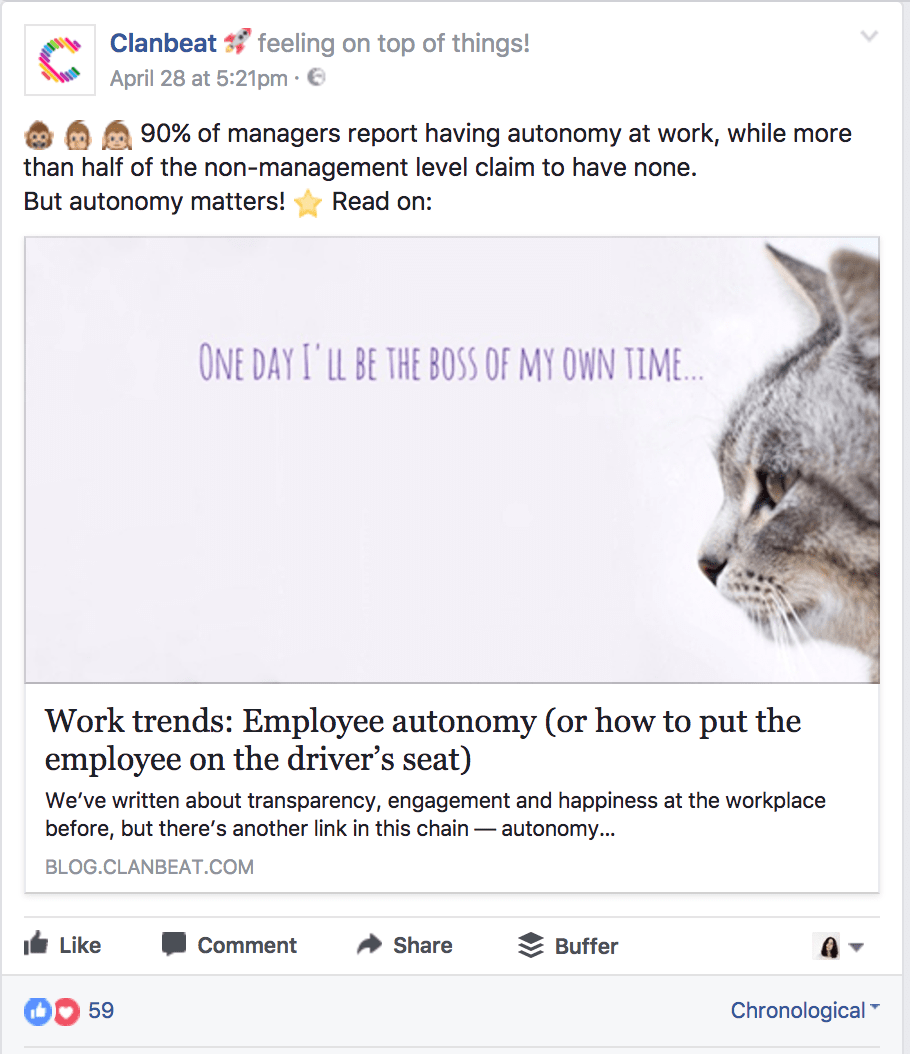 As you can see, a masterful use of emojis in your Facebook ads (and posts) can increase the engagement and eventually, lead to additional sales.
But how can you get started with using emojis in Facebook ads and what's the best place for hunting down all the cool emojis?
We've got you covered!
How to use emojis in Facebook ads
Before you start using emojis on Facebook, you should write down your strategy.
It's important that you know the answer to these three questions:
Do emojis align with our branding and tone of voice? – If you're working in a highly corporate environment, emojis might seem a little too fun and unprofessional to your audience.
How frequently and where are we going to use emojis? – Is it going to be written in your marketing plan and done regularly?
What types of emojis should we use? – All emojis in your social media posts should support your message and help you tell the story in a better way. (Don't treat emojis as mere decoration)
Step 1: Find the right emojis
There are a couple of websites that list all the possible emojis.
For example, Emojipedia lists all the emojis in a neat and categorized way.
Once you've found the emojis you're looking for, copy-paste them in your Facebook ad.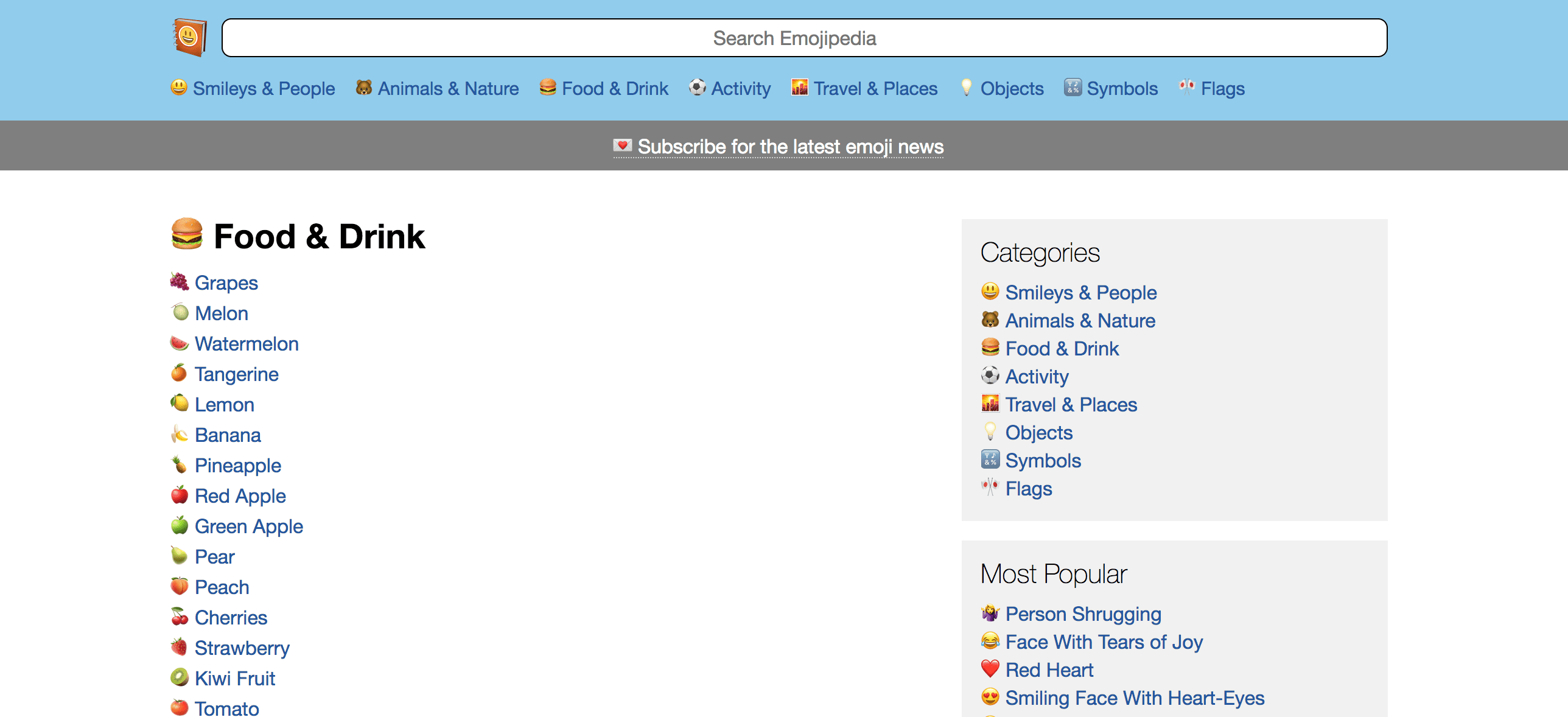 Tip: Another thing you can do is conduct a thorough emoji research and create a list of all your favorite emojis. Next, paste it into a note taking app or in your desktop notes. The next time you need emojis, they'll be just a click away.
Step 2: Add emojis to your Facebook posts
Adding emojis to your Facebook posts is simple and straightforward:
Go to your branded Facebook page
Insert the link/message that you want to share
Copy-paste emojis in your post
Note that you're not limited to using emojis only in the main copy – you can also edit your ad's headline and link description.
Step 3: Use emojis in your Facebook ad campaigns
You can also use emojis when creating Facebook ads from scratch in the Ads Manager.
After you've set up your campaign specs, you'll be led to the stage where you can enter all the ad details. As you can see in the image below, all the text boxes support emojis, simply copy-paste them into your ads.
And there you have it! Facebook ads and posts including emojis.
Best practices for using emojis in Facebook ads
In case you're new to the world of Facebook marketing with emojis, we listed some of our top tips and hacks to help you succeed.
1. Know the meaning behind the emoji
While most emojis are pretty straightforward, they can have popular hidden meanings that you're not aware of.
For example, the Peach emojis has quite a few different meanings.
If you want to be sure that you're not making a huge social media blunder, check the meaning behind your emojis on Emojipedia.
2. Use Emojis to tell a story
Every emoji you place in your Facebook post should help deliver your message, not just decorate.
You can also use a custom combination of emojis to deliver a more complex message or just add a fun touch to your Facebook ad.
For example, you could say "Skyrocket your revenue with awesome Facebook ads" in the emoji language 🔥 😵 👉 💰 🚀
You can also use this advanced cheat sheet to emojis and hashtags:
3. Use emojis to guide the viewer's attention
Emojis signifying movement, such as 👈 👉☝️👇 ➡ could be used to guide your ad viewer's attention to the main headline or call-to-action.
For example, this tweet by Scoro uses a pin emoji to guide the viewer's attention to the link (and make them click).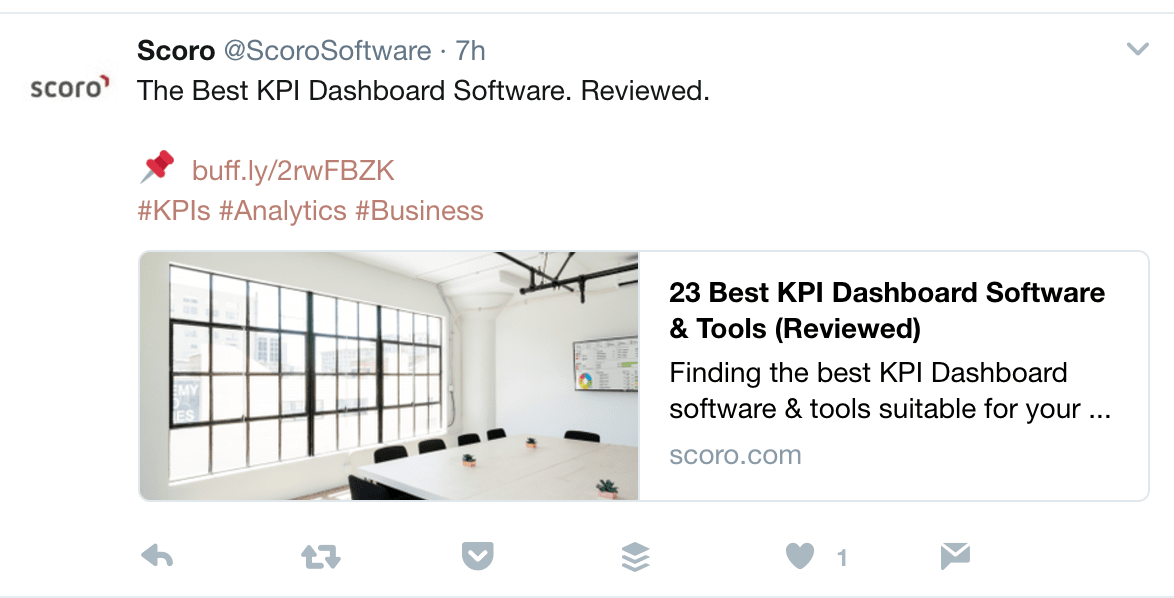 Tip: When using emojis to guide your audience's attention, make sure that they're pointing to the ad or post element you want to be clicked.
In the case of Facebook ads, it could be your ad's headline or the call-to-action button.
4. Avoid cryptic messages
Goes without saying, but you should stay clear of emoji combinations that make no sense to 95% of people. 💥 🍍 ⚙️ 💎 🕵️ – any ideas what this random combo could mean? Let us know in comments!
Here's another example of a brand gone a bit too far with the use of emojis:
The response to Goldman Sachs' tweet was both hot and cold.
Unsure which emojis to use in your Facebook posts?
Here's a graph showing the top 10 emojis that, according to AdWeek, receive the highest engagement on Instagram.
5. Get started NOW
When doing research for this article, I was a little surprised to see how many popular brands haven't yet included emojis in their social media strategy.
After all, according to Emogi, emojis are used by 92% of the online population.
The good news is that you've still got the chance to among the pioneers and use emojis before they become too mainstream to be working.
The next time you're making a new Facebook post or setting up an ad campaign, use a 🚀 or 🏆 here and there.
Question: What are your go-to emojis when it comes to social media marketing? Let us know by leaving a comment.