New social media platforms, like TikTok, are blowing up right now and revolutionizing the online space, but one video-sharing platform reigns supreme: YouTube.
YouTube is currently the second most visited site on the internet, with over 2.2 billion users worldwide.
If you want to use YouTube to grow (or even to start) your business, you need to learn how to grow and promote your channel.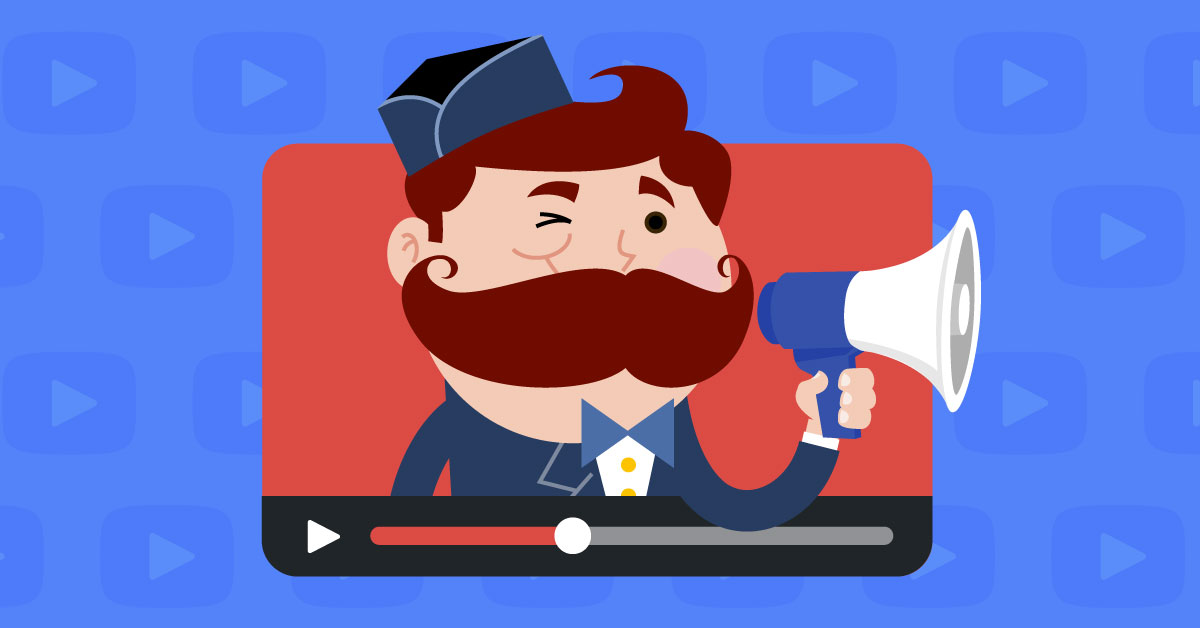 Here are some of our favorite ways to optimize your YouTube channel and expand your reach. These methods are simple, effective and free.
Let's get into it.
20 Ways to Promote Your YouTube Channel
1. Choose Google-friendly keywords
The best way to promote your YouTube channel is to prioritize SEO. And SEO is largely about understanding what users are looking for.
Nowadays, people don't just go straight to YouTube when looking for videos; they search on Google, too. Google now highlights videos in search results for many queries so it's important that you optimize your videos with Google-friendly keywords.
Here's how to identify Google-friendly keywords for any video:
Use tools like the Google Ads Keyword Planner to find possible keywords. If you're completely new to this, you can also just start by using… common sense. Come up with 5-15 keywords that people might use to describe your business or the service you provide.
Once you have your list, Google the keywords one by one.
Analyze the Search Engine Results Page (SERP) for each keyword. See if the top-ranking results are videos or blog posts.
Tweak your keyword and Google it again. Add phrases like "How to" or 'Tutorial" if you're finding it hard to get keywords with video results.
Burn through your list of keywords to find the one(s) that prioritize videos.
For example, "oil painting tutorial" shows video results first, while "oil painting tips" first directs browsers to a web page.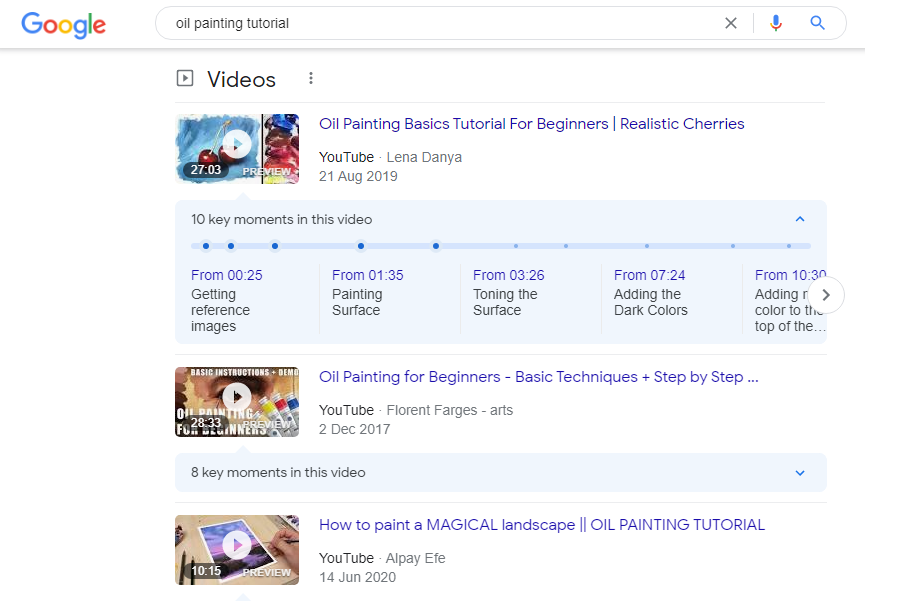 You can also use YouTube's autocomplete feature to find popular keywords. Start by searching for a specific topic or there, and see what title YouTube suggests.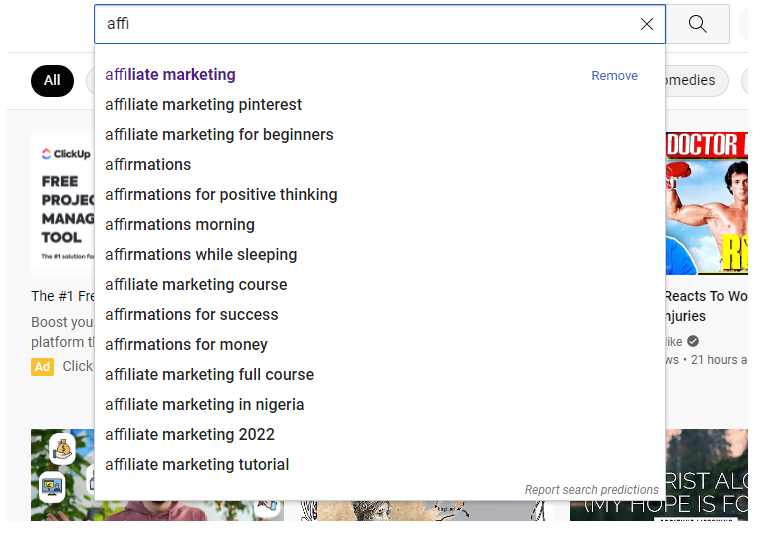 2. Use concise, descriptive video titles
When viewers are searching YouTube, your video title is the first thing they see. And if your title isn't attention-grabbing, they'll likely scroll right past your video.
Here are some tips for writing strong YouTube titles:
Be concise. Keep your titles between 60 characters or less, otherwise, some of it may be cut off when displayed.
Use brand-related keyword(s) in the first half of the title so that you won't lose valuable information.
Use a trending hashtag or one you've used on another platform.
Don't use clickbait-y titles.
3. Create custom thumbnails
Human brains are wired to notice visuals first, so pay attention to your thumbnails. YouTube actually automatically generates thumbnails for all videos, but they might not be particularly eye-catching. So to increase views, create a custom thumbnail for every video you post.
Here are some general rules to follow when creating a thumbnail:
Use simple, clear text that describes your video.
Be consistent with your brand aesthetic. Stick with the same layout, font type, and color scheme so that your videos will be easily recognizable.
If you don't have original images, use high-quality stock photos.
Resolution: 1280 x 720 px (but you can use any 16:9 aspect ratio, as long as the width is at least 640 px)
Format: .JPG, .PNG, or .GIF
Size: The image should not be more than 2MB
An example of a good thumbnail is the one below from Ariel Hamilton's channel.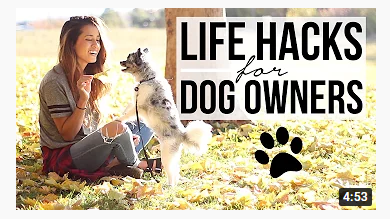 4. Fill out your profile information
One of the first things to do when creating a YouTube channel is to fill out your profile section. A compelling profile is one of the best ways to boost your SEO and show your personality to newcomers to your channel.
Below are some great practices for filling out your profile information:
Be consistent. Use the same color palette, fonts and layouts as the one on your website and other social media profiles.
Optimize your YouTube description. Add keywords to your YouTube channel description to rank better. But don't stuff keywords so that YouTube won't penalize your channel.
Tell viewers your schedule. Determine when and how often you'll post new content. Then, stick to it so that your viewers would know when to expect your videos.
Add your contact info so that viewers and potential collaborators will know how to reach you.
5. Optimize your video descriptions
When writing YouTube video descriptions:
Put your keywords at the beginning of the description and title.
There's a 5,000-character limit, but put the most impressive information in the first 100 – 150 words so that it will appear above the "Show more" prompt.
Make a "contents page" with timestamps to help your audience find what they're looking for.
Include some relevant hashtags. Make sure you follow YouTube's hashtag rules to avoid being penalized.
Add links to relevant playlists (see tip #12)
You can mention keywords in the video itself. But because people generally have low attention span, mention them during the intro for best results.
See how Santrel Media adds timestamps in the descriptions of their how-to videos.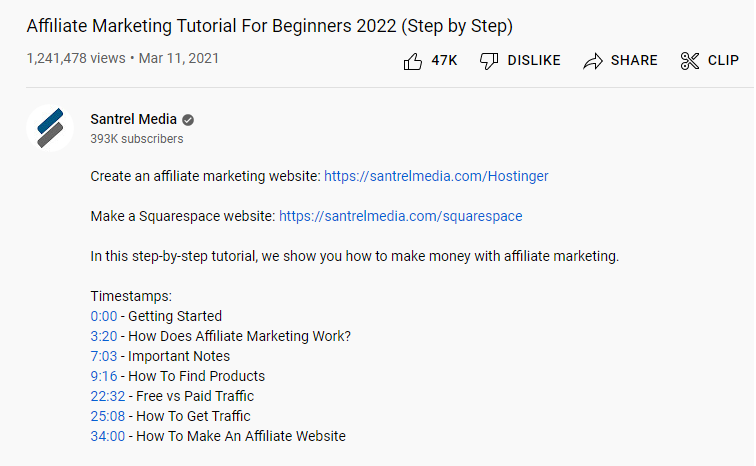 Check out this complete guide to writing great YouTube descriptions for individual videos and entire channels, complete with free, customizable templates you can use to get started.
6. Don't skip the metadata
YouTube has specific guidelines when it comes to writing metadata (including video titles, descriptions, and tags).On a high level, they come down to two things:
Be honest. Write what your video is actually about. Don't add things that are trendy just to force the video to go viral.
Choose quality over quantity.
These rules are especially important when picking categories and tags for your content. Put tags only in the "Tag" section of your upload, not the video description. Then, add one or two categories to help YouTube identify what your video is about and who to recommend your video to.
7. Offer real value
This might seem like a no-brainer, but it still has to be said.
Posting great content is the best way to keep existing viewers engaged, expand your reach, and rank well in YouTube search. This is because YouTube's ranking algorithm prioritizes the viewers' experience.
Before you post a video, ask yourself these questions:
What problem(s) will this video solve for my viewers?
Is the video entertaining?
Will it make my viewers' lives better in any way?
8. Create high-quality videos
Good ideas and bad execution is a recipe for disaster. So if you have great, professional content ideas for your YouTube channel, you should also make high-quality videos too.
Get a nice camera (new phones have cameras that are good enough!), do a soundcheck before you click "Record", and learn some basic editing.
You don't have to be a professional filmmaker or even a natural at this, but your videos should be watchable.
9. Engage with your audience
If you want viewers to engage with you, you have to engage with them. It's a give-and-take situation. If you look closely, you'll notice that the most successful YouTubers constantly interact with their audience.
Here are some ways to interact with your fans:
Respond to viewers' comments, even negative ones
Subscribe to other users' channels
Create response videos
Give your top viewers shoutouts
Run contests for viewers
Organize a Q&A or "Ask me anything" session
Collaborate with other brands
Engaging directly with viewers will encourage them to keep coming back (brand loyalty) and expose your videos to a new audience.
10. Partnering with influencers
Partnering with influencers is a great way to grow your YouTube channels.
Reach out to content creators or companies in the same niche as you on social media to discuss the possibility of collaboration on each other's YouTube channels. YouTube creators can help you tap into engaged communities, expand your reach, and come up with new content ideas when you're stuck.
Remember: When collaborating with influencers, you have to be authentic and stay true to your brand. Collaborate only with people whose values align with yours. Inauthentic content can damage your brand.
For example, the Buzzfeed-owned cooking channel About to Eat made a video comparing expensive cast-iron skillets. The hosts are clear about the video being part of an affiliate deal with the brands they feature, but the content is still entertaining, engaging, and authentic because it fits well with the channel's overall theme and quality.
11. Create a series
If you want to build a loyal and engaged audience on YouTube, you need to get them excited about your new videos. And there's no better way to do this than by creating a series.
A YouTube series comes down to releasing a sequence of themed videos to viewers, usually at the same time every week, month, or on an otherwise fixed schedule. This will have your viewers eagerly anticipating your videos. Or they could binge-watch the entire series all at once.
Either way, it's a win-win situation. People get great content. You get views.
A great example of a series is Vogue's "73 Questions" with celebrities.

12. Create playlists
Playlists are another great way to get viewers hooked on your YouTube content. By design, when one playlist video ends, the next one automatically begins. This encourages viewers to binge-watch your content, which can turn them into fans.
Playlists work well if you make videos on a few different topics and you want to make it easy for viewers to navigate your channel. Videos in a playlist are also more likely to appear in YouTube's Suggested Videos column, so they help people discover your content.
Here are two ways to create effective playlists:
On your channel, group existing videos together under a common theme. This hooks viewers to your content, rather than your competitor's.
Collect videos from other relevant partners or influencers. This shows your viewers that you're up to date on the latest trends, and encourages them to share your playlists.
Cosmopolitan's "Expensive Taste Test" playlist can be a bit addicting.

13. Go live
Even though YouTube is primarily for watching pre-recorded videos, it's actually also one of the most popular live stream platforms. The popularity of YouTube live streams significantly increased during the COVID-19 pandemic when in-person events were canceled.
Going live on YouTube is a great way to increase your reach and get more viewer engagement.
You can use live videos to execute Q&A sessions, webinars, podcast-style interviews, and events.
14. Use calls-to-action
Have you ever wondered why most successful YouTubers say something like this in their videos: "Make sure you like, subscribe and turn on the notification bell to get notified about new videos!"?
Well, it's because the best way to get people to subscribe to your channel (or do anything at all) is to simply ask them. A compelling call-to-action (CTA) helps you get the most out of the audience you've garnered.
Your CTA could be anything. Maybe you want your viewers to like and share your video. Or you might want them to click through to your website. Whatever you need viewers to do, make it clear in your video.
While YouTube has a CTA extension for in-stream ads, there are many free ways to add CTA to videos:
Video descriptions: Ask viewers to like, comment, and share your video in the description box itself.
Direct mentions: Verbally tell viewers what you want them to do.
End cards: Add a customizable screenshot to the beginning, middle, or end of your video. These visual cues add more gravitas to your CTA.
In this video titled, "The REAL way to get free YouTube subscribers", the team at Hootsuite used this end screen to boost subscriptions.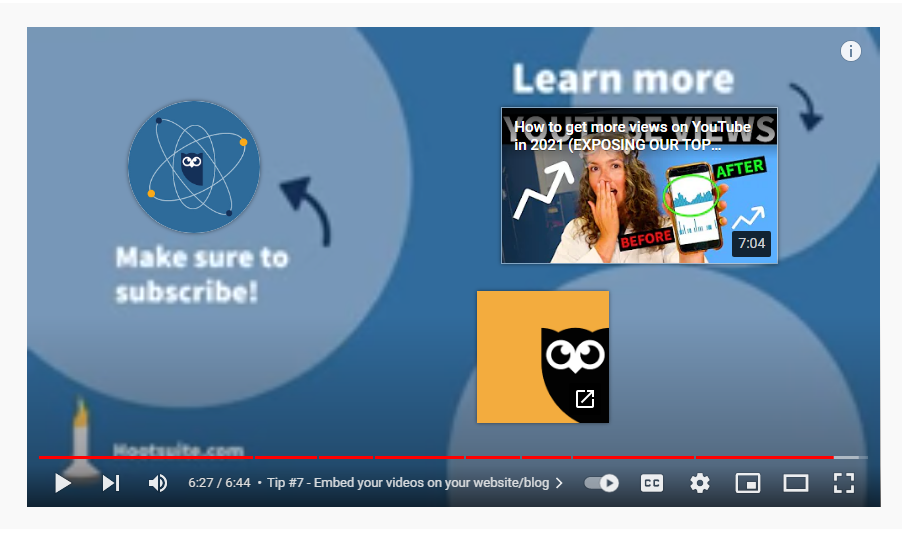 15. Cross-promote your channel
If you're active on other social platforms or use other marketing channels (blog, email, etc.), you should promote your YouTube videos there too.
There are many ways to cross-promote your videos, but here are some simple ideas:
Social media
Before using social media to cross-promote your videos, learn the recommended video specifications for each social platform. Then, optimize your videos accordingly.
Make sure you maintain your brand aesthetic and voice, and use different captions every time you post a video.
Different social media platforms require different social strategies. Tools like Hootsuite can help you streamline your content ideation and publishing process, especially if you're using multiple social media accounts.
Blogging
Posting your video on the blog section of your website is an awesome way to increase the reach of your content.
You can do this by transcribing your videos and publishing it verbatim, or by writing a short summary of the video and embedding it right into the post for viewers to watch. This strategy will increase both video and page views.
You can also use Google Analytics to find the posts that get the most traffic on your blog, and make a video on that topic. Then, embed the video into the post itself.
This will add value to your blog, while encouraging visitors to check out your YouTube channel.
Remember that creating great content is just as important as making sure it loads quickly for your site visitors. Back all your hosted content with a built-in CDN  (content delivery network) to ensure your content is delivered more quickly.
Email marketing
Email marketing might seem like a thing of the past, but it's still effective. In 2022, the global email marketing market is predicted to be valued at $9.6 billion.
Build an email list of just your YouTube subscribers. Then you can use email to notify them every time you post new videos. This will increase your videos' view count early and, in turn, jumpstart YouTube's recommendation algorithm.
To get subscribers without seeming pushy, you can also add a link to your YouTube channel under your email signature. But instead of a long, unattractive URL, use a simple icon.
16. Create seasonal content
This is when holidays like Christmas, Thanksgiving, and Halloween actually benefit you (just kidding. We know you love spending time with the fam!).
Anticipating what people are looking for during these seasons is a great way to get new eyeballs hovering over your content. That's why people post about the best Christmas movies, the scariest Halloween costumes, and exciting Thanksgiving turkey recipes.
Use the holidays, popular movies, and trends as inspiration for new content. You'd be shocked at how well this works.
17. Make evergreen videos
While seasonal content will spike your viewership in certain months, don't underestimate the power of evergreen videos.
Upload a few videos that your viewers will keep coming back to. Popular evergreen videos include how-to guides, resources and tools lists, tips roundups, and more.
This type of evergreen content can rank well in YouTube search for years, boosting SEO and increasing traffic.
18. Study your analytics
YouTube's analytics hold many insights that can help you understand your audience deeply and grow your channel. So take some time to study your data.
As you do, ask (and answer) important questions like:
Audience interests: How old are they? What languages do they speak? Where do they live? What video formats do they like?
What type of content gets the most traction?
What days of the week is your audience most active?
What time of day is your audience most engaged?
Knowing your analytics will help you post content with intention, instead of posting content simply because they have the potential to trend.
Read more about how to use YouTube analytics to grow your channel.
19. Post teasers on TikTok
TikTok's blowing up like crazy these days (the team at Hootsuite compiled some stats that prove it), but the app's 3-minute max. limit has nothing on YouTube's limits—15 minutes for non-verified users and 12 hours for verified users.
But you. can take advantage of TikTok's popularity by posting teasers of your YouTube video. You could post the first 15, 60, or 180 seconds of the video and encourage viewers to head to your YouTube channel to watch the rest. Make sure to put the link to your channel in your TikTok bio.
20. Participate in YouTube trends and challenges
Taking on YouTube trends and challenges can help your videos go viral. You can check on the Explore page to find trends and challenges that instantly inspire new content ideas.
For instance, videos that show your morning and night routines or "A day in the life of (insert occupation here) are big in 2022.