What started as a job-finding site that basically acted as a virtual resume has evolved into a major B2B marketing powerhouse.
LinkedIn should now be considered a priority site in terms of social media marketing and potential networking opportunities, particularly for B2B-oriented businesses.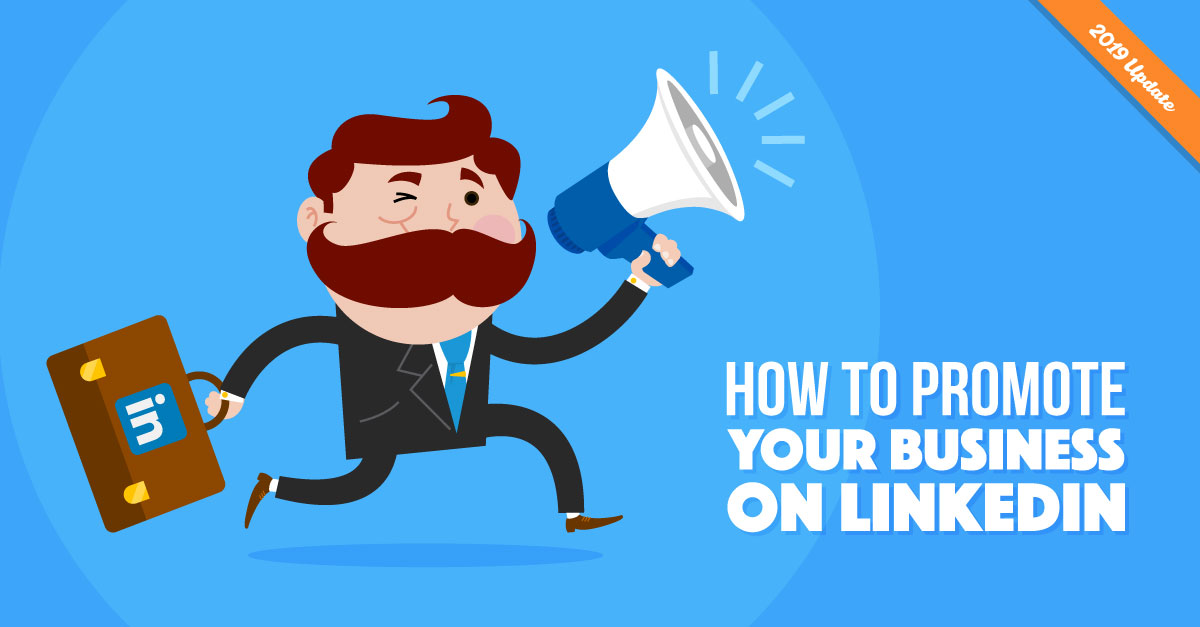 People are excited to network on LinkedIn, make new connections, and strike plenty of business deals.
If you want to use LinkedIn to promote your business, establish brand awareness and thought leadership, and attract new clients (and maybe even some new employees, too!), keep reading.
LinkedIn offers so many valuable opportunities for business promotion, and in many cases, it feels seamless and authentic on this platform where the focus is largely on the professional.
I can speak to this myself; as a freelancer, I've had dozens of clients find me through LinkedIn and hire me for major and ongoing projects over a four year period, amounting to significant amounts of work.
In this post, we're going to take a look at the most effective ways to promote your business on the platform so you can do all of the above and more.
Link & Optimize Employee Profiles
There's one thing that I want to flag really quickly about marketing on LinkedIn: Even though it's a professional network, you ironically enough get a little more up close and personal on this platform. Facebook Pages allow employees to hide behind the brand's logo and name; on LinkedIn, however, people can see personal profiles that are connected to yours, and it's encouraged to interact as an individual instead of just a brand.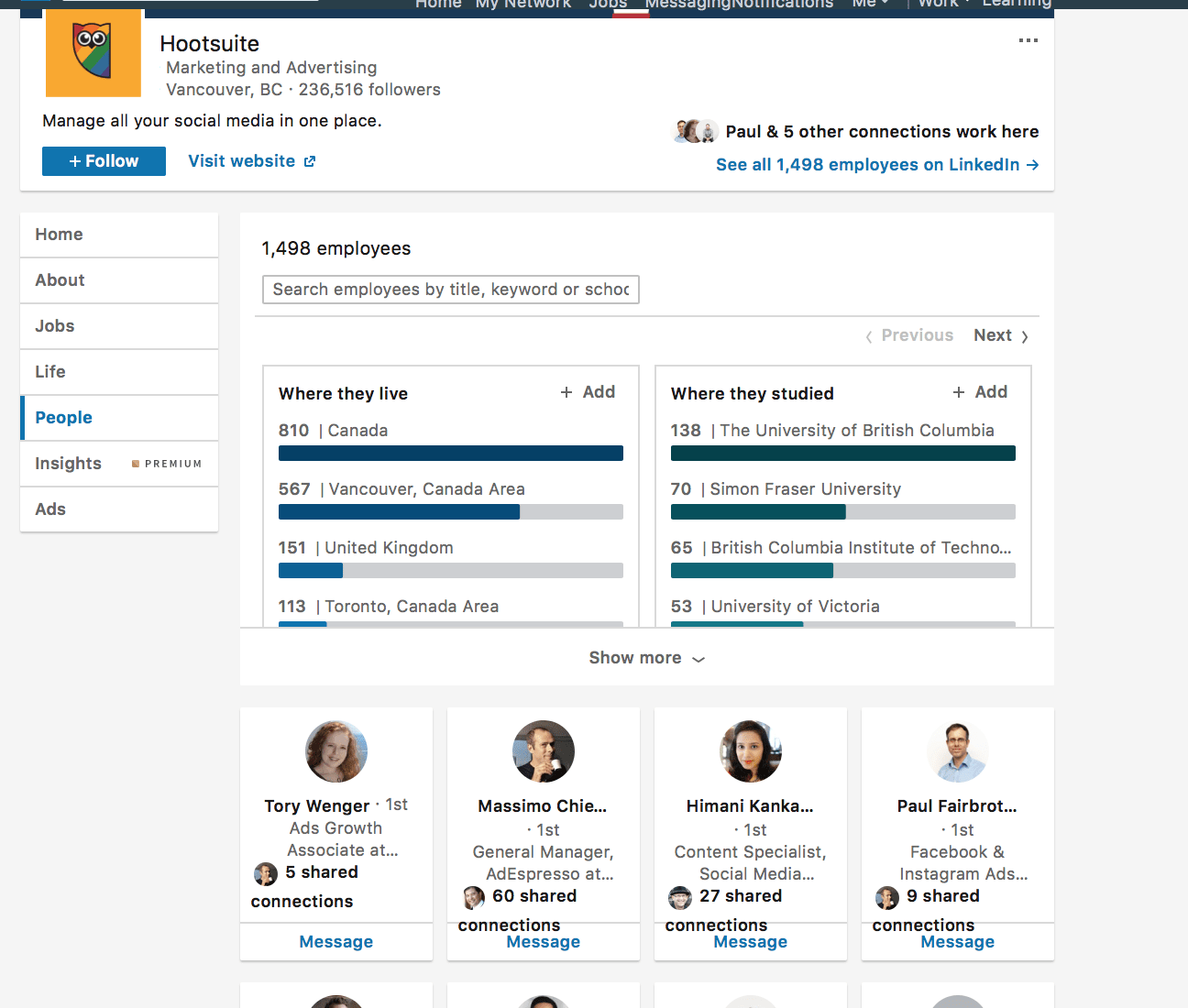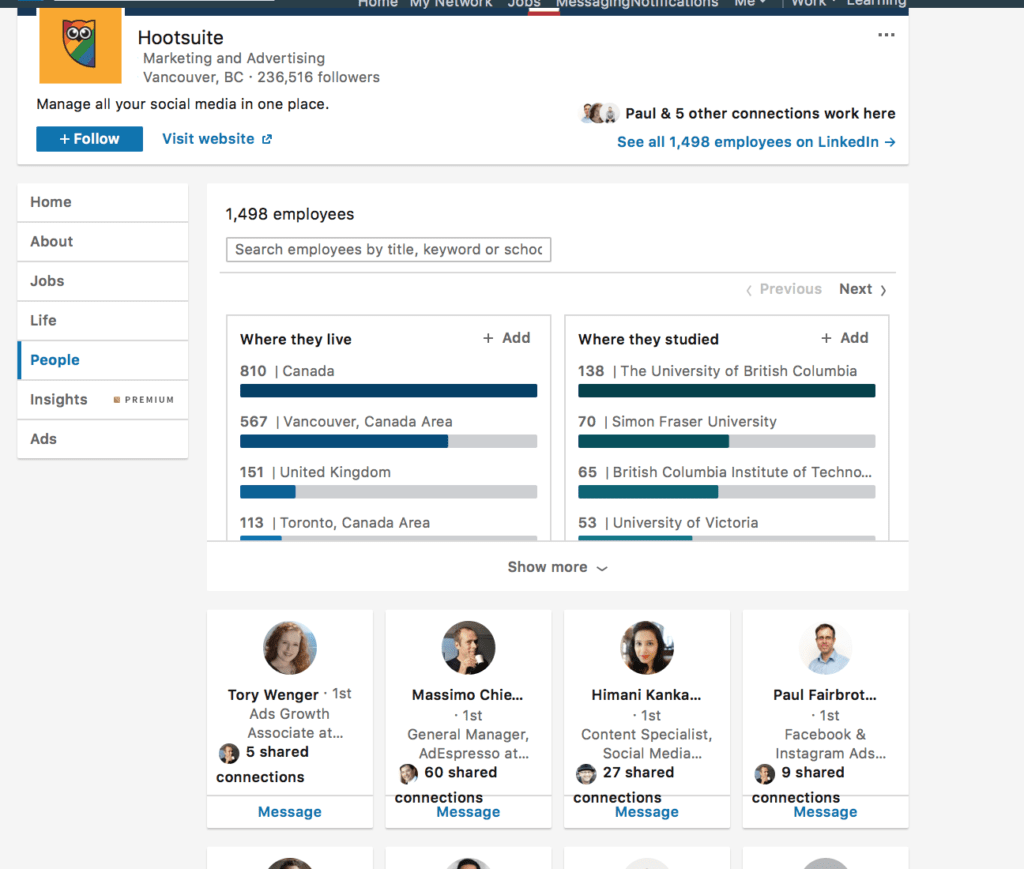 If your employees look good, that helps you look good, too. This goes for any employees you want to have connected to your Company Page, which we'll talk about in a minute. For some businesses, this may include all employees. Ideally, they'll list your organization currently with their up-to-date job title on their profile. You may suggest that they include something in their bios that tie in to the company values. If you're a data-driven marketing agency, for example, a simple "Account executive that uses data-driven strategies to improve my clients' ad campaigns" will do.
Once a team member is ready to do so, they just need to enter in your Company Page name into the "employer" section of a job listing, and they'll be able to connect to your Page there. Having thriving company pages with completed profiles will help your Company Page look great.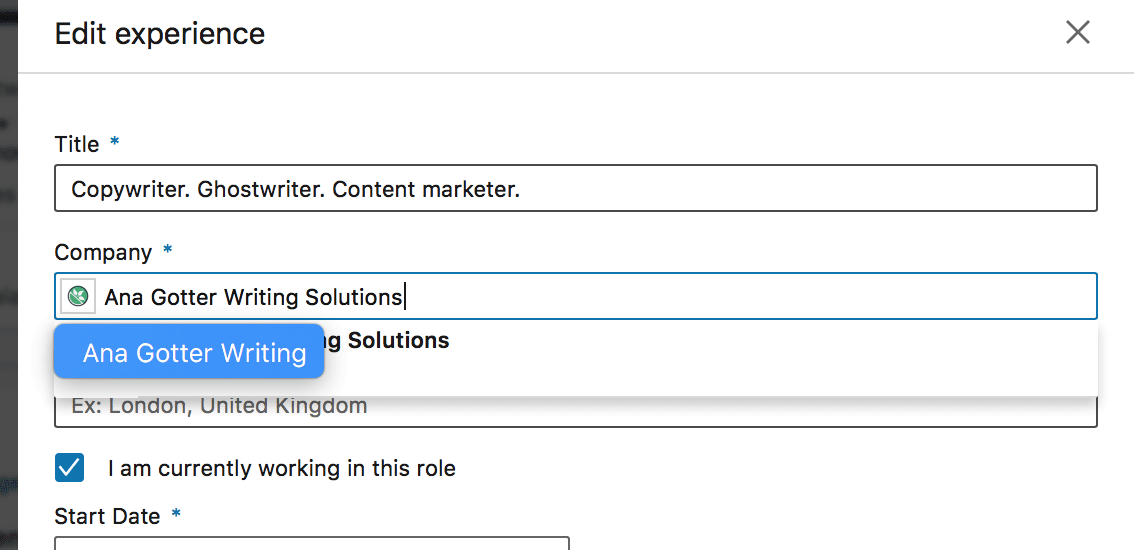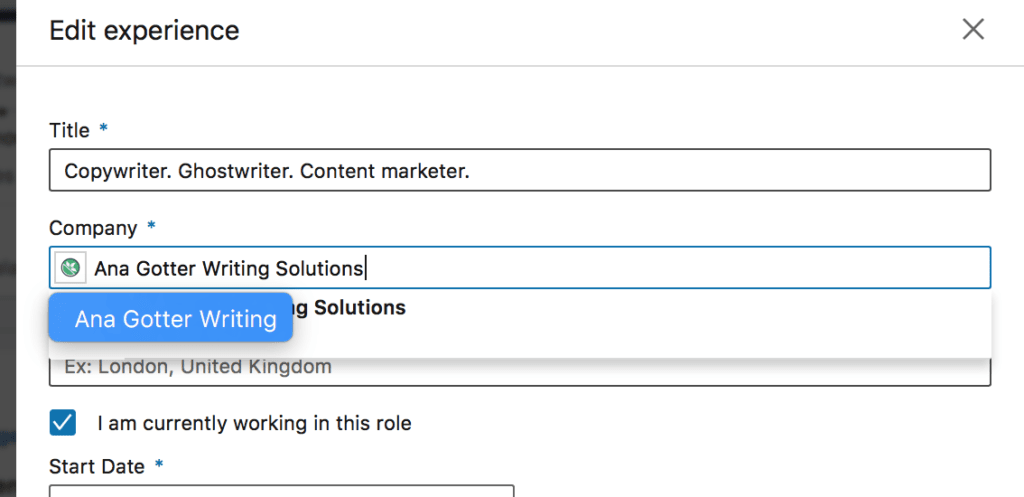 As a note here: I do not recommend controlling what your employees are putting on their Pages, simply requesting that they optimize their profiles to help you look good if they're linking up to you. You shouldn't ask them to take away job experiences or remove something from their profile just because it doesn't fit what you're looking for. It is, at the end of the day, their personal profile and that needs to be respected.
Create a Strong Company Page
Your Company Page should follow a strong personal profile. You can easily create one at any time here, and it typically takes just a few minutes. Simply choose your business's size, and then fill out the requested information (which includes name, industry, and the public URL of your choice).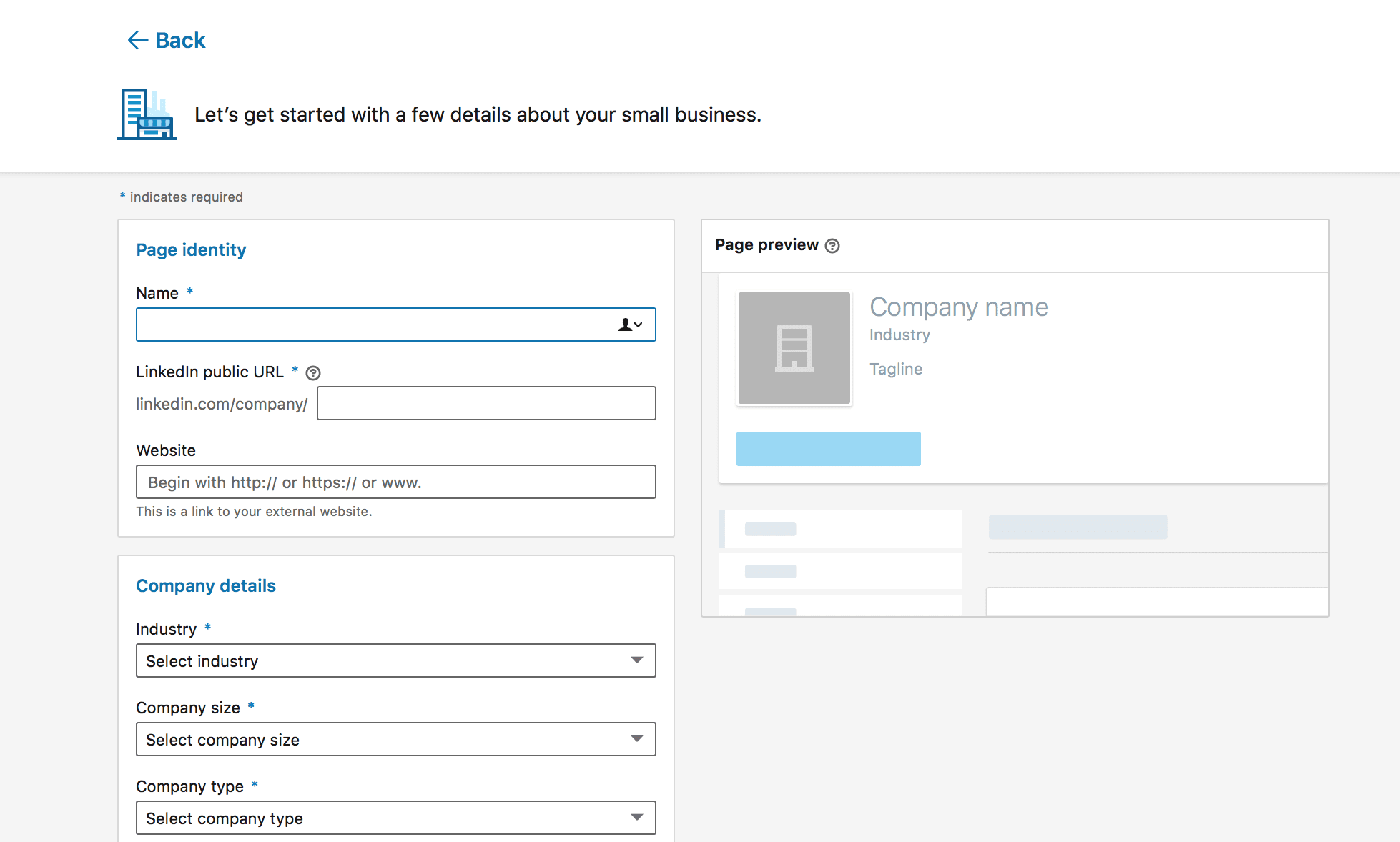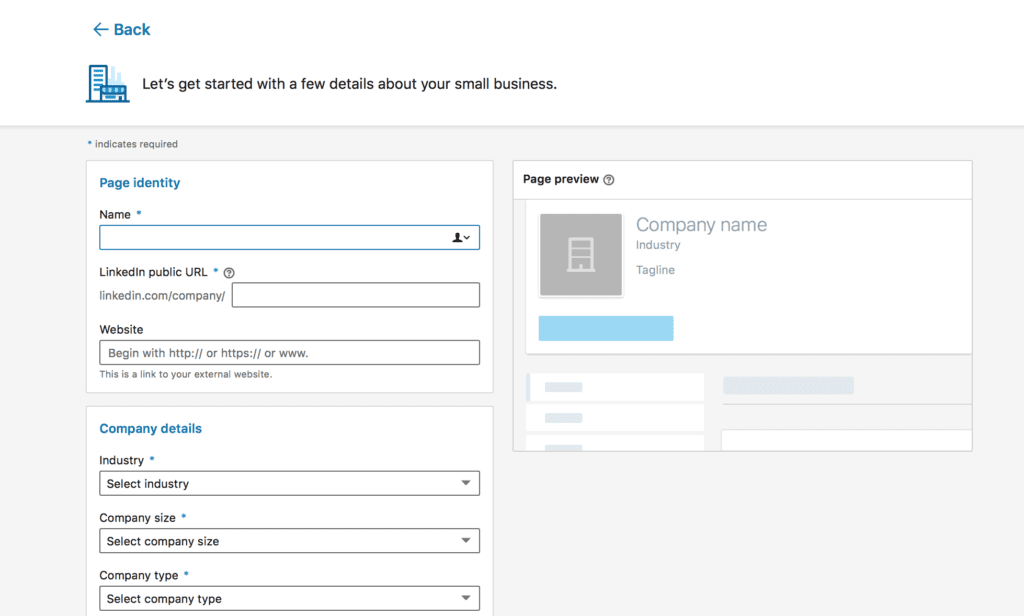 Your Company Page can be followed and is often a strong first touchpoint on LinkedIn for new potential clients, so it needs to represent your business well. Opt to have your logo as the Page's profile picture, or at least align this profile picture with the same one you're using on other social platforms, and add in a cover photo that correlates well for a more cohesive look.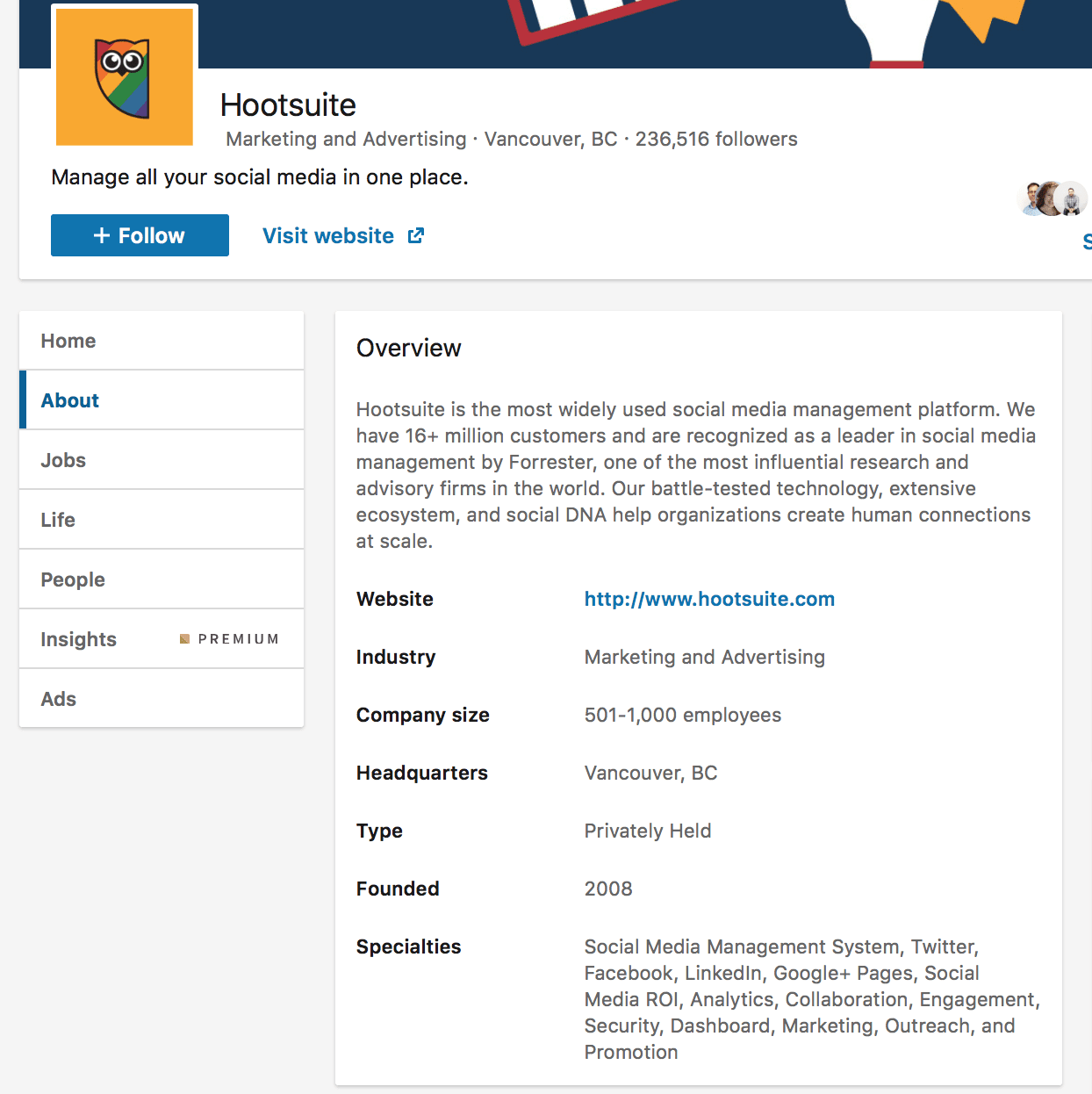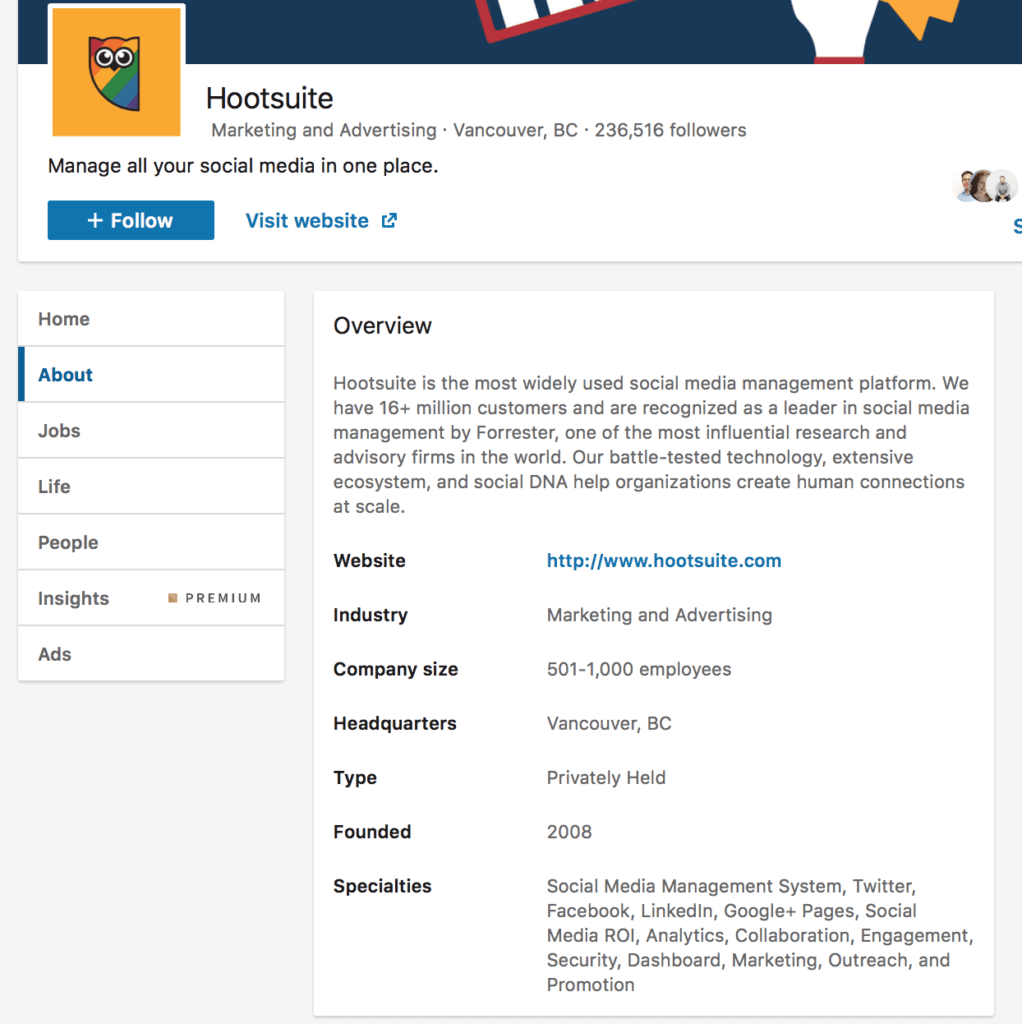 When it comes to the Page's description, try to incorporate potential keywords that could help you land relevant placements while still being informative about what you offer and what makes you different. Hootsuite did this by featuring the keyword "social media management platform," and following it up with strong social proof by stating "16+ million customers" and listing the recognition from Forrester.
Adding in as many relevant specialties as you can will also help trigger search placements when potential customers are searching for businesses like yours. Remember that while you want the content to be engaging, it can only engage potential leads if they're actually able to find you first.
Strike An 80/20 Balance of Self Promotion
There's a good chance that you've heard this before: On social media, it's best to strike that 80/20 balance where you're only directly promoting your business with a hard sell about 20% of the time. That's going to hold mostly true on LinkedIn, too, but it can be stretched to around 70/30 or even 60/40 if you're not going for the hard sell most of the time.
Even on LinkedIn, people don't want to be spammed with information about your business– even if you think it's really cool. Instead, they want the relevant highlights that could have some impact on them, and then they mostly want to hear about what's happening in the industry or the business world.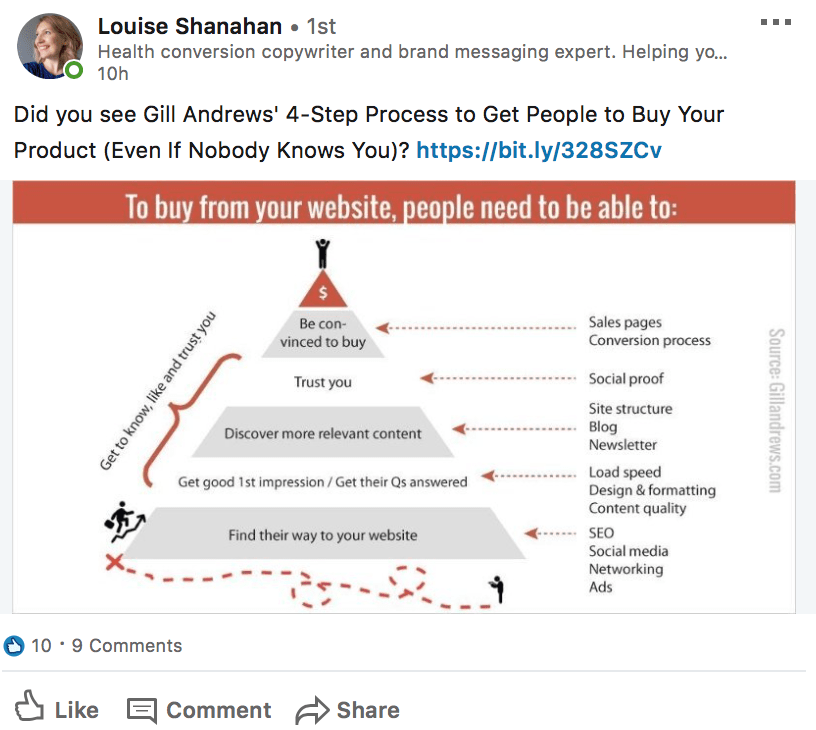 You want to do this both with your personal profile as a business owner and with your Company Page. Try to have most of your content shared focusing on offering value, and then using the majority of that 20 or 30% of your content being story-oriented, customer-oriented, or employee-oriented content that helps you distinguish what your brand is doing. Only a very small part (5% or less) should be actual business promotions or announcements in order to keep your follower count up and engagement coming in.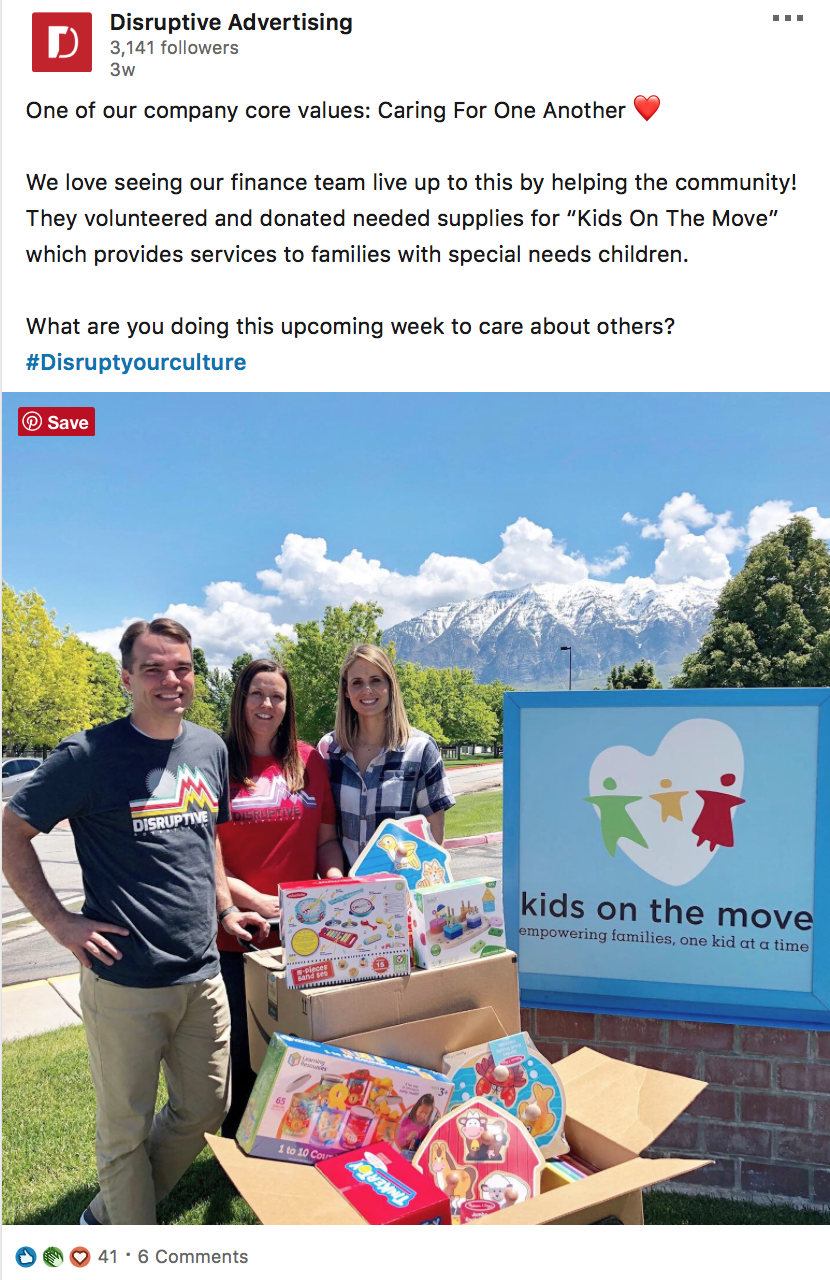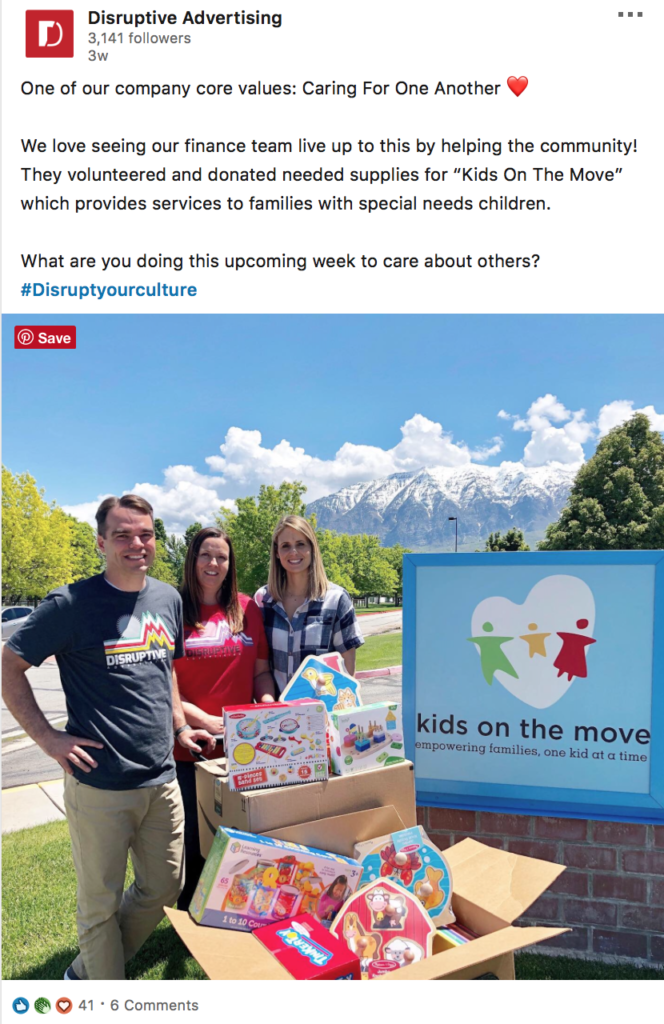 Engage Intentionally
This sounds like a recommendation from a therapist, but I promise it's great advice for marketers everywhere! Right now, people want to see brands (and those who work for them) that feel authentic, genuine, and real. The emphasis is all on relationship building and transparency, and engaging on your own posts and on others' in an intentional way is going to  be one of the best ways to market your business.
You look good, the business looks good, and potential leads will like both and be more inclined to follow up. Remember that people can discover you, too, when you engage in the posts of other brands or people in your network, so this is a valuable opportunity to boost reach in an organic way.
Create content that's designed to evoke discussion. Ask people what they think, or if they have questions, or what they'd like to see. Plenty of people are happy to speak up when asked, and this is a good way to get plenty of engagement that both builds relationships and boosts visibility all at once.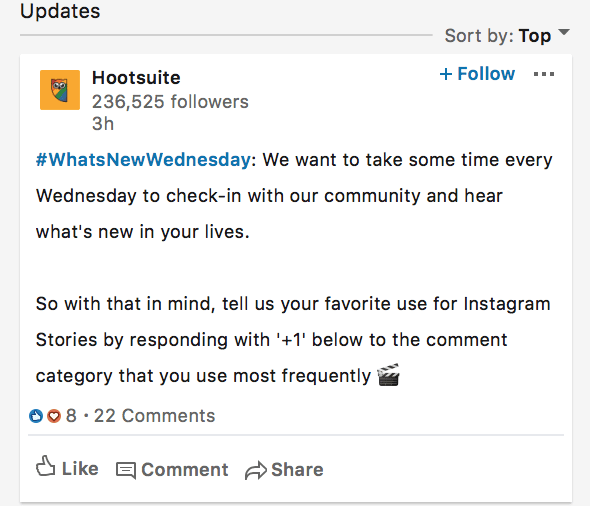 You should also try to share content from well-respected brands, and tag influencers or peers in your own content whenever possible. Again, this builds reach and goodwill while offering great content that people will love to see.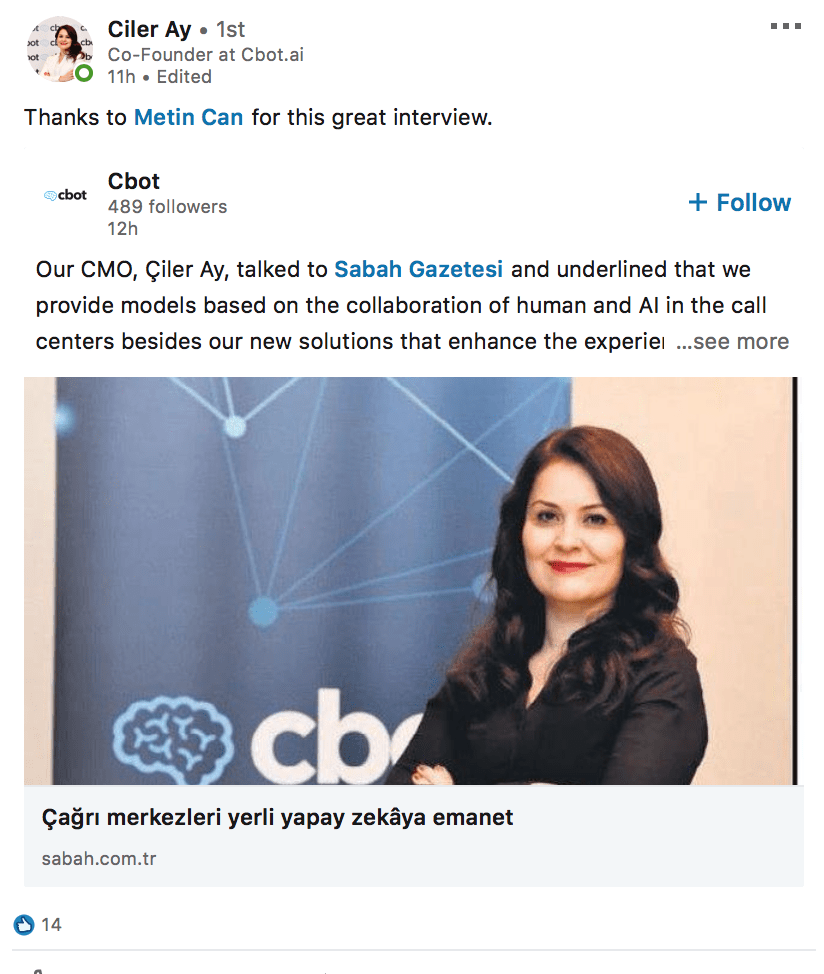 Respond thoughtfully on your posts, and take the time to leave well-thought-out comments on the content of others. People will typically respond in kind.
Rack Up the Recommendations
Remember what we said early on about how your individual employees' profiles reflect on the company? This is coming into play again, especially for key client-facing employees like account managers, business owners, or co-founders.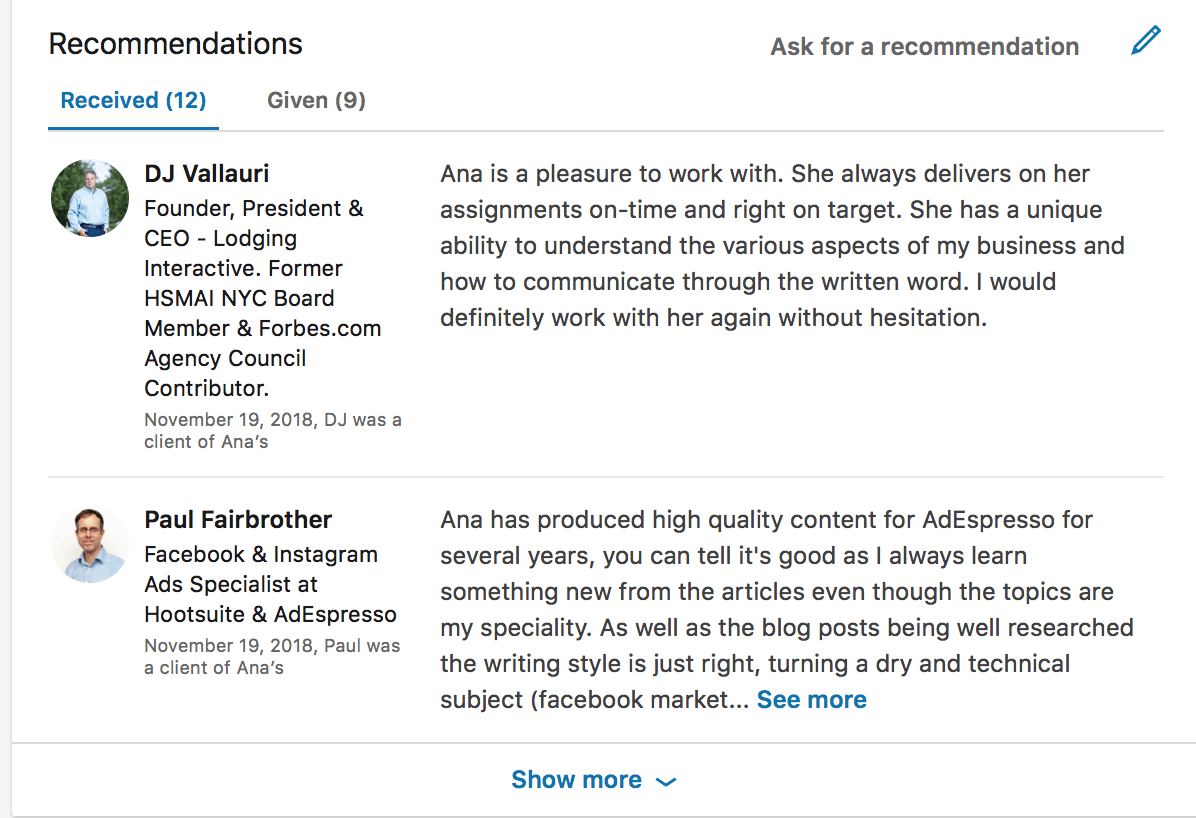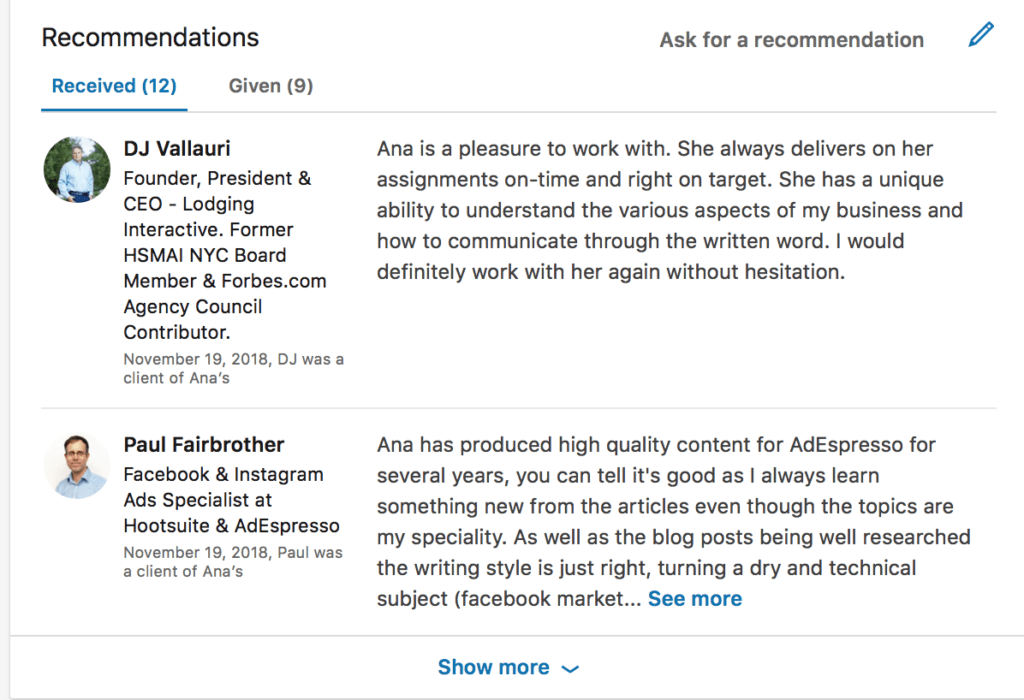 People want to work with businesses they trust, which means they're going to look for people that they trust to work with. This is important, and recommendations are the best social proof you can get on the platform, especially as a business owner or account manager. Reach out to peers, past clients, current clients, and even past supervisors and ask them to leave a review for you on the platform. This will help people find you and want to work with you and your business moving forward, and goes a lot further than a simple follower count or skill endorsement.
When your employees (and you) look good, the business does, too.
Final Thoughts
If you're trying to grow or promote your business in any way, you should be on LinkedIn. It's a must-have for B2B businesses of all shapes and sizes (including freelancers like myself), but it's beneficial to B2C businesses, nonprofits, and other types or organizations, too, when the focus is on connecting with more of your potential network.
When it comes to LinkedIn promotion, the best thing that you can do is represent your business well on your profiles and then focus on genuine relationship building when creating content and engaging with your followers and connections. Keep the hardcore selling to LinkedIn Ads (which are incredibly effective in their own right and can absolutely be used to ramp up the success you're already getting with organic results), and you should start gaining traction in no time.
What do you think? How do you use LinkedIn to promote your business?  What strategies have proven most effective for you? Share your thoughts and questions in the comments below!