All marketers know about the customer buying journey and sales funnels as these are marketing 101. But not all of them know how to create ad funnels for distinct products.
It transpires from the fact that many marketers still make the mistake of running just one ad campaign and then wonder why they didn't get the desired results.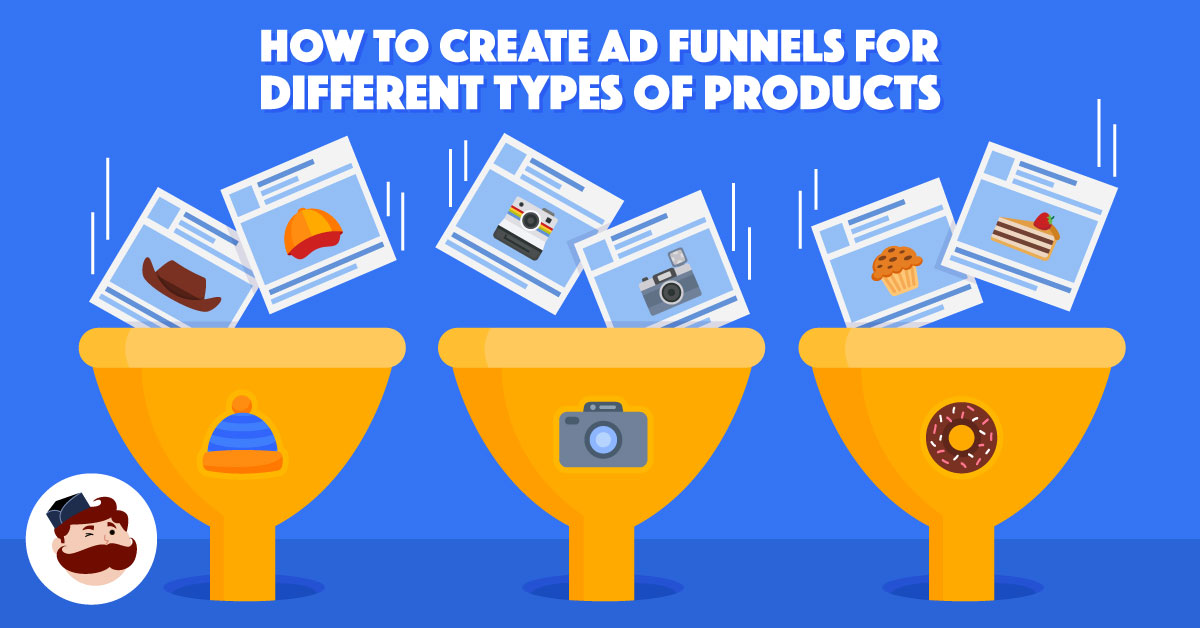 What they forget is that even with ads, you need to create a funnel and drive your customers through it to get conversions.
In this post, we will discuss a step-by-step process to create successful ad funnels and will also provide examples of some ad funnels for different types of products.
Why You Need Different Ad Funnels for Different Types of Products
The general idea for all ad funnels is the same and follows your typical AIDA principles. First, you need to spread brand awareness, then engage your audience, and finally, close the deal.
However, not all products or services require the same number of stages in their funnel.
Fast-moving products like day-to-day essentials, apparel, etc. can have as short as a one-stage funnel. Here you can show a product with a lucrative offer, and people might end up buying.
Some products and services like software, high-ticket B2B products, etc. have a much longer funnel and conversion cycle. For these, you need to engage your prospect at multiple stages before they make a final purchase decision.
Keeping that in mind, we have compiled a list of a few examples of ad funnels for three different verticals: eCommerce, Informational (eBooks, eCourses, web conference, and so on) and Saas (basically software) products.
Please remember that these are just examples, and similar funnels can be created for multiple products.
How to Create Ad Funnels for eCommerce Products
The eCommerce ad funnels are one of the simplest and easy to execute. Most eCommerce companies like Amazon and ASOS have one-step ad funnels aimed at directing traffic to their product pages.
These companies usually run multiple variations of an ad displaying the same product but with different ad copies. The best performing ad is shown to the majority of people. And, of course, the "Shop Now" CTA is added to encourage purchase.
Here's an example of an ad by ASOS.
However, you can add one more step to this funnel by retargeting people who abandoned their carts. Doing this will make your eCommerce ad funnel more robust and will get you more conversions.
You can run a retargeting ad campaign using Facebook messenger ads. These ads should display the exact product that a person was considering before they abandoned their cart.
How to Create Ad Funnels for Informational Products
Ad funnels for informational products are not as simple as just showing one ad and taking people to the product page.
If your product is an ebook, a virtual summit, a course, or similar, you should first introduce it and get people to take an interest in it before trying to get conversions.
This is mainly because the audience has to genuinely be interested in learning the information provided through the products.
The first step in selling informational products is that of conducting proper, in-depth marketing research.
You need to find people who are searching for the info included in your products. Target your ads to these people and introduce them to your products.
You could have ads such as the one below.
This approach works fine if your info product is free of charge. However, people will require more nurturing if you want them to purchase from you.
For this, you need to have conversion pipelines to take your prospects from the awareness to the purchase stage, and a webinar is a great entry point for this pipeline.
For instance, in the webinar pipeline, the steps will be:
The prospects fill the opt-in form first.
You then send a thank you email to them with the time and date of the webinar.
Next, you can send an email a day before the webinar to remind them of the webinar.
Once they've attended the webinar, you can send them to the sales page from where you can push them to purchase your products.
You can use pipelines to automate your entire funnel and simplify the relationship between your marketing and sales. You can even customize them to fit your requirements.
In this sense, Kajabi's pre-built pipelines can be extremely useful. This platform, built to help informational product merchants to publish, market and sell, offers pre-built multi-channel nurture pipelines for webinars, product launches, courses, premium membership sites, and more.
Everything, from the landing pages to your email sequences, can be customized using the platform's pipeline editor.
You can add automation after each point in the pipeline to take your prospects to the next stage of your funnel without the need to manually intervene.
Additionally, you can view the pipeline stats from the platform and see how well your pipeline is performing. Based on the stats, you can make changes to optimize your ad funnel and get more sales.
What's more, by using smart CRM integrations, you can set up retargeting ad campaigns, on the platforms of your choice, to serve up messaging optimized for each point in the buyer's journey.
How to Create Ad Funnels for SaaS Products
The most popular type of ad funnel that SaaS companies use is a free-trial ad funnel.
It is especially beneficial for SaaS products because customers would ideally want to get hands-on experience of using the products before purchasing them.
Merely explaining the benefits of the products doesn't work in these cases.
Here's an example.
The next step for such an ad funnel would be to target people who opted for the free trial and encourage them to buy the product or service.
You can achieve this through drip sequences from where you can get them to your product page to make the purchase.
Why Ad Funnels are Better Than One-Off Campaigns
One of the biggest mistakes that marketers can make is forgetting all of their marketing principles while executing an advertising campaign and going directly for the hard sell.
And, unfortunately, that's what you'll be doing if you opt for a one-off ad campaign and expect it to drive conversions.
An ad funnel incorporates the concept of a marketing or sale funnel into all stages of the campaign.
You first show your prospects a set of ads aimed at spreading awareness and your brand or products.
Then, you nurture the leads with another set of ads aimed at engaging the audience and encouraging them to find out more.
The third stage is when you design ads that get sales conversions, often by including an offer or discount to lure customers.
Here are some of the reasons why you should consider ad funnels instead of a one-off ad campaign.
Ad funnels play on consumer psychology and give them the time they need to make a final decision.
They are a more effective technique for driving conversions than going directly for the hard sell.
If a single ad does not work, you can always retarget a prospect by showing a different one with different ad copy.
Ad funnels provide multiple touchpoints for you to interact with and engage your prospects, thus resulting in higher chances of success.
You can also use ad funnels for retargeting your existing customers. 
And the funnels do not necessarily need to end after a customer makes a purchase.
Overall, ad funnels are more effective in driving sales conversions than a one-off ad. Therefore, always opt for a full-funnel advertising strategy to get the best results from your ad campaigns.
Conclusion
The next time you plan to run an ad campaign, remember the concept of an ad funnel and add more steps to it.
It hardly ever is as simple as showing an ad and gaining customers.
Use this post as a guide to create successful ad funnels for your business and get more conversions.
Have any queries on how to create an ad funnel for your business? Feel free to ask your questions in the comments below.
Shane Barker is a digital marketing consultant for 15 years with an emphasis on Influencer Marketing in the last 5 years. He is specialized in sales funnels, targeted traffic and website conversions. He has consulted with Fortune 500 companies, Influencers with digital products, and a number of A-List celebrities. You can get in touch with Shane on Facebook, Twitter, YouTube, Instagram and LinkedIn, or visit his website.