There are two words that can either inspire intense feelings of excitement or fear in the hearts of advertisers – and those words are "Holiday Advertising". Or, if you fancy hashtags, #CrazyCompetition
Imagine every marketer trying to use Facebook Ads in every shape and form for Black Friday and holiday sales… because that's what happens, and you know it.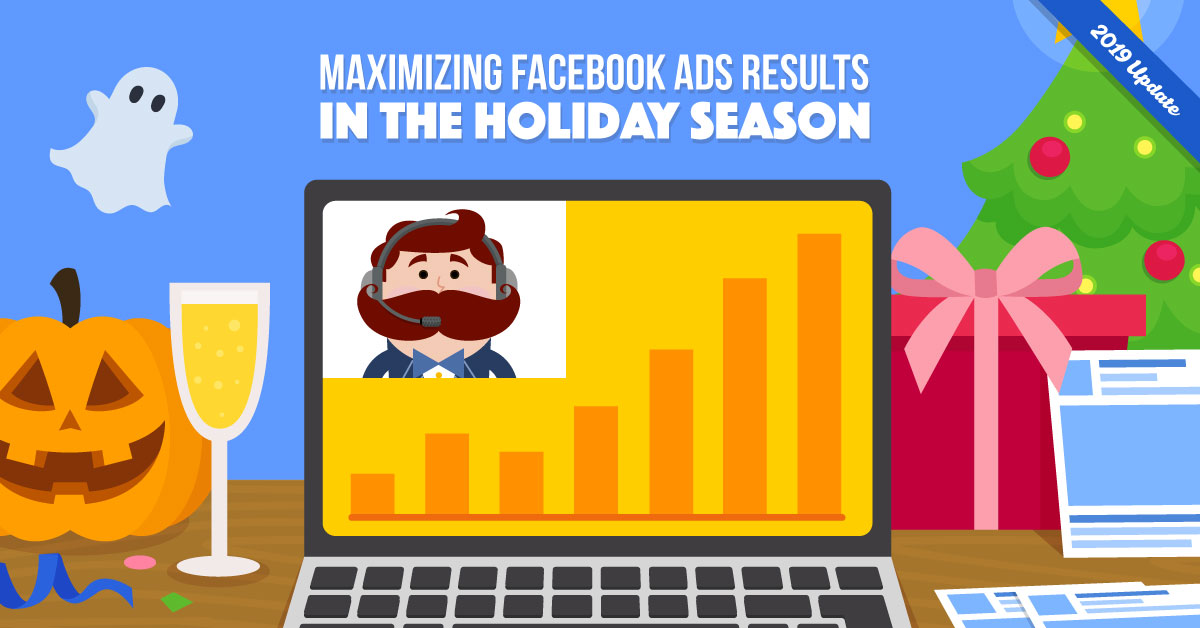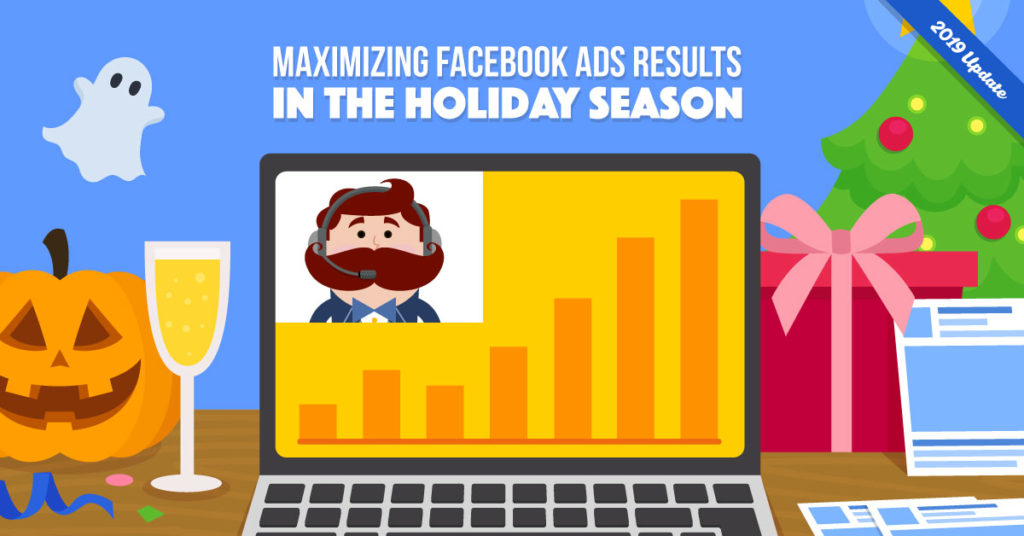 In this post, we'll break down the top 10 Facebook Ads strategies you need to implement to make this holiday season your most profitable yet!
And as icing on the cake, we have two incredible surprises for you! Keep on reading to find out!
While it's widely known that the second half of Q4 can be the most lucrative time of the year for most businesses, we also know that when the holidays roll around, big brands spend a lot and the cost of Facebook Ads goes up for everyone (Merry Xmas!).
Lost ad spend, little to no ROI, the boss getting more and more nervous…sound painfully familiar?
Well, this year it's going to be different. Do you know why? Because now you have AdEspresso on your side.
We have no gift of prophecy, but we have lots of data. And we use them to help you!
Holiday Advertising: Every Penny Counts
Earlier this year, we analyzed almost 300 million dollars of ad spend (worldwide) during 2018 to create our Facebook Ads Cost 2018 Benchmarks.
In this deep analysis, we discovered a significant trend in the average CPC by month:
As we can see above, the cost per click was cheapest at the start of the year, then increased and stabilized again during the summer months, then just kept on rising during the Q4 holiday season.
At the very least, you can expect your average CPC to double during December compared to January, which is why it's imperative to have a solid marketing strategy in place.
Do You Want More Gain With No Pain? Here's How
If we were to go over every single strategy you need, this post would take hours to read.
This is why we decided to combine all our holiday advertising strategies into this exclusive FREE webinar.
Through a lot of real-life examples and step by step tutorial, our head of Education Paul Fairbrother will be covering the key strategies and tactics that you need to implement to ensure success this holiday season.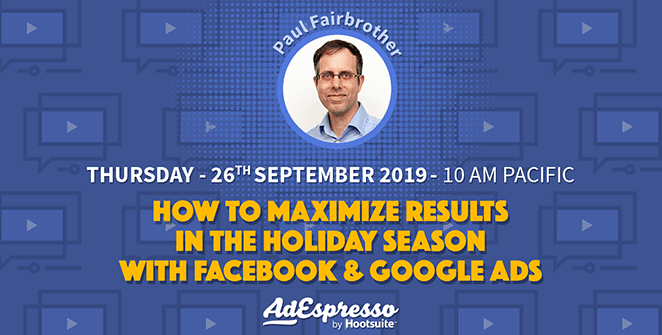 Ok, that was the icing on the cake (there's also the cherry on top, just keep reading!)
Waiting to discover all the smart strategies Paul is studying for you (did you reserve your spot yet? Click here to book your seat now, the webinar is almost at full capacity!), let's go through the 10 steps you must take to skyrocket the results of your Holiday Advertising!
Holiday Advertising Step #1 – Use Additional Placements
As we've mentioned before, Facebook Ads work exactly like an auction house. Your ad goes up against all other ads placed on Facebook, and then Facebook shows the winning ad to its target audience.
While this isn't too much of a problem during the rest of the year, this issue can creep up out of nowhere during the holiday season for one reason: more advertisers = more competition.
To combat this issue, we can change the placement of our ads to those used less often by other advertisers.
All in all, Facebook has around 16 different placements for your ads which means that there is a lot of opportunity in these other spaces like the right column, Instagram stories, audience network, and more.
If you're not sure what to pick, try using the automatic placements option.
Just be sure to monitor the results for each placement to ensure there aren't any that are burning through your budget without producing results.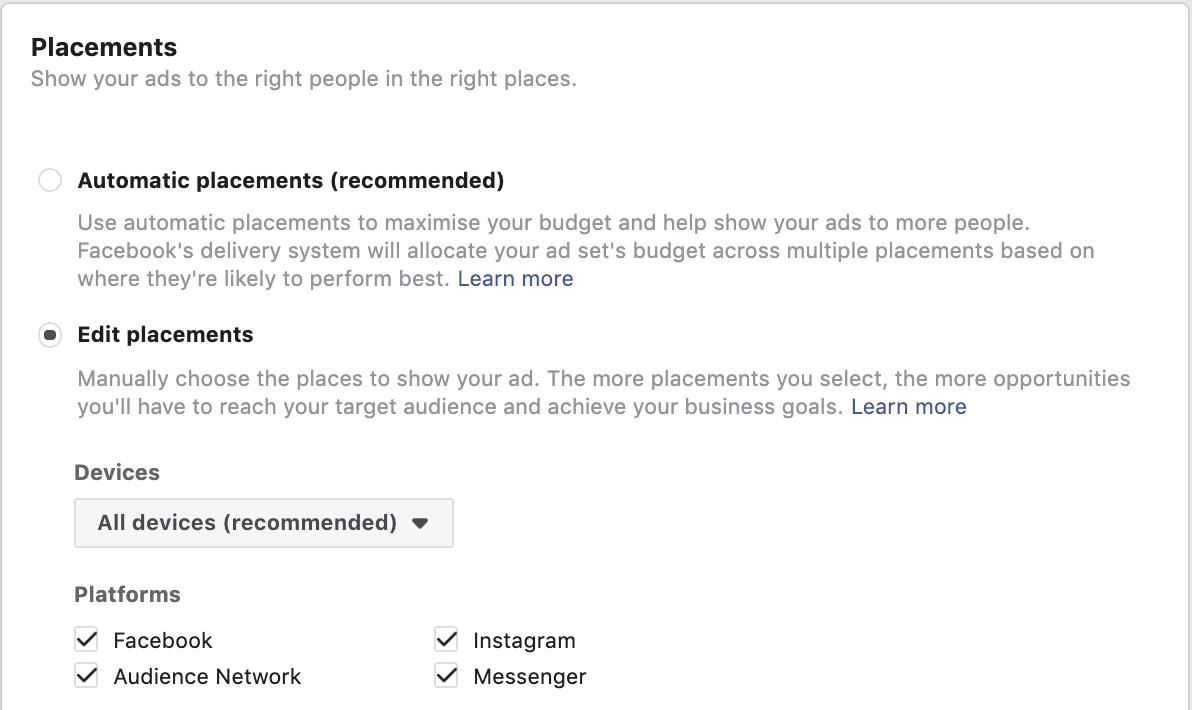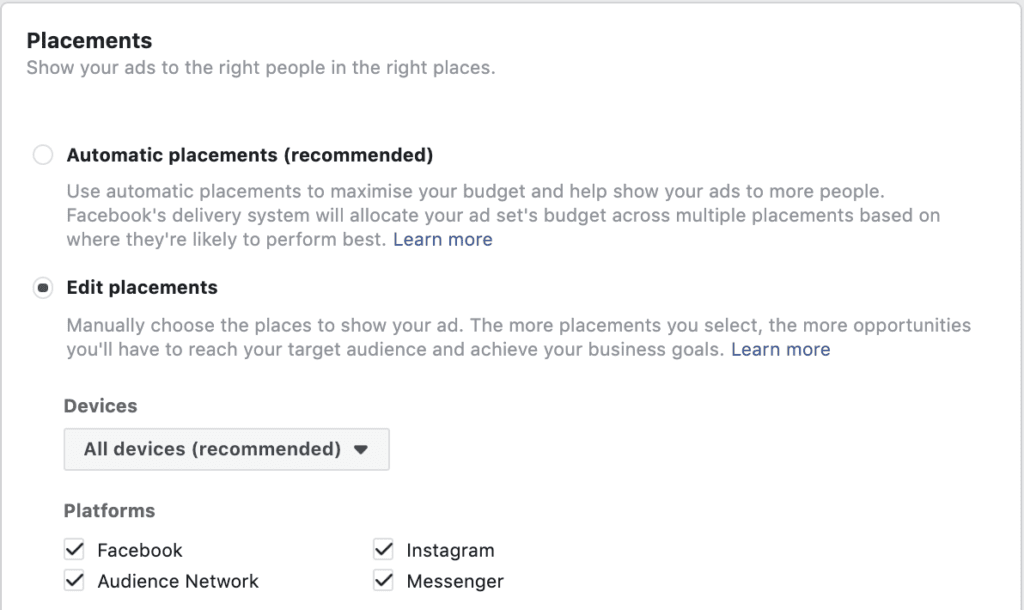 You should start experimenting now to find what might work best for you this year. You can be surprised!
Pro Tip: Use Instagram Stories
Most advertisers are wary of Instagram Stories for many reasons, usually relating to time and budget constraints. This goes doubly so for large brands who are not as agile with video production turnover.

While it's easy to ignore, more and more we see that Instagram Stories can be very profitable if done right, which makes them an easy win in terms of deliverability during the Holiday Season.

Not convinced? Check out our recent experiment on Instagram Feed vs Instagram Stories.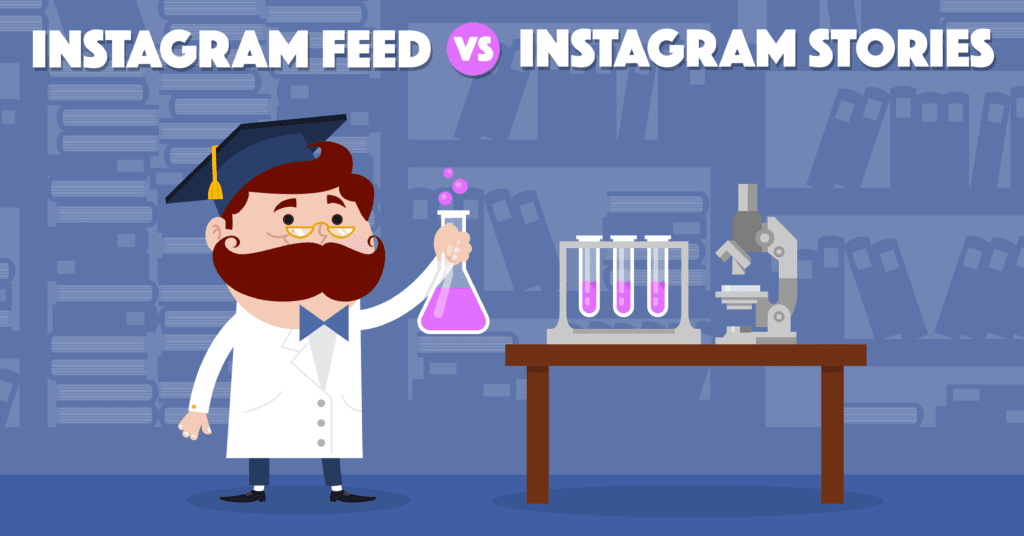 Holiday Advertising Step #2 – Create a Test Campaign
While some advertisers are running ads all year long, there are some who only advertise during Q4.

If you're part of those that give Facebook Ads a try only for your winter holiday marketing, then the best thing you can do before you start is to create a test campaign at least a week before when you want your ads to start running, to make sure everything is flowing smoothly.

You do not have to publish it, just go through the flow to make sure your ad accounts and pages are in proper order.

Make sure to check the following items:
Is your payment method up to date?
Have you accepted all the Terms of Service updates?
Do all team members have the required access and permissions to ad accounts and pages?
After you've checked these basic items off your list, you can begin creating your real campaigns.
Pro Tip: Audit Your Business Manager
Given the importance of this season, you'll want to make sure every possible to-do has been checked off your list.

I recommend a full Business Manager audit in addition to the points above.

If Business Manager is a little confusing to you, then you definitely want to read our guide to it here.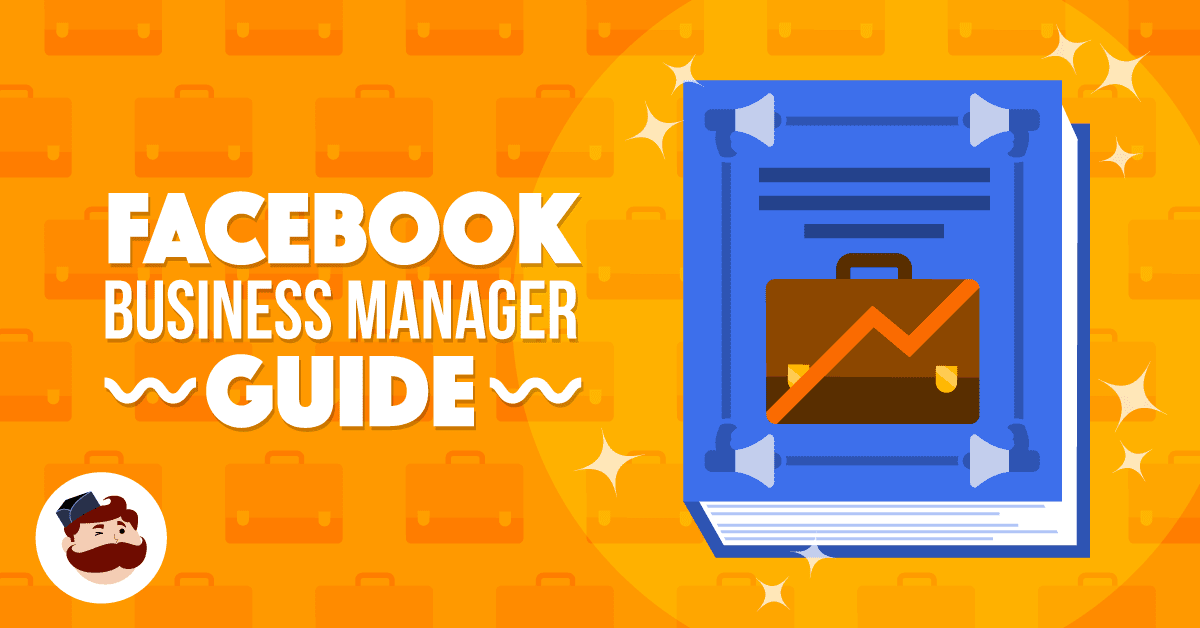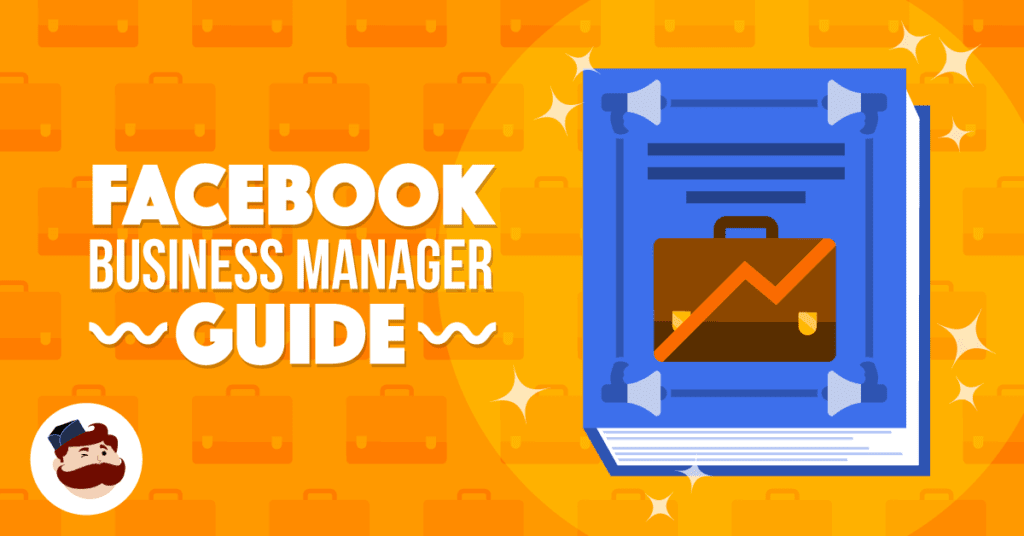 Holiday Advertising Step #3 – Create Your Custom Audiences
During Q4, the time for buyer persona testing is over.

The goal here is to already have your audience segments down and to start targeting warm audiences (those who have interacted with your business in the past) for best results. What you don't want to do is to waste precious ad spend on those who might not be interested in your products and services.

To do that, we recommend using Custom Audiences.

There are several custom audiences available – ones that you create from importing a list of your customer's email addresses, ones you can create from those who have visited your website, mobile app, Instagram page, or even from those who have interacted with a specific video on your Facebook page.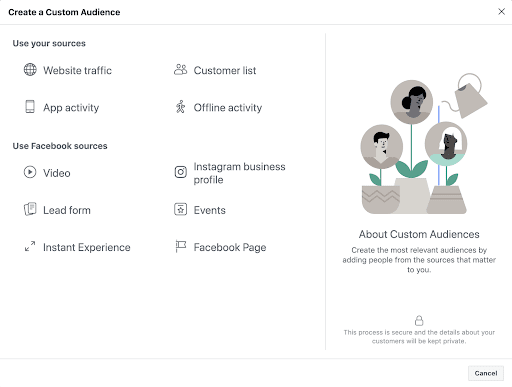 Any of these audiences will fit under the 'warm' category and can be used for your audience targeting with a better result than a cold audience (one created from interests or basic demographics).

If you're unsure of how to create any of these, you can grab our FREE Custom Audience eBook here.
Pro Tip: Make Sure To Reach the Right People
In the short term, the best thing you can do is to make sure your Custom Audiences are up to date with your latest customer information.

There are also several services (such as AdEspresso's own Data Sync Tool) to help you automate this process entirely by syncing your favorite CRM to a Custom Audience.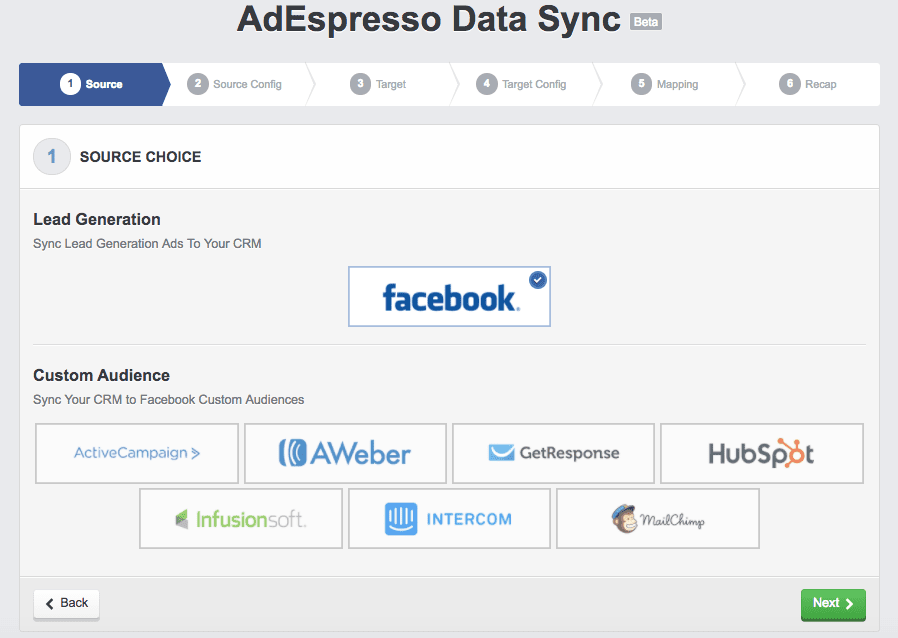 Another problem with using custom audiences is oversaturation AKA Ad Fatigue– meaning the same person sees the same ad over and over again.

To combat that issue, you want to use evergreen retargeting strategies to segment the types of offers your contact sees after they make it into your audience.

If you're interested in how to set up a strategic retargeting funnel, you can watch our webinar, it is packed full with actionable tips.
Holiday Advertising Step #4 – Design a Compelling Offer
To win against other retailers over the Black Friday weekend you'll need a clear, simple, and compelling offer – the last part being the most important.

Remember: to compete over the Black Friday/Cyber Monday weekend sale galore, any discount on your products or services needs to be a minimum of 20% to be effective.

For some advertisers, this can easily eat into profit margins and be damaging for businesses.

As an alternative to direct discounts, try freebies or add-ons.

If you find an item that you can purchase in bulk at a low cost, give it away for free! You can often create a much better special offer with free items than you can with just a simple discount that your audience can find anywhere else.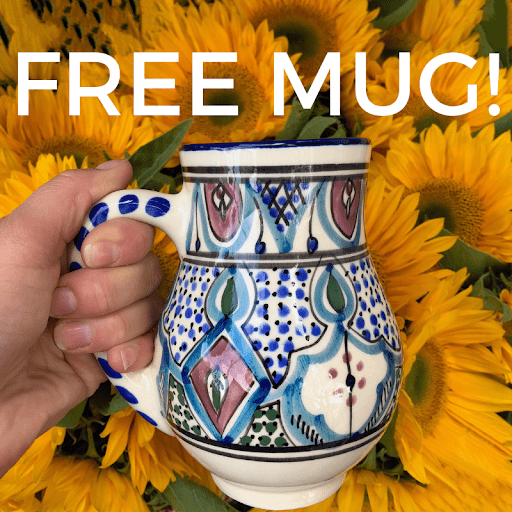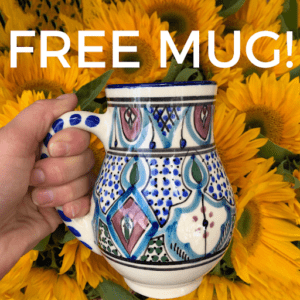 For example, if you're selling sunglasses offer a free protective case. For sports supplements give a free protein shaker. For jewelry include a free chain with every pendant. And so on.

These are all items that can be purchased cheaply in bulk but will be useful and worth a lot more to your customers.
Pro Tip: Don't Overlook Expedited Shipping
We're all creatures of habit – and some of us are habitually late in, well, everything.

As you get closer to the last shipping date in December, consumers respond well to an offer of free expedited shipping. Don't overlook this as a potential offer, and test it out as December 25th creeps up.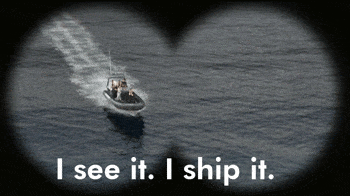 Holiday Advertising Step #5 – Check Your Ad Account Spending Limit
While we already mentioned a general audit of Business Manager in Step #2, checking your ad account limit is so important that it deserved a special mention.

During the Black Friday weekend, chances are if things are going well you'll be spending well above your normal budget and that means you could reach your spend limit in no time flat.

This can result in campaigns turning off until you clear your ad account balance.

Many advertisers aren't even aware that they have a spending limit, because they normally get invoiced before they even come close to their limit.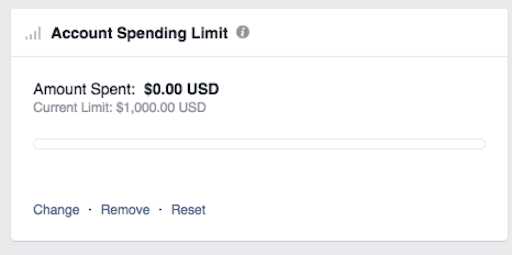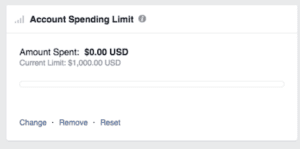 You'd better be prepared to rethink and reset your spend limit (raising the bar) and to keep a close eye on it.
Pro Tip: Use the Facebook Ads Budget Calculator
The first thing you want to do is get clear on exactly how much you need to spend to get the results you're looking for.

The good news is there's a tool to help you do just that! With the Facebook Ads budget calculator, you can easily type in your metrics and automatically find the best budget for your goals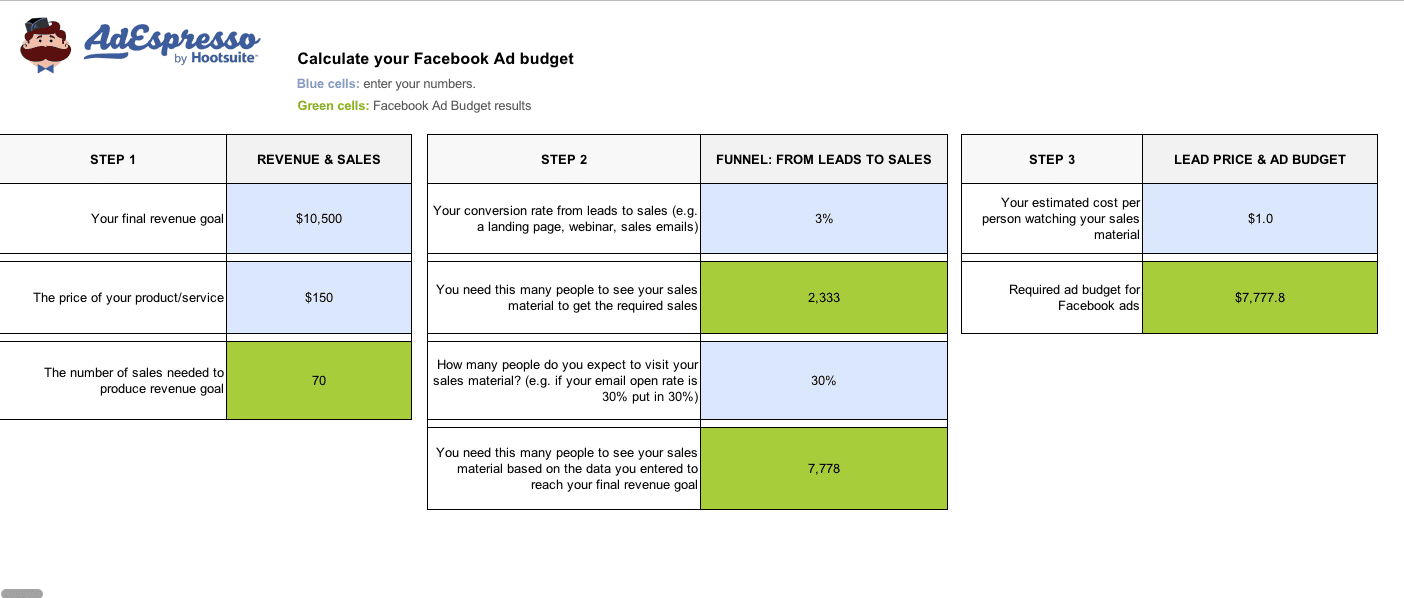 After the tool has done the math for you, hop into Business Manager, navigate to the Billing section and set your new spending limit. You can change, remove, or reset it in just a few clicks.
Holiday Advertising Step #6 – Schedule Your Campaigns in Advance
Outside of the holiday season, many advertisers get used to booking campaigns at the last minute because ad approval is normally automated and takes a few hours at most.

However, this is risky because Facebook may decide to do a manual review of your campaign and it won't spend anything until it gets the thumbs up from Facebook.

Facebook even recommends the practice inside their knowledgebase: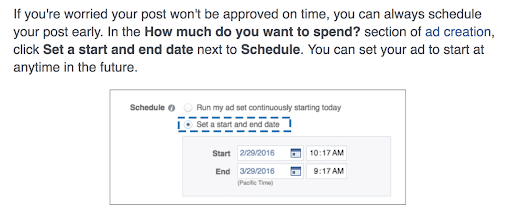 Manual approval should take 24 hours and usually less but during the peak holiday season we've seen it take 48 hours, as even with extra resources in place the Facebook approval team is stretched to their limit.

When booking a campaign, you always have the option to specify the start date so try and always work two days ahead in the holiday season then everything will have plenty of time to get approved before the start date.
Holiday Advertising Step #7 – Are Your Images 20% Text Compliant?
As we covered in our Facebook Advertising Myths blog, Facebook prefers images used in adverts to have under 20% text on them, this also applies to the thumbnail image for videos.

Often it doesn't matter if you are a little "verbose" at other times of the year when Facebook has spare ad inventory. This is not the case during the Holiday Season.

Advertisers can then get complacent and wonder why these same adverts don't spend their budget properly in Q4, the reason is that when ad capacity is limited Facebook will penalize any ads with delivery issues.

Luckily there's a simple way to combat this – remove unessential text from your images and video thumbnails.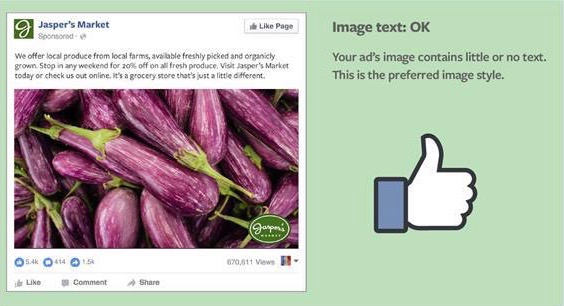 As you can see in the example above, this image is classified under the "Okay" category, and as such, likely will not receive any delivery penalties.

There are a few exceptions to this 20% rule including product images, event banners, and book covers.

Facebook also mentions that things such as charts and graphs, magazine and newspaper covers, movie and TV show posters, as well as legal text may also be considered exceptions the 20% Text Rule.
Pro Tip: Use Facebook's Text Overlay Tool
Ensure you check your assets for the holiday season in advance with Facebook's text overlay tool and aim for an "OK" green tick whenever possible.

You can view our test of images below for inspiration: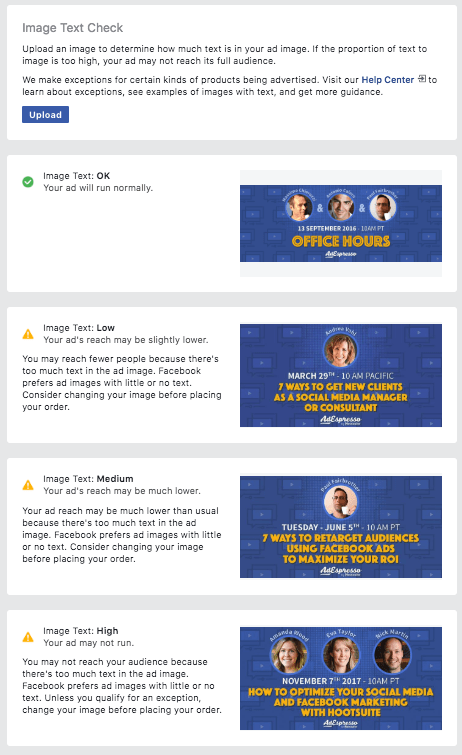 Holiday Advertising Step #8 – Check Your Reports Daily
Since we're working with such a short span of time, keeping on top of your campaign performance is essential.

Ideally, all team members will be monitoring your campaigns daily, both to pause ads or adsets that are underperforming and also to scale successful ones.

However, Marketing teams have such a high workload during the holiday season that daily check-ins don't always happen and things get missed, especially for agencies with a high number of clients.

During this time, we recommend that all advertisers ensure they have the resources needed to check their results daily, but it manually or via an automated report.
Pro Tip: Automate Your Reporting Entirely
To solve this problem we recommend that you automate your reporting to arrive in your inbox every day with your main success KPIs.

AdEspresso's PDF Report Generator can help you do just that.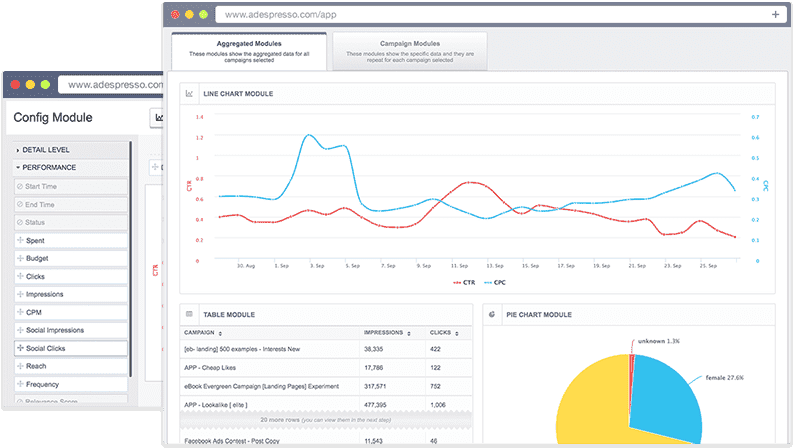 Within AdEspresso a report with tables, graphs, and charts can be created in a few minutes by dragging and dropping your chosen metrics into place to build a customized brief.

You can also choose who to email it to and on what schedule.

Check out our short video here for a complete guide.
Holiday Advertising Step #9 – Study Facebook's Official Holiday Guide
Every year Facebook publishes a holiday planning guide for advertisers to help them solidify their marketing strategies.

Facebook's 2019 Holiday Guide for Advertisers is a must-read, it contains lots of insights, key dates, and even a campaign planner which you can use to map out your campaigns at each stage of the sales funnel.

It also covers Facebook's four phases of the holiday season from planning and building momentum through to maximizing sales and making the most of the post-holiday season.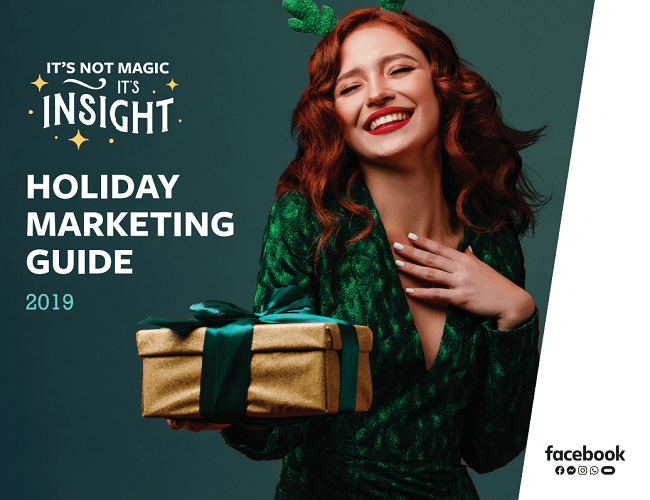 Download your copy by clicking on the image, or learn more Facebook holiday advertising hints here.
Pro Tip: Take Your Skills To The Next Level
If you didn't do it already, click on the image below 👇👇👇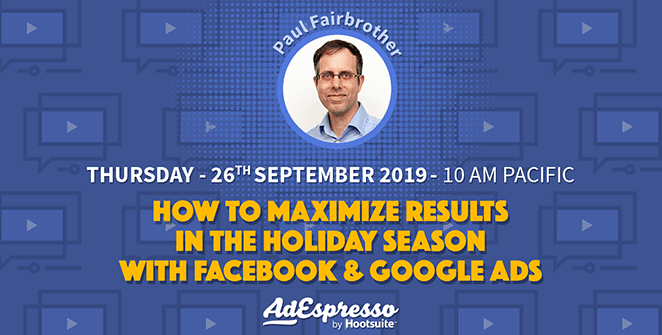 And grab your very own seat.

Not sure if you can make it live?

No worries, reserve your spot anyway, we'll send the recording out to everyone WHO REGISTERED within 24 hours.
Conclusion
Now you have it all: this blog post with all the steps you can take to help make you Holiday Advertising a breeze and Q4 your most profitable season yet, a downloadable guide from Facebook, and a webinar that will make this Christmas oh so very merry for your business!

But they all boil down into one main conclusion: Be Prepared, Test Everything & Never Stop Learning.

With our collection of free blog posts, eBooks, guides, and webinars you can search through every topic, from creative elements to targeting best practices to find all the help you need to become a Top Digital Marketer.

And don't forget, if you need a helping hand you can always utilize one of our many marketplace services. or ask a question live to our expert Paul Fairbrother during our webinar Thursday 09/26 at 10AM (Pacific time).