The 2019 Google shopping benchmarks report discovered that Google Shopping ads grew 29% YoY vs. only 13% for paid search.
This demand is driven by an increase in ad spend by retail marketers and eCommerce businesses.
As of 2018, Google Shopping ads now drive 76.4% of all retail search ad spend, and this search spend generates 85.3% of all clicks.
And, surprisingly, the majority of the spend is not on branded search terms.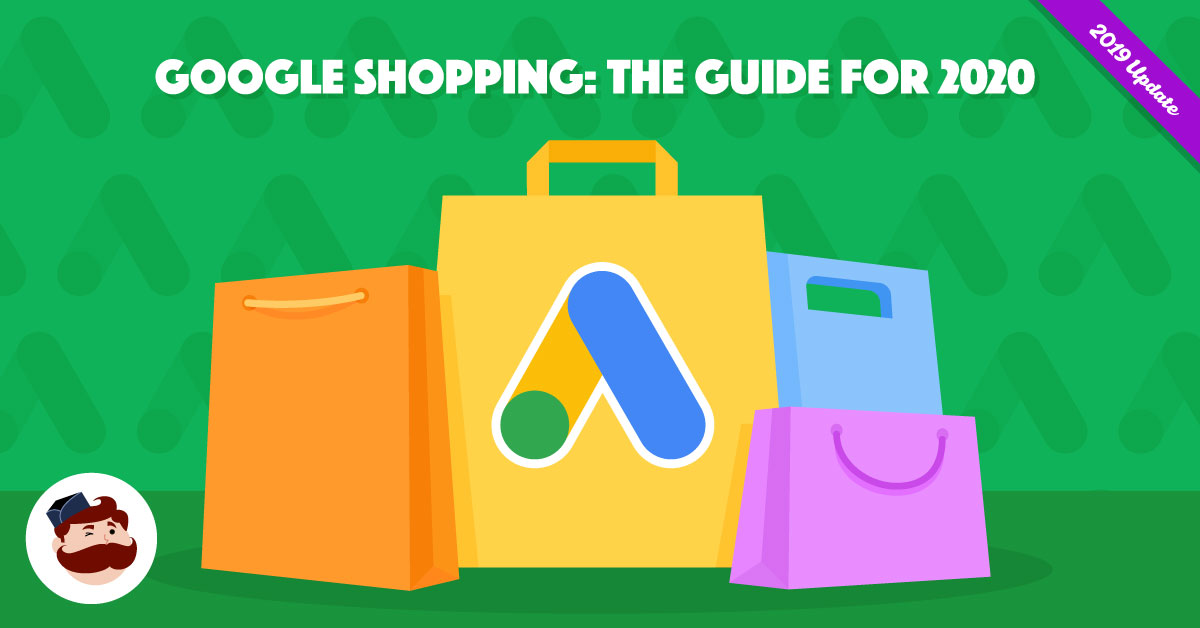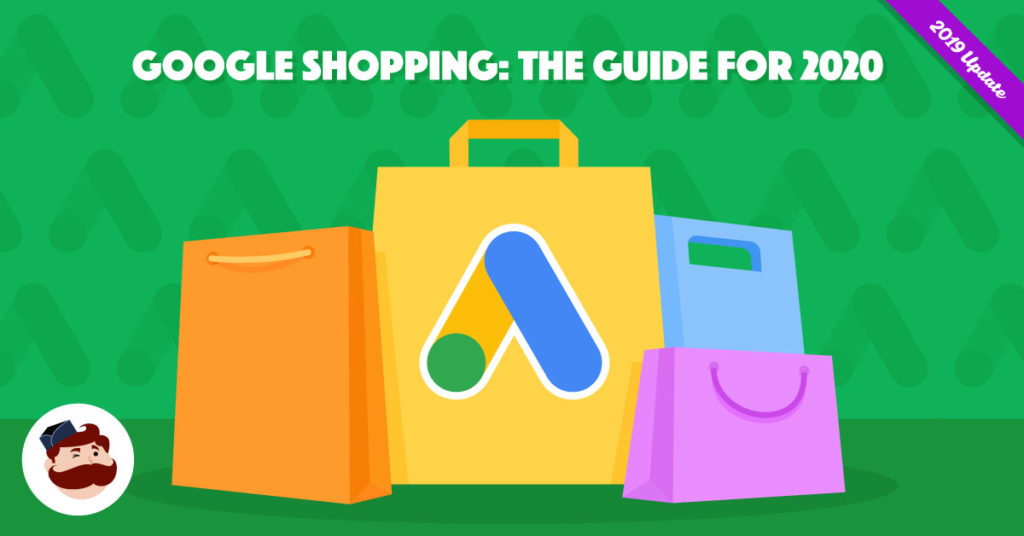 Google Shopping is an intent powerhouse with a proven track record of blowing up e-commerce sales.
When your products show up for relevant search topics, you know that those who click to your site are moments away from buying.
Here's all you need to know about Google Shopping and how to dominate Google Ads with e-commerce today.
Running ads on platforms like Facebook can work if you invest the time, money, and effort to master them. But 62% of businesses report that they don't work. Their campaigns aren't generating sales.
Why? Aren't custom audiences a goldmine? They can be, but that's not the problem.
It likely has something to do with the fact that Facebook doesn't inherently have intent targeting options. None are available at all.
The simple fact of the matter is, nobody is on Facebook to buy your products.
Sure, they might buy here and there, but they aren't using Facebook to shop. They're using it to communicate with friends and stay up-to-date on the news.
Customers don't go on Facebook with the sole purpose of finding something to buy. They head to Google.
And that's exactly where Google Shopping comes in.
At AdEspresso, we've committed to always giving you the latest and best info. We updated this guide in October 2019, with brand new info that explains:
How to add products from
Then we'll move to:
Finally, we added a fresh section on:
Let's get started!
What Is Google Shopping?
Powered by Google Ads and the Google Merchant Center, Google Shopping allows online e-commerce stores to sell their products directly on Google.
Not only that, you can advertise products in a more attention-grabbing format than standard search or display network ads.
For example, when searching for basketball shoes on Google, you will likely generate some ad-based results in the form of search network ads:

While these can help you sell products and drive intent-based traffic, they aren't that great.
Why? Because they lack just about every micro-conversion element that drives eCommerce sales:
Pictures
Customization
In-depth reviews
Product details and descriptions
The user can only read the ad and click the link. Not much of an experience for a potential customer.
When someone searches for a product, they want to see an image. The user wants to envision how they would use it.
With generic text ads, you can't do that.
Enter Google Shopping: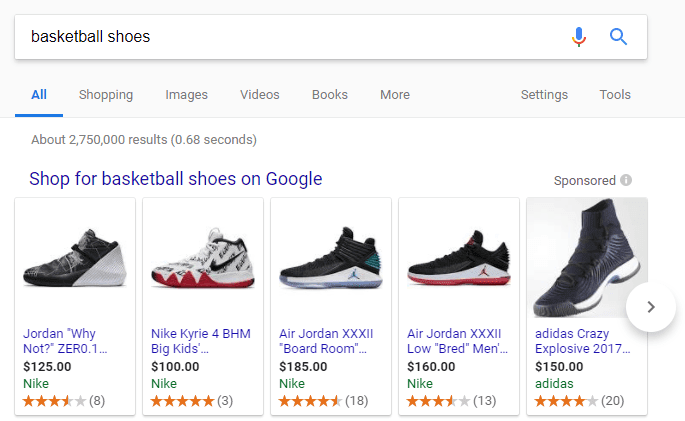 Instead of just text and calls to action, users can see real product images reflecting their searches, including reviews, brand names, and even pricing.
Clicking the right-hand scroll button will continuously pull up more products in that given category, providing a nearly endless catalog of products.
Knowing that typical ad extensions increase conversions, it only makes sense that these ads will perform better than a text-based search network one.
Google Shopping works like a comparison site, allowing a user to browse products from more than one brand without clicking back and forth from the search results.
How Does Google Shopping Work?
Well, Google Shopping is an entirely different animal than the search or display networks.
Instead of bidding on specific keywords and creating ad groups with different ads and CTAs, Google picks when to show your content based on relevance.
While this might seem like a downside, it's not.
Since products are easier to categorize than freeform content, Google automatically matches your products with related search terms.
It means that you only pay for clicks on the most relevant of traffic, with much less effort.
Google Shopping works by pulling data from the Google Merchant Center based on your online store.
Meaning you need a live, functioning eCommerce site.
Google will turn your products, SKUs, pricing, and images into beautiful, simple ads for given searches.
Speaking of pulling data from your online store, you'll need to establish a product feed with the Merchant Center.
Here's how to get started.
Getting Started with Google Shopping
Getting started with Google Shopping ads can seem like an overwhelming process. But it's simple when you break it down step-by-step.
If you follow along with the next section of this guide, you will have
Create Your Google Merchant Account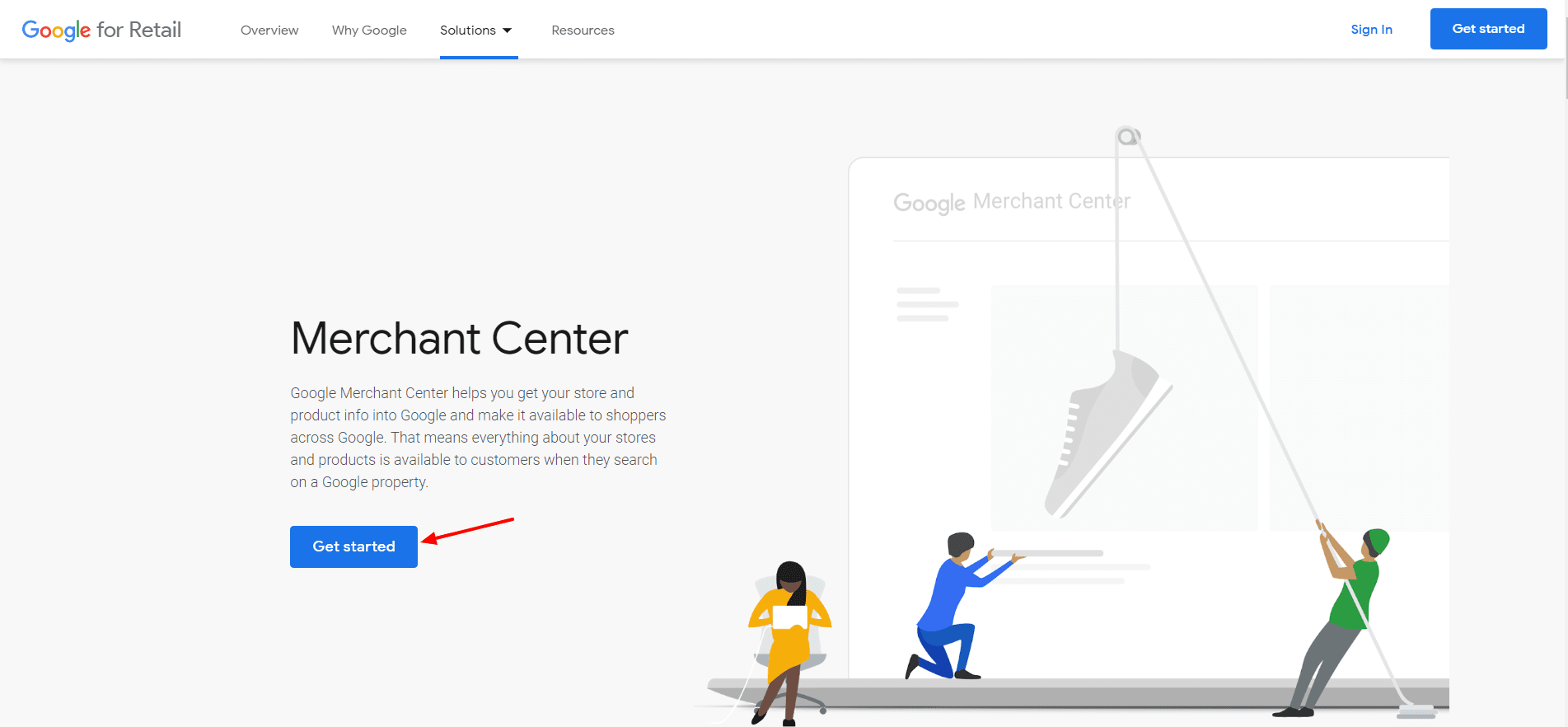 Then you need to integrate your current online store with a product feed directly into the Merchant Center.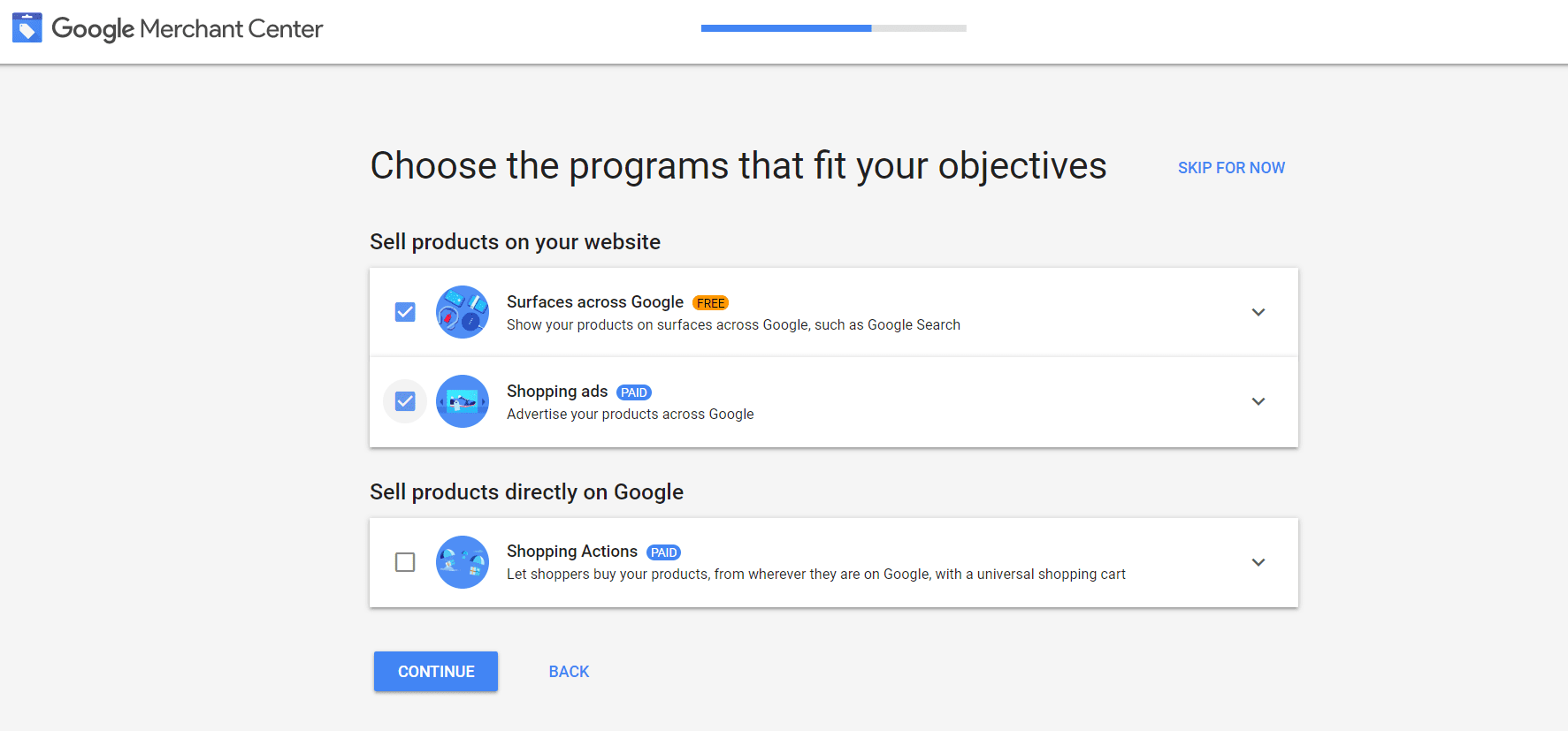 Make sure that you check the "Shopping ads" objective during the signup process.
Product feeds will include everything from product titles, descriptions, SKUs, pricing, stock/inventory, and more.
Thankfully, you don't have to custom-build these lists if you use an eCommerce solution.
Just about every major eCommerce hosting platform has direct integrations and tools that can help save you potentially weeks in the startup phase.
If you run a popular eCommerce store, you'll be updating products quite regularly between pricing, inventory changes, and more. So it's essential to use a tool that can help you sync between your store and Google for easy updates and accurate listings.
How to Add Products To Google Shopping Using Shopify
If you currently host your ecommerce store on Shopify, you can use their own Google Shopping integration.
Their application will help you create a product feed and automatically update it on the Google Merchant Center.
With the Shopify integration, you can edit target market details to ensure that your ads only show up for the right users: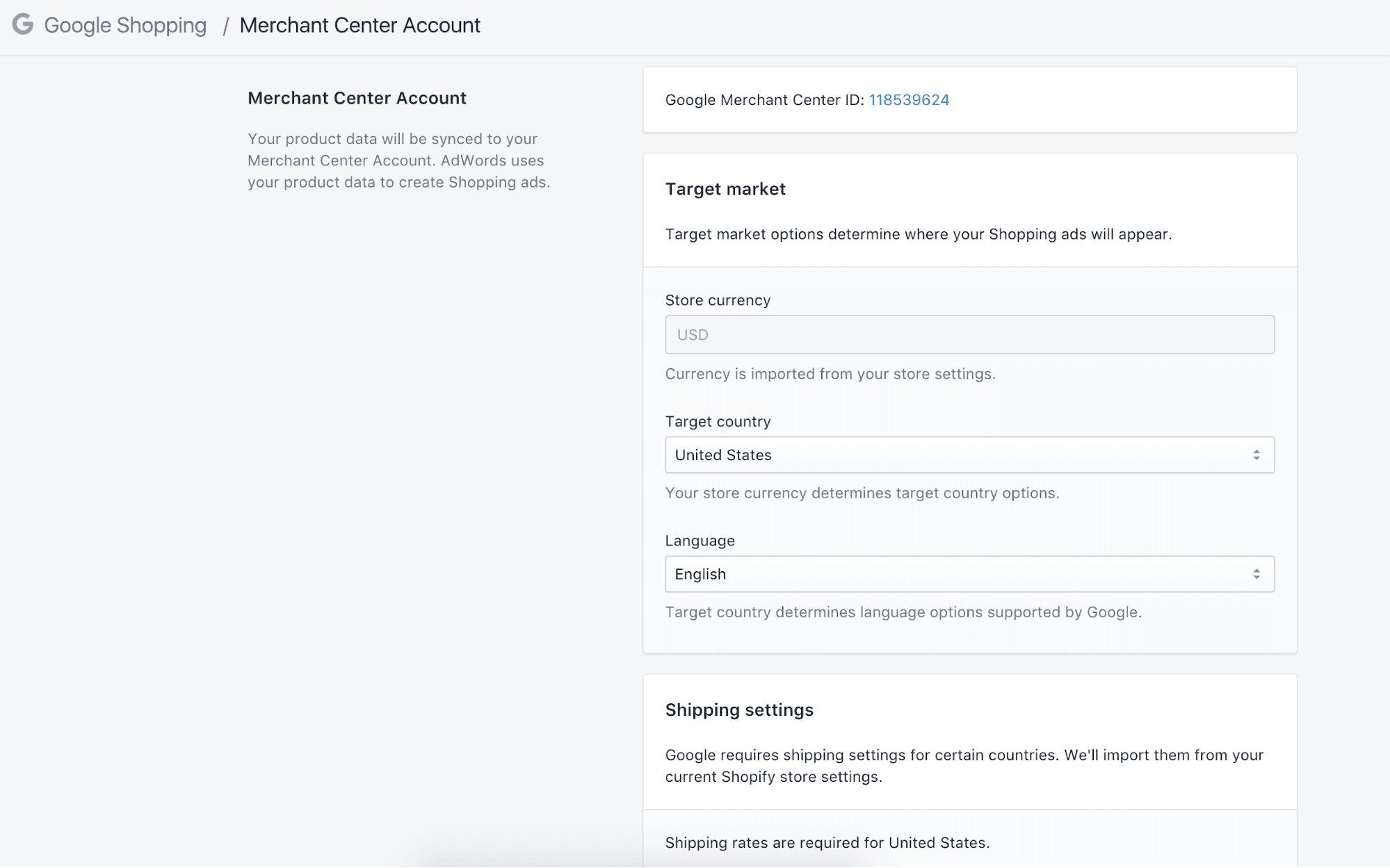 With linked accounts, your products, SKUs, descriptions, and pricing will automatically sync with Google Merchant Center: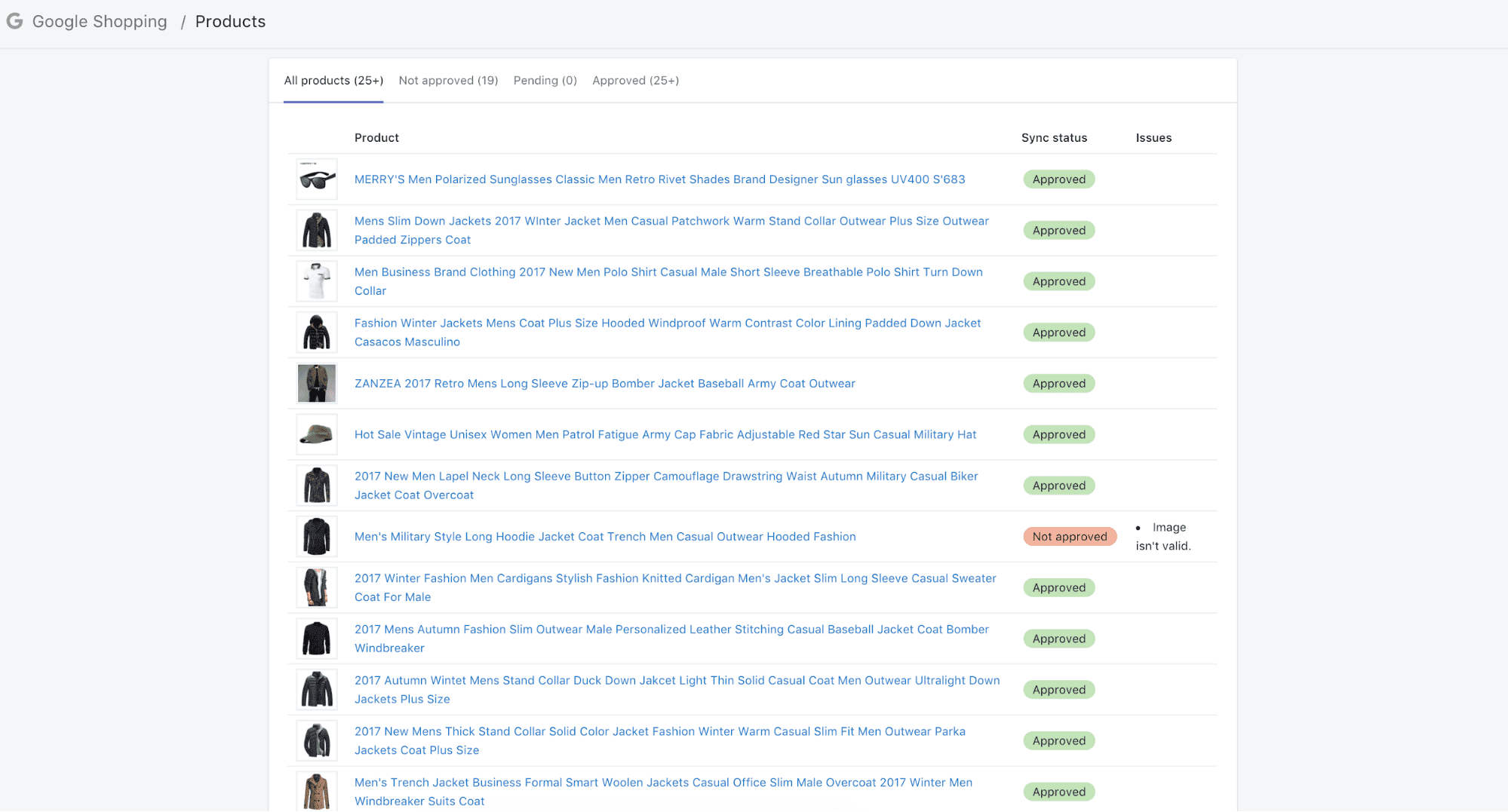 For each product, you can further customize them for Google Shopping by selecting key identifiers and categories: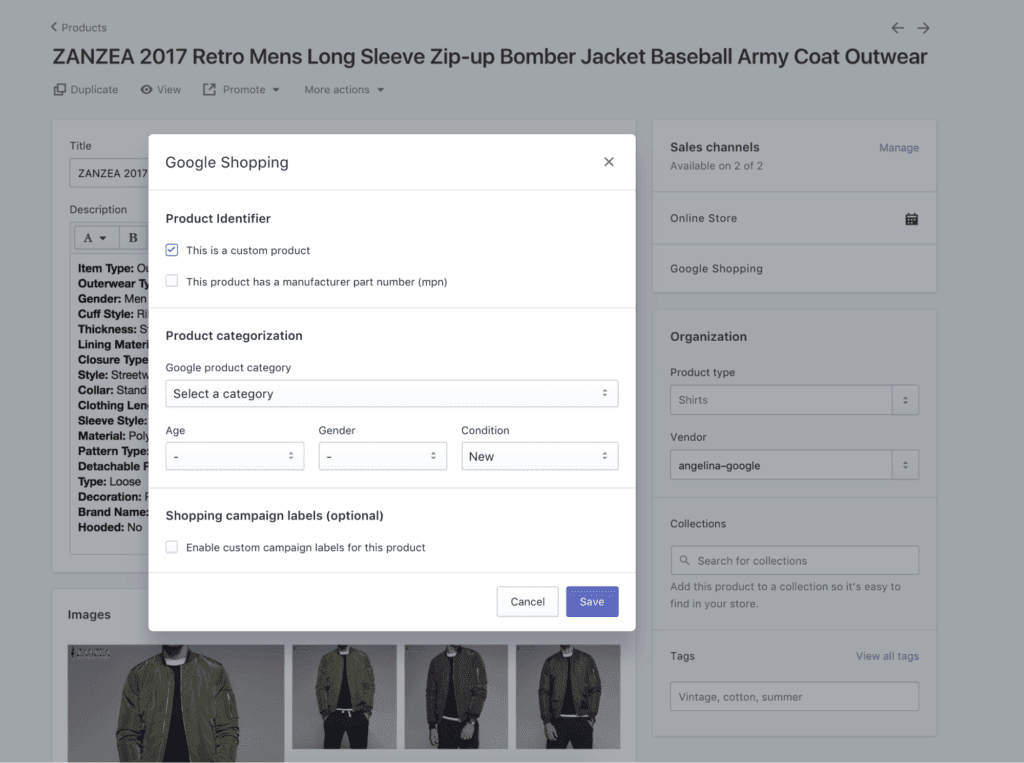 For example, you can select the age, gender, and product category to give Google more context.
How to Add Products To Google Shopping Using BigCommerce
If you're using BigCommerce, use their recommended Google Shopping by Sales and Orders application.
Just like Shopify, this BigCommerce application will automatically generate a product feed for you, syncing directly into your Merchant account.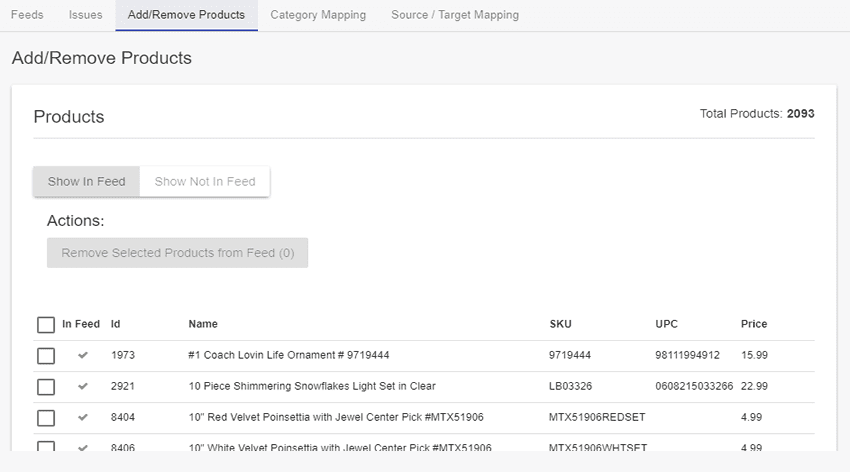 With BigCommerce's app, you can easily add and remove products and address any with outstanding issues.
How To Create a Product Feed in WooCommerce
Before you can generate a product feed in WooCommerce, you need to install a plugin. (For example; Product Feed Pro for WooCommerce.)

Then you can create a new product feed within your WordPress dashboard.

Click the Product Feed Pro link in your menu, and start creating your first feed. You can customize fields and prefixes.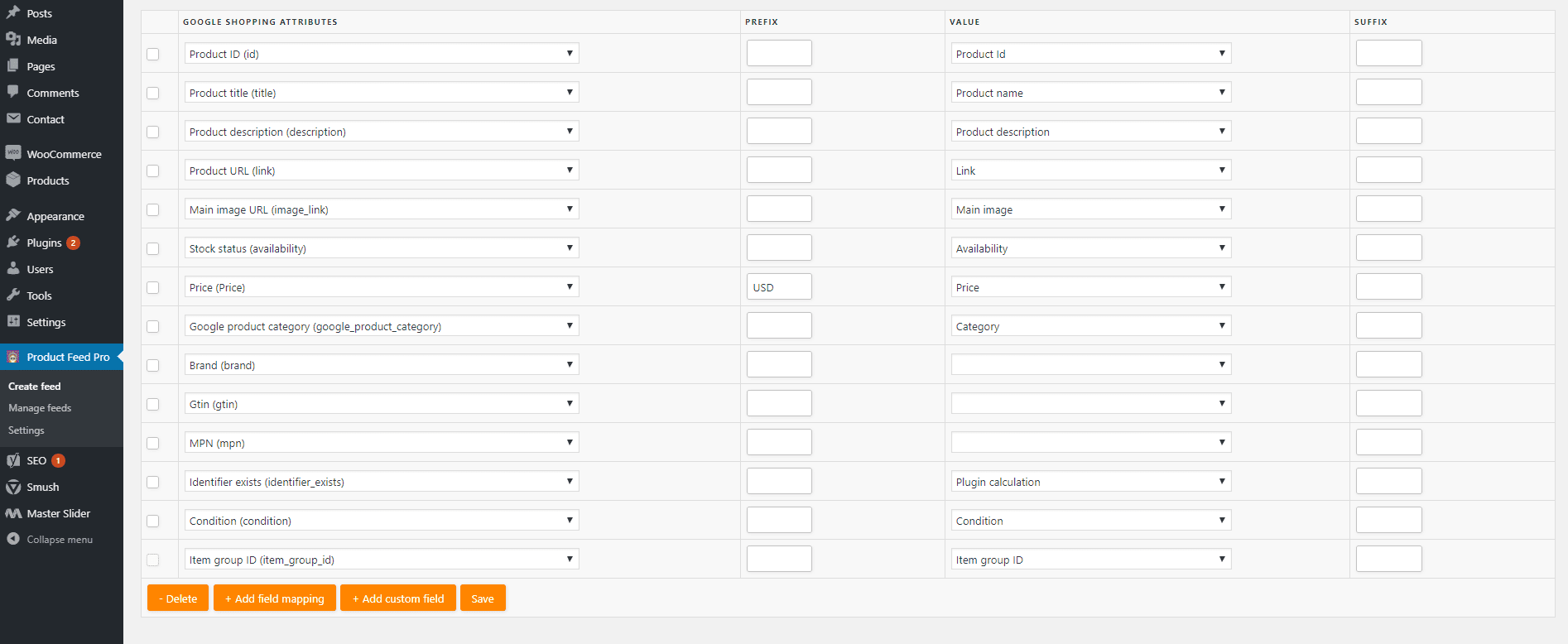 There are also other advanced options, but most beginners shouldn't concern themselves with them and finish the feed.
If you are currently using Magento, you'll have to pay for a Google Shopping extension that gives similar functionality to the likes of BigCommerce and Shopify.
At just $50, it's likely even still a fantastic deal compared to manually building out a product feed.
The specific data needed for a custom product feed is enough to drive you crazy.
Everything from product IDs and titles to images, availability, expiration, price, measurements, product types, branding, and more are needed for a complete feed.
But thanks to a plugin or eCommerce solution, this info is automatically included in your product feeds.
Once you've got your first product feed down, it's time to optimize it for success.
Import The Product Feed to Google Merchant
Once you have generated a feed using your eCommerce plugin or platform, it's time to move on to the next step.
To import the product feed to your Google Merchant account, you first need to enter basic information like country, language, and platform.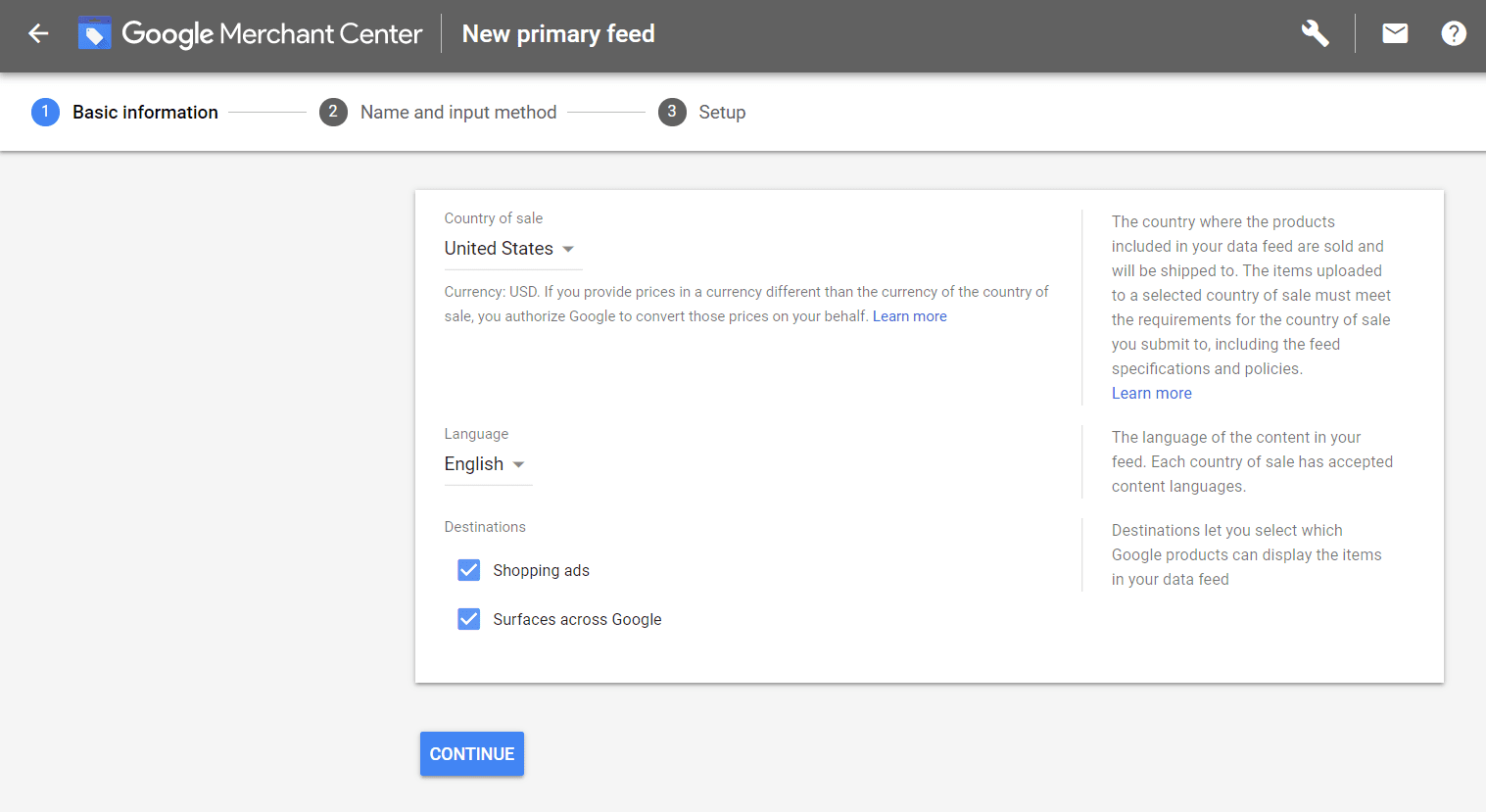 Then, you need to name the feed, and select "Scheduled fetch" as the option for connecting the data to your Merchant Center account.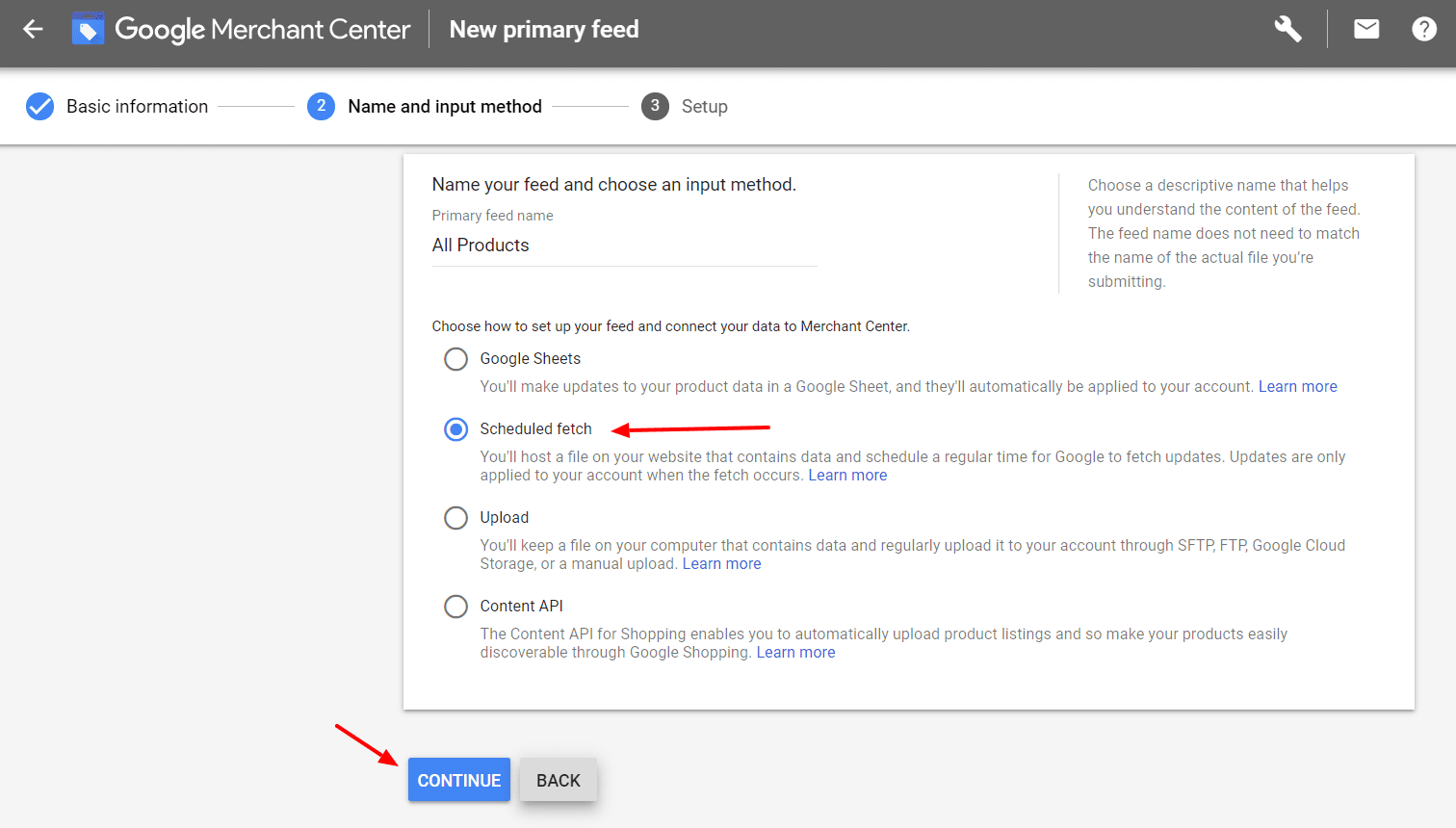 Finally, you can copy and paste the feed URL from whichever platform you are using.
(With WooCommerce, you can access it from the "Manage Feeds" page, in the Product Fee Pro section of the Dashboard.)

Copy this URL, and move on to the last step.
Type in the file name of the file and set a frequency for fetching.
Finally, paste the URL in the "File URL" field.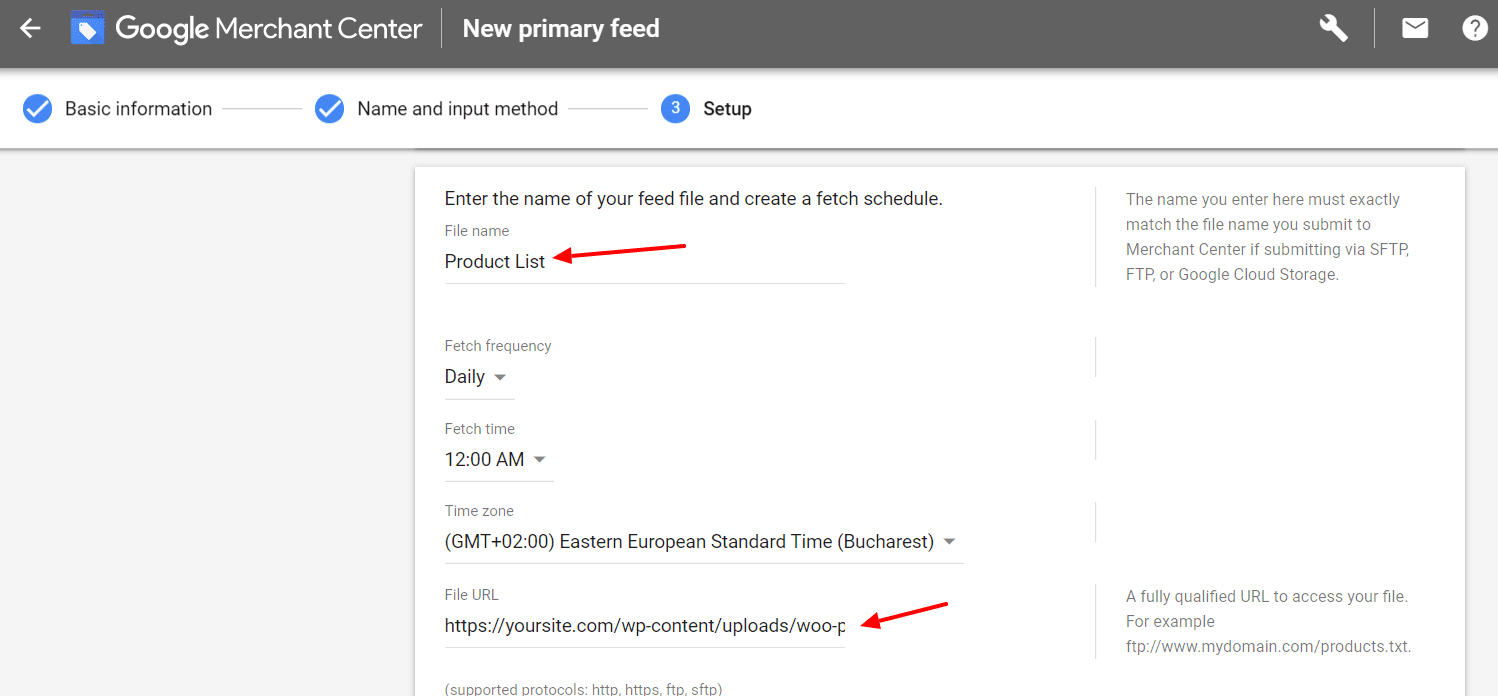 Now you should be able to see the feed in your Merchant Center interface.

Link Your Google Merchant Center and Your Google Ads Account
Next up is linking your accounts.
If you entered Google Shopping Ads as an objective when you signed up, this is very easy.
Go to the "Shopping ads setup" section, and click "Link your account" to proceed.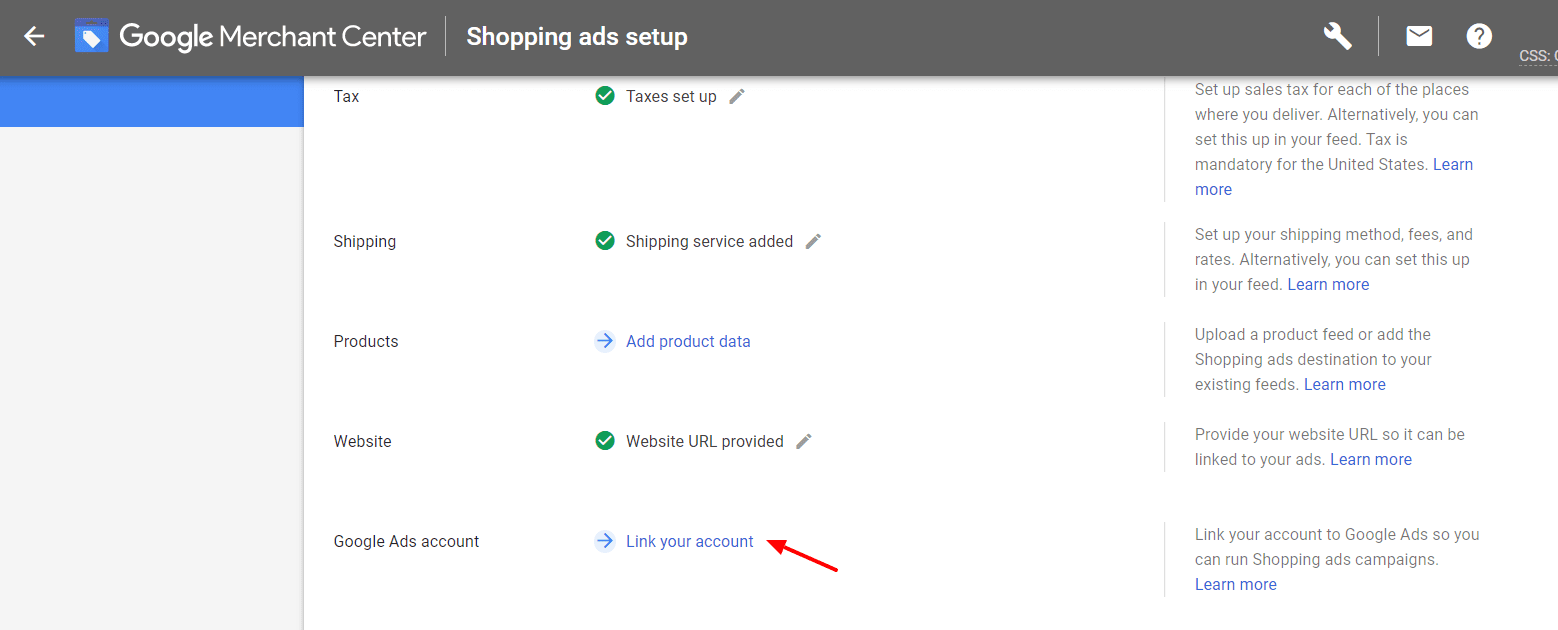 Doing this will take you to the next page, where you need to click the "Link" button next to the correct Google Ads account.

That will send a link request that you need to confirm from your Google Ads dashboard.
You can go to the linked accounts section and find Merchant Center.

But if you sent the link request to the correct account, you will get a notification you can click instead.
Then all you need to do is click view, open the request, and approve it.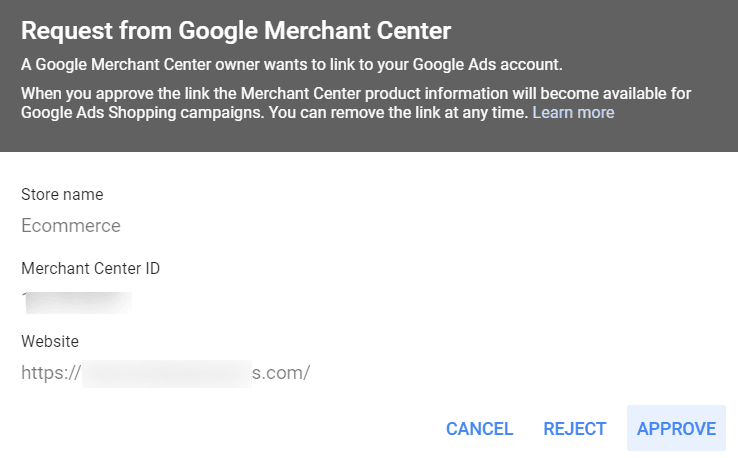 Your accounts are now officially linked, and you are ready to create your first Google Shopping campaign.
It really is that simple.
How to optimize your Product Feed
Google Shopping is proving to be an essential platform to drive more sales for eCommerce businesses. With diverse settings and intent-based campaigns, it's no wonder that businesses are finding success.
Using Google Shopping, Sears has been able to boost their store visit rate by 12% while also increasing their CTR by 16%. For every dollar that they invested in ads, they generated eight dollars back. That's an 8x ROI overall.
Speakman used Google Shopping ads to increase conversions by 8% from standard search network ads.
Similarly, JanSport put tons of work into their product feed to ensure they would show up in the results for related searches. Doing so netted them a 13% increase in conversions.
Tons of businesses are finding success with Google Shopping. And it all stems from having an optimized product feed.
You should mainly focus your optimization on the following sections:
Titles
Product categories
Images
Since you don't directly bid on keywords with Google Shopping, you will want to signal relevance by implementing keywords and contextual information throughout these sections.
With your product titles, always include the top keywords you want products to target.

While you don't have much room to work with, it allows you to get more specific with customizable products. Meaning you can show up for dozens of searches based on just a few product variations.
The title is one of the most (if not the most) important aspects of your feed and subsequent ads.
Think of it as your title tag in SEO.
You want to include as many descriptive factors as you can, based on search phrases relevant to your items.
Avoid using spammy or promotional headlines like "discount" and "free." Google Shopping allows you to add "Special offer" tags to specific products based on your sales cycle.
Choose The Right Category
For product categories, you have one option to pick out of a list of 6,000+. It is critically important for your campaigns and product type.
Here's a brief preview of what you can expect to see when choosing a category: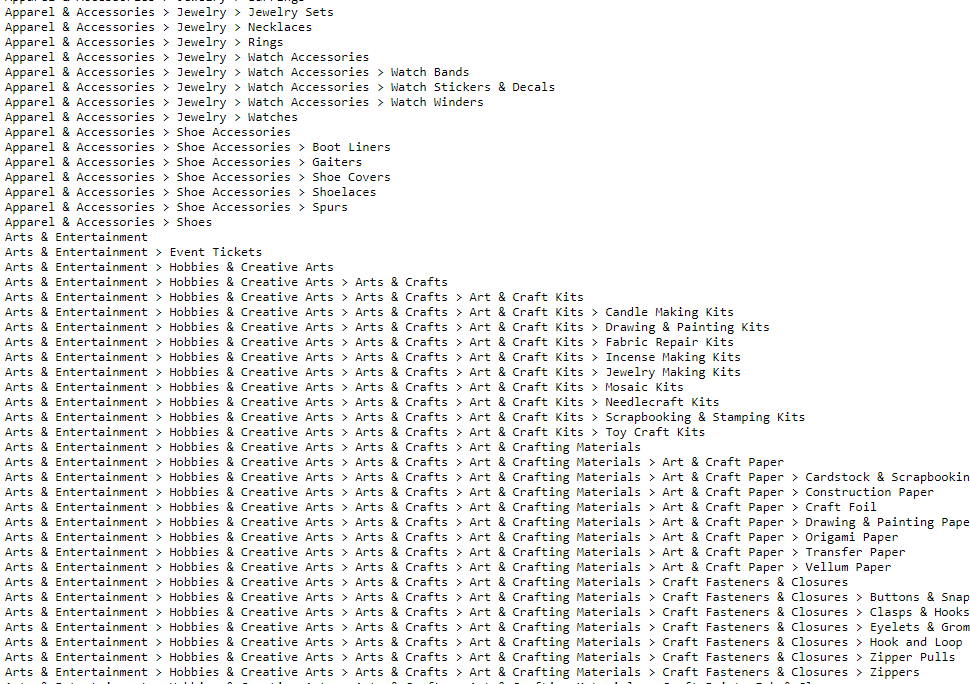 When using the full list, you can download and import the data into a spreadsheet, or you can use the search function.
Product categories range from broad like: "Apparel & Accessories," to highly specific: "Apparel & Accessories > Handbags, Wallets & Cases > Wallets & Money Clips".
While narrowing down your category might limit your exposure due to the niche nature of each product, it's likely to bring in better traffic.
Try utilizing a mix of both depending on each product.
Optimize Your Product Images
Lastly, images are crucial. They make up the majority of ad real estate: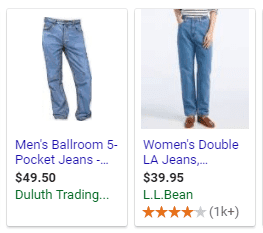 Try showcasing your product images in action like L.L. Bean does above.
But remember: your product itself should be the main focus of the image. Ensure that people can see your product if you decide to follow that route.
Be sure to avoid text, logos, and any other unnecessary aspects. Focus on getting awesome product shots.
Optimizing your feed isn't easy, and it isn't fun. But it's critical if you want to dominate Google Shopping.
Ready for your first campaign? Let's dive in.
Dominate your first Google Shopping campaign on Google Ads
Creating your first Google Shopping campaign is a long process.
Situating the product feed and integrating your store with the Merchant Center are the hardest parts, and they'll need continual tweaking for success.
But thankfully, you can set up Google Shopping campaigns just like any other campaign type.
In this section, we'll show you the most common sub-types of campaigns and how you can use them to drive more sales.
To get started, head to your Google Ads account and create a new campaign from the "Campaigns" tab:
Next, select the Sales campaign goal/objective: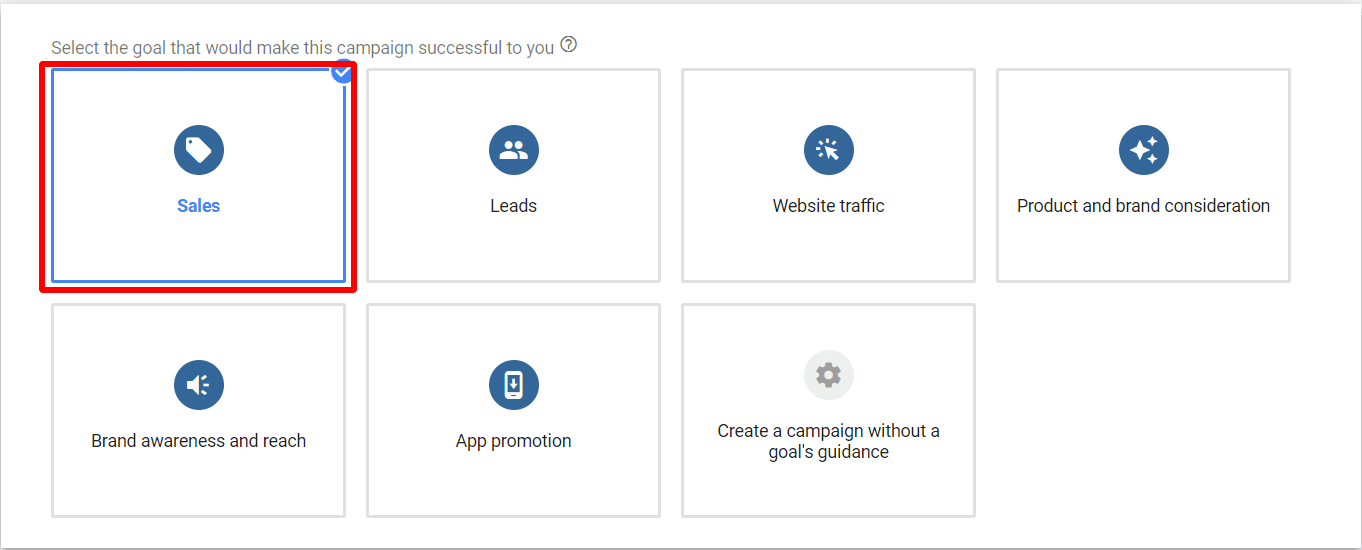 From here, you have five different campaign subtypes to choose from, and each will impact what type of ads will show up. Select "Shopping" and move on.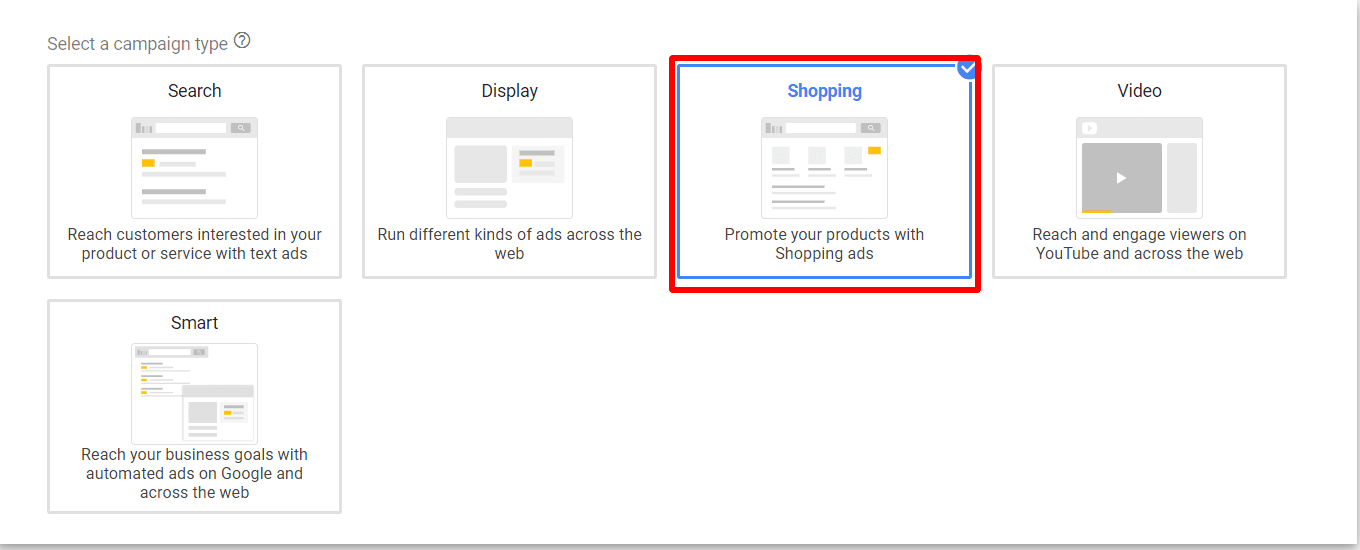 Next, you need to select the right merchant center and choose whether you want to use a smart campaign or standard campaign.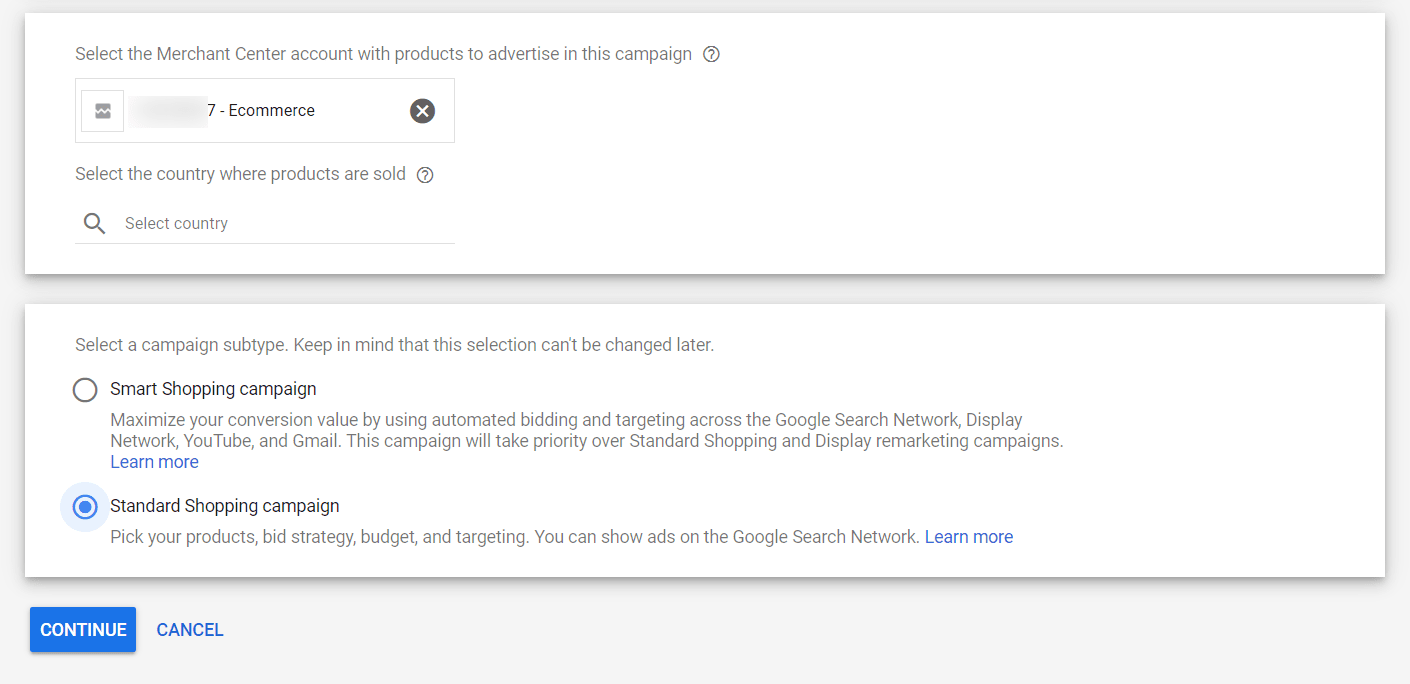 A smart shopping campaign will try to maximize your conversion value by showing your ads across all Google properties.
That means your ads won't only be laser targeted to searchers with purchase-intent.
Ads that don't show in search results are also known as "Showcase Shopping Ads", and we will cover them in more depth below.
Standard shopping campaign.
A Standard shopping campaign lets you pick your products, your bidding, and your targeting.
Your ads will only show up on the Google Search Network. (These are typically the ads referred to as Google Shopping ads.)
Standard shopping ads in Google Search results focus on a specific product.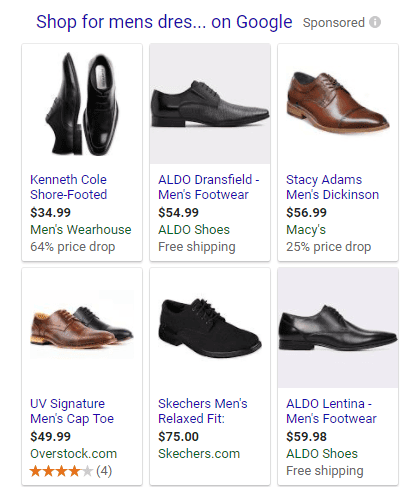 If you choose a standard shopping campaign, you can move on to choosing your target platforms. By default, shopping ads also show on YouTube and Google Discover feed through the display network.
You can easily uncheck this option to focus on search alone.

Once you've selected the targeting options, set your daily budget, location, and continue.
From here, you need to create your first ad group.
Select "Product Shopping", choose a name, and set your bid.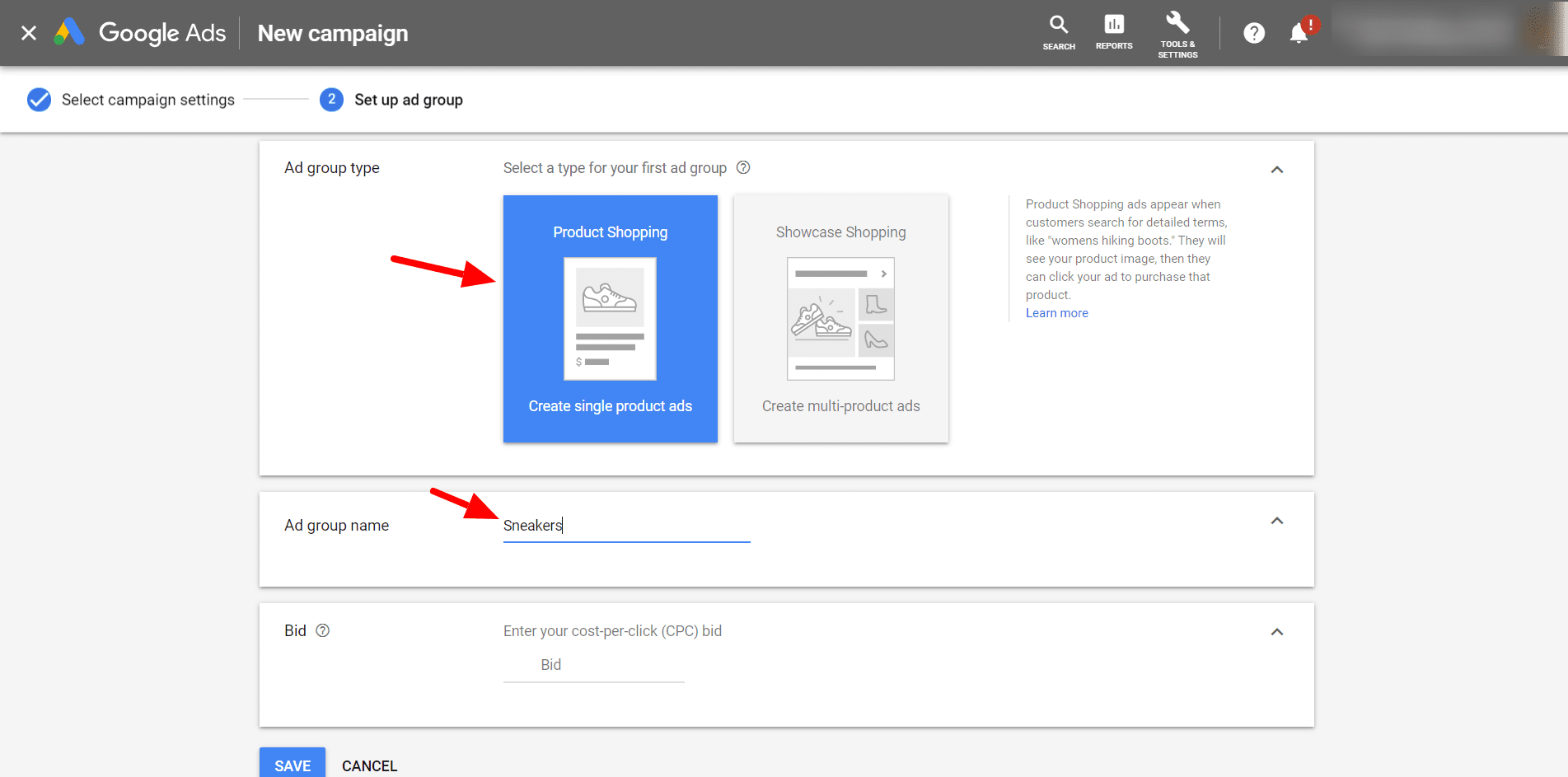 Google will automatically generate all ads based on the product feed data.
You don't have to create individual ads or write a single line of copywriting at this stage.
Your Google Ads shopping campaign is complete.
Showcase Shopping Ads: What They Are, And How to Use Them
If you want to learn more about showcase shopping ads, a new format showcased at Google Marketing Live 2019, keep on reading.
What Are Showcase Shopping Ads?
You can promote your store and your products in the Discovery Feed, Youtube, and other channels by using Showcase Shopping Ads:
Showcase Shopping Ads are two-step ads that allow you to showcase multiple products for your brand.
In the search results, instead of showing pricing and reviews, users can click the ad to expand the showcase, revealing diverse brand content and products.
These ads are already proving to be a dominant force for online selling.
The latest data shows that these ad types led to 3x increases in brand searches for Overstock and 32% more clicks that turned into a purchase.
The Difference Between Shopping Ads and Showcase Shopping Ads in Search Results
For example, when someone searches for "blue men's flannel," it's always going to result in sales ads: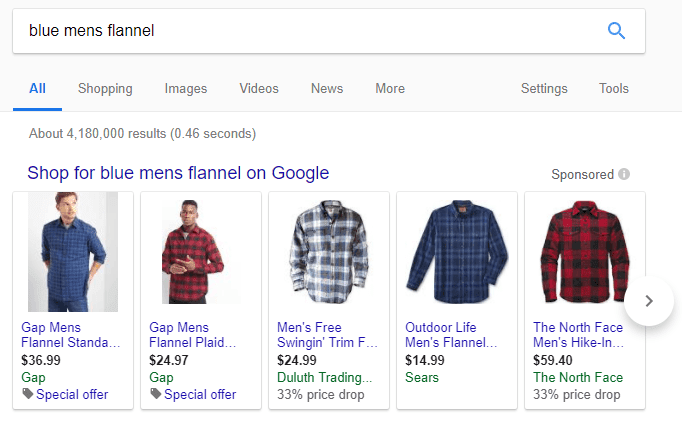 Why? Because of the specificity of the query.
Since the search was so specific, it's clear to Google that the intent is high.
The searcher isn't looking for any flannel. They want a blue one for men.
However, searching something broader like "jeans" will likely result in more showcase ads instead of product-specific shopping ads: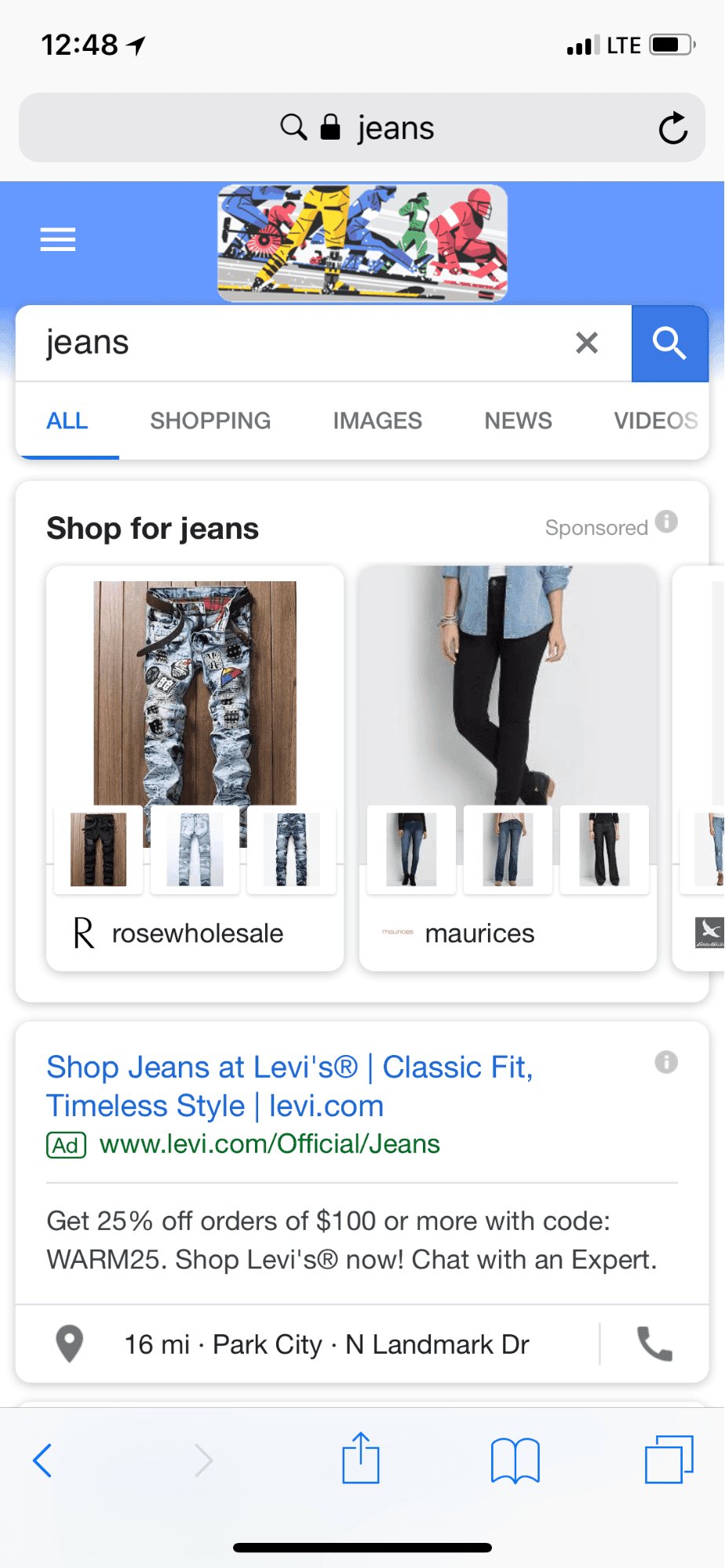 When you click on these ads, the products are generally focused on that broad category of clothing rather than directing someone to an immediate landing page for a specific style of jeans: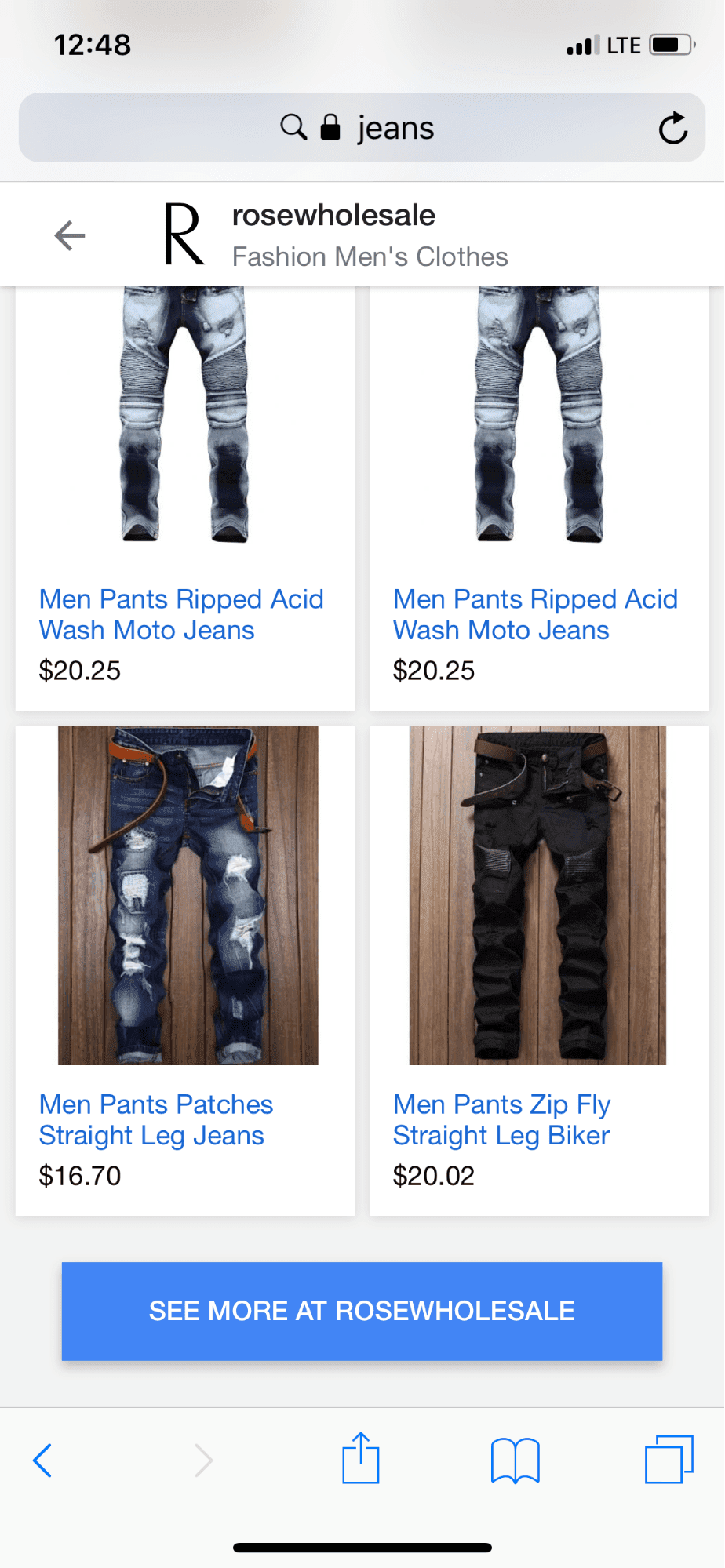 Pro tip: if you want to maximize your eCommerce efforts on Google Ads, run both sales and lead sub-type ads with Google Shopping.
While sales ads are going to be more specific, lead ads will allow you to bring in more visits and hopefully generate more brand awareness.
How to Create a Showcase Shopping Ads Campaign
If you've already followed all the steps above, you're all set to go. (If not, you need to create a Merchant Center Account, create a product feed and link it with your Google Ads account.)
Go to your existing shopping campaign and go to the ad groups section. Next, click the giant white&blue plus sign to create a new ad group.
Then, select the "Showcase Shopping" option.

Set a name and a bid for the ad group, and choose which group of products you want to showcase.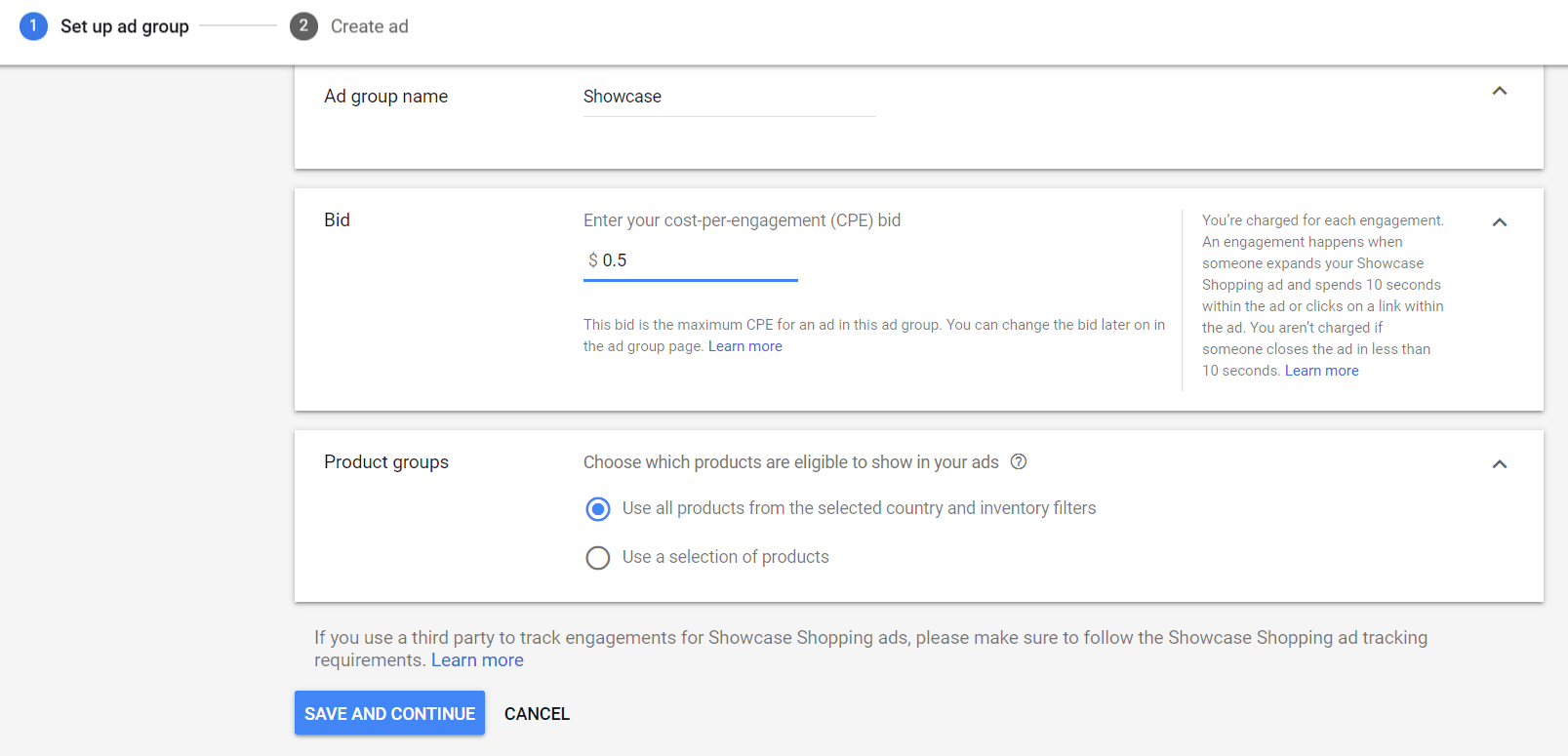 Finally, unlike with regular shopping ads, you need to create an ad. To do this, you need an eye-catching header photo. (At least 1200 x 628 recommended.)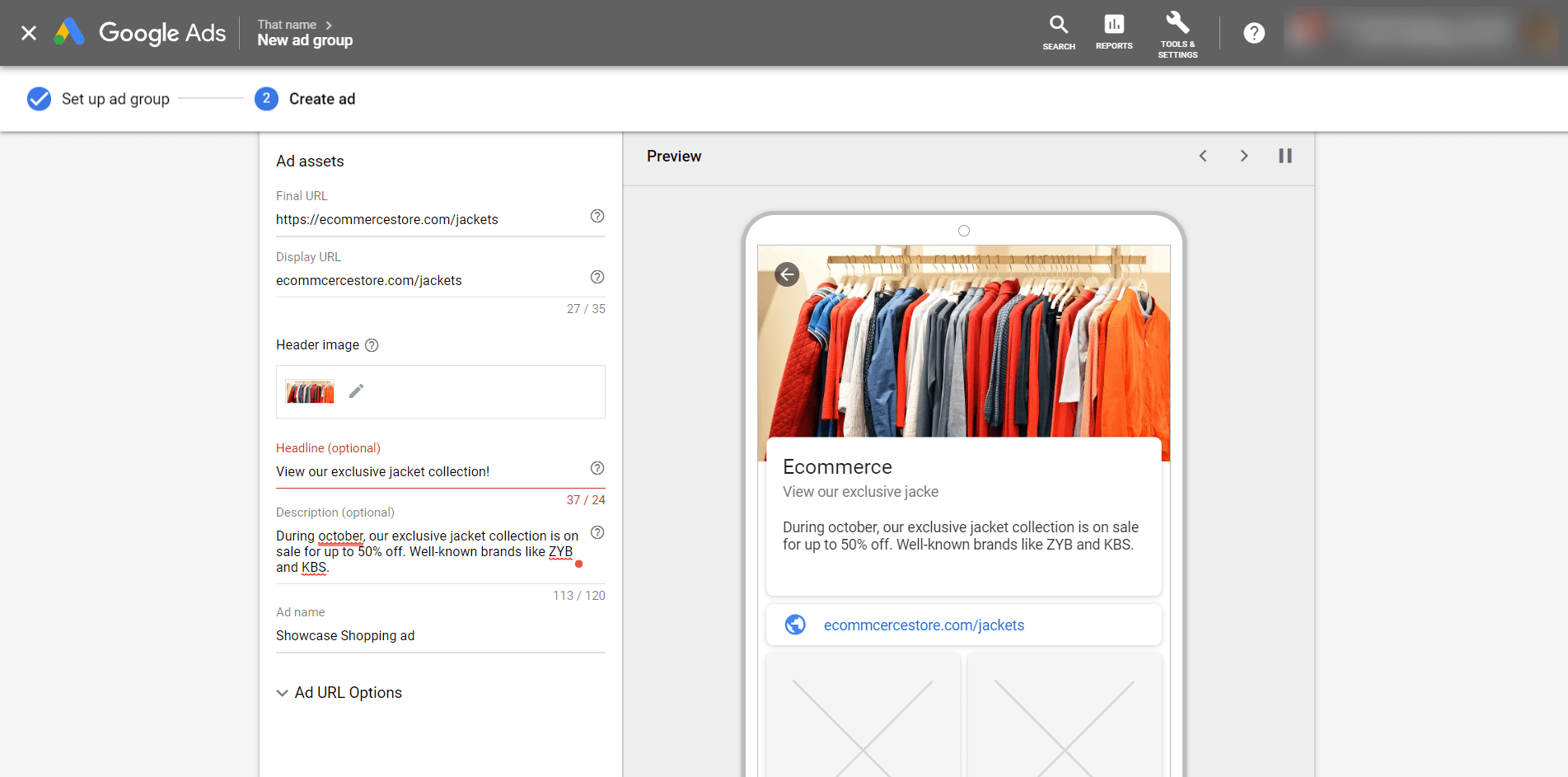 Headlines and descriptions are optional, but keep in mind that this is the ad that will try to entice users to view individual products. If you have an exclusive collection or a special sale, make sure to let your users know.
The New Google Shopping Website
The new Google Shopping website was launched in 2019 at Google Marketing Live event.
It features an entirely new UI and even recommends products based on user history.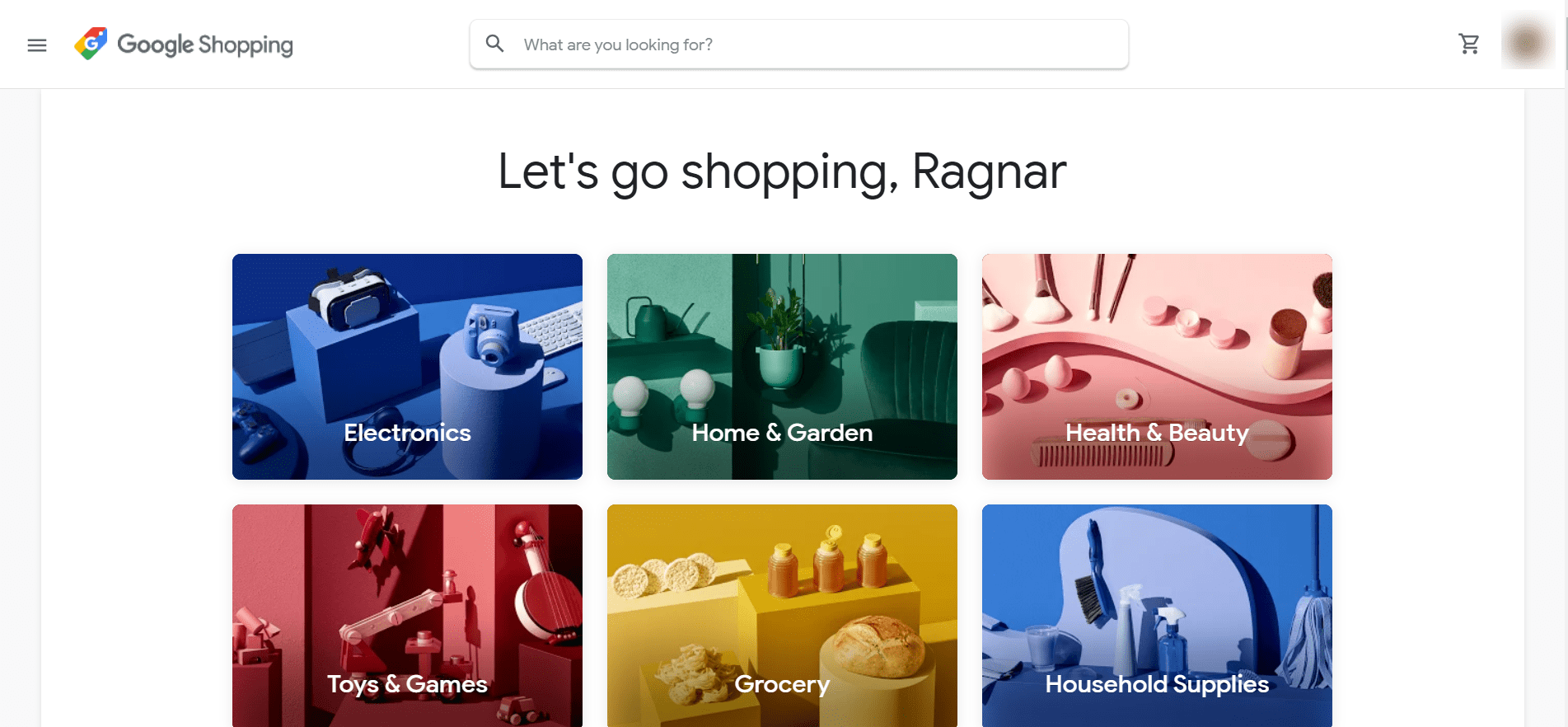 It was meant to be a big play into retail but hasn't yielded the desired results, at least not so far.
One of the reasons for that is that it's not an ad product, it's Google's attempt at creating an organic product marketplace. (In many ways, it was mostly a rebrand of the service Google Express that was available in some countries.)
The New Website Is Not a Placement For Ads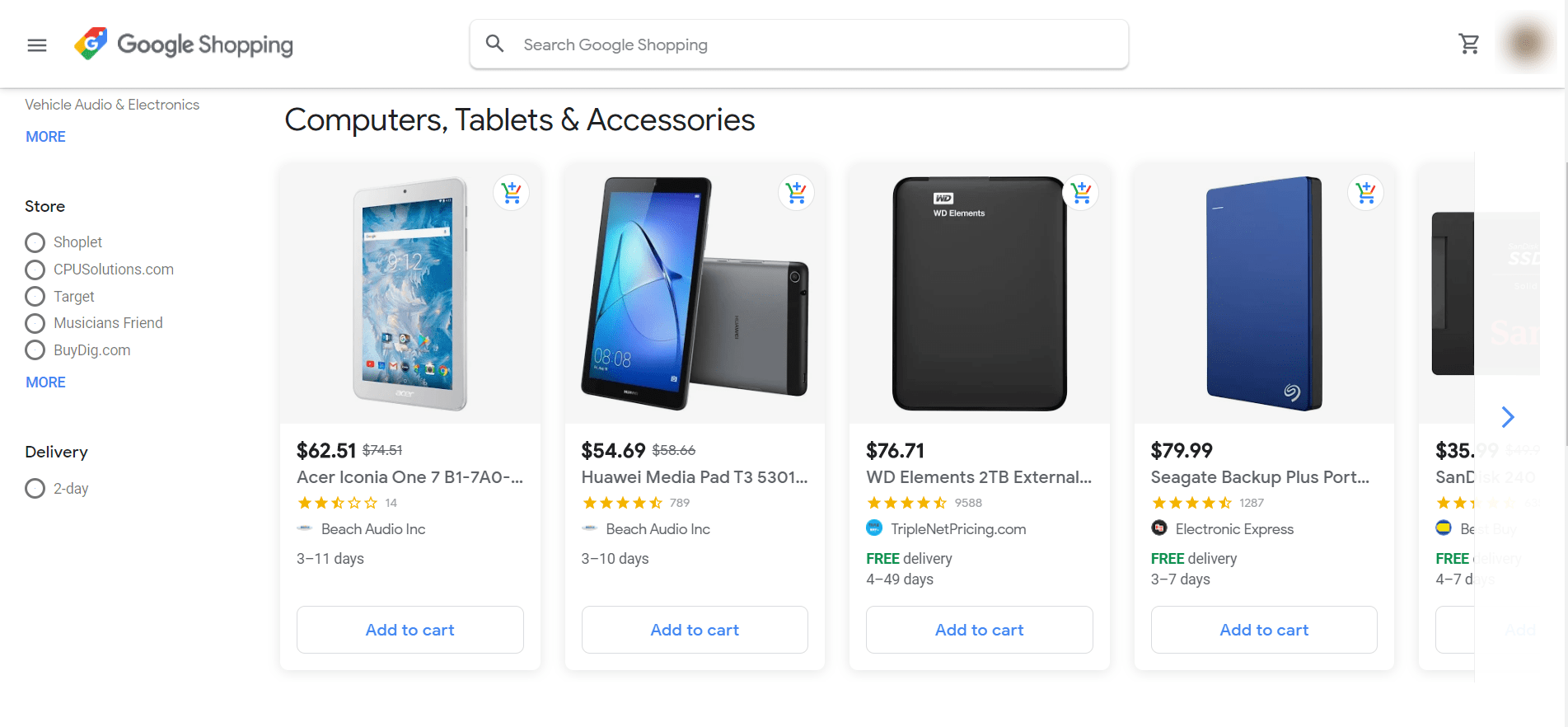 So far, the Google Shopping website is an organic database of products listed in the Google Merchant Center.
It's also making some plays against price comparison websites by adding this functionality.
You can enable your product feeds and individual products to show up here by enabling "Surfaces across Google" when creating your merchant account.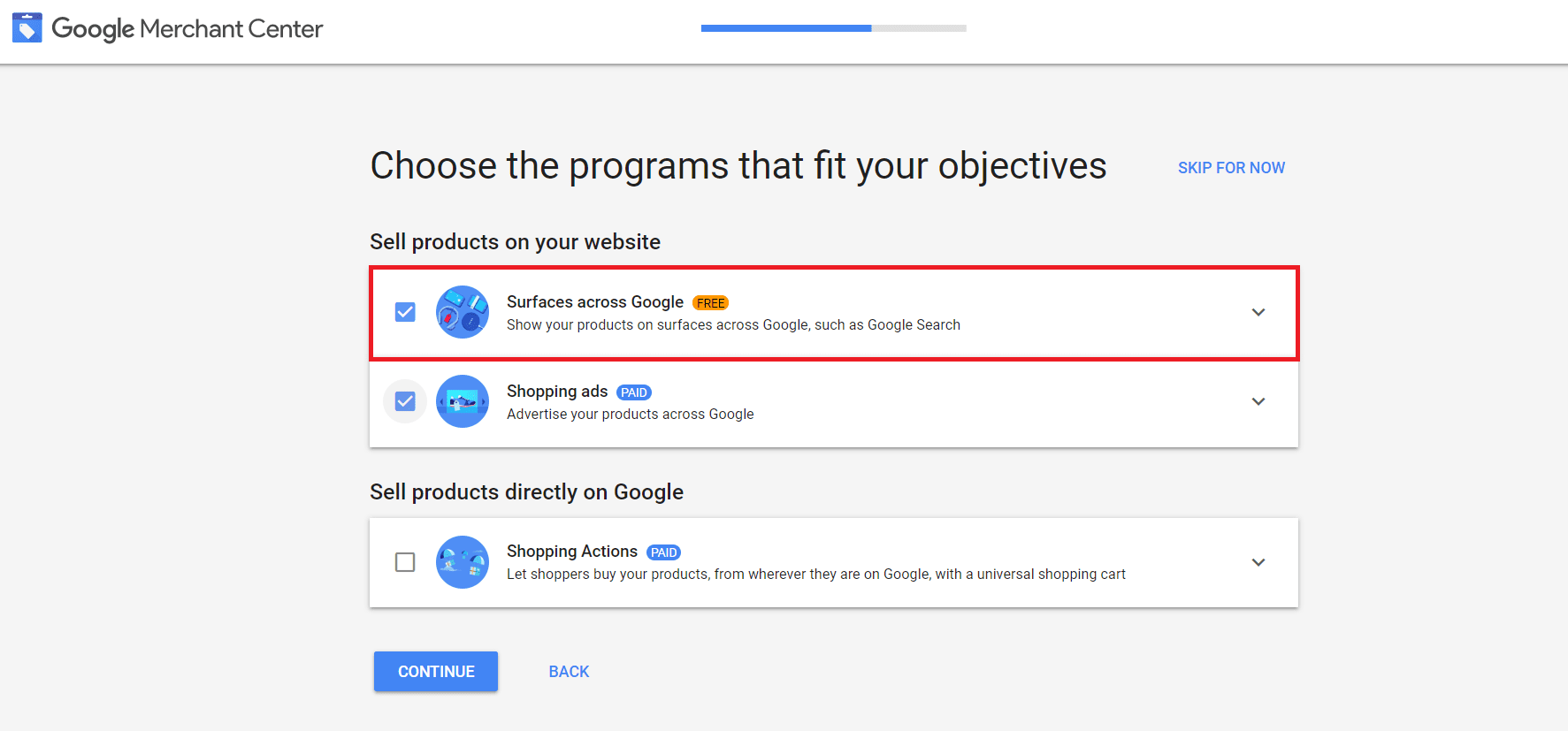 But other than that, you don't need to be too concerned about how this new site will affect your campaigns.
Wrapping It Up
Running PPC ads for e-commerce is tricky.
Generally speaking, it's harder to get people in your funnel as an e-commerce business.
Content isn't as prevalent as it would be in B2B sectors.
Meaning you can't host a webinar about your basketball shoes and expect thousands of people to take notice.
It requires more direct forms of advertising that pack intent to buy. And that's where Google Shopping wins the day.
If you want to dominate Google Ads as an e-commerce business, go directly to the source and get your products in front of buyers who are eager to spend their cold, hard cash.