The Google Display Network has long been outdated in terms of creative options for advertisers. Standard text ads on the GDN have started to phase out in favor of a new target: Google Responsive Ads.
So, what are they? What benefits do they pose? How can you take advantage of them for better conversion rates, more sales, and a better return on investment?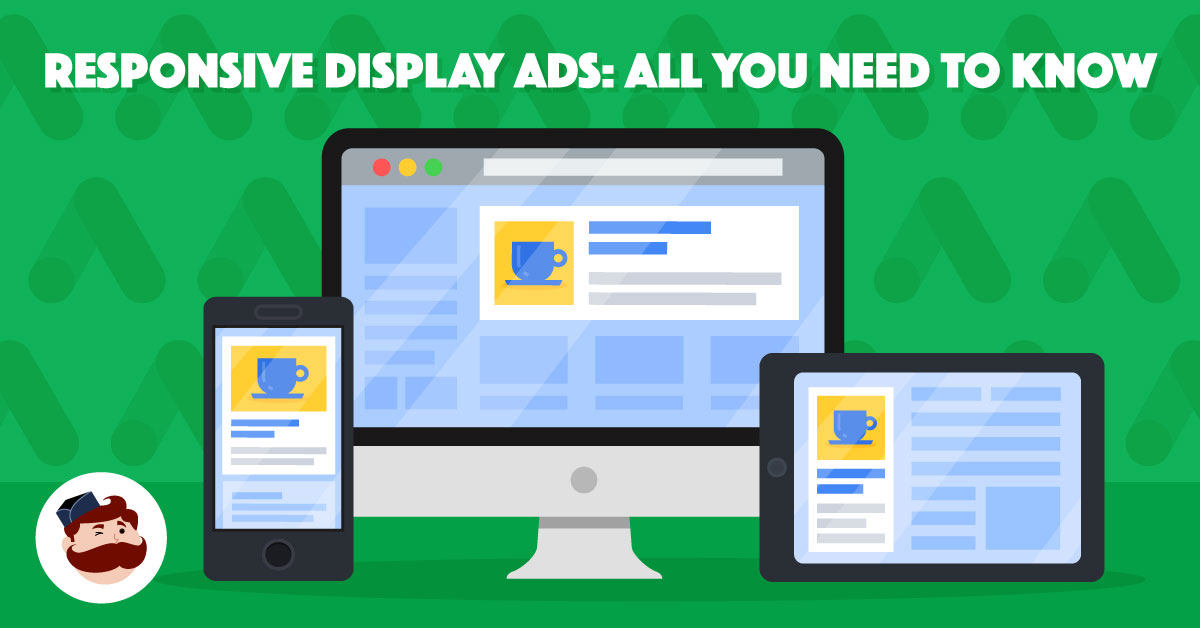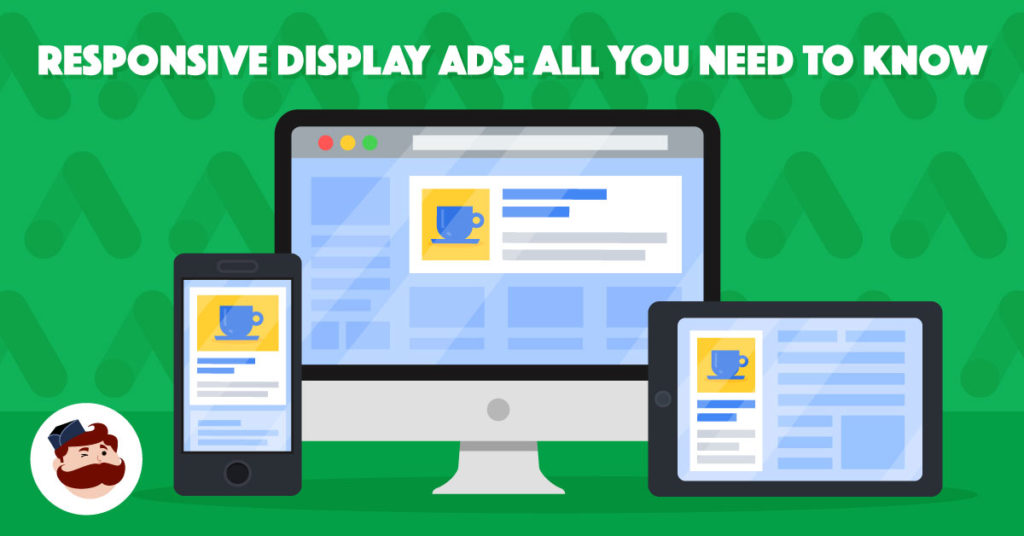 In this post, we'll detail everything you need to know about responsive ads on the Google Display Network and how to take advantage of them as soon as possible. (Spoiler alert: now it's super easy thanks to AdEspresso!)
Let's dive in.
As of the latest Google updates, responsive display ads are now the default ad type for the display network.
And according to Google, they can be used for both regular display campaigns in addition to smart display campaigns.
What Exactly Are Google Responsive Ads?
Responsive display ads are defined as:
The responsive ad for Display is an ad that automatically adjusts its size, appearance, and format to fit available ad spaces on the Google Display Network."
Essentially, Google does the heavy lifting by automatically adjusting your text and visual assets to fit the wide variety of ad sizes on the display network:
Responsive display ads provide huge benefits for advertisers:
Using machine learning, Google will optimize the best text and image/video combination for a given ad slot based on previous performance. This means you do less tweaking and get more results. Nice!
One of the biggest benefits of responsive ads is their flexibility. For instance, being able to adapt to vastly different ad sizes with a single piece of creative, rather than developing 20 different sizes on your own. A single image can now reach any ad slot, increasing your reach without the need to spend more on development.
With machine learning, you don't need to manage a huge portfolio of media to land different ad slots. This saves your budget by allowing you to spend less on account management and less on asset production.
Convinced to use them yet? If not, let's explore some of the new Google Responsive Ads updates that allow for expanded creativity and improved performance on the GDN.
Google Display Network: Responsive Ads Updates
Google advertising platform is constantly being updated. Every month there are new updates on Google Ads that change the game for both users and advertisers alike.
And just recently in 2019, Google Ads released some excellent improvements to responsive display ads to broaden their capabilities.
One of the biggest updates to them was the addition of video assets.
60% of people who shop online noted that video assets make a big impact on their purchasing decisions.
It's no secret that video is dominating online right now. Studies estimate that by 2021, 80% of all internet traffic (in the world) will be video-driven.
To capitalize on this and appease both searchers and advertisers alike, Google has developed video assets for the responsive display ad type: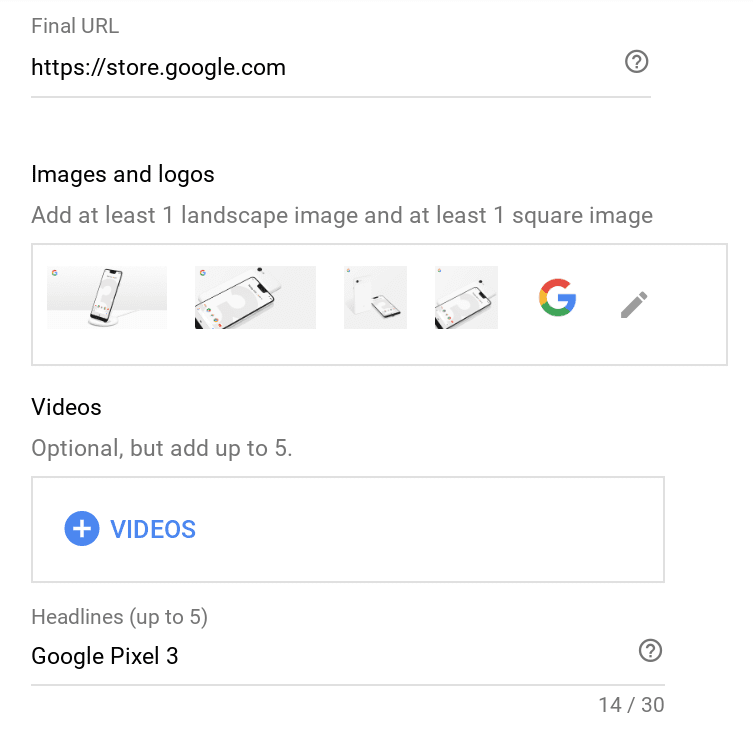 On the display network, you can now add up to five videos that are thirty seconds in length (maximum).
This comes in addition to at least one landscape and square image, as well as your headlines and descriptions.
If you already have a YouTube channel, simply connect it and clip sections that you want for advertisements.
Google then does the work and selects where and when to add videos for maximum impact.
This is one update you'll want to take advantage of ASAP to be first to market.
Reporting for responsive display ads is now vastly improved, too.
With a new combinations report, you can now select specific combinations of text, image, and video that machine learning produces: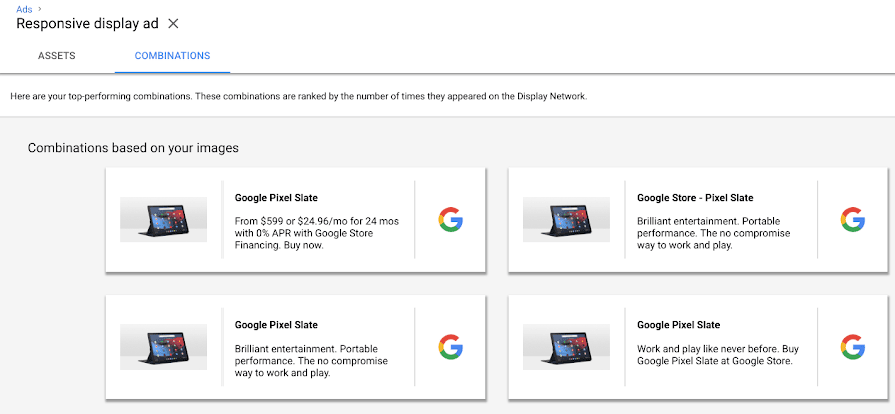 See ones that you like more than others? Select those and see how they perform.
Instead of Google taking control of the entire process, you can make some decisions on what final ads go to market.
This comes after some slight backlash to the responsive ad process that took too much control form users.
Lastly, Google took its new Ad Strength tool and gave it to display users. Hallelujah!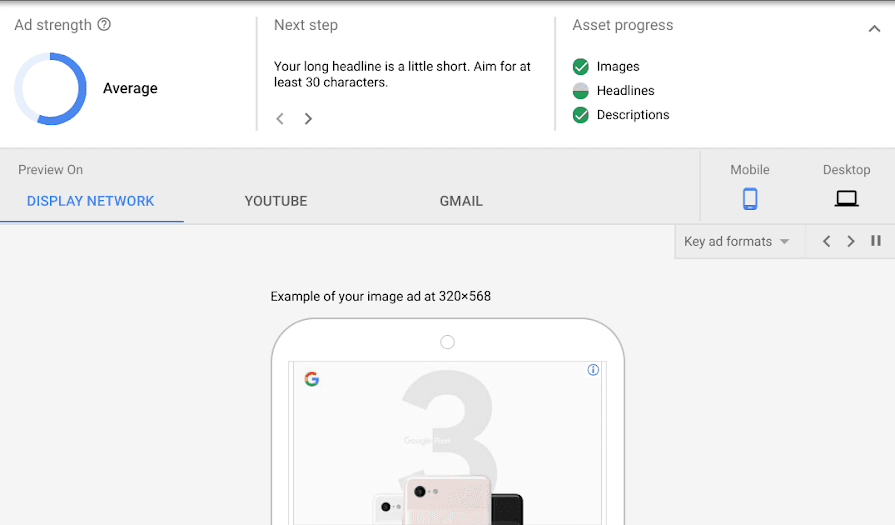 The Ad Strength tool now shows how likely your ads are to perform well based on images/video, headlines, and descriptions.
Here you can test multiple combinations to see which generates the highest and strength.
Now that you've got the basics of Google Responsive Ads down and are familiar with new improvements from the latest update, let's set one up!
Ready?
How to Setup your Google Responsive Display Ads
Let's walk through the process to get you up and running!
To set up a new responsive display ad campaign on Google Ads, head to the "Campaign" tab on your dashboard: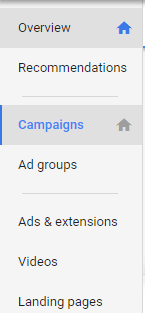 From the campaigns tab, click the blue "+" button to start a new campaign: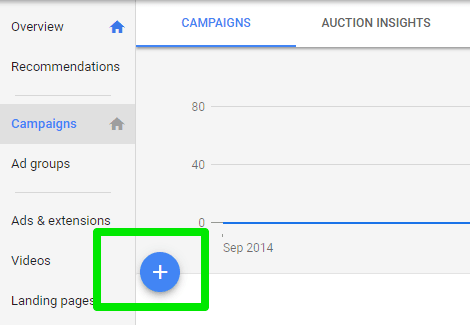 If you haven't used Google Ads in a while, you'll notice the change in setup.
Here, you now start by selecting your campaign goals first, rather than diving straight into network and ad types: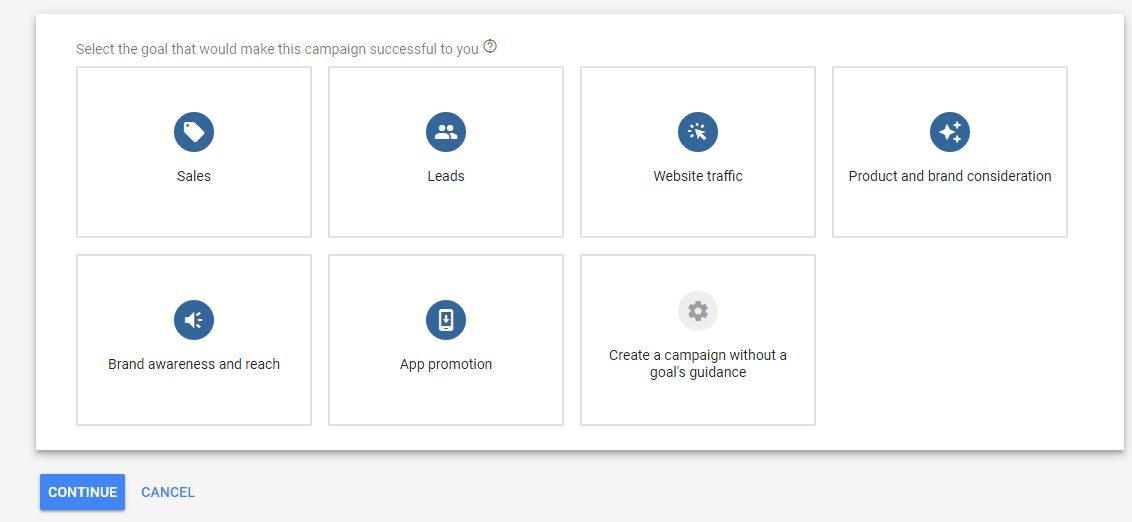 Not sure which one to pick? Or which ones work with responsive display ads?
Simply hover your mouse over each campaign goal to reveal what networks they work with: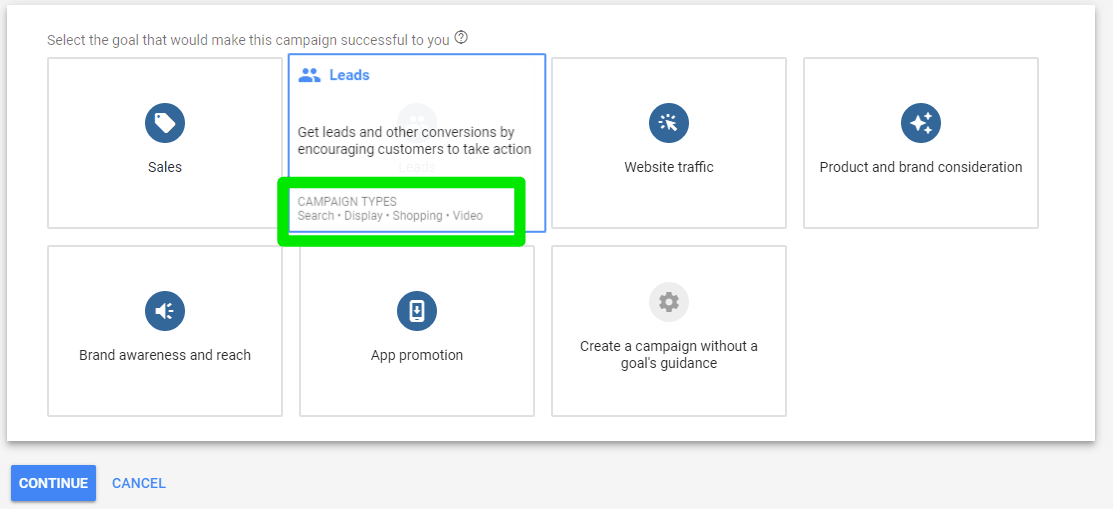 Once you have selected the campaign goal that aligns with the display network, select Display again as your campaign type: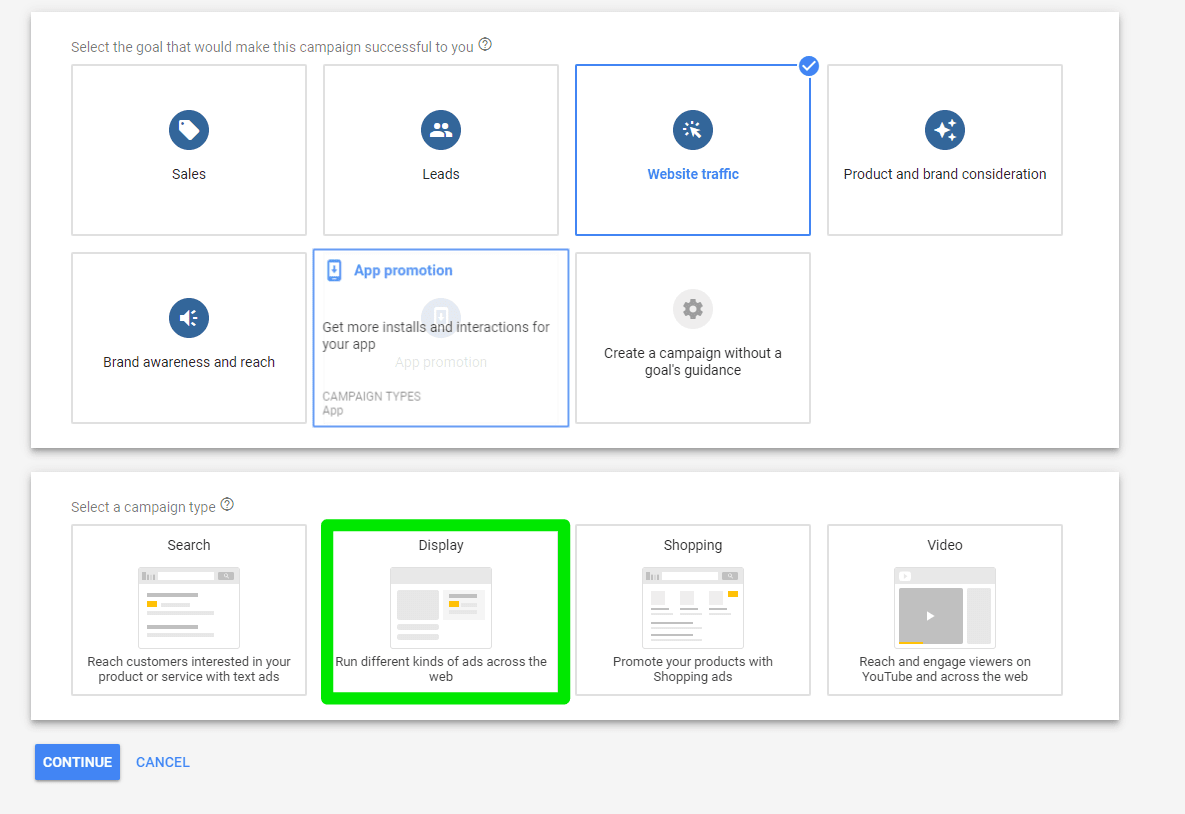 Here you can select a campaign subtype.
If you want general responsive ads, select the standard display campaign selection, and enter your landing page to get started:

On the campaign development screen, you will now have a plethora of options to select and tweak, from bidding to budgets and more.
If you aren't sure what bidding strategy to pick, be sure to check out the AdEspresso bidding guide here 😉.
Once you've tweaked settings for audiences, budgets, and more, it's time to move on to the meat and potatoes: Responsive ad creation!
At the bottom of the campaign settings tab, you can click the blue plus icon again to start creating your ads:
When you click this, you'll be met with a few options.
Select "+ Responsive display ad" from the list:

Here is where things can get a bit complicated if you've never used this format before.
When you click to create a new responsive display ad, you'll be met with a bunch of elements to create: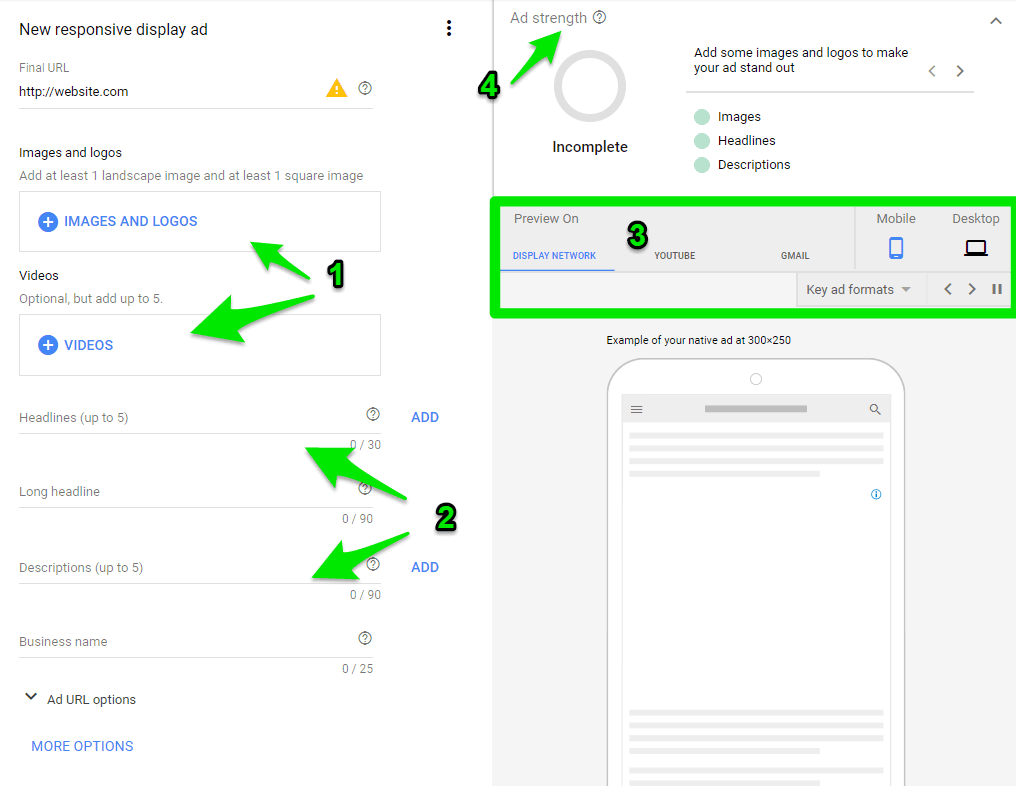 Let me break down each for you:
This is the heart of your responsive ads: media / visual content. This is where you can upload images of products you want to advertise, or logos of your company based on your goals. For instance, do you want to sell direct products on these responsive ads, like clothes? If so, you'd want to upload images of that product! If your goals are general brand awareness for your business, you can use logos. In addition, you can now use thirty-second videos (or less) to showcase both products or your brand.
This section is where you want to develop five sets of headlines and descriptions. The more you create, the better. Why? Machine learning will take the various headlines and descriptions you write and test them with visual assets to find the best combination for you. So, the more you do now, the less you have to do later! Write the maximum amount here so you can get easy testing in early and more conversions.
The ad preview section is a fantastic place to double-check your ads before sending them live. Here you can preview your ads on the display network, YouTube, or Gmail based on what campaign you are running. Make sure they look good on both mobile and desktop, too. With the "Key ad formats" drop-down, select all formats and ensure your images are scaling appropriately. When you select the key ad formats drop-down, each will cycle through various dimensions to show you a preview!
Google's ad strength tool is an easy way to improve your ad relevance, and therefore, quality scores. This can help you lower costs while generating more results, so don't take this step lightly. Add the maximum amount of images and headlines and ensure you nail each box on the ad strength tool before moving forward!
Congrats! Pat yourself on the back and hit "Create Campaign" to send it live!
What? All those steps sound too complicated? Don't give up, we have a solution for you!
Make Your Life Easier with AdEspresso!
Did you know that now you can also create and manage your Google Responsive Display Ads in AdEspresso? And it's as easy as 1, 2, 3!
To do so, Select Display Ads on step 1 of Google Ads campaign creation.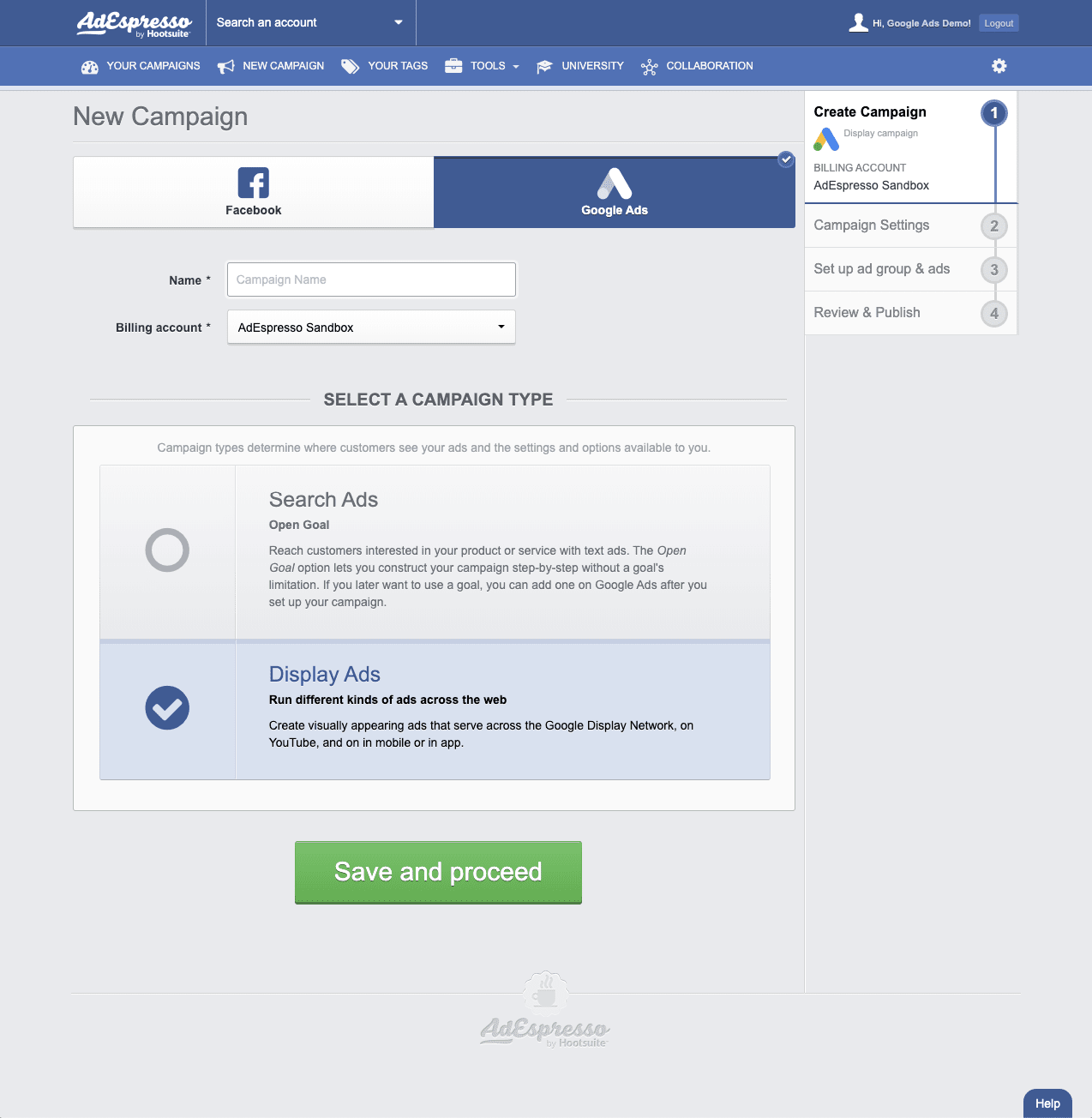 On step 2, you can add in your parameters like budget, bidding, location, audiences, and campaign schedule.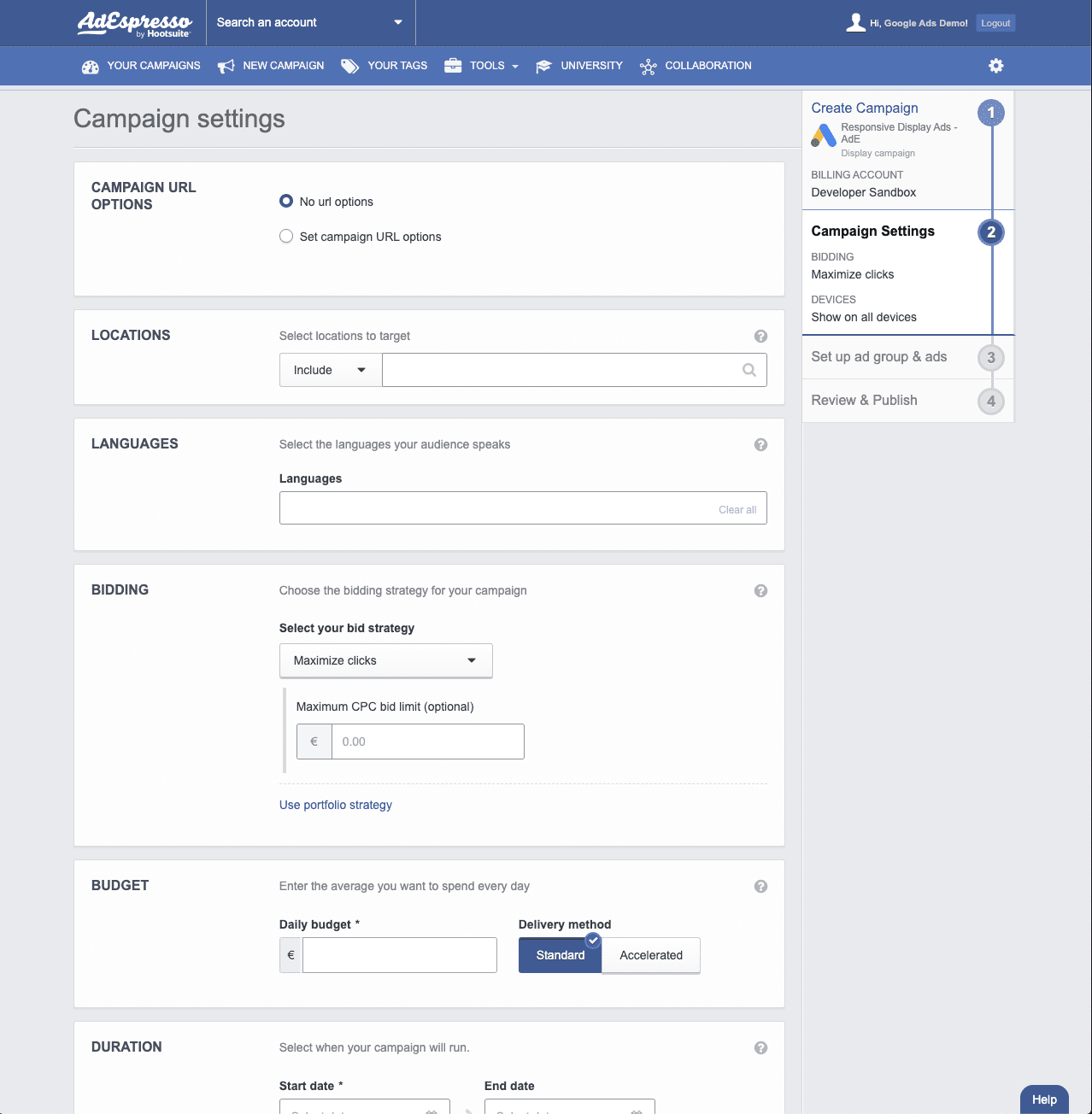 Step 3: where the magic happens.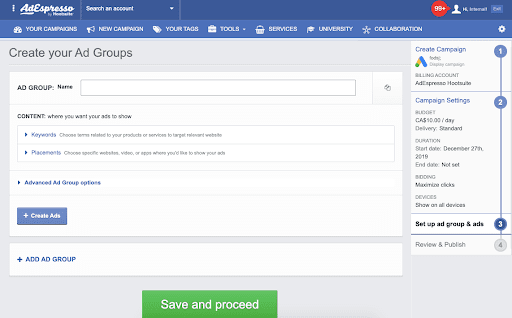 For each ad group, you'll be able to easily add keywords and placements of your ads.
Under advanced ad group options, you can also set your optimization strategy, ad group audiences, and custom tracking parameters for your URL.
The next step is to add in the creative elements by selecting Create Ads.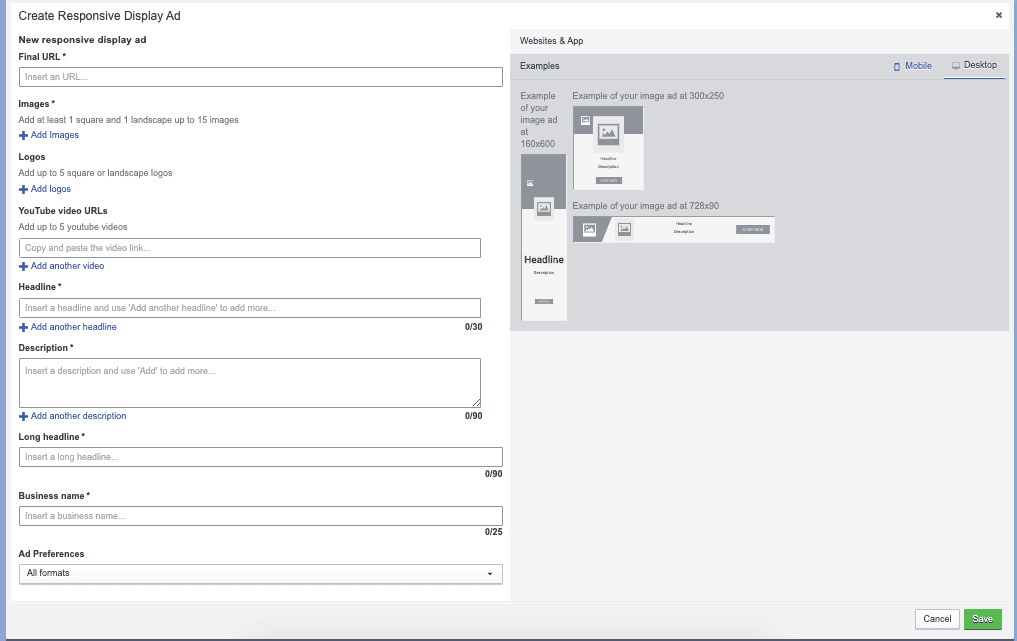 At this stage, you'll be able to upload multiple images, logos, headlines, YouTube videos and more.
When you do so, Google will use its own internal algorithm to display the best possible combination based on your performance history and will display the correct image size for each placement automatically.
Aaaaand you're all set! See? Easy as pie!
And now it's time to improve the performance of your Responsive Display Ads! Here are a few tips our experts want to share with you!
How to Improve the Performance of your Responsive Display Ads
Looking to maximize the performance of your Google responsive ads? Here are a few tips on how to do that.
Tip 1: Use Close-Up Images
Tons of display ad formats are going to be small.
And when people are browsing on mobile more than ever before, it's critical that your creative assets are up close and personal.
For instance, here's what a zoomed out picture of a business looks like on the previews: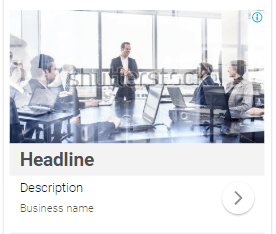 Now, compare that to this close-up image: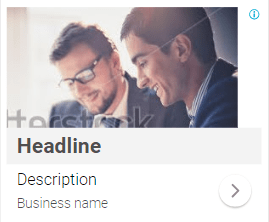 Which would you engage with?
Probably not the first one, unless you happen to be using a magnifying glass while browsing.
While these are just stock photo examples (p.s. Don't use stock photos), you get the point:
Screen sizes on mobile are small for most people, so having zoomed out images that try to capture too much actually detract from their impact.
People might not be able to see them.
And your creative assets are your biggest selling point. It's what hooks them in.
Make sure you invest time and money into getting the right shots and logos that people can actually see.
Tip 2: Be Aware of Headline + Description Combos
On responsive ads, you have tons of room to write until you can't write anymore.
You have headlines and descriptions that can be customized with a fairly large amount of characters: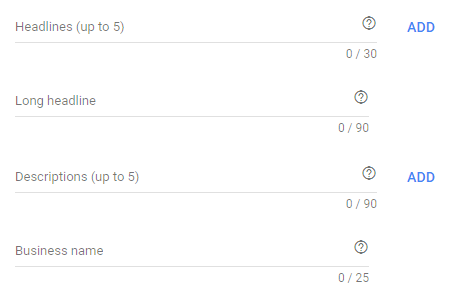 But, you have to be aware of how these various text sections interact with one another.
After all, Google will be combining multiple to form ads for you.
Headlines will always be shown on your ads, no matter what. That means that you will never see an image and a description.
So, headlines are likely your most important factor after visual assets are added!
This means you should put tons of time and effort into crafting compelling headlines that get people to click.
To add to that, depending on which ad slot you get, headlines can be shown without the description.
This means you should develop headlines that are not only compelling but also tell all you want to say in just 30-90 characters.
Long headlines and descriptions might get cut off depending on the ad slots you have, so be sure to make your case early.
When it's all said and done, focus your most compelling copy on headlines first. Then, tweak descriptions and ensure you save the best for FIRST, as the end of your text can get cut off.
Conclusion
Responsive ads on the display network are now the norm.
They're built to use Google's machine learning technology, improving their reach and reducing the need to create dozens of ad creatives for a single campaign.
Now, you can simply upload a few images and text blurbs and have Google handle the process of picking appropriate ad slots. And with new updates being released, they are stronger than ever before.
Now is the time to jump aboard the responsive display ad train and reap the rewards before it gets too saturated.
Follow our responsive display ad tips above and you'll be blowing past the competition in no-time.
Have you started to use responsive display ads? If so, what strategies have worked best? Let us know in the comments!