Back in June, we put together a list of the best Google Ads Updates revealed during Google Marketing Live 2019!
Now we're looking back over the last year to cover the most significant Google Ad updates, and what they mean for your marketing strategies.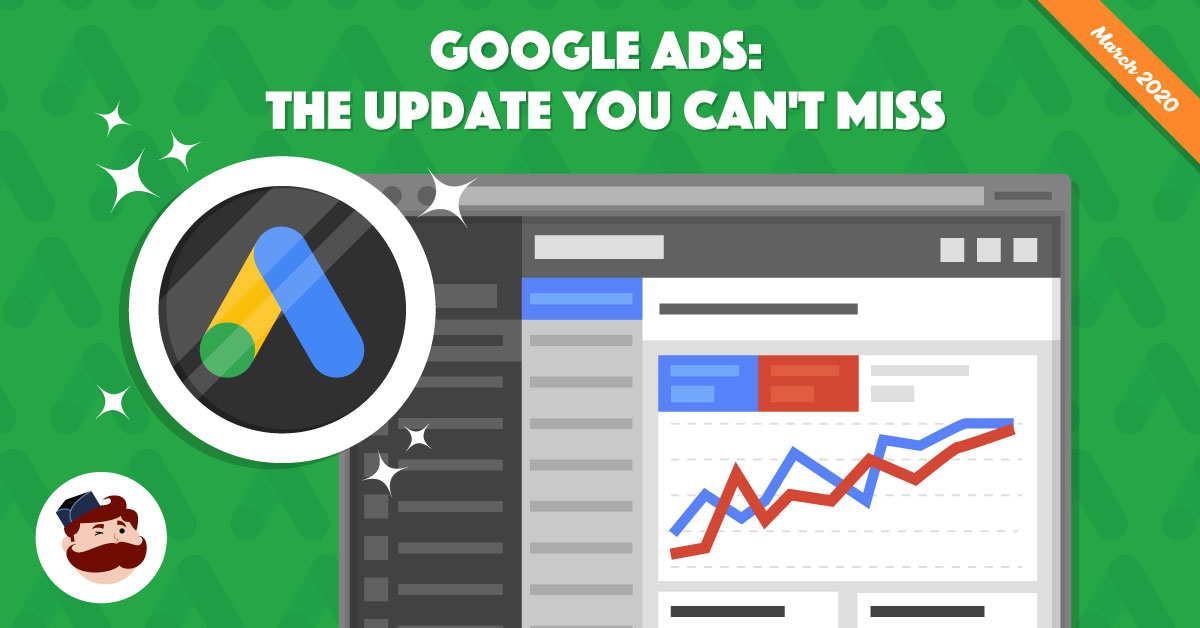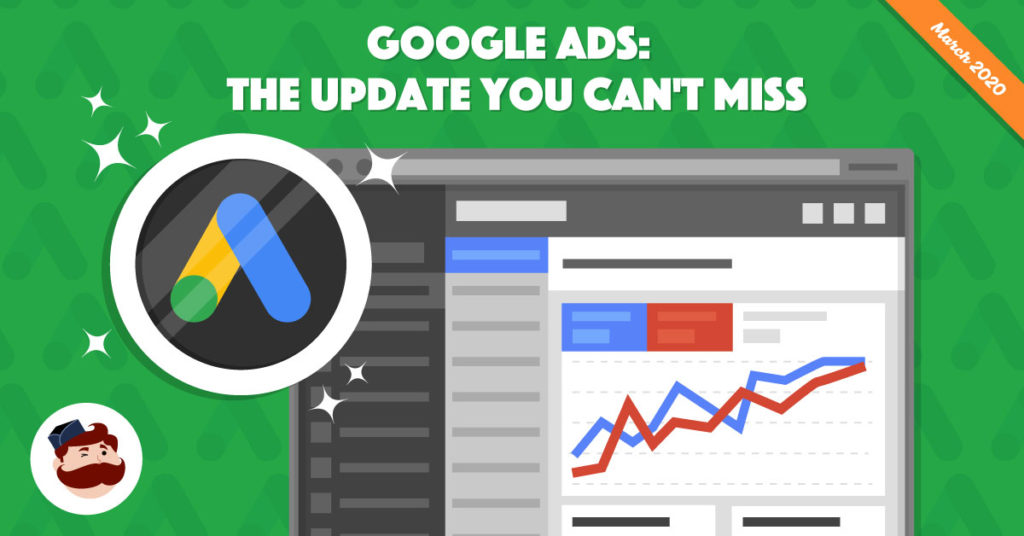 Not keeping these updates in mind could mean leaving money on the table, or spending it in places you shouldn't.
What we cover below are the updates you'll need to know as you set up and manage your 2020 Google Ads campaigns.
Some of these are net wins, and some are more of a mixed bag. But you can't ignore any of them!
Google Ads Update #1. More Liberal Phrase Match and Broad Match for Keywords
Google updated both phrase match keywords and broad match modifiers, in a move we're calling a double-edged sword update.
Some definitions before we continue:
Phrase match keywords match queries that include the entire keyword in strict order.
Think of long-tail keywords. If your exact match keyword is [hair salon], then a phrase match keyword would also trigger [cheap hair salon] or [best hair salon near me]. What wouldn't work is [salon for hair near me].
Broad match modifier keywords don't require the keywords to be in a specific order.
They just need to be included. The broad match modifier keyword of [best mattress] is eligible to match to queries like [best place to buy a mattress] and [mattress that is best for back pain].
Getting the right people to view your ad is one of the most significant challenges of running PPC campaigns.
No matter how good the design, the CTA, or the copy, if you're advertising steaks in front of an audience of vegans, your click-through rates will drop, and your CPA may rise.
At the same time, it's not likely that you know 100% (or even 80%) of your potential audience. So when going after one keyword, you could be missing the buyers who are looking for what you offer using another keyword.
That's why this Google ads update amounts to a double-edged sword. Google ads updated phrase match keywords and broad match modifiers to include words that have the same intent or meaning but are fundamentally different than your chosen keywords.
Synonyms, basically.
Here is an example of phrase match keywords and broad match modifier keywords in action:

Google expects "advertisers using broad match modifier and phrase match keywords to see 3-4%" more of their target audience.
But that's on average, and if your ad is getting more views to the wrong audience, that isn't a winning scenario. It also makes it more challenging to use Negative Keywords as effectively as before.
Google Ads Update #2. More Targeting Tools
When looking to get the right people viewing your ad in Google search, you have plenty of tools to use.
Now add two more: affinity audiences and in-market audiences.
While both bring something new to the table, they also go after different ends of the sales funnel.
Affinity audiences are great for broadening your ad's horizon. If you're going after someone who is going to search for a [one person sleeping bag], you could also pair the affinity audience "Outdoor Enthusiast." Now you're also getting the audience who may be interested in what you're selling. These are your top of the funnel leads who are likely just beginning their buyer's journey.
Per Google, here is how valuable affinity audiences can be for your marketing campaigns:
Volkswagen used affinity audiences to achieve a 250% increase in conversion rate when compared to its non-audience traffic.  Meanwhile, in-market audiences help you find bottom-of-the-funnel customers who are more primed to make a purchase. You can use in-market audiences to cater to holiday shoppers during the 4th quarter. For example, if you sell electronics that make great gifts, then you can use in-market audiences to target Christmas shoppers.
Google Ads Update #3. Lead Form Ad Extension
85% of marketers claim lead generation as their number one marketing goal. It's easy to see why.
Lead generation gives you more data about your prospective customers. And with more data, you can better communicate and customize your interactions. And that leads to higher conversions.
As we explored in our posts on Facebook Leading ads vs. Landing Pages, Facebook Leading Ads work so well because the customer doesn't have to leave Facebook to fill out the form. It's a near friction-less process.
Now Google offers something similar.
After clicking a call-to-action button on the Google ad, a lead form pops out, and users can quickly submit a form that is pre-populated with the contact information from their Google account.
This new lead form ad extension narrows the bridge between your business and your customer in a way we've never seen from Google Ads before.
Google Ads Update #4. A More Effective Google Ads Mobile App
If you're like the team at AdEspresso, you often work in different places (perhaps even different cities and states) and are answering messages on Slack or checking off tasks on Asana.
So it's no fun when part of your job requires you to sit down at a laptop or desktop to complete a task that you want to be done ASAP. It just slows you down.
An update to the Google ads mobile app helps keep you responsive to your ads' needs when you're on the go:
You can now create and edit responsive search ads right from your phone.
Previously, you could only pause and turn on ads through the app. This is an excellent feature for launching last-minute promotions and tinkering with running ads based on available data.
Google Ads Update #5. Maximize Conversion Value with Smart Bidding
You'll see a common theme in the updates covered in this resource: Google Ads is making things easier, more automated, less labor-intensive.
And that's at the heart of the new maximum conversion value smart bidding.
You give Google ads a budget, and Google ads will do its best to maximize your conversion value.
Google will go out and try to increase the total revenue – the total value of your campaigns. This could mean Google's strategy tells itself to go after a less expensive product or service in your catalog. If that's where Google sees the opportunity, that's where it will go.
That's the beauty of using Google algorithms to make decisions. It will find winners in unlikely spots.
We generally recommend this strategy for more established PPC campaigns that are bringing in a good number of conversions and aren't too budget-restricted. You want freedom and opportunity for this Smart Bidding strategy to really work.
For Smart Bidding to work, you need to be able to track revenue and conversions, which brings us to our next Google Ads update…
Google Ads Update #6. Easy Conversion Measurement Set-Up
A simple roll out but a much-needed one: now you can set up conversion tracking as you create a new campaign.
Tracking your conversions is a big deal. Unfortunately, the previous process wasn't intuitive or straightforward. Now, you can set up conversion tracking as you create a new campaign.
After you set up tracking, you'll get an email on how to complete the setup, and then you're good to start tracking conversions for your PPC campaign
Google Ads Update #7. User-Generated Images in Product Reviews
Buy anything on Amazon lately? (Stupid question, we know.)
If you're like most people, you go down to the reviews of the product and look not just at star ratings (as star ratings can be subjective and misleading) but also at the user photos. User photos give you a real-life snapshot of the product. It's often easier to see colors or the product to scale.
Google Reviews, in its own right, is a powerful social-proofing tool. And this past year, Google has made their reviews even more powerful.
Now you can put user-generated images from product reviews in your feed, allowing customers to have a deeper connection with the products you're selling.
Google Ads Update #8. Responsive Search Ads 
Traditional search ads work like this: you write a headline and a description to create an ad. One and done. But with a Responsive Search Ad, you are able to write up several options.
Here's what we recommend:
Add unique but relevant headlines and descriptions.
If you provide too many redundant headlines or descriptions, you're actually working against this update. This is because the redundancies restrict the system's ability to create new and unique ad combinations. We will cover some general guidelines below.
Take the existing content from your current text ads.
By reusing existing copy (that has proven effective), you are increasing the chances of your responsive ads performing well.
Add your high-volume keywords to your headlines.
If you're selling camping gear and mainly focusing on the high-volume keyword of [camping tents], then you'd want to put [camping tents] in your headline.
An Example of Responsive Ads Done Right
An Example of Responsive Ads Done Wrong:
Some general guidelines when making a Responsive Ad:
Provide between 8-10 headlines.
Provide at least five unique headlines (as in, don't repeat the same words or similar phrases).
Include a keyword in at least two headlines.
For your other three headlines, you can highlight the secondary and tertiary benefits of your product or service. You can cover shipping or return policies, and so on.
Provide at least two unique descriptions. Use the descriptions as a chance to be varied. You can talk about additional production or service information that isn't mentioned in your headlines.
Google Ads Update #9. Elevate Video Campaigns with New Extensions for YouTube Ads
YouTube has over 2 billion users worldwide. As a social media app, it's just behind Facebook and well ahead of sites like Instagram. As a video platform, it's unparalleled.
As such, it's a fertile ground for advertising, and Google unrolled an extension that helps capitalize on that audience.
Similar to the Lead Form Ad Extension we covered above, this Google update allows someone watching your video ad to interact with your business without leaving Youtube.
Here is how it works.
Your customer sees your ad, clicks on the CTA, and a drop-down menu appears with new actionable items. For example, the customer can get information on brick-and-mortar store locations or coupon codes.
Google Ads Update #10. Say Goodbye to Average Position
The Average Position metric is no more… and most Google advertisers are okay with that.
The truth is that Average Position was, at best, misunderstood and, at worst, pretty useless for most PPC campaigns.
Average Position always referred to where your ads appeared within the hierarchy of paid results from Google's search engine. What we mean is, just because you got an Average  Position of 1 in an audition, that was no guarantee your ad would be at the top of the SERP. It could be placed at the bottom of the SERP, as long as it's the first ad.
Now, Google recommends you use Google Analytics to monitor both top impression rate and absolute top impression rate.
Top impression rate  = Top impressions / Total impressions.
This metric tells you the percentage of your total impressions coming from the top of the SERP (above the organic results).
Absolute top impression rate = absolute top impressions / total impressions.
If you haven't already, review any Google Ads scripts that utilize average position.
Google Ads Update #11. Get Insight into Campaign Performance 
Analyzing fluctuating metrics is part of the job, but a new Google ad update is making it more manageable.
There is a limit to automation and AI learning (we think?). But this new Google ads update is working to make your life a little more efficient.
Now you can click on a metric and get suggested reasons why it may have changed (whether for the worse or, the better).
Google Insights gives you the most likely reasons why impression, click-through rates, cost changes (and more), have occurred.
Does it do your entire job for you? Not at all. But it points you in a possible direction, taking the first blunt of research off your plate.
Conclusion
Google Ads is a strong digital marketing and advertising platform (big shocker, we know). The updates we covered here (while not exhaustive) give you an idea of where Google is heading in the coming year.
Google thinks of the user but also thinks like a business, looking to increase its revenue. But by using the tools given in the update, you can adapt your strategies and improve your ROAS.
What do you think of all these updates? Did you start using AdWords Campaign Creation in AdEspresso yet? Leave a comment and let us know!
---
Google Ads Updates from Google Marketing Live 2019
We were there, and we can guarantee you that we did not expect all the Google Ads Updates revealed during Google Marketing Live 2019!
We're not even halfway through 2019 yet, but Google has already announced pretty much every critical update they will bring to the platform this year.
At the giant ads and marketing platform focused event, they not only spoke about privacy and the way forward for Google but announced 10 huge new features that are relevant to any marketer on the platform.
In this post, we will introduce them in order, based on how important they probably will be to an average Google Ads advertiser.
What we'll cover:
New Discovery Ads Format & Ads in the Google Discovery Feed
Gallery Ads Bring images to Search (But Only in The #1 Spot on Mobile)
Bumper Machine Automatically Creates 6-Second Video Ads Out of Longer Videos
Google Shopping Was Reinvented, And Showcase Ads Got Increased Reach
Joint Budgets With Retail Partners For Google Shopping Ads
Link to And Track Conversions In Apps With Deep Linking
New Smart Bidding Controls Finally Allow the Human Touch to Work Together With AI
Let's jump in.
New Discovery Ads Format & Ads in the Google Discovery Feed
Last year Google introduced the feed into its basic mobile app. Why? It was likely a tactical move trying to get a piece of the feed-based pattern of content consumption currently monopolized by Facebook.
For the first year, this feed didn't have any ads at all. But that has just changed with the announcement (and private beta initiation) of the "Discovery Ad" unit.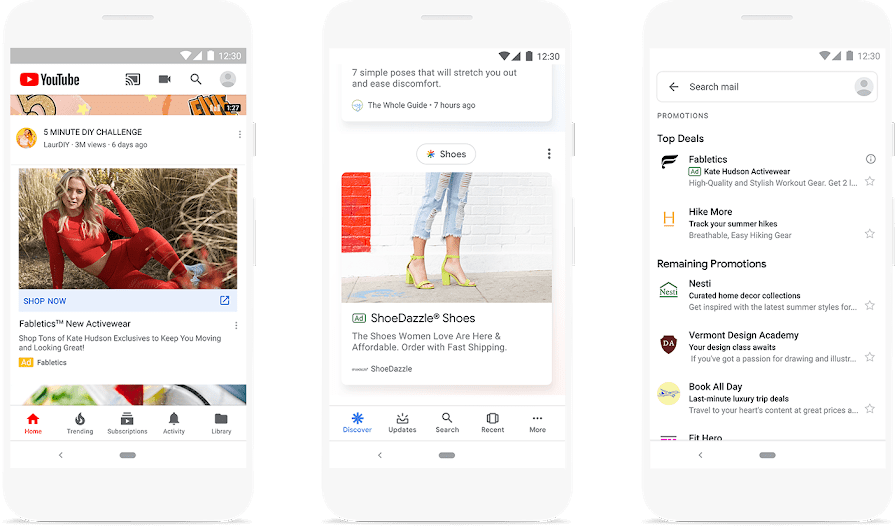 In the news release for the ad format, Google says they've developed it because 76% of consumers enjoy making unexpected discoveries when shopping.
According to Google:
Discovery ads are a new way to reach people across Google properties in the moments when they're open to discovering your products and services."
The new format is made up of 4 main elements, a large, high-quality image(Google will not accept stock photos, low-quality photos, watermarks or layover text), a 40 character headline, a 90-character description and a call to action button.
The format will use machine learning to mix and match the creative to the audience so you can enter up to 5 different images, headlines, and descriptions.
The ad unit is currently in private beta and will be released to advertisers at large later in 2019.
Gallery Ads Bring Images to Search (But Only for The #1 Spot on Mobile)
Since the first ad was introduced to the search results with Google Adwords, search ads have been text only. (Except for a small experiment with automakers back in 2016.)
But now it's finally time to roll out ads featuring visual creative in the search results for every advertiser.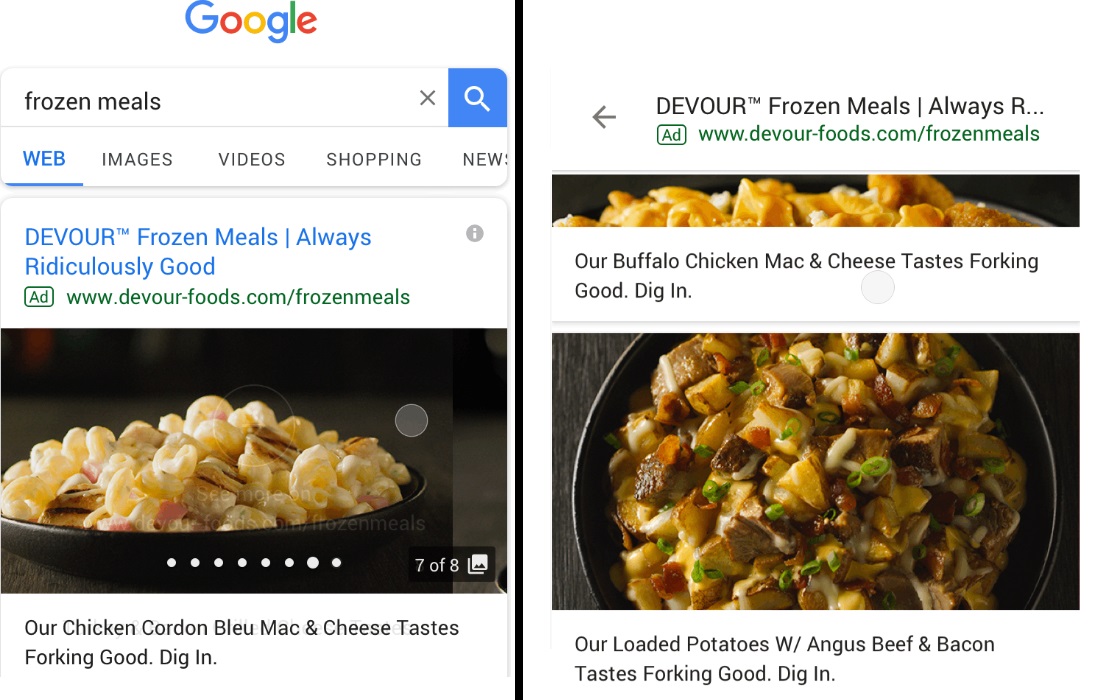 Not only will the ad feature an image and a swipeable gallery in the SERPs, but it also opens into a full-screen experience a la Facebook's Instant Experience ad unit.
Looks amazing, doesn't it? According to Google:
By combining search intent with a more interactive visual format, gallery ads make it easier for you to communicate what your brand has to offer."
This unit will undoubtedly be sought after in industries where visual communication is key. One small caveat is that the ad will only show on mobile for the #1 search result.
The new format includes 4 to 8 pictures (1.91 x 1 aspect ratio), 5 MB max size, a unique image tagline for each one of up to 70 characters, and 1-3 30 character headlines.
Bumper Machine Automatically Creates 6-Second Video Ads out of Longer Videos
Google has finally decided to use their machine learning expertise to venture into video. But instead of learning how to displace a face or voice, they've taught a machine how to make interesting 6-second video ads out of a single up to 90-second one.
Here's how Google describes it:
Bumper Machine relies on machine learning models that are trained to identify interesting, well-structured moments in a longer video, like those that contain product or brand information, human faces, motion or contrast. It organizes these moments and brings them together to generate several different six-second ad variations for you to pick from, all in a matter of minutes."
This is an example of a bumper ad created with the Bumper Machine:
And that's just one of multiple variations that the algorithm will have pumped out in minutes without human input.
After it is done with the cutting, you can finish up the video using some light editing features in-browser. You can change visual settings like saturation and colors as well as the soundtrack and other things.
Google Shopping was Reinvented, And Showcase Ads got Increased Reach
For the longest time, Google Shopping was just a way to search for (and market) products through the main Google search function.
No more.
Google has merged it with Google Express and created a completely new shopping experience with a homepage with personal recommendations as well as ads.
This year we're unveiling a redesigned Google Shopping experience with new, immersive ways for shoppers to discover and compare millions of products from thousands of stores. When they're ready to buy, they can choose to purchase online, in a nearby store and now directly on Google."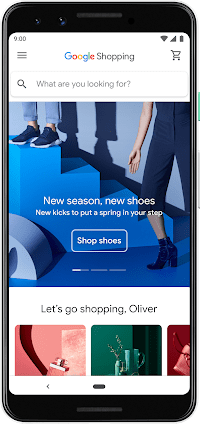 You can of course also search(after all, it is a Google product), and you will not only see aggregated ratings from all over the web but unboxing videos and even local stores that carry the product.
They also expanded the reach for their Showcase Shopping Ads, allowing placements in the Google Feed and YouTube.
If you haven't started with Shopping Ads yet, check out our guide which helps you go from A-Z.
Joint Budgets With Retail Partners for Google Shopping Ads
And more big Google Shopping news was announced.
In 2019, it's possible for brands to collaborate with retail partners inside the Google Ads platform directly. For example, if you've noticed problematic areas with a certain product launch not taking off, you can immediately contact your local partners and pump up their Google Shopping budgets.
As the retail partner, you get to select the ad groups, or even single products that the budget you allocate will be spent on.
This change means that you no longer have to do hefty long-term planning and lots of collaboration meetings just to make a local impact on a product launch or sale.
The beta is open to public applications, but not yet open to all Google Shopping advertisers.
Link To and Track Conversions in Apps with Deep Linking
App Deep Linking is finally supported at large in Google Ads campaigns.
Your app users will be taken directly from your Search, Display and Shopping ads directly to the relevant page in your mobile app if they have your app already installed. That means your customers will be able to complete their desired action—buy something, book a trip or order food delivery—in a way that's optimized for the destination that drives the highest value for your brand."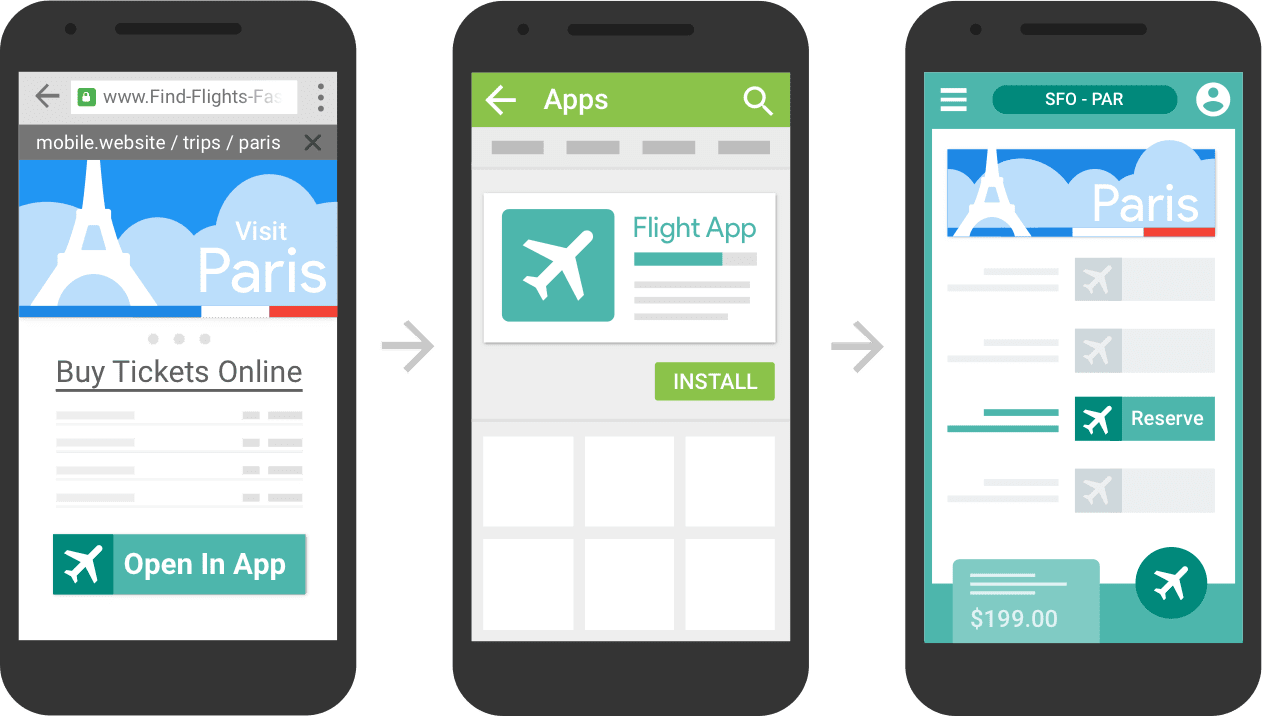 The links will be smart enough to only send users to the app if they already have it installed. The ads will support both Universal Links(iOS) and App Links(Android), and use the one that matches the user's phone and operating system.
And this won't only be relevant for direct sales either. You can prompt people to send seasonal greetings in an app, or run unique campaigns to bump up user engagement at critical times.
At the same time, Google Analytics for Firebase works with these links and will make it easy for you to track and share conversion data with Google Ads.
According to the press release, deep linking will be live to all advertisers "over the next few weeks".
New Smart Bidding Controls Finally Allow The Human Touch to Work With AI
There are three new upcoming smart bidding controls/tools which will let advertisers use their own expertise to help guide the smart-bidding algorithms.
This will lead to better performance during periods where historical data doesn't accurately forecast click and conversion rates, like an unprecedented sale.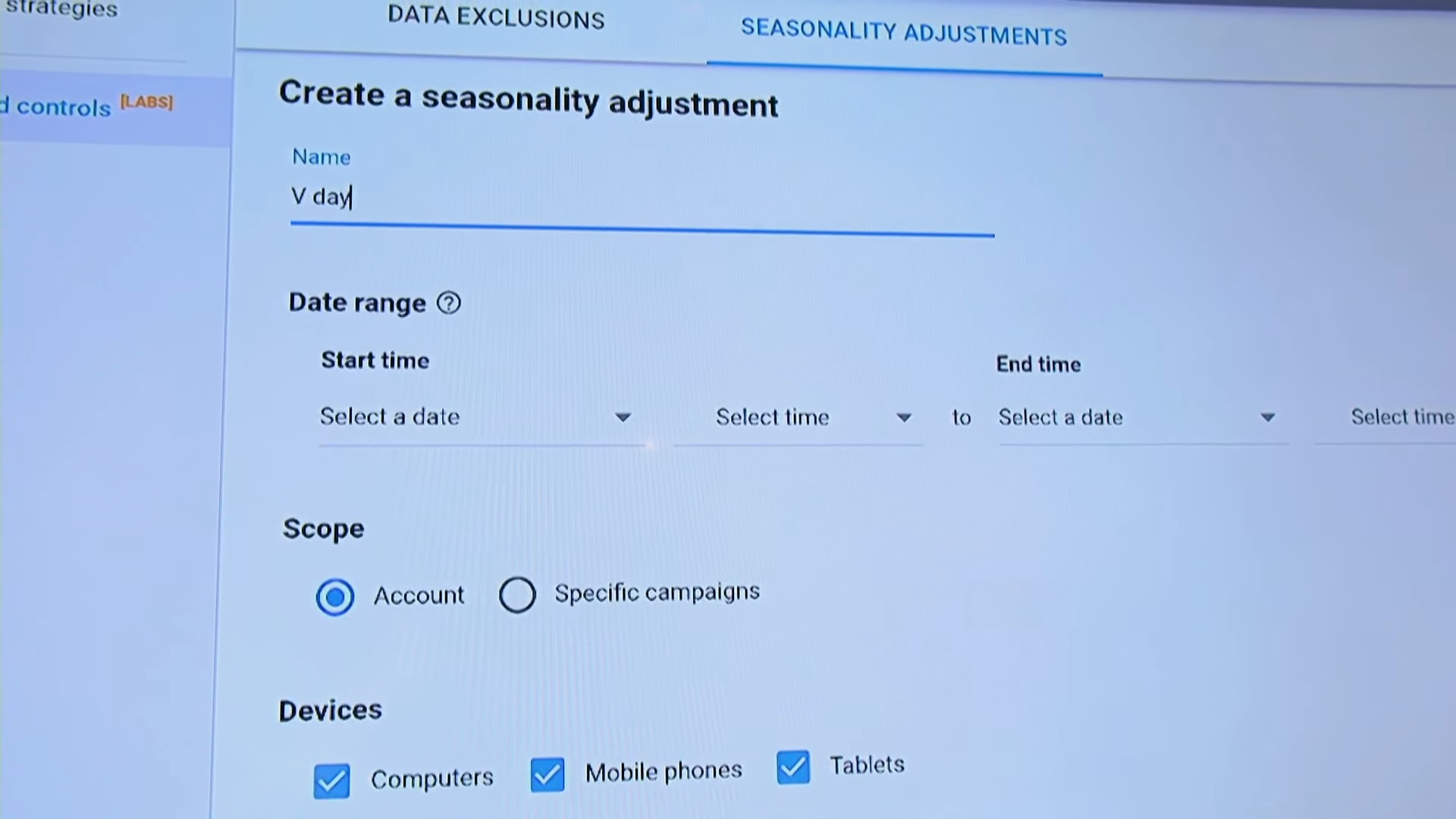 The most important new tool is the seasonality adjustment. It will allow advertisers to let the algorithm know when a sale or other notable event is coming up.
All you need to do is select a date range, the scope of the adjustment, and how much you estimate the CVR will be impacted by the change.
You can pinpoint what area of your campaigns will be affected, either selecting specific campaigns or even singling out devices.
This tool is great for retail advertisers who run a sale-heavy strategy, or smaller businesses that rely on pop-up shops and events.
The second tool is called "Data Exclusions."
From the very same tab as seasonality adjustments, you can choose past historic periods to exclude from the algorithm data. Again, you'd most likely use this tool to exclude data from sales and special events, to allow the algorithm to bid with a realistic conversion rate in mind.
These two tools will be available in the "Tools > Bid Strategies > Advanced" section after they go live.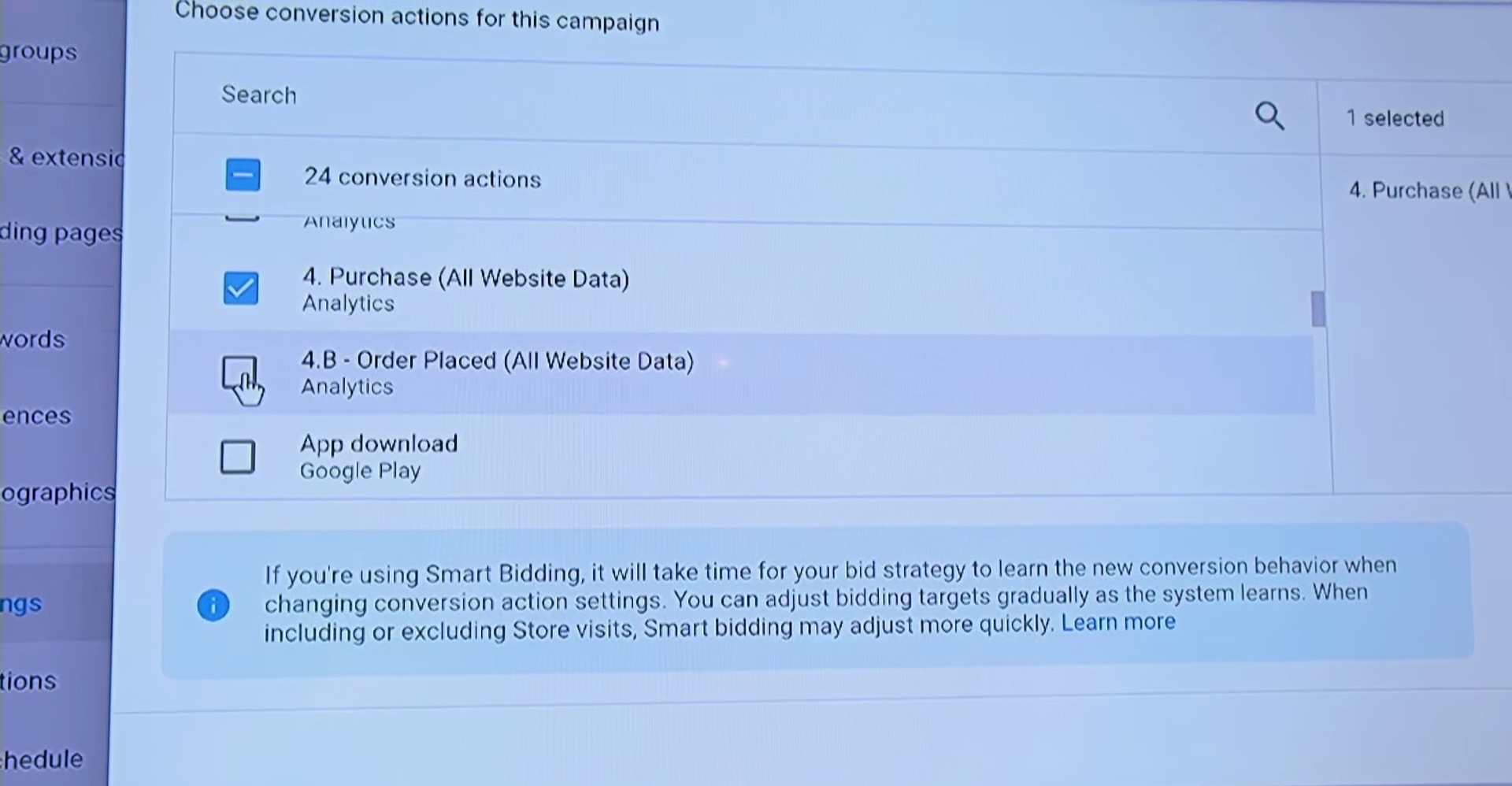 Finally, you will also be able to set Campaign Level Conversions.
For an advertiser that bids manually, it doesn't matter that the campaign counts every kind of conversion. In fact, you're probably happy that it does.
But when you're using smart bids, you might not want the algorithm to optimize for all of the different conversions, but just one.
In 2019, you will finally have the option to tell Google exactly which conversions you want to focus on for each campaign.
Local Campaigns Get Expanded Reach, Store Visit Conversions (and Will Be Rolled Out to Public in 2019)
Google also announced that local campaigns will get expanded reach, with ads now appearing in the Google Maps search suggestions (based on user's search history, keywords, and other signals), and while a user is using Google Maps for directions, traveling from one destination to another.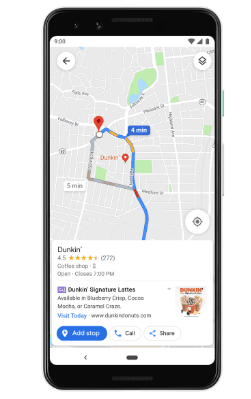 This update means that no longer do people have to search for keywords directly related to your business for you to pop up.
Your local ad can show up as a user that is highly likely to become a customer is traveling nearby, or looking for recommendations of things to do.
Wrapping it up
We saw some big Google Ads updates last year. And the trend doesn't seem to be stopping this year.
One thing was clear from the July 2018 branding shift and message change:
They want to make it easier than ever before to run ads and be successful with Google ads.
And they are delivering on that goal.
What do you think of all these changes and announcements? Did you start using AdWords Campaign Creation in AdEspresso yet? Leave us a comment and let us know!
---
Google Ads Updates You Can't Miss (March 2019)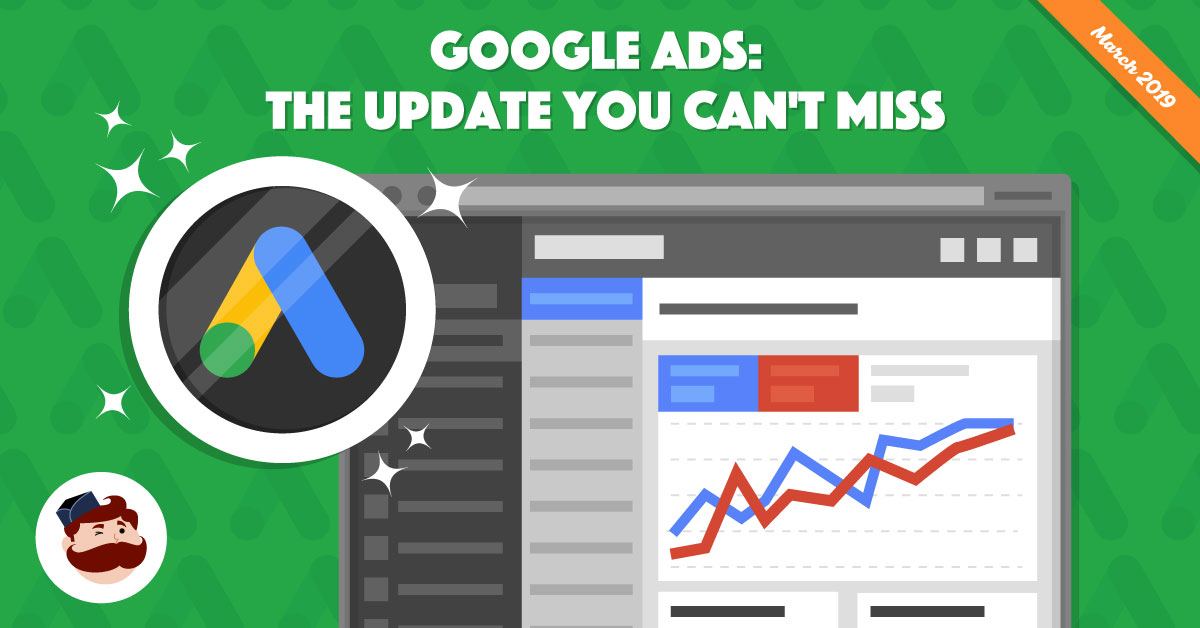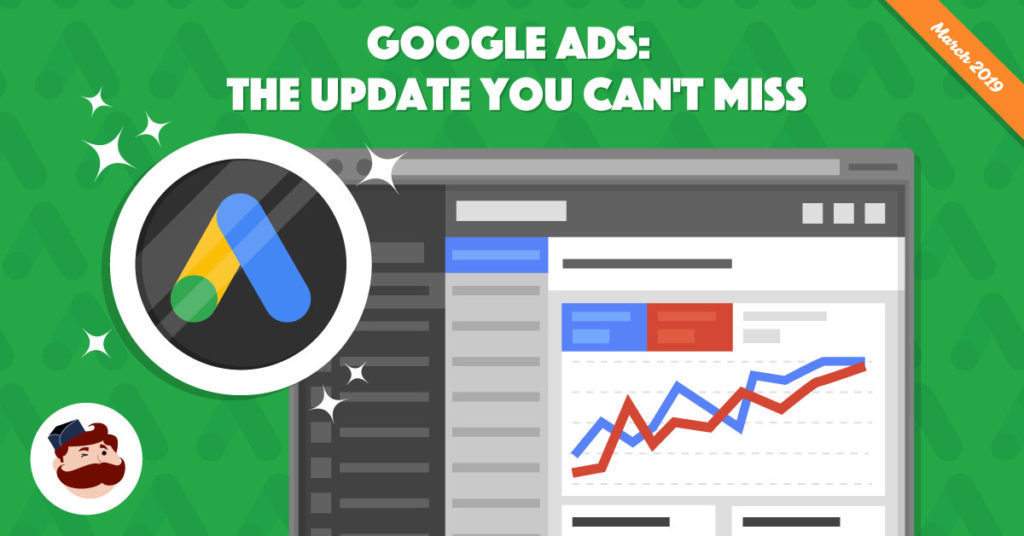 Even if we're only two months into 2019, we already have a bunch of cool Google Ads updates to unpack in this post. Our experts selected the top news on extension ads, TrueView, display ads, and much more.
Ready to dig in?
Here's a quick list of what we'll cover:
Click share coming to the search network
New CTA extension for video ads
Pay for conversions display bidding type
New audience expansion settings for display campaigns
Optimization score improvements
Smart Bidding for TrueView
Mobile page speed updates to landing pages tab
Pre-defined reporting updates
Three new responsive display ad updates
Expanded call-only ad text
Let's dive in.
Google's Click Share Enters the Search Network
Click share is defined as:
The estimated share of all achievable clicks that you have received. For example, if you received 60 clicks, and your click share is 60%, then it's estimated that there were another 40 clicks that you could have received if you had more extensions, higher bids, higher budgets or, in the case of Shopping campaigns, if you showed more products for search queries. "
To keep it simple:
Click share is a metric that will be available for your campaigns in the next few days (if you don't have it yet), it gives you insight into the opportunity you have to capture more clicks for a given campaign.
This metric will be available for search campaigns under:
Keywords
Ad groups
campaigns
So, what's the difference between click share and click-through rates? Aren't they essentially the same thing? Not really. While small in difference, CTR is the % of clicks you drive upon ad impressions. Click share is about the potential your ad has to drive clicks.
While click share has been on the Shopping network for four years, it's finally coming to the search network! Still in beta testing, according to Google, it will be rolling out over the course of the next few weeks to months.
So, how do you capitalize on this metric and increase your click share?
First, this starts with impression share. You want to maximize the ad positions you currently hold to improve your impressions. This means potentially bidding more, optimizing for a higher quality score, and generally looking to improve your ad position to the top page.
Then, start to beef up your ads using targeted ad extensions, like this:
Not like this: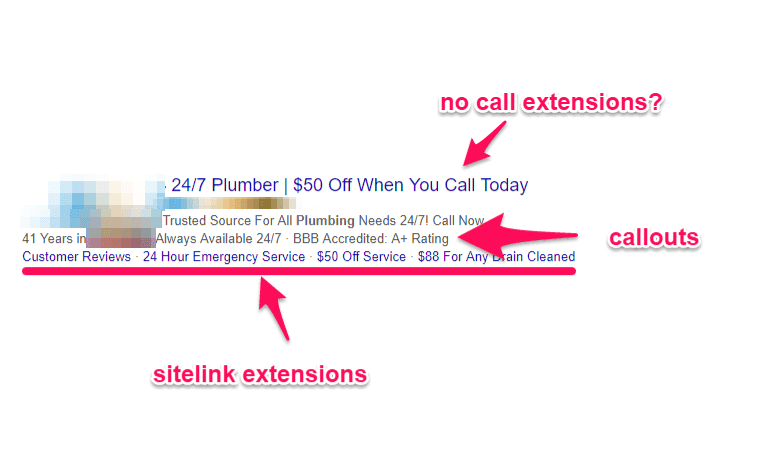 This will help you appeal to a wider array of search intent for the same keyword, improving your chances of driving clicks and therefore improving your click share!
Stay tuned for more details on click share in the coming weeks.
Video Ads Get a New CTA Extension
Video advertising on Google has been all of the rage as of late. Google is continually pushing video advertising as a better way to reach your audience and build your brand.
With that being said, it's no surprise to see more video ad updates.
Just recently, Google added call to action extensions on TrueView advertising for YouTube: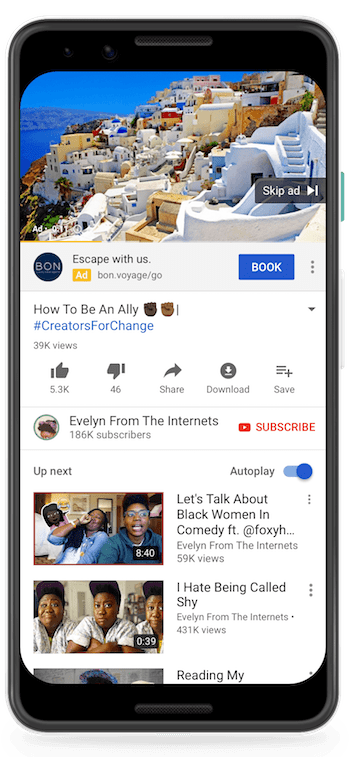 Now, instead of forcing users to watch the entire ad to see a call to action screen, the call to action "book" button displays throughout the entire ad, improving both the user experience and advertising potential.
It's now easier than ever before to generate opt-ins and sales with this new addition.
Have you started advertising on TrueView? If not, check out our guide to get started today.
Pay for Conversions Display Bidding
Bidding types are constantly being tweaked and expanded on Google Ads, giving advertisers more efficient methods for maximizing their ad spend.
Why?
If advertisers don't find success on Google Ads, they won't come back. And Google Ads drives massive revenue every year.
So, what's new? If you are advertising on the display network, you can now use "Pay for conversions" bidding: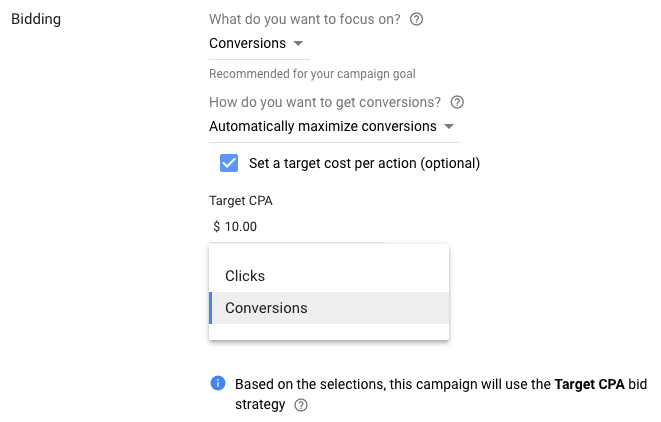 This bid type means that you only spend money when someone converts on your ad. For instance, if they fill out a form, call you, or download your mobile app. But if they click and bounce, you don't pay!
When adjusting your bidding types on the display network, be sure to select "Target CPA" as your bidding type, and then "Conversions" as your sub-type.
Audience Expansion Setting for Display Network
According to Google data, most advertisers on the display network tend to increase their budgets towards the end of the month.
In other words, display advertisers are looking to boost their numbers quickly. But this often backfires:
It requires them to increase their bids and spend more for conversions, which produce a lower return on investment.
To combat this, Google Ads has released an audience expansion setting for display ads:

The tool works with Google's machine learning. By analyzing similar audiences to your existing campaigns, Google expands your reach to increase overall volume of clicks, impressions, and conversions, without forcing you to raise bids on existing campaigns.
Pretty cool, right?
If you are on the display network and want to expand your reach, this is a fantastic tool. Combined with remarketing and you've got a deadly new tool for audience expansion.
Optimization Score Improvements
The optimization score was added to Google Ads dashboards during the shift from AdWords to Google Ads. The optimization score can be found directly on your dashboard recommendations page: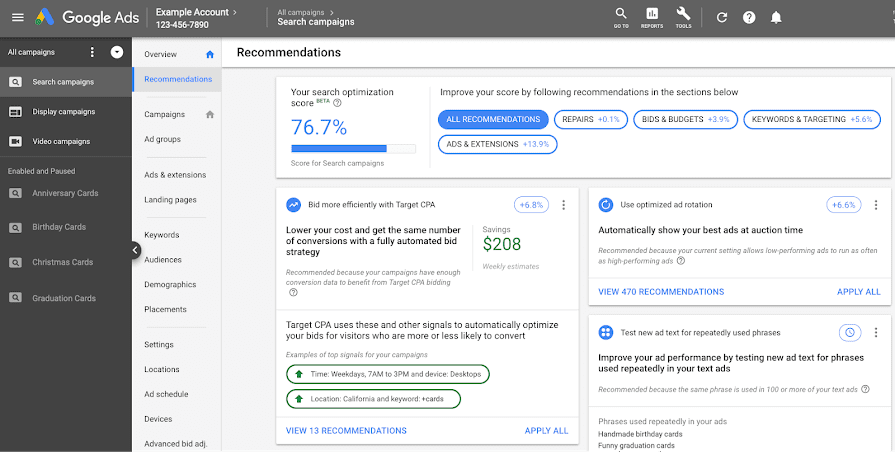 So, what exactly is it?
Optimization score is a percentage based score from 0-100 that gives you an idea of how well your account is optimized. Essentially, Google looks at what factors, extensions, and tactics you are using to see if you are taking advantage of all the features it has to offer.
Be sure to head into your Google Ads dashboard and take a look at your optimization score, you might find new ways to improve your ad performance and decrease ad spend.
If you've already maxed it out, give yourself a big pat on the back!
Google has made it clear that they are continually improving this feature, so stay tuned.
Smart Bidding for Google TrueView Ads
Google TrueView, when first launched, lacked a depth of options for customization. It fell short in comparison to search network features.
But now, TrueView has added maximize conversions, a smart bidding strategy that uses machine learning to focus on generating the most sales for your business possible in a given budget.
If you are advertising on TrueView, this feature is now available for your next campaign!
Updates to Landing Pages Report Metrics
The landing pages report was a game changer when Google introduced it:

It showcased amazing metrics to give you data and insight into how your landing pages perform for given keywords and campaigns.
And now, we've got a few key updates to mobile speed score, a metric introduced back in July of 2018.
Here is what Google said about mobile page speed score:
We've recently updated the mobile speed score algorithm to require fewer ad clicks in order to calculate a score. This means you'll now see a speed score for more of your pages. Evaluated on a 10-point scale, 1 being very slow and 10 being extremely fast, the mobile speed score is based on a number of factors, including page speed and potential conversion rate."
Want to improve your mobile page speed score?
Use Google's new and improved Test My Site tool: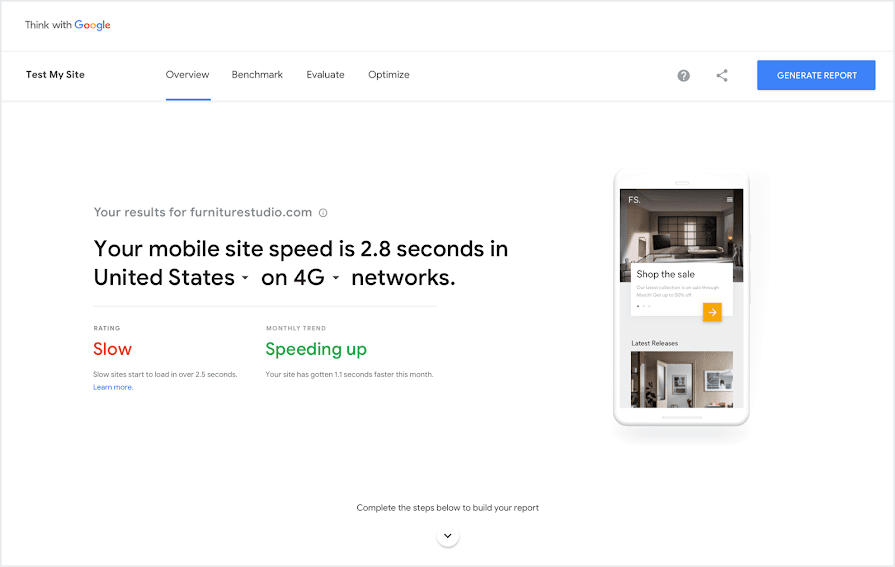 With new updates, you can:
Get data on your current mobile site speed
Track progress by running updates each month to see how you have improved
Compare your stats to industry benchmarks
Estimate how speed is hurting your conversions
Pre-Defined Reporting Updates (and Chart Updates)
Pre-defined reports have been available in Google Ads for some time now. Normally accessed by the reporting button on your dashboard…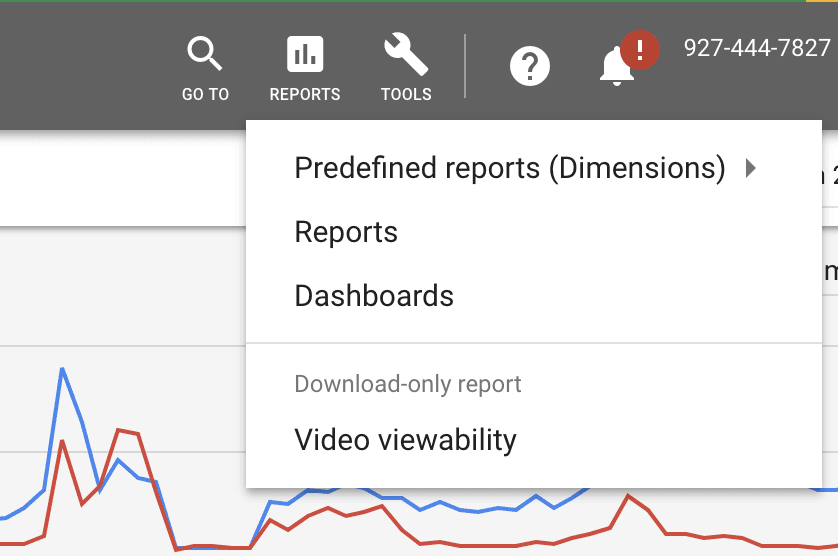 …these reports have been a staple in analyzing progress and success.
But, typically these reports require you to leave what you are doing on Google Ads. Bringing you to a new tab, it is often a poor user experience.
Now, Google has updated the reporting locations to be available directly on ad group and campaign data: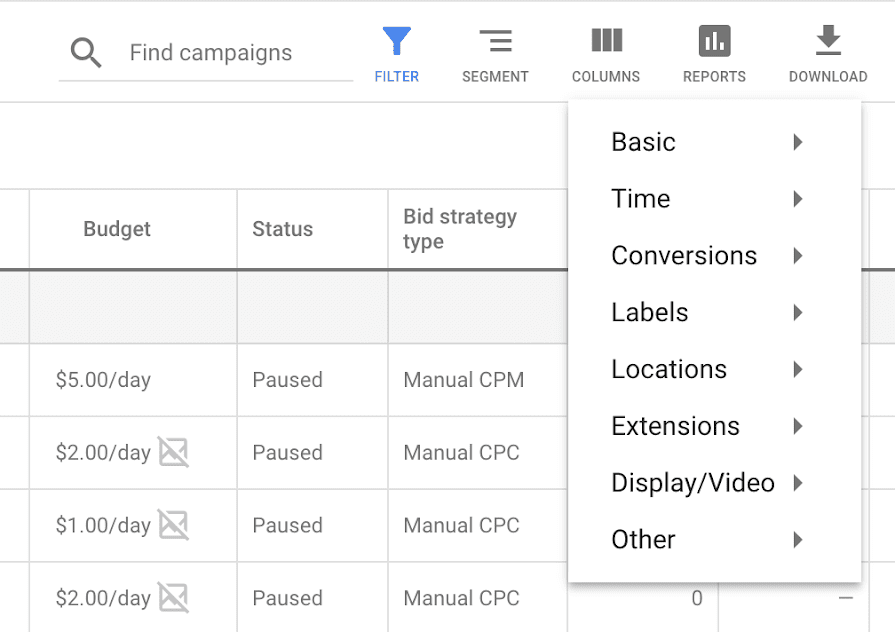 When analyzing an ad group, you can pull up reports directly on those metrics! Finally, some better reporting in Google Ads.
On top of this, Google Ads added two new chart types in the reporting editor:
Stacked Bar Chart
Bubble Chart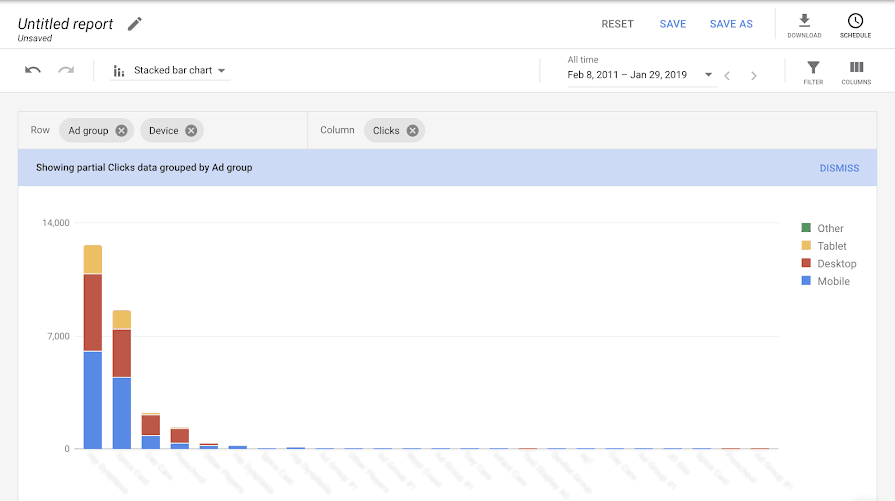 These new chart types are available now for all advertisers.
Three New Responsive Display Ad Updates
Display ads just received a massive update in February, including three new features to responsive campaigns.
Let's dive into each.
Video assets
60% of online shoppers state that video has been a critical driver in their desire to purchase. And with that, Google has buffed responsive display ads to allow advertisers to include "video assets" up to thirty seconds in length: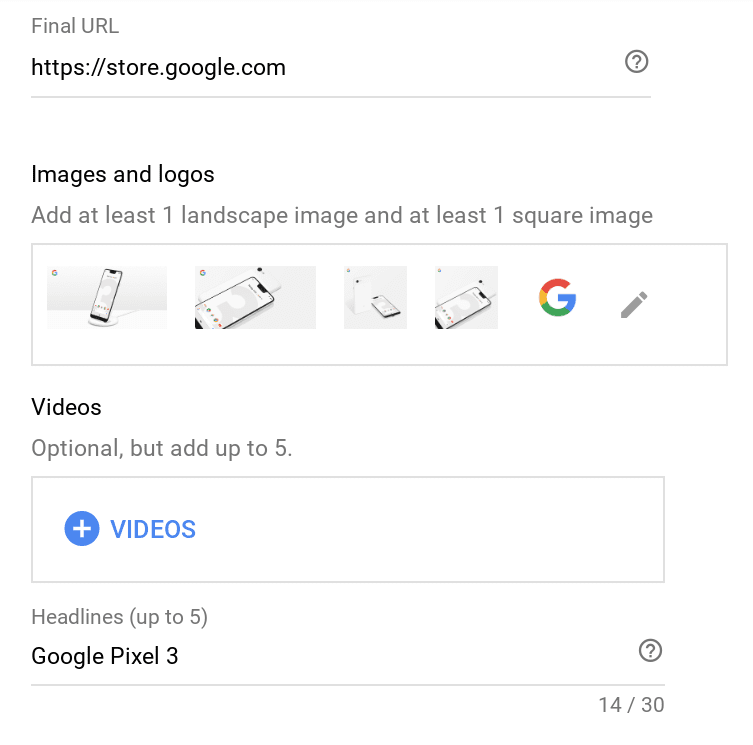 Connecting to YouTube, you can select videos directly from your company page and use them on your ads to improve impressions, clicks, and sales.
Combinations reporting page
Responsive and smart display ads work by letting Google generate combinations of ad copy and images you provide. As Google learns more about your ads and engagement, they adjust the copy and image selection to improve results.
Now, you can see all of this data right on your dashboard in the responsive display ad combinations report: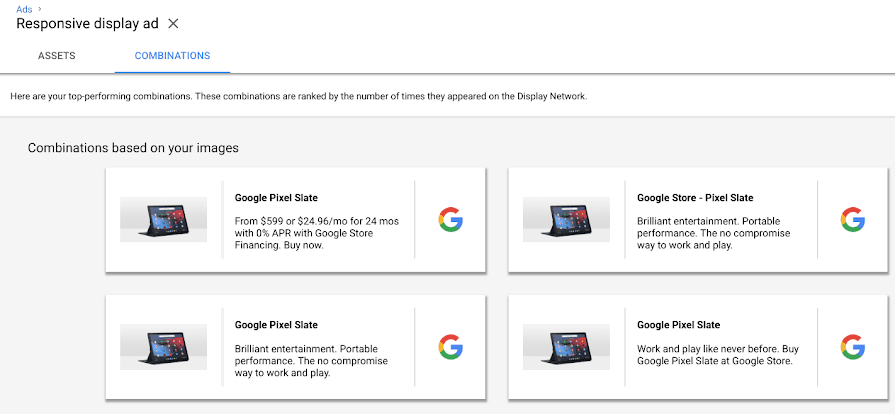 No more flying blind and wondering what combinations work and don't.
Display ad strength
The ad strength tool was announced a few months back for responsive campaigns, meant to improve performance and optimization to your audience.
For display advertisers, you can now access this tool as well: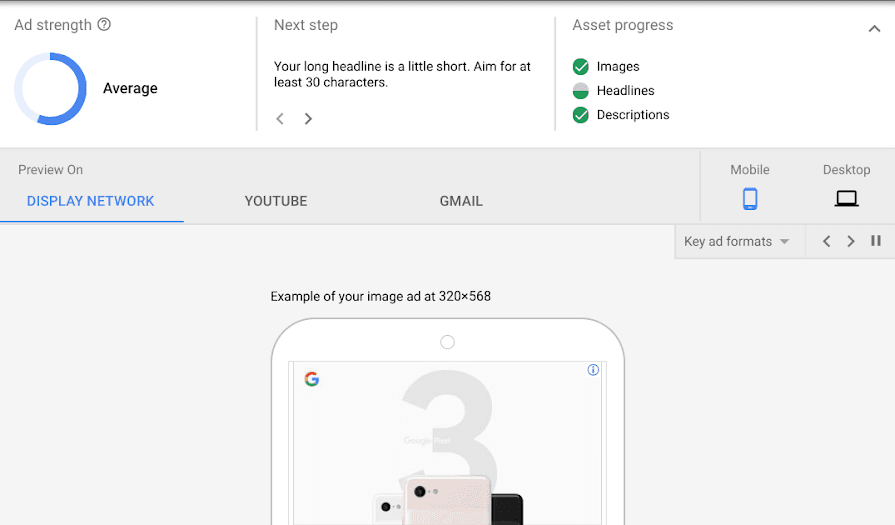 Use it to improve your headlines, descriptions, and images. Google will give you feedback on your current strength and areas to improve, too.
Expanded Call-Only Ad Text
There is no doubt about the power of call-only ads to drive instant traffic to your business.
But since their launch, they had one fatal flaw: almost no text space to convince someone to dial the phone.
With new updates, advertisers now have the option to include two headlines, each containing 30 characters, as well as a description line increase to 90 characters: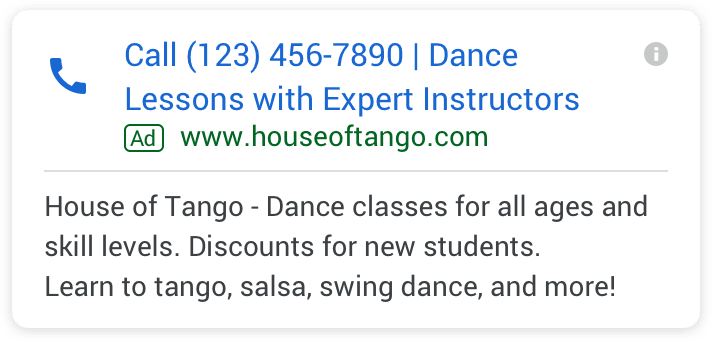 Character increases will help you include more compelling ad copy in your ads. Since call-only ads lack detailed extensions, this is a huge move to boost your call rates.
And that's all folks! Stay tuned for more Google Ads updates as they come in.
Did you start using AdWords Campaign Creation in AdEspresso yet? What do you think? Leave us a comment and let us know!
---
Google Ads Updates You Can't Miss (November 2018)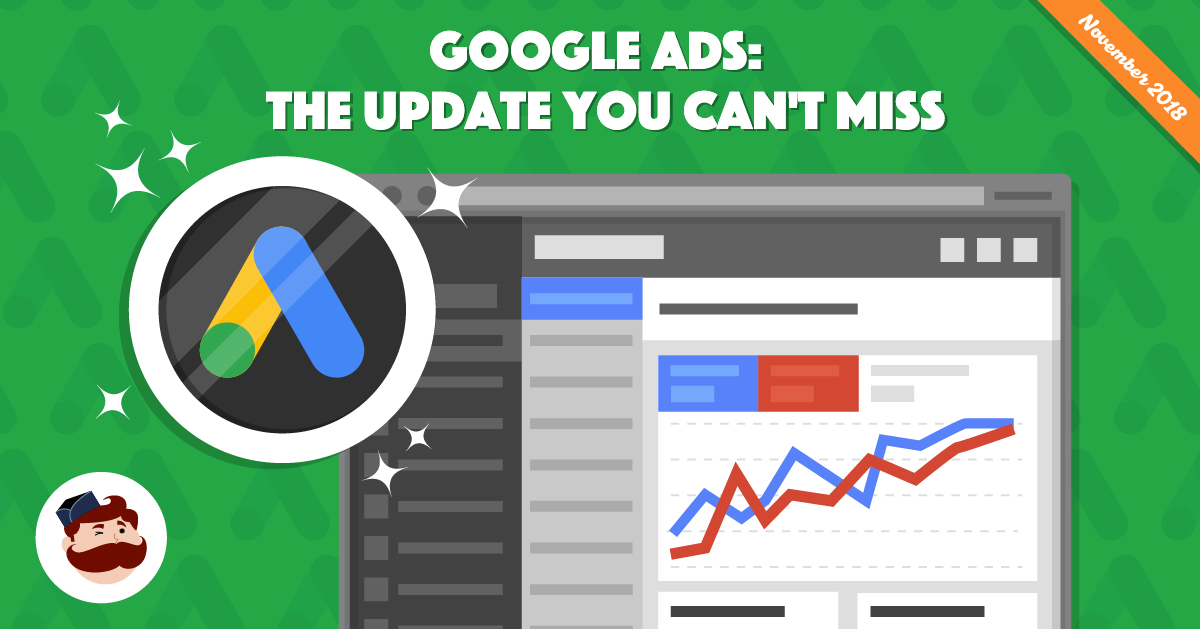 Too many advertisers have tried and failed with Google Ads because it's often too complex (or too time-consuming to learn). But as Google Ads grows and expands, they are delivering on that promise. And this month's updates prove it.
This month we have new Google ads updates on search metrics, Google Sheets, goal-based campaigns, TrueView, bidding types, Ad Pod testing, and call/message reporting.
Ready to dig in?
November has been a wild month for Google Ads updates. We have a bunch of different updates to unpack in this post.
From new advertising metrics to TrueView and Google Sheets, November was a month of critical Google Ads updates.
Here's a quick list of what we'll cover:
Four new search ad position metrics
Google Sheets integration updates
New goal-based campaign workflow
TrueView beta closes, open to all advertisers
New Target Impression Share bidding type
Video ad sequencing
Ad Pod testing for YouTube Ads
Call and Message Reporting Updates
Let's discover them in details.
New Search Ad Position Metrics
On November 6th, Google announced four new metrics to help advertisers understand their search position for a given ad on the search network.
For instance, what place they show up in on a given keyword search: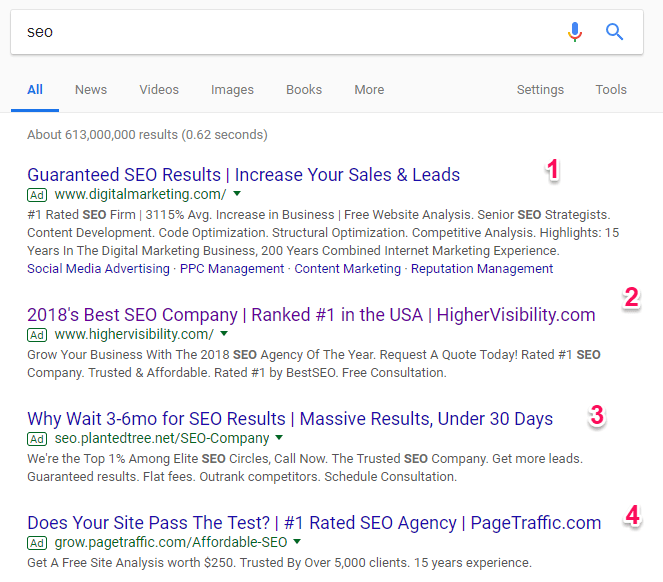 Don't they already have "position" as an ad metric? Sort of. Before this update, the sole metric for gauging position was:
"Avg. Position."
This would only tell you a given average of where your ads were showing.
And if we remember anything from math class in middle school, it's that averages can be very misleading.
I.e, one ad ranks first and another ranks 10th, giving you an average position of 5.5. Misleading much?
Now, Google Ads has four new position metrics to help you better gauge performance:
Impressions (Absolute Top) %: Percentage of your ad impressions that are ranking as the first ad position on a search results page.
Impression (Top) %: Percentage of your impressions that are top of the search results page, I.e, positions 1-4.
Search (Absolute Top) IS: Impressions received from the absolute top ad position divided by the estimated number of impressions you were eligible to get in the top ranking spot.
Search (Top) IS: Impressions received from top four positions compared to the estimated number of impressions you were eligible to get from the top ranking spot.
Confused? This image from Google clears it right up: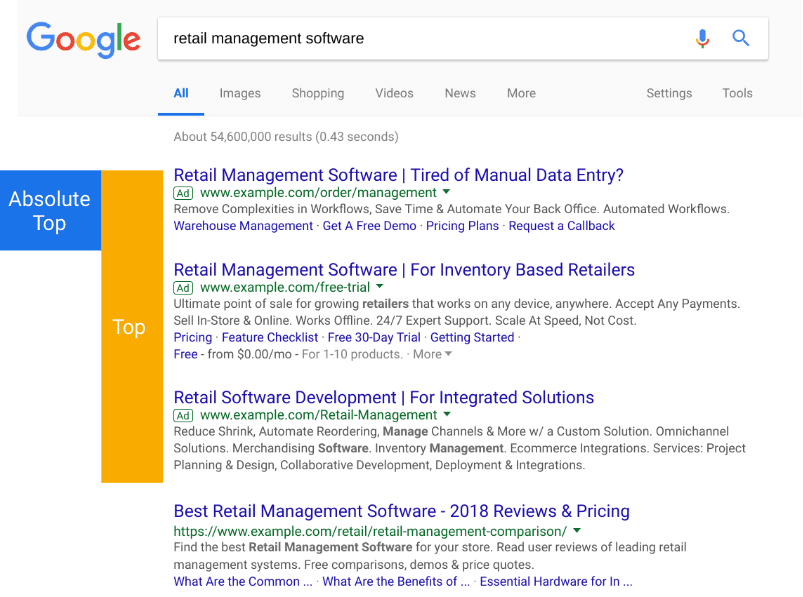 Use these new metrics to identify where your impressions are the majority of time to see where you can improve.
Google Sheets Integration Updates
In July of 2018, Google Ads announced the integration of Google Sheets for Google Ads: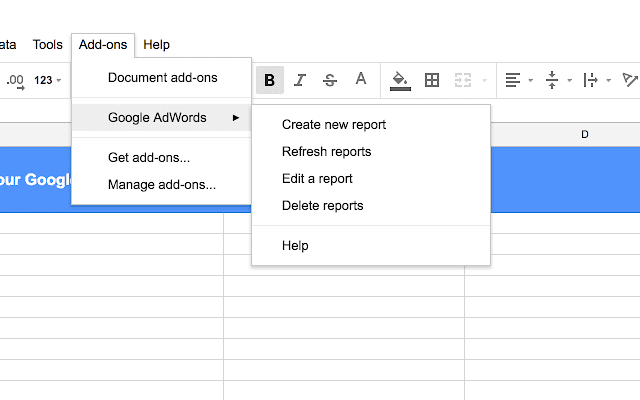 Since its inception, Google Sheets has been buffed and given some more reporting features.
Thank. Goodness.
Now via the Google Sheet add-on, you can launch the following report types (in addition to pre-existing types):
Display network keywords
Video Keywords
Device reporting
Landing Page reports
Advanced bid adjustment reporting
All of these are now directly available with the Google Sheets plugin, which you can download here.
New Goal-Based Campaign Workflows
Traditionally, when creating campaigns on Google Ads, you'd follow the basic format of:
Create a campaign
Choose an advertising network: search network, display, etc
Choose a type: clicks, calls, etc.
Now, Google is flipping the script with goal-based campaign workflows.
As of November 8th, you can now create goal-driven campaigns on Google Ads from the campaign setup menu.
First, you select the campaign goal that you want to achieve, like sales, leads, website traffic, product and branding, brand awareness, app promotion, or no goal.

Then, Google suggests the best possible campaign type for you from the traditional three selections:

Previously, you'd select the campaign type (Search, Display, or Shopping) first.
This is a great step forward to making the platform optimized and more user-friendly.
Give it a shot today when you fire up your next campaign!
TrueView Beta Ends! Open to Public
In April, Google announced TrueView for reach, but it was in beta testing and wasn't available for all Google Ads advertisers.
TrueView Reach combined the TrueView in-stream ad format with impression bidding, a great way to produce brand awareness campaigns.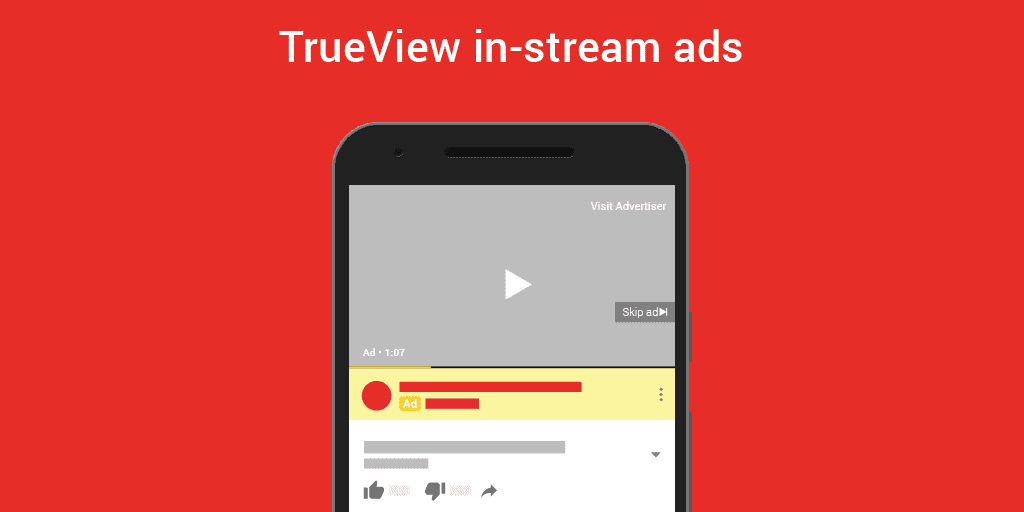 And now, it's available for all advertisers on Google!
In the beta test, Google found some amazing results, too:
90% of TrueView ads create "significant" brand awareness ad recall
Phillips generated a 24% increase in product sales by using TrueView
Fanta increase brand awareness via brand searches by 223% using TrueView
TrueView for reach is a powerhouse of brand awareness, and now it's available for anyone.
New Target Impression Share Bid Type
There are a dozen different bid types and strategies to pick from.
And Google just added another variant to the mix:
Target Impression Share.
Target impression share allows you to customize the impression threshold that you want to hit for a specific ad.
For instance, if you are bidding on a branded term, like AdEspresso, AdEspresso would want to set the Target Impression Share bid to 100%, ensuring that their ads always show for "AdEspresso" keyword searches.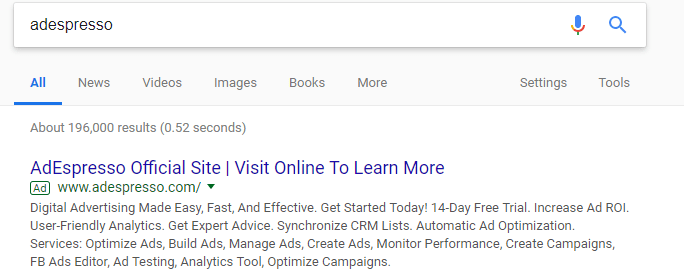 This new bidding type (a SMART bidding method) is best reserved for brand awareness goals.
Are you running any branded campaigns on Google Ads? Start utilizing this today.
Video Ad Sequencing Available for All Advertisers
At the beginning of 2018, Google announced Video Ad Sequencing.
This tool was designed to break up your video advertising into multiple sequences, or steps that users would take at different stages.
For instance, first seeing an ad in the YouTube search results…

And then seeing a follow up via in-stream ads: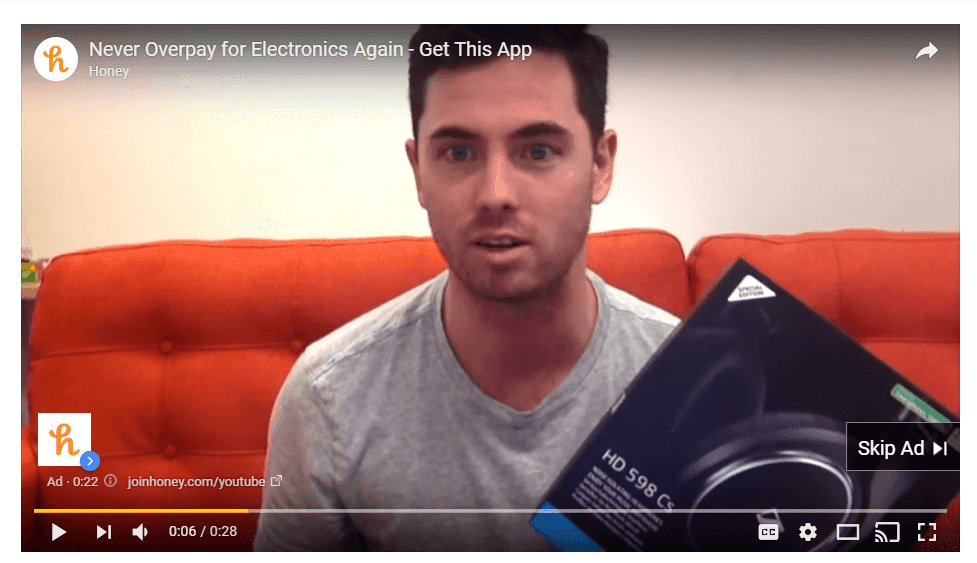 Video sequencing allows you to create stories and brand videos that are more than a one-off ad that people ignore.
And thankfully, beta testing is over.
Follow Google's guide here to get started on video ad sequencing.
Ad Pod Testing For YouTube Ads
Ad Pods are common on many platforms where you can engage with content.
For example, places like Pandora (for music) or Hulu (for TV).
Ad Pods are essentially viewing multiple sets of ads before consuming the content, and then your content becomes "ad free" during the actual content.
This works to keep the viewers around for the whole video without annoying them abruptly with ads during their video.
And Google is now bringing this testing to YouTube ads!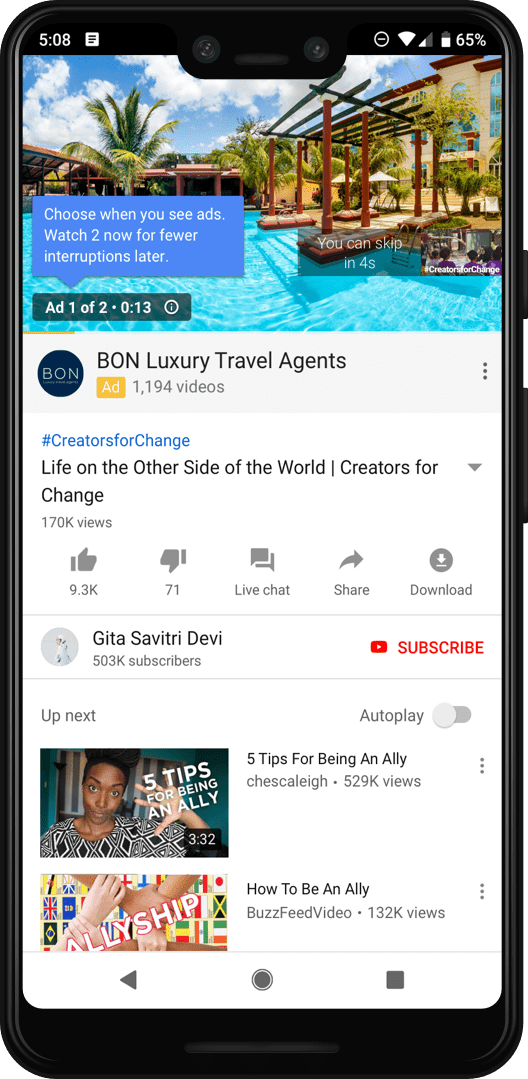 According to their recent research, ads throughout a YouTube video disrupt viewing experiences and leave users frustrated, rarely engaging with the ad.
To combat this, Google is rolling out ad pod testing.
While this isn't available for every advertiser just yet, we'll keep you posted!
Call and Message Reporting Updates
Call and message-based ads on Google are immensely popular.
Ad types like "click-to-call" and "click-to-message."
And now, advertisers can locate reporting data on these extensions within the main extensions tab on their dashboard: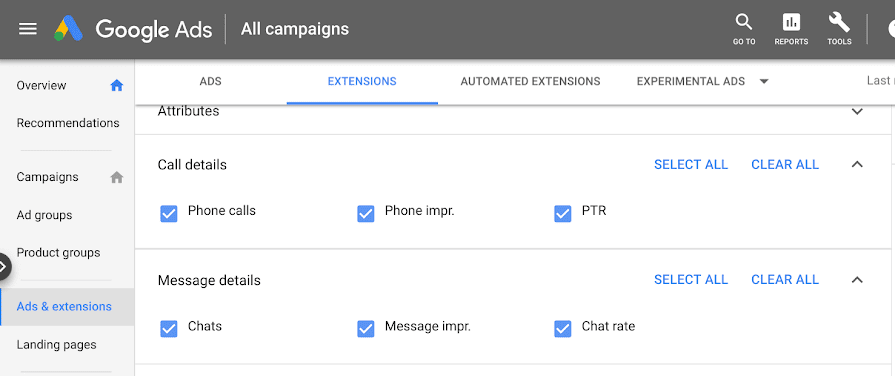 On the dashboard, you can now customize your metrics!
If you are a big user of these mobile-friendly ad types, you'll love the new reporting access.
Check it out today on your ads and extensions tab.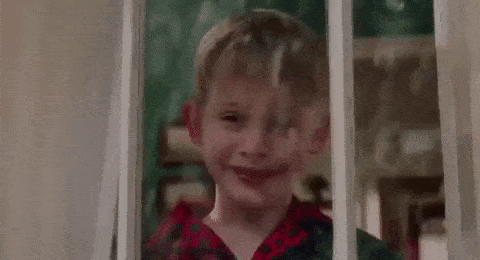 And That's all folks! Stay tuned for more Google Ads updates as they come in. See you in 2019!
Did you start using AdWords Campaign Creation in AdEspresso yet? What do you think? Leave us a comment and let us know!
---
Google Ads Updates You Can't Miss (October 2018)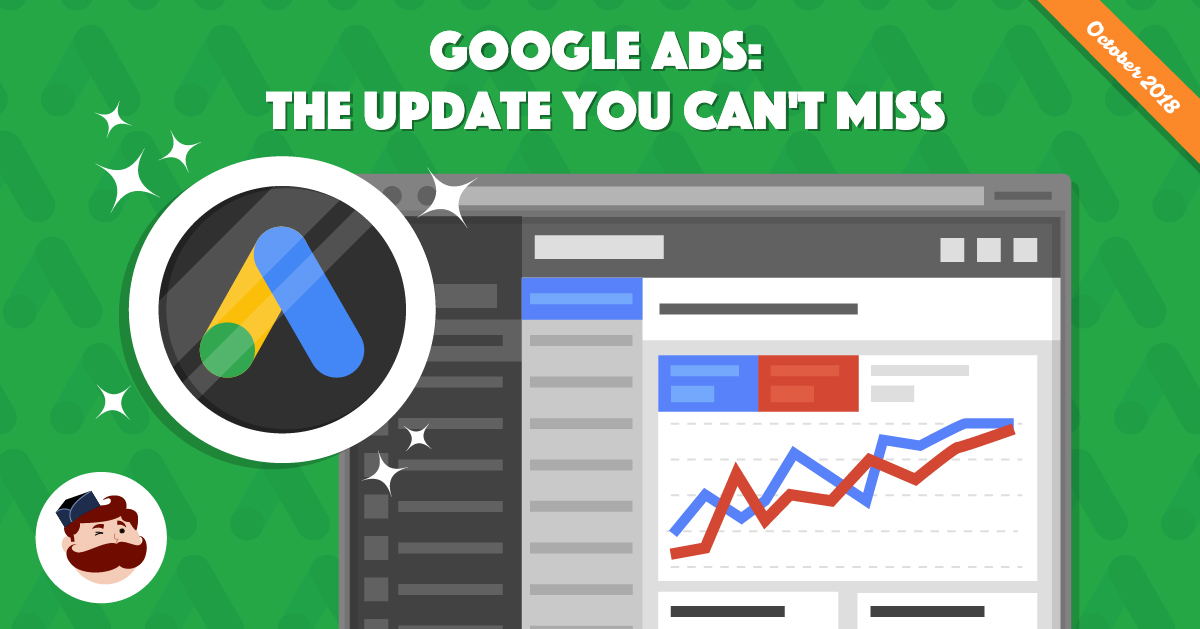 In the past few weeks, we've seen major changes to Google TrueView in the form of ad extensions, giving advertisers even more diverse options to improve their TrueView ads.
Beyond that, Google delivered three new major updates to Google Ads that are sure to improve your performance: Ad strength, Google Hotel Ads, and New Google Shopping features.
With the new additions, advertisers can effectively evaluate the relevance and likelihood of success of any search network ad they write. With new hotel ads, you can now access them directly on the Google Ads dashboard, giving a more seamless integration experience. For Google Shopping, advertisers have access to two new game-changing features to produce more sales.
Here's a quick list of the latest Google Ads updates we're going to cover:
Google "Ad Strength"
Google Hotel Ads
New Google Ads Shopping Feature
Let's explore each of these big updates and how to access them!
Create and Optimize Ads At Scale With Google Ad Strength
"Ad strength" is a machine learning tool that promises an average of 15% more clicks on paid search network ads.
Creating ads sucks, but machine learning can help it suck a little less.
So, what is it? Ad Strength is a new machine learning feature that you will see when creating new ads using the "responsive search ad" type: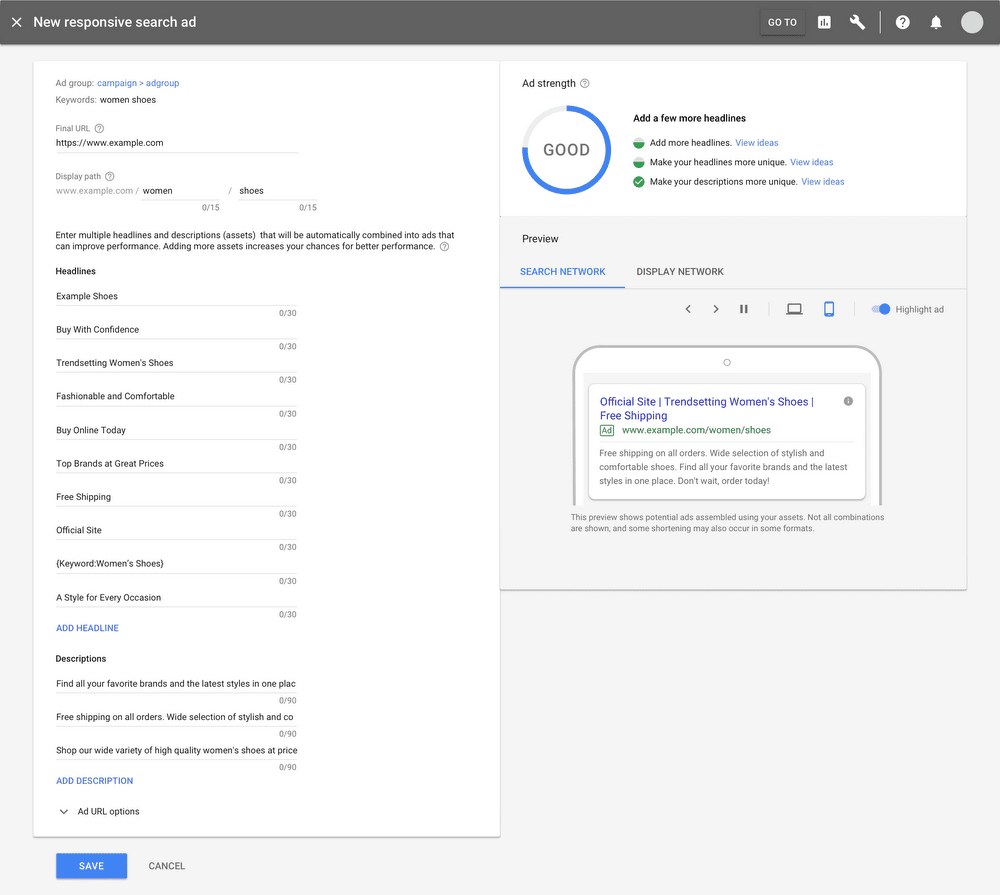 In the top right corner, you'll notice the new ad strength board.

Using machine learning and performance metrics, Google will help you crank out better ads by adjusting headlines and descriptions for searchers.
Best practices: when using responsive search ads and the ad strength tool, it's critical to provide as many alternate headlines and descriptions as possible. This gives Google more data to work with when analyzing and adjusting your ads for optimal success.
If you don't see this in your dashboard yet, all advertisers will have access by early September.
Ready to put your ad writing on autopilot? Start using responsive search ads and Ad strength to do it.
Google Hotel Ads Directly on Google Ads Dashboard!
In 2010, Google started their move into the hotel space.
First, they focused on getting detailed hotel information into Google Maps, like pricing per night and availability.
Since that move, Google has exploded the hotel booking game with over 150 countries and intense data right at your fingertips.
However, creating Google hotel ads used to be a nightmare. You needed an entirely separate platform to do it.
But now, Google is rolling out Google Hotel Ads right within the Google Ads Dashboard!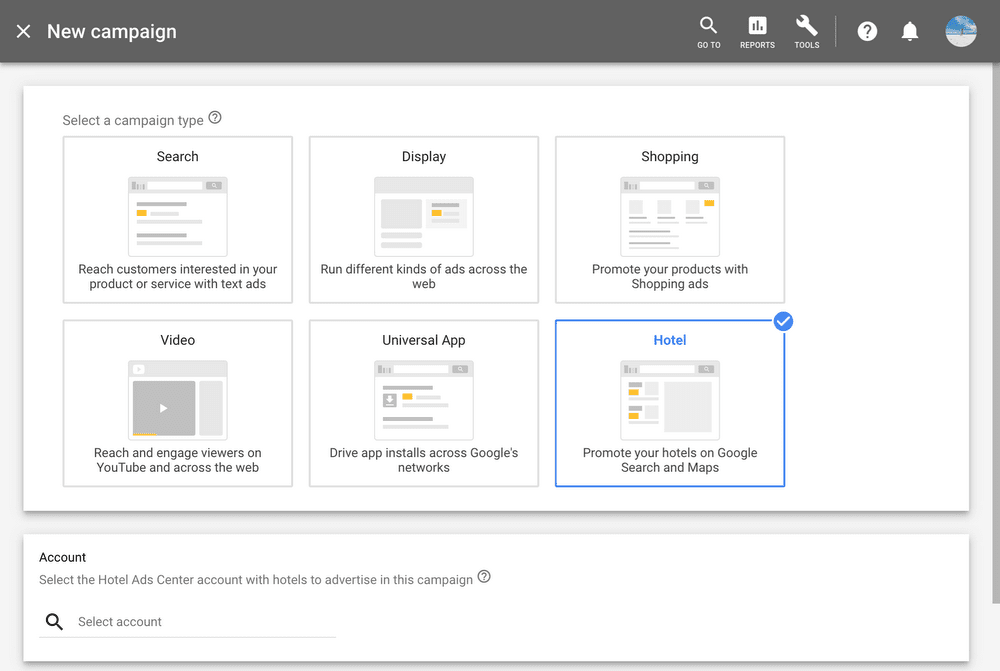 Hotel advertisers can now promote their hotel on Google search results and Google Maps directly in Google Ads.
With features like brand, class, and diverse bidding options, you have all of the same customizations you had before.
Currently in Beta Testing, Hotel Ads might not show up in your dashboard unless you're one of the lucky few.
Until then, stay tuned for more updates on Hotel Ads within Google Ads and how to take advantage of it.
Google Ads Shopping Feature Updates: Showcase and Shoppable Images
Google is making moves in the shopping arena, and for good reason:
Shoppers are becoming increasingly receptive to ads as a path to purchase.
In fact, data shows that 61% of shoppers are "open to buying from new retailers during the holiday season."
Tired of running funnel stage ads on social media to get users from awareness to purchase?
Skip the funnel with Google Ads' new shopping features.
What's new?
Two things. Let's dive into each.
Video Showcase Shopping Ads
Video is becoming more and more important every day, with studies finding that 66% of shoppers use video to make a purchase decision.
When it comes to ads, YouTube is the prime driver of ad based shopping sales. 90% of consumers said they actively discover new products and brands on YouTube.
To take advantage of this, Google has stepped up to the plate, offering the latest addition to their Showcase Shopping Ad types: video!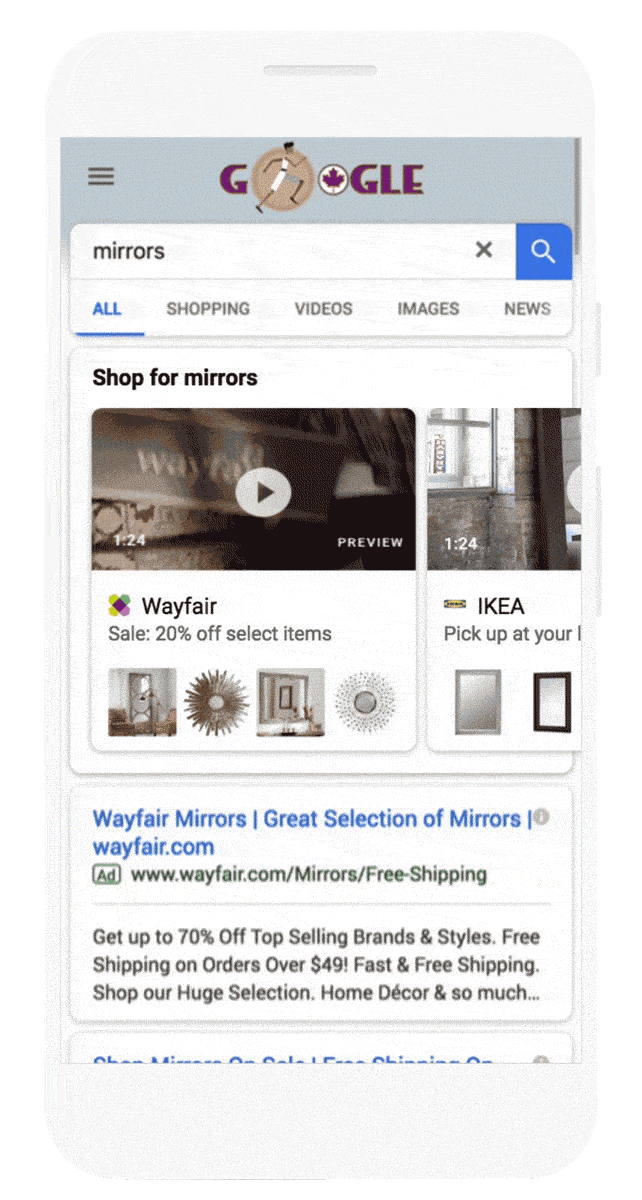 Complete with rich descriptions, product details, and more, you can now use video to capture attention with Google Shopping.
Through beta testing, Google results showed a 3.6x average increase in CTR and a 68% increase in new customer acquisition success.
If you are already running Showcase Shopping Ads on Google Ads, the video format is available right now!
Shoppable Image Ads
The way we shop online for products has changed fundamentally in the past few years.
The holy grail of online shopping dreams used to be:
I wish I could pause my TV and buy the sweater that Jennifer Aniston is wearing in Friends.
Why? Because humans are visual in nature. Just reading a product description or even seeing the product itself isn't enough.
We need to see it in action. To see it being used live and compare it to our own selves to see if it's a right fit.
It's why fashion bloggers on Instagram are so successful: they display clothes that others are hesitant to buy, showing them how and when they can be worn.
Google has realized this need in its Shopping ad types. And now, shopping advertisers can deliver better experiences with Shoppable Image Ads: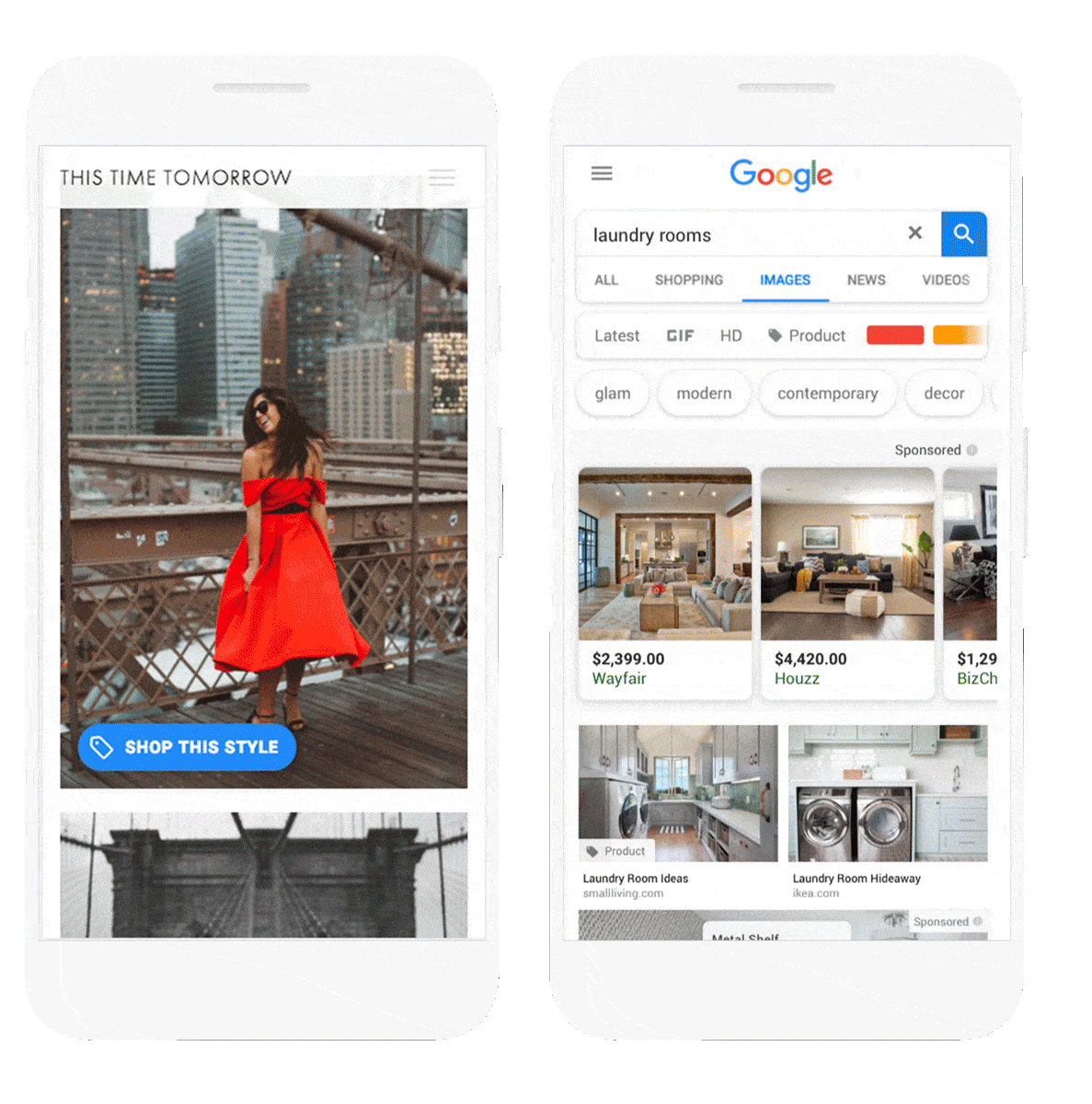 Like Instagram tags for products, you can now tag specific products in images and use them to help drive sales.
For instance, a picture of a model wearing your clothes out in the real world. You then tag the products shown and link to them for direct purchases.
Now that's seamless, effortless selling.
It's also a great opportunity to partner with influencers and reach wider networks.
The example above is a company partnering with a famous blogger to showcase the product line naturally and drive ad-based sales.
Conclusion
The holidays are fast approaching. The time is now to jump on these new ad types and learn the ropes before the holiday season.
New Google Shopping features will help you reach customers with more engaging ads that produce better sales.
Using the Ad Strength tool, you never have to worry about writing sub-par ads that won't perform. Just let Google handle the analysis!
Google Hotel Advertisers will find it much easier to streamline the ad creation process directly from their Google Ads dashboards instead of navigating two platforms.
Lastly, TrueView advertisers now have access to multiple extension types for their ads to offer more information and produce more successful ads.
Before you leave… did you start using AdWords Campaign Creation in AdEspresso yet? What do you think? Leave us a comment and let us know!
---
SPECIAL EDITION: Google Ads Rollout Is Here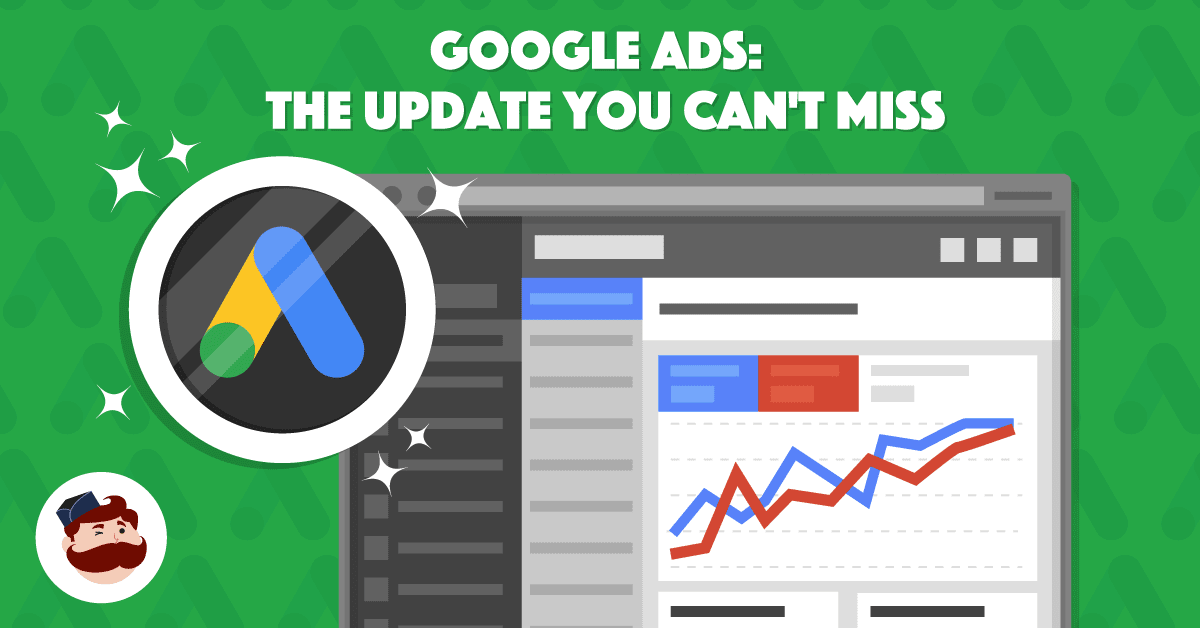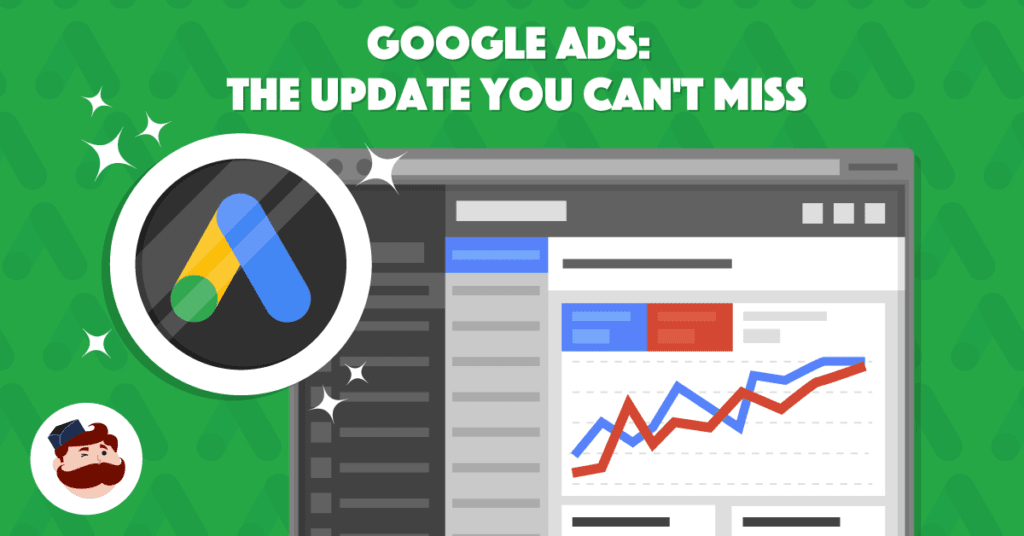 As of July 24, Google AdWords has officially transitioned into Google Ads.
DoubleClick and Google Analytics 360 will merge into the brand-new Google Marketing Platform, and the Google Ad Manager will launch.
In this post, we will cover the latest news on Google Ads, what the platform looks like now and what changes you must know now.
It all started June 27, 2018, with this post:
We launched AdWords nearly 18 years ago with a simple goal—to make it easier for people to connect online with businesses. A lot has changed since then.
Over the years, Google ads have evolved from helping marketers connect with people on Google Search, to helping them connect at every step of the consumer journey through text, video, display and more.
That's why today we are introducing simpler brands and solutions for our advertising products: Google Ads, Google Marketing Platform, and Google Ad Manager."

Sridhar-Ramaswamy Senior Vice President, Ads and Commerce
And we all got a first peek at the new logo:

That was not enough:
We've heard from marketers that there are real benefits to using ads and analytics technology together, including a better understanding of customers and better business results.

We're enabling stronger collaboration for enterprise marketing teams by unifying DoubleClick and the Google Analytics 360 Suite under a single brand: Google Marketing Platform."

And last but not least:
We recognize that the way publishers monetize their content has changed. With people accessing content on multiple screens, and with advertisers' growing demand for programmatic access, publishers need to be able to manage their businesses more simply and efficiently.

That's why we've been working to bring together DoubleClick for Publishers and DoubleClick Ad Exchange in a complete and unified programmatic platform under a new name: Google Ad Manager."

Are you ready to discover what's changed on Google Ads? Let's dive in!
Google Ads – All You Need to Know (for Now)
If you have been keeping up with Google Ad(word)s news you know it by now: Google Ads, the new platform overhaul of Google AdWords, is finally here.
The rollout has begun as of July 24th and, according to Google official Tweet:
Starting today, you will begin to see the new Google Ads brand reflected across our product, Help Center, and other channels.
This will take several months to roll out fully."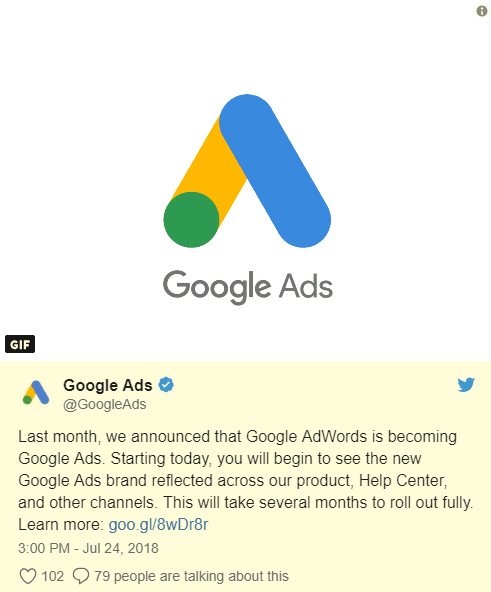 You probably have noticed this update when trying to access the usual: AdWords.Google.com.
This URL now redirects you to Google Ads' website:


At the top, you'll notice a message informing users that Google AdWords is now reflecting the Google Ads branding change.
Just scroll down to learn more: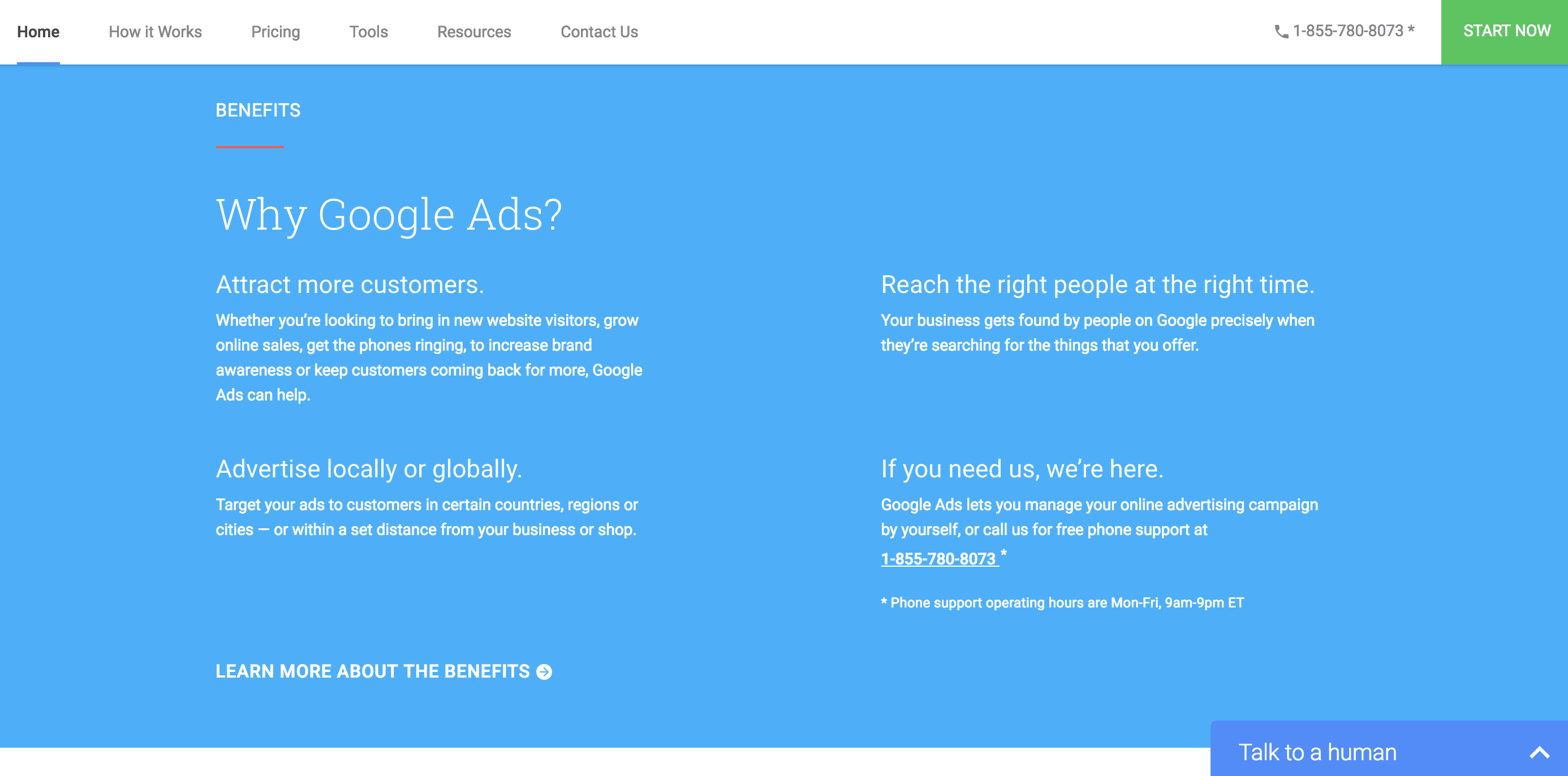 To sign in, go back to the top of the page and click "Sign In" in the right-hand corner (it's conveniently placed close to the phone number for helpdesk/customers care!).
Doing this will direct you back to Google Ads and to your brand new Google Ads dashboard: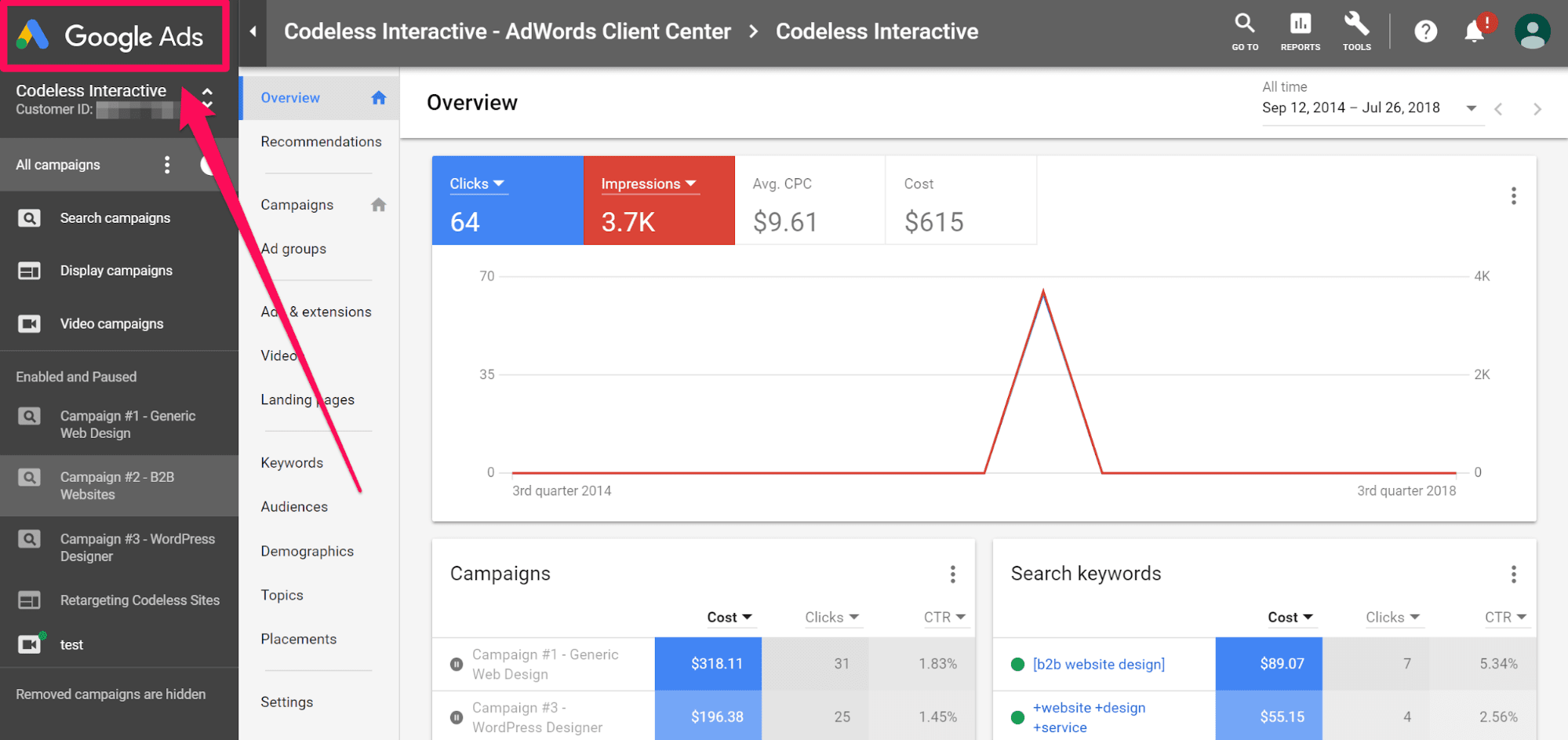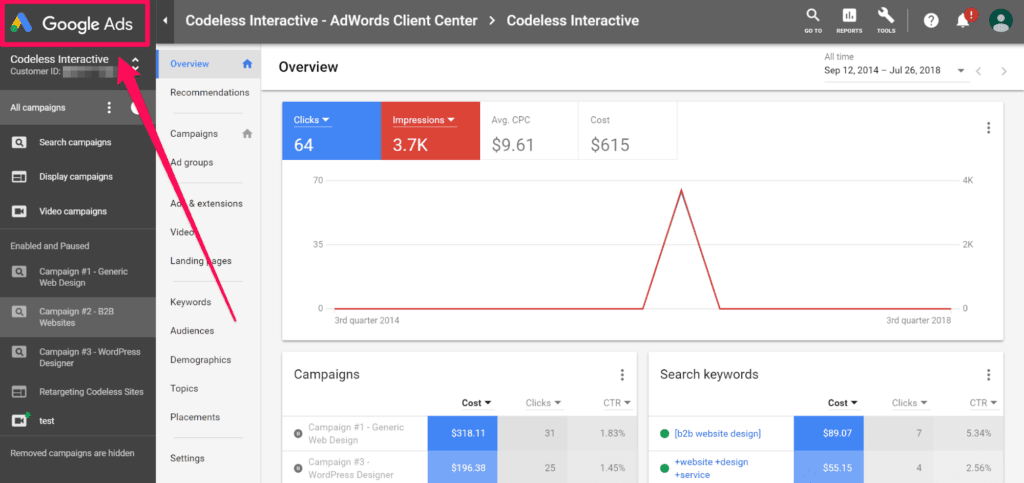 As you'll notice, the branding is about the only thing that has changed at the moment on your dashboard.
Some sections of your dashboard will still say AdWords as well. As Google noted, more major updates will roll out throughout the year.
At Google's Marketing Innovations Keynote in early July, they announced a few new features that are currently available in the new Google Ads dashboard.
Let's go over a few of these key changes and what they mean for advertising experiences.
New Google Ads TrueView Updates
Google TrueView is one of the best ways to reach potential buyers on YouTube. Using video-based ad content, you can reach users on YouTube with dynamic ads.
In the newest update reflected in Google Ads, you can now access two new types of campaigns:
Reach
Action
Beyond campaign updates, TrueView now packs detailed ad extensions that we will cover in this section.
Let's dig deeper into each of these campaign types and extensions available.
TrueView for Reach
The new Reach selection combines both the standard in-stream ad format with the impression-based bidding.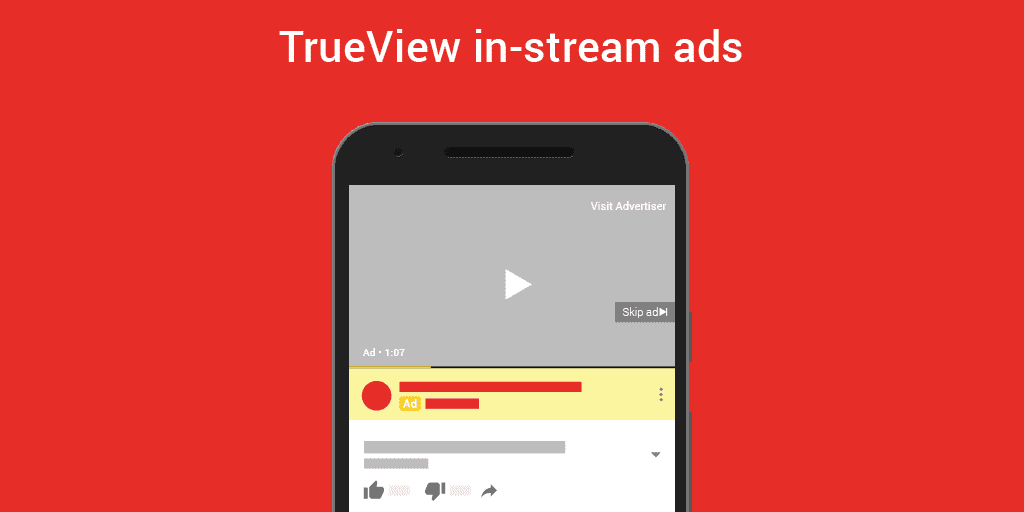 The new Reach type is great for building brand awareness and focusing your bidding directly on impressions and metrics that matter for brand awareness.
Here is what a Reach focused ad looks like with the new Google Ads format: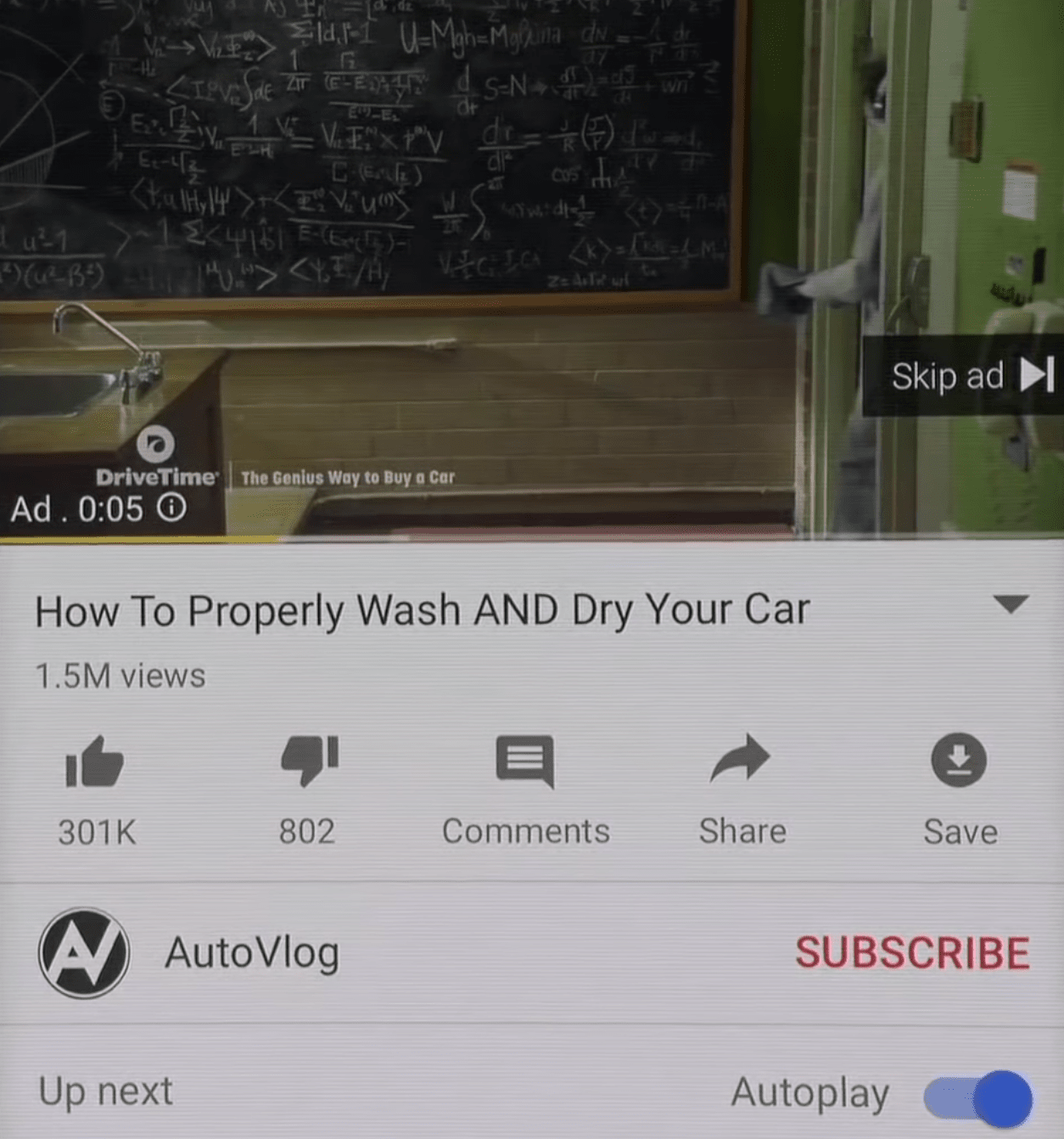 TrueView for Action
If brand awareness isn't your goal, don't fret.
TrueView now comes with another great feature: Action.
The Action feature is built on driving direct conversions on your website: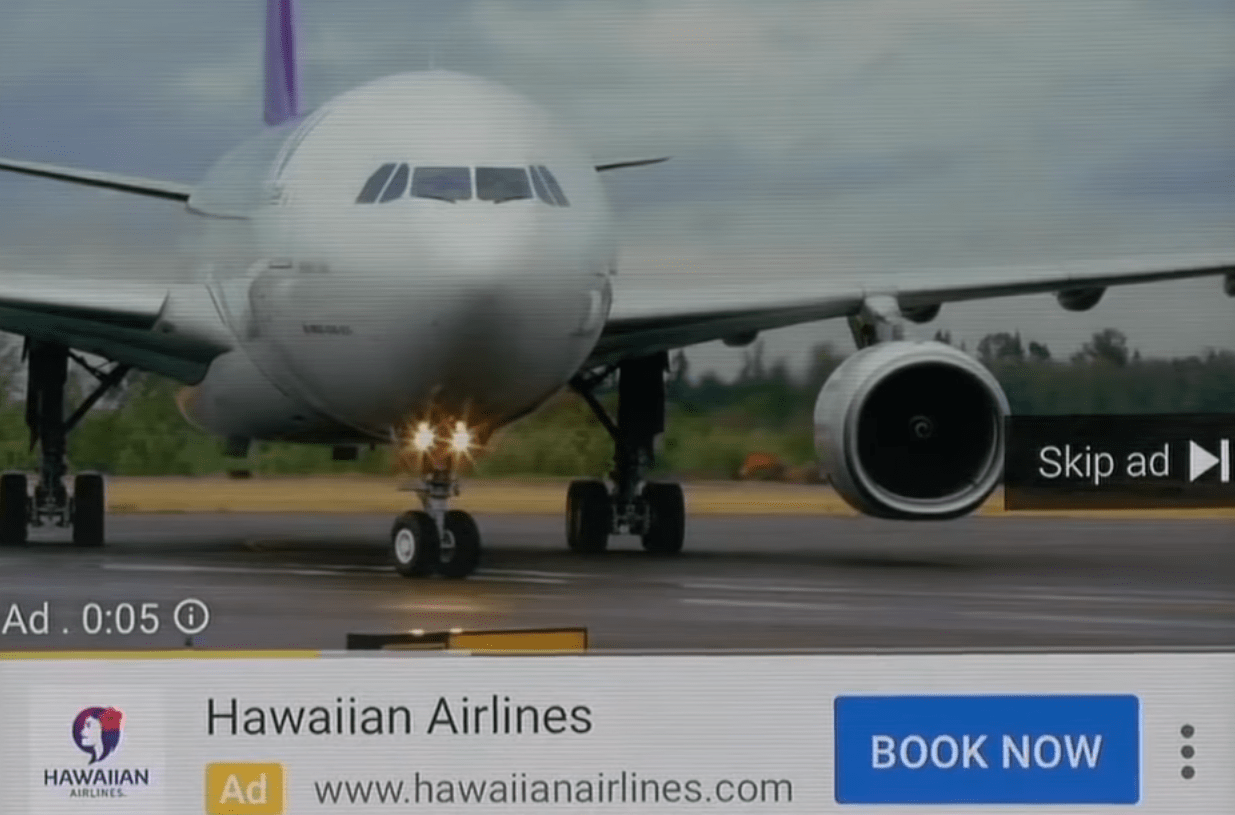 With a call to action that lasts the entire video and even stays after completion, your chances of driving conversion on your website have skyrocketed.
But wait, there's more!
New TrueView Ad Extensions
In addition to new TrueView campaigns, Google recently announced a whole new selection of ad extensions to help your YouTube ads perform at higher levels.
Ad extensions on the search and display networks have long been touted as a way to instantly increasing ad success.
And finally, they are here for TrueView ads.
Currently, almost all advertisers on Google Ads (still in beta, so don't fret if you don't see it yet) should have access to location and form extensions when selecting "TrueView In-Stream" ads as your ad type: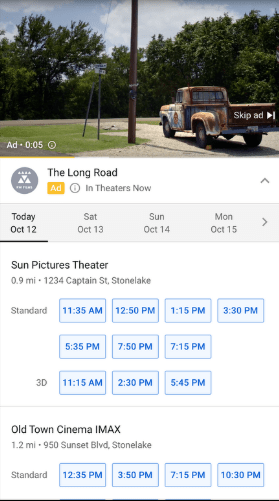 Currently, Google is exploring a multitude of different extensions beyond just these two, so you can expect even more creative ways to drive action with this ad type in the future.
According to Google's beta testing metrics, brands using these extensions are already seeing a 2.3x lift in ad recall and a 785% increase in ad CTR.
Get started with these on your next TrueView ad asap by accessing the ads & extensions tab and selecting them for in-stream campaigns.
Google Ads: Search Ad Machine Learning (Responsive Search Ads)
With the new transition to Google Ads, responsive search ads are possibly the most anticipated and coveted announcement of them all.
So, what exactly is a Responsive Search Ad?
In the wave of Google focusing on automation and making our lives easier on their ad platform, they've released responsive ads in beta mode.
Responsive search network ads allow you to create up to 15 headlines and four different descriptions at once.
From there, Google Ads takes the wheel, testing and mixing those headlines and descriptions to see which ones generate the best results.
Using machine learning, Google ads analyze tons of performance metrics to see which resonates best with your potential customers.
From there, a winner is selected and used as your primary ad.
Pretty amazing, right? You simply have to write a few ads and let Google handle the testing.
Depending on your account, you will either have access to the beta, or you might have to wait.
How Do You Create Responsive Search Ads?
Under your ads and extensions section, check to see if you can create a responsive search ad: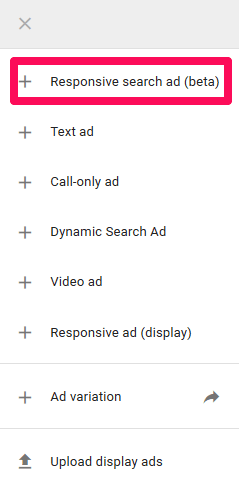 If you can access the beta, you will be able to generate those headline and description variations that allow Google machine learning to take place: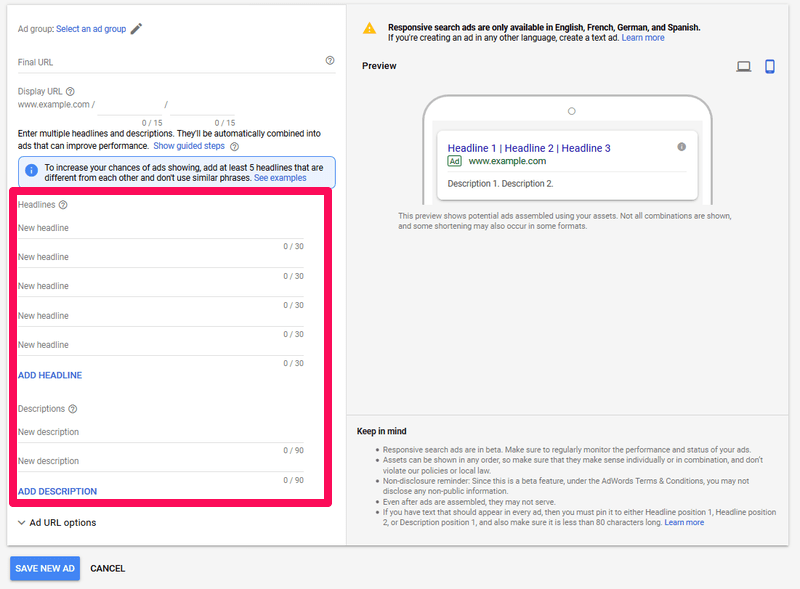 If you don't have the beta, try contacting your account support to see if they can grant you access.
Google Ads: New Mobile Landing Page Speed Score
It's no secret that mobile speed is critical for conversions.
According to a Google benchmark report, the average mobile site in every single industry is too slow:
Did you know that the best practice for mobile page speed times is three seconds or less?
Yet, most are close to ten seconds if not more.
And did you know that the even just a few seconds more of loading time can explode your bounce rate?
To help counteract this, Google has given us a significant update in the new Google Ads platform under the landing page report:
Mobile speed score.


According to Google, they define this new metric as:
Mobile speed score is a measure of how quickly your page loads after clicks on your mobile ads. The score is a range from 1 to 10, 10 being fastest."
This new column on the landing page report can help you gauge whether or not your mobile pages are fast enough for optimal results.
Google Ads: What's Next?
Currently, these are the major updates we see in Google Ads' newly branded platform.
Everything you know and love about AdWords is still accessible with Google Ads.
As more updates start to roll out on Google Ads beyond redirects and branding, we'll be creating a massive, in-depth post covering the new platform features and what you can expect.
Stay tuned!
What do you think of the new Google Ads? Did you start using Google AdsCampaign Creation in AdEspresso yet? What do you think? What do you want us to implement? Leave us a comment and let us know!
---
Google Ads Updates You Can't Miss (July 2018)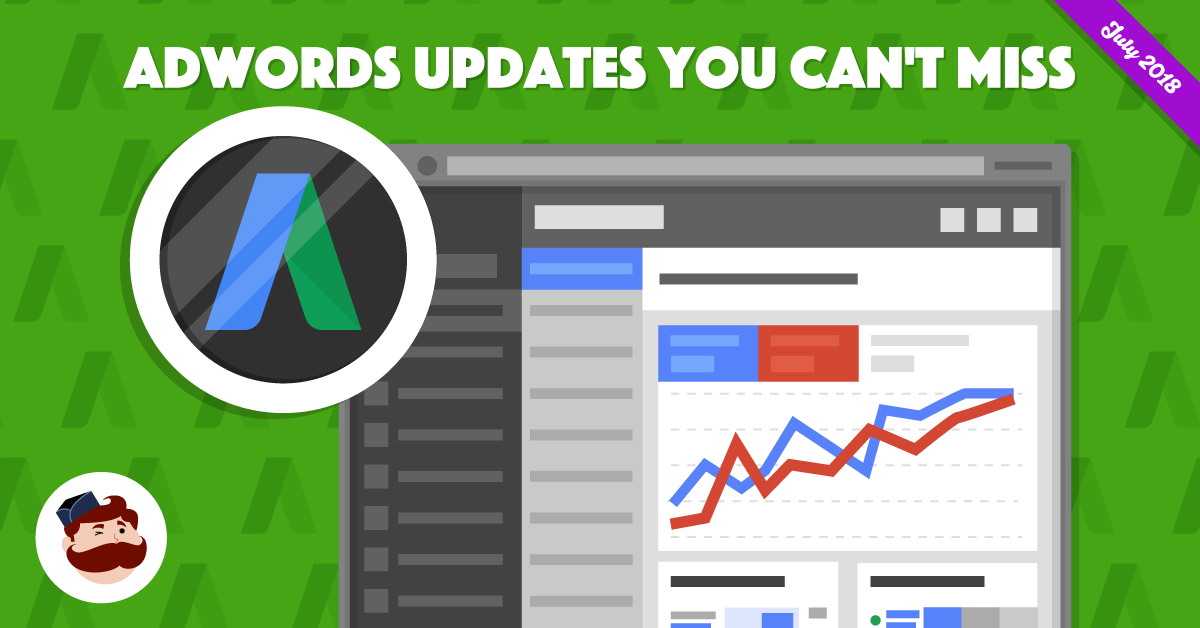 This year, Google has already unleashed some helpful updates. But nothing compares to what happened on June 27, when Google announced a complete rebrand of its advertising products.
It's official: starting July 24 Google AdWords is becoming Google Ads, DoubleClick and Google Analytics 360 will be merged into the brand-new Google Marketing Platform and the Google Ad Manager will be launched.
If you want to learn more about these changes, you've come to the right place. Let's discover what's new on Google AdWords.
Here's a quick list of the latest AdWords updates we're going to cover:
OVERHAUL: Google AdWords to Become "Google Ads"
If you've been logging into your Google AdWords account recently, you might have noticed this message:

Google AdWords will soon be Google Ads. The Help Center and new AdWords experience will reflect our new brand starting July 24, 2018."
So, what the heck does that mean? Why are they doing this, and what's changing?
What we know is: on July 24th, Google AdWords will no longer be Google AdWords. Instead, Google AdWords is shifting into a new branded platform called Google Ads.
Google Ads will still pack the same features and network of Google AdWords:
Search network
Display network
Video
So, what is changing?
According to Google, on July 24, Google Ads users will start seeing the new brand name and logo reflected on the platform, website, billing and help center.
Instead of logging into AdWords from adwords.google.com, you will log into Google Ads from ads.google.com.
Thankfully, Google made one big thing clear with the release of the new update:
Changes to the Google Ads branding will not impact your campaign performance, navigation, or reporting."
The new Google Ads experience is going to be heavily focused on the ease of multi-channel advertising, connecting everything from search to display to video for a more seamless experience.
These new brands will help advertisers and publishers of all sizes choose the right solutions for their businesses, making it even easier for them to deliver valuable, trustworthy ads and the right experiences for consumers across devices and channels."
So, basically, Google Ads is a platform where businesses will find all they loved about AdWords and even more tools to make the process of reaching customers easier.
According to Google, the new Google Ads interface also packs some serious promises for small business advertisers:
New campaign types that "make it easier than ever to get started with online advertising."
In addition to that, Google is bringing in more machine learning than ever before:
To provide more help to small businesses and generate better results "without any heavy lifting."
Just recently, AdWords added new and improved ad suggestions as an automated way to save time and create ads that drive results.
From this announcement, it's clear that Google is putting more time, money and effort into improving the ease with which advertisers can successfully reach their audiences.
Let's dig deeper.
Smart Ads: The new default experience for Google Ads
It's no secret to anyone that searchers are everywhere.
Whether it's the search network looking for products and services or a Google partner site or Google Maps, people search on dozens of different sites, networks and platforms.
And Google is trying to help make this experience seamless. A fully-integrated, multi-channel experience where each network works together.
Say hello to Smart Ads — the new default experience for Google Ads.
Smart Ads and Smart Campaigns can be "created in minutes" on the new platform, driving anything from website visits to phone calls and brick-and-mortar store visits.
According to Google, 90% of small business owners state that their online advertising goals are to get phone calls, store visits, or purchases online.
When creating a new campaign with Smart Ads, you begin by selecting the goals that are most appropriate for your business.
You can select multiple, allowing Google to craft a plan for you to reach users on multiple platforms that aid your goals and KPIs.
With the new Smart Ads platform that's in beta testing, one advertiser was able to double their sales in the first 60 days alone.
With new ad types, you can quickly add images to your ads that will show up on partner websites: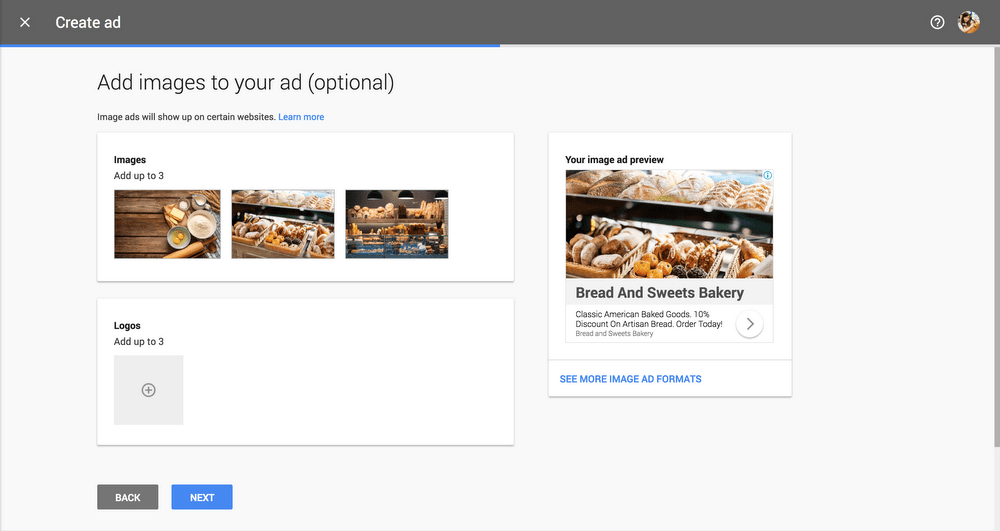 This new "Image Picker" feature allows you to A/B test images automatically. Google will select the best performers to keep running.
New features like this are going to be game changers for small businesses with less time to manage their accounts.
Google wants Google Ads to do the work rather than making AdWords feel like a chore. Which (let's be honest) it does.
Google will slowly roll out the new smart campaigns to all advertisers over the course of the next few weeks and months.
Three new "brands" to work with
With this new update, we can expect Google to release three different "brands."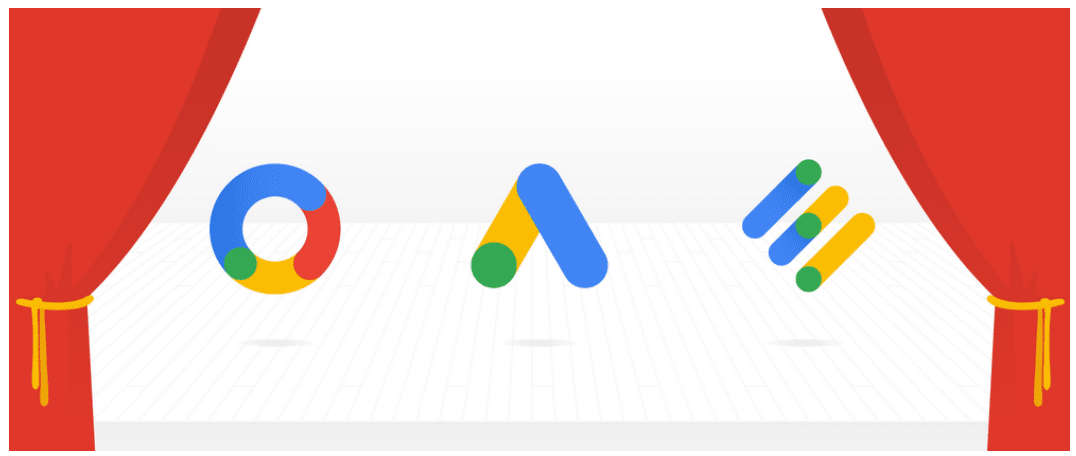 Google Ads: Formerly known as Google AdWords, it will now be called Google Ads.
This platform will contain everything that AdWords had and more. That means that the search network, display network and video ads. In addition to the existing setup, new features like automation and machine learning will be bigger functions.
Google Ad Manager: The Google Ad Manager is the new platform that combines two tools that are commonly used: DoubleClick Ad Exchange and DoubleClick for Publishers.
In the coming months, existing DoubleClick interfaces will reflect the Ad Manager. This platform will help advertisers reach people on platforms like TVs, Apple News, live streams, AMP, gaming, apps and more.
Google Marketing Platform: Google Marketing Platform will now absorb both the DoubleClick advertiser network and Google Analytics 360 to become one entity.
This move is geared towards enterprise marketing teams who enjoy using both analytics and ads together for better reporting, understanding, and results. On the platform, you can "plan, buy, measure and optimize digital media and customer experiences in one place."
The Google Marketing Platform now contains new features like Display and Video 360.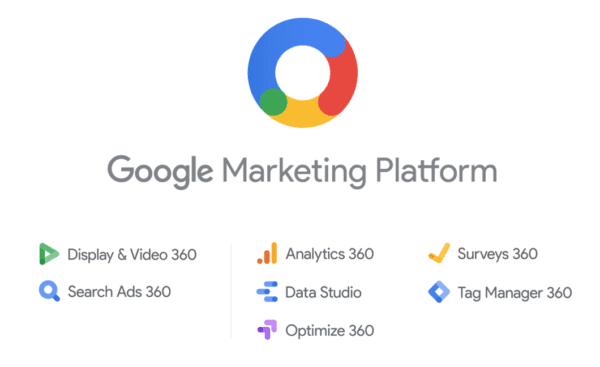 In the new Integration Center, you can connect all of the Google products that you know and love: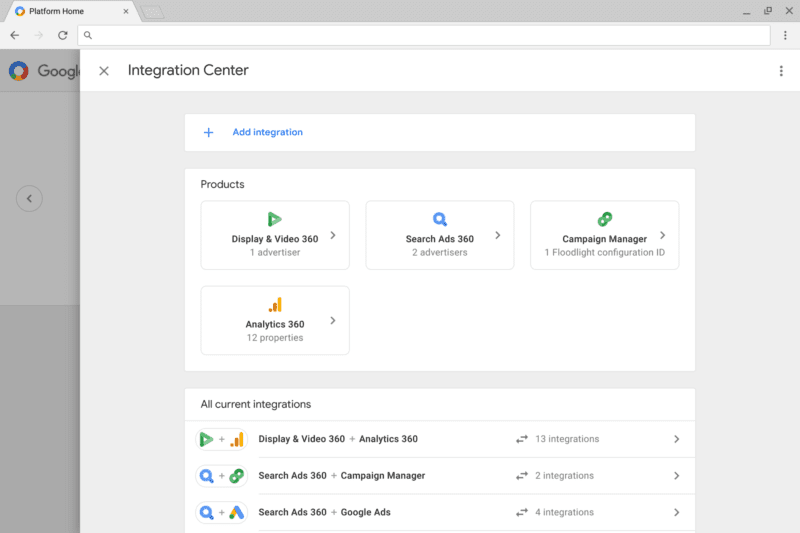 On top of just Google products, you will also be able to use hundreds of third-party services for better marketing and reporting.
More updates will follow on the new Google Ads experience after the July 10 Google Keynote and the official release on July 24th.
Google Sheets Integration: How to Create Detailed Reports with This New Add-On Feature
Creating and analyzing reports in AdWords is the name of the game. It's critical to produce reports that focus on your top metrics like ROI, conversions and lifetime value.
But using the AdWords reporting interface can get tedious, time-consuming and dull. And it's no different when it comes to integrating Google Analytics. Reporting is still too complex for most users.
Thankfully, you don't have to rely on it anymore.
With new integrations to Google Docs and Google Sheets, you can create custom reports in just a few minutes.
In this section, we'll cover all of the new updates and integrations that you can use to build great reports with less hassle.
How To Use The Google Sheets plugin
If you aren't currently using Google Chrome as your browser, you will need it to run the Google Sheets plugin. Though this mode is currently still in Beta, anyone can download it and use it today!
To find it, follow this link: Google Sheets Beta AdWords Integration. Simply install this free plugin to your Google Sheets account, and you can fire up reports in no time.
With the integration, you can:
Create custom reports that pull information directly from your AdWords account(s).
Custom create columns based on the metrics you care about most.
Use the same filters you find on AdWords to get specific data.
Generate a report overview.
Refresh your custom reports to import the latest data. Meaning you don't have to create new reports every time. You simply refresh them to update the data.
Allow others to edit and collaborate on your reports.
Once you install the Sheets plugin, you should see it located in the "Add-ons" section of your toolbar.
From here, select "Google AdWords," and you have the option to create new reports.
When you create a new report, you can select the report type, columns, and filters that you want to apply: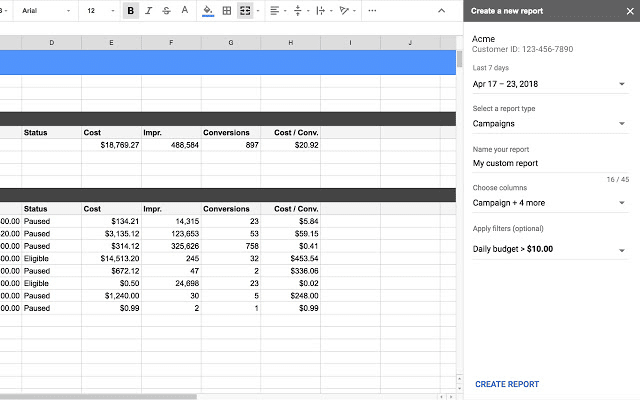 Each time you log back into your reporting dashboard on Google Sheets using the plugin, you will see key data like:
When your report was last refreshed
What accounts this report is pulling data from
All of your custom report data that you generated last time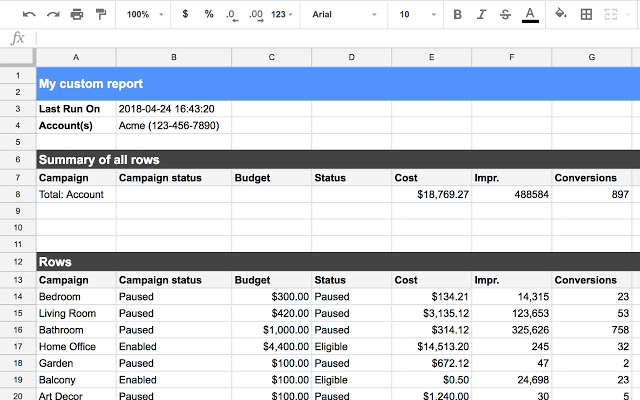 So, why use this overgeneralized reporting within AdWords itself?
Two major reasons:
You don't have to recreate the reports every time.
You don't have to continually apply filters each time. For example, do you create reports to show how mobile is doing? How about custom filters to see how conversions change by device type and location? You can now create all of these reports in Google Sheets once, keeping them forever. You can then label each report so you know exactly what they show. When you want new data, simply refresh the report, and it populates with your latest data! That saves tons of time!
You can collaborate.
Collaboration is a wonderful feature with Google Docs in general, so why not mesh that with Google AdWords? Allow employees to help you and pull data whenever without giving them direct access to sensitive account information.
Try out the new plugin to start creating better reporting measures for your business today. Don't waste time every week adding filters and custom reporting measures over and over. Do it once and refresh it with the click of a button.
AdWords Notes: How to Add Notes to Key Account Changes
Just recently, Adwords announced the introduction of "Notes" in Google AdWords.
Notes allow you to add written text to give context to changes in your account performance.
For example, did traffic spike on Tuesday? You can add a note to that section explaining that you increased bids or your budget. This gives other users (and yourself) context to understand what happened and so you don't forget what actions you've taken.
This is a wonderful tool if you have multiple people or outside parties managing AdWords.
If you manage AdWords accounts for clients, this is a great way to help them understand changes and the meaning behind them.
With Notes, you can edit and add them at the account, campaign and ad group levels.
To get started with them, click any data point on your graphs in the reporting section and click "Add Note."

From here, you can customize the date, type your note and determine who can see it: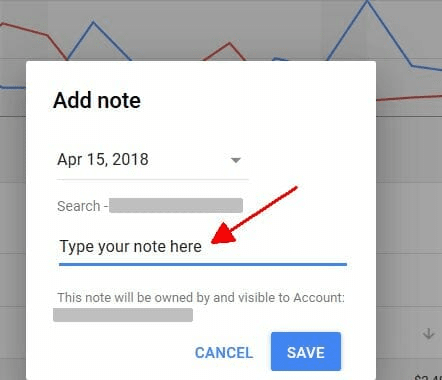 Use notes to mark key account changes and give context to data fluctuations on your accounts.
AdWords Editor Version 12.3: Search Terms, Filters, and Extensions.
If you aren't familiar with the Google AdWords editor, it's essentially a free application that helps you manage AdWords accounts.
You can download the application right to your computer, allowing you to make account changes without opening a browser.

To get started, download the free tool and import your accounts by logging in on the tool itself.
Once you do that, you open the door for some amazing features:
Offline editing:
Making changes offline that will reflect once you connect back to the internet. This means that you can edit campaigns on the go, on an airplane, or wherever you lack internet access!
Bulk editing tools:
Do you manage multiple accounts? Maybe even dozens for a client? Make big bulk changes to all accounts and campaigns, like adding specific negative keywords or replacing ad copy.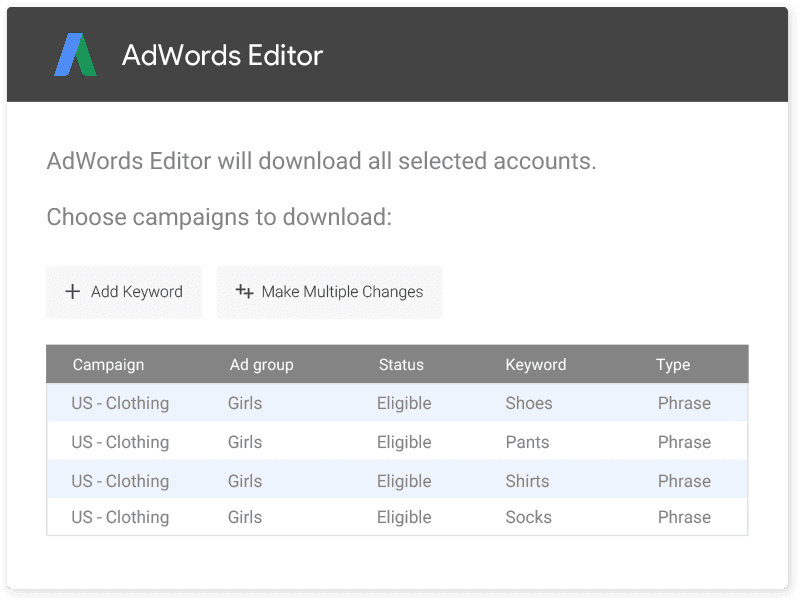 (Image Source)
Draft mode:
Make changes in "draft" mode and allow others to review them before pushing them live. You can then easily import and export files from the editor or AdWords to set them live.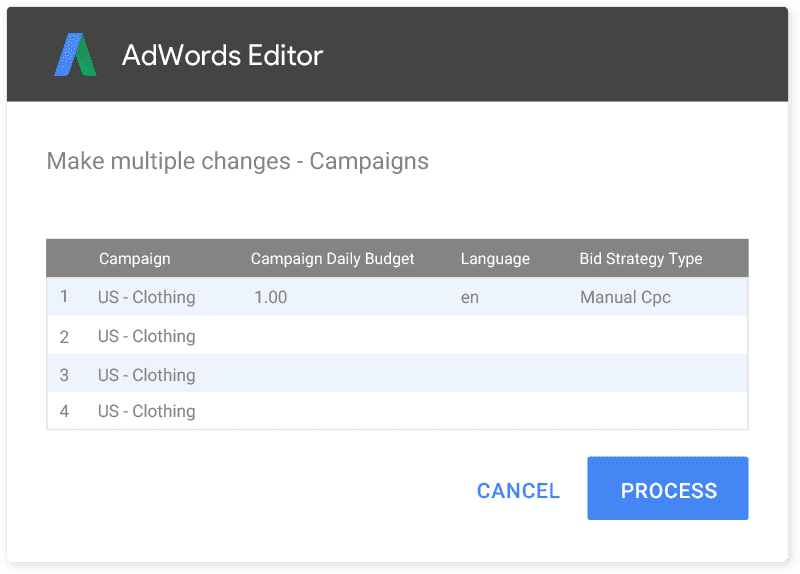 In Version 12.3, Google packed some amazing new features that you can take advantage of:
1. Search terms reporting:
In the tool, you can now view, download and edit the search terms report.
That means adding new keywords from the report for campaigns or adding them to negative keyword lists.
To take advantage of the new search terms reporting features in the editor update, select which account and campaigns to work with.
Next, click "Keywords and targeting" and then "Keywords."
From here, select the search terms button: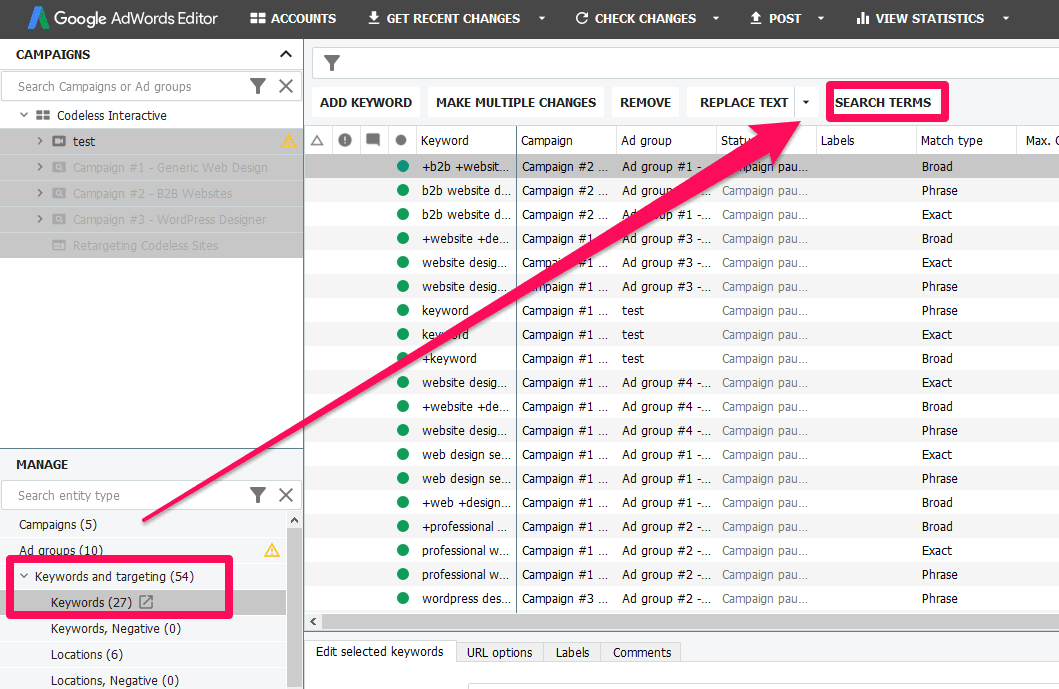 Next, select which campaigns and ad groups you want to download search terms for:
You can then select the metrics you want to download in the report as well: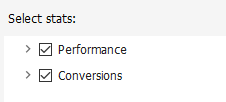 Lastly, select the date range for Google to pull search terms from:

Now you should have an entire report generated for search terms!
2. Filters:
With new filter functions, you can filter even more reporting data based on queries and more.
Among these bigger updates to the tool, you can also now manage:
Account-level extension associations
In-market audiences for search network campaigns
Custom intent audiences
TrueView campaigns
Google Shopping inventory
Responsive search ads
Pretty cool uh?
And this is it for today! You can't say it was not enough, can you? Well, there's an extra tho…
One Last Game-Changing Update Just For You
There's one more update that (in our humble opinion) is even bigger than all the ones we highlighted in this post: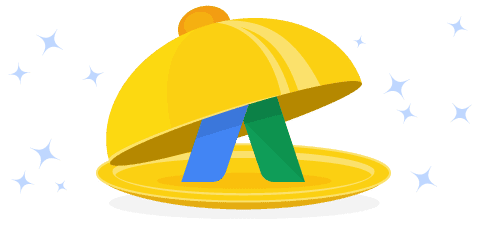 Google Ads has Joined the AdEspresso Family!
On July 4th, we added AdWords Campaign Creation to AdEspresso!
With this update, you'll finally be able to create and manage campaigns across 3 different channels all in one place, shaving precious time off your work week.
And That's all folks! What do you think of the big huge Google Ads rebranding? Did you start using AdWords Campaign Creation in AdEspresso yet? What do you think? Leave us a comment and let us know!
---
Google Ads Updates You Can Not Miss (May 2018)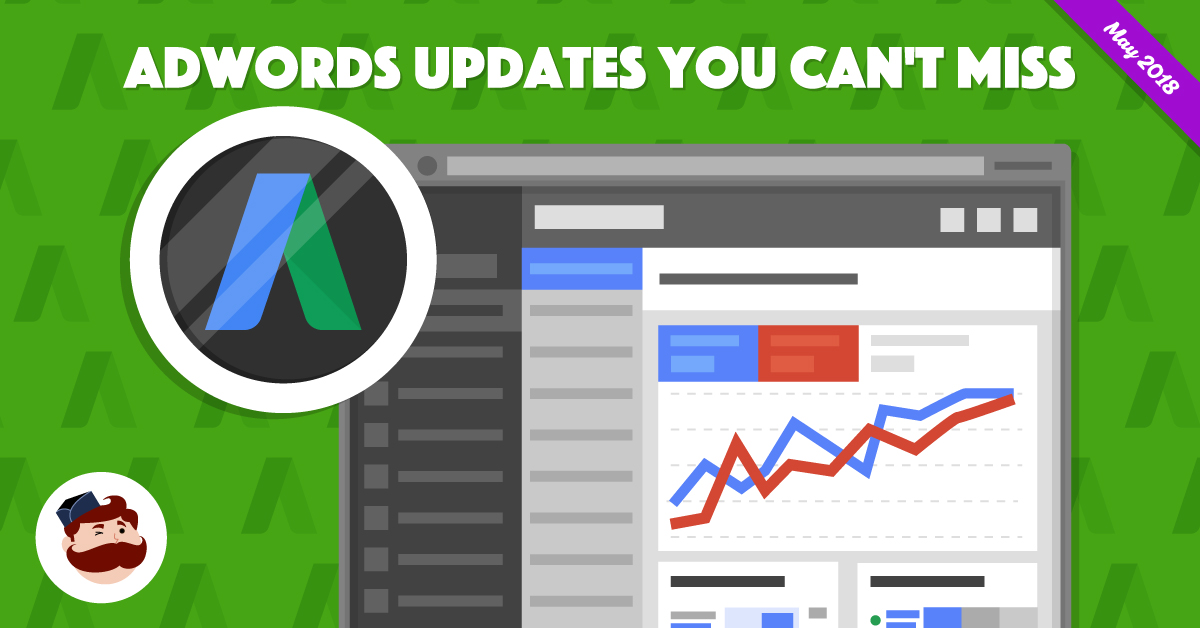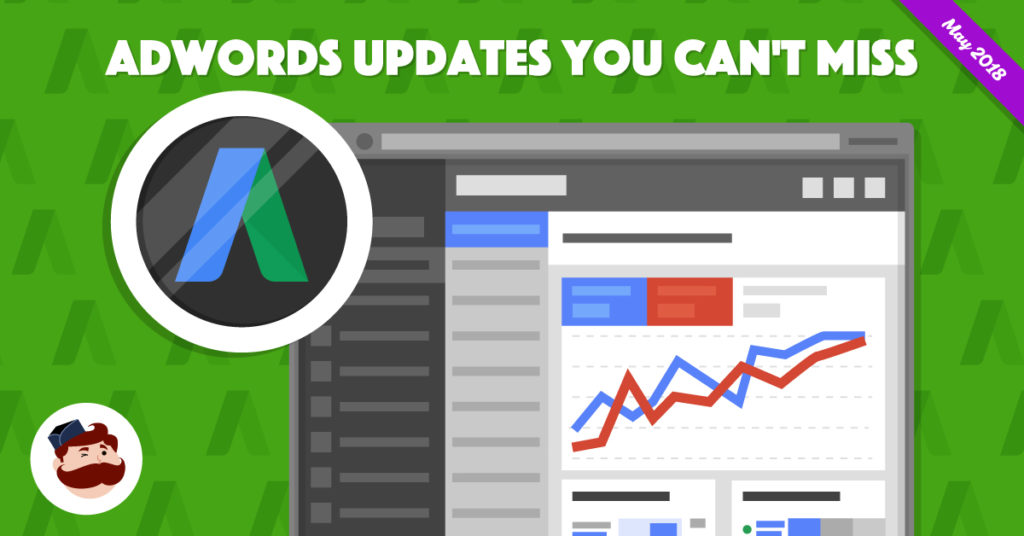 Since the new AdWords UI was launched at the end of 2017, Google has introduced a few improvements to make your advertising more fruitful. That now includes ways to save you time and increase your reach. In fact, two of the latest updates focus on growing your reach with Outstream Video Ads and Affiliate Location Extension for YouTube.
There's more, though. Let's discover what's new on Google AdWords.
Here's a quick list of the AdWords updates we're going to cover:
And now let's dive in!
AdWords Ad Suggestions: How To Use The New Feature To Write Fewer Ads
Writing ads on AdWords is one of the most time-consuming tasks there is. Fitting your entire value proposition, keywords and calls to action into an 80 character limit takes skill.
And if writing more than a few don't drive you crazy, I don't know what will.
But writing high-quality ads is the backbone of AdWords. Of actually getting people to click on your site over your competitor.
Writing better ads should be a top priority in any given campaign. After all, if you can't drive the clicks, you can't compel them to sign up.
Thankfully, AdWords has now added a feature to the new AdWords experience: ad suggestions: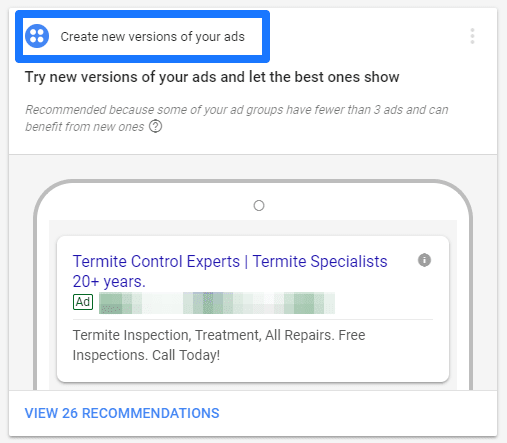 So, what exactly are they and why did AdWords add them?
Essentially, ad suggestions are automated ads written by AdWords for your ad groups. AdWords does this to help advertisers find better success on their platform, keeping them around for longer.
Research has shown that ad groups with 3 or more high-quality ads can get up to 5% to 15% more clicks or conversions than ad groups with only 1 ad, provided ad rotation has been optimized. The more ads you provide, the more options you'll have to show the ideal message for each user search."
Ad suggestions are meant to help users save time with excellent automated ads. When you don't have multiple ads in each ad group, AdWords will automatically generate more for you!
And writing more ads leads to big increases in CTR and conversions.
These ad suggestions can be found under "Ads & Extensions" on the Recommendations page of your account:


Simply view and accept recommendations and AdWords will add them directly to the given ad group.
Latest data shows that automated ad suggestions actually are producing 10% higher click-through rates than manually written ads.
Take advantage of ad suggestions today to save time and increase your campaign performance.
What New GDPR Regulations Mean For AdWords Advertisers (And How To Comply)
In April 2016, the European Parliament adopted the new GDPR regulations, requiring the protection of private personal data on citizens during transactions.
GDPR, otherwise known as General Data Protection Regulation, basically requires businesses that engage with data on European citizens to comply with stricter rules and privacy measures. Meaning if you are targeting any segment of potential customers in Europe, new, stricter regulations could have big impacts on the way you use and collect data.
One report found that 66% of companies in the United States will be impacted by it. Anyway, if you only target users in the United States or Canada, you don't have to worry.
So, what data are we talking about here?
Customer data on everything from name, identity, health data, race, politics, sexual orientation, geolocation, IPs and even cookies.
Taking full effect on May 25, 2018, marketers targeting the EU are spinning into a frenzy. Especially when it comes to advertising and data usage for audiences.
If you currently (or want to) target this segment, here are a few key things to keep in mind to ensure that you comply with GDPR:
According to AdWords, you must always get consent to use data. Here's what they ask you to do:
Maintain an updated privacy policy on your website that is clearly accessible in the footer.
According to eConsultancy, your policy should address the following questions:
What information are you collecting? Who is collecting it, why and how?
How will data be used and shared?
Can the user opt-out and revoke consent easily?
At the moment, as a general rule, there are three more key factors that you have to check to make sure to comply with the new rules:
On your website, users should always have the ability to withdraw consent to use data.
Ask users if they want to opt-out of cookie tracking.
Link back to GDPR and state a clear commitment to GDPR practices
Google is currently working on updates that will be pushed out directly in AdWords to help advertisers comply with ease. Stay tuned for more news and, in the meantime, start updating your privacy policy.
Outstream Video Ads: All You Need To Know To Get Started
Just recently AdWords announced the addition of Google TrueView. But they didn't stop there:
On April 17th of 2018, they announced a new feature for video advertising: Outstream Video Ads.
This new format allows advertisers to extend the reach of their video ads beyond just YouTube.
Outstream is built exclusively for mobile targeting, allowing advertisers to reach users anywhere that video can be displayed. For instance, on mobile applications.
Google said:
Outstream ads drive incremental, cost-efficient and viewable reach beyond YouTube."
Ads will be displayed on Google partner sites or applications.
And these ads work uniquely in comparison to TrueView ads on YouTube:
When ads first come live on a users screen, they begin with no sound. A user can tap the video screen to enable sound and listen to the ad or even start from the beginning.
Thankfully, you only pay for viewable CPM, meaning your video has to be on screen and directly viewable in the window to be charged.
The Hong Kong Tourism Board has already used Outstream video ads to generate a 30% incremental reach with an 85% lower CPM than traditional video ad options.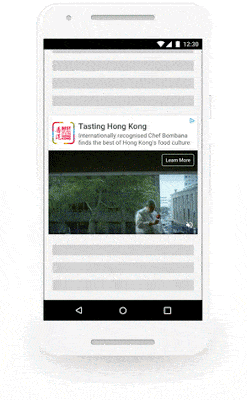 To get started with an Outstream campaign, head to your AdWords dashboard and create a new campaign with "Video" as the campaign type:


From here, select the "Brand awareness and reach" goal from the list: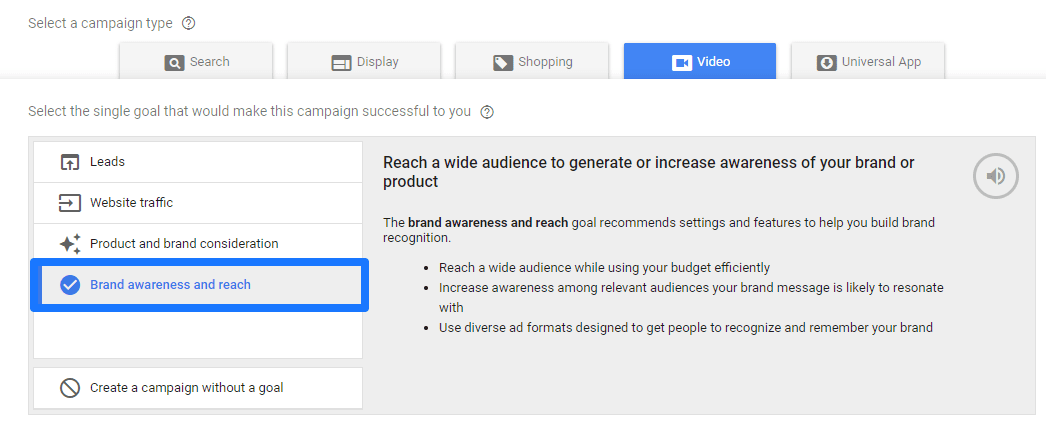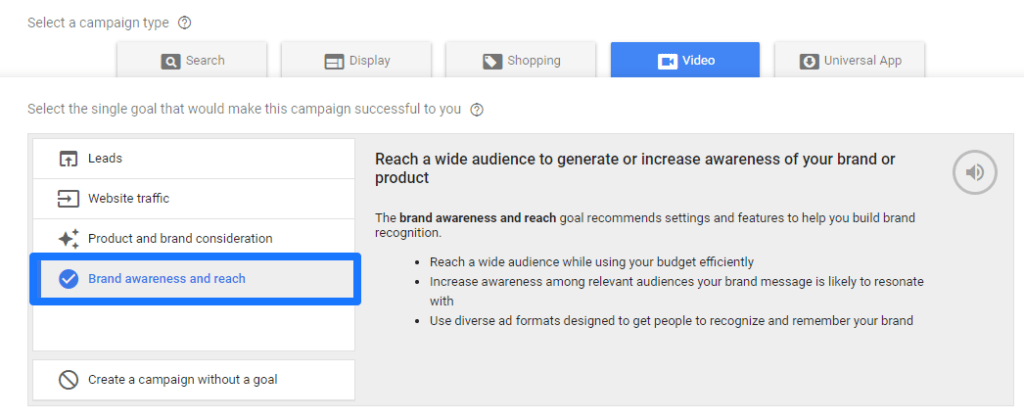 Lastly, choose "Outstream" as your campaign subtype: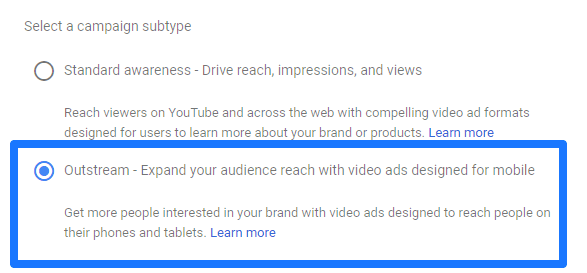 And the rest is up to you!
Now you can create and optimize your video, bidding, and audience targeting to start reaching users in different mediums than just YouTube.
New Message Reporting Features for Click-To-Message Ads
In 2016, Google introduced a new format of ads: click-to-message.
These ads allowed businesses to engage directly with users via text messaging instead of online forms: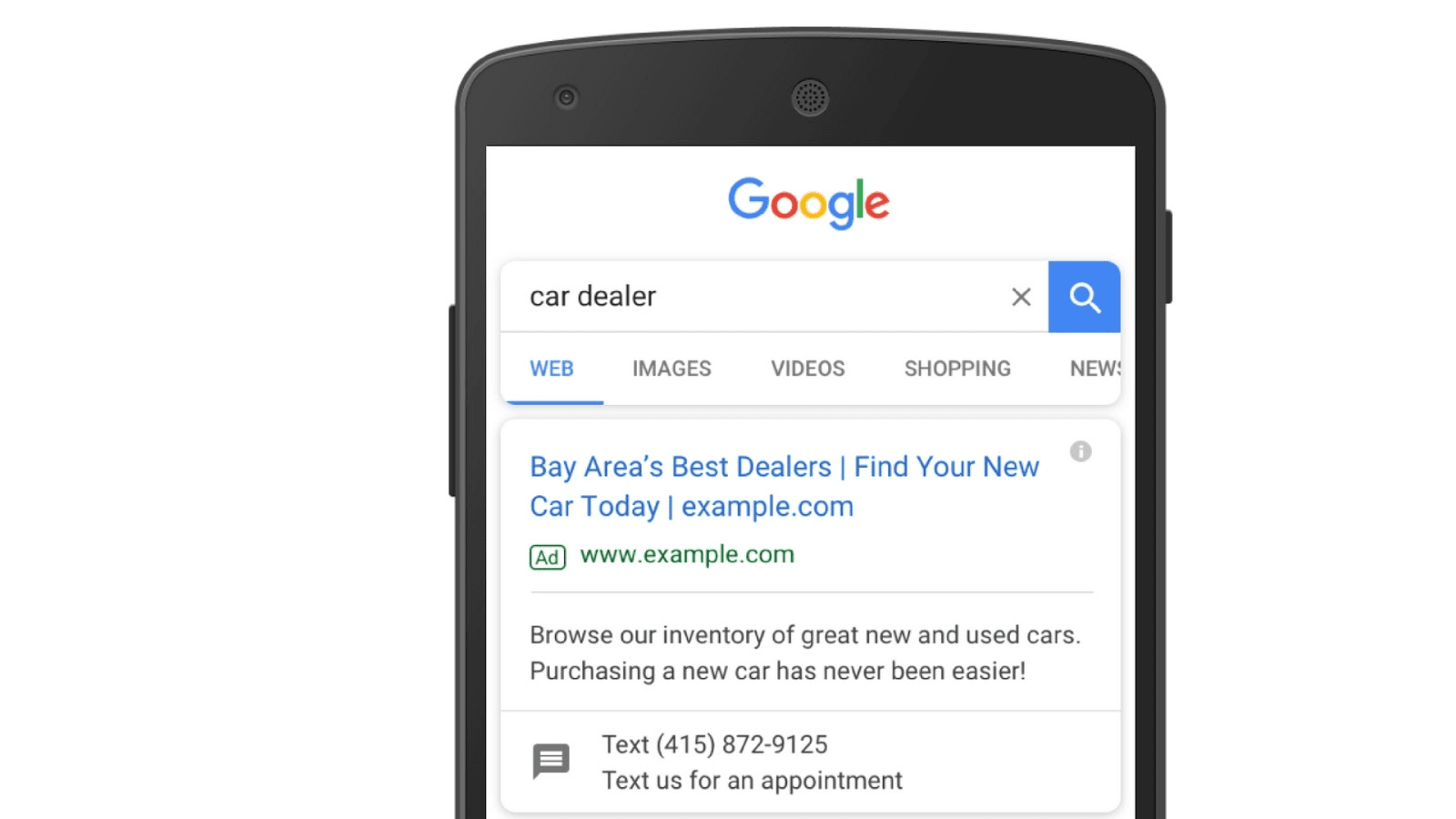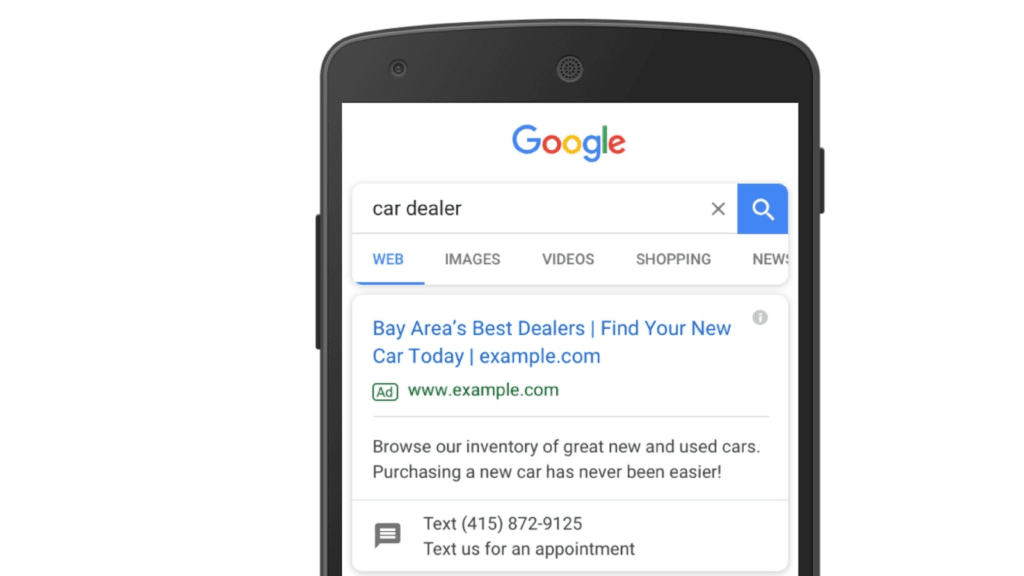 For example, to schedule an appointment, a searcher could simply text the given business number.
And according to Google, they work:
65% of consumers say they'd consider using messaging to connect with a business to complete tasks like getting information about a product or service or scheduling an in-person appointment."
With click-to-message ads being around for a few years now, Google has finally updated their reporting to give advertisers better metrics on this somewhat complicated ad format.
In your dashboard, you will now see the following three metrics added:
Chat rate: essentially a soft-conversion rate/click-through rate. How often a searcher starts a chat after seeing a message ad.
Chat start time: timestamps for when a user starts the conversation. This could be helpful in specific industries to find popular engagement times as well as internal audits of how well sales staff are responding.
Messages: the total amount of messages sent in any given chat.
With more metrics to begin analyzing, click-to-message ads are becoming more popular.
Affiliate Location Extensions For YouTube
Affiliate location extensions have been around for a while now.
If you've ever searched on Google for a product that can be purchased in a local area, for example, a television, you have no doubt come across these extensions: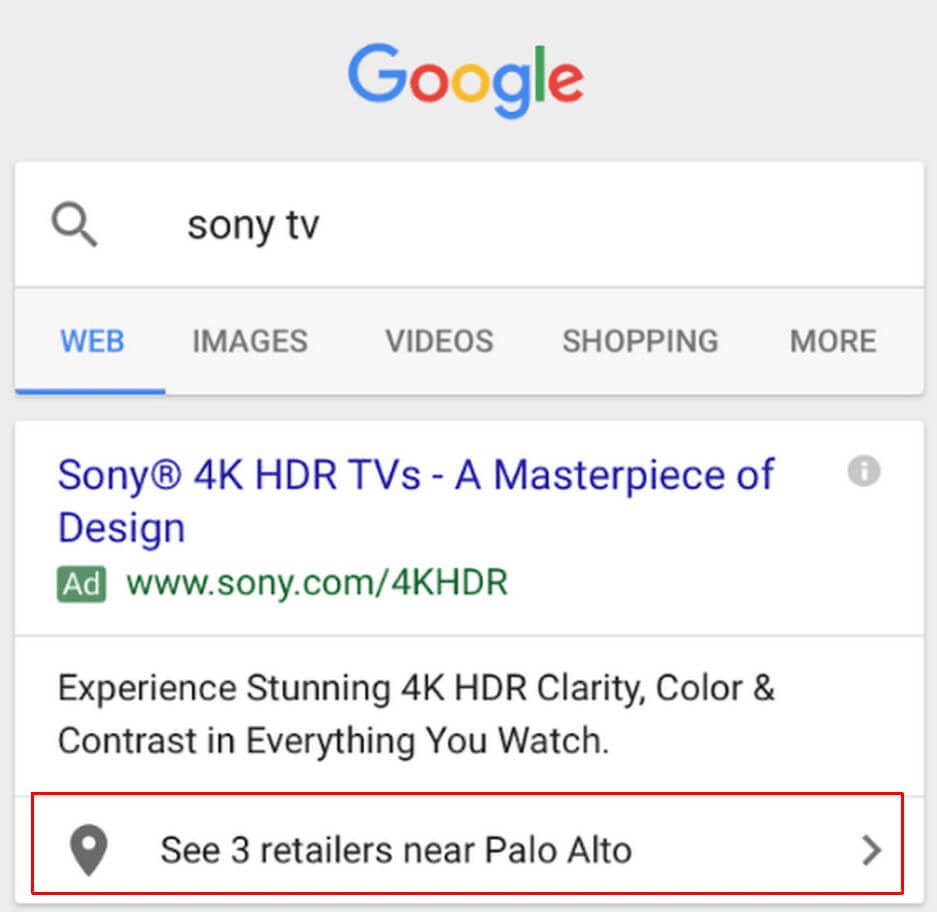 (Image Source)
As of March 21st, 2018, advertisers on YouTube now have direct access to these affiliate location extensions, making it easier than ever before to drive tangible sales on YouTube.
These extensions can now be enabled for video advertisers on YouTube for your campaigns by clicking on the extensions tab and selecting "Affiliate location extension:"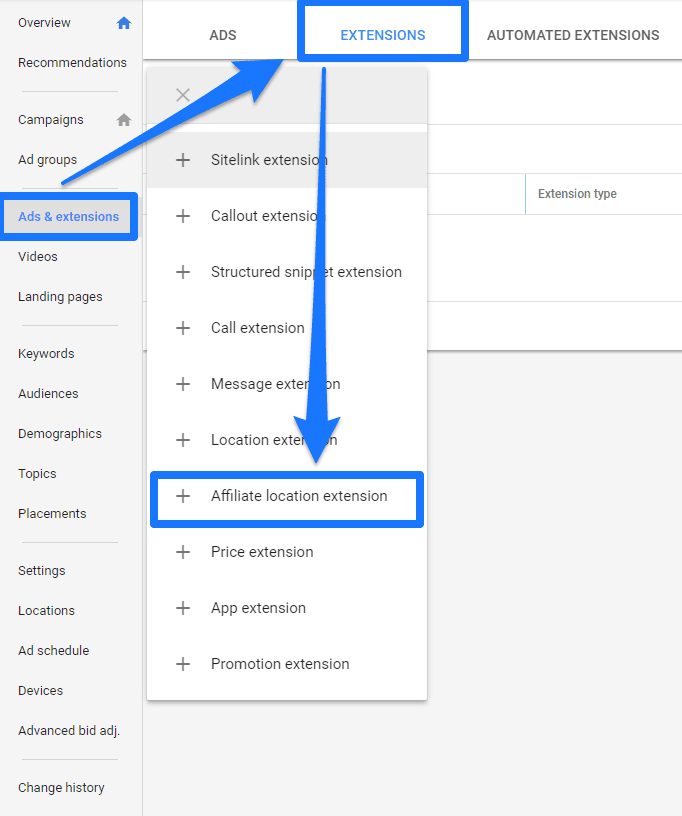 You can select retail locations in a given location radius to pinpoint exact stores where your merchandise is sold: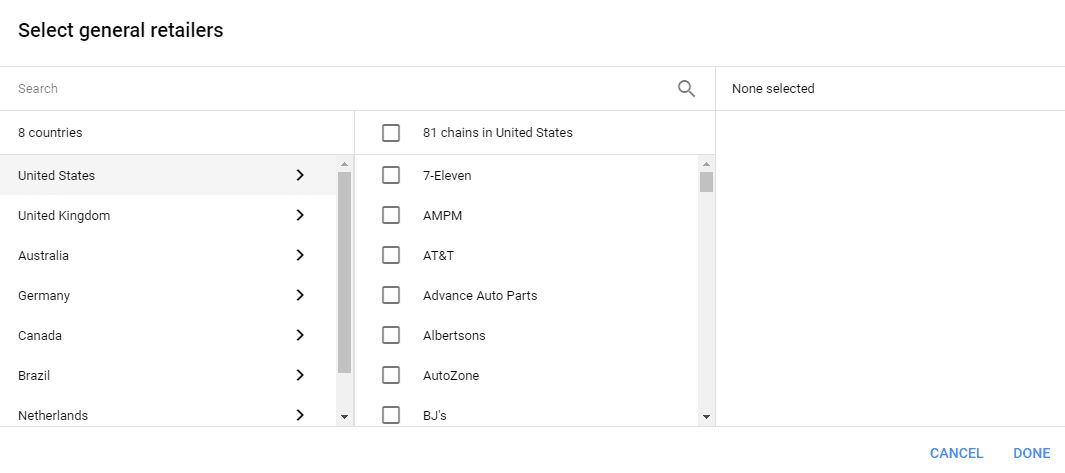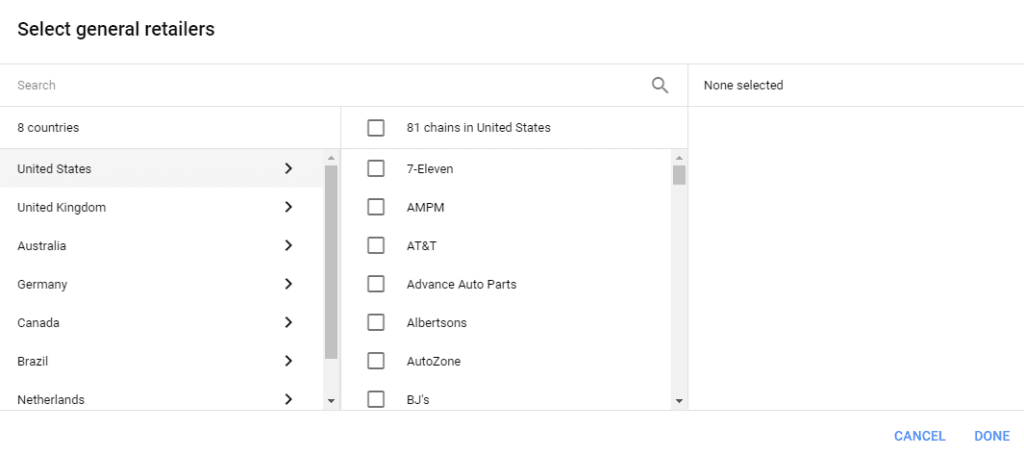 Google recently found that 30% of mobile searches are location based.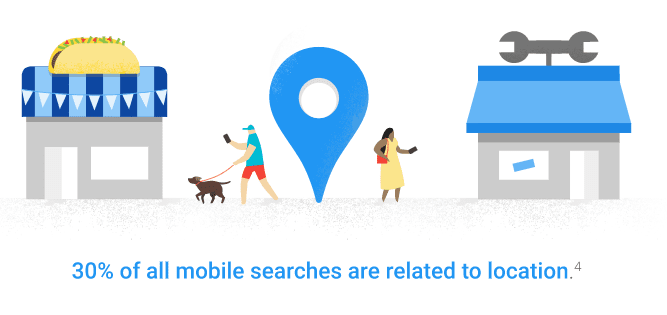 Their study also found that 76% of users who engage with searches or local products on their phones will visit that store within a single business day and 28% of them will make a purchase.
Now is the time to take advantage of affiliate location extensions in your video ads.
But that's not all that AdWords has done in 2018.
In the next two sections, we'll detail more critical updates to the AdWords experience as well as three key tips for finding better results on AdWords in 2018.
Keep on reading then, and don't forget that now AdEspresso supports AdWords too! To discover the details just click here!
What do you think? Are there any new AdWords features we did not mention? Is there something you want us to cover in next issue? Just let us know in the comments!
---
Google Ads Updates You Can Not Miss (March 2018)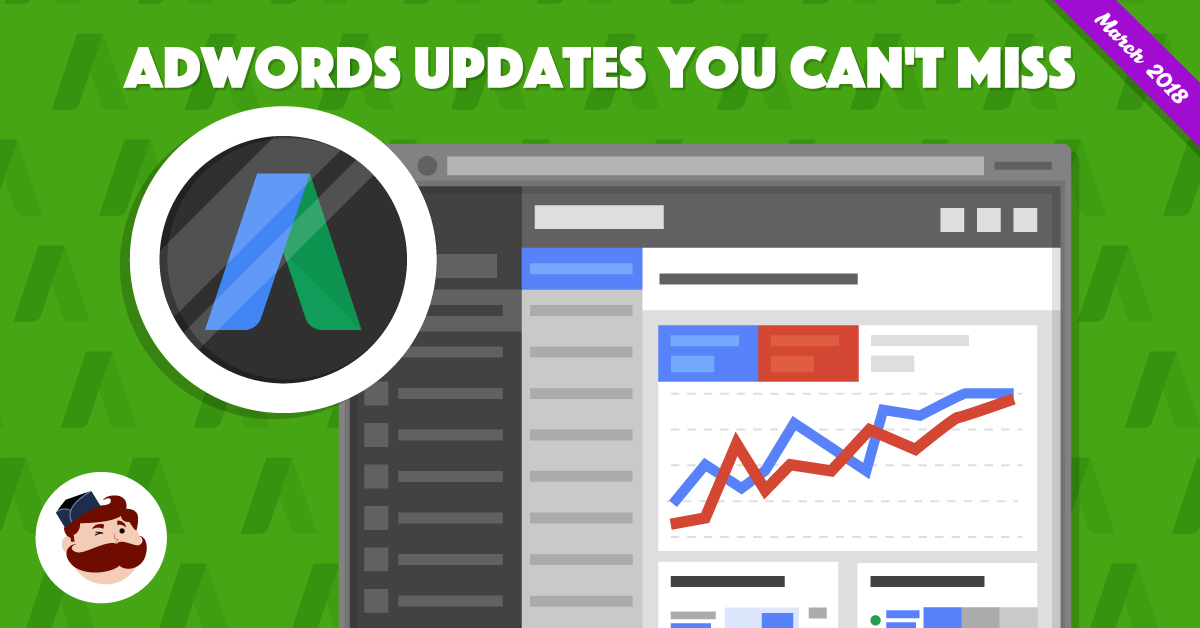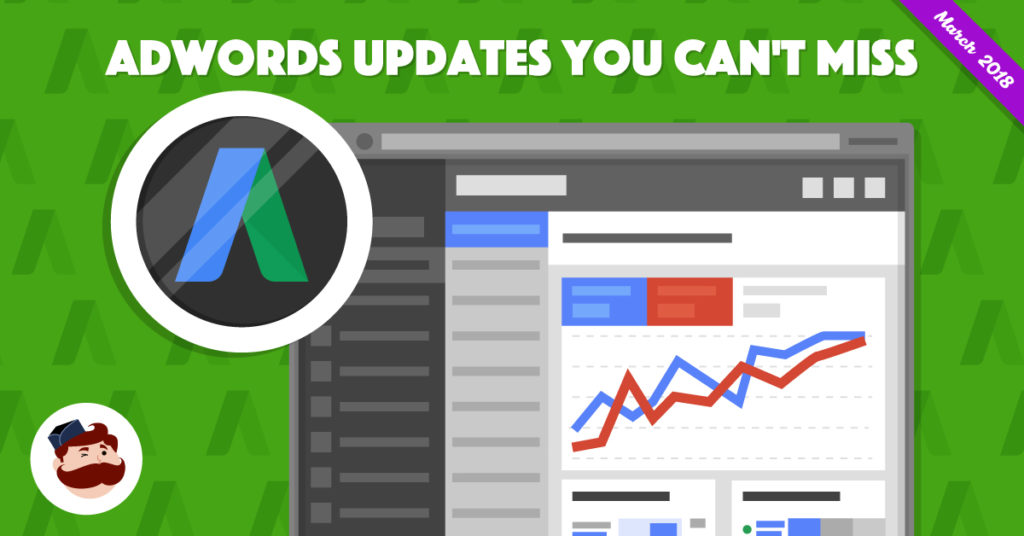 Two of the biggest AdWords updates in 2018 focus on the expansion of Landing Pages Report and the increased accuracy of Customer Match Options. And there's more. Let's discover what's new on Google AdWords.
Here's a quick list of the AdWords updates we are going to cover:
Ready to dive in?
Custom Columns For Ads and Keywords
Since 2014, advertisers on Google AdWords have been able to develop and measure custom metrics at the campaign and ad group level.
But just recently in 2018, Google announced an update allowing users to do this at the keyword and ad level for better specificity.
To get started with custom columns, head to your ads or keyword section and click on the column modification button:


From here, click on the "Custom columns" tab: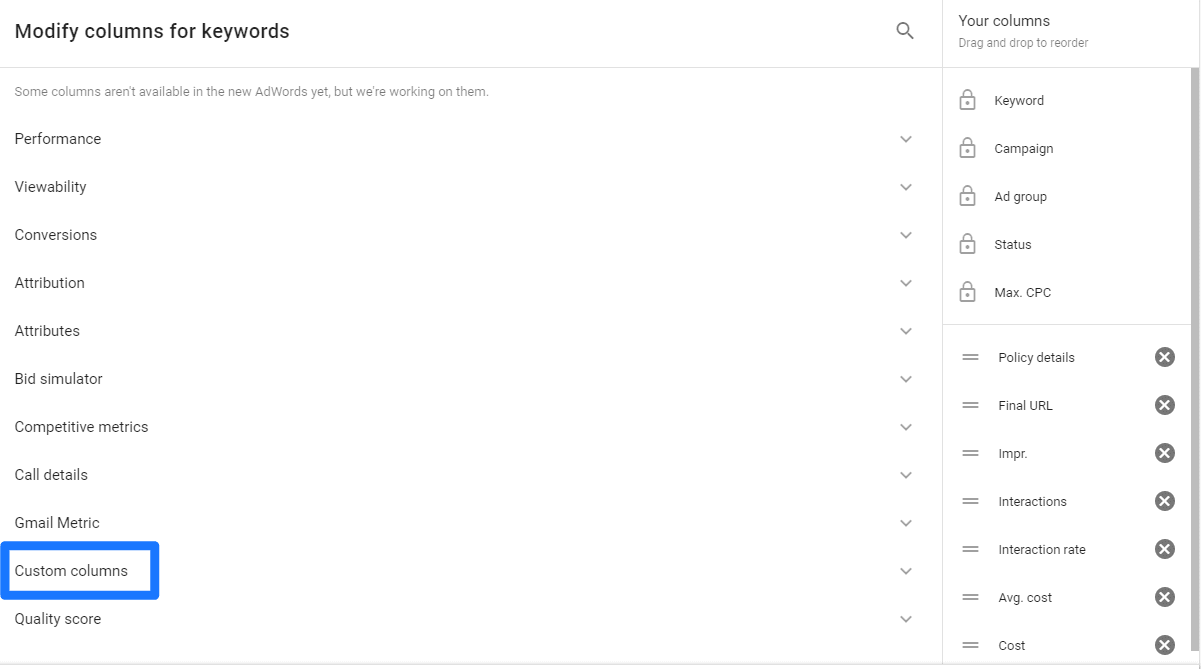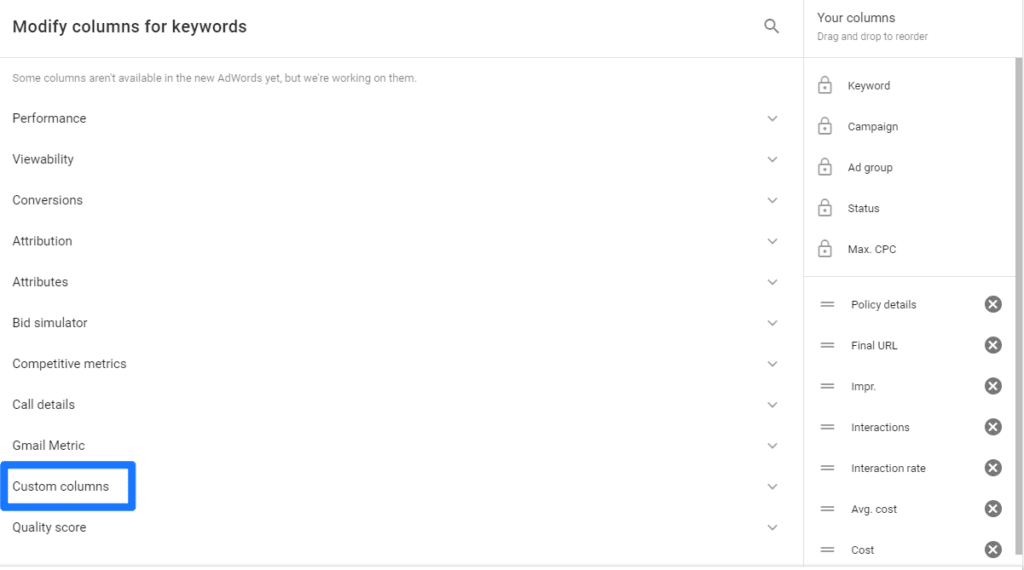 This will bring up the new-and-improved custom column creator right inside your keywords and ads tabs: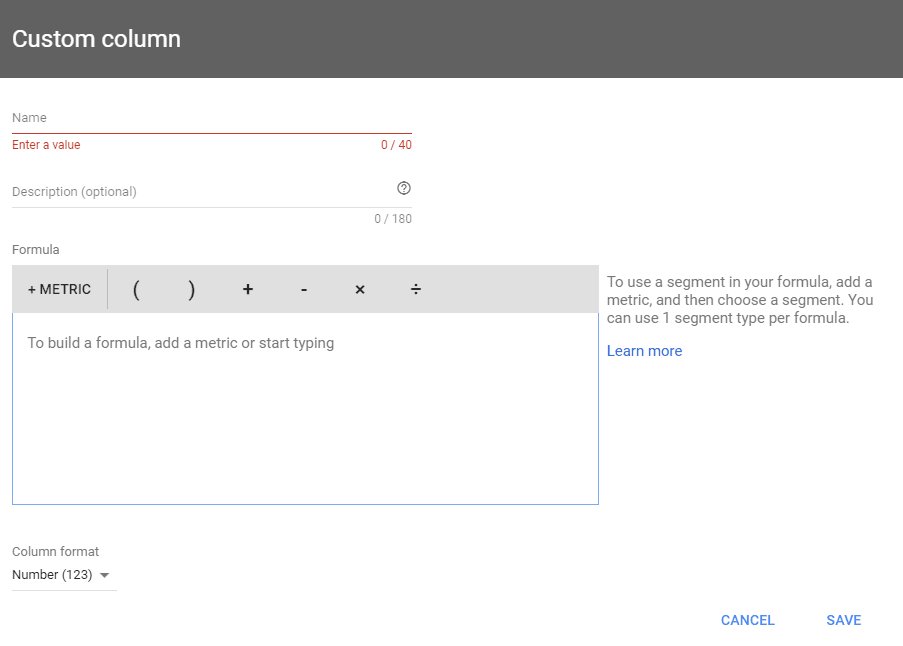 You can customize metrics based on any type of performance or conversion elements: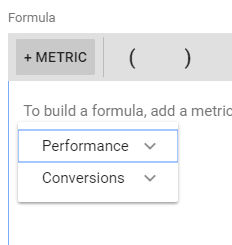 This new addition will prove very useful to further analyze how specific keywords are doing and select ads, rather than overall ad group or campaign level performance.
For example, you can directly analyze how ads perform with mobile users by adding a mobile CTR metric to your columns or gauge keyword success based on mobile conversions.
The options are now virtually limitless and almost infinitely customizable to your goals as deep as the keyword and ad levels.
Expanded Landing Pages Report
On top of new customization options and custom columns, the landing pages report got a fresh overhaul.
Originally released in early 2017, the page has been updated and modified to reflect new diverse metrics such as clicks, cost, conversion rates and any metric labeled under conversions, performance, and viewability.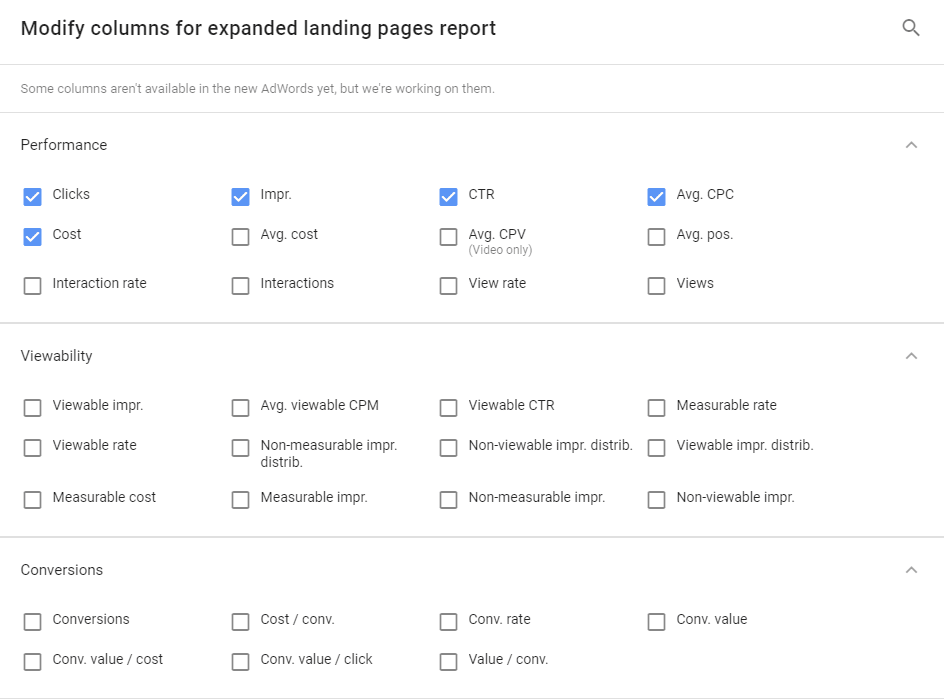 With the new report, all landing pages that you use for ads will show up, giving you actionable data like mobile-friendly clicks, AMP clicks, conversions and more:


Gauging the performance of your landing page is critical to better quality scores. And now, it's never been easier.
You can easily access this report from the sidebar on your dashboard:

Customize your metrics and columns based on your KPIs, and you can start to analyze what landing pages are performing best (or worst).
Promotion Extensions For Easy Sales
Writing new ads on AdWords sucks.
You have tons of information that you need to communicate to potential buyers, yet Google only gives you 30 characters for the headline and 80 for the description.
Meaning you can't share everything you need to share to convince cold traffic to buy from you.
And more often than not, it leaves you with boring, promotional headlines that people ignore.
Headlines that focus too much on their discounts and not a compelling value proposition.
Thankfully, in the latest updates, AdWords has added promotion extensions: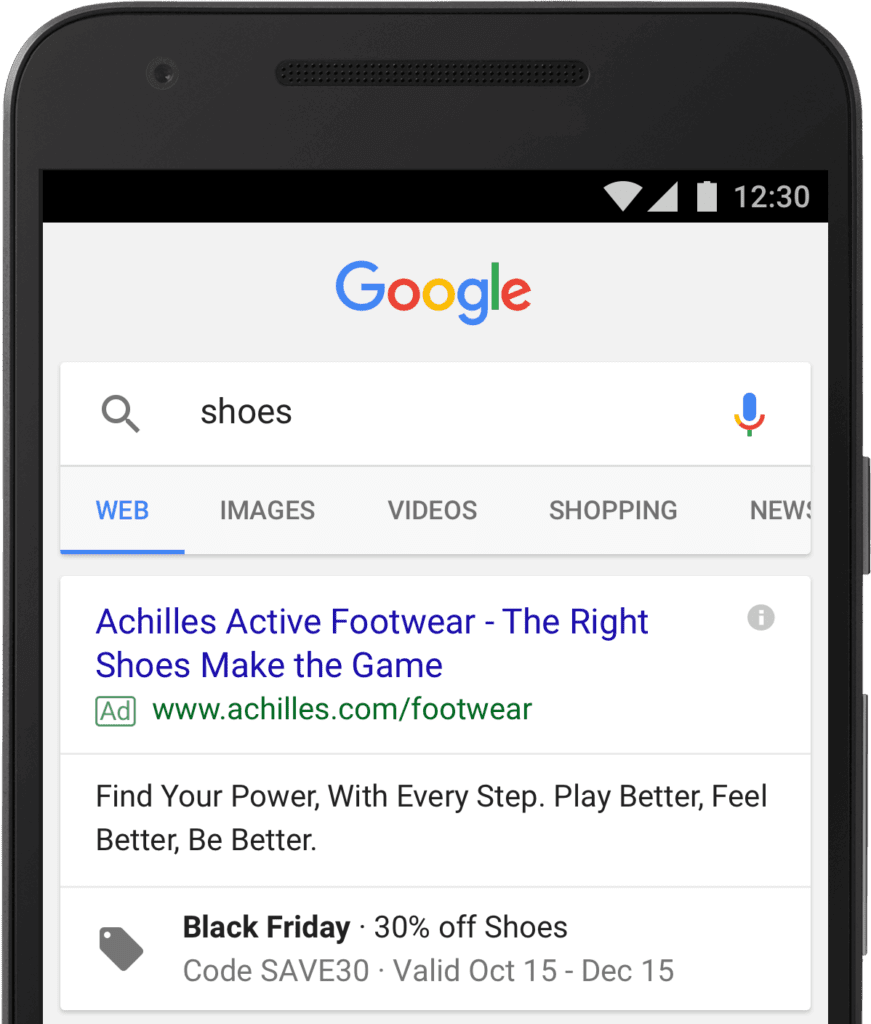 Promotion extensions allow you to add another tab of information to your ads, showcasing specific products (or product groups) on sale.
These are meant to take advantage of holiday seasons like Black Friday or Christmas.
As with all extensions, you can control when they are shown and on what devices, meaning you can customize offers based on device, too.
For instance, want to run a mobile holiday sale? Set the extensions to mobile only.
According to Google, companies using them are seeing 20-30% conversion rate lifts.
With these new extensions, you don't have to worry about wasting copy in your headlines or descriptions. You can keep existing value propositions and CTAs but add promotions on products for any time of the year.
A/B Test Faster with Ad Variations
A/B testing ads, copy and creative are key to success on AdWords.
But before the recent updates in 2017 and 2018, A/B testing wasn't that easy.
It usually involved creating multiple campaigns or ad groups and launching new tests.
But with the new AdWords experience and Ad Variations, you can quickly AZ/B test search network ads at scale.
For instance, if you want to test specific copy, you can apply it to thousands of ads with the click of a button, scaling your test faster than any method available prior to the update.
And the best part?
AdWords only shows you results if they are statistically significant. That's a huge plus considering the fact that most aren't.
To find this new feature, head to the Drafts & Experiments section on your dashboard: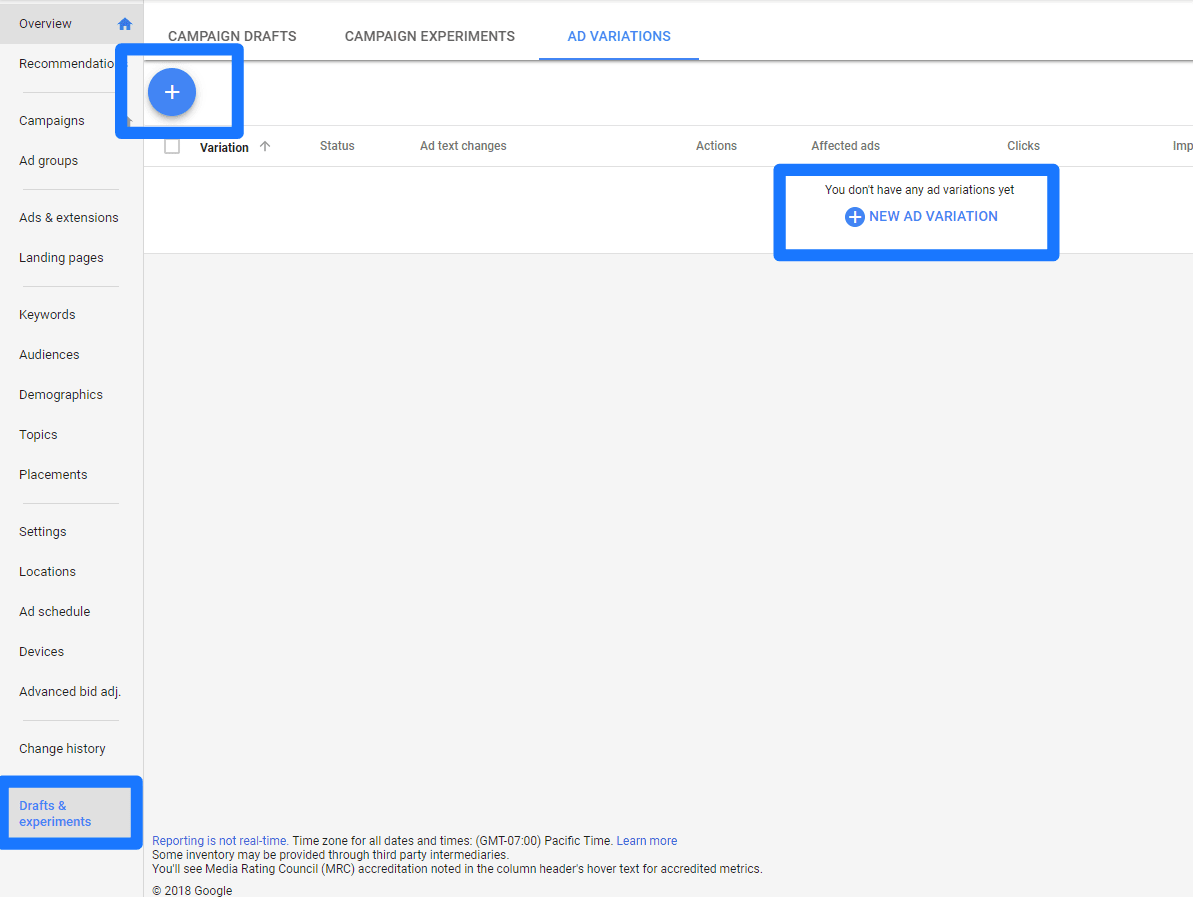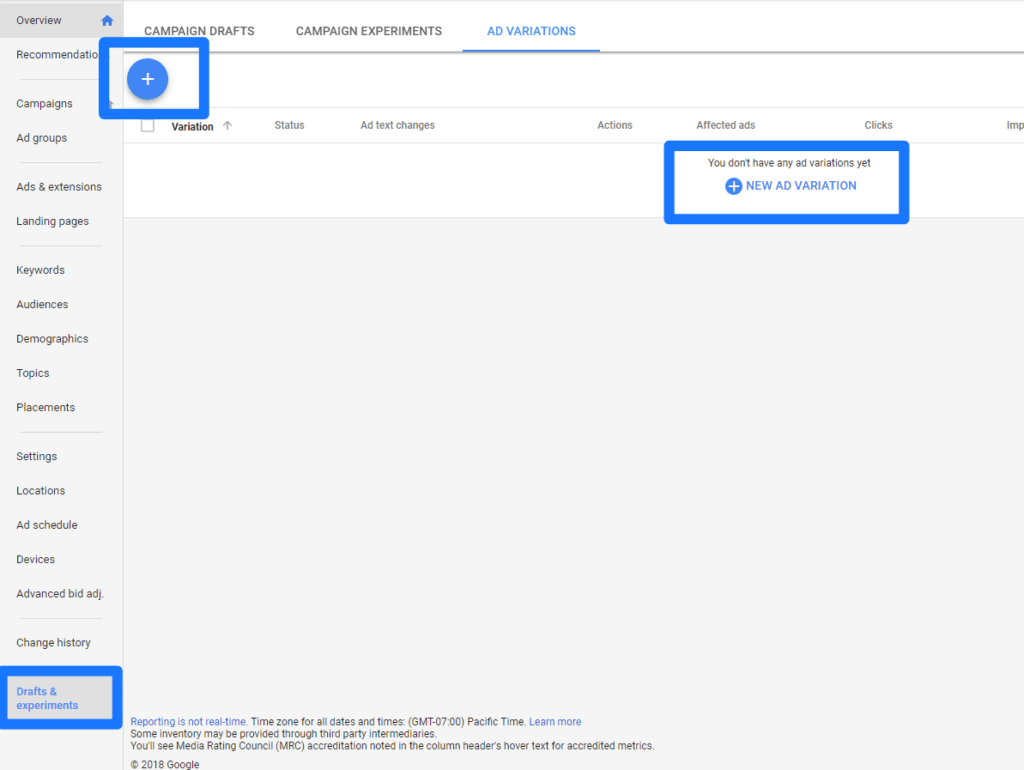 From here, create a new ad variation. You can begin to quickly adjust ad text at scale using AdWords' new find and replace tool: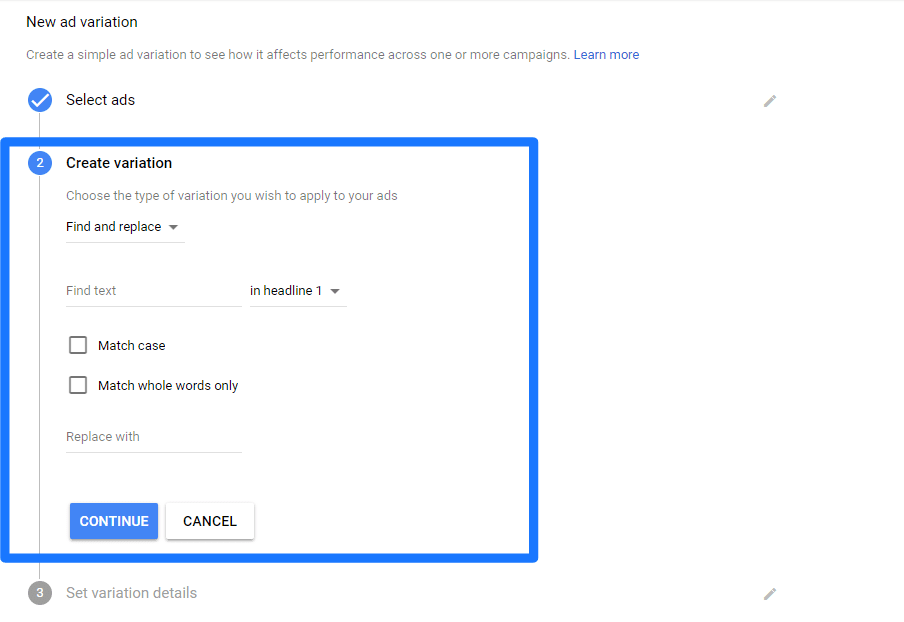 Doing so will create secondary variations of any ads you select to modify, keeping your existing ones untouched.
No more creating new campaigns, ad groups and ads over and over and over to test.
Thanks, Google!
Expanded Customer Match Options
Google released customer matching options to the public in March of 2015.
Customer matching allowed AdWords advertisers to upload files of customer data to match their existing customers to a targeted audience, making remarketing easier than ever before.
And it's safe to say that they exploded. People absolutely loved them, and for a good reason:
So, what's new?
As of late 2017, you can now upload files on existing customers with phone numbers and mailing addresses to better match to real users.
According to WordStream, Google's customer matching process is already outperforming the likes of Facebook and Twitter: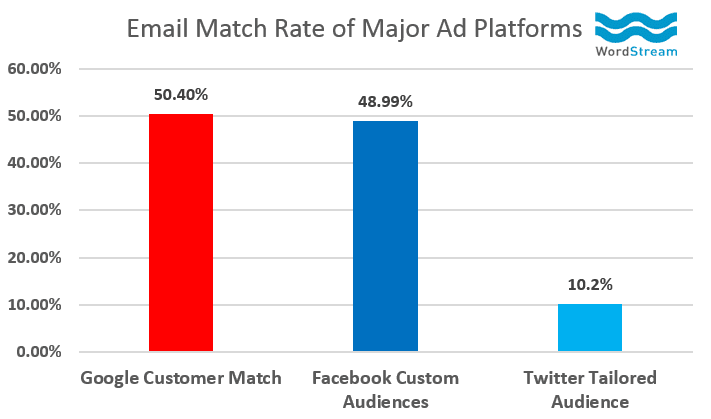 In the audience manager, you can now create new custom audiences for existing customers based on these two new parameters for more accurate matching.
Ready to run some remarketing campaigns? Now is the time.
Custom Intent Audiences For Better Sales and Higher Conversion Rates
When AdWords made the UX and UI overhaul, they brought brand new features like better audience management and demographic targeting.
But with the latest updates, they've beefed up targeting options specifically for display network ads.
And these new features are game-changing.
Just recently, AdWords announced the addition of Custom Intent audiences, designed to help you create better custom audiences beyond affinity and demographic targeting.
While these features are currently only for the Display Network, I wouldn't rule out the potential of a Search Network carryover in the future.
So, how exactly do they work?
You can either (1) input data like keywords, topics and URLs to tell Google what intent related searches or pages showcase buying behavior or (2) let AdWords auto-create an intent audience for you based on machine learning.
Custom intent audiences can help you break through the vague groupings you find on platforms like AdWords and Facebook and focus on specific information pertaining to customers who are actually showing intent to buy similar products.
You can find these customization options under the Audiences section when editing a Display Network campaign: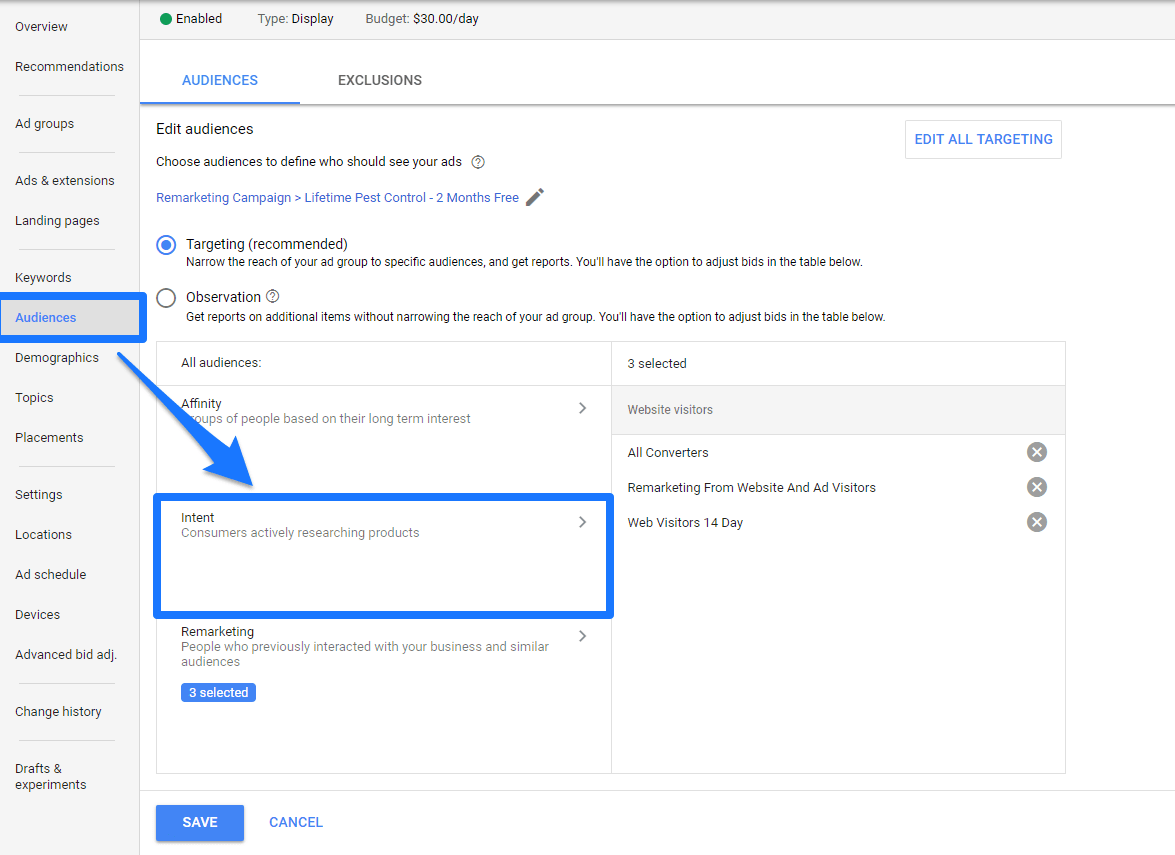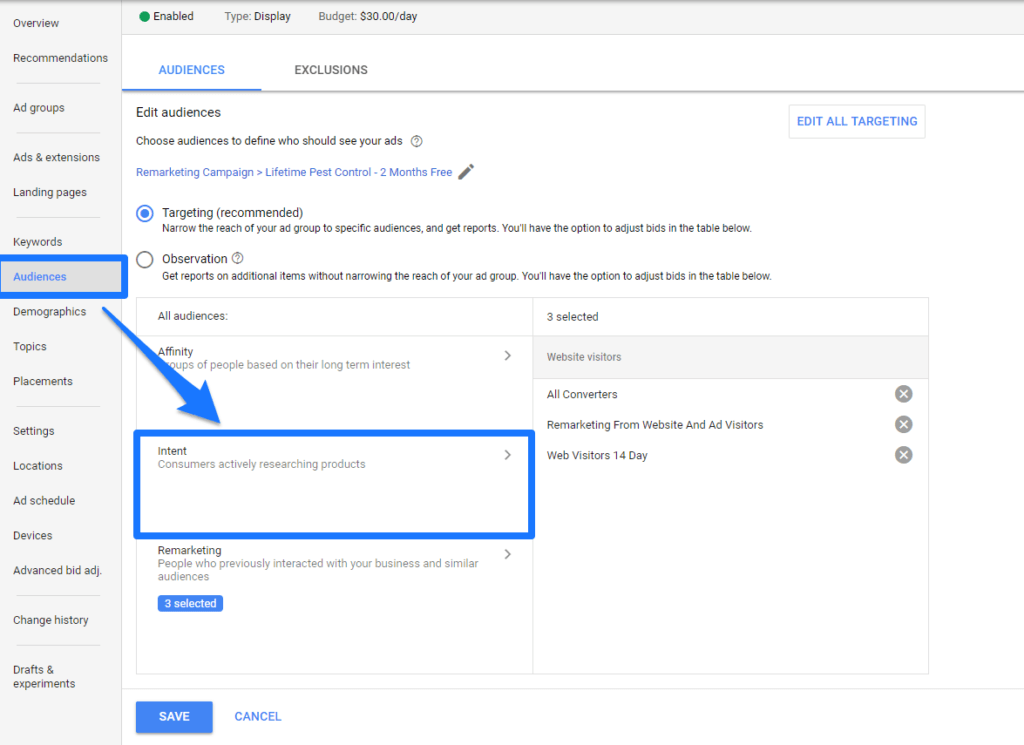 Editing your audiences for a selected display campaign will pull up intent options, helping you to create custom or auto-created audiences:

If you are struggling to find great results even with deep and diverse interest and affinity targeting, these audience factors won't disappoint.
And that's all for now!
But if you want to make sure you're really using AdWords Experience at its full potential, just keep on reading.
In our previous post, that you'll find below, we suggest a few smart tips&tricks to maximize your Adwords Experience!
---
AdWords Experience – All You Need To Know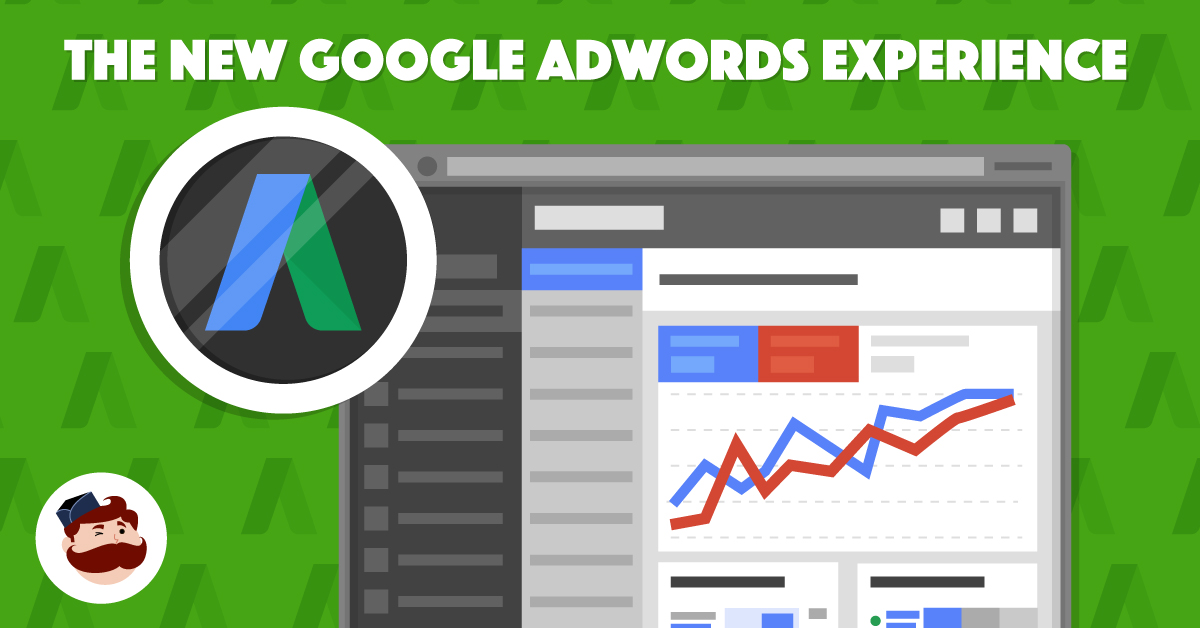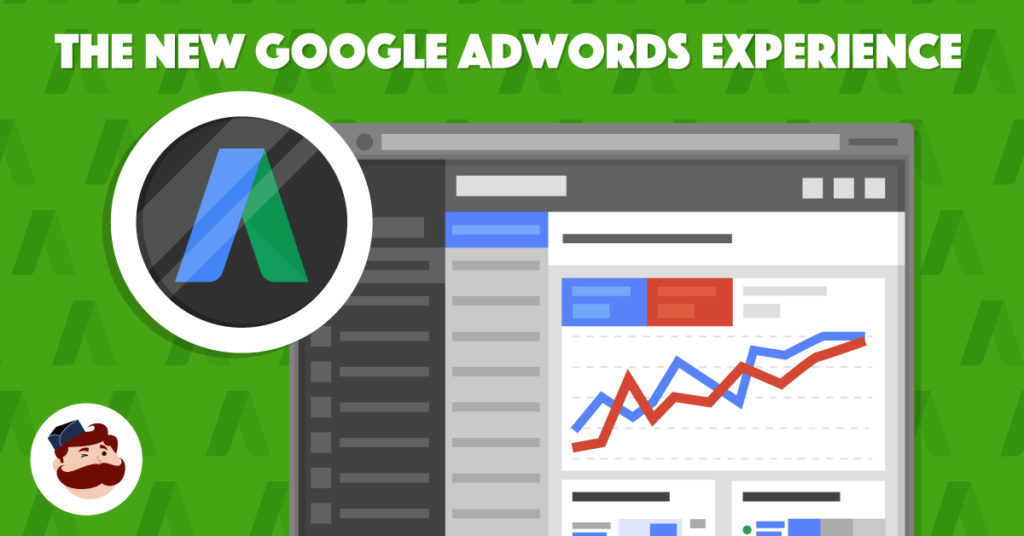 While the new Google AdWords Experience may sound great, it also presents a major problem: the platform is going to take some getting used to.
Finding the standard elements that you used to use isn't as easy. Features aren't in the same location. And even some of the metrics are different, and you can quickly get lost in the shuffle trying to keep up with this new update.
But there's also an upside.
Actually, there are multiple, major upsides with newly-added features. These features are game-changing for delivering your ads to the right audience.
Just keep on reading and you'll see!
How To Navigate Google AdWords Latest Update (Or Change It Back)
The new Google AdWords Experience is here, and it's available for anyone using the platform. Here's how Experience currently looks like when you navigate to your account dashboard:
Pretty snazzy, huh? (Do people still say that?)
Compared to the old account dashboard, this is a big functionality and usability change.
Updates like this are often a mixed bag when it comes to reception from the public.
Some love it and have been dying for a refresh. But that also means many die-hard users are going to have to spend extra time getting used to it. Uncovering the same features will take some getting used to.
If you don't want a change, you can always revert back to the old AdWords for now.
To do so, click the three-dot drop-down menu in the top right corner of your AdWords dashboard and then select "Return to previous AdWords":
This will instantly take you back to the old platform, allowing you to reminisce about the glory days.
But if you want to get accustomed to the new platform, which is probably a good idea, I'll walk you through the basics and show you how to find the most important sections that you use daily.
To get started, if you run multiple accounts, you can see them all on the left-hand side of your dashboard: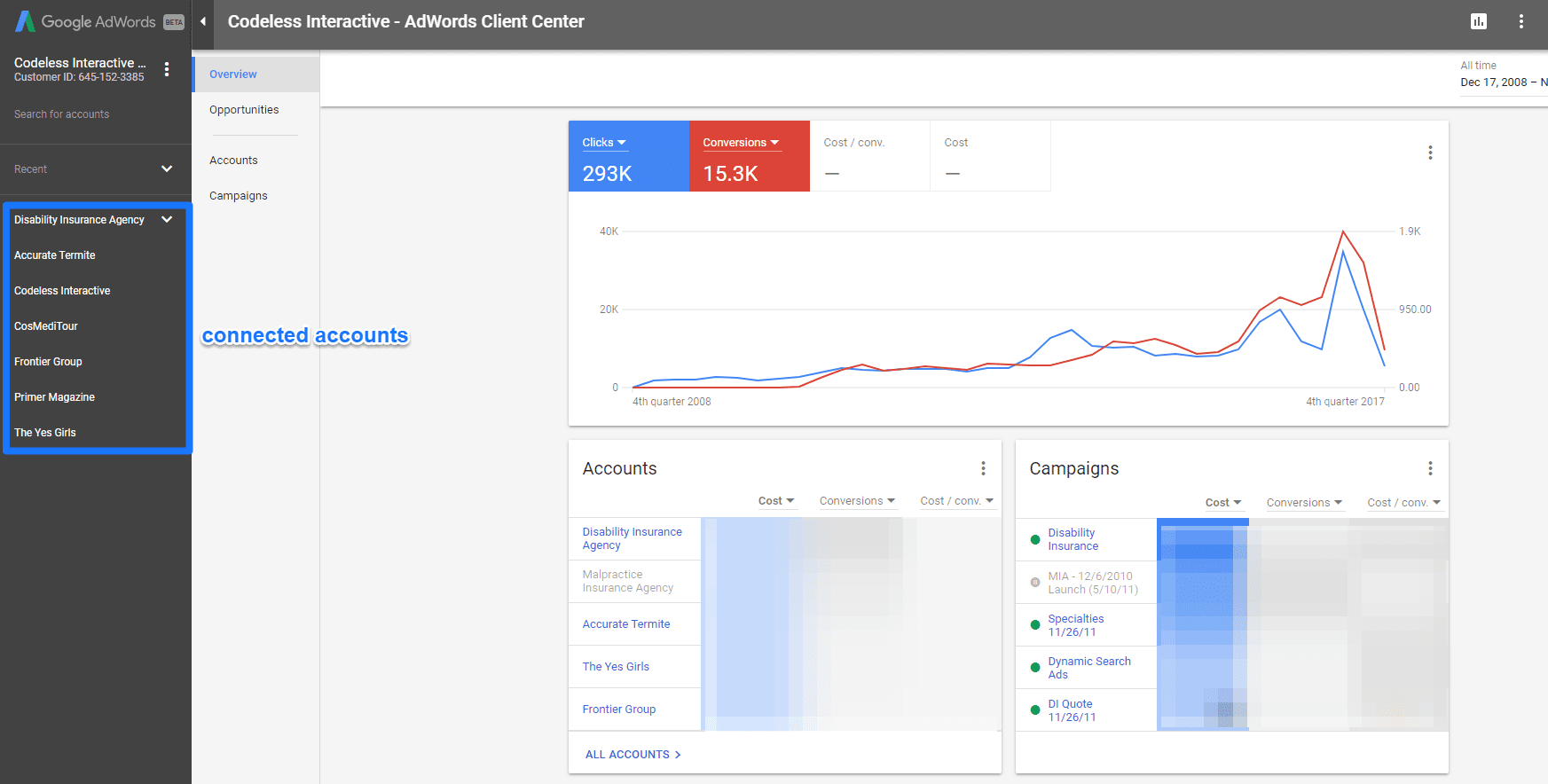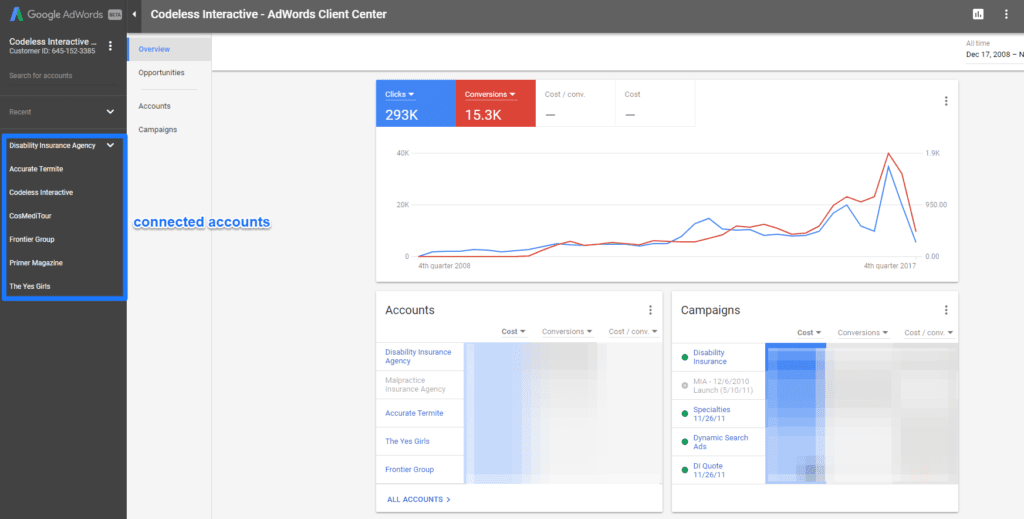 This is now called the manager account dashboard:
Meaning you can see all of the data for all of the accounts that you manage. You can even get a detailed analysis of performance right from the dashboard.
To pair with this, Google AdWords instituted the dynamic insights tab into the dashboard section, giving you detailed insights on campaign performance that would normally require a bit of analysis on your own:
Now, instead of the annoying notifications that you used to get about "opportunities," AdWords has an entire, detailed section dedicated to it:
These suggestions are much more actionable and give you exact steps for implementing them too.
Once you've selected a specific account, things start to look pretty similar. They just have a different structure.
For example, you can navigate to all of your most-clicked buttons on the left-hand sidebar now instead of above your data: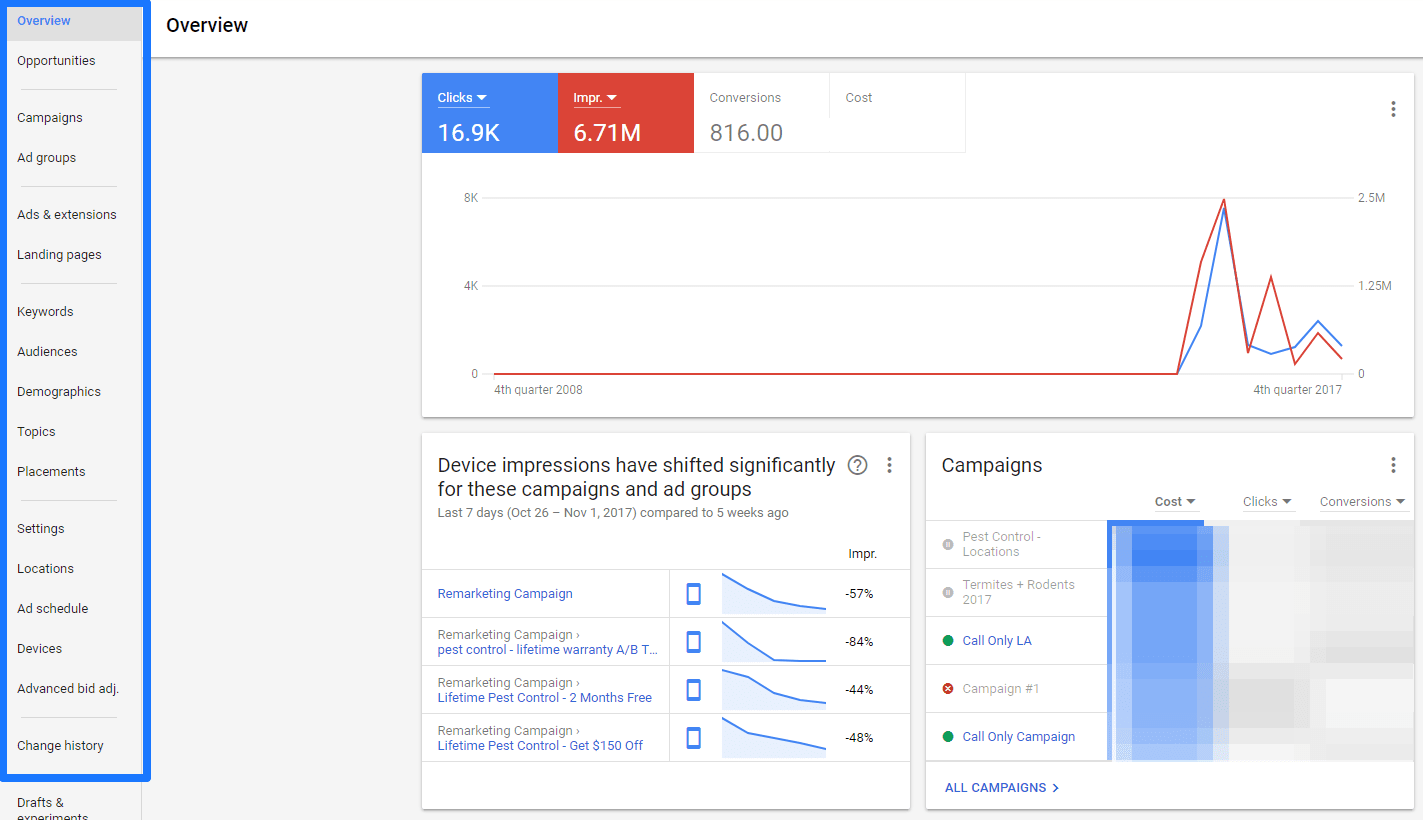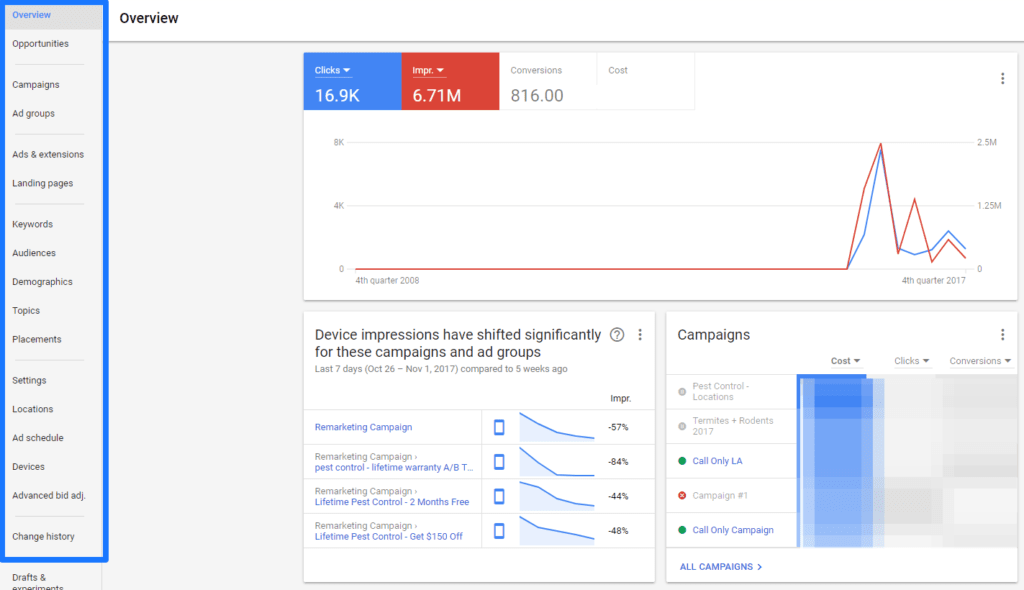 Similarly, you can manage and create all of your ad extensions in the same space with a consolidated view:
Another new addition is the three-button drop-down menu:


You can access all of the most-used tools here, like the keyword planner, negative keyword lists, conversion tracking, and more.
It's similarly structured to Facebook's platform now where everything is grouped under specific sections like "Shared Library" and "Bulk Actions."
Now, your reporting data can be accessed from the top menu bar as well:

From here you can click the blue "+" button to create and generate diverse reports.
You can even create custom dashboards to get access to your most important data, just like you can do in Google Analytics:
This will be a big, time-saving feature that allows you to see the data you want to focus on first.
The new platform can seem strange at first, as it's a pretty large overhaul in design and structure.
Getting used to it will take some time, but in the end, it's worth it.
Why? For the new features that are going to take AdWords to the next level.
Here they are.
Three New, Game-Changing Features
Google was smart enough to not just give us a new UI experience.
They knew that simply overhauling the system to make it pretty wasn't going to turn any heads or convert any skeptics.
With the new interface update, we've also received some critical updates in the form of game-changing features.
Here are the top new features and how to use them ASAP.
1. The audience management section
Just when you thought that Facebook was the only place to dominate custom audiences, Google stepped in and proved us all wrong.
Now there is an entire section in AdWords dedicated to audience management.
Here you can target different custom audiences and create new bids based on audiences as well.
To navigate to it, click your three-button menu drop-down and click on the audience manager tab:
You can manage all of your audiences in this one place, as well as generate audience insights:


When you click the blue "+" button you can choose between a few different custom remarketing options: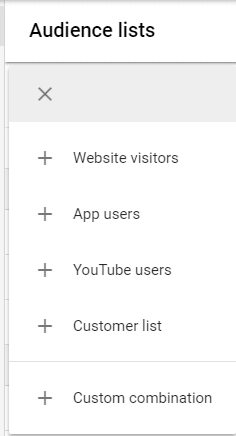 Creating audiences on AdWords has never been this easy, and now it's all located in one dashboard, making it even easier to manage.
2. Promotion ad extensions
AdWords just recently rolled out a new addition in their latest update to the ad extensions list.
Unless you've got select beta access to this feature in the old version of Google AdWords, you'll need to perform the update to use it.
Meaning these features are exclusive.
Promotion extensions are new, ad-based extensions that allow you to show, advertise, and link to specific promotional-based offers in your search network ads.
For example, you could use them to highlight a specific sale during the holidays.
Or maybe you've got an eBook for sale for a limited time.
The options are limitless.
Now you don't have to waste all of your tiny ad copy section talking about it. You have another chance to promote more products with a single ad.
You can even use it to do the opposite and double down on the promotion.
Some users are seeing average CTRs near 10% using these new extensions and, in general, they are driving the highest click-through rate out of any extension available.
Getting started with these new promotion extensions is easy, too.
Head to your campaign dashboard, click on the ads and extensions tab, and select the promotion extension: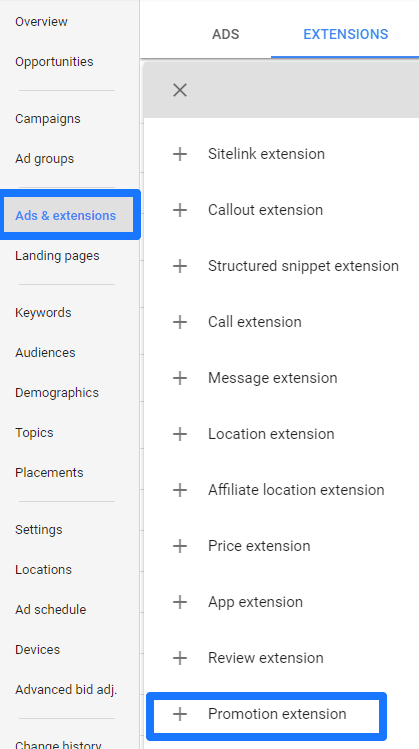 Next, you can customize everything about your promotion extension, including the occasion, discount type, and date ranges: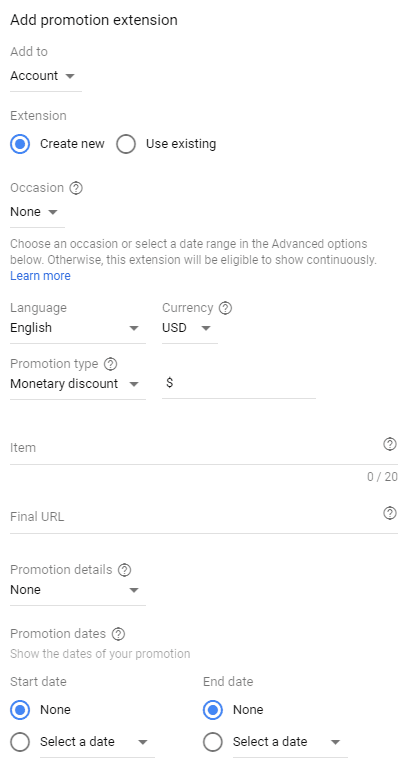 For the occasion section, you can choose between tons of different holidays to target. If it's not for any specific occasion, you can always leave it blank, and it will show up as a non-holiday promotion.

When you select one from the list, you'll see that in bold on your new ads to help users know exactly what they are getting when they click:
Customize your final URL landing page, and you'll be driving promotional sales traffic in no time.
That's it!
All you've gotta do is add some new extensions to your ads, and you can start to promote tons of new deals for any occasion.
3. Incredible demographic targeting options
Facebook and Twitter were and (somewhat) still are the kings of audience targeting.
Each platform has incredible features that allow you to create super remarketing lists where you can target income, job seniority, and more.
Even LinkedIn jumped aboard. They're starting to add these in-depth features.
Thankfully, Google has finally added some new, diverse targeting options in the form of demographic data.
The first set of demographics that they've added is household income targeting in the search network.
This was a feature on the old interface, but it only applied to highly specific, local-based ads.
But now, it's for all ads within the search network.
To access the data, simply select the demographics tab and click the household income option:
Now, you can get a clear picture of the household income data from your search network ads.
This has big implications for the way that PPC marketers use the search network to advertise.
For example, you can target ads to different audiences with different price points.
Meaning you no longer have to worry about attracting traffic that won't be able to purchase or downselling to traffic that wants a high-end product.
On top of this addition, now the parental status targeting options are available for the search network rather than just the display network.
To access these, select the new parental status tab on your dashboard:
Parental status targeting for the search network is a big deal.
This can have a huge impact on success for brands that sell products catered to parents, like toys and games.
This new search network feature could play an important role in campaigns dedicated to the holidays and major shopping events.
Although we don't have data on most of them yet, these new search network features are going to be a big hit with advertisers looking for more customization.
Google AdWords Has More Updates On The Way
Those are three of the most game-changing features that AdWords has installed on the new platform.
They have vastly improved the search network with new targeting options, extensions, and audience management.
But that's not all. Google still has a few critical updates in the works according to Search Engine Land.
We can expect the following features soon:
Landing page performance grading: This new feature will give advertisers insight into how their landing page performs in relation to their ad.
Instead of just the quality score to go off of, advertisers will be able to get insight on optimization and improvements to lower costs and drive more conversions.
Customizable in-market audiences: These new audiences are coming to the search network soon. They will allow a given advertiser to tailor audiences based on performance, website, and business goals.
Attribution: Google's new attribution will no longer just be for search funnels. This attribution tool will help PPC advertisers see upper and mid-funnel conversion credit rather than just last-touch.
On top of that, it's designed to give informed decisions for bidding optimization.
Store sales management: Lastly, this new stores measurement and management feature will allow retailers to import important store transactions into AdWords via third-party services.
AdWords is already making some big changes in the coming months.
Conclusion
The new AdWords experience is vastly superior.
The UI experience and features have both received massive upgrades.
We can now target users with the same specificity and detail that we can on Facebook.
Custom audiences aren't the only form of detailed targeting that works anymore.
The new experience is open and ready for any advertiser to take advantage of on Google.
If you don't like it, or if you're a scrooge and love the 'good old days,' you can always switch back.
The new experience might take some time to get used to, but the new features are here to stay and will only increase and improve with time.
Try taking advantage of these demographics and extensions to start bringing in new visitors and closing more sales.
These features are currently exclusive to the new experience, so if you want to get started with them, you need to update.
Thankfully, it's free and easy to do for anyone using the platform today.
What do you think? Are there any new AdWords features we did not mention? Is there something you want us to cover in the next issue? Just let us know in the comments!