Setting up and optimizing your ads on Google's Display Network can be a tricky process with a steep learning curve. And often, that learning curve comes at the heels of a wasted ad budget.
But that doesn't always have to be the case.
If you're spending part of your digital marketing spend is going towards banner ads, one of the best ways to stave off losing money on your efforts is to know what size images you should be using.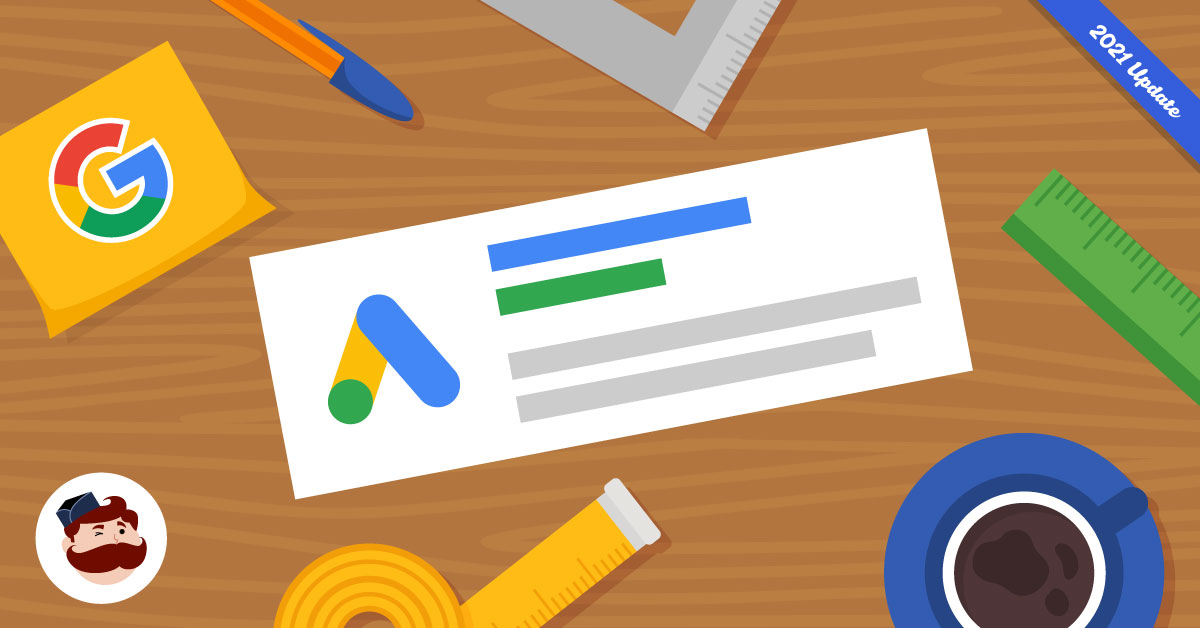 While it may seem like all banner images are created equal, the truth is that not all of them are going to net you the best bang for your buck.
So in this article, we're going to go over some of the best image size options for marketers on the Display Network.
But first, let's look a little closer to see if the size of your image really does matter.
Does Google Display Ad size really matter?
When you're going through the process of putting up a banner ad on the Display Network, one of the many considerations that you'll need to address is the size of the image you use.
While it would be nice if you could just design an ad and leave it at that, advertising is rarely so simple.
On the Display Network, the websites that publish your ads ultimately have control over which size ad gets featured. So if they want banner images on the sides, top, or bottom of their site, then you wouldn't want to try to publish everything as a half-page ad.
Choosing the wrong size will effectively limit how much reach your campaigns have. And if you're trying to target a specific niche, this could make your ads ineffective altogether.
Studies have shown that certain ad sizes do tend to get different click-thru rates than their counterparts: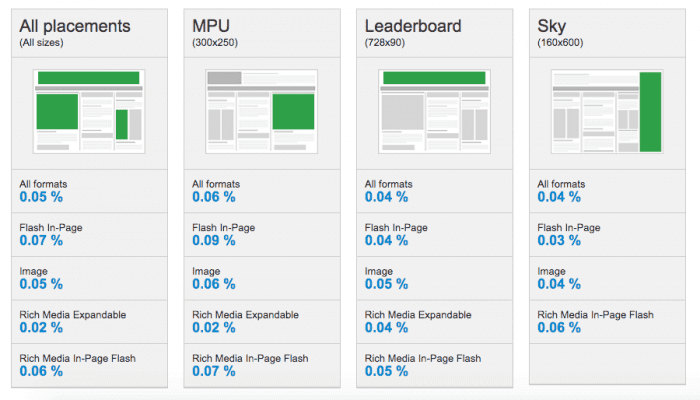 That means in most cases, ads that are the 300×250 sizes will get the most clicks on any given day.
From a quick glance, that would make them seem like the best options if you want to get your ad on as many sites as possible.
While that may be partially true, it only partially shows you why size matters.
Understanding which ad sizes get the most click-thrus is important because banner ads don't always get great CTRs. They've been decreasing over the past few quarters.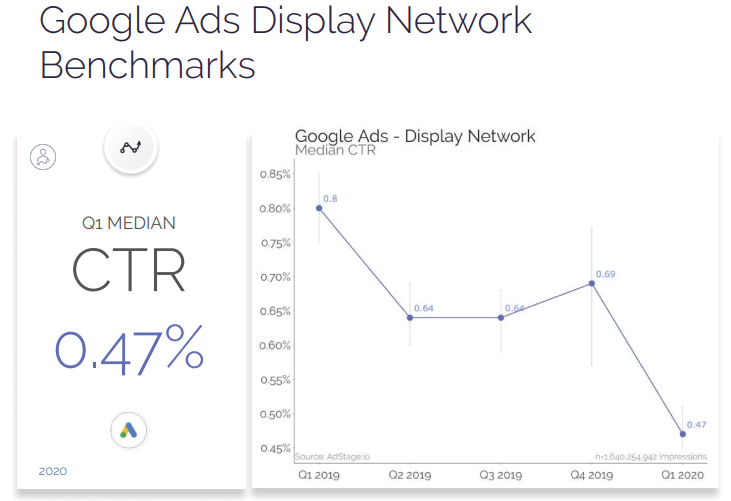 To add to the frustration, ad blocker services like Adblock Plus, Brave Browser, Opera VPN, and NordVPN will all make your banner-sized images even less effective.
While they're not perfect, they can severely hurt you if you only use the common ad sizes: 300 x 250 and 728 x 90.
The key takeaway is that one or two Google Display Ad sizes aren't going to get you everything you need.
Some sites want smaller images, and others want larger. Some services are going to block your banner-sized ads but will miss larger or smaller variations.
The only solution is to prepare and optimize as much as possible.
But there's one other consideration with ad sizes that you need to know about, and it has to do with mobile devices.
More and more sites have been utilizing mobile Display Network ads, and consumers are starting to pay attention to them.
More consumers using mobile devices (57.1%) had an ad fully on their screen compared to those on desktops (53.6%).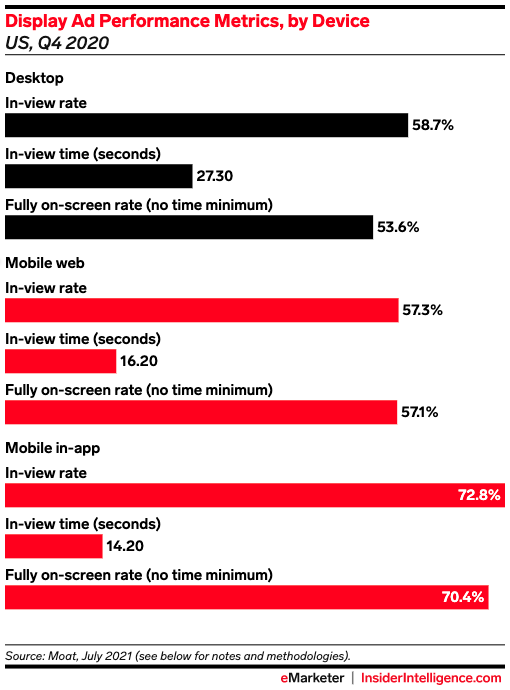 This allows your ad to take up a pretty sought-after piece of real estate as your target customer browses on their mobile devices.
That means you need to keep mobile in mind as you create your images and choose what size to use.
As of right now, the most popular desktop display ad sizes vary in shape and dimension: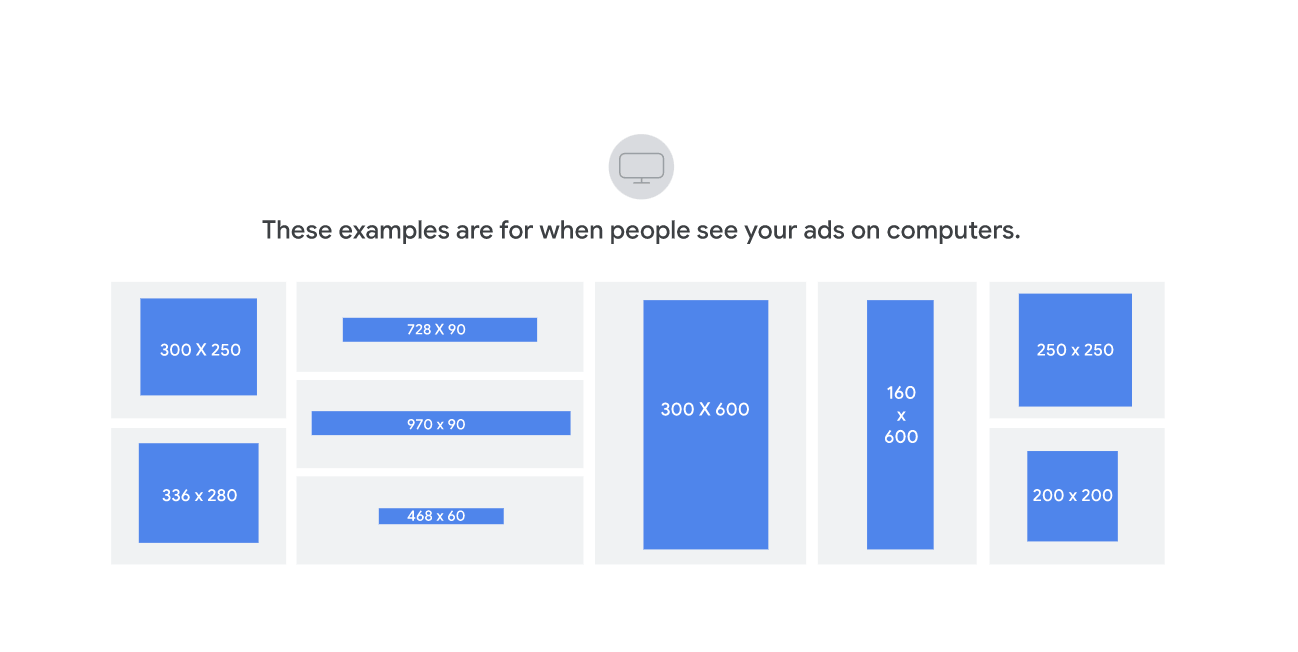 So all things considered, there are a ton of variables at play when choosing an ad size.
At the very least we can conclusively say that the size you do choose will be important for ad performance.
It can affect where you place your ad, how often users view it, and even whether or not it'll show on the Mobile Display Network.
Google Ads sizes and formats in 2021
Most popular Google Ads sizes
To find the top-performing ad sizes, we need to look no further than Google's own report.
According to their research, there are five primary ad sizes to consider when you're building out a campaign for the Display Network.
If you have to keep a limited approach, it's recommended to at least create graphics for these five Google ads sizes: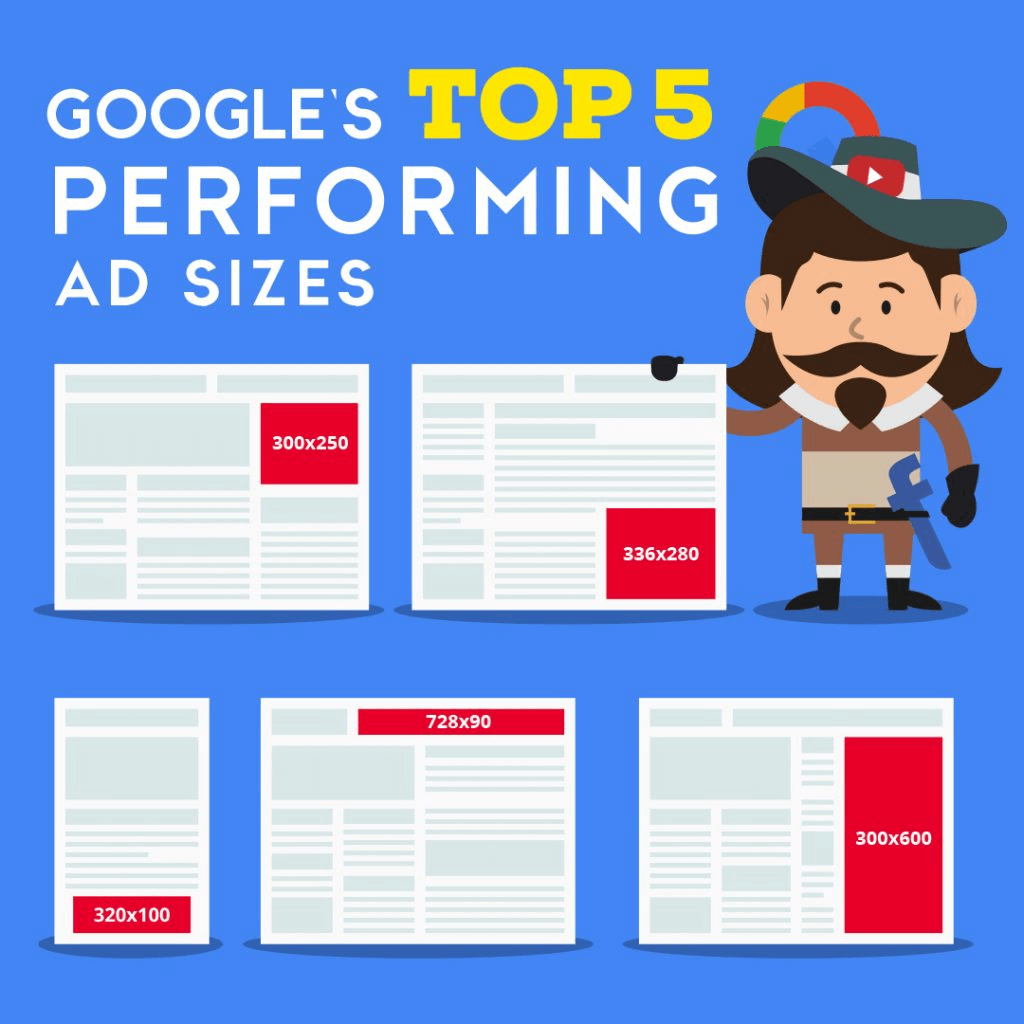 As you can see, these banner images won't necessarily all work in one place or for one campaign.
In this section, we'll take a closer look at each and see where they shine as well as try to highlight a few examples found in the wild.
Top Google Ad size #1: 300×250
This image size is known as the "medium rectangle" size and, as we saw earlier, is one of the most widely-used banner ad sizes on the Internet.
Here's an example: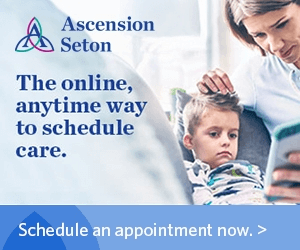 As you can tell, it's relatively compact and doesn't take up much space compared to taller options like the 300×600.
That's part of what makes it a favorable option for so many publishers.
Another plus is that this type of ad usually gets embedded in the text, which decreases the chance that your consumers will just scroll past it.
So availability and in-text placement make this an excellent option for many advertisers. If you're new to banner ads, this is a great place to start.
Top Google Ad size #2: 336×280
Our second ad type is called the "large rectangle."
This ad image variety doesn't get quite as many impressions as the previous one, but it still tends to have a large range of sites and publishers that like to use it.
Here's an example of one we found in the real world: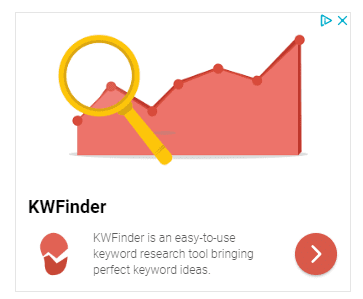 As you can see, it's about the same size as the 300×250, but just a touch bigger.
This makes it another good option for brands that want their ad embedded in the text of an article where more eyes can see it.
Top Google Ad size #3: 728×90
This ad size is called the "leaderboard," as it's usually displayed prominently at the top of the page it's published on.
Once again, it's a good choice for brands that want to have their ad in front of as many eyes as possible.
Here's an example of a Topo Chico ad using this size:

According to Google, this type should always be put at the top of content or on a forum-style site. If you see it elsewhere on a site, you may want to opt out of having your ad placed there.
Top Google Ad size #4: 300×600
This ad size is often called the "half page" size, even though it doesn't quite cover up a full half page.
The purpose is to give advertisers a little more elbow room to get their message across. As you're taking up more space, you've got a better shot at drawing the eye and getting a click.
Here's an example of a 300×600 ad from a recent Forbes article: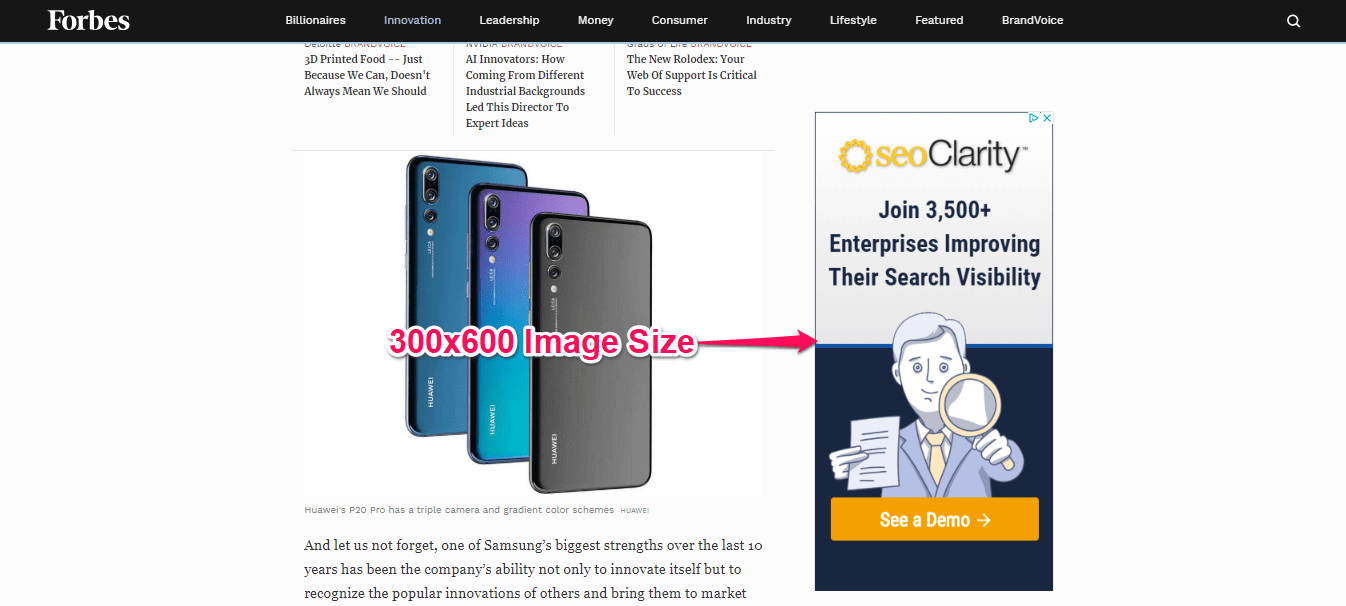 As you can see, it displays prominently against the copy and imagery on the post and gives you more of a chance to stand out against it.
If you place these strategically, you can get some good results.
And according to Google, this ad format is currently among the fastest growing sizes by impressions due to its ability to provide more visual impact.
If you're hanging your hat on banner ads, this could be the size you need.
Top Google Ad size #5: 320×100
This ad size is called the "large mobile banner," and Google recommends it in lieu of the shorter or taller 320×50 or 300×250 options.
Here's a screenshot of a 320×100 banner:

As you can see, these ads fit comfortably on the screen and don't detract much from their surroundings. And since they're smaller, they make a great choice across any mobile device.
Plus, they offer a little more visibility than the shorter "leaderboard' images on mobile devices.
Speaking of mobile, how should you adapt your strategy for a mobile-first generation?
Google Ad Sizes for Mobile
Everything you do should be mobile-first. This includes your campaigns, too.
Think how many people saw your ad on mobile in your last campaign. Don't you want to design your ads for a mobile-friendly audience?
Mobile data traffic is increasing rapidly. As of January 2021, the total number of mobile internet users amounted to 4.32 billion globally.
With so many consumers browsing the internet on their phones, you need to make sure your ads are optimized for mobile.
Mobile browsing and shopping is the norm for consumers. Depending on your industry, it's likely that the majority of your consumers are browsing your site on their phones.
If you optimize your ads for desktop and most of your customers are on mobile, who are you really serving?
Thus, you should target them with Google Ads that display well on mobile devices.
Google Ads are the most popular type of ads that are clicked on mobile devices so they're worth investing in.
What sizes should you use? Some mobile sizes overlap well with sizes that appear on desktop devices. But some desktop sizes do not adjust well for mobile devices.
The mobile ad sizes you should consider include:
300×200
300×50
300×100
250×250
200×200
These ad sizes will look great on mobile devices and showcase valuable content that fits the entire screen and is not stretched.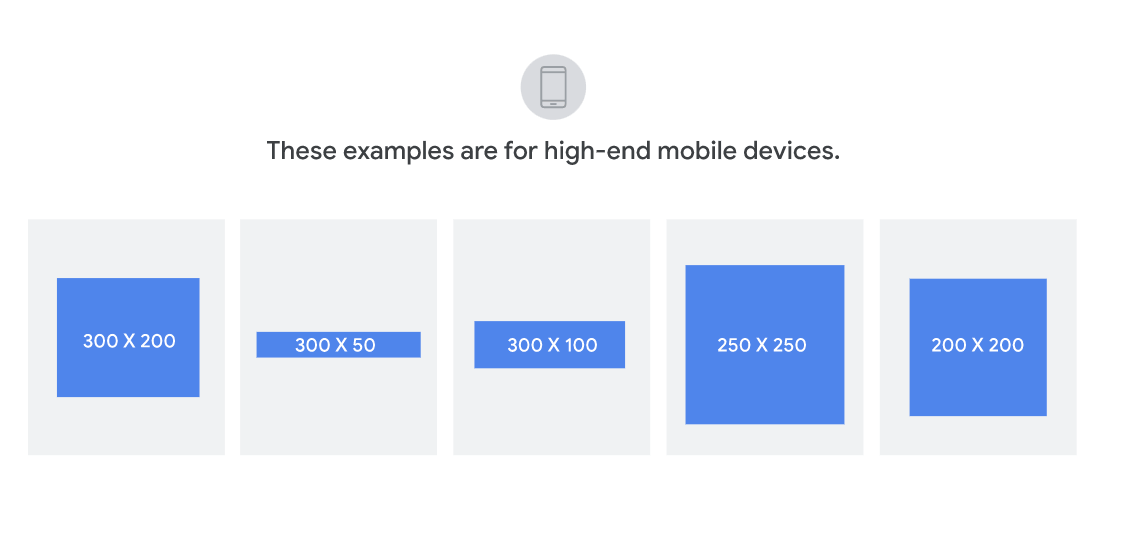 By optimizing your ads for mobile devices, you can ensure that your creative is presented in the best possible way to an audience that's frequently on their phones.
Google Feeds
In 2020, Google rolled out a new mobile format — Feeds. Google Feeds ads make it easier to showcase apps, drive downloads and increase sales while browsing. Feeds is a type of display ad that can be deployed in conjunction with a larger campaign.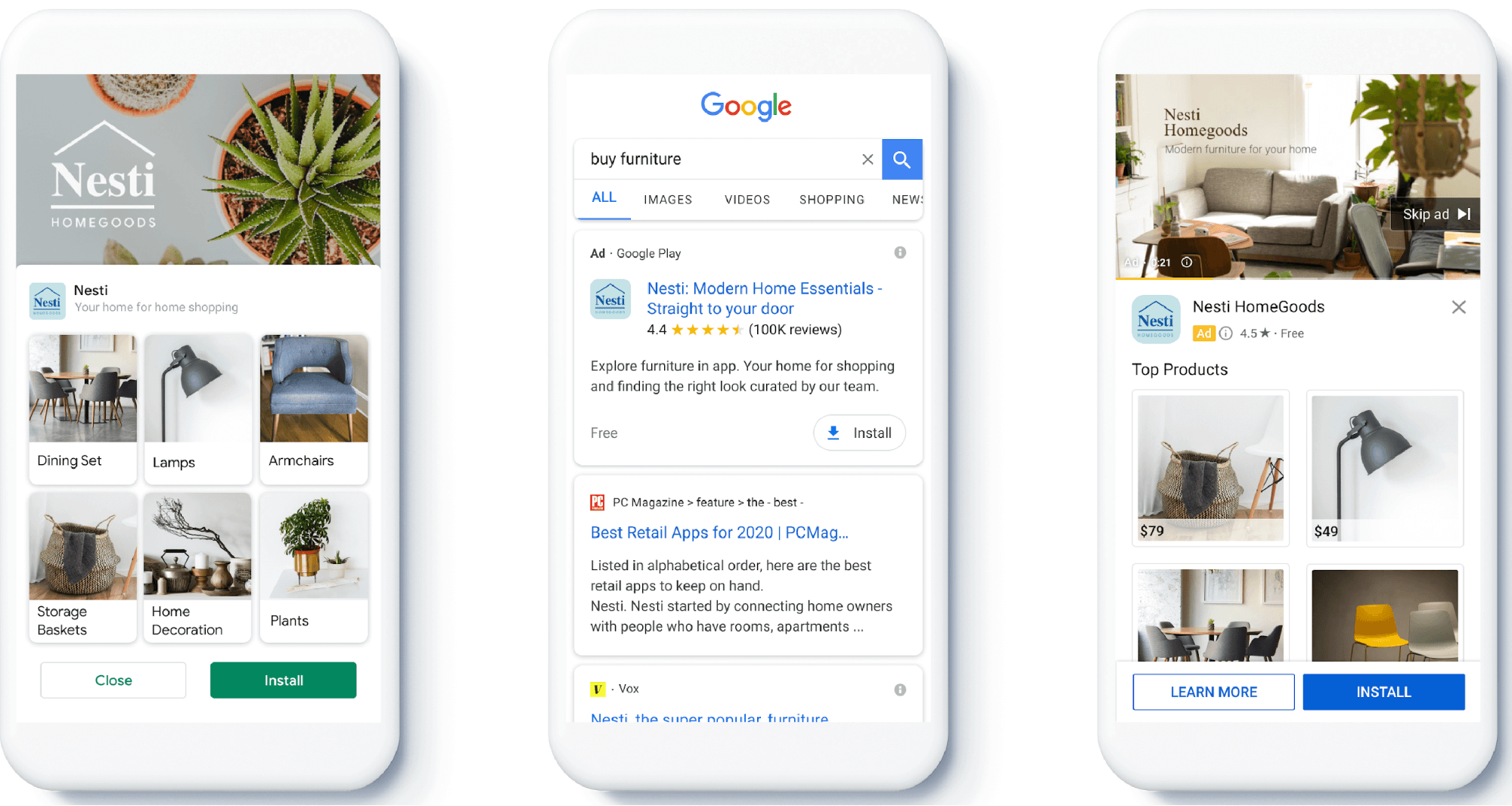 Advertisers using feeds saw, on average, 6% more installs from Google and 17% more in-app actions (like log-ins and purchases) on sites and apps in their network.
The ad itself is sleek and includes an install button, so it can natively blend in with the user experience. While browsing, a consumer could easily click the button, resulting in the App Store or Google Play store popping up.
This concept is called "deep-linking" and typically results in 4X mobile purchases and 3X conversions.
Which Google Ad Size Should You Use?
Now that you know about the various Google ad sizes, the last question to tackle is simple: Which one is best?
There are so many different ad sizes to choose from.
How can you best take advantage of the ad space that's available for you? What is the right banner size for your next ad campaign?
The honest answer is that while the overall statistics point toward the 300×250 and 728×90 sizes, there's never going to be a one-size-fits-all answer to this question.
There are too many variables.
There's no master Google display ad size that works for every campaign.
There's the medium rectangle ad, responsive ad, animated ad, leaderboard ad, mobile ad and so many more.
Your job is to design a display campaign featuring an image ad that stands out to the consumer who is browsing the page that it lives on.
Since ad publishers ultimately decide the size of the banner ads on their site, you should use that as the first phase of your planning.
Find sites in your niche that use banner ads, and then see what they offer.
But more importantly, don't just sit back and let your banner ads run unattended. Test them, just like you would an ad on Google's Search Network.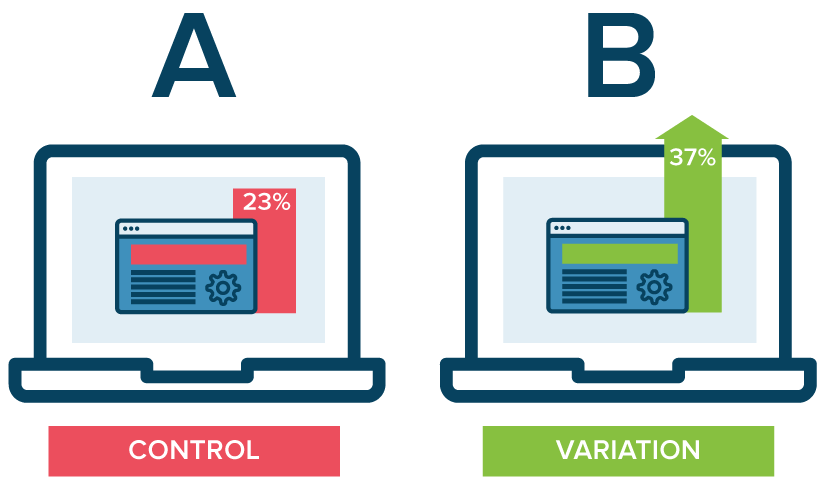 By split-testing different iterations of your ads, you can slowly improve your click-through rates and yield better results over time.
While Display Network ads do get lower click-through rates than ads on the Search Network, there's a much greater emphasis on creating something visually engaging.
That means you have to craft your text, pick the right fonts, and possibly even animate your image.
Fortunately, you can test everything about your images.
You can test the image size for the results that fit you best. Or, you can test the copy to ensure that you're capturing your audience's attention.
You can even test the color of your ad based on what type of emotion you're trying to evoke from your viewer.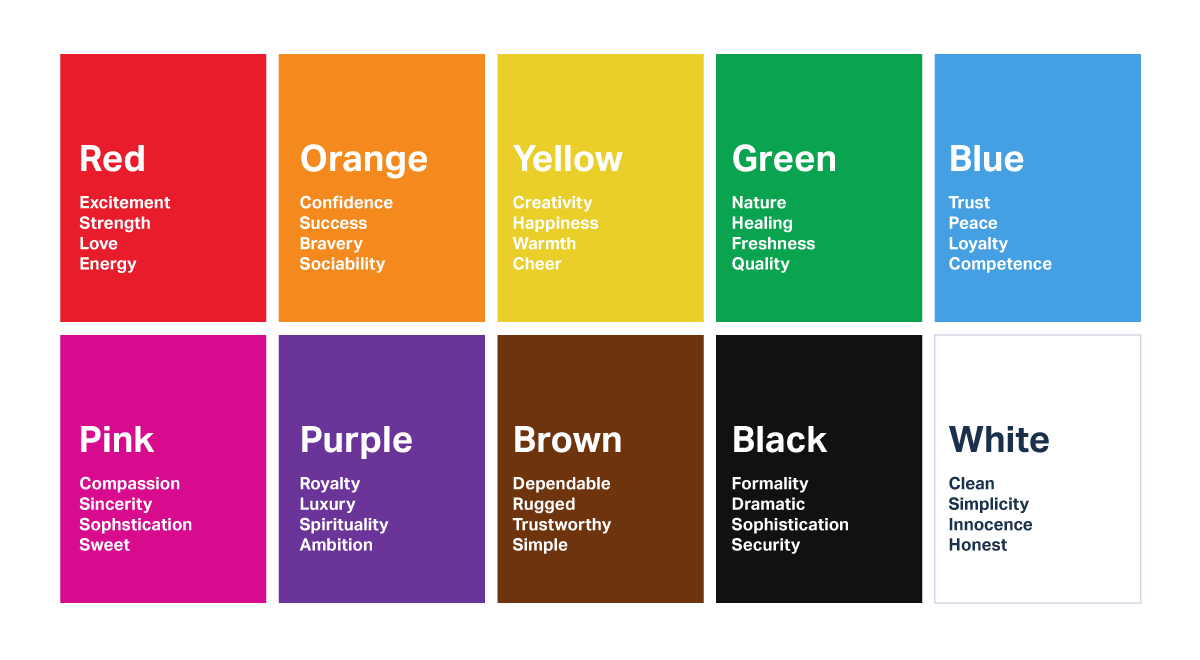 Basically, you can and should test any part of your ad. It's the only way to truly improve and make the best decision about your ad in the long run.
It's also a good idea to try to make your image in as many sizes as you reasonably can.
While that may sound like an obnoxious boondoggle, there's a pretty good reason for it, known as stretching.
Stretching is when Google takes an image of one size and enlarges or condenses it to fit a different image block.
For example, in the image below, Google takes a 160×600 skyscraper ad image and overextends it to fit a 300×600 ad. The end result means there's no empty space, but the ad isn't an exact match to what the parent company wanted to display.
Unfortunately, there's no way to fully opt-out of this. It could happen to any of your ads, which isn't a good thing.
The only solution is to try to have as many ad sizes created as possible so you can be sure your ad will look good no matter where it's run.
And keep in mind that these Google ad sizes won't always be the same as your social media ad images.
Make sure you don't get lazy and assume that your Facebook ads will work flawlessly on the Display Network.
It's also a good idea to consider how you optimize your mobile banner ads as well.
Studies have shown that ad placement on mobile devices makes a significant impact on how the overall message is received.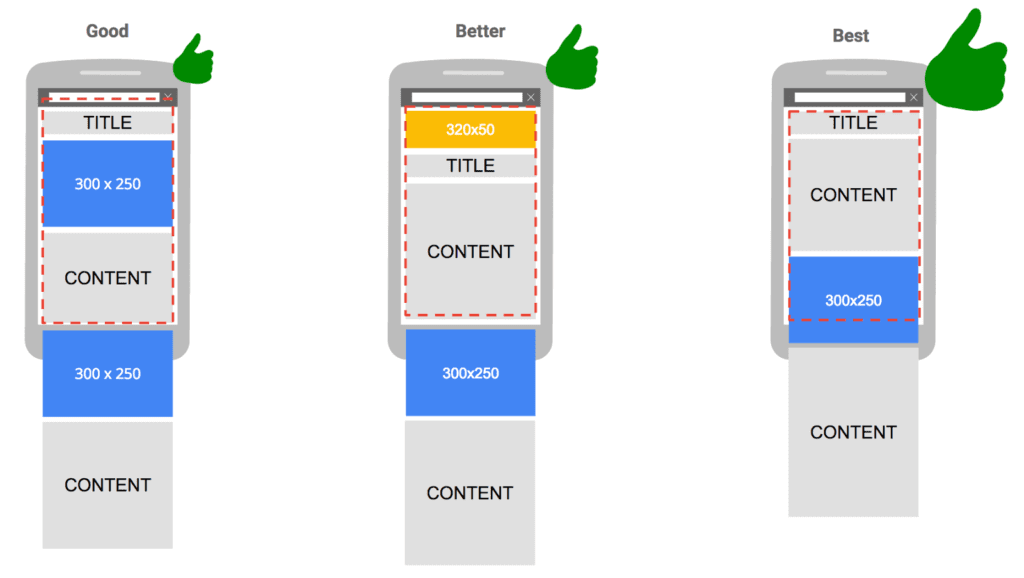 While this is largely up to the publisher to place these ads, you can manage the sites your ads are targeted to. This means you can avoid poorly optimized mobile ad placements and opt for a website that may suit your needs better.
Good content and good design should work together, after all.
And perhaps the most important thing you can do is stay updated on the news from Google Ads (by checking this blog often, maybe?).
With each year, Google likes to change and improve their ad platform to provide a better experience for both brands and users. Staying in the know can mean the difference between a successful ad and one that flops.
Conclusion
While setting up your ads can be a tricky, tedious process, you shouldn't get tripped up by having the wrong size image in your banner ad.
That could be embarrassing, lead to fewer clicks, and make your brand seem unprofessional.
And size does matter. It matters for impressions, clicks, and on mobile devices.
You can't just create one image and hope it works for everything.
You need to cash in on the recommended Google Display Ad sizes if you want to succeed. While they won't guarantee a click, they'll ensure that your ad looks and performs better on the page.
But don't just stop at the recommendations. There are dozens of ad sizes out there, and it may benefit you to experiment with them all.
And don't just stop with sizes. Remember to play around with copy, color, and everything else as well.
Then, when you put all of this together, you'll have a banner ad that gets thousands of impressions and has an optimized click-through rate.