There is no doubt about the power of good remarketing.
It's a second, third, or fourth chance at converting that long-lost visitor.
But simple remarketing of your entire traffic source is a surefire way to generate mediocre conversion rates.
Even targeting specific page visits isn't going to give you huge wins.
Thankfully, that isn't all of the tools we have at our disposal anymore.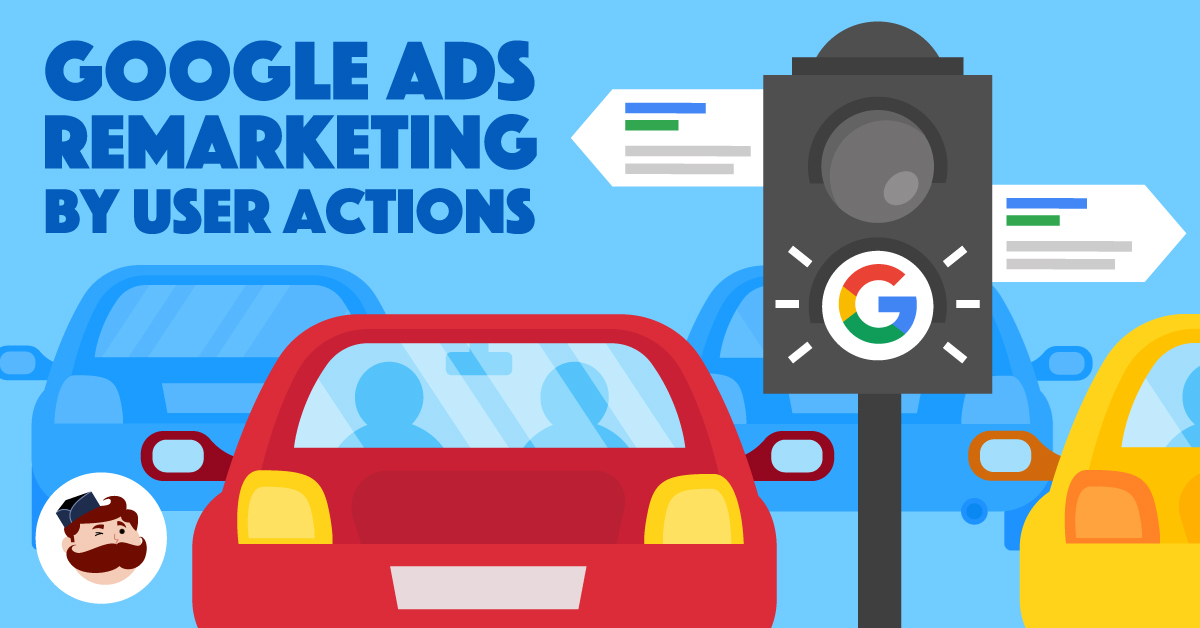 While that's a good start, you could be leaving huge opportunities on the table.
And if you haven't heard of Google ads remarketing via User Actions in Analytics, you probably are.
Here's how to remarket Google Ads traffic by specific audience definitions for better results.
What Are Audience Definitions / User Actions, and How Can You Remarket Them?
General remarketing usually consists of one of the following targeting measures:
Retargeting by website visits
Retargeting by all traffic
Retargeting by specific URLs
While that's a great start, it only produces 1-2% conversion rates on average.
That's far below what you can produce by targeting more in-depth factors and matching those factors with the right content or offer.
Remarketing often fails because it casts a wide net — just like inbound marketing.
Inbound marketing generally has low conversion rates. Just a few percents or more.
Why? Because we focus on casting a huge net to rope in customers and only convert the best of them.
Not everyone will be receptive to the same offer or want the same things.
And that's why general remarketing sucks: you are assuming that all of your traffic wants the same offer or is in the same decision stage.
But here's the truth: they aren't.
So, how do you create these user action remarketing lists?
You can do it inside Google Analytics with audience definitions.
Audience definitions allow you to tap into the vast amount of data that Google Analytics has and Google Ads lacks.
Google Ads data can only give you a few measures of remarketing.
But Google Analytics has data on just about any and every metric in existence.
The audience definitions are custom strings of variables that you align to create cohorts (groups of users with similar behavior).
Here is how to utilize these for more specific and powerful remarketing lists.
Let's dive in.
Remarket by Site Search Queries for Easy Creative
Site search queries are gold mines for data on what customers are searching for: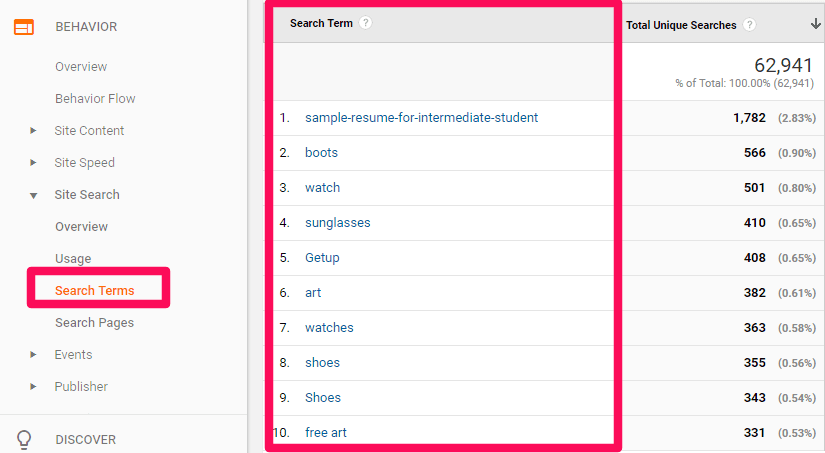 These are specific details of what your customers want. The content they want to consume, read and enjoy.
Take advantage of this!
Capitalize on this information by creating a site search remarketing audience in Google Analytics.
You can literally target everyone who searched for specific queries and then deliver that exact content (or related content/offers) to them.
That's a surefire way to personalize your remarketing. It's targeting exactly what they want.
Here's how to do it.
To get started, head to the admin section of your Analytics dashboard and locate the "Audience Definitions" tab: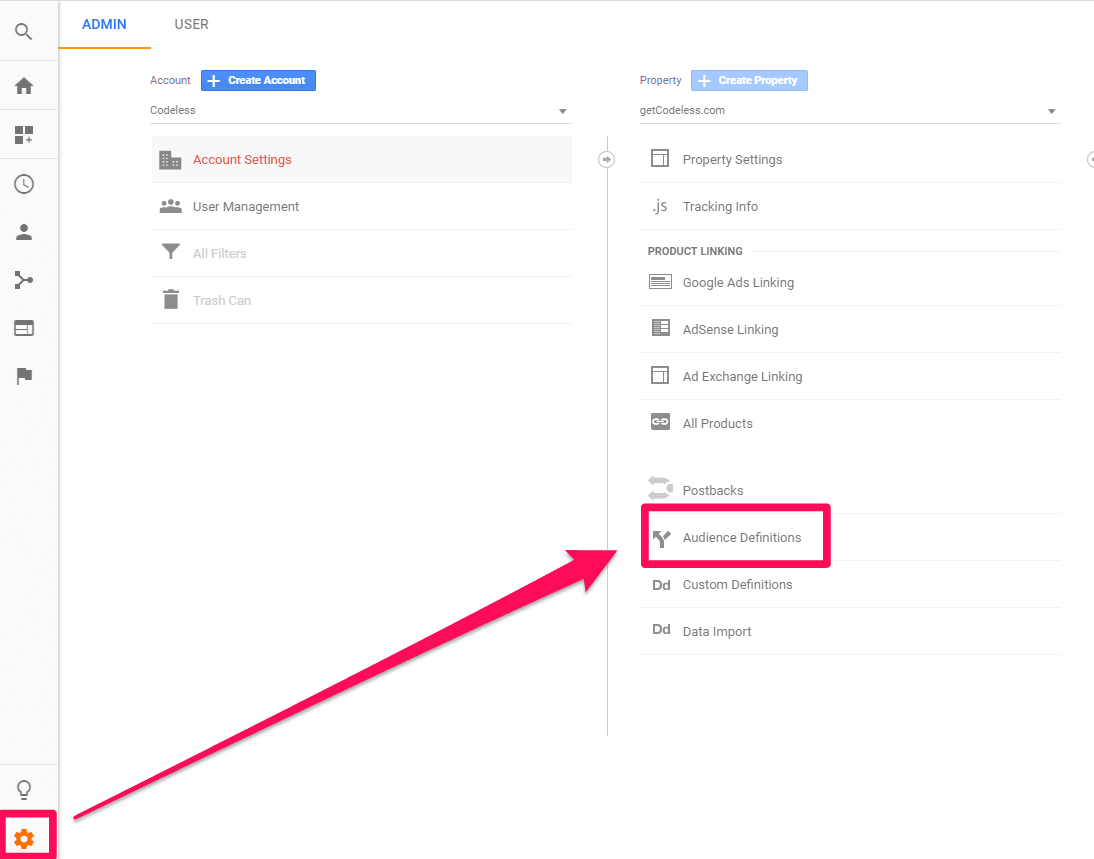 Click "Audience definitions" and select "Audiences."

From here, create a new audience:

This will pull up a new audience definition, which is where you can start customizing diverse audiences.
The basic selections will be what you commonly see in Google Ads: all users, new users, returning users, etc.
Skip these basic definitions and create a new audience: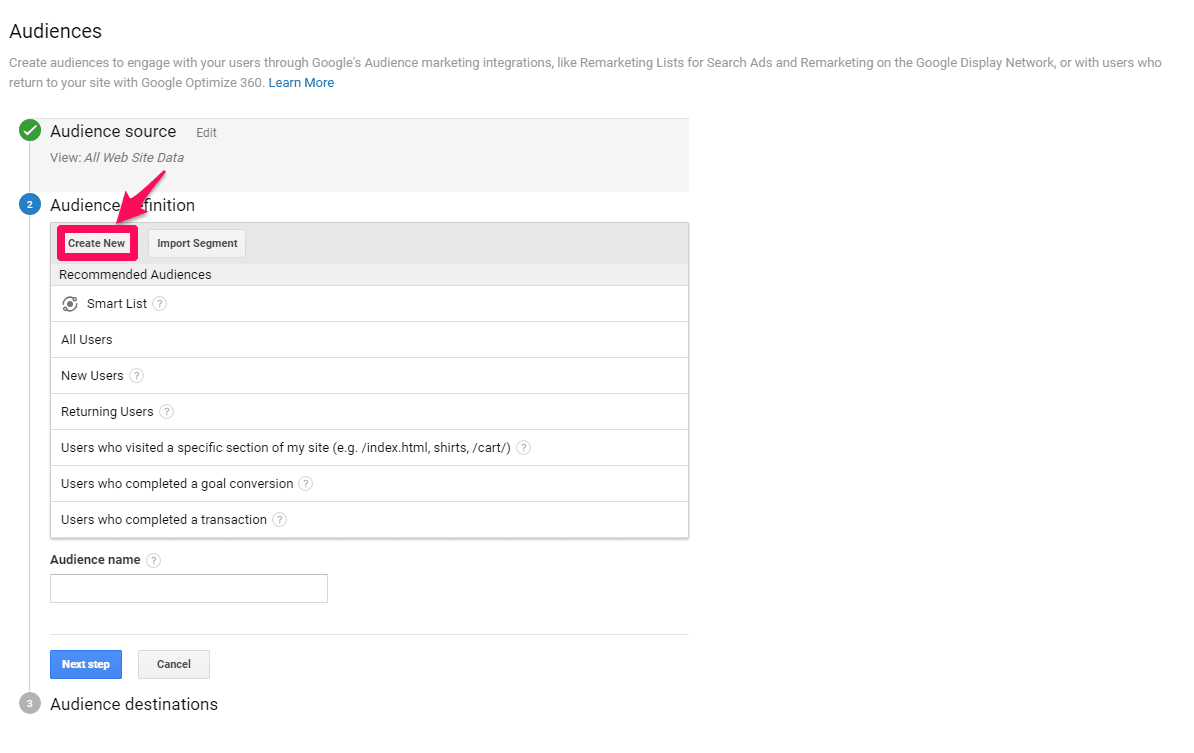 Creating a new audience definition will pull up the audience builder. Scroll down to the advanced conditions section of your audience builder. Next, type "site search" into the bar and select "Site Search Category" as your condition: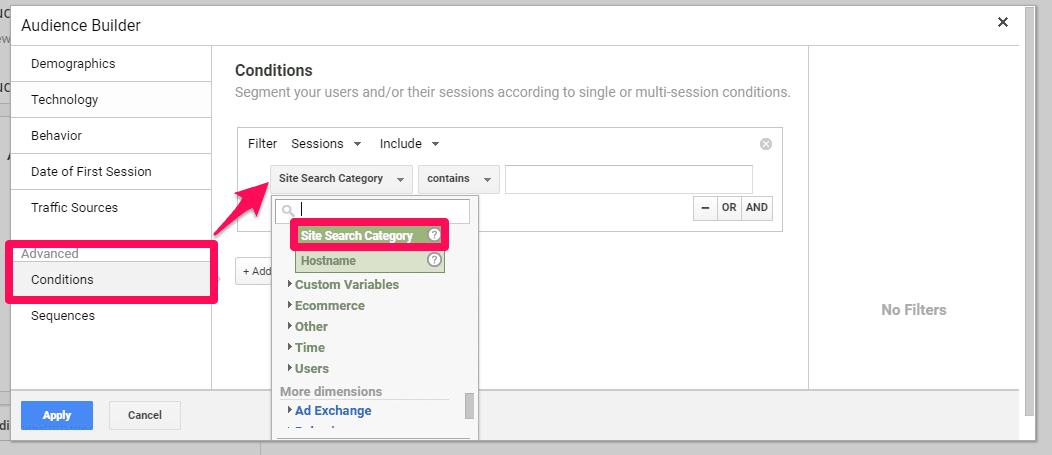 In the text box, type in a common site search query that you want to target. Then, save your audience:

Remember: check the site search reports in your Analytics account before making this audience. Focus on terms that are popular enough to have a decently large audience.
If you don't have "site search" on your site today, you're missing golden opportunities to literally hand-deliver content that users are asking for. You should enable it immediately.
Once you save your audience, you should see the following eligibility: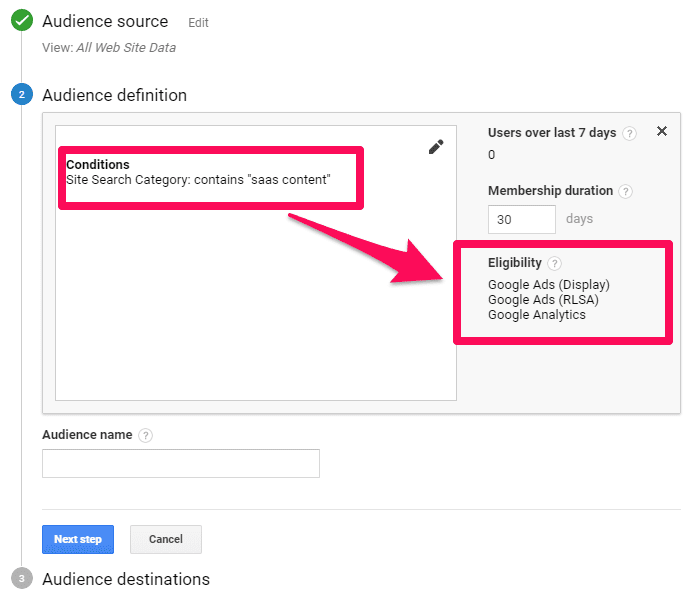 Make sure that it's enabled for Google Ads display and RLSA audiences.
Now, how do you get this audience into Google Ads?
Head to step three: Audience destinations.
From here, you can select the specific Google Ads account that you want to import your audience to: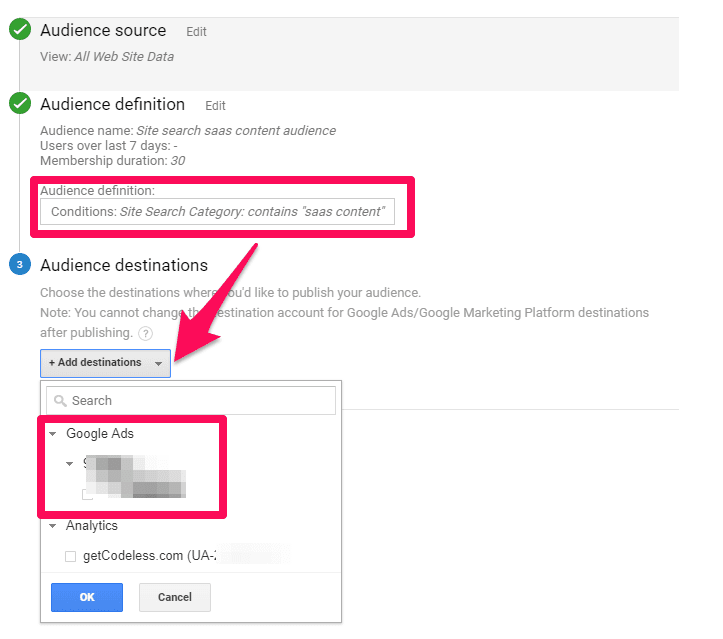 Voila! You've done it!
Now get started on the creative, and you'll be driving huge conversion rates based on a detailed user action.
Ready for another one?
Develop Intricate Sequences for Laser-Like Remarketing
The great thing about the custom audience builder in Google Analytics is what its name promises: customization.
You can use it to create much more complex audiences than you can on Google Ads.
Instead of stringing together URL visits, you can string together behavior actions.
Here are a few awesome sequences for laser-like remarketing that you can replicate in just a few minutes within the audience builder.
Retarget returning visitors who originally came from referral traffic.
Referral traffic is the gold standard of traffic.
You know — visitors from backlinks or brand mentions on other sites.
These are some of the best potential customers and leads you will ever get (assuming that the referral site is in your niche or speaks to your audience).
But, people often fail to maximize success on referral traffic.
They just assume it will convert. Which it won't. Not unless you really work for it.
Instead of letting your referral traffic visit and leave, remarket them with ads.
In the audience builder, select "Source / Medium" and then enter the referral source of traffic to remarket:

If you want to get even more detailed, you can select an exact referral path, as in a specific link that mentioned you:

Next, click "and" to insert a new filter. In the new filter, select "User Type contains Returning Visitor."

This ensures that you are targeting the best of the best:
Referral visitors who came from specific sources and came back to your site more than just once.
That's high-level, interested traffic.
Bring back mobile landing page traffic that didn't convert on specific goals.
Mobile traffic is tricky: if you don't have a perfectly optimized landing page for mobile, they probably won't convert.
Desktop sites look awful on mobile, and trying to convert on them is a nightmare in terms of UX.
Even if the traffic shows interest, they still might not convert due to bad experiences alone.
It's up to you to change their opinion.
By using a detailed sequence in the audience builder, you can create a segment that allows you to target traffic to a custom mobile landing page: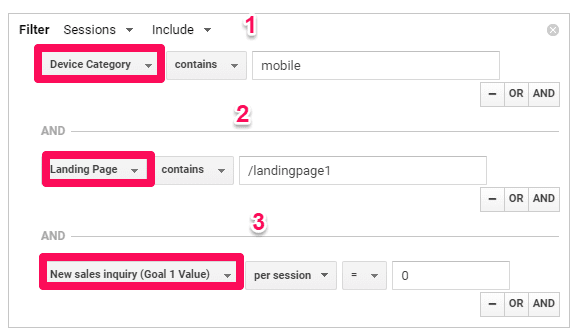 Create a remarketing audience based first on device category. To do that, select "mobile."
Select a specific landing page to target that gets mobile traffic.
Lastly, select a Google Analytics conversion goal and set the amount to 0, which signifies no conversions.
And just like that, you created a mobile audience of users who did not convert on specific landing pages.
Now you can adjust creative and strategy to focus on mobile optimization and better mobile experience.
Whether it's bringing them to a new mobile-specific page or to an app download instead, you'll convert them with ease.
Remarket by Page Depth to Target Warm Traffic
Knowing generalized traffic metrics like visits and dwell time KPIs are good starts to segmenting traffic.
But you can't remarket by those in Google Ads directly.
Plus, bounce rates can sometimes be misleading.
Average session durations can be misleading, too.
Just because someone spent ten minutes on your website, that doesn't mean that they actually enjoyed it.
Maybe they spent ten minutes struggling to figure out what you were saying or where they could locate the information they want.
Plus, bounce rates for organic blog traffic suck. So remarketing users on them is tough.
But there is one metric that can produce big wins: page depth.
How many pages they visited in a session or in multiple sessions.
Did they visit dozens of pages on your site? They probably found your content interesting, and it's your turn to make the next move.
And you can now target page depth directly in Google Ads through Analytics audiences.
When you're creating your new audience in the audience builder, select page depth as your behavioral, user action metric: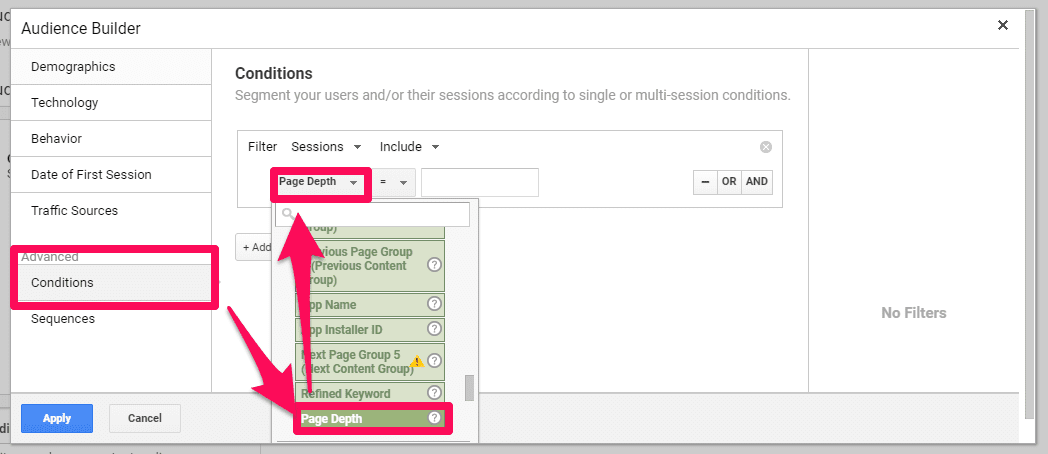 In the text box, you can decide how many pages you would like to set for your target.
As you increase the page depth, your audience will shrink in size.
I recommend creating between one and three different audiences based on different page depths.
For example, starting off with two or three pages and then creating a highly specific audience of four to five pages.
This gives you options to convert less warm traffic and boiling hot traffic that's been combing your site like crazy.
Advanced: Remarket Users by Incomplete Form Actions
Forms are critical for converting leads for most of us in the inbound marketing space.
They're one of the easiest ways to collect customer info. But that doesn't mean that customers always complete them.
It's just like eCommerce cart abandonment: people don't commit fully, and you're left in the dust without a sale or a lead.
Forms can be hit-or-miss. And even simple factors can prevent someone from filling them out.
Maybe you haven't optimized your form on mobile. That could be causing people to leave halfway through.
Or maybe your visitors simply got distracted and forgot to finish the form.
Even the slightest things can hinder the success of forms.
But that doesn't mean that you have to sit back and let it happen.
Here's how to set up a remarketing audience based on those who didn't complete their forms.
This setup can get a bit complex. And thanks to Analytics Mania, you can follow their exact setup instructions with their own custom HTML code.
To summarize the instructions, you will be using Analytics Mania's own custom HTML to create a new tag in Google Tag Manager.
Once you've done that, you can import that form-tracking tag into Analytics and use it to develop a new remarketing audience.
Essentially, you'll copy and paste their HTML code into a new custom HTML tag configuration: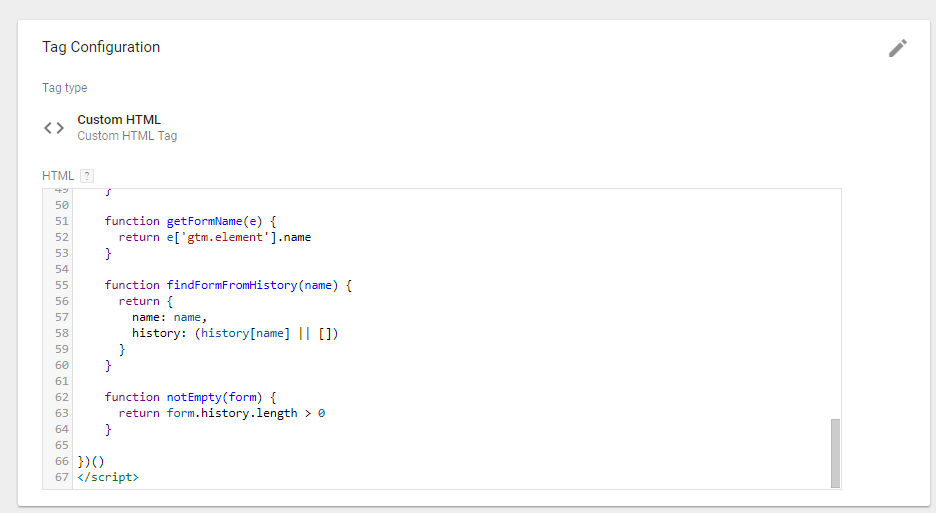 Next, you will configure the trigger based on the pageviews of a landing page with a form.

Then, you'll copy a second code and create two more data variables.
While this is complex and requires some time and effort, you can complete it in just about 15 minutes.
And trust me: it's worth it.
Their guide stops at the point of integrating this new tracking data into Analytics, but you shouldn't quit now.
That would be fine and dandy for tracking data.
But we want to capitalize on this audience segment.
In your audience builder, select the new event action and create a remarketing audience out of it:

Based on the coding, this will target form abandoners who didn't fill out all of your form fields.
Want to take it a step further?
Once you drive form completions from remarketing your form abandonment list, compile this audience segment into an email campaign to send personalized emails with content that they want.
Since forms might not be their forte (based on previous behavior), combine remarketing with email efforts:
For example, you can create a simple spreadsheet in Google Docs with personalization items:

Next, run a quick campaign on Gmail and select those exact personalization parameters: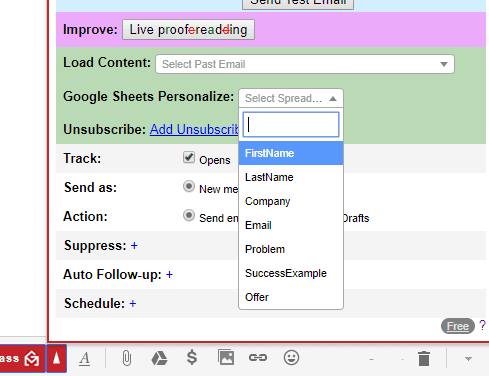 To target form abandonment, you can customize your offer based on the forms that they ditched halfway through.
Customize your offer based on the content they found interesting.
Let's recap the plan:
Step 1: Create a remarketing audience based on form abandonment.
Step 2: Segment them into an email list.
Step 3: Combine efforts of Google Ads remarketing and email targeting for big wins.
Conclusion
Remarketing can be effective. But conversion rates usually aren't anything to bring home and tape on the fridge.
Instead of settling for lousy performance because it's the norm, try remarketing by user actions.
These in-depth and extremely customizable features in Google Analytics are perfect for remarketing.
You can go as simple as site search queries to as detailed as intricate sequences of user behavior.
User actions help you narrow your focus and target the right content to the right user.
Webpage visits can only tell you so much. Looking deeper at page depth and form completion (or lack of completion) tells you more.
Put user actions to the test in your own remarketing campaign and see the difference for yourself.