You know that local searches drive sales and that 80% of local searches result in a conversion. So why your Google Ads for local business campaigns don't get the results you expect?
Because driving local sales with Google Ads is about a lot more than geolocation targeting.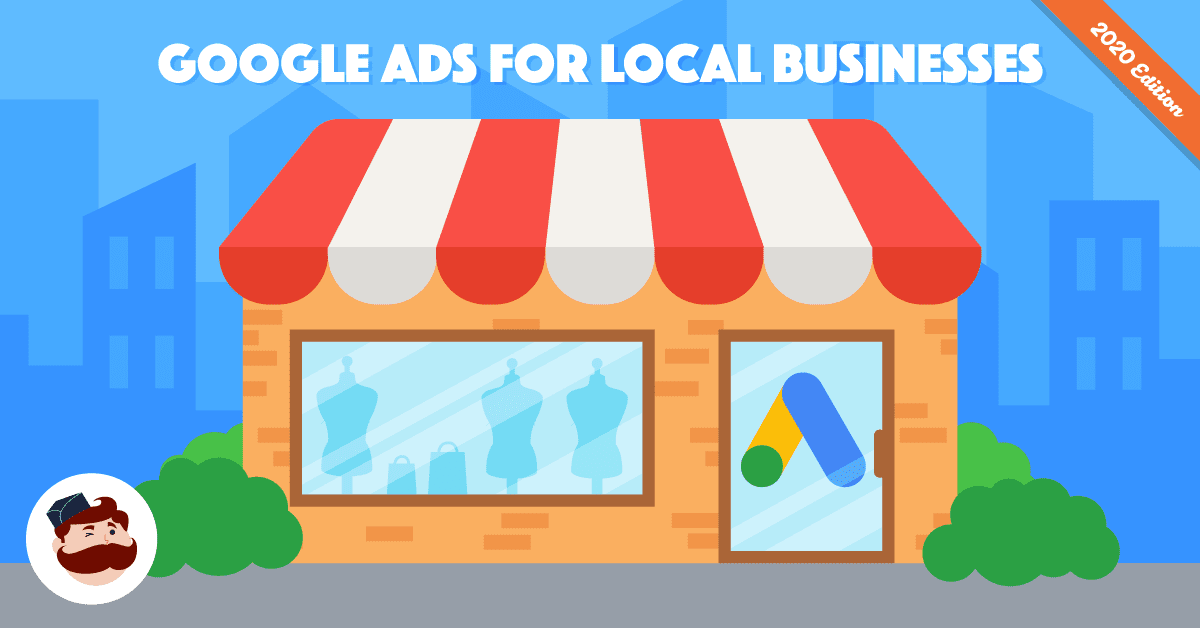 While that's a fine strategy, it's not enough. And this is probably the reason why your results aren't worth bragging about.
Here are three powerful Google Ads strategies for your local business to attract attention and generate more local sales.
When advertisers of local businesses head to Google Ads, they tend to repeat the same campaign process over and over: Geolocation targeting in a radius to where their customers might be.
But there are a ton of different tactics that cater to the local patron including local extensions, remarketing, and more.
What's the right strategy for you? Keep on reading and you'll discover it!
1. Use Local-Friendly Ad Extensions
Ad extensions are the bee's knees for improving your Google Ads strategy for local search.
Wow, that sounded extremely lame. But it's true, ad extensions are fantastic.
If you aren't using ad extensions, you definitely should be.
The main benefits include (but aren't limited to):
Increased click-through rates.
Give more information/context without taking up character limits on your actual ad copy.
Make it easier for local customers to call with one click
Using ad extensions is a no-brainer. You get extra room to compel someone to click your ad on the search network.
And it doesn't cost anything to do.
With ad extensions, the biggest mistake people make is loading up on them without cause. You need a reason to use them. Simply using ad extensions isn't going to generate big wins. Using them strategically will.
But what extensions do you use for local ads?
Here are 4 key extensions to add to a local-specific campaign.
Let's start with two of the basics before diving into more advanced extensions.
Google Ads for Local Business Extension #1: Location
If you are running local ads, you need location extensions.
While this seems obvious, it's really not. If you Google local-driven searches for local businesses, you will see a staggering amount of ads running without a whiff of location extensions: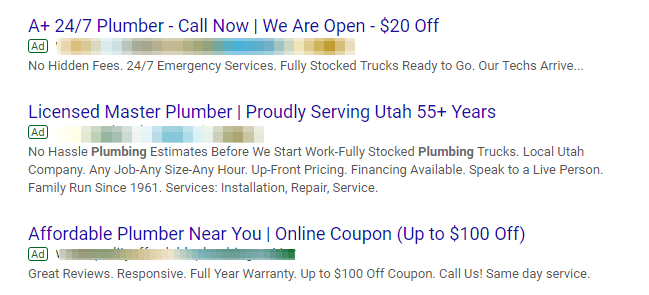 These are the top three ads for a local search on plumbers.
Shocking stuff, right?
This is great news for you: You have the opportunity to stand out with just minutes of work.
The latest data shows that 76% of users who searched for a nearby good/service visited that local business in a day. 28% of those visitors made a purchase, too.
Local searches for location targeting are increasing by 130% each year.
Be sure to use location extensions on your local ads.
You can add them directly from the extensions tab in your Google Ads dashboard: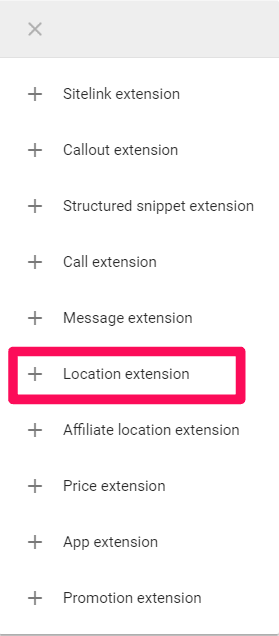 When users click on your location on an ad, they will be directed into Google Maps for easy navigation: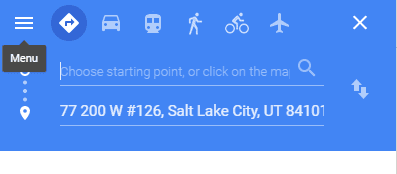 Boom. Now that's how you drive local visits.
Google Ads for Local Business Extension #2: Phone Call
Google data shows that local searches are heavily dominated by mobile devices.
And it makes sense: people are likely out and about, looking for something to do, or looking for a store location.
And a common practice is calling that business for more information.
If you have staff that can always answer incoming calls, setting up phone extensions is an easy way to generate more traffic.

Again, you would be shocked at how many ads don't feature this basic extension.
Alright, are you ready for a few more advanced options?
Let's take a look.
Google Ads for Local Business Extension #3: Affiliate Location
Affiliate location extensions are just what they sound like: Extensions on your search ads featuring affiliates that carry your products.
Do you sell products to big retail shops or boutique stores? Do other brick and mortar stores that aren't yours sell your products?
For instance, are your products located in Walmart?
Then affiliate location extensions can drive big wins for your business with cheap clicks.
Sometimes, people don't want to wait for shipping and delivery on your online store. The "need it now" culture is thriving (see: Amazon Now, Postmates, etc.).
Even if you don't have a brick and mortar store, you can drive local sales to your products in stores to ensure that your retailers keep ordering from you.
Note: According to Google, these are only available for retail chains and auto dealers in select countries.
Google Ads for Local Business Extension #4: Dynamic Sitelinks
Dynamic sitelinks are the cream of the crop.
Essentially, Google puts some AI to work to choose site extensions for your ads based on searcher intent and previous search + site visit history.
They are designed to connect searchers to the content they are actually looking for, in real-time.
Here is an example:
The dynamic sitelink is shown as:
"Schedule a Test Drive at Joe's Used Cars"
This sitelink is conversion-focused, something that dynamic sitelinks center around.
By linking deep into your site, sitelinks take contextual relevance to drive users into sales pages faster.
Sure, you can run sitelinks on your own and manage them specifically for each ad you run locally.
But these will get the job done automatically and likely perform better.
Run them for a few weeks and assess performance. If they aren't living up to expectations, create your own sitelinks and focus them on actionable benefits, not just linking to more pages.
For instance, if you are selling clothes, create a sitelink that says:
"Select clothes to try on in-store today!"
Or
"Put an item on hold in store to try on!"
You get the point: make them actionable and interesting. Avoid generic sitelinks like the plague.
Bonus Tip:
For added visibility, consider getting The Google Guarantee Badge, which adds a green checkmark next to local businesses that offer protection for consumers who are unsatisfied with the work they receive.

2. Target Local Keywords and Firm Locations (Not the Google Ads Default Setting)
Having years of experience in PPC campaign management, I can't count the number of times I audited client accounts and found a setup like this:
Campaign Name: Los Angeles Exterminator
Ad Group: Exterminator keywords
Sample Keywords: exterminator, pest control, bed bug control, etc.
Targeting: 30-mile radius around Los Angeles County
What does this setup do?
Essentially, it targets potential customers within a 30-mile radius of your target area that are searching for those keywords.
It won't target "exterminator" searches from New York City, so the keywords become less competitive.
Great, right!
But this strategy isn't foolproof.
There isn't anything wrong with using this style of setup. You can definitely get the job done and target these keywords with success.
But you are lacking localized keywords that you know for a fact locals are searching.
You see, the default settings of geolocation targeting on Google aren't all that accurate:

People in, or who show interest in, your target locations.
Do you see the problem there?
Let me clarify what Google is explaining here:
The default setting for location targeting isn't actual location targeting. It also targets people who "show interest in" your desired locations.
That means someone from the panhandle of Florida could be looking for your business in Los Angeles.
While this is great if you want to run brand awareness campaigns to target travelers, it's awful if you want quick local visitors.
You could be paying for hundreds or thousands (depending on campaign size) of clicks that never visit.
If you look at what locations you are paying for, it's probably not just your target location.
So, what can you do?
You have two options here, but I prefer to combine both to give you the biggest bang for your buck.
Combining these two strategies might lower-traffic potential, but it ensures precision targeting and gives you the best chance at converting searchers.
First, you want to change that default setting of location targeting. To do this, head to your campaign settings and click on the locations tab: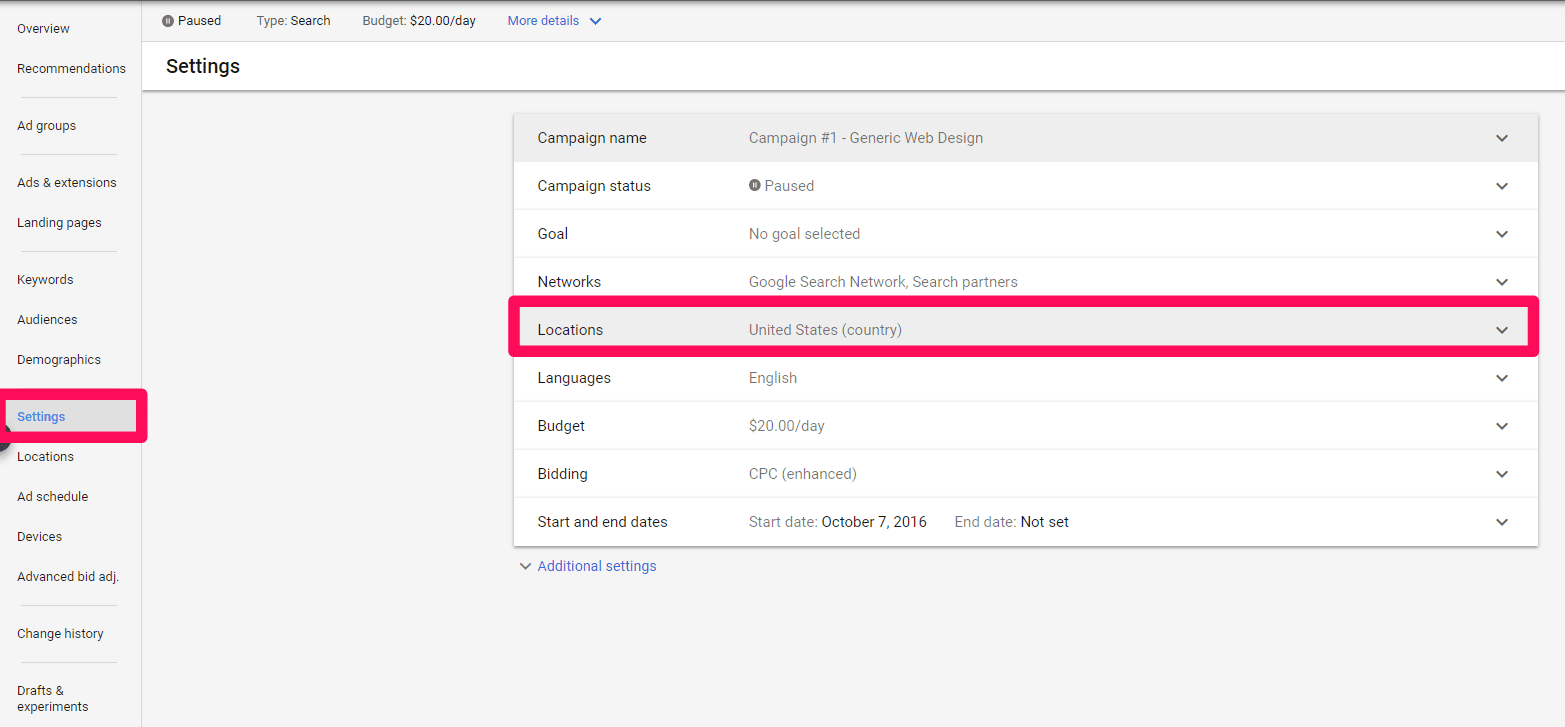 From here, click the advanced location options tab to pull down more options. Select to target "People in or regularly in your targeted locations."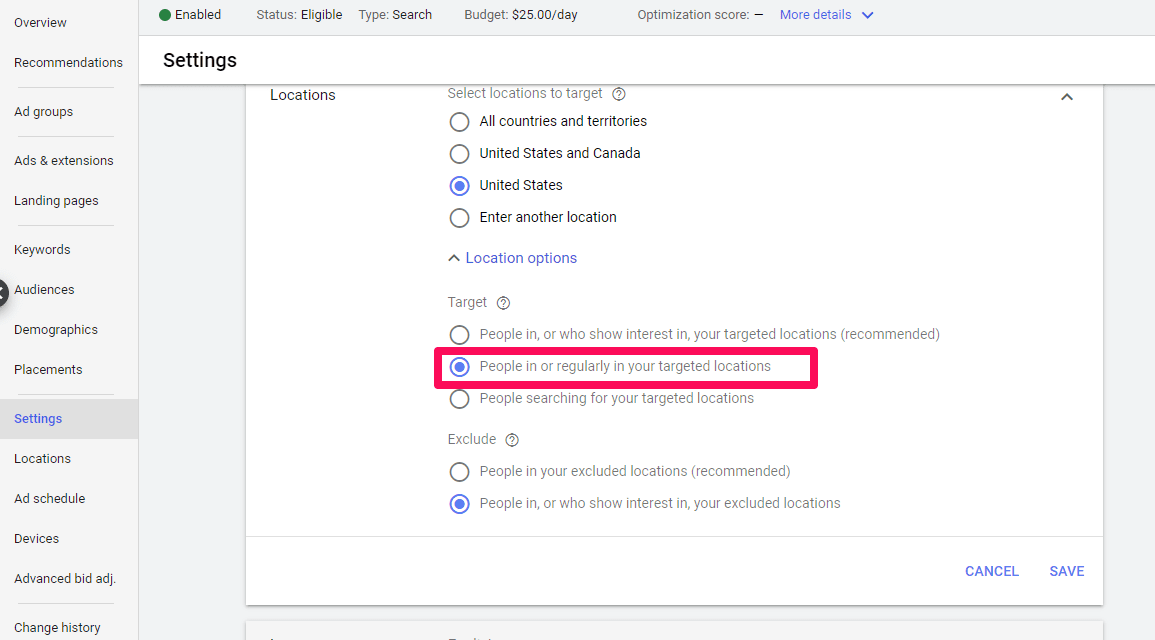 This tells Google that you only want to target people physically located in your target area.
Switching on this setting eliminates the possibility of people outside your target radius searching.
Still want to capitalize on those? Run a brand awareness campaign targeted with the default setting.
But if you want strong local visits now, you can't afford to be paying for window shoppers who may or may not make the trip.
Next, to get a double impact of accuracy, you can target local keywords instead of just generic searches.
Chances are if you are advertising in a thriving local area, searchers are looking for businesses like yours while using local-driven search terms.
For instance, terms like: "Pest Control Los Angeles."
That's a perfect term for capitalizing on guaranteed local searches.
And according to SEMRush data, it's got high volume and mid-tier competition levels: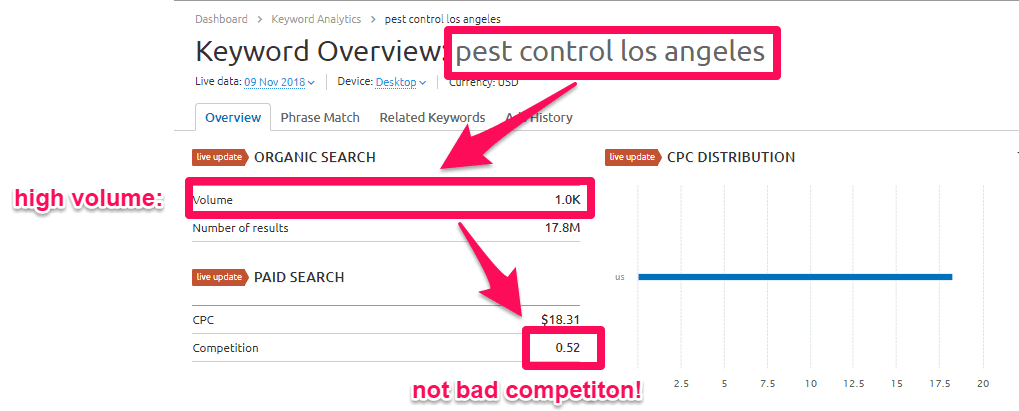 Combine that keyword with geolocation targeting and you've got yourself a guaranteed pool of users in your local area.
But please, remember this: don't just throw the keyword into your headline if it doesn't flow. A big mistake is focusing too hard on keyword optimization and forgetting that you are targeting real human beings that have to read your ads.
To avoid this, I highly recommend throwing your ad copy into a grammar tool to make sure it flows well.
After you tighten up the copy and flow using a tool, utilize Google's Ad Strength feature to double-check it before sending it live.
3. Run "Local Search Ads" and Use Bid Modifiers
Local search ads are one of the best features to drive real, local sales.
But, they do take a bit of setup work.
Here's how they work:
Local searchers looking for businesses on Google are often given results that showcase on Google Maps first:
(Side note: Lately, we've noticed that Google is showing Google Guaranteed ads ahead of the Google map results on mobile, which is another reason to consider getting the badge as soon as you can).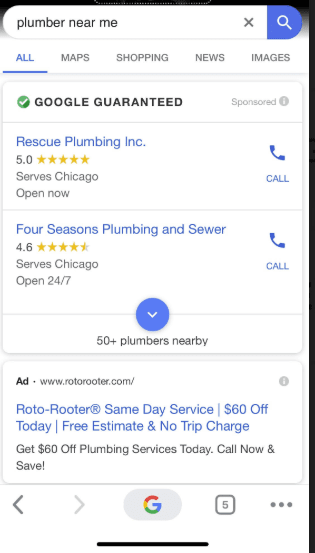 The map local search ads work slightly differently than generic search network ads.
Instead of linking to your website like search network ads do, local search ads link to a page directly on Google that gives users more information on your store.
Information like store hours, location/addresses, reviews, photos, and more.
On top of that, following the setup process can get your ads shown on Google Maps directly:
This helps you capture direct searches on Google on browsers and searchers on Google Maps itself.
So, how do you optimize for it? What's the setup process?
To get local search ads off the ground, you need to:
Run location extensions on your Google Ads (which you have already done, if you read the first section)
Establish or refresh your Google My Business page (needs to have continually updated, relevant information)
Optimize bids for location targeting (which I'll show you in a minute)
Optimize your keywords for locations (which you have already done, if you read section two)
If you haven't added location extensions, go back to your campaign and do it ASAP.
Next, it's time to optimize your Google My Business (GMB) listing. To do this, head to GMB and make sure that you include all contextual and relevant information that searchers need: Multiple locations, phone numbers, hours, product categories, etc.
Once you've done that, it's time to optimize your bidding for location targeting. The idea here is to focus your bidding heavily on a radius or location closer to your business.
While it's smart to target a wide radius near your store, it's smarter to adjust bids to focus more heavily on traffic that is closer.
This gives you a double benefit of targeting wider locations but focusing the majority of money on the most likely candidates.
To do this, head to your locations tab on the Google Ads Dashboard: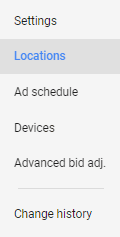 Select the current locations that you are targeting and click on the bid adjustment column to pull up the following window: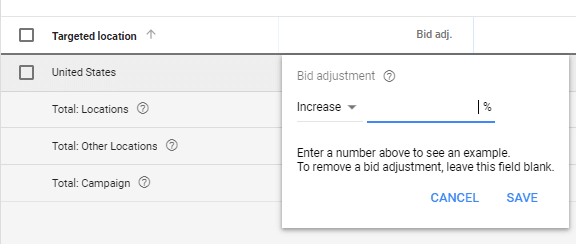 Here is where you can start to edit bid adjustments.
If you place a bid adjustment of 50%, it means that your normal bid for a keyword search will increase by 50%.
For instance, if you bid $10 for normal clicks, you'd tell Google to bid $15.
A good strategy here is to create multiple levels of radius around your business, like so:
5 miles
10 miles
15 miles
Then, you can set up bids to increase the closer the location is, and decrease the further away it is:
5 miles – increase bids by 50%
10 miles – normal bidding
15 miles – decrease bids by 25%
Hit save on your bids and you are poised to spend less on clicks that might not convert but ensure you grab the ones that will.
Lastly, you'll need to optimize keywords for locations. We went over this in tactic two of this post, in case you missed it.
Conclusion
When looking to run a local ad on Google for your local business, what's your first step?
Is it to run a geolocation targeted campaign for a business keyword like "used phones"?
If so, you need to rethink your strategy. Typical geolocation campaigns on default settings don't perform as well.
Instead…
Switch to firm location settings and target local keywords with location markers in the keyphrase.
Use local-friendly ad extensions and combine them for big wins.
Target local searches on Google Maps and build a better GMB profile.
The moral of the story is this: Google Ads for local businesses shouldn't be basic.
Instead, they should combine a variety of tactics to reach local searchers in every way you can.
Diversify your approach and you'll start to see the results you've been looking for.