Google Ads is a great way to bring in new business and make some big money. And if you know how to take advantage of Google ads automation features it's easier than you think!
Adding another ad platform into your repertoire might leave you feeling a little scattered and pressed for time. It's draining just trying to monitor one campaign, let alone multiple or even dozens at a time.
Instead, you should be focusing on automation features to increase your ROI and give you back some of life's most precious resources – time.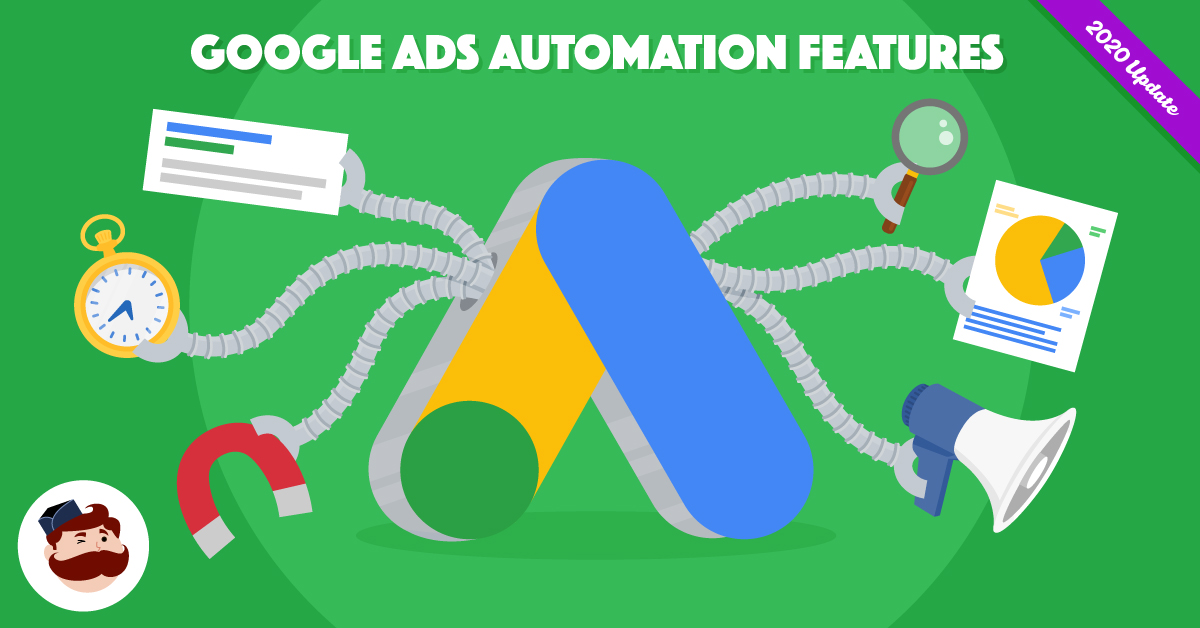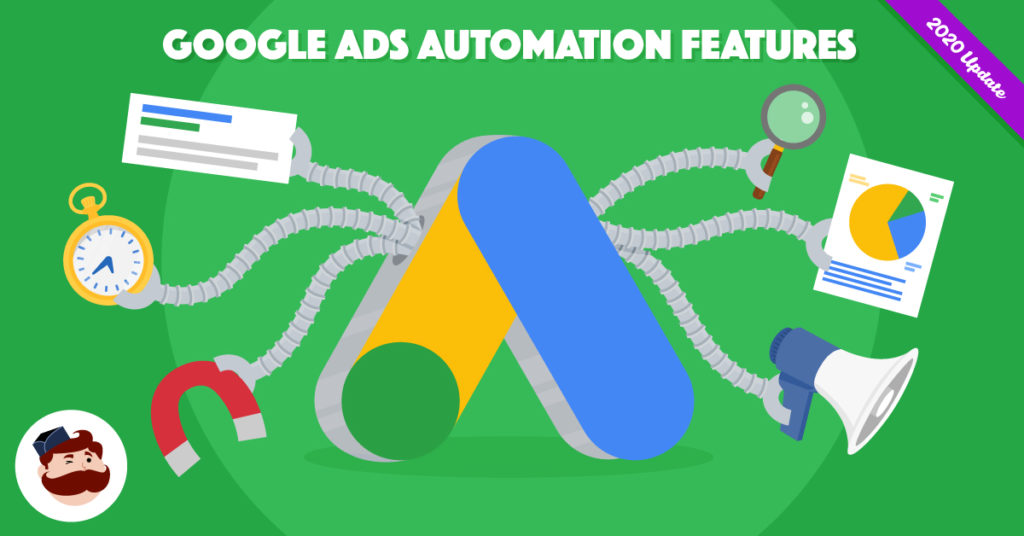 Thankfully, Google Ads has some hidden automation features that you might not be using.
Google automation is powerful. And more often than not, Google Ads have dozens of free tools and services hiding behind the noise of their platforms that most forget to tap into.
We selected the best Google Ads automation features and tips to save you tons of time and effort while still bringing home the bacon.
While this article will outline the different automation tools available to you within your Google Ads account. But there are even more tips and tricks we didn't have room to add to this post.
So we decided to create a unique event to share not only our knowledge but also (and foremost) the secrets of two Top experts that know the ins and out of how the Google algorithm works.
Do you want to learn how to leverage the power of machine learning and automation to increase your Google Ads ROI?
They join us for our next free webinar. The appointment is for Thursday, 24 September, at 10am (Pacific Time).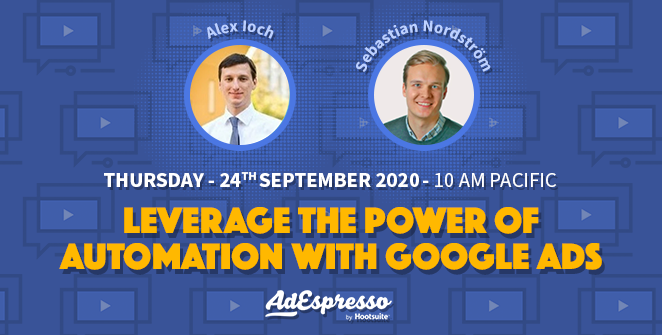 During this one hour session with Alex Ioch, Regional Product Lead of Automation at Google, and Sebastian Nordström, Account Manager, Channel Partnerships in Americas at Google, we'll cover how to improve your efficiency with smart bidding and how you can increase your reach with Dynamic Search Ads.
Alex is an experienced cross channel digital marketing professional and focuses on accelerating the growth of Small Businesses though smart Google solutions. Sebastian helps Google's technology partners serve SMBs by developing great third party ecosystem solutions.
Don't lose this chance to get your info straight from the source and ask your questions live.
Choose the Right Automated Bidding Strategy
Picking a bidding strategy is intimidating at first. Choose the right door, and you're in paradise. The wrong door can send you to the depths of the ocean and back.
With automated and manual options and a dozen settings for each, what's the best route to go for pure automation?
It depends.
Currently, Google has ten different bidding methods that you can pick from depending on your goals:
So, which ones provide top results with automation?
Immediately, we can eliminate manual CPC bidding from the list. This manual strategy will require more hands-on work. And we're all about automating for best results.
Personally, if I had to choose one single bid type, I would pick:
Enhanced cost per click (ECPC).

ECPC is just like bidding based on normal costs per click except for one distinguishing factor:
You give Google the reigns and allow them to implement their Smart Bidding technology. This technology works to either increase or decrease your CPC bids based on the chance you have of converting the sale.
It takes into account audience factors like demographics into the equation too.
This means that Google will only increase your bidding when they know it's a perfect fit and that a user is highly likely to convert when they hit your landing page.
It's great for better targeting without spending the time to do it on your own.
Besides ECPC, Target CPA and Maximize Conversions are two solid automated bidding strategies to implement if you're more concerned with conversions than clicks.
Picking an automated bidding tactic will allow you to offload tedious efforts into Google's hands, and free you from the shackles of micromanagement.
While that might seemingly give you less control, it really means less time fussing with bids and a better ROI without having to spend all your time inside your Google Ads account.
Get Friendly with Google Ads Script Features
Scripts are one of the coolest yet most complex features in Google Ads.
They take a bit of coding (or copying code from existing scripts), turning most people off from their usage.
But using Google Ads Scripts can help you unlock some serious automation power and campaign performance.
And thankfully, Google has an entire script library that you can steal from instead of learning to code them yourself.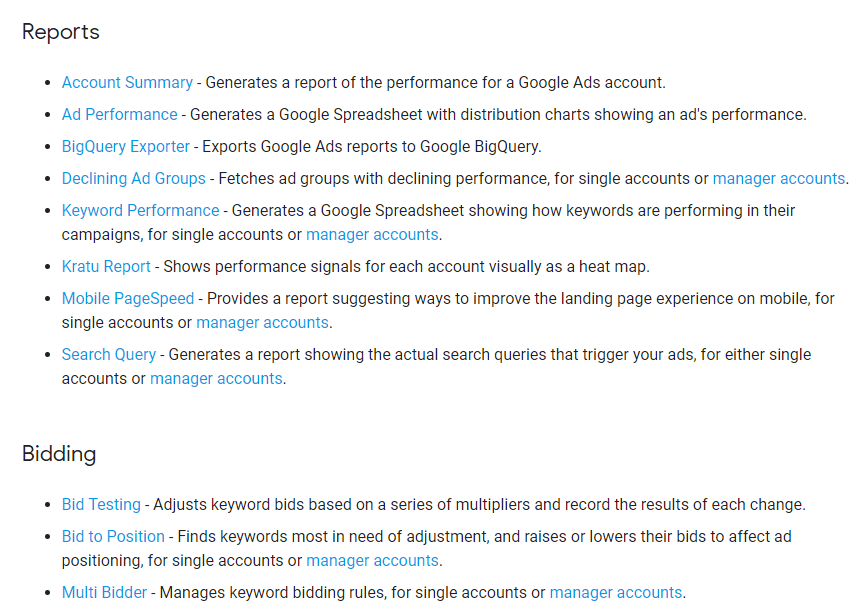 So, what exactly are they? You can use Scripts for a multitude of reasons:
To adjust bids and budgets
To create detailed and complex reports
Audit your Google Ads account
Automate negative keyword lists
Set up account alerts
Where can you access them? By heading to the bulk actions section and selecting scripts from the menu:

In here, you can quickly create and upload new scripts by copying and pasting code: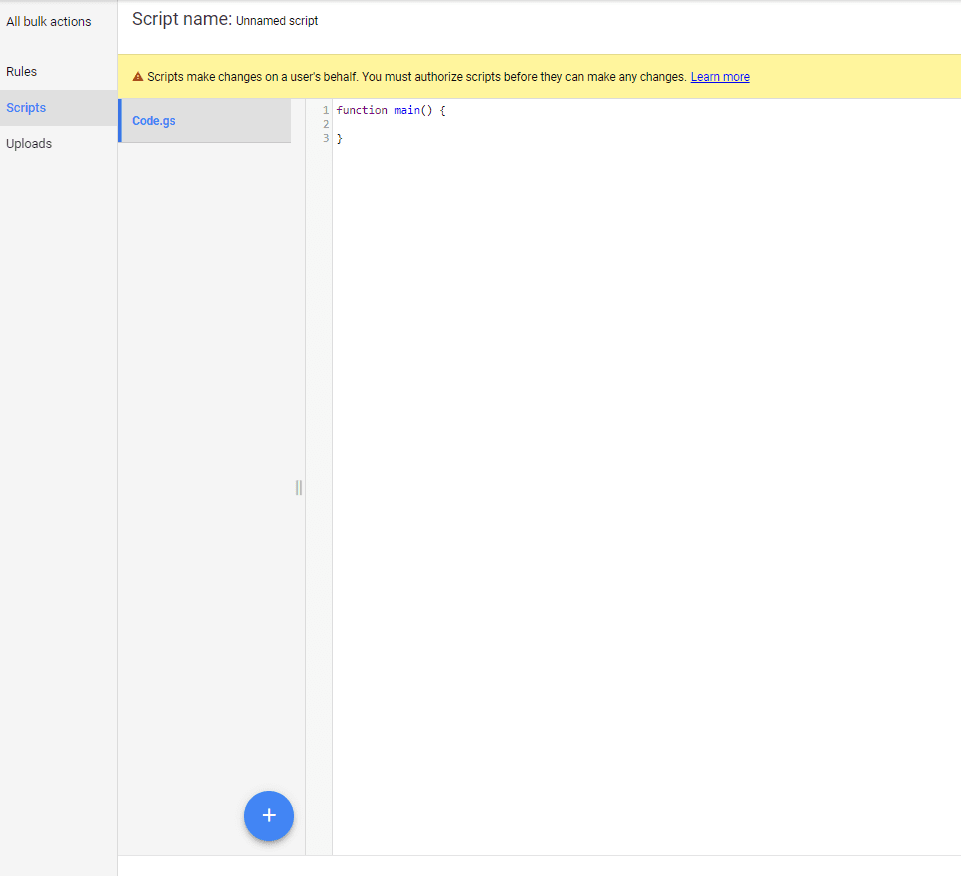 For instance, let's say you want some data on account performance without compiling dozens of reports.
You know, reports on keywords, landing pages, conversions, and dozens of other KPIs that you don't have time to assemble.
Well, there is a script for it: Ad Performance Report script.
This script will pull data directly from your campaign on insights like click-through rates, cost per click, conversions, and more.
The most significant benefit of this script is that it generates an accompanying Google Sheets doc that you can easily email or invite team members to collaborate on.
It's efficient and compiles the data in an easily shareable format for presentations or group work.
To utilize it, copy the source code directly from Google:
From here, all you are in charge of is three simple steps:
Update the "Recipient_Email" to your own email
Select when the script runs: every day, every week, month, etc.
It's that simple.
You don't need any code/dev experience to have success.
Take bits and pieces from Google Ads' script library, and you'll be automating nearly every painstaking action you used to take.
Automate Your Copy with Dynamic Search Ads
Creating copy is a constant haggle and stress for most marketers. It's true that copy is the true key to increasing your clicks and CTR, however, if you're creating hundreds of ads at scale it can be a time-consuming process.
Thankfully, this is another area where Google's machine learning has your back. Enter in Dynamic Search Ads.
With Dynamic Search Ads, Google helps to fill in the gaps of your keyword-based campaigns by automatically generating headlines and landing pages from your website for you. All you need to provide is a general description and you're good to go.
If you take a look around the web, you'll actually see some of them in real-time. Take this example for 'cheap hotels in anaheim':
With this technique, Google pulls frequently used titles and phrases from your website in order to direct visitors to the parts of your website that would best suit their query.
As you can see, it's right on the money.
If you combine Google's Dynamic Search Ads with one of the automated bidding strategies you'll find the campaign has nearly created itself. This method is one of the easiest ways you can start to create your own Google Ads campaigns without a ton of experience.
Setting Up your Google Ads Automation Rules for Hands-Free Optimization
If you're a fan of Facebook automation and optimization, you are probably aware of the ability to create some fascinating automated rules on Facebook.
Ones that can save you boatloads of time by essentially adjusting campaign settings when things fluctuate.
But did you know that Google Ads has similar abilities?
You can create almost identical rules to Facebook that put your optimization on autopilot and turn you hands-free.
If competitor bids skyrocket and costs go sky-high, you can create rules to drop your bids and daily budget.
If the cost per acquisitions is extremely low that day due to little competition (or any other factor), you can increase budgets and bids to bag easy leads for cheap.
The best way to use rules in Google Ads is by capitalizing on small fluctuations that you usually would have to be lucky to catch on your own monitoring.
So, how do you do it?
By heading to the rules section of your Google Ads dashboard:

In the rules section, you have a few options to choose from for automation: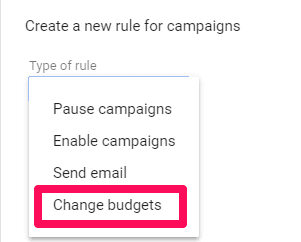 A solid start to using the rules dashboard is by changing the daily budget when the cost per clicks drop significantly: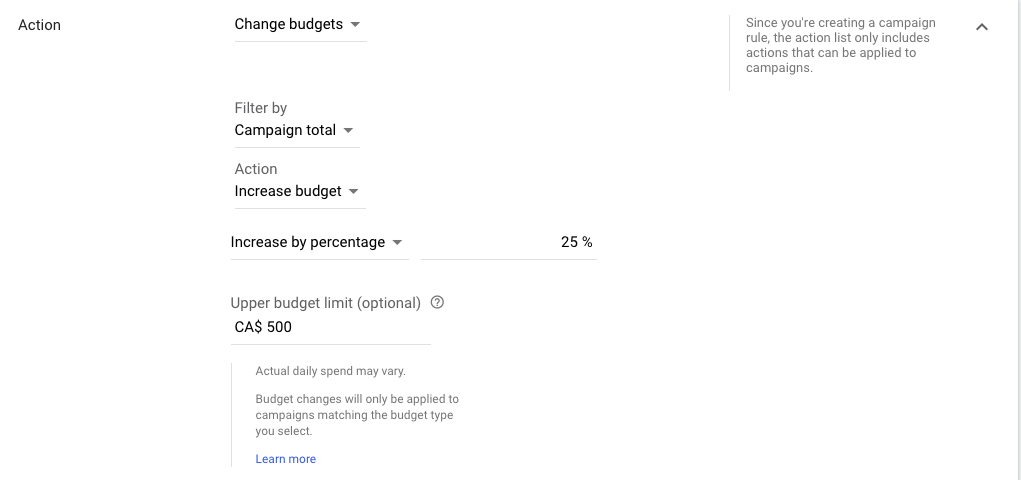 Take your average CPC that your account sees on a regular basis. Locate this information by viewing reports in your campaign overview.
Look at the average CPC you pay over a day or week and then enter that into your "Requirements" section.
The rule above states:
If the average CPC is less than $20, increase my daily budget by 25% but don't go over a maximum daily spend of $500 (and apply it to all active campaigns).
Simple enough, right?
This rule lets Google automation do the heavy lifting.
You can set up similar automation by selecting "Pause campaigns" as your action based on what rule type you chose.
For example, if the cost per acquisitions gets too high, you can pause the campaign and give yourself time to adjust and assess what went wrong.
The options are nearly endless: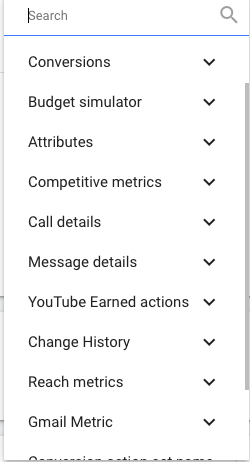 Customize a bunch of different rules for your campaign and watch it run without lifting a finger.
Get Emails of Important Updates to Your Account Delivered to Your Inbox
One of the worst things about Google Ads is the compelling, burning, itching need to check it all of the time.
When money is on the line, real hard-earned dollar bills, even small mistakes or wrong settings can cause huge disasters.
Checking Google Ads at every hour of the day and night isn't fun or good for your sanity. You find yourself spending hours combing through every detail before finding some serious problems.
If that's you, you need to set up automated emails for your Google Ads account on your top campaigns.
In the Rules section of your Google Ads dashboard, create a new "Send email" rule: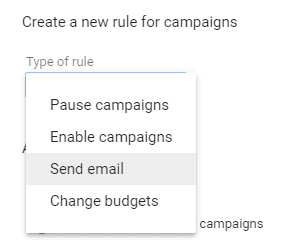 With this setting, you can select key metrics that are of importance to your campaigns: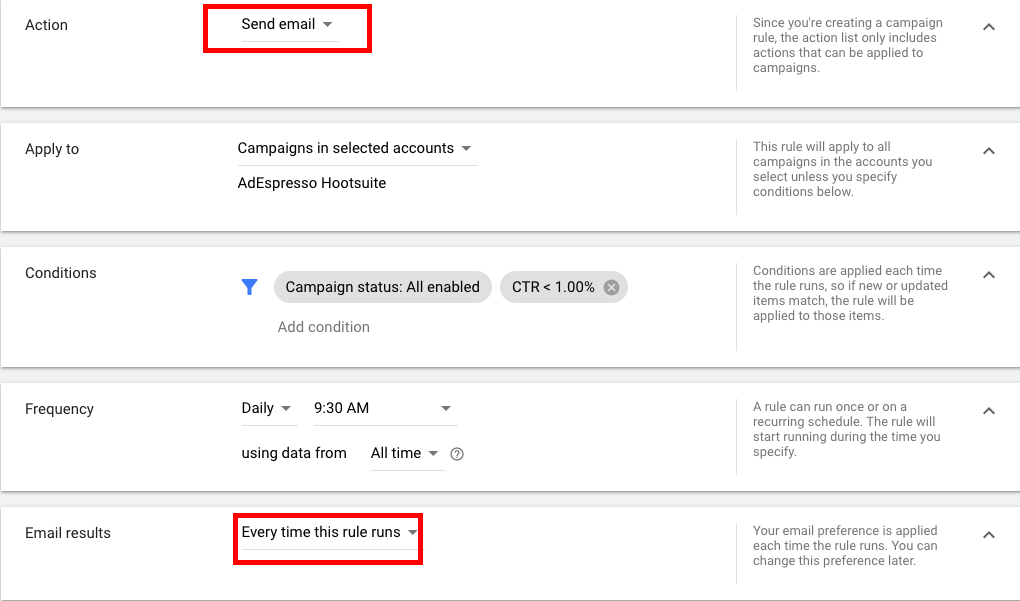 For instance, did clicks or CTR plummet in the middle of the day? Chances are, you want to adjust bidding.
These emails allow you to stop checking Google Ads like a fiend and make adjustments as important emails flood in.
Plus, you know exactly where to go once you fire up Google Ads.
Use the Google Sheets Integration to Create Reports Once and Run Them Automatically
If you're running custom reports with specificity, which you obviously should be doing, you likely spend hours a week creating these reports from scratch only to do it all over again.
By using the new Google Sheet integration with Google Ads, you can set up these custom reports once and Google Sheets will pull data from Google Ads every single day, week, or month depending on your needs.
It merely repopulates your spreadsheet with fresh data into the same reports you've made: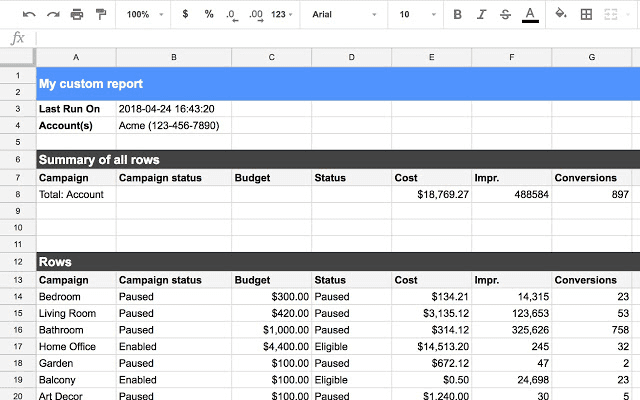 That's automation at it's finest. While you still have some setup work to do, it's a hell of a lot better than redoing it daily or weekly.
To get started with it, install the beta plugin from the Chrome store. Once you have done that, you should see the plugin as a new "Add-ons" feature within Google Sheets.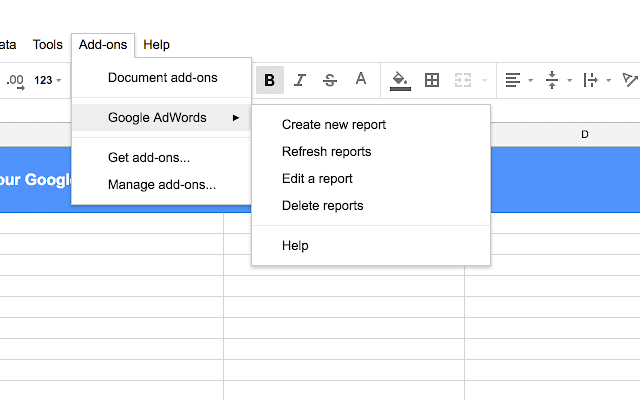 Click "Create new report" to pull up an entire list of settings and filters that you can custom make to your needs: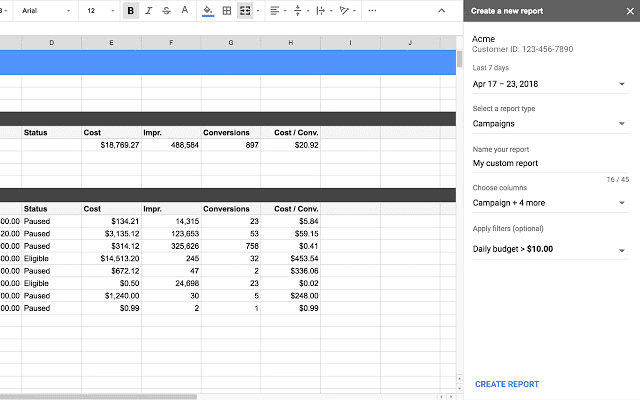 Once you're ready to refresh with new data in a few days or a week, click back to the add-ons section and refresh your reports: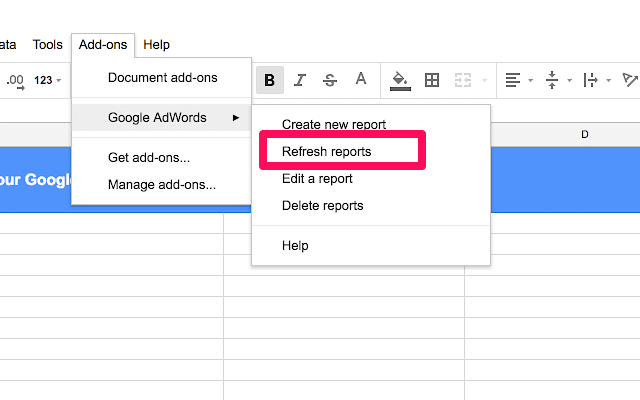 Let's recap the main benefits of Google Sheets for automation:
Simple report creating – do it once, and you're done.
Refresh reports with the click of a button and allow Google to pull the data rather than generating new reports in Google Ads.
Ditch the Google Ads reporting and bring your data to Sheets for faster, easier analysis.
Ready to Master the Power of Google Ads Automation Features?
Running PPC campaigns on Google Ads can do wonders for your advertising ROI, but it can also take a lot of time out of your workday if not managed properly.
You could spend hours customizing just the settings and ads extensions for a single campaign, let alone landing pages, custom columns, and writing text ads.
But don't cancel that upcoming vacation cause you got ten campaigns to fire up in the next month!
Now you know how to do it. Here's a recap:
1) Start by choosing the right bidding system.
If you don't select an automated bidding process, you're likely going to find yourself struggling to keep up.
2) Consider using scripts in Google Ads.
Google does most of the coding for you, and you can customize these scripts for almost any task.
3) Got a mobile app? Run universal app campaigns.
The result will be a streamlined, no effort big win.
4) Never forget to establish automated rules and scripts in Google Ads!
These are a lifesaver when combined with auto-delivery emails and a Google Sheets integration.
You'll be shaving time off your Google Ads daily trauma and producing better results faster.
We are about to enter one of the busiest (and rewarding!) seasons for advertisers. Being able to leverage automation tools will allow you to get the peace of mind that your ads are always set up for success.
Learn how to do it like a pro with the FREE MasterClass with not one but two top expert from Google itself.
The appointment with Alex Ioch and Sebastian Nordström is for Thursday, 24 September, at 10am (Pacific Time). Just click here or on the image below to reserve your free seat.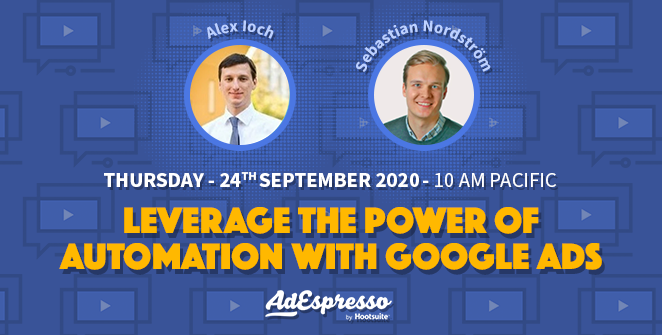 Don't lose this chance to  learn from the best.
Discover all the secrets of Google Ads automation and get back that precious time you need to focus on the higher strategy (or to take time off 😎 ).
And if you can't make it or you want to watch it again? No prob 😉 Register now and we'll also send you a recording of the event. And it's all FREE!
Go pack your vacation bag now, and let Google Ads work for you.
Do you leverage the power of automation and machine learning within Google Ads? Leave us a comment and let us know how automation is boosting your Google ads results! And to share pictures of that gorgeous vacation you took!